Why do you need an actual whiskey glass? Why can't you just use a regular old drinking glass? And why isn't straight from the bottle good enough? While we're not ones to tell you the right way to enjoy your hard-earned and well-deserved whiskey, we would like to point out that looks and aroma matter.
Which is why we put together this list of the 25 best whiskey glasses that enhance those two important factors. Why are those factors so important? We're glad you have so many questions… About forty percent of your brain is devoted to processing visual information. Pour your whiskey into a good-looking glass, and you're pleasing a big chunk of your grey matter. You can detect five (or six) basic tastes, but around a trillion smells. Pour your whiskey into an open-mouthed vessel and the aromas get a chance to work their magic before you sip.
Our list of the best whiskey glasses offers a bevy of shapes (fluted, tapered, twisted, notched), a wealth of materials (glass, wood, metal, horn), and a host of different ways to enjoy your amber fire of choice. Looks and smells and all.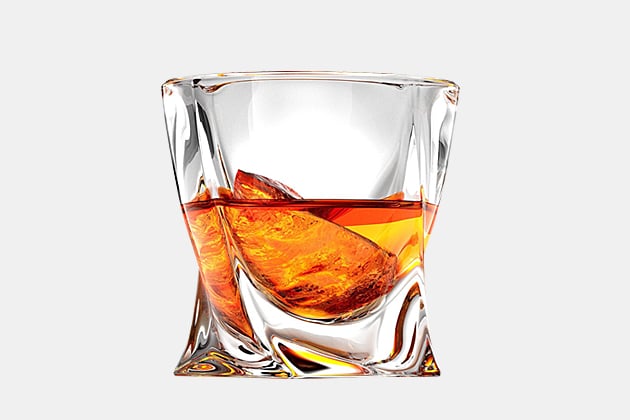 Twist Whiskey Glass
Ashcroft Glass out of Las Vegas, Nevada is known for their double-necked wine decanters — handcrafted, mouth-blown, expertly shaped, they are exceedingly cool looking. Now they've set their master glassblowers to the task of creating whiskey glasses. We featured one already, the Everest, and now you can add the sophisticated Twist Whiskey Glass to your drinkware selection. Hefty and made from lead-free, ultra-clear glass, this is one that looks as good as the stuff inside will taste. – Shop Now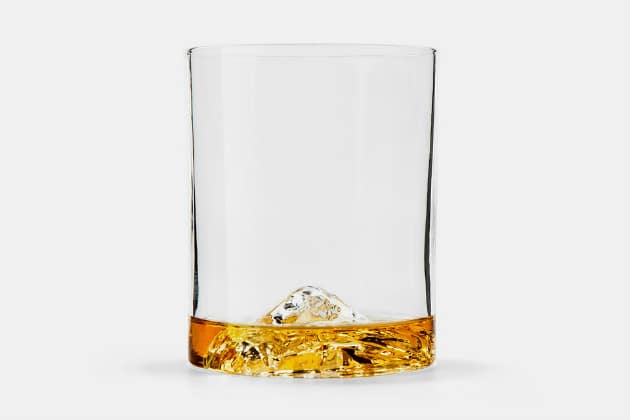 Whiskey Peaks Rocks Glasses
It is said that in the Big Rock Candy Mountains, you never change your socks, and little streams of alcohol come a-tumblin down the rocks. Here's a way to pour that alcohol right on top of your mountain of choice. Denali, Half Dome, Mt. Whitney, and Mt. Rainier are all topographically represented at the bottom of four hand-blown glass tumblers made exclusively for Huckberry. On the rocks, on the mountains, bottoms up. – Shop Now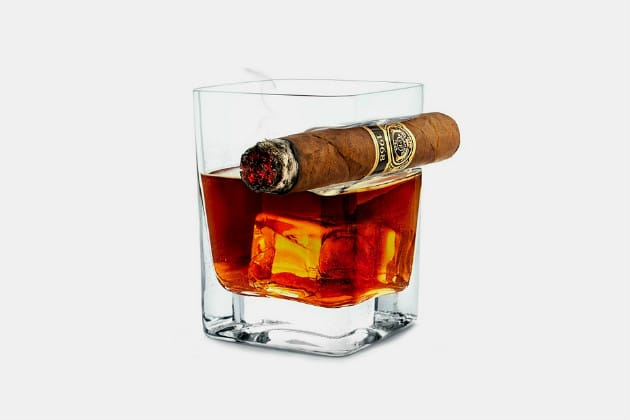 Corkcicle Cigar Glass
You've got a point to make. And it would really help out the story if you could make a gesture or two. But you've got bourbon in one hand and your cigar in the other, so what's a guy to do? If you have this little number from Corkcicle, you simply rest that cigar in the intended cigar-resting notch and bring that point home, hand gestures aplenty. – Shop Now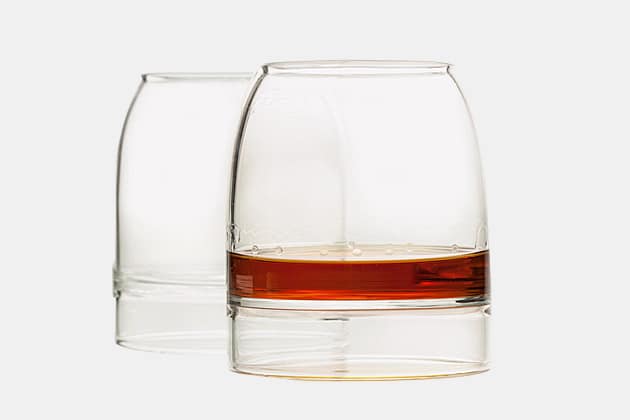 Rare Whiskey Glasses
The shape concentrates the aroma. Each one was individually hand-formed in the Czech Republic. They don't look like every other whiskey glass out there. And (something that approximately zero fine glasses do) they stack. Perfect for the whiskey aficionado with limited space but unlimited taste, the Rare Whisky Glasses were designed in Chicago by contemporary furniture and glassware designer fferrone. If you'll excuse us, we're going to go buy six of these now. – Shop Now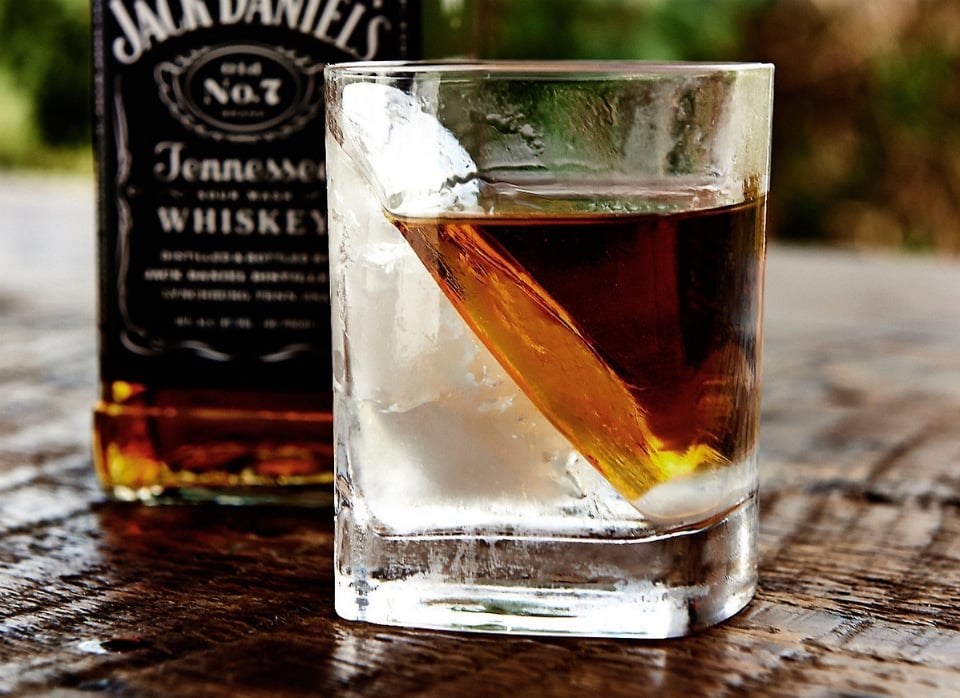 Corkcicle Whiskey Wedge
The Whiskey Wedge comes from the inventive minds over at Corkcicle, who started out inventing a way to chill wine without an ice bucket. Now they've got a smart way to chill your whiskey while minimizing the water-down effect. The silicone insert freezes a slanted wedge of ice inside the glass. The surface area touching your whiskey is reduced and the large ice melts slowly for a properly chilled, exceedingly cool sipping experience. – Shop Now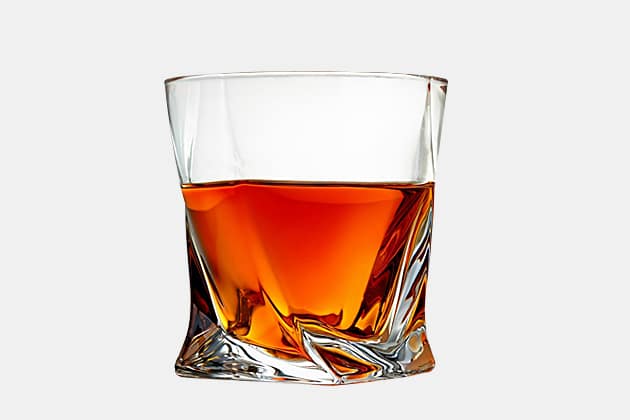 Venero Whiskey Glass
These are big glasses, made by a small company in the UK. They'll hold twelve-ounces of your favorite whiskey — plus room for ice, mixer and garnish, if you go that route. The thick sides and solid base give the glass good weight in the hand and the company, Venero, guarantees this whiskey glass for life, no matter how many old fashioneds, whiskey sours, or sazeracs you drink from it. – Shop Now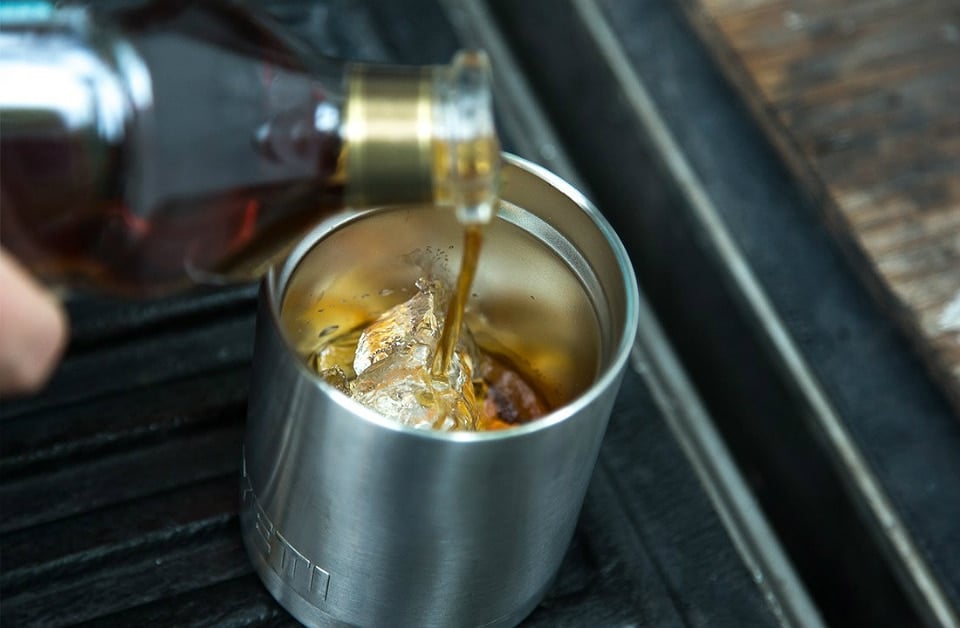 Yeti Rambler Lowball
If you prefer a cup of joe in the morning to get things started, and a whiskey on the rocks in the evening to slow you down, then the Yeti Rambler Lowball will most likely be your next favorite, all-day drinking glass. The Rambler Lowball sports a double-wall, vacuum-insulated stainless steel construction that keeps hot drinks hot and cold drinks colder in proper Yeti fashion while eliminating unsightly ring stains on furniture thanks to a "No Sweat" design. For mornings when your schedule is a bit busier, throw on the optional lid before you head out to the office. – Shop Now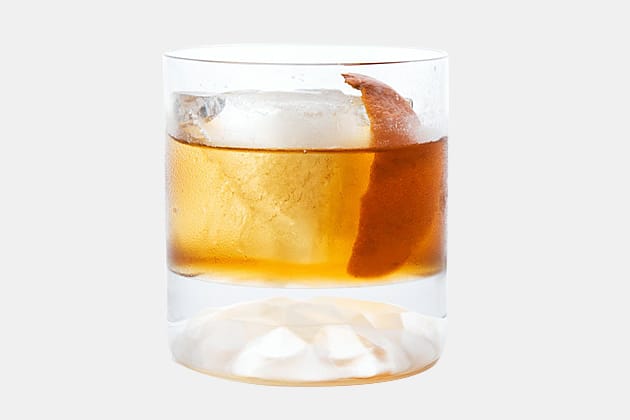 Nude Glass Whiskey Tumbler
When you were a kid, did you think all turkey came from Turkey? While you now know that's not true, what does come from Turkey are these handsome tumblers from Nude Glass. A Turkish glass manufacturing brand that works with designers from around the world, Nude crafted these tumblers with a weighted base, a wide mouth, and a rippled, sand-blasted bottom so the very last sip of your whiskey looks (almost) as good as your first. – Shop Now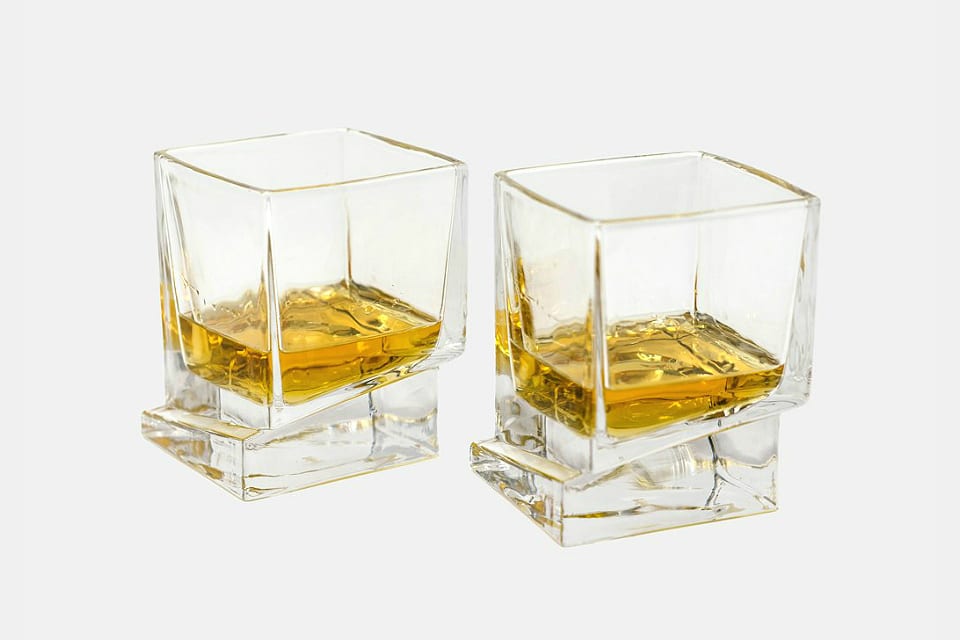 Glacier Glasses
It's as if you took a modern, square whiskey glass and held it up to a mirror with a single crack in it. Then, through some whiskey-fueled witchcraft, that reflection became object. Guaranteed to elicit comments when you break out the good stuff, these glasses from JoyJolt have good heft and are made to be extra durable. Break them out, admire the crooked slant, then pour in tonight's amber magic. – Shop Now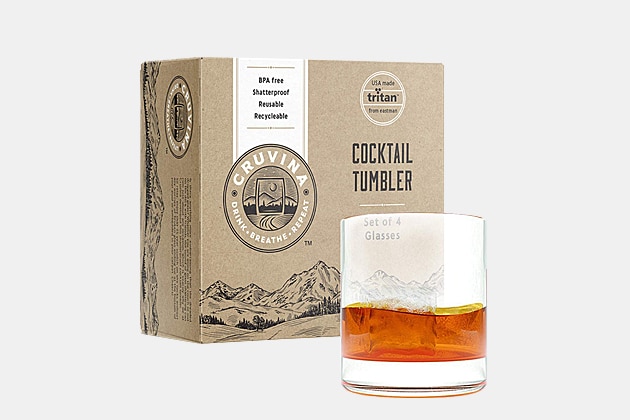 Cruvina Unbreakable Cocktail Glass
For the classiness of glass without the breakability, these fit the bill. Made from a BPA-free plastic material called Tritan, these tumblers look as clear and as shiny as glass, but you'd feel comfortable bringing these poolside, lakeside, or handing one to a kid (just take the whiskey out first). The shape is a traditional round tumbler style and look so legit, your friends will be tapping the sides to figure out what they're made from. – Shop Now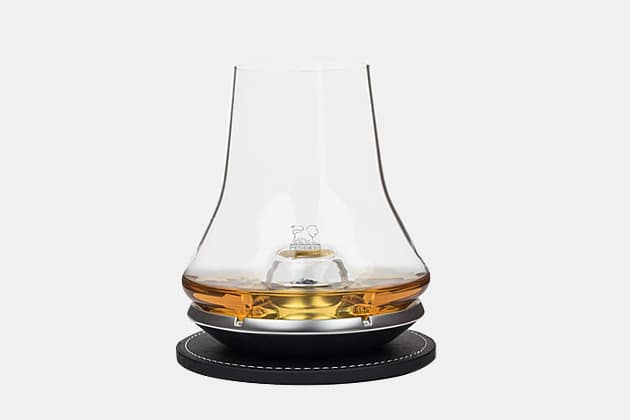 Peugeot Whisky Tasting Glass
Yes, the same operation that turns out fancy French cars also has a design arm. Here they've designed a Whisky Tasting Glass that packs a couple of engineering tweaks that make it a winning whiskey vessel. Freeze the metal base for a few hours before you pour your drink, then fit the contoured glass on top to cool things down sans ice. The base and glass rest on a black embossed coaster. – Shop Now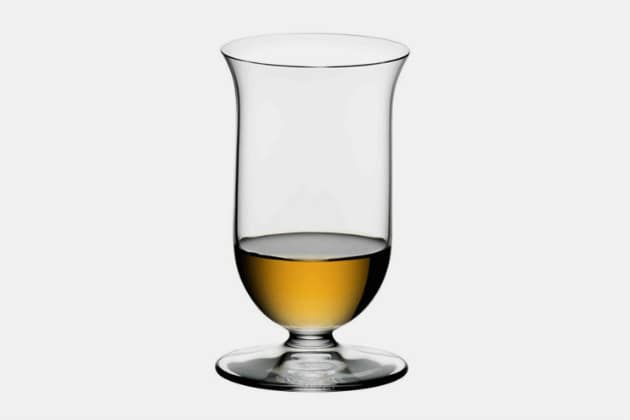 Riedel Vinum Whisky Glass
Primarily a wine glass company known for making varietal-specific stemware, Riedel was built by eleven generations of glass makers, dating back to 17th century Bohemia. Their whisky glass offering is an elongated thistle shape with a fluted rim to direct the whiskey to the tip of the tongue to better deliver the hit of sweetness. After a few centuries of glass-making, you can safely bet they know how to fashion a vessel. – Shop Now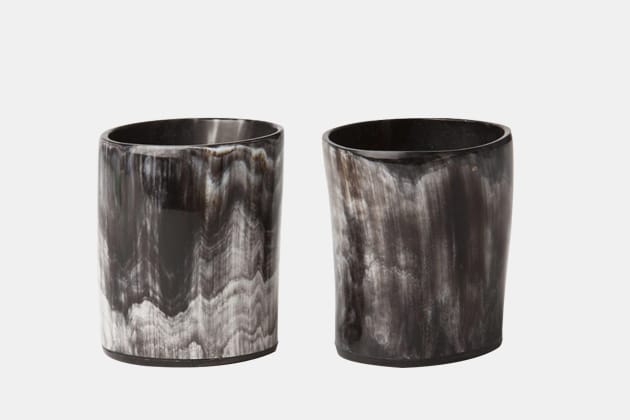 Sir Jack's Ox Horn Whiskey Tumbler
The Night's Watch drink from horns, maybe you should too. These whiskey tumblers are handmade in England from real, ethically sourced ox horns, polished to a high-shine and ready for your drink of choice (especially if that choice is whiskey). Each tumbler looks different from the next, thanks to the natural nature of the ox horn, and each one looks different than any other cup in your collection, thanks again to being made from a dang ox's horn. – Shop Now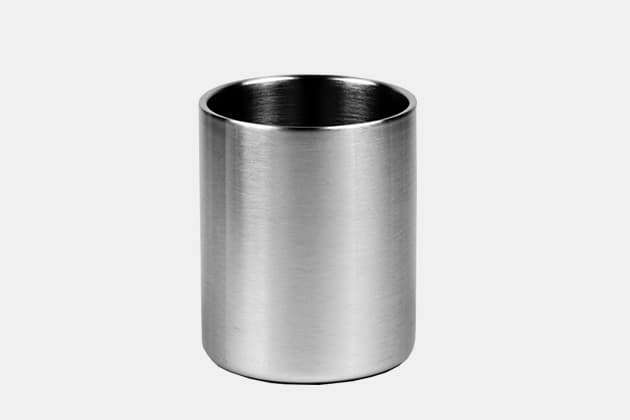 Stainless Whiskey Lowball
You broke your last whiskey glass and now you drink exclusively from plastic gas station cups. Might we suggest a slightly classier alternative? This old fashioned glass is made from indestructible stainless steel — go ahead, drive your truck over it. (Don't do that.) Its double walled design keeps your drink at the temp you like it and looks shiny. Plus stainless is non reactive and won't add any off flavors like that Conoco Super Gulp bucket. – Shop Now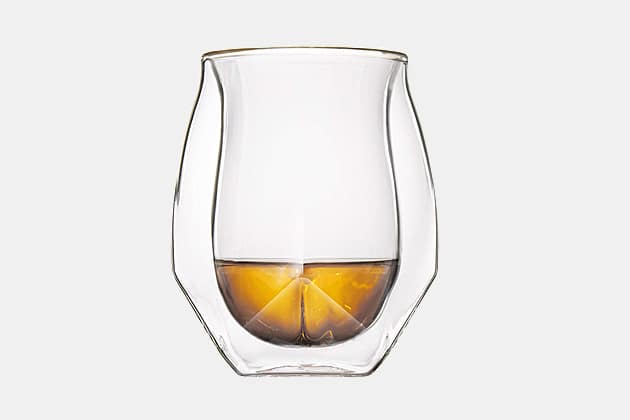 Norlan Whisky Glass
These guys are serious about their whisky glasses — one might even say obsessive, which is lucky for whiskey drinkers everywhere. The double walled borosilicate vessel is made from two pieces of hand blown glass, which are nested one inside the other. The the rims are then reheated and sealed together for a multi-faceted outer and a smooth inner bowl. To get things extra fancy, it comes with its own polishing cloth. – Shop Now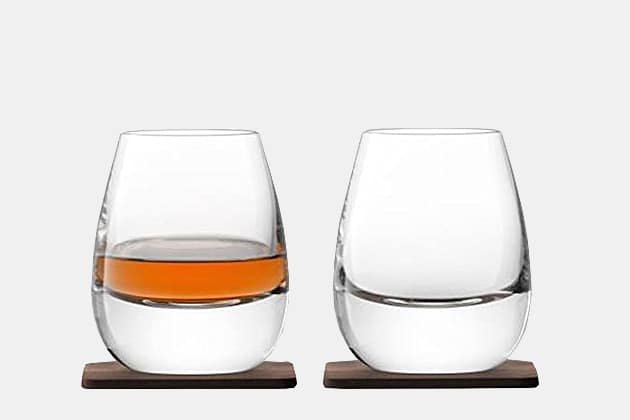 LSA International Whisky Islay Tumbler
The coaster is underrated in our opinion. Not just for keeping rings off your table or bartop, the coaster also gives you a place to aim your drink, a ritualistically satisfying objective when imbibing. This tumbler from LSA International not only features a commandingly heavy base, it also comes with a walnut coaster so you know right where to set that spirit. – Shop Now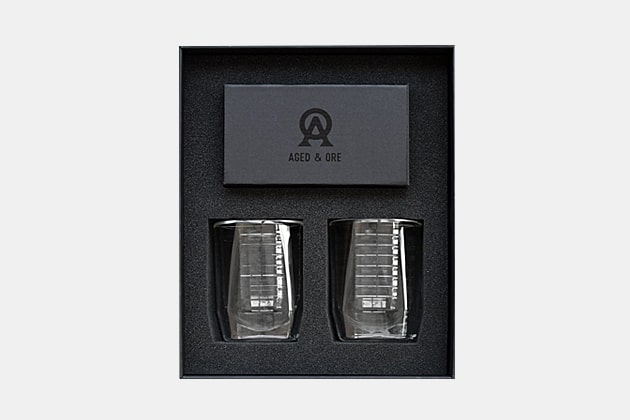 Aged&Ore Duo Glass
Like the Norlan Whiskey Glass, the Aged&Ore duo glass is a double walled borosilicate glass vessel. Unlike the Norlan, this one encourages the use of ice. In particular it was made for an ice sphere, made from the silicone ice mold included with the glass. The Duo also features one-ounce graduated lines for precision pouring, or for those times when you're keeping track of just how much of your Booker's your buddy is helping himself to. – Shop Now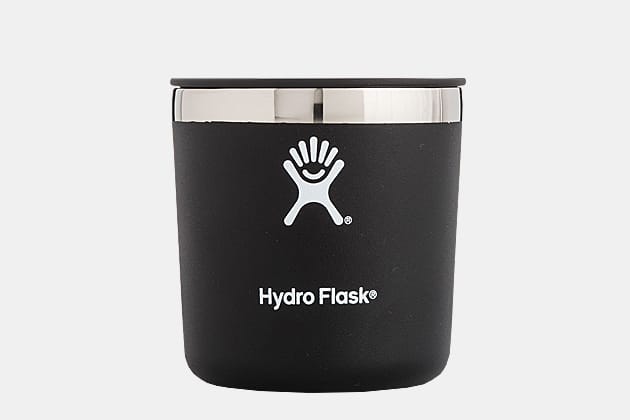 Hydro Flask Rocks Tumbler
Camping, tailgating, taking whiskey on a hike, these are times when that fine crystal goblet will not pass muster. Put it back in your curio cabinet and reach for your Hydro Flask tumbler instead. In a ten-ounce size, it fits nicely in your hand and holds just the right amount of whiskey on ice. And that iced whiskey will stay cold for a good long time, thanks to the double wall vacuum insulation. The press-in lid features honeycomb insulation for further temp retention (and to make sure scrambling over that rock doesn't slosh out your beverage). – Shop Now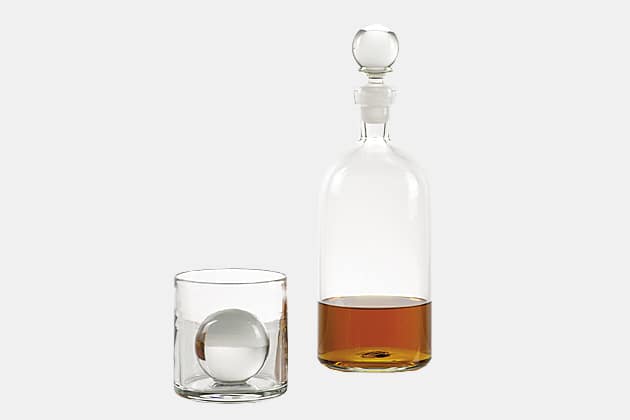 Nate Cotterman Cube Glasses
An ice cube that will never melt. That will never over-water your beverage. That will always be there, waiting at the bottom of your glass. This Cube Glass from LA-based glass designer Nate Cotterman has a solid glass cube fused inside a sturdy rocks glass. Chill the glass and let the solid mass of the ever-present cube cool your amber fire to your ideal sipping temp. – Shop Now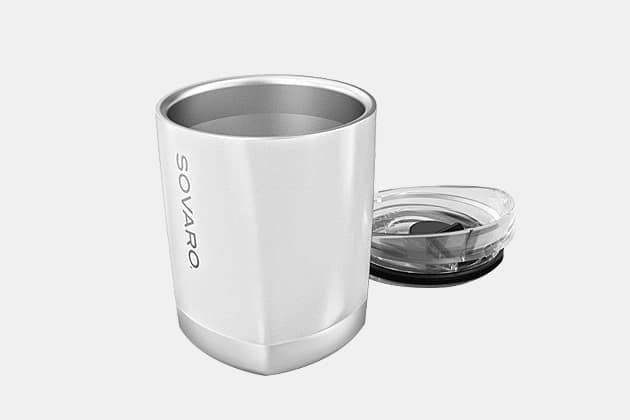 Sovaro Lowball Tumbler
If you like a bit of luxury with your outdoor-ready drinkware, Sovaro is the brand you're looking for. Makers of sleek stainless steel insulated bottles, tumblers and wine glasses, along with cork lined coolers and swanky soft cooler bags, these guys are out to make the extra durable, extra sophisticated. Their Lowball Tumbler is vacuum insulated and has an ergonomic design with slightly squared edges. It comes in three colors, or in classic stainless steel. – Shop Now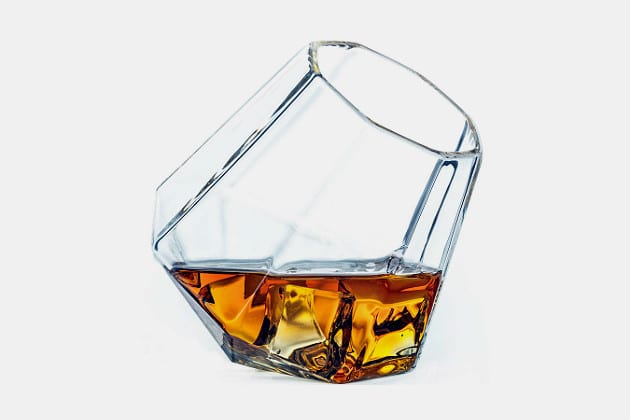 Dragon Glassware Diamond Whiskey Glasses
Depending on the level of daring among your whiskey companions, someone is going to try to spin this glass on its point like a top. Until then, you'll get to enjoy the unique design of a glass inspired by a diamond. It fits solidly in your hand when you're holding it and rests at a 50º angle when you set it down. Made by a boutique glassware company called Dragon Glassware, these glasses will impress. Just resist the urge to spin them. – Shop Now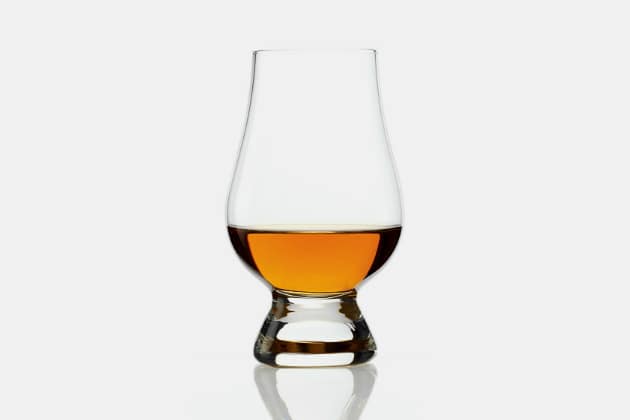 Glencairn Whisky Glass
It's being called the "proper" glass for enjoying Scotch whisky (and works nicely for your whiskey with an 'e' too). Of course, we say anything short of a red Solo cup is acceptable (and even those will do in a pinch). But the Glencairn claim may have merit. Developed with master blenders from five distilleries, the glass offers a tapered mouth to hold and focus the aromas so you the complexity of the spirit hits you with each sip. – Shop Now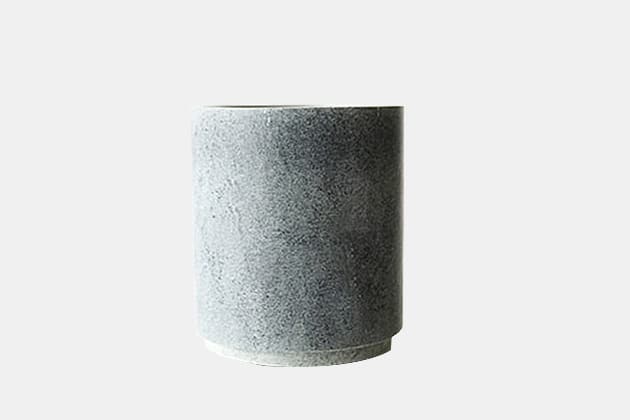 Soapstone Whiskey Tumbler
Vikings carved cooking pots out of soapstone — and what's good enough for Vikings is good enough for a dram of your Eagle Rare. One of the finer properties of soapstone, as it relates to whiskey, is you can freeze it, thereby chilling your spirit without watering it down with extra ice. Perfect for those who like cold whiskey, know exactly how many drops of water will open it up, and don't want a molecule more. – Shop Now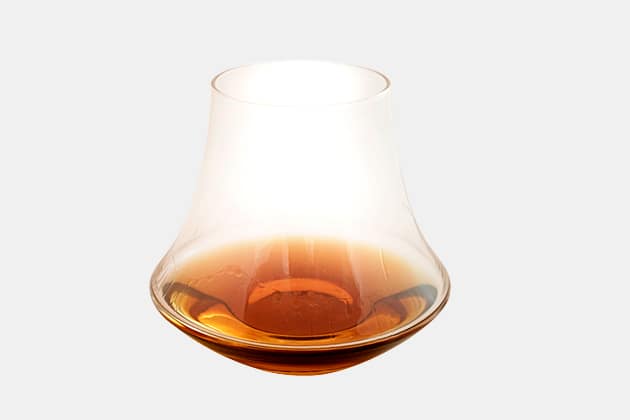 Denver & Liely Whisky Glass
Tumbler meets snifter meets snazzy Aussie design. Denver & Liely are a couple of mates (one named Denver, one named Liely) who are highly keen on functional design. Their Whisky Glass has an extra wide base to spread out your pour and a tapered opening that funnels those aromatics to your nose. Every glass these guys make is handmade, hand-blown, and hand-cut, and looks downright handsome. – Shop Now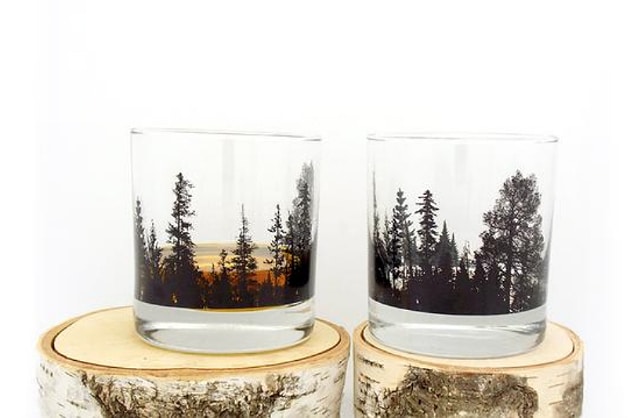 Black Lantern Forest Whiskey Tumbler
Pour a finger of whiskey in the glass and it will rise up behind the trees, giving off a sunset in the forest effect. A relaxing image, even if you're enjoying your drink far from the woods. These made-in-the-USA glasses are printed by hand by Black Lantern, a small company out of Estes Park, Colorado that makes tees, hats, bags, and barware all with modern, wilderness- and nature-based designs. – Shop Now
Disclosure: Clicking on these links and making a purchase may earn us a small referral fee, at no extra cost to you. Learn more here.