Audi AI: Trail Quattro Concept
Presenting an all new futuristic off-road experience, Audi has stepped into a new territory. The Audi AI: Trail Quattro Concept comes from a company long known for luxury and innovation, but their latest presentation is unprecedented. Instantly recognizable as unique, there is nothing standard about it. Autonomous driving, electric mobility, and four-wheel drive all combined into one fantastic futuristic vehicle.

The styling of the Audi Trail Quattro Concept looks like a vehicle straight out of a sci-fi movie. Some of the abilities of the Trail Quattro Concept are not too far behind. For example, the Audi AI: Trail Quattro Concept is paired with five drones acting as lighting and cameras for the vehicle. These drones enable full visibility for the vehicle when driving in the dark through almost any terrain you can throw at it. 

Getting around certainly will not be a challenge for this Quattro either. The AI:Trail has four electric motors that combine for 435 horsepower and 738 lb-ft of torque and can travel up to 310 road miles on one charge. For the more intense and possibly more fun off-road experience, the car can still cruise around for about 155 miles on one charge.

With a full panoramic view while offering plenty of protection, the Trail Quattro Concept from Audi gives passengers a great view of their surroundings. This is perfect for a cruise through a forest, going on a desert expedition, or even a romantic evening spent stargazing.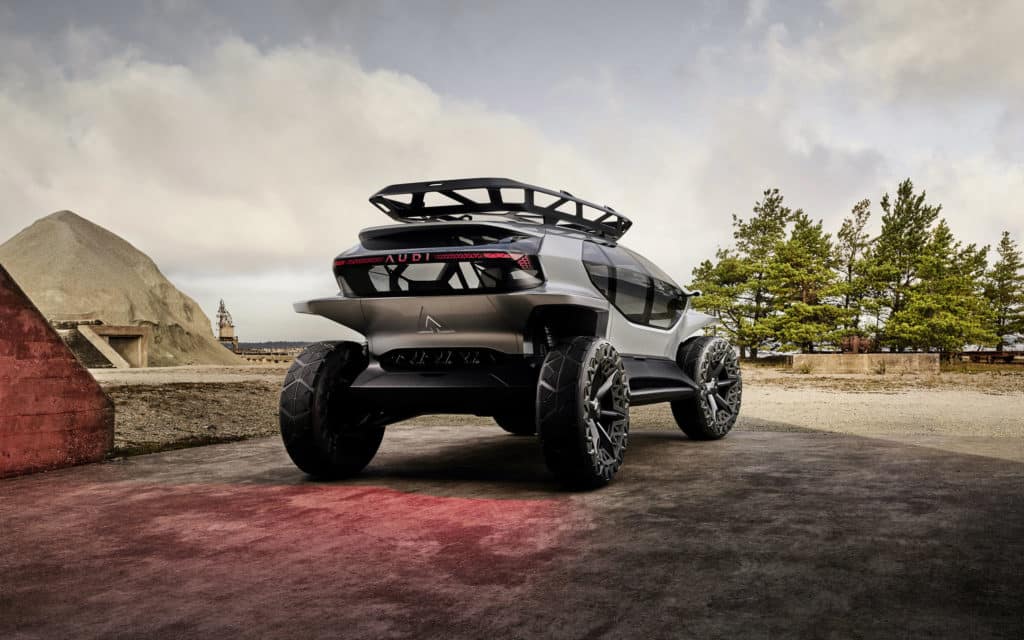 One of the most impressive things about the Audi AI: Trail is the experience offered within the interior of the vehicle. In the back of the Audi Trail Quattro Concept you'll find two hanging chairs, similar to hammocks. Passengers can even remove the hammocks to bring them along when venturing out into nature. Even the armrests are Mother nature approved featuring an anti-bacterial, dirt-repellent coating.

A connection to nature is one of the themes found throughout the design of the Trail Concept. The interior features many natural materials such as wood, felt, and wool. Many of the other materials used are sustainably produced or recycled as Audi strives toward a better relationship between nature and machine into the future.

The Audi AI: Trail Concept offers you 3 driving modes to choose from: autonomous level 3 for forest roads, level 4 for paved streets, and an option to give the driver control for extremely rough terrain. This futuristic concept vehicle shows a glimpse of what tomorrow holds. So far, it looks like the Audi AI: Trail Quattro Concept intends to lead the way.

Disclosure: Clicking on these links and making a purchase may earn us a small referral fee, at no extra cost to you. Learn more here.