The 15 Best Camping Hammocks
Why do you want a camping hammock? Is hanging out in trees really better than sleeping half an inch from the cold, hard ground? Yes it is. Hammocks are nothing new. The Royal Navy first stuck sailors in them about 400 years ago. Materials, suspension systems, accessories, all of it has come a long way from the hot, uncomfortable slings that hung inside ships way back when.
Now it's about waterproof breathability and sophisticated suspension systems that are still easy to figure out. Think exceedingly packable yet excessively comfortable. There's a reason why the hammock-as-tent idea is really taking off. No more searching for level ground. No rocks between your shoulder blades when you bed down for the night. Just you, 2 trees and a good night's sleep.
We picked the 15 best camping hammocks out there, covering the map from bridge style to gathered end. Go for a super light backpacking unit or a hang-for-a-week in the mountains expedition camping hammock set-up. Asym, jungle, 90 degree, double. All here. Without a doubt there's one (or 4) hammocks on our list that will make your next clash with the wild outdoors 2 shades more comfortable and a notch more awesome.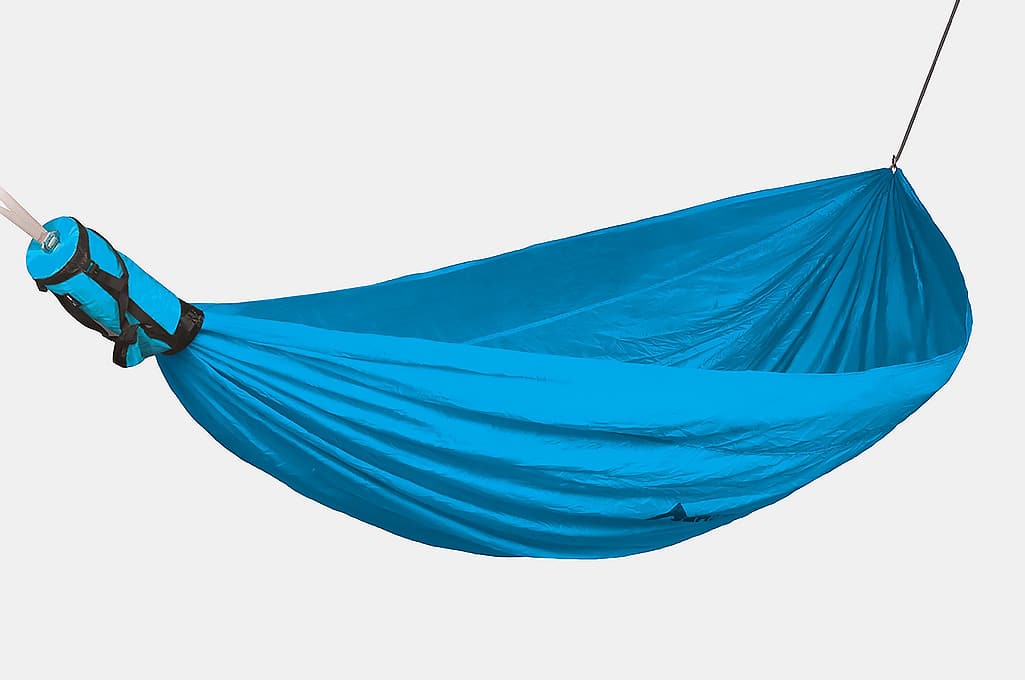 Sea To Summit Pro Hammock
You probably already know Sea to Summit from their extensive lines of backpacking and outdoor gear. The Pro is their entry into the camping hammock battlefield. They looked at what they saw other hammock companies doing, took the best ideas and improved upon them. The result is a GE hammock that's pretty light (just 12.7 ounces without suspension) and extra durable, with an integrated, siliconized compression sack that puts all others to shame.
Pro comes in a single or a double size and your choice of 3 uber bright colors. Sea to Summit only offers one suspension system (not included) but it happens to be one of the more packable, easy setup systems on the market.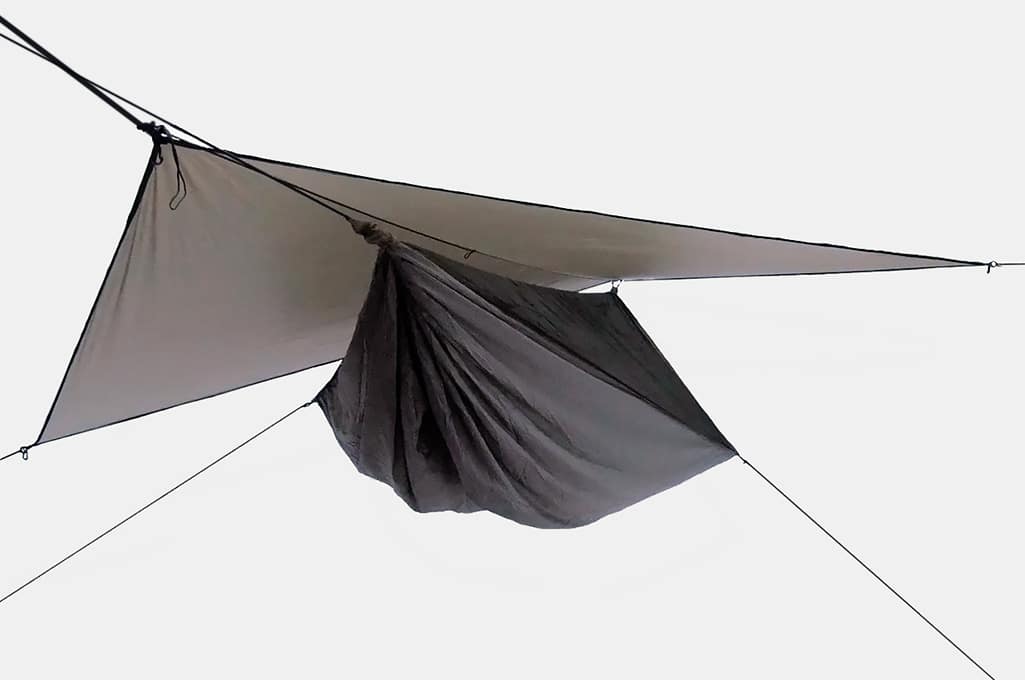 Hennessy Hyperlite Asym Zip Hammock
When you think of asym hammocks, Hennessy is the brand that comes to mind. While the hammocks themselves are traditional gathered end, the anchor points on the sides of Hennessys are asymmetrically positioned. When staked (or tied to other trees), the tie outs basically shape your hammock so that the diagonal (correct) lying position, is the only position.
This particular offering from Hennessy has one thing on its mind: being extremely light. Smaller pack weight and size than their very popular Ultralight Backpacker, the Hyperlight weighs in at just 1 pound 12 ounces (2 pounds with the rain fly). It stuffs down smaller than a soda six pack, so you'll pack it and forget it, until you're ready to set up.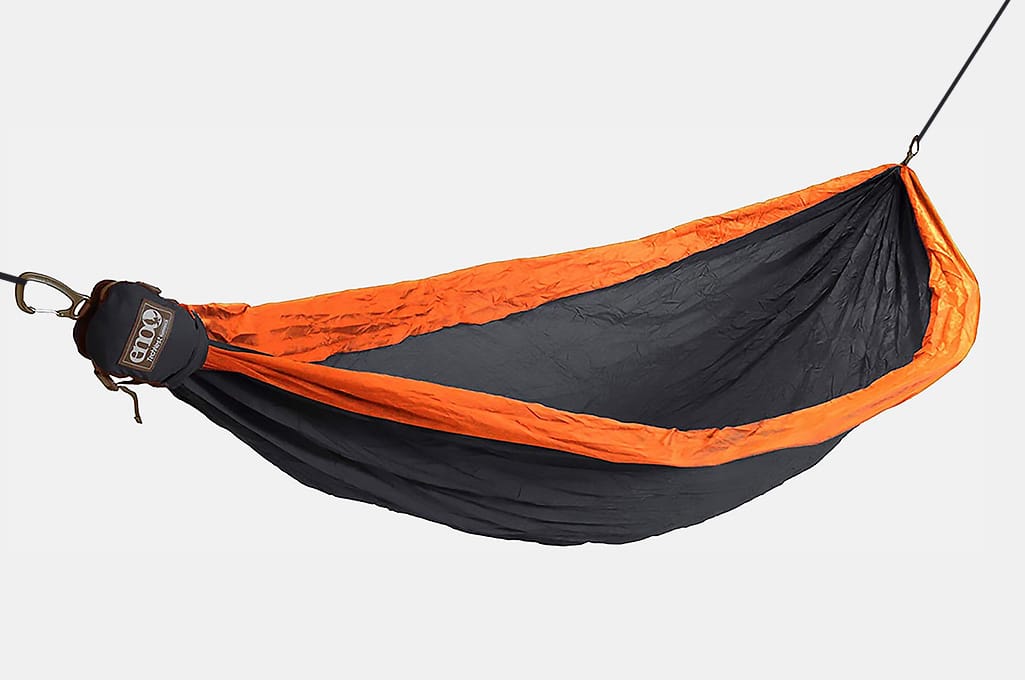 ENO TechNest Hammock
Luxury is the name of this hammock's game. Made of soft, breathable Ripstop Nylon, this two person hang feels good on the skin, and at just 14 ounces, it's easy on the back too. ENO, known for their colorful, 2-toned GE hammocks, is popular among backpackers and music festival goers alike.
ENO sells their gear à la carte, but that means you get to pick exactly the suspension system and/or rainfly that you want. Suspension systems range from the economical (Slap Strap), to the durable (Atlas) to the ultralight (Helios). ENO straps, hammocks and tarps all have the added benefit of a setting up and adjusting faster than most other systems out there.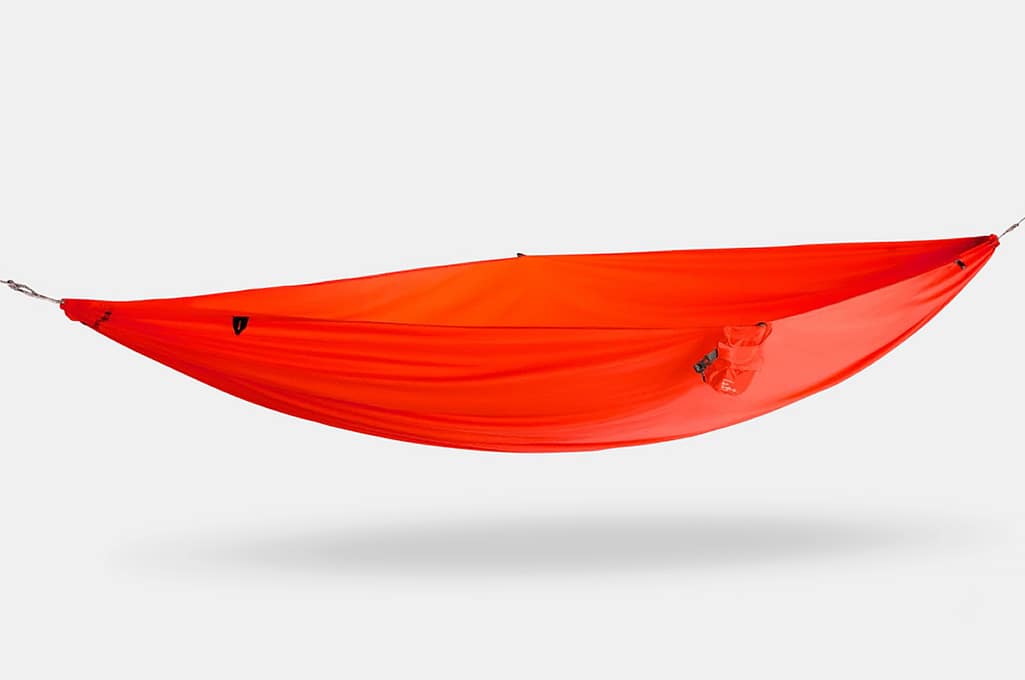 Kammok Roo Ultralight Camping Hammock
Austin, Texas hammock company, Kammok (camping + hammock = Kammok) wants you to get out there and find some adventure. The Roo is just the hammock to do it. Featuring a custom built, diamond ripstop fabric they call Lunarwave, it's breathable, extra strong and with less stretch than other hammock fabrics so you stay comfortable from lights out to sun up.
The 500 pound capacity and wide wingspan means you can invite a friend to hang with you in the trees. Though for sleeping, everyone should get their own Roo. The suspension here is sold separate from the hammock. But they call their tree-friendly, extra long system Python straps, which, in this case, means strong.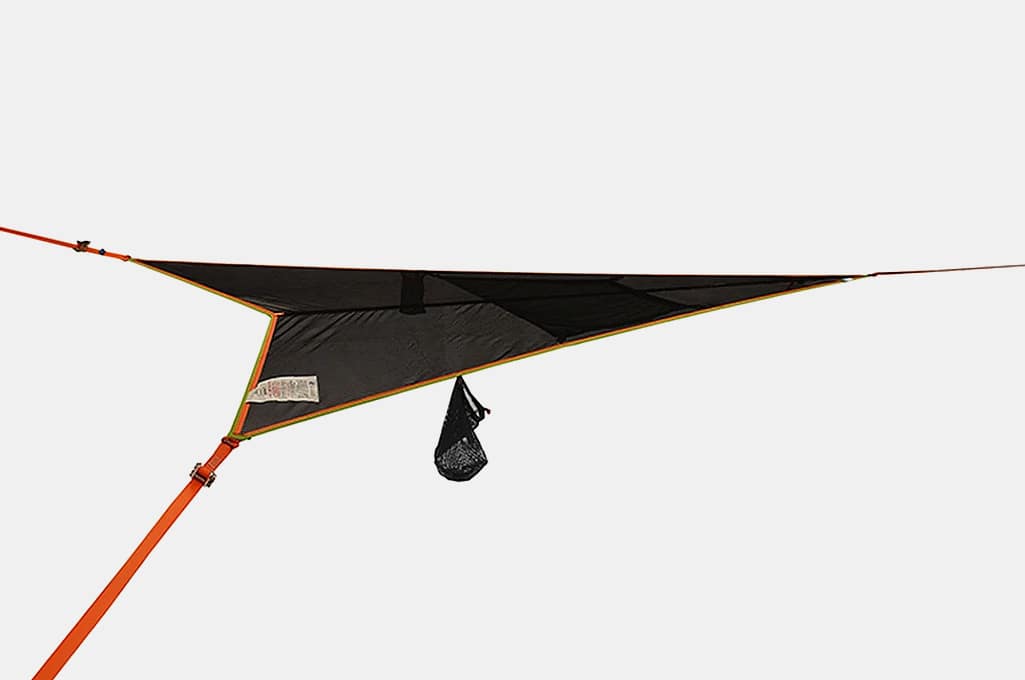 Tentsile T-Mini Double Hammock
Coming from a company that makes tree tents — sort of a portable tree house — the T-Mini looks different than your typical hammock. With a 3 point suspension (yes, you'll use 3 trees instead of 2) this hammock makes a triangle in the trees. The inclusion of a ratchet further sets the T-Mini apart from your usual hang. In any 2 point hammock setup, it's all about the slack. But this one thrives on tension. Once you have 2 points attached, attach the third and ratchet it tight.
At 4 pounds without any top layers, this isn't going to be your answer for overnight backpacking sleep, but it will be a pretty sweet place to hang for you and someone you like.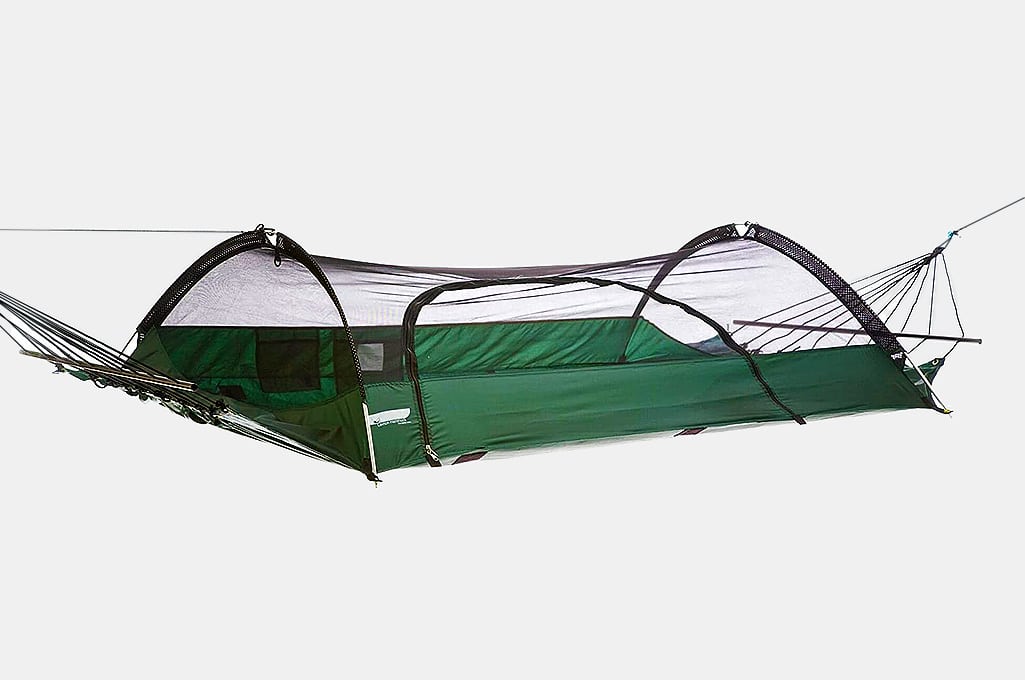 Blue Ridge Camping Hammock
The only offering on our list that can go directly from trees to terra firma, this tent-hammock hybrid will give you the most options for setting up base camp. Can't find 2 ideal trees? No big. Just go for the floor. Spreader bars keep the bed of the hammock flat and the attached rain tarp and bug netting keep you comfortable, dry and unbitten.
With arched tent poles and flat bed, the Blue Ridge feels the most like a traditional one-man tent, while still giving you the option of suspended sleeping over rocky terrain. At 4.25 pounds (not including suspension straps) this is a hair over the line on weight, but you may not care when you find the perfect spot, but not the perfect trees.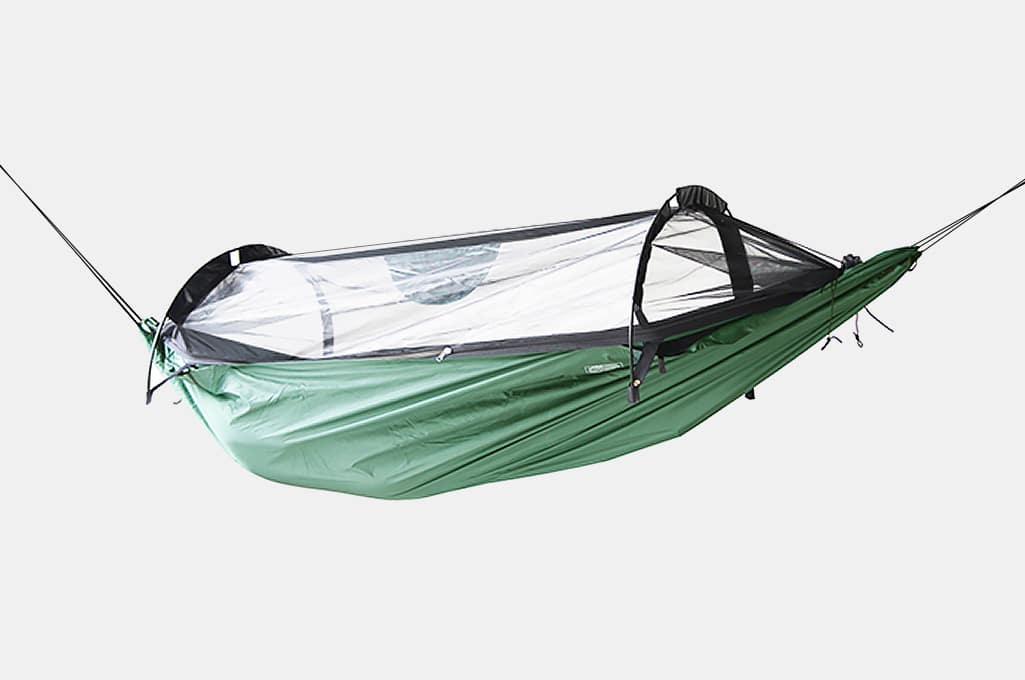 DD Superlight Jungle Hammock
Another expedition or jungle style camping hammock, the DD Superlight is made for whatever your weekend throws at you. Bugs, rain, heat, cold? Bring it on. The rain layer and bug layer are both detachable and come with poles to both support the layers and spread the hammock out for extra roominess. The double layered base allows you to insert quilting or a pad when it's cold out there at the campsite, but offers breathability when it's not.
At about 3.3 pounds, the Superlight Jungle is a GE style hammock that wants to go where you go. Plus the kit includes integrated Whoopie Suspension — a rope/loop system that makes setup and adjustment of your hammock much easier. No advanced knot skills required.
Hummingbird Hammock
This is the lightest on our list (or anybody's list for that matter) coming in at just 5.2 ounces and packing down to a size only slightly larger than a can of beer. The suspension straps aren't included, but even when you add a set of Hummingbird straps, your whole kit still comes in at less than half a pound.
An interesting thing about this very simple, traditional GE hammock is the absence of metal. No clips, buckles or carabiners, the Hummingbird Hammock uses a button closure on the hammock itself and Whoopie sling loops integrated into the tree straps. Yet despite being ultralight, it has a weight rating of 300 pounds, thanks to actual reserve parachute fabric.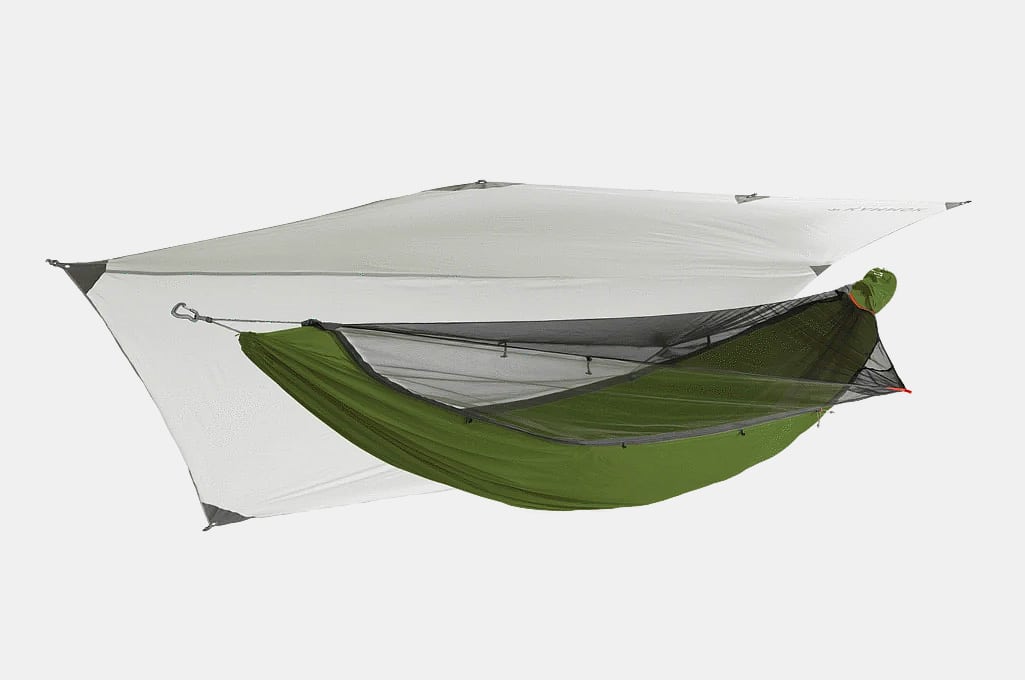 Kammok Mantis All-In-One Hammock Tent
Kammok's inventory for hammocks and accessories runs deep — super light for hardcore backpackers, small for kids, extra large for sharing a hang. The Mantis All-In-One Hammock Tent is the super deluxe version, shipping with a zip-on/zip-off bug net, rain fly, structural ridgeline, plus guylines and stakes for keeping everything taught and in place. Unlike the super lightweight version (where ounce-counters choose their own straps) the Mantis comes with their tree-friendly Python straps that allow for lightning fast setup with zero knots to tie.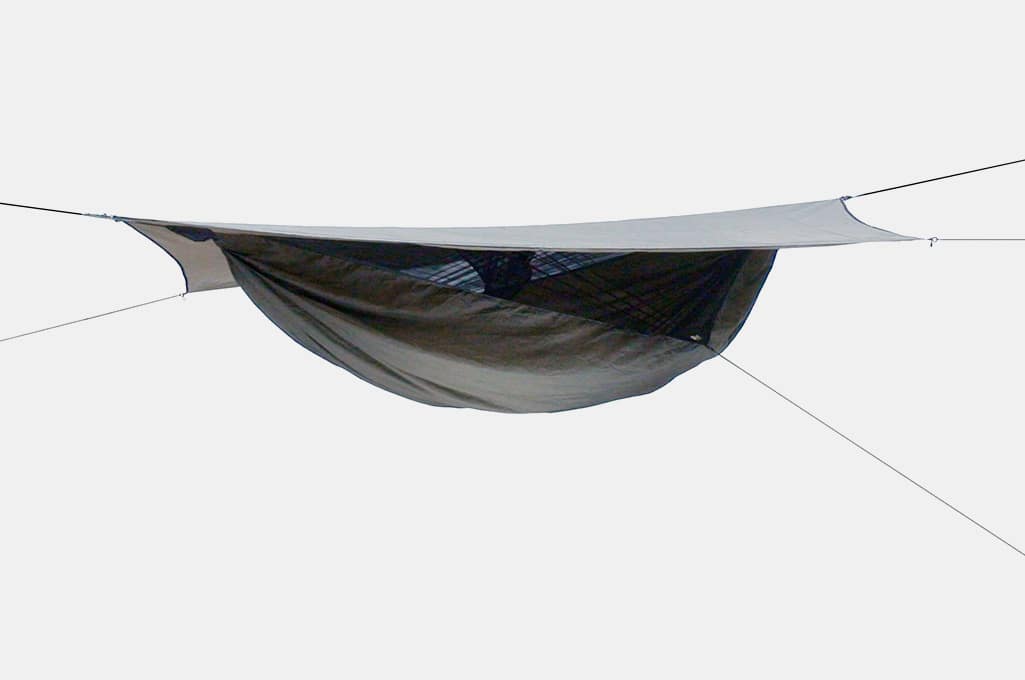 Hennessy Hammock Explorer Deluxe Asym Zip Hammock
As another all-hammocks-all-the-time company, Hennessy has earned their rep among hardcore hammock enthsuasts. What sets them apart is their asymmetrical build that lets you lie flat on the diagonal with support for your lower back and legs. Hennessy Hammocks have seen use by responders in hurricane-flooded disaster areas and by smokejumpers in wildland fire responses.
The Explorer Deluxe ZIP XL is built extra tough to stand up to those emergency-worker demands and can accommodate anyone up to 300 pounds and seven feet tall. The attached mosquito netting and detachable rain fly make sure you stay comfortable no matter what the weather is trying to destroy.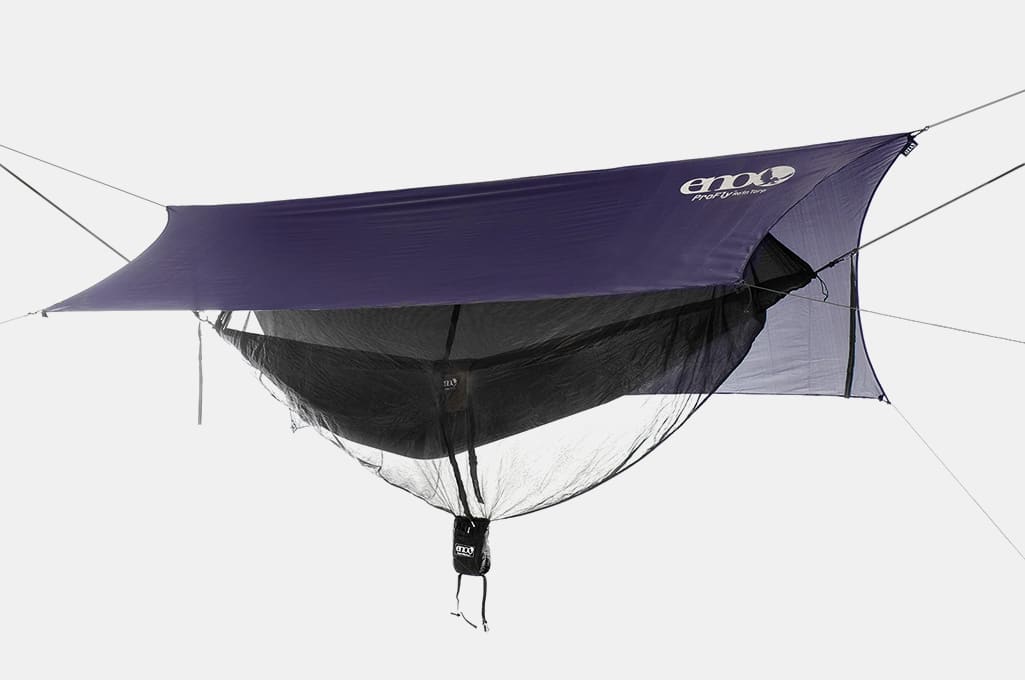 ENO OneLink Hammock System
Eagle Nest Outfitters has a chill, laidback (pun intended) vibe about them, but that doesn't mean their hammocks don't hold up. The OneLink Hammock System comes with the DoubleNest hammock which is ENO's best-selling option and can hold up to 400 pounds in a simple, gathered-end construction.
You also get their no-knot Atlas suspension straps, the Guardian bug net enclosure with its hammock-surrounding protection, and the ProFly rain tarp to keep the weather from turning your hammock into a suspended bathtub. It all comes packed up in a ten by eleven-inch sack that weighs just over four pounds.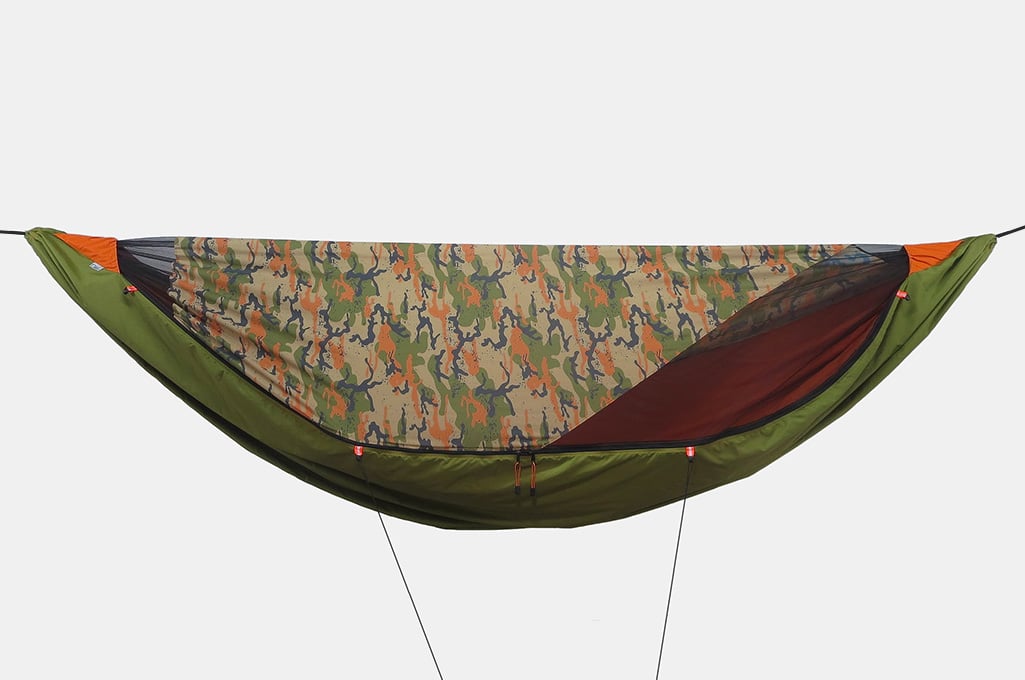 Dream Sparrow Hammock
Dream Hammock takes things one step further when it comes to dialing in your personal hammock game. Their customization service lets you pick everything from fabric color to the length, width, and asym lay direction of your new hammock. The Sparrow has an integrated overcover that zips to the hammock itself instead of a separate rain fly. The cover is removable for when it's perfectly nice out and you want to see the stars, and the add-on bug net will keep the mosquitos away all night.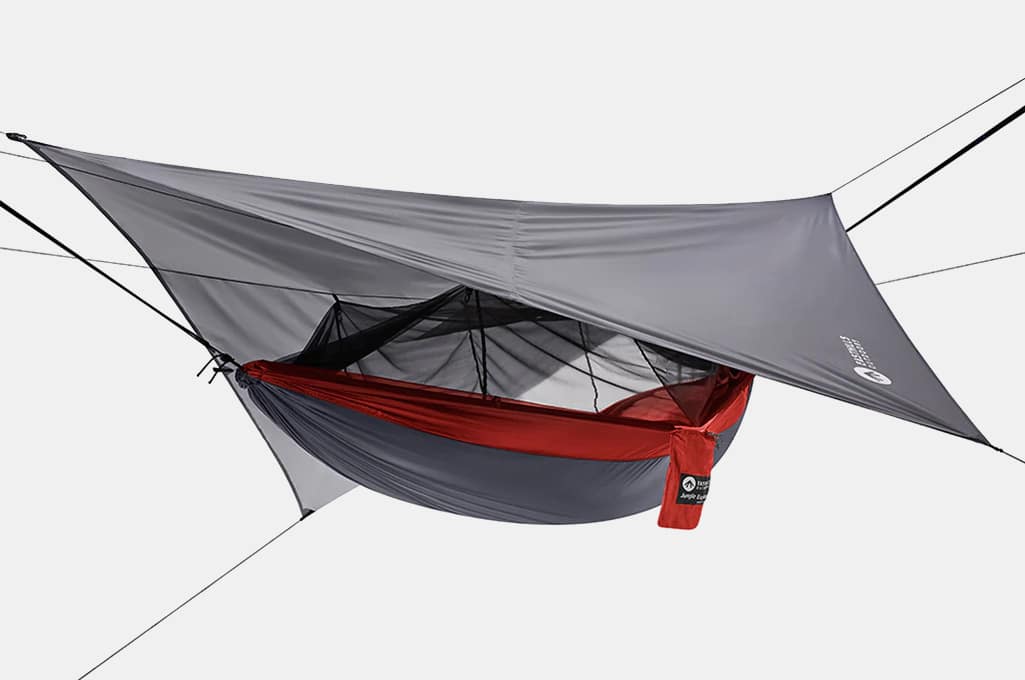 Easthills Outdoors Jungle Explorer Double Camping Hammock
If you're looking for the whole shebang but don't want to spend the whole piggy bank, pick up this set from Easthills Outdoors. The Jungle Explorer Double Camping Hammock comes with a double hammock, rainfly, zip-in bug net, straps, guylines and stakes all for under 80 bucks. While we're not ones to put ideas in your head, the money you save could certainly be spent on a cooler full of beer.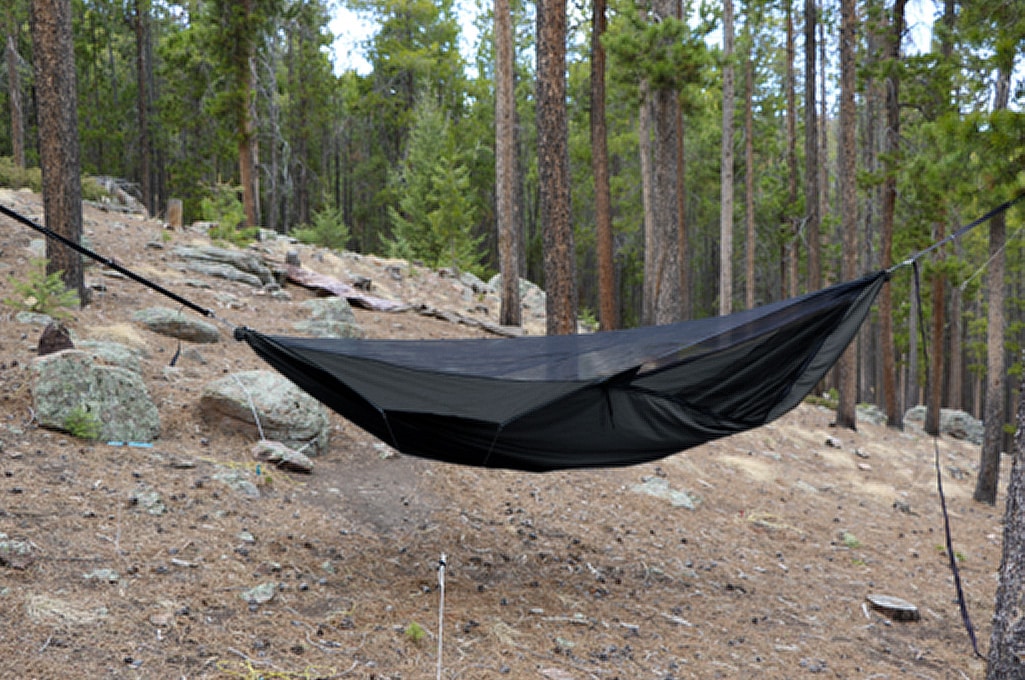 Warbonnet Outdoors Blackbird XLC
For no-joke, made-in-USA craftsmanship, turn to Warbonnet Outdoors from Colorado. Every piece of gear they produce is manufactured in-house in Colorado, often using proprietary fabrics and USA-sourced materials. Their most popular model, the Blackbird XLC is a modular hammock that will sleep campers up to 6'6″ tall.
Their Dream-Tex fabric is a durable ripstop with a cotton-like texture and the built-in foot box and raised canopy allow for more room when you're inside. Since it's a modular design, their tops and accessories like underquilts can be added on at any point, once you figure out your ideal hammock camping setup.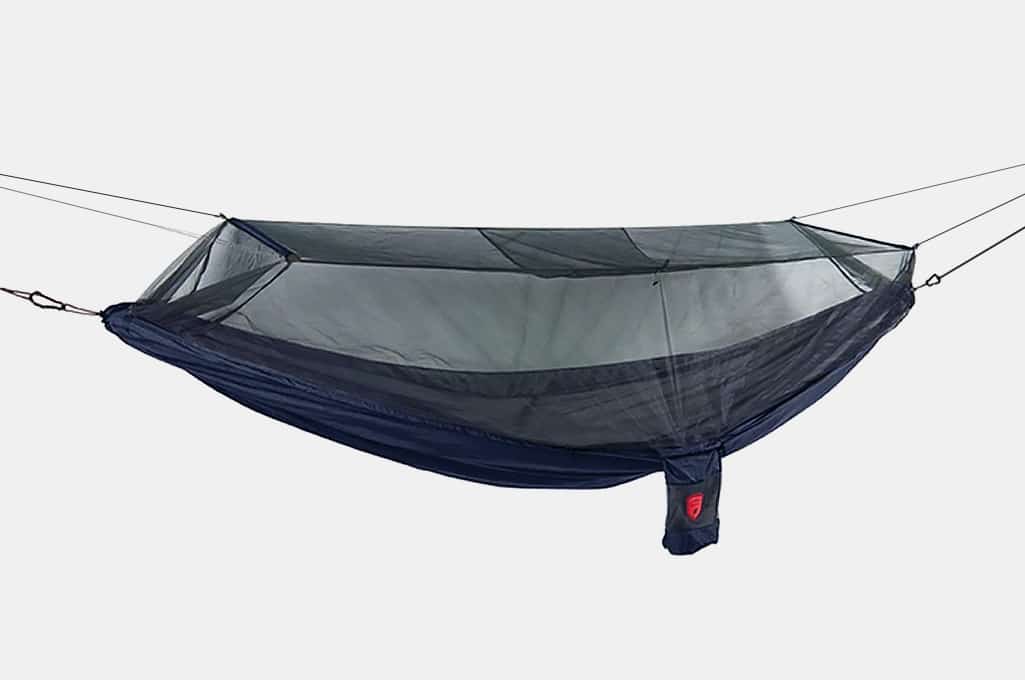 Grand Trunk Skeeter Beeter XT Hammock
Hammock makers for 20 years now, Grand Trunk is a Utah-based brand that offers a lifetime guarantee on their hammocks and gear. The Skeeter Beeter XT Hammock is their version of an integrated bug net hammock, with a zip entry and aluminum spreader bars to keep the netting aloft. On bugless nights (hello, desert camping) you can flip the hammock around for a net-free hang. The Skeeter Beeter doesn't come with straps, the company offers two kinds, both of which are tree-friendly.
Disclosure: Clicking on these links and making a purchase may earn us a small referral fee, at no extra cost to you. Learn more here.
freestar.config.enabled_slots.push({ placementName: "gearmoose_leaderboard_btf", slotId: "gearmoose_leaderboard_btf" });