The 15 Best Camping Hammocks
Why do you want a camping hammock? Is hanging out in trees really better than sleeping half an inch from the cold, hard ground? Yes it is. Hammocks are nothing new. The Royal Navy first stuck sailors in them about 400 years ago. Materials, suspension systems, accessories, all of it has come a long way from the hot, uncomfortable slings that hung inside ships way back when.
Now it's about waterproof breathability and sophisticated suspension systems that are still easy to figure out. Think exceedingly packable yet excessively comfortable. There's a reason why the hammock-as-tent idea is really taking off. No more searching for level ground. No rocks between your shoulder blades when you bed down for the night. Just you, 2 trees and a good night's sleep.
We picked the 15 best camping hammocks out there, covering the map from bridge style to gathered end. Go for a super light backpacking unit or a hang-for-a-week in the mountains expedition camping hammock set-up. Asym, jungle, 90 degree, double. All here. Without a doubt there's one (or 4) hammocks on our list that will make your next clash with the wild outdoors 2 shades more comfortable and a notch more awesome.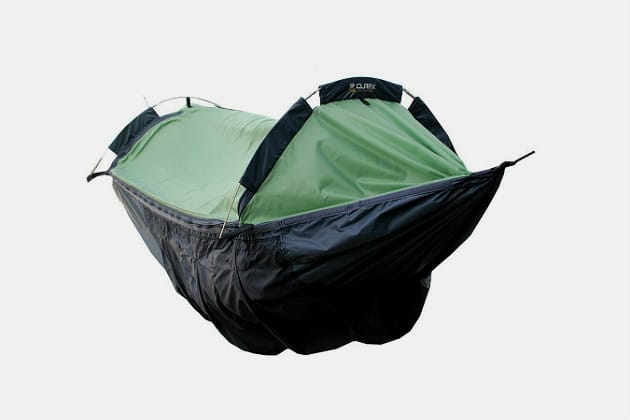 Clark NX-270 Camping Hammock
The NX-270 is a solo, 4-season, gathered end camping hammock, just shy of 3 pounds. This one likes it cold and uses what's at hand. 6 insulating pockets line the outside of the hammock, but instead of stuffing thermal padding in there, use your gear. Jacket, hat, hoodie, all that stuff that hangs out doing nothing while you sleep now acts as insulation. Need to get at that hat in the night? The pockets can be accessed from inside the hammock too.
If you feel a little antsy when a rain fly is half an inch from your face, you'll appreciate the flexible fiberglass poles. They keep the WeatherShield zippered tent-top in a nice, roomy arch. – Buy It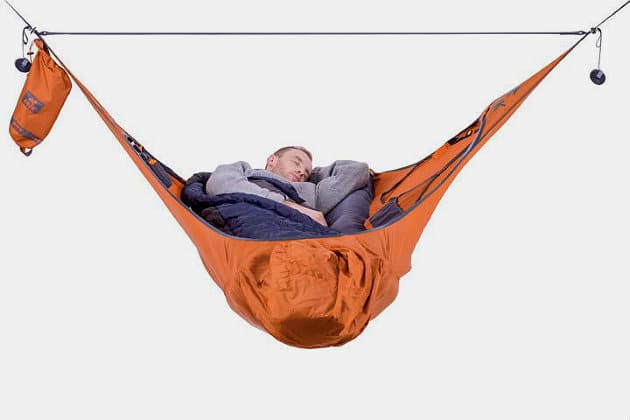 Amok Draumr 3.0 Hammock Tent
One complaint you hear from hammock naysayers is discomfort. They picture themselves bent like a V — head high, butt low, feet high. And yes, that would be uncomfortable. This is solved with the proper, diagonal lie, which gives you an almost flat sleeping position.
But you don't have to worry about any of that with the Amok Draumr. It promises a truly flat experience — and delivers in two ways. First, it's a 90º style hammock. Instead of suspending from the ends, at your head and feet, 90º units suspend from the sides, eliminating the folded V. This particular model accepts an inflatable sleeping pad that further pushes the sleep area into a flat lie. While the sleeping pad is not included, the full suspension system is. Flat lie. No complaints. – Buy It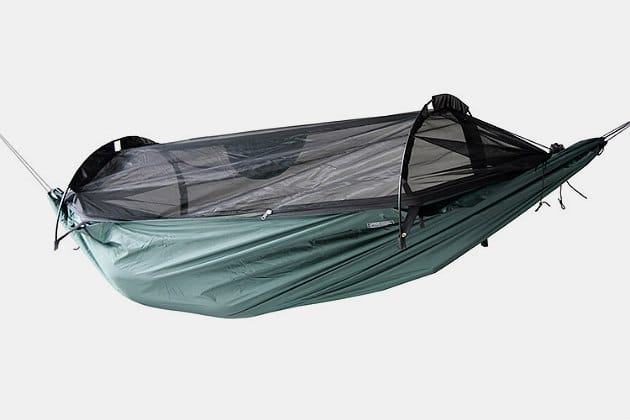 DD SuperLight Jungle Hammock
Another expedition or jungle style camping hammock, the DD Superlight is made for whatever your weekend throws at you. Bugs, rain, heat, cold? Bring it on. The rain layer and bug layer are both detachable and come with poles to both support the layers and spread the hammock out for extra roominess. The double layered base allows you to insert quilting or a pad when it's cold out there at the campsite, but offers breathability when it's not.
At about 3.3 pounds, the Superlight Jungle is a GE style hammock that wants to go where you go. Plus the kit includes integrated Whoopie Suspension — a rope/loop system that makes setup and adjustment of your hammock much easier. No advanced knot skills required. – Buy It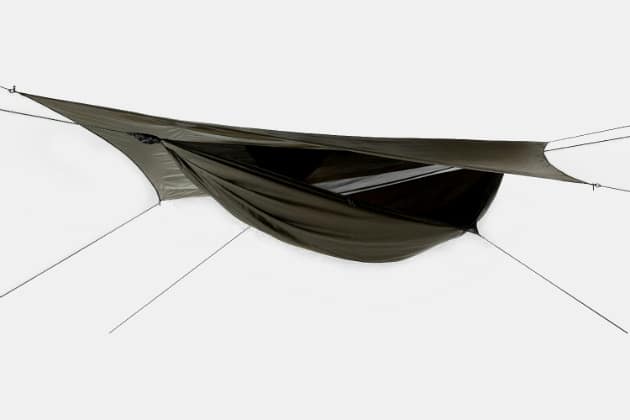 Hennessy Hyperlite Asym Zip Hammock
When you think of asym hammocks, Hennessy is the brand that comes to mind. While the hammocks themselves are traditional gathered end, the anchor points on the sides of Hennessys are asymmetrically positioned. When staked (or tied to other trees), the tie outs basically shape your hammock so that the diagonal (correct) lying position, is the only position.
This particular offering from Hennessy has one thing on its mind: being extremely light. Smaller pack weight and size than their very popular Ultralight Backpacker, the Hyperlight weighs in at just 1 pound 12 ounces (2 pounds with the rain fly). It stuffs down smaller than a soda six pack, so you'll pack it and forget it, until you're ready to set up camp. – Buy It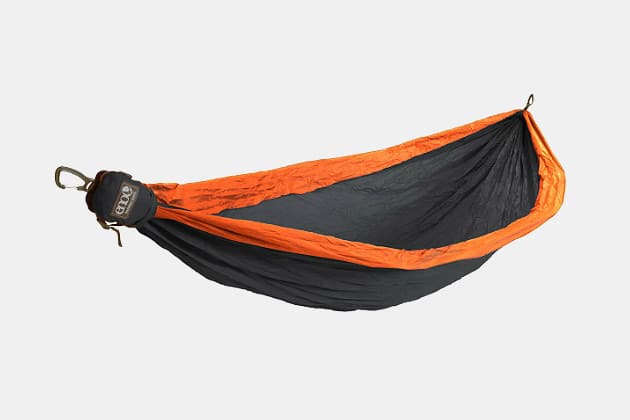 ENO TechNest Hammock
Luxury is the name of this hammock's game. Made of soft, breathable Ripstop Nylon, this two person hang feels good on the skin, and at just 14 ounces, it's easy on the back too. ENO, known for their colorful, 2-toned GE hammocks, is popular among backpackers and music festival goers alike.
ENO sells their gear à la carte, but that means you get to pick exactly the suspension system and/or rainfly that you want. Suspension systems range from the economical (Slap Strap), to the durable (Atlas) to the ultralight (Helios). ENO straps, hammocks and tarps all have the added benefit of a setting up and adjusting faster than most other systems out there. – Buy It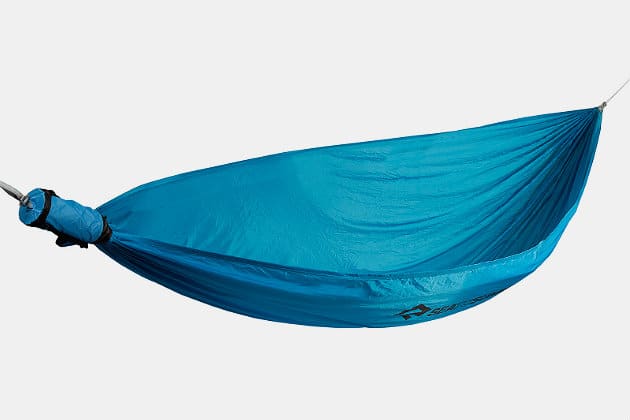 Sea To Summit Pro Hammock
You probably already know Sea to Summit from their extensive lines of backpacking and outdoor gear. The Pro is their entry into the camping hammock battlefield. They looked at what they saw other hammock companies doing, took the best ideas and improved upon them. The result is a GE hammock that's pretty light (just 12.7 ounces without suspension) and extra durable, with an integrated, siliconized compression sack that puts all others to shame.
Pro comes in a single or a double size and your choice of 3 uber bright colors. Sea to Summit only offers one suspension system (not included) but it happens to be one of the more packable, easy setup systems on the market. – Buy It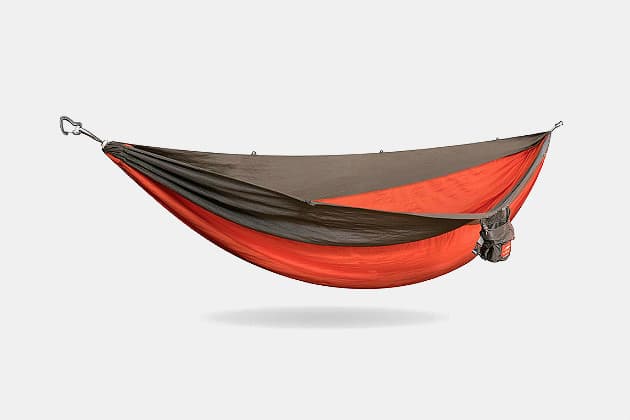 Kammok Roo Ultralight Camping Hammock
Austin, Texas hammock company, Kammok (camping + hammock = Kammok) wants you to get out there and find some adventure. The Roo is just the hammock to do it. Featuring a custom built, diamond ripstop fabric they call Lunarwave, it's breathable, extra strong and with less stretch than other hammock fabrics so you stay comfortable from lights out to sun up.
The 500 pound capacity and wide wingspan means you can invite a friend to hang with you in the trees. Though for sleeping, everyone should get their own Roo. The suspension here is sold separate from the hammock. But they call their tree-friendly, extra long system Python straps, which, in this case, means strong. – Buy It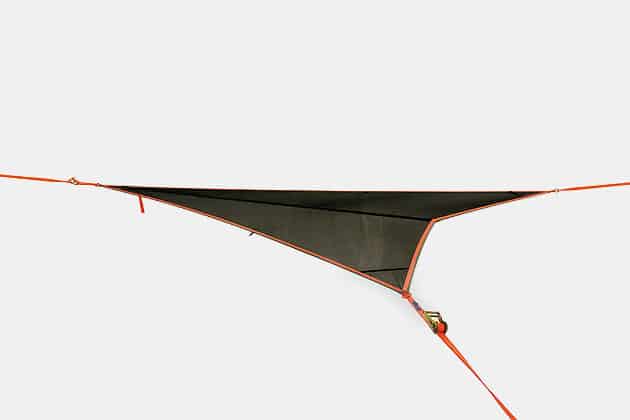 Tentsile T-Mini Double Hammock
Coming from a company that makes tree tents — sort of a portable tree house — the T-Mini looks different than your typical hammock. With a 3 point suspension (yes, you'll use 3 trees instead of 2) this hammock makes a triangle in the trees. The inclusion of a ratchet further sets the T-Mini apart from your usual hang. In any 2 point hammock setup, it's all about the slack. But this one thrives on tension. Once you have 2 points attached, attach the third and ratchet it tight.
At 4 pounds without any top layers, this isn't going to be your answer for overnight backpacking sleep, but it will be a pretty sweet place to hang for you and someone you like. – Buy It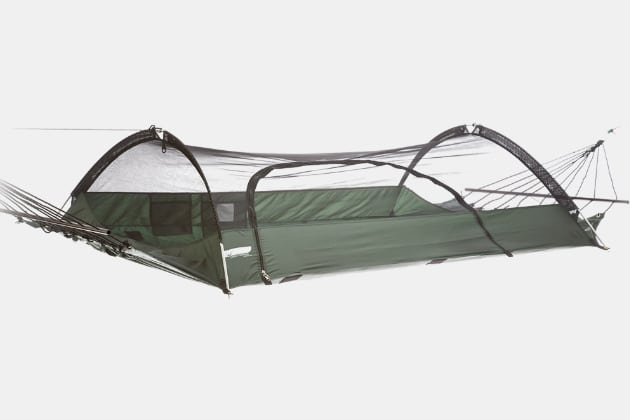 Blue Ridge Camping Hammock
The only offering on our list that can go directly from trees to terra firma, this tent-hammock hybrid will give you the most options for setting up base camp. Can't find 2 ideal trees? No big. Just go for the floor. Spreader bars keep the bed of the hammock flat and the attached rain tarp and bug netting keep you comfortable, dry and unbitten.
With arched tent poles and flat bed, the Blue Ridge feels the most like a traditional one-man tent, while still giving you the option of suspended sleeping over rocky terrain. At 4.25 pounds (not including suspension straps) this is a hair over the line on weight, but you may not care when you find the perfect spot, but not the perfect trees. – Buy It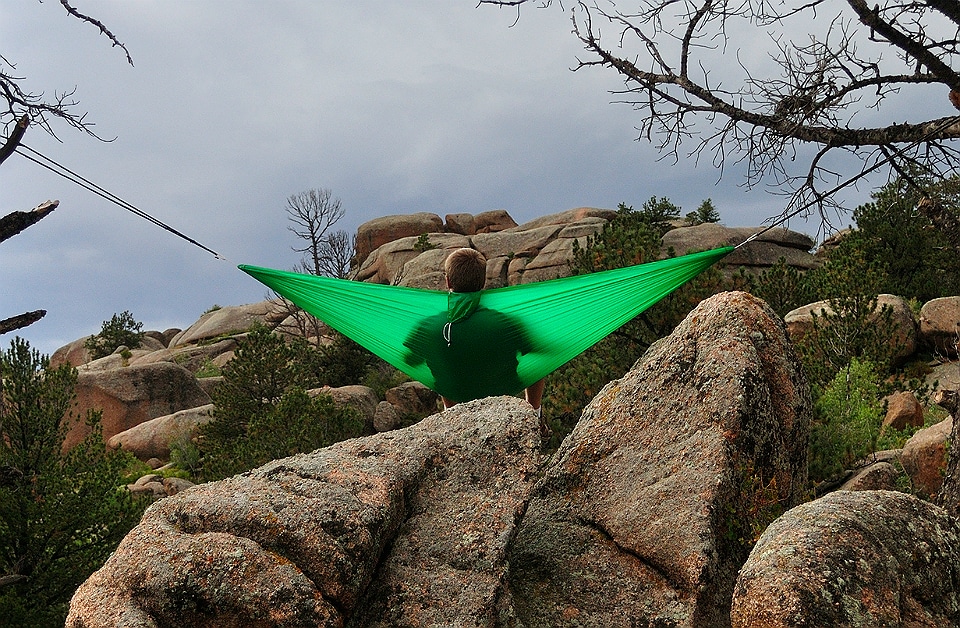 Hummingbird Hammock
This is the lightest on our list (or anybody's list for that matter) coming in at just 5.2 ounces and packing down to a size only slightly larger than a can of beer. The suspension straps aren't included, but even when you add a set of Hummingbird straps, your whole kit still comes in at less than half a pound.
An interesting thing about this very simple, traditional GE hammock is the absence of metal. No clips, buckles or carabiners, the Hummingbird Hammock uses a button closure on the hammock itself and Whoopie sling loops integrated into the tree straps. Yet despite being ultralight, it has a weight rating of 300 pounds, thanks to actual reserve parachute fabric. – Buy It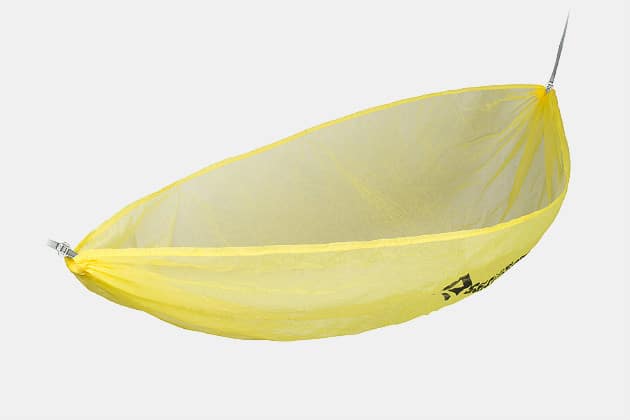 Sea To Summit UltraLight Hammock
Sea to Summit only makes two hammocks and both made it on our list. That's saying something. Specifically it says: StS knows how to make good gear.
Another entry into the very, very light competition, the Ultralight Camping Hammock is just a hair heavier than the Hummingbird, weighing 5.4 ounces. Featuring extra lightweight aluminum buckles and a monofilament Nylon 66 fabric, the Ultralight can hold up to 300 pounds of camper.
The compression sack on this one, like Sea to Summit's Pro model, is siliconized and made to accommodate the (not included) suspension straps. And speaking of the straps, Sea to Summit's unique buckle system makes for a fast hang and fine-tuned adjustments, but still puts hammock plus straps at under 12 ounces. – Buy It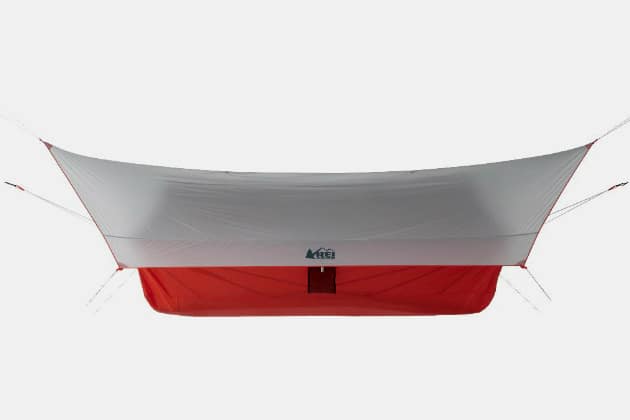 REI Co-op Quarter Dome Air Hammock
The only true bridge style camping hammock on our list, the Quarter Dome features attached spreader bars that eliminate the "cocoon" feeling some people feel with gathered end hammocks. Coming with a bug net, rainfly and suspension straps, this is one of the full kit options out there. No additional purchases necessary.
The bug netting is attached, but when you're lucky enough to be somewhere bug-free, just flip the hammock over and the bug netting disappears. The rainfly deploys quickly and the minimalist design sets up fast. At a touch over 3 pounds, and the pack size of an adult thigh, this is a good get for someone who wants protection, comfort and all-in-one buying simplicity. – Buy It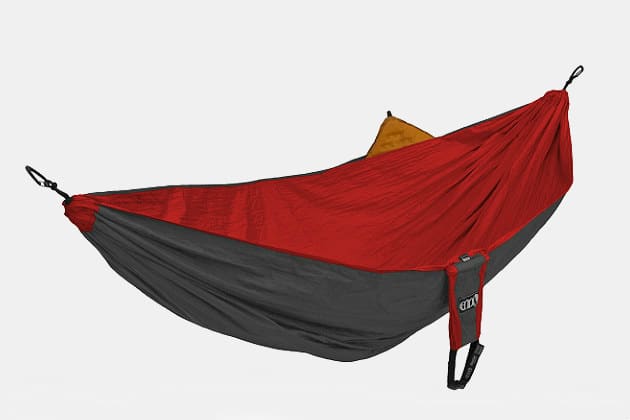 ENO Reactor Hammock
So you like the padded comfort and warmth of a sleeping pad but want the go-anywhere versatility of a hammock? This is the option for you. The Reactor Hammock features a double layered base made from breathable 70D taffeta nylon. Insert your sleeping pad between the layers and there it shall remain, all night, instead of creeping on top of you as you sleep.
This solo gathered end packs down small and weighs 1.8 pounds without straps. ENO's lightest offering on straps is a little over 4 oz, which is great. And unlike some camping hammocks, ENO Hammocks feature simple carabiners at the ends which can be used with pretty much any suspension straps you want. – Buy It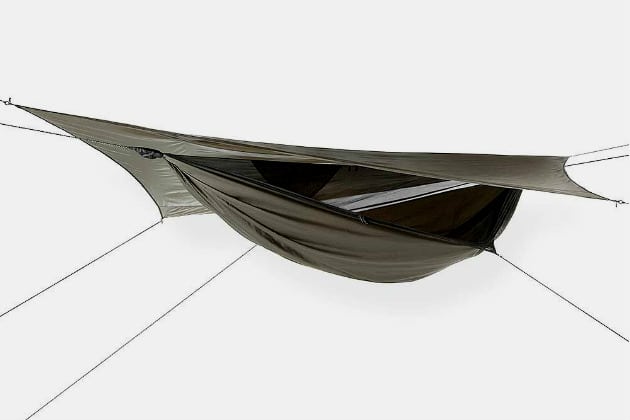 Hennessy Explorer Deluxe Asym Zip Hammock
Tall campers we've got good news. This is your new hammock. Accommodating people up to 7 feet tall, even basketball centers can hammock camp in the Explorer Deluxe Asym. With the same materials, proportions and features as the Explorer Asym, just a bit bigger, this Hennessy GE is ready for some real exploring.
Rainfly, bug netting and suspension ropes are all included and like all Hennessy Hammocks, this one features asymmetric pull outs that shape the hammock into the desired sleeping position. You also get the Hennessy-standard integrated ridgeline which constrains you to hanging the hammock with just the right amount of slack. All features combine for a really good night's sleep at the campsite. Even for those taller than most. – Buy It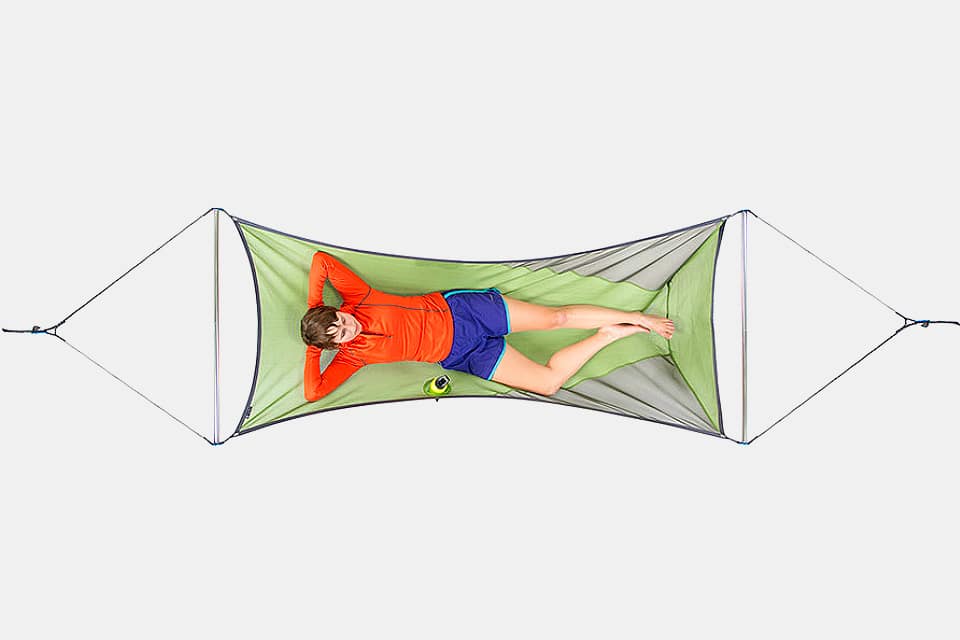 Nemo Cloudview Hammock
It's true, hammocks are cool. But it's also true that once you're in a hammock you're IN a hammock. There's not a lot of face-to-face conversing with friends or enjoying the scenery (unless it's somewhat above you). The Nemo Cloudview makes in-hammock socializing more possible. While not necessarily the expedition style, come-what-may, explorer sort of hammock, the unique shape of this one puts you in a laidback, beach chair type position.
This is the hammock you want when hanging out with friends is just as important as hanging out in trees. It's perfect for relaxing while interacting with the world around you. And the best feature? An integrated cup holder. – Buy It
Disclosure: Clicking on these links and making a purchase may earn us a small referral fee, at no extra cost to you. Learn more here.