The 15 Best Coffee Mugs For Camping
There's nothing quite like waking up to the sun peeking over the horizon and a chorus of birds singing their first songs of welcome to the new day. The chill of the morning air as you crawl from the cozy confines of your tent whispers of adventure and you're ready to start the day, just as soon as you get your daily dose of caffeine. This, of course, is made easier with a trusty camping coffee pot to place over the fire, not to mention your favorite camping mug.
Like everything you carry during extended hiking or camping forays, your coffee implements need to be lightweight, compact, eminently portable, and ideally, multipurpose. A coffee pot may be a bit too much, in fact, due to its size, but the fact that you can pack it full of socks or dry goods in a pinch doesn't hurt. As for your morning coffee mug, you can always find space, even if you have to hang it on the back of your pack with a carabiner.
How can you find that special, one-of-a-kind camping mug that fits your hand perfectly and keeps your brew steamy throughout the cold morning? Here are some of the best camping coffee mugs for your consideration.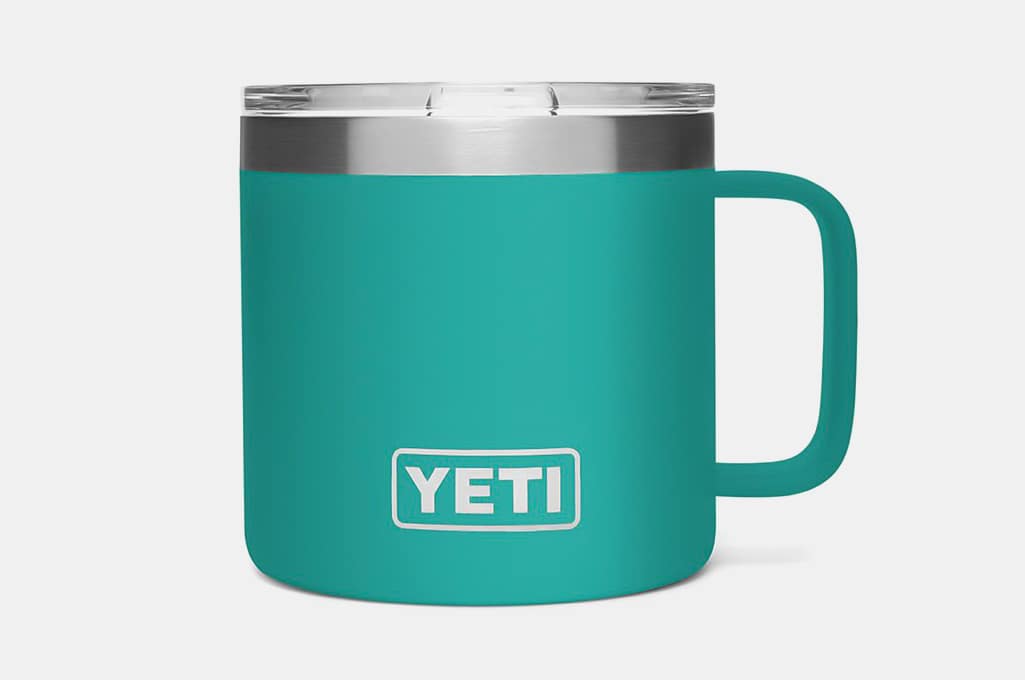 Yeti Rambler Mug
Resplendent in 18/8 kitchen-grade stainless steel with a slew of wrap colors to choose from, this hardy mug is rust-resistant, puncture-resistant, and designed to preserve the temperature of the contents thanks to double-wall vacuum insulation. The full-loop TripleGrip handle is designed to provide a comfortable grip for wider hands, whether you're sipping coffee or slurping soup. It fits 14 ounces of liquid, comes with a Rambler Lid, and is even dishwasher safe.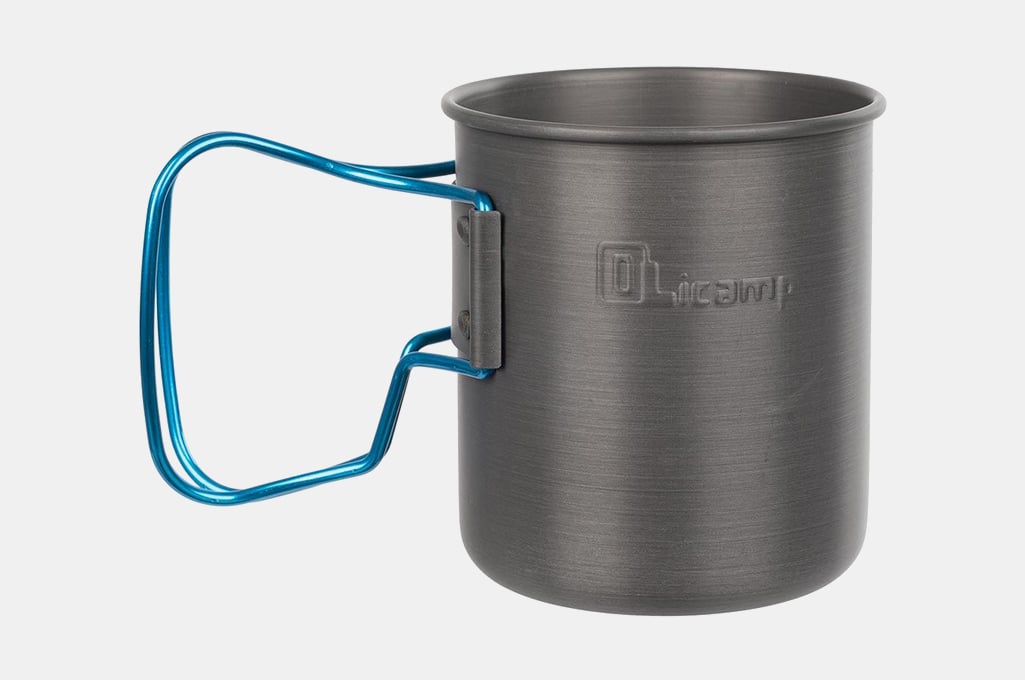 Olicamp Space Saver Mug
Fill it to the brim to get a full 24 ounces of steaming hot java. Or err on the side of caution and stop at the top graduation for just 20 ounces of delicious caffeine. Single wall anodized steel is lightweight and scratch-resistant, which is great when you're using a rock for a table. Use it to boil your breakfast, lunch, and dinner, then flip the handles flat to the sides for compact stowing.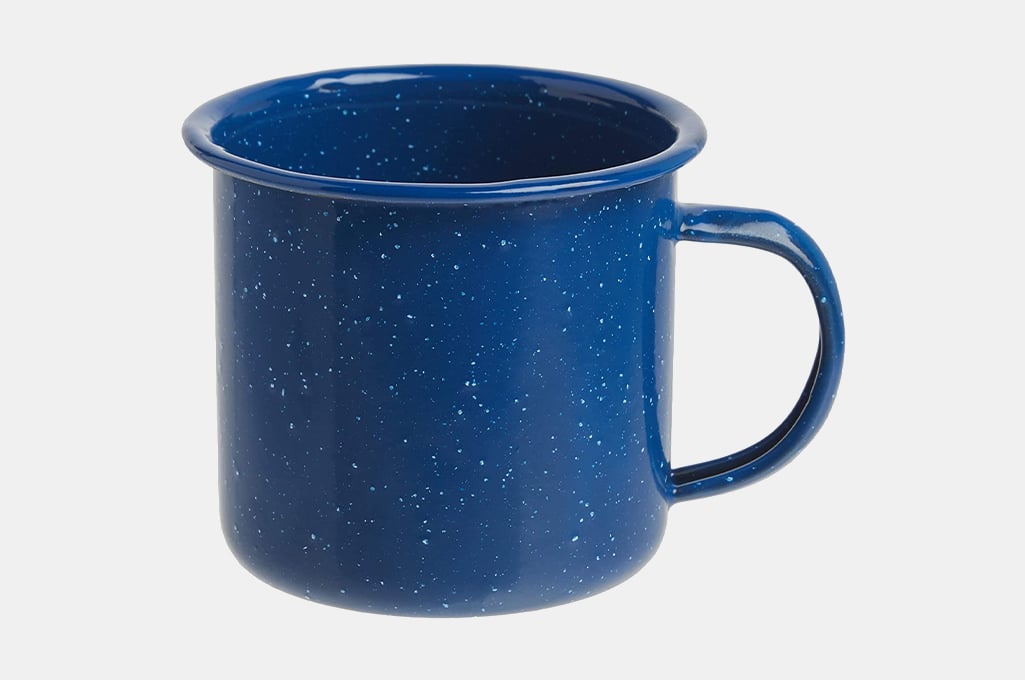 Coleman Enamel Camping Mug
There's just no denying the nostalgic appeal of that classic, blue speckled enamel. One look takes you back to childhood camping trips, watching your dad sip coffee out of his dinged-up mug and get grounds caught in the push broom on his upper lip, eliciting giggles from assembled kids. Trip down memory lane aside, this 12-ounce mug in lightweight steel is one you'll pass on to your own kids someday.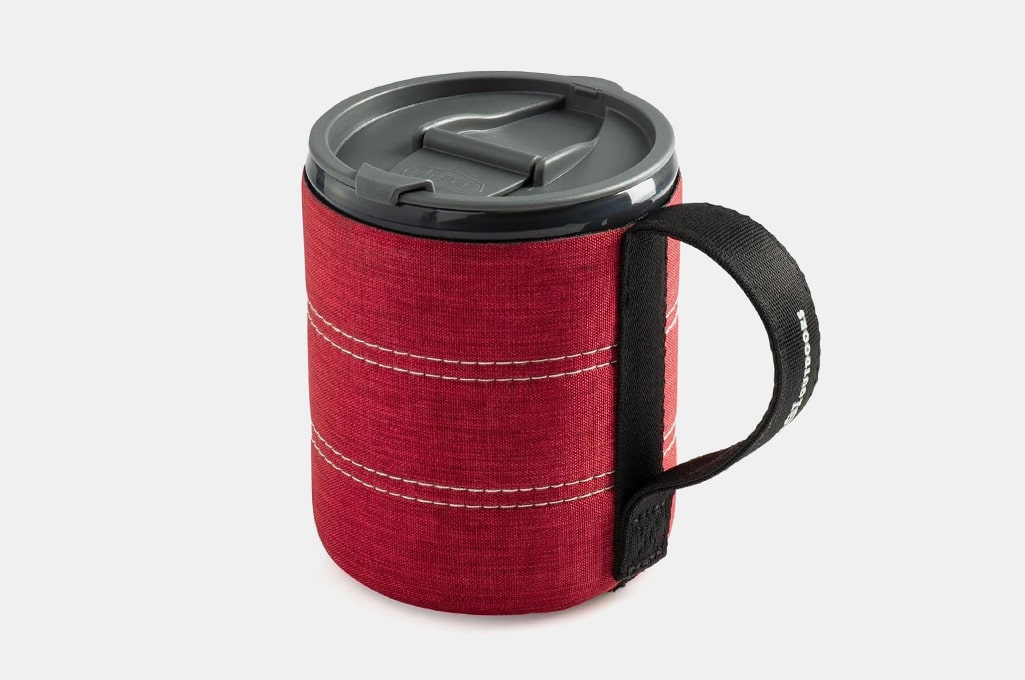 GSI Outdoors Infinity Backpacker Mug
Let's just start with the appearance. This mug looks like a tall boy can wrapped in a shiny canvas koozie. In essence, that's pretty close to reality, except you'll get 17 fluid ounces (as opposed to a tall boy's 16), the "can" is polypropylene instead of aluminum, and the koozie is made of tough ballistic nylon for insulation. For added convenience, there's also a collapsible tarpaulin handle and a sip-it lid to minimize spills.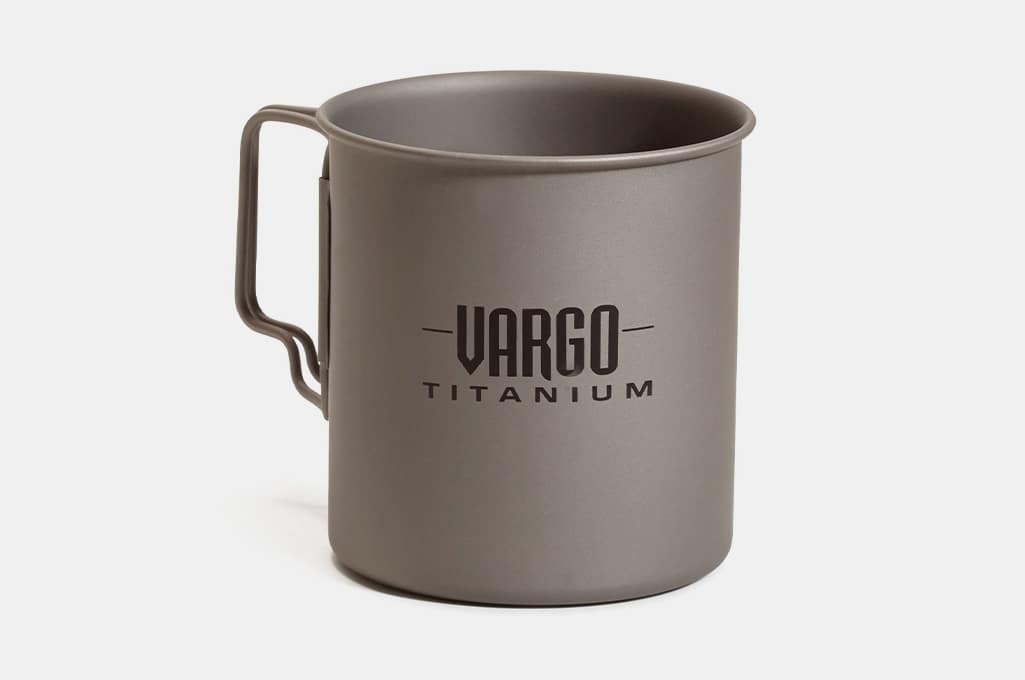 Vargo Titanium 450 Travel Mug
Titanium construction ensures ultra-light carry paired with incredible durability, which is just what you want on long outings with lots of hiking. Although the single wall design doesn't lend itself to insulation like vacuum sealed products do, the upside of this handy camp cup is that you can place it over an open flame to cook your coffee, negating the need for a coffee pot. Folding handles make for easy storage.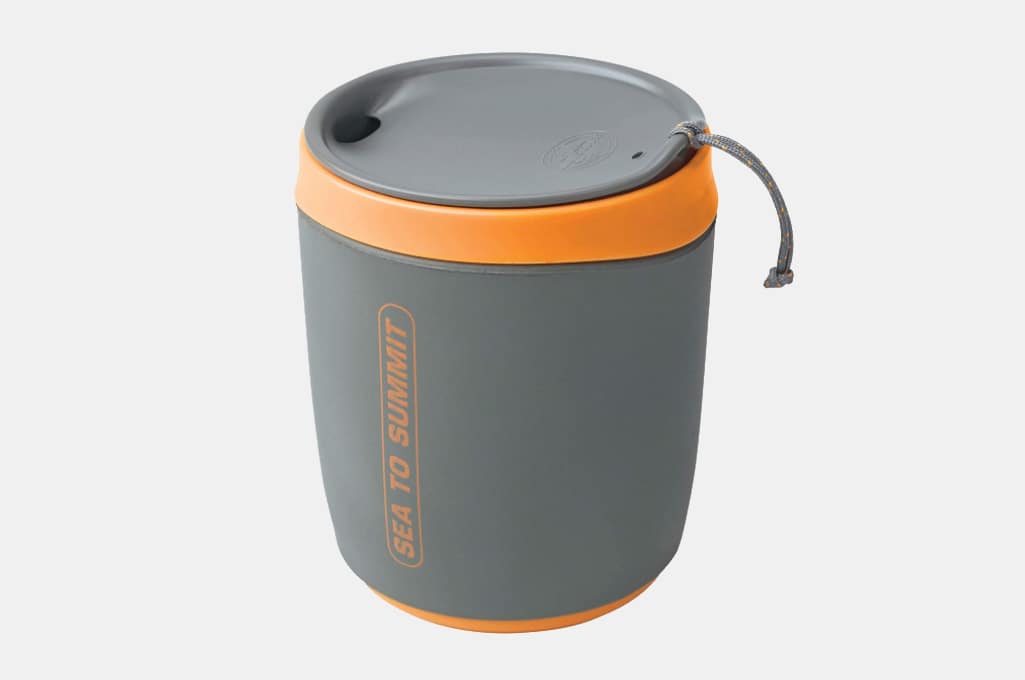 Sea To Summit Delta InsulMug
Plastic may not seem ideal, but this mug offers 100% BPA-free design, along with a closed-cell, polyurethane skin for insulation so you never burn your hands on a boiling cup of coffee. This handleless mug is easy to stow and it features a hang loop, in case you don't have room in your pack. A sip-through lid reduces chances of spills, ensuring all 16 ounces of coffee or tea makes it into your waiting maw.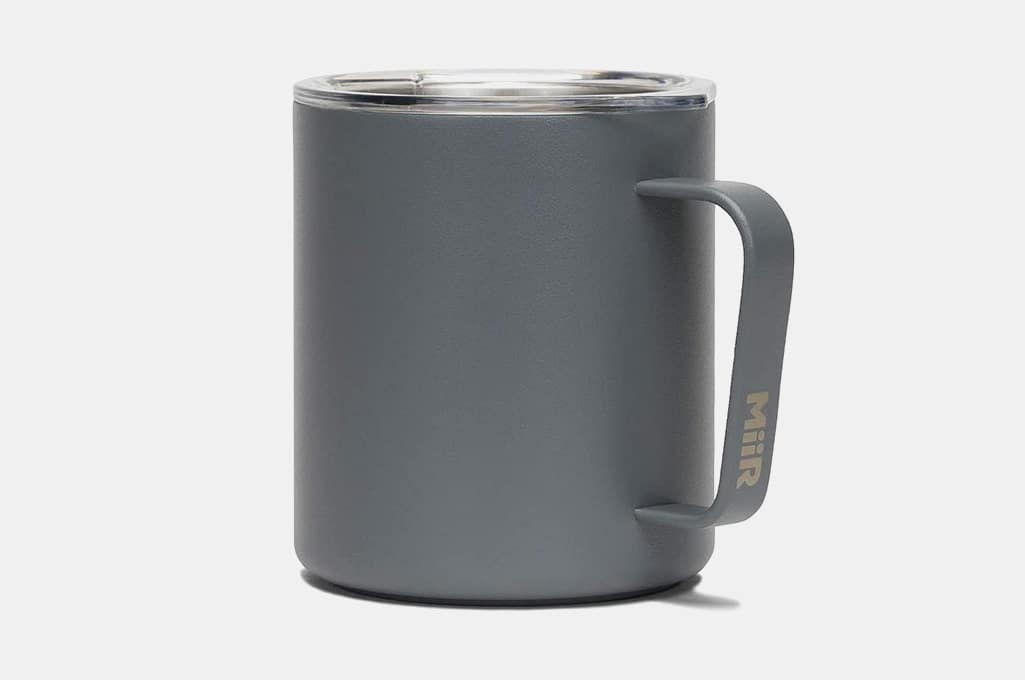 Miir Camp Cup
This 12-ounce, medical-grade stainless steel camp cup in black, white, or blue has the spare and streamlined sensibilities of Scandinavian design, and is fittingly billed as the "modern take on Grandpa's old camp cup". Thermo 3D double wall vacuum insulation preserves interior temperature without transfer, so you don't have to worry about singing your mitts, and the press fit lid means you won't accidentally spill and scald yourself. Hey, safety first.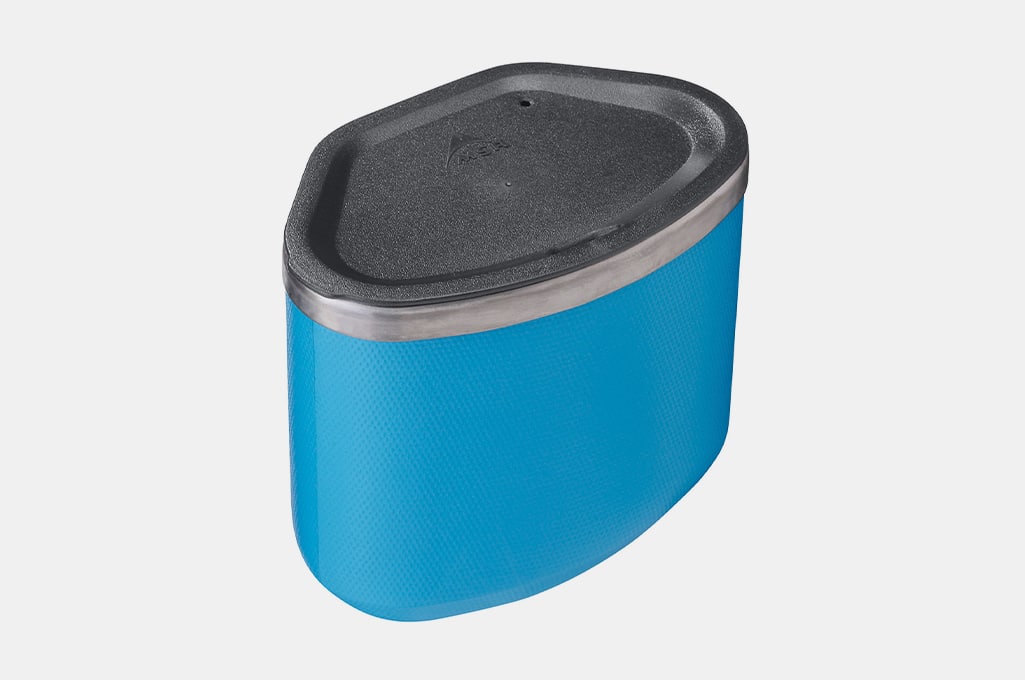 MSR Stainless Steel Insulated Mug
The trapezoidal shape of this 12-ounce mug seems odd at first, but you'll be pleasantly surprised by the utility with which you can drink thicker liquids like soup or oatmeal from it. The camp-friendly design is clearly intended for beverages other than coffee, but a lid makes it easy to sip thinner fluids, as well. Durable stainless steel is insulated by a removable EVA foam sleeve that goes right in the washing machine.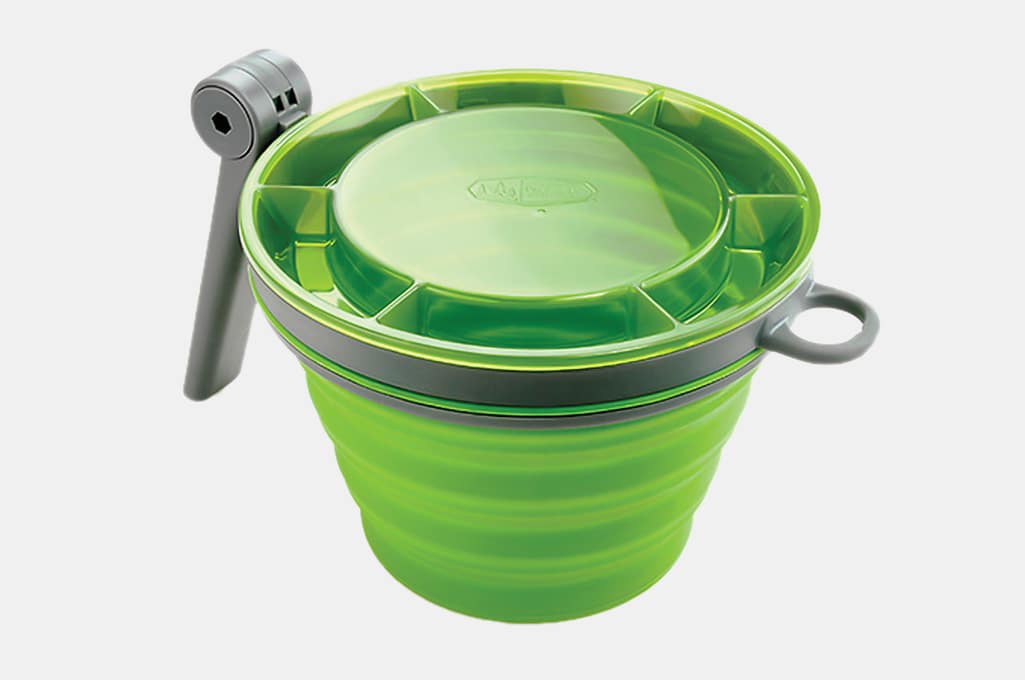 GSI Outdoors Collapsible Fairshare Mug
When it comes to utility, it doesn't get much better than collapsible dishes that stow flat and pop up to accommodate foods and beverages. This collapsible cutie in polypropylene holds up to 22 fluid ounces when popped and features a folding handle that locks into two positions for eating and drinking versus measuring and scooping. The screw-top, sealing lid keeps contents in and pests out and it's great for rehydrating meals.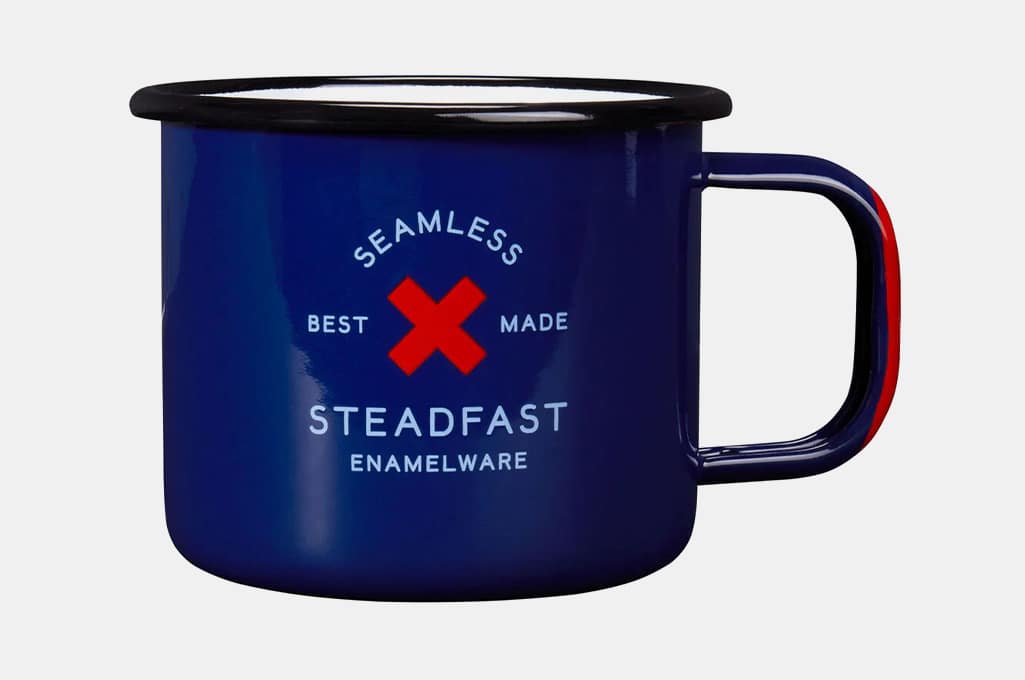 Best Made Seamless & Steadfast Enamel Mugs
This 20-ounce enamelware steel mug in white, mess hall tan, or royal navy blue is easy to find in a full pack thanks to a red X that marks the spot. Even better is what it can do when unpacked. Place it over an open flame to cook your coffee or vittles, and easily rinse it out to stow away once again. The addition of interior markings makes measuring a cinch.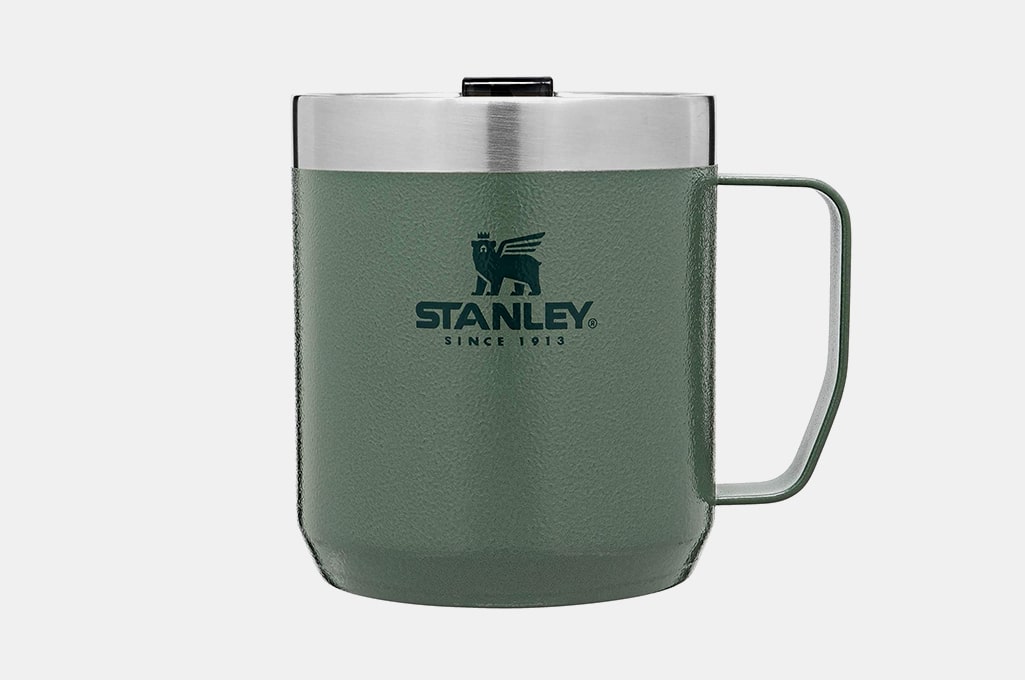 Stanley Legendary Camp Mug
Stanley is famous for its super-tough products, and the Legendary Camp Mug definitely meets the brand's high standards of excellence. Its twelve-ounce size makes it the perfect portable mug—it'll fit into any bag easily—and it's rugged enough to handle anything you and the great outdoors can throw at it. The double-wall vacuum insulation keeps your beverages hot for 90 minutes, cold for three hours, and iced for 15 hours. With its marvelously designed press-fit Tritan lid, you'll never have to worry about splashing or spilling when drinking from this beast of a mug. Best of all, it comes with a lifetime warranty, so it really is the only camping coffee mug you'll ever need.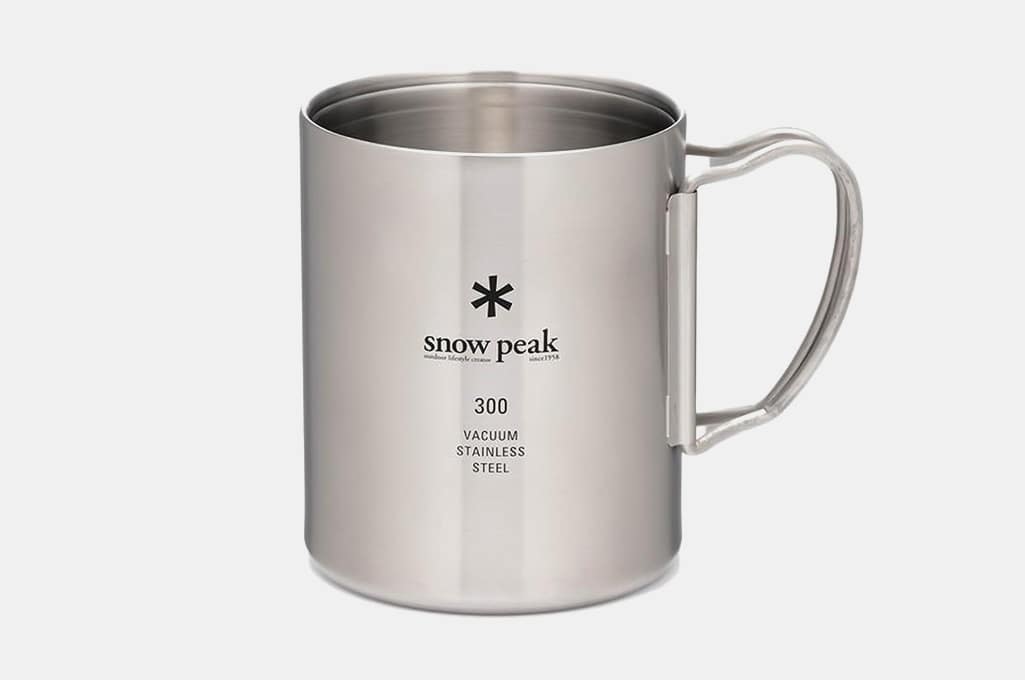 Snow Peak Stainless Vacuum-Insulated Mug
Snow Peak believes in three things above all: durability, functionality, and minimalism. The Japanese-designed Stainless Vacuum-Insulated Mug hits those high notes to perfection, sized small enough (at 300 milligrams, or a small cup of coffee) that it won't feel bulky or heavy in your backpack, with collapsible handles make it easy to store anywhere and a light weight of just over 3.5 ounces. With its brushed stainless steel body, it's a luxurious-looking mug tough enough to give you decades of hardcore use.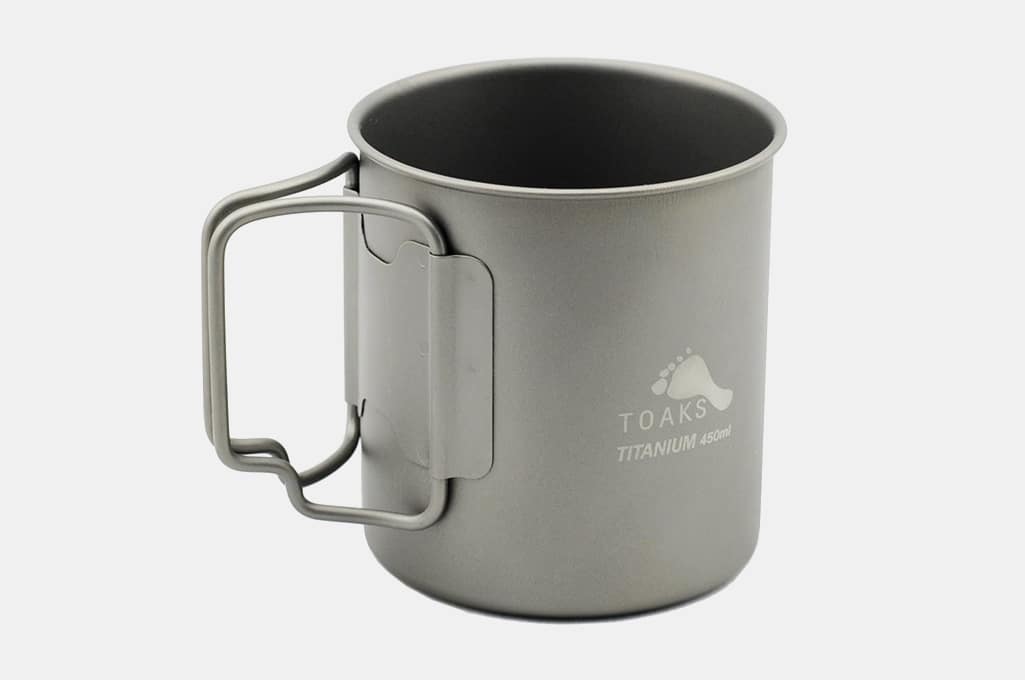 TOAKS Titanium Single Wall Cup
TOAKS gives you a mug that's both heavy-duty and insanely lightweight in the form of its Titanium Single Wall Cup. Big enough to fit a cup-and-a-half of coffee, it weighs just 2.7 ounces and is designed to nest inside any of the TOAKS coffee pots. The single-walled construction isn't ideal for heat-proofing, but it's built for use directly on your campfire, resisting corrosion and eliminating the metallic taste you get from stainless steel mugs.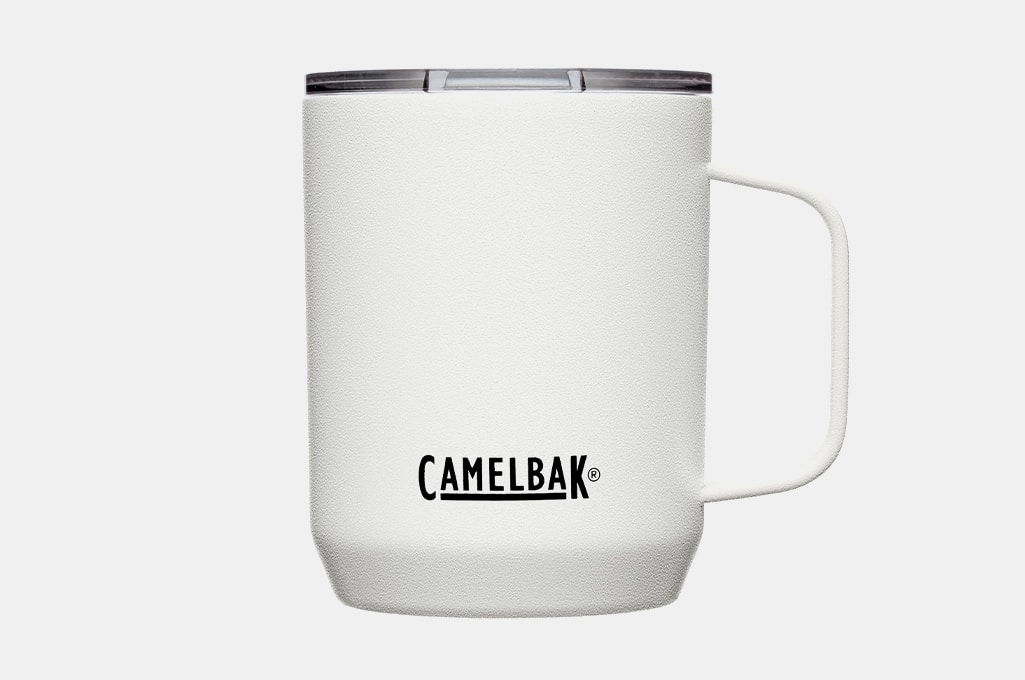 CamelBak Horizon Camp Mug
Sometimes, you just want to keep your ice coffee cold for hours, or your morning brew hot until after you've finished your preparations to break camp. The CamelBak Horizon Camp Mug will do both in style. The insulated stainless steel will give you four hours hot and six hours cold, and its spill-resistant lid will give you three flow options depending on whether you sip or chug your java. Thanks to the non-slip silicone base and the powder coat-finished stainless steel exterior, you can always rest easy knowing your coffee mug is by your side on every adventure.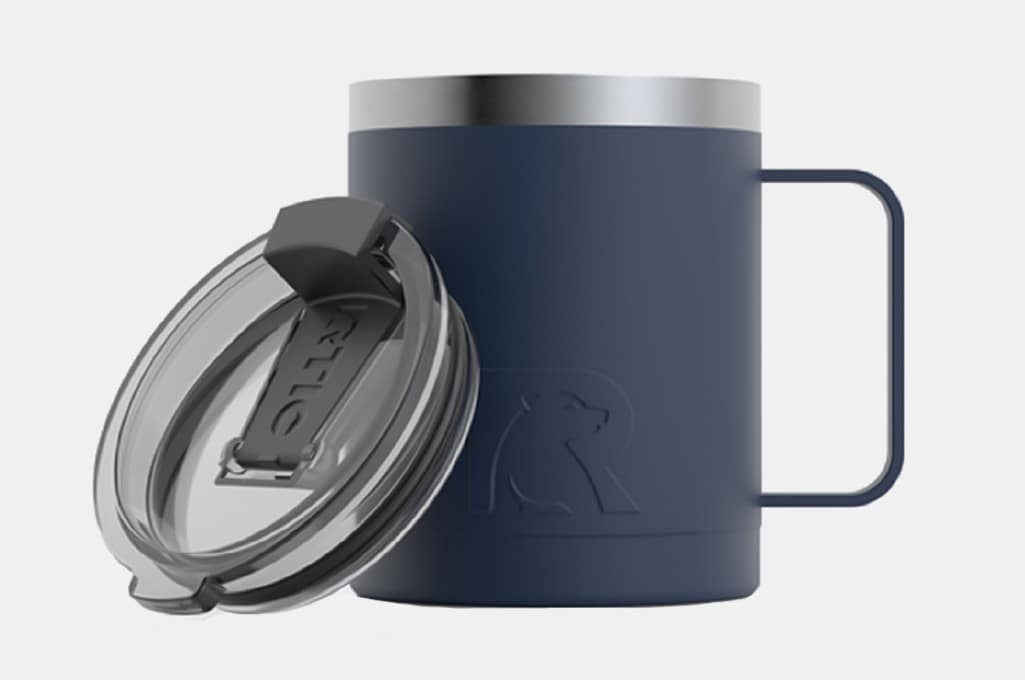 RTIC Outdoors Coffee Mug
RTIC's motto is "Overbuilt. Not Overpriced." The brand aims to deliver only the best-designed, toughest-made products suited to an active outdoors lifestyle, which is why its Outdoors Coffee Mug deserves a place on this list. The twelve-ounce size is perfect for that morning coffee (or a beer you want to sneak into the concert), keeping your drinks iced for a full 24 hours. The lid is fully splash-proof and transparent so you always know when you're going to need a refill, with a wide mouth that makes it beautifully easy for you to gulp down whatever you're drinking. Best of all, the stainless steel body is hyper-durable.
Disclosure: Clicking on these links and making a purchase may earn us a small referral fee, at no extra cost to you. Learn more here.
freestar.config.enabled_slots.push({ placementName: "gearmoose_leaderboard_btf", slotId: "gearmoose_leaderboard_btf" });