A couple decades ago, your to-go coffee options were: Decaf or regular. Styrofoam or paper cup. Powdered creamer and a packet of Sweet'N Low if you were feeling deluxe. But now ready-to-drink coffee options know no bounds. Wrapped up in one of the most portable containers known to man, canned coffee manages to rise above coffee shop fare by nature of being right there in your fridge, ready to jump start a morning or pep up a lagging afternoon as fast as you can pop the pull tab. 
In our roundup of the 12 best canned coffees, you'll see a good amount of cold brew — the brewing process that hangs on to far more caffeine while dropping the acidity down low. There's also a fair number of nitro coffees, too. A few come with extra energy, one stirs in a few mushrooms, and one straight up doses the java with vodka. Raise a can to the deliciousness of choice overload.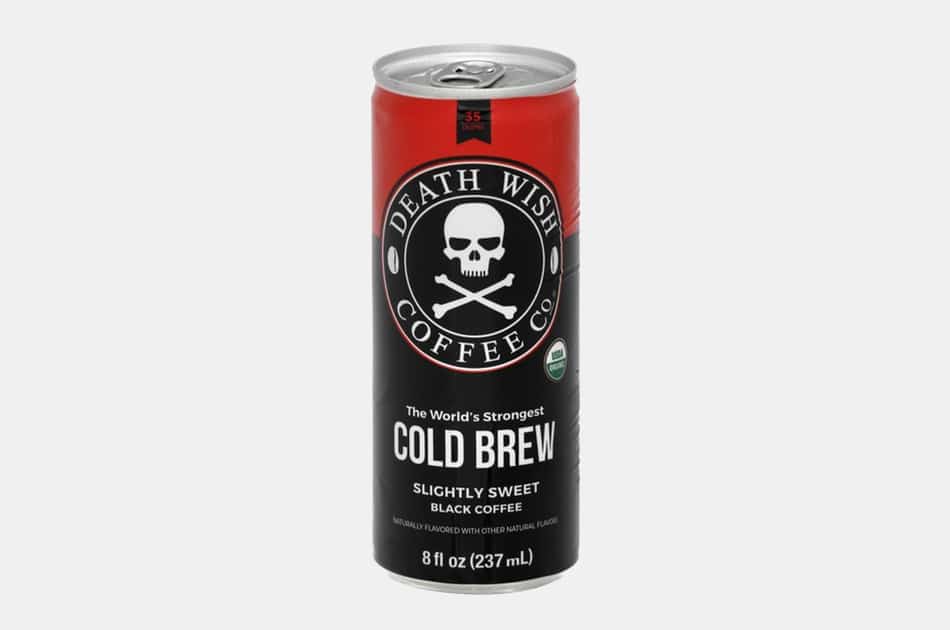 Death Wish Slightly Sweetened Cold Brew Coffee
Can Size: 8 oz • Caffeine Per Can: 300 mg • Extras: Light Sugar 
If you just need to cut to the chase and ingest the most caffeine possible, go for this. Death Wish Coffee built their name brewing up coffee with a proprietary roasting technique that maintains the highest levels of our favorite psychoactive stimulant. But don't think of Death Wish and their Slightly Sweetened Cold Brew Coffee as simply rocket fuel, this java made from high-quality, organic, fair trade beans — it's really good rocket fuel.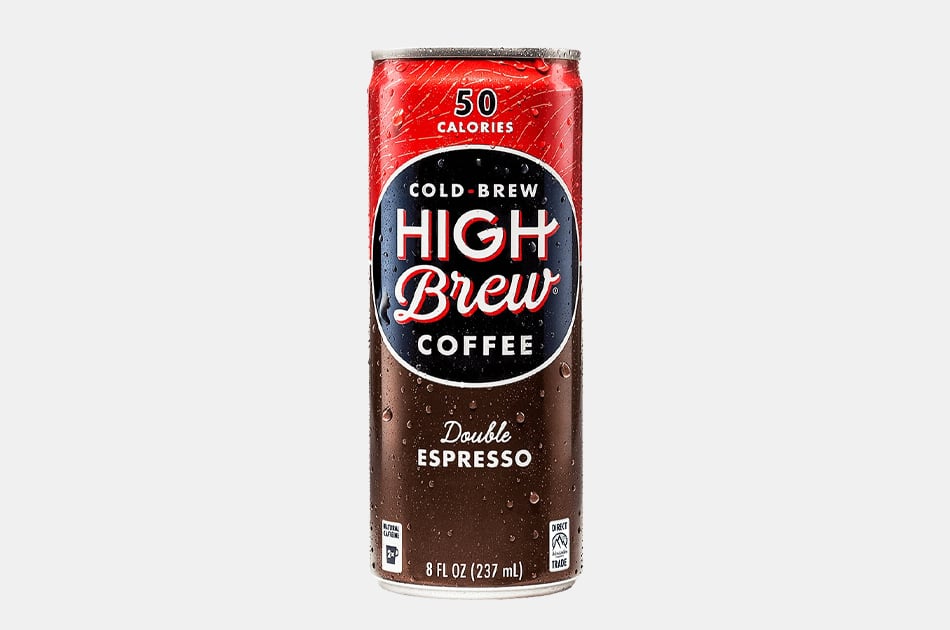 High Brew Coffee Double Espresso In A Can
Can Size: 8 oz • Caffeine Per Can: 130 – 150mg • Extras: Milk, Sugar
Cold brew coffee in a can is what High Brew coffee does. And with direct-trade beans and a slow-brew/no-heat process, they do it well. Their Double Espresso In a Can is not an espresso per se. That would require heat. Instead the name alludes to the spirit of a double espresso — smooth flavor, healthy dose of caffeine — but made with the cold brew process for high flavor and less acidity. It's then rounded out with a touch of milk and sugar.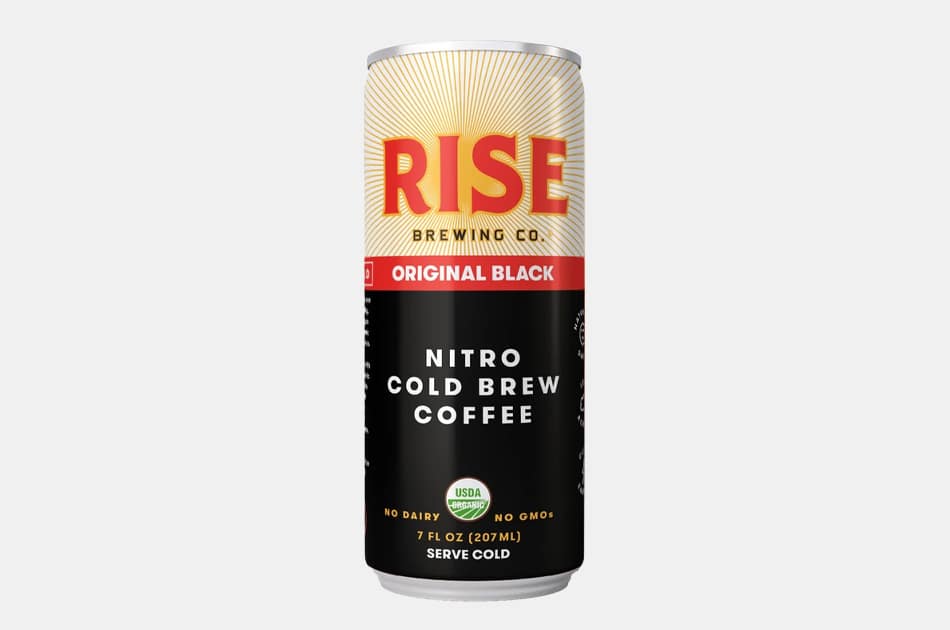 Rise Nitro Cold Brew Coffee
Can Size: 7 oz • Caffeine Per Can: 180 mg • Extras: Nitrogen
Nitro! The most abundant gas in the Earth's atmosphere does something very special to coffee (and a good stout, but that's another discussion). Infusing nitrogen into cold brew coffee not only gives it a longer shelf life, standard black coffee gets a creamy taste and creamy feel — without a drop of actual cream. Rise Coffee is all about nitro. So much so that they named their company after the lovely rising cascade effect in their nitro brews. (Pour it in a glass to get the full effect.)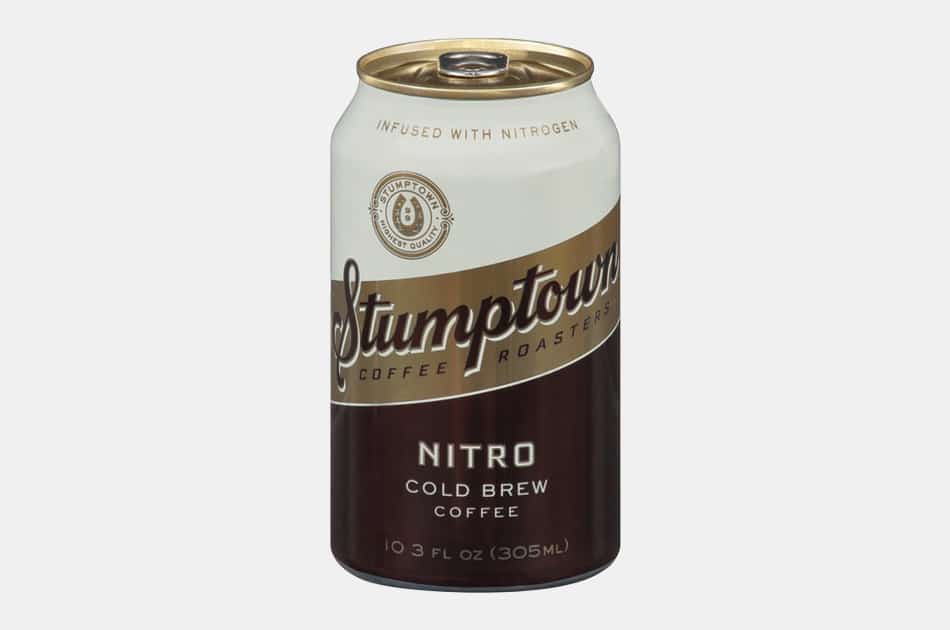 Stumptown Nitro Cold Brew Coffee
Can Size: 10.3 oz • Caffeine Per Can: 330 mg • Extras: Nitrogen
Taking one of Portland's many nicknames for its own, Stumptown coffee has been roasting and selling the good stuff in Puddletown (and beyond) for the past 20 years. Their ready-made offerings, like the Stumptown Nitro Cold Brew, are made from the same high-quality beans that made them famous — beans purchased in partnership with producers located in remote elevations situated along that magical band surrounding the equator where coffee grows.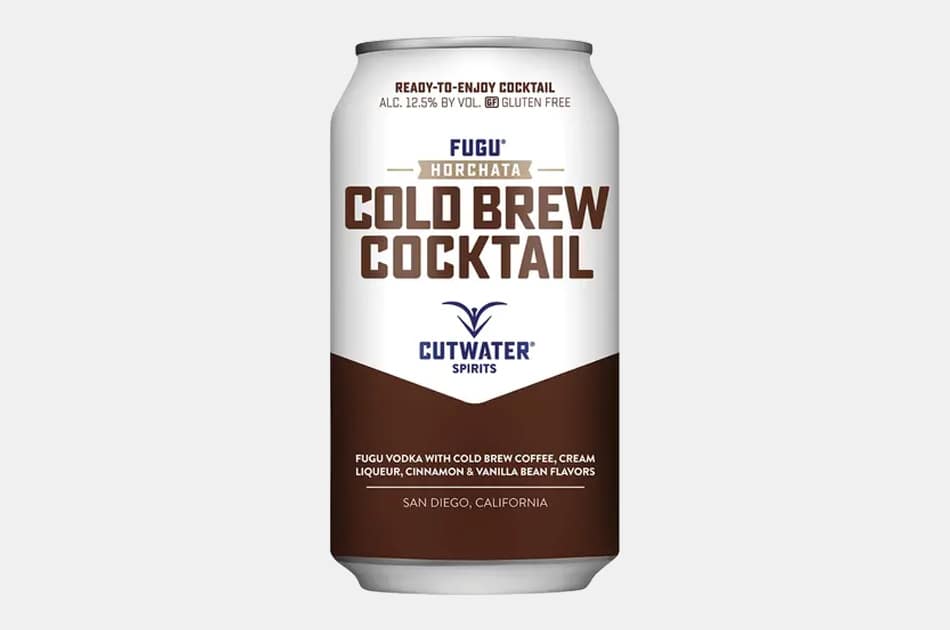 Cutwater Spirits Horchata Cold Brew Cocktail
Can Size: 12 oz • ABV: 12.5% • Extras: Vodka, Cinnamon, Vanilla, Cream Liqueur
Imagine that Red Bull and vodka you pounded as a young adult grew up just like you did. Taking cues from the sweetened rice drink, horchata, this canned coffee from Cutwater Spirits layers cinnamon and vanilla flavors with a medium roast coffee and their six-time distilled, fifteen-time filtered, purer-than-angel's-breath vodka. An excellent way to catch two buzzes at once. The world needs this.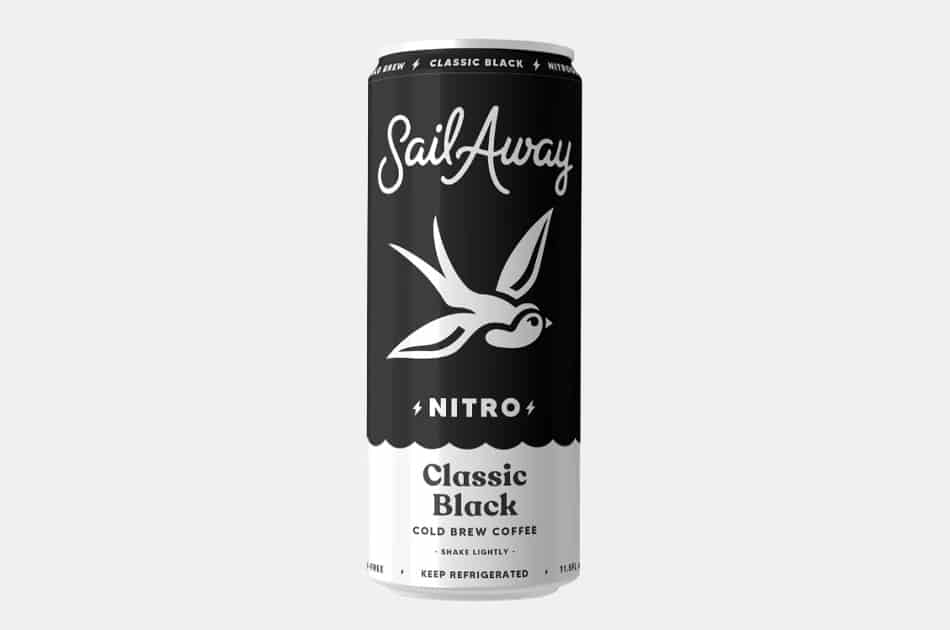 Sail Away Nitro Cold Brew Coffee Classic Black
Can Size: 11.5 oz • Caffeine Per Can: 220 mg • Extras: Nitrogen
In addition to their sleekly convenient cans of cold brew, Sail Away also sells their go juice in a box, just like your favorite wine. But we're here today to honor the can. The basic black brew, the Nitro Cold Brew Coffee Classic Black can is brewed from their own organic Central American blend. The sleek black and white can has a healthy dose of caffeine with that creamy, nitrogen-y, tiny-bubbled effervescence.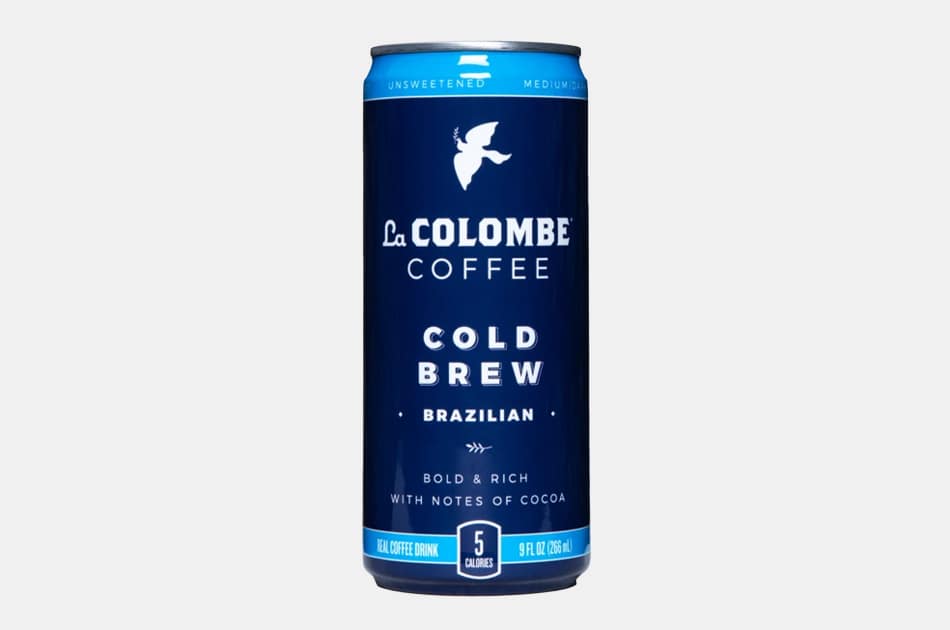 La Columbe Cold Brew Coffee
Can Size: 9 oz • Caffeine Per Can: 180 mg • Extras: Nada
Philly-based coffee chain La Columbe has much to offer those who can't make it into one of their thirty-plus locations (mostly on the East Coast, plus a few in California). They started by canning their innovative Draft Latte (which is exactly what it sounds like) and now sell canned brew in tons of flavors, plus fridge boxes and concentrates. The classic La Colombe Cold Brew Coffee is a can of overnight-brewed, double-filtered, Brazillian java with a natural no-sugar-added sweetness and a clean sip.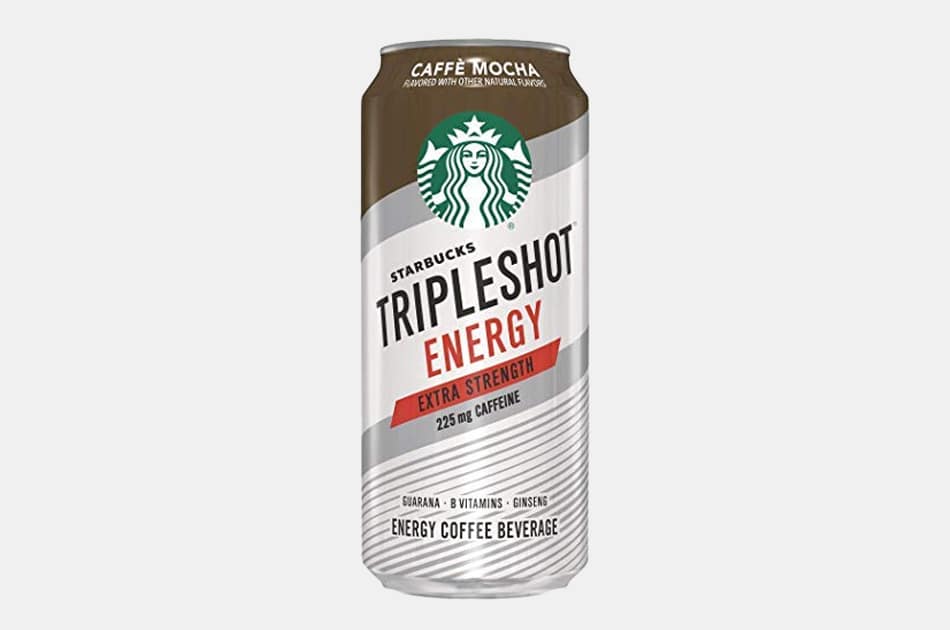 Starbucks Tripleshot Energy Extra Strength
Can Size: 15 oz • Caffeine Per Can: 225 mg • Extras: Guarana, B-Vitamins, Ginseng 
Perhaps you've heard of Starbucks. I kid. The mega coffee brand has brewed literally billions of cups of their high-octane joe for the people and they started putting their Frappuccino in bottles back in the '90s. More than just a coffee drink, the Tripleshot Energy Extra Strength blends SBX coffee with cream and sugar, plus a few known natural energy boosters. And it's definitely a cost-effective way to get your energy.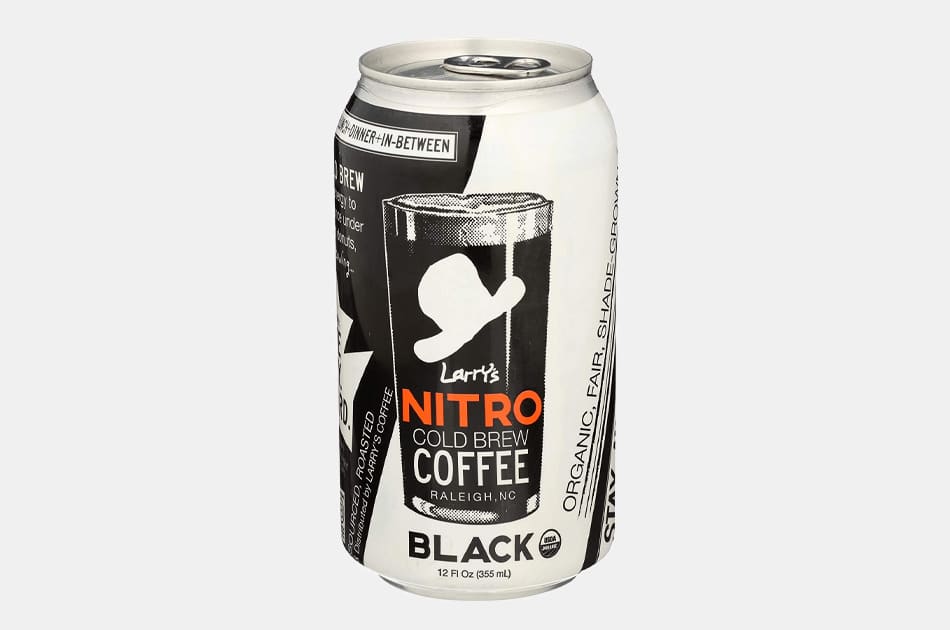 Larry's Nitro Cold Brew Coffee
Can Size: 12 oz • Extras: Nitrogen
Not only does Larry's do good coffee, they do good, period. Born in Raleigh, NC the Certified B-Corp has facilities that run the restrooms on rainwater, heat the floors with solar, and fuel up with biodiesel. The coffee itself is of course organic, Fair Trade Certified, and shade-grown. Inside each can of Larry's Nitro Cold Brew are the minute bubbles of nitrogen infusion, surging through all that good coffee goodness.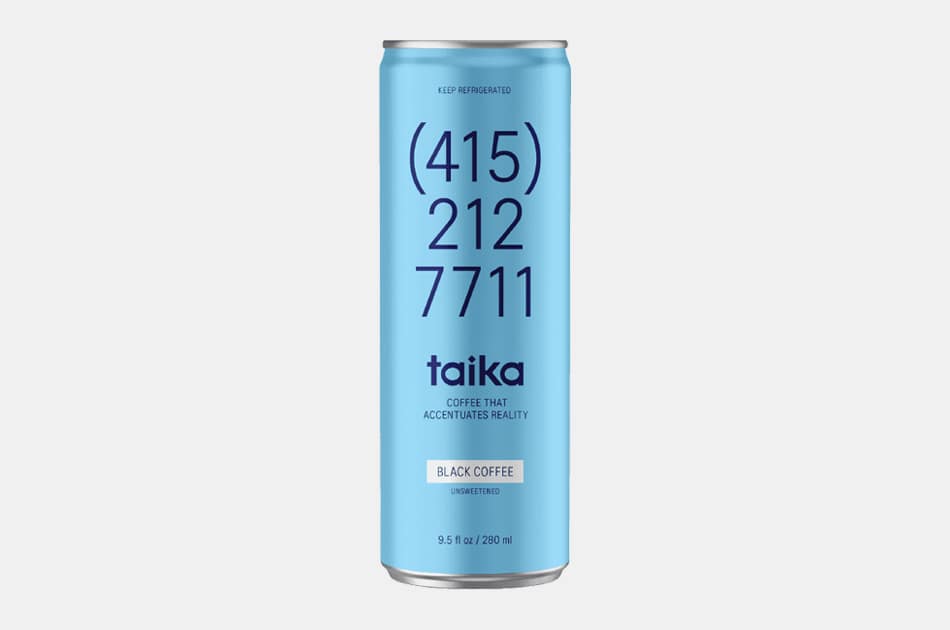 Taika Coffee
Can Size: 9.5 oz • Caffeine Per Can: 130 mg • Extras: Adaptogens, Functional Mushrooms
Where everyone else wants to pack as much caffeine into your mouth as possible, Taika tries to go with a more nuanced approach. Using a patented process, they calibrate the amount of caffeine in each can so you get focused but not buzzy. Then they add in adaptogens that help your body cope with stresses, and functional mushrooms that help with clarity, immunity, and your sense of calm. If you like it, or don't, feel free to call their customer service line. The number is the biggest thing on the label.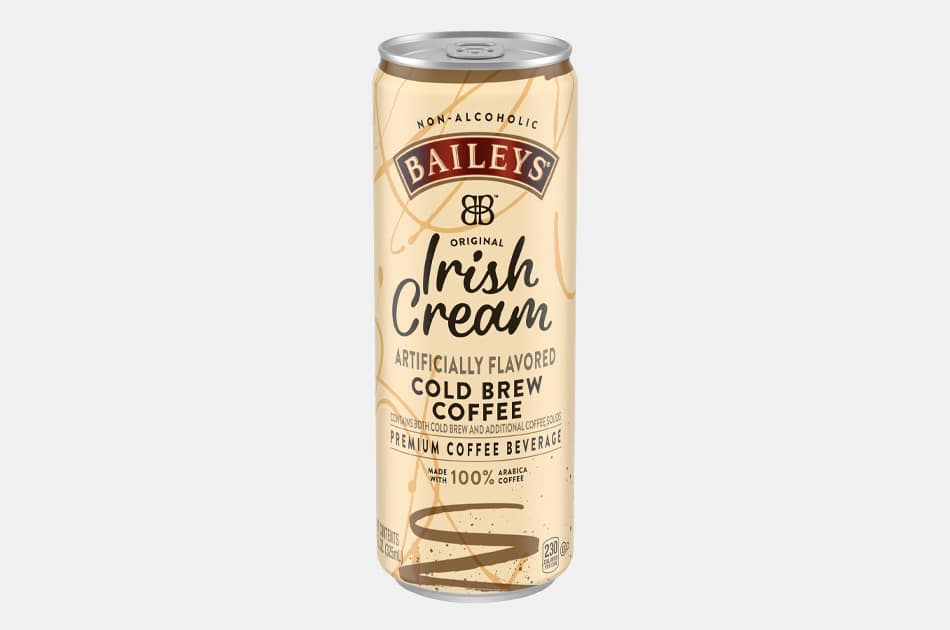 Baileys Original Irish Cream Cold Brew Coffee
Can Size: 11 oz • Extras: Cream, Sugar, Baileys Flavor
Yes, tossing a little splash of Baileys Irish Cream in your morning cuppa is very nice. But it's maybe not the best precedent to set for the day ahead. With no actual alcohol, this version of a Baileys and coffee is a sweet potion that grants all the flavor of an Irish cream coffee, but none of the impairment. Sláinte!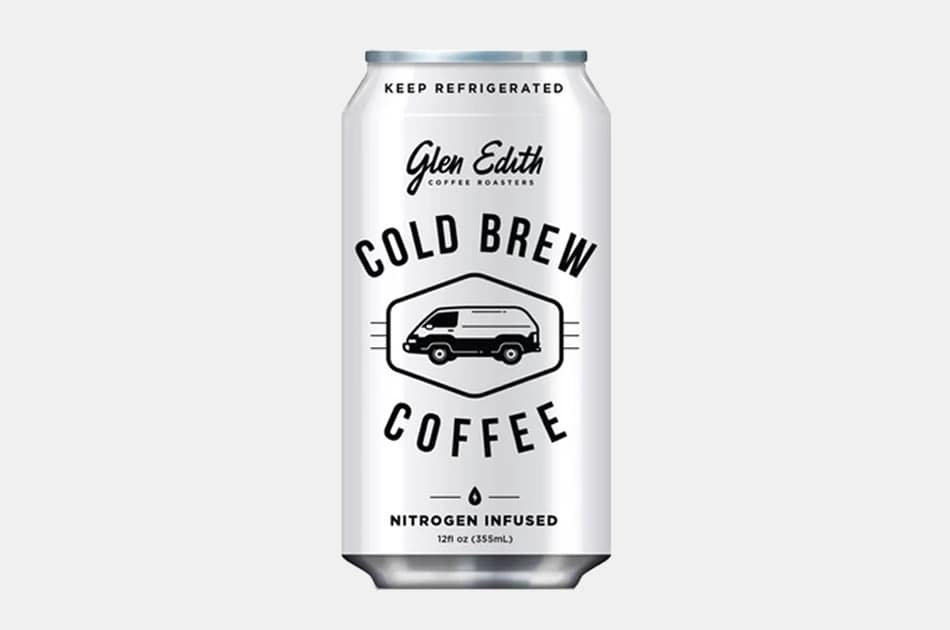 Glen Edith Nitro Cold Brew Coffee
Can Size: 12 oz •  Extras: Nitrogen
Named after a thriving hotel and restaurant from the last century that overlooked the Irondequoit Bay just north of Rochester, NY, Glen Edith is a coffee roaster that maintains some of that old school charm, but their RTD Nitro Cold Brew was developed under pretty exacting modern conditions, with beans specifically roasted for cold brew purposes, and a nitro infusion lending that creamy smoothness. It's only available in their stores and a few locations in western NY. But if you're in the area, make a point to try it out.
Disclosure: Clicking on these links and making a purchase may earn us a small referral fee, at no extra cost to you. Learn more here.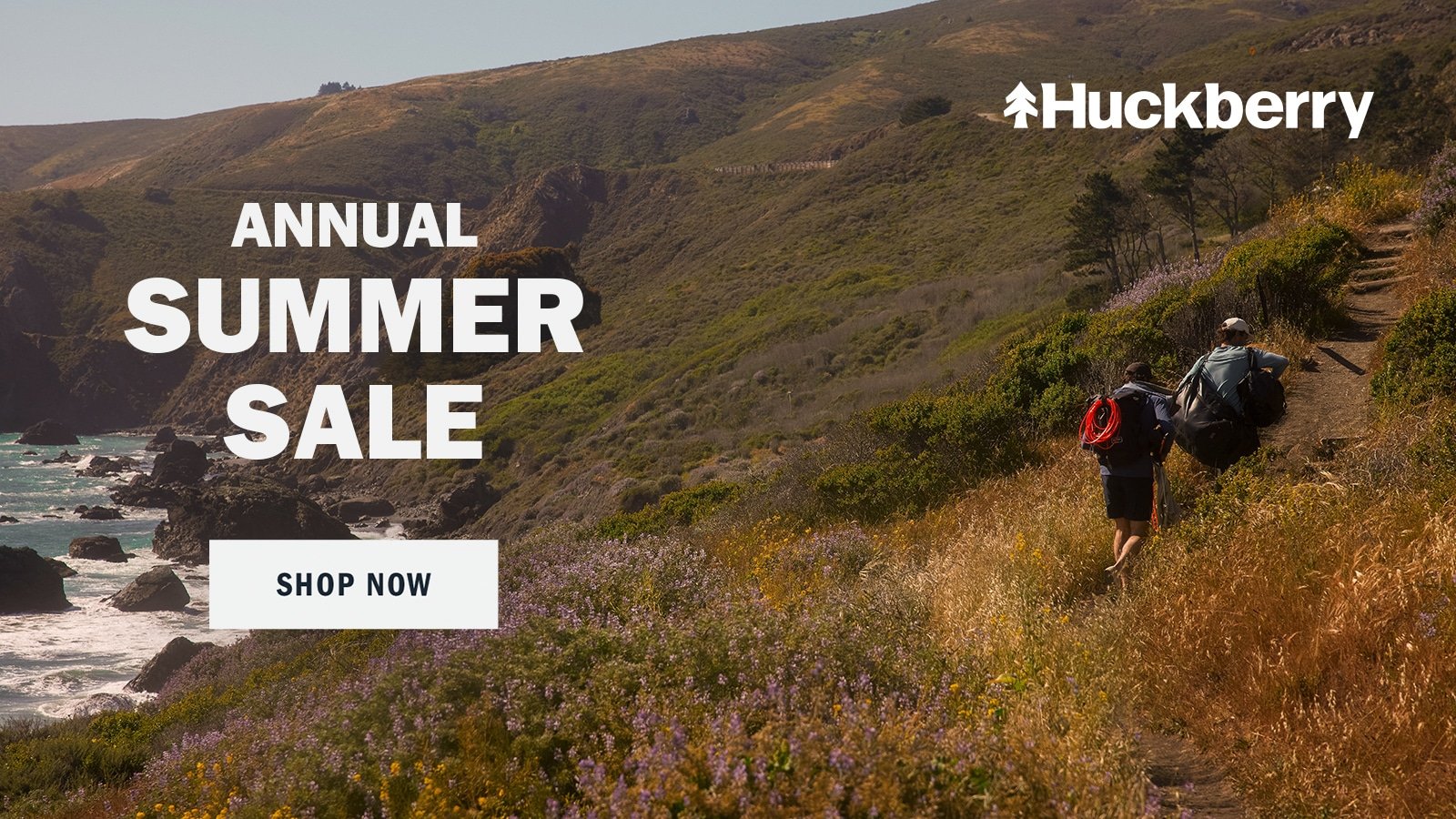 freestar.config.enabled_slots.push({ placementName: "gearmoose_leaderboard_btf", slotId: "gearmoose_leaderboard_btf" });