There are dozens of ways to perk up with your morning cuppa java, from the ease of drip, to the artisan appeal of a French press, to committing to overnight cold brew, to letting the grinds settle in your camp coffee. Some people even go all out by whipping their coffee with ghee butter, or alternately, adding whipped coffee foam to milk (dalgona coffee), or even to coffee (not for the faint of heart or anyone with a penchant for nervous energy).
That said, there is one form of brewing that has quietly been in practice since 1880, when Hanson Goodrich invented the percolator. In truth, percolating was a popular method for brewing coffee until drip machines arrived in the '70s, but pretty much anyone who's enjoyed the perfect perc will exclaim loudly about how much better the brew is than coarser drip grind. Whether you're already a convert or you're looking to bring a little perc to your daily routine, here are some of the best percolators on the market.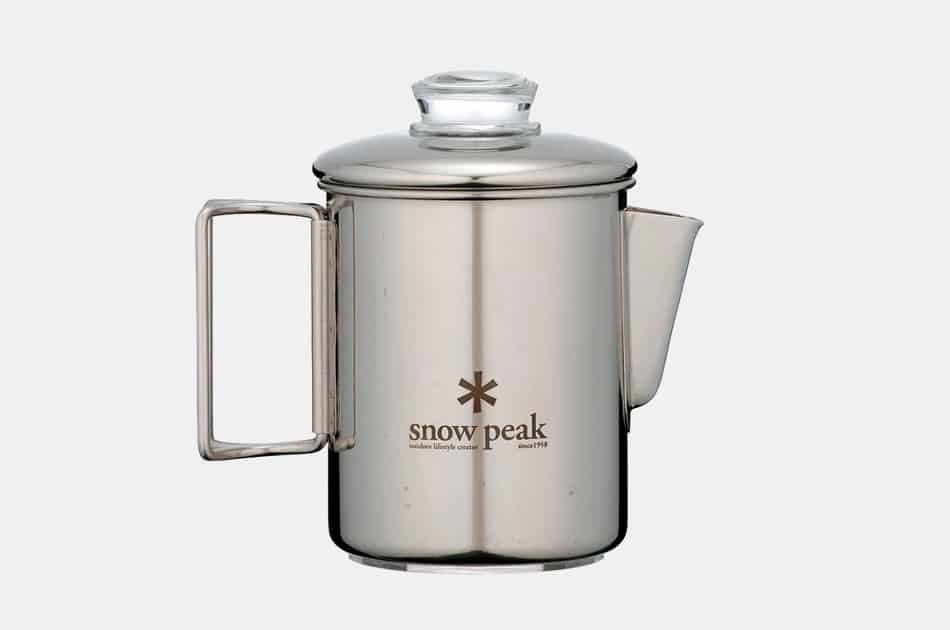 Snow Peak Stainless Coffee Percolator
Japan enjoys relatively temperate climes, on the whole, but the country is nonetheless world-renowned for precision tea brewing. How do they fare when it comes to coffee? You be the judge when you try Snow Peak's percolator, manufactured in Niigata, Japan. With a capacity of just over 30 fluid ounces, you'll only get about three to four decent-sized cups from this stainless steel brew pot (although it claims six), but with dimensions of 4.5"x7.5" and a weight under two pounds, it's also incredibly easy to store, even in small kitchens. It's the perfect little percolator for quick morning cups or even camping weekends.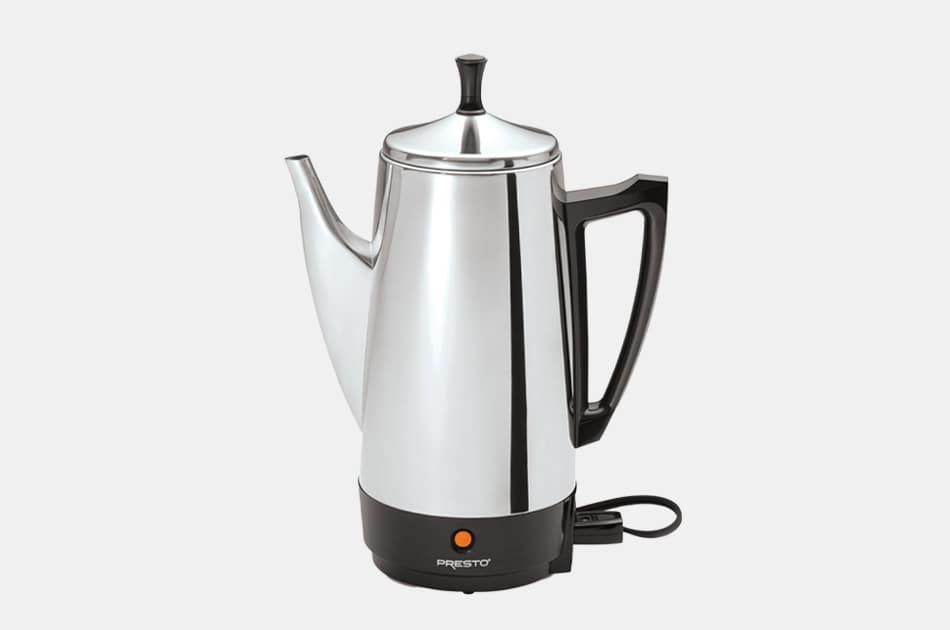 Presto 12-Cup Stainless Steel Percolator
Percolating is something of a precision artform, truth be told. If you're new to it, there's a chance it will take you some time to dial in proper heating and timing so you don't over-extract. Or, if you're the type that simply can't handle a bad cup, you'll be happy to hear that electric models make the perfect brew every time. This stainless steel pot features the traditional, towering urn shape and it will cook up 2 to 12 cups at a rate of about a cup a minute, then keep it hot indefinitely. Wait for the signal light, then serve every cuppa joe with confidence.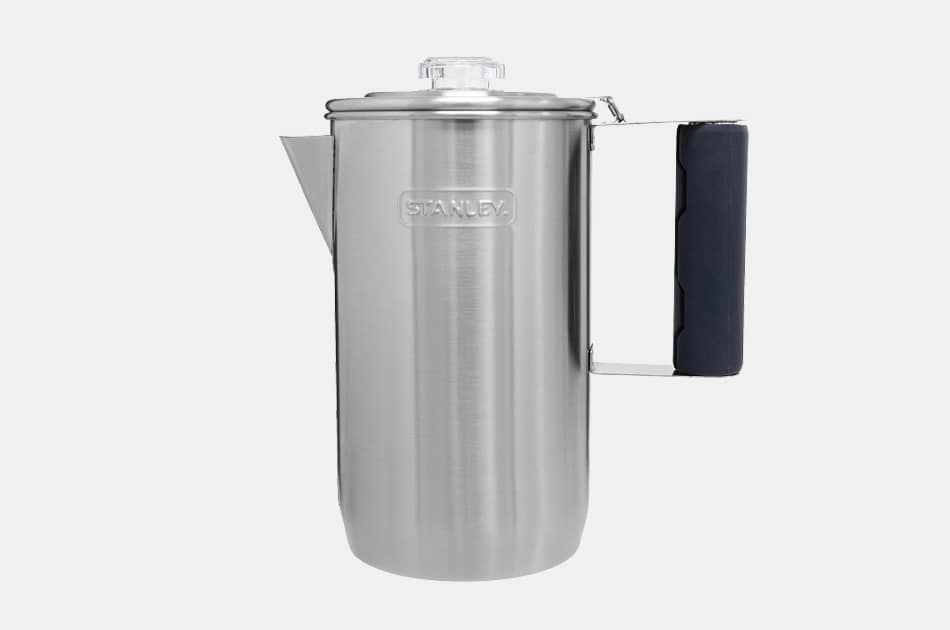 Stanley Adventure Camp Percolator
There's nothing like spending a cozy night collecting dew under the stars in your subzero cocoon, only to wake to the wafting aroma of fresh coffee brewing on the campfire. Stanley is no stranger to bringing bygone essentials into the modern era, and their camp percolator does not disappoint, with 18/8 stainless steel, a weight of just 1.3 pounds for lightweight carry, and a capacity of six brewed cups. It's dishwasher safe and the removable silicone grip ensures you won't burn your mitts taking it off the fire.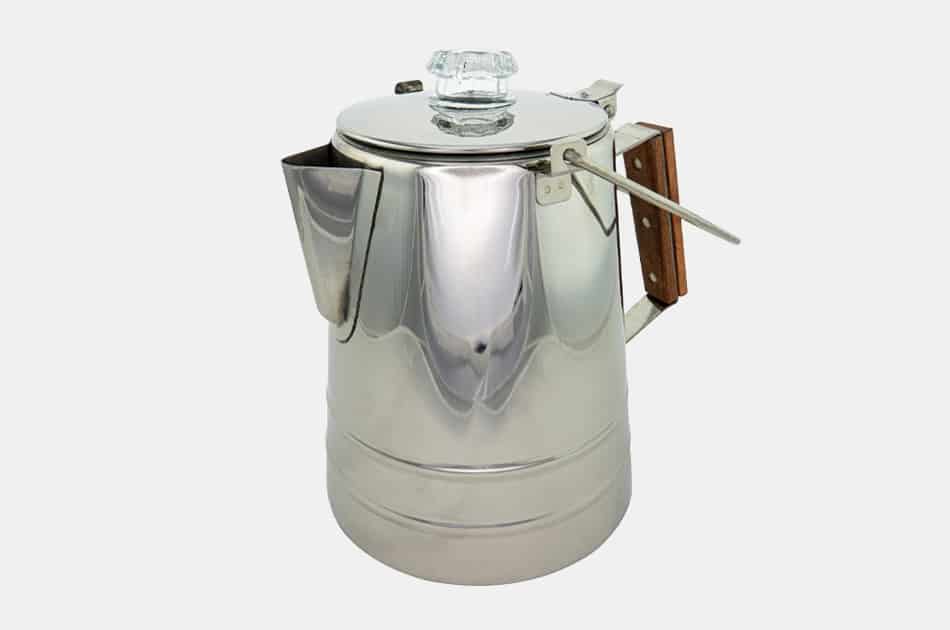 Coletti Butte Camping Percolator
TBH, I'd be worried about a camp percolator with a wooden grip, since it's meant to go on the fire, but this model neatly circumvents potential problems with a steel wire to hang the pot on your camping tripod, out of the reach of flames. At two pounds, it's not very heavy, but it will brew up 14 cups of coffee to keep your whole crew happily caffeinated, and if you're worried about the size, just pack it up with dry goods (like your coffee grounds) for travel. Designed in 18/8 stainless steel with a glass preview knob and attractive rosewood handle.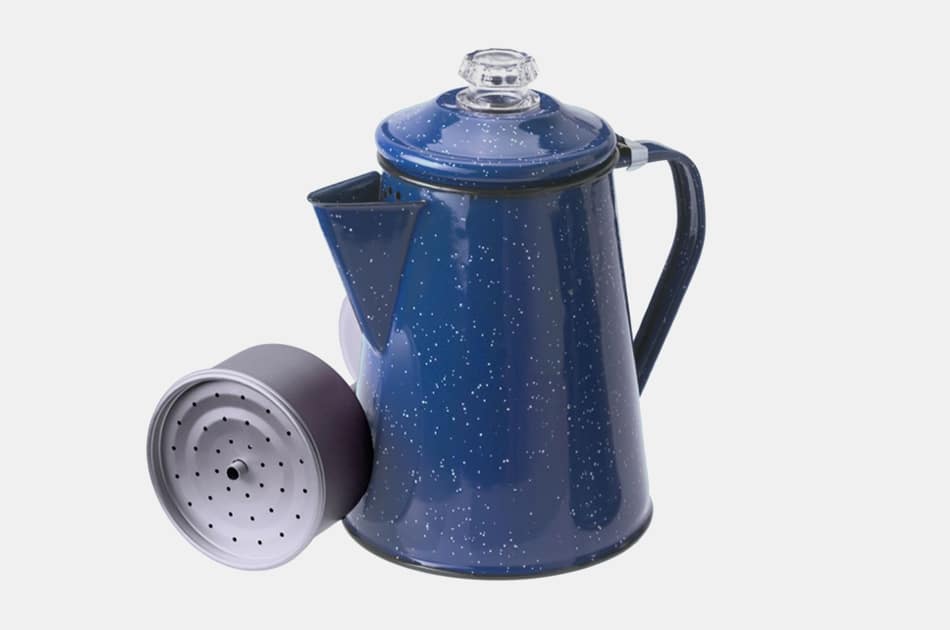 GSI Outdoors 8-Cup Percolator
Enamelware has long been a favorite of camping enthusiasts for its resilience and recognizable appearance, with white specks on a cobalt background, like stars flung across the night sky. Whether you place it on a fire a hundred times or drop it down a ravine while canyoneering, enameled stainless steel (kiln-hardened twice at 1000 degrees Fahrenheit) will hold up to a lot of abuse and continue to perform. This eight-cup percolator is the perfect complement to the camp cups your grandpa bequeathed you.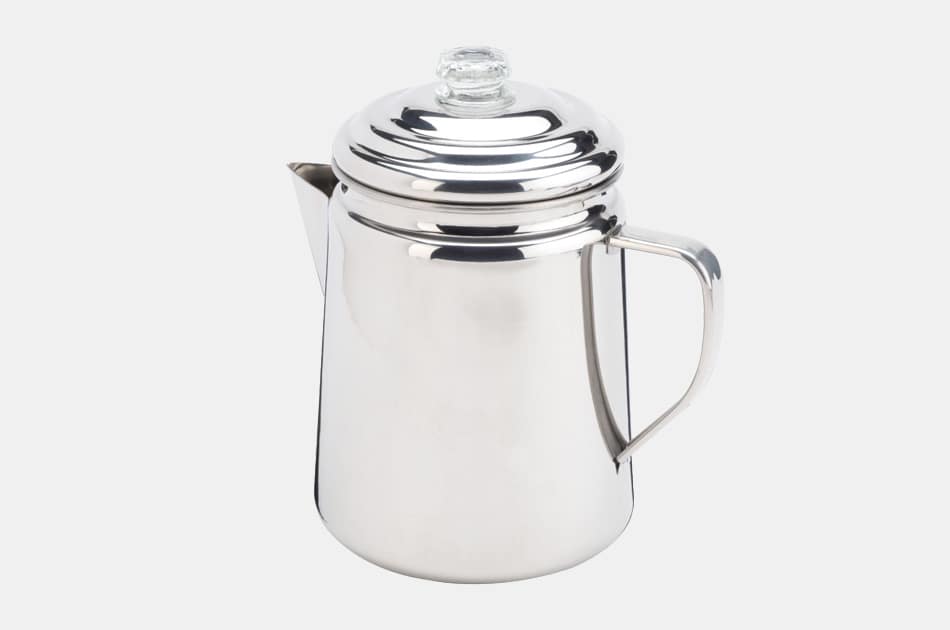 Coleman 12 Cup Stainless Steel Percolator
There's no brand more intrinsic to an efficient camping experience than Coleman, what with its renowned line of portable stoves, coolers, gas lanterns, and more. If you're jonesing for a great cup of joe on your weekends in the wilderness, there's no reason not to add this 12-cup workhorse in stainless steel to the mix. Simple, streamlined, and corrosion resistant, it makes your daily campfire perc a cinch and gets the whole crew ready for a day of adventure.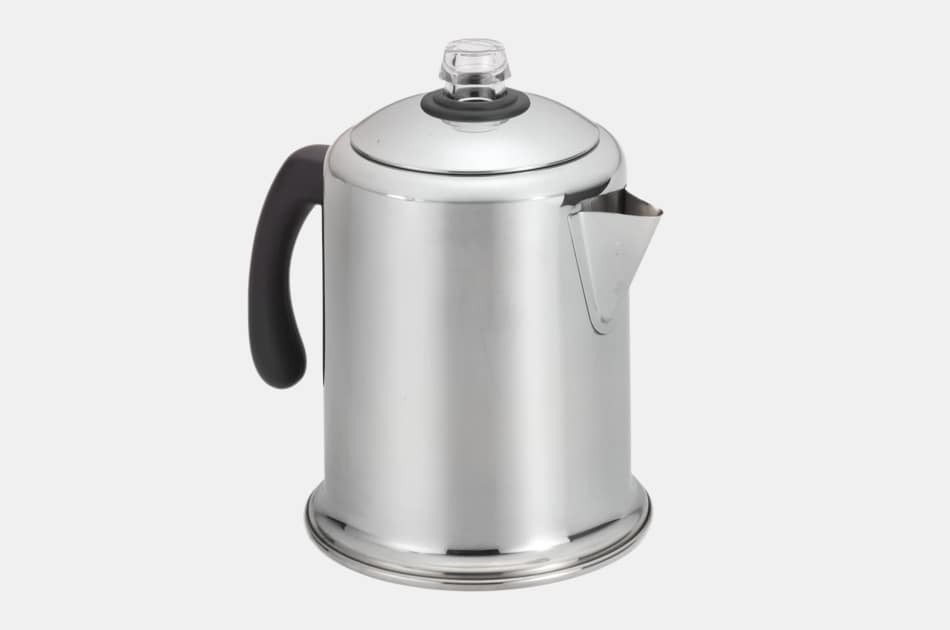 Farberware Classic Yosemite Stainless Steel Coffee Percolator
You might not think this stovetop percolator is ideal for camping (see handle), but all you need is a camp stove to bring the same convenient brewing you enjoy at home along on your camping excursions. You'll get eight cups of steaming brew from this stainless steel beauty, which features a non-reactive interior to eliminate the absorption of tastes/smells. It comes with a proper glass knob on the lid to let you know when the perc is on. Plus, it's dishwasher safe for easy daily use.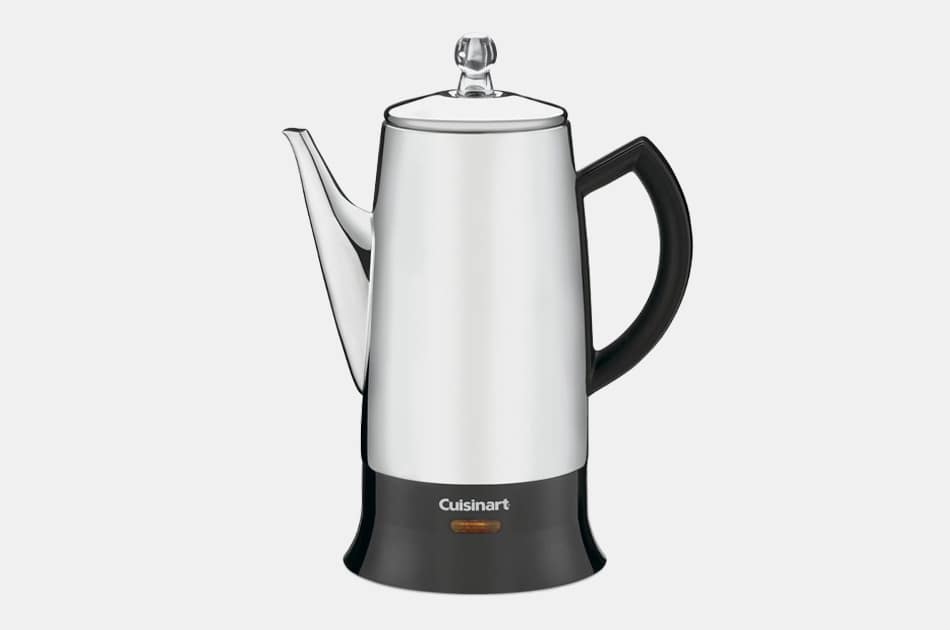 Cuisinart 12-Cup Percolator
This pretty electric percolator will look just as good sitting on your counter as it does serving coffee at family brunch or your weekly book club meeting. It's no surprise — Cuisinart has long dealt in small appliances that not only work well, but add upscale ambience to your household. This monolith in stainless steel is no exception, and it comes with a slew of convenient amenities, like the comfort handle, no-spill spout, stay-cool bottom, and detachable cord, all designed to make your life easier. Brews 4 to 12 cups for personal use or catering to company.
Disclosure: Clicking on these links and making a purchase may earn us a small referral fee, at no extra cost to you. Learn more here.