The 12 Best Camping Stoves
The best meal we've ever eaten had some dirt in it. That's because everything you cook outside tastes better, and when you cook outside after a day of hiking, trekking, kayaking, or backpacking, that food rivals anything a Michelin-rated restaurant can throw on a plate. Just the nature of the setting can make boil-in-bag mac and cheese taste amazing, but picking the right camping stove can mean the difference between frustration and perfection. 
We rounded up the 12 best camping stoves that'll handle everything from a big campsite feast for a crowd to a mountaintop morning coffee for one. We separated them by bigger car camp stoves and light-and-fast backpacking stoves. Check out the features and specs offered by each stove, then start thinking about what you're going to cook on your next camping trip. And don't think too hard, it's all going to taste amazing.
The Best Car Camping Stoves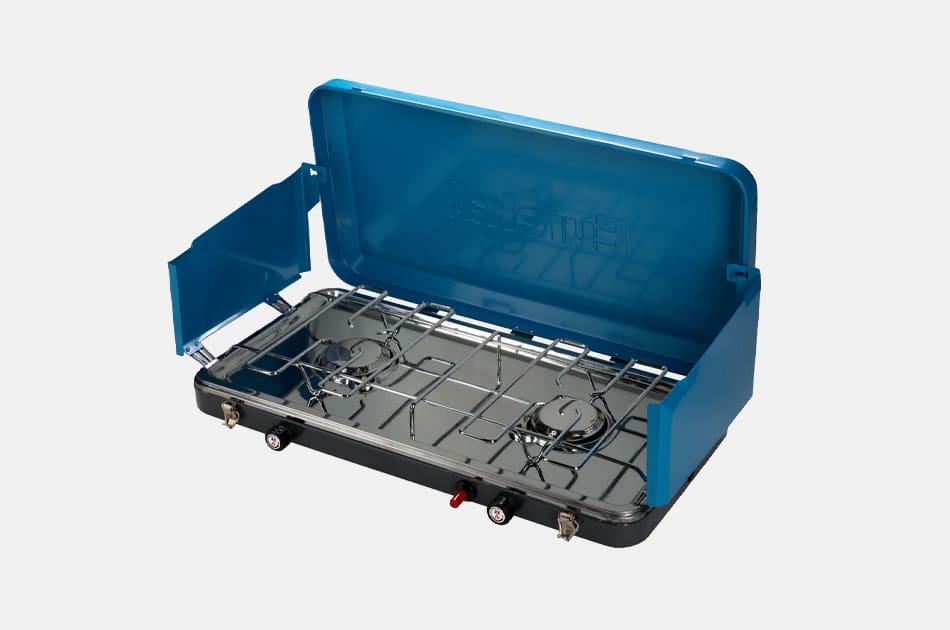 Eureka Ignite Plus Camp Stove
Fuel: 1lb Propane • Weight: 12 lbs • Packed Size: 23" x 12.8" x 4"
With the ability to cook on two twelve-inch pans at the same time, you can finally pull out those chuckwagon recipes you've been collecting and feed the whole campsite at once. Each burner puts out 10,000 BTUs and, unlike less elevated camp stoves, these can be fine-tuned to deliver rolling boils or slow simmers. The reliable ignition button means you don't need a lighter (though what are you doing camping without a lighter?) and the sturdy materials will last through many seasons of serving up big breakfast hashes.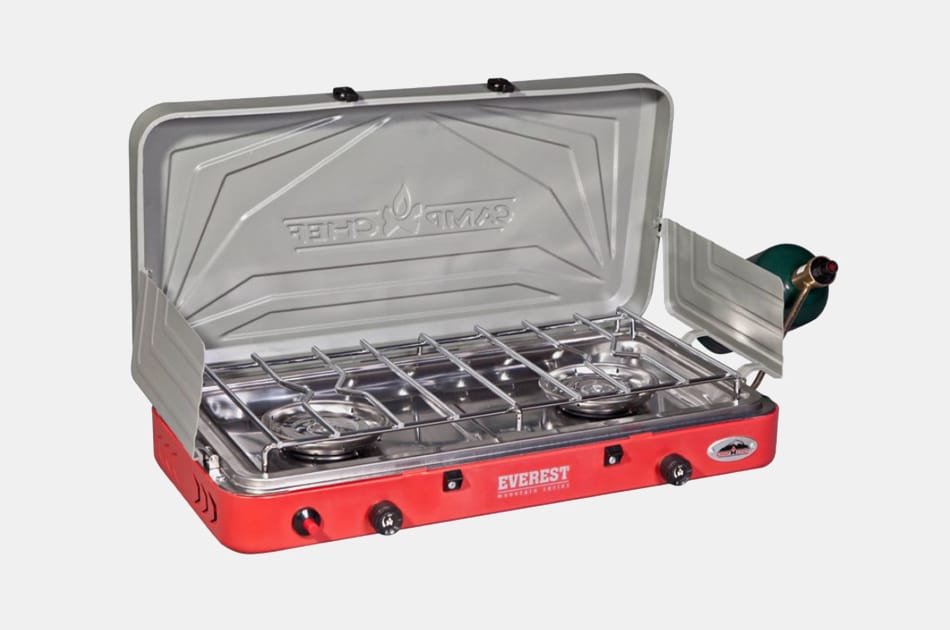 Camp Chef Everest Two-Burner Camping Stove
Fuel: 1lb Propane • Weight: 12lbs • Packed Size: 23.5" x 13.5" x 4"
If you want a little more power to your campsite cookouts, check out Camp Chef's Everest camping stove. Looking much like your basic two-burner box stove, in this case, each of those burners pumps out double what a standard stove can. With 20,000 BTUs per burner, you can get yourself a good sear on those filets you packed in the cooler. And since an output like that is gonna move through some fuel, the Everest can be adapted for hook-up to a five pound tank.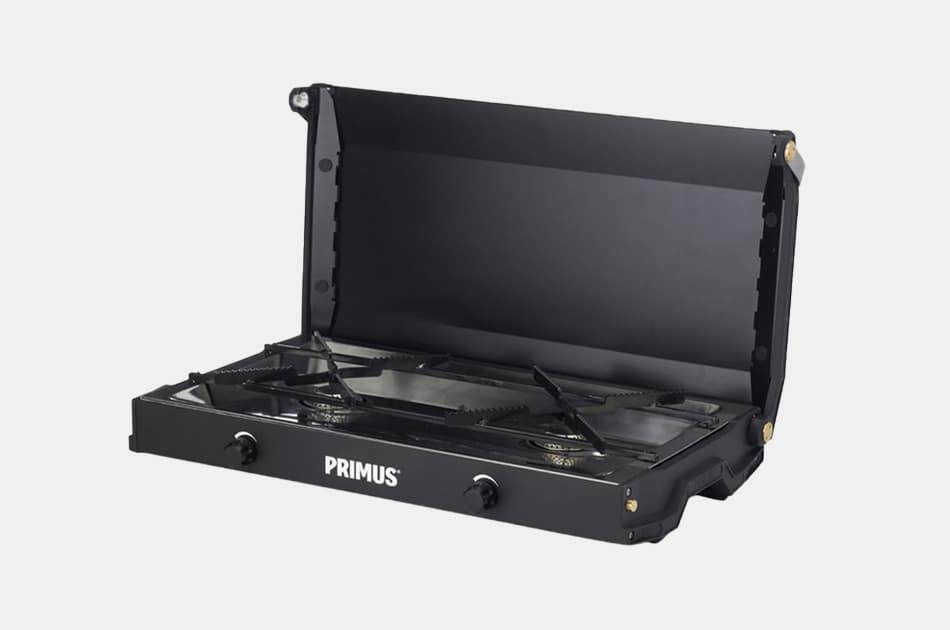 Primus Kinjia Stove
Fuel: 1lb Propane • Weight: 8.2 lbs • Packed Size: 18.7" x 11.6" x 3.1"
Some brands are camping outfitters that happen to make stoves. Not Primus. The Swedish company has been making stoves for backpackers and car campers alike since 1892 (OK no one was car camping then, but still). Built with the same ruggedness that made Primus stoves stand up to the rigors of Everest, the Kinjia is a compact two-burner that comes apart for easy cleaning, and folds up sleek with a handsome wood handle for carrying.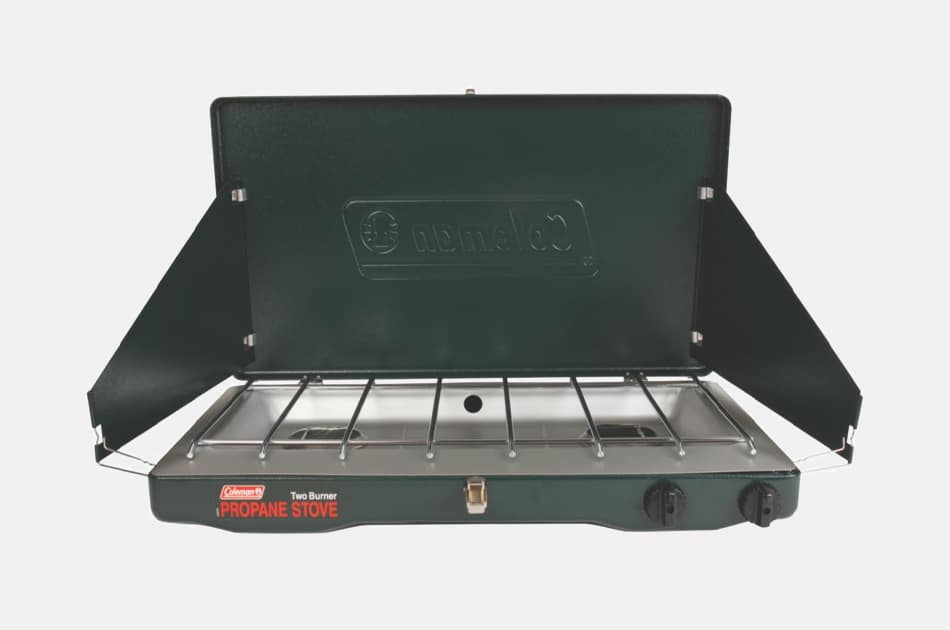 Coleman Classic Propane Stove
Fuel: 1lb Propane • Weight: 12lbs • Packed Size: 21.9″ x 13.7″ x 4.1″
Talk about good vertical integration, Colman is one of the few camp stoves that uses its own fuel. Most stoves on this list call for a one pound propane canister, and that canister is almost sure to be a Coleman canister. Their Classic Camping Stove is the one you think of when you think, "camp stove" with its forest green exterior and boxy good looks. It'll fit a twelve-inch and ten-inch pan at the same time, and each of its burners has a reliable 10,000 BTU output so you can do some classic camp cooking.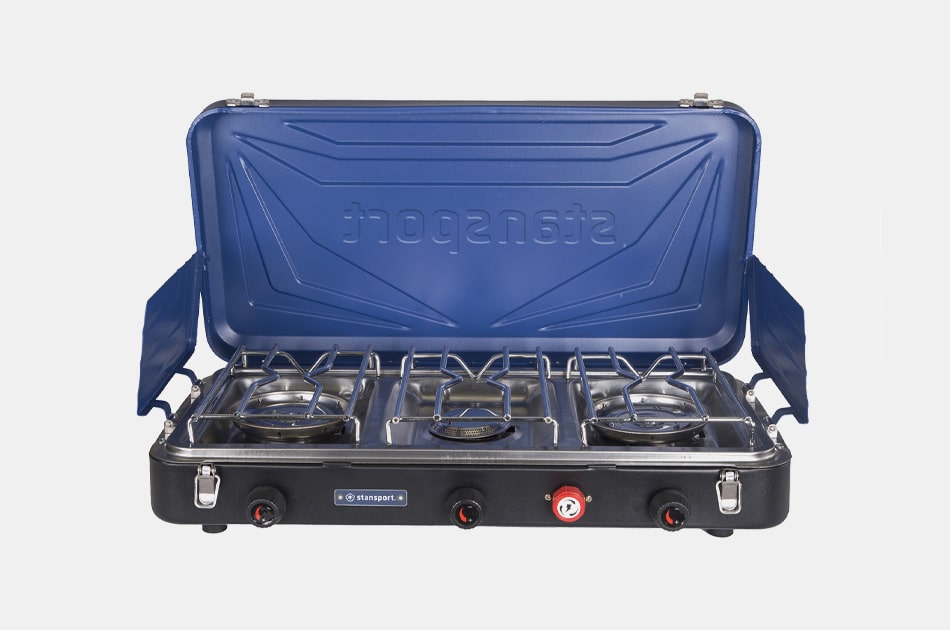 Stansport Outfitter Series 3-Burner Propane Stove
Fuel: 1lb Propane • Weight: 16lbs • Packed Size: 24.3" x 15" x 3.5"
So you want to boil your pasta, simmer your sauce, and sautee your shrimp all at once? You need three burners for that. While you could go with two stoves, this pick from StanSport puts three burners, all in one steel package. The outer burners pump out a whopping 25,000 BTUs each while the simmer-friendly center burner does 10,000. The stainless steel drip pans and frame make for easy clean up after the feast.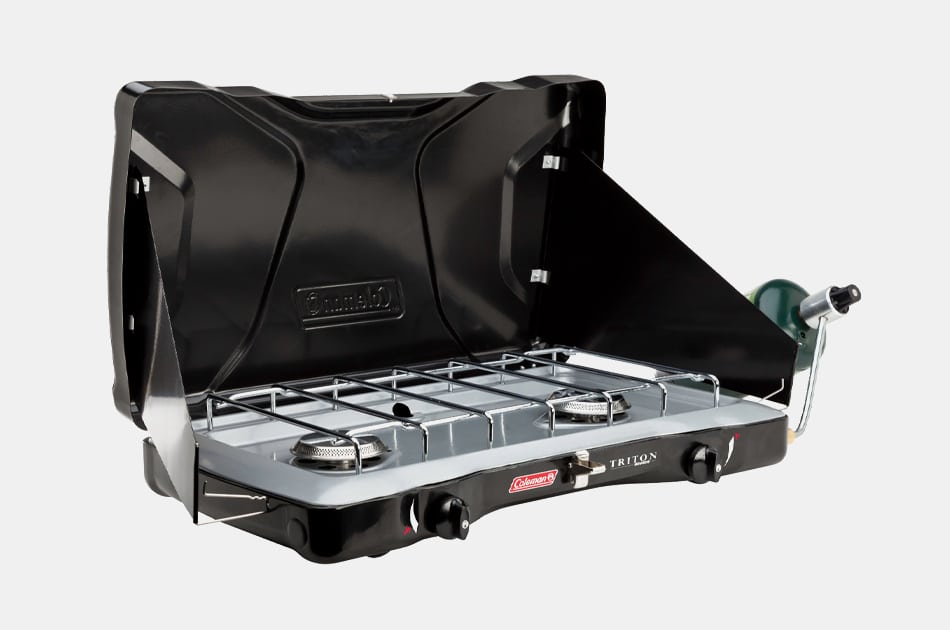 Coleman Triton Propane Camp Stove
Fuel: 1lb Propane • Weight: 11lbs • Packed Size: 22" x 13" x 5"
For their upgrade to the Classic Stove, Coleman beefed up the latch and upped the heat output to 11,000 BTUs per burner. With improved pressure control technology, you can dial in the heat to simmer, sautee, and boil as needed, and thanks to the improved heat delivery, it more efficiently uses your propane to get more mileage out of a canister. When it's packed up, the convenient handle lets you bring it along easily.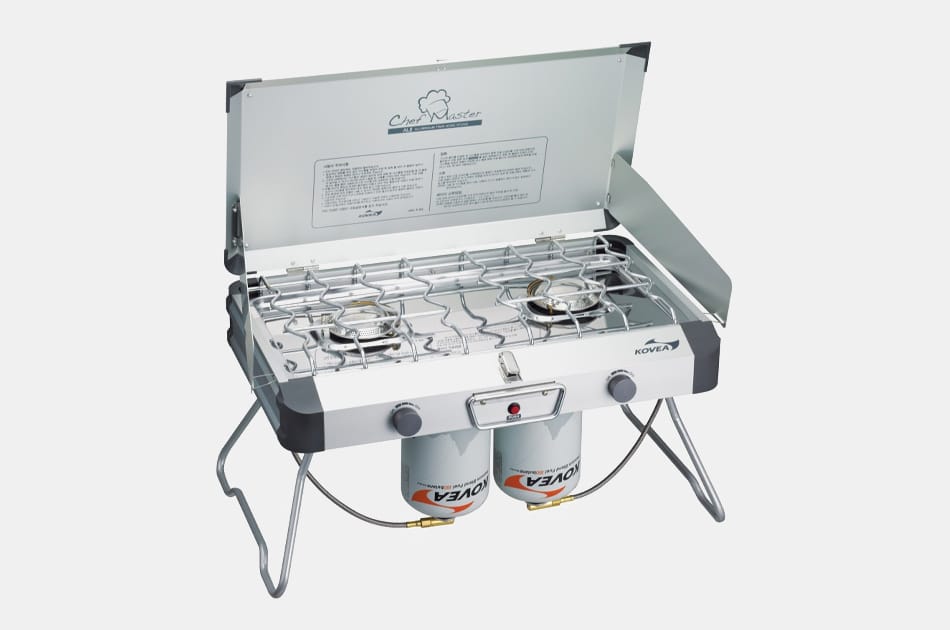 Kovea Gracie Twin Stove
Fuel: Iso-Butane • Weight: 8.6lbs • Packed Size: 21" x 13" x 2.4"
Maybe you're not backpacking, but you're not exactly tailgating either. If basecamp is a bit of a trek from the vehicle, go with the lightest car camp stove on our list. Weighing in under ten pounds and packing up compact, the Gracie twin stove is a two burner set up that runs on two iso-butane canisters and has a battery-op auto-ignition, so you can get some kitchen-quality cooking done even if you're a little farther out.
The Best Backpacking Camp Stoves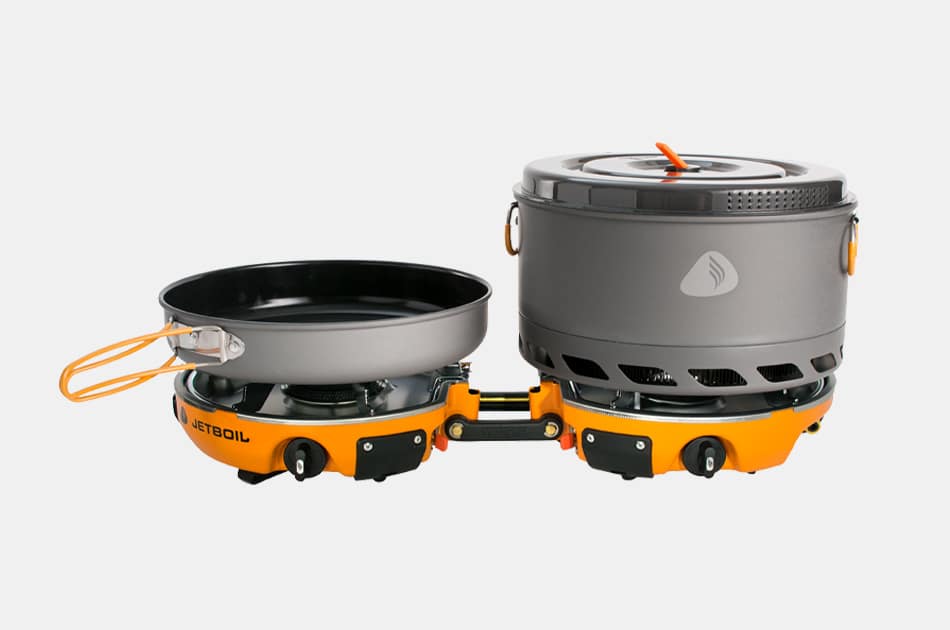 Jetboil Genesis Base Camp System Stove
Fuel: 1lb Propane • Weight: 9.1 lbs • Packed Size: 7.2" x 10.3" dia • 1L Boil: 3m 15s
This might be better classified as a camp kitchen—with two burners (putting out 10,000 BTUs each), a ten inch frying pan, and a five liter pot (with strainer in the lid), the Genesis is more than just a stove. Jetboil's patented fuel regulator technology lets you fine-tune either flame and the brand's Jetlink hookups let you connect even more burners with just a single fuel source. The stove folds up and nests within the pot and pan, packing into a tidy, nine-pound package for a full chef's kitchen set-up in the backcountry.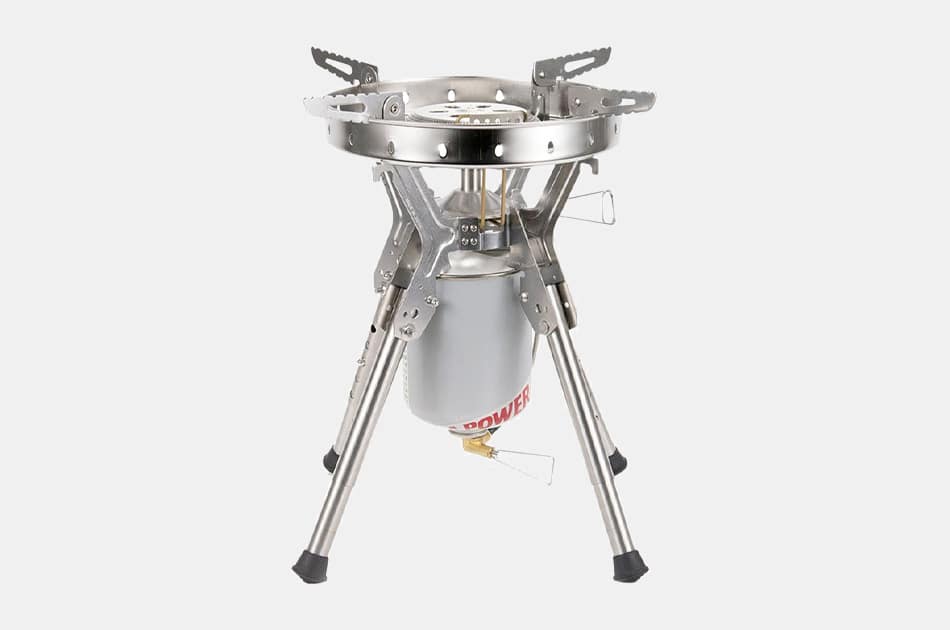 Snow Peak GigaPower LI Stove
Fuel: GigaPower Canister • Weight: 4 lbs • Packed Size: 8" x 9.44″ dia • 1L Boil: 2m 30s
It looks more like a lunar lander than a camp stove—and because this is Snow Peak, it's probably about as well-constructed. This burly contraption has heavy-duty adjustable legs to give you a little height off the ground and a big 34,000 BTU-burner that can adjust to accommodate larger pots. With serious heat and a tough, utilitarian design, this is the stove you'll still haul to camp thirty years from now.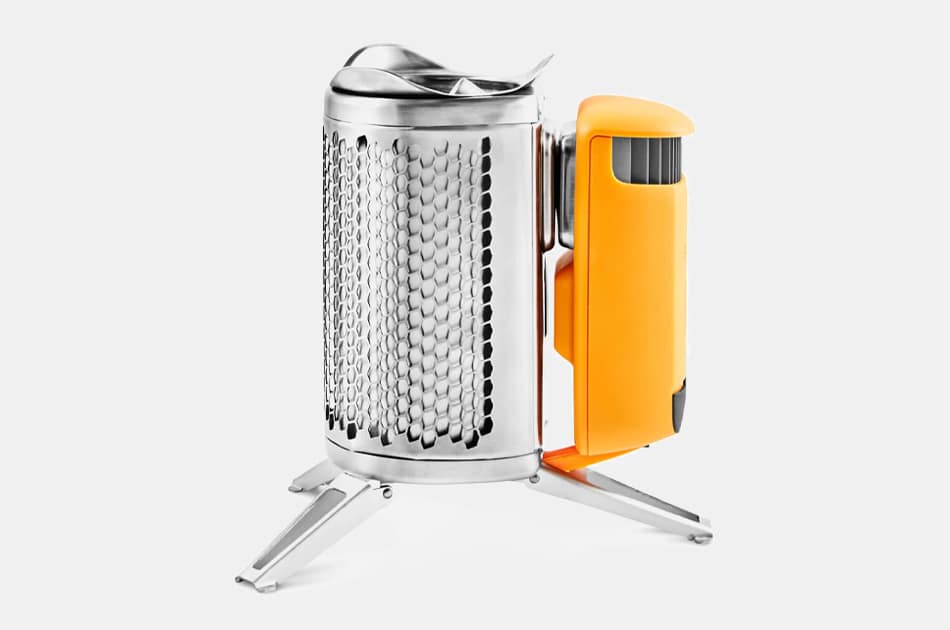 BioLite Campstove 2
Fuel: Sticks • Weight: 2.06 lbs • Packed Size: 7.91″x 5"dia • 1L Boil Time: 4m 30s
At just a hair over two pounds and a fuel carry weight of exactly zero, BioLite is a bit of a dream for those who want to pack light. But then it gets even better with the addition of the brand's seemingly alchemical ability to turn fire into power—as in three watts of juice to power up your phone and lights. You'll need to grab an accessory or two from BioLite to do your cooking, but the concept here — clean, smokeless fire and an ingenious backwoods power source, changes the game for many a light-packer.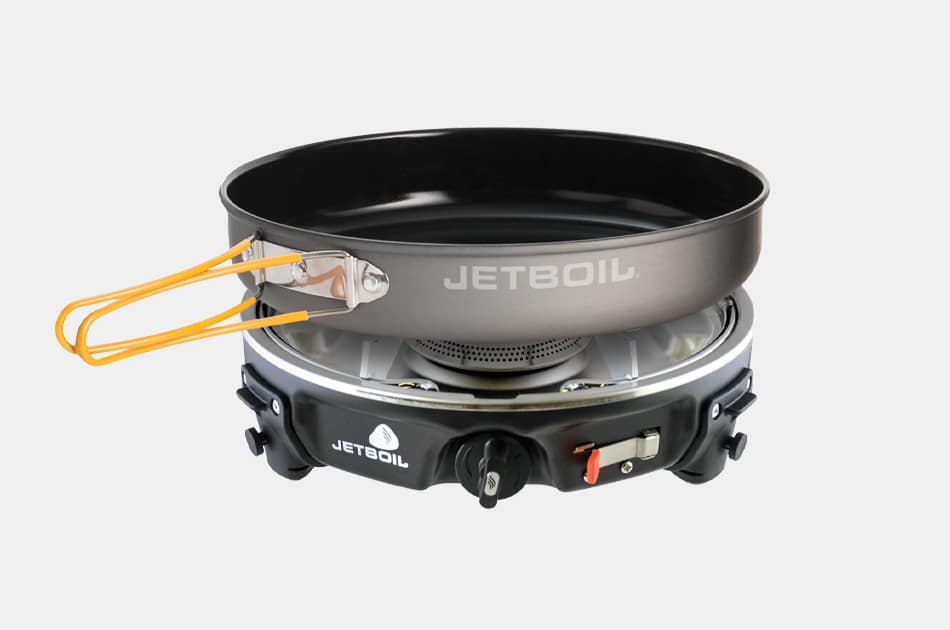 JetBoil HalfGen Basecamp Stove
Fuel: 1lb Propane • Weight: 3.5 lbs • Packed Size: 3.9" x 9.4"dia • 1L Boil Time: 3m 15s
Where the Genesis offers a full kitchen set-up, the HalfGen is JetBoil's single-burner system in the lineup. Again, the HalfGen is a stove plus cookware option that packs nicely together. This time you get a nine-inch ceramic-coated frying pan that flips to store on top of the stove before going in the carry case. At just 3.5 pounds, it's a relatively light package that delivers a good amount of cooking space and fine-tuned heat. Link it up to the Genesis and cook like you're in a restaurant kitchen under the open sky.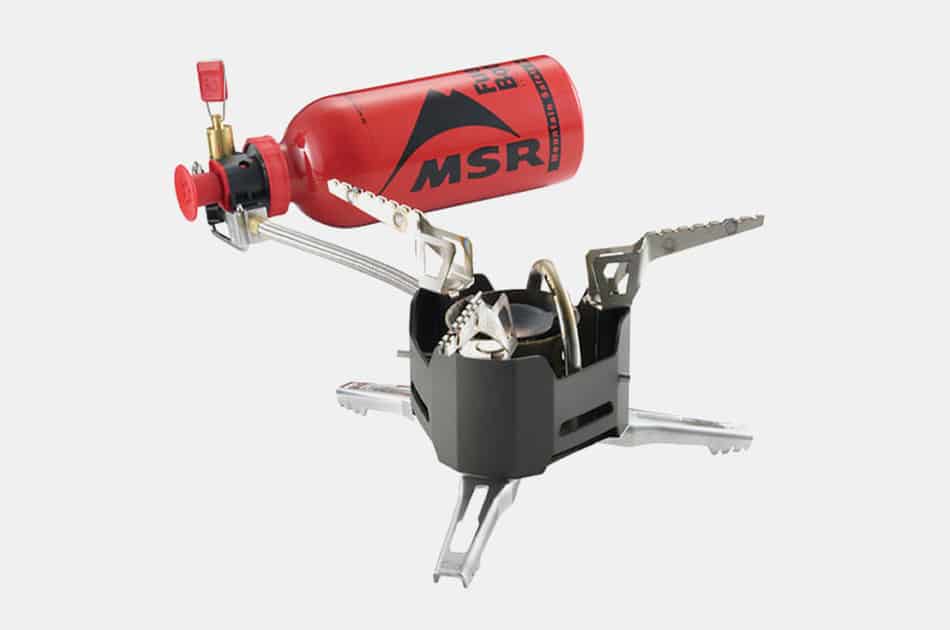 MSR XGK-EX Expedition Stove
Fuel: Multi (MSR) • Weight: 0.8lbs • Packed Size: 4" x 4" dia • 1L Boil Time: 2m 48s
When every inch and ounce counts, MSR's XGK-EX stove is the one you want. A tiny footprint and the ability to use a variety of liquid fuels like kerosene, white gas, and diesel have made it the go-to choice for serious backpackers and mountaineers on multi-day trips. It's not a stove for the inexperienced and there's no push-button start here, but the high output and near-negligible weight means those far from civilization will have clean water, hot coffee, and even a few hot meals.
Disclosure: Clicking on these links and making a purchase may earn us a small referral fee, at no extra cost to you. Learn more here.