12 Essentials for Your Camp Kitchen
Whether you're heading out for an overnight camping trip or a weeklong expedition, a little bit of meal planning will go a long way towards making it a success. But before you can put your favorite ingredients to good use, you'll need a solid camp kitchen setup.
Between a decade in professional kitchens and a lifetime of camping, I've picked up a trick or two that can help make your camp cooking faster, easier, and tastier. So I've rounded up an even dozen of my favorite camp kitchen essentials to give you a headstart on your next outdoor meal.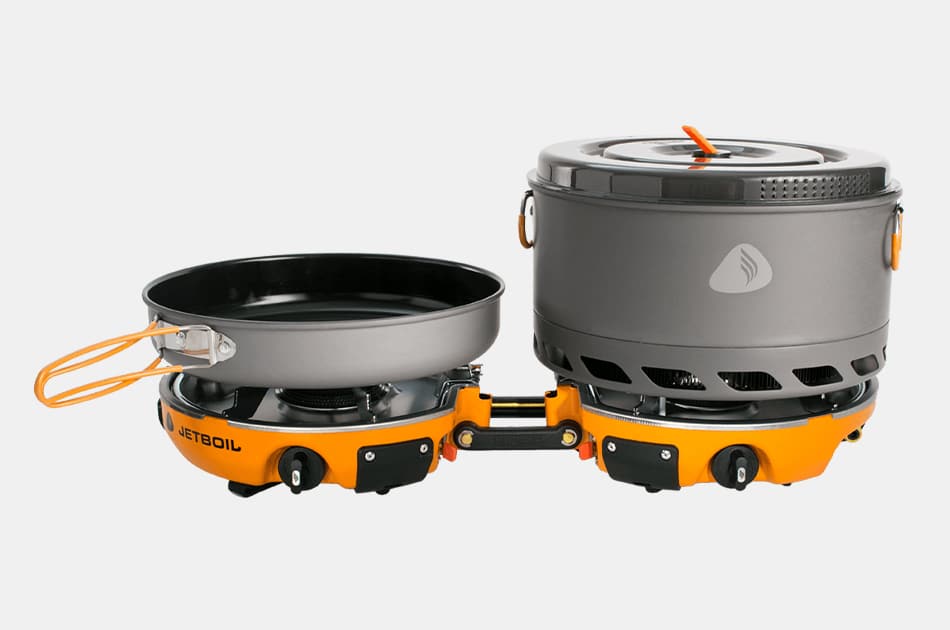 Jetboil Genesis Basecamp System
First things first: For real base camp cooking, you'll need a rugged and reliable heating source. In my opinion, there's none better than Jetboil. Made famous by their original integrated burner and pot that can boil water in just a few minutes, the company has gone on to make the best compact cooking gear I've ever used. And their Genesis Basecamp System is the real deal—combining two high-powered burners, a pot, a pan, and a lid in one compact storage system. It's an all-in-one solution for camp cooking basics, and an investment that will last for decades.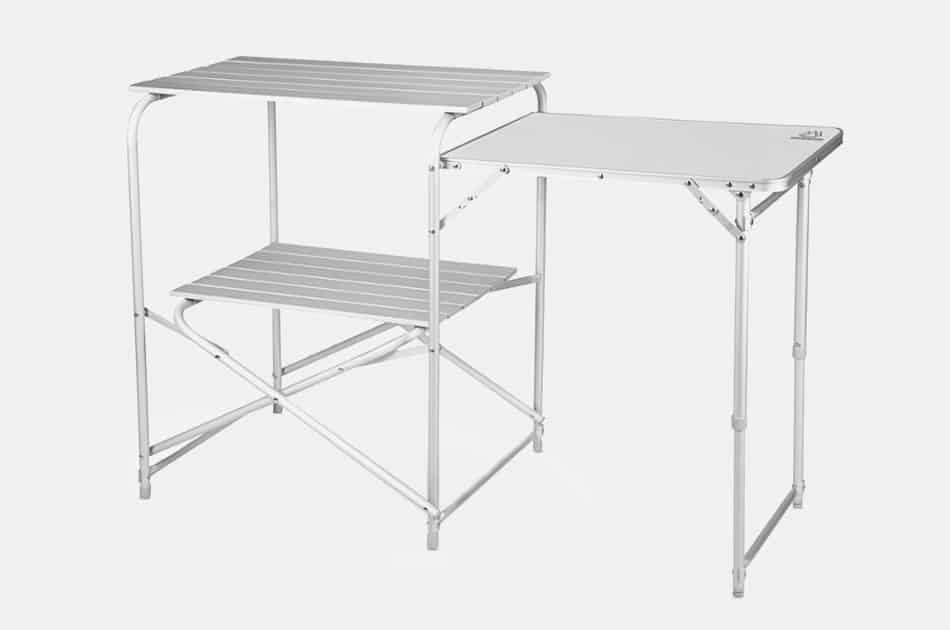 Mountain Summit Gear Roll Top Kitchen
If you're cooking for a whole crew, keeping track of all your kitchen equipment will be a challenge. Mountain Summit Gear's Roll Top Kitchen Table is the best solution I've found to make cooking for groups easy and organized. It weighs just over 10 pounds, folds flat for easy storage, and sets up or breaks down in about a minute. And with one foldout counter and two roll-top table surfaces, it'll give you enough room to keep everything in its place while you cook.
IGLOO Retro Picnic Basket 25 Qt Cooler
You'll need something to store your perishables in—so why not do it in retro cool style? IGLOO's coolers are some of the best in the business, and their 25 quart Retro Picnic Basket Cooler gets my vote for best style. The insulated walls will keep your breakfast, deli meats, and cheese slices cool and ready to eat. But even if you're not bringing along a whole kitchen's worth of food, this little cooler has space for 36 12-ounce cans of your favorite beverages.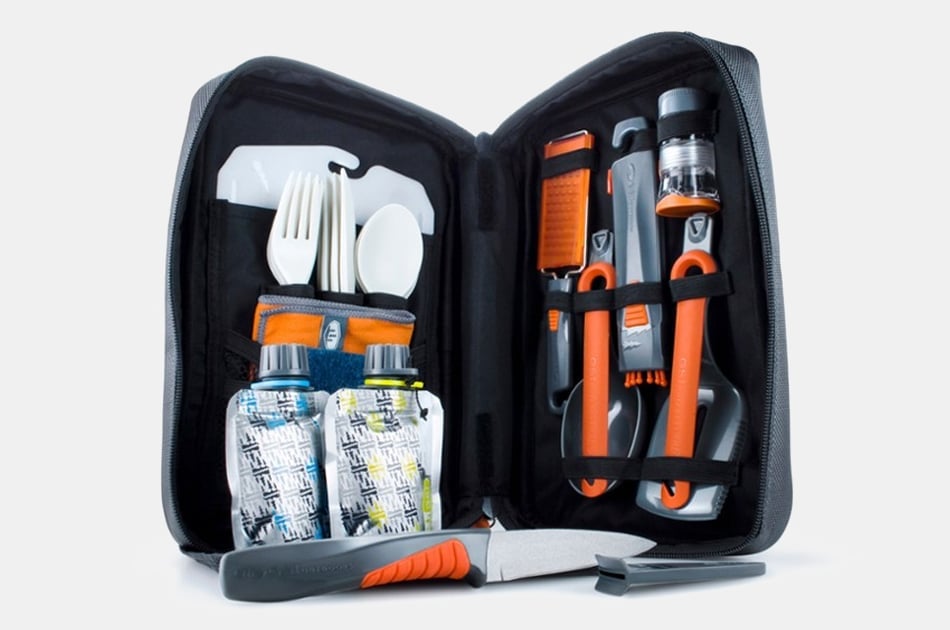 GSI Outdoors Destination Kitchen Set 24
The perfect complement to your stove and burner setup, GSI Outdoors' Destination Kitchen Set 24 fills in the gaps with the tools you're used to having in your home kitchen. That includes four cutlery sets, folding kitchen tools like a spatula and spoon, a cutting board, utility knife, spice shakers, and reusable condiment dispensers. That all stows away in a handy carrying case, and weighs in at under two pounds. Overall, it's an incredibly practical way to keep all your smaller kitchen essentials in one place and cut down on your packing and unpacking time.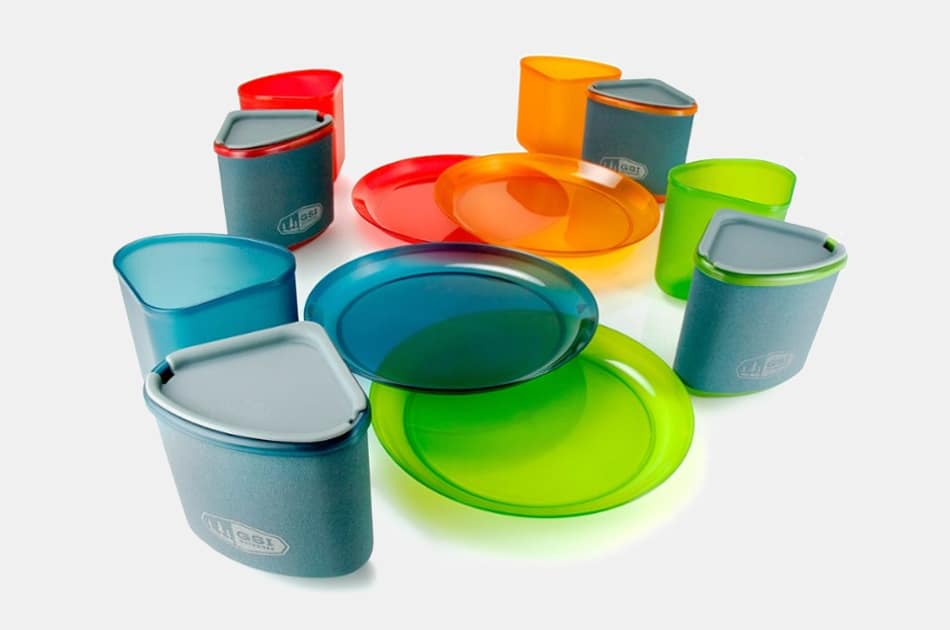 GSI Outdoors Infinity 4-Person Compact Table Set
You can't very well have everyone eat out of the same bowl you cook in, right? That's why you'll need a well-designed set of plates and bowls to round out your camp cooking set. Once again, GSI Outdoors comes to the rescue with their exceptionally compact four-person table set. It includes four nesting bowls, four insulated mugs with lids, and four plates—all of which stow away in a compact mesh stuff sack. The whole setup weighs less than half a pound, and its durable polypropylene construction makes every piece easy to clean.
YETI Lowlands Blanket
A simple blanket can elevate your campsite from rugged outdoorsiness to a comfortable and cozy vacation from society. And yes, you could bring any blanket that you have laying around the house. But YETI's Lowlands Blanket has a lot more to offer than a standard issue cotton throw. It's durable and waterproof on the outside (perfect for all-season camping), and padded and insulated on the inside. It's even pet-protected, and easily sheds hairs and dirt. But best of all? It's machine washable and dryable, making it ready to go wherever you want to.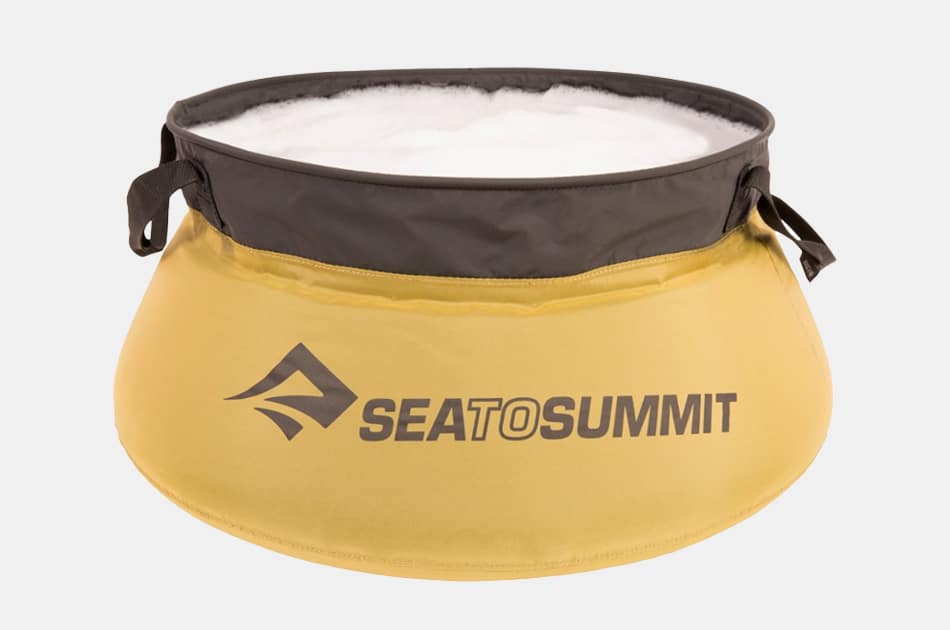 Sea to Summit 10 Liter Kitchen Sink
Clean water is a precious resource when you're camping, and you can't afford to waste any while you're cleaning your camp kitchen. That's why I always pack a kitchen sink with me, even for short trips. Sea to Summit's 10 Liter Kitchen Sink is perfectly sized to make the most of the water you have, giving just enough capacity to wash your dishes while remaining compact and easy to store. The stainless steel top ring keeps it from tipping over, and lets the sink stand up on its own when filled just over halfway.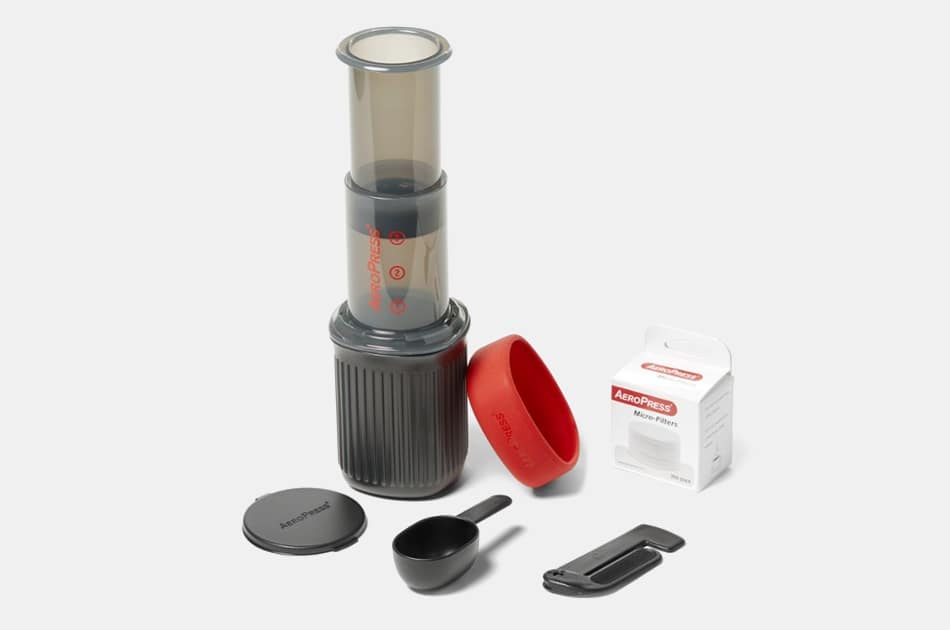 AeroPress Go Travel Coffee Press
There are few things in life better than a hot, fresh cup of coffee after a night spent sleeping outdoors. The AeroPress is my go-to tool for making this happen with no muss and no fuss, and their Go Travel Coffee Press is the best of their product lineup. It's compact, easy to use, and even has an integrated drinking mug that doubles as its carrying case. And while it's excellent for camp coffee, you might just enjoy the way it brews enough to use it everyday at home, too.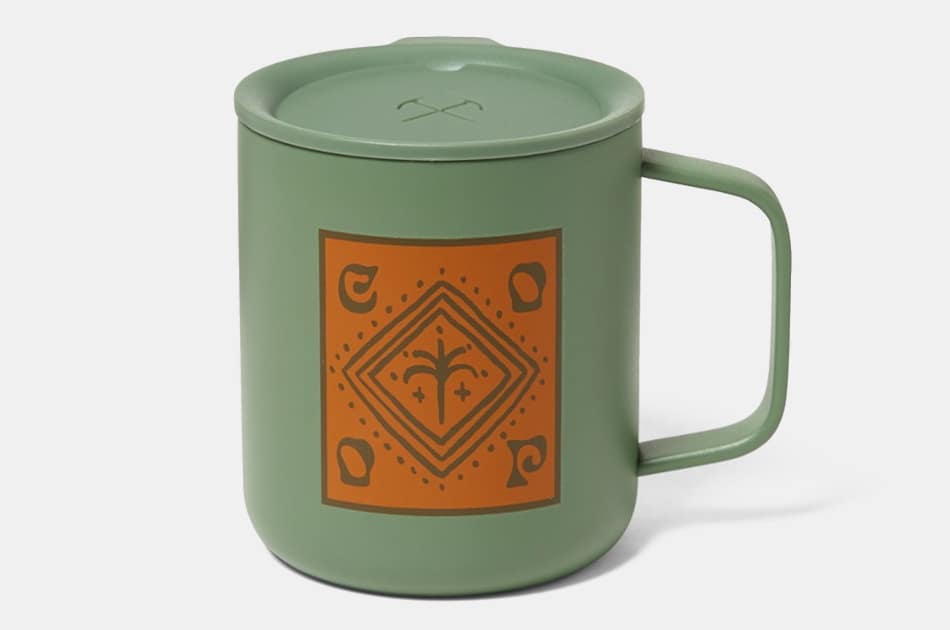 REI Co-op Seek Nature Camp Mug
From morning coffee to evening drinks, the REI Co-op Seek Nature Mug will keep your hot beverages hot and cold ones cold. That's thanks to a rock solid double-walled, vacuum-sealed insulation, combined with a BPA-free plastic lid. The mug itself is made of super durable 18/8 stainless steel too—making it something that you'll one day be able to pass down to your kids and grandkids for their camping trips.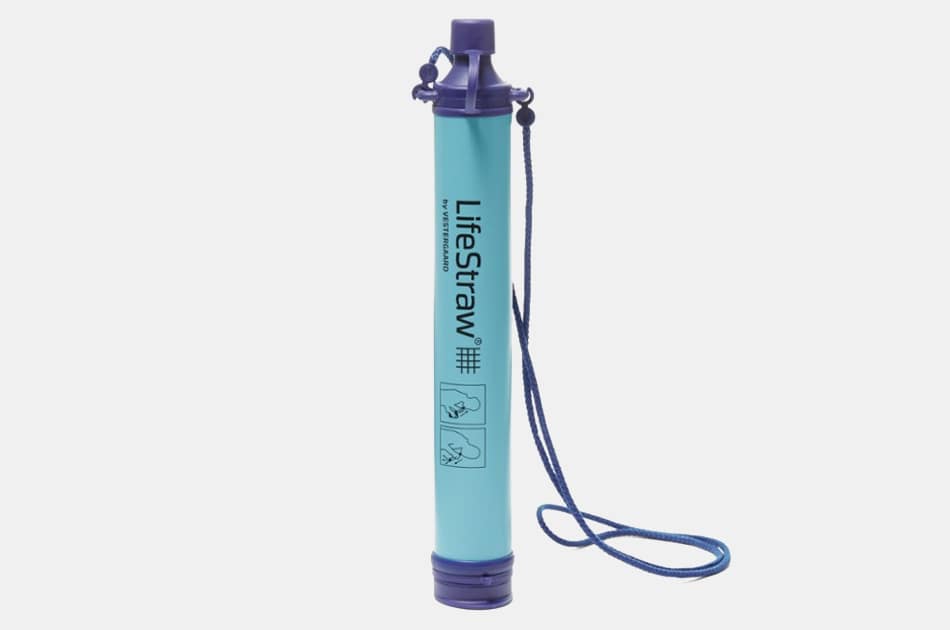 LifeStraw Water Filter
Packing in enough water for a multi-day camping trip can be a real bummer, and take up most of your storage space. But even with the best planning, water can run out quicker than expected—especially if you're cooking and cleaning for a group. My solution: Always pack a water filter, so you can purify water on-the-go. The LifeStraw is my favorite tool for this, as its ultra-compact design is compatible with the widest range of water bottles. And you can even drink straight from a lake with it.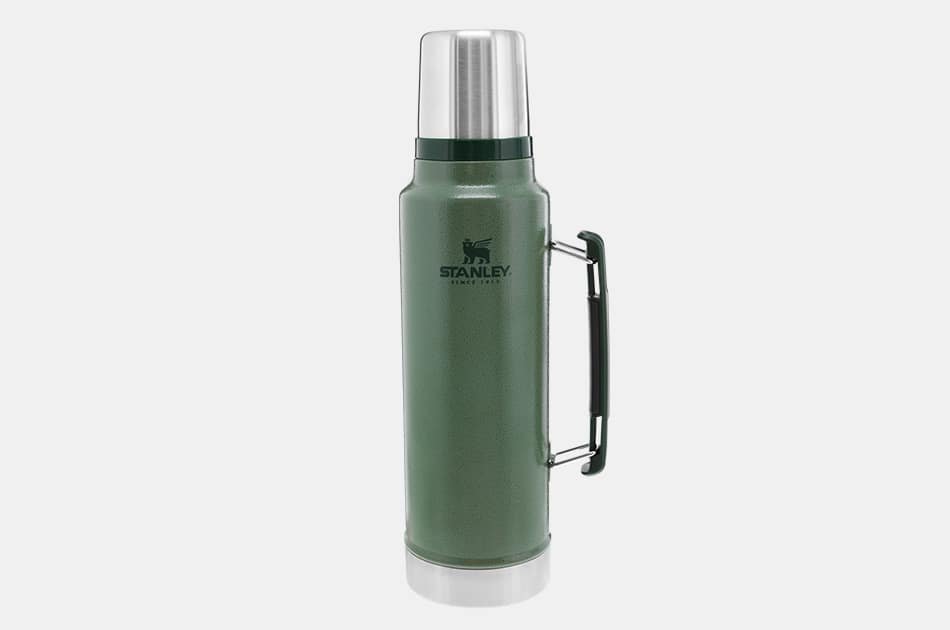 Stanley Classic Legendary 1.5 Quart Vacuum Bottle
The minimalist, iconic Stanley thermos has been keeping hot liquids hot and cold liquids cold for decades. Why mess with success? I like bringing along their medium-sized 1.5 quart vacuum bottle for all of my trips, as it's perfect for ice water, hot soup, or coffee from my morning brew to drink throughout the day. Everything from Stanley is a real buy-it-for-life purchase too, guaranteed to be durable enough to last for generations.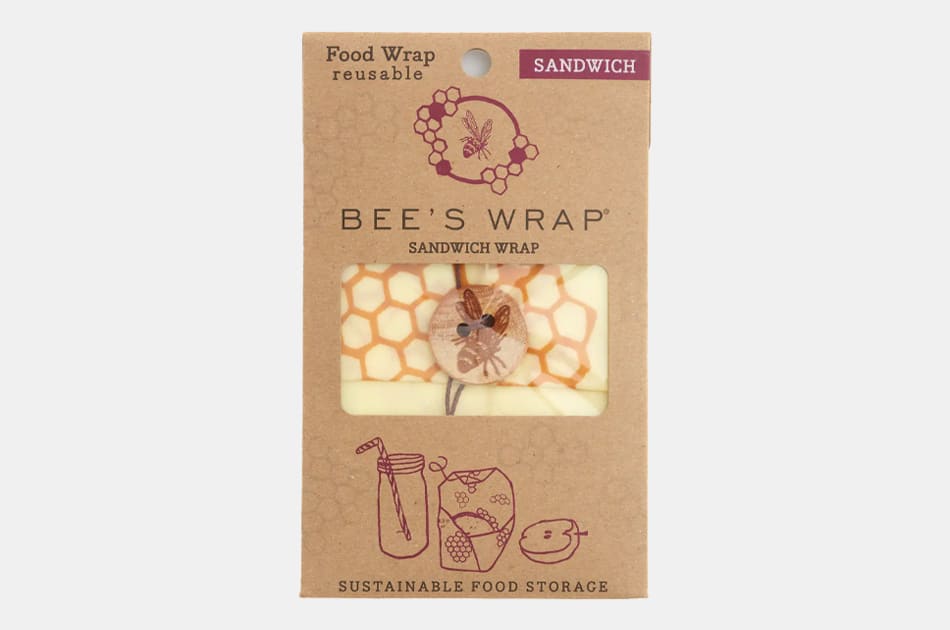 Beeswrap Reusable Sandwich Wrap
When you're finished whipping up a campsite meal, what do you do with any leftovers? You could bring ziploc bags—but why not choose something a little more eco-friendly? Beeswrap is my new favorite food storage option, and I think it will be yours, too. The quilted cloth is saturated with beeswax, making a naturally antimicrobial barrier that's easy to shape around any leftovers. Buy one for your camp kitchen, and pick up an extra for at-home use while you're at it.
Disclosure: Clicking on these links and making a purchase may earn us a small referral fee, at no extra cost to you. Learn more here.