The 18 Best Lunch Boxes For Men
Everyone eats lunch, and if you're looking to save some dough, you're probably into brown bagging it on work days. Unfortunately, paper bags are boring, weak, and totally incapable of keeping your lunch items cold or hot in preparation for eating when lunch time rolls around. These disposable options also aren't terribly eco-friendly.
Still, you're probably not too keen on using the same lunch box you took to school as a kid, even if you did somehow manage to keep the thermos intact. Showing up for lunch meetings with your The Empire Strikes Back lunch box won't score you any brownie points with the boss, even if he is a fan of Solo and the Wookie.
How can you keep your man card and enjoy a cold beverage with lunch? Whether you're looking for a lunch box that's suitable for work or a one that will hold up under camping conditions, there are plenty of adult lunch boxes that are ideal for use by men. Some are even designed to go from the office to a tailgate party or a river-rafting trip thanks to versatile styling and features. Where can you find your perfect lunch box? Here are the 18 best lunch boxes for grown men.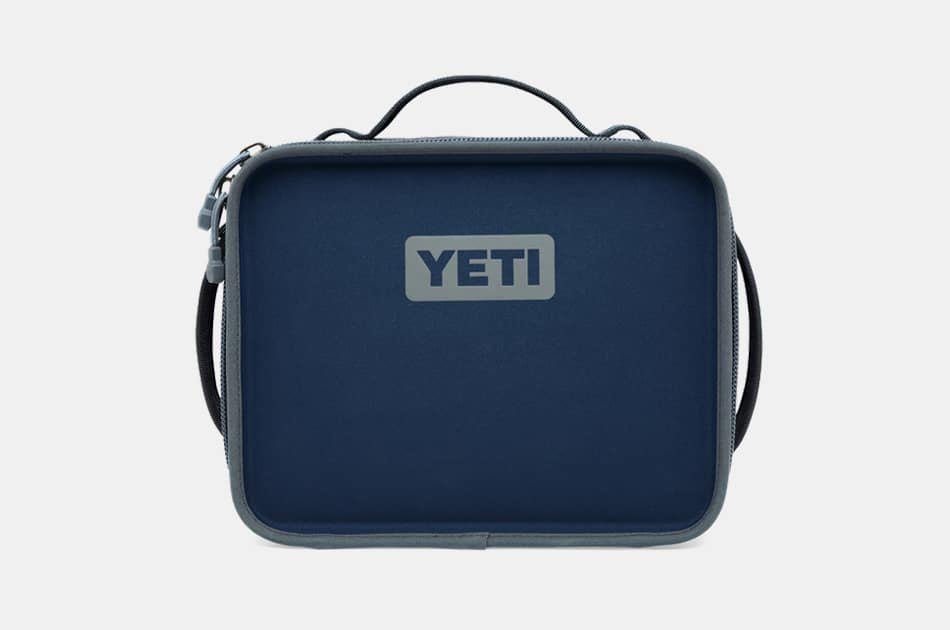 Yeti Daytrip Lunch Box
Yeti coolers have built an admirable reputation for toughness and lasting insulative properties, so it's no surprise that they'd pint-size the tech to account for daily lunch box toting. If you're looking for a lunch box that's simple, lightweight, and water resistant, you're sure to appreciate the closed-cell foam technology, which offers some flexibility to cram in a major meal, while holding form so you don't squish your massive burrito. Magnetic Thermo Snap Closure keeps food hot or cold for hours, and you'll enjoy five color choices for this essential EDC accessory.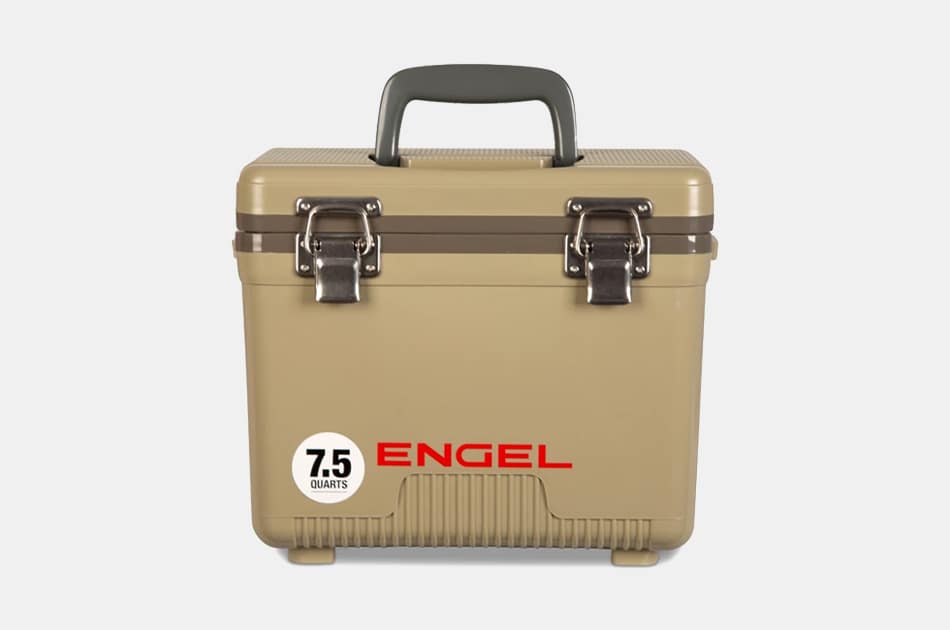 Engel Drybox Lunch Box
Engel has offered portable refrigeration technology since 1962, so it's no wonder their practical, streamlined coolers look performance-ready. The 7.5-quart, leak-proof, airtight storage drybox, cooler, and lunch box is no exception, with boxy shaping, sturdy latches, a recessed EVA gasket seal, and high-grade molded polystyrene foam insulation. It's a little on the large side for your average lunch, but it's great for day trips to the river or your local park for a picnic. Comes in eight great colors for personalization.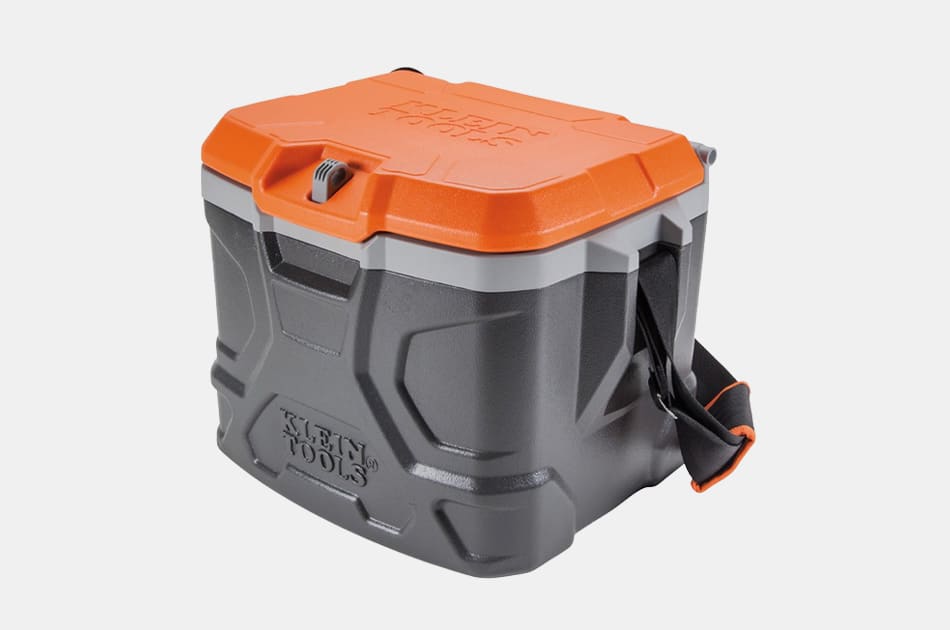 Klein Tools Tradesman Pro Tough Lunch Box
It's hard to imagine what the designers at Klein Tools were thinking when they created this stylized lunch box. While the gray-and-orange color scheme is certainly on brand, the indented molding defies explanation. Still, it's what's on the inside that counts, and boy, do they get it right, with 17-quart capacity that accommodates up to 18 cans and up to 300 pounds, and keeps items cool up to 30 hours. Other handy features include a shoulder strap that keeps the lid closed during carry, as well as a lock hasp to keep pesky critters away from your sandwiches and suds.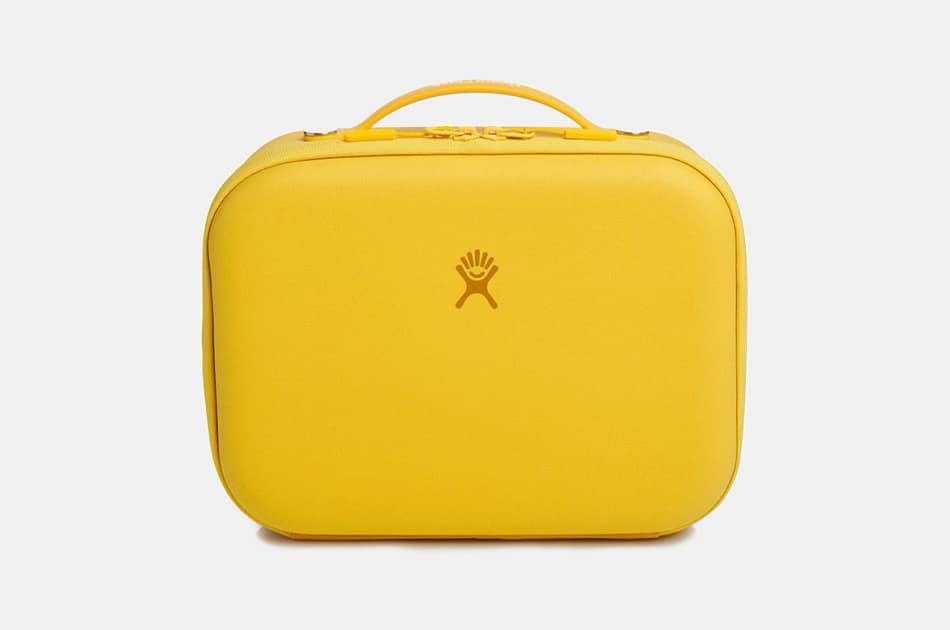 Hydro Flask Insulated Lunch Box
If you're one of the many Hydro Flask water bottle devotees, you already know how incredible their temperature-preserving technology is. It translates well to their insulated lunch box, designed to stay cold for hours and match perfectly with other Hydro Flask products in your collection. Choose from small, large, or kid sizes featuring maximum, 2-layer insulation, rugged styling, easy cleanup, and a comfort carry handle. An interior pocket in the pack is ideal for housing an ice pack, a spork, and packet-sized condiments.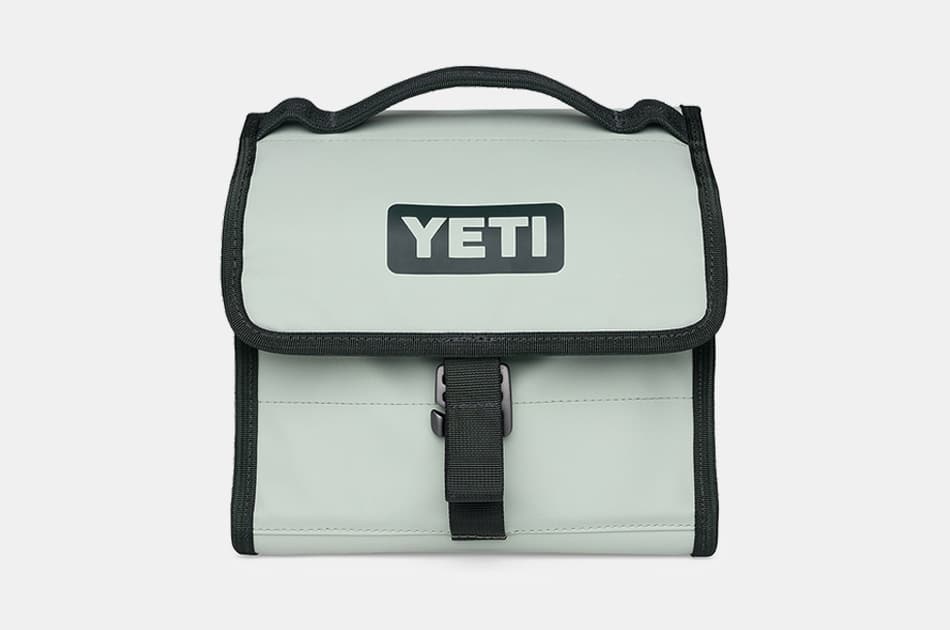 Yeti Daytrip Lunch Bag
Yeti adds flexibility and tons of style to your brown bag experience with their reusable, scalable lunch bag that folds flat for easy storage when not in use. Like their Daytrip Lunch Box, the bag version features lightweight, closed-cell foam that offers superior temperature preservation, especially when paired with the magnetic Thermo Snap Closure. Even better, it's suited for meals of many sizes, from a couple pieces of fruit to a Tupperware full of hearty lasagna. Simply fold the top flap to keep your lunch snug and temperature controlled until meal time.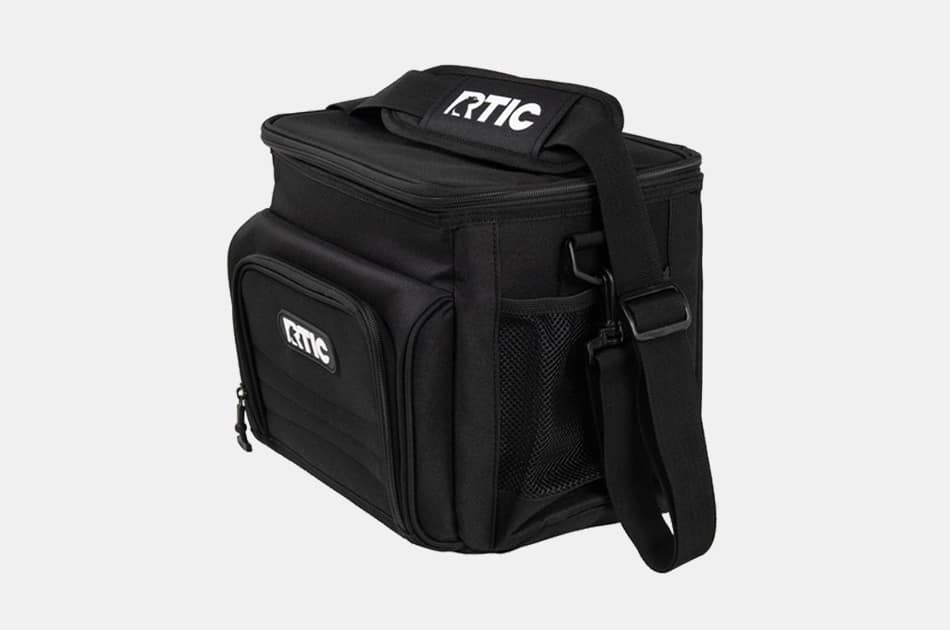 RTIC Day Cooler
A heavy-duty polyester shell and high-density insulation lining are enough to recommend this day cooler, which purports to lock in cool temps for up to 24 hours. It's a simple enough setup, to be sure, but extras like an adjustable shoulder strap and a zippered front pocket for non-perishable snacks or utensils add to EDC appeal, as do interior surfaces resistant to mold, mildew, microbes, and odor. With 11 colors to choose from, you're sure to find the perfect pack to perk up your lunchtime experience.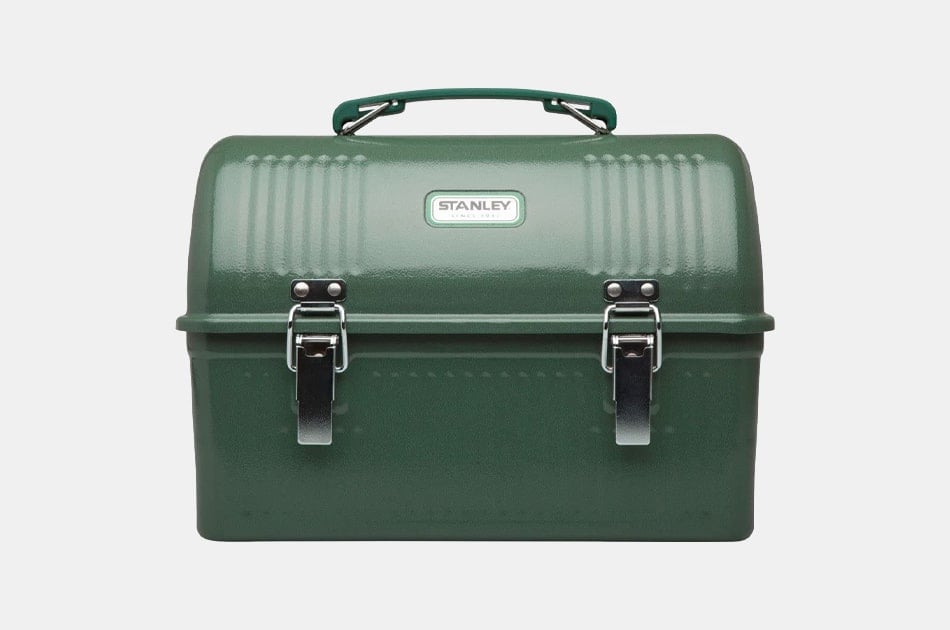 Stanley Classic Lunch Box
This aptly named classic looks like it came straight out of an old-timey movie about factory workers. If you're following in your father's proud tradition of carrying your coffee in a sturdy Stanley thermos, you'll be glad to find that the domed lid of this steel lunch box is not only the perfect size for branded vacuum bottles and mugs (not included), but it comes equipped with metal brackets to keep your drink nestled securely in place above your lunch.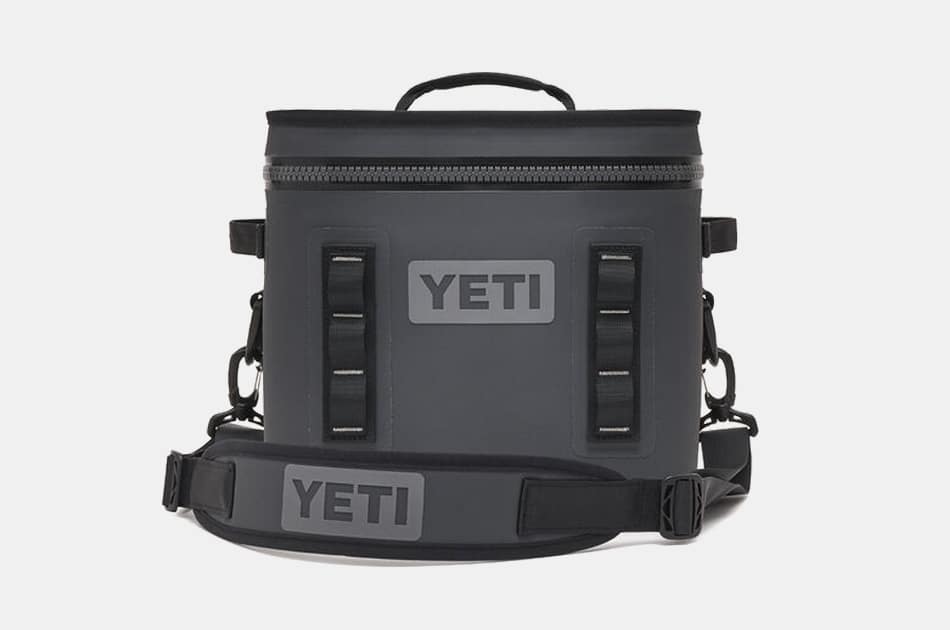 Yeti Hopper Flip 12
The price tag is enough to make your heart skip a beat. It's not like it's an original 1954 Superman lunch box in mint condition. Okay, for real, that's like a $10,000 lunch box. Still, you might wonder why you should drop 250 bills when you could use a brown paper bag for the same purpose. Aside from the slick, modern styling, this durable cooler bag is made to keep your drinks super icy with coldcell insulation. It's also totally leakproof and resistant to mildew, punctures, and UV rays, thanks to high-density fabric and a hydrolock zipper. If you want a lunch box that can go from the office to the outdoors and last you the rest of your life, she's a real beauty.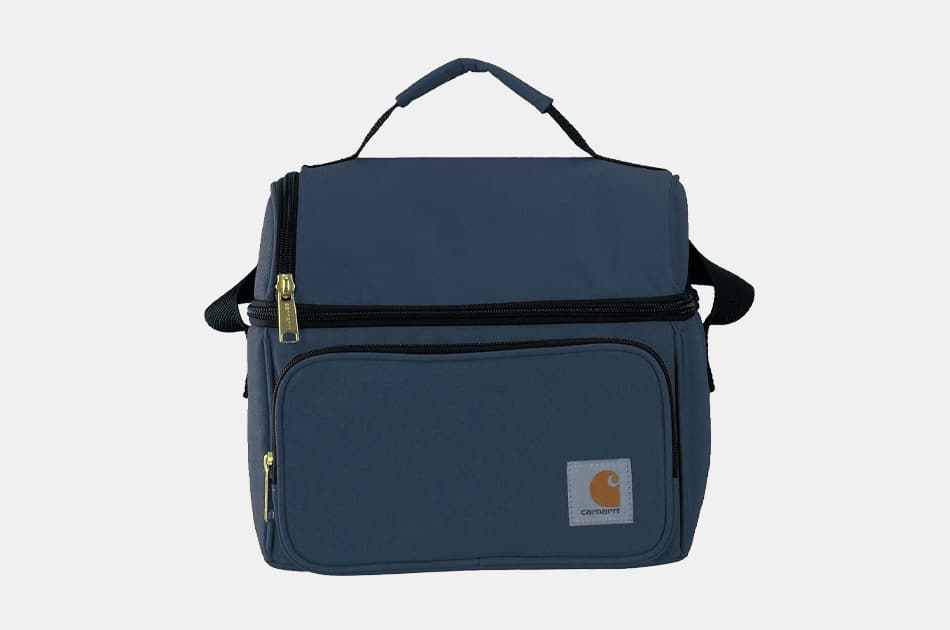 Carhartt Deluxe Lunch Cooler
Best known for their signature tan jackets worn by generation after generation of working men, Carhartt may not immediately come to mind when you're looking for a lunch box. That said, their lunch tote is durable, water repellant, insulated, and designed to hold six cans or bottles, which means it can easily perform double duty as a lunch box during the week and a beer caddy for weekend games or camping trips. At the low price point, it's hard to think of a reason not to get one.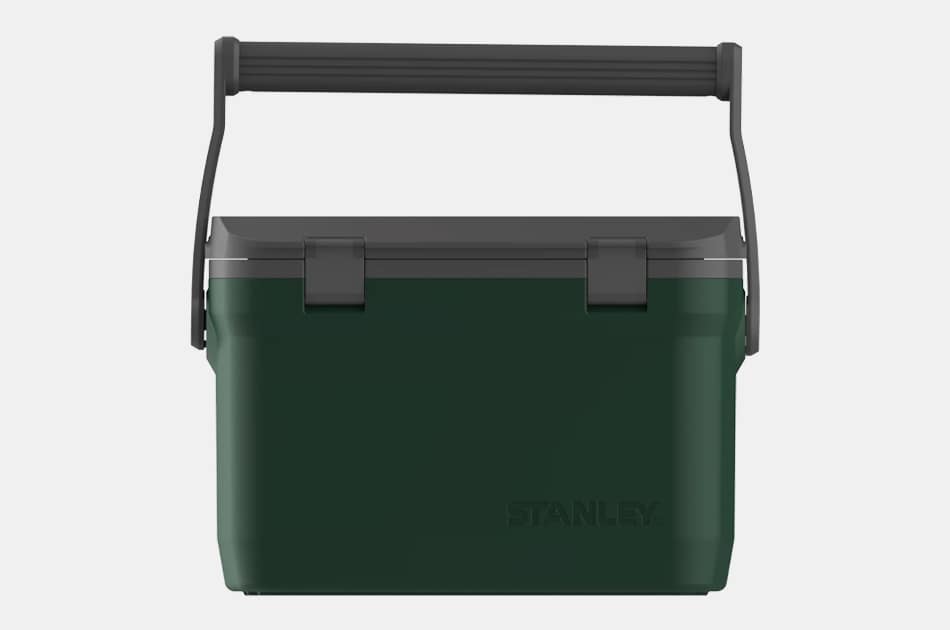 Stanley Adventure Cooler
Another offering from the Stanley line, this cooler may not be as dapper as the Classic Lunch Box, but it sure is cool…literally. This lightweight, 16-quart cooler has twice the foam insulation of most competitors, meaning it will keep up to 21 cans (yup, 21) icy cold until you pop the top. It's a little big for the average lunch, but it's the perfect way to bring vittles for a fishing trip with your buddies, and haul home your catch at the end of the day.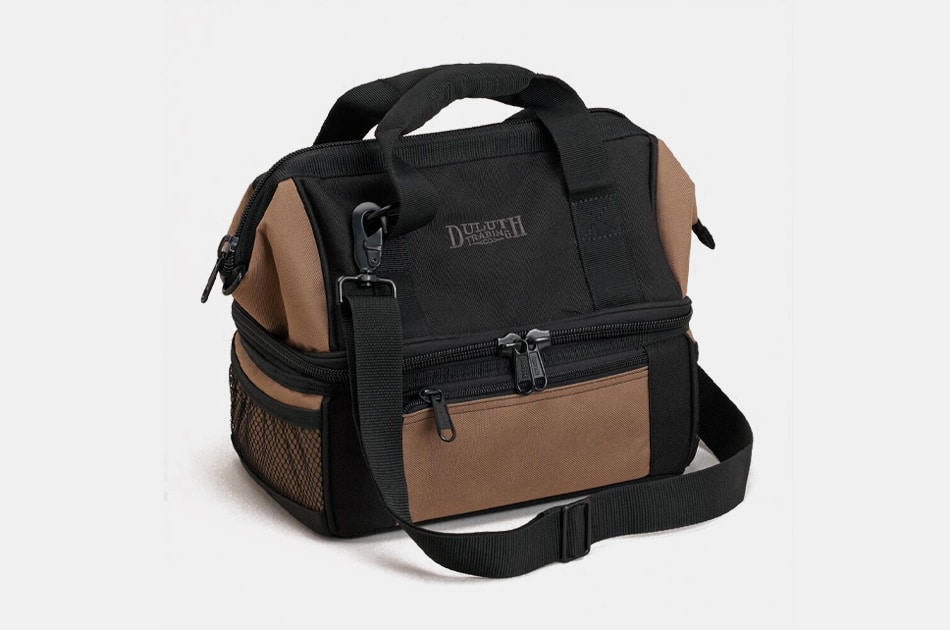 Duluth Trading Louie's Lunch Box
If you're looking to expand your lineup of rugged and durable Duluth products, hold off on buying another pair of pants. Instead, snap up this impressive lunch box, dedicated to an unapologetically hungry contractor named Louie. This roomy cooler bag can fit all three meals for the day with a lower compartment big enough to hold a 6-pack and an almost equally large upper storage space, plus zippered and mesh pockets perfect for utensils and hot sauce. It comes in just one manly shade: burlap.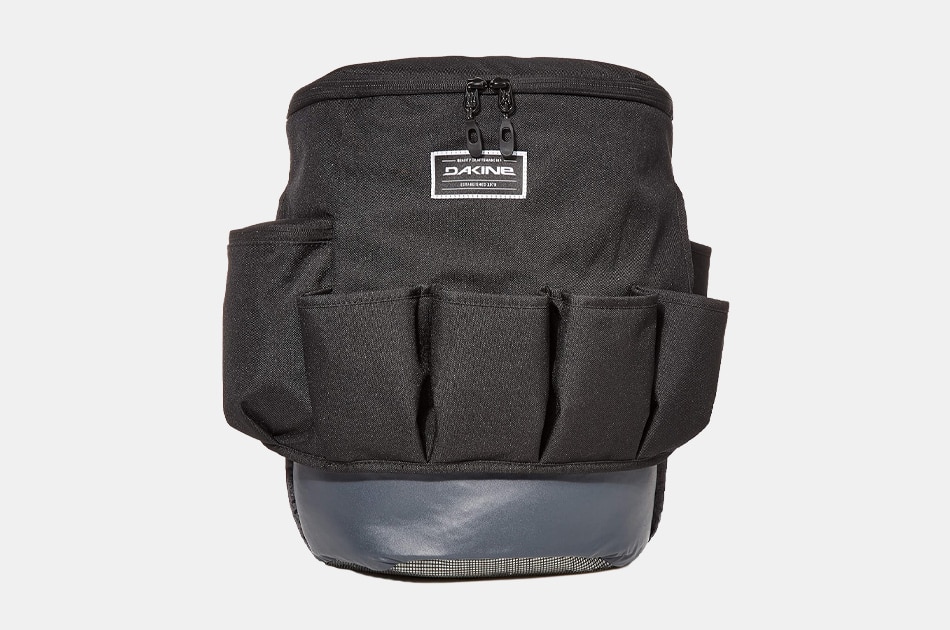 Dakine Party Bucket
Anyone who spent time at the skate park as a kid has no doubt heard of Dakine, which makes some of the best skate-friendly backpacks on the market. They deliver with equal aplomb on the lunch box front with the Party Bucket, featuring badass textiles in camo, Hawaiian, and skate/surf prints, as well as standard black. This bag not only carries lunch for you and a few buddies thanks to a sizable interior compartment and a ring of eight built-in drink koozies on the outside, but when fitted into a 5-gallon bucket, it expands to become a party cooler. Talk about multi-functional.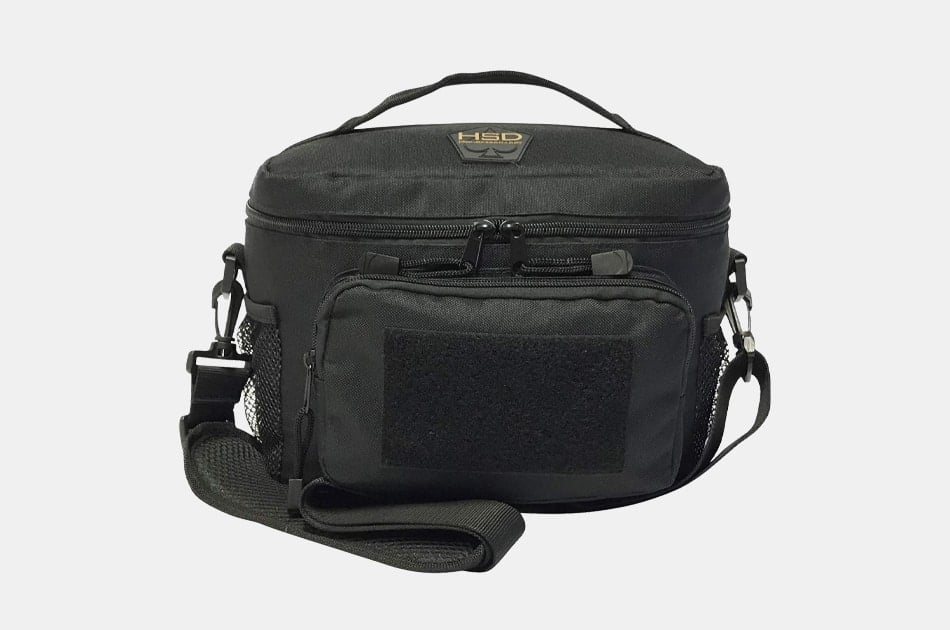 HSD Tactical Lunch Bag
"Badass. Durable. Awesome. Enough said." So says the description of this "coyote brown" bag that practically screams man cred. First of all, it's brown canvas with black detailing, so it looks rough and tumble. What's even better is what you don't see: it's made from durable and waterproof tactical, military grade materials. So, you know, the next time you need to base jump into enemy territory, you'll have the right lunch bag for the job. It also admirably totes Hot Pockets for office workers and weekend warriors.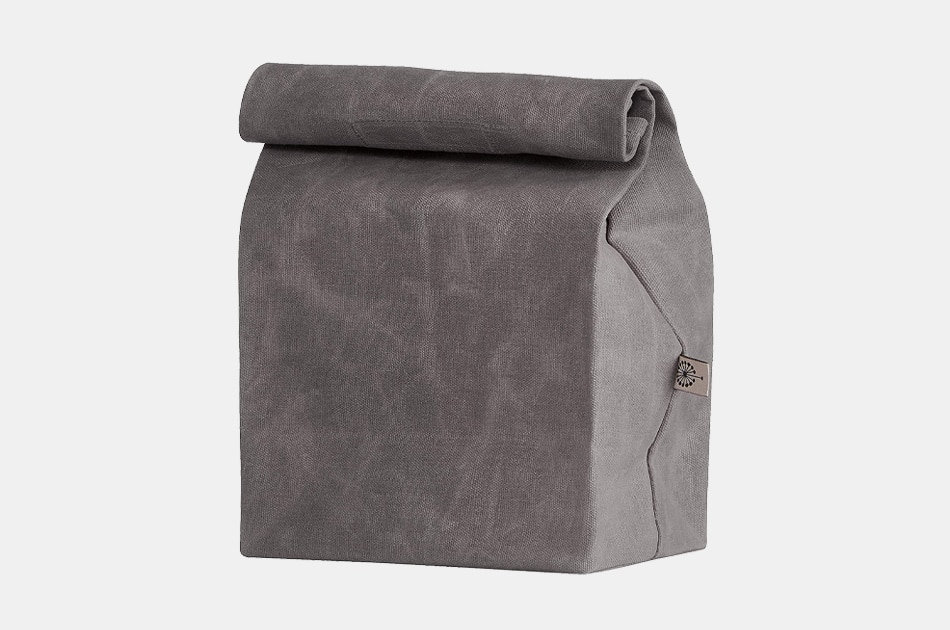 Colony Co. Waxed Canvas Lunch Bag
If hipsters made lunch bags, they'd look like this upgrade to brown bagging it. The Waxed Canvas Lunch Bag comes in brown, gray, or olive green and is built to withstand the rain, snow, and rough and tumble of many a lunch break. That's basically it. This lunch bag is waterproof, durable, and flexible enough that you can cram in a whole lotta Lunchables. It's a simple, reusable lunch sack that gets the job done without a bunch of unnecessary bells and whistles.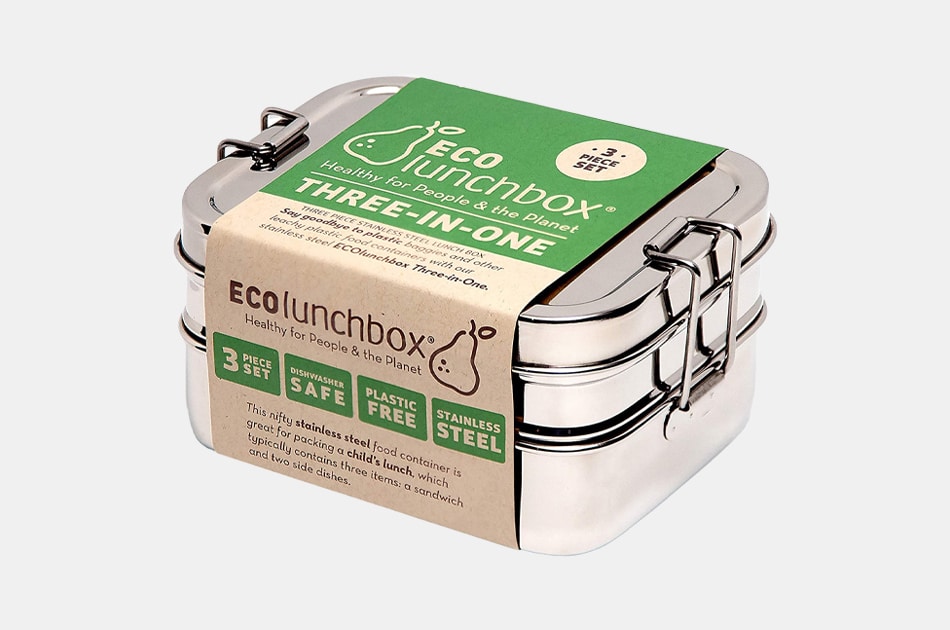 ECOlunchbox 3-in-1 Nesting Lunch Box
This modern take on the bento box is a utilitarian dream. Sturdy tins in three different sizes not only store everything from sandwiches and chips to fruits and veggies in their own sealed compartments, but these bad boys are stackable for optimal compactness and convenience. You can't quite fit the stack in your pocket, but it will slide nicely into a briefcase, backpack, or messenger bag and keep your soft items from getting squished. There's nothing less appetizing than a pancaked sandwich with jelly soaked into the bread.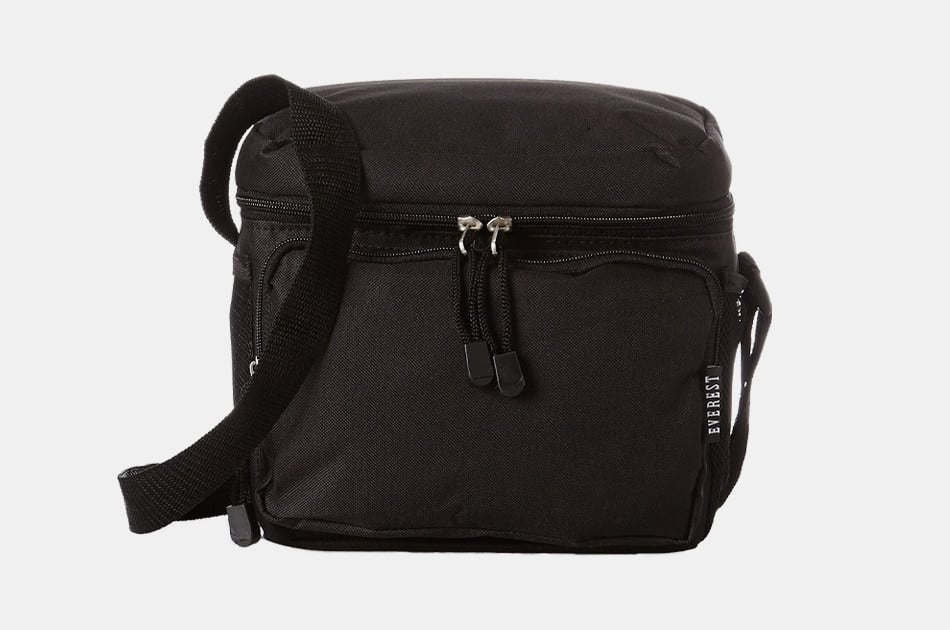 Everest Cooler Lunch Bag
Chances are you're not going to take this bad boy up its namesake mountain, but it's perfect for toting your lunch to work on a daily basis. The durable canvas comes in a variety of masculine colors and two shades of purple. With an insulated inner, waterproof vinyl lining, a sizable front zippered pocket, and mesh pockets on the sides, this bag is nothing if not utilitarian, and the low price makes it one of the cheapest lunch boxes on the list.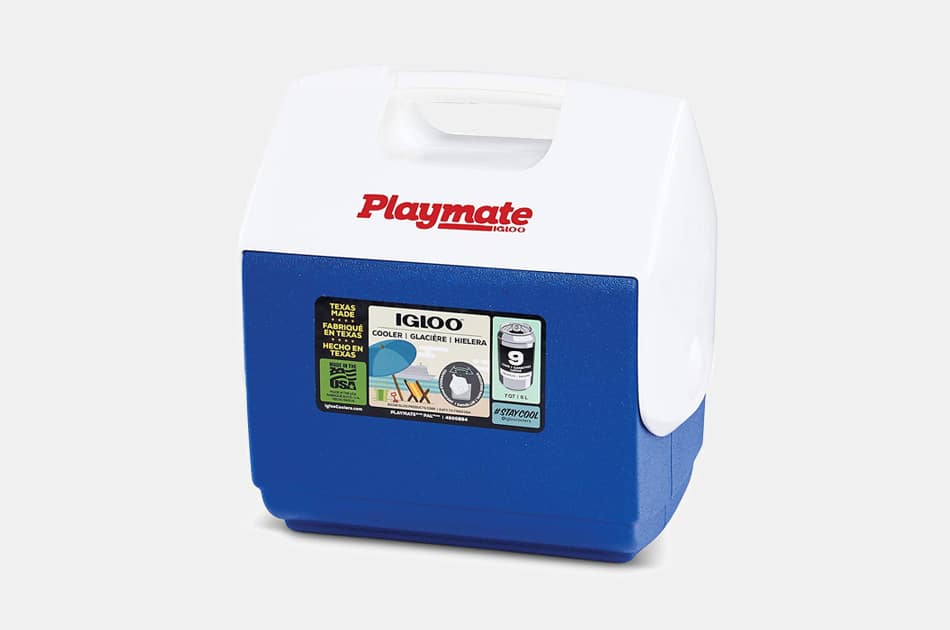 Igloo Playmate
Igloo is the gold standard for small, portable coolers, if not necessarily for lunch boxes. That said, if you're looking for a great way to keep your lunch cold, this resilient, roomy, and convenient cooler is the way to go. Your choices for color include Diablo Red and Majestic Blue, as well as the somewhat less manly Aqua Blossoms, which might be more your grannie's speed. Still, the standard molded plastic, secure lid with push-button entry, and 30-can capacity are enough to tempt any dude seeking a robust lunch pail.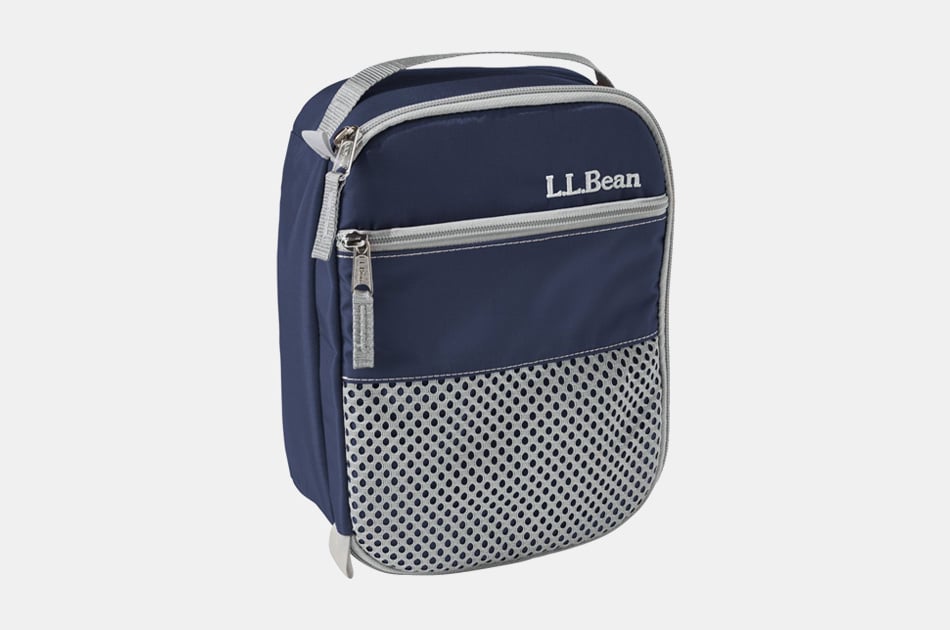 L.L. Bean Lunch Box
You can't fit a lot in this tiny lunch box, which outwardly resembles a travel toiletry kit. But if you're looking for a simple, streamlined cooler bag that fits into your average satchel, this one can hold your sandwich, a soda, a piece of fruit, and a snack bar for later. This BPA-, PVC-, and phthalate-free lunch bag is perfect for anyone looking to do less harm with their lunch box, and the size and price make it a perfect addition to any daily routine.
Needing a lunch box but something a bit larger? The best lunch box is sometimes a full-sized cooler. Check out these coolers that'll be sure to stow enough lunches for a week. On a budget? Here are the 10 best under $100. Just don't forget the bourbon.
Disclosure: Clicking on these links and making a purchase may earn us a small referral fee, at no extra cost to you. Learn more here.
freestar.config.enabled_slots.push({ placementName: "gearmoose_leaderboard_btf", slotId: "gearmoose_leaderboard_btf" });