10 Best Coolers With Wheels
To some the scent of fall is turning leaves and pumpkin spice lattes. To others, fall smells like grilled burgers and dogs alongside freshly cracked beers, consumed behind a truck in a stadium parking lot with hundreds of others doing the same.
If you're going to tailgate, having the right cooler is key. And while everyone is impressed you can deadlift a fully-loaded seventy-five quart cooler, it doesn't mean you have to. A cooler with wheels will make everything a bit easier as you stake out your small corner of asphalt and prepare to grill and imbibe your way to football fan greatness.
Our list of the ten best coolers with wheels is here for you. We've dug up premium, ten-day, bear-proof coolers, as well as a few ice chests that won't sack your wallet. Some have ingenious accessories, some are no-frills cold boxes, one of them will even hook up to your bike so you can roll right up to the party. All ten are coolers worth checking out before you head to the lot this fall. These wheeled cooler wonders will properly prepare you to get fanatically enthused for your chosen team. May the best your team win.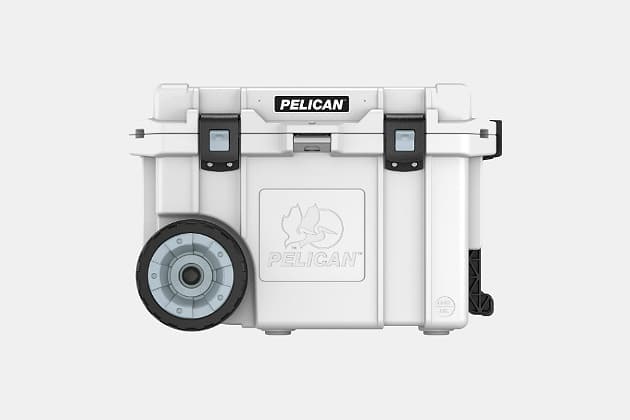 Pelican Elite Wheeled Cooler
Let us ask a question regarding your tailgating plans: Are you expecting bears? If yes: this. If no: still this. The Elite comes from Pelican, a company that makes protective cases used by the military, emergency responders and the aerospace industry — so yes, it'll keep your beer safe. And two inches of polyurethane insulation and a freezer-grade gasket means it'll also keep that beer cold for ten days. And about those bears? This cooler is certified bear-resistant by the Interagency Grizzly Bear Committee. – Shop Now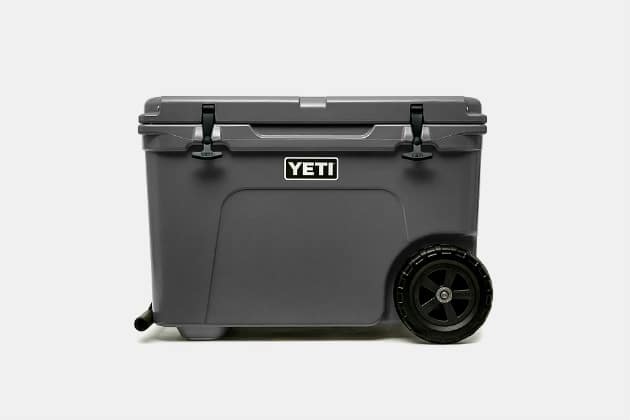 Yeti Tundra Haul
Tundra is Yeti's line of nigh-on-indestructible coolers. And finally, they've made one with wheels. The Haul will fit fifty-five pounds of ice, or forty-five cans of beer (with a two-to-one ice-to-beer ratio) and has a welded aluminum arm that's designed to be pulled behind you without raking your ankles every time you take a step. The rotomolded outer is filled with pressure-injected polyurethane to keep things icy while remaining uncrushable. – Shop Now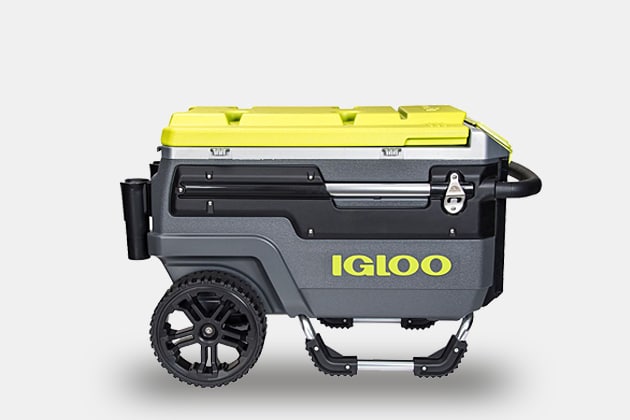 Igloo Trialmate Coolers
Like Kleenex and Xerox, there was a time when you referred to that thing keeping your stuff cold as the "Igloo." The wheeled collection from the brand synonymous with cooler is the Trailmate and it's all about the extras — cup holders, a slide out tray table, a storage pocket, bottle openers, and both an internal stay-dry food basket and an internal lockable dry box for your phone, wallet and keys. Add that to the four day ice retention and hundred-plus can capacity and you see how the eponym came about. – Shop Now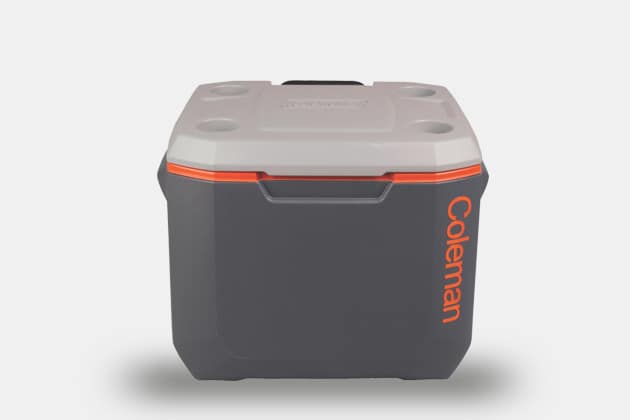 Coleman Xtreme Wheeled Cooler
Ever tried to take a load off atop an unsturdy cooler and ended up with a cracked lid, or worse, an iced butt? Coleman understands the tendency to consider the cooler the unofficial extra chair at the tailgating party, so they made their lid able to withstand two-hundred-fifty pounds of sports enthusiast. Holding up to eighty-four cans and keeping them cold for up to five days, the Xtreme also has a telescoping handle that locks so you can push or pull your cooler to the heart of the action. – Shop Now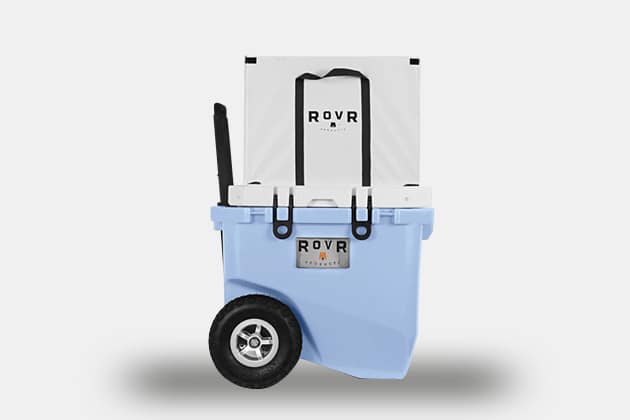 RovR RollR Coolers
A lot of thought went into the design of RovR's coolers. Far more than an insulated plastic box, the RollR coolers come in a forty-five, sixty or eighty-quart capacity and have a ton of features that seriously put the "cool" in cooler. The dry bin acts like a fridge keeping stuff dry and between 35º and 40º. A built-in Wagon Bin on top pops up to hold whatever else you're bringing to the party and the six anchor points let you add accessories like the optional cutting board and dual cup holders. Plus with the BikR tow arm you can haul the wheeled cooler with your bike. – Shop Now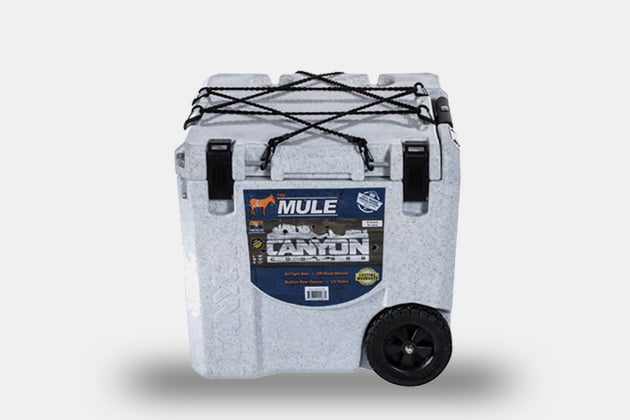 Canyon Cooler Mule
In answer to some of the price premiums certain premium coolers were asking, Canyon Coolers decided to make premium coolers that ranked at the top of the class for ice retention and towards the bottom for price. Their wheeled offering is a thirty-quart ice chest built with more insulation than other coolers in its range. The bungee net up top helps you haul extra stuff on game day and Canyon also offers a no-hassle, lifetime warranty. – Shop Now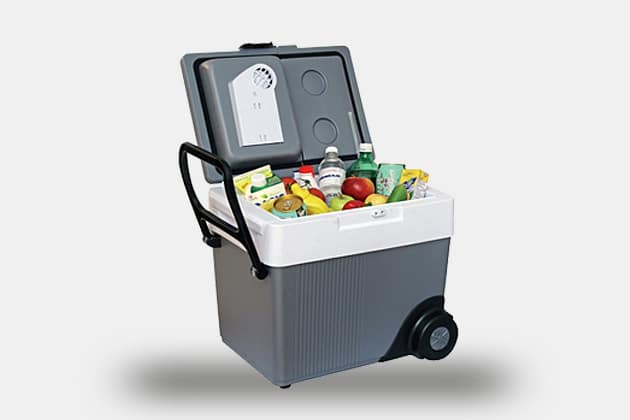 Koolatron KargoWheeler
You're tailgating, not exploring the Dry Tortugas. Chances are there's an open 12V you can plug into. So if you want to rely on more than just ice and insulation to keep your beer and brats chilly, go for the Koolatron. This one has a thirty-three quart capacity and comes with two shelves for organization. The coolers draw less power than your car's parking lights and there won't be any need to stop at the gas station for ice before you head out. – Shop Now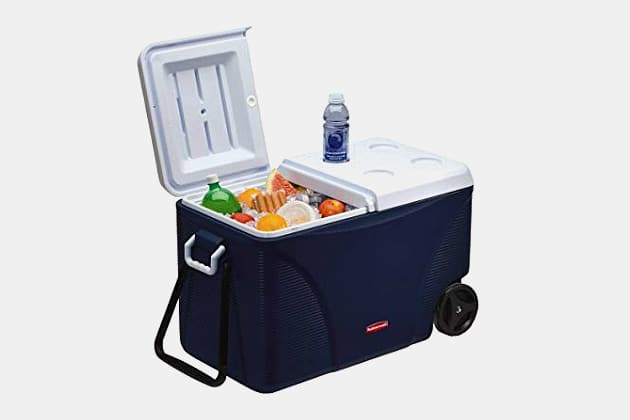 Rubbermaid Durachill Wheeled 5-Day Cooler
The Durachill wins the affordability game, but still promises five days of ice retention. You'll fit ice plus over a hundred cans in the seventy-five quart size, and it's got a split lid to help keep the cold in (what you're looking for will never be in the first side you open, though that isn't Rubbermaid's fault). The Durachill coolers are treated with Microban to stop that musty funk that stored coolers tend to develop and the best part is you can use the money you save to buy more beer. – Shop Now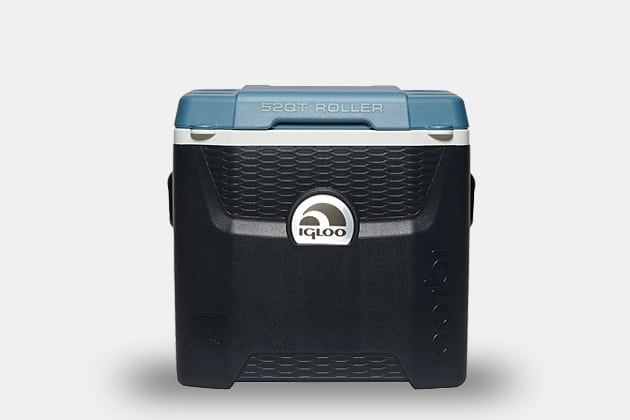 Igloo Maxcold Quantum 52 Cooler
Why is this this one the best? It has the word quantum in the name. Quantum Leap, quantum entanglement, Nuka Cola Quantum — examples of awesomeness, all of them. Also Maxcold Quantum has things like a telescoping handle with gear notches at the top so you can hang bags and packs, an internal shelf ledge for better organization, integrated tie-down loops, plus cup holders on the lid and a five-day ice-retaining insulation — all while staying firmly on the economical end of the spectrum. – Shop Now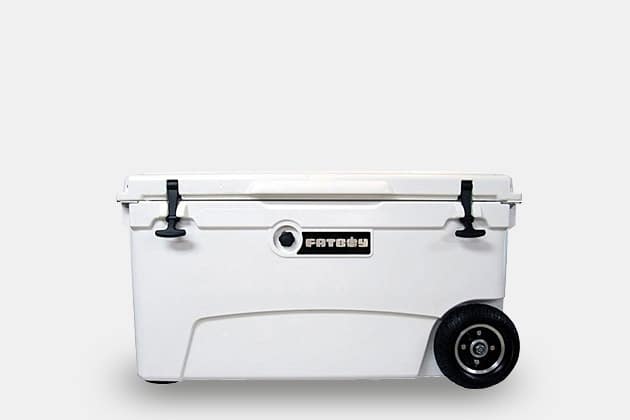 FatBoy Roto Molded Wheeled Cooler
There's ice cold and there's cryo cold. FatBoy coolers uses an exclusive polyurethane insulation called Cryo-Foam and that, along with the freezer-grade gasket will keep your ice icy for nine days. The outside is rotomolded low-density polyethylene with t-handle latches and stainless steel corner locks (and bottle openers). The tires are rubber and nearly two inches thick and the lid has a molded twenty-seven inch scale for measuring your fish — or perhaps more likely when tailgating, the diameter of your burger patty. – Shop Now
Disclosure: Clicking on these links and making a purchase may earn us a small referral fee, at no extra cost to you. Learn more here.
freestar.config.enabled_slots.push({ placementName: "gearmoose_leaderboard_btf", slotId: "gearmoose_leaderboard_btf" });