The 12 Best Soft-Sided Coolers For Hardcore Travelers
What's better than cracking open a cold beer on a hot summer's day while you're sitting out by the water? Having a few of your closest friends with you too—and a couple dozen brews on ice, just waiting to be enjoyed.
But if you've ever tried dragging a standard wheeled cooler through the sand, you probably know that it's not ideal for the job. The solution? Pick up one of these next-generation soft-sided coolers. Our 12 best soft cooler picks are each specially designed for easy carrying and day-long cooling, making them perfect for days at the beach or out on the hiking trails.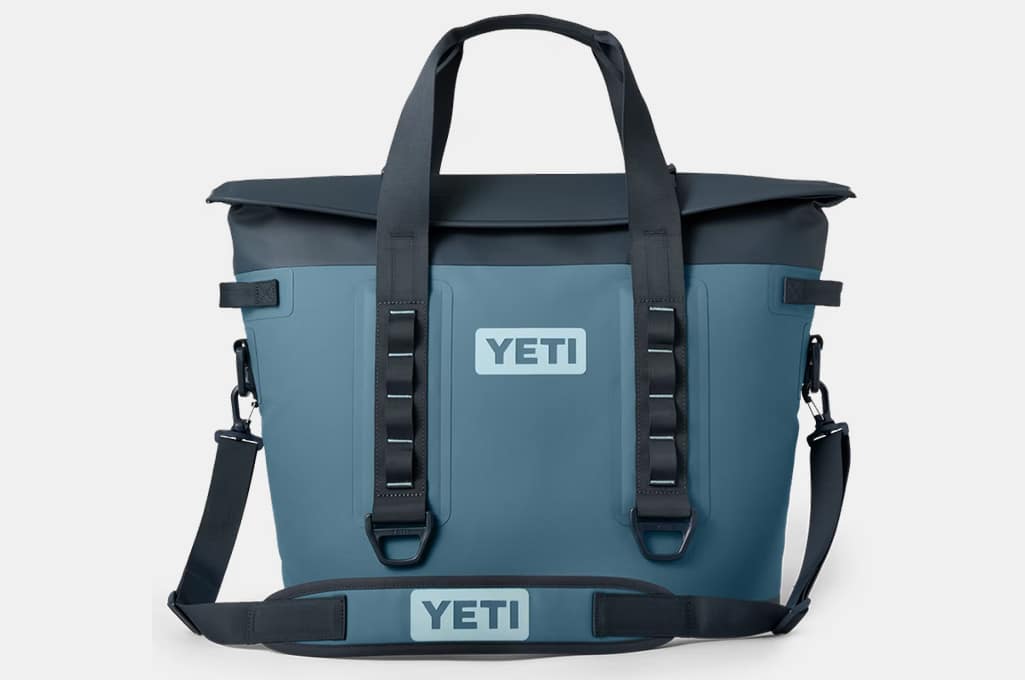 Yeti Hopper M30 Soft Cooler
For all things cold beverage related, Yeti is always a good place to start. The brand has been at the forefront of insulation technologies for about a decade now, and continues to innovate and design more effective products year after year. Case in point: Their Hopper M30 Soft Cooler, a full-sized tote bag cooler that can carry a whole case of brewskis, complete with accessory attachment points and a clever magnet-sealed roll top. If you want to share drinks with your friends on a weekend trip, this is pretty much the perfect cooler for it.
Price: $350
Materials: Closed cell foam insulation, high-density fabric exterior
Capacity: 26 cans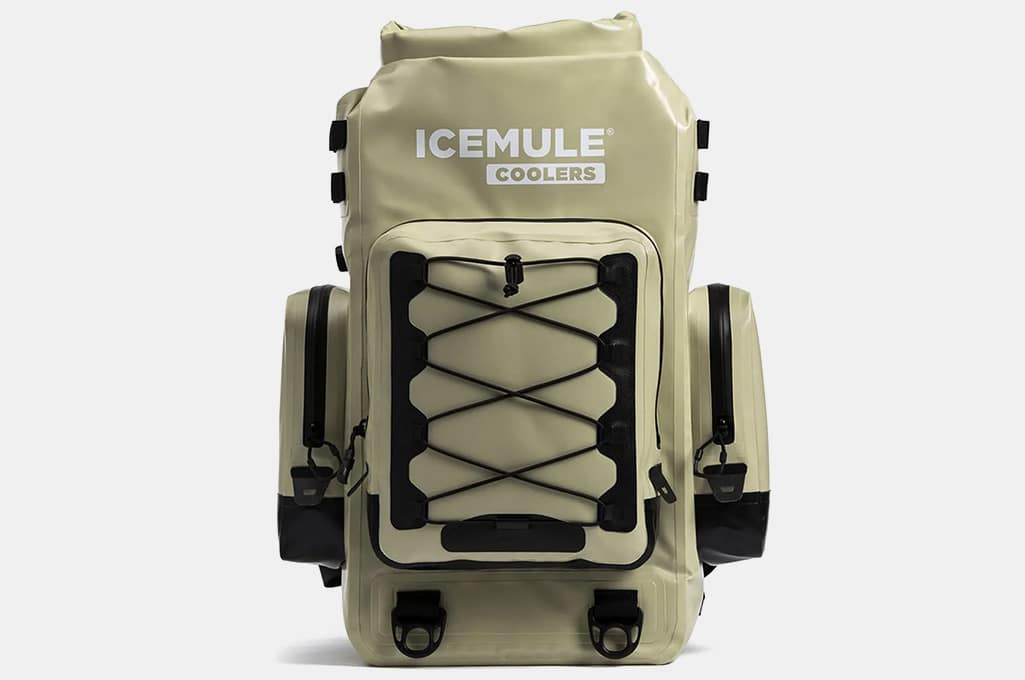 The IceMule Boss Cooler
Humans have been carrying around backpacks for hundreds of years, and for good reason: They're one of the most convenient ways to carry a moderate to heavy load over long distances. Try going for a five mile hike with a standard cooler, and you'll definitely see what we mean. So it only makes sense that someone would eventually invent the IceMule Boss Cooler: A wearable backpack-style cooler with plenty of wet and dry storage areas. It's a perfect way to bring everything you need for an awesome outdoor dinner to the beach or your campsite.
Price: $350
Materials: Muleskin exterior, padded synthetic shoulder straps
Capacity: 24 cans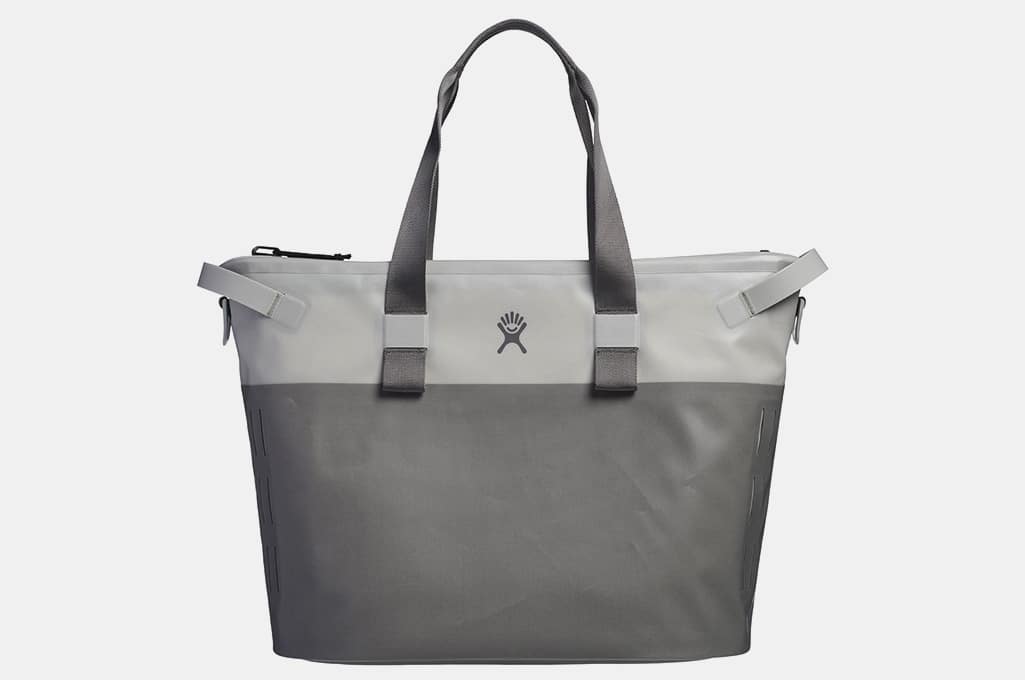 Hydro Flask 26 L Day Escape Soft Cooler Tote
Lightweight, durable, and well-designed, the Hydro Flask 26 L Day Escape Soft Cooler Tote might quickly become your favorite way to chill a few beers. Its 600D polyester shell is plenty tough, with good enough abrasion and tear resistance to survive any outdoor adventure. Paired with targeted insulation that keeps more cold in the bottom of the bag, you'll also find self-sealing zippers that are completely waterproof. Honestly, it's a steal given the capacity and durability.
Price: $180
Materials: 600D polyester shell, watertight zippers, welded seams
Capacity: 42 cans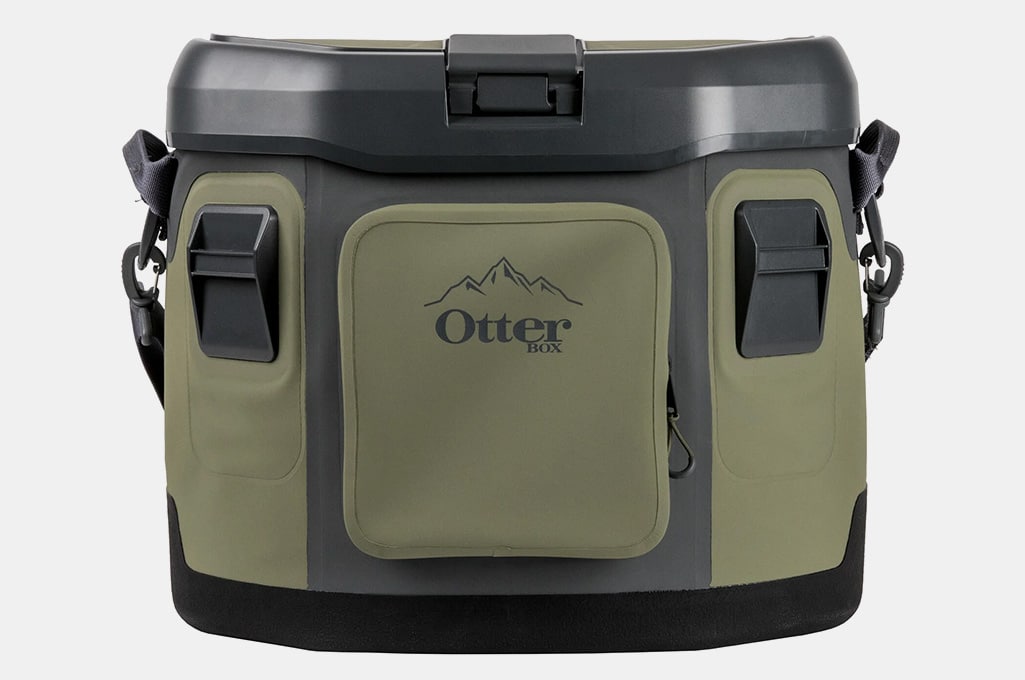 OtterBox Trooper 20 Soft Cooler
Halfway between a portable soft cooler and a rugged, durable hard cooler, you'll find the OtterBox Trooper. While nylon makes up the bulk of this cooler's exterior, there's also a hard plastic locking top. That makes it comfortable to carry while also being extremely easy to access. Add in a few exterior pockets with waterproof zippers for all of your cooking and drinking accessories, and you get one heck of a travel cooler.
Price: $250
Materials: TPU coated nylon exterior, premium grade thermal insulation
Capacity: 17 cans
Yeti Hopper Flip 18 Soft Cooler
Another offering from Yeti focuses on portability first and foremost, with a smaller capacity than the M30 featured above. Still, it's quite spacious—offering enough room for a good sized lunch for two to four people, and drinks to go with it. The flip-top opening gives easy top down access, making it a convenient choice to haul to your campsite or beach spot before sitting down to relax, eat, and drink. And with its multiple hitch points, you can load up plenty of accessories to carry along with ease.
Price: $300
Materials: Closed cell foam insulation, high-density fabric exterior
Capacity: 15 cans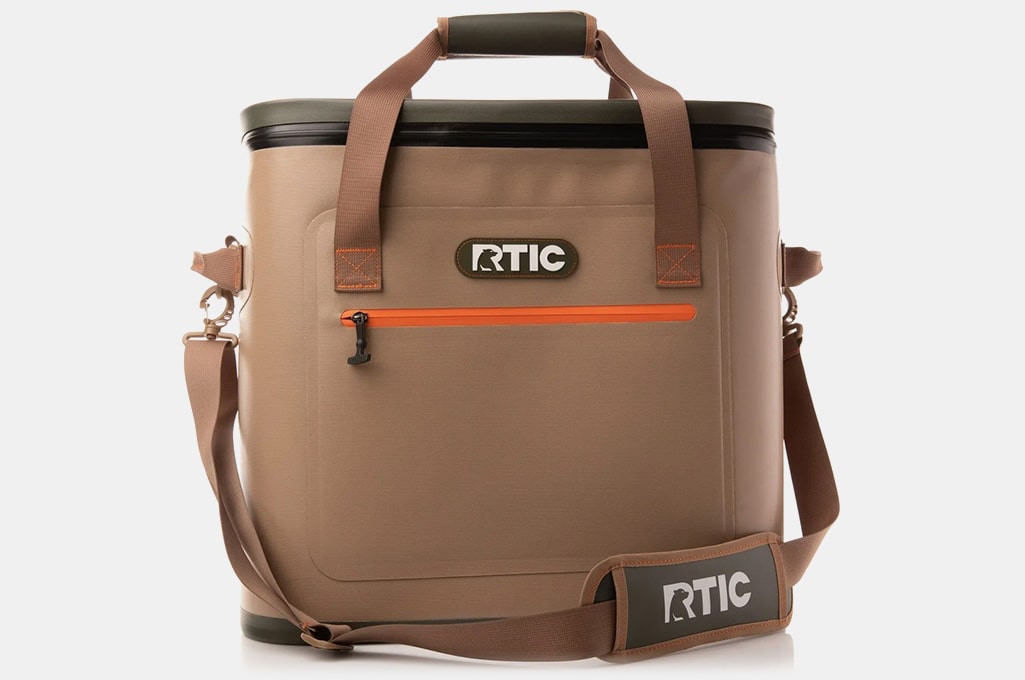 RTIC Soft Pack Cooler
Headed out on the water for a weekend getaway? Then there's no better option to bring along your beers and snacks than the RTIC Soft Pack Cooler. Thanks to its unique interior design, every one of these coolers floats—that's right, you can bring it in the water with you without worrying about losing your lunch. And with options to carry 12, 20, 30, or 40 cans, you can customize your choice of cooler to perfectly suit how long you'll be out and about. That's a whole lot of value for an entirely reasonable price.
Price: $150
Materials: Heavy duty nylon shell, closed cell foam insulation
Capacity: 40 cans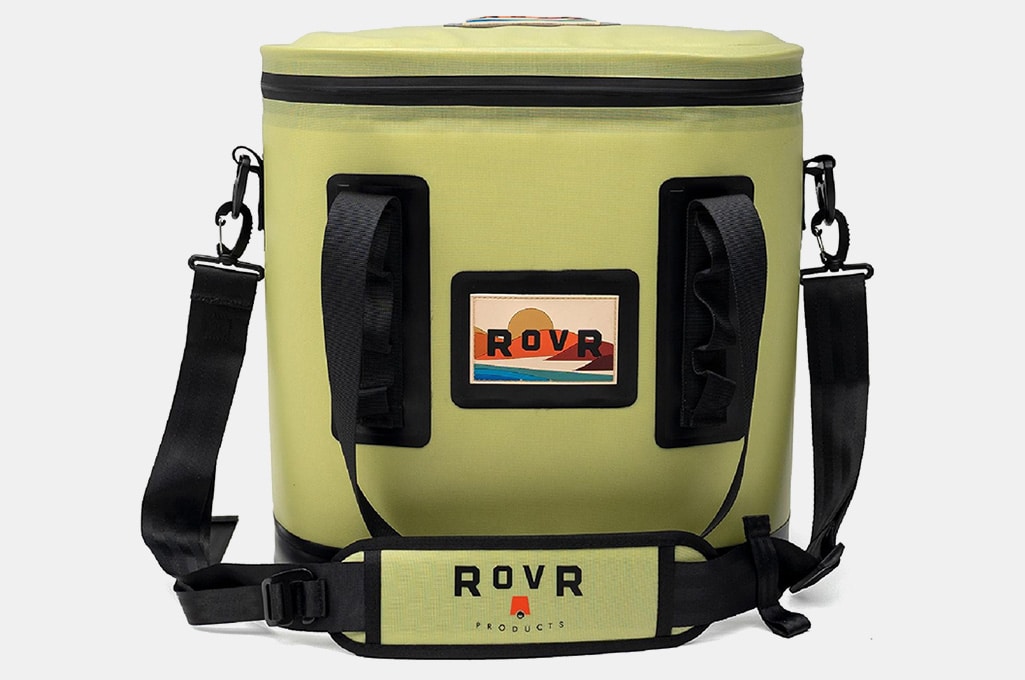 RovR Products TravelR 30 Soft Cooler
For camping and beach trips, saving space in your car is a must. And while many of the coolers on this list are compact enough to not take up too much space, the RovR Products TravelR 30 Soft Cooler really takes the cake. Its unique construction is super lightweight, and able to fold down into a flat pack—really saving you space when you don't need it filled with ice and cans. That alone is enough to make it worth buying, but added shoulder and sternum straps for versatile carrying options really make it a stand out in the soft cooler category.
Price: $250
Materials: Nylon exterior, high density foam insulation
Capacity: 26 cans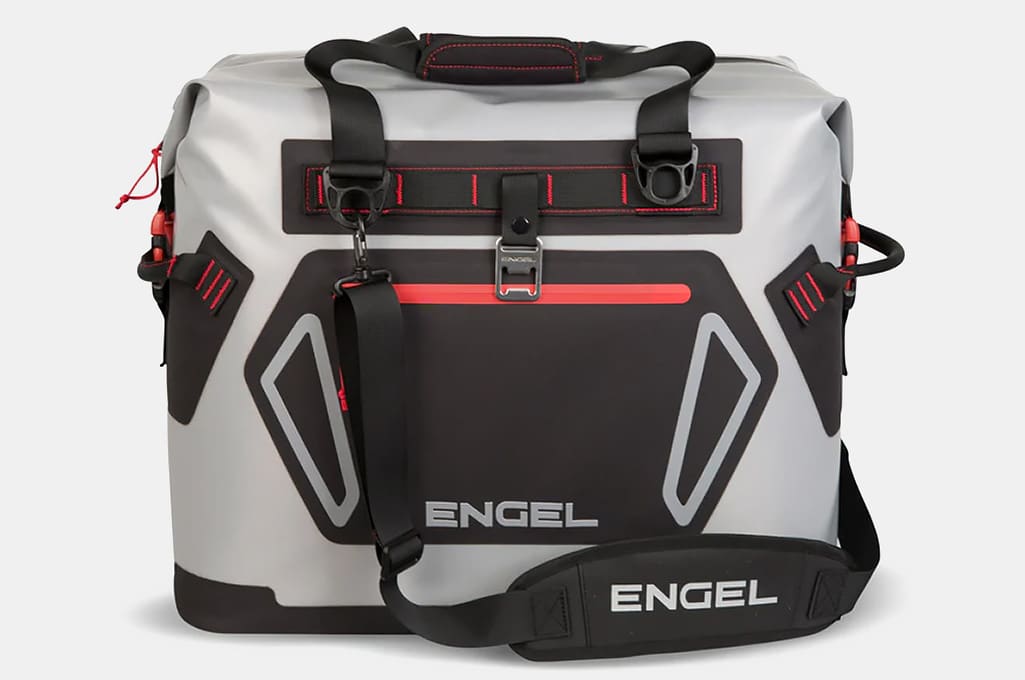 Engel HD30 Heavy-Duty Soft Sided Cooler
Getting into the nitty gritty of cooler details and design is how Engel has managed to create one of the longest-lasting chills of any cooler on this list. Their HD30 Heavy-Duty Soft Sided Cooler is built entirely with welded seams—meaning that there's no possible way for air to escape, which keeps your ice and beverages colder for longer. A lot longer, actually: In an independent study, testers found that it could keep beverages cold for over 100 hours in 90 degree temperatures. So if you're going out for a hot summer trip, consider this as your first choice of soft cooler.
Price: $240
Materials: 840D nylon exterior, closed-cell foam insulation
Capacity: 28 cans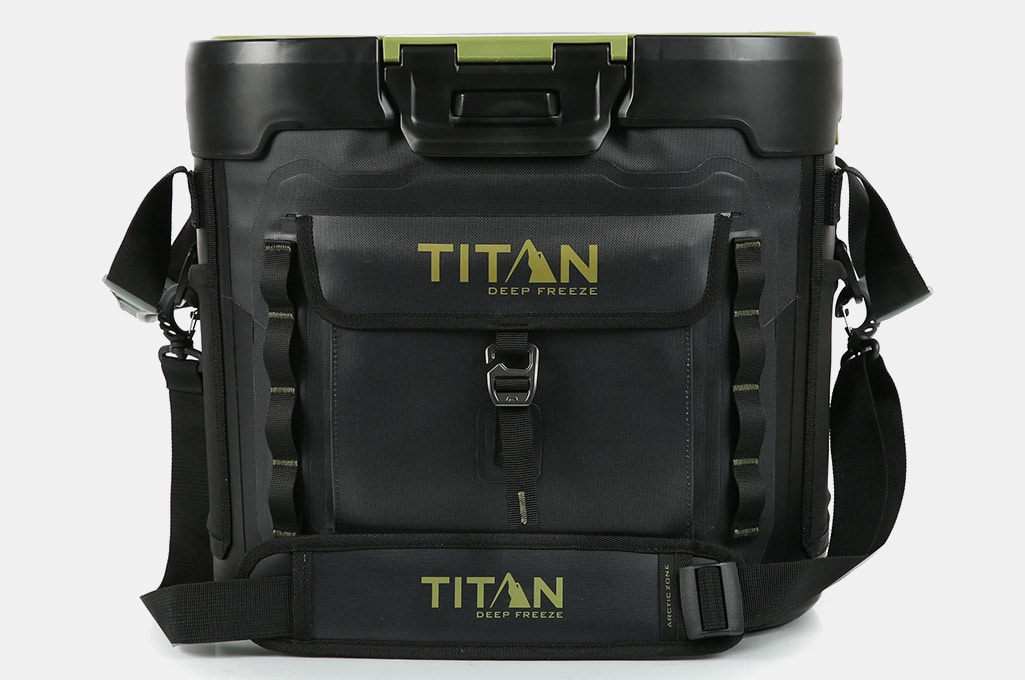 Titan Deep Freeze High Performance Welded Cooler
For maximum cooling performance at a much more affordable price, however, you'll want to look towards Titan's Deep Freeze. For well under $200, it can still keep a load of ice and drinks cold for three and a half days—quite impressive in comparison to other coolers at the same price, let alone more expensive ones. Plus, this cooler boasts a feature not often found in other soft coolers: A removable shelf that doubles as a bottle holder, making sure that you can keep your food and drink perfectly separated at all times.
Price: $170
Materials: Durable fabric exterior, dense foam insulation
Capacity: 36 cans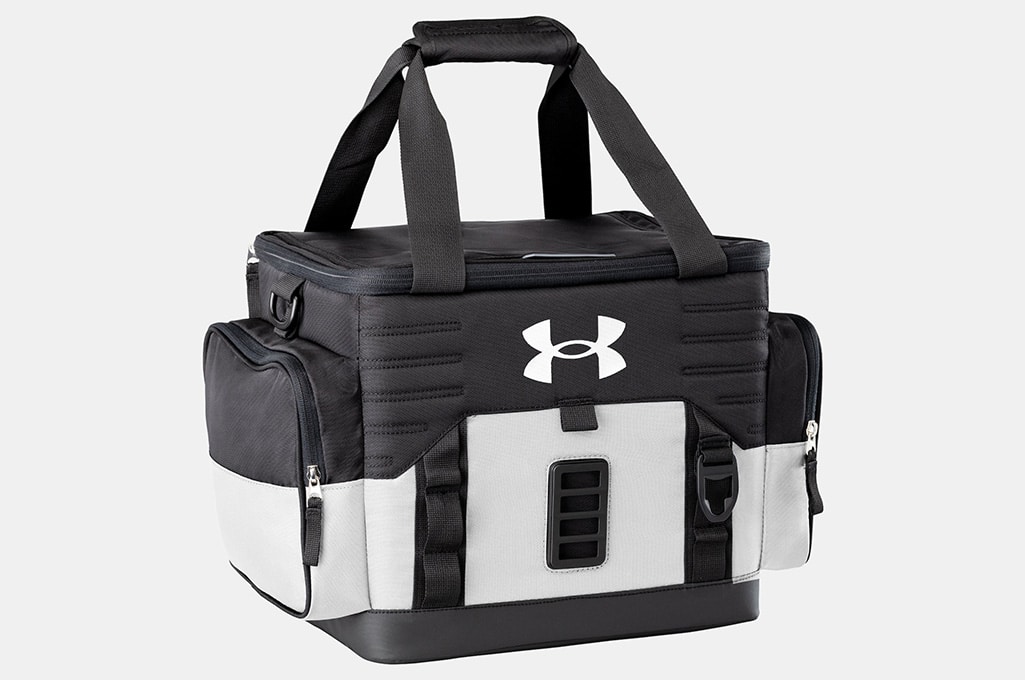 Under Armour 24-Can Sideline Soft Cooler
If the coolers featured here so far have given you sticker shock, then look no further than Under Armour's 24-Can Sideline Soft Cooler. While it doesn't boast the same days-long cooling power of the other products on this list, Under Armour's cooler is significantly easier on the wallet—coming in at less than half of most other coolers listed here. Plus, little perks like a built-in bottle opener and fence hooks make it an ideal cooler for game day drinking and snacking; not too shabby at all for such an affordable cooler.
Price: $75
Materials: Coated fabric exterior
Capacity: 24 cans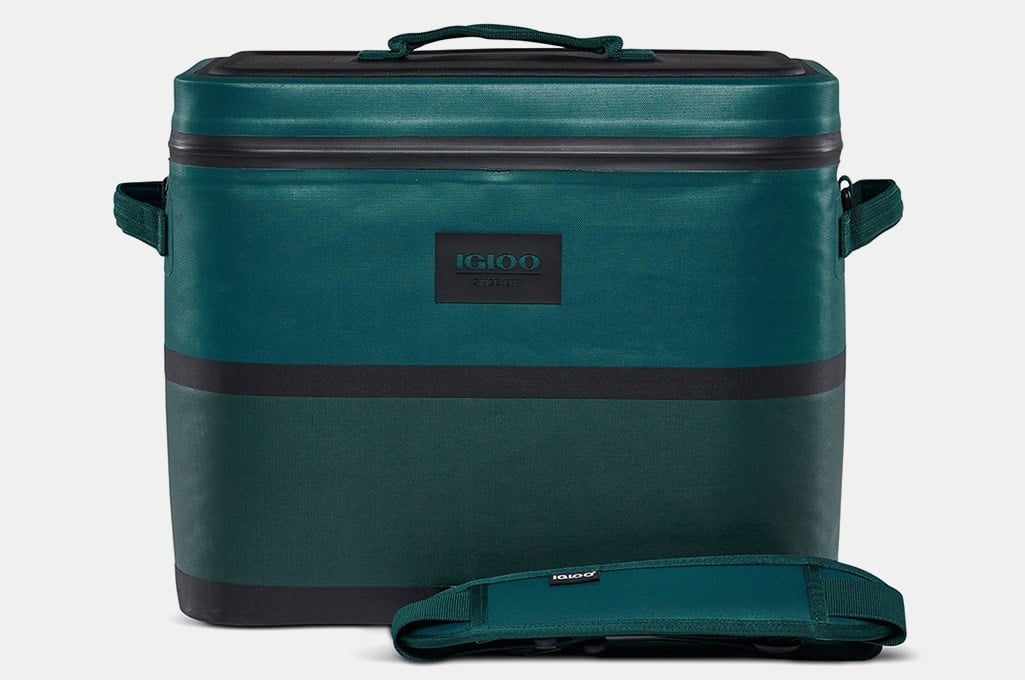 Igloo 30 Can Reactor Soft Sided Cooler Bag
The cold experts over at Igloo have been keeping lunches and drinks chilled for decades now, all at an affordable price. And their 30 Can Reactor Soft Sided Cooler Bag is no exception, offering best-in-class storage capacity dollar for dollar. It's a streamlined take on the soft cooler that does away with a lot of the bells and whistles of other soft coolers in this list, focusing instead on giving the best performance for the money. A great addition to your picnicking setup anytime of year.
Price: $99
Materials: Abrasion-resistant fabric exterior
Capacity: 30 cans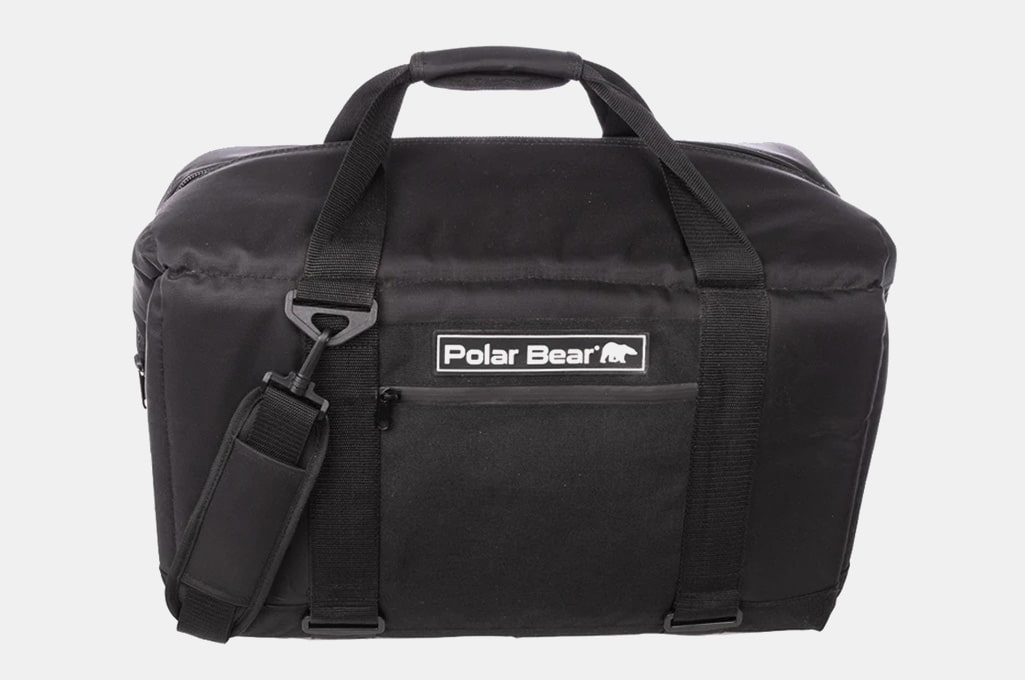 Polar Bear 48 Pack Original Nylon Soft Cooler
And to finish things strong, let's end on the largest capacity soft cooler of all: Polar Bear's 48 Pack Original Nylon Soft Cooler. Capable of holding two full cases of beer—and 15 pounds of ice to keep those cans cold—it's a monster cooler that's exactly what you need for a trip out with the boys. And even though it's quite affordable, the Polar Bear doesn't cut any corners; it's made with 1000D nylon for puncture-proof performance that will last for years to come.
Price: $140
Materials: 1000D nylon exterior, TPU double coated liner
Capacity: 48 cans + 15 pounds of ice
Disclosure: Clicking on these links and making a purchase may earn us a small referral fee, at no extra cost to you. Learn more here.
freestar.config.enabled_slots.push({ placementName: "gearmoose_leaderboard_btf", slotId: "gearmoose_leaderboard_btf" });