Summer is officially here. This means that, if you're anything like us, you're primed to spend a lot of your free time outside communing with nature. Even if you're not into camping in a tent in the middle of nowhere, kayaking on a white cap-covered lake, or even hiking for an extended, sweaty period of time, there's a good chance you'll spend some time in your yard, sitting around a bonfire, or simply sitting in a lawn chair, staring into the sun (although we don't encourage this summer behavior). You'll also grill your meals as much as possible.
But if you're going to grill, you're also going to need some of the best barbecue sauce options to up your summer grilling game. Grilled pork or chicken wings aren't complete without a sweet, tomato-based sauce, a tangy mustard sauce, vinegar-forward sauce, or even a mayonnaise-based Alabama white sauce.
It's a scientific fact that grilled food just tastes better than every other kind of food (unverified) and we don't care if you use charcoal or propane. It's all good. Even if you don't own a smoker, your grill is a tiny, travel-sized setup, and your only barbecue-related claim to fame is that someone once gave you a "king of the grill" apron for your birthday, you're probably going to throw marinated chicken, steak, burgers, and veggies on the grill at least a few nights per week from now until October.
To help guarantee you get the most out of your summer grilling, we decided to make a list of twelve best barbecue sauces. We tried our best to give you choices with varying flavors and ingredients. Keep reading to see all of the picks.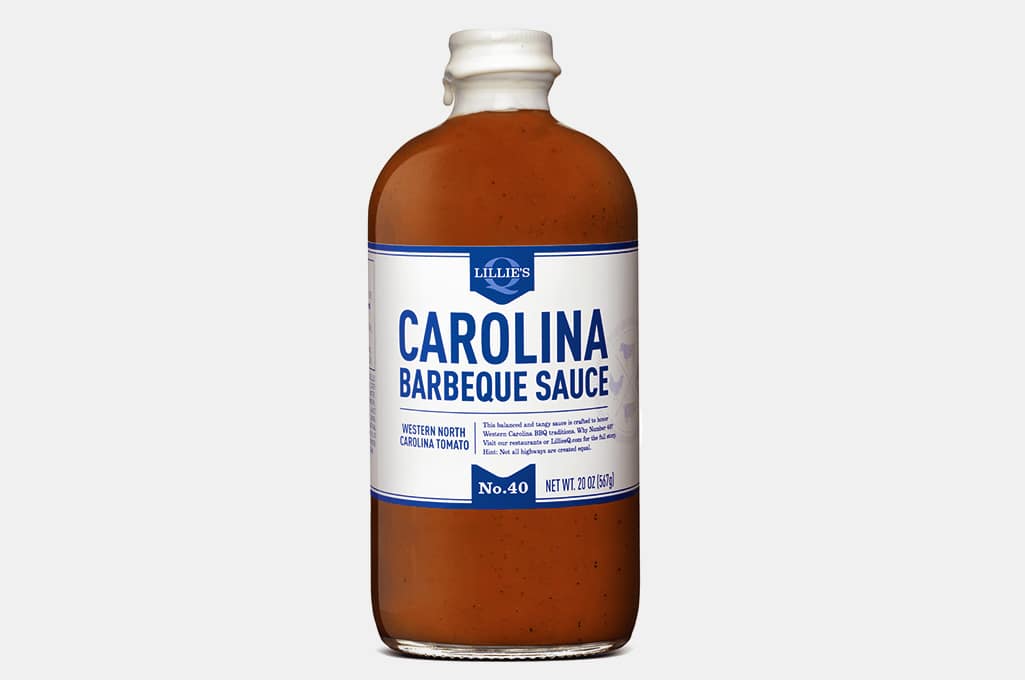 Lillie's Q Carolina Barbecue Sauce No. 40
Best Carolina-Style BBQ Sauce
If you enjoy Carolina-style barbecue sauce, you have to try Lillie's Q. It's called No. 40 as a reference to the drive between its hometown of Chicago and the barbecue-centric cities of Asheville and Greensboro, North Carolina more than 600 miles away. It starts with a tomato base like most barbecue sauces, but the addition of vinegar gives it a tangy zip that works well with all of your barbecue favorites. The best part is that this sauce (and all of Lillie's Q sauces) is made with all-natural ingredients, is gluten-free, and has no preservatives.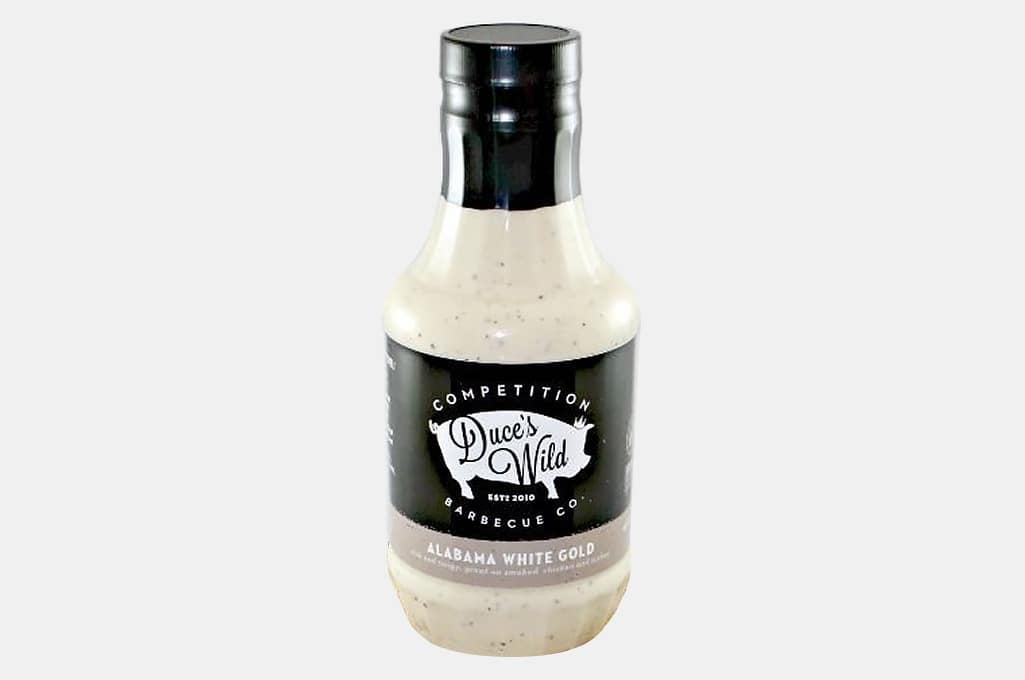 Duce's Wild Alabama White Gold Barbecue Sauce
Best Alabama-Style White BBQ Sauce
If you're not an avid barbecue sauce fan, you might not know about the mayonnaise-based Alabama-style sauce. Duce's Wild Alabama White Gold is a great example of the style. The perfect complement to chicken, pork chops, and even salmon, this sauce has won numerous awards over the years. The one thing that sets this Alabama-style BBQ sauce from others is the addition of horseradish. This gives it a little spicy kick that is sure to amp up your barbecue this summer.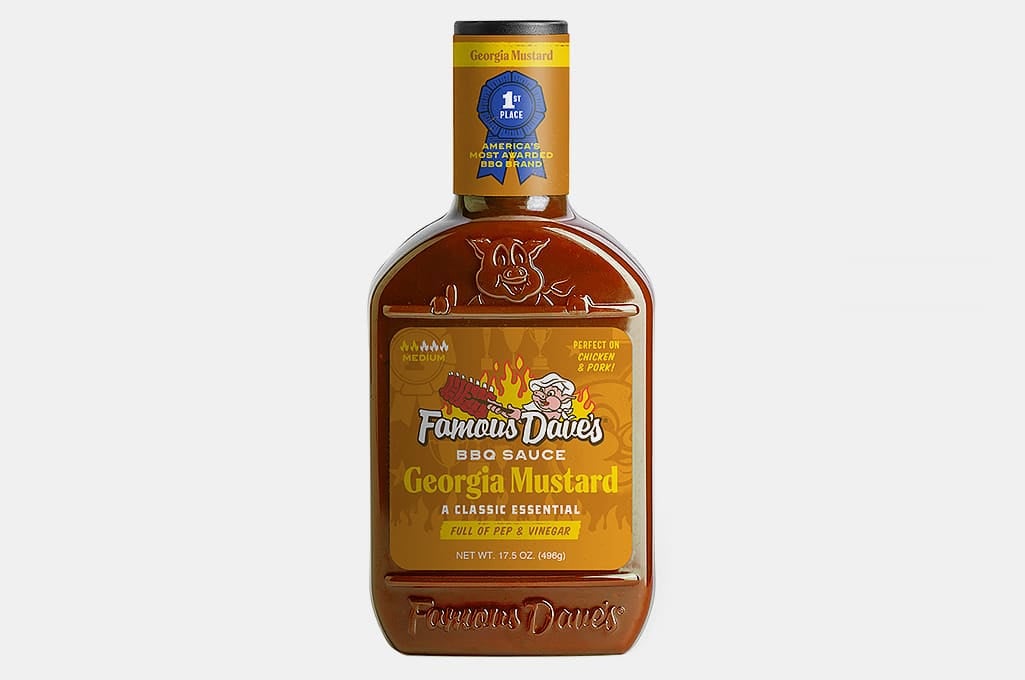 Famous Dave's Georgia Mustard BBQ Sauce
Best Mustard Barbecue Sauce
Even though we don't necessarily know who "Dave" is, the bottle says he's famous and after tasting his sauce, we agree. Vinegar-based mustard sauce is the go-to barbecue flavor for many southern states. Famous Dave's version is on point with vinegar, mustard, brown sugar, and molasses taking center stage in the flavor department. This classic barbecue sauce is perfect for slathering on pork, chicken breasts, ribs, or drizzled on pretty much anything you like to eat. It's so good, we'd eat an old flip flop if this sauce was covering it. The brand also makes hot, sweet, Texas-style, chipotle, and other sauces, but this one is our favorite.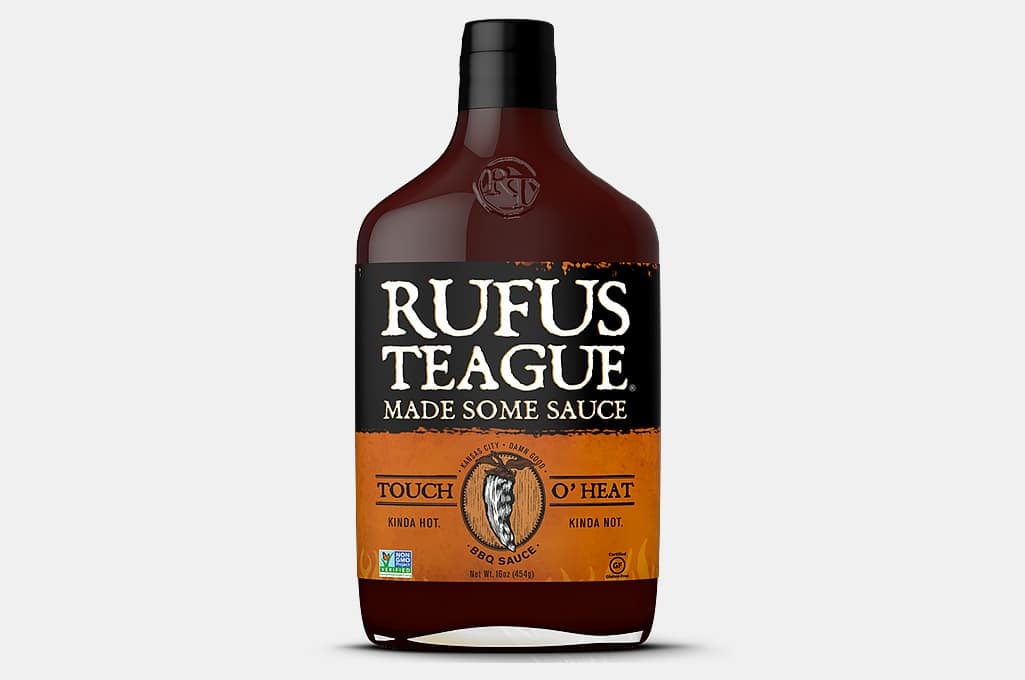 Rufus Teague Touch O' Heat BBQ Sauce
Best Gluten-Free Barbecue Sauce
If you enjoy a little sweet with your heat, it's pretty difficult to top Rufus Teague Touch O' Heat. This Kansas City-Style barbecue sauce is like the brand's original sauce that's "kinda hot." It's not going to knock you down with heat, but there's "Just enough to let you know it's there." This GMO-free, Kosher-certified, gluten-free barbecue sauce is perfect to add a spicy kick to chicken, ribs, pork, and even amped-up cheeseburgers.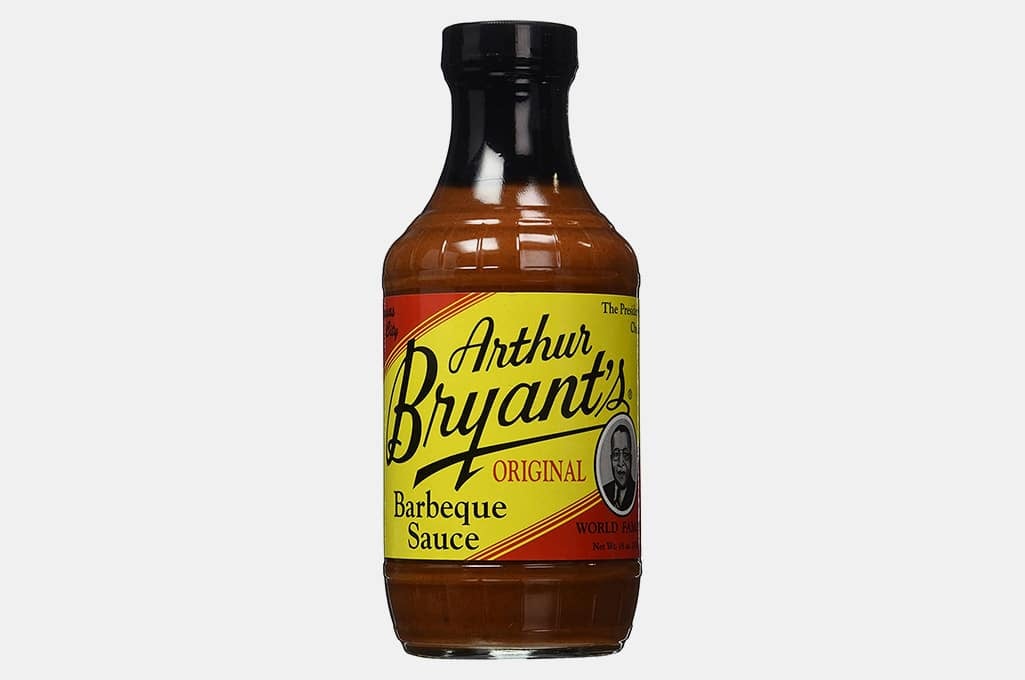 Arthur Bryant's Original BBQ Sauce
Best Barbecue Sauce For Grilling
Kansas City's Arthur Bryant's is arguably one of the most famous barbecue restaurants in the world. Luckily, even if you live nowhere near the barbecue-centric city, you can enjoy the restaurant's world-famous barbecue sauce wherever you live. Its original barbecue sauce is tomato-based with mustard, garlic, and various other flavors. There might be no way whatever you're grilling or smoking will taste as good as the food at Arthur Bryant's, but at least you can cover your steaks, pork chops, and chicken in his award-winning sauce.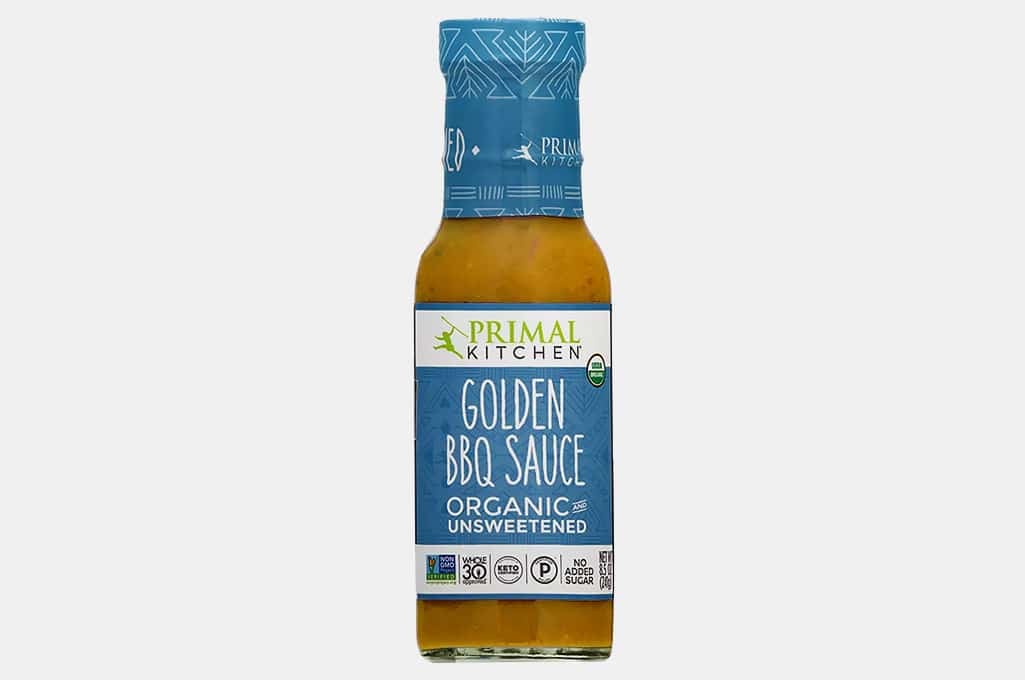 Primal Kitchen Golden BBQ Sauce
Best BBQ Sauce For Marinading
Carolina-style barbecue sauce is one of the most indulgent barbecue sauce styles. But this doesn't mean that the health-conscious can't enjoy it as a marinade, slathered on their food, or as a dipping sauce. That's because Primal Kitchen makes a tangy, sweet, flavorful sauce that has no added sweeteners and is Keto-, Paleo-, and Whole30-approved. Made with all organic ingredients, it's perfectly suited for an after-workout meal.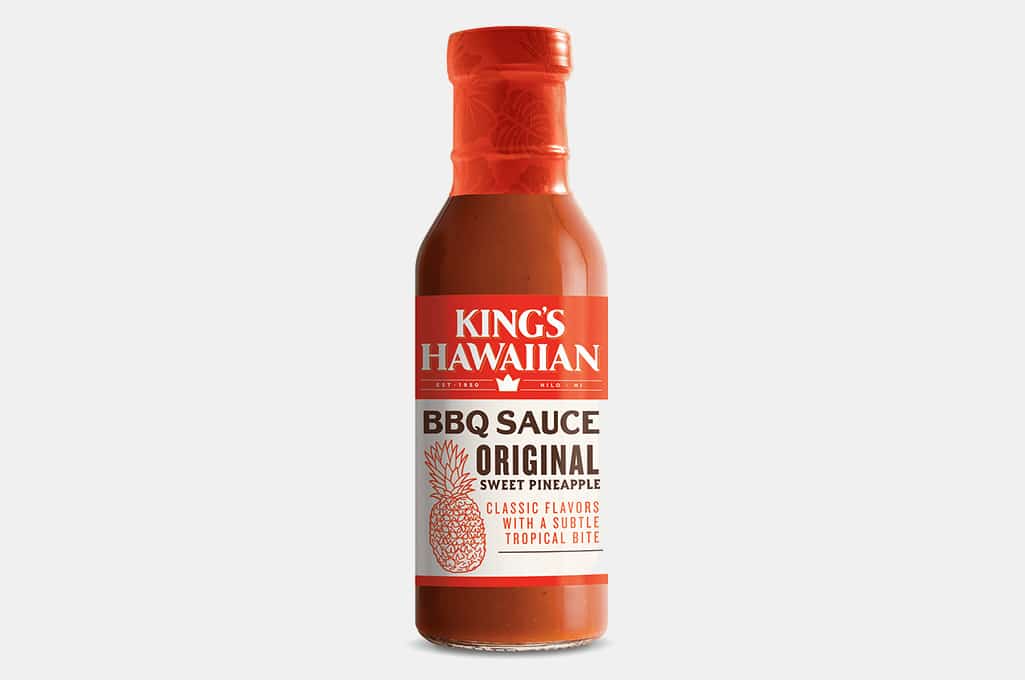 King's Hawaiian Original Sweet Pineapple BBQ Sauce
Best Sweet Barbecue Sauce
If you know the name King's Hawaiian, there's a good chance your first thoughts go directly to sweet rolls that are perfectly suited for pulled pork, burgers, and various grilled meats. But you might not know that the brand also makes barbecue sauce. But it's not just any barbecue sauce, this sweet sauce gets an added kick from the addition of pineapple. The ripe, tropical flavors paired with tangy barbecue sauce make this the perfect addition to pork, chicken, and even grilled pineapples themselves.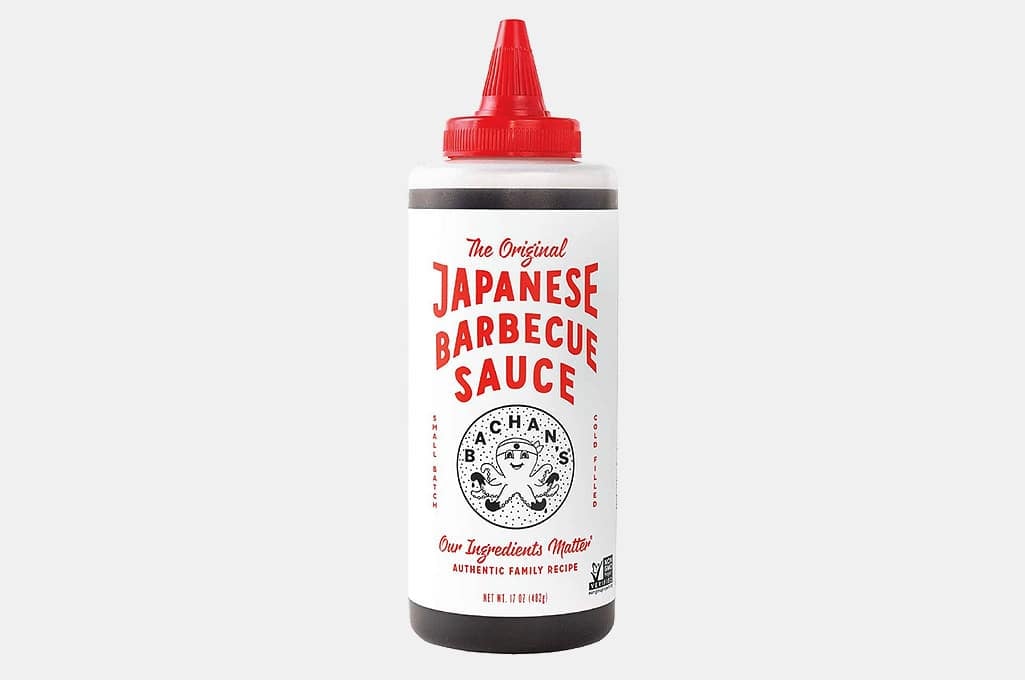 Bachan's The Original Japanese Barbecue Sauce
Best Small Batch BBQ Sauce
We're going to head far away from Kansas City, Texas, and the Carolinas for this addition. This small-batch, family-made sauce is filled with Authentic Japanese flavors sure to give your barbecue a unique, savory flavor you'll go back to again and again. Instead of the usual flavors, this non-GMO sauce is made with soy sauce, ginger, garlic, and green onions. It's like an amped-up soy sauce best as a marinade or sauce for your favorite grilled pork, chicken breasts, chicken wings, or even ribs.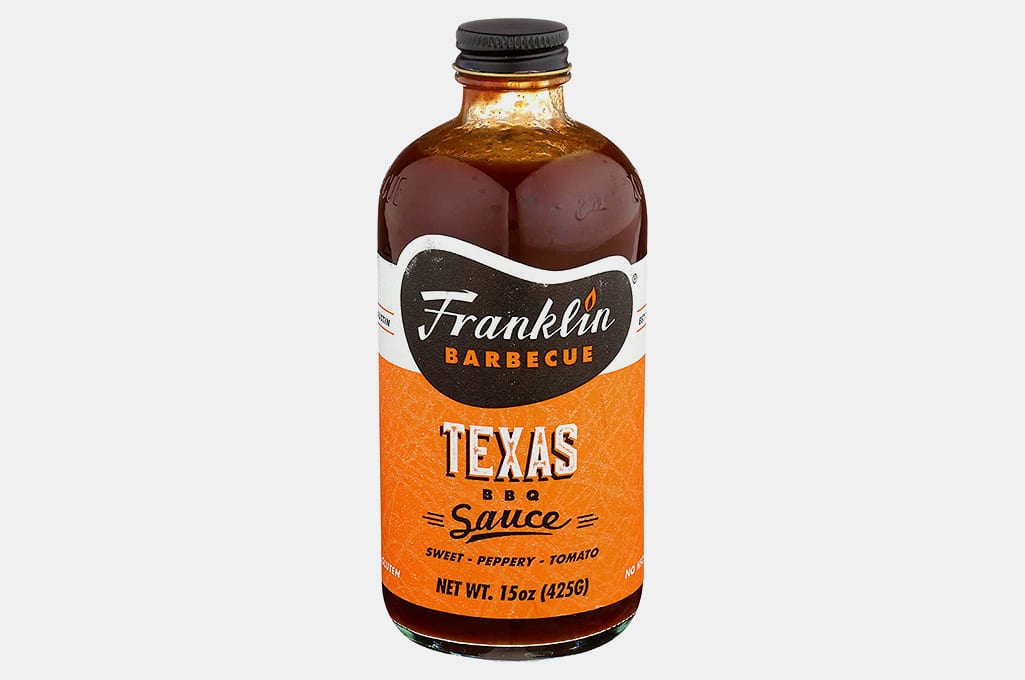 Franklin Barbecue Texas BBQ Sauce
Best Dipping Barbecue Sauce
If Arthur Bryant's is the go-to spot in Kansas City, Franklin Barbecue is the Texas equivalent. Just like with Arthur Bryant's, there's a good chance you'll never get a chance to stop into Franklin Barbecue. Luckily, you can also buy this restaurant's beloved sauce. This Texas barbecue sauce is slightly tangy, very sweet, peppery, with just a hint of smokehouse smoke. It's perfectly suited for rich, savory meats, vegetables, and as a dipper for your favorite foods.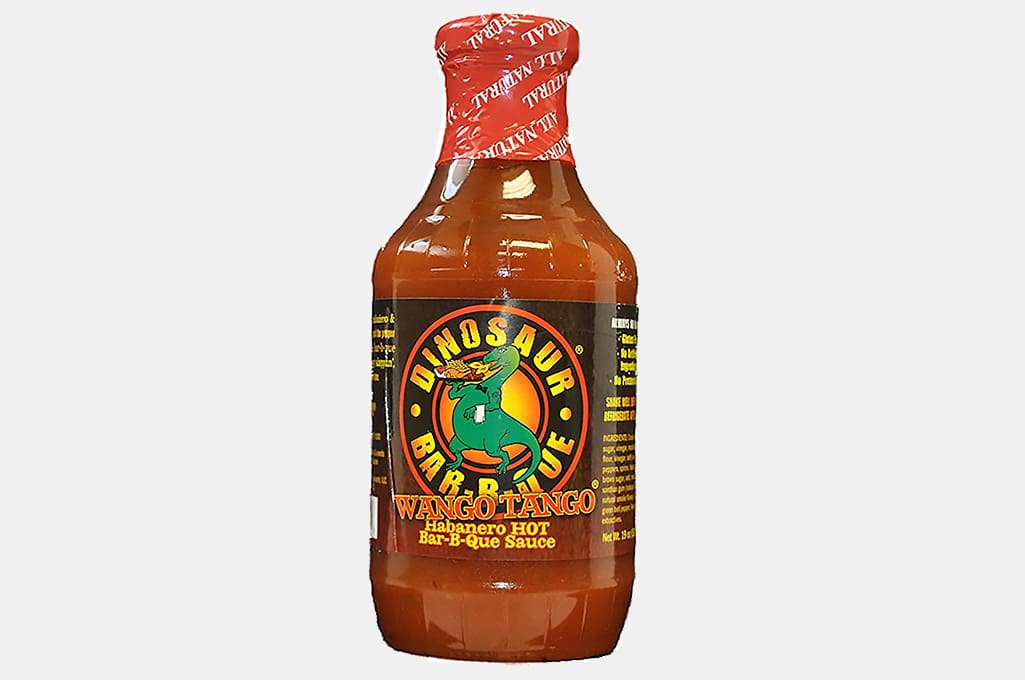 Dinosaur Bar-B-Que Wango Tango Habanero Hot Bar-B-Que Sauce
Best Hot Barbecue Sauce
Dinosaur Bar-B-Que might not have the history of some of the southern and Midwest brands, but its chain of restaurants has made a name for itself with seven locations in New York and New Jersey. The restaurant has myriad lip-smacking sauces, but the best is its Wango Tango Habanero Hot Bar-B-Que Sauce. That is if you can handle the heat from the addition of cayenne and habanero peppers. This sauce that's guaranteed to give a spicy kick to your favorite grilled and barbecued foods is so addictive, you won't want to use any other sauces ever again.
Sweet Baby Ray's Sweet 'N Spicy Barbecue Sauce
Best Grocery Store BBQ Sauce
Sweet Baby Ray's is a grocery store staple. It's always there, it's well-made, and it's reasonably priced. The brand makes a variety of flavors, but its best is its Sweet Baby Ray's Sweet 'N Spicy Barbecue Sauce. It begins as a classic, molasses-based sweet, tangy barbecue sauce. But this sauce cranks it up to eleven by adding jalapeños to add some heat to the sweet. It's the perfect sauce for pulled pork, grilled ribs, chicken, and even slathered on peppers, onions, and any other vegetables you enjoy.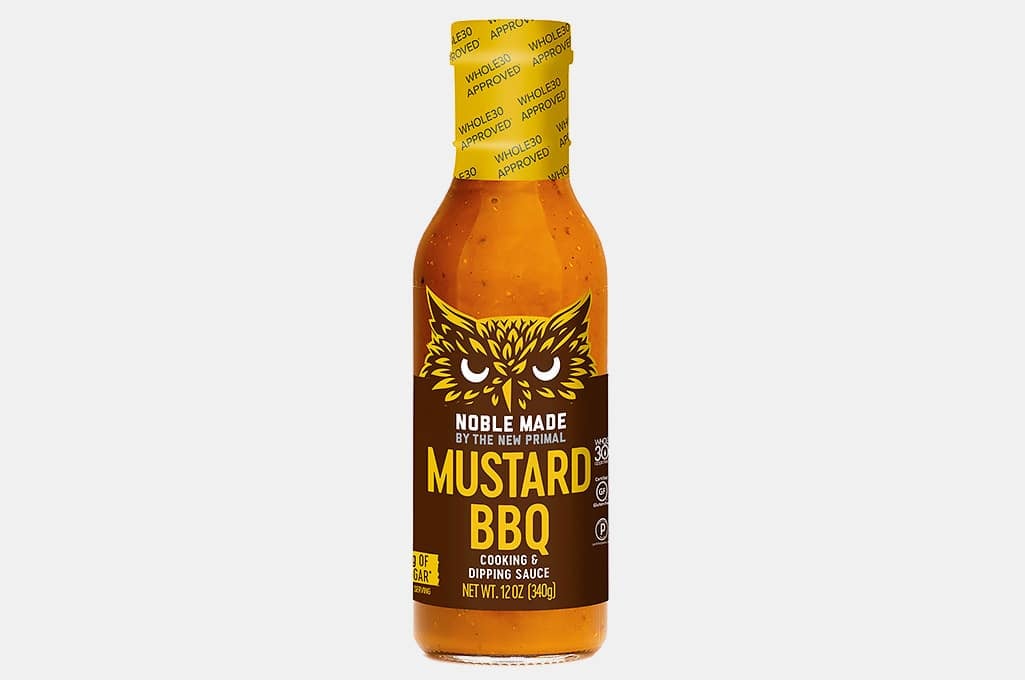 Noble Made Mustard BBQ Sauce
Best All-Natural Barbecue Sauce
Another sauce for the health-conscious, Noble Made Mustard BBQ is a Carolina-style mustard sauce that is tangy, sweet, and guilt-free. That's because it has no gluten, soy, canola oil, preservatives, artificial flavors, or refined sugars. But just because it's healthier than some of the other barbecue sauces on the market, that doesn't mean it tastes bad. Made with natural spices, juices, and ingredients, it's well-suited as a marinade or glaze for your favorite grilled meats and vegetables.
Disclosure: Clicking on these links and making a purchase may earn us a small referral fee, at no extra cost to you. Learn more here.
freestar.config.enabled_slots.push({ placementName: "gearmoose_leaderboard_btf", slotId: "gearmoose_leaderboard_btf" });