The 20 Best Portable Chargers
Mobile phones are the stuff of science fiction. When Star Trek debuted in 1966, did anyone really believe we'd all be talking on cordless communicators one day? How long until we're battling Gorns in space, the final frontier? While we're waiting for that not-too-distant day, however, we have to find ways to keep our smartphones in good working order, which is no easy feat when dozens of apps and the temptation to browse the internet all day leave us with waning batteries before lunchtime.
If you want your cell phone to serve as more than a $700 paperweight for most of the day, it's probably a good idea to keep a portable battery charger on you at all times. The question is, which of the many options available are going to best serve your needs for lightweight and streamlined, yet powerful charging? With charging options ranging from lipstick tube and wallet-sized to roughly the size of an iPad or a brick, with varying degrees of charging capacity, you have a lot of options to explore.
How can you choose the perfect portable charger for your needs? Here are the 20 best portable chargers on the market and why you might want to add them to your growing list of essential electronic devices.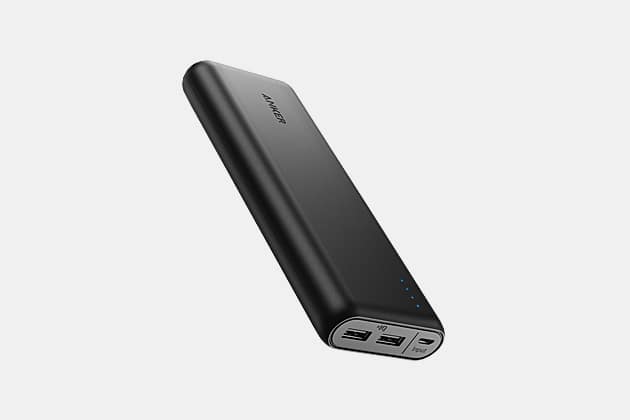 Anker PowerCore 20100
This smallish charger is about the dimensions of a King-size candy bar, making it very portable indeed. Even more appealing is the fact that it promises to charge your iPhone 7 almost seven times on a single charge or refill your iPad mini's depleted battery twice. You'll get high-speed charging thanks to PowerIQ technology and protection against surges and short circuits with the MultiProtect Safety System. Includes ports to charge two devices simultaneously. – Shop Now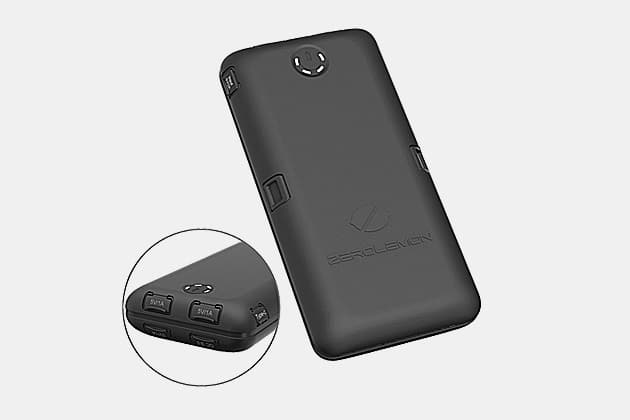 ZeroLemon ToughJuice
At roughly the size of your average smartphone, this isn't the smallest charger, but it's a lot more manageable than some. The good news is, it's touted as the "world's toughest USB-C/Type-C external battery pack @ 30000mAh capacity". Weirdly specific descriptor aside, this universal charger works for Apple, Android, and Google devices alike and offers five USB ports for charging multiple devices at once. Juice up your iPhone 7 up to 11 times and other devices up seven times on a single charge. – Shop Now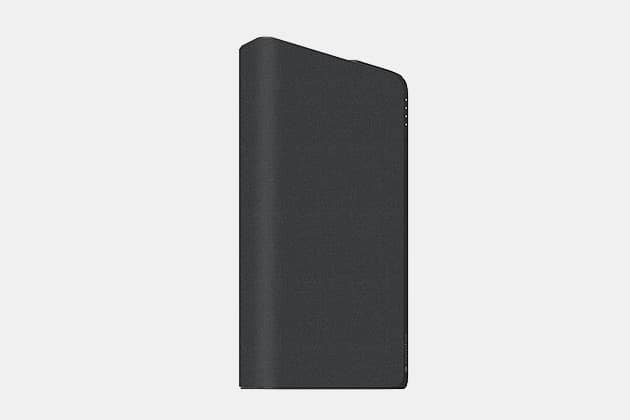 Mophie Powerstation AC
This charger is closer to the size of your tablet than your smartphone, but it offers a GFCI protected outlet in addition to a USB-C PD 30W fast charge port and a USB-A 2.4A quick charge port. You can use it to extend the life of your smartphone by 100 hours, your tablet by 21 hours, your laptop by 15 hours, and your DSLR camera by 8 hours. It weighs about 1.6 pounds. – Shop Now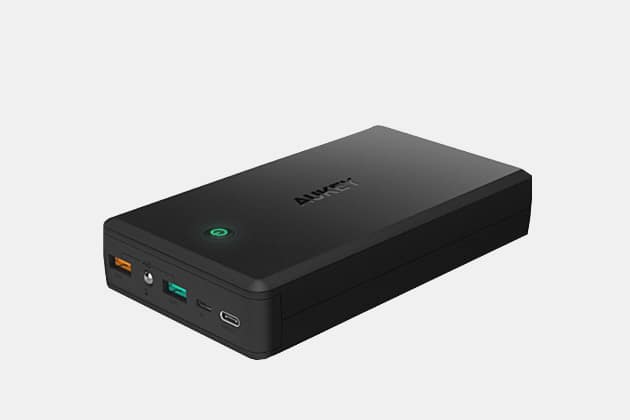 Aukey 30000mAh Power Bank With Quick Charge 3.0
This charger is larger than a phone and smaller than a tablet, but thicker than both. It's also nearly 1.3 pounds, so maybe not the best for long backpacking trips. On the upside, it offers Quick Charge 3.0, AiPower charging, and USB-C and micro-USB charging capabilities. Safe and speedy charging is the name of the game with this power bank, which comes with the addition of a built-in flashlight, in case you're trying to charge in the dark. – Shop Now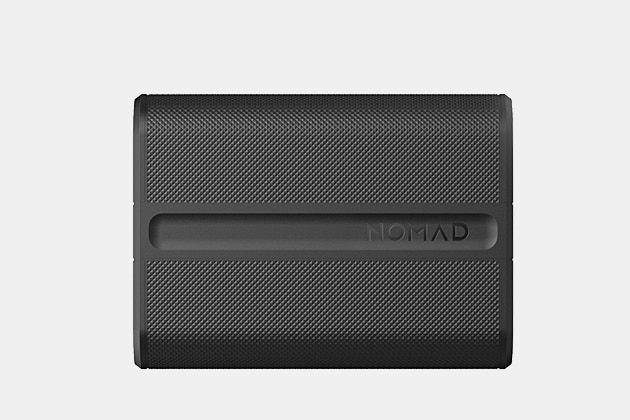 Nomad PowerPack
As the name implies, this charger is meant to travel with you. The ultra-rugged design relies on a durable, polycarbonate frame to resist breaking if dropped. It also features two 3.0A high output USB-C ports and a legacy USB-A port, and it delivers 3.5x charging for your iPhone 8. If you're worried about losing your power pack in the wilds of the urban (or actual) jungle, you'll enjoy the inclusion of the Tile app that alerts you of location whenever anyone in the Tile community is in proximity to your charger. – Shop Now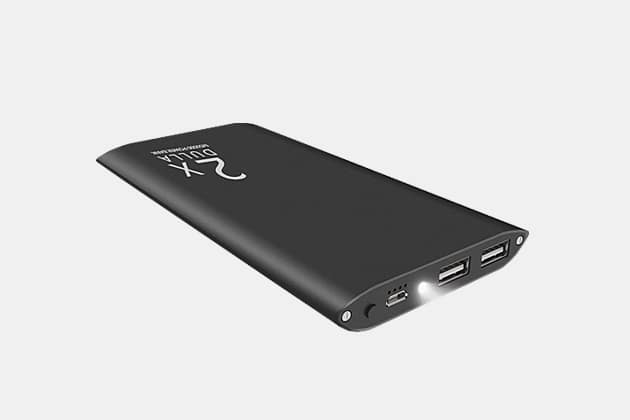 DULLA M50000 Portable Power Bank
Another charger that falls between a smartphone and tablet on the size scale, this high-capacity power bank delivers roughly four charges for the iPhone X or five charges for the iPhone 7. It's compatible with a slew of Apple and Android devices, including phones and tablets, it weighs a bit less than 0.75 pounds, and it claims to deliver 30 extra hours of Pokémon Go play time, just in case you gotta catch 'em all. – Shop Now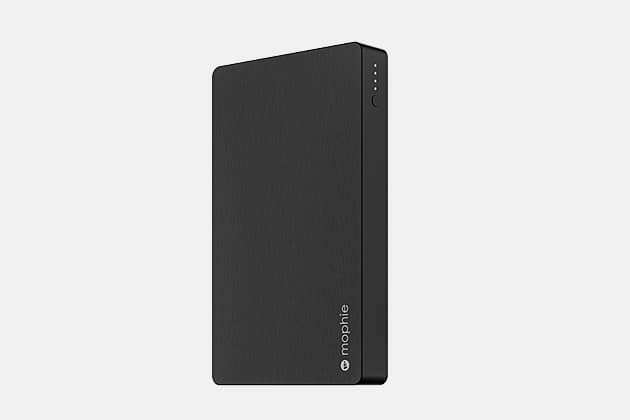 Mophie Powerstation XXL
Like many power banks, this charger is about the size of two slim smartphones strapped together. Of course, size isn't everything. This universal powerstation offers 3 USB charging ports for multiple devices and delivers 100 extra hours of battery life for your smartphone, 75 hours for large smartphones, and 28 hours for tablets. 2.1A output ensures safe, speedy charging, and pass-through charging is also an option. As a bonus, choose slick gray or powder pink aluminum finish. – Shop Now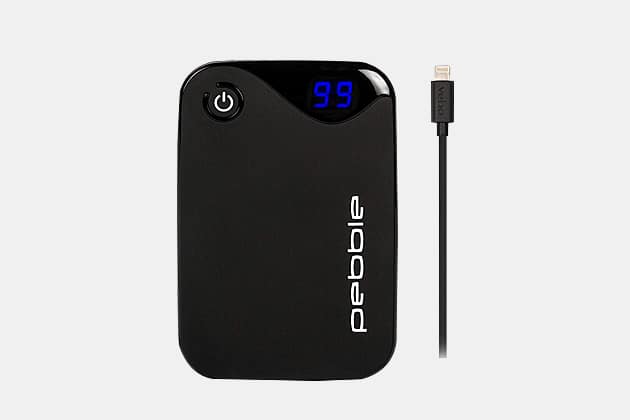 Veho Pebble P-1 Pro
This portable power bank is just a bit wider and thicker than your smartphone and offers two USB-C ports for quick charging of two devices at once. It can charge an iPhone 8 up to 5.5 times and a Samsung Galaxy 8 up to 3.5 times. The 2.1A output is also rated to charge tablets, sat navs, GPS trackers, and a variety of other mobile devices. Protects against surges, short circuits, overcharging, and more. – Shop Now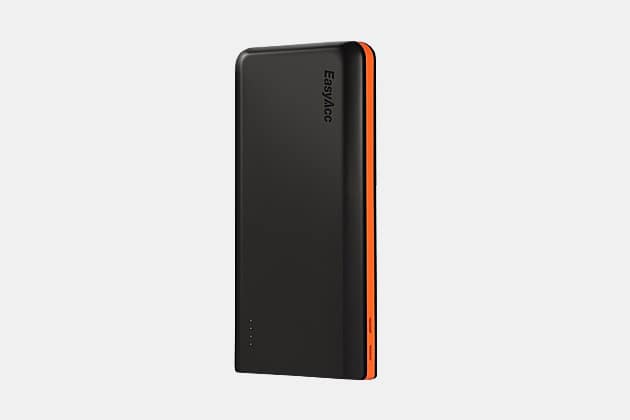 EasyAcc 20000mAh Power Bank
Slightly smaller than a smartphone, this pack has the unique distinction of featuring two power inputs to fully charge in just six hours. After that, you can use it to charge your iPhone 6 7.5+ times, your Samsung S6 5+ times, or your iPad mini 3 2+ times. It can charge four devices simultaneously, and at just about a pound, it's not too heavy to stick in your backpack or pocket for everyday carry. – Shop Now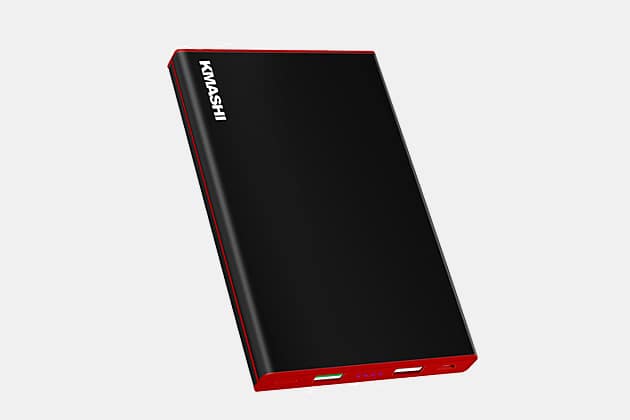 KMASHI 20000mAh Portable Charger
Attractive styling sets this charger apart, with a black body punctuated by red detailing around the edges. Dual USB outputs offer simultaneous charging for two devices, one with QC3 quick charge and the other at 2.4A. The QC3 promises 4x faster charging than standard battery packs, bringing your dead device to 80% charge in just 35 minutes. Charges most smartphones up to four times and an iPad Air more than once. – Shop Now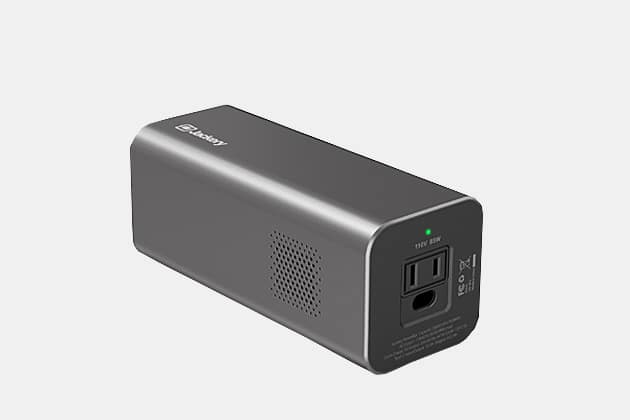 Jackery PowerBar 77
Dimensions for this hefty charger come in at just over six inches in length and 2.5×2.5 height and depth. It also weighs about a 1.5 pounds, but it's definitely worth it's weight for the functionality it provides. With two USB ports, a USB-C, and a lightning output, you can use it to charge a slew of devices, and the USB 1 offers Quick Charge 3.0. Protects against overcharging, short circuit, and more. – Shop Now
RavPower 22000-mAh Portable Charger
This small charger (about the size of a standard smartphone) claims to provide a week's worth of power for your iPad mini (2 full charges), your Galaxy 7S (5 charges) or your iPhone 6S (9 charges). It's a bold claim, considering how much time some people spend on their phones and how much battery life they drain in the process. What you will get for certain is 3 USB ports (2.4A each) that you can use concurrently. – Shop Now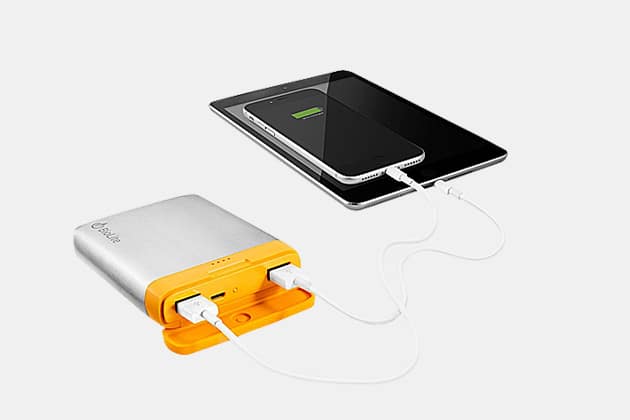 BioLite Charge 40
This fun charger in silver and goldenrod looks more like a flask than a power bank, but it delivers a lot of functionality in addition to sporty looks. The colorful, silicone gasket makes the charger waterproof, so good news for campers or those who frequently spill their beverages on electronics. Two USB outputs work with smartphones, tablets, cameras, lights, and more, and it will charge your phone four times, your tablet once, and your camera 4-6 times. – Shop Now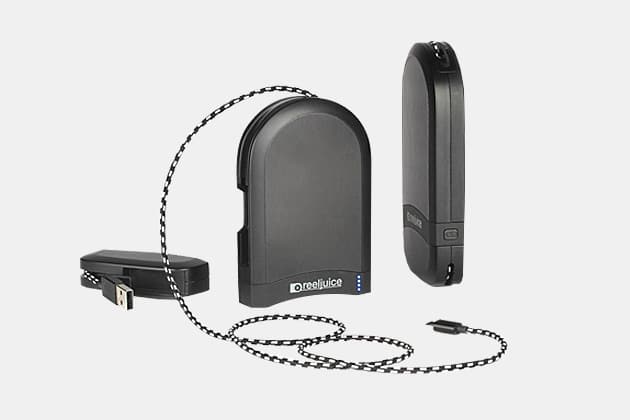 Reeljuice Power Bank + USB Charger
Some chargers come with their own cables, but this may be the only one that offers 48 inches of integrated cord reel with micro-USB and lightning connectors so you don't have to haul extra cables to charge your devices. At slightly larger than your smartphone, it fits better in packs than pants pockets, and it offers high-speed charging for both Apple and Android devices. Reportedly charges smartphones up to three times and tablets up to one time. – Shop Now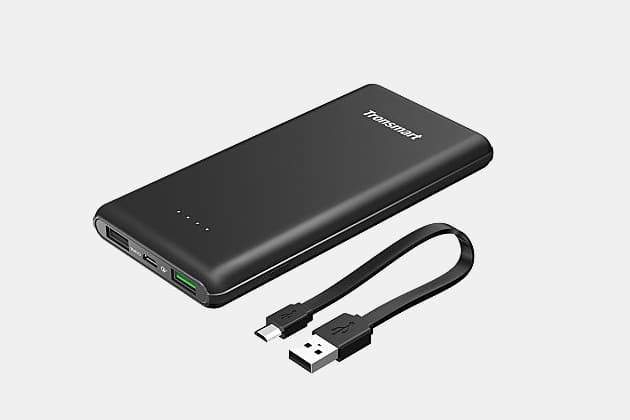 Tronsmart Presto 10000 PBT10
Just a skosh smaller than your smartphone, you can probably slide both into your back pocket with ease, whether you're charging on the go or merely transporting both for the day. It's compatible with both Quick Charge 3.0 and Huawei FCP devices, meaning the right user will enjoy ultra-fast charging, but it also offers universal charging capabilities for iPhone X, X Max, and XR, as well as Samsung Galaxy S9 and S9+, Note 9, and more. – Shop Now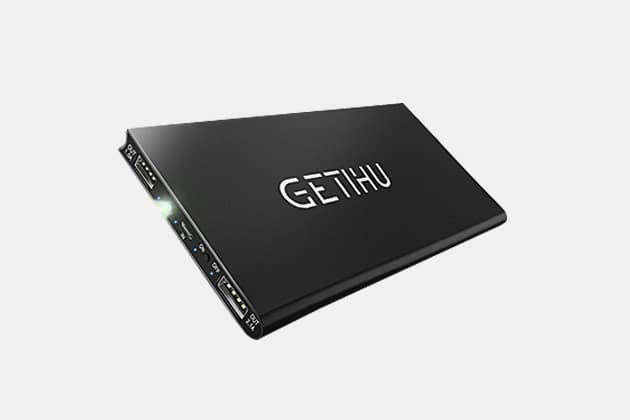 GETIHU 10000mAh Portable Power Bank
Although slim, this charger is somewhere between a smartphone and a tablet in terms of height and width. Still, there are no complaints about the output, thanks to two USB ports that can be used simultaneously and enough power to charge your iPhone 8 up to three times. It offers protections (surge, short circuit, overcharging, etc.) and comes with an LED flashlight ideal for camping, travel, and emergency situations like dropping your keys in a dark parking structure. – Shop Now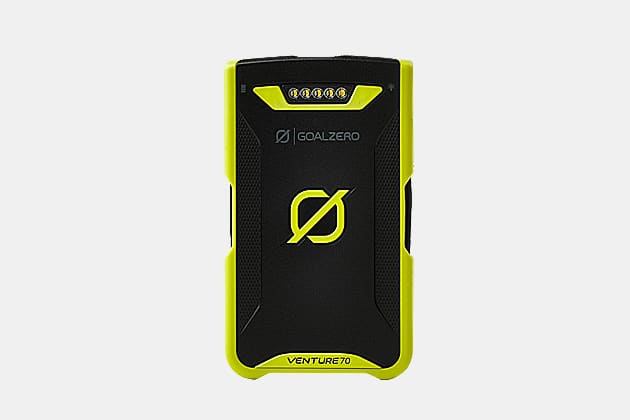 Goal Zero Venture 70 Power Bank
This rugged power bank is among the more attractive products on the market as it features Day-Glo yellow accents, while others are typically all black. This will make it easier to find in a bag or pack full of gear. It's about the size of a smartphone, it has two high-speed ports, and it's waterproof. What you'll really love, though, is that it can charge a smartphone 6-7 times, a tablet 2-3 times, a POV camera 10 times, and a headlamp 20 times, making it perfect for outdoor adventures. – Shop Now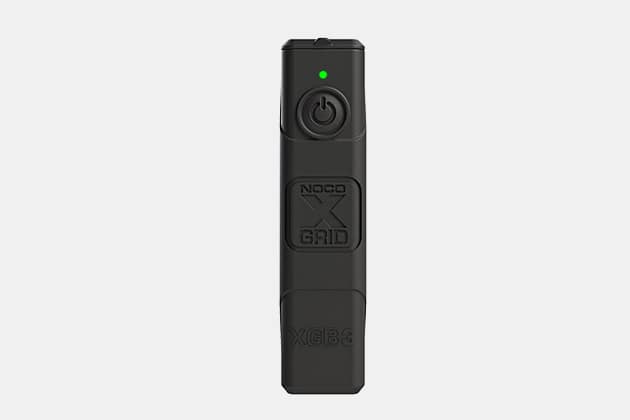 Noco XGrid XGB3 Charger
This is one of the most compact and lightweight chargers on the list at dimensions of 4x1x1 inches and a weight of less than half a pound. Slip it in pockets, purses, or packs with relative ease and use it on the go to charge devices ranging from phones, to Fitbits, to GoPros, to Beats headphones, to Bluetooth speakers. The rubberized shell resists water and dust, USB and micro USB ports serve two devices at once, and you'll get up to 15 hours talk time or 100 hours of audio playback per charge. – Shop Now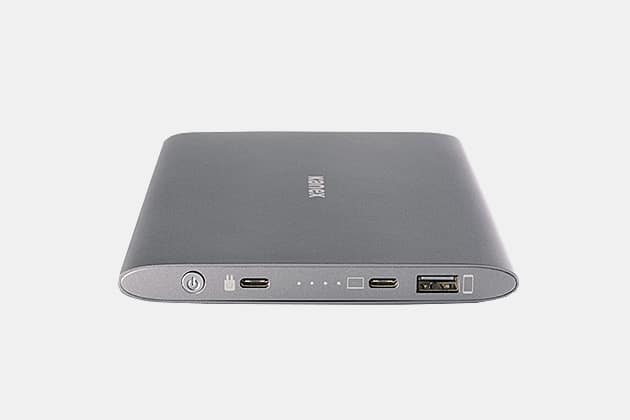 Kanex GoPower
You could easily mistake this charger for your tablet when rummaging in your backpack thanks to similar size and shape. That said, you will get plenty of juice from this portable power bank, which delivers a full charge for your USB-C MacBook and multiple charges for tablets like the iPad Pro, the Nexus 6P, and Android devices. It safely charges two devices at once, including pass-through charging, and of course, it's compatible with smartphones and other mobile devices, as well. – Shop Now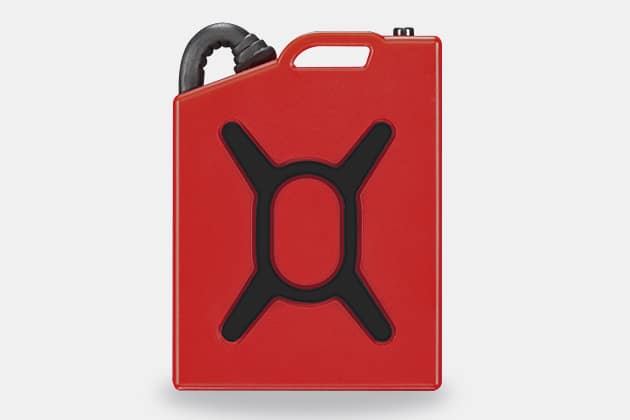 Fuel Micro Charger 2
Although it may not deliver the amount of juice to your devices as it's larger counterparts listed above, this keychain-friendly charger fits seanlessly in your pocket or on your keyring for on-the-go power. You can recharge up it anywhere there's a USB available, then throw it in with the rest of your everyday carry. When your phone gives the low battery warning, just switch on the Fuel Micro Charger 2 and plug it into your phone for fast fueling. It will work in a pinch thanks to an onboard 400mAh battery capacity. – Shop Now