The 20 Best Money Clip Wallets
You're in line at the grocery store. You see the economy-loving guy with office supplies serving his financial organization needs — a rubber band around his cards, a binder clip on his cash. And over there is the guy who pulls out a year's worth of receipts, ticket stubs and sandwich shop club cards stuffed into a four inch thick leather monstrosity. Which is worse? We don't know. But since you're here reading this, we're guessing you're neither of those guys. Or at least, you won't be soon.
Get yourself a money clip wallet and experience the levity that comes from carrying just the essentials each day. Bring your cash along for the ride so you can be better prepared to split the bill, shop at road-side stands, and in order to be a responsible adult man (who should always have a bit of the folding stuff on hand).
There's a money clip wallet to fit every guy's EDC, from high-tech innovations to old school classics. Pick your material, pick your style, pick your favorite sort of money clip. A little bit of everything is here so you'll be neither the unsophisticated binder clip guy, nor the over-encumbered wallet brick dude. You'll be right in the middle with just what you need. And that's it. Read on for our list of the 20 best money clip wallets available right now.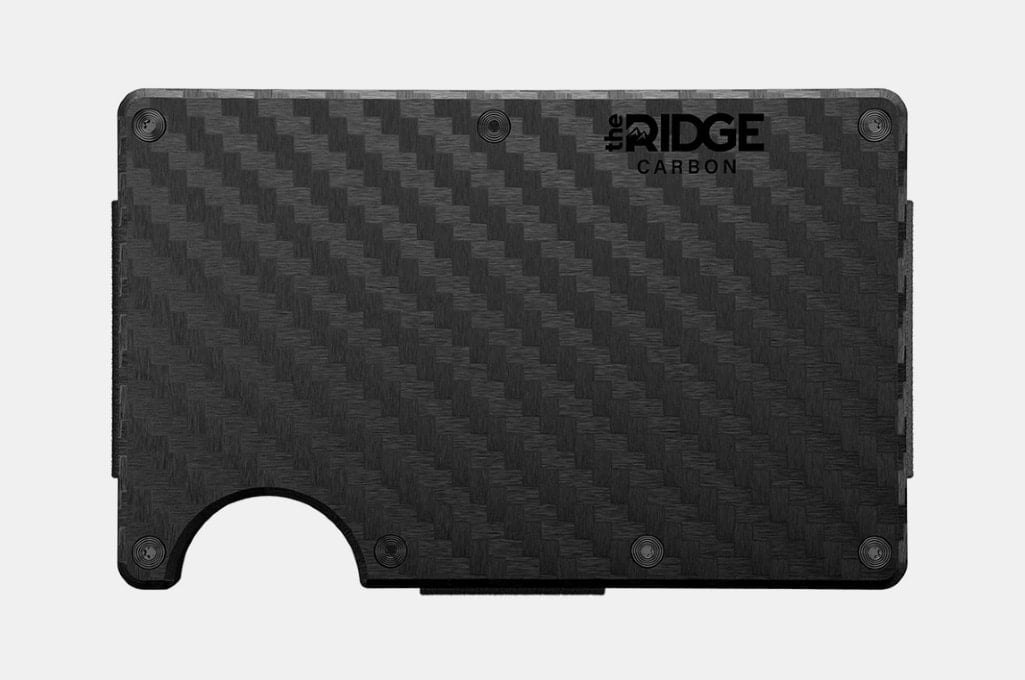 The Ridge Carbon Fiber 3K Wallet
The Ridge steps up its wallet game with the Carbon Fiber 3K Wallet, a money clip wallet with a tough-as-nails shell made of carbon fiber and resin that will protect your credit cards and cash from anything. It's minimalist and beautifully sleek, which is what the Ridge brand is all about ("doing more with less"). With its clean, matte finish, you'll love how stylish the money clip wallet looks whether paired with a business suit, comfy travel clothing, or even your laid-back weekend sweats. It even has RFID blocking integrated into the body to shield your credit cards from theft or fraud, and a design that makes it comfortable to carry in any pocket.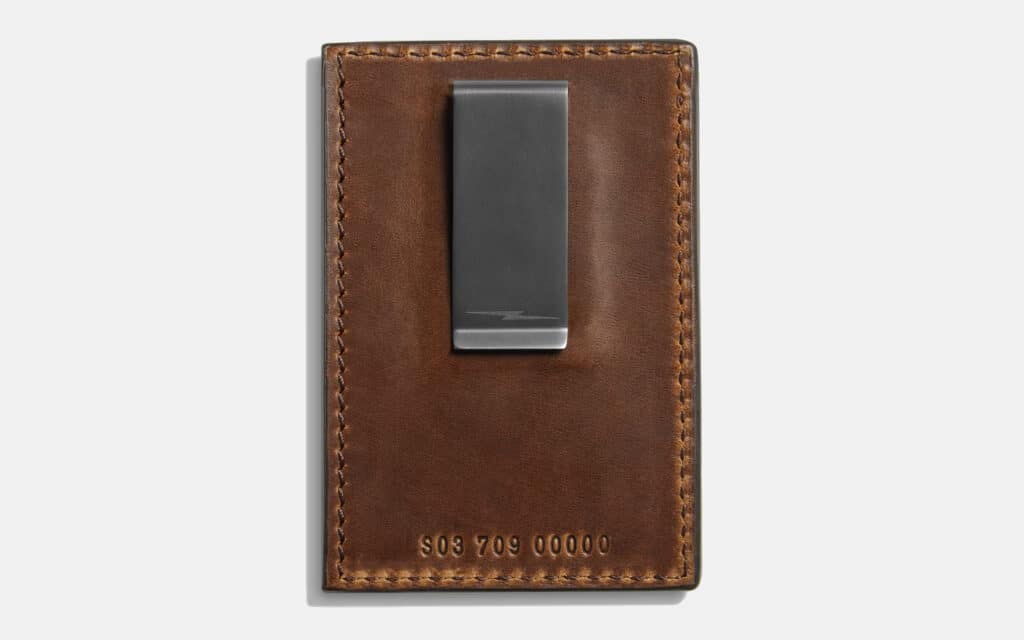 Shinola Money Clip Card Wallet
Sometimes all you need is a couple of cards and some spending cash, and nothing more. Ditch the 25 year old Blockbuster card, two dozen receipts, and expired reward cards and instead throw your license, debit card, and some folding money into the Shinola Money Clip Card Wallet and you'll be good to go whether you are headed for a week vacation at the beach or a night out on the town. The high-end Navigator leather construction will only get better looking with age, while the metal money clip will hold tight to your wad of cash.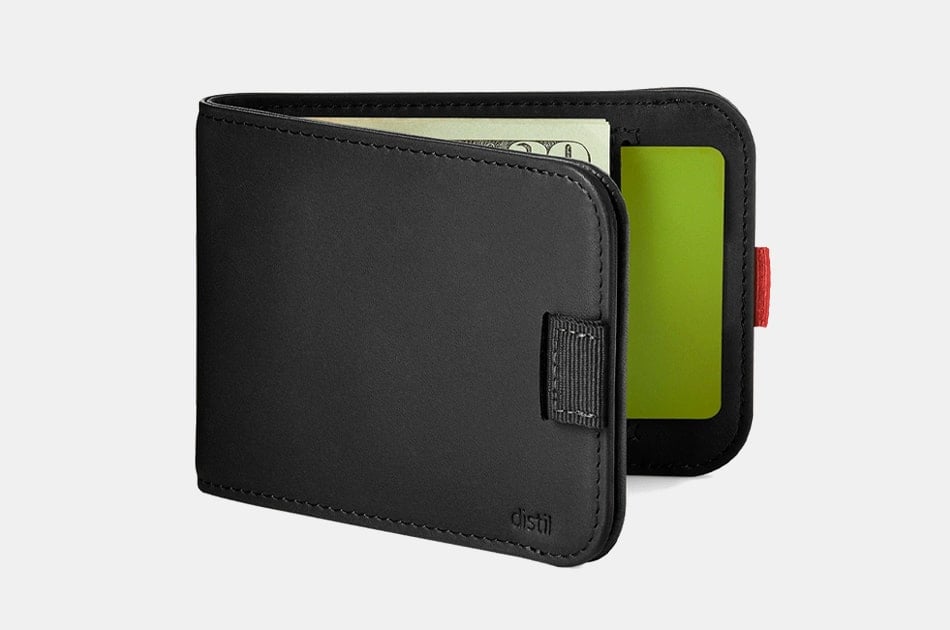 Distil Union Wally Bifold Wallet 5.0
You like the idea of a money clip wallet, but worry about your money folding skills. (Honestly, it's not that hard to fold a rectangle in half twice, but we understand.) Wally is the wallet for you, with the money clip within the bifold. Slide in your flat bills and then fold the wallet shut. On either side there's space for cards (twelve in all) and accessing them is easy as pulling on the grosgrain ribbon pull-tab. Cards won't shake loose thanks to the FlexLock pockets and your bills stay secure with adjustable tension on the clip. No origami skills necessary.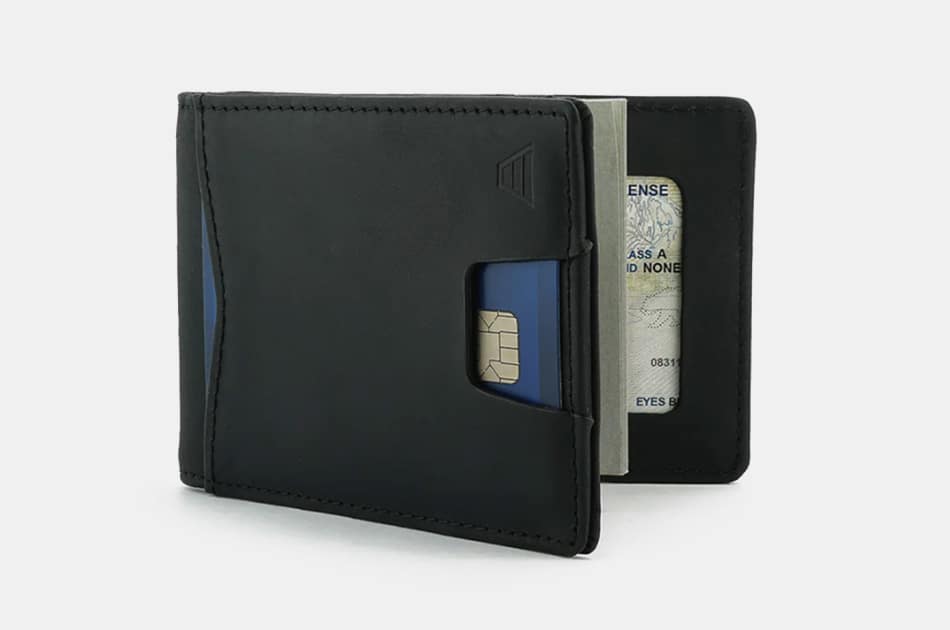 Andar Apollo Card Wallet + Money Clip
For those of you flashing your ID a lot, here's a good option. The Apollo from Andar is a bifold wallet with the money clip stashed on the interior so you can insert your bills flat. It features a six-card carrying capacity in four different pockets, including a quick access slot on the front, a larger capacity pocket on the back with pull-tab access, and a clear ID slot inside for easy flashing — perfect for the baby-faced, frequent traveller stocking up on cold meds.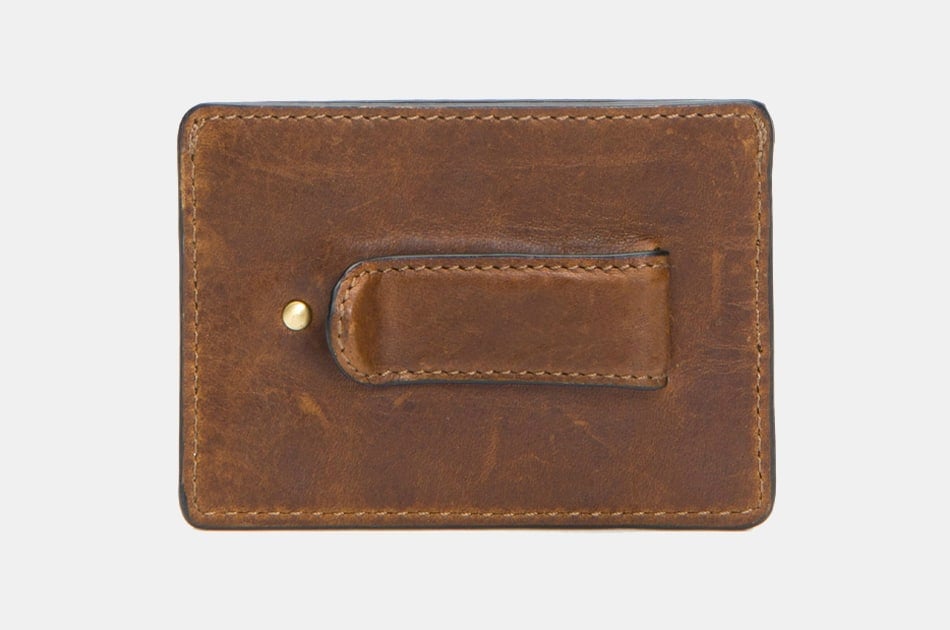 Frye Logan Leather Money Clip Card Case
The Frye Company was turning leather into boots well before the turn of the century — the 20th century that is. So chances are, they know their way around a cowhide. This simple, minimal leather number has two card pockets that run horizontally along the wallet. It and the metal cash clip are all done up in antique pull up leather from Italy. An antique metal hardware accent and embossed Frye logo add a bit of interest to an otherwise understated case, one that'll hold your necessities and look good doing it.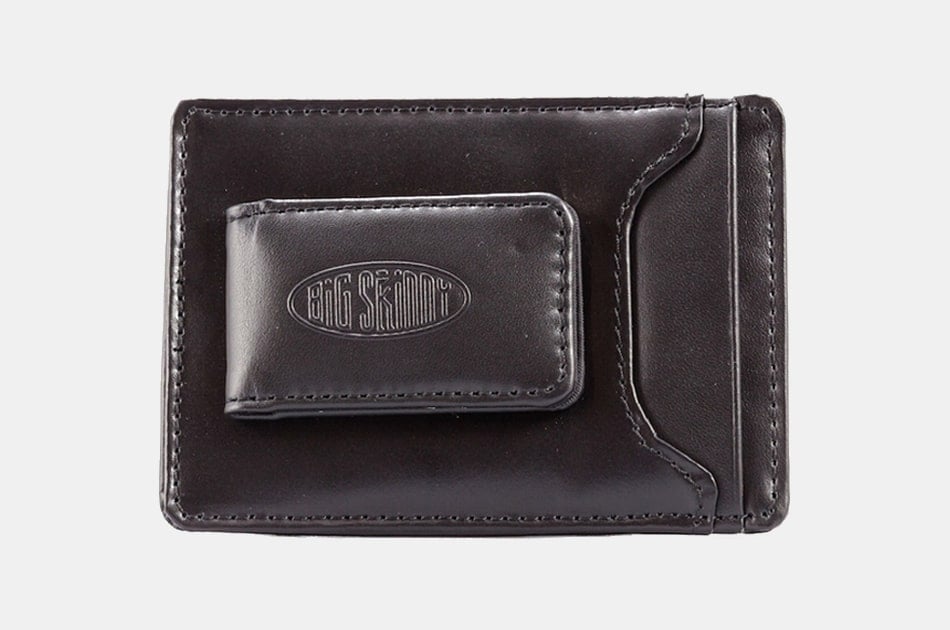 Big Skinny Money Clip Wallet
Not metal. Not leather. Not carbon fiber. If thin is what you're going for in your new wallet, this is about as skinny as it gets. Made from ultra-thin nylon microfiber, this measures just 4 mm thick when empty. Your cash stays put thanks to the strength of the magnetic clip, while the clear ID pocket and three card pockets have rubberized linings to keep cards from going astray. The money clip will hold twenty bills and each card pocket has room for three cards. Feasibly you could pack a lot into this wallet, though before long, you'll negate your goal of thin.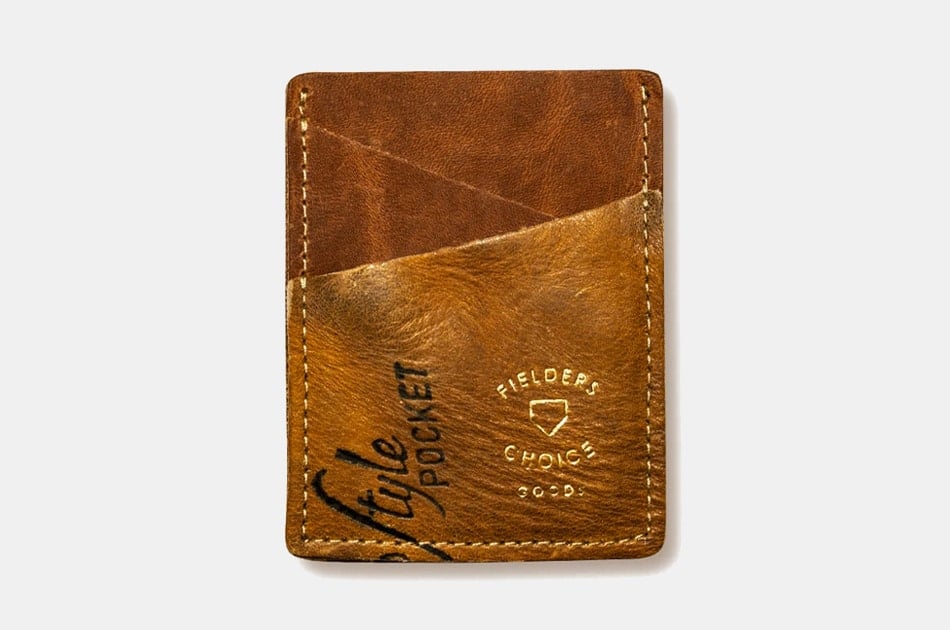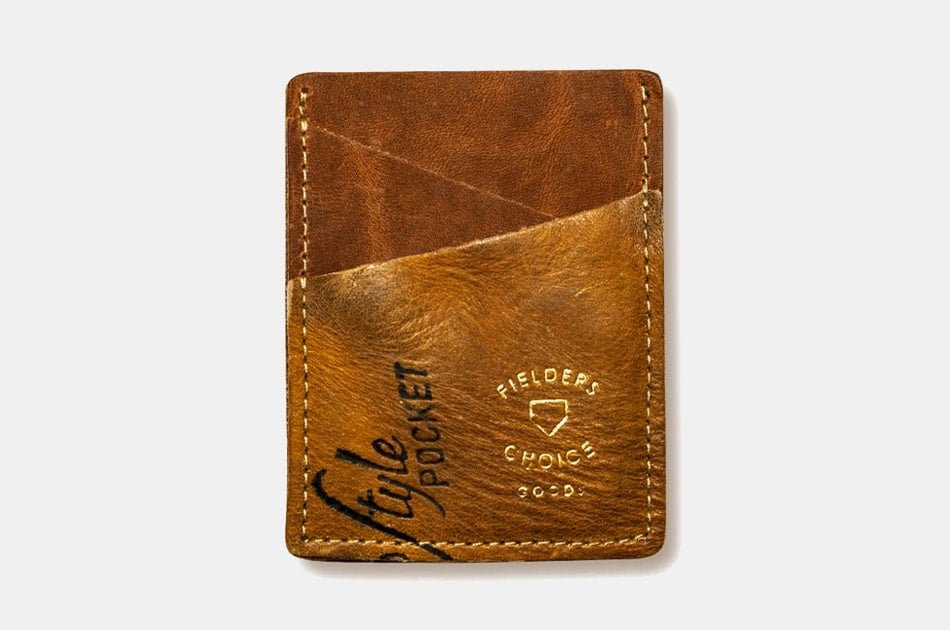 Fielder's Choice Money Clip Wallet
You don't have to love baseball to love this wallet. But if you do love baseball, and you need a functional way to hold your cards and cash, this wallet makes more sense than the infield fly rule. Fielder's Choice makes their money clip wallet from four-ounce steerhide on the body and a section of leather cut from a genuine vintage baseball glove on the front. It'll hold an impressive twelve cards and keeps your bills secure in a magnetic money clip (that won't erase your credit cards).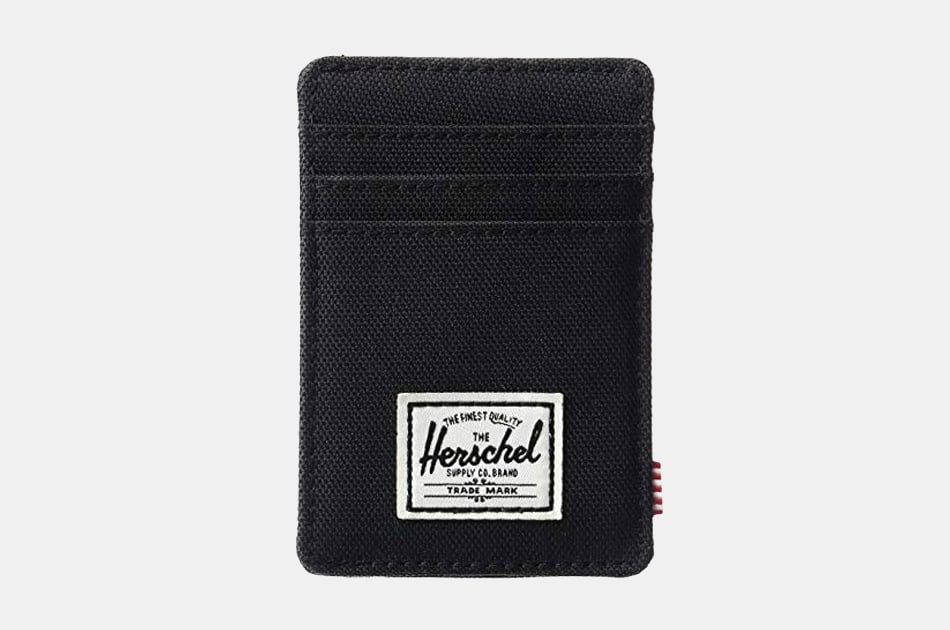 Herschel Raven Money Clip Wallet
You might know them best by their bags, but Herschel also makes a huge range of wallets and the Raven is their money clip option. On the outside, it's everything you want in a money clip wallet — slots for cards, a sturdy clip for bills, an ultra slim design. But hidden along the side of the wallet is a storage sleeve. Squeeze it open and squirrel away an extra c-note, a note to self, or anything else small and important.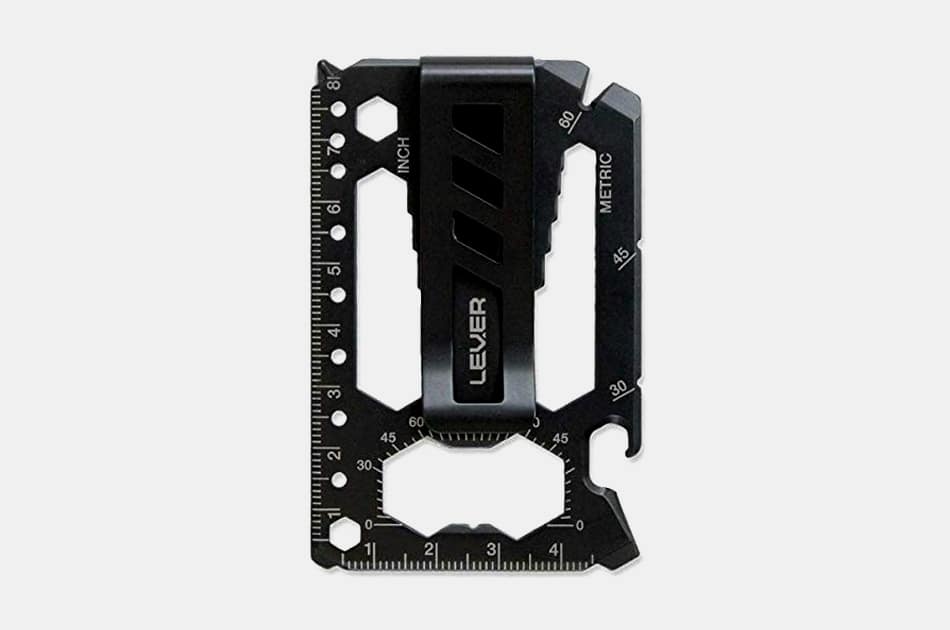 Lever Gear ToolCard Pro With Money Clip
We love a good product story. After a long career of designing products for others, Lever Gear founder Mike Scully wanted to make something of his own. Something that would last. Something that added utility to the world. The result is the ToolCard, a made in America multi tool with forty functions. By using the removable money clip, those functions include carrying your bank cards and cash. It's made from 420 stainless steel that's then heat treated for extra hardness and durability. So you can drive down on that pry bar/nail puller knowing you're not going to break your new wallet.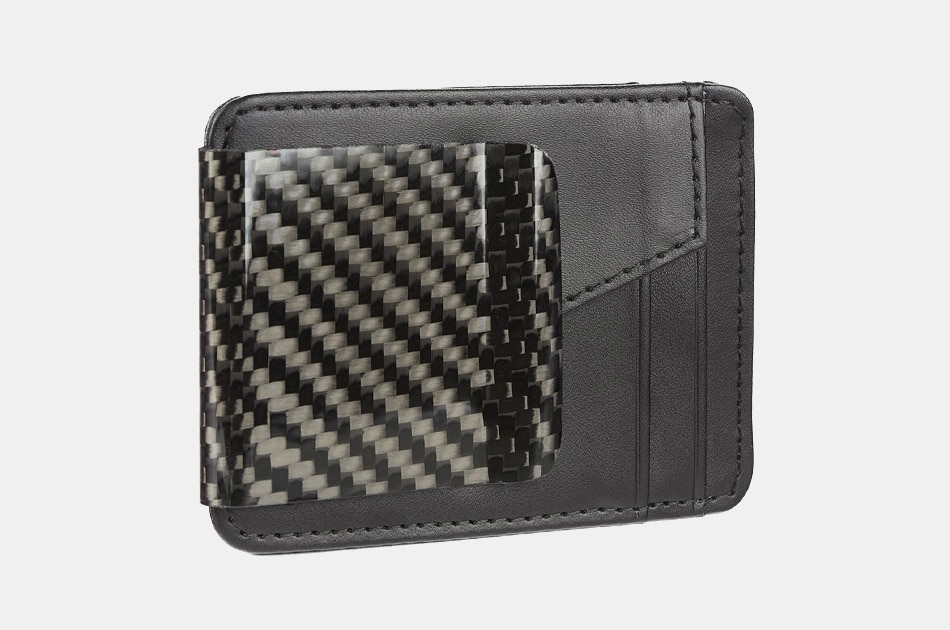 RC Fibers D15 Carbon Fiber Money Clip + Wallet
It's the stuff of supercars and spaceships. And now, your money clip too. Carbon fiber is the lighter, stronger, buzzier material that every cool tech and gadget worth its salt must have somewhere in its materials list. The D15 starts with a money clip made from Italian carbon fiber that comes in four different weave patterns. There's also an included leather insert — available in three color options, which makes the number of combinations of clip and insert nearly infinite. (Or twelve. Whichever comes first.) Park your cards in the insert and wrap your bills around, then slide the carbon fiber clip over the whole shebang and go. Or you can ditch the insert altogether and just go with the clip.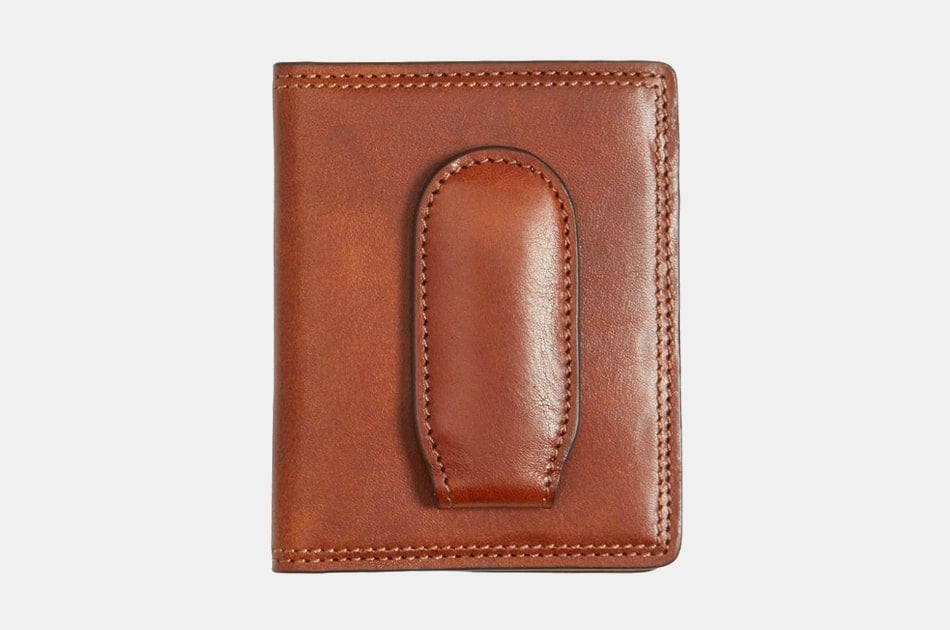 Bosca Leather Money Clip Wallet
Sometimes the full scope of your wallet purchase isn't realized until five years later when it does one of two things: falls apart, or looks even better than it did when you first got it. This wallet from Bosca falls into that latter category. The bifold features a rich amber leather with slots for four cards plus two interior slip pockets. The magnetic money clip on the back holds your bills for a slim but elegant front-pocket carry. Designed by a company that's been in the leather goods business since 1911, this wallet has what it takes to keep getting better with time.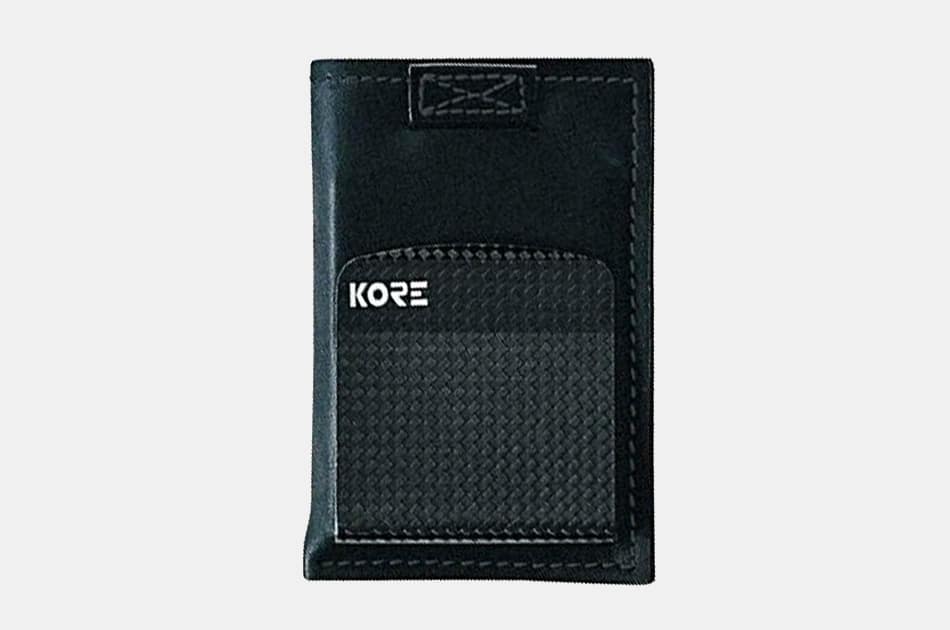 Kore Carbon Fiber Money Clip Wallet
Kore started life as a Kickstarter campaign to create the most adjustable belt for men, ever. The resulting track belt did really well for them — and for the pants of many guys — so they moved on to other accessories, including this wallet/money clip design. Another on our list made from carbon fiber, the clip can be detached and used alone, or you can pair it up with the (included) slim leather wallet. A pull on the wallet's integrated tab will pop out the cards from the main pocket and you can put your two most-used cards in the quick access front pocket.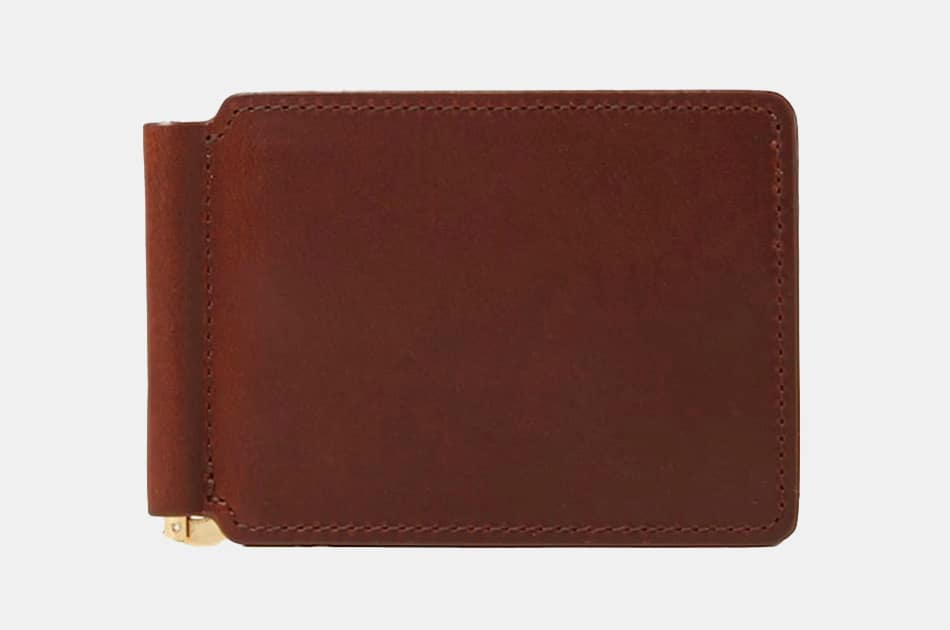 J.W. Hulme Money Clip Leather Wallet
J.W. Hulme started out in Minnesota making army tents for World War I then evolved into making bags and equipment for outdoorsmen. Their slim Money Clip Wallet has a look that carries that century-long heritage with full-grain US leather and a lacquered brass money clip. The bifold has six credit card pockets, three on either side, with an interior money clip. They claim the wallet prefers to hold crisp hundred dollar bills. Yeah. Us too.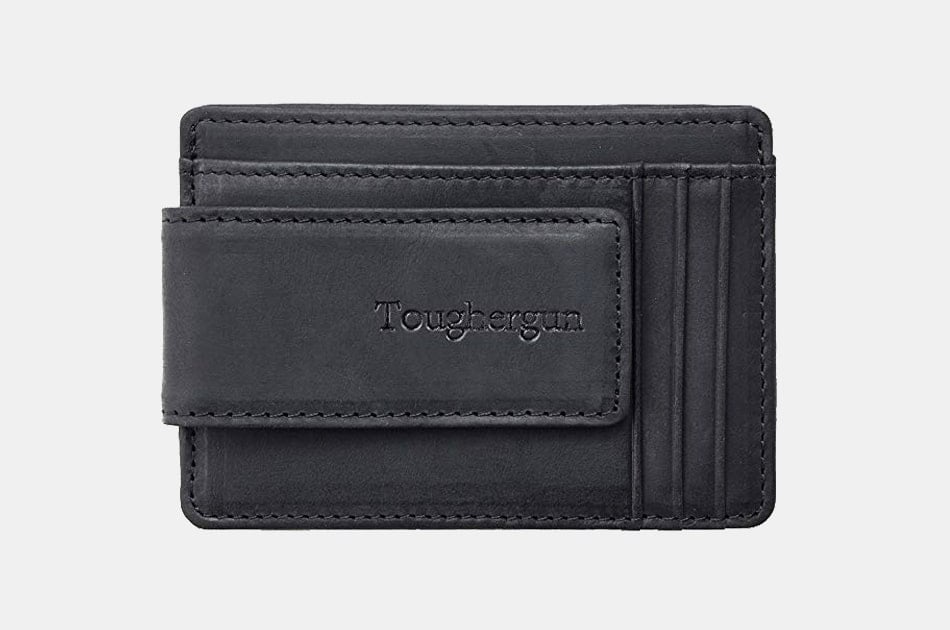 Toughergun Leather Money Clip Wallet
Don't think your wallet should cost more than the amount of money you plan to carry with it? The Toughergun will run you well under the $20 mark. The money clip employs four rare earth magnets to hold up to thirty folded bills, so fold up those singles, wrap a sawbuck around them and don't let your wallet tell you who's boss. The leather wallet comes in a slew of colors and has three card slots plus two larger pockets for slightly larger items. It also has a clear ID slot so everyone will know who to return that cheddar to.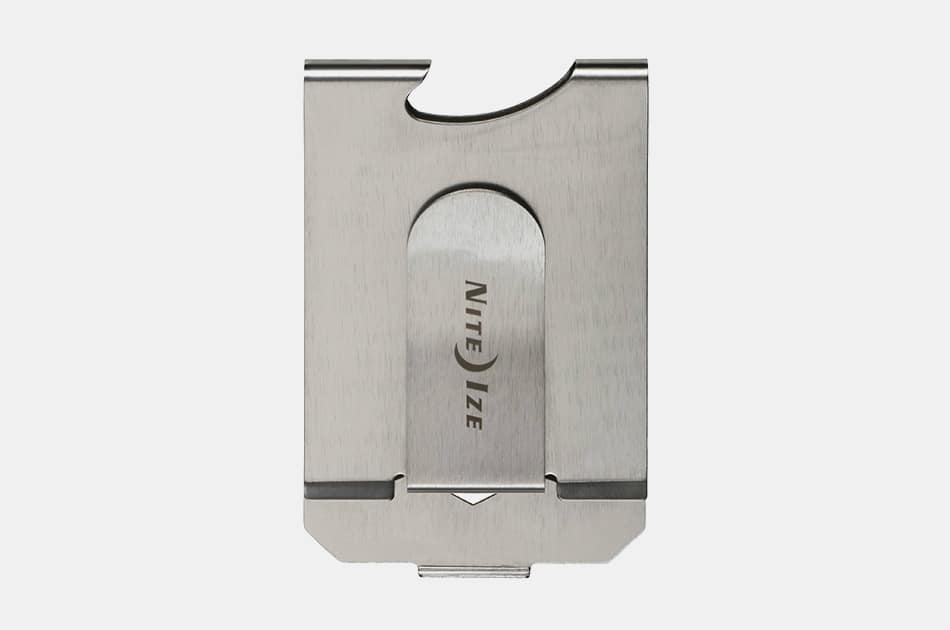 Nite Ize Financial Tool Multi-Tool Money Clip
You hear the term "financial tool" and you picture an amortization schedule (assuming you know what one looks like). Luckily the Financial Tool from Nite Ize is far more fun, and a bit more widely applicable. With a bottle opener, and standard and metric wrenches and rulers, the stainless steel money clip does more than just hold your money goods. With a smaller clip up front for your bills and a larger clip within the body of the tool for your cards, you can keep your plastic and paper separate. And when the time comes to open a cold one (or tighten a bolt) you'll be ready.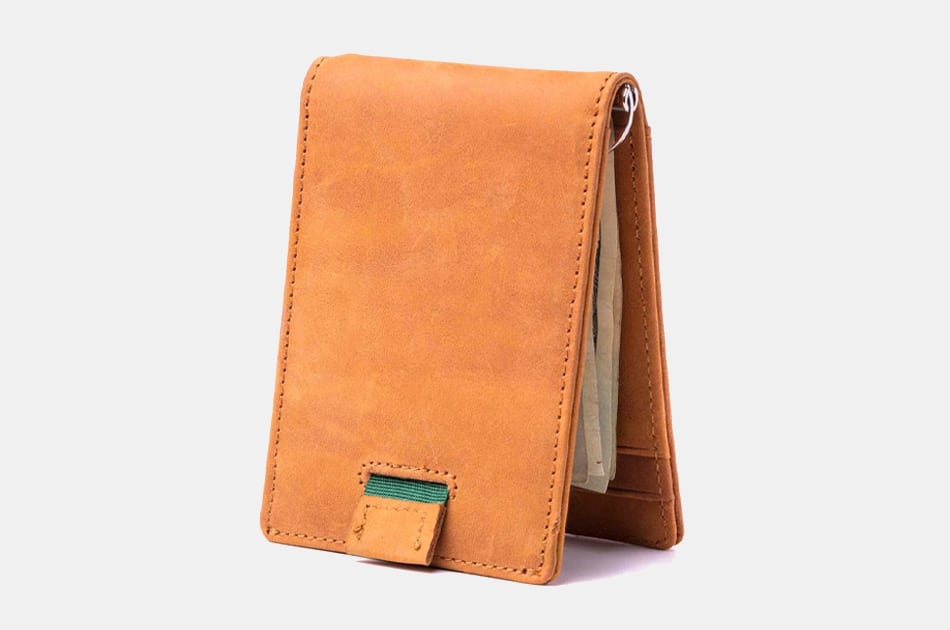 Haxford Bifold Slider Wallet
One of leather's selling points is the way it ages. Get a lighter colored specimen and it will darken and evolve over time, carrying the marks and signs of a well handled item taking part in a life well lived. This caramel colored leather Bifold Slider Wallet from Haxford features a quick access pocket on the outside, a pull-tab card pocket on the inside along with extra card slots. The money clip is removable and there's a clear slot for your ID, all packaged in patina-ready leather.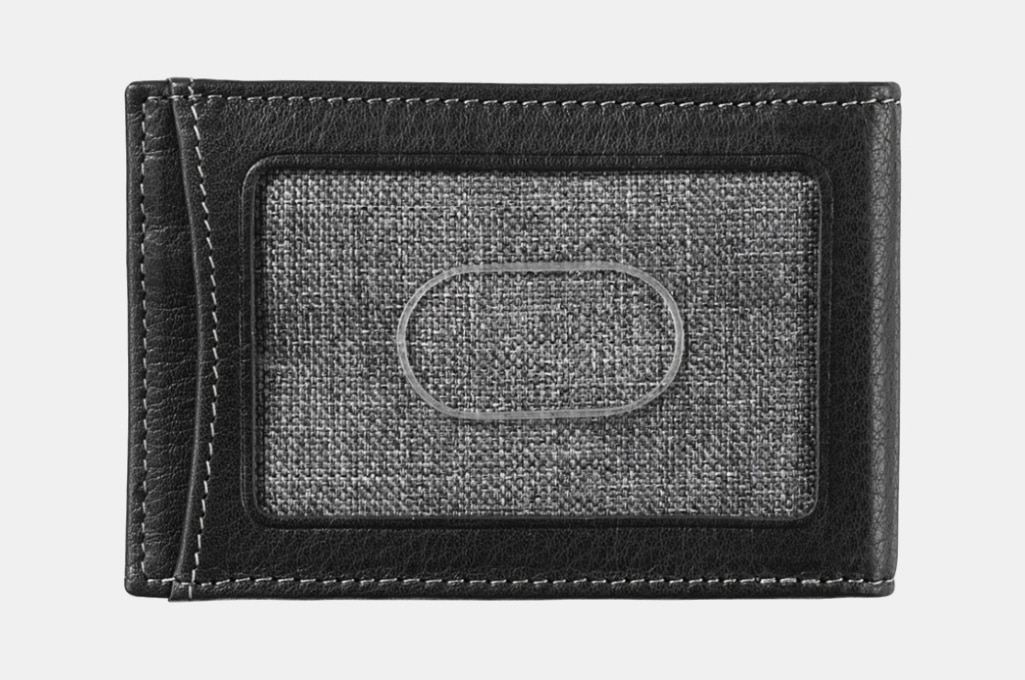 Johnston & Murphy Leather Money Clip Wallet
Johnston & Murphy is a brand renowned for its amazing quality, and that's exactly what it delivers with the Leather Money Clip Wallet. The company—which has outfitted every U.S. president for the last 150 years—uses only the best-quality full-grain leather to craft this stylish and elegant leather money clip wallet. The wallet comes with four credit card slots, interior slip pockets, RFID shielding, and a leather money clip built into the back to keep all your cash easily convenient. It's a genuinely beautiful, well-crafted wallet that will last you for years of regular use, and only grow more gorgeous in time as the leather develops a patina.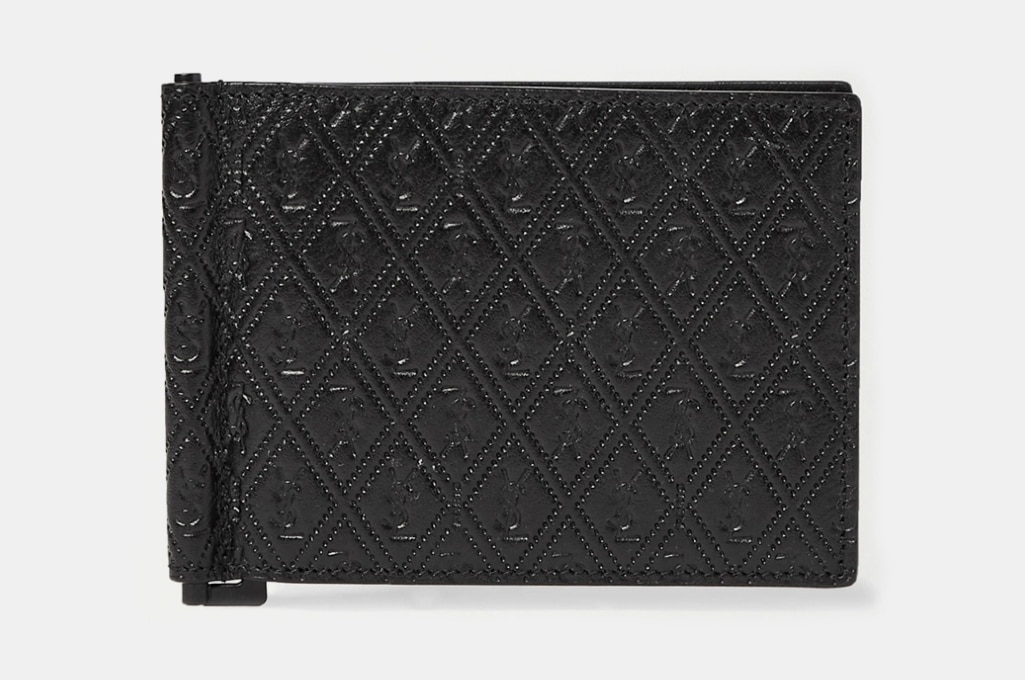 Saint Laurent Leather Wallet with Money Clip
Saint Laurent's Leather Wallet with Money Clip is a true work of art. Made in Italy using high-quality full-grain leather, its exterior features the Saint Laurent designer emblems debossed into the surface, depicting its quality plainly for all to see. Inside, the wallet includes six card slots, plenty of storage for all the credit/debit cards, membership cards, and IDs you need to carry. And, rather than an over-large, protruding clip, the wallet comes with a sleek strap that makes it easy to store your cash without over-stuffing your pocket. It's beauty, class, and refinement wrapped up into one high-quality, long-lasting wallet.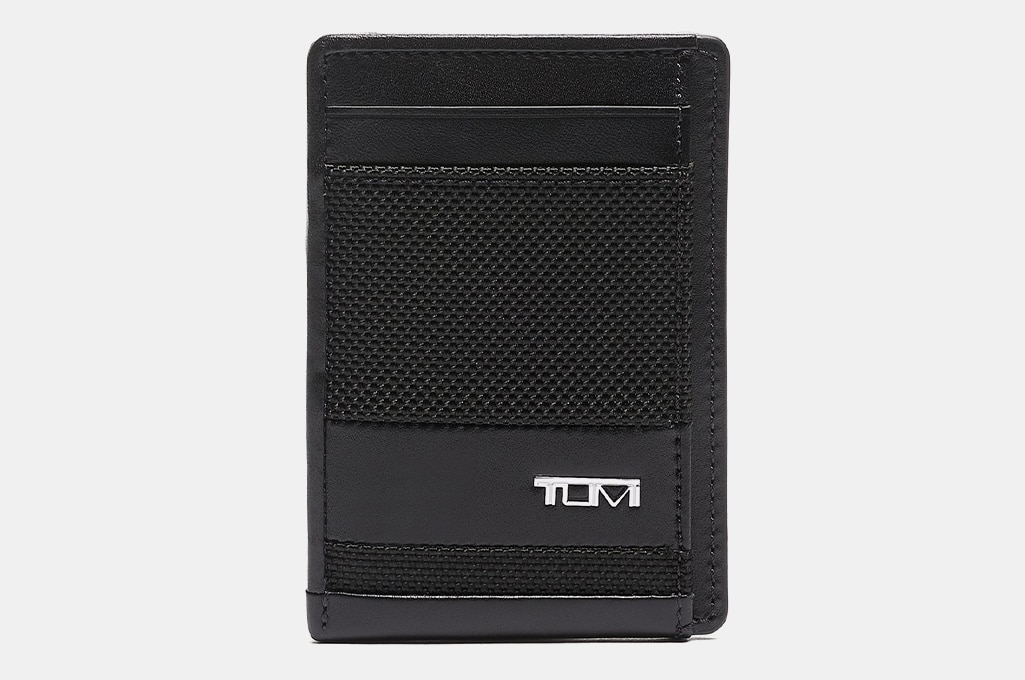 Tumi Alpha Money Clip Card Case
If you want something sleek and compact enough to fit anywhere and pair with any outfit, give the Tumi Alpha Money Clip Card Case a try. It's less than half an inch thick, meaning it's slim enough to slip into any pocket—shirt, jacket, front, back, even in your running shorts. Made from super tough ballistic nylon, this money clip card case is designed to protect your cash and cards from anything: wind, rain, snow, sleet, hail, or sun. It's got space enough for your two more important cards or IDs, a money clip, and a slip pocket just in case you want to carry something extra.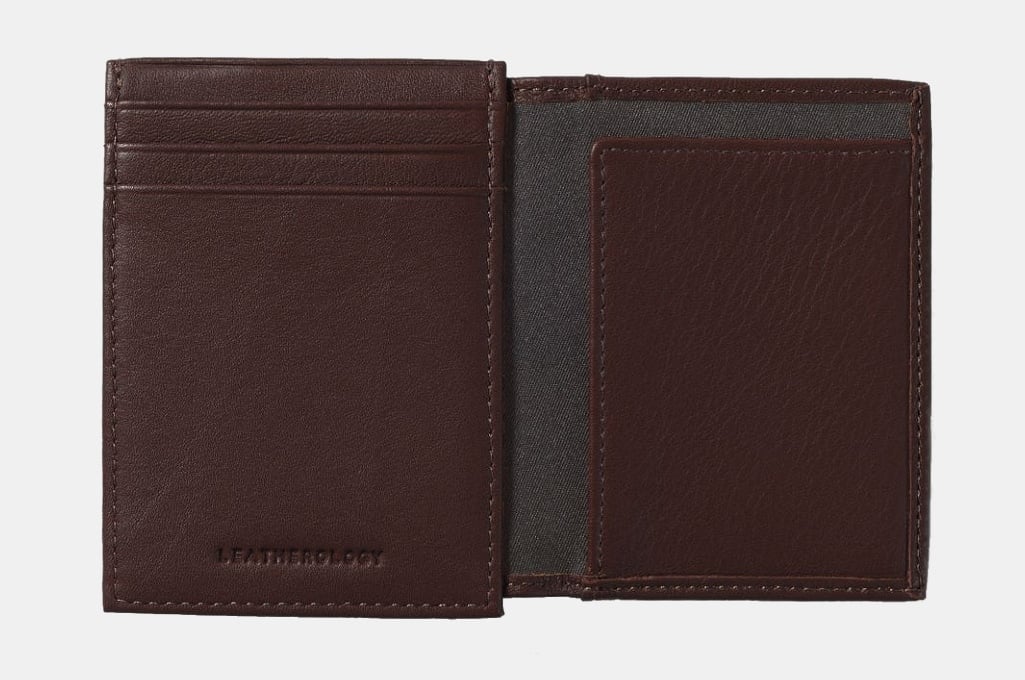 Leatherology Money Clip Card Holder Wallet
For the man who wants only the finest leather products, you'll love what Leatherology has to offer with this gorgeous Money Clip Card Holder. Made with beautiful and tough full-grain leather, each wallet is surprisingly unique in its texture—ranging from lightly pebbled to fine grain. This unique texturing is proof of its quality, as it shows that each leather is made from different parts of the cow hide, and the varied grain is one of the things that makes full-grain leather so beautiful. With its buttery soft feel, durable stitching, and excellent storage capacity (three cards, up to ten bills, and thumb-slide ID window for your IDs), it's a wallet you'll definitely want to own.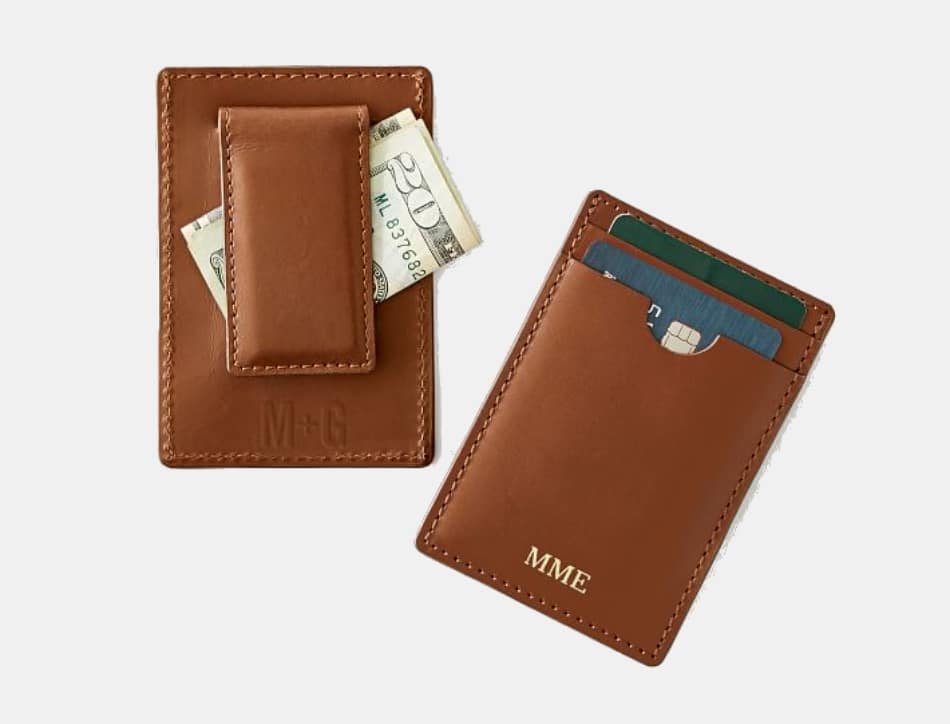 Mark & Graham Leather Money Clip Wallet
If you're looking for a little more capacity than the Simple Wallet but want the same hand-stitched, lifetime quality Mark & Graham deliver daily, go for the Leather Money Clip Wallet. It's a streamlined card wallet offering only the bare essentials to get you from point A to point B with minimal distractions: a money clip on one side and a pair of card slots on the other. No more, no less. Its everything you need in a money clip wallet, and nothing you don't.
Disclosure: Clicking on these links and making a purchase may earn us a small referral fee, at no extra cost to you. Learn more here.
freestar.config.enabled_slots.push({ placementName: "gearmoose_leaderboard_btf", slotId: "gearmoose_leaderboard_btf" });