Pictured above: Tanner Goods Minimal Cardholder
Your wallet can be minimalist or it might be a virtual repository of your life, carrying everything from cards and cash to receipts, club cards, and photos dating back to your senior prom, among other personal paraphernalia. Even a high-capacity, trifold wallet can end up looking like a cannister of Pillsbury cinnamon rolls left out in the heat to long – bulging and ready to bust at the seams.
If your current wallet simply isn't up to the task of carrying years of accumulated baggage, as well as needed cards, perhaps it's time to give your weary wallet a rest and transfer some of your plastic to a slim EDC card holder wallet for easier accessibility. After all, you've got plenty of pockets to accommodate another slim accessory. You needn't stamp a wallet-sized imprint in every pair of pants you own.
Of course, if you're going to add a card holder to the mix, or you're simply looking to downsize and simplify your EDC situation, you'll want to get the right product for the job. Never fear, we've done the homework for you and came up with a list of the best card holders for men that fit the bill, or the plastic, as the case may be.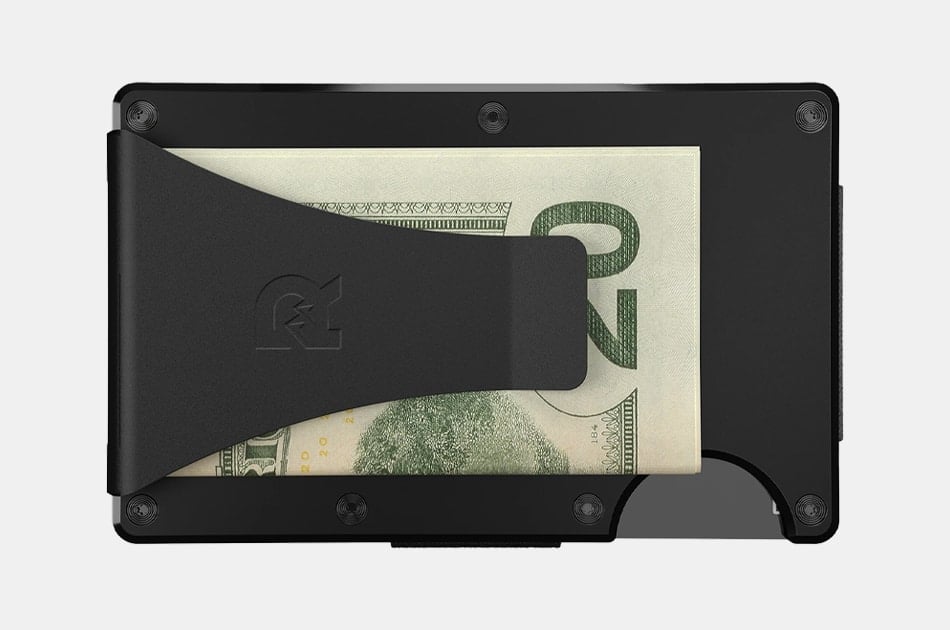 The Ridge Wallet
The Ridge Wallet aims to redefine the way you carry your cards and cash, giving you a slimmer, sleeker case that will shield your credit cards from RFID readers and protect them from any damage. Crafted from aircraft-grade aluminum (or titanium if you prefer), it's virtually indestructible but still looks absolutely beautiful with its smooth finish and clean matte color choices. Best of all, it's insanely lightweight and fits into any pocket without calling attention to your money. Now that's a card wallet you'll love to carry.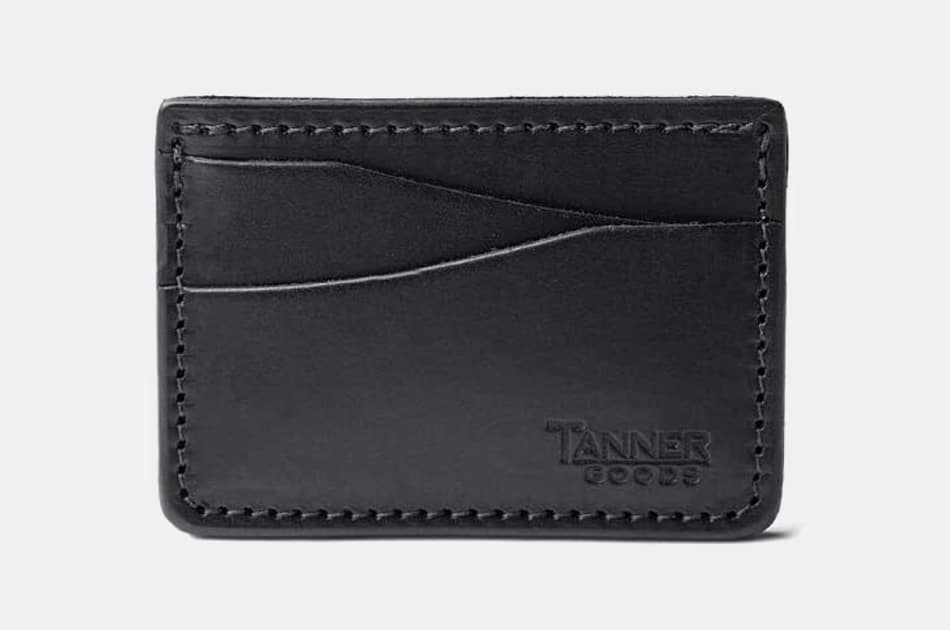 Tanner Goods Journeyman Card Wallet
There's nothing quite as elegant as leather, and elegant is exactly how you'll feel when whipping out this Tanner Goods Journeyman Card Wallet. Only the best quality natural tooling leather is used to make this wallet, which weighs just three and a half ounces and is sized to fit any credit card or ID you need to carry. This US-made wallet is designed to be carried in your front pocket, where it will be safer from theft and give you more convenient access to up to six cards and a few bills of your choice. Best of all, as with all leather goods, the more you use it, the more the leather develops that patina of wear that makes it look even more luxurious with age.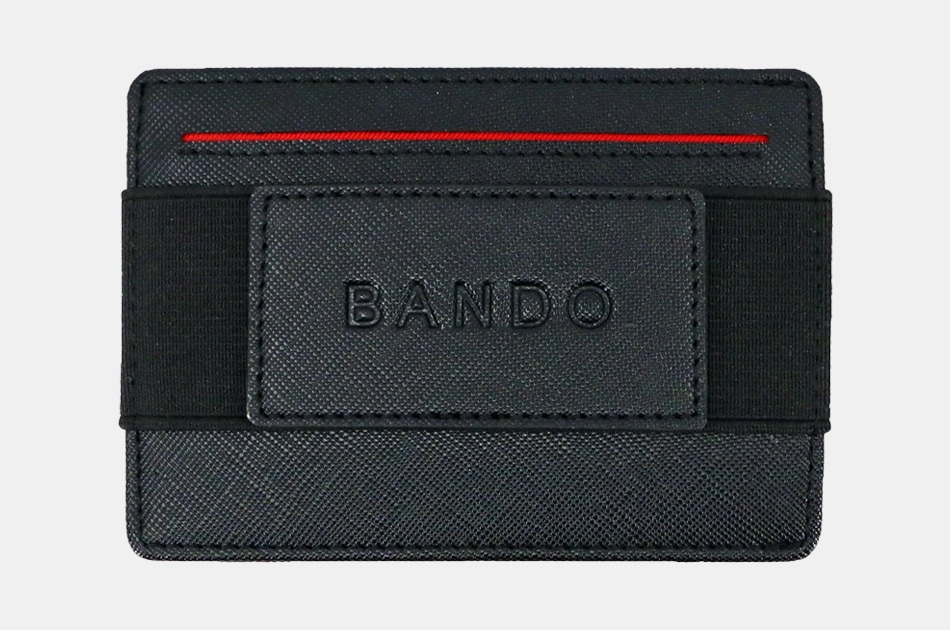 Dash Bando Utility Card Wallet
With the Dash Bando Utility Card Wallet, you'll always have storage space enough for all the cards and cash you want to carry. That's right, it accommodates upwards of ten credit cards, as well as more than twenty bills in the accompanying cash band. It's slim enough that you'll almost forget you're carrying it, and it will never call the attention of thieves or pickpockets. Oh, and did we mention that it's also water-resistant and eco-friendly? Definitely a card wallet you'll love, maximizing convenience and protecting your cards and cash from anything.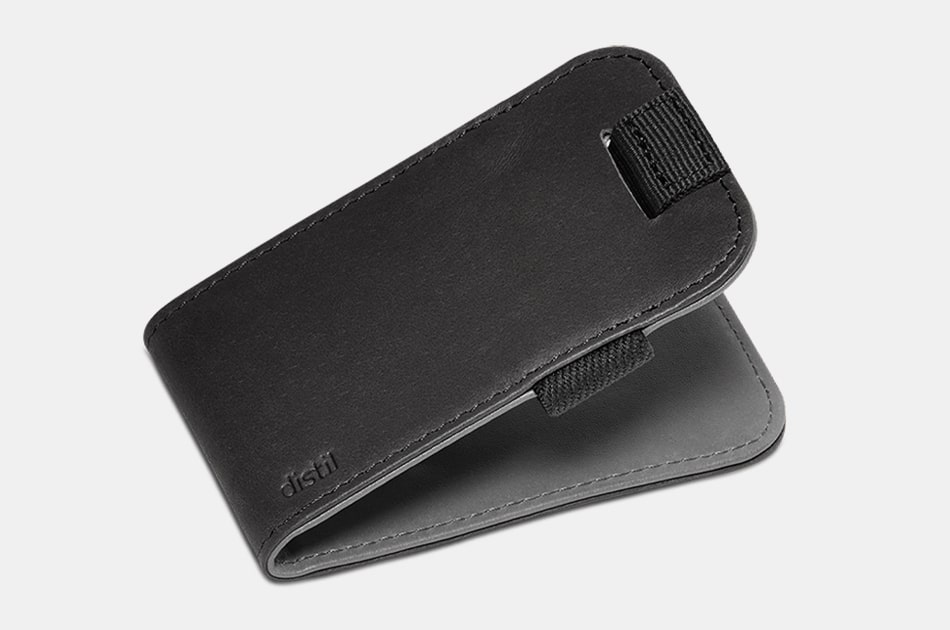 Distil Union Wally Micro 4.0
Though the Distil Union Wally Micro 4.0 is small, it is a truly mighty card wallet. It's sized to carry up to ten cards—or thirty business cards—as well as a bit of cash just in case you need it on the go. The flexible band expands to meet your storage needs, but keeps everything securely tucked in place no matter how active you are. The Micro 4.0 is also fully reversible. If you don't like the exterior, simply flip it around to show off what was once the interior. It's the user-friendly, versatile wallet you've always wanted and needed.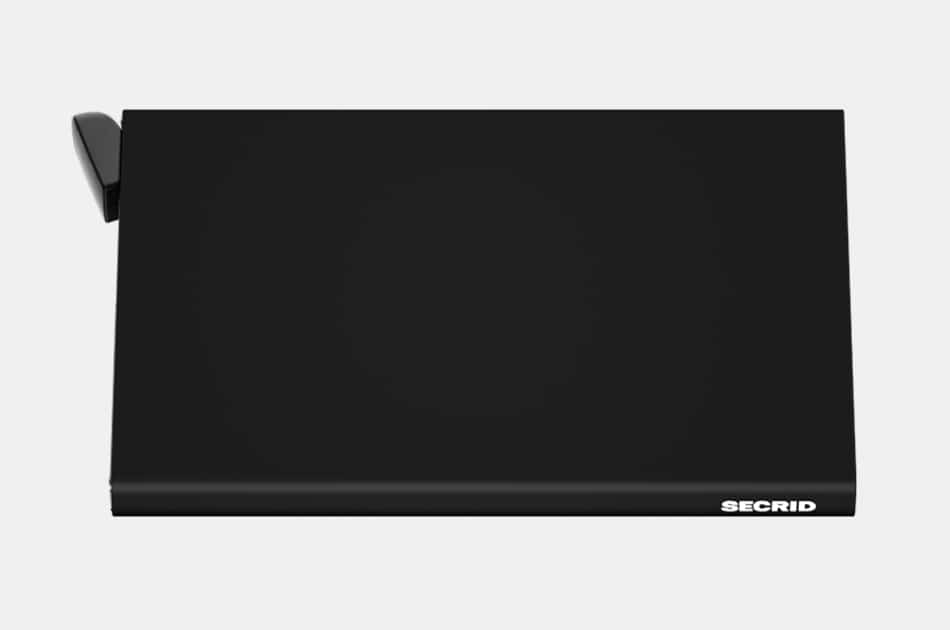 Secrid Cardprotector Wallet
Secrid guarantees total protection for your credit cards and IDs—that's why they named their card wallet the "Cardprotector." It's small enough to fit into any pocket, but offers decent storage space for up to four embossed cards or six flat cards. The casing is truly hardcore, made from hyper-tough aluminum, but weighs just fifty grams. Best of all, it's a product made with sustainability in mind throughout the entire process, so the eco-conscious will be able to buy it knowing they are supporting "green" products.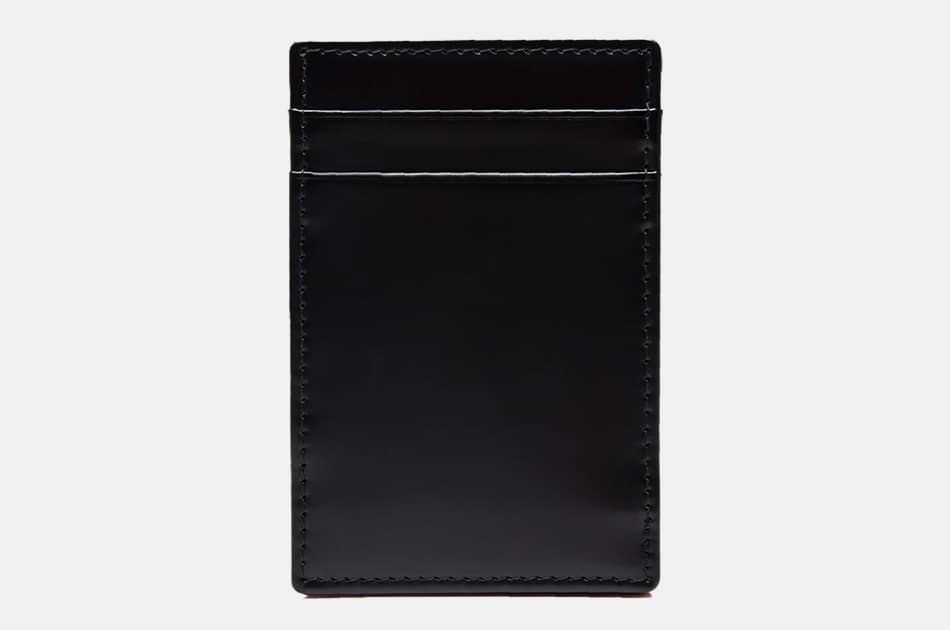 Ettinger Bridle Hide Magic Card Wallet
For decades, the Ettinger brand has been producing luxury leather goods, including some for the British Royal Family. One look at the beautiful Ettinger Bridle hide Magic Card Wallet, and you'll see why they're a company known for their quality. The exterior is made from top-quality bridle leather, with softer vegetable-tanned panel hide on the interior to protect your cards from impact or scratches. Jacquard fabric is used to line each pocket to ensure you can smoothly slide your cards in and out. The more you use this leather, the more it will age beautifully, making it a card wallet you'll want to carry for the rest of your life.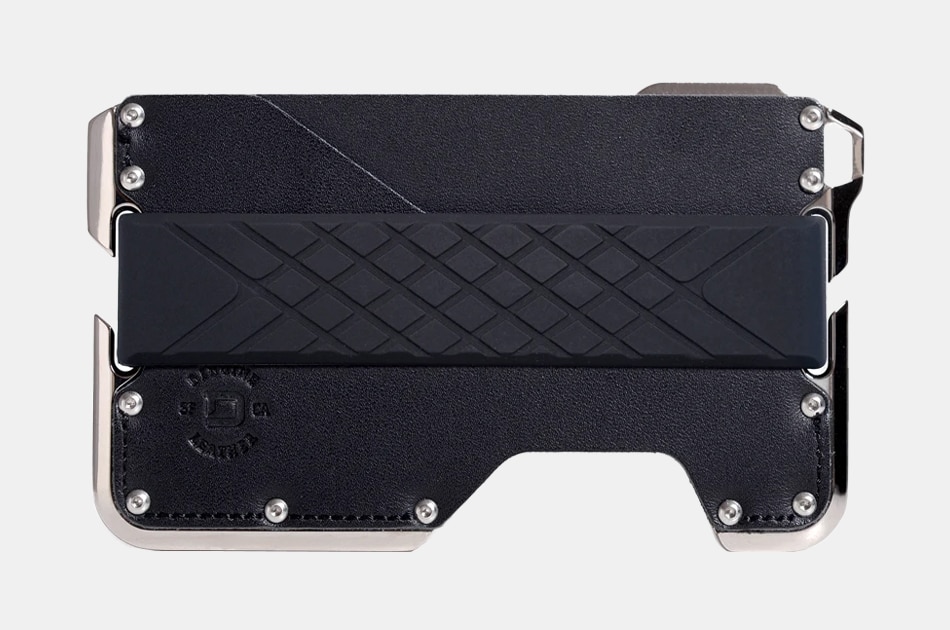 Dango Products D02 Dapper Wallet
You've never seen a card wallet quite as chic as Dango Products D02 Dapper Wallet. Designed with the "dapper dude" in mind, it's built with a tough-as-nails nickel-plated aluminum frame and finished with a hand-polished leather exterior that makes it a true work of art—and an amazing style piece. This US-made, handcrafted product can hold up to twelve cards, includes RFID blocking to secure your information, and is fully TSA-compliant. It's sized perfectly to house the MT02 Multi-Tool so you can always be prepared for any emergency on the go.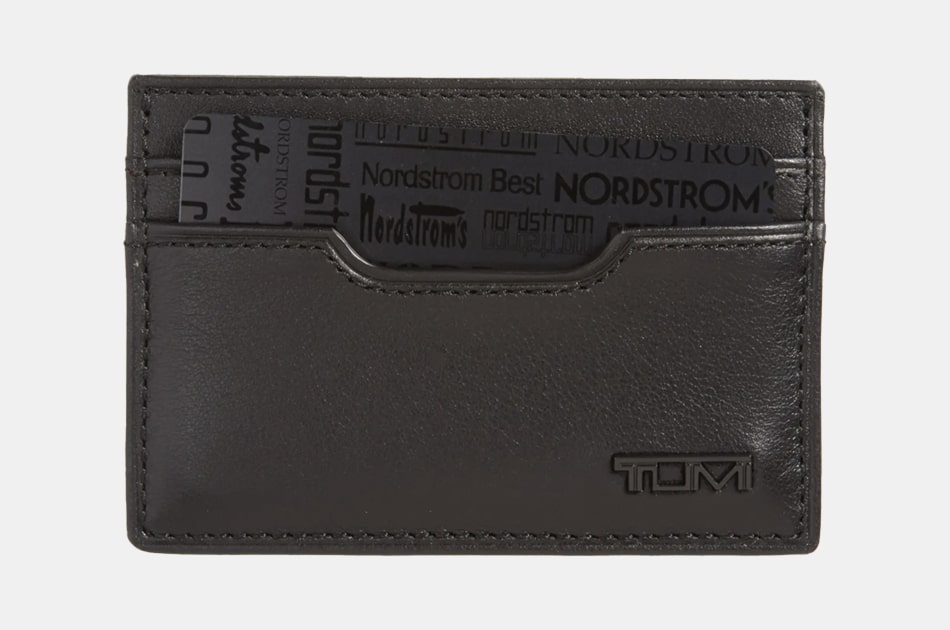 TUMI Delta ID Lock Shielded Slim Card Case & ID Wallet
Slim, sleek, and gorgeous: that's how you will instantly define the TUMI Delta ID Lock Shielded Slim Card Case & ID Wallet. Made from top-quality leather and finished with elegant, eye-catching stitching, the wallet features the embossed TUMI logo for an extra flourish. With three ID slots and a center currency pocket, it's convenient for carrying all your go-to cards when out and about. One side is RFID-shielded, but the other is not, allowing you to quickly tap your card for easy payment.
Bellroy Micro Sleeve Card Holder Wallet
Three tiny pockets are all you'll get with this minimal sleeve – vertical pockets front and back that hold 1-2 cards each, as well as a central pocket on the side for a couple more cards and/or some folded cash. Of course, this is all you'll really need if you can manage to condense your necessary carry to 4-6 cards and some paper money. Premium, environmentally certified leather in black, navy, charcoal, or caramel is a plus, as is the 3-year warranty.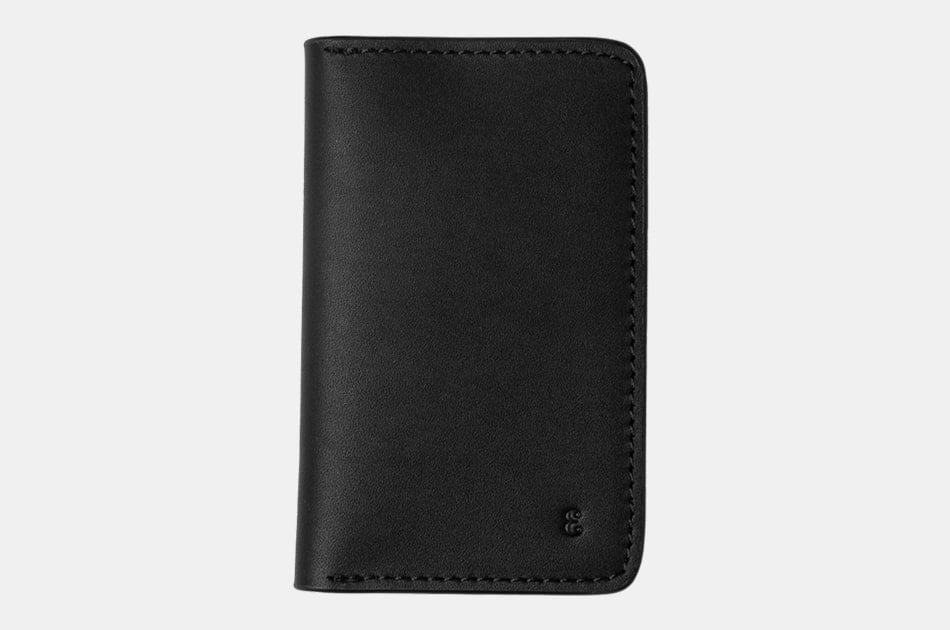 Holden Card Wallet
If the standard four card slots aren't quite enough for your card-carrying needs, you'll find a bit of extra space in this slim, 6-pocket bifold in sturdy, 2mm full grain leather. With vertically aligned pockets on one side and horizontal slots on the other, you can not only differentiate cards with ease, but you can slide in some cash, as well. Choose classic black leather or opt for natural tan designed to pick up your own personal patina with wear.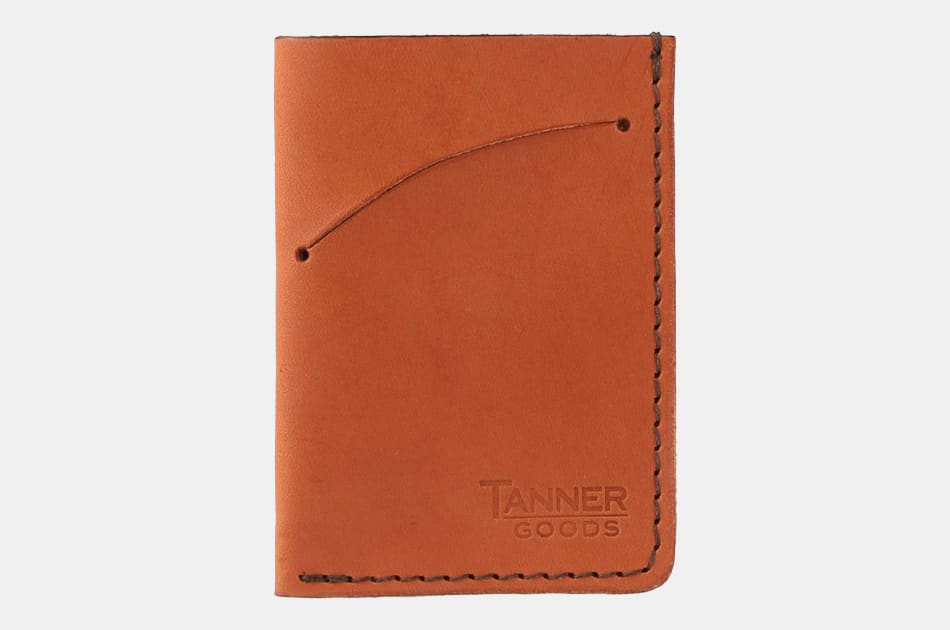 Tanner Goods Minimal Card Wallet
Quality leather isn't hard to come by, but finding the perfect marriage of materials and design isn't so easy. Tanner Goods hits the nail on the head with a minimal wallet featuring a central compartment and wraparound sleeve offering a front and back pocket in Meridian English Bridle leather. The simple design is compact and expertly handcrafted to stand up to wear and tear. Carry it in your front or back pocket, according to preference. Either way, you'll barely know it's there.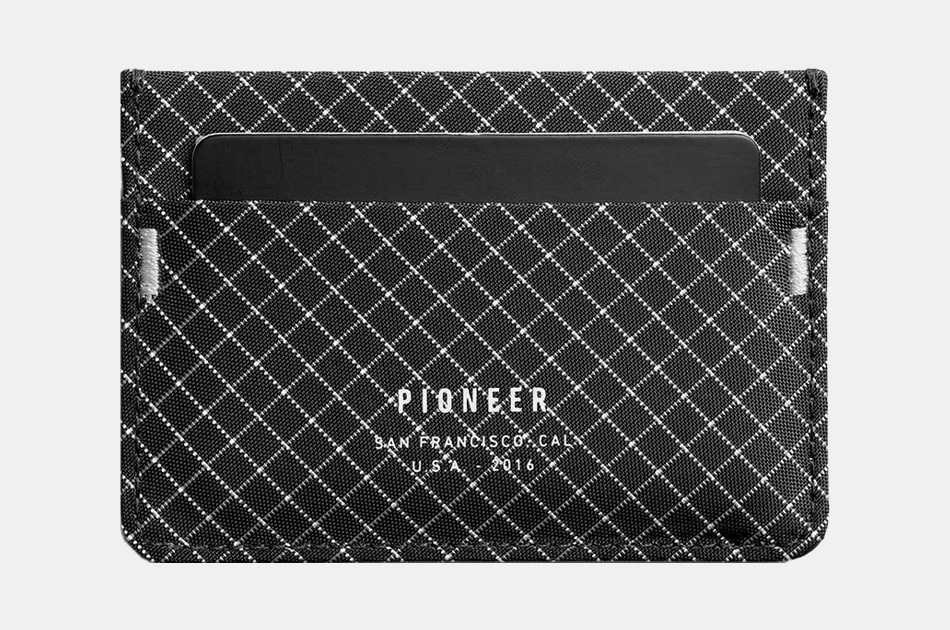 Pioneer Molecule Card Wallet
This slimmed-down, waterproof wallet made from tough, 10XD™ ripstop fabric is about as thin as they come, with just three pockets designed to hold 4-6 cards and euros, British pounds, or American dollars folded just once. Reinforcement bartacks ensure the construction lasts just as long as the fabric, which the manufacturer claims is ten times stronger than steel. Unlike most wallets, it will survive the spin cycle if you forget to pull it from your pocket when washing your pants.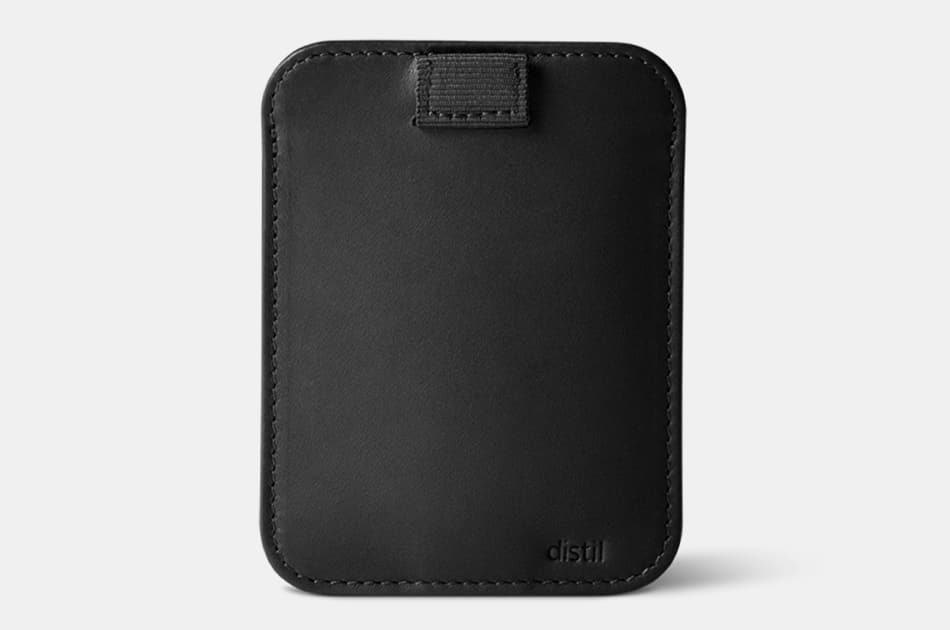 Distil Union Wally Sleeve
This sleek sleeve has just two pockets – a central compartment that holds the bulk of your cards and a front pocket for cash, an ID, or your most important or frequently used card. Lest you fear cards sliding out of the central slot, you'll be glad to hear this wallet offers secure card storage via FlexLock technology, paired with the Wally Pull-Tab for quick access to cards. It's also NFC compatible for easy swiping at POS, keyless entry, and travel terminals.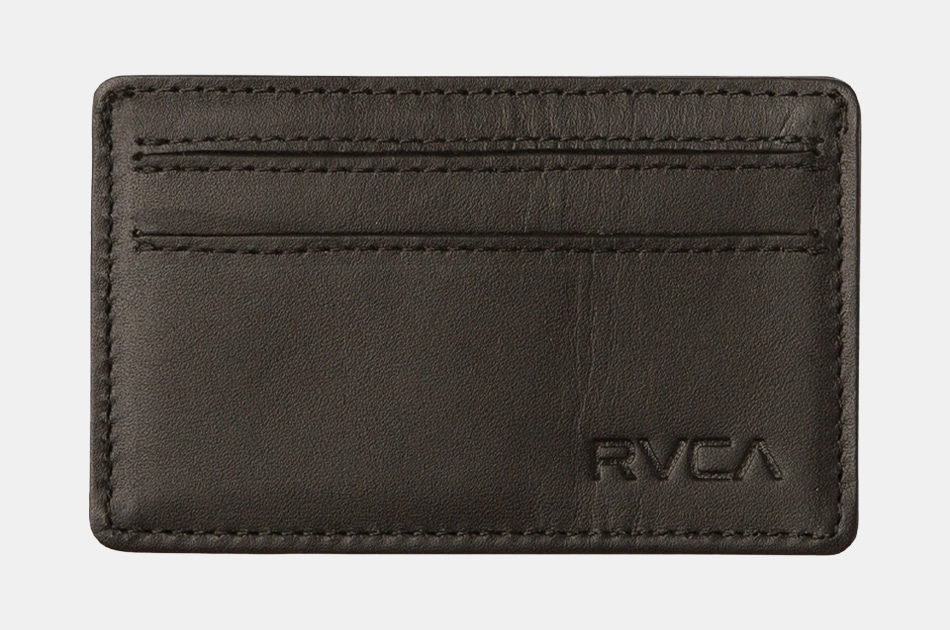 RVCA Clean Card Wallet
This trim card sleeve features no folds. All you get is two horizontal cards slots on one side, two vertical slots on the other side, and a central slip, all designed to hold just a handful of cards and a bit of cash. 100% premium leather in black or brown offers staying power for this slim wallet, adding substance to sleek styling, while textile lining ensures ease of use when sliding cards in and out of slots. Front or back pocket carry is no doubt acceptable with this men's card holder.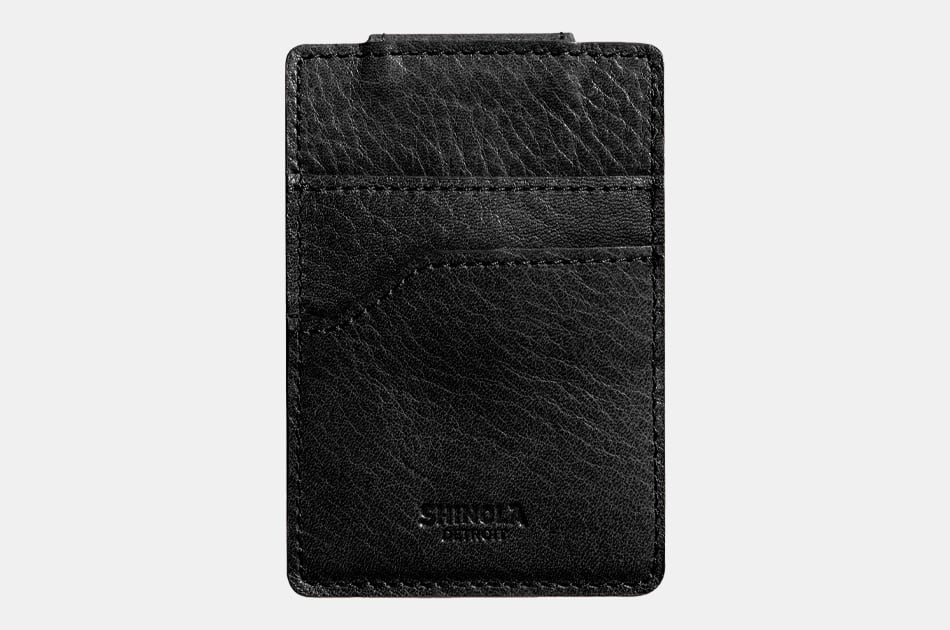 Shinola Money Clip Card Wallet
Money clips may be the stuff of gangster movies, but they can also be pretty handy when attached to a tiny card wallet. Skip the flashy, blinged-out money clips of yesteryear in favor of understated, modern elegance in simple, leather styling. This sweet little sleeve in premium leather includes just two faille-lined card slots on one side and a leather-wrapped, magnetic clip for cash on the other. Cards, cash, done. All you have to decide is black or brown. Does it get any easier?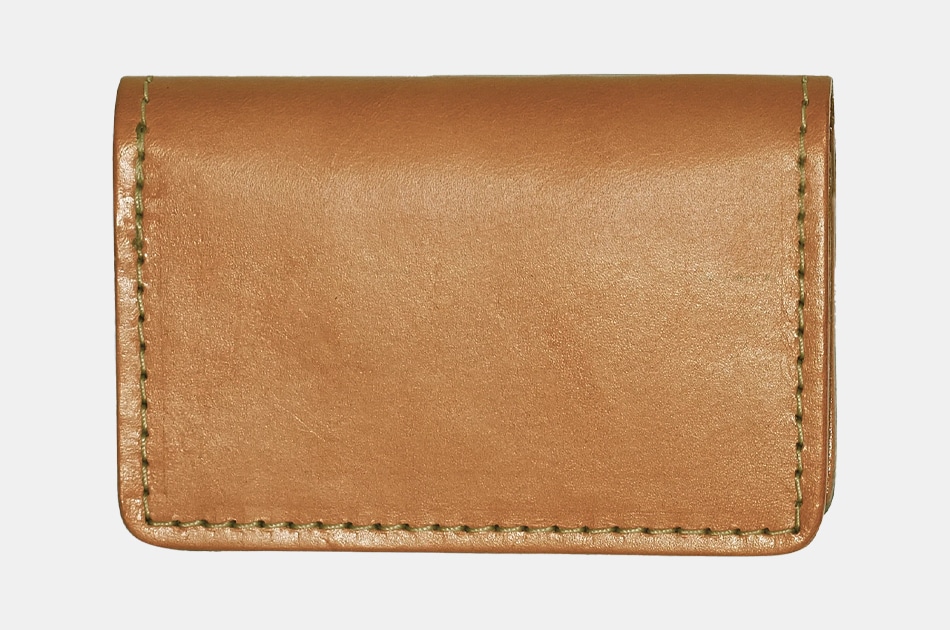 Filson Bridle Leather Card Case
Traditional appeal punctuates this simple card case in black or tan Bridle leather, sourced in North America and vegetable tanned in the U.S. Each side of the slim bifold features a back pocket large enough to accommodate a few cards or cash, with a front pocket perfect for business cards. Heavy-duty bonded nylon thread ensures that seams will last as long as the leather. Take it along to your next corporate meeting or event, or use it for simple, sophisticated everyday carry.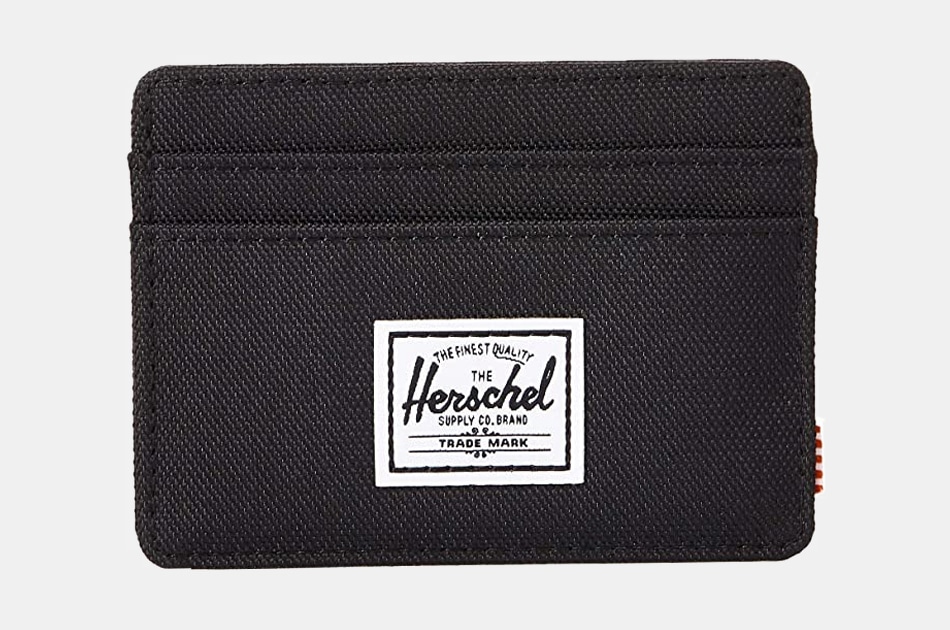 Herschel Supply Co. Charlie Card Case
A durable, utilitarian wallet doesn't have to come in premium leather with hand stitching, as this tough and affordable offering in polyester deftly proves. Known for modern minimalism with classic appeal, Herschel delivers a unique take on the slim wallet with this fun and functional card holder wallet in plain black, black crosshatch, or arrow wood (a fancy name for yellow). Four card pockets and a central slip for extra cards or cash hold your EDC must-haves and RFID blocking adds needed security.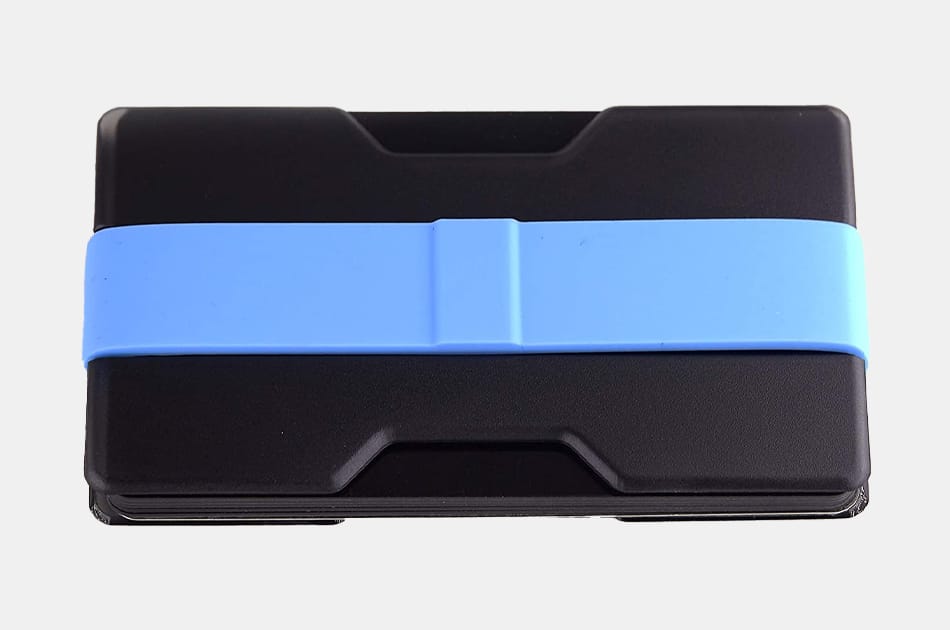 Radix One Slim Wallet
Tired of bulky bifold and trifold wallets? Radix aims to alleviate your suffering with two ultra-thin polycarbonate plates wrapped in a strong, silicone band. It's a wallet designed to hold up to 4-10 cards between the plates, with the outer band acting as a money clip. The body comes in black, white, or smoke and bands can be had in various colors (gray, red, and blue, to name a few). Slim, lightweight, and easy to stow, this trim wallet slides into any pocket easy everyday carry.
Andar Minimalist Card Holder
The bifold interior of this wallet is for cash alone thanks to the addition of a minuscule money clip that fits in the fold. The exterior, complete with a card slot on either side, holds 2-10 cards total (up to five in each slot) and features RFID blocking technology. Handcrafted from full grain leather with a V design on each card slot, this beauty will up your style game while providing the height of utility. It also comes with a 1-year unconditional warranty.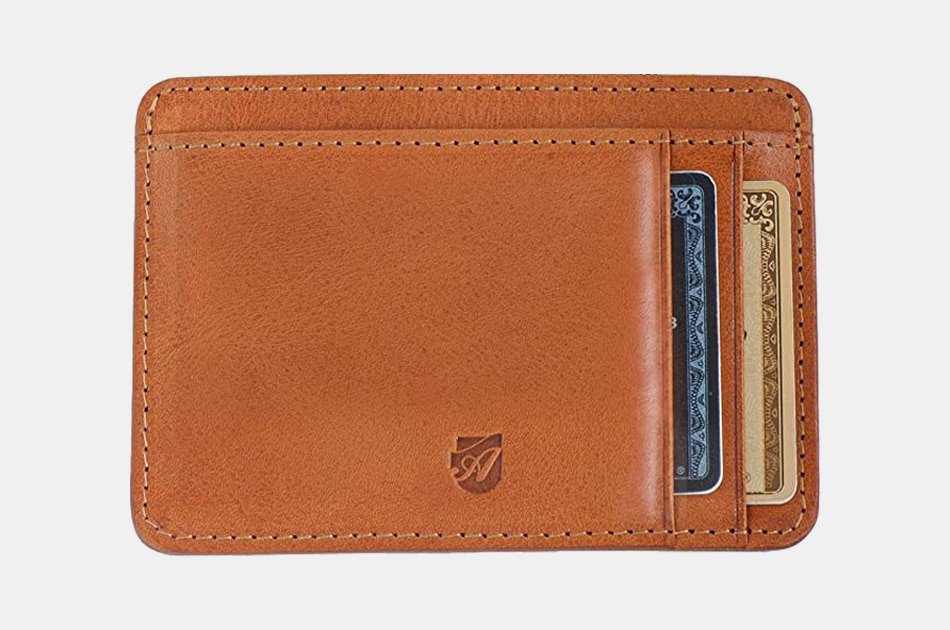 Axess Compact Wallet
Rounded corners add a lot to the comfort factor of this slim card holder designed for carry in front or back pockets, and that's just the beginning of what you'll love. Smooth, supple, vegetable tanned leather comes in classic black or caramel, as well as vibrant, eye-catching blue or green. Five pockets, including an ID pocket, hold 7-9 cards and cash, and you can even securely stash a few coins in the central compartment. RFID blocking keeps would-be identity thieves at bay.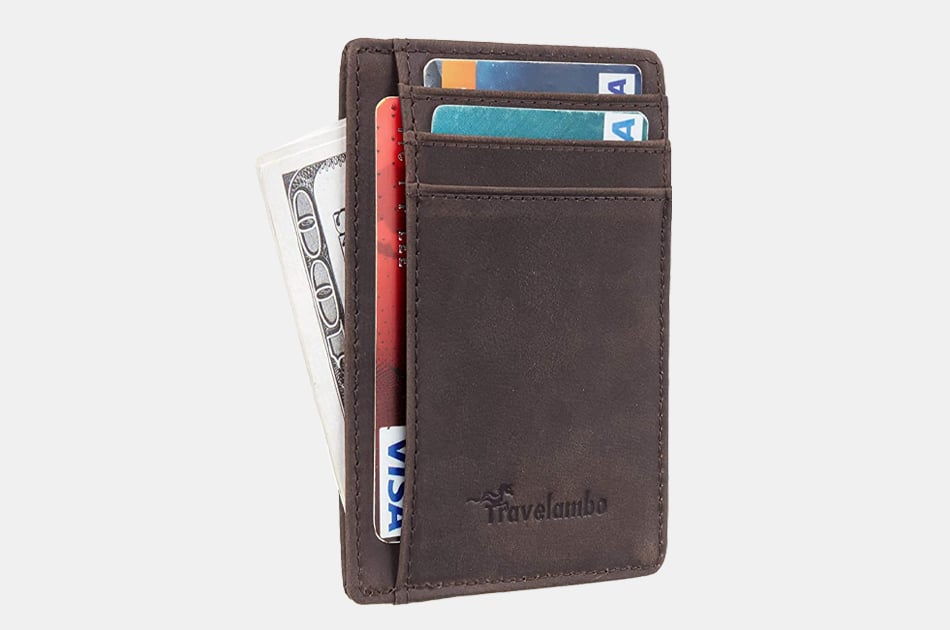 Travelambo Front Pocket Minimalist Wallet
Not only does this slim, handmade wallet come in durable, 100% genuine cowhide leather, but anyone seeking added flair will enjoy the many available colors and textures, from rustic "crazy horse coffee" brown, to classy "carbon fiber texture blue", to shocking "vipor red" and more. You'll also enjoy RFID protection and seven slots, including an ID pocket with thumb notch. The slim design works equally well in loose or slim fit jeans, making it perfect for gentlemen who prefer to carry light.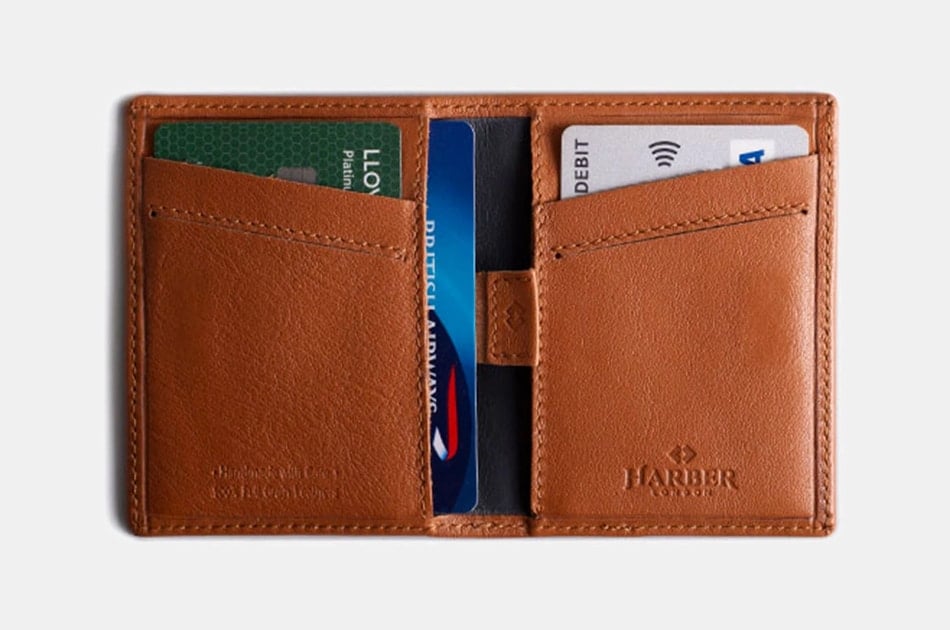 Harber London Card Wallet
Frankly, it's amazing that this slender, bifold wallet holds up to 16 cards, and offers RFID protection, to boot. Until you start stuffing cards in, you're likely to be skeptical, but the four card slots (two on either fold) and accommodating slips behind them will absolutely fit up to eight cards per side. With expert handcrafting in Spain and premium, full grain vegetable tanned leather, not to mention a handy pull tab and magnetic closure, this is one wallet you won't have to think twice about purchasing.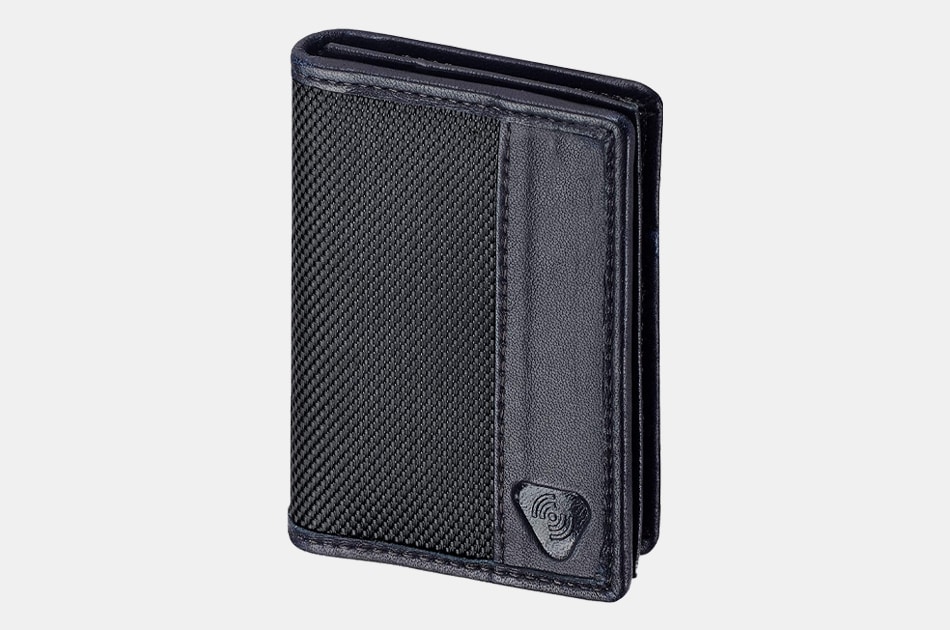 Lewis N. Clark RFID-Blocking Ballistic Card Wallet
Intrepid explorers Meriwether Lewis and William Clark famously faced the wilds of the untamed west in their quest to create a definitive map of the Americas. Will this bifold wallet take you to parts unknown? Probably not, but with durable ballistic nylon construction and soft lambskin accents, it does offer a sophisticated union of strength and style. One large and one slim card slot hold the essentials while an ID window with thumb notch offers easy access to identification. RFID shielding keeps your identity safe.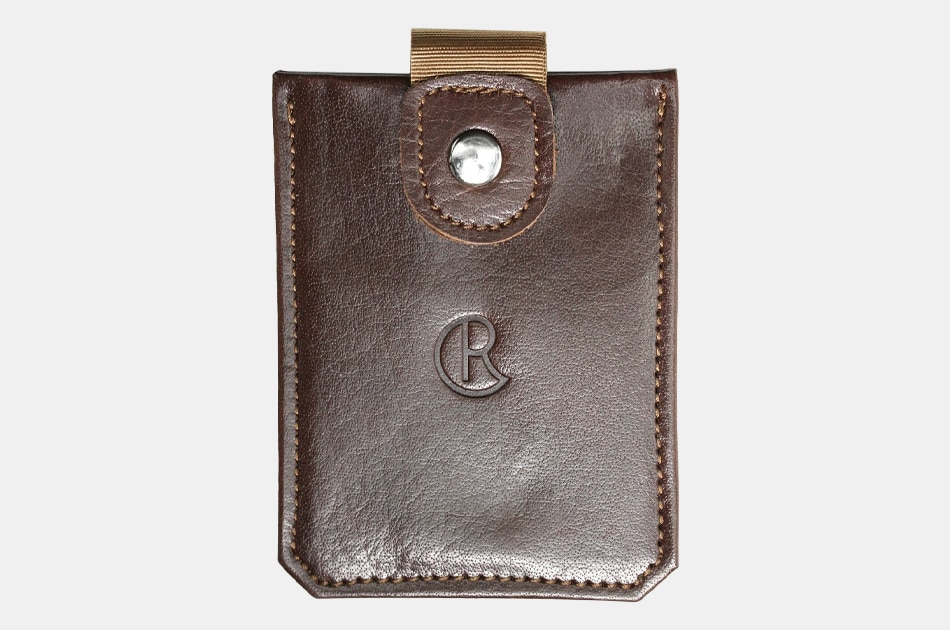 The Reeve Card Wallet
Some leather wallets look the same, but this one is different thanks to subtle touches that demand attention. Handmade in the USA from supple, 100% calfskin leather, this slim wallet is designed to accommodate a handful of plastic and petty cash and still fit in your shirt or pants pockets with minimal bulge. A single pocket is the epitome of simplistic design, with the addition of an easy-access pull strap that doubles as a top strap and front snap to ensure secure carry.
Disclosure: Clicking on these links and making a purchase may earn us a small referral fee, at no extra cost to you. Learn more here.
freestar.config.enabled_slots.push({ placementName: "gearmoose_leaderboard_btf", slotId: "gearmoose_leaderboard_btf" });