The 25 Best Bifold Wallets
While its purpose is simple in theory, the bifold wallet must do so much more than just carry our everyday essentials, credit cards, and bank notes. It must carry these essentials while also displaying to the world our personal sense of style.
A woman carries her life in her purse, including cash and cards, cell phone, makeup, toiletries, pens and paper, first aid supplies, snacks, and pretty much everything but the kitchen sink. No joke, women are always prepared. Imagine what MacGyver could have accomplished with a purse instead of just shoe laces, paper clips, and a Swiss Army knife.
Most men don't carry purses, more's the pity, which means your life must be contained to a much smaller package. This is why a man's wallet is so important – you have to do a lot with a little. Unless you want a giant bulge ruining your pants and triggering sciatica, you need to carefully consider the size of your wallet.
A bifold wallet, featuring just one central fold for a slim silhouette, can provide an ideal solution, if you find the right one. What features should you look for? Here are some of the best bifold wallets on the market today, and the benefits you'll enjoy when you choose them.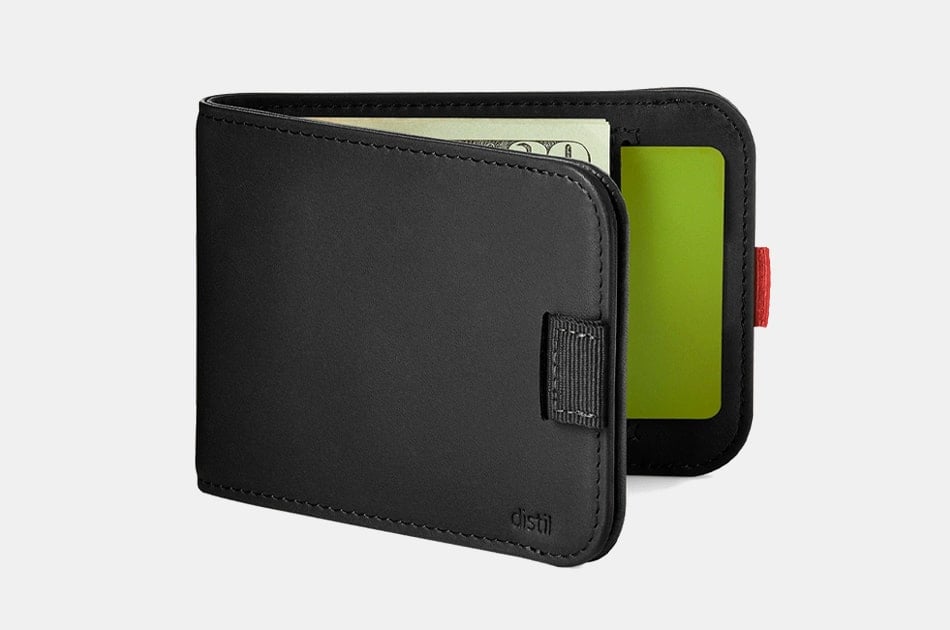 Distil Union Wally Bifold Wallet
What sets this bifold apart from others of its ilk? The makers have done all they can to trim excess material in the wallet itself, without compromising strength and integrity, so you can carry all the essential with less bulk, making this bifold front-pocket friendly. Plus, patented FlexLock pockets won't stretch out over time like typical leather wallets. Fits 12 cards and 30+ bills in casing so compact you'll be amazed, thanks to two pull-tab pockets and interior money clip.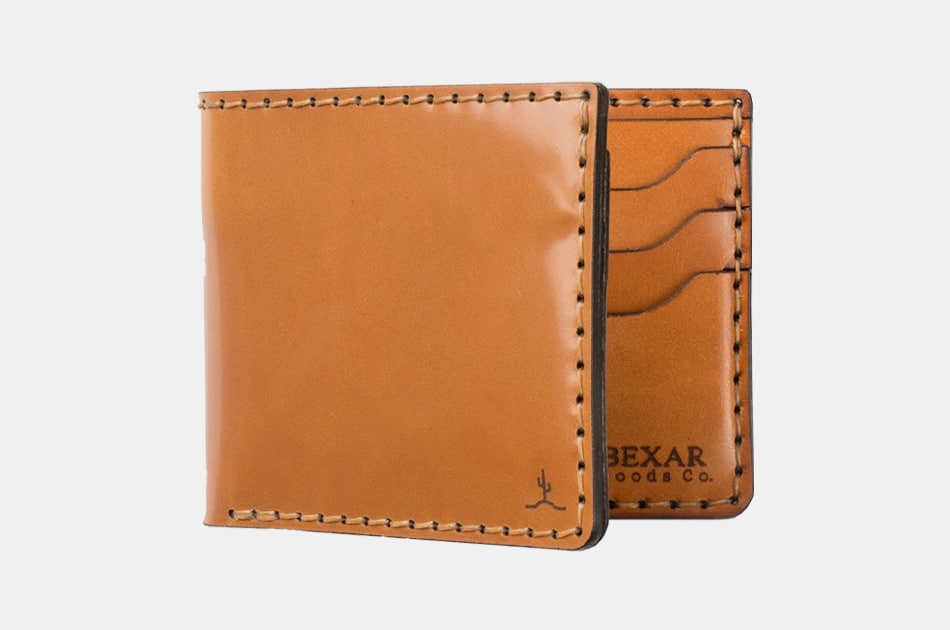 Bexar Goods Classic Bifold in Whiskey Cordovan
Innovation can be overrated, especially when it comes to something as simple as a bifold wallet. For some guys, a classic is good enough, and this high-quality option in caramelly whiskey cordovan is sure to please. Timeless styling includes six card pockets and a rear cash slip, so pretty much what you'd expect in a traditional wallet. Premium, polished cordovan leather is saddle stitched, and every detail is designed with elegant simplicity in mind. It's not the slimmest, but it's certainly dapper.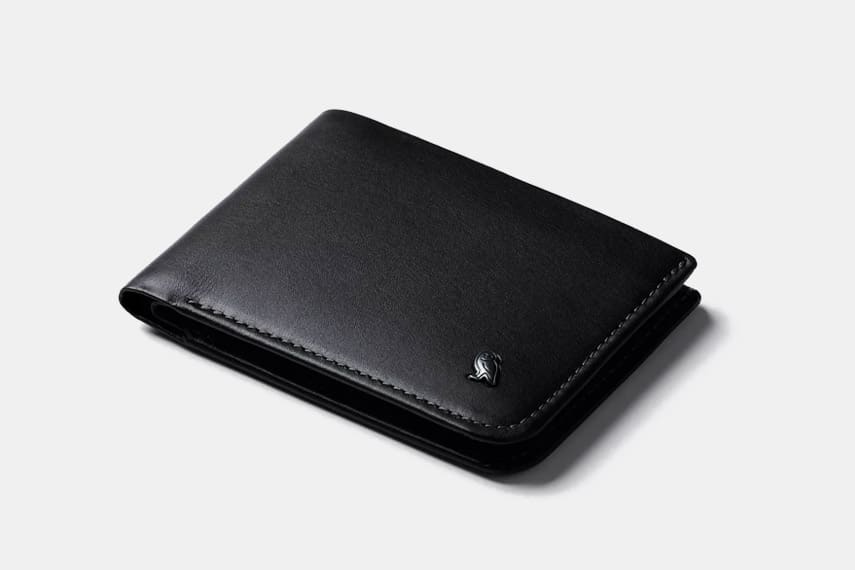 Bellroy Hide & Seek Wallet
You need only open this wallet to see it's different than expected, starting with the fact that there's no opening in the fold. Instead, you'll find four quick access card slots (three on the right fold, one on the left), as well as a protected pocket hiding behind the left slot for plastic or business cards. Behind it all is a cash pocket – but wait – it also has a hidden bill pocket behind that. Premium veg-tanned cow hide is tough and durable, and RFID blocking adds extra protection.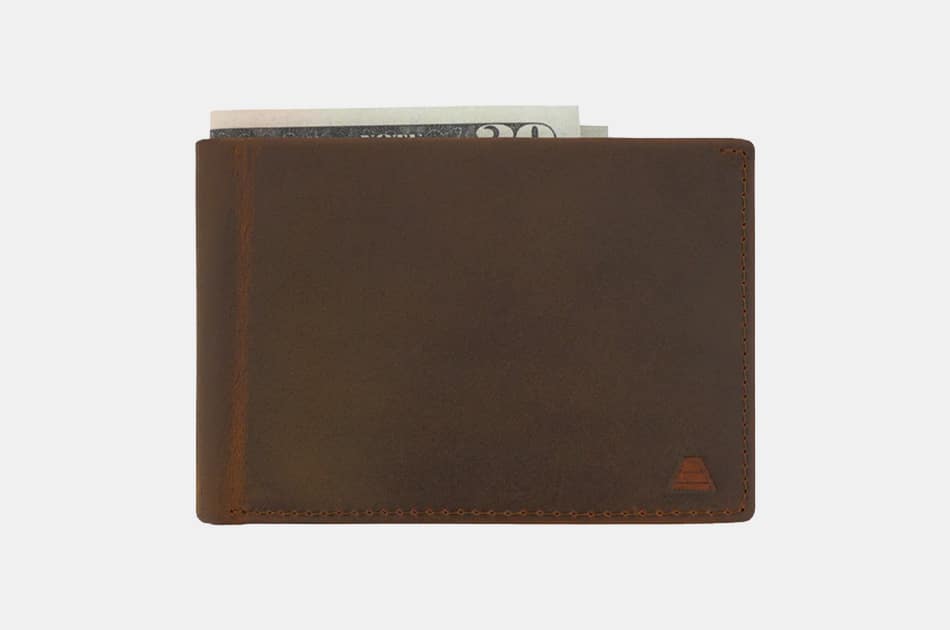 Andar Ambassador Bifold Wallet
Tired of bulky wallets stretching your pockets and ruining your posture every time you sit down? If so, you're sure to appreciate this pretentiously-named, minimalist wallet that reduces bulk and creates a more comfortable seated experience. Premium, full-grain leather is lovely and made to last, and this wallet holds cash and at least ten cards in six card slots (three are quick-access). You'll enjoy RFID protection, along with a soft exterior in black or saddle brown that develops a unique patina with use.
Dango M1 Maverick Bifold Wallet
As always, Dango delivers their renowned industrial edge with a CNC machined, anodized aluminum frame at the heart of this wallet, but they attach it to a leather bifold, complete with an outer ID pocket on one flap, and a bisected card slot on the other (two pockets in one!), as well as an interior card slot on either fold (one with a peekaboo cutout). It also has a silicone cash strap you'll recognize from other Dango models. Holds an incredible 14-16 cards, plus cash.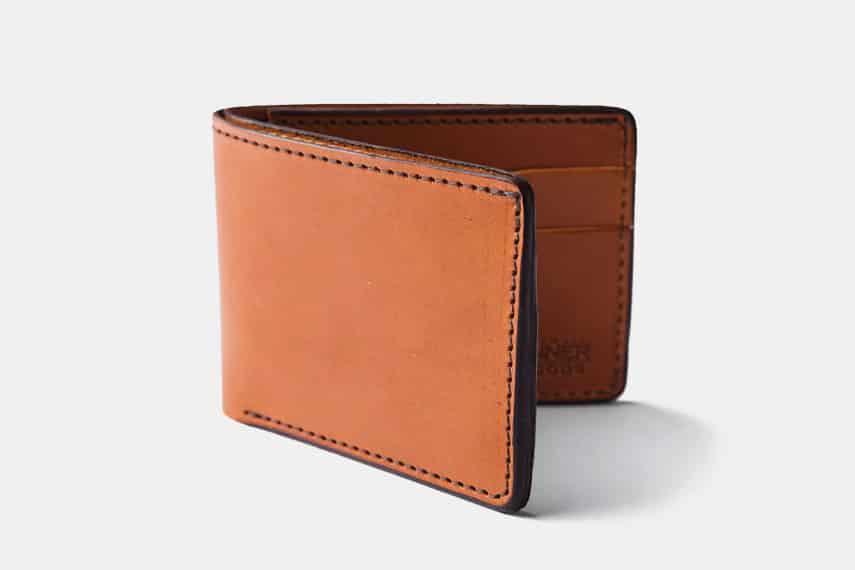 Tanner Goods Utility Bifold Wallet
There are pockets to spare in this nifty bifold, made from gorgeous vegetable-tanned Meridian English Bridle leather. Can we just start with the well-appointed demeanor of the leather, which is burnished, dyed, and waxed to create the appearance of well-worn perfection? Yes, please! There's more to love on the inside, which offers up four standard card slots, two per fold, plus two hidden pockets behind the card slots, and of course, a top open cash pocket in the back. Simple perfection.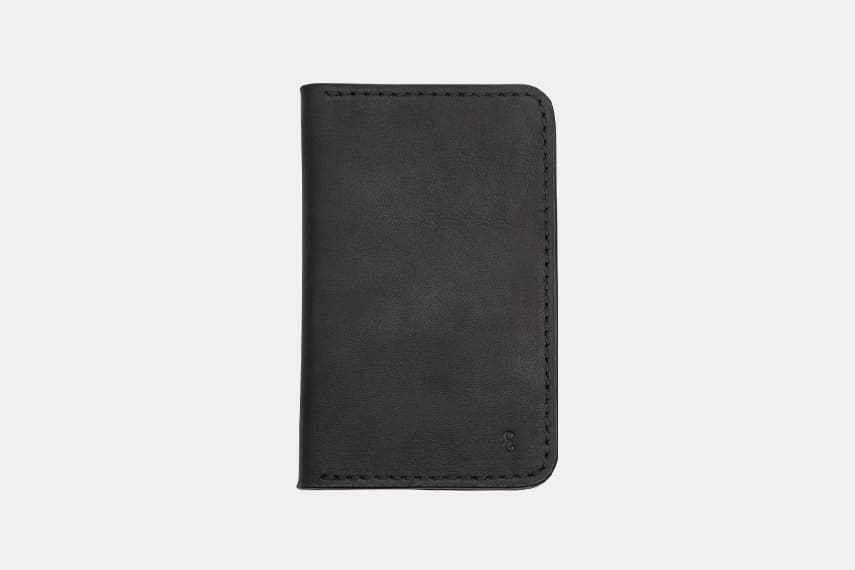 Holden Card Wallet
This wallet would serve as pretty standard fare, but for the slim and innovative design that puts more in your pocket with less bulk. The 2mm full grain leather is nothing to write home about, although it is pretty in soft black and natural hues. What is somewhat surprising is the layout of the six-pocket design, which features three vertical pockets on one inside flap, a horizontal pocket on the other, and two cash slips underneath for folded bills, making for a slender profile.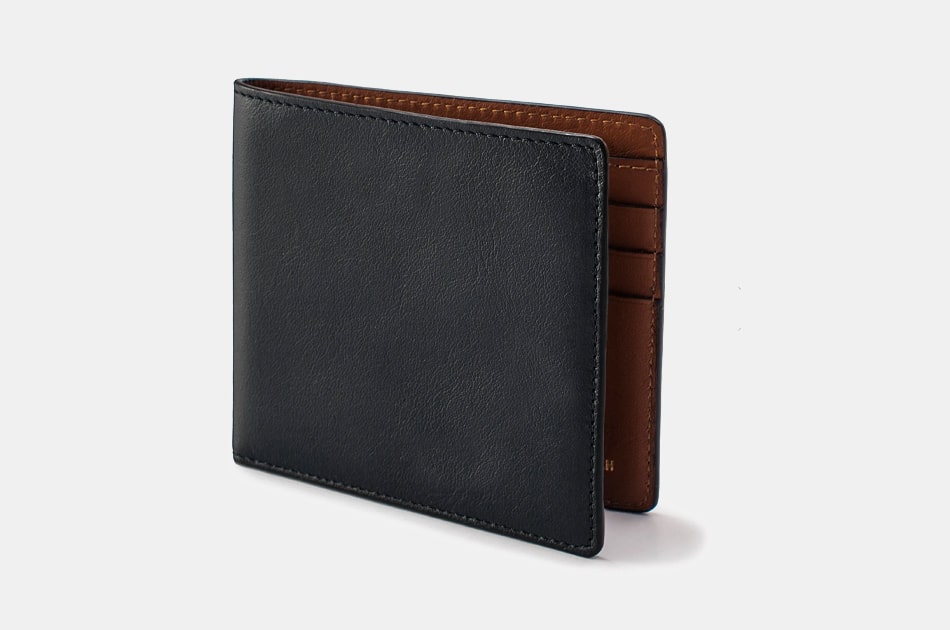 Taylor Stitch Minimalist Billfold Wallet
Designed in supple, 100% full-grain Spanish cowhide, this minimalist wallet folds to a surprisingly slim profile that provides a barely-there experience when you slide it into your back pocket. Durability and style come in the form of black leather outer with a tan leather lining, as well as hand-painted edges. Six card slots and a cash pocket hold all your paper and plastic, and a hidden card slot liner helps prevent stretch and bulk. Limited quantities due to small batch manufacturing.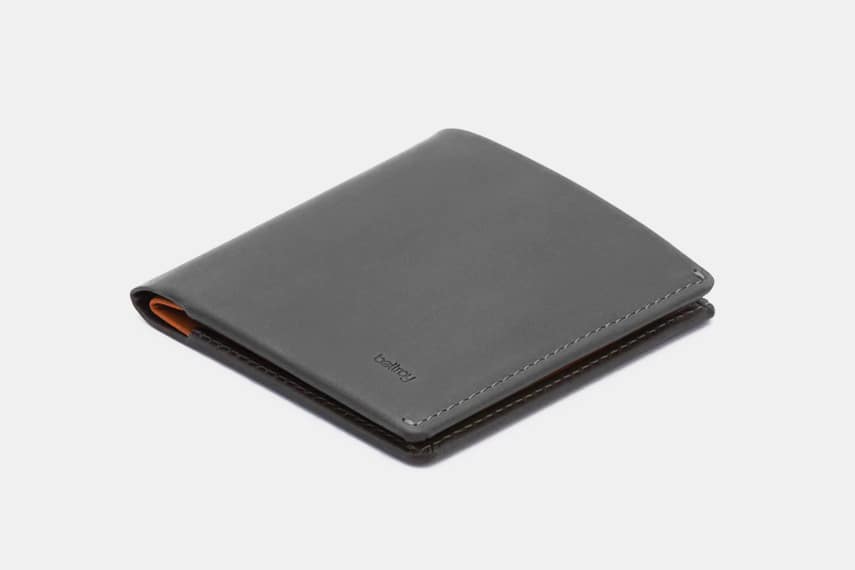 Bellroy Note Sleeve Wallet
TBH, this wallet had me at "bills, cards, and coins." I'm a sucker for added function, and corralling loose change is a major bonus. Then there are three card slots (two on the right flap, one on the left), as well as a hidden card pocket with pull tab for easy access. A top-up cash slot for flat bills in the back, complete with a coin pocket, rounds out utility features, but you'll also enjoy fancy styling. Each two-tone wallet delivers an exterior and interior shade (except for black and blue steel) for that added flair you never knew you needed.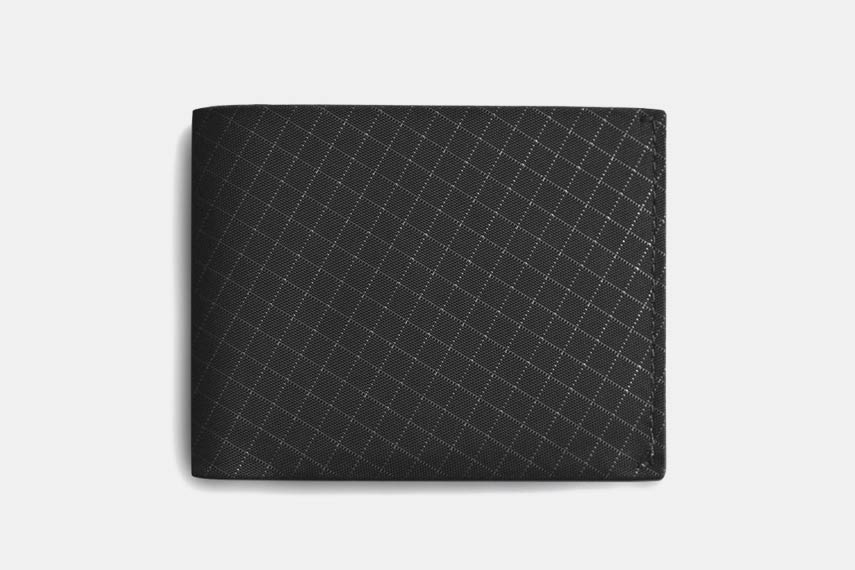 Pioneer Carry FlyFold 10XD Ripstop Bifold Wallet
Leather is nice, but if you want super-slim styling with the same durability, you can't go wrong with this proprietary textile that's 10x stronger than steel. Yup, you heard that right. It's waterproof, sweat-proof, and machine washable, and still RFID blocking. It holds up to ten cards in two pockets – one on each fold – and features a large cash slot for flat bills and receipts. Is it the last wallet you'll ever own? Let's just say this sturdy wallet might outlive you.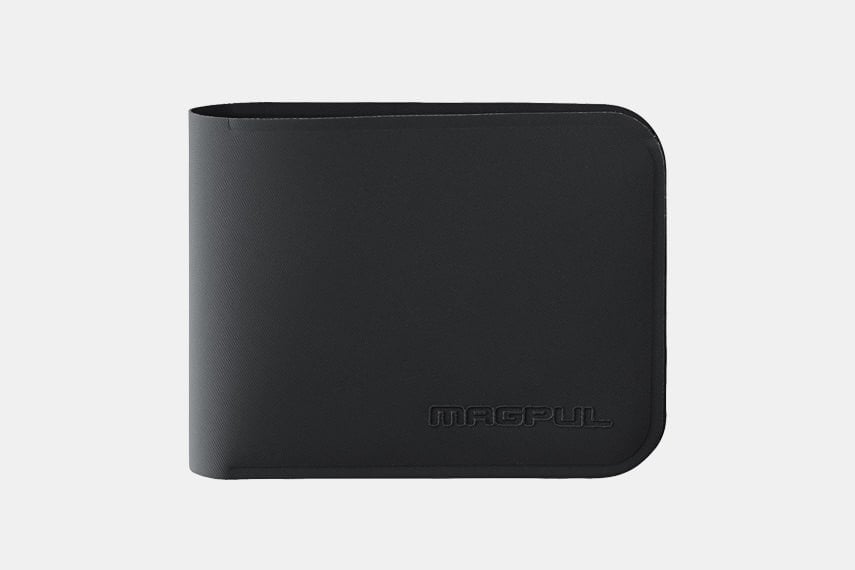 Magpul DAKA Bifold Wallet
Notably lacking from this wallet is even a hint of leather. You'll find no vegetable tanning or rolled edges here. Instead, you'll get polymer-infused material that's thinner than leather but just as resistant to wear and tear. Anti-slip texture stays put in your pocket and RF welded seams are permanent and impenetrable. You'll also get two card slots, two hidden pockets, and your typical cash caddy in the back for flat bills. Simple, slim, and well-suited to your EDC needs.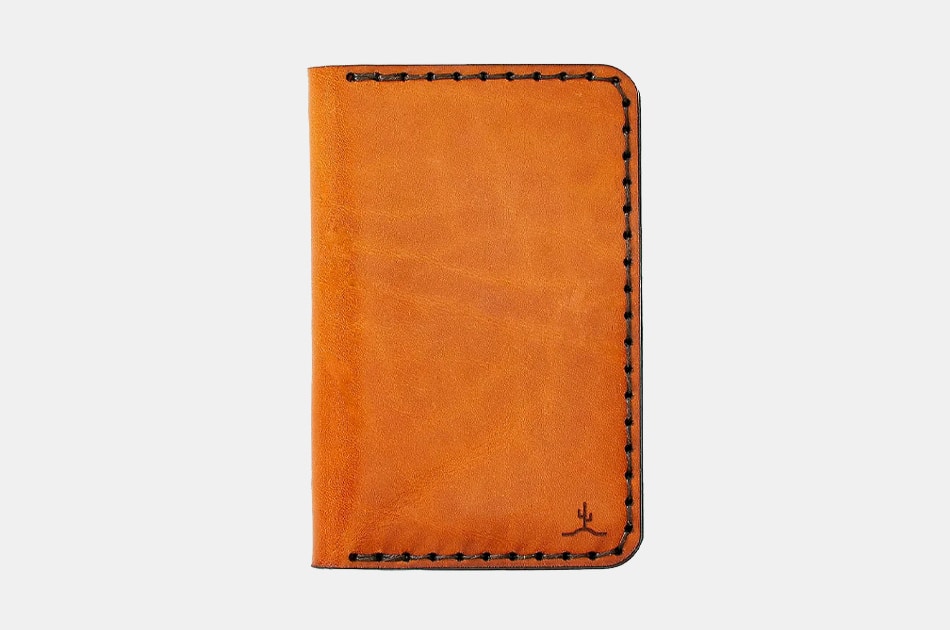 Bexar Goods Vertical Card Wallet
If you like a vertical, bifold wallet, but hate it when they're so tall they poke out the top of your pocket, this smaller cash caddy is the perfect alternative. Two card pockets grace each fold, and behind them are larger stash pockets for cash and receipts. Premium vegetable-tanned harness leather in a tawny hue provides personality over typical black, and details like saddle stitching add subtle panache. Slip in in your front or back pocket with the greatest of ease.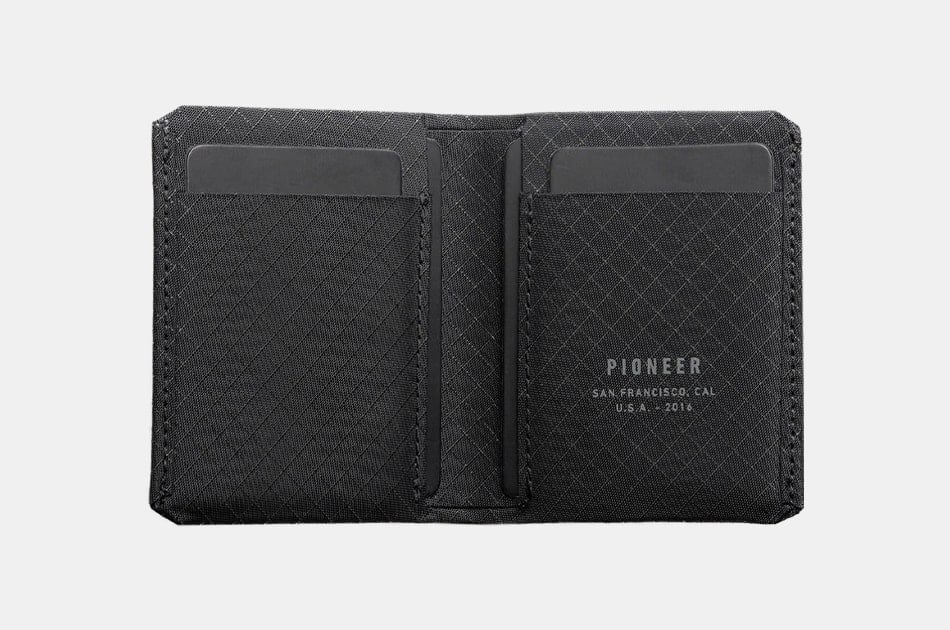 Pioneer Matter Bifold Wallet
Leather may be tough and manly, but it's not the only option in durable men's wallets. Case in point, Pioneer's Matter Bifold in softshell, 10XD polyethylene, or 3PN (3-ply nylon) materials, offering not only lasting appeal, but water repellant, moisture wicking, and dirt resistant properties. Even better, these wallets are machine washable, ensuring they always look fresh and new. Two card slips and two inward facing slots hold 4-12 cards and folded bills in a package that's purportedly stronger and definitely slimmer than leather counterparts.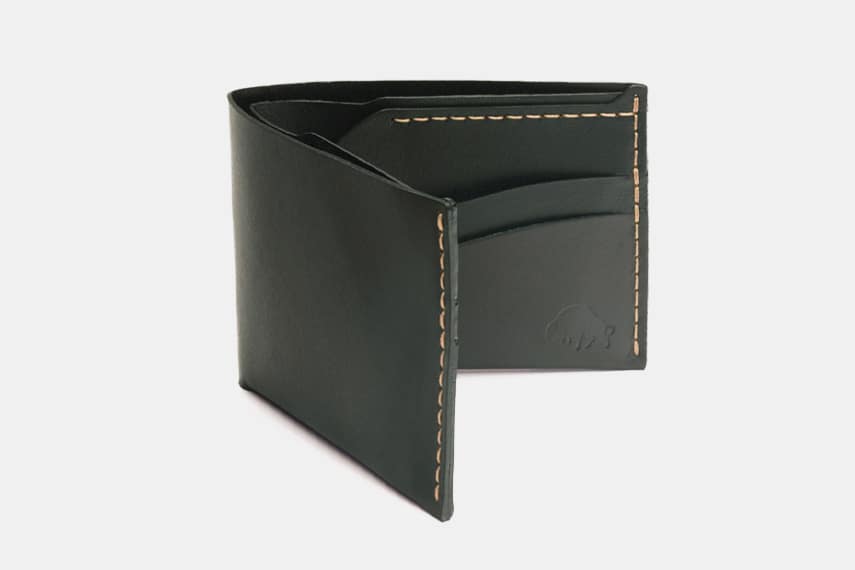 Ezra Arthur No. 6 Wallet
It looks like a normal wallet, but the devil is in the details with this attractive bifold, featuring 100% leather with no linings, rubber, or glue, handcrafted in the USA and tanned by Horween in Chicago. Then there's the interlocking pocket design, whereby the outer leather sheath folds up to create card pockets inside, saving space and making for a slim design. You'll enjoy two slots per fold, two hidden pockets, and a bill slip, for thin but roomy EDC.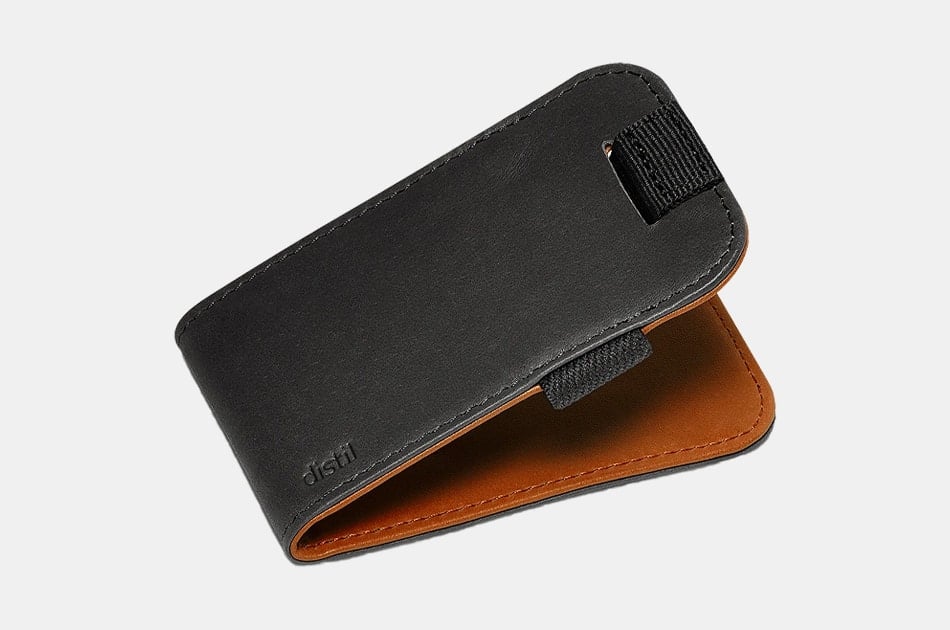 Distil Union Wally Micro Wallet
Most dudes don't like micro stuff, but this is one instance where you'll want to make an exception. This slender, streamlined, leather sleeve in black or gray outer with a variety of options for interior colors is sure to best your average bifold in terms or sheer slimness. Slide up to 10 cards inside and secure the stretch band around the outside for security. Slip a few bills under the band and when you need to grab a card, use the pull cord to pop them up so you can peruse without spilling the whole kit and caboodle.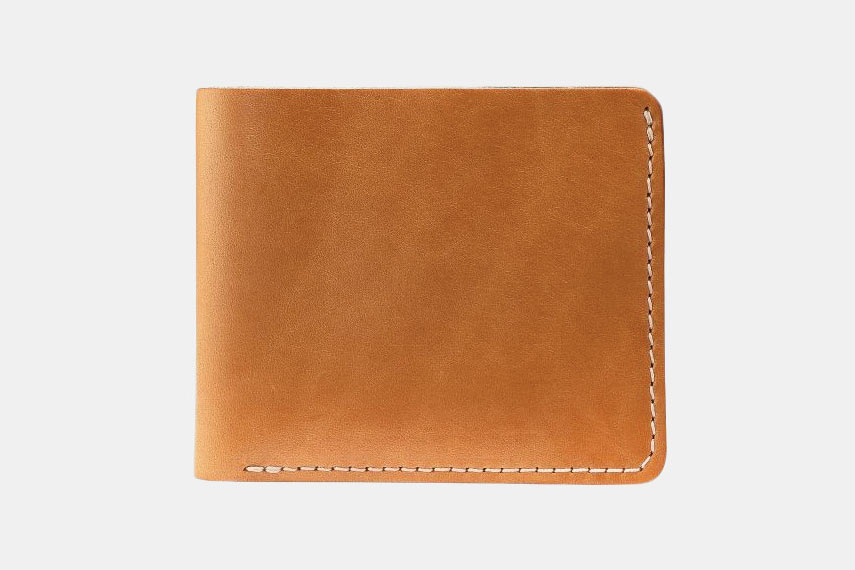 Red Wing Heritage Classic Bifold Wallet
Shoes and wallets are both made from leather, so it's no surprise that this supplier of premium footwear would branch out into leather accessories. Slim enough to fit in Flat Stanley's pocket, this minimal wallet features just three card slots per fold and a cash slip in back big enough to hold international currency. Card slots feature low-cut fronts for easier access to cards. As one reviewer states, "If you need a wallet with more room, you're carrying too much crap."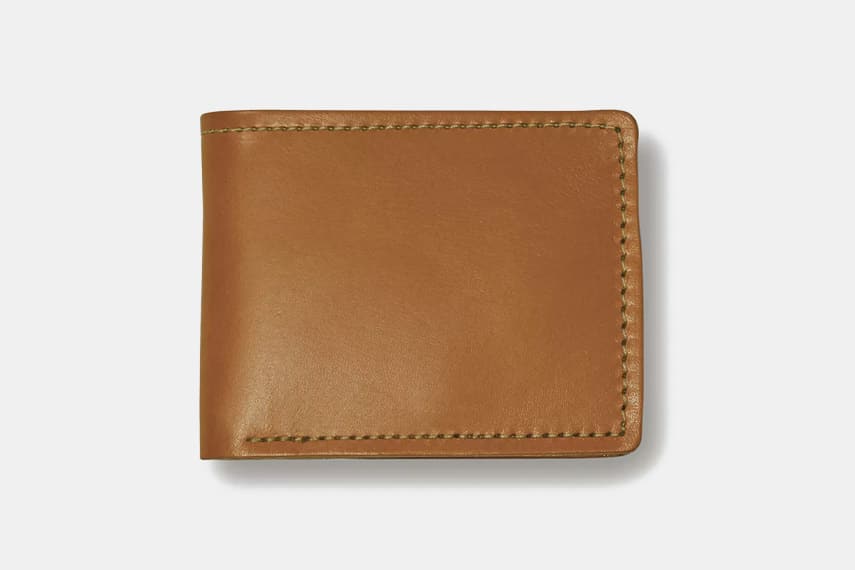 Filson Bi-Fold Wallet
This little beauty is everything you'd expect from Filson, starting with bridle leather sourced and crafted in the good ole' US of A. Open it up to reveal six card slots (three on each fold) with a large cash slot nestled behind, open at the top for easy stash and grab functionality. Heavy-duty bonded nylon thread makes for construction that's meant to last and the veg-tanned leather will pick up the patina of your body oils over time to become a one-of-a-kind bifold wallet.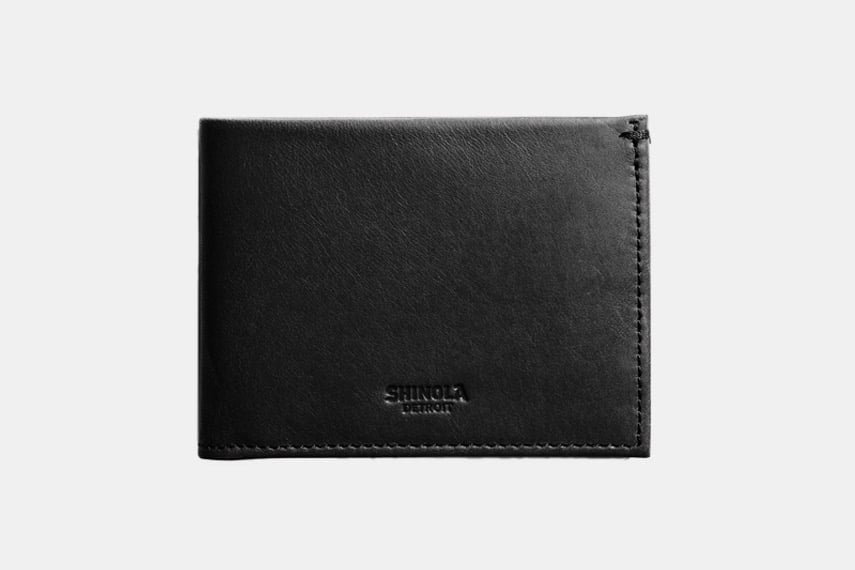 Shinola Slim Leather Bifold Wallet
Slick and sophisticated, the simple bifold wallet features lustrous, buttery leather that begs to be touched, and that's just the appeal at first glance. The inside delivers pared-down features that nonetheless offer everything you need, including six faille-lined pockets in front (three per fold) to keep cards from sliding out, two more slots behind each row of card pockets, and a cash slip in the rear to round out the interior. Touch it, love it, and make it your own.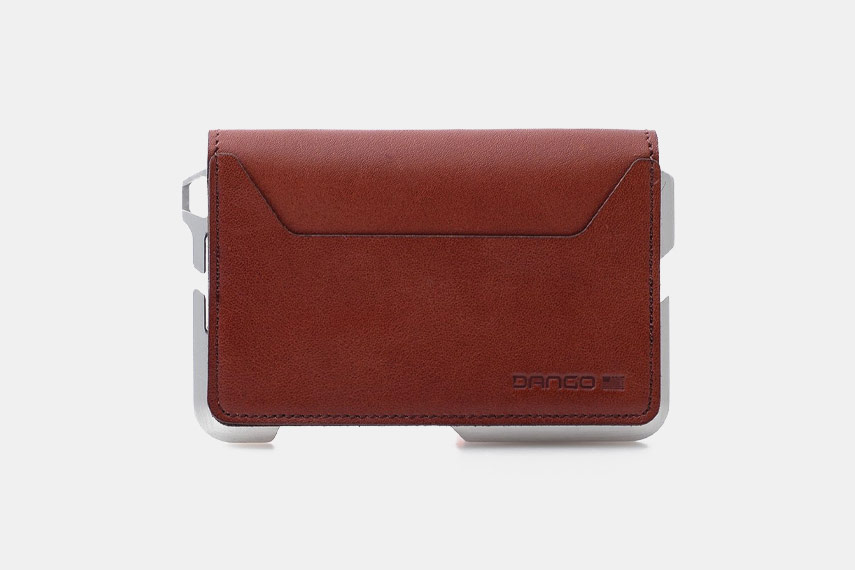 Dango D01 Dapper Bifold Wallet
Dango is known for utility wallets, but this one is, well, more dapper. You'll still get the aerospace-grade aluminum frame you expect, but surrounded by a bifold in genuine top grain leather, secured to the chassis with mil-spec bolts. Three pockets hold up to four cards each and deliver RFID blocking tech. There's also a built-in bottle opener, natch. Choose from classy shades like whiskey brown, moss green, jet black, and rawhide, tailor made for the Dapper Dan in all of us.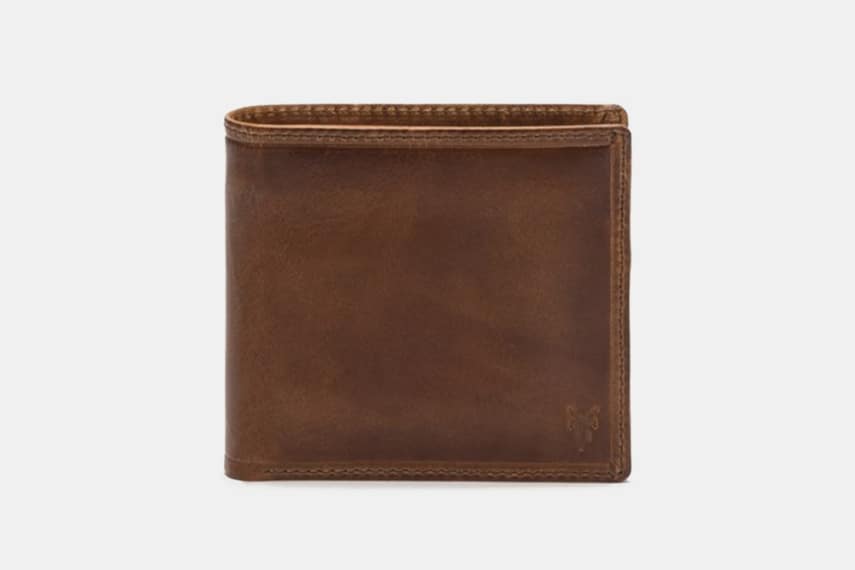 Frye Logan Billfold
This handsome wallet comes in cognac, slate, or dark brown leather, so you know right from the get-go it's got some hipster cred. No stodgy black leather here. Then there's the streamlined, but well-appointed interior, complete with three card slots per fold, including a low-cut front slot for easy grab of your ID or favorite plastic. Two hidden pockets add extra storage, and the back bill slip features two compartments to separate small bills from hundos, if you roll like a baller.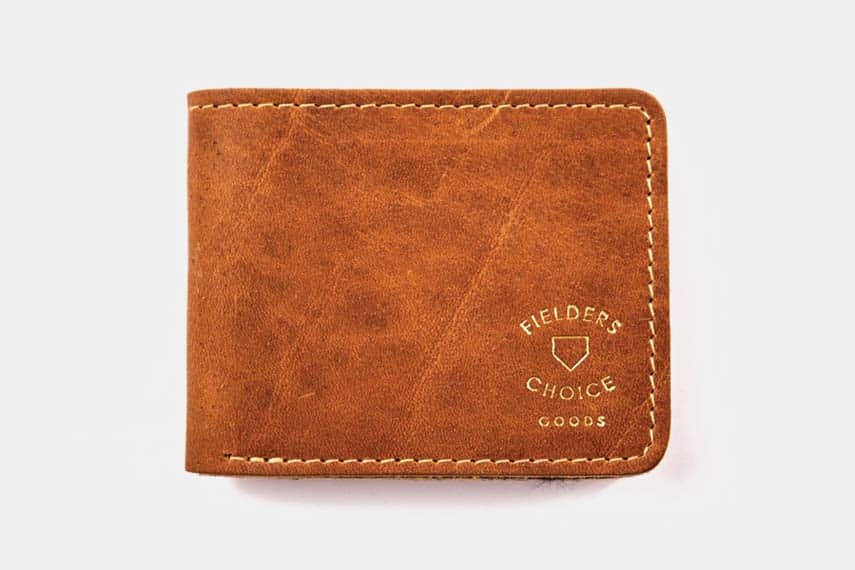 Fielder's Choice Classics Billfold Wallet
Looking for something a bit off the beaten path? This distressed wallet in full grain US steerhide leather is just the ticket, thanks to pre-wear patina that makes it look like it's been your favorite for years. There's not a lot of cargo space, with just a cash slip and two card pockets. What adds to the appeal is that the front card pockets are fashioned with leather from genuine, vintage baseball gloves. For the simple man seeking something special.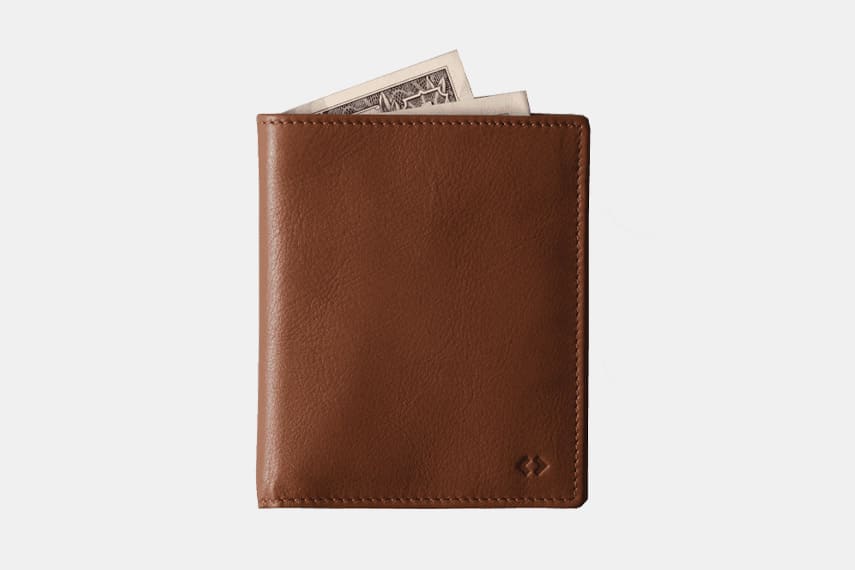 Harber London Leather Bifold Wallet
When you get your mitts on this super slim bifold wallet in full grain, vegetable-tanned cowhide from Spain, you're going to wonder how you'll stuff all your cards, cash, and other daily detritus inside. After all, it claims to hold 18+cards and international currency, not to mention coins – and it features RFID protection. It's like magic, courtesy of two horizontal and two vertical card slots up front, the hidden pockets behind them (one with a pull tab), the bill slip, two card slots hiding in the bill slip, and the built-in coin compartment.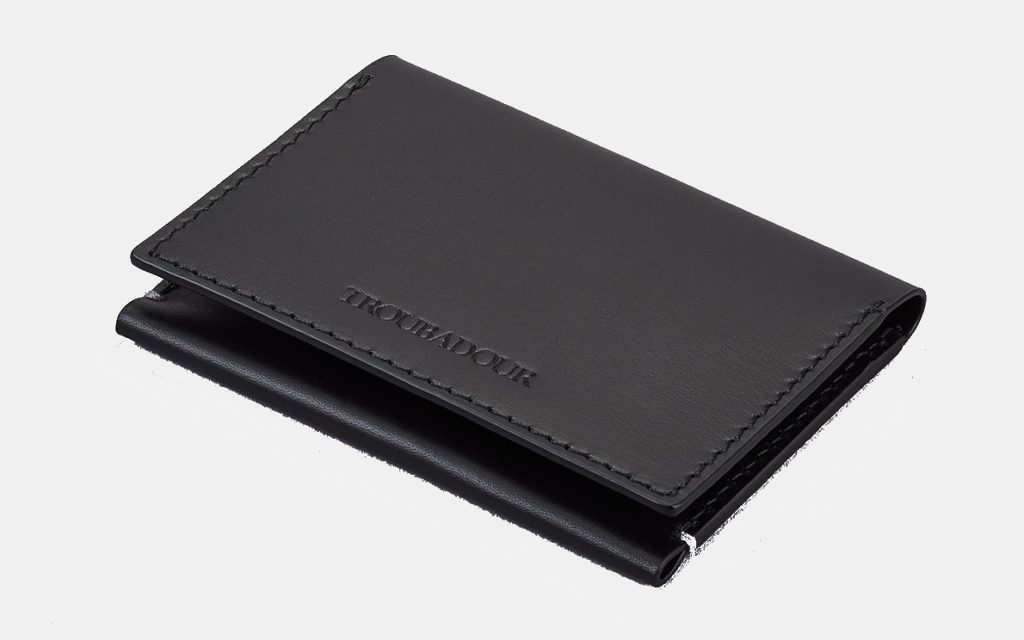 Troubadour Flip Card Wallet
This slender wallet is slim, but perfectly well formed. Made from vegetable-tanned Italian leather, it is available in five neutral shades, plus a surprising and attractive blue hue. Three interior pockets for cards and cash (one pocket on one flap and two nested pockets on the other flap) will suit minimalists, while a discreet external pocket is the perfect place to stash your ID, a card, or cash for easy access. Each slot features a cutaway, making it easy to slide cards out a cinch.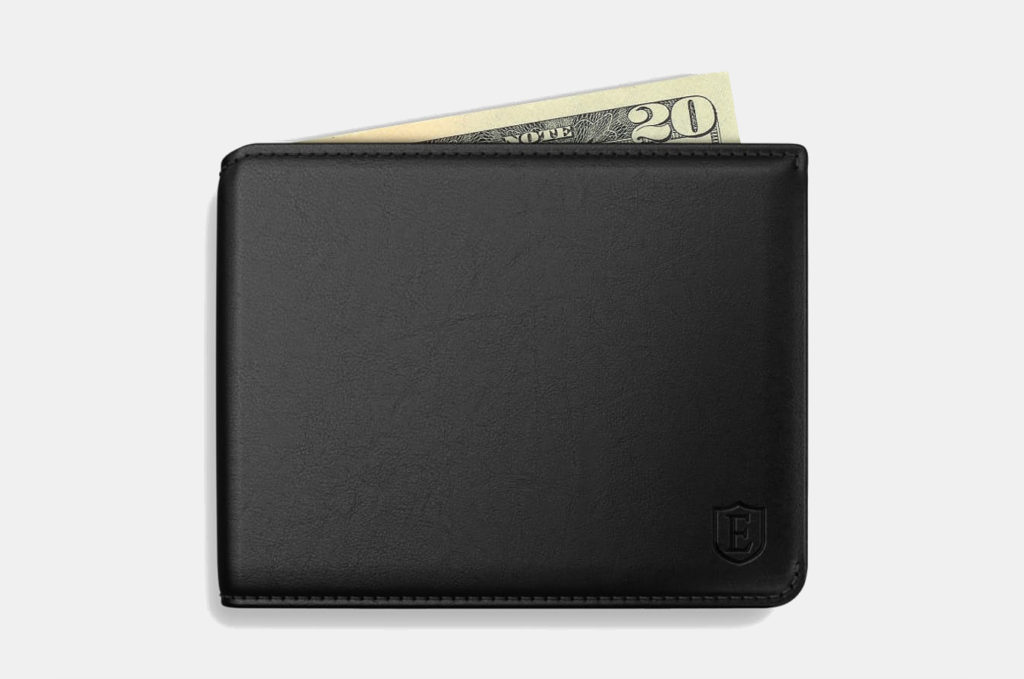 Ekster Secretary Modular Bifold
Innovation isn't something that normally comes to mind with a simple, bifold wallet, but Ekster has managed to add incredible function and versatility to traditional design. The addition of a removable, magnetic cardholder for your most frequently used cards is incredibly helpful, making it easy to slip the slim cardholder into your pocket. With a billfold slip in back, an attached pocket on one fold, and the removable holder, this model is able to fit nine or more cards. The addition of a Bluetooth tracker lets you find your wallet with a smartphone if you misplace it, too.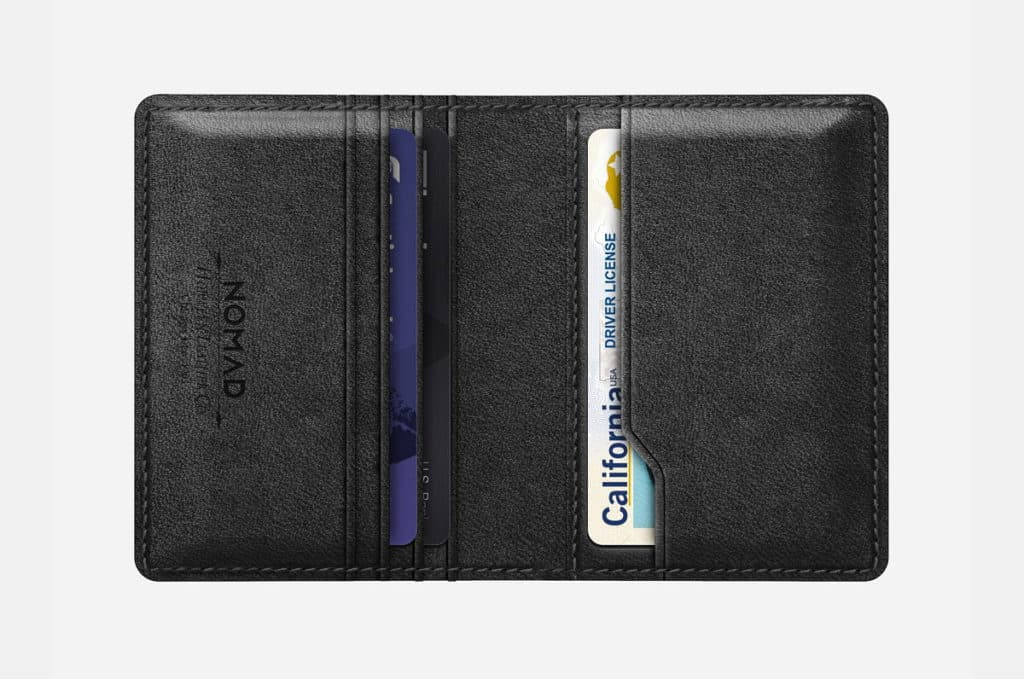 Nomad Slim Wallet with Tile Tracker
Losing your wallet is right up there with losing your keys in the hierarchy of frustration. Designed to be "the only wallet you'll ever need," this slim wallet is American-made from vegetable-tanned Horween leather. It's not only sleek and attractive, but it also features a hidden sleeve to secure a Tile tracker that allows you to locate your wallet using your smartphone. With four card pockets (three on one fold and one on the other) and two cash pockets, this easy-to-find wallet can hold up to seven cards and plenty of bills.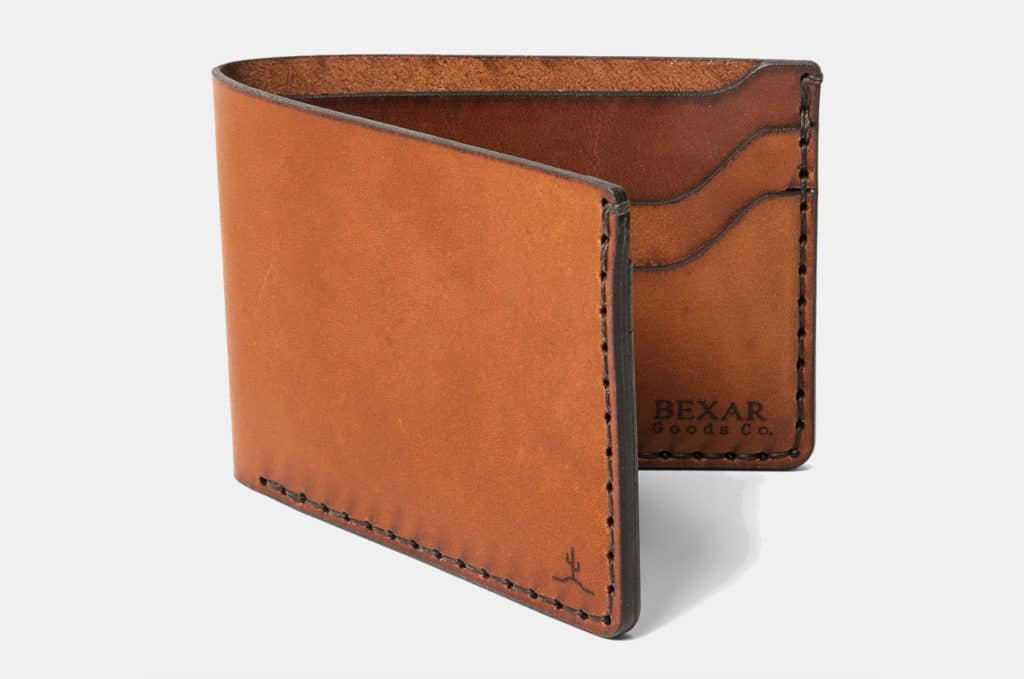 Bexar Goods No. 07 Bifold Wallet
Rugged beauty is on full display in this minimalist bifold. With USA-sourced, premium veg-tanned harness leather, saddle stitched by hand with durable poly cord thread, you'll love the style and durability of this wallet. Its modern cut features a cash slip in back, paired with four card slots (two on each fold) with cutaway edges for ease of access. Using less leather than the brand's Classic 4 wallet style, this slim-line model with rounded corners is easier to slide in and out of pockets.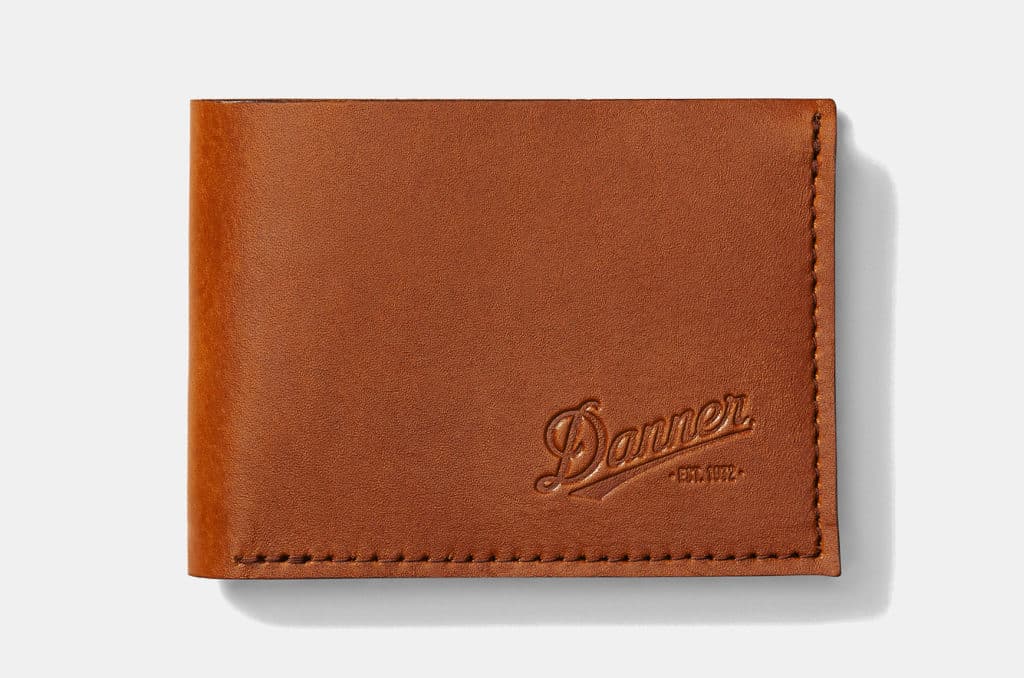 Danner Latigo Bi-Fold Wallet
If your ideal wallet is a simple affair with a bit of flair, you're going to like this sharp style. Crafted from premium Horween leather, it's sleek outer is embossed with the Danner logo and punctuated by stitching on lower and outer side edges. Inside, a surprise awaits, thanks to four horizontally-oriented card pockets (two on each fold) with arcs trimmed into the edges for easy access to cards. A back cash slip rounds out this minimalist wallet, which is made in the USA.
Disclosure: Clicking on these links and making a purchase may earn us a small referral fee, at no extra cost to you. Learn more here.
freestar.config.enabled_slots.push({ placementName: "gearmoose_leaderboard_btf", slotId: "gearmoose_leaderboard_btf" });