10 Best Slim Bifold Wallets
Slimming down your wallet doesn't mean abandoning every feature and detail that makes it recognizable. While we're big fans of new materials and inventive design, there's something to be said for the traditional leather bifold. And that something is, "Why ditch a good thing?" But as humans, we know nothing if not this: a good thing can always be made better. Better is exactly what's evident in these ten bifold wallets.
We rounded up the best wallets that take the classic and classy vision of the bifold, but make it slimmer. Remove the excess, keep the essential. Each one of these will slide silently into slim tailored pants, or even a shirt or jacket pocket, without making itself known, and without weighing you down. We found wallets featuring top-grain leather, plus a few that sport leather alternatives. Some wallets let you get at your cards with pull tabs and quick-access slots. And whether you choose to keep your money flat or like to give it a fold, there's a wallet on our list to suit.
Yes, these are bifolds, but they aren't your grandfather's bifold wallet. (If you're in possession of grandad's wallet, that's impressive. Stop shopping and just use that.) These modern, slim, updated bifolds are all good enough to become part of your EDC — a very good looking part.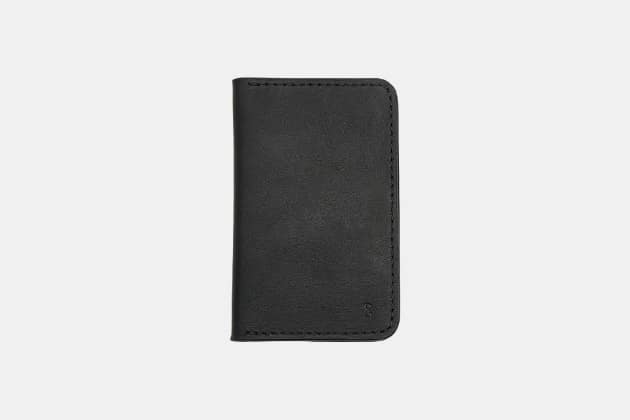 Holden Card Wallet
This full-grain leather, slimmed-down bifold wallet comes from Everyman, makers of packs, pens, and wallets that share the express purpose of making your everyday grind better. Weighing less than two ounces, the Holden Card Wallet has six pockets, intelligently positioned to help you organize — two vertical pockets on one side for quick access and three horizontal card slots on the other, with an additional pocket behind the cards. Slim and minimal, the Holden fits easily in your front pocket, or go for barely-there classic back pocket carry. – Shop Now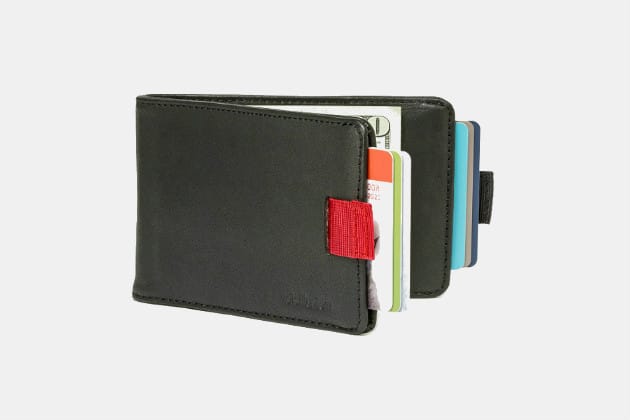 Wally Bifold Wallet
Here's a bifold with just enough updates to keep it interesting, yet every detail serves a purpose. The eye-catching red pull tab? Easy access to your cards. The sleek center clip? Holds unfolded bills securely. The rolled leather edges? Durability and an easy pocket slide. Insert six cards into each end and up to thirty bills in the clip then close your wallet and give it a shake. Nothing's coming out. We're pretty excited to now carry both the grey and black version of Distil Union's slim bifold in our own GearMoose store. – Shop Now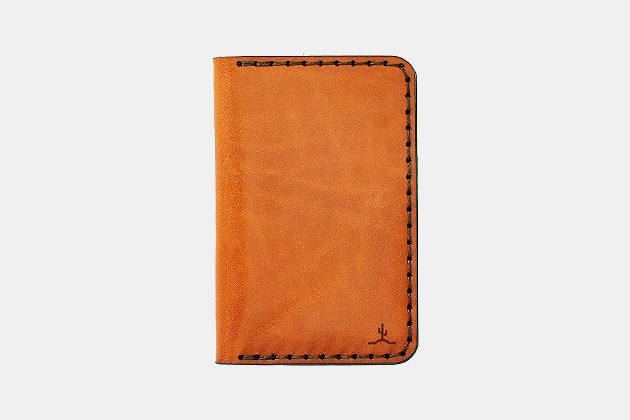 Bexar Goods Vertical Card Wallet
Bexar Goods makes some of the best leather goods on the market, and their Vertical Card Wallet is no exception. Its slim enough to actually be called a card wallet, while still offering the payload capacity of many other slim bifolds thanks to six total slots for cards, cash, receipts, and everything in between. The best part? The Vertical Card Wallet's hand-stitched, vegetable-tanned harness leather construction will only look better the more you carry it. – Shop Now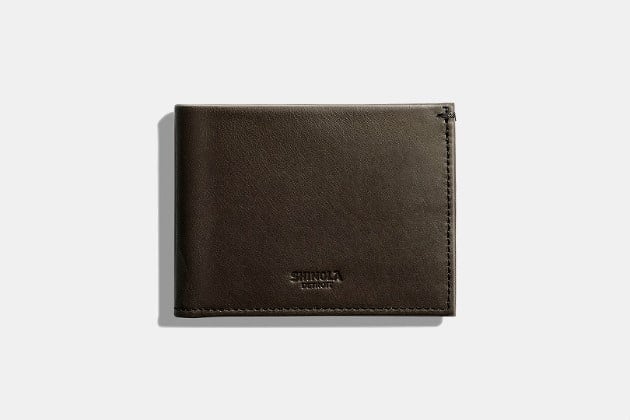 Shinola Slim Bifold Wallet
Despite being in business since 2011, Shinola has the feel of a longstanding, heritage American brand. Determined to bring manufacturing back to Detroit, Shinola hand-builds bikes, assembles watches, and crafts leather goods from American leather in a city once synonymous with industry. Their no-fuss slim bifold features a leather-lined cash pocket and six fabric-lined card slots. The premium American leather is intended to gain character over years of use and will eventually feel like a wallet you've carried all your life. – Shop Now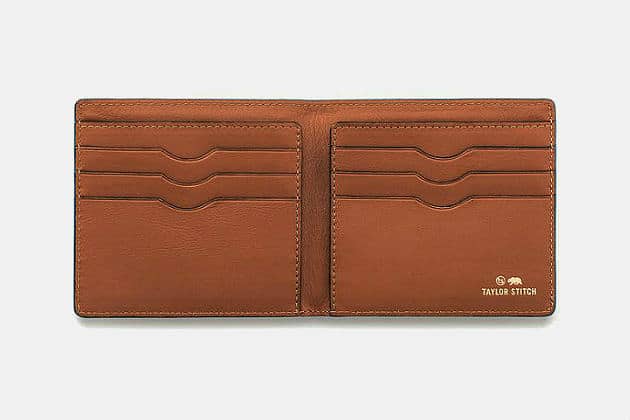 Taylor Stitch Minimalist Billfold Wallet
Committed to making clothes that fit well and function simply, Taylor Stitch is offering a wallet with the same objective. Their minimalist bifold comes in classic wallet hues of black, brown, and navy, all with tan leather interiors. Six cards fit in the lined card slots while an interior cash slot holds bills. It's a slightly taller wallet for those looking for something flat and slim, but not too small. This made-in-Spain item is a limited release so if you want it, you may want to grab it sooner rather than later. – Shop Now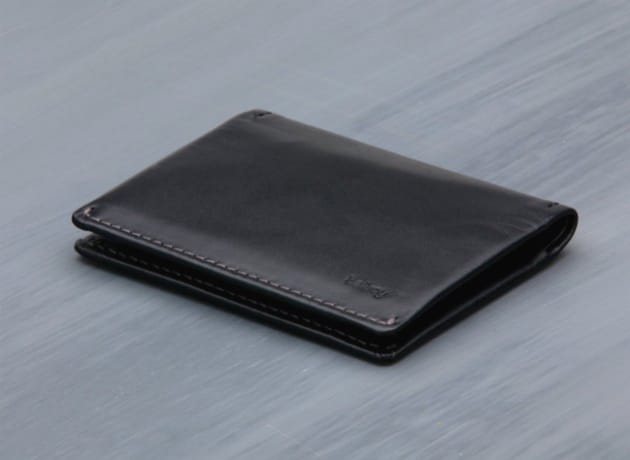 Bellroy Slim Sleeve Wallet
Admittedly, fashion changes a bit quicker than wallet styles. When a group of Australian designers decided to make wallets that answered the call of slimmer, more minimal fashion, Bellroy was born. Their Slim Sleeve Wallet is built with less leather for a thin silhouette, yet still holds up to twelve cards. Bills are folded in half before going in the currency pocket while your two most-used cards go in the fast-access slots. A pull tab gives access to your less-used cards. And while Bellroy began in response to changing fashion, these wallets were meant to last. – Shop Now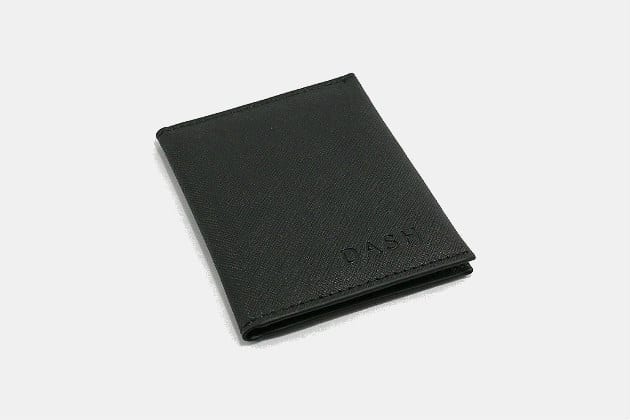 Dash Co. Ultra Slim ID Bifold Wallet
If you've ever been tempted to ask, "Why should I spend money on a wallet when this Ziploc bag works just fine?" we'd like to offer a compromise. Hitting well below the $20 mark, this ultra slim bifold from Dash Wallets is made from a black saffiano (aka textured) microfiber canvas that's durable and weatherproof. It'll hold up to four cards, or a combo of cash and cards, and there's a semi-transparent ID window. Consider it an affordable upgrade that'll impress your Dunkin' Donuts cashier far more than that baggie ever could. – Shop Now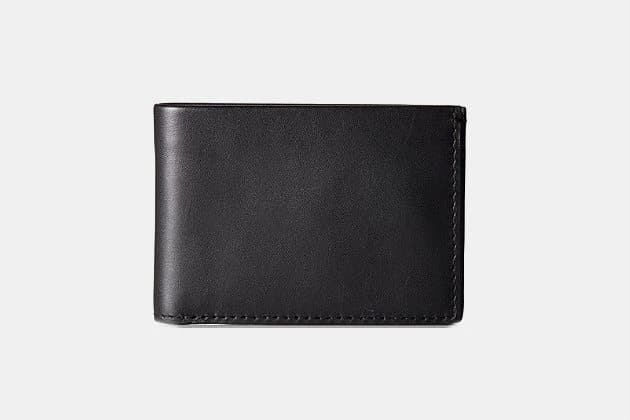 Skagen Slim Bifold Wallet
Now part of the Fossil Group of companies, Skagen products are still very much informed by Danish design. Known foremost for making less-is-more watches, Skagen also offers a line of clean-lined accessories, of which this slim bifold is part. Made from black leather and lined with twill fabric, the wallet features four card slots plus two slip pockets and a bill compartment. And the price point on this one won't clean out your wallet before said wallet even arrives. – Shop Now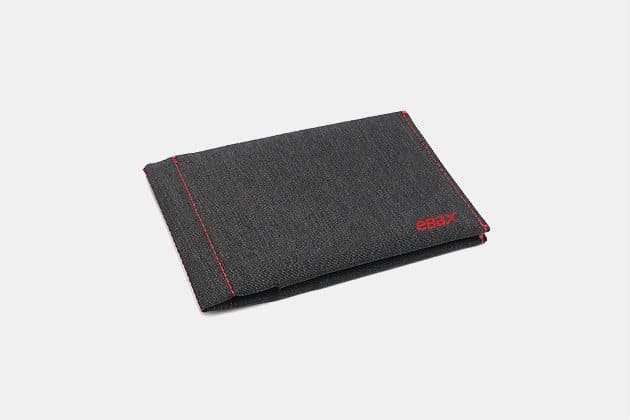 Ebax Slim Bifold Wallet
Here's another opportunity to make sure the cash inside your wallet out-values the wallet itself — this bifold from Ebax won't ask you to part with more than two ten-spots. It's made from a synthetic microfiber that's durable and water resistant yet surprisingly thin for a slim front- or back-pocket carry. It'll hold up to eight cards plus eight banknotes, and has a clear ID pocket. As an added bonus, the wallets block RFID so no one will try and skim any of that money you just saved. – Shop Now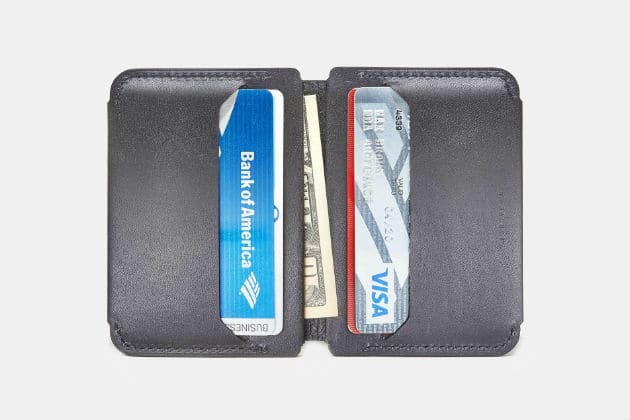 Grovemade Leather Compact Bifold Wallet
Want to read an in-depth account of how this wallet came to be? Head over to the Grovemade Journal and follow from sketched design to prototype and back again, with sewing lessons along the way. The end result is a minimalist wallet that's thirty percent smaller than a traditional bifold, with quick access to your most-used cards and room for cash. It looks a little different than a standard wallet, which is absolutely part of the appeal. Each is made by hand in Oregon by a company not afraid to take the long road to perfection. – Shop Now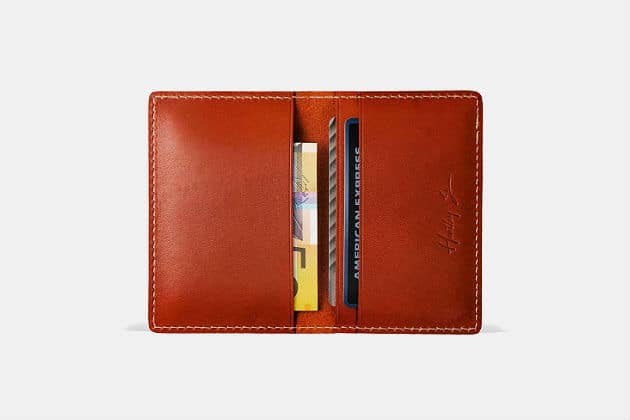 Hentley Slim Leather Bifold Wallet
You're a guy who doesn't need much — a few cards, a bit of cash — but you don't compromise on style. Here's the wallet you want. This simple whisky leather bifold features three internal compartments, two on one side for cards, one for cash on the other. Together they can hold up to fifteen cards and cash while still keeping an extra slim profile. It's made by Hentley — an independent leather goods studio in Australia — using vegetable tanned leather that's only meant to get better with age. – Shop Now
Disclosure: Clicking on these links and making a purchase may earn us a small referral fee, at no extra cost to you. Learn more here.
freestar.config.enabled_slots.push({ placementName: "gearmoose_leaderboard_btf", slotId: "gearmoose_leaderboard_btf" });