The 7 Best Waterproof Wallets
In the course of your commute or in the course of a weekend, sometimes water happens. The forecast says no rain and you get dumped on. Your hike along a river turns into a hike into a river. And out of nowhere, tubing sounds like a really great thing to do—right now. In the course of life, you may get wet, that means your wallet will too. Pick out one of these seven best waterproof wallets and don't give water a second thought. And while we appreciate the resourcefulness of dumping your carry in a ziplock baggie and calling it good, there are better ways to go.
Protect your stuff with a waterproof wallet that's up to getting splashed, dunked or soaked. If you want something that'll keep your goods dry and secure even when submerged, we found a waterproof case and a waterproof pouch for your consideration. If you're just looking for something that'll stand up to an unexpected storm on your commute, check out the Bellroy or the Recycled Firefighter. Or maybe you're just looking for something that won't fall to pieces when drenched. If so, read on.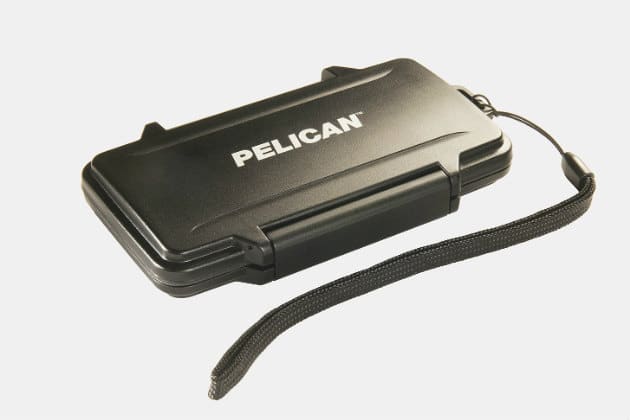 Pelican 0955 Sport Wallet
A marine ecologist lost his Pelican 1400 case in a New Zealand harbor, only to have it wash up a month later and 60 miles south, contents fully dry and intact. So when Pelican decided to try their hand at a waterproof wallet, you can bet it's going to do a fine job of protecting your cards and cash. It's made from crushproof polycarbonate with an a easy access latch and a silicone o-ring that gives it a dust and water-resistance rating of IP54. Inside, two mesh pockets hold your items, while outside the included lanyard stops your valuables from wandering too far afield. – Buy It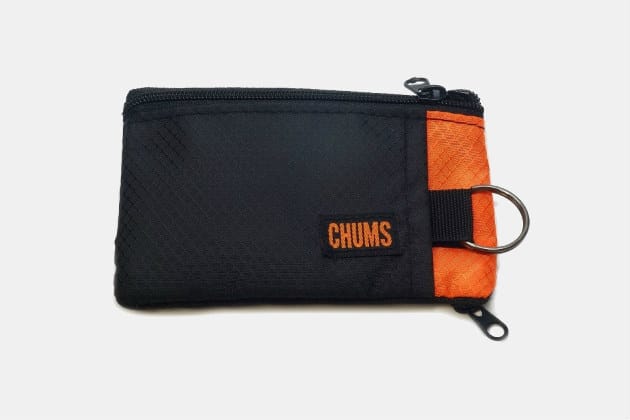 Chums Surfshort Wallet
You don't really care if your cards and cash get wet, since, word on the street is, that stuff dries just fine. But if you don't want your wallet to crumble when it encounters a body of water, then what you're looking for is this waterproof wallet by Chums. Slim, light, and made from durable ripstop nylon, you can get your wallet as wet as you want. Two zippered pockets hold cards and cash — with a window for your ID — while an additional pocket features a hiding split ring for attaching keys, or attaching your wallet to the key loop in your pack. The Chums Surfshort is hands down one of the best waterproof wallets to take with you to the beach or the pool. – Buy It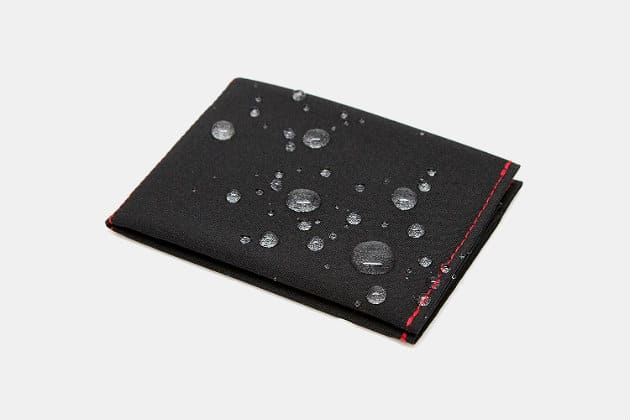 SlimFold Softshell Waterproof Wallet
Made in San Francisco, SlimFold wallets are touted as being the lightest and thinnest wallets around. The waterproof Soft Shell material is made from blending synthetic fibers at high-weave densities, offering the waterproofing you'd get from a high end ski jacket, but the extreme abrasion resistance of motorcycle crash pants. The original Soft Shell wallet holds more than twenty cards, but sets them up side-by-side to cut the bulk in half (or more), resulting in an ultra thin passport-sized wallet (that'll also hold cash and even boarding passes). Should you desire an even smaller footprint, check out the SoftShell Micro or Nano. – Buy It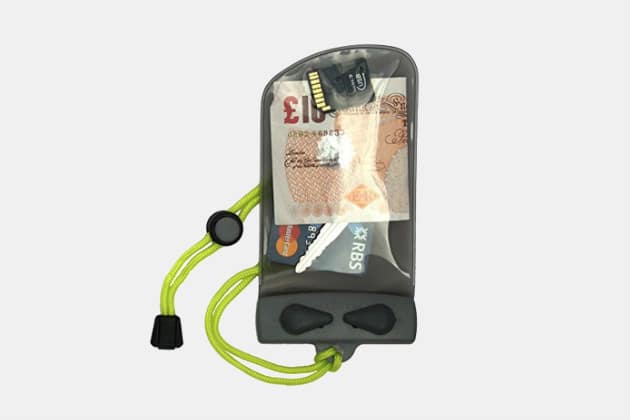 Aquapac Keymaster
When water-resistant isn't going to cut it and everything must stay dry as a bleached desert bone, talk to the Keymaster. Made by Aquapac, purveyors of drybags, waterproof backpacks and waterproof phone cases, this compact but mighty wallet bag fits your key fob, cash, credit cards, and anything small you want to protect. The injection molded plastic seal secures and opens with two levers and the wallet itself is made from UV-resistant TPU with high-frequency welded seams. Submersible up to 165 feet, the pouch is small enough to fit in your pocket or wetsuit. Or just hang on tight to the adjustable lanyard and go jump in a lake. – Buy It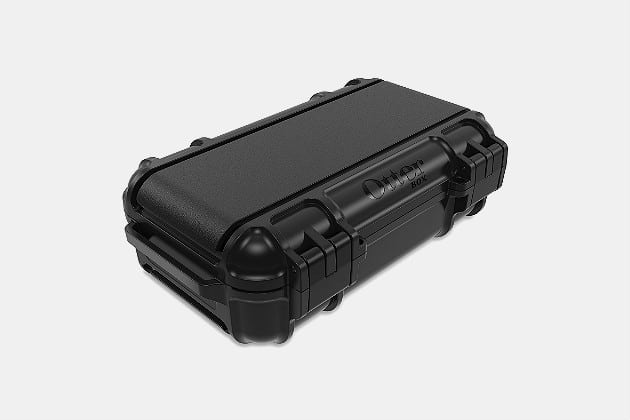 OtterBox Drybox 3250
A bit larger than the other ideas on our list, think of this one as the treasure box of small-stuff protection — a very secure treasure box. The exterior is abuse-ready waterproof polycarbonate with stainless steel hardware, while the interior is lined with valuable-cradling foam. Put your phone, keys, wallet and any other piece of your everyday carry that you want to keep dry and intact in there, then throw the latches and go where you need to go. It can be fully submerged up to 90 feet for 30 minutes, provides lock holes for extra security and a utility mount for strapping it down. The OtterBox DryBox is hands down the best waterproof wallet on this list if you're looking for something that can be completely submersed while out surfing, swimming, or hitting the lake this summer. – Buy It
Honorable Mentions
While the above waterproof wallets may be your best wallet options in terms of complete submersion in water or the occasional splash of water by the pool this summer, there are other options we feel obligated to mention. While these honorable mentions may not keep your cash, cards, and other things normally found in a wallet completely dry after a quick swim in the ocean, the wallets themselves should withstand the occasional beer spill at your local watering hole.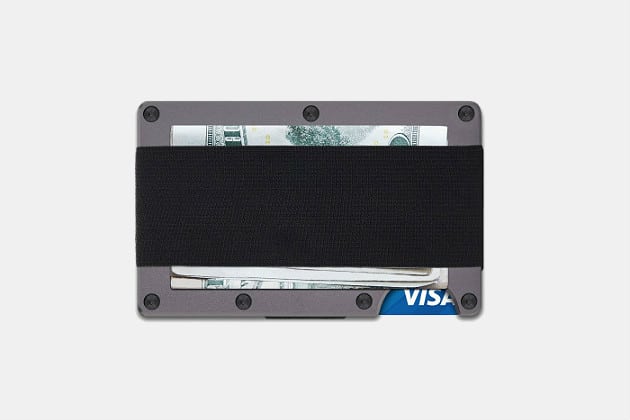 Ridge Wallet
The Ridge Wallet, too, is made from metal, which renders it technically a waterproof wallet. RFID-blacking capabilities coupled with a compact, lightweight aluminum or titanium design renders it one of our favorite waterproof wallets on the market. And should you drop it in the pool or a vat of beer, you'll have no problem retrieving it unscathed. Just don't expect the same from your cards and cash. – Buy It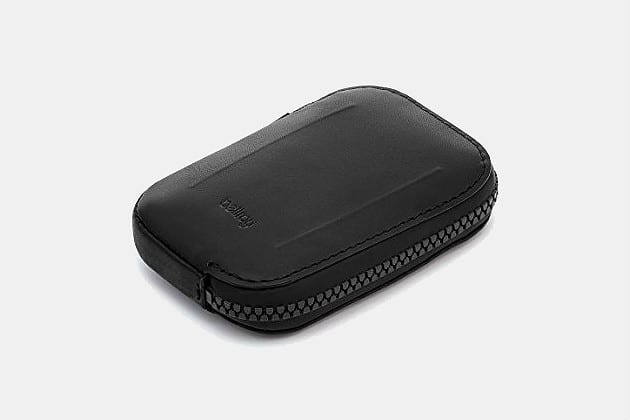 Bellroy All-Conditions Wallet
Slim with a zipper, this choice from Australian wallet maker Bellroy keeps your things organized as well as protected. It'll hold four to fifteen cards with additional slots for cash, coins, and a hidden compartment for a house key. The zipper does double duty, first making sure your stuff stays safely inside your wallet and (since it's a YKK Aqua guard zipper) it also makes sure rain, snow, and spilled coffee stays safely outside. While neither completely waterproof nor submersible, both the zipper and leather are water-resistant, making it fare well against splashes and unexpected storms. An ideal choice for an active urban existence. – Buy It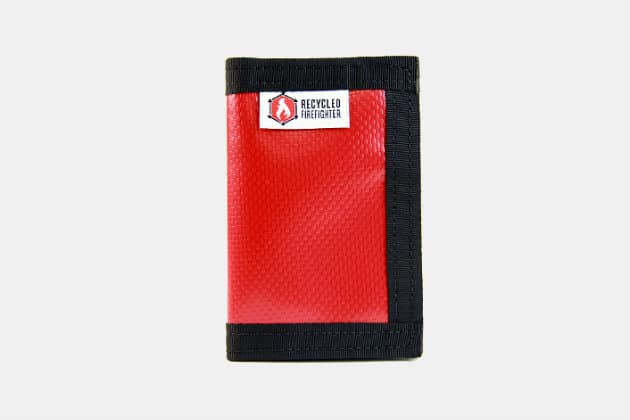 Recycled Firefighter Vinyl Rookie Wallet
If you don't want something to get wet, throw a tarp over it. That's sort of what you'll be doing when you transfer your stuff to the Vinyl Rookie. Based on the Fire Hose Rookie wallets, which Recycled Firefighter makes from decommissioned fire hose, this waterproof version of the bifold is made with waterproof 22 ounce vinyl tarp on the outside and two leather slots on the inside that'll hold up to 12 cards. For your cash, there's a milspec, extra thick elastic strap around back. Meant for front pocket carry, each super thin wallet is hand-sewn in Louisville, Kentucky. – Buy It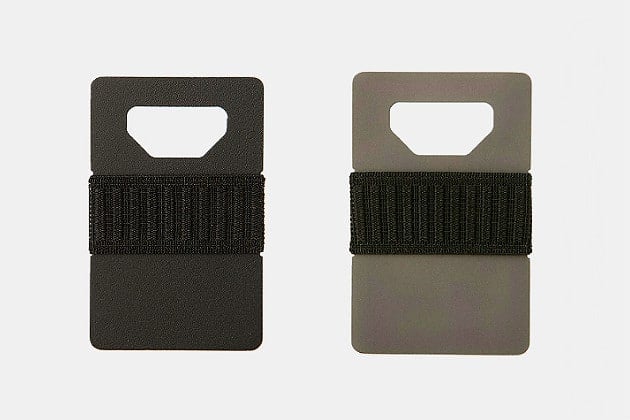 Spine Titanium Wallet
The Spine Minimalist Wallet was meant to be carried in your front pocket thanks to a lightweight, slim design that you'll likely forget about until its time to make your next purchase. And since it is crafted from grade 5 titanium, its extremely lightweight and pretty much waterproof, beer-proof, sweat-proof, and drop-proof. An elastic band secures your cards and cash while an integrated bottle opener easily will easily pop open bottles of your favorite cheap craft beer this summer on the beach. – Buy It
Disclosure: Clicking on these links and making a purchase may earn us a small referral fee, at no extra cost to you. Learn more here.
freestar.config.enabled_slots.push({ placementName: "gearmoose_leaderboard_btf", slotId: "gearmoose_leaderboard_btf" });