The 20 Best Front Pocket Wallets
Alright, empty your pockets. What's in there as part of your essential everyday carry? Perhaps a multi-tool, your keys and ideally, a wallet? A slim wallet? If not, let's change that with our latest set of style picks, the best front pocket wallets for men. Finely crafted leather goods can be a rare and exhausting find — it takes a good brand to make a great front pocket wallet. That's why we think our list of the best ones is going to come in awfully handy.
If you've been looking for an upgrade, these picks are the way to go. From brands you know and love to brands you just haven't found yet, our picks for the best front pocket wallets will have you carrying your cash and cards in fine, minimal and functional style. And the great news is, these wallets — any one of them — can go exactly where you need them to go, and with any ensemble in your closet.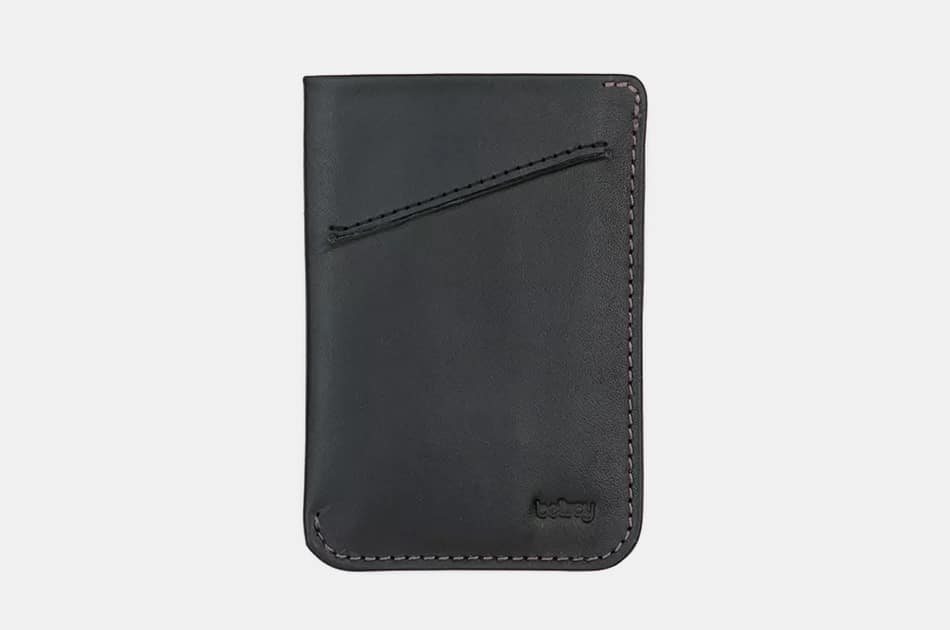 Bellroy Card Sleeve Wallet
The front pocket wallet — otherwise known as a minimal wallet — aims to reduce everyday carry bulk without sacrificing the ability to carry the essentials such as credit cards, some folding cash, etc. Every wallet on this list does this in some capacity, and every single one fits into your front pocket easily, but Bellroy's Card Sleeve Wallet is hands down our favorite.
Backed by the brand's three year warrant, the wallet's leather construction patinas over time to create a beautiful, worn-in look, and holds at least 8 — more once it stretches a bit over time — cards and some cash. Our favorite part? A pull tab feature that allows instant access to the center compartment's contents. This is everyday carry at it's finest.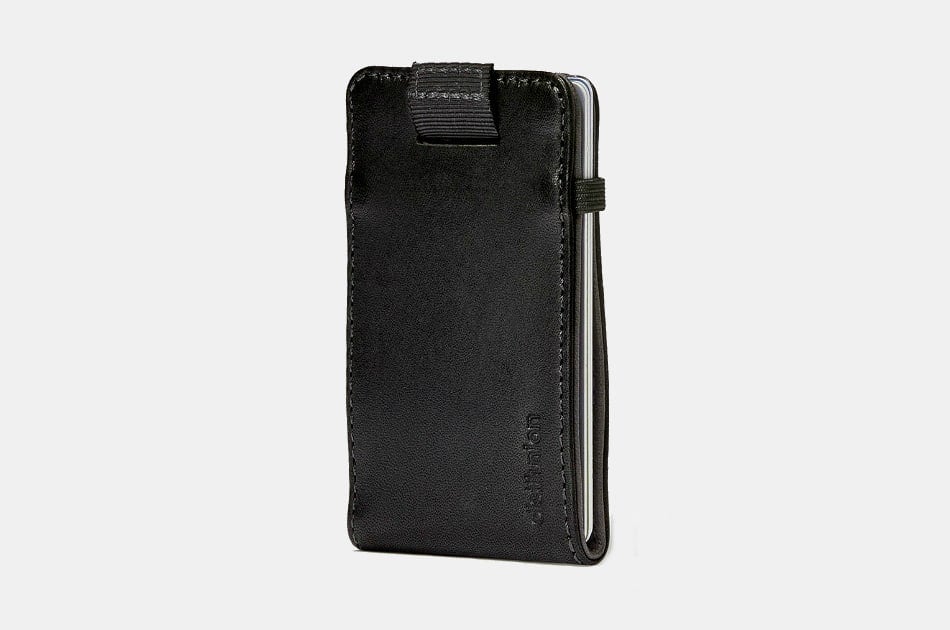 Wally Micro Wallet
As the brand says, the Wally Micro Wallet has a few tricks up its sleeve. Its unassuming design and accessible price — under $30 — make it worthy of being called the best men's front pocket wallet, and it's certainly got quite a bit going for it in terms of sharp design and sleek functionality. It can hold all the way up to 10 cards, plus folded bills — plenty of room for your essential, daily needs. And with rich full-grain leather and a 1-year warranty, you can be sure the Wally Micro Wallet lives up to its mix of affordability and quality.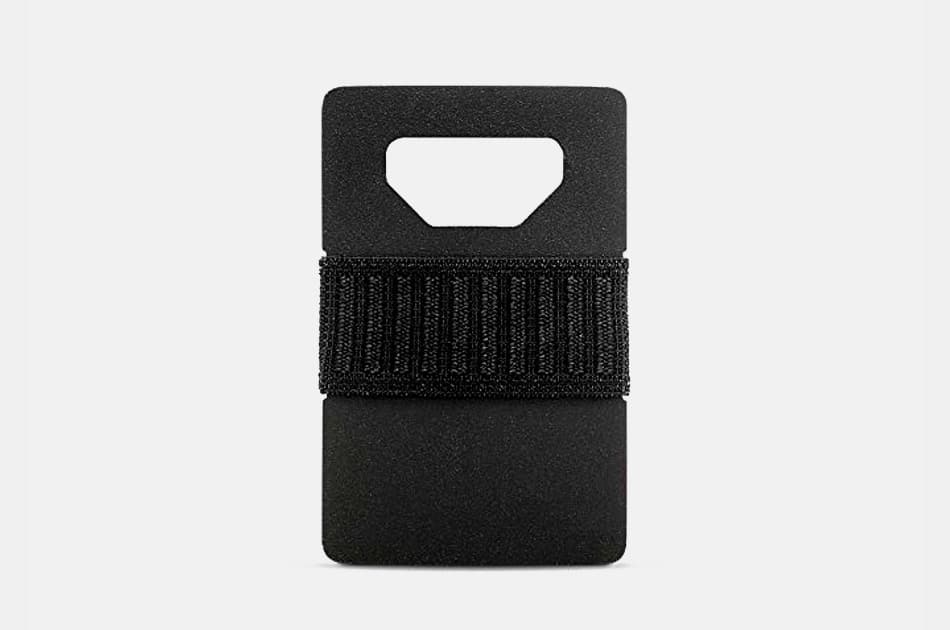 Spine Minimalist Wallet
Want a front pocket wallet that's at once sleeker and sturdier than your average wallet? Spine is here to help you out with its Spine Titanium Wallet, a piece that'll make you question why you ever bought another wallet — right? Right? It's durably crafted and ready to handle anything — that's saying a lot when it comes to a wallet, but at under $30, it can certainly pack a punch for the price. Without a logo, it's a very sharp, sleek addition to your everyday carry — not bad at all.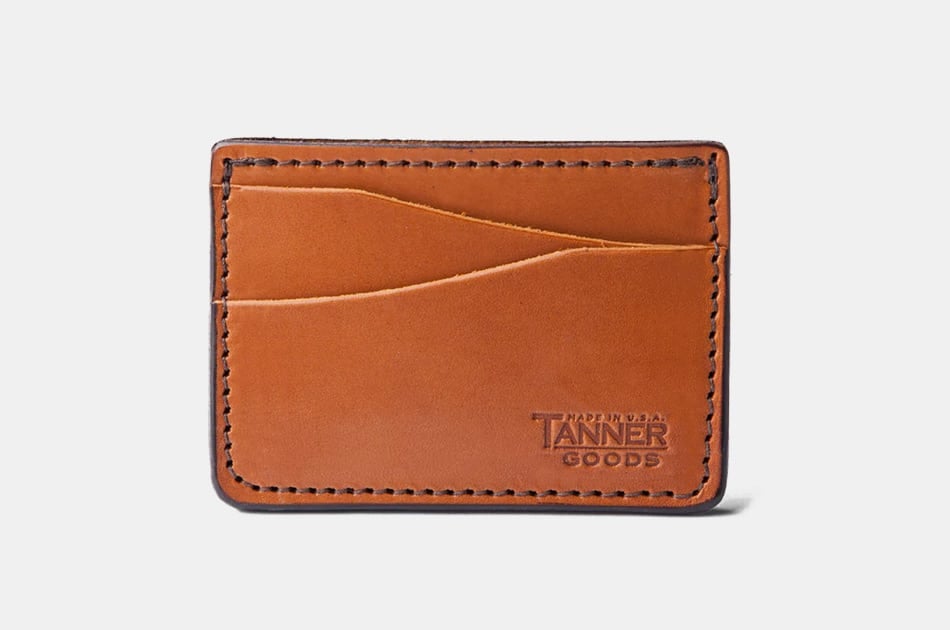 Tanner Goods Journeyman Wallet
The best front pocket wallets are very often a unique and oft-underrated addition to your everyday carry. After all, the adage would seem to be that your wallet sits firmly in your back pocket … but that's not the case with the Tanner Goods Journeyman Wallet, a durable and dependable wallet made with all the craftsmanship you'd expect from this Pacific Northwest brand. We love the rich Saddle Tan leather, crafted to break in over time. Slip this wallet into the front pocket of your selvedge denim with no problem at all.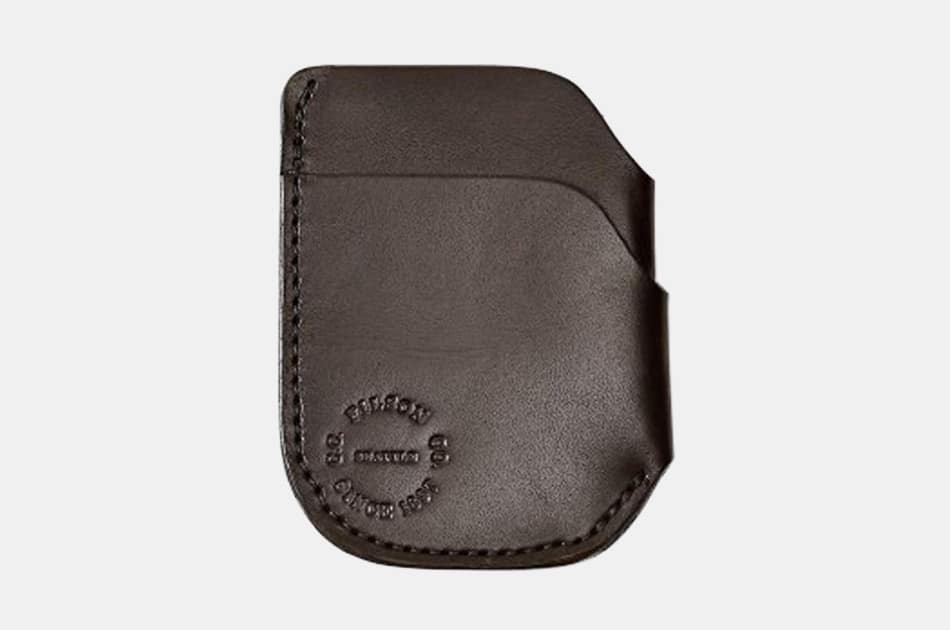 Filson Front Pocket Cash & Card Wallet
If you're well-acquainted with the rugged, timeless and classic gear that Filson makes for world travelers, outdoorsmen and stylish city dwellers alike, you'd do well to add the Filson Front Pocket Cash & Card Case to your everyday carry haul — as quickly as possible, as it were. As the brand says, it's developed, cut and sewn out of vegetable-tanned bridle leather at the brand's Seattle headquarters — the perfect amount of attention to detail. It's an investment at $75, but all the more worth it because of that. Use it every day, as much as you can.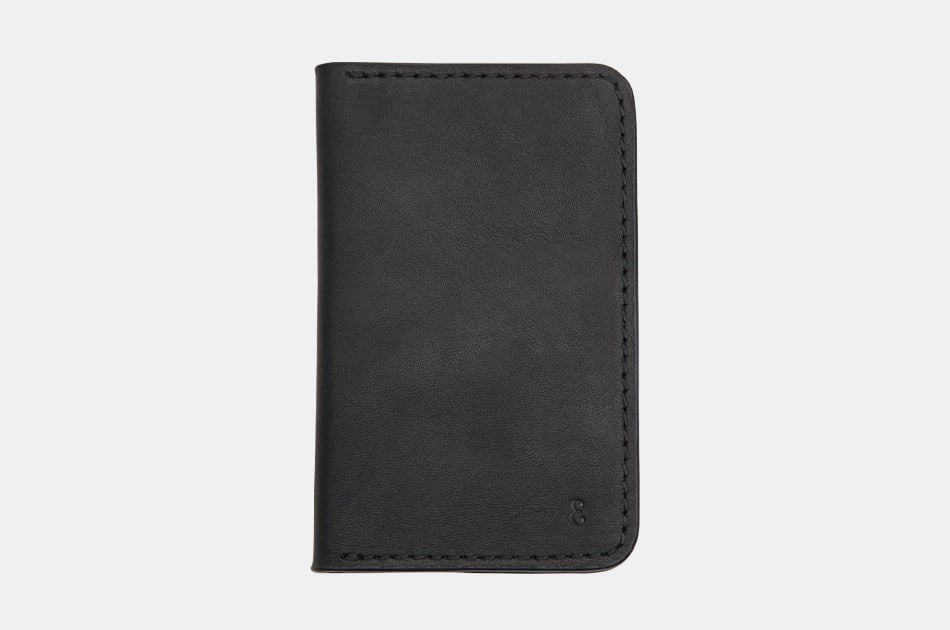 Holden Card Wallet
The perfect blend of a traditional bifold wallet and a front pocket wallet, the Holden Wallet offers more functionality than a typical card wallet while maintaining a slimmed-down, pocket-friendly silhouette that won't weigh you down. It features a 6 pocket design for stowing a fair share of cards and cash and a full grain leather construction that will develop a handsome patina over time. And at only 1.8 ounces, you'll likely forget you're carrying it in your front pocket until you need to make a purchase.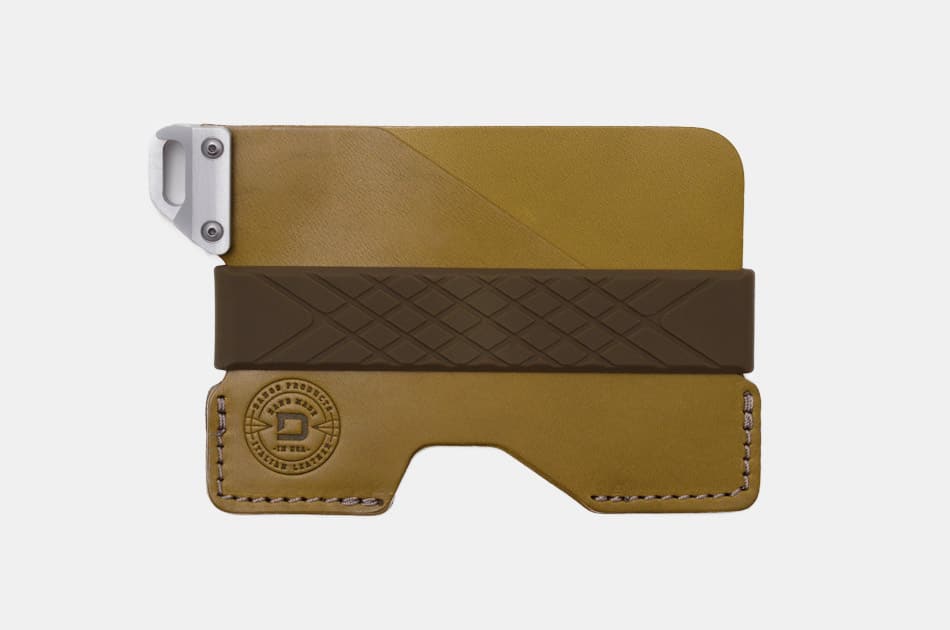 Dango C01 Civilian Wallet
Dango focuses on making tactically minded gear for both the urban adventurer and the explorer out in the field, and these qualities meet quite nicely when it comes to the Dango C01 Civilian Wallet, featuring a handy aluminum tab to secure this wallet to your belt if need be. We think this sleek, moss green wallet works well in your front pocket though, as it was designed. And the use of Italian leather is just icing on the cake in our book.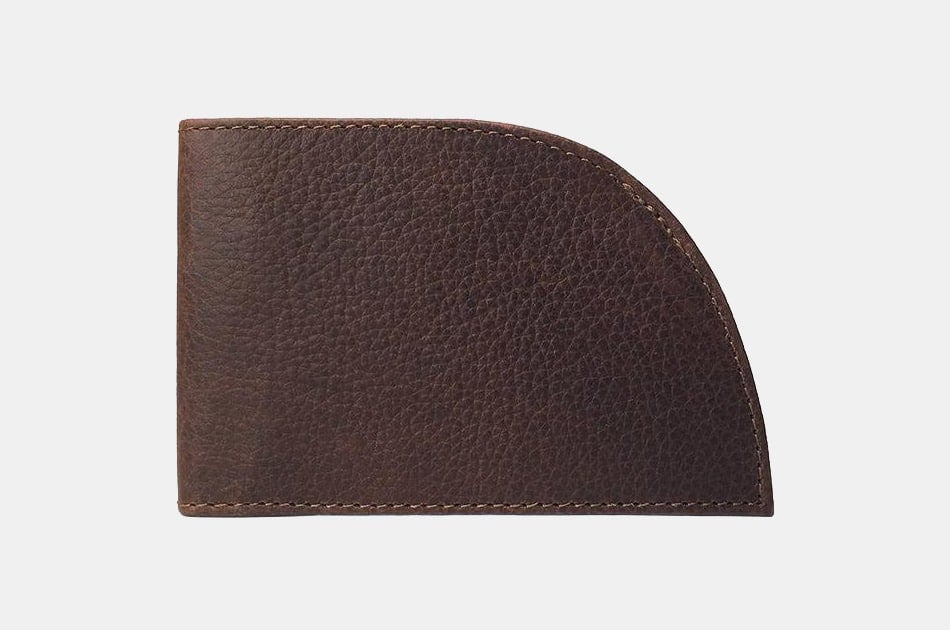 Rogue Front Pocket Wallet
Rogue consistently makes the type of gear that you'd be proud to leave the house with — and you should certainly be proud to leave the house carrying a stylish, slim and functional wallet every single day. The Rogue Front Pocket Wallet fits our definition of the ideal wallet perfectly, featuring a minimal design, top-grain leather, the space for six credit cards and a tremendous price. At just $40, that means you'll have more coin to carry in this wallet, no matter where your commute or daily routine takes you.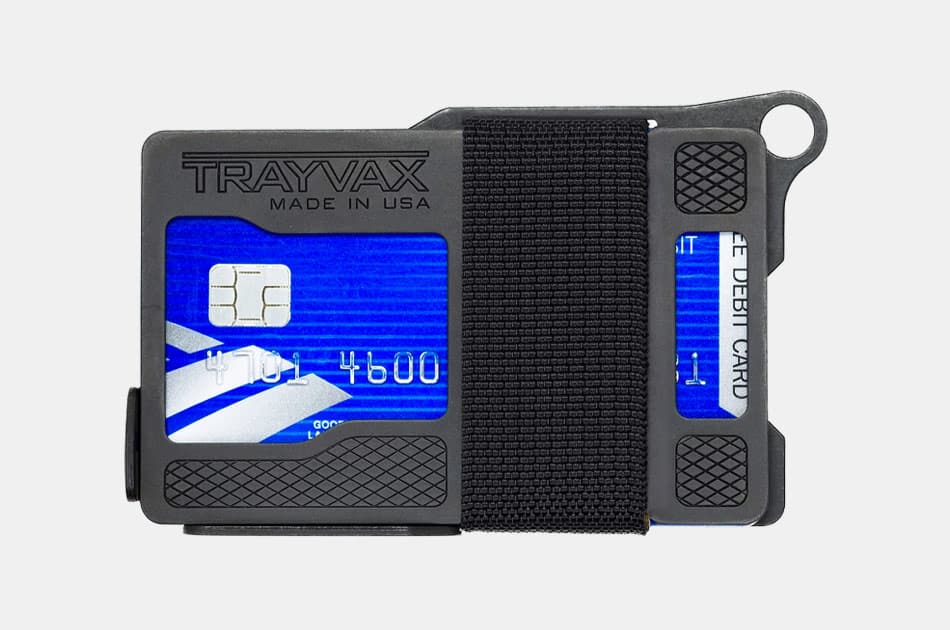 Trayvax Armored Summit Wallet
The best front pocket wallets often have a little something extra going for them. Or in the case of the Trayvax Armored Summit Wallet, A LOT extra going for them. This tough, dependable wallet is assuredly one of the best front pocket wallets for men, thanks to the tough construction, the RFID-blocking technology, the use of a heat-resistant steel plate, and the simply unbeatable and sleek size. It can fit up to seven cards, plus a handful of bills, making it an essential way to upgrade your wallet in sharp style.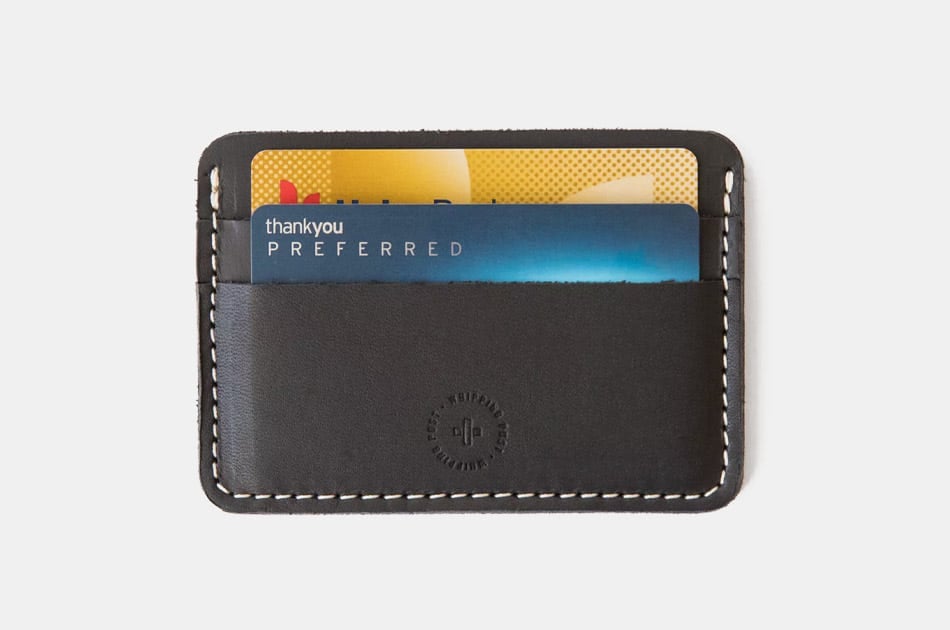 WP Standard Small Card Wallet
The next time you need a tough leather wallet — or a tough messenger bag, or an essential chambray shirt, for that matter — turn toward WP Standard. What they've done with the WP Standard Small Card Wallet is craft one of the best front pocket wallets, available in two shades of rich leather and offering up space for your credit cards and some cash. That's all you need, in our book.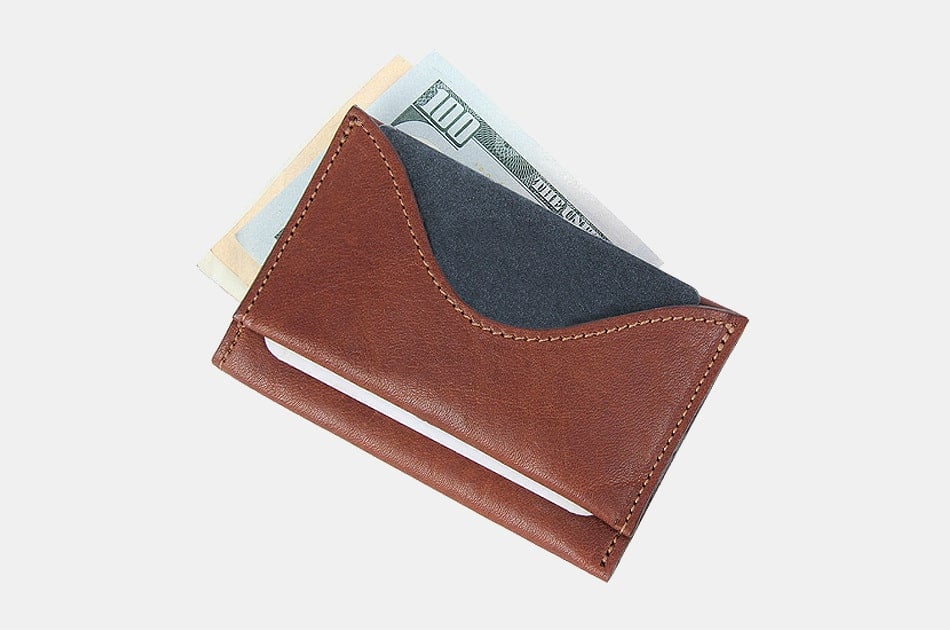 Colonel Littleton No. 33 Front Pocket Wallet
Orvis is a brand that knows plenty — literally, plenty — about stocking the best outdoor gear for men, and that includes potentially overlooked everyday carry essentials like the Colonel Littleton No. 33 Front Pocket Wallet. It's a ridiculously tough and well-made leather wallet, and one of the best front pocket wallets you can buy, at that. It'll prove an easy companion to Orvis field pants, seeing as it'll sit no problem in your front pocket — there's no misplacing this handsome leather wallet, to be sure.
Andar The Duke Card Wallet
There are some products that make so much sense on paper, it's tough not to admire how functionally minded and ingenious they happen to be — like the Andar Duke Card Wallet. It packs in a cash compartment with the ability to carry cash in a cash strap, and we haven't even mentioned the use of full-grain crazy horse vintage leather. Talk about an all-in-one combination that's worthy of praise as one of the best front pocket wallets, right?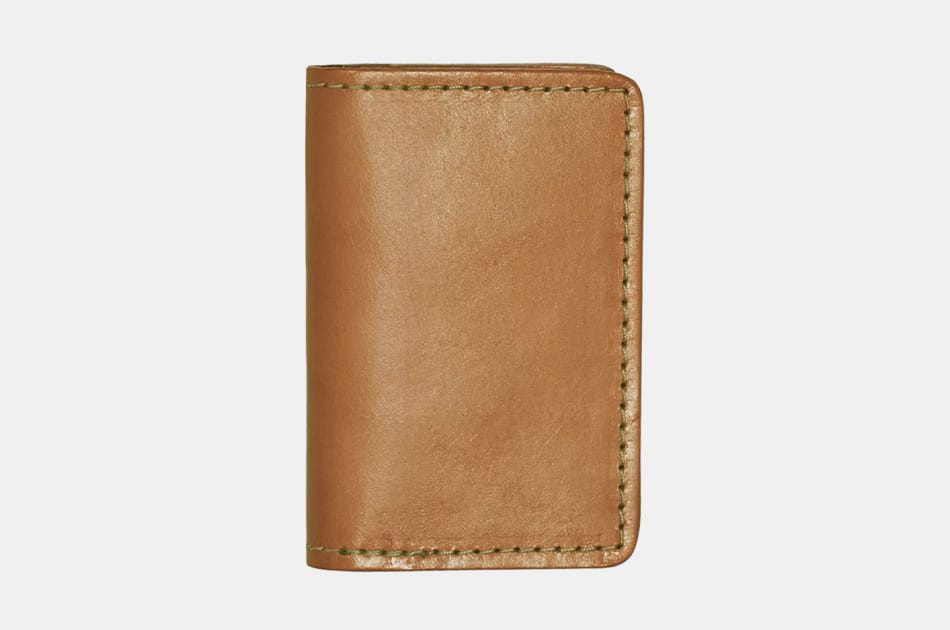 Filson Card Case
OK, so you've got your tough waxed Filson bag and your durable Filson coat … might as well reach for a durable Filson front pocket wallet, right? It's a welcome product from a brand that puts plenty of care and attention to detail into its gear, and it's every bit as essential and well-made as other, larger-sized offerings from this iconic Pacific Northwest brand. Made with rich vegetable-tanned leather, it's only going to get better the more you use it.
Wally Bifold Wallet
The Wally Billfold Wallet is here to take up another spot in your rotation this season — or the only spot, as it were. The Wally Billfold Wallet absolutely belongs on any list of the best men's front pocket wallets — it's durable, well-made, finely priced and ready to carry everything from cash to cards. The brand has cut back excess materials and the result is a sleek, uniquely stylish wallet — it can carry as much as a thicker wallet, and it'll look all the better while doing it.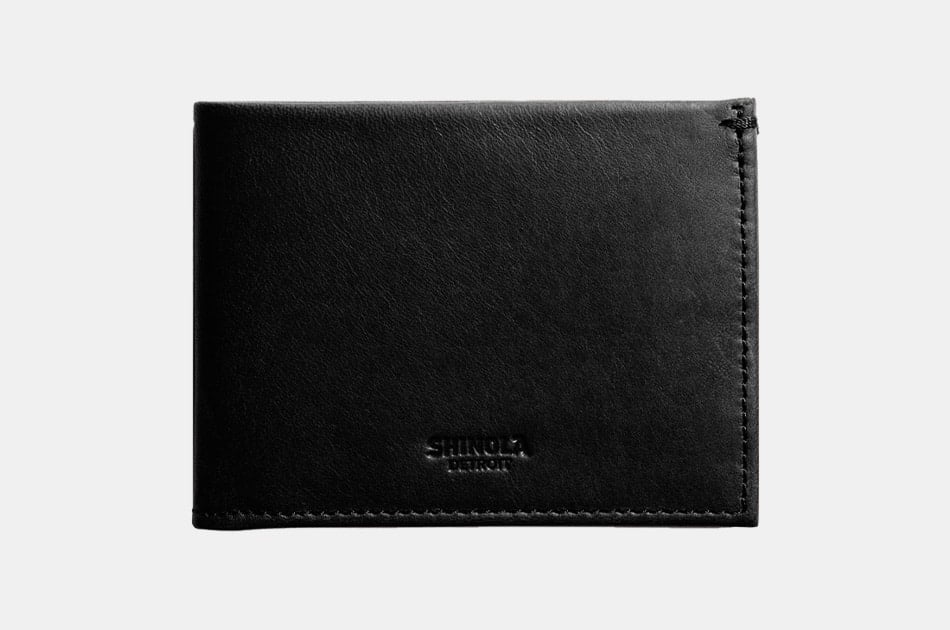 Shinola Slim Bifold Wallet
To go along with your stunning, investment-worthy leather watch or perhaps even a Shinola bicycle, consider adding the Slim Bifold Wallet to the mix — you surely won't regret it. It's made with the same exacting standards as Shinola makes all of its goods, so it's applause-worthy and surely worthy of your time and your hard-earned dollars. Again, it's a bit of an investment at nearly $200, but the stellar quality and stunning looks make it worth it. Use it day after day with your best suit or your most casual denim — it definitely works.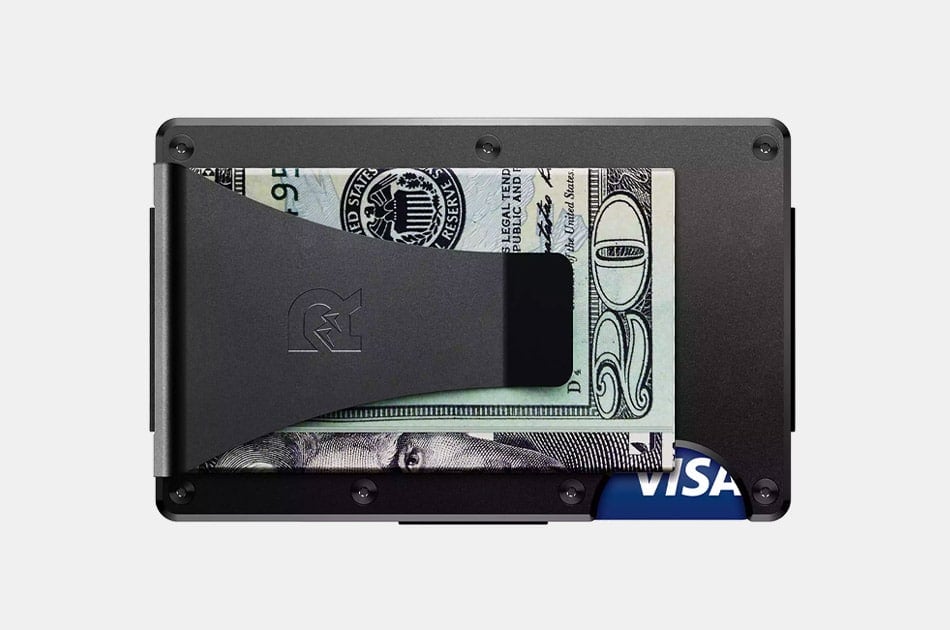 The Ridge Minimalist Wallet
There is no other wallet on the market quite as durable, rugged and tough as the Ridge Wallet (although there are plenty of Ridge Wallet Knock off products floating around the internet) — there's never been a better time to buy an all-metal minimalist wallet, that much is certainly true. Built from a strong mix of aluminum and elastic, the Ridge Wallet is going to fit easily into the pocket of your faded denim or slim chinos — again, don't hesitate when it comes to buying this wallet.
Read our hands-on review of the Ridge Wallet here.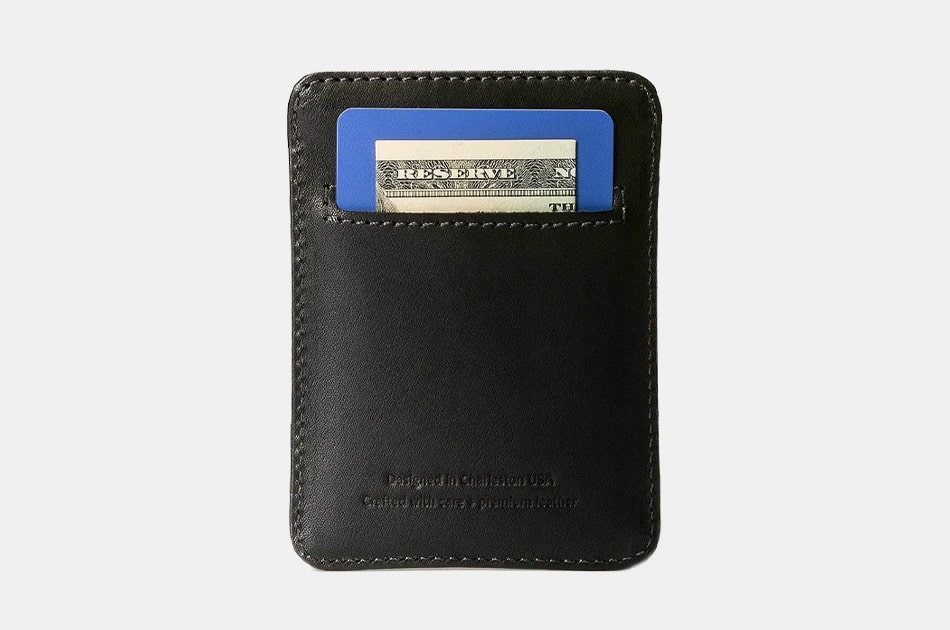 Wally Sleeve
The best front pocket wallets often merge functionality and subtle style without missing a beat. Which is to say: The best front pocket wallets are often a heck of a lot like the simple, slim Distil Union Wally Sleeve, a sleek wallet to slip into the front pocket (of course) of your favorite pair of slim black denim without missing a beat. Made from full-grain leather and able to hold up to seven cards — that's more than enough space — the Distil Union Wally Sleeve is the perfect way to upgrade your wallet for the new year and beyond.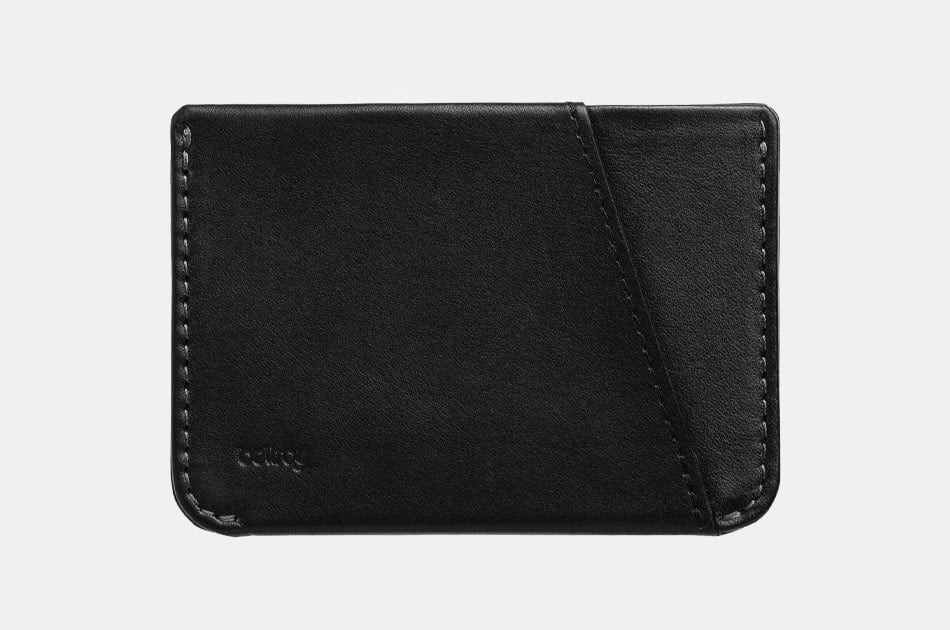 Bellroy Micro Sleeve Wallet
Bellroy is yet another brand that's worthy of multiple inclusions on this list if only for the fact that the rest of the brand's gear is ridiculously well-made and functional — yet also highly stylish and minimal. The Micro Sleeve is just that — a pared-down version of your favorite leather wallet, featuring space for up to four quick-access cards, plus an agreeable price and a multitude of slick color options. Don't waste any more time — or front pocket space — on anything bulkier than this slim wallet.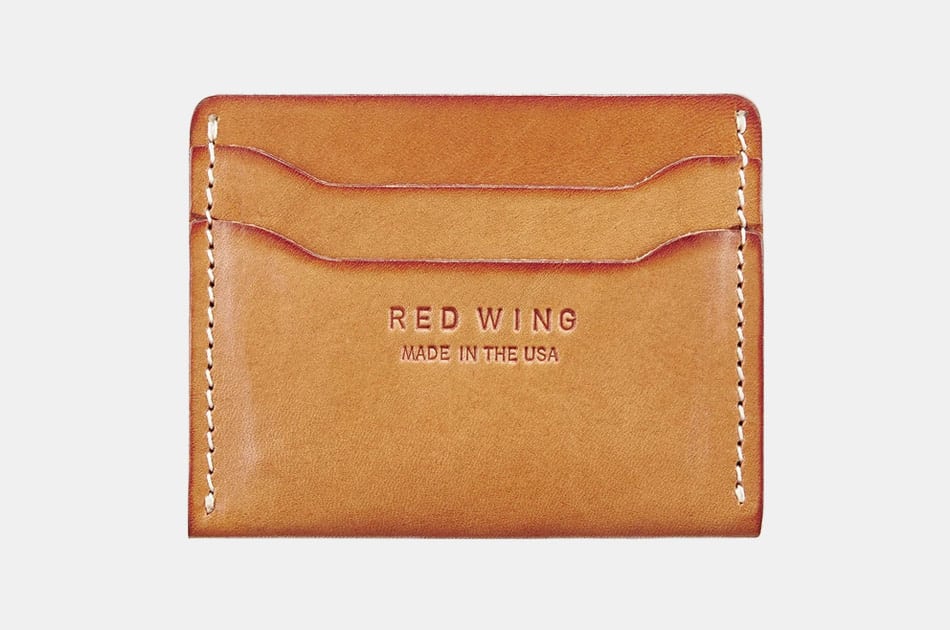 Red Wing Heritage Card Holder Wallet
If you own a pair of durable, tough Red Wing leather boots, then you surely know that the brand excels at crafting excellent leather goods all the way around. And if you want to play off your boots in a cool, durable and heritage-quality way, the Red Wing Heritage Card Holder is the one to buy ASAP. Vegetable-tanned leather and strong, USA-made construction set this piece apart from other front pocket wallets — hence, its spot on this list. With four card slots and a central paper currency pocket, it's everything you need in one spot.
Axess Compact Wallet
There's only one way to go if you want to break out a new wallet for a new year, and that's with an option that's slim, reliable, and not at all ostentatious in its design or looks. That's where the Axess Compact Wallet enters the picture. We love colors like Caramel and Cognac done up in handsome, durable full-grain leather for a stellar (sub-$50) price tag. It'll hold eight cards, plus bills and coins in the inner main pocket. That's not bad at all if you're looking to slim down your current wallet without sacrificing too much storage space.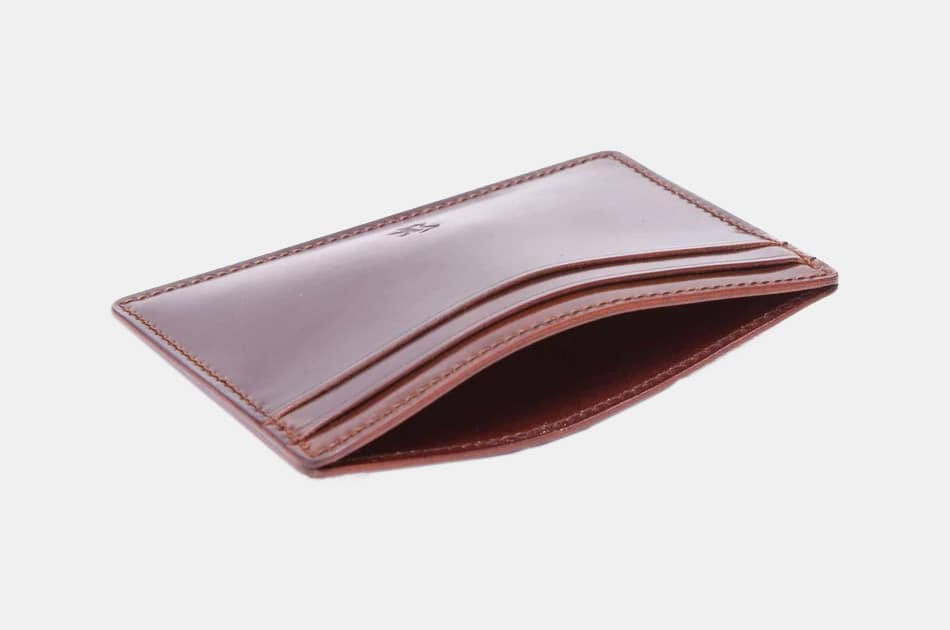 Kreis Cognac Cordovan Card Case
The beauty of shopping a lauded menswear retailer like Todd Snyder — one of our favorite designers, no doubt — is the versatility you get in just one easy-to-use place (like the brand's Web site). Case in point: The fact that you can buy a handsome, slim card case like the Kreis Cognac Cordovan Card Case alongside picking up a beautiful tailored topcoat or the perfect pair of denim from Todd Snyder. Handmade in Germany from durable shell cordovan leather, this front pocket wallet is a worthy way to upgrade any #OOTD.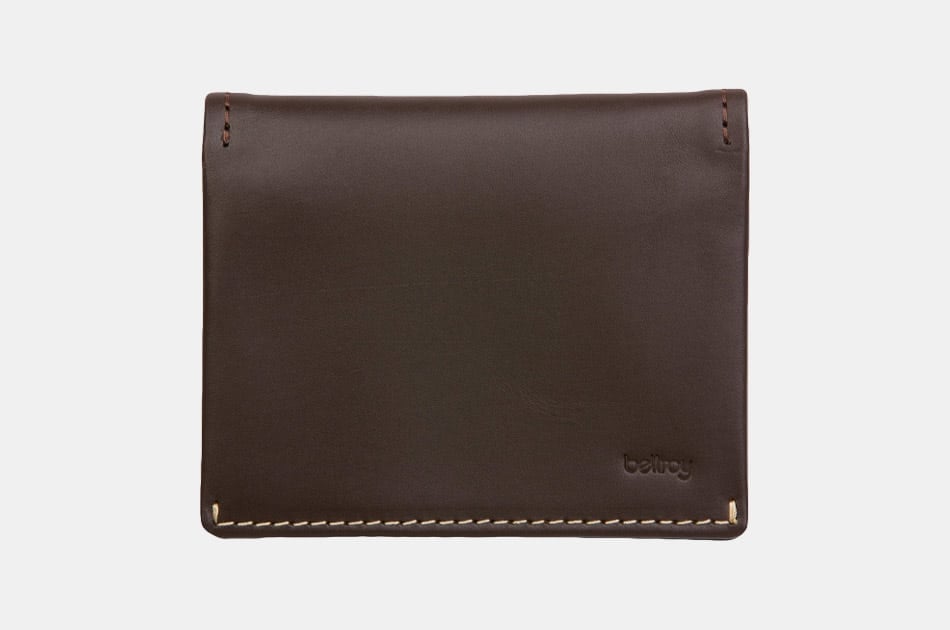 Bellroy Slim Sleeve Wallet
Bellroy is again a brand that delivers on excellent quality and fine style when it comes to pieces like its Bellroy Slim Sleeve — and if you're not yet familiar with the brand, now is the best time to start getting acquainted. With the brand's three-year warranty, it's a guarantee that you're going to get a lot of good use out of it — from your day-to-day commute to cross-country adventures. The vegetable-tanned cow leather provides the perfect way to carry essential everyday cards while looking great — that's all you can ask for, right?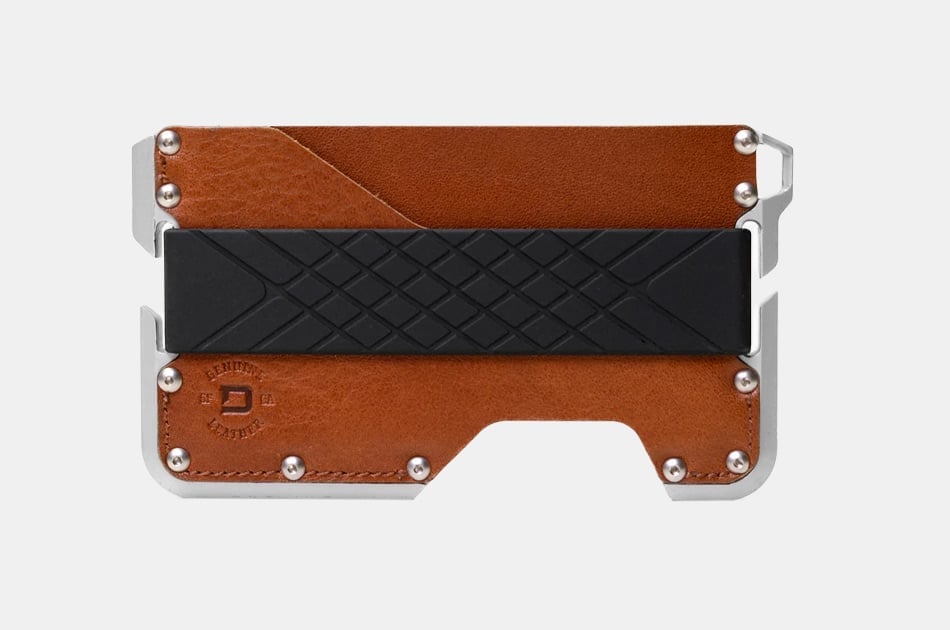 Dango D01 Dapper Wallet
A product with a name like the Dapper Wallet has a lot to live up to in terms of quality construction and great looks, right? The Dango Dapper Wallet is that very wallet, available in a cool Whiskey Brown color and made with a blend of silicone, leather and stainless steel mil-spec bolts. It hardly gets durable or tougher — and the resulting wallet is one you should be proud to slip into your wallet and also use day after day after day. It's the perfect casual wallet, and it'll also work on your travels — there's no misplacing this piece, that's for sure.
Disclosure: Clicking on these links and making a purchase may earn us a small referral fee, at no extra cost to you. Learn more here.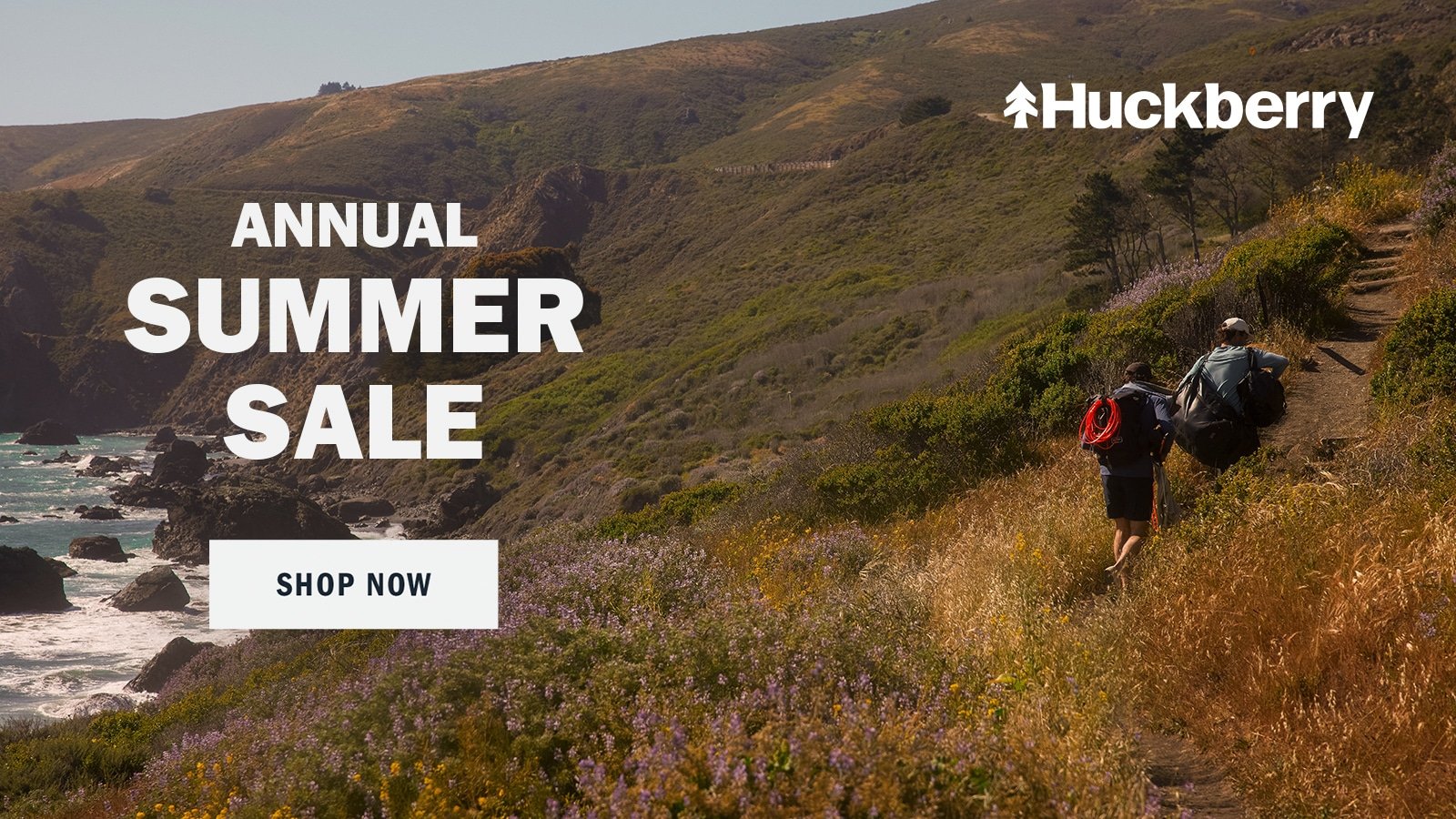 freestar.config.enabled_slots.push({ placementName: "gearmoose_leaderboard_btf", slotId: "gearmoose_leaderboard_btf" });