12 Best Slim Wallets For EDC
Keeping your ensemble slim, streamlined and stylish often comes down to the small, small details — things you probably hardly think about when getting dressed for the day. One of those small — yet utterly critical — details? Finding the right slim wallet to minimize and streamline your everyday carry.
Yes, that's right: Your wallet can make the difference between keeping your outfit on-point, and stepping out with a bulky, decidedly not-so-modern wallet on your person every day. The best part about the business of shopping for a slim wallet? There are plenty of brands that are putting all they've got into crafting the best wallets on the market, using tough, functional materials and an eye for sleek, equally tough durability and design.
These slim wallets are essentially the total package, at least from our point of view. We recommend reaching for a slim wallet alongside other upgraded everyday carry essentials, from a great pen to a handy notebook. Yet, it's the wallet that can make the most difference in terms of fashion and function — the right wallet provides another dimension of durability and modern style in the context of what you wear everyday. For those of you looking to slim down your everyday carry, read on and shop our list of the 12 best slim wallets for men.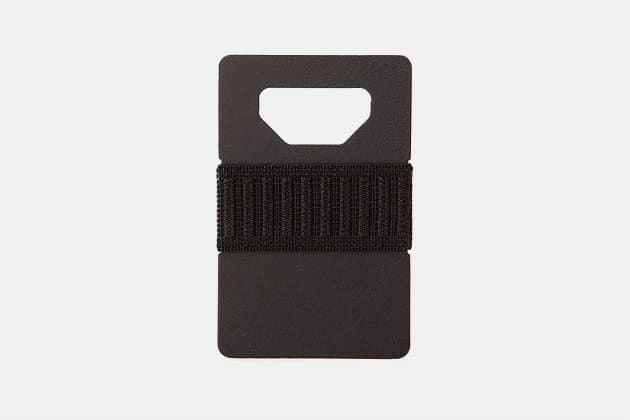 Spine Wallet
What better way to start off this list than with a hearty wallet made from titanium, one that carries your essential cards and also (wait for it) … doubles as a bottle opener? Yes indeed, utility is certainly the name of the game when it comes to the very affordably priced Spine Wallet (clocking in at under $30).
It's the Grade 5 titanium that does the heavy lifting in terms of long-lasting quality, teamed with an elastic band to secure your cards and some bills. And then, there's the bottle opener — one that fits right in the front pocket of your favorite pair of selvedge denim, no less. How's that for a slim wallet to upgrade your everyday carry? We think it's more than good enough. – Shop Now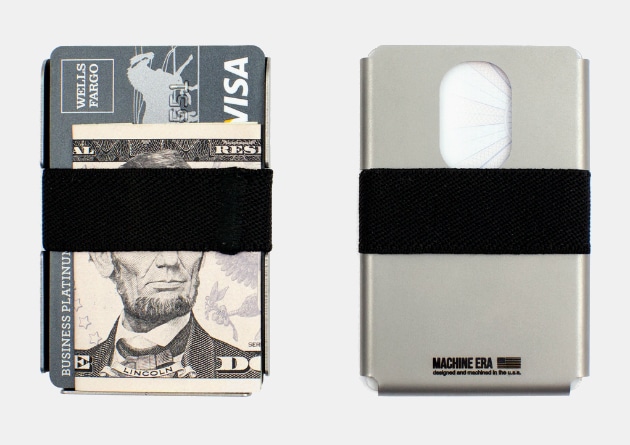 Ti5 Slim Wallet
From the bottle-opening capability to the RFID-blocking functionality, the makers of the Ti5 Slim Wallet (that'd be Machine Era) have absolutely nailed it when it comes to this product. It's one heck of a way to upgrade your everyday carry with slim essentials in mind — start with your wallet, and the rest will flow from there. And the wallet in question is a darn good one (that always helps).
Made with aerospace-grade titanium and featuring a thumb slot and bottle opener — great design if we've ever seen it — the Ti5 Slim Wallet is packed to the gills with utility and durability. Oh, and it'll hold seven cards — more than enough for vacations and daily use aplenty. – Shop Now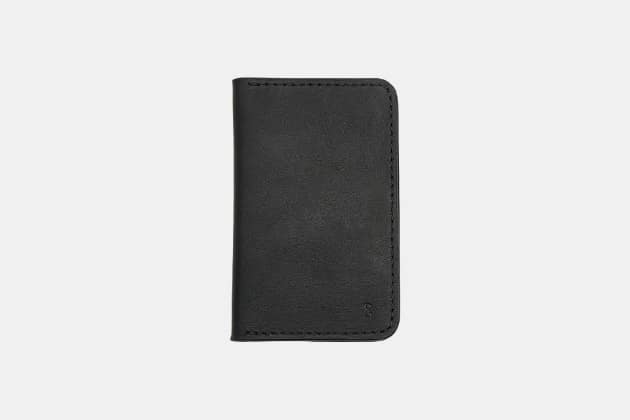 Holden Card Wallet
If you can't quite get over the idea of slimming down your wallet entirely, to just the bare essentials, then allow us to introduce you to the Holden Wallet from Everyman. It could be the answer to your prayers in terms of a slim, refined wallet — yet it's not so sleek and minimal that you'll be afraid to lose it or misplace it.
It combines the utility and design of a front-pocket wallet with a bifold wallet, all the better to carry your essentials without missing a beat. With space for six cards and the quality construction that comes with tough full-grain leather, this handsome black leather wallet is going to get the job done for you every single day. – Shop Now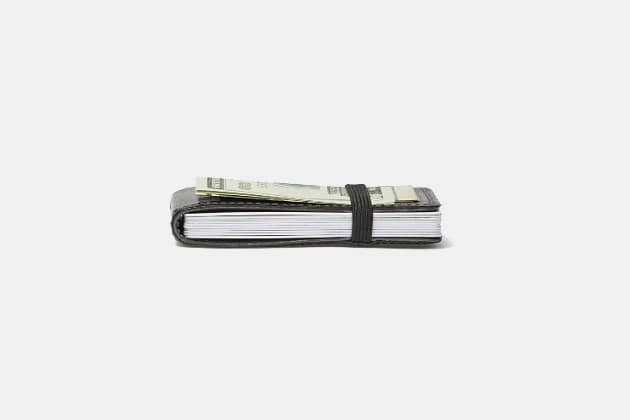 Wally Micro Wallet
The Wally Micro Wallet is quite the work of art when it comes to utility and sleek, effective design in equal measure — take the fact that it holds up to 10 cards, for one. And the fact that, well, it's called the Micro Wallet — this piece is minimal, easy to stick in your pocket and easy to keep your everyday carry in line without getting overly bulky.
The Wally Pull Tab — a proprietary design — allows those cards to stow away with relative ease, with the ability to keep your most frequently used cards right at your fingertips. That's a heck of a lot of functionality for an easy-to-stomach price. – Shop Now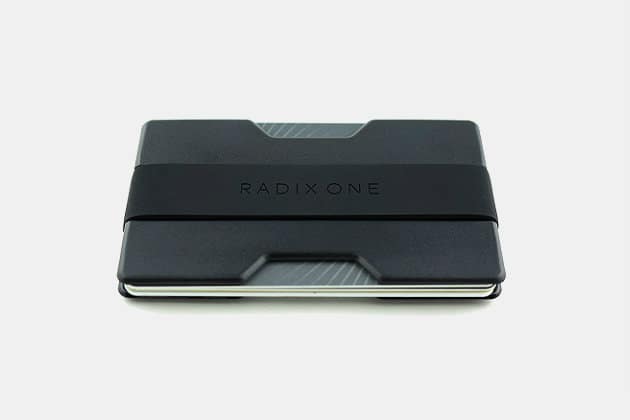 Radix One Slim Wallet
Innovative, lightweight materials and a standout price — just under $15 — set the Radix One Slim Wallet apart from the rest of the pack when it comes to game-changing functionality and design for your next wallet. It's a heck of a way to upgrade your everyday carry without a lot of hassle.
To be precise, the Radix One Slim Wallet blends polycarbonate plates with a strong elastic band, sandwiching cards in the middle and keeping everything in place. As Radix says, with a wallet this good-looking, well-designed and affordable, "why carry anything else?" — we'd absolutely have to agree with that sentiment, to say the very least. – Shop Now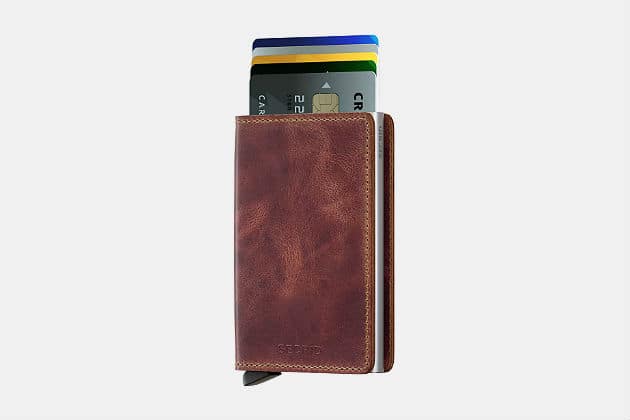 Secrid Slim Wallet
It's mighty hard to find a wallet that's got 20 years of work going into it, but that's precisely the case with the Secrid Slim Wallet, and that's precisely why we think you should look to this slim wallet to streamline your everyday carry. Winner of the prestigious Red Dot Design Award for a blend of ingenuity and pinpoint functionality, every little detail has been thought of when it comes to Secrid's Slim Wallet.
That goes for the spring-loaded push mechanism — providing ridiculously easy card access — as well as the use of both aluminum casing and handsome leather. In total, the work of 100 craftsmen goes into making each wallet. That's more than worthy of being the place you start your journey to upgrade your everyday carry. – Shop Now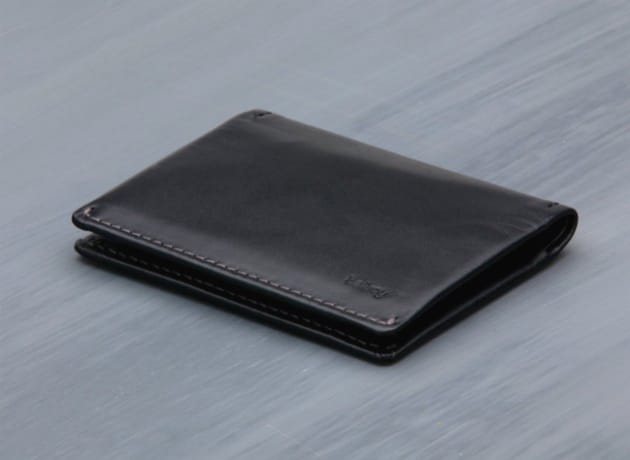 Bellroy Slim Sleeve Wallet
Want heritage craftsmanship and long-lasting quality at a price that won't break the bank? Heck, at a price that'll leave a few bills for you to carry around in your new slim, everyday wallet? Then step right up and add the Bellroy Slim Sleeve Wallet to your cart, because it's bound to be an everyday carry essential that you positively won't be able to get enough of — trust us on that one.
Made to hold more than 12 cards and made with a range of environmentally sustainable materials right down to the leather, the Slim Sleeve is backed by an impressive 3-year warranty. Right down to the use of a pull tab for infrequently used cards, we simply can't get enough of the great design seen here. – Shop Now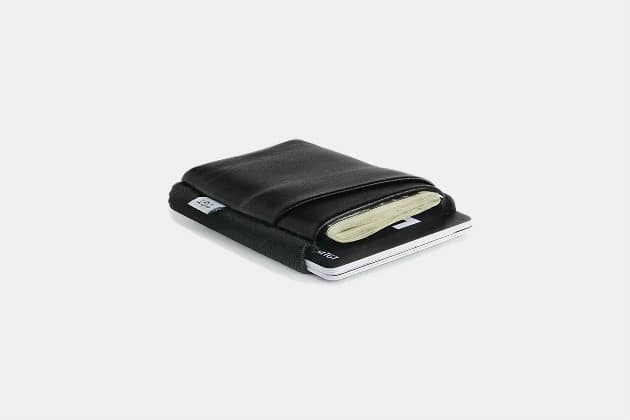 TGT Deluxe Wallet
TGT is another brand that continues to up the ante when it comes to designing a quality wallet made with an obsessive amount of care and exceptional design. The TGT Americana Deluxe Wallet is crafted in the United States of America — a sticking point among wallets that can be tough to find — from excellent materials like Italian leather.
The thread is custom-sourced, and then it's double-stitched to create the sort of wallet that you don't have to worry about falling apart on you (no matter how frequently you reach for it). On that note: There's no other wallet you need to use on the daily. – Shop Now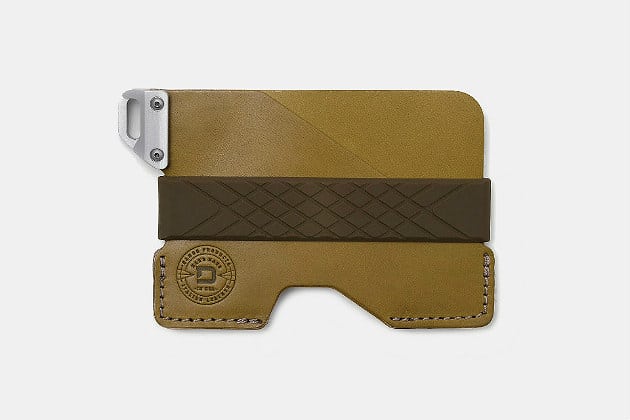 Dango C01 Civilian Wallet
The best wallets out there — as in, the slim and stylish wallets on this list — blend the durability of your favorite outdoor gear with the handsome, handcrafted touches of your favorite leather goods. That's at least the vibe we're getting with the Dango C01 Civilian Wallet, with an integrated silicone band to store your cash and cards, plus the use of Italian leather throughout.
It's that blend of versatility that lends itself so well to a slim wallet, one that can take a beating while still looking good. Complete with a paracord lanyard and an aluminum tab that can tether to your belt or keys, it's all part of one essential package with the Civilian Wallet. – Shop Now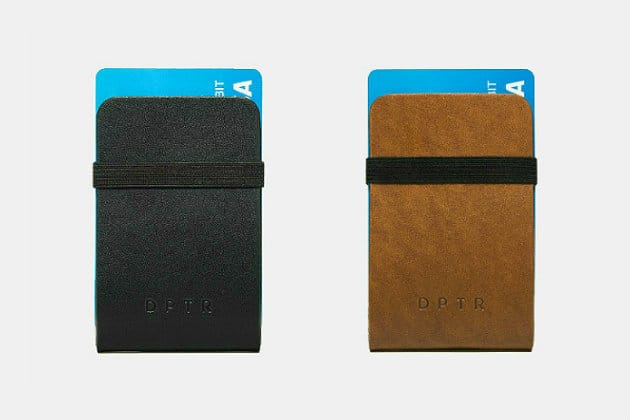 DPTR Clamshell Wallet
There's an argument to be made about reaching for a wallet that utilizes nothing but the best in terms of classic materials. That's why we're fans of the old-school Horween leather found in the DPTR Clamshell Wallet, an everyday carry essential to close out this list in fine fashion.
The industrial-grade elastic and pigskin leather lining are but two design touches we appreciate here, to go along with a price that's not too shabby ($60 for an everyday wallet is great by us). Throw in a slim profile and an easy-to-use design, and you've got your new favorite wallet all lined up. – Shop Now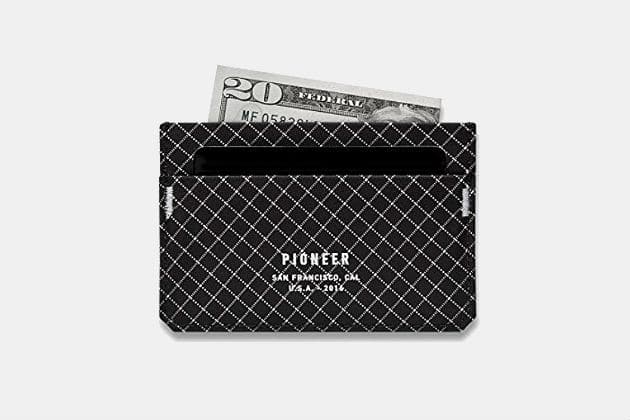 Pioneer Molecule Card Wallet
Want a wallet that's slim and low-profile enough to take a serious beating while blending into your favorite casual ensembles without missing a beat? You want the Pioneer Molecule Card Wallet, crafted from 10XD ripstop and featuring waterproof (yes, waterproof!) capabilities to rival the very best outdoor gear around. It's design touches like these that have us recommending the Pioneer Wallet, with the ability to hold up to six cards (or as few as four).
Choose from a range of minimal-yet-striking colors — like Onyx or a nice, sharp Blue — and then let your wallet do the rest of the week. Heck, you don't even have to worry if you leave this in the pocket of your light wash denim, seeing as the Molecule Card Wallet is washing-machine safe. – Shop Now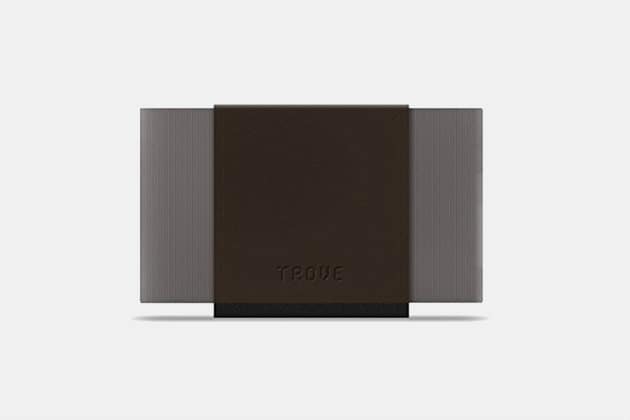 Trove Slim Wallet
The best part about a Trove wallet — other than its unique blend of functionality and sleek, streamlined design — might be taking advantage of the cool color combinations found on the company's site. The world really is your oyster here, and that's just one of the benefits of picking up this durable wallet to upgrade your everyday carry in a seriously streamlined way.
Featuring a handcrafted approach alongside durable, high-quality materials like full-grain Italian leather and Italian elastic (yes, it's a thing), the Trove Slim Wallet is a sight to behold — in the best way possible. That's particularly the case if you go with our favorite color combo, Persian (inspired by the vibrant colors found in Persian rugs). The choice really is yours, though. – Shop Now
Disclosure: Clicking on these links and making a purchase may earn us a small referral fee, at no extra cost to you. Learn more here.
freestar.config.enabled_slots.push({ placementName: "gearmoose_leaderboard_btf", slotId: "gearmoose_leaderboard_btf" });