12 Best Waterproof Bluetooth Speakers
Unlike the stars of the silver screen, most of us don't walk around with a soundtrack playing to cue our highs and lows, set a romantic scene, or punctuate the big win in the football game.  That doesn't mean we can't create a playlist for our own lives and carry it with us wherever we go.
 
There are plenty of portable Bluetooth speakers on the market to help you blast your favorite jams.  Even better, you can get waterproof products to ensure that you never lose your groove, even when a drunken party guest accidentally knocks your speaker in the pool or you somehow get dunked in the surf, speaker and all, during a day trip to the beach or an outing on a yacht.
 
Whether you like to listen to hardcore heavy metal in the kitchen while you prep your meals, you want to spice up your pool parties with your "Party in the USA" playlist, or you need a surf's-up soundtrack complete with plenty of 80's and 90's summer hits, you'll definitely want to check out our list of the best portable, waterproof Bluetooth speakers.  Sporting massive sound, slick styling, and rugged design, they're sure to keep the music going day and night.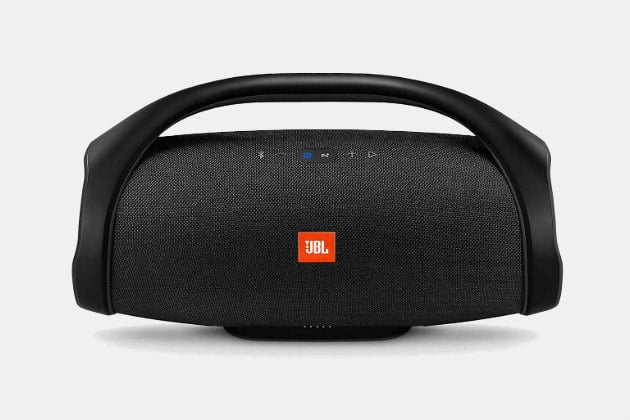 JBL Boombox
JBL has a long history of delivering superior sound, and they don't disappoint with this 20-inch speaker, complete with comfy carry handle, that delivers all the layers of bass you'd expect from a much larger model.  IPX7 waterproofing ensures that neither a spilled glass of wine nor a downpour will staunch your sound quality or interrupt your playlist, and a long-lived Lithium-ion battery delivers up to 24 hours of play on a single charge.  It's both robust and easy on the eyes. – Shop Now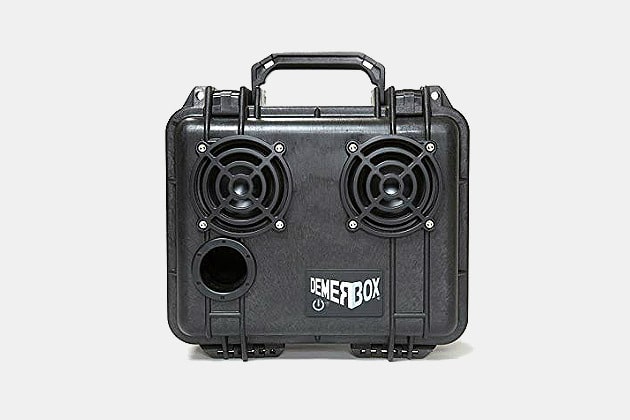 Demerbox Indestructible Bluetooth Boombox
Let's just start with how totally badass this speaker looks, thanks to the rugged, road-cone orange Pelican case housing, also available in sleek black, royal blue, and Army green.  Add in a wireless range of up to 100 feet, 50+ hours of listening time, a USB port to charge your devices, and extra dry internal storage for your lunch, your wallet, or other EDC items, and you've just found the perfect portable Bluetooth speaker for any excursion.  It's also waterproof and practically indestructible. – Shop Now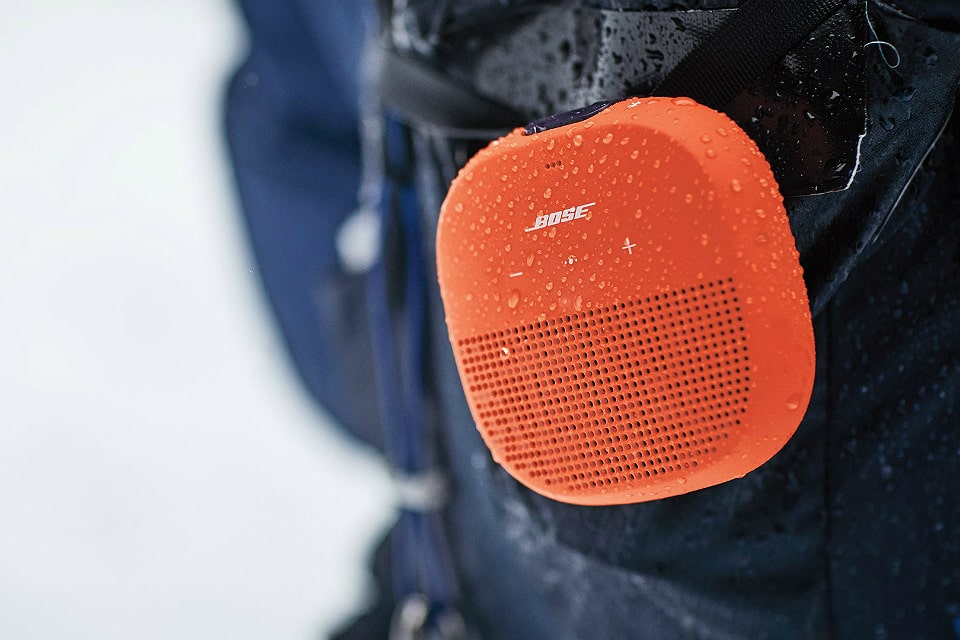 Bose Soundlink Micro
When it comes to the EDC game, compact sizing is a must.  This Bose speaker fits the bill with roughly 4x4x1.5-inch dimensions and a weight of just over half a pound.  A tear-resistant strap hooks to your bike, your backpack, or the handle of your coffee mug, it's sealed tight to resist even full immersion in water, and total connectivity means you can use it as an alternative speakerphone or deliver Siri and Google voice commands.  It's tiny, tough, and totally brilliant. – Shop Now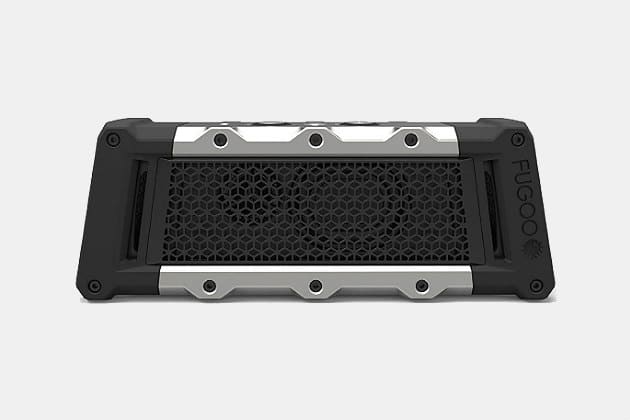 Fugoo Tough
Although the word "tough" is right in the name, you can't imagine how rugged this portable Bluetooth speaker actually is.  It's built to withstand the elements – not just water, but also dust, sand, snow, heat, and pretty much any elements that could turn another speaker into little more than a pretty paper weight.  With a 40-hour battery life, 8 acoustic drivers delivering 97 decibels, and speakers on all sides to deliver 360-degree sound, you couldn't ask for a better way to stream your music on the go. – Shop Now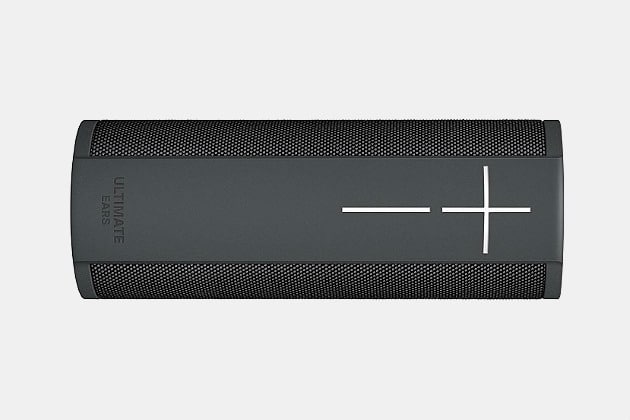 UE Megablast
It's dust-proof.  It's drop-proof.  It's waterproof.  What does this mean?  Practically unlimited listening pleasure, whether you're indoors or trekking through the watery wilds of Portland or the sandy beaches of sunny SoCal.  Built-in Amazon Alexa delivers the ease of voice command, and you're sure to enjoy the super-loud, 360-degree sound, complete with booming bass.  Get it wet, stick it in the sand, or throw it through a window (ok, maybe don't try that last one at home).  It's going to keep on streaming. – Shop Now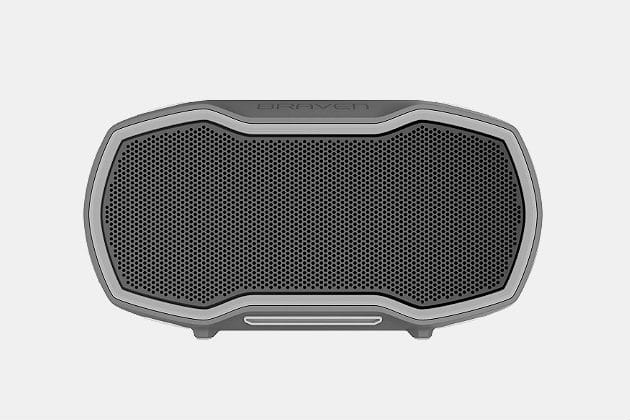 Braven Ready Elite
If you're hard on your hardware, you'll be happy to hear that this resilient product features a drop-proof thermoplastic housing, an aircraft-grade aluminum grille, and cast alloy tie-down points that make it perfect for blasting tunes on your cross-country road trip or your next jaunt through Class V rapids.  For the latter, you'll appreciate the IP68 waterproofing, as well.  As for sound, you'll get two subwoofers, dual tweeters, and extended range drivers that deliver the true sound and incredible volume you crave. – Shop Now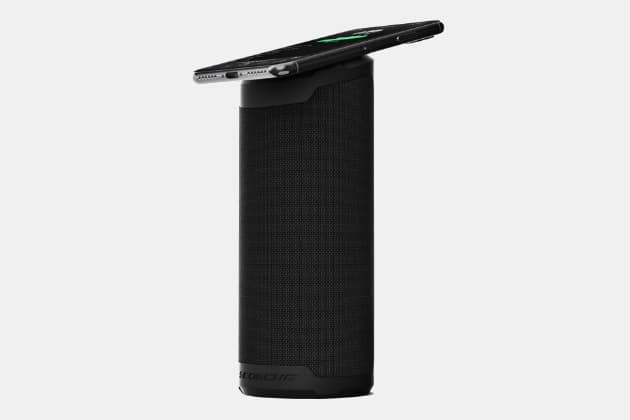 Scosche BoomBottle MM
Is it called BoomBottle because of its cylindrical shape?  Maybe it's the built-in bottle opener.  Either way, it's sure to make any outdoor soiree more fun and functional thanks to dual pairing for stereo sound (when you have two on hand) and passive subwoofers designed to put that boom boom into your pow.  Indoor/outdoor EQ ensures the best sound inside or out, and magnets secure your speaker to any metal surface and provide a place to secure your phone when you don't want to hold it. – Shop Now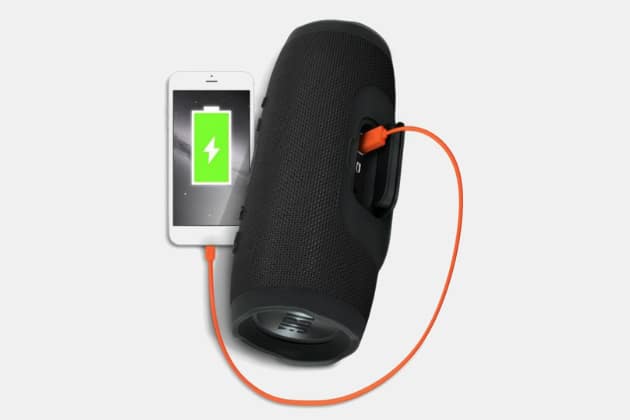 JBL Charge 3
You're lucky to get 10 or 12 hours out of the average Bluetooth speaker, but this deluxe device delivers 20 hours of playtime, along with charging capabilities for smartphones and tablets thanks to USB connectivity and a robust power bank with a built-in, rechargeable, Li-ion battery.  Take it on your pool float without fear and build a custom sound ecosystem with multiple JBL speakers using JBL Connect.  At roughly 8.5×3.5×3.5 inches, you can take this tall drink of water just about anywhere. – Shop Now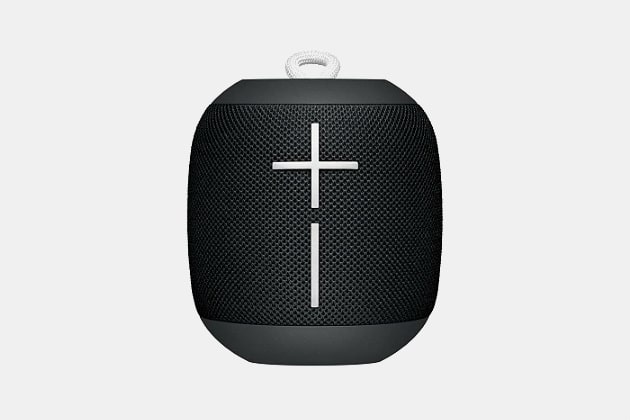 UE Wonderboom
Superb sound is great, and you'll get it thanks to 360-degree audio from this egg-shaped speaker.  IPX7 waterproofing is also nice, especially if you like to toss your speaker right in the tub while you suds it up (PS – it floats).  However, what you're sure to like most about this pastel-pretty speaker is the totally portable sizing.  At just about 4×3.5 inches, it can easily fit into a backpack and maybe even a cupholder, and a diminutive weight of under a pound means you'll barely notice the extra heft. – Shop Now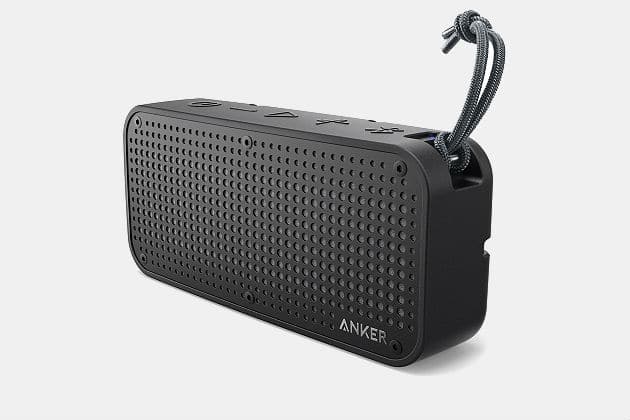 Anker SoundCore Sport XL
This retro speaker resembles portable stereos of old, with little more than a solid speaker grille in the front and a few simple buttons on top.  However, it definitely benefits from modern tech, including a shock-proof, weather-proof, and IP67 waterproof shell.  It also delivers 15 hours playtime, a 66-foot Bluetooth range, and a USB charging port for your portable devices.  As a bonus, this product enjoys 99% positive feedback on Amazon, in case you're the type to skip the hype and rely on trusted consumer reviews. – Shop Now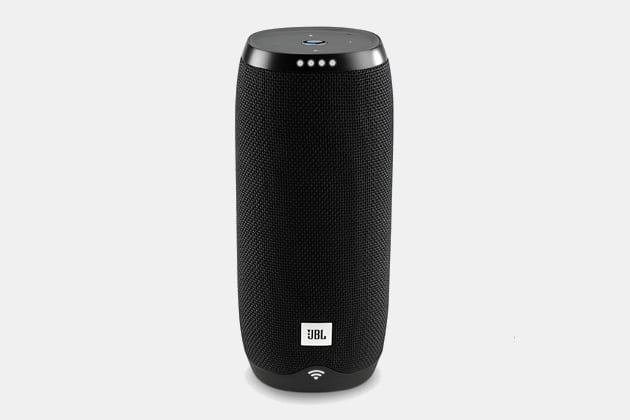 JBL Link 20
Another offering from JBL, this portable speaker is about the size of a tallboy, but don't let its pocket-size stature fool you – it packs a wallop of sound with 24 bit/96kHz streaming quality.  Setup and use are easy thanks to the Google Home app and built-in Chromecast that let's you "Ok Google" to your heart's content.  Play music, podcasts, or your favorite radio app with a simple voice command.  With waterproofing, you can use this cylindrical beauty rain or shine. – Shop Now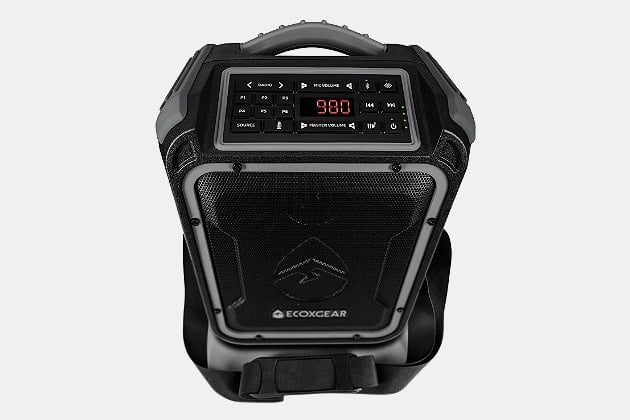 EcoXgear EcoXplorer WaterProof Speaker
With dimensions of 7x10x13 inches and a weight of 10 pounds, this is among the least portable of the Bluetooth speakers on this list.  And yet, there are a few reasons to consider it, starting with the 50W dynamic power amplifier that delivers enough sound for even a raucous party, along with a 3-way speaker system that includes a 2-inch tweeter and 5-inch, rear-facing subwoofer.  It's also waterproof (IP67), it floats, and it features a large LED for nighttime viewing.  To reiterate, great for parties. – Shop Now