10 Best Keychain Chargers
In this connected world, a forced separation from your smartphone due to lack of charge can feel like an unexpected breakup, just like when Janice dumped you at the eighth-grade winter formal and waltzed away with that jerk from the football team.  While you can only hope Janice got her just desserts in the form of a football has-been husband and a bushel of bratty kids, you can definitively avoid the pain of losing your mobile device with the right portable keychain charger.
With the help of a mini keychain charger, you can not only be reunited with your beloved Siri in no time, but you can avoid the hassle of hauling around three feet of charging cable coiled in your pocket or messenger bag.  No longer do you need to run to your car to plug in your phone, make a mad dash home for a charge, or tote a bulky backup charger in your pocket and wonder what people think of the bulge.
You'll find no shortage of keychain chargers to the rescue, but you might not know which ones are worth the purchase price.  Which mini charger is the most keychain-friendly?  Which one offers the greatest convenience in terms of EDC and charging capabilities?  Here are some of the best keychain chargers and keychain charging cables to help keep you mainlined to mobile tech.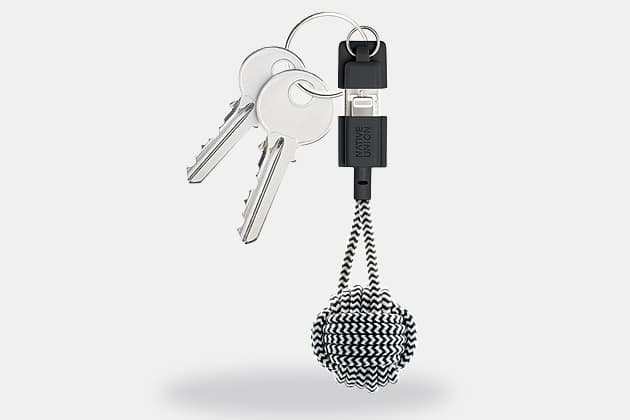 Native Union Key Cable
At first glance, this concealed charger looks a little like a cat toy, complete with a yarn-ball-like bauble that acts as the keychain.  It isn't until you pull the lightning cables from the keychain attachment that you realize it has the power to charge your mobile devices, thanks to a USB plug on one end and a lightning charger on the other.  Although compact, the cables are just long enough to allow you to use your smartphone during charging. Its a worthy accessory for those who travel frequently and can't seem to keep a charge on their phone. – Shop Now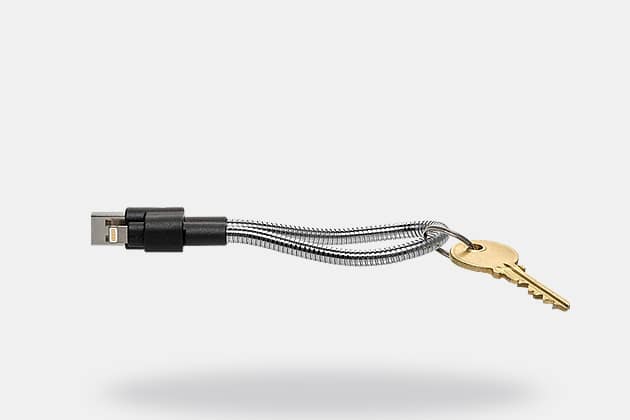 Fuse Chicken Titan Loop Keychain Cable
This charging cable isn't the world's smallest by a long shot, and it's clearly not trying to be.  It does, however, claim to be "the toughest keychain cable on Earth", and it looks it.  The rugged styling, including flexible metal tubing, will appeal to industrial and outdoorsy types alike and the 9 inches of cabling ensures that you'll never have trouble connecting your phone to a USB port for charging, or simultaneously checking your social media accounts.  Best of all, you can loop it through your belt or backpack strap to easily cart attached keys. – Shop Now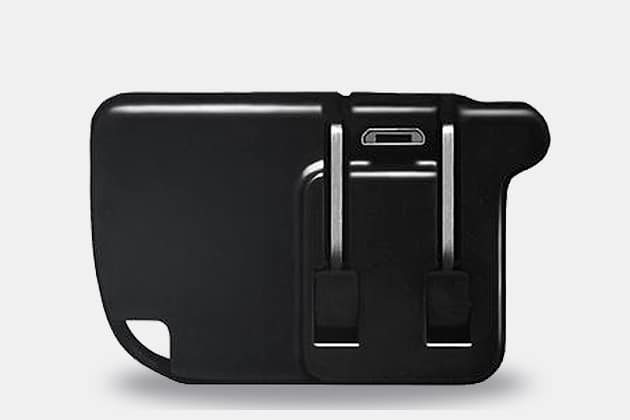 Chargerito
Touted as "the world's smallest charger", this mini device aims to deliver a compact and convenient charging solution for the mobile crowd on the go, and heartily delivers.  Foldout plugs ensure a slim design when this charger is stowed and once you pop it off your keychain or belt loop, all you have to do is fold out the prongs to plug it into a standard outlet before sliding your phone onto the charging dock on top.  You can't really use your phone while it's charging, but you'll certainly enjoy the added convenience of juicing up your phone without the need for a separate USB device. – Shop Now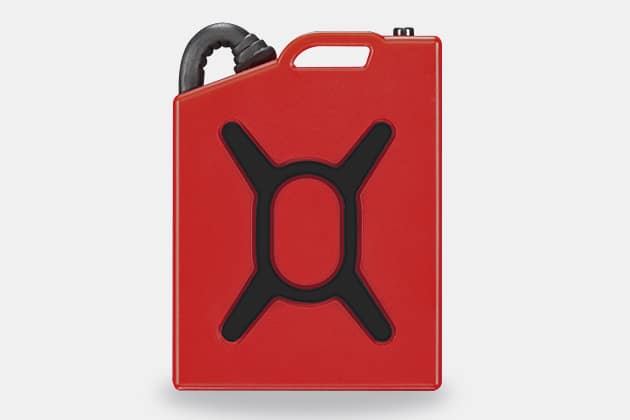 Fuel Micro Charger 2
The distinctive casing of the Fuel Micro Charger 2 resembles – you guessed it – a gas can, featuring a pop-out charging cable that looks like a funnel going into your phone.  You can charge up the keychain anywhere there's a USB available, then throw it on your keychain.  When your phone gives the low battery warning, just switch on the Fuel Micro Charger 2 and plug it into your phone for fast fueling.  It comes in a variety of color options and features 400mAh battery capacity with a max discharge of 1.0A. – Shop Now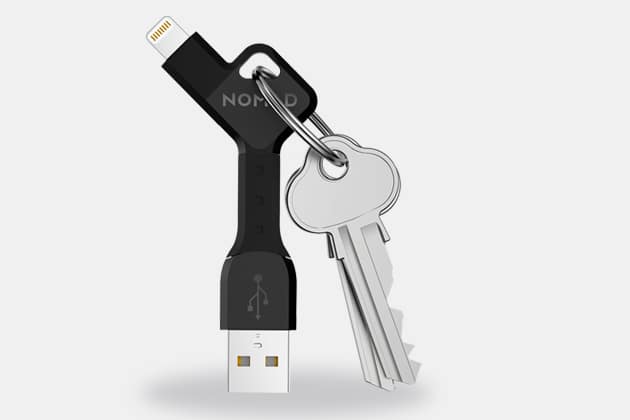 Nomad Key Charger
Probably most notable about this keychain charger is the fact that it's shaped and sized like a key, making it relatively easy to camouflage among your actual keys.  Slim and lightweight, Nomad's Key charger offers a minimalist design that won't add bulk to your pockets.  It also features a flexible middle section (between the USB connector at one end and the lightning cable at the other end) so you can easily plug and charge.  This product is also available in micro USB. – Shop Now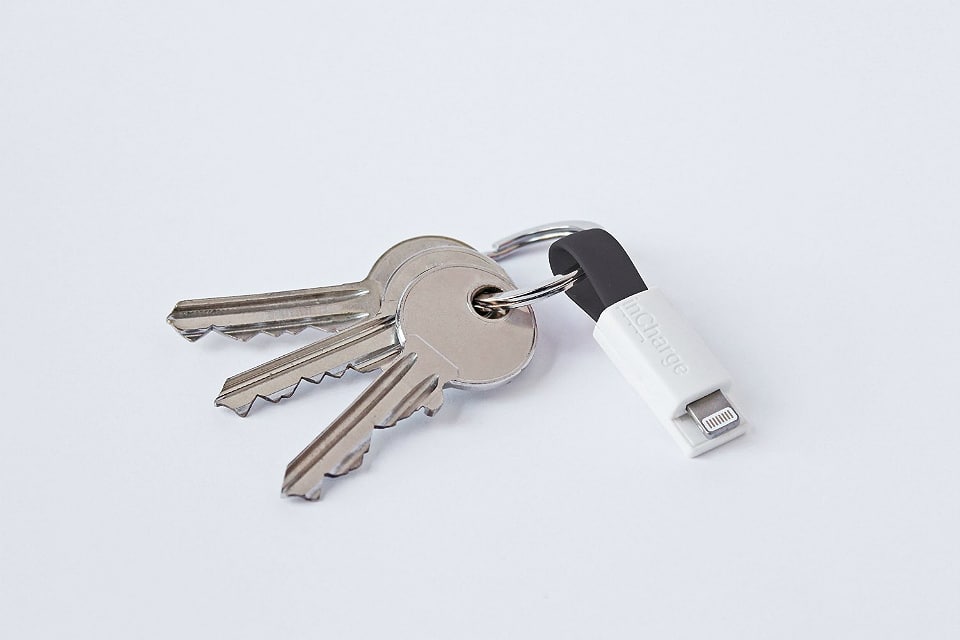 InCharge Keyring Cable
This is yet another keyring charger trying to claim the distinction of being the smallest.  However, it might actually be true, thanks to the pure simplicity of design.  It's literally just a micro USB, a lightning charger, and a small cable connecting the two.  Loop the cable through your keychain and snap the two chargers together via magnet to create a keychain just 1.5 inches long.  With a wide range of colored cables for personalization, an affordable price tag, and untold convenience, it's hard to deny that this could, in fact, be the world's smallest charging cable. – Shop Now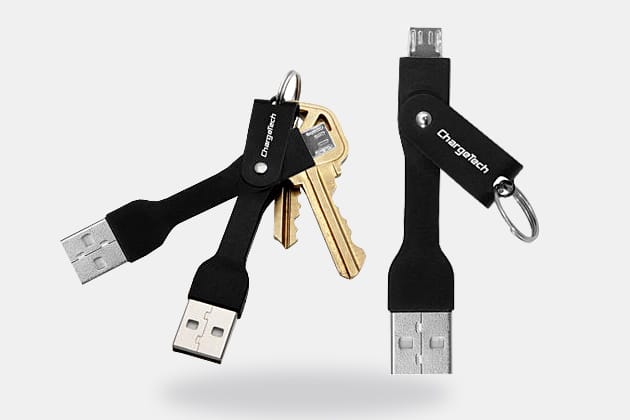 ChargeTech Keychain Charging Cable
The design of this slim keychain charger is ingenious, thanks to a swingarm that protect the lighting charger when not in use, but easily reveals it when needed.  In the meantime, all you'll see is a basic USB dongle hanging from your keychain, just a little longer than your average keys, which makes it easy to identify and grab when you've got to charge your phone, post haste.  No muss, no fuss, no pocket bulk, which is just what you want in a minimalist charger. – Shop Now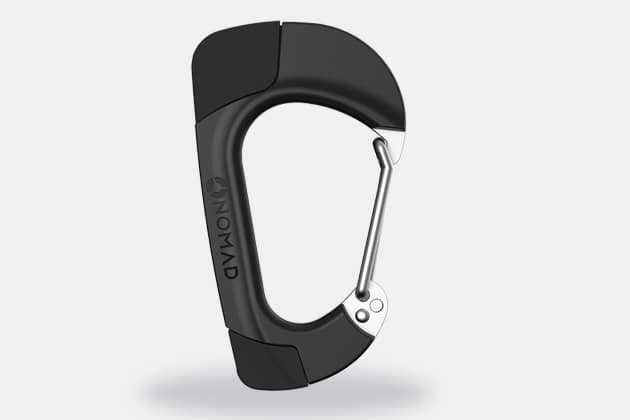 Nomad Carabiner
Wait.  Hold the phone.  A carabiner that's also a charging cable?  There isn't much more you could ask of your everyday carry tech accessories. Consider for a moment the ultimate convenience of clipping this charger to your keychain, backpack, or belt loop.  With a stainless steel reinforced frame, you never have to worry about it snapping off and getting lost.  Even better, however, is the fact that a concealed USB and lightning charger slide out of the top and bottom, respectively.  Like other Nomad products, this streamlined design is perfect for those who lead a life of travel. – Shop Now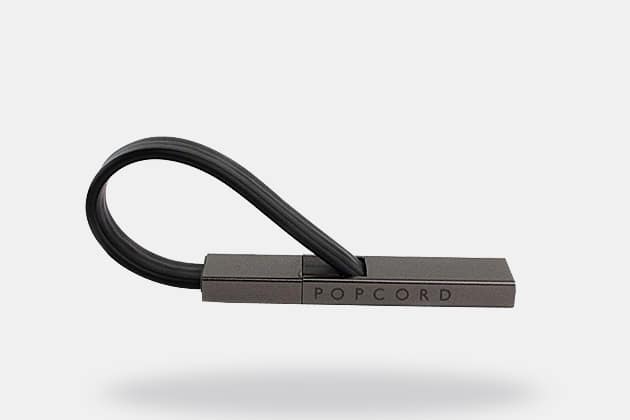 Popcord Keychain Charging Cable
Built specifically for everyday carry on your keychain, the Popcord charging cable features a micro USB and a lightning charger connected by a short, flexible, colorful cable.  It loops around your keychain, just like its InCharge counterpart.  What sets it apart?  Instead of a powerful magnet connecting the ends of this charger, the lightning cable clicks into a dock at the base of the USB housing, creating a loop to attach to your keychain when not in use.  The elegant, intuitive, sturdy design takes all the guesswork out of EDC charging capability. – Shop Now
Mophie Powerstation Reserve
When you add this slim, rectangular charger to your keychain, people might mistake it for a lighter and ask you to spark their smokes.  Instead, you can offer to light up their waning smartphone battery.  Unlike some other chargers, the Mophie Powerstation Reserve includes a 700mAh lithium polymer battery, which means you can truly charge up anywhere, without the need to plug into an outlet or laptop.  Concealed connectors can be accessed to charge your phone on the go and recharge the battery when you get home. – Shop Now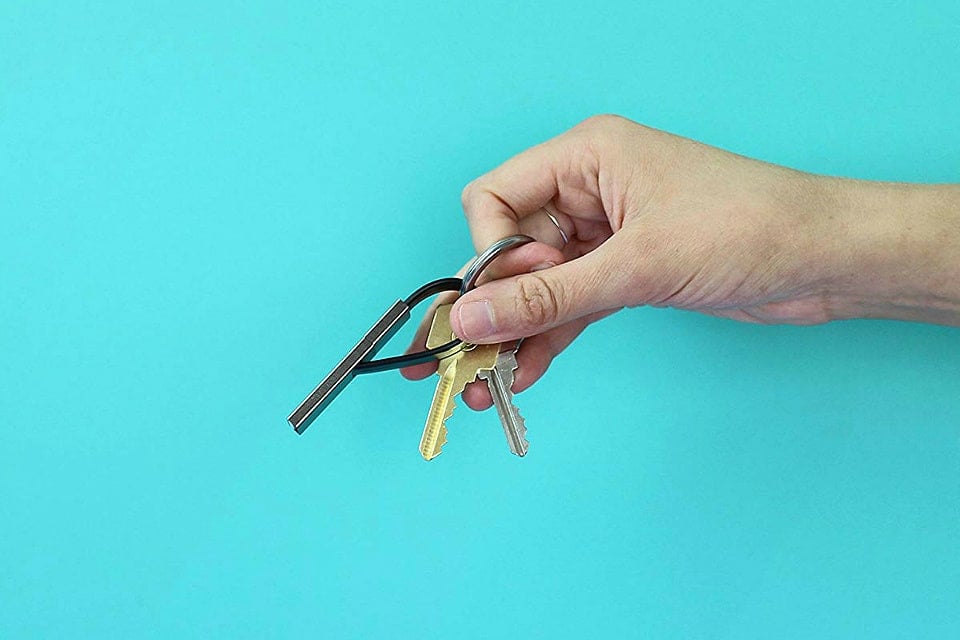 Disclosure: Clicking on these links and making a purchase may earn us a small referral fee, at no extra cost to you. Learn more here.
freestar.config.enabled_slots.push({ placementName: "gearmoose_leaderboard_btf", slotId: "gearmoose_leaderboard_btf" });