12 Best Portable Showers For Camping
Camping is nothing if not a deviation from your normal, daily routine.  It's a chance to get away from the confines of a cubicle and enjoy the vast grandeur of nature.  You'll rise with the sun, enjoy campfires after dark, and in some cases, hunt or fish for your dinner.
Of course, not everything about urban existence is terrible.  Toilets, for example, are generally preferable to doing your business in the woods.  Another thing you're going to long for when you plan extended camping trips is washing yourself via shower.  Roughing it is fun, but after two or three days without a shower, you're going to feel (and smell) a little worse for the wear.
The good news is, when outdoor enthusiasts voice a need, the market delivers ample solutions, including portable camping showers.  These lightweight, compact shower bundles allow you to wash off the grime of hiking and the stench of campfire in privacy, even in the middle of the woods. Best of all, many camping showers are multi-purpose.  Whether you need to wash dishes, gear, or yourself, these showers will accommodate.  Here are just a few of the best products on the market when it comes to portable camping showers.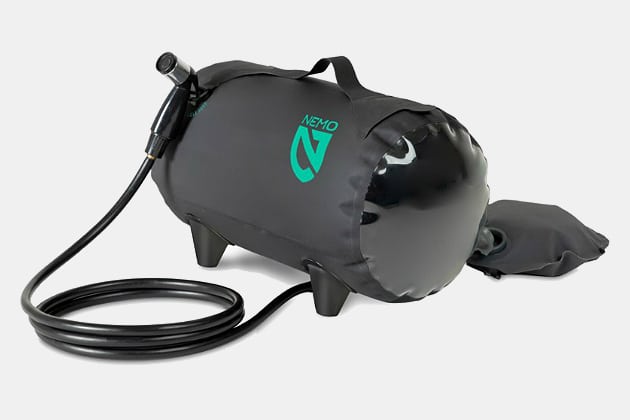 NEMO Helio Portable Pressure Shower
If you've used camping showers before, you might be underwhelmed by the water pressure, or notable lack thereof.  You won't have any problem with this shower, which delivers your ideal water pressure with the use of an integrated foot pump.  A capacity of 11 liters means you'll enjoy up to 5-7 minutes of water pressure, although you probably won't want to be under cold water that long.  At just 1 pounds, 5 ounces, this portable shower unit is lightweight and efficient. – Shop Now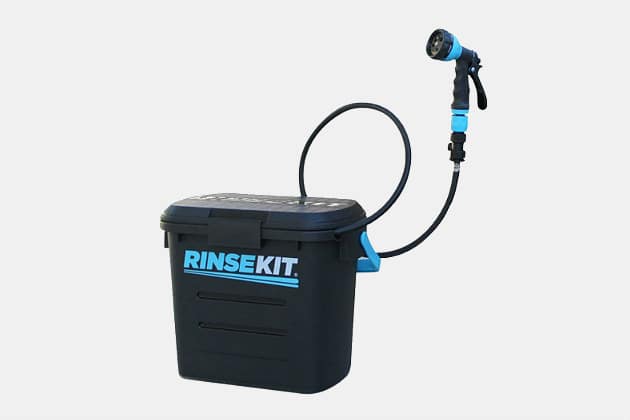 RinseKit Portable Outdoor Shower
Adventures in showering are made more manageable with this kit that includes a 2-gallon reservoir, a hot rod water heater, a pressure booster pump, and six feet of hose for your convenience.  When you want a shower with the pressure of your garden hose and up to six minutes of hot water, you'll get your money's worth.  The reservoir is easy to refill from any spigot or sink and the heat and pump can be used simultaneously.  Plugs into a standard, 12-volt vehicle port for charging. – Shop Now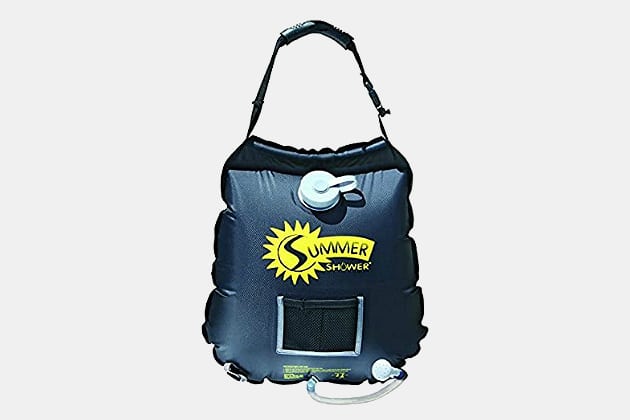 Advanced Elements Summer Shower
On your average day, 5 gallons might not sound like enough water for a shower, but when you have 5 gallons of solar heated water on a camping trip, it's going to feel heaven-sent after a few days collecting dirt and sweat.  Four-layer construction offers durability and heat retention, and added features like Velcro straps and pockets for soap, shampoo, and towels ensure an efficient washing system.  Easy on/off shower nozzle helps to conserve water and it rolls up for compact transport. – Shop Now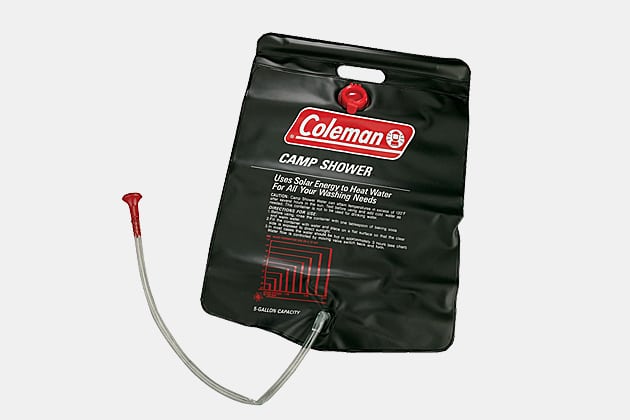 Coleman Camp Shower
If it has to do with camping, you can bet Coleman has a horse in the race.  Their addition to the camp shower market includes a flexible, 5-gallon reservoir that uses the sun to heat your water.  A sturdy handle doubles for transport or hanging on an overhead branch to get the gravity needed for water pressure.  An on/off valve connected to the shower head lets you use as much or as little water as needed, and you're sure to get several uses from a single fill. – Shop Now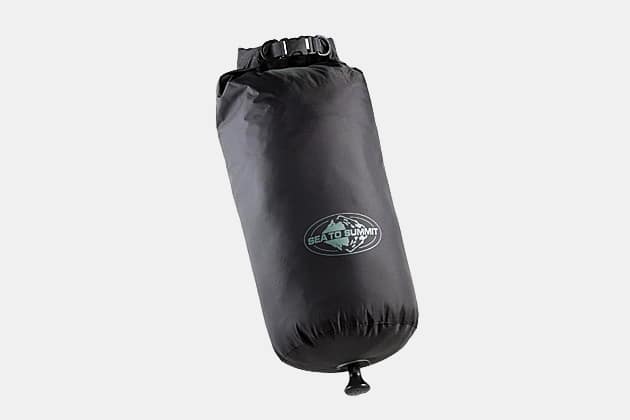 Sea to Summit Pocket Shower
Unless you have pretty big pockets, you probably can't slip this portable shower in your jacket or pants, but when rolled, the 70D nylon sack will fit in a 3×6-inch pouch and add just 4.3 ounces to the weight of your hiking pack.  Of you could use it as a dry sack to stow certain items that require waterproof carry.  When unrolled, you can add 10 liters of water for about 8 minutes of shower time with solar heated water. – Shop Now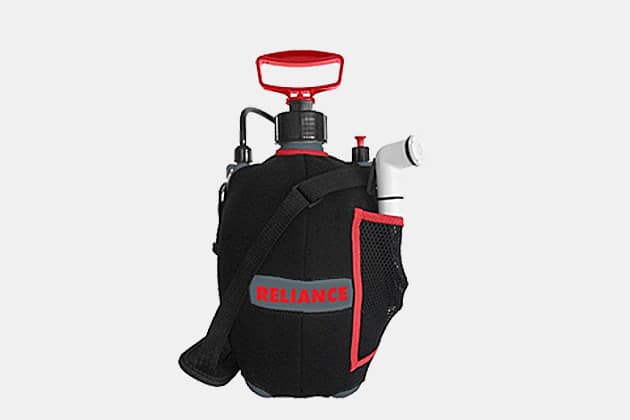 Reliance Outdoors Flow Pro Portable Shower
At 3.8 pounds, this isn't the lightest camping shower, and it only holds up to 2 gallons of water, but it includes a convenient carry strap, a washable neoprene sleeve, and a mesh storage pouch (for shampoo, perhaps).  It also has a trigger action shower head for ease of use and water conservation, which means you can make the most of those 2 gallons.  The best feature may be the 6-foot, kink resistant hose that offers a bit more maneuverability than your average portable shower system. – Shop Now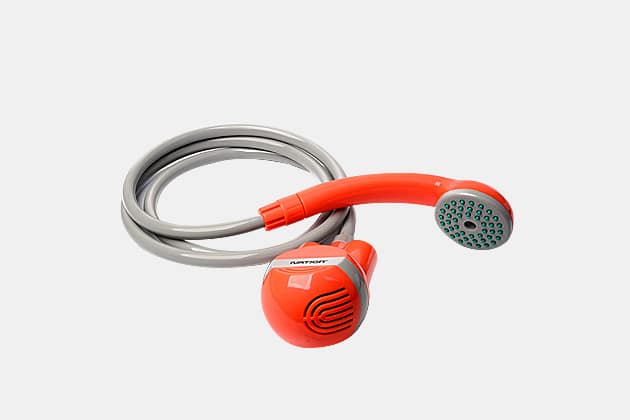 Ivation Battery Powered Portable Shower
You might wonder how this battery-operated shower head and hose system works.  Well, you're going to need a bucket full of water to turn it into a shower.  From there you can use the handheld nozzle, secure it to a flat surface via suction cup, or hang it with the included S-hook.  The battery-powered pump gets water to the head without the need for gravity, an you can recharge it with your laptop or a car adapter for up to one hour of continuous use. – Shop Now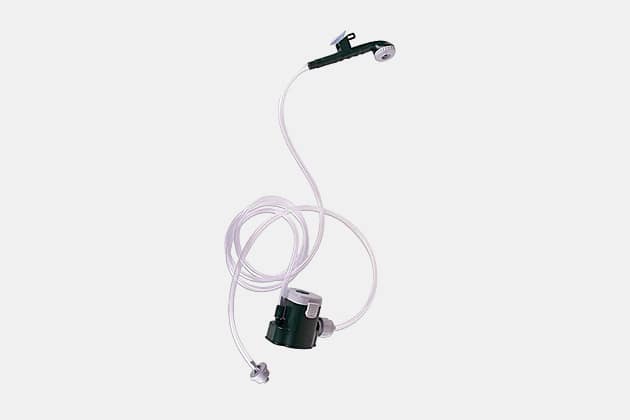 Stansport Battery Powered Portable Shower
Another battery-powered pump system, this portable shower wisely includes 7 feet of tubing for ease of use, as well as a handy carrying bag for convenient storage during travel.  Just drop the end into any water source while camping, hang or hold the shower head, turn on the pump, and get yourself clean.  The adjustable shower head allows you to control the water pressure for an optimized shower experience.  You'll need 4 D-batteries to keep it running, so don't forget to pack extras before heading to the camp site. – Shop Now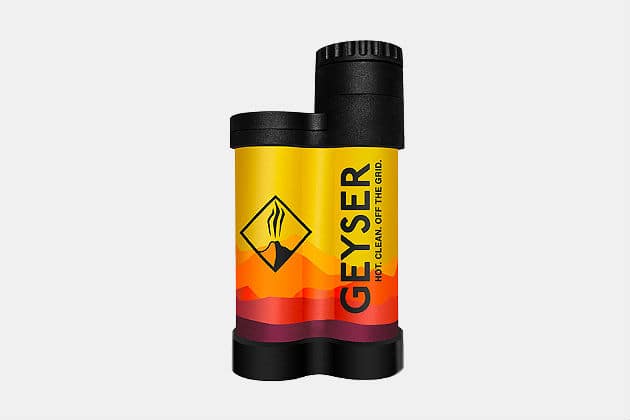 Geyser System Portable Hot Shower
You might not believe that you could get a 7-minute shower from only a single gallon of water, but once you see the unique design, you'll understand how it works.  This portable shower includes a small tank and a hose with a sponge attachment that the water runs through for simultaneous scrubbing and rinsing.  The unit is just 6 pounds when full of water, but you will need to plug it into your car's DC outlet or a portable battery during use. – Shop Now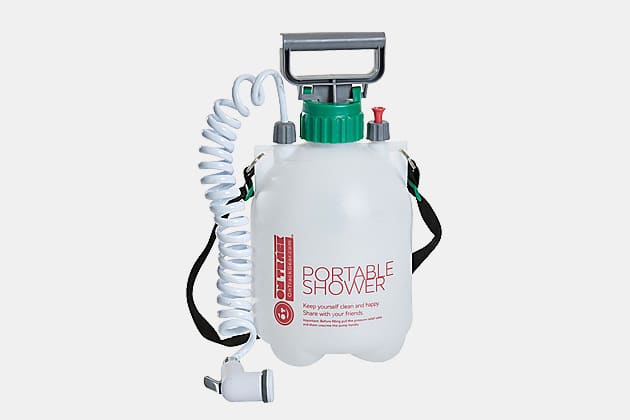 On Track Portable Shower
Both compact and eminently portable, this small camping shower holds just ¾ gallon of water.  With a specially designed showerhead, however, you'll get the water pressure you want paired with efficiency and conservation.  Pump action is easy to use, and you can quickly refill the tank for additional cleaning tasks.  If you want to clean your gear, you'll appreciate the included shoulder strap for added portability.  Plus, it's smaller than a milk jug, so you should have no trouble stowing it for weekend trips. – Shop Now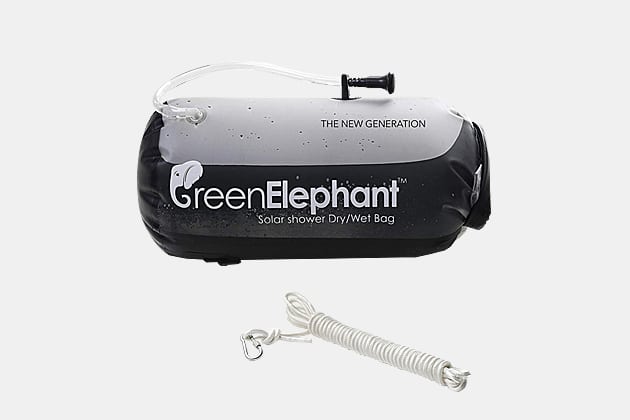 Green Elephant Solar Shower
Multi-purpose camping gear is ideal, which is why you're sure to love this portable camping shower that doubles as dry storage.  It's essentially a 5-gallon sack made from sturdy, durable, non-toxic TPU material (no PVC).  When you're packing for your camping trip, you can certainly roll it up, but you could also fill it with items you don't want to get wet (wallet, electronics, etc.) as it seals airtight for waterproof carry.  Just fill it with water for a solar heated shower at your destination. – Shop Now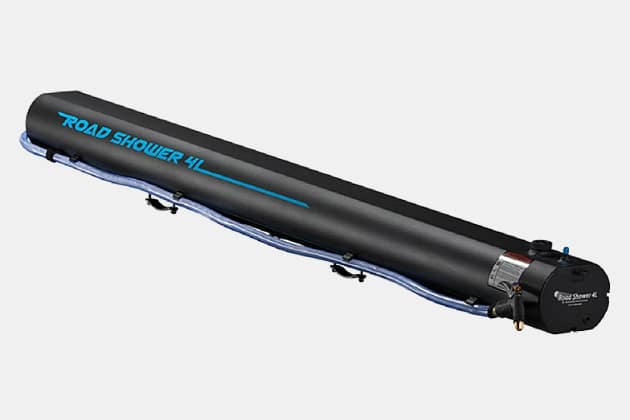 Road Shower
The promise of a hot, pressurized shower on your camping trip might sound like a pipe dream, especially when you consider the lack of pumps or propane associated with this traveling wash system.  What you will get is a tube that attaches to your roof rack and delivers 4, 7, or 10 gallons of solar heated water with which to shampoo your noggin or spray down your gear.  Gravity provides for water pressure if the fill cap is unscrewed completely, while the ability to deliver pressures of 65 PSI provides a worthy outdoor shower experience.  The tank is easily refilled via wide fill neck. – Shop Now
Disclosure: Clicking on these links and making a purchase may earn us a small referral fee, at no extra cost to you. Learn more here.
freestar.config.enabled_slots.push({ placementName: "gearmoose_leaderboard_btf", slotId: "gearmoose_leaderboard_btf" });