30 Best Keychain EDC Items
Your keychain is an integral component of your EDC, and is designed to be portable, compact, lightweight, and just big enough to manage your many keys and still fit in a pocket.  Before you resign yourself to using your keychain for only its intended use – to corral your keys – you should know that there are all kinds of EDC peripherals you could add to this compact carry-all to increase convenience in myriad ways.
 
Whether you find yourself in need of a pen, a flashlight, a bottle opener, a minascule phone charger, or a multi-tool, you'll be pleased to find you can stow them all out of sight on your keychain, thanks to a thriving market in keychain EDC products.  There are so many options that choosing the ones offering the greatest value and convenience can be difficult.
 
If you're on the lookout for the height of utility at an affordable price, you're in luck.  We're happy to help you narrow your search to the very best in keychain EDC products.  You never again have to dig through your car in search of a working pen or pop a bottle top with the edge of a counter and splash your shoes in the process.  Here are some of the best EDC essentials that will easily fit on your keychain.
The James Brand Halifax Keychain Multi-Tool
Sleek, minimal, and functional EDC products make The James Brand a go-to source for many looking to upgrade their everyday carry in a noticeable way. Their latest — the Halifax Keychain Multi-Tool — adds keychain functionality to the brand's growing everyday carry collection.
The Halifax is crafted from Cerakote-finished billet titanium and outfits your existing keychain with an assortment of daily essential tools, including a bottle opener, a combination flathead/Phillips driver tip, a scraper, and a pry bar. Attach it your keychain or a lanyard and keep this one-piece multi-tool within arms reach. – Shop Now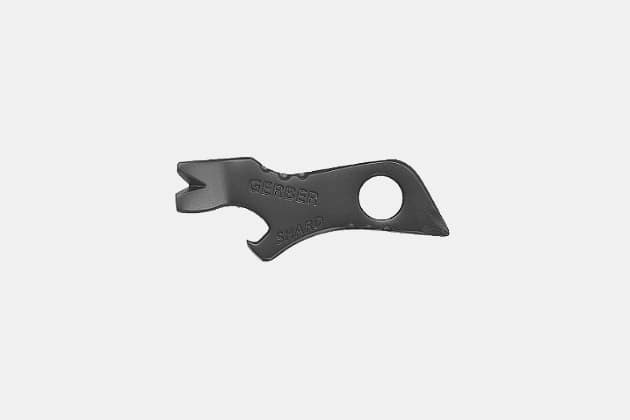 Gerber Shard Keychain Multi-Tool
If someone told you there was a prybar the size of a housekey, you might wonder when you'd have occasion to pry open the door on the Keebler treehouse.  Don't pretend you wouldn't steal a metric ton of Fudge Stripes Cookies from those crafty elves.  Fictional burglary aside, you can, in fact, get a keychain-sized multitool featuring a pry bar, 2 flathead drivers, a wire stripper, a bottle opener, and more.  It's airline safe and made from stainless steel coated with titanium nitride to resist corrosion. – Shop Now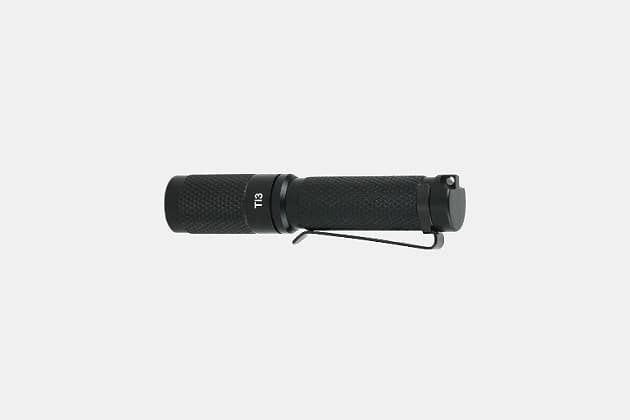 ThruNite Ti3 XP-G2 Flashlight
As tiny EDC flashlights go, this one really packs a punch with solid construction and creative features.  The body is aircraft quality aluminum coated in premium type III hard anodized anti-abrasive finish.  The LED offers a lifespan of 20+ years of run time.  The weight is just 12 grams (sans a AAA battery).  It's waterproof to IPX-8 standard.  It also provides several light output modes, including firefly, low, high, and strobe. – Shop Now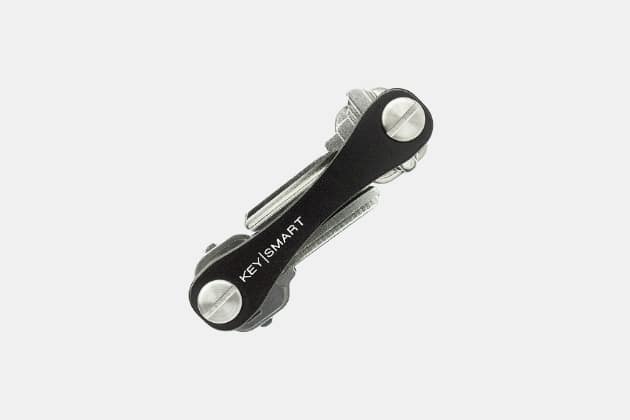 KeySmart Key Organizer
Are you tired of your keys jingling away in your pocket?  It's easy to corral those bad boys thanks to KeySmart's handy key organizer, machined from robust, aircraft grade aluminum complemented by a hard-coat anodized black finish. Nearly any modern key will fit, and you can add 2-8 keys by simply unscrewing the flatheads on the ends to slip keys inside the jacket before securing them.  When you need a key, just slide it out like a tool in your Swiss Army Knife. – Shop Now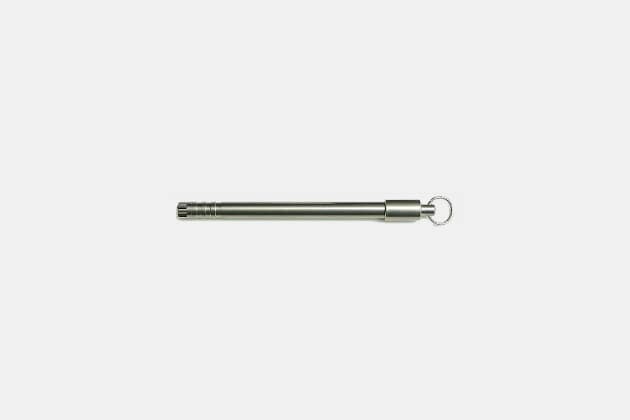 PicoPen
Whether you're calculating the air speed velocity of an unladen swallow (African or European?) or you're jotting down phone numbers of birds at your local watering hole, having a working EDC pen on hand is a must.  The stainless steel PicoPen offers a quick release from the cap attached to your keychain thanks to magnetic functionality.  Not only will you enjoy this speedy-grab feature, but you can also rest assured your pen won't come undone and leave you with an unsightly pocket stain. – Shop Now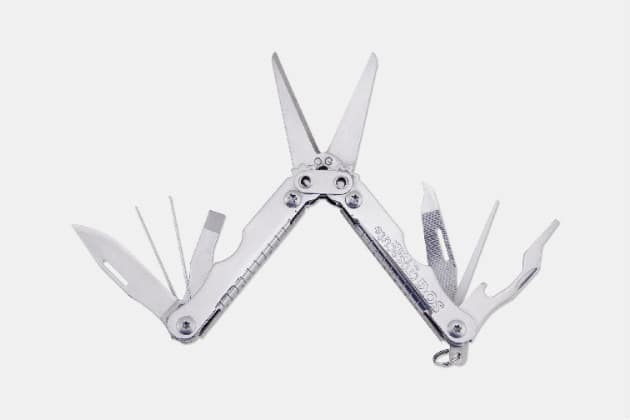 SOG CrossCut 2.0
Tweezers and scissors and knives, that's right.  You'll find a lot to love in this stainless steel multi-tool that features a straight edge blade, a small and large flat screwdriver, a nail file, a ruler, scissors, tweezers, a toothpick, a bottle opener, and a lanyard loop.  Best of all it's just under two ounces and 2.5 inches long when closed, which means you can easily add it to your keychain EDC without a ton of extra bulk. – Shop Now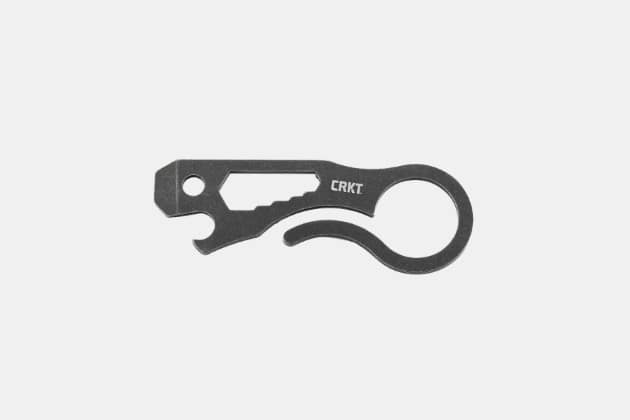 CRKT Viva Keychain Multi-Tool
It may look like a tadpole, but this worthy EDC keychain multi-tool is anything but a helpless babe.  Resplendent in sturdy, stonewashed stainless steel, it features 5 sizes of hex wrenches, a pry bar, a flathead screwdriver, and a bottle opener.  You know, just the essentials for a night of inebriated furniture building.  At four inches, it might be just a little long for the average keychain, but the handy loop can also attach to your belt or backpack. – Shop Now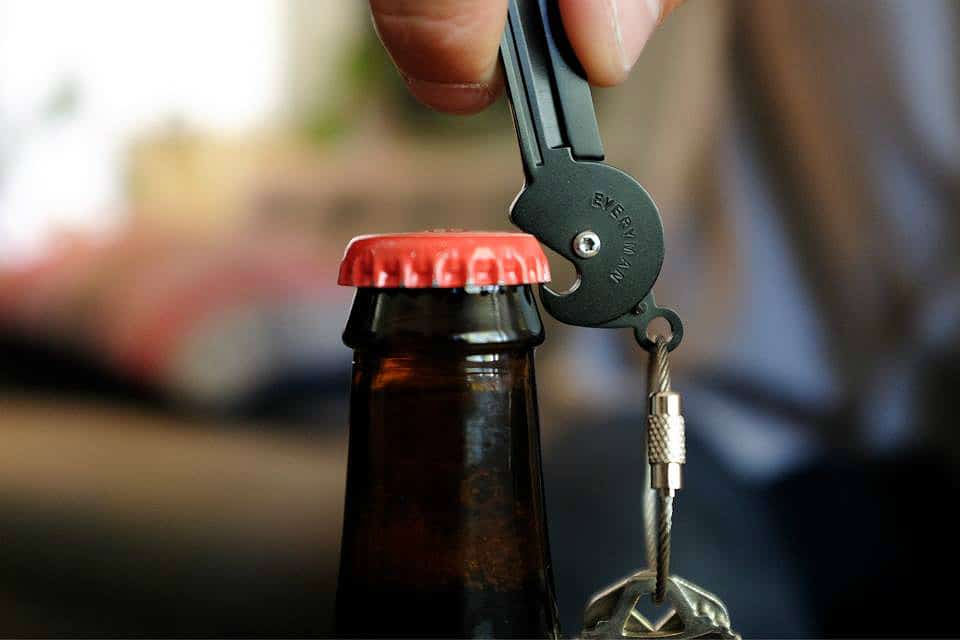 Porter Key Knife
Although it's billed as a multi-tool, this key knife could more aptly be coined a dual-tool, as it features just a straight edge blade and a bottle opener.  What's notable is the construction.  It looks a lot like any other key on your ring until you scissor it open to reveal the knife inside or flip it to pop the top on your bottle of suds.  With an overall length of 2.5 inches and stainless steel construction, it's the tiny tool everyone's keychain EDC needs. – Shop Now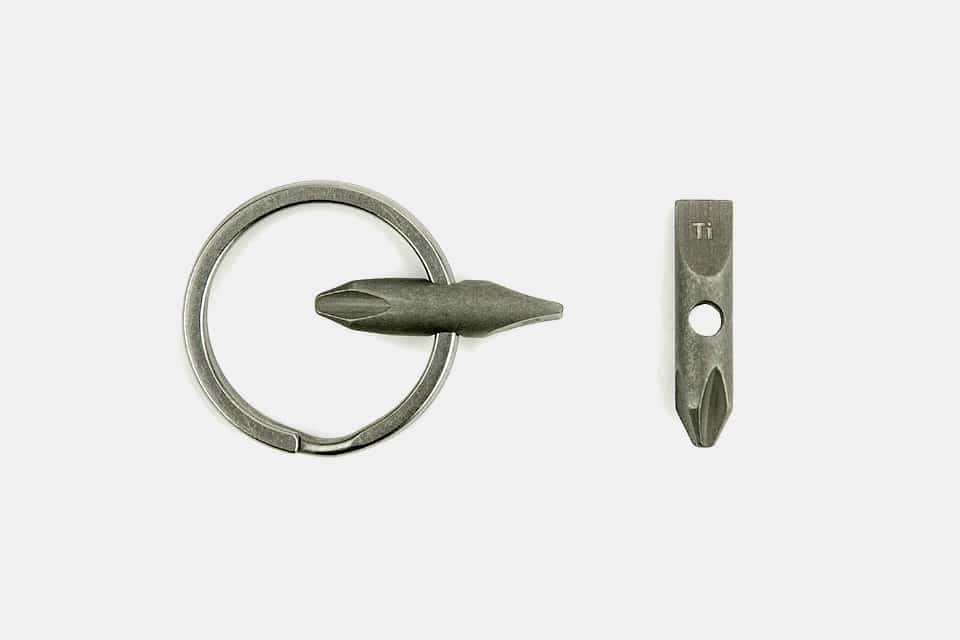 Titanium Pocket Bit
Covert carry doesn't begin to describe the hidden utility in this tiniest of pocket tools.  It looks like a spare screwdriver bit that somehow ended up on your keychain, thanks to a hole drilled equidistance between the flathead and Phillips drivers on either end.  It does more than fix the loose screw in your cupboard, though.  It also acts as a mini pry bar or bottle opener and it hides among your keys. – Shop Now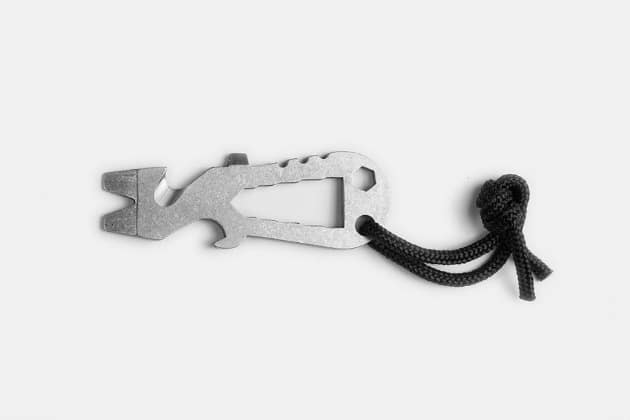 Schrade Titanium Keychain Pry Tool
At first glance, this titanium keychain tool looks a bit like a tribal design necklace.  Truly, there's nothing to stop you from wearing it around your neck.  Of course, in addition to looking sharp, it also provides you with a strap cutter, a bottle opener, a flathead screwdriver, a pry tip, and a wrench driver.  At three and a quarter inches and roughly an ounce, this rugged EDC multi-tool can go with you anywhere. – Shop Now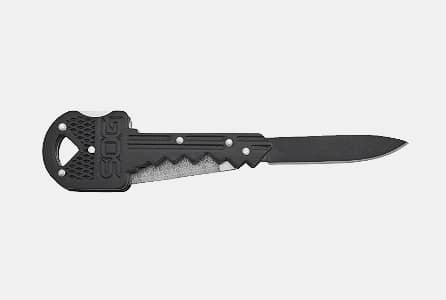 SOG Key Knife
Somewhere, somebody thought, "What if I put a tiny bayonet on the end of a key?"  In my mind, this is how the SOG Key Knife came to be.  It's a key.  It's a knife.  It's – you guessed it – a key knife.  They key part is just for looks, as in, it won't look out of place on your keychain.  Then you fold out the knife and you have the perfect tool for carving apples or practicing self-defense. – Shop Now
FireStash Keychain Lighter
If Bics are too big for your EDC preference, and Zippos are out of the question, you'll be happy to hear there's a minascule lighter just right for your minimalist sensibilities.  Shaped like a horse pill, this product measures 1.8 inches in length and pops open to reveal a lighter that is diminutive in size, but no less capable of lighting your smoke or starting a campfire.  P.S. It's waterproof. – Shop Now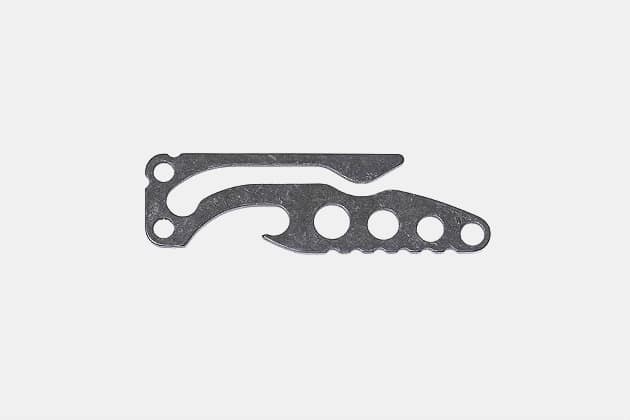 Pickpocket Alpha Keychain Multi-Tool
Looking at this multi-tool, you might wonder what, exactly, it's good for.  There are no screwdrivers or prybars present, and certainly no flashy extras like the portable nail kits that come with some multi-tools.  What you'll get is 2.3 inches of skeletonized titanium, weighing just six grams, that can clip to a belt (or belt loop), open your beer bottle, and offer several slots to attach a variety of key rings to. – Shop Now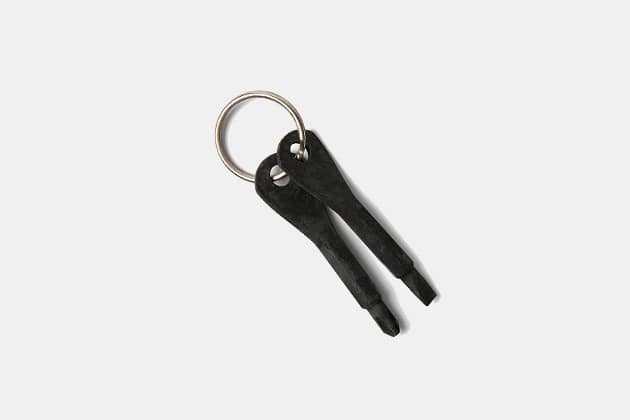 Maratac Keychain Screwdriver Set
Who needs full sized screwdrivers when you can have keys with screwdriver ends?  The set includes a Phillips and a flathead screwdriver, each shaped like a key and sized to fit in with the other keys on your chain.  Heat-treated, blackened steel construction not only looks pretty badass, it's also extremely durable and robust.  You don't need a screwdriver all the time, but when you do, you'll have one within easy reach. – Shop Now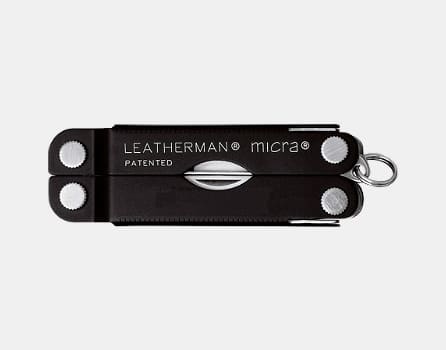 Leatherman Micra
If you already have a Hefty, full size Leatherman slowly wearing holes in all your pants pockets, perhaps it's time to swap it out for the miniature version in stainless steel.  It's just 2.5 inches in length when closed, but don't let the demure size fool you.  You'll still get a knife, spring action scissors, flathead and Phillips screwdrivers, a ruler, a nail file and cleaner, tweezers, and a bottle opener. – Shop Now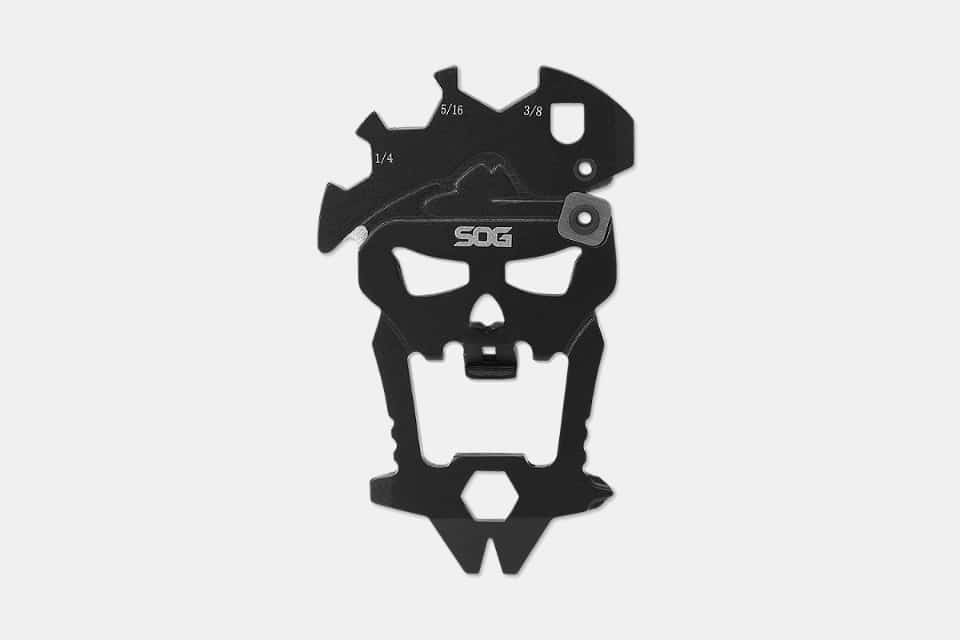 SOG MacV Tool
This stainless steel multi-tool comes with 12 tools, including a carbide sharpener, a cord cutter, small and large flathead screwdrivers, a Phillips screwdriver, a quarter-inch hex bit, a nail puller, a pry bar, three wrench sizes (1/4", 3/8", and 5/16"), and a bottle opener.  The best feature, however, is the shape of the tool.  It's a skull in hardcase black coating.  The only way it could be any cooler is if it pointed the Goonies the way to hidden pirate treasure. – Shop Now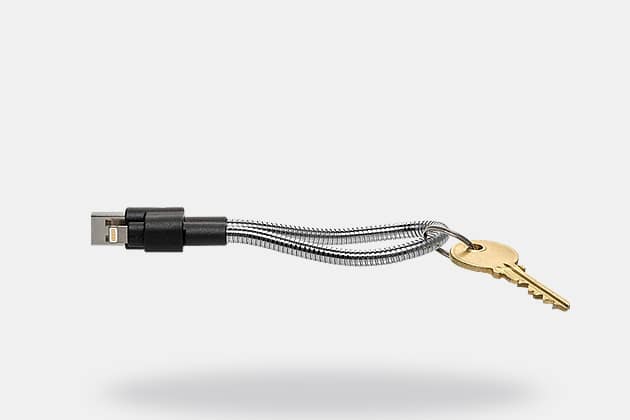 Fuse Chicken Titan Loop Keychain Cable
EDC must-haves used to be limited to pocket knives and pens.  Nowadays, technology demands more, and most people would agree that a portable phone charger tops the list of essentials.  Whether you're out in the woods for a week or stuck in the library for hours on end, the Titan Loop, featuring nine inches of cable wrapped in rugged metal tubing, lets you jack into pretty much anything with a USB port to charge your most vital mobile devices. – Shop Now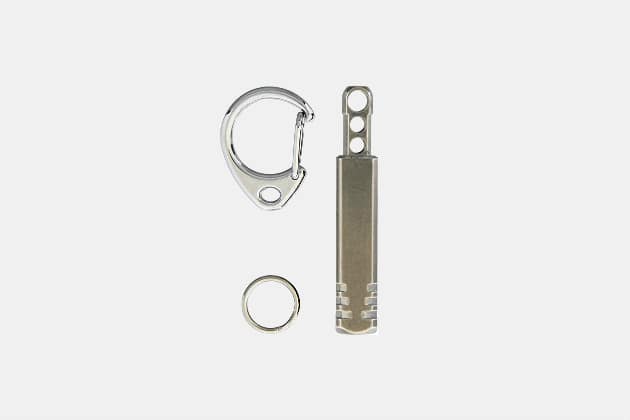 Pixel Ti Flashlight
It's hard to believe that something about the size of a quarter can offer you ample illumination, but you might be surprised by what you'll get from this microlight.  Attach it to a keychain or necklace for easy carry and enjoy white or red LED lighting at 21 or 25 lumens (for warm and cool white light, respectively).  Titanium construction offers durability, even when your flashlight is tumbling around in your pocket with a bunch of keys. – Shop Now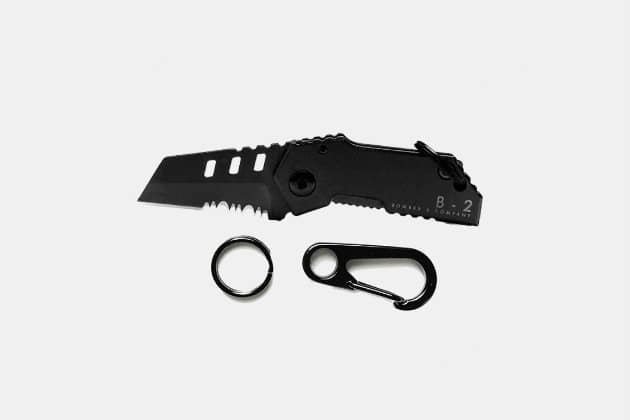 Bomber B-2 Nano Blade
What the heck is a nano blade?  One that measures just 30 mm in length.  Touted as the world's smallest tactical pocket knife, this trusty blade still offers a versatile means of whittling some wood, cutting a steak, or fending off a would-be attacker in a parking garage.  Stainless steel construction ensures rugged durability, and it's not hard to believe that this miniature knife was inspired by B-2 stealth bombers. – Shop Now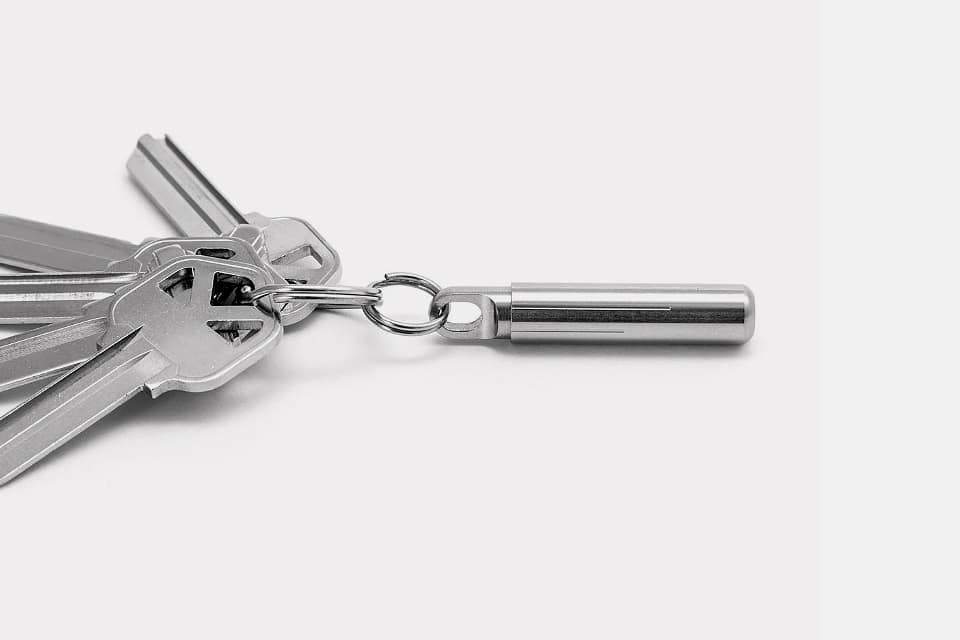 Nano torch Keyring Flashlight
This small cylinder is shorter than the keys on your ring, and the circumference is small enough that it won't garner any notice on your keychain.  What it will do, when the need strikes, is offer 25 lumens, which is more than the average handheld flashlight in your garage or glove compartment.  With solid, stainless steel construction, this EDC flashlight is rust-proof, break-proof, and built to last whether you attach it to a keychain or wear it on a necklace. – Shop Now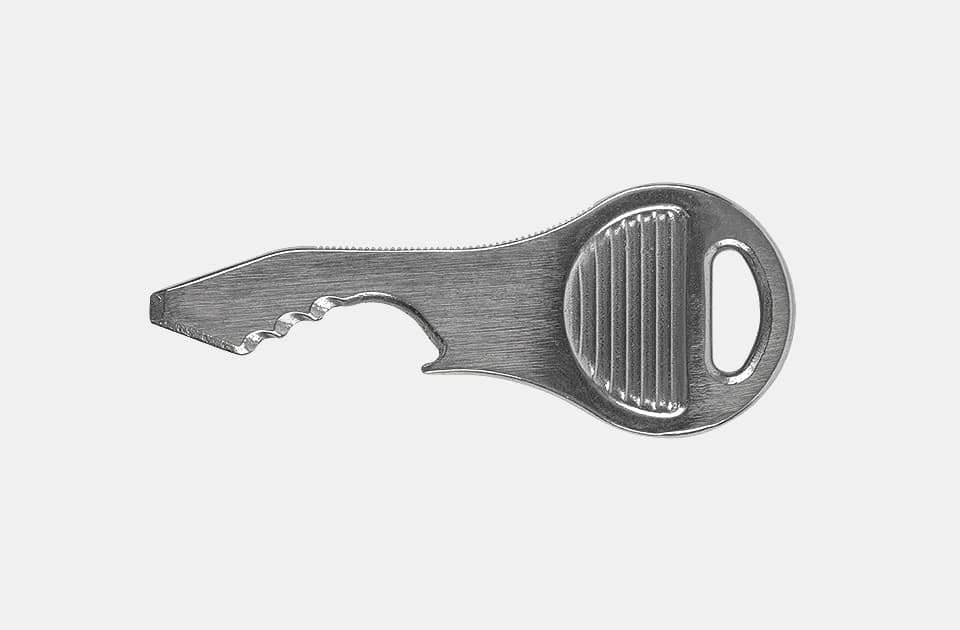 QuicKey
This 5-in-1 multi-tool in durable stainless steel could probably pass for a key if no one looked too hard.  On closer inspection, however, you'll find a serrated cutting edge, a scoring point, a file, a flathead screwdriver, and a bottle opener.  Not only does its small stature (just 2.5 inches in length) make it extremely portable, but it's also airport friendly, which means you really can take it with you wherever you go. – Shop Now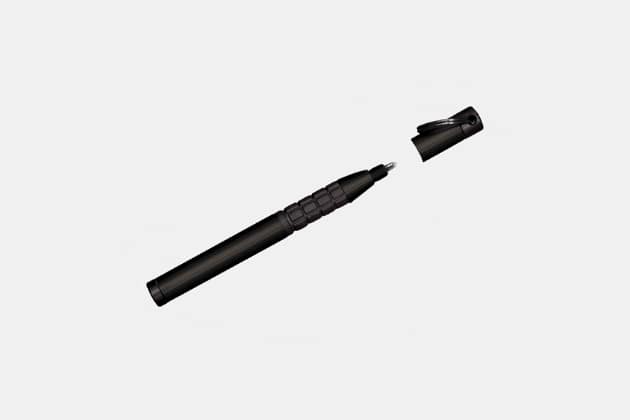 Fisher Trekker Space Pen
Space pens rank among some of the coolest tools known to man, thanks to the fact that they can put ink to paper upside down, underwater, and over grease, even in extreme hot or cold temperatures.  Oh, yeah, they also continue to work in zero gravity situations – you know, in case you want to write a love note from outer space.  This one comes in matte black with a breakaway lanyard for ease of use. – Shop Now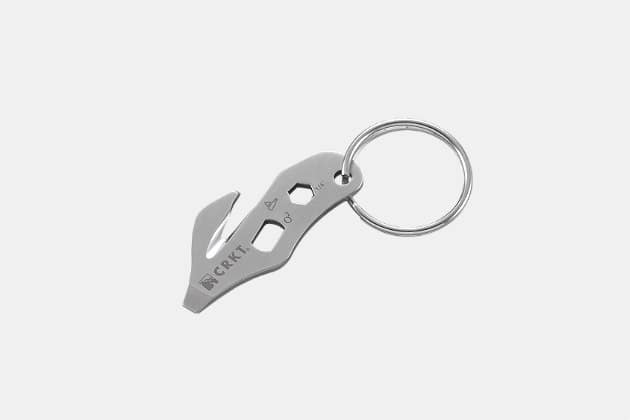 CRKT K.E.R.T.
Simple, streamlined styling and slender construction mean this multi-tool stashes in your wallet or joins your keys with equal ease.  Utilitarian features include essentials like a strap cutter, a flathead screwdriver, wrenches, and a bottle opener.  Whether you're suffering a serious emergency that requires you slice your seatbelt off or a minor one that calls for a bottle to be opened, this EDC tool does the trick and slips right back in your pocket. – Shop Now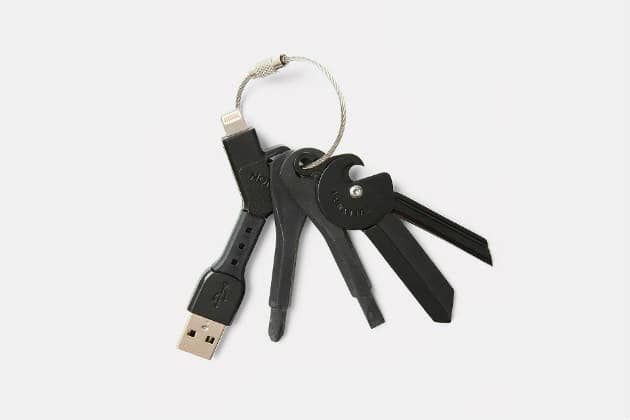 Blacklist EDC Kit
Why buy a single, bulky multi-tool that's only going to leave a permanent imprint in your pants pocket when you could purchase a kit of several tiny tools that fit on your keychain?  This assembly of essentials includes flathead and Phillips screwdrivers, a straight edge blade and bottle opener combo, and a USB-to-lightning charging accessory (not a cable, per se).  Each is about the size of a key and hangs unassumingly on your keychain for easy accessibility. – Shop Now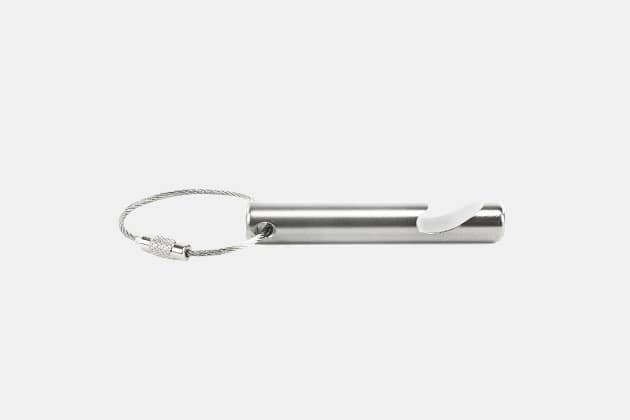 Ballard Bottle Opener
EDC has become a bit harder in this era of TSA security checkpoints, which is why you're always on the lookout for handy products that are airport friendly.  This is one you'll want to add to your growing collection.  Six ounces of stainless steel deliver your most important EDC functionality – a bottle opener that looks like a slim whistle.  It can't turn a screw or core an apple, but you won't care when you're four bottles into your six pack. – Shop Now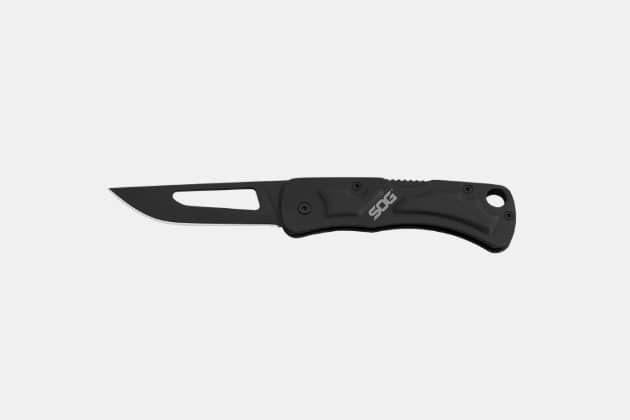 SOG Centi II Knife
With a closed length of 2.9 inches and a blade length of 2.1 inches, this knife is truly a mini, but don't let anyone tell you two inches isn't enough. This razor-sharp blade in stainless steel is strong enough to handle your EDC demands, from cutting clothing tags or zip ties to whittling wood.  The lockback design keeps the blade closed tight and it easily fits on your keychain or stows in your pocket. – Shop Now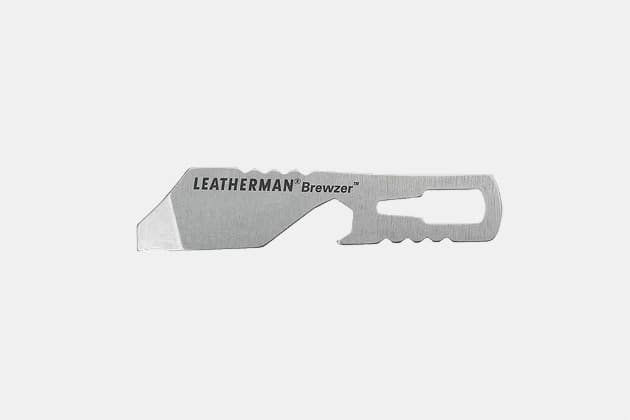 Leatherman Brewzer
When you hear the name "Leatherman", you naturally anticipate a spring-loaded multi-tool with all the bells and whistles.  However, the company known for delivering a toolbox in a tiny pouch are unafraid to pare down and offer a simpler EDC tool.  The Brewzer offers only a bottle opener and mini pry bar, but really, what else do you need from 2.5 inches and 0.5 ounces of stainless steel that seamlessly slots in with your keys or slips in your pocket? – Shop Now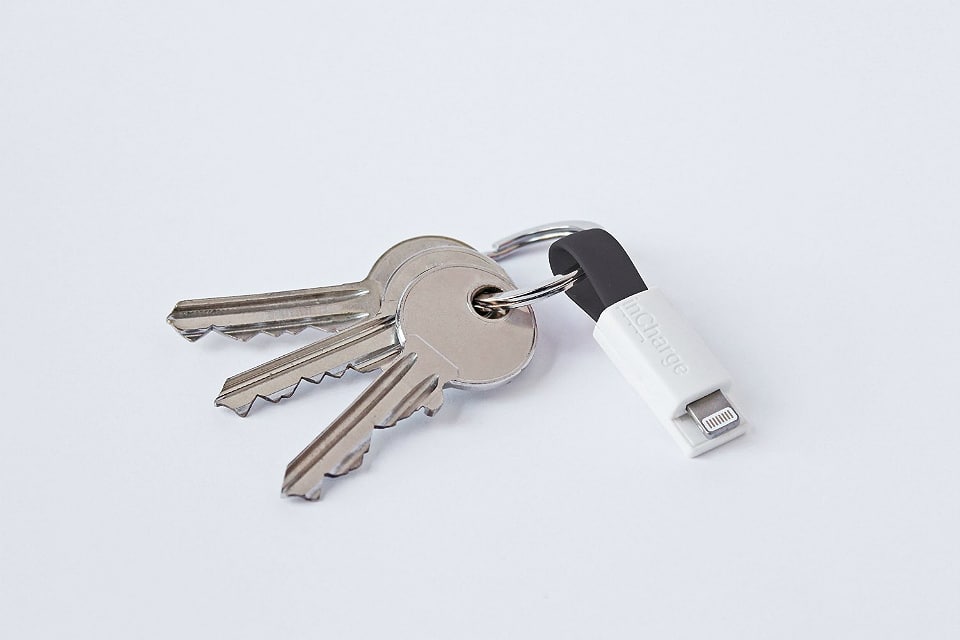 InCharge Keyring Cable
Even minimalists can go ballistic when their mobile devices shut down due to low battery.  The good news is, you don't have to carry your 6-foot iPhone cable coiled up in your pocket everywhere you go.  Instead, just snap this 1.5-inch lightning charger around your keychain and call it a day.  The magnetic ends will hold it in place until you need a charge.  It comes in a rainbow of colors to match your personal style. – Shop Now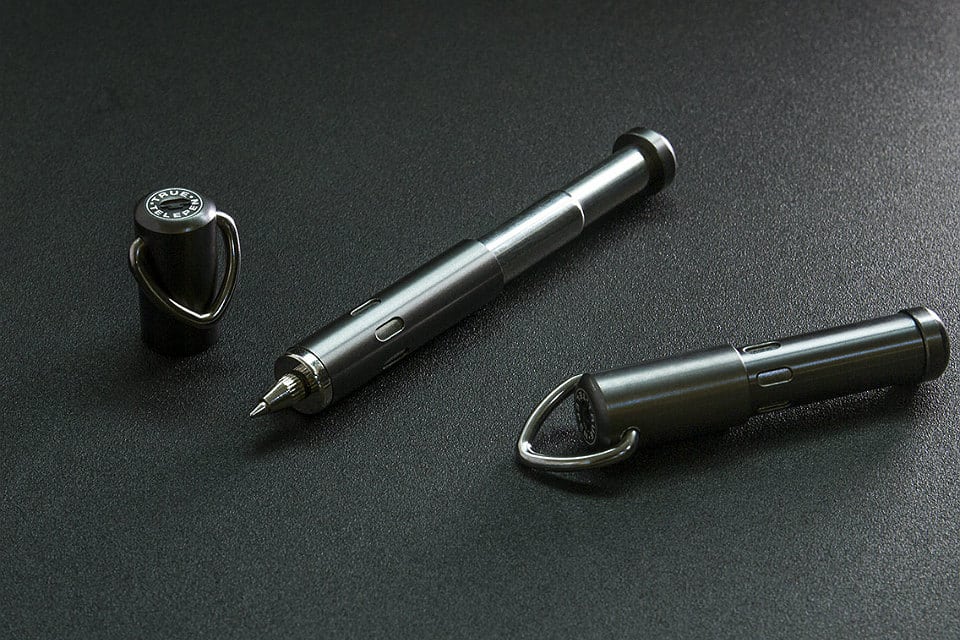 True Utility Telescopic Pen
Writing with keychain EDC pens could cramp your style (and your writing hand).  Instead, you might prefer a telescoping pen that provides both diminutive sizing when closed (just 2.4 inches in length), and a longer, more comfortable grip when opened (nearly 4 inches in length).  The brushed stainless steel tubing is beautiful to behold and the anodized aircraft-grade aluminum body is durable and resilient.  A magnetic cap offers quick and easy access. – Shop Now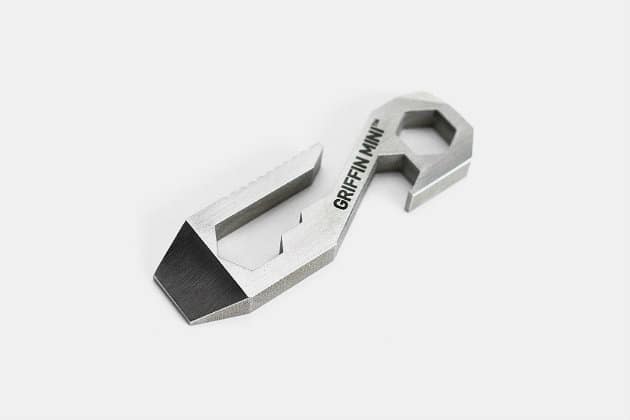 Griffin Mini Pocket Tool
This mini multi-tool in stainless steel, titanium, or brass delivers a lot of function with very little bulk.  It offers nine tools, including a flathead screwdriver, a pry tool, a scoring tool, a bottle opener, and four wrenches, as well as a pocket clip.  At just two inches in length, with a weight of 14 grams, it's a perfect fit for your keychain or an understated addition to your belt loop. – Shop Now
Disclosure: Clicking on these links and making a purchase may earn us a small referral fee, at no extra cost to you. Learn more here.
freestar.config.enabled_slots.push({ placementName: "gearmoose_leaderboard_btf", slotId: "gearmoose_leaderboard_btf" });