The 20 Best EDC Flashlights
An EDC flashlight is one of the most important parts of your everyday carry collection, especially after stumbling home at 2am and dropping your house keys somewhere in your 2 acre front yard. That's just one possible scenario, but you get the picture.
An EDC flashlight is a necessary addition to a fully-functional everyday carry ensemble, especially when you actually need it and there's not enough moonlight to deliver the light need to mitigate the aforementioned scenario. In contrast to the larger tactical flashlights carried in your backpack or in your vehicle, EDC flashlights are smaller, more portable versions that fit easily in your pocket, in a pocket organizer, or on your keychain for everyday use.
For the discerning everyday carrier, we've compiled this list of the best EDC flashlights in no particular order. Some of them are brighter than the others, and some of them are more tactical than the rest. But one thing is for certain, the 20 best EDC flashlights listed here in no particular order will shed some much-needed light on your existing everyday carry collection.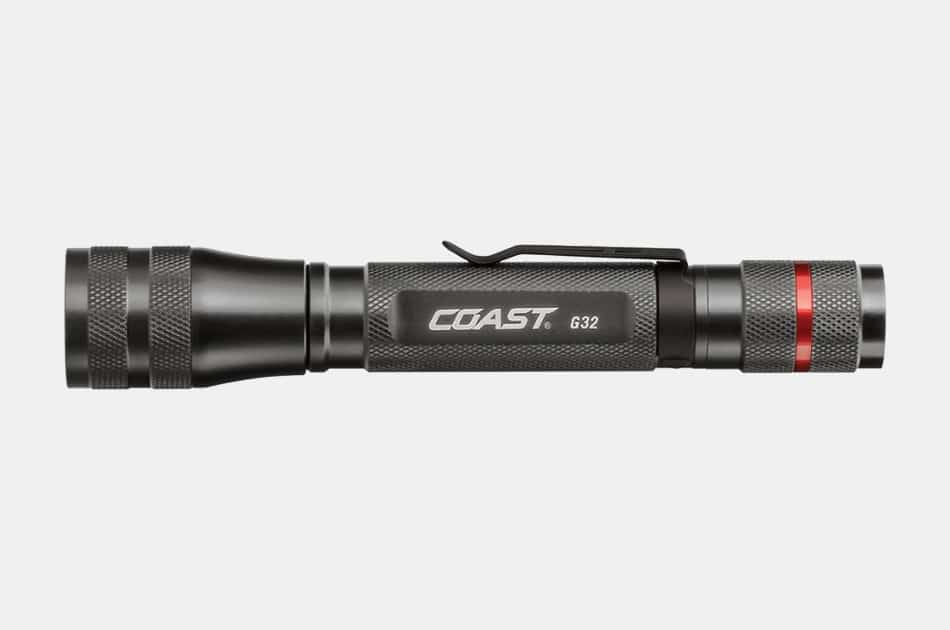 Coast G32 Flashlight
The Coast G32 Flashlight may be sleek and slim enough to fit in your pocket, but it delivers impressive power for such a compact flashlight. With an output of up to 355 lumens (on high) and a max beam distance over 130 meters, it's the perfect flashlight to carry with you everywhere you go, for any emergency or camping trip. You get nearly 20 hours of battery life on the low setting, with nearly five hours on the highest output. The bulb is designed to eliminate hot spots and halos, and you can select your perfect setting with just a twist of the flashlight's head.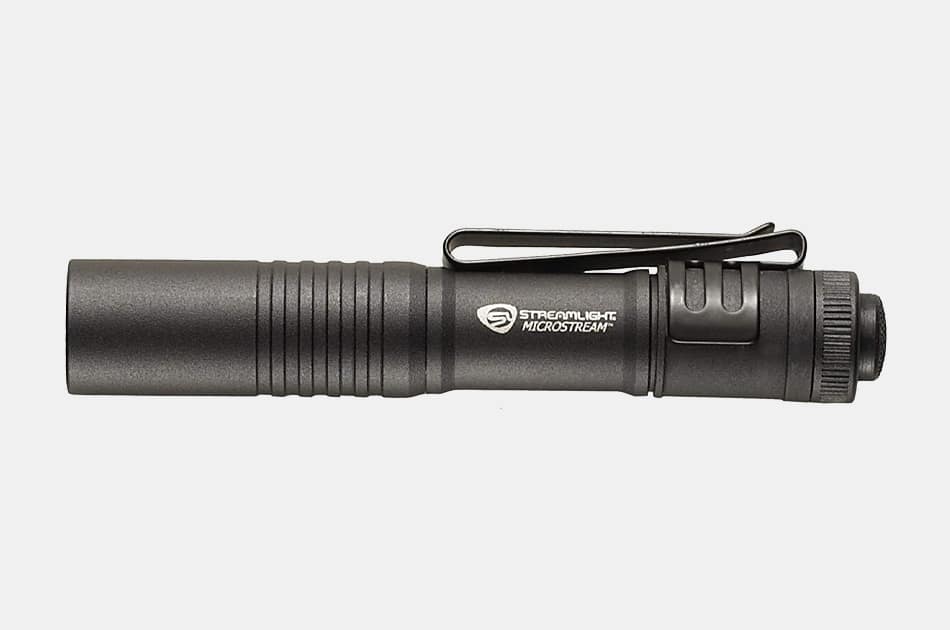 Streamlight Microstream Flashlight
The Streamlight Microstream Flashlight combines durability, ease of use, and long-lasting battery life to deliver one truly amazing multi-functional device. Though it weighs barely more than an ounce and utilizes just one AA battery, the ultra-compact flashlight delivers longer-than-average runtime and impressive brightness thanks to the C4 LED light bulb. The push-button tail cap, hat/pocket clip, and anodized aluminum body guarantees convenience and versatility for anything you need to use it for. Though it is small, it is truly mighty.
Fenix E12 V2.0 AA Flashlight
At just three inches long and weighing less than two ounces, the Fenix E12 V.2 AA Flashlight is the perfect EDC option, one that will fit into any pants pocket or backpack. The light output is impressive on its highest setting—a full 160 lumens and a beam up to 68 meters—but set on the lowest setting, you get a solid 70 hours of battery life from each single AA battery used. With its knurl-textured, rugged aluminum housing and IP68 waterproof rating, you can trust it will survive anything the elements can throw at it. And it even comes with a five-year free repair guarantee.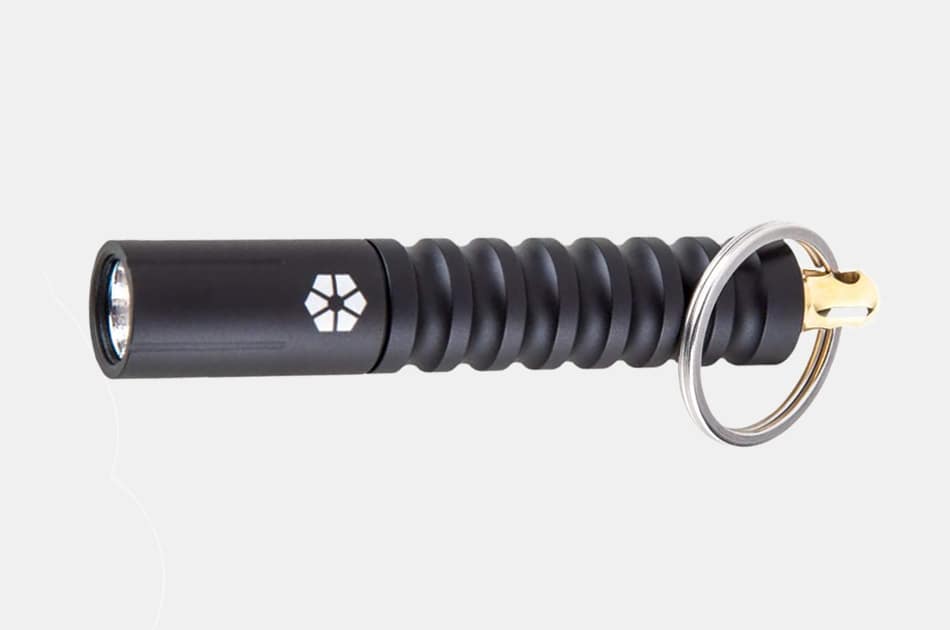 Prometheus Beta-QRv2 Flashlight
There's something to be said for the heft and power of a heavy-duty Maglite that runs on six D-cell batteries, but you can't really stick it in your pocket for emergency use, and you certainly don't want to haul it along when you're hiking 10 or more miles to your campsite. This is where an EDC keychain flashlight like the Prometheus Beta-QRv2 comes in handy. Just 3.4 inches long and 0.75 ounces, it delivers two brightness settings (15 or 60 lumens) and up to 4 hours of runtime, as well as a quick-release keychain attachment.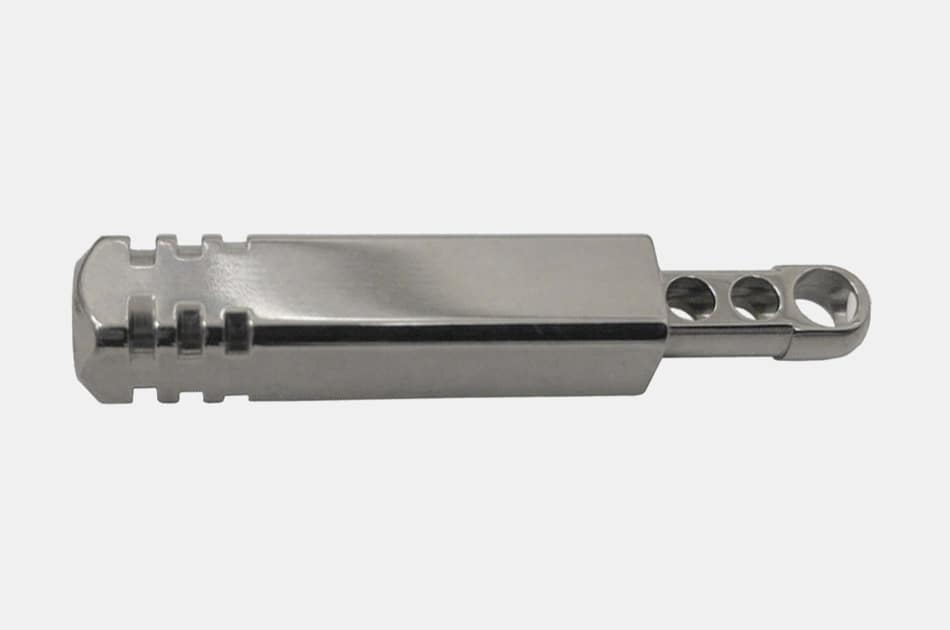 Pixel Ti Keychain Flashlight
This mini EDC flashlight is just a bit larger than a quarter at about 1.7 inches in length and it weighs in at 0.8 ounces. Attach it to your keychain or hang it on a necklace and you'll always have access to 25 lumens of high illumination intensity, cool white LED light or 21 lumens of true color rendering with warm white LED light. The squared body may seem strange until you realize it will never roll off the table you set it on while your hands are busy pitching the tent or lighting the campfire.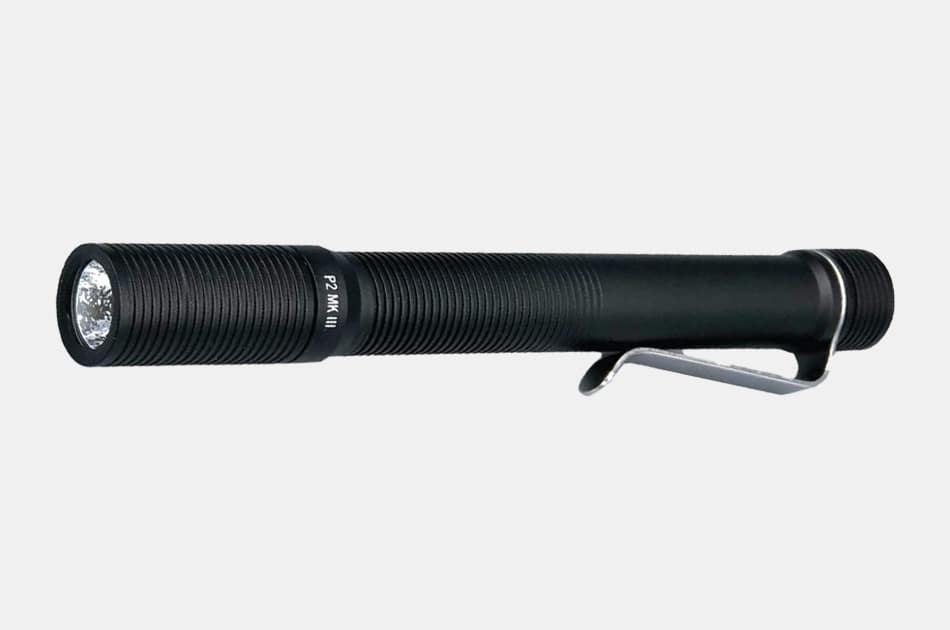 FourSevens Preon P2 MKIII
At 5.1 inches long and 6.1 ounces, this isn't the smallest flashlight, and it will definitely cause a noticeable bulge in your pocket, but it runs on easy-to-find AAA batteries, it delivers up to 220 lumens of light power, and it does feature a pocket clip for easy everyday carry. It also has six distinct user interface modes, including a variety of bursts and strobes, and delivers anywhere from 1-90 hours of use, depending on the mode. Comes in black anodized, electroless nickel, or solid copper finish.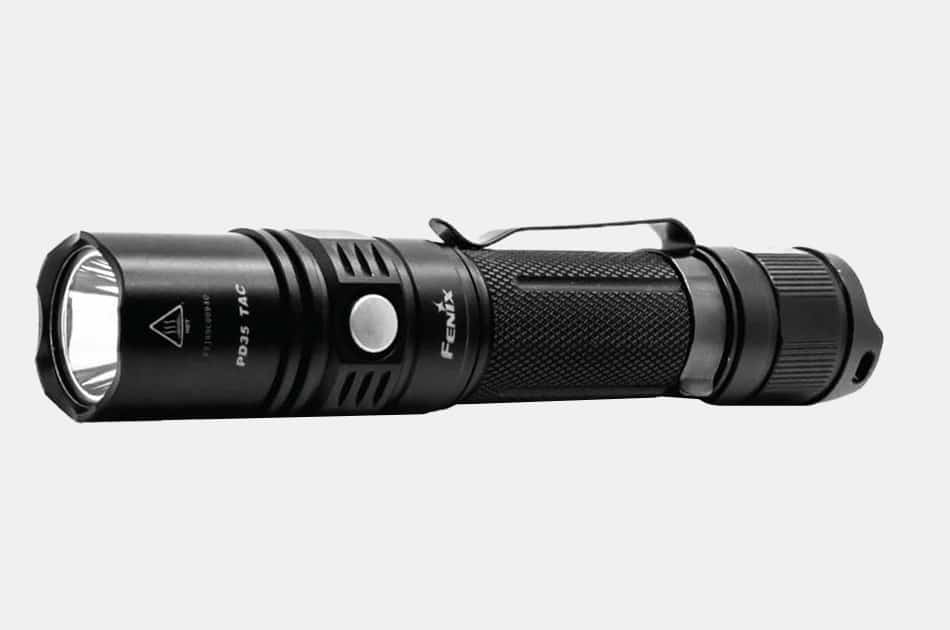 Fenix Flashlights FX-PD35TAC Flashlight
Bigger than a keychain flashlight at 5.5 inches in length and a weight of 3.1 ounces, this EDC must-have has the distinction of fitting nicely in the hand, unlike some smaller options that you'll have to grip with your thumb and forefinger. In other words, it's ergonomically pleasing. It also has six output modes delivering up to 1,000 lumens, it's made of aircraft-grade aluminum for strength and durability, and it's IPX8 rated for immersion in water, just in case you drop it in a puddle.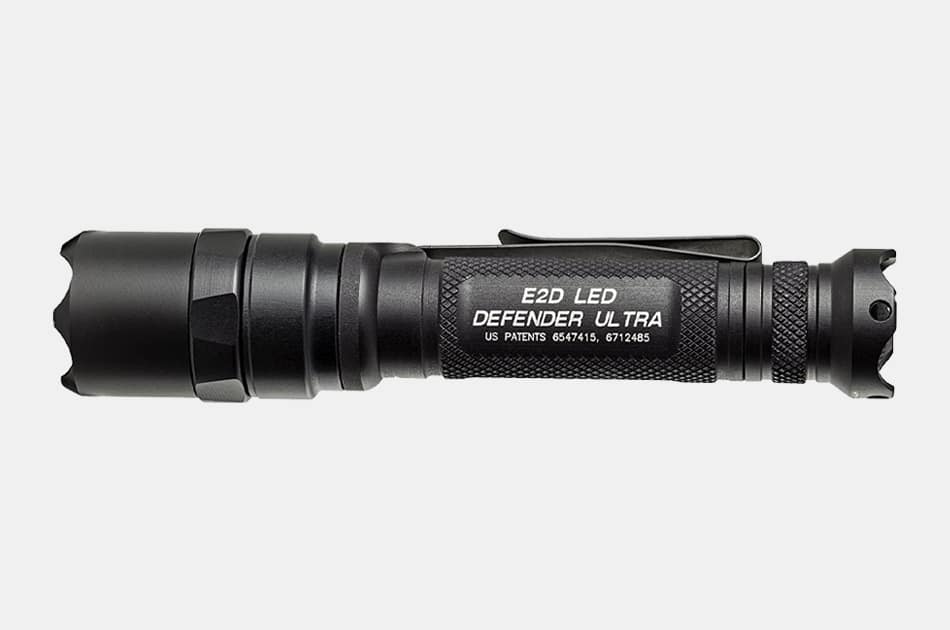 Surefire E2D Defender
Whether you need 1,000 lumens to identify the critter rummaging around the outside of your tent or you want 5 lumens to read late into the night without disturbing your partner, this little flashlight can deliver with two output levels. With a strong, aerospace aluminum body and a coated tempered window to resist impact, you'll get a durable product perfect for EDC or camping excursions. At 5.6 inches long and 5.9 ounces, the EDC-friendlysize is just right for a comfortable grip during use.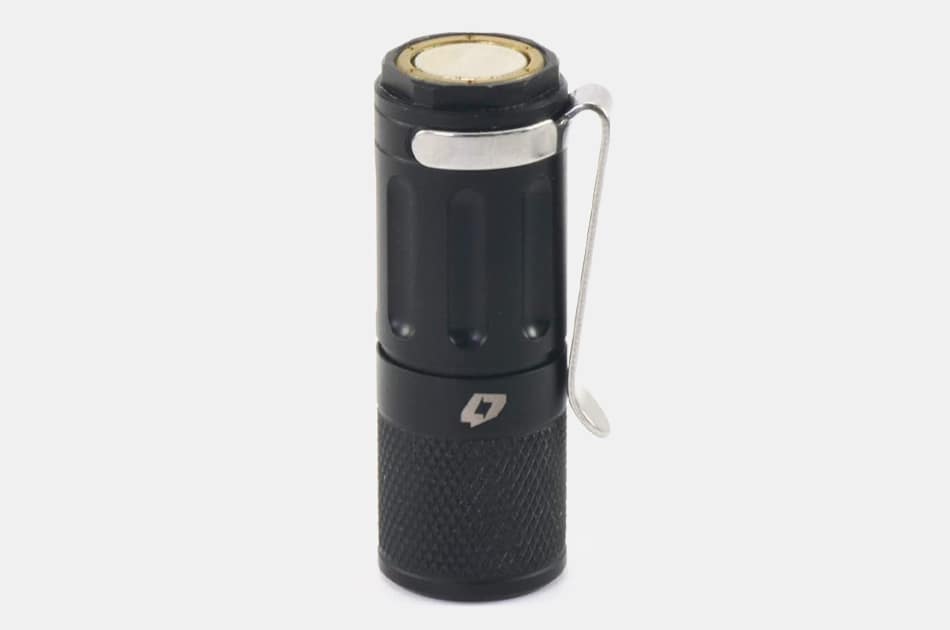 FourSevens Mini Turbo MKIII Flashlight
This tiny torch is just 2.38 inches long and 1.8 ounces, but don't let that fool you – it's still plenty powerful for everyday carry. It features a variety of modes that deliver up to 700 lumens, and you'll enjoy a sharp beam of light that reaches up to 200 meters. A save function lets you return to the last mode used, the Type-III hard-anodized 6061-T6 aluminum full-groove body is super resilient, and IPX8 water-resistance means you can use it even in wet weather. It also comes with a rechargeable lithium-ion battery for charging on the go.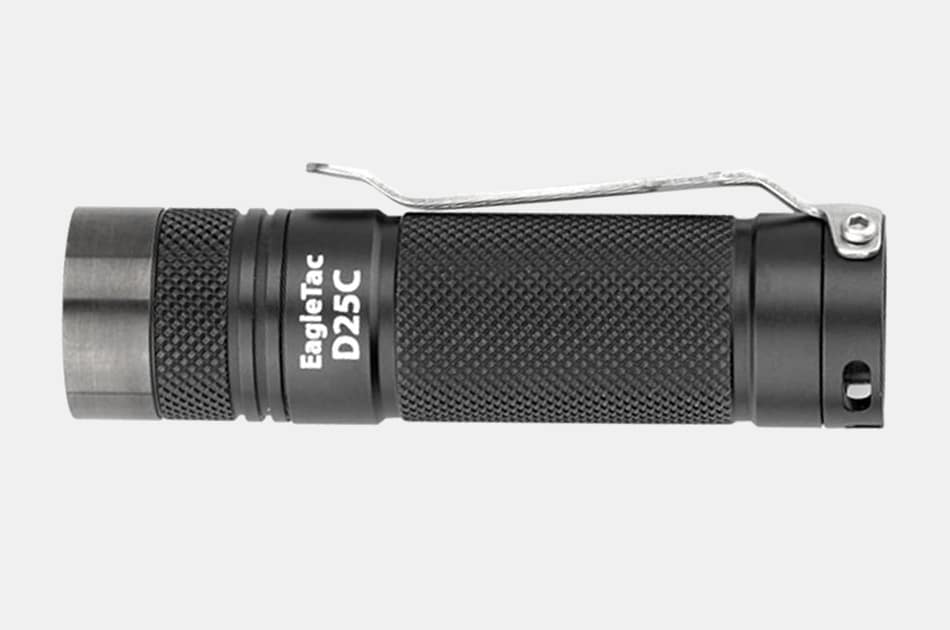 EagleTac D25C Clicky
It fits in your palm, your pocket, or clipped to your belt loop with a length of just 2.9 inches and a weight of just under one ounce. Four different light output settings range from 1-453 lumens, with attendant run times ranging from about 1-150 hours. Beam distance tops out at 105 meters and you'll enjoy IPX8 waterproofing. Rear-click activation makes it easy to switch on and off and toggle between modes, and satisfied users report that the light actually seems a little brighter than advertised.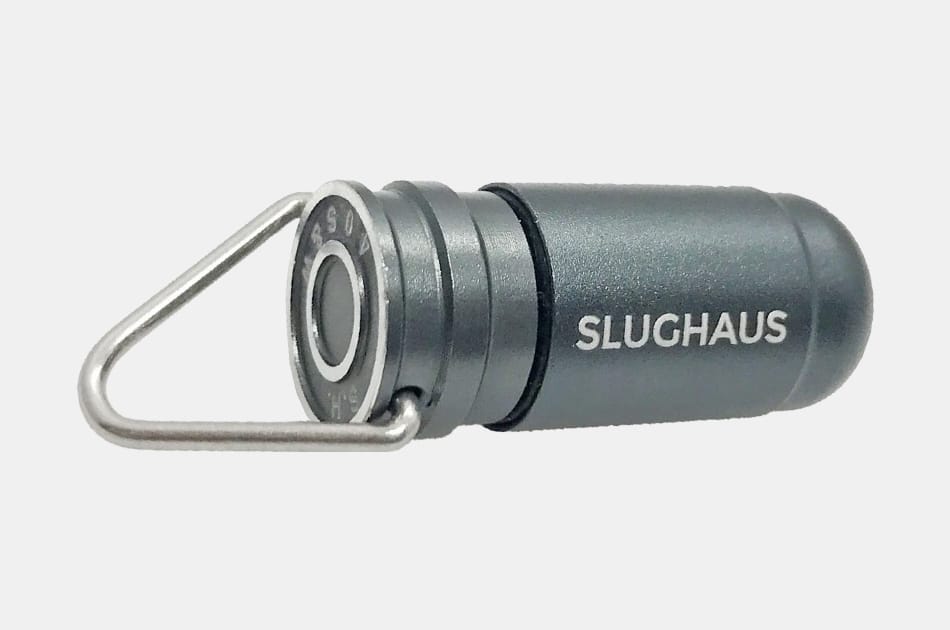 Slughaus Bullet 02 Flashlight
Tiny doesn't begin to describe this minimal flashlight, aptly called Bullet, as it strongly resembles a small, ballistic projectile. Touted as the "world's smallest flashlight", this mini EDC flashlight in aerospace-grade aluminum is just 2.5 cm in length (or less than an inch) and it weighs only 5 grams (or less than a fifth of an ounce). Still, it delivers 20 lumens of light with a twist on/off feature and reportedly offers up to 100,000 hours of LED life. It's waterproof, fireproof, and small enough to fit in the watch pocket of your jeans.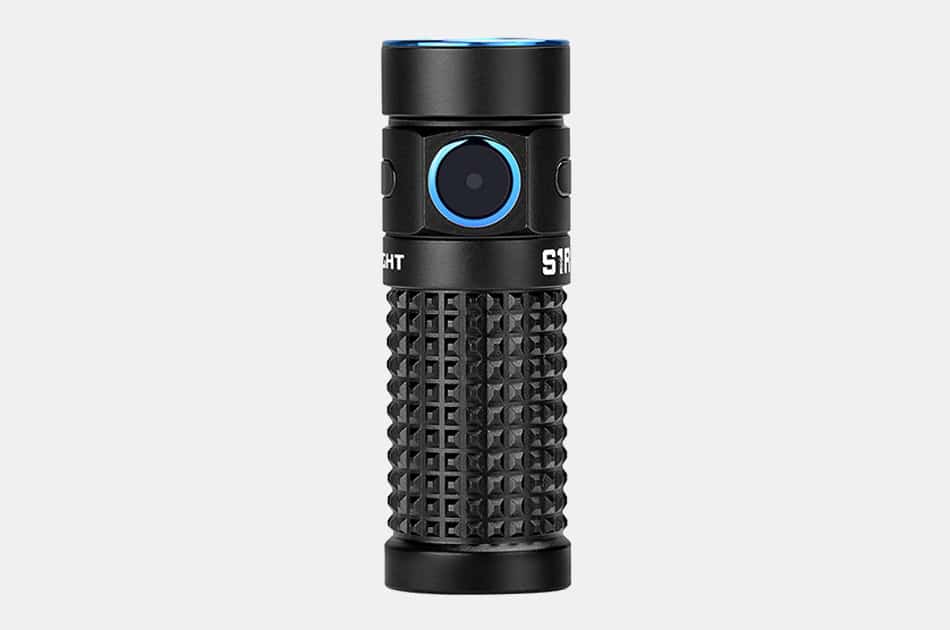 Olight S1R Baton II Flashlight
If there's one feature you want in a flashlight, it's extensive run time. When you need a light, it has to work. This torch delivers with 15 days max run time and the CR123A battery can be repowered with a magnetic USB charging cable (included). You'll enjoy up to 900 lumens and a beam that reached 145 meters, along with 2-meter impact resistance, IPX8 water resistance, and a magnetic tail cap that attaches to metal surfaces for hands-free use, all in a diminutive 2.6-inch, 1.27-ounce body.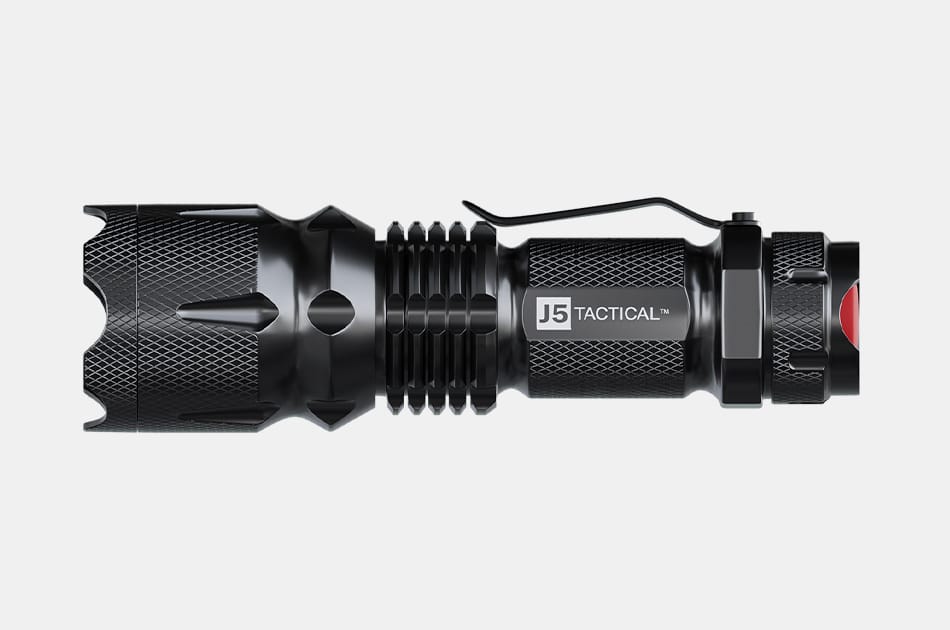 J5 Tactical V1-PRO Flashlight
You'll love the look and utility of this tactical flashlight, which is thicker and easier to grip than your average EDC model. It's 4 inches long and 3.4 ounces and offers three different light modes (low, high, and strobe), along with options to zoom in for floodlight functionality or zoom out for a spotlight. The beam can reach up to 600 feet, or add ambient lighting for an entire room. The ability to switch between an AA battery or a 14500 rechargeable battery (not included) is convenient, and this durable torch can survive a 9-foot drop or temporary submersion in water.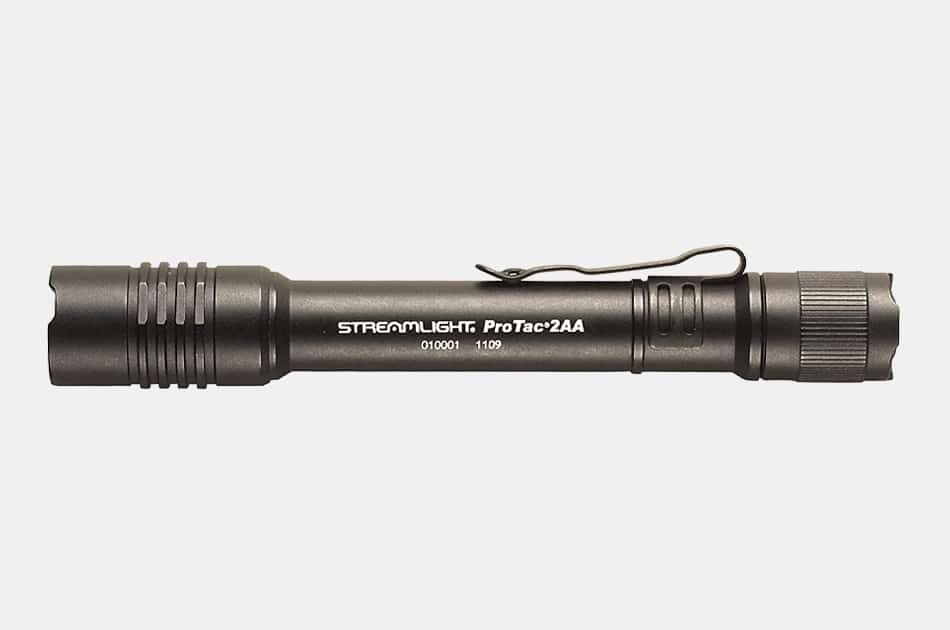 Streamlight Protac Flashlight
Tactical flashlights are always a plus because they're designed with optimal functionality in mind. This one features an anti-roll head that most cylindrical flashlights lack, along with a convenient, removable pocket clip and a multi-function, push-button tail switch. It also offers a high setting with 250 lumens of light at a 2-hour run time or a low setting delivering 18 lumens for up to 43 hours. At nearly six inches length and 3.4 ounces, it's on the bigger side for pocket carry, but makes a worthy flashlight for carrying in your backpack or the glove compartment of your vehicle.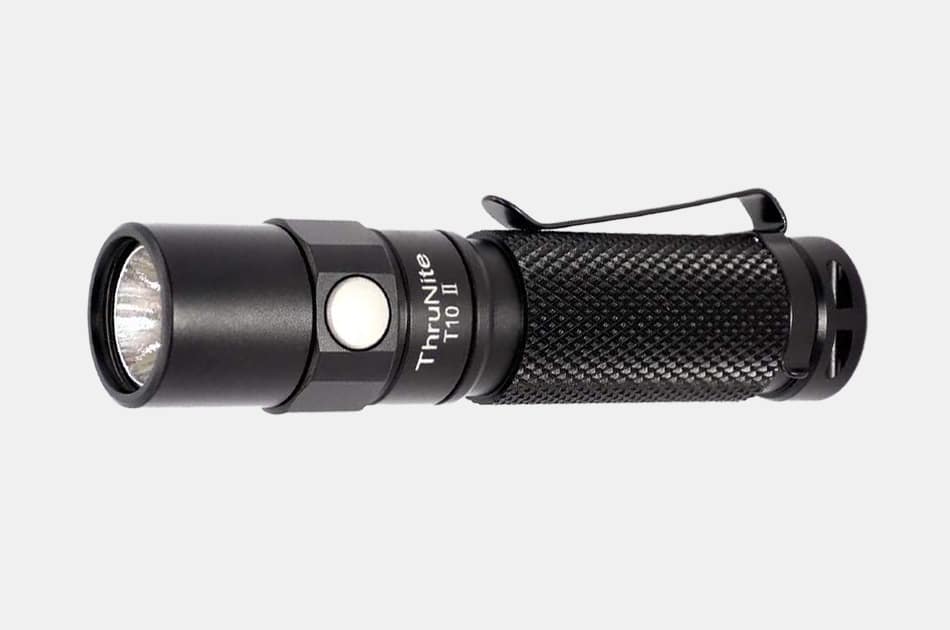 ThruNite T10 II Flashlight
The compact size of this flashlight is great for everyday carry at about 3.4 inches and 1.4 ounces, but the functionality is what will really draw you to this pocket-friendly torch – especially the one-handed operation. With the side switch you can turn the light on and off or toggle between five different modes, including firefly (0.5 lumens, 14 days run time), low (9 lumens, 40 hours), medium (54 lumens, 8 hours), high (160 lumens, 140 minutes), and strobe (160 lumens, 200 minutes). Plus, there's a magnetic tail cap for simple hands-free operation in the dark.
Additional EDC Flashlights For Those On a Budget
Hard, everyday use is a lot to ask of any flashlight, especially a flashlight built to withstand the rigors of everyday carry. But rest assured, when the lights go out and your flashlight needs to perform, the price tag of your light won't matter as much as how well it performs. These EDC flashlights listed below are affordable but not cheaply made. Consider each one the best at their price point, and will compliment your existing everyday carry until adding a better one to your arsenal. Upgrade your EDC now with one of these budget-friendly flashlights.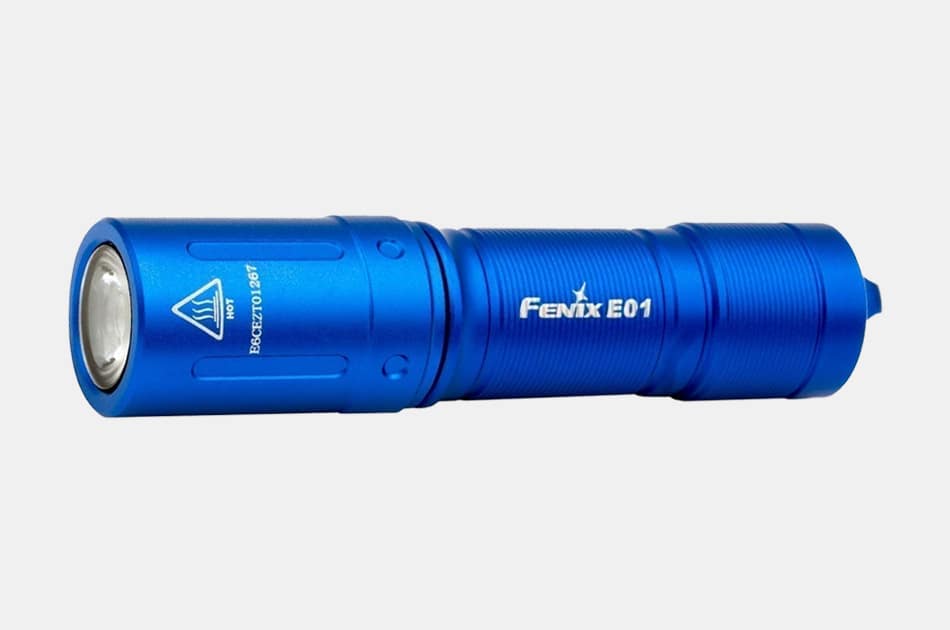 Fenix E01 V2 Flashlight
The Fenix E01 V2 Flashlight is beautifully small at less than three inches in length, but it delivers an output of up to 100 lumens and a 35-meter beam, thanks to the ultra-thin optical lens. The twist-head makes it easy to switch it on/off or change settings, and the IP68 waterproof and dustproof rating ensures it's tough enough to handle daily use.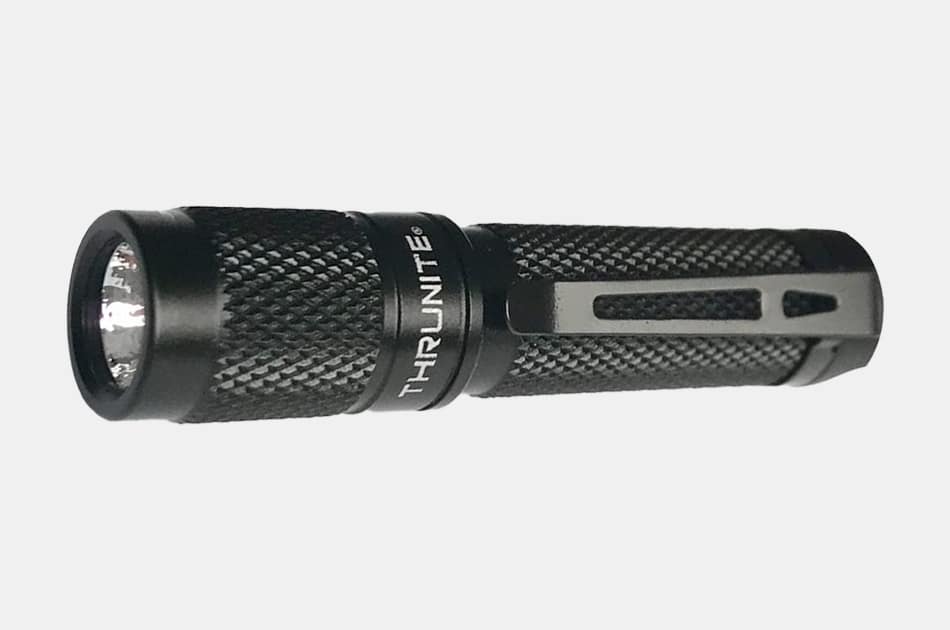 ThruNite Ti3 Black
Built with a Premium Type III hard-anodized aluminum body, the ThruNite Ti3 Black is a truly versatile EDC flashlight that's perfect for carrying your glove compartment or tackle box. With a strobe and firefly setting, you get versatile lighting options when out on the lake or in the bush. Best of all, it's waterproof up to two meters and has a one-meter impact resistance.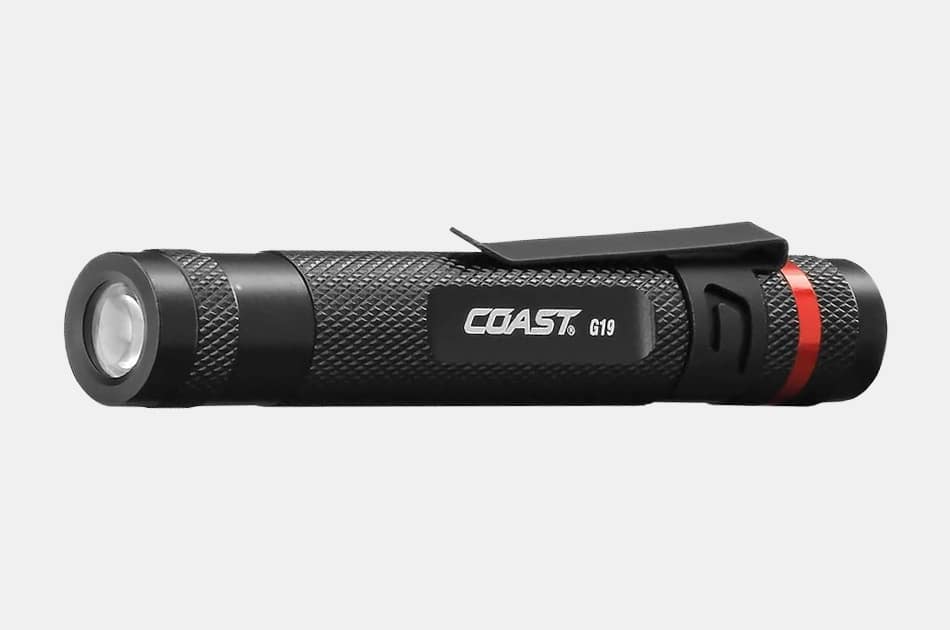 Coast G19 LED Inspection Flashlight
The pocket-sized Coast G19 Flashlight is both lightweight and keychain friendly, weather and impact resistant, and won't break the bank to purchase. It also sports a low glare 54-lumen LED bulb which makes it ideal for intricate work in tighter, darker environments.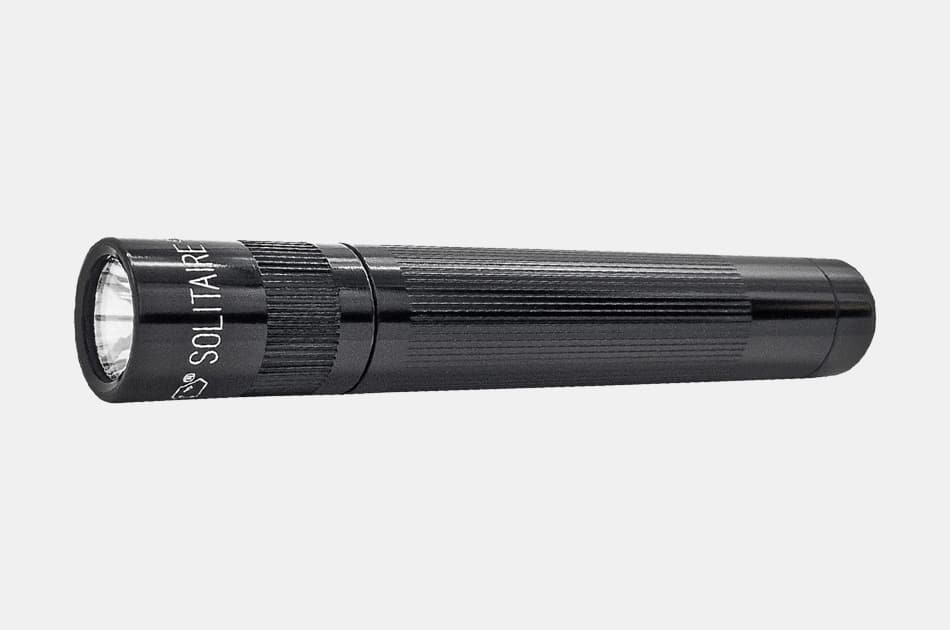 Maglite Solitaire
This is the Maglite's miniature, pocket-sized version of the rather large, 80's original Maglite, and sports a water and shock-resistant aluminum housing that is just as durable as the full-sized Maglite flashlights that came before it. The Maglite Solitaire also comes with 3 different light beams controlled by twisting the flashlight's head and makes an affordable addition to your existing everyday carry.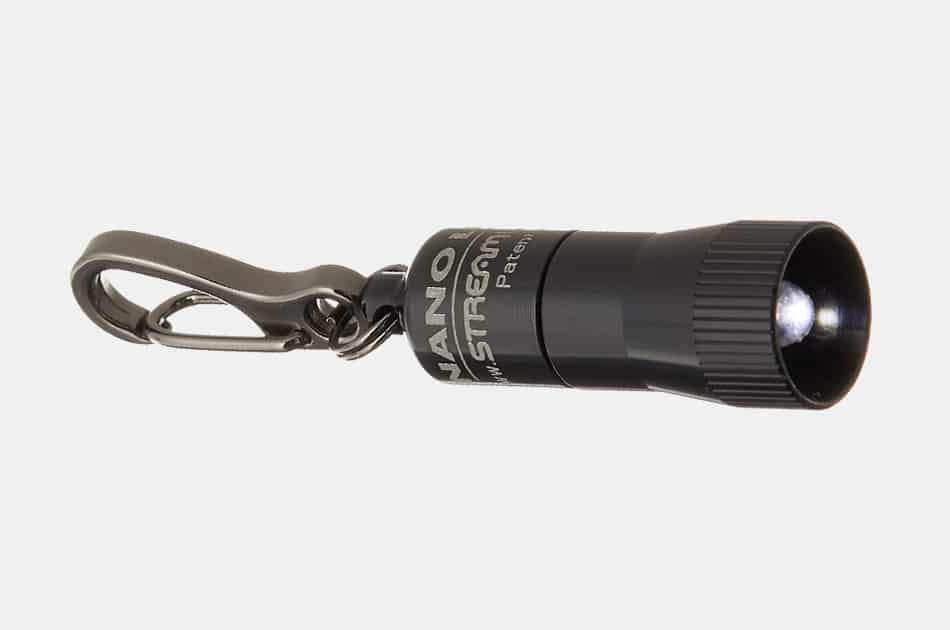 Streamlight Nano Light
Whether you're an EDC enthusiast, military, law enforcement, first responder, or just a guy looking to shed some light on a few dark situations, the Streamlight Nanolight fits the bill, and for just under ten bucks. An impressive 8 hour run time and quick detaching pocket clip make this flashlight both reliable and convenient no matter where you are using it. It's also made from machine aircraft-grade aluminum with an anodized finish and built to withstand everyday use.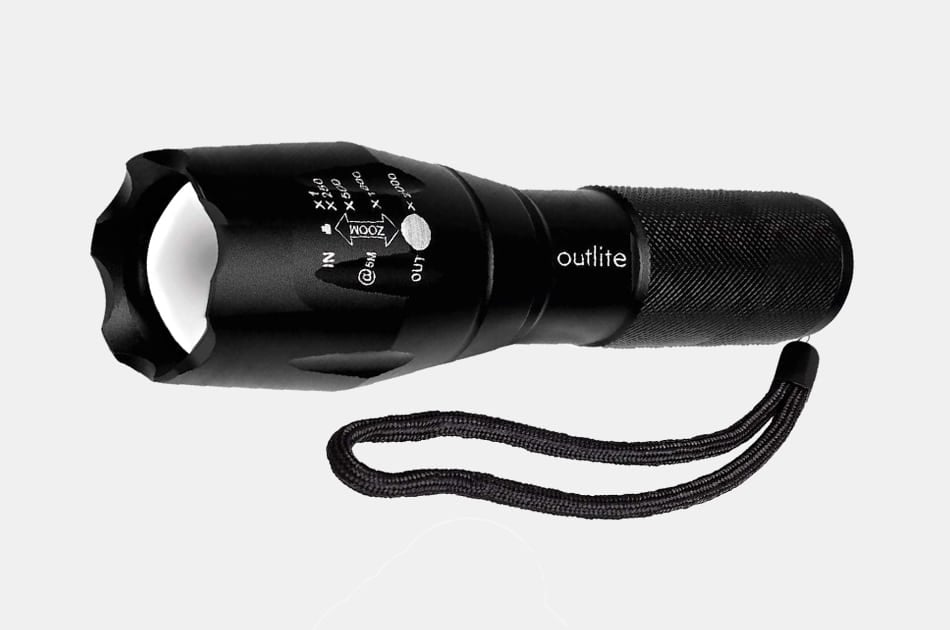 Outlite A100 Portable Flashlight
With over 3,000 positive reviews on Amazon, there's no arguing that sometimes there isn't much difference between a ten dollar flashlight and a fifty dollar flashlight. Adjustable focus with an intense spotlight that can project up to 600 feet is the flashlight's best feature, along with three separate brightness levels, a strobe, emergency flash modes, and a super bright LED.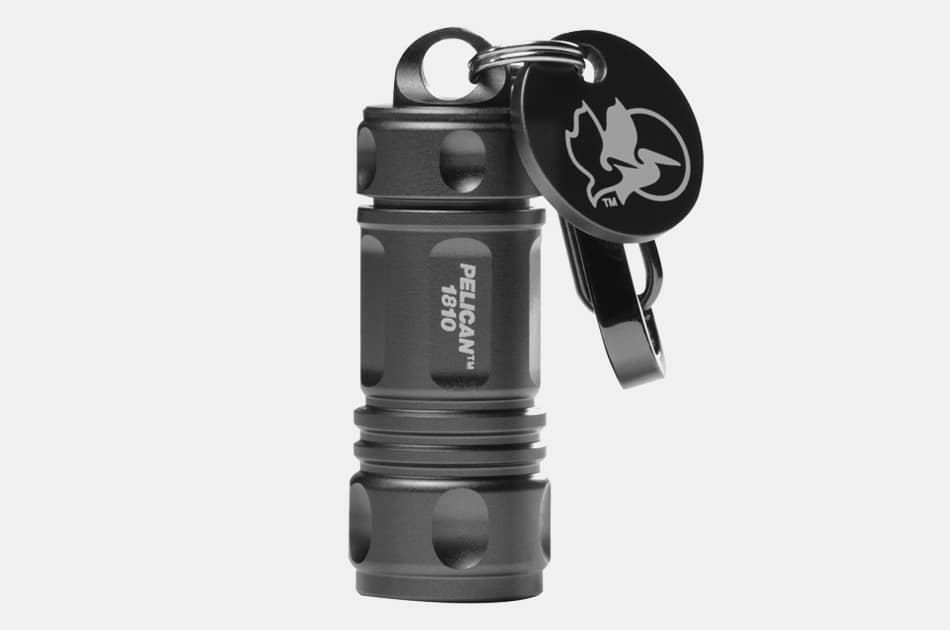 Pelican Progear Keychain Flashlight
No task is too small for this worthy keychain flashlight to handle. Attach it to your keychain and enjoy the twist on/off mechanism, an IPX water-resistant design, and 16 lumens of light at the ready on your keychain, ready to shed some light on whatever dark environment you happen to stumble into next.
Disclosure: Clicking on these links and making a purchase may earn us a small referral fee, at no extra cost to you. Learn more here.