12 Best Flashlights Under $20
A pocket flashlight is considered by many to be a staple in any everyday carry setup, which is why we'll recommend a quality one every day of the week and twice on Sunday.
Whether you plan on carrying your flashlight everyday in your pocket or stashing in your vehicle for emergencies, shedding enough light on an otherwise dark circumstance makes all the difference in the world. For those, however, whose budget simply won't allow a high-powered flashlight into their everyday carry, we've curated this list of the best EDC flashlights under $20.
Hard, everyday use is a lot to ask of any flashlight, especially a flashlight under 20 bucks. But rest assured, when the lights go out and your everyday carry choices matter the most, these budget flashlights will surely perform up to par — at least until you can score yourself a tougher flashlight with more candle power.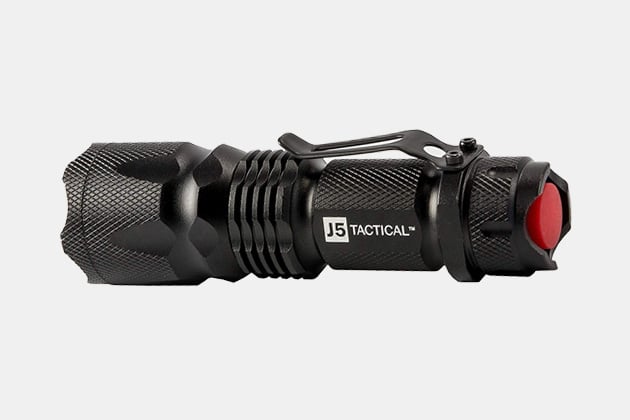 J5 Tactical V1-Pro Flashlight
If you want the most bang for your buck — especially at this price point — you can't go wrong adding J5 Tactical's V1-Pro Flashlight to your EDC arsenal. At 300 lumens, it's quite brighter than most other everyday flashlights under $20, and will last much longer than most of them too (21 hours) — on a single AAA battery nevertheless. Additionally, it's rugged as hell thanks to an aircraft-grade aluminum, IPX-8 waterproof body. – Shop Now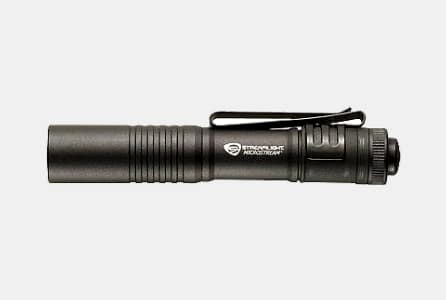 Streamlight Microstream
If there's ever been a pocket flashlight under 20 dollars stand the test of time in the everyday carry community, it's the Microstream by Streamlight. It's powered by a single AAA battery and will give you up to 45 lumens of adequate light for a little over 2 hours — not a bad deal for its relatively kindness to your wallet.
And while replacing the AAA battery consistently after extended use may turn you off to this budget flashlight — not to mention it's integrated pocket clip is prone to eventually breaking off — its water-friendly, corrosion-resistant anodized aluminum construction will last long after you've gotten your money's worth out of it. Pair it with a budget-friendly knife for an affordable yet highly-functional everyday carry. – Shop Now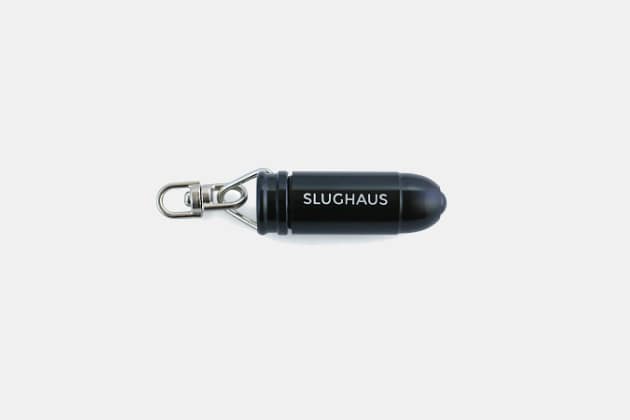 Slughaus Bullet 02 Flashlight
If you're on the hunt for a budget flashlight — which clearly you are if you've reached this point of the article — then this keychain-sized flashlight by Slughaus should be given a minute of consideration. The Slughaus Bullet is built from weatherproof aluminum and is touted as the world's smallest LED flashlight and — at only 6 grams, probably one of the lightest as well. It'll add 15 lumens of LED light to your existing keychain, which isn't much, but at it's $10 price point, you're getting your money's worth. – Shop Now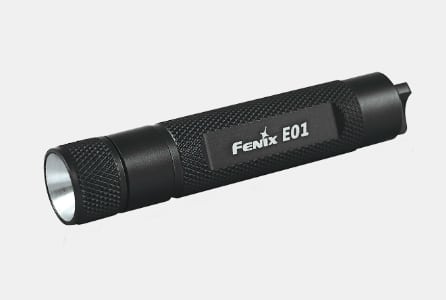 Fenix E01 Flashlight
Don't let it's relatively cheap price fool you. For less than one Andrew Jackson, the Fenix E01 Flashlight is a very capable EDC flashlight. First, it's aircraft-grade aluminum construction is both durable as hell and IPX-8 waterproof. Secondly, it can put out 13 lumens for up to 21 hours on a single AAA battery. While not much, it's enough to find your house keys in the front yard any night of the week you stumble home from your local watering hole. – Shop Now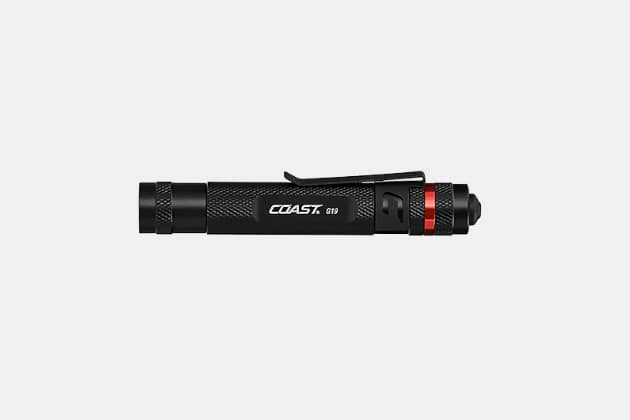 Coast G19 LED Inspection Flashlight
While its not quite bright enough of a flashlight to blind an attacker or light up an entire woodline, the pocket-sized Coast G19 Flashlight is nonetheless lightweight, weather and impact resistant, and won't cost you an arm and a leg to purchase. It also sports a low glare 54-lumen LED bulb which makes it ideal for intricate work in tight, dark spots. – Shop Now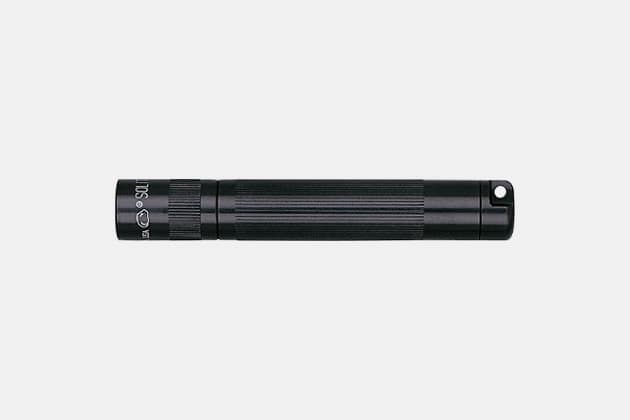 Maglite Solitaire
Remember the giant Maglite flashlights carried my many a police officer and security guard in the 80's and 90's? Yeah, the ones that required four or five D batteries to emit a rather unimpressive beam of light, but we're typically tougher than the men wielding them. Well this is the brand's miniature, pocket-sized version, and sports a water and shock-resistant aluminum housing that is just as rugged as its full-sized Maglite counterparts. The Maglite Solitaire also comes with 3 different light beams controlled by twisting the flashlight's head and makes a cost-efficient addition to your everyday carry. – Shop Now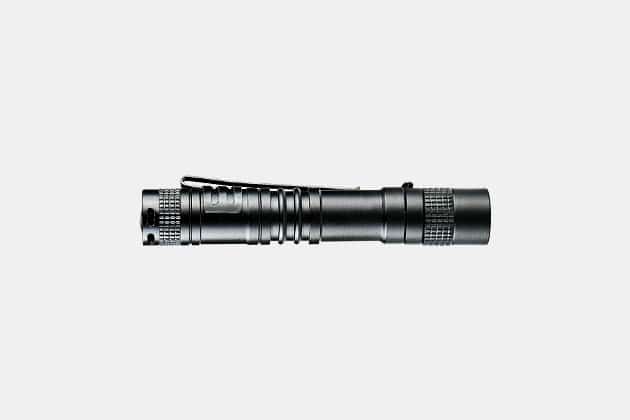 Mini Perman Flashlight
For a flashlight that claims 1,000 lumens of output to be under five bucks, its only natural question its validity. And while we don't own this particular flashlight personally, over 365 reviews on Amazon have questioned the flashlight's 1,000 lumens claim, yet almost every review is a positive one. Why? Well buyers are digging the Mini Perman's bright Cree light — whatever lumen count it happens to be — it's EDC-friendly portable size, and it's abrasion-resistant aircraft aluminum construction. One thing is for sure, a lot of consumers are adding this little gem to their everyday carry, and at under $5, you can definitely afford to give it a try yourself. – Shop Now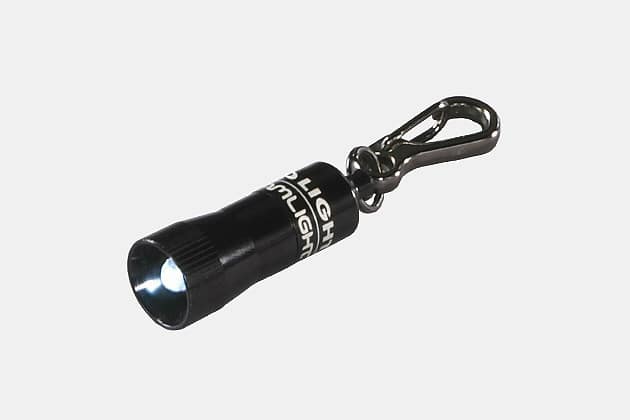 Streamlight Nano Light
Whether you're an EDC enthusiast, military, law enforcement, first responder, or just a guy looking to shed some light on a few dark situations, the Nanolight from Streamlight will fill your EDC flashlight need, and for well under 20 bucks. An impressive 8 hour run time and quick detaching pocket clip make this piece of equipment reliable and convenient no matter where you are using it. It's also made from machine aircraft-grade aluminum with an anodized finish and built to withstand the punishment of everyday use. – Shop Now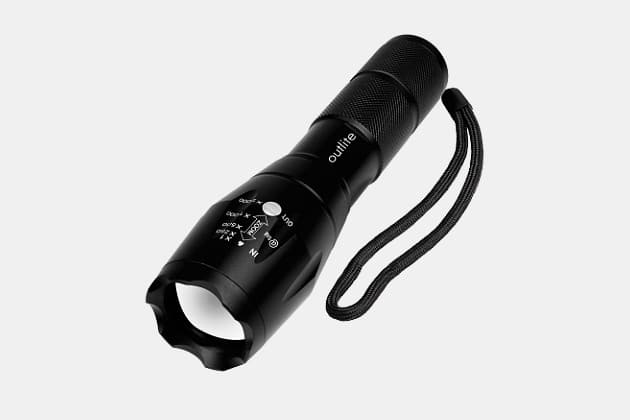 Outlite A100 Portable Flashlight
Its not a regular, everyday occurrence that a twelve dollar flashlight generates over 3,000 positive reviews on Amazon, but here it is. Some could argue that there isn't much difference between a twelve dollar flashlight and a fifty dollar flashlight. In the case of the Outlite A100, the statement holds true.
Adjustable focus with an intense spotlight that can project up to 600 feet is the flashlight's award-winning feature in our opinion, along with three separate brightness levels, a strobe, emergency flash modes, and s super bright LED bulb. – Shop Now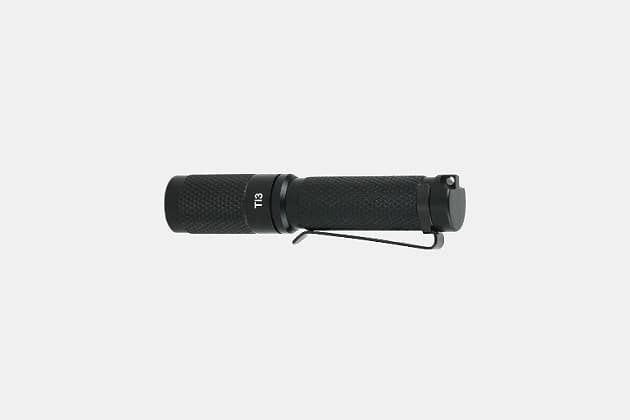 ThruNite Ti3 EDC Cree XP-L
ThruNite's slogan is "Guiding You Through The Night", which is exactly what the brand's Ti3 EDC Cree XP-L will do if you happen to have it attached to your keychain arsenal when the sun sets. An aircraft grade, hard-anodized aluminum construction meets IPX-8 waterproof standards, while four different modes — strobe, firefly, medium, and high — will deliver up to 130 lumens of light for about half and hour. – Shop Now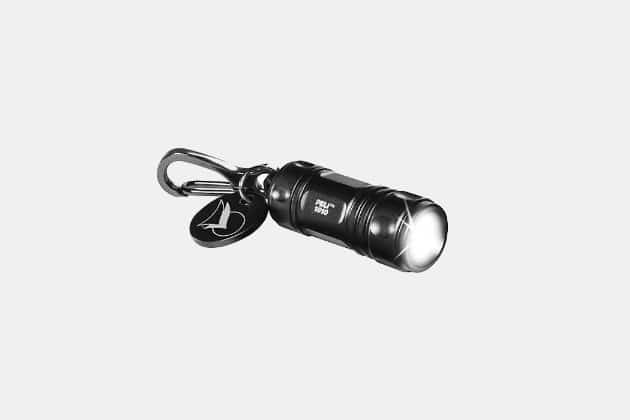 Pelican Progear Keychain Flashlight
Flat tires, missing contact lens, dropped screws — no task is too small for this keychain-friendly flashlight to tackle. Attach the Pelican Progear flashlight to your keychain and enjoy the twist on/off mechanism, an IPX water-resistant design, and 16 lumens of light at your fingertips, ready to shed some light on a dark situation at a moment's notice. – Shop Now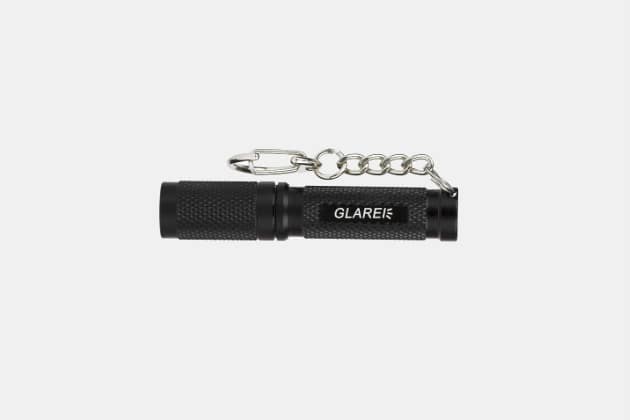 Glaree E03 Keychain Flashlight
At 11 bucks, you shouldn't expect much from a flashlight, unless said flashlight you're carrying is the Glaree E03. The E03 Keychain Flashlight has proven to be well worth the eleven dollars you'll shell out to carry it, according to over 500 positive reviews on Amazon from verified buyers. It's got a maximum run time of 120 hours on high, which is 150 lumens — impressive for a flashlight under 20 dollars.
Four different modes of operation — the moonlight setting offers up 0.1 lumens for night time running or as a night light in a dark room — provide ad adequate beam of light in semi-dark environments. Just don't expect it to be your next long term EDC flashlight. – Shop Now
Disclosure: Clicking on these links and making a purchase may earn us a small referral fee, at no extra cost to you. Learn more here.
freestar.config.enabled_slots.push({ placementName: "gearmoose_leaderboard_btf", slotId: "gearmoose_leaderboard_btf" });