The 12 Best EDC Knives Under $30
Article updated 4/24/2020 by Sarah Harris.
Everyday carry kits are continually evolving to meet the needs of their respective carriers, and now typically include an assortment of keychain tools, key organizers, front pocket wallets, and other EDC essentials. The folding knife, however, continues to be the most important staple in an EDC kit for many people. EDC Knives are compact yet durable, and functional enough to tackle a variety of tasks assigned to them throughout the day such as opening boxes, cutting rope, or tending to various cutting/slicing duties around the campsite.
Building a respectable everyday carry ensemble takes time and money, but buying a quality EDC knife doesn't necessarily require half of your paycheck. For those on a budget looking to update their everyday carry, we've compiled this list of the best EDC knives under $30.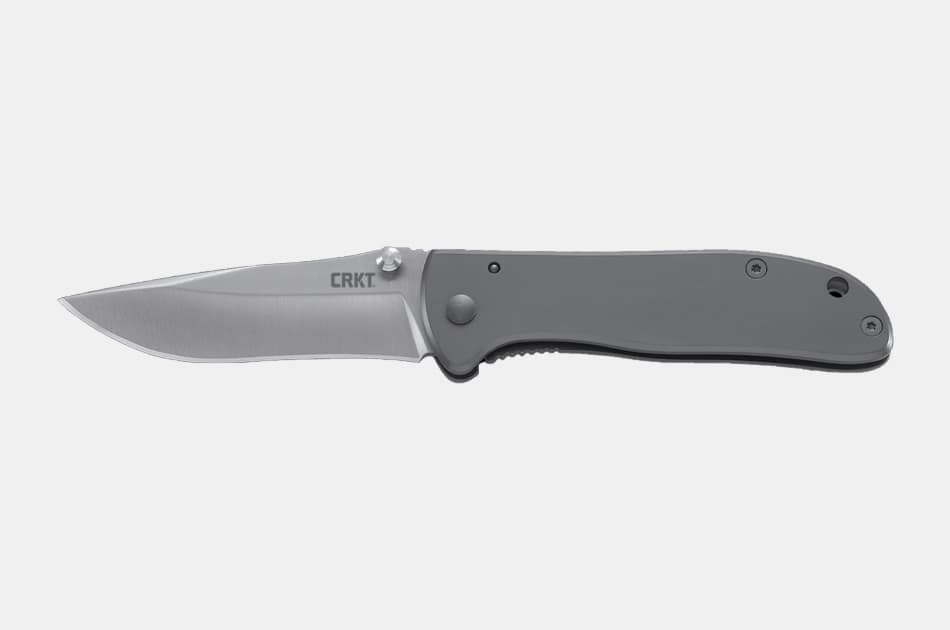 CRKT 6450S Drifter Knife
This knife is 3.66" in length when closed, so it easily fits into pockets, packs, or the shaft of your boot.  You'll also get 2.88" of blade when you pop it open with the handy thumb stud.  Stainless steel handles are built to last, there's a frame lock for safety, and the satin blade finish can be customized with a logo or monogram in laser or silk screen.  This sleek blade will get the job done — and under 30 bucks — with the option to add some personal panache.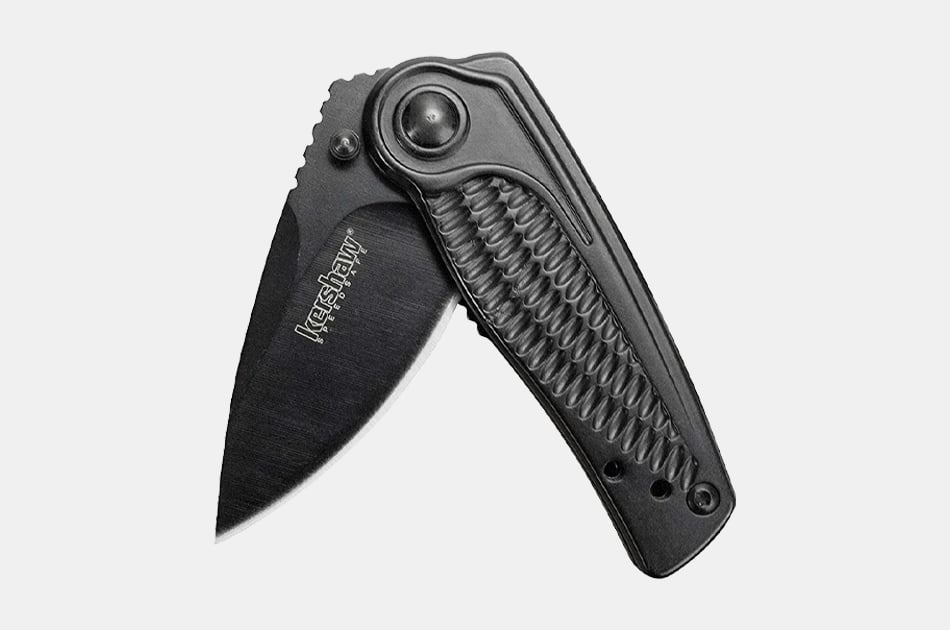 Kershaw Spoke Knife
This compact knife looks like something from the mind of H.R. Giger, with a textured black handle that would probably give Ellen Ripley nightmares.  So, it definitely looks cool, and with a length of just 2.88" when closed, you can stash it away pretty much anywhere.  The important part, of course, is the blade, and at just 2", it's diminutive.  However, it's beefy and bold, with a fat belly for decisive cuts, and a black oxide coating.  The flipper/finger guard and reversible pocket clip add to utility.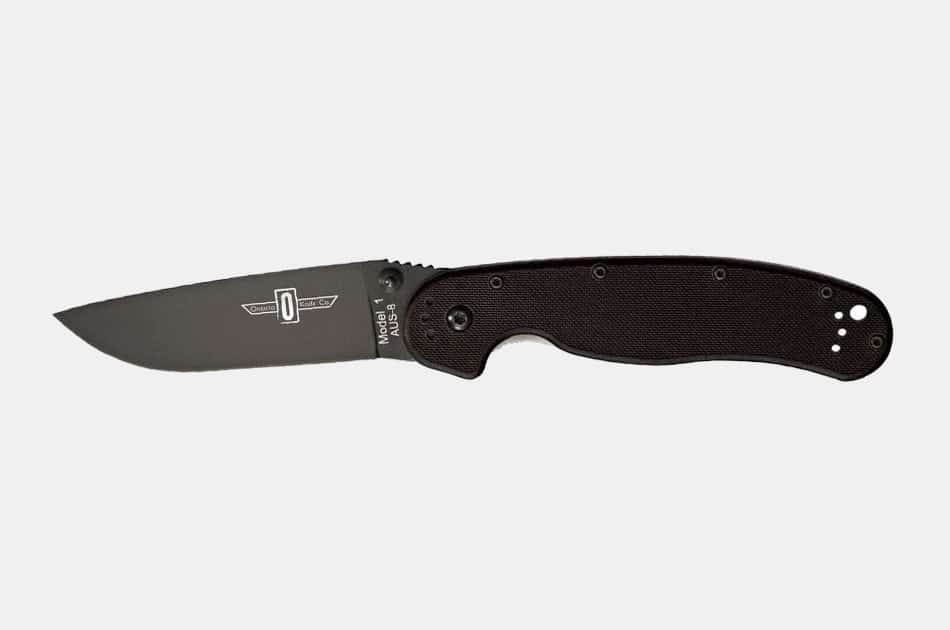 Ontario RAT Folding Knife
With an overall length of 8.62", 3.5" of which is blade, this knife comes in at just under $30 and offers a longer grip (about 5") than some other folding models, but it's still short enough to fit in your pocket.  With a 4-position reversible clip, you could wear it any which way you like on your belt, as well.  The high-performance blade features AUS-8 stainless steel with a full-flat taper, and the textured Nylon-6 handle is comfortable and grippy.  The off-set blade is a distinguishing feature that allows for slice follow-through while keeping hands away from the cutting surface.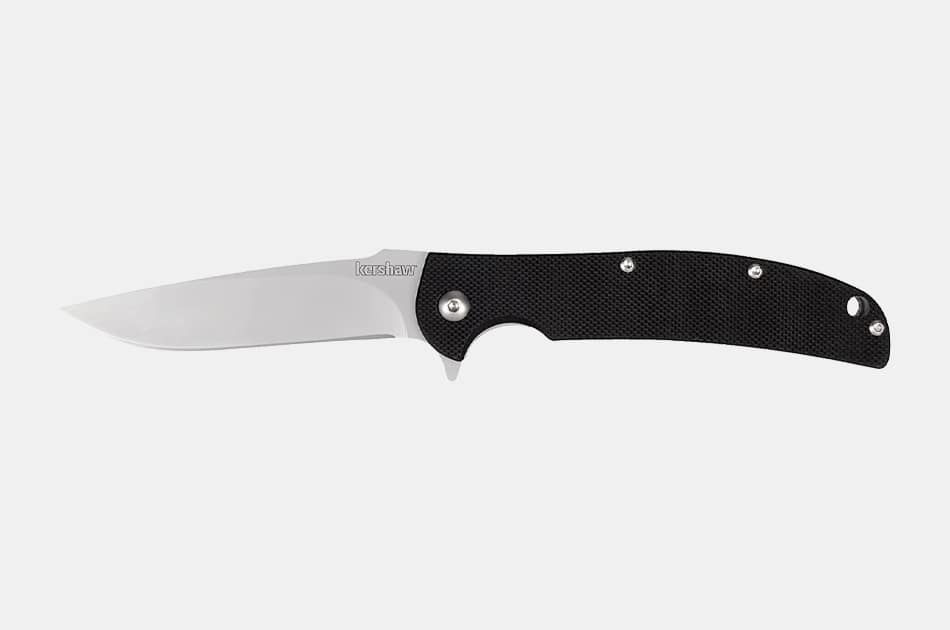 Kershaw Chill Pocket Knife
If you're looking for 3.1 inches of razor-sharp, stainless steel blade, coated with a non-reflective, bead-blasted finish for stealth, Kershaw delivers with a blade that's resistant to wear and corrosion, flanked by lightweight G-10 handle scales in basic black.  The grip is comfortable and secure, and you're sure to appreciate low-profile styling that won't bulge in pockets, a secure locking system, and a built-in manual flipper for fast blade deployment.  Pocket clip and under $30 retail price included.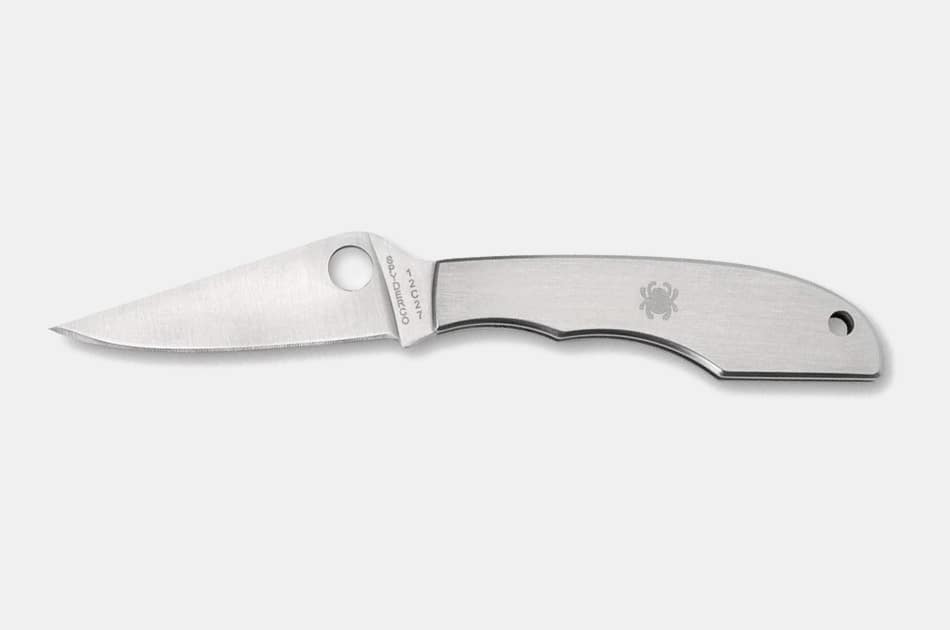 Spyderco Grasshopper
Even for a pocketknife, this model is fairly small, with an overall length of about 5" and a blade that's just 2.3", but that's all the better for EDC concealment, and the plainedge, stainless steel blade will trim stray threads and slice apples and cheese just as mercilessly as a longer blade.  Resistant pressure at the pivot point holds the knife open, and solid stainless steel handles are incredibly strong and durable (not to mention ideal for engraving).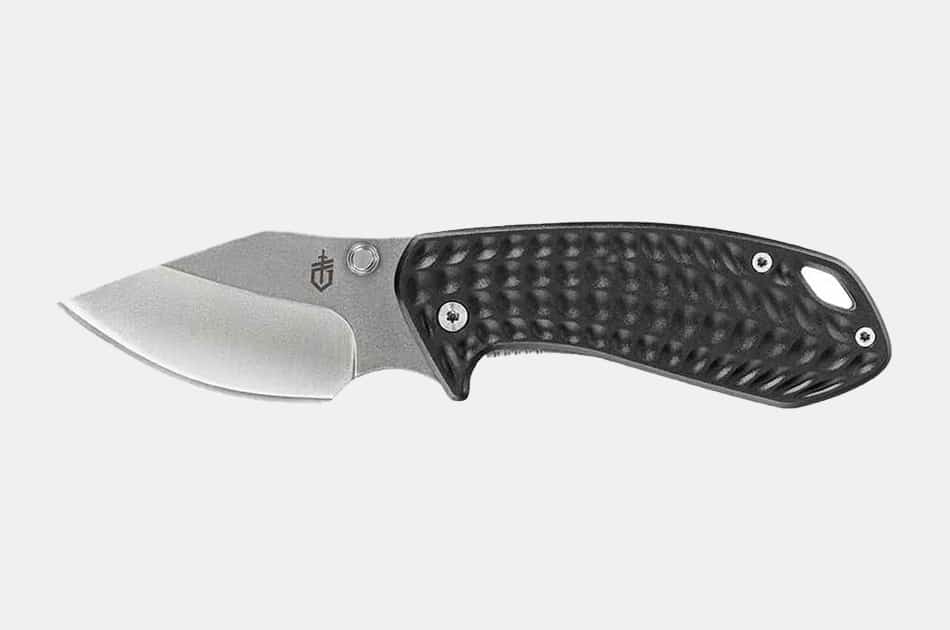 Gerber Kettlebell
Despite its squat profile, this knife is a great choice for cutting and scoring in everyday life.  A fat-bellied, fine-edge blade in 7Cr17MoV stainless steel with a satin finish is punctuated by dual thumb studs for easy open, and a frame lock for security.  Coined and anodized aluminum handle scales are lightweight, grippy, and comfortable, and the curvy, dual finger choil allows for added control.  Total length is 6.2", with a 2.5" blade and it comes with a limited lifetime warranty.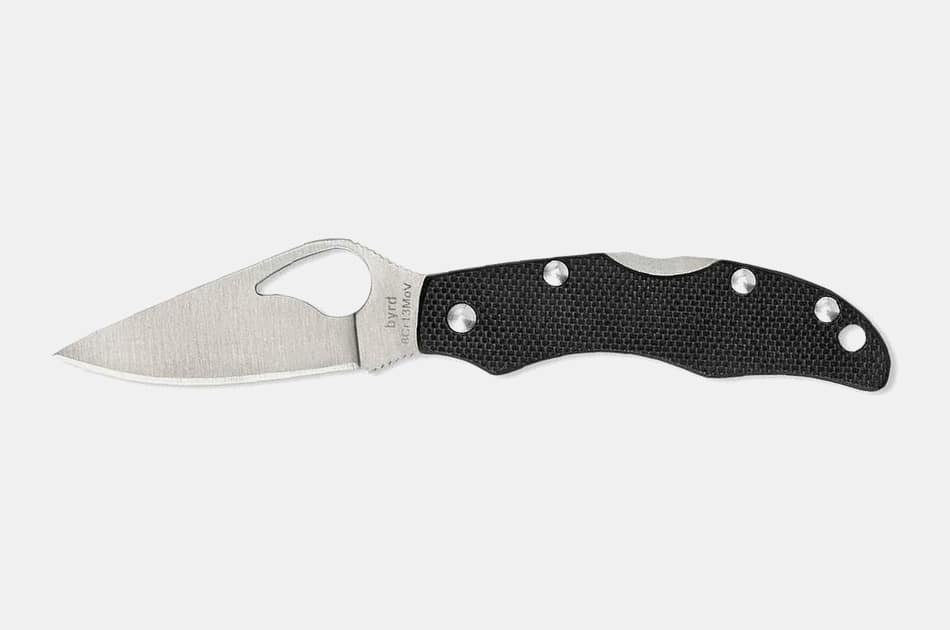 Spyderco Byrd Finch 2 Folding Knife
The Spyderco Grasshopper may be tiny, but this pint-sized pocketknife is even smaller, with an overall length of just 4.39" and a blade length under 2" (1.91", to be precise).  What can you do with such a small poker?  A thick belly adds some bite to your slice, and a plain edge blade paired with full-flat grind reduces drag when cutting.  The non-slip, epoxy filled woven glass fiber handle is a practical necessity with such limited handle space, and the comet hole cutout near the spine makes for easy, one-handed opening.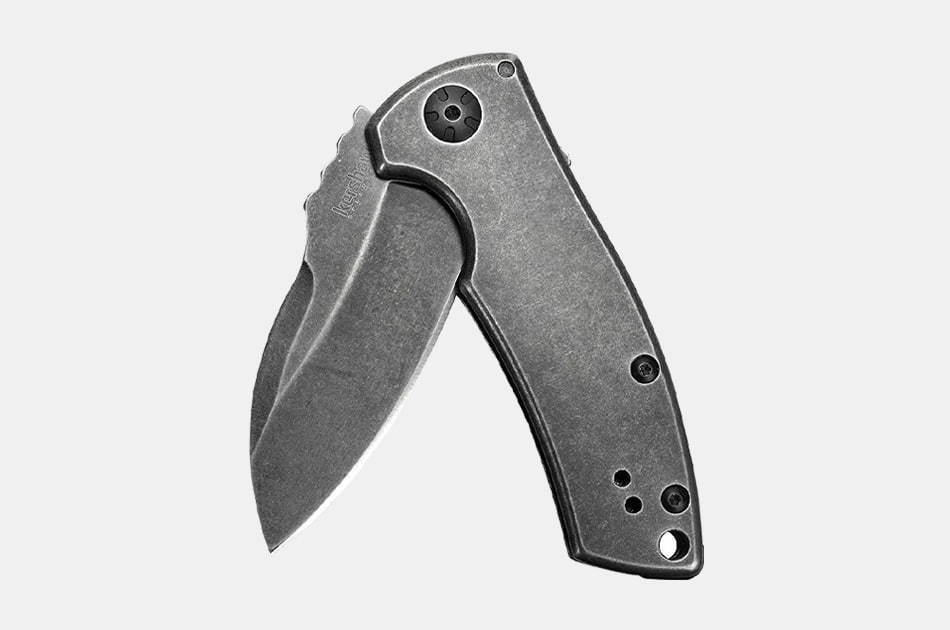 Kershaw Spline AO Knife
Designed by Les George, this slim, wicked knife weighs in at just 4.4 ounces of total badassery, with a 2.9" blade and an overall length of 6.8".  The modified Wharncliffe blade, featuring the mildest of curves along the cutting edge, is aggressively styled in blackwash matte steel, as is the handle.  While it softens the typically angular Wharncliffe design just slightly, you'll still enjoy an impressively sharp cutting edge, as well as a knife that looks nothing if not lethal.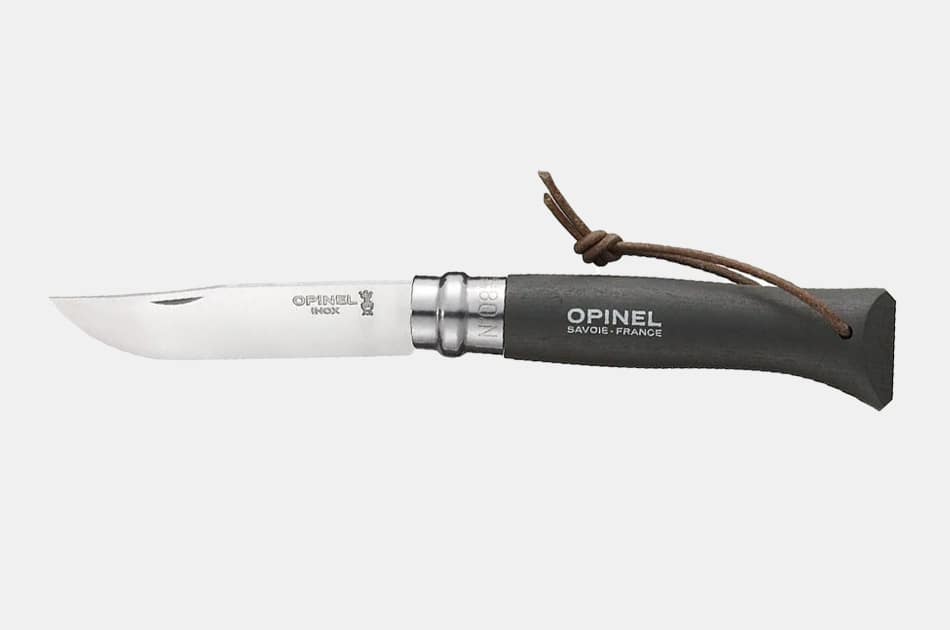 Opinel No. 8 Knife
At first glance, this looks a bit like a switchblade, what with the distinctive Virobloc twistlock safety ring (invented by Opinel in 1955) separating blade and handle.  On closer inspection, however, you'll see it's just a very stylish folding knife, with handle options in slate, dark brown, khaki, blue, or red beechwood.  The stainless steel blade is 3.25", with a total length of 7.5" open, for plenty of grip.  As for the safety ring, it locks the knife in the open or closed position for added security.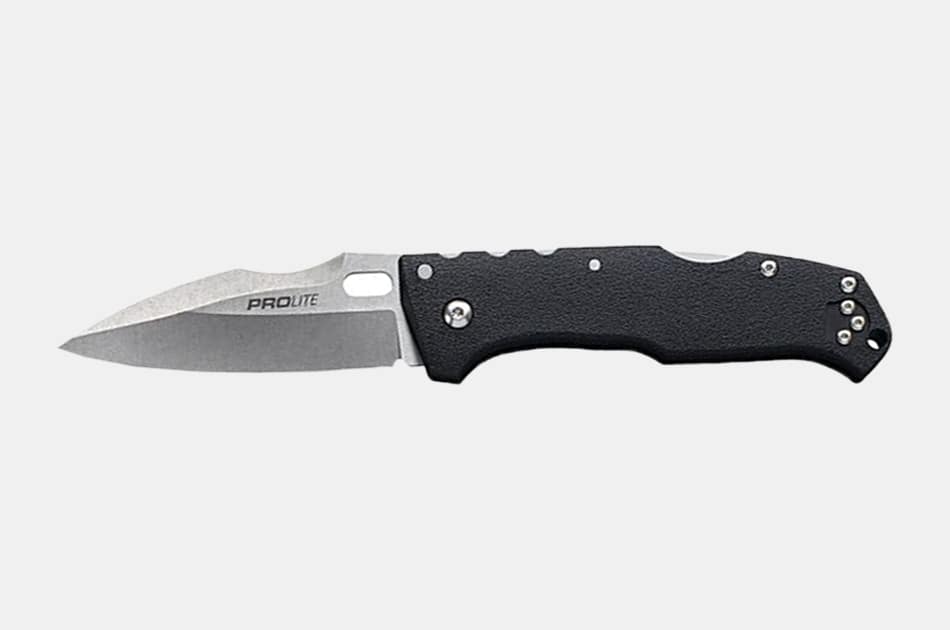 Cold Steel Pro Lite Sport
Anyone seeking a blade under $30 that looks as tough as it is will appreciate both the function and form of this 3.5" blade in 4116 German stainless steel.  Designed by custom knifemaker Andrew Demko, this EDC blade sports an incredibly sharp edge that's easy to hone in the field, and the stonewashed blade hides any damage you might do while whittling wood or slicing a trout.  The polymer handle is shaped for comfortable grip, the Tri-Ad locking system adds strength and safety, and the reversible pocket clip allows for ambidextrous usage.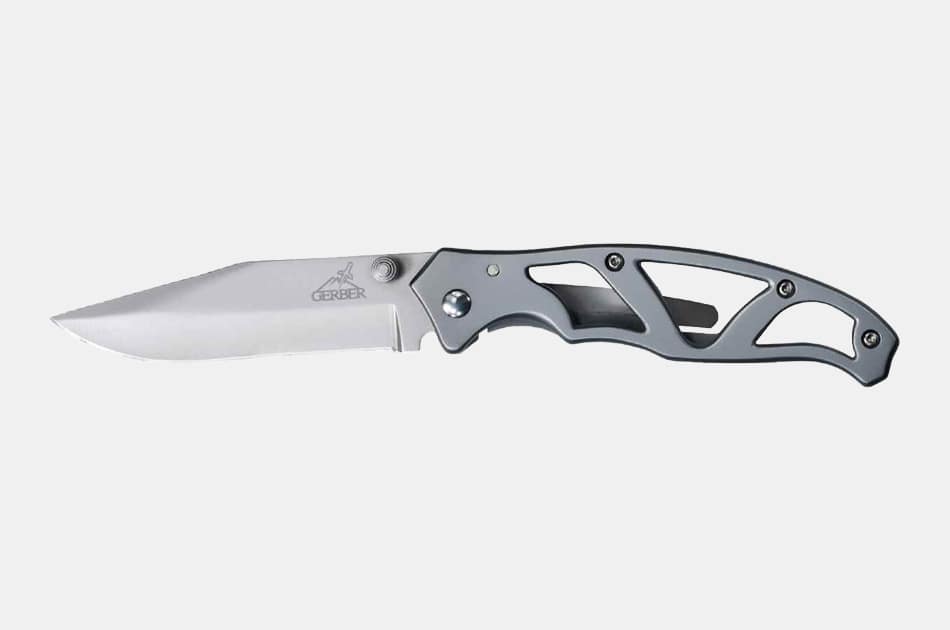 Gerber Paraframe
Sometimes a lightweight, beater blade is perfect for EDC abuse.  Such is the case with this bare bones, plain edge, stainless steel cutter from Gerber.  Minimalist design is made for the EDC crowd, but you get a bit of extra styling thanks to an open framing that showcases the innards.  The frame-lock handle delivers safety and stability and you can choose from multiple blade variations, with an overall length just a skosh over 7" along with a limited lifetime warranty.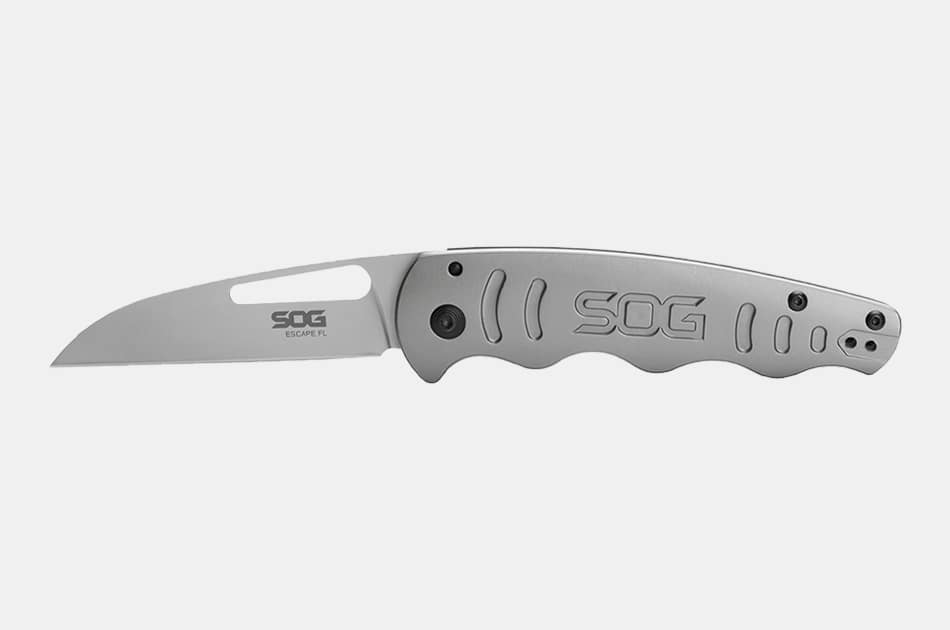 SOG Escape FL Knife
A frame-lock folding blade with an unusual stance, this all-metal construction knife is a modern cutter that's all business.  While Arya Stark likes to stick 'em with the pointy end, not everyone needs the stabby-stabby.  The sheeps foot blade, with a straight cutting edge and unsharpened, rounded back, is perfect when the situation calls for downward cutting force.  Blade length is 3", open length 7.25", with a stainless steel blade and handle and a thumb-hole for easy deployment.
Disclosure: Clicking on these links and making a purchase may earn us a small referral fee, at no extra cost to you. Learn more here.