If there's one item that's emblematic of the everyday carry movement, it's the pocket knife. The EDC knife is infinitely versatile, buy-it-for-life durable, and aesthetically pleasing. In short: No guy should be without a trusty EDC knife as the mainstay of his kit.
But what exactly makes one EDC knife better than another? Is it sharpness? Balance? Durability, design, price? That depends on who you are, and what you're going to be using your EDC knife for most often.
With that in mind, Adam and I have collaborated to bring our decades of knife using and reviewing experience to bear on this all-important subject. We've collected an even two dozen knives in twelve categories, representing the best for each specific use case and budget range.
How We Chose The Best EDC Knives
Giving a firm verdict on which EDC knives are the absolute best is no small task. As you'll see in the coming section, there are a wide variety of purposes that any given individual might want to focus on—meaning that there isn't any one "perfect" knife that will be stellar in every situation.
That said, there are five things that we've identified as being essential to any knife's performance. Let's unpack each of them.
Durability
If the construction, design, and materials used for the knife aren't made to hold up to long-term use, it's not worth spending your money on. Ideally, your EDC knives will become heritage pieces that you can hand down to your kids.
Edge Retention and Sharpness
The material that a knife's blade is made from will determine its balance between long-lasting edge retention (how long the blade stays sharp) and razor sharpness. There's a tradeoff to be made here: The harder a blade's material is, the finer and sharper an edge it can take—but as the blade gets harder, it's more difficult to sharpen at home as well.
Smooth Opening Action
Depending on which state you live in, certain styles of automatic blade deployment may be illegal to possess and carry. But the entire spectrum of opening styles—manual, automatic, and assisted—should be smooth and quick to deploy with one hand. (You can find your state's knife laws here, courtesy of the American Knife and Tool Institute.)
Ergonomic Handle Design
The handle of any knife is part show (its form) and part go (its function). In the best EDC knives, you'll find a fine blend of the two, making for a good-looking knife that's comfortable to hold even while applying pressure.
Affordability
Make no mistake: A truly top quality EDC knife is a significant investment. But there are more affordable options available for knife nerds today than ever before. In each category, we've taken price into account while comparing quality and utility, and also include categories for knives under $50 and under $100.
And why did we choose to focus on those five? Each of those categories comes from a combination of Adam's experience as a firefighter and paramedic, and Brian's experience as a backpacker and martial artist. Now without further ado, let's get into the knives.
The Best EDC Knives for Every Purpose
For each of the 12 common use cases we identified by interviewing friends and strangers, we've nominated both a top knife and a runner up. Think of the runner up less as "second best," and more as "another option" for each category.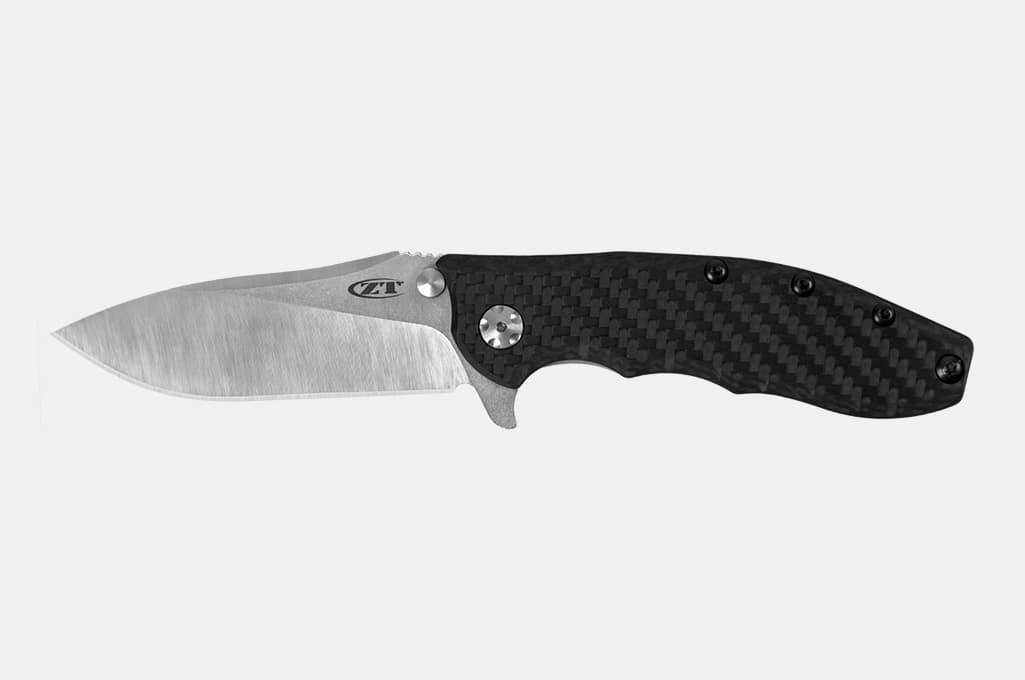 Best Overall EDC Knife: Zero Tolerance 0562CF
Narrowing down Zero Tolerance's wide range of impeccably designed knives was no small task—but after careful consideration, we're convinced that their 0562CF offers the finest combination of all the qualities we're looking for in an EDC knife. Made in the USA, it has a carbon fiber body and CPM 20CV steel blade which, combined with its airtight construction, make it super durable and corrosion resistant. That steel gives it a wicked slicing edge too, all without sacrificing the point stability that makes it useful for piercing (and self-defense).
A titanium frame lock with lockbar stabilizer balances the ultra-smooth opening action. And the carbon fiber frame gives it a lightweight but secure feel in the hand. The 0562CF is on the high end of the price range, but it really delivers in every category we judge a knife on.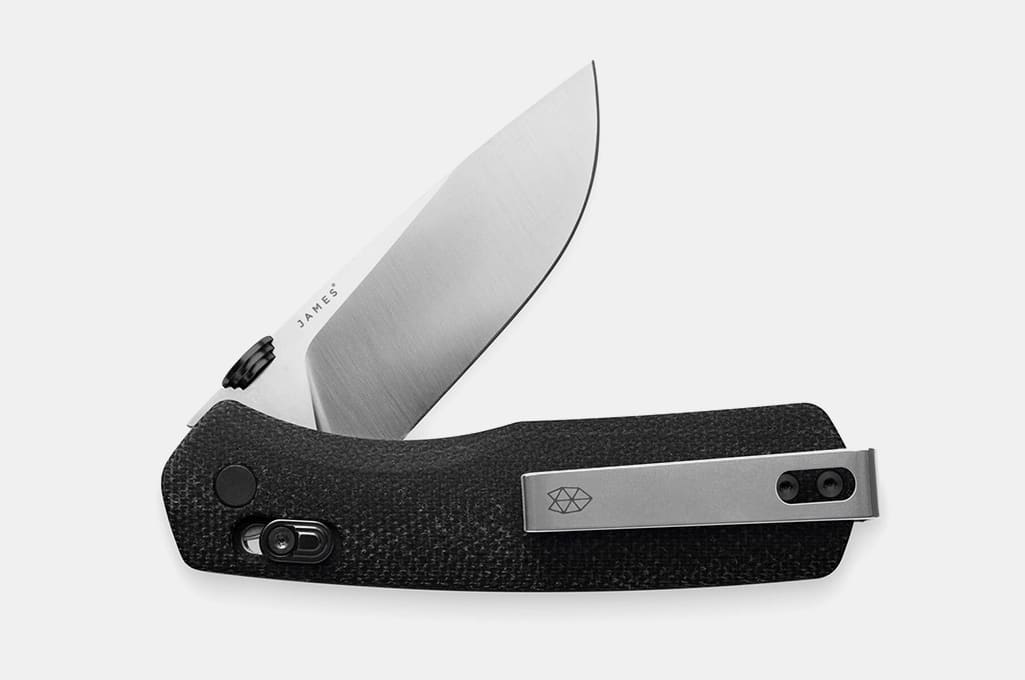 Runner Up Best Overall: James Brand The Carter Knife
The James Brand's Carter Knife offers much of the same profile, durability, and lightweight performance as our top pick for best overall, but at a more accessible price point. The main difference you'll see is in the steel used for the blade—it's a VG10 stainless steel that sharpens well, but tends to lose its edge faster than the ultra durable CPM 20CV steel.
You get an extra option with this blade though, where you can choose to have a half-serrated edge on select styles. An ambidextrous slide lock makes for a smooth opening action with either hand, and the reversible pocket clip is a great added bonus for lefties. Overall, it's a versatile and customizable knife that delivers excellent quality and functionality for its price.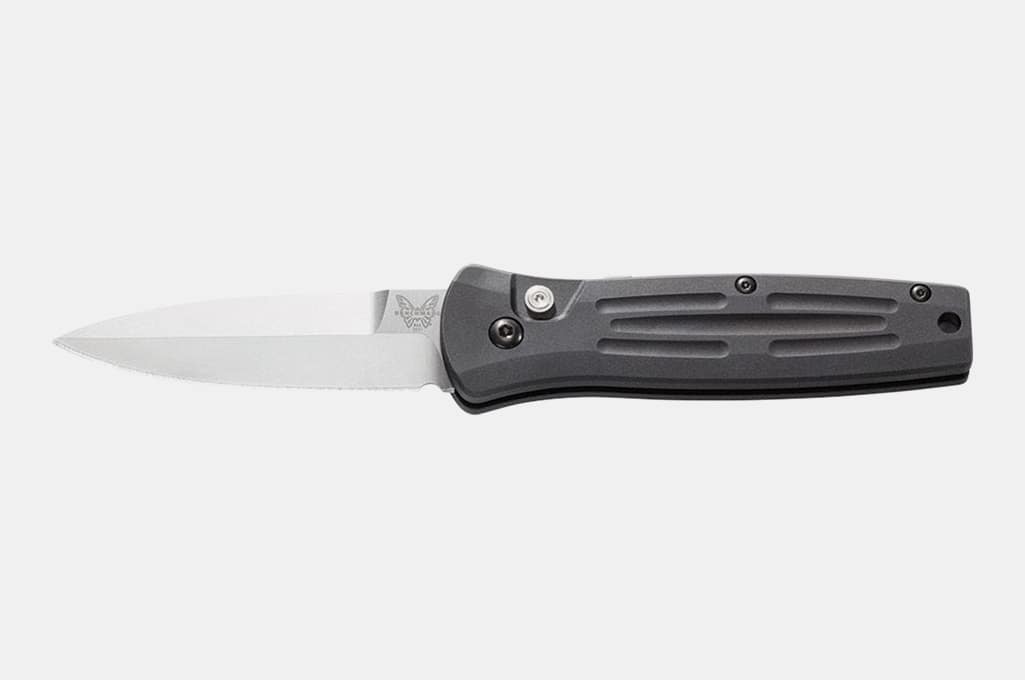 Best Automatic EDC Knife: Benchmade Stimulus
If you happen to live in one of the states where automatic deployment blades are not illegal, the tactical and practical Benchmade Stimulus is a fantastic knife for everyday carry. A spear point blade and push button automatic deployment make it quick and convenient to use in a flash, and the firm locking mechanism means it's ready to be used for self defense too.
The blade for the Stimulus is made from 154CM stainless steel, which has large additions of carbon and chromium for both excellent sharpness and good edge retention. Our only tiny gripe is that the anodized black aluminum handle could be grippier; as it is, sweaty hands will make it a little bit more slippery than we'd like.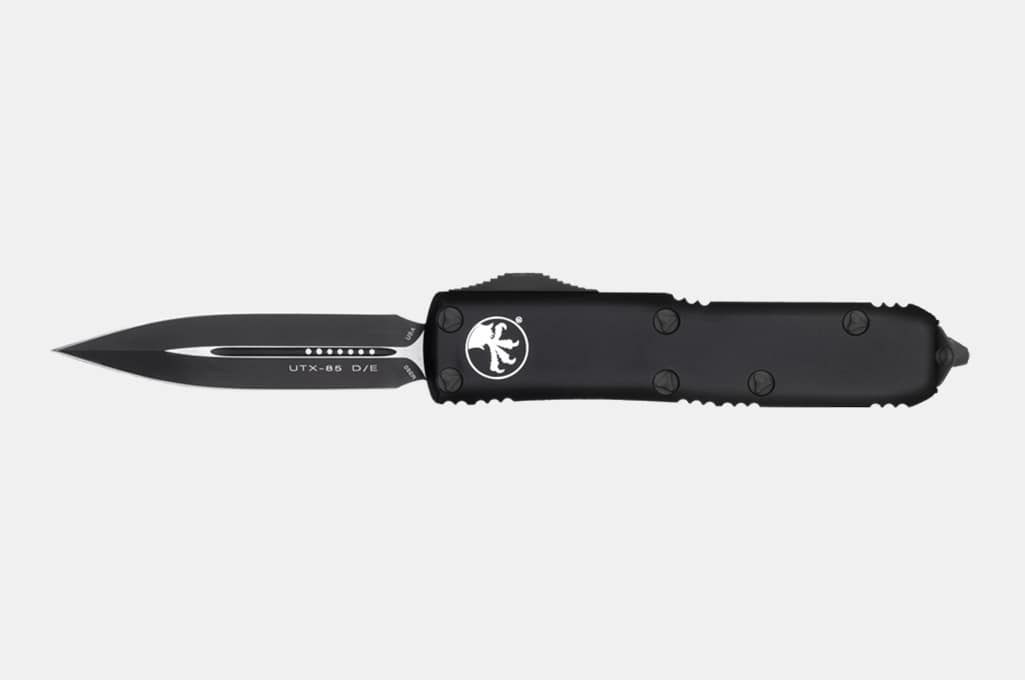 Runner Up Best Automatic EDC Knife: Microtech Ultratech OTF
Microtech's Ultratech is one of the finest examples of an out-the-front automatic knife that you're likely to find (Take note, however, that OTF knives are also one of the most highly regulated knife categories). Its proprietary design keeps the firing spring at rest in both the open and closed positions, meaning that its lightning-fast deployment lasts so much longer than other OTF knife designs.
The blade for the Ultratech is made from M390 steel—widely regarded as one of the most durable and corrosion resistant metals you can use for a blade. Combine all of that with a smooth and safe trigger mechanism and contoured handle, and you get one darned impressive knife.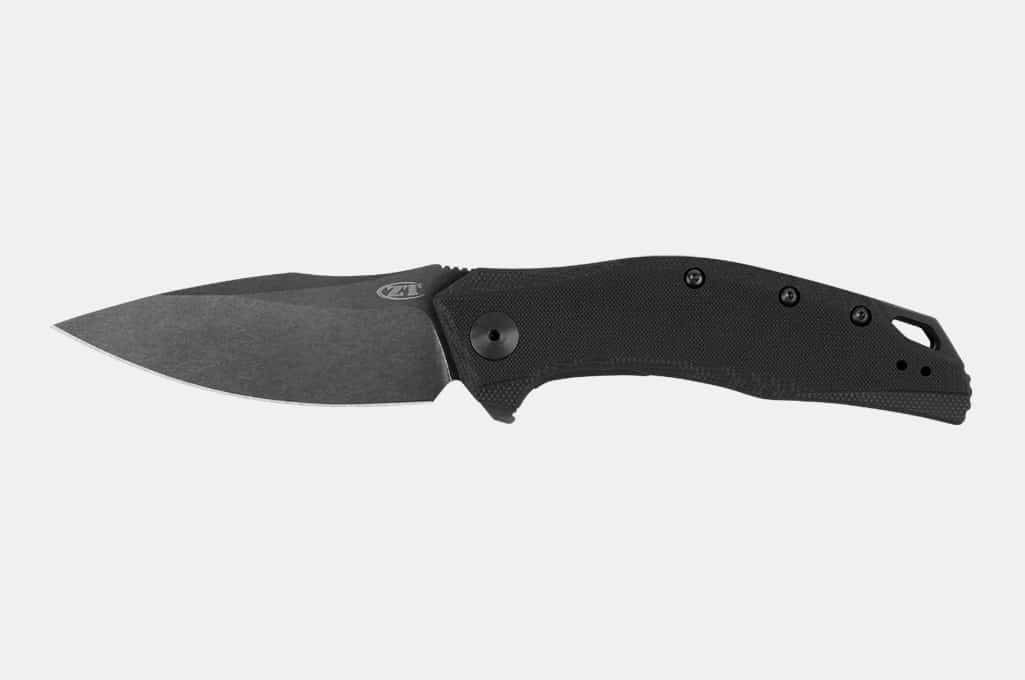 Best Assisted Opening Knife: Zero Tolerance 0357BW
Assisted deployment knives live in a sort of grey zone between manual and automatic. If you live in a state that has a ban on automatic knives, an assisted is often the next best thing. And Zero Tolerance's 0357BW offers the smoothest opening we've seen outside of an automatic.
The SpeedSafe system lets you open the knife with just a flick of the finger, after which the blade sits rock solid thanks to its liner lock. And the blade is made from the same top quality CPM 20CV steel as our best overall pick, giving it excellent durability and edge retention.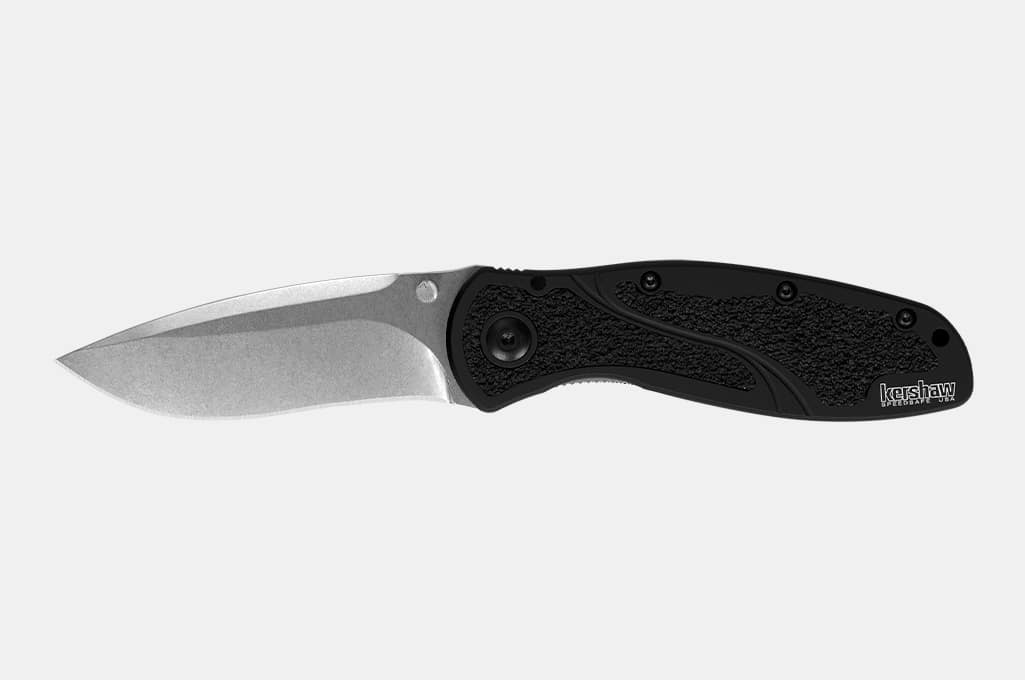 Runner Up Best Assisted Opening Knife: Kershaw Blur
Kershaw consistently makes some of the best "bang for your buck" knives around, and their S30V Blur is a fine example of this. The S30V in its name refers to the steel used for this knife's blade, a premium grade knife steel that offers a balanced combination of sharpness and edge retention. It's one of the most expensive steels you can use for a blade, which makes this knife's price point that much more impressive.
SpeedSafe assisted opening comes courtesy of a thumb stud, and an inset liner lock seals the blade in place well enough for heavy duty cutting work. The handle could be a little more comfortable, but that's far from being a dealbreaker.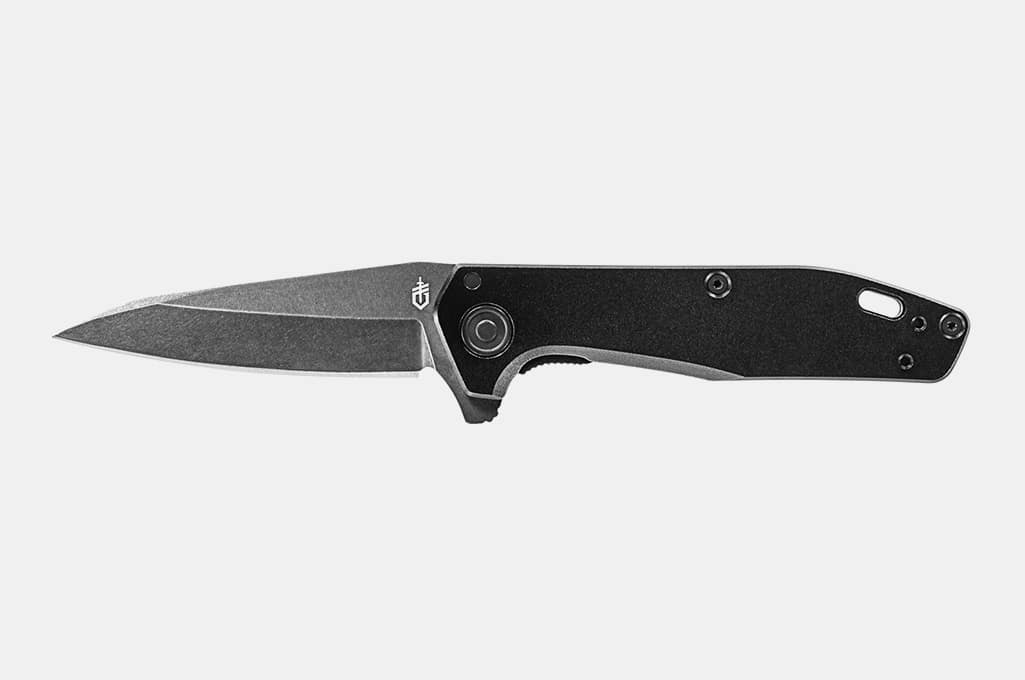 Best Manual Knife: Gerber Fastball
When you get into the realm of manual opening blades, Gerber's Fastball reigns supreme. Its finger flipper opening is so smooth, you might be left wondering if it's actually an assisted blade after all. That's thanks to Gerber's proprietary B.O.S.S. Tech, which uses Balls Of Stainless Steel to reduce friction. That's combined with top quality S30V steel for the spear tip blade, and an easy-off liner lock release. Honestly at this price, it's amazing how much quality Gerber packs into the Fastball.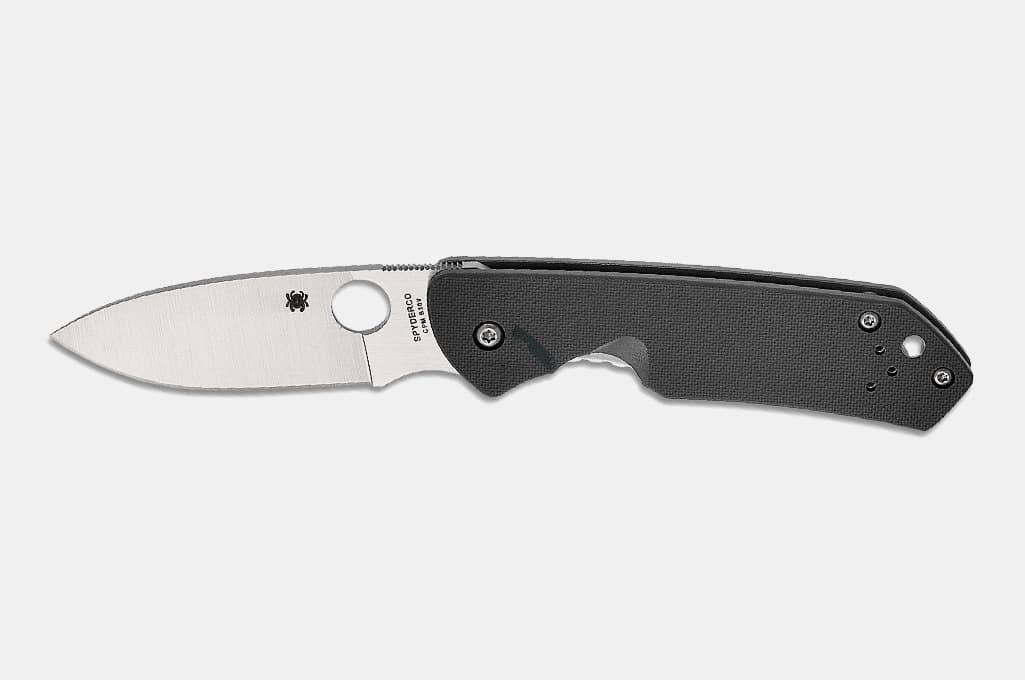 Runner Up Best Manual Knife: Spyderco Brouwer Folder
If you're looking for a no nonsense, go anywhere sort of knife, the small but sturdy Spyderco Brouwer Folder is the way to go. Once again we see the appearance of S30V steel, offering top notch performance in edge retention, durability, and sharpness. That's paired with a full flat grind and a drop point, making the blade a reliable go-to for all your cutting chores.
Titanium and G-10 scales keep it relatively lightweight, and the Reeve Integral Lock system is designed for an extra long lifespan. In short, this is the sort of knife that you'll be using for the next few decades, which justifies its higher price tag.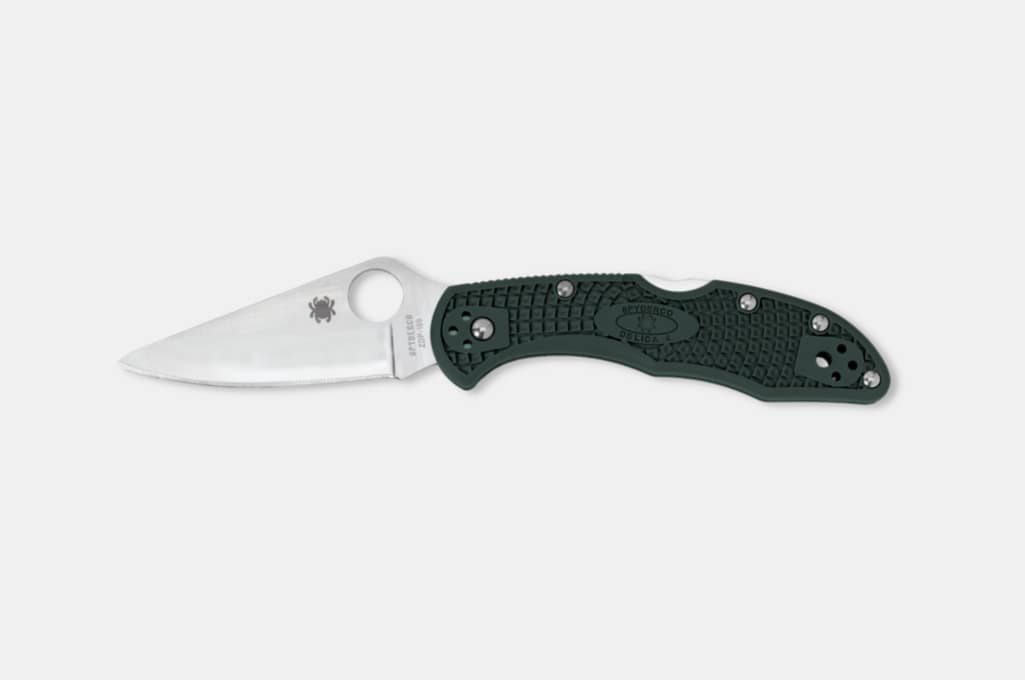 Best Lightweight EDC Knife: Spyderco Delica 4 FRN
Weighing in at just 2.5 ounces but packing serious quality features, Spyderco's Delica 4 FRN is a longtime favorite and the latest version of one of the company's original knife offerings. The design has been greatly refined over time, and now comes with a fiberglass-reinforced nylon handle with awesome texturing and ergonomics.
A VG-10 steel blade makes it easy to sharpen, even if there's a tradeoff of slightly lower edge retention. Bronze washers on either side of the opening mechanism give it a smooth action, too. For the price, you'll be hard pressed to find a better lightweight EDC knife.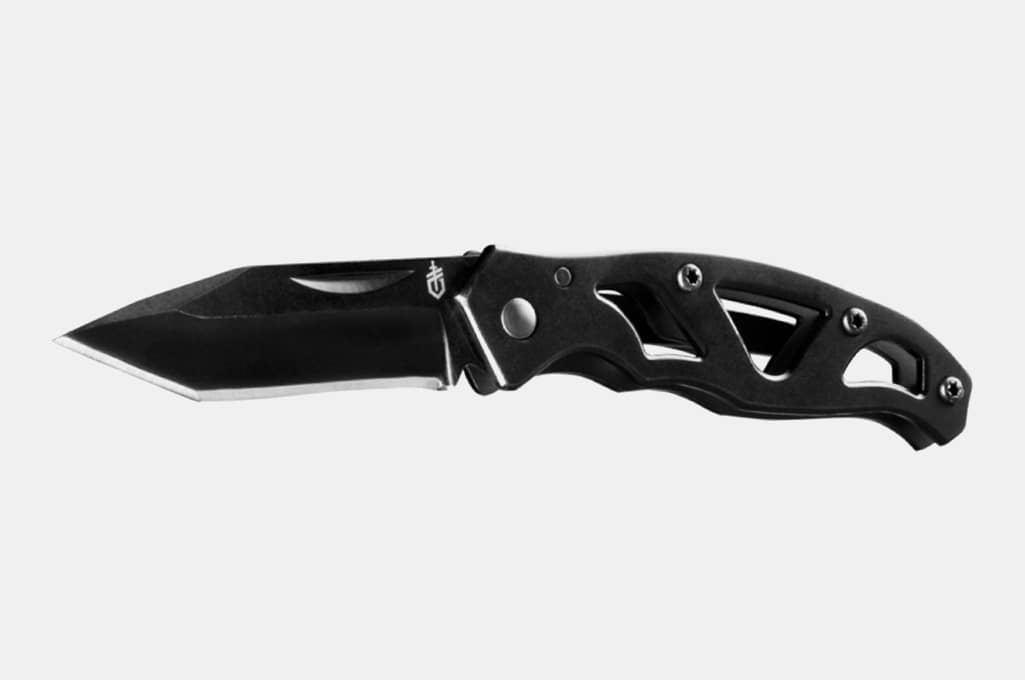 Runner Up Best Lightweight EDC Knife: Gerber Paraframe II Tanto
We couldn't write about lightweight knives without including Gerber's Paraframe Tanto. Even though it comes in at twice the weight of our top pick (a full 5 ounces), there's a good reason for its inclusion: This is one of the lightest weight knives you'll find at its crazy low price point. Offered for just $35 at full price, it's a surprisingly well-made knife with a fairly smooth deployment via thumb stud and a solid frame lock. Is it the best knife you'll ever use? No. But is it the best lightweight knife for beginners and people on tight budgets? We think so.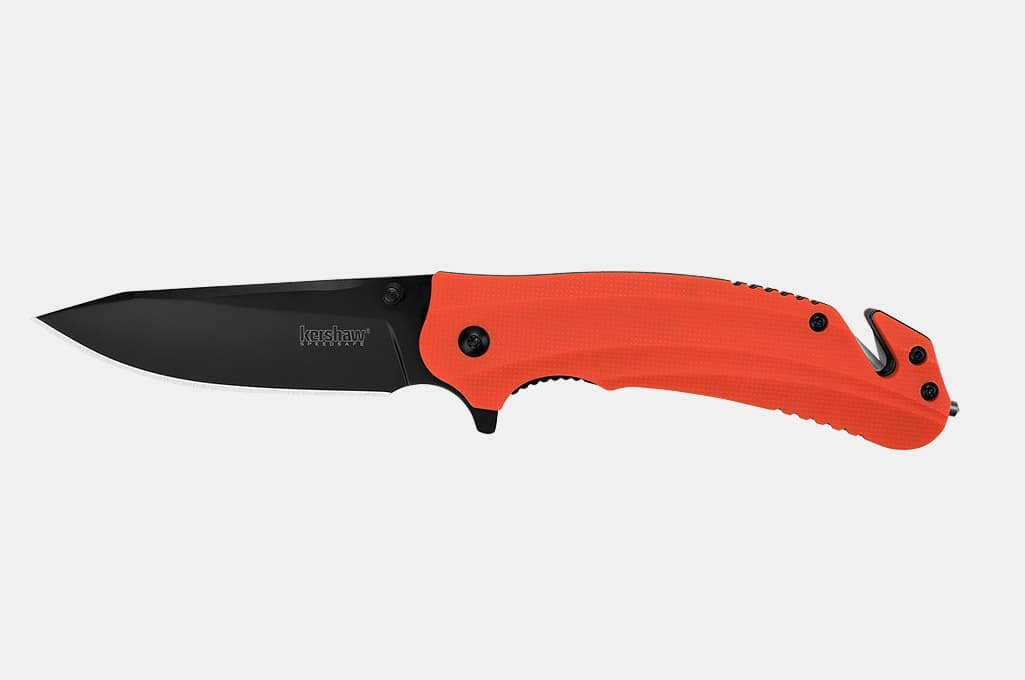 Best Rescue Knife: Kershaw Barricade
Knives for medical and rescue professionals must necessarily be different from other EDC knives—they need to perform more functions, be extremely reliable, and have high visibility. Kershaw's Barricade knife checks all these boxes and more at a crazy good price.
A bright orange nylon handle makes it easy to spot no matter the light conditions, and its solid construction lets it easily double as a glass breaker. The SpeedSafe assisted opening makes it quick and reliable to deploy, and a liner lock keeps it safely in place. Then, a built-in cord cutter puts the finishing touches on this knife's supremely utilitarian design.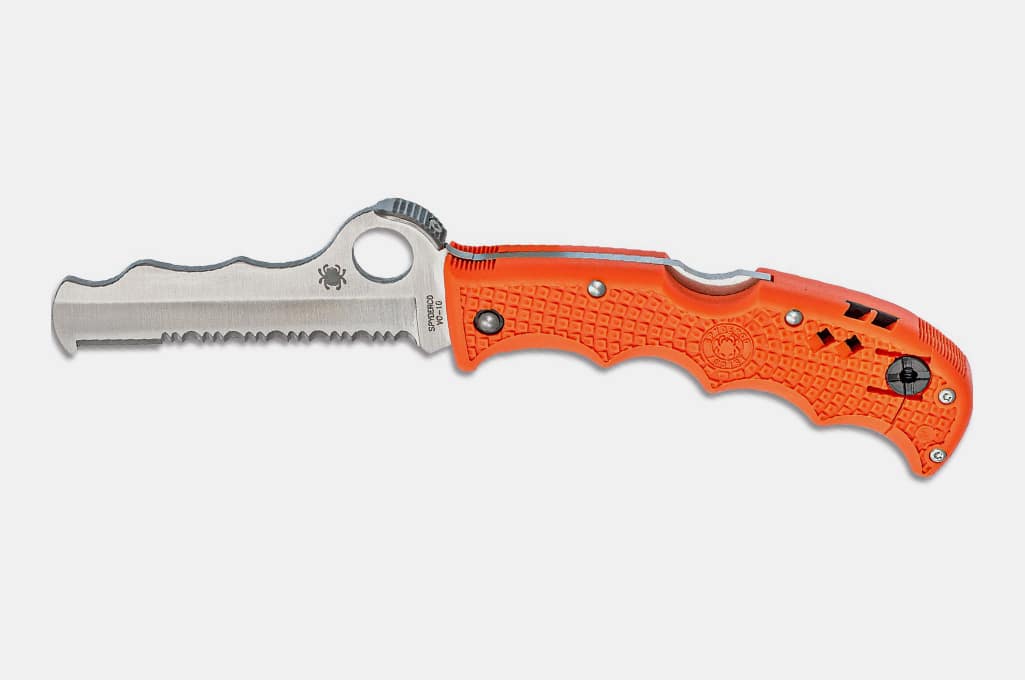 Runner Up Best Rescue Knife: Spyderco Assist FRN
For a higher end knife in the rescue category, look towards the detail-oriented Spyderco Assist FRN. Every inch of this knife has been designed with safety and rescue professionals in mind, from the blunted tip (no accidental injuries) to the SpyderEdged blade (for cutting seatbelts) with a small portion of plain edge for detailed cutting.
That's all wrapped up in a wavy blade style (designed by a Swedish fireman) that can be used to scissor-cut rope without having to extend the entire blade. Squeeze the blade even firmer into the handle while in the closed position, and a retractable carbide glass breaker pokes out of the bottom. That's all wrapped up in a bright orange and highly grippy handle for great visibility and traction.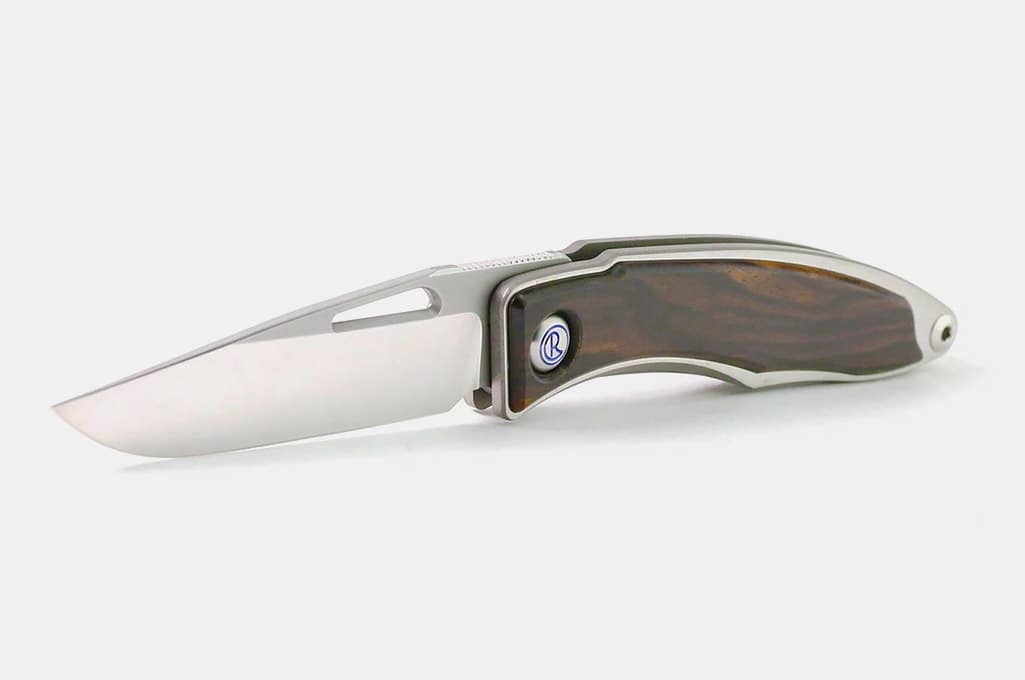 Best Looking EDC Knife: Chris Reeve Knives Mnandi in Macassar Ebony
Chris Reeve is fairly well the name in decorative pocket knives, and one look at his beautiful catalog will reveal why. Attention to detail and stunning design are taken to an extreme in every Chris Reeve knife, but the Mnandi in Macassar Ebony really stands out. Exceptionally rare macassar ebony hardwood is used for the inlays, providing unique grain, texture, and color for each individual knife.
Lest you think it's all show and no go, though, take a look at the steel the blade is made from: CPM S45VN, one of the most outstanding steels available for folding knives. Because of its extra high vanadium and chromium contents, this steel exhibits amazing edge retention and corrosion resistance while still being relatively easy to sharpen.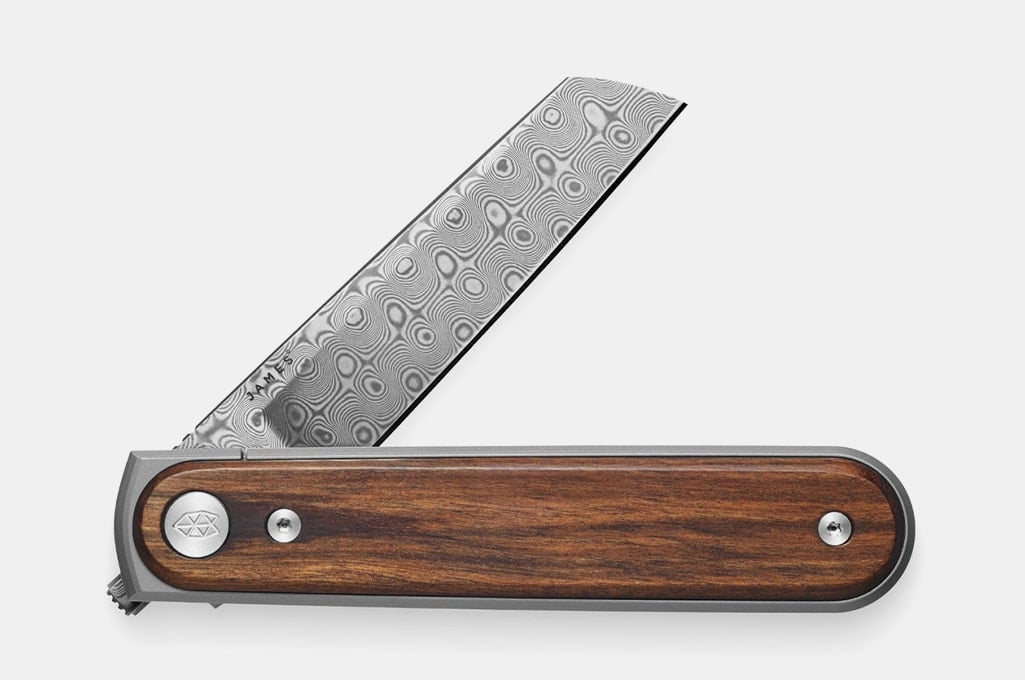 Runner Up Best Looking EDC Knife: James Brand The Duval
Gentlemen's knives are usually quite decorative, and require two hands to open. For the James Brand's Duval knife, though, a stunning aesthetic is merged with a surprisingly functional design that allows it to be opened one-handed.
A beautiful rosewood scale makes each knife unique because of its natural variation. And even the blade will be unique too, thanks to its DS93X Damascus steel. All of that is combined with ceramic ball bearings that will keep it opening swiftly and smoothly for years to come.
Best Cleaver-Style Knife: Gerber Fastball Cleaver
The ever-popular Gerber Fastball has only recently been offered with a cleaver-style blade—and it really delivers. Dropping the point from the design makes it that much less likely to cause accidental injury, and equips it with a hardier chopping and slicing style that's great for outdoorsmen.
All of the usuals of the Fastball style are still in attendance too, including their B.O.S.S. System of ball bearings that make for ultra-quick blade deployment. It's only available in Urban Blue or Coyote Brown handle colors though, which we think is an odd choice.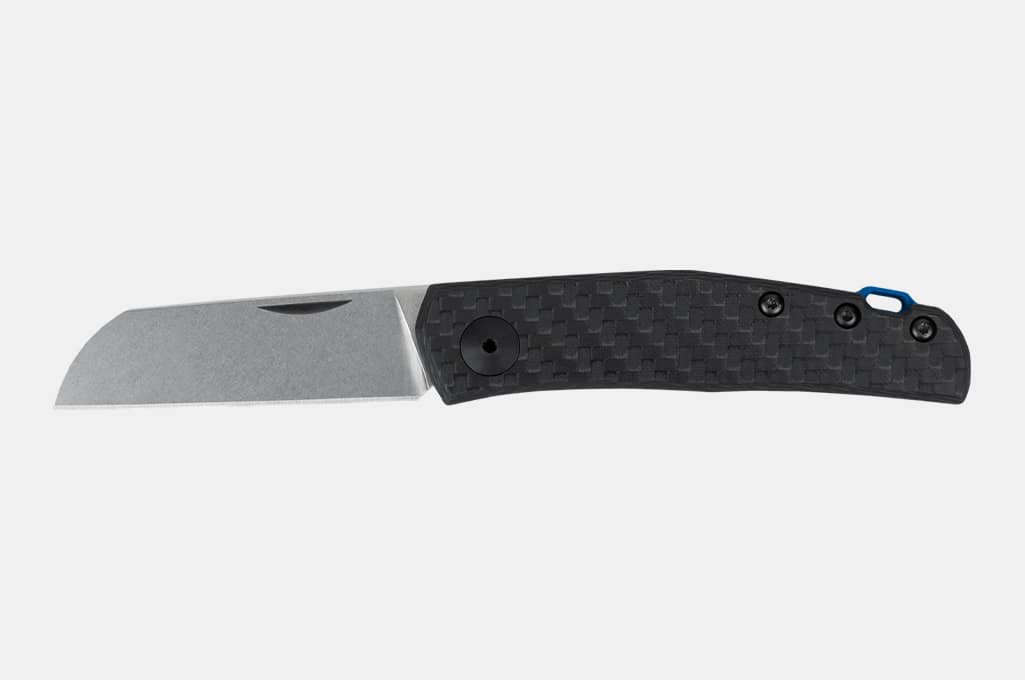 Runner Up Best Cleaver-Style Knife: Zero Tolerance 0230
So technically the Zero Tolerance 0230 is a sheepsfoot-style blade; but given the way it folds and holds, we're comfortable recommending it as a cleaver-style knife. The real star of the show here is a slip-joint double detent system, wherein one steel ball on each side of the blade keeps it firmly in place while closed and then allows for safe and smooth opening.
CPM 20CV steel gives the blade excellent sharpness and edge retention. And an ultra lightweight carbon fiber handle lets it weigh in at a tiny 1.8 ounces—perfect for packing along with you for any camping or backpacking trip.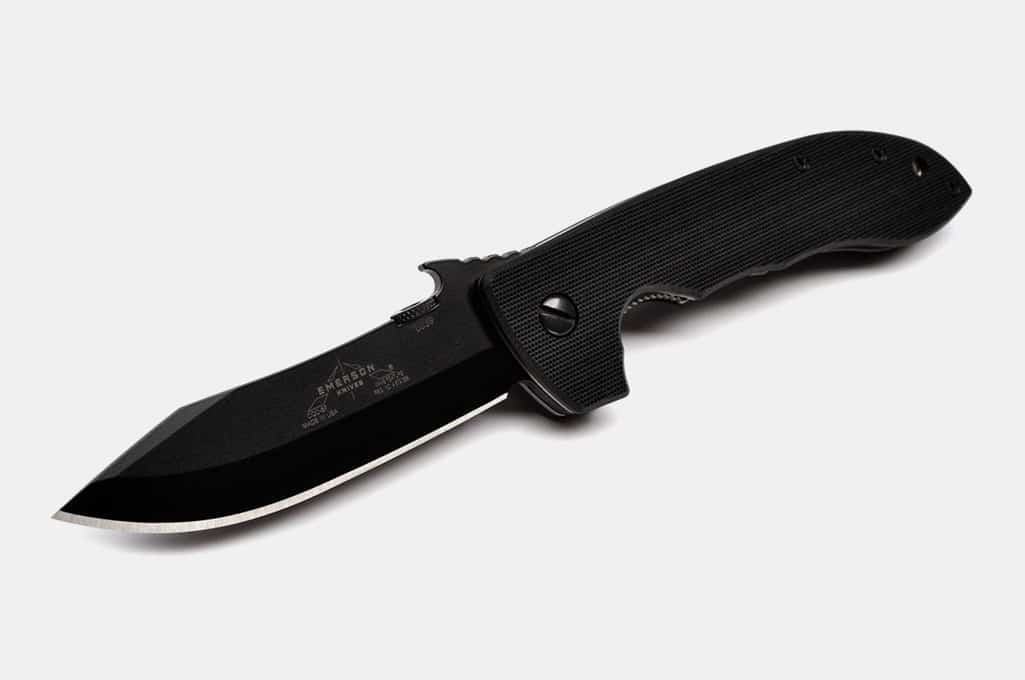 Best Tactical/Self Defense EDC Knife: Emerson CQC-8 Flipper
As a longtime martial artist with years of knife skills training, I really can't stress enough how impressed I am with Emerson's CQC-8 Flipper. But you don't have to take my word for it: The CQC-8 (that stands for Close Quarters Combat) has been a go-to choice for soldiers and special forces like Britain's famous SAS regiment.
This knife is super comfortable in the hand, opens flawlessly every time, and has a heft and weight to it that lets you know it's made for the long haul. We personally like the blade style on the 8, but you can also choose from a variety of different blades in the CQC series.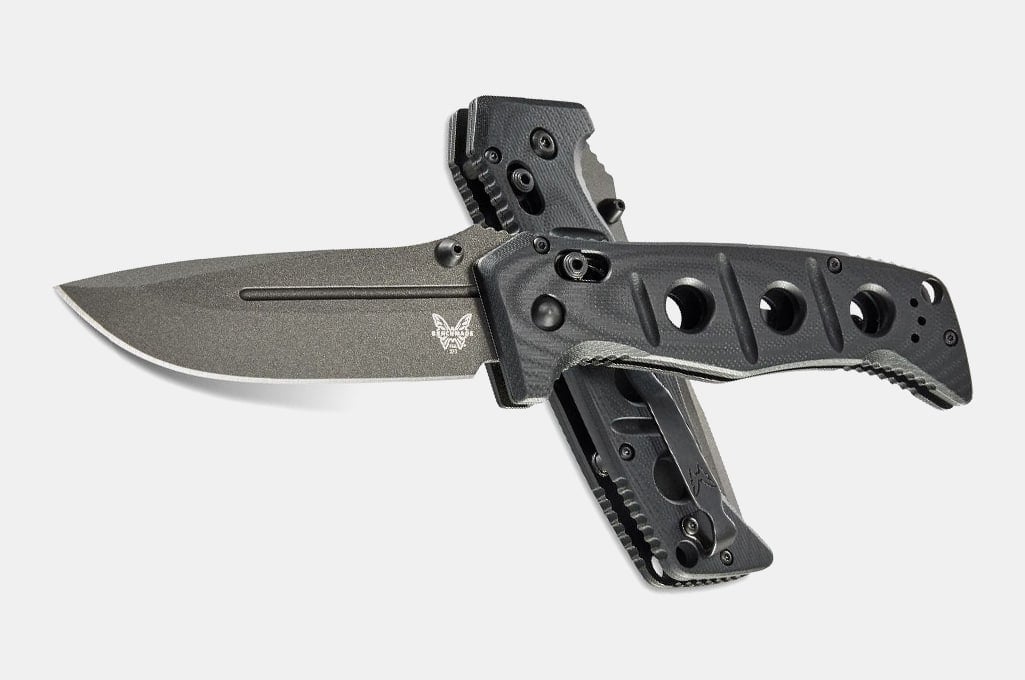 Runner Up Best Tactical/Self Defense EDC Knife: Benchmade Adamas and Auto Adamas
Both of Benchmade's Adamas family knives—manual and automatic styles—are made with incredibly heavy duty construction. We're talking almost a half pound each with these knives, and blades that are hardened to an exceptional degree for maximum durability. And the Adamas knives are quite customizable too, with your choice of deployment type paired with black or olive drab scales and plan or serrated drop point blades. If you're looking for a knife that just won't quit (and don't mind having some added pack weight), Benchmade's got you covered.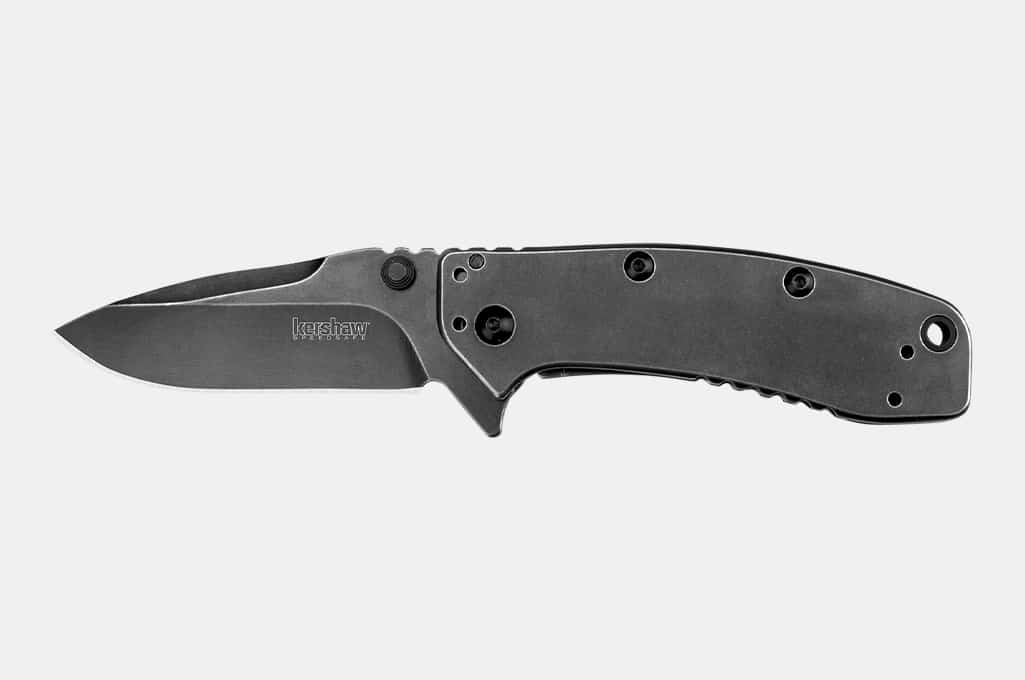 Best EDC Knife Under $100: Kershaw Kryo II Blackwash
When you're looking for an EDC knife on a tighter budget, Kershaw should be your first stop. Because while they make their fair share of higher end knives (see the Blur and Barricade above), they still deliver excellent quality for the price in their more affordable selections.
For under $100, the Kryo II in Blackwash is easily our top choice. Its 8Cr13MoV offers better sharpness and durability than you'd expect at this price, with the tradeoff of lower edge retention. A contoured steel handle makes it easy to hold onto. And the SpeedSafe assisted opening allows for quick and smooth deployment when it's time to cut. Overall, it's a fantastic deal for the price it's offered at.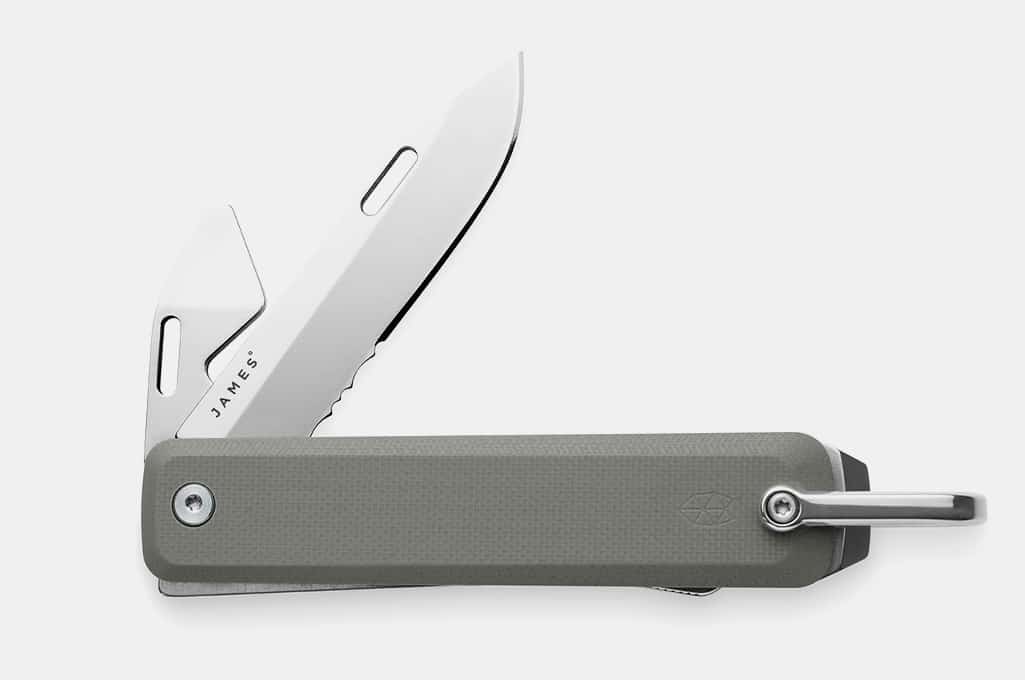 Runner Up Best EDC Knife Under $100: James Brand The Ellis
If you'd like a knife for under $100 that still has a distinctive style, James Brand's Ellis knife is a great choice. It has a sleek and minimalist design that thoroughly masks the knife's multi-tool functionality, which includes a multi-type screwdriver, scraper, and bottle opener.
You'll need to attach it to a lanyard (or your keys or backpack), but the bail loop is durably constructed and another element of the knife's signature look. To cap it all off, the blade is made from Sandvik 12C27 steel—which is about the sharpest steel you can get at this price point, and has excellent corrosion resistance to boot.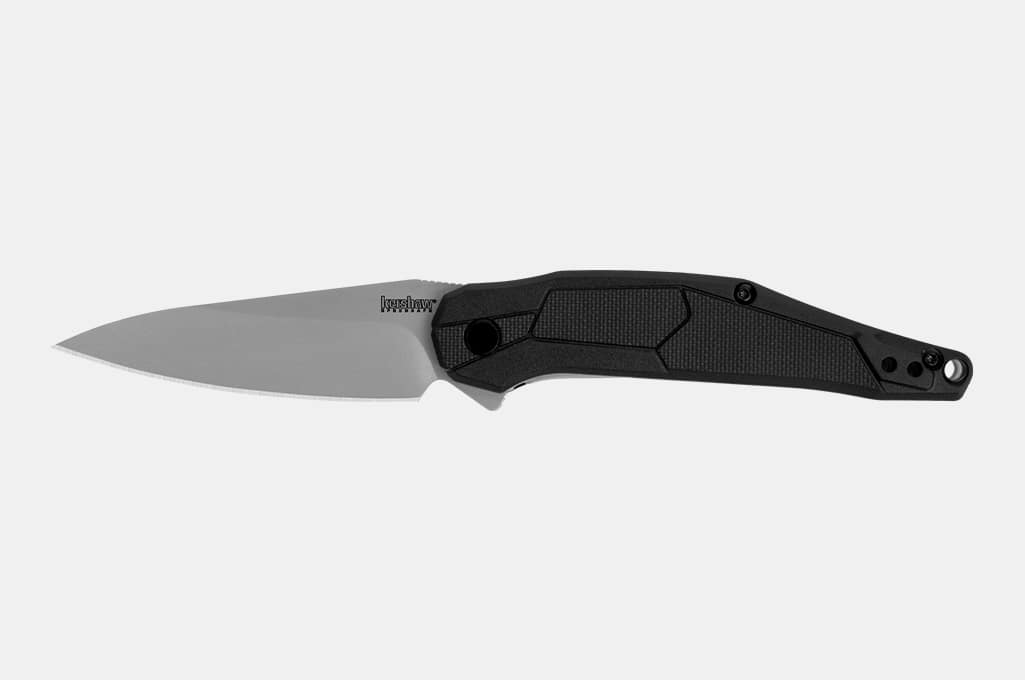 Best EDC Knife Under $50: Kershaw Lightyear
Lightweight and easy to hold, the Kershaw Lightyear would be a good knife at twice its price. But for $38 (at the time of writing), it's a downright outstanding addition to your everyday carry. The slim profile and reversible pocket clip make it easy to stow away in any pair of pants. And once you're ready to roll, the SpeedSafe assisted opening mechanism keeps things fast and smooth.
The only real downside here is the quality of the blade steel. It can take a surprisingly sharp edge—but you'll have to sharpen it often for best performance, as its edge retention isn't so good. For the price, though, it's an excellent little knife that's great to gift someone as their first EDC knife.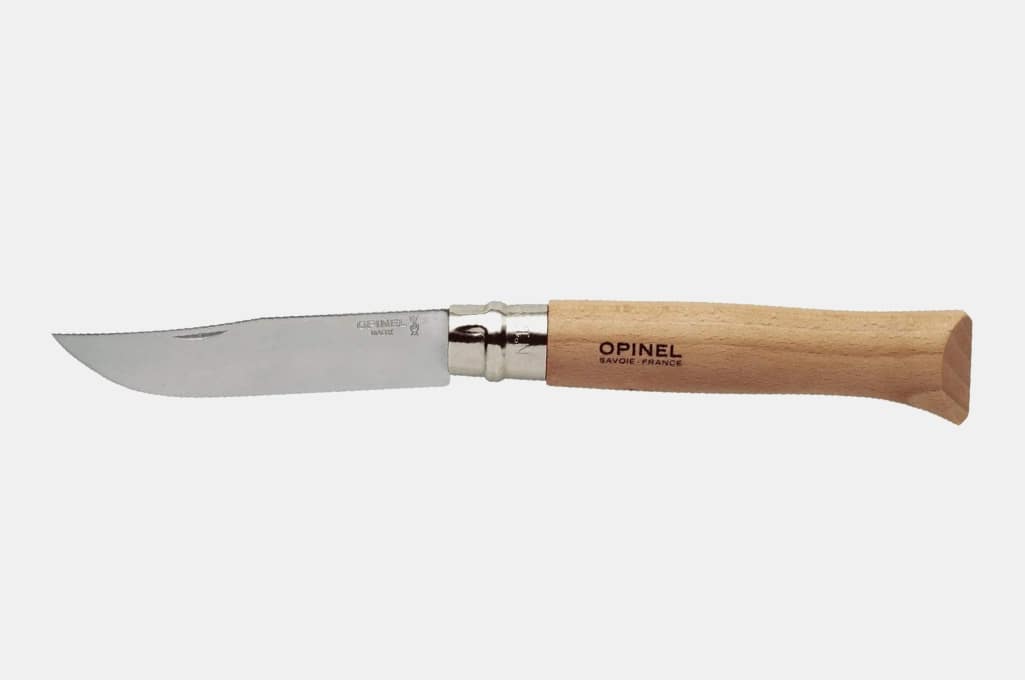 Runner Up Best EDC Knife Under $50: Opinel No. 8
French knifemaker Opinel's entire lineup of folding knives share the same design, just in different sizes. To my hands, their No. 8 is just right—offering enough blade length for casual, everyday cutting and enough handle to hold it comfortably.
No matter what size you get, the real attraction here is the carbon steel blade. It will take a finer edge than any knife at this price point, and has good corrosion resistance too. Guys whose everyday carry is mainly for urban environments will appreciate this knife, as will anyone whose main use is for bar and restaurant work.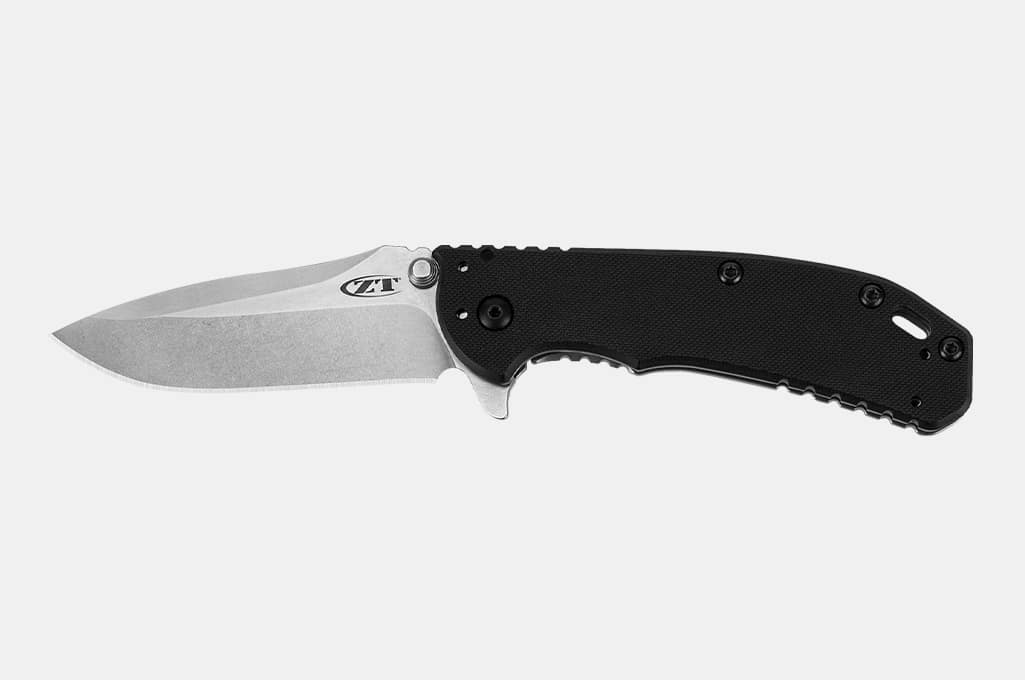 Adam's Favorite EDC Knife: Zero Tolerance 0566
First, the bad news: Zero Tolerance's 0566 has been discontinued, so it can be tough to find one; eBay is often your best bet, or you can head to knife shows for in-person opportunities. But if you're willing to put in the legwork to get one, you'll probably be using it for the rest of your life—after all, it's been Adam's daily carry for years now, and it's still just as awesome as the day he got it.
The 0566 is an ideal combination of everything Zero Tolerance does best: Top quality steel (CPM S35VN in this case), a textured handle for solid grip, assisted opening for smooth deployment, and a compact size that makes it ideal for everyday carry.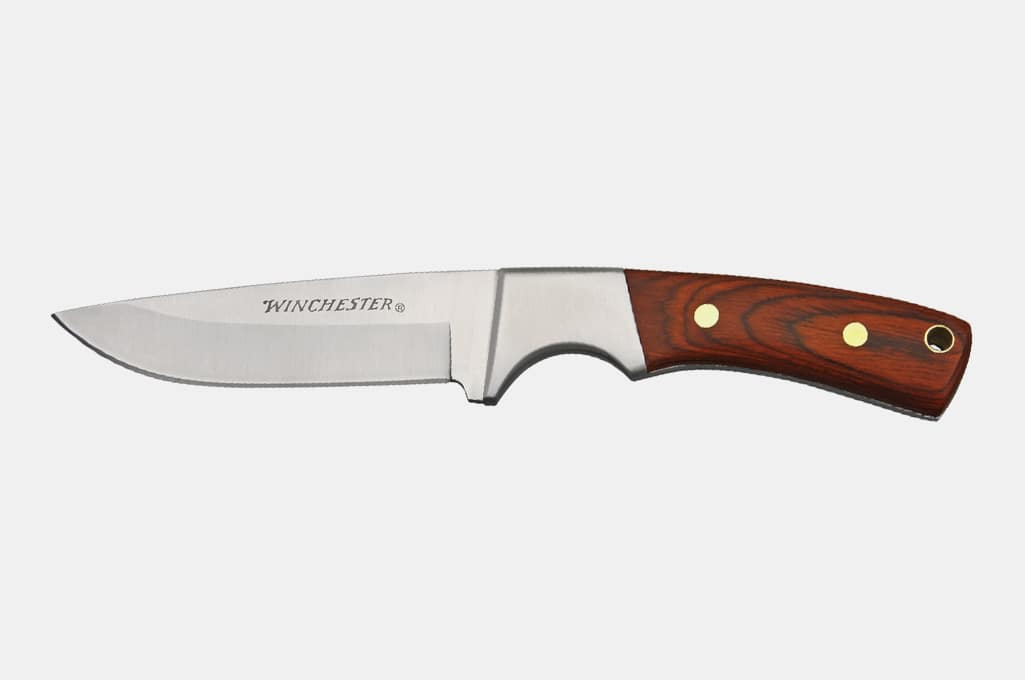 Brian's Favorite EDC Knife: Winchester Drop Point Fixed Blade
What in the world is a fixed blade hunting knife doing on this list of EDC knives? This drop point blade from Winchester is my everyday carry for one good reason: My dad gave it to me, and I carry it to remember him by. Is it the "best" knife in the world for everyday carry? No. It's kind of cumbersome, and hard to keep a good edge on. But to me, it's the best thing I could possibly have because it reminds me of the sort of man I hope to be one day: Kind and generous, and accepting of my imperfections. Which is all to say: If you have a knife that's meaningful to you, don't let anybody convince you it's not the right knife for you—because everyone's tastes are their own.
Disclosure: Clicking on these links and making a purchase may earn us a small referral fee, at no extra cost to you. Learn more here.
freestar.config.enabled_slots.push({ placementName: "gearmoose_leaderboard_btf", slotId: "gearmoose_leaderboard_btf" });