The 10 Best Knife Sharpeners For Your Pocket Knives
Whether your favorite pocket knife cost five dollars or five hundred dollars, there's one unavoidable truth: Eventually its blade will dull. That's why knowing how to sharpen your pocket knives—and what tools to use to do so—is an essential skill for every guy to master.
But not every sharpener is suitable for every knife. Just about any sharpening system will do for a knife that you're okay with replacing, but higher quality blades deserve more fine-tuned sharpening methods.
We've collected a little bit of both sides in this roundup of the best knife sharpeners for pocket knives. In it, you'll find both top of the line sharpeners that will keep your babies in great cutting shape for as long as possible, as well as ultra-affordable options that can turn a butter knife into a hunting knife (at the cost of chewing up quite a bit of steel).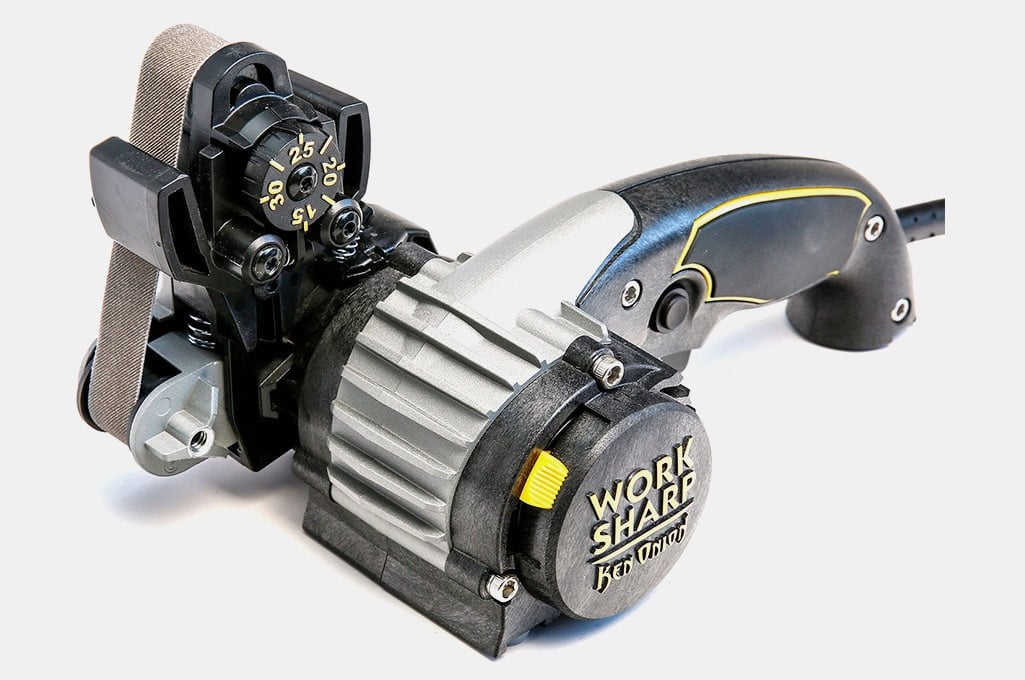 Work Sharp Ken Onion Edition Knife and Tool Sharpener
In case you're not already familiar with him, Ken Onion is one of the biggest names in modern knife design. He's been responsible for a whole host of pocket knife innovations, including the legendary SpeedSafe mechanism on Kershaw's knives. The Work Sharp (Ken Onion Edition) Knife and Tool Sharpener is the master designer's best take on a no-nonsense knife sharpening system that will take great care of your blades. It's the premier choice for knife nerds, with adjustable edge angle settings from 15 to 30 degrees and custom-made abrasives that combine with a variable speed belt drive to take the absolute best care of your edges. If you want to invest in one sharpener that does it all, this is where your money should go.
Ease of Use: Intermediate to Advanced
Dimensions: 5.5" L x 10" W x 6" H
Price: $149+
Takeaway: Anything in the knife world with Ken Onion's name on it is worth using, and this sharpener is no exception. It has a bit of a learning curve, but offers great results for a wide range of knives.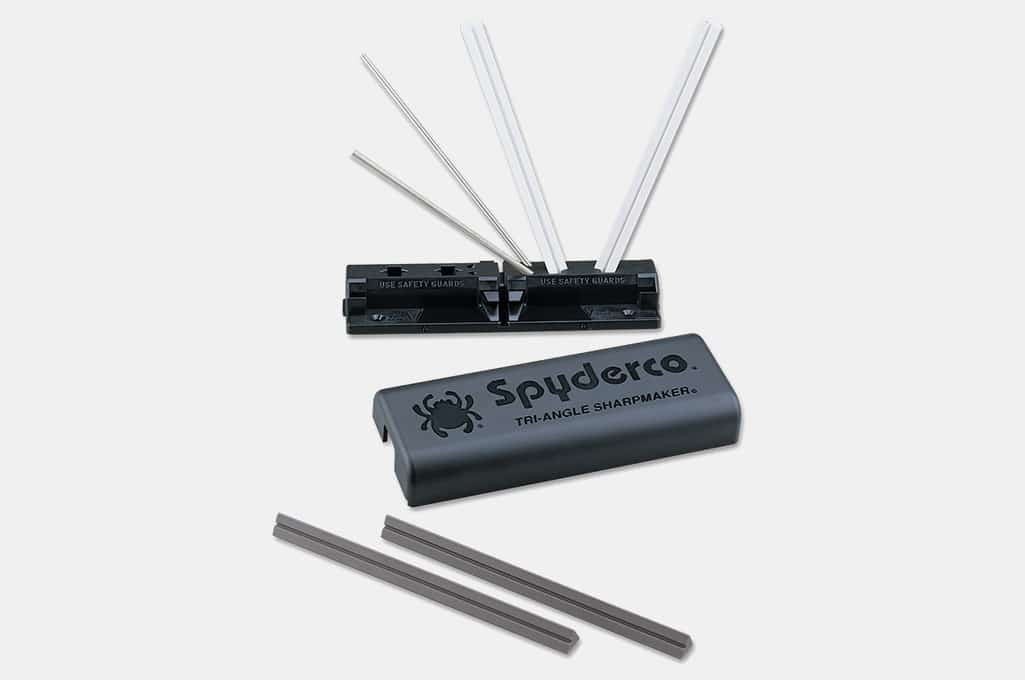 Spyderco Tri-Angle Sharpmaker Knife Sharpener
Despite its compact design and construction, the Spyderco Sharpmaker packs a lot of functionality into a small package. It's the premier choice for manual (not electric) sharpening for your highest-dollar pocket knives, with a set of stones that gives you options for aggressive re-edging all the way to fine tuned finishing. It can take a good bit of getting used to, so plan on practicing for a while with your knives before you get a perfect sharpening; the included DVD will walk you through every step to hone your skills.
Ease of Use: Beginner to Intermediate
Dimensions: 7" L x 2" W x 0.5" H
Price: $80-$115
Takeaway: Compact and easy to use, Spyderco's Sharpmaker is a great choice for beginner to intermediate knife collectors who want to take great care of their blades.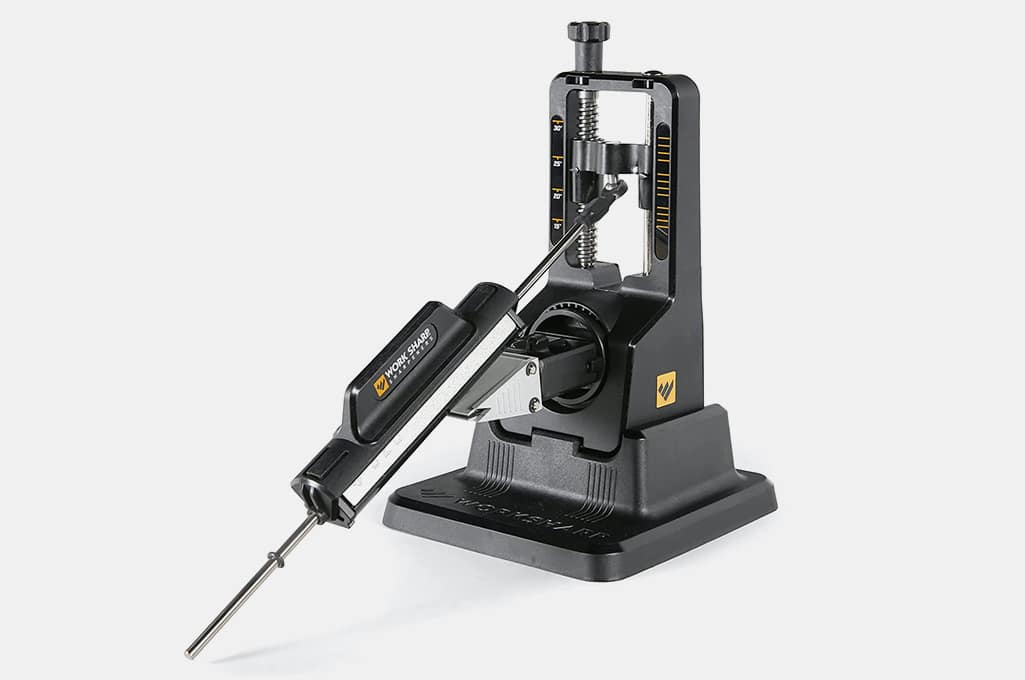 Work Sharp Precision Adjust Knife Sharpener
If you so much as mention sharpeners in a group of knife enthusiasts, you're going to hear about Work Sharp. They're one of the most highly regarded manufacturers of sharpening systems, and offer a huge range of options to suit every skill level and desired sharpness—which is also why you'll find three different options from the company in this review. Their Precision Adjust Knife Sharpener is a favorite among budget-conscious knife owners who don't want to sacrifice sharpness. With a few quick adjustments you can choose your blade angle from 15 to 30 degrees in one degree increments, making this the sharpener with the greatest degree of angle control on our list. It's excellent for pocket knives, but you can also sharpen your hunting and kitchen knives on it just as easily.
Ease of Use: Intermediate
Dimensions: 11.75" L x 4.65" W x 6.75" \H
Price: $49+
Takeaway: After a brief learning curve getting to know this sharpening system, you'll be able to keep an edge on your favorite blades with minimal hassle.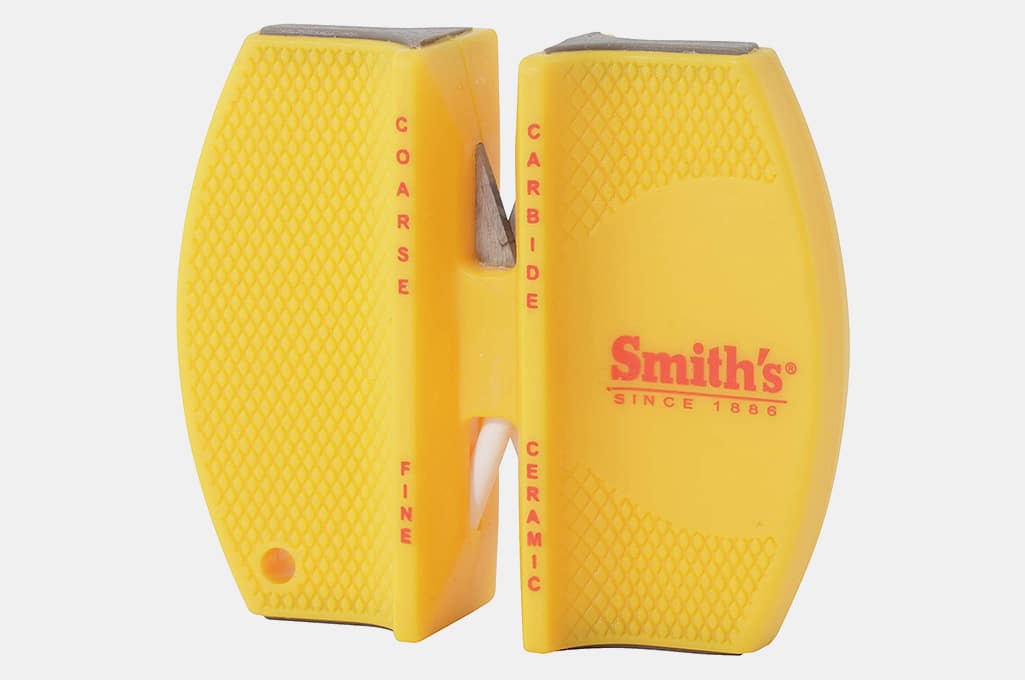 Smith's CCKS 2-Step Knife Sharpener
At less than five dollars, Smith's CCKS 2-Step Knife Sharpener is the cheapest way to keep an edge on your blades. Will it be the best edge possible? No. Will it keep your knives in great shape year after year? Also no. But for the price, it's the most affordable way to keep your rough and tumble, out-in-the-field knives sharp and ready to go. So while we wouldn't recommend running your $200, limited edition knife through this bad boy, there's really no harm in buying a dollar store knife and keeping it razor sharp.
Ease of Use: Beginner
Dimensions: 0.88" L x 2.71" W x 2.33" H
Price: $4+
Takeaway: It doesn't get much cheaper than this, so now you don't have any excuse for having dull knives.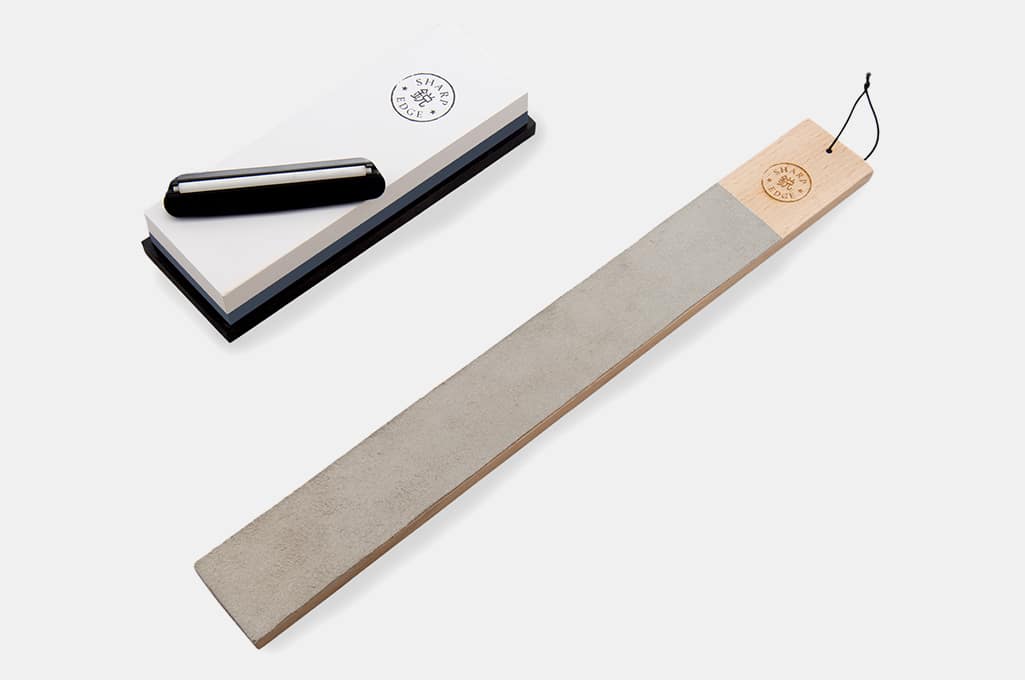 SharpEdge 1000/6000 Grit Whetstone Sharpening Set
Your author developed an interest in blades and sharpening through working in a Japanese kitchen (there's something about watching a sushi chef make paper-thin slices of fish, meats, and veggies that's downright inspiring). Even now, after finding and testing all sorts of sharpening systems, a Japanese whetstone set is still what I come back to over and over again. The learning curve on these is high—watch this video for an example of how it works—but once you get a feel for how it works, there's no better way to get a screaming sharp edge on every bladed tool in your house. SharpEdge's 1000/6000 grit set is the best starter set; it will work equally well on pocket knives and your kitchen knives.
Ease of Use: Advanced
Dimensions: 7.1" L x 2.4" W x 1.1" D
Price: $82+
Takeaway: The toughest sharpening system to get the hang of using is also the surest way to get the sharpest edges possible. If you're a DIY sort of guy, this should be your first pick.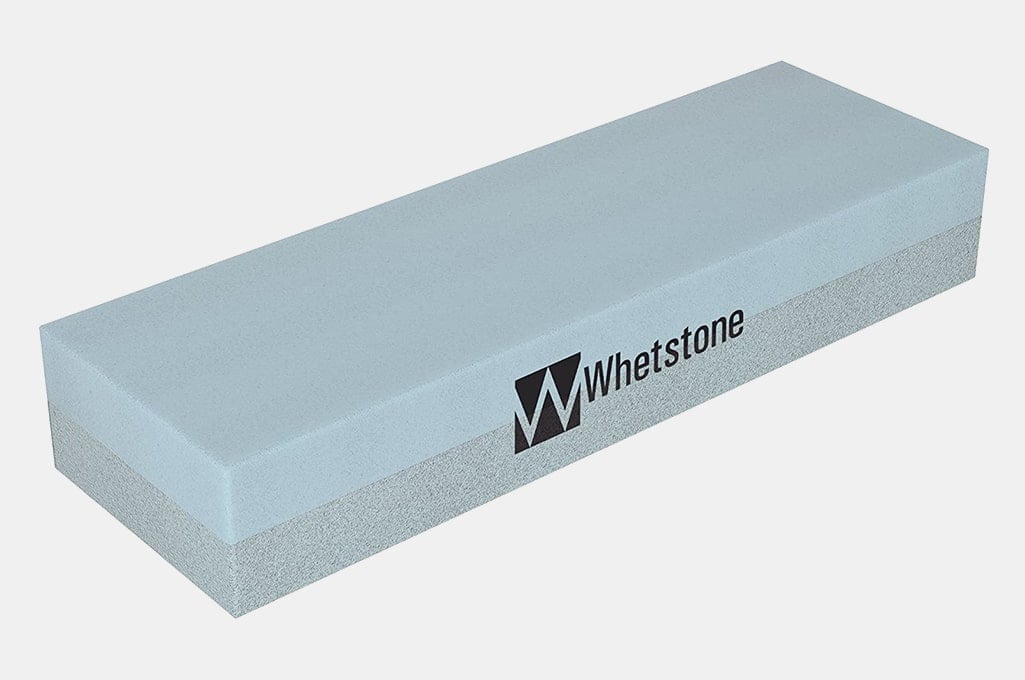 WhetStone Cutlery 400/1000 Grit Whetstone Sharpening Set
If the above description convinced you to get a set of Japanese whetstones, then allow me to go further down the sharpening rabbit hole. Depending on the type of steel you're working with, you'll need a whole range of whetstone grits to get the edge just right. 1000 grit is sort of the middle ground, a great place to start where you can determine whether you need a finer grit or a coarser one. And if you really beat your pocket knives up, you'll need something as coarse as 400 grit—like this one from WhetStone Cutlery—to "reset" the blade. When you see the results of working like this, eventually you can be like me, with eight different grits of whetstones that let you obsess over every single edged surface in your home.
Ease of Use: Advanced
Dimensions: 7.01" L x 2.24" W x 1.14" H
Price: $16+
Takeaway: Once you become obsessed with how sharp whetstones can keep your knives, branch out into this range of grits too.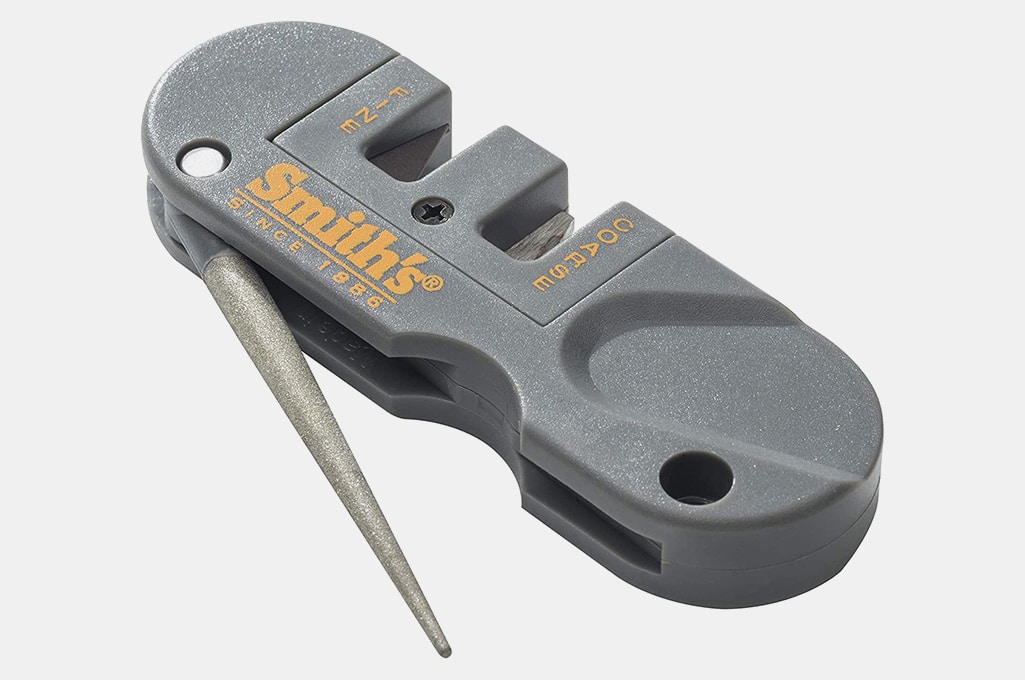 Smith's PP1 Pocket Hunting Knife Sharpener
A step up from the Smith's 2-step sharpener featured above, their PP1 Pocket Hunting Knife Sharpener is a convenient tool for in-the-field sharpening and general blade maintenance. It adds a diamond-coated sharpening rod to the carbide and ceramic pull-through slots, giving you the option of being a little bit gentler on your nicer blades—or honing an inexpensive blade to frighteningly sharp levels. It's also one of the few sharpeners on this list that can fix a dull serrated edge, so that's quite nice.
Ease of Use: Beginner
Dimensions: 3.5" L x 1" W x 0.5" H
Price: $10+
Takeaway: The PP1 is a good sharpener for on-the-go use; put it in your tacklebox or hunting vest before you head out for the day.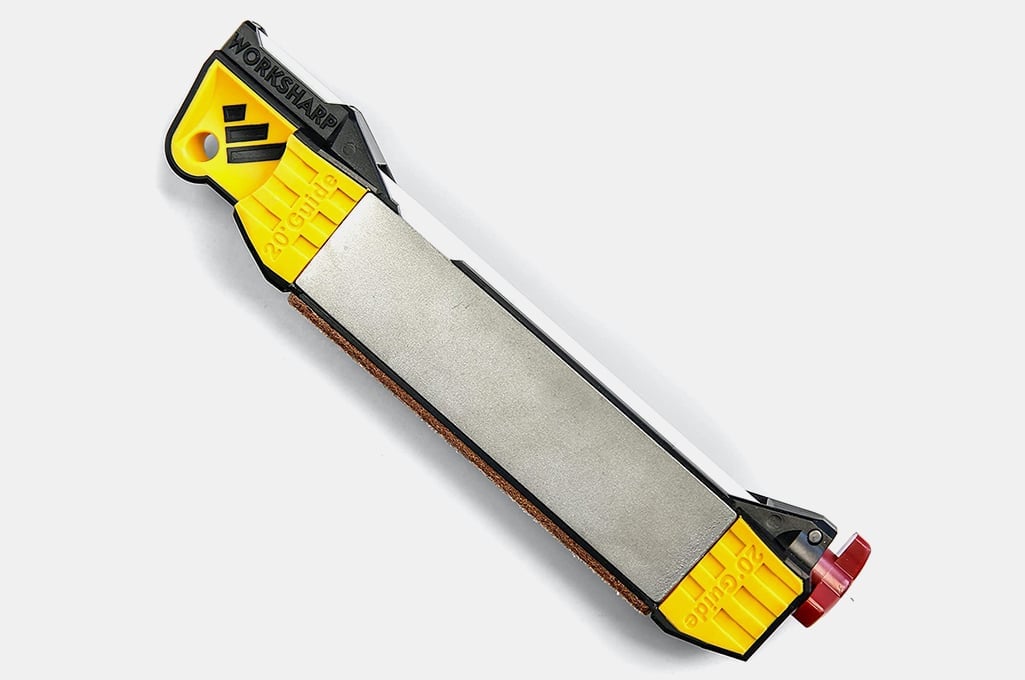 Work Sharp Guided Field Sharpener
Want to take a sharpener out camping with you, but unwilling to sacrifice the quality of materials that come in contact with your blade? Work Sharp's Guided Field Sharpener is the only way to go. In its compact package, you'll have access to coarse and fine diamond sharpening surfaces, as well as two ceramic rods (great for serrated bits) and a final leather honing strop that's conditioned with a micro-abrasive that gives an impressively sharp finish. It's a great tool for outdoorsmen who never quite know how long they're going to be in the woods or on the trail.
Ease of Use: Intermediate
Dimensions: 6.75" L x 1.5" W x 1" H
Price: $29+
Takeaway: Top quality sharpening in a package that's compact enough to take out on your next camping or backpacking trip.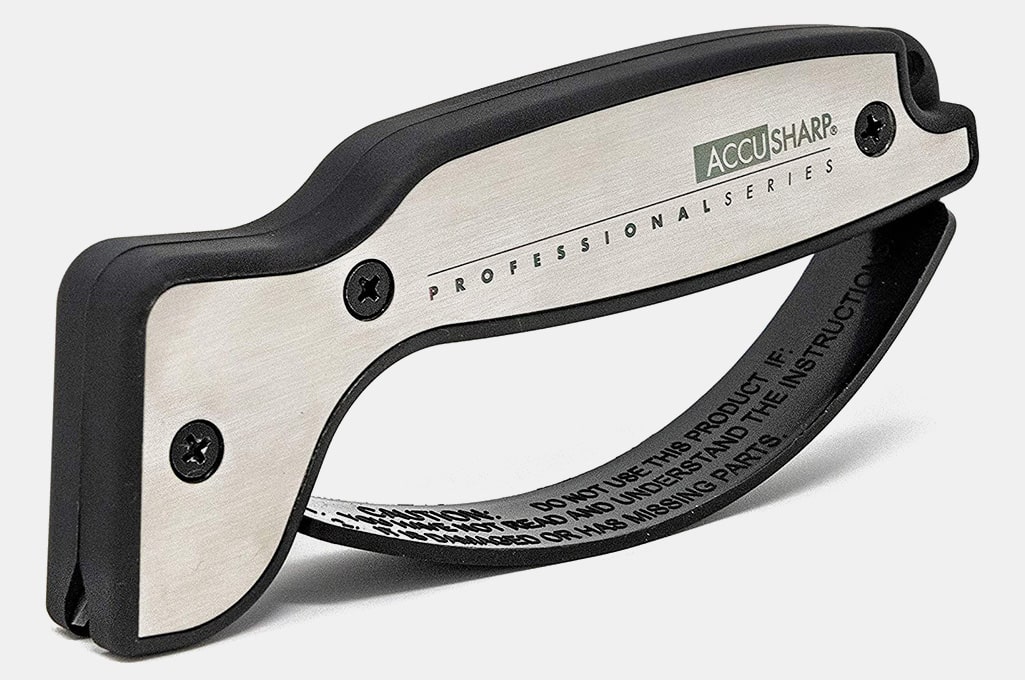 AccuSharp Knife and Tool Sharpener
When my dad's arthritis started to make it hard for him to keep his knives sharp, I went ahead and got him one of AccuSharp's tools. The handheld design of the sharpener turns the usual design on its head—you hold the AccuSharp and then run it over your knife blade, rather than running the blade across a sharpening surface. Would I recommend that everyone replace their current sharpeners with this one? No. But if you or someone you know has limited mobility in their hands and wrists, it's a godsend.
Ease of Use: Beginner
Dimensions: 9" L x 4" W x 1" H
Price: $11+
Takeaway: This unique sharpener is a great fit for people with limited mobility in their wrists and hands.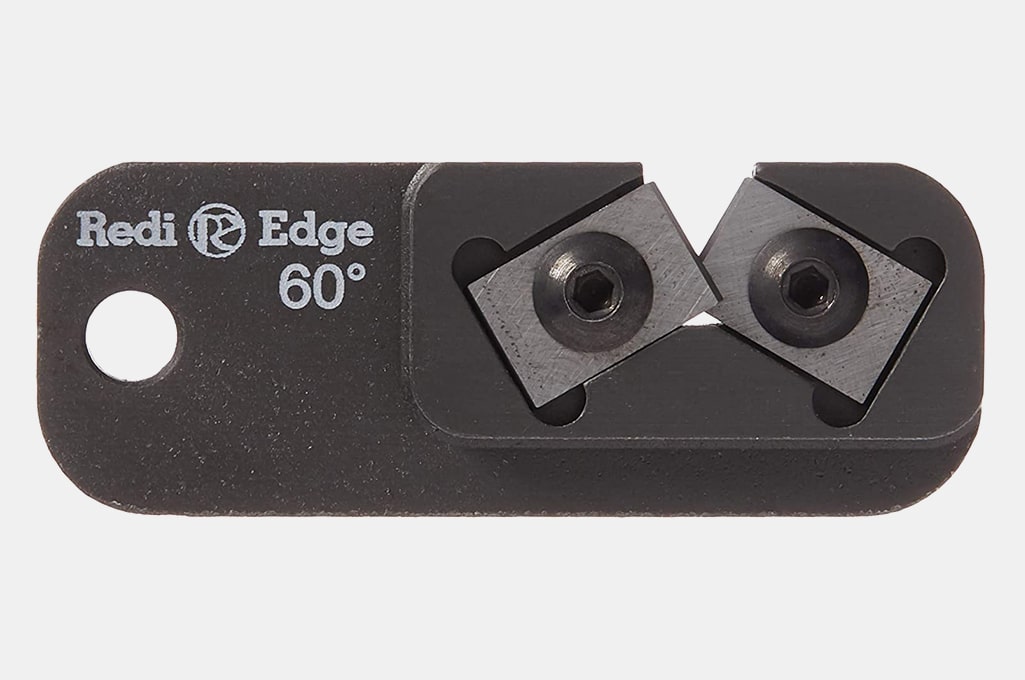 Redi-Edge Dog Tag Knife Sharpener
This last one's almost a lark, but it's too cool not to mention. If you're looking for a quick and dirty way to keep your blades in cutting condition, no matter where you are, then Redi-Edge's Dog Tag Knife Sharpener is for you. As its name implies, it's about the size and shape of a dog tag—and it's fully capable of being stored on a keychain or long chain. It'll chew the edges off of your knives pretty quickly, but if you're out in the field and absolutely need to keep your blades capable of cutting, it's the most compact option you've got.
Ease of Use: Beginner
Dimensions: Dog tag sized
Price: $15+
Takeaway: It's a sharpener compact enough to carry along in your pocket or on a necklace.
Disclosure: Clicking on these links and making a purchase may earn us a small referral fee, at no extra cost to you. Learn more here.
freestar.config.enabled_slots.push({ placementName: "gearmoose_leaderboard_btf", slotId: "gearmoose_leaderboard_btf" });