The 21 Best Fixed Blade Knives
Some time ago, we introduced you to our list of the best tactical folding knives for carrying in your pocket everyday. Now that your everyday carry ensemble is well-curated and complete, it's time to move on to the fixed blade knife—the folding knife's tougher, more capable big brother.
While not usually conducive to everyday carry, fixed blade knives are instead designed to defend against bigger threats and tackle bigger cutting tasks than their folding knife counterparts and should be with you anywhere that survival is paramount. Stash one in your bug-out bag, on your belt, or in your survival vehicle before you head out into the wilderness this spring. To help you find the one that best fits your needs, we've waded through the countless knives on the market today to bring you this all-inclusive list of the 21 best fixed blade knives, in no particular order.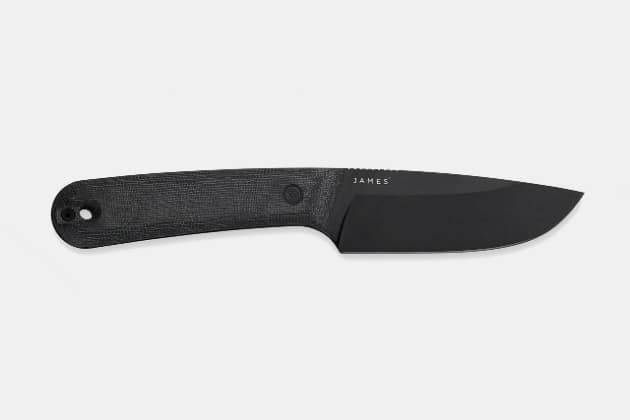 The James Brand Hell Gap Knife
The Hell Gap fixed blade knife is a pleasant surprise from The James Brand — a brand that typically focuses on pocket-friendly EDC knives and keychain-ready gear.
Named after the Hell Gap arrowhead site in Platte County, Wyoming, the 7.8-inch modified drop point fixed-blade is crafted in the USA from matte black Crucible S35vn stainless steel and features canvas Micarta scales for a superior grip while slicing food at the campsite or other heavy-duty cutting tasks that you wouldn't normally ask of your everyday carry folding knife. BUY IT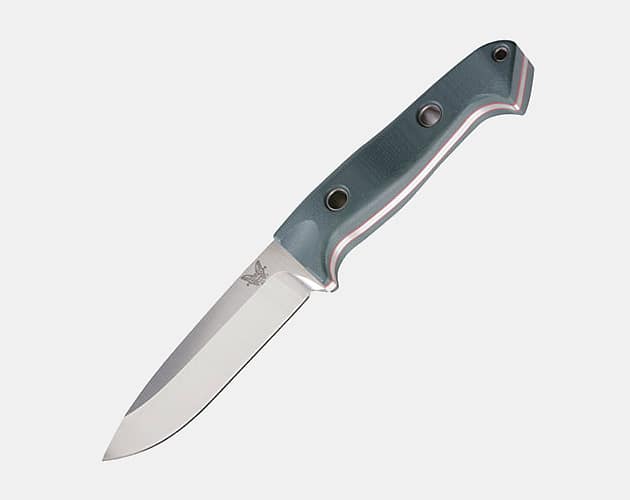 Benchmade 162 Bushcrafter Fixed Blade Knife
Benchmade arguably produces some of the best folding knives on the market, and that craftsmanship generously carries over into their stock of fixed blade knives as well. Among the many worthy of this list is the 162 Bushcrafter, a durable survival knife that boasts Benchmade's proven reliability in outdoor settings where surviving the elements is paramount.
A polished, S30V stainless steel drop-point blade leaves nothing to be desired during cuts, while a contoured G-10 handle offers the superior grip you would expect in a survival knife. A leather sheath outfitted with both a D-ring and retention strap includes an integrated flint rod loop that adds to the knife's overall outdoor functionality. BUY IT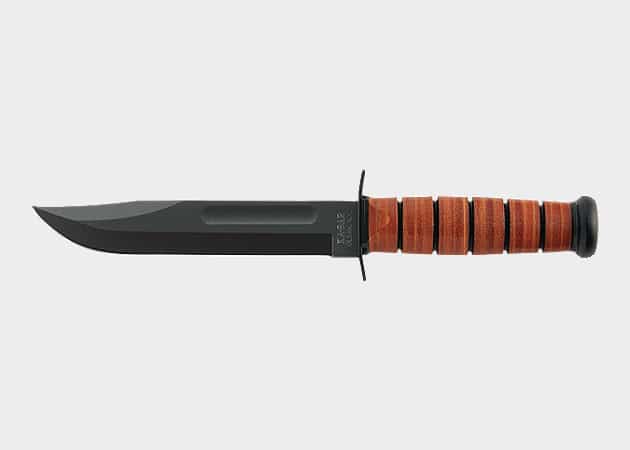 Ka-Bar USMC Fighting Knife
Ka-Bar's USMC fighting knife has a long history of use by both military personnel and civilians for self defense and survival applications. The knife dates back to World War II, where it became standard issue to United States Marines as a hand-to-hand combat knife versatile enough for utility use as well. It boasts a comfortable, handsome leather grip, and a straight edge steel blade that consistently holds a sharp edge. BUY IT
Super SOG Bowie Knife
While SOG's Trident Elite Knife comes with all of the bells and whistles, their Super SOG Bowie Knife was designed specifically for heavy duty cutting tasks and features everything you need in an outdoor knife, and nothing you don't. A meaty 7.5 inch AUS-8 steel clip point blade features a hardcase black TiNi finish and measures in at 0.25 inches thick while the well-balanced ergonomic handle is made from leather washers finished in brown for a classic look. A black leather sheath and a sharpening stone are included with the knife. BUY IT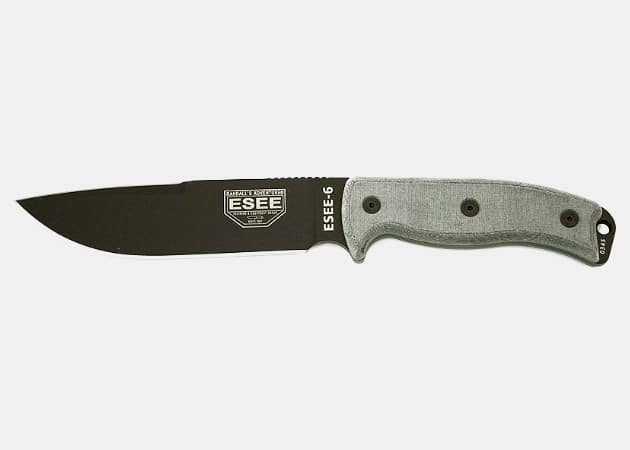 ESEE 6P-B Fixed Blade Knife
One thing and one thing alone makes the ESEE 6P-B Fixed Blade Knife stand apart from most other knives is it's 1095 high carbon steel blade, a blade we'll take over stainless steel any day of the week and twice on Sunday for it's superb strength and uncanny ability to stay sharper longer. Together with it's tough as nails blade construction, the drop point design boasts a plain edge for versatility that renders it one of the most capable outdoor knives on the list. A removable handle and an integrated lanyard hole round out the knife's highlights. BUY IT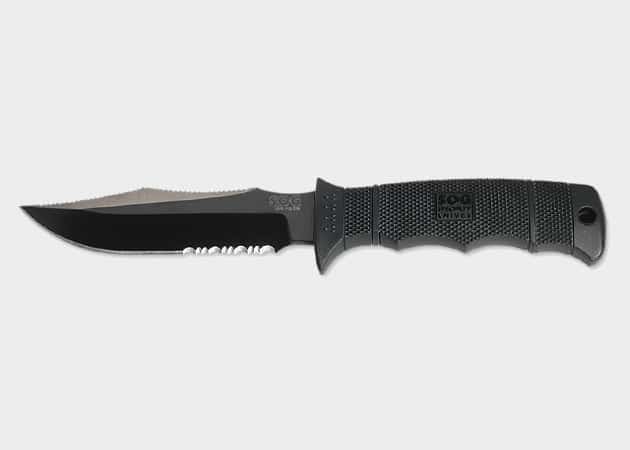 SOG Seal Pup Elite
The Seal Pup Elite is SOG's newest addition to their SEAL series lineup, designed specifically as a high performance blade for use by the U.S. special forces during tactical operations. Therefore, if it's good enough for our nation's finest soldiers, it's definitely worthy enough for you to carry into the mountains on your next camping trip.
A thicker, .185 stock steel blade with a hardcase black TiNi finish stands up to the hard cuts that matter, while staying sharper longer than most of it's competitors. A rasp added to the blade's spine allows for strategic thumb placement during smaller, more intricate cutting tasks like filing and notching while an injection molded glass-reinforced handle rounds out the knife's notable features. BUY IT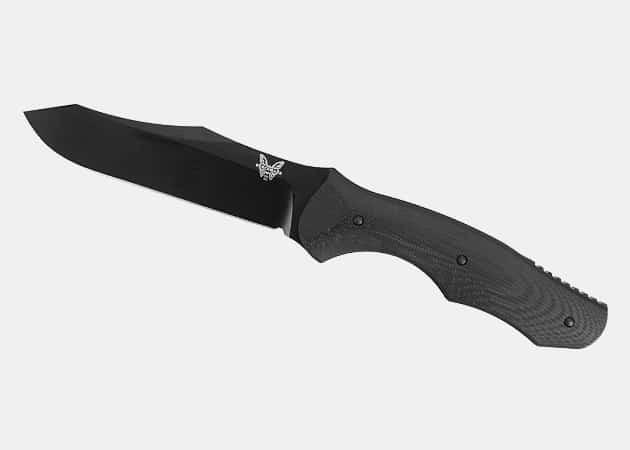 Benchmade Contego Fixed Blade Knife
The second fixed blade from Benchmade to land on this list is the Contego Knife, a blacked-out all purpose tactical knife large enough to tackle demanding cutting and self defense tasks. The 5 inch reverse tanto S30V steel blade is a workhorse and boasts a fine edge for more versatility and a black protective coating. A multiple position G10 handle rounds out the knife's modest yet highly effective design. BUY IT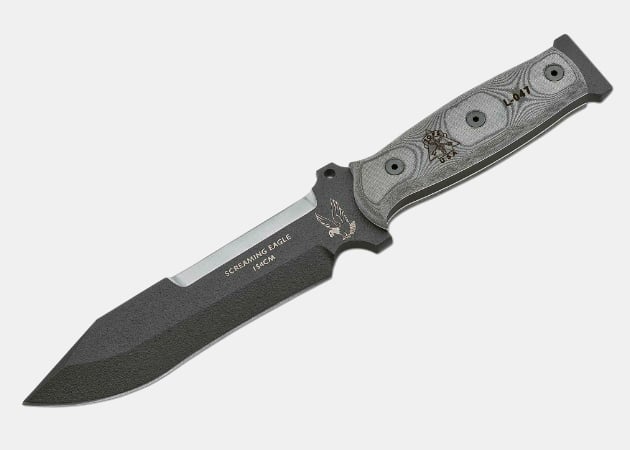 Tops Screaming Eagle Hunter Knife
The Tops Screaming Eagle Hunter is another military-inspired survival knife originally developed for the soldiers in the U.S. Army's 101st Airborne Division. Designed to be both reliable and functional during combat and long treks on foot through the bush, the Screaming Eagle features a weighty (458 gr.) black traction-coated full tang 154 CM steel blade with a second edge on it's spine for chopping firewood or starting a fire. BUY IT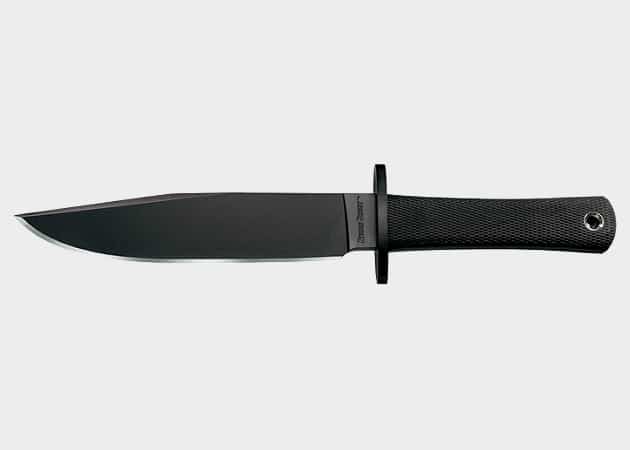 Cold Steel Recon Scout
Walk into most any firehouse, especially in the county where this author lives, and at least one of the firefighters employed there will have a cold steel knife in their pocket or with their firefighting gear. Cold steel knives have been around for a while and for good reason. They perform.
This particular fixed blade knife by the company, the Recon Scout, features a durable Kray-Ex handle and a 7.5 inch long high carbon steel blade that has been heat-treated and tempered to mimic the strength and sharp edge retention of a Japanese sword. You'll definitely find your way out of the brush with this knife, or at least do some damage trying. BUY IT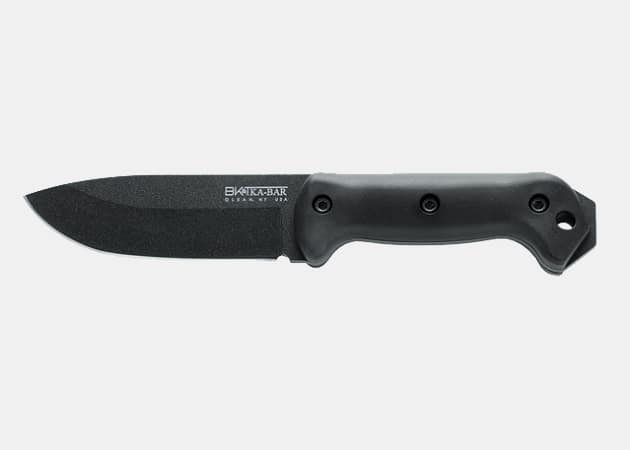 KA-Bar Becker 22
The KA-BAR Becker 22 is our favorite knife on this exhaustive list. Much like it's bigger, much older USMC Fighting Knife brother listed first on this list, the Becker 22 is simple yet well thought-out, and extremely tough in heavy duty applications thanks to a rock solid Zytel handle and a moderately-sized full tang, 1095 Cro-Van steel plain edge blade that makes cutting, slashing, and splitting seem as easy as slicing butter. The knife's generous overall size of 10.5 inches only helps this endeavor. BUY IT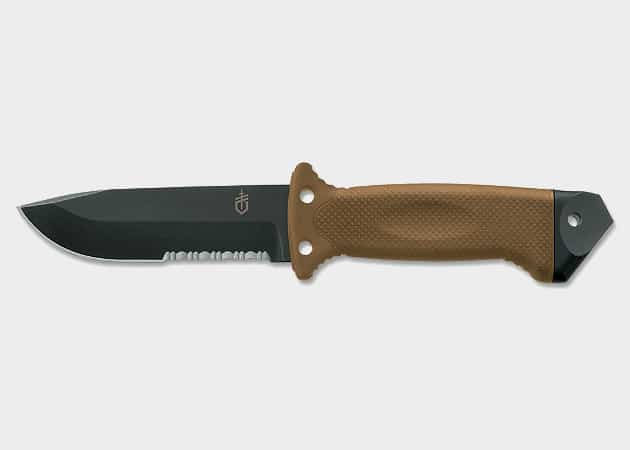 Gerber LMF II Survival Knife
Gerber's LMF II is another highly versatile fixed blade knife designed to perform a variety of different functions in the field. While it's stainless steel blade is up to par as far as cutting and slicing duties are concerned, its the knife's additional features that make it so versatile.
A pointed butt cap can pierce glass during rescue operations as well as perform hammering duties, while it's complete separation from the knife's tang improves shock absorption while protecting against accidental electric shock. The Knife also boasts integrated lashing holes that allow you to convert it into a spear for hunting food or defending yourself with a greater reach.
While Gerber worked hard designing the LMF II to be the right survival knife for any situation, they also didn't want you to be stuck in the middle of nowhere with a dull knife during extended use. For this reason a carbide blade sharpener was built into the included sheath. BUY IT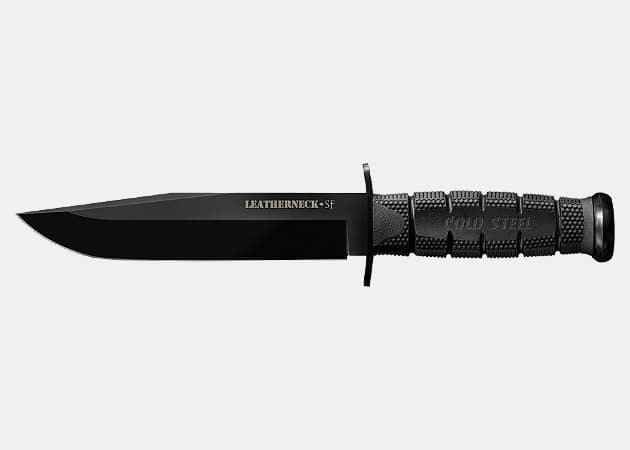 Cold Steel Leatherneck SF
The Leatherneck-SF, which is short for Semper-Fi, is a military-inspired bayonet fixed blade similar to KA-BAR's USMC Fighting Knife designed for both close quarters combat and utility cutting tasks encountered in the field. The knife boasts a stealthy, blacked-out appearance, a thick, full tang steel blade, heavy duty double guillons that protect your hands, and a checkered Kraton handle that provides a solid grip during use. The butt cap of the Leatherneck SF is also made of thick machined steel perfect for hammering or delivering quick blows to your opponent during combat. BUY IT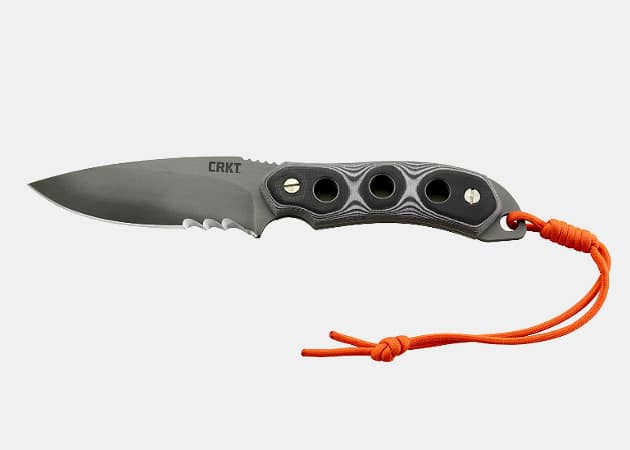 CRKT HoodWork Survival Knife
Designed by survival expert Karen Hood, CRKT's HoodWork Survival Knife features a well though-out construction that is adaptable to a variety of survival situations. The partially serrated high carbon steel drop point blade is coated with clear Cerakote and stays sharper for longer in less than ideal conditions. The handle has integrated holes for straightening arrows in the wilderness while the scaled G-10 handle is removable to allow it's user to replace it with paracord or to lighten the knife's overall weight. BUY IT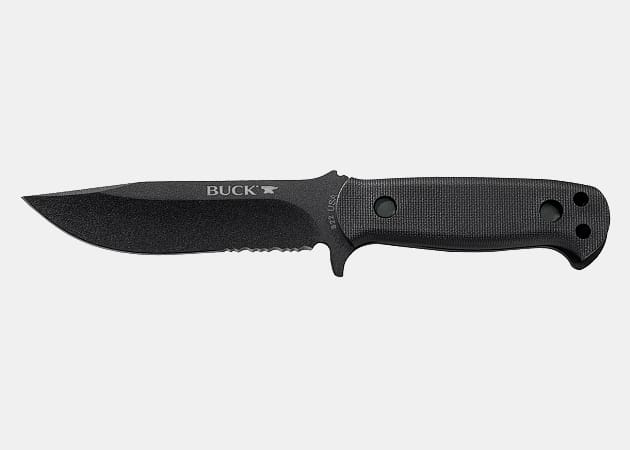 Buck Sentry Knife
Buck Knives are some of the most reliable knives this author has ever used. While high carbon steel blades are known to be stronger and stay sharper longer, the Sentry Knife's 420HC stainless steel blade is a sturdy full tang and is sharpened to a finer edge thanks to Buck's Edge 2X technology that sharpens the blade to a more acute angle than its predecessors. The blade's black traction coating also protects it while also minimizing reflectivity during tactical use. BUY IT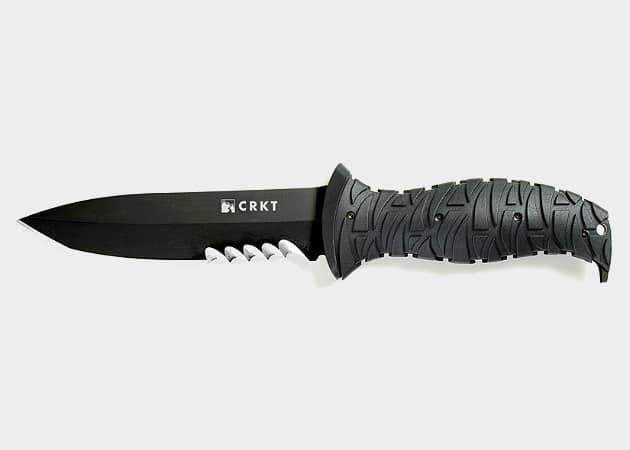 CRKT Ultima
There are several reasons why CRKT's Ultima Knife made it on this list, the first being it's full-tang blade, a must for any serious fixed blade knife that you intend to use daily or in a survival situation. The second reason is the use of the full-tang blade at the butt of the handle to incorporate a heavy duty pry bar. The third reason is the knife's glass-filled nylon handle that not only looks tough, but will also provide a secure grip in even the muddiest, wettest, and coldest conditions you may find yourself in thanks to it's unique design of segmented triangles. BUY IT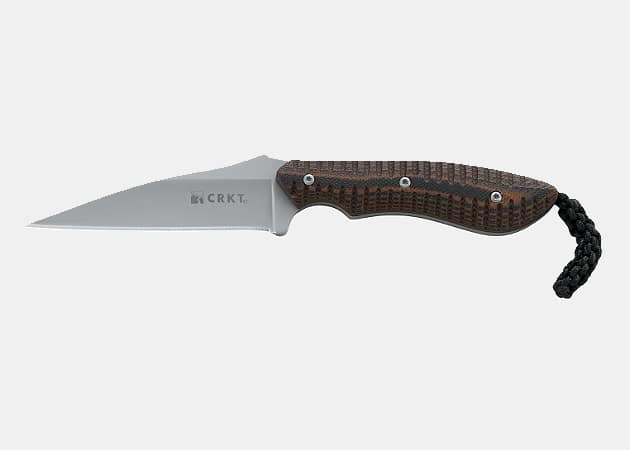 CRKT S.P.E.W. Fixed Blade Knife
Don't let it's small stature fool you. The CRKT S.P.E.W. (Small Pocket Everyday Wharncliffe) Knife is a persistent piece of metal that can cut pretty much anything you throw at it. It boasts a lightweight, compact design with a Wharncliffe-style full tang stainless steel blade similar to the previously mentioned Tops Harpoon Neck Knife, along with a bead blasted finish. A durable G10 handle with a paracord handle extender provides a superior grip despite it's modest 6.25 inch overall length. Perfect for cutting tasks both around the home and at the campsite. BUY IT
Schrade SCHF14 Drop-Point Fixed Blade Knife
If you're here looking for a worthy outdoor, survival, or hunting knife, this is not it. The Schrade Drop Point Fixed Blade Knife is, however, perfect for urban carry, everyday carry, law enforcement, or general tactical uses. A compact 3.4 inch high carbon steel full tang blade is strong enough to take to the streets and features a handsome stone wash finish, while a larger 4.5 inch Micarta handle provides a superior grip during high stress situations. Included with the knife is a rugged glass-filled nylon belt sheath. BUY IT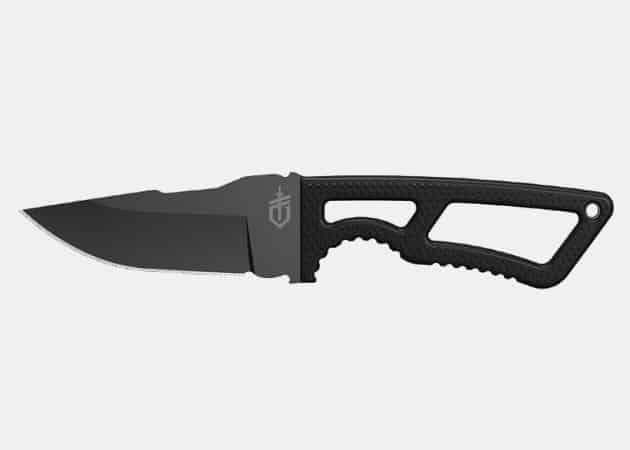 Gerber Ghostrike Fixed Blade Deluxe
Of all of the knives featured on this list, Gerber's Fixed Blade Deluxe Knife is the most suitable for self defense applications. Although any knife here could easily fend off an attacker, the Ghostrike kit was specifically designed for concealed carry thanks to the accompanying low profile modular sheath system that allows you to carry the knife discreetly on your belt, ankle, or anywhere else you can conceal it.
The fine edge drop point blade itself measures in at a bit over 3 inches, is crafted from 420HC steel, and boasts a rubber over-mold handle with a diamond texture that ensures a secure grip when the time comes to use it. As always, please check your local and state laws before carrying any knife. BUY IT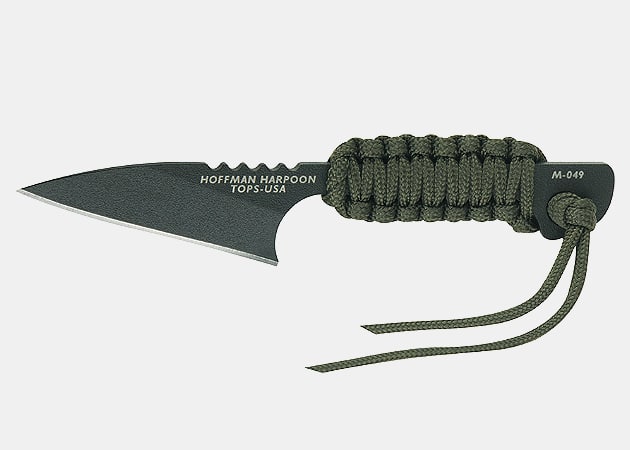 Tops Hoffman Harpoon Fixed Blade Knife
While it may not be the right knife for everyday carry in your pocket, the Tops Hoffman Harpoon Knife ($58) will definitely add some nautical flavor to your current knife collection. Perfect for use in situations where both survival and heavy-duty cutting tasks are warranted, the Harpoon Fixed Blade measures in at 8 inches, boasts a full tang construction with a high carbon steel blade, a black traction coating, and a handle wrapped in multi-purpose paracord. BUY IT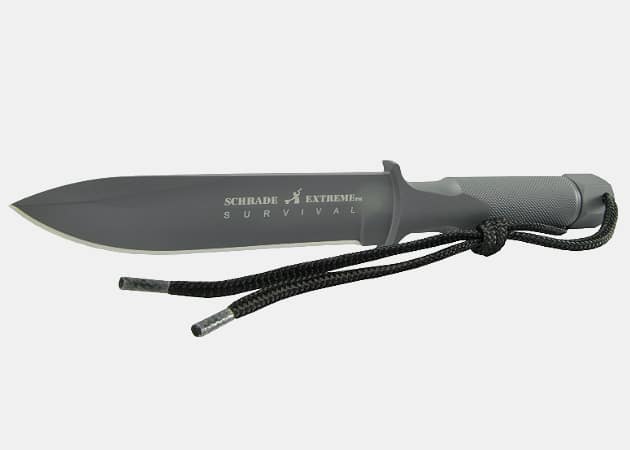 Schrade Extreme Survival Knife
The Schrade Extreme Survival Special Forces Fixed Blade is a pro hunter knife with hidden tactical functionality. Unscrewing the end of the diamond pattern stainless steel handle exposes a handy driver tool with a slew of interchangeable tips including 3/32″, 5/32″, and 3/16″, a Phillips head driver, a Torx bit, and Allen tips. Else, a capable 5.5 inch stainless steel blade and a ballistic nylon sheath render the Schrade Extreme Survival Knife a worthy tool both in the wilderness and around the house. BUY IT
Zero Tolerance Hinderer FieldTac Knife
Although lighter and smaller than many of its other fixed-blade counterparts, this Rick Hinderer-inspired Fieldtac Knife will undoubtedly tackle heavy duty cutting tasks without fail thanks to a tungsten diamond like coated blade made from chip and crack resistant Vanadis 4 Extra powder metallurgical cold work steel. The full tang design further strengthens the knife, while a lightweight G-10 scaled handle and a contoured spine provide a secure grip when putting it to work. BUY IT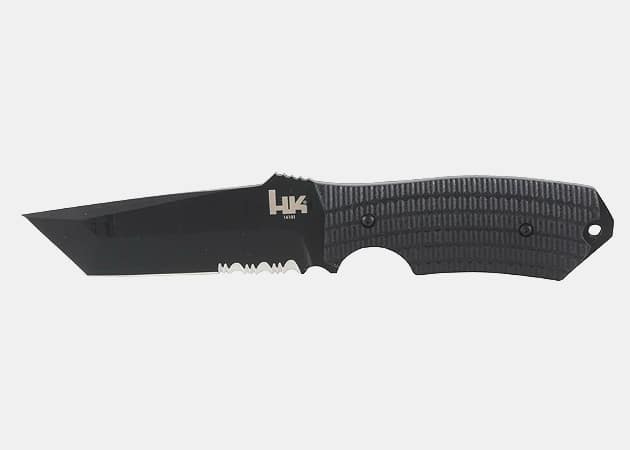 Benchmade HK Conspiracy Knife
Don't mistake it for it's folding knife counterpart, because this particular Benchmade HK Conspiracy is anything but. While the 9CR13 steel blade measures in at only 4.8 inches, it's a high traction 0.2 inch thick full tang that will make you rethink the idea that bigger is always better. A tanto combo edged blade, while less practical for intricate cutting and slicing tasks, is both thicker and stronger than other blade shapes, especially at the tip, making it an ideal pick for self defense carry. BUY IT
Disclosure: Clicking on these links and making a purchase may earn us a small referral fee, at no extra cost to you. Learn more here.