15 Best EDC Pocket Organizers
Whether you're a serious hobbyist, hard worker, or a high-speed, tactical professional, having the right everyday carry equipment with you — both organized and accessible — is a must. Enter the EDC organizer. EDC Pocket organizers are the most efficient way to keep your gear safe and on-hand at all times.
Not to be confused with pocket protectors used to hold pencils by desk-lovers, these EDC pouch organizers are designed specifically for the hard worker and everyday carry connoisseur looking for complete control over their knives, EDC pens, multi-tools, and other EDC gear.
As there are many options when it comes to EDC pocket organizers, we've compiled a list of our favorites to help you select the one that suits your carry needs best. Take a look at the 15 best EDC pocket organizers below and gain complete organizational control over your everyday carry gear today.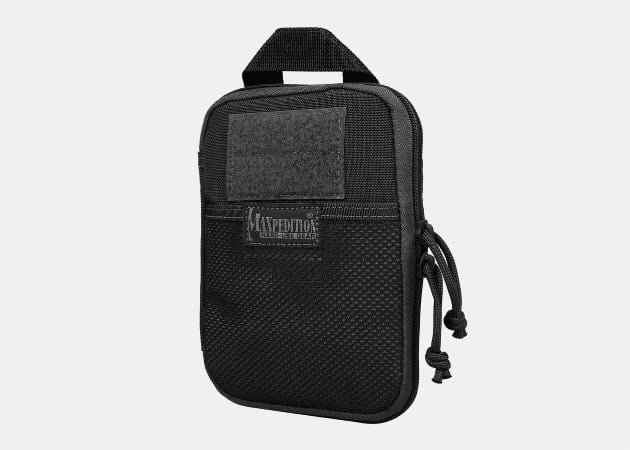 Maxpedition EDC Pocket Organizer
This every day carry organizer brings the perfect blend of style and utility to the table. Available in six different colors of 1050 – Denier water and abrasion resistant light-weight ballistic nylon fabric, the Maxpedition EDC Pocket organizer comes equipped with a full clamshell opening main compartment with dual zips and a slip pocket on the left and right side with nine and six organization divisions respectively. An oversized handle and attachment webbing make this pocket organizer extremely versatile and easy to attach to any type of clothing. – Buy Now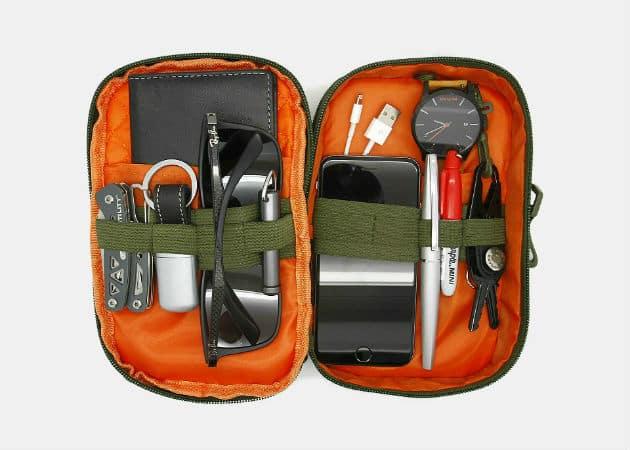 Connect EDC Bag
With ample space for all of your essentials, the EDC bag from Connect takes efficient use of space to a new level. Built with 100% Polyester materials and Nylon stitching, the bag is water and rip resistant and rot proof. An incredible 12 separate compartment and eight utility pockets offer ample space and complete control over how you want to store your tools, knives, and other equipment. The Connect EDC Bag also comes with a clear storage window to store IDs and credit cards. Equipped with a shoulder strap and belt loops, you have plenty of options to carry your equipment. – Buy Now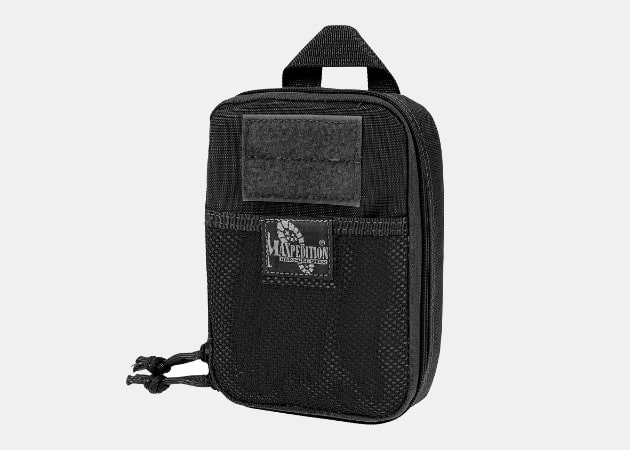 Maxpedition Fatty Pocket Organizer
Another versatile product from Maxpedition, the Fatty Pocket Organizer comes in six different colors of 1000-Denier water and abrasion resistant light-weight ballistic nylon fabric and is designed to drop into or attach directly to your backpack or bag. The main compartment dimensions of 5 inches long, 2 inches wide, and nearly 7 inches tall along with a full clamshell opening with dual zippers make accessing your equipment quick and easy. The YKK high strength zippers, triple polyurethane water resistant coating, paracord zipper pulls and double stitched stress points ensure that this pocket organizer is ready to live up to any challenge you're prepared to put it through. – Buy Now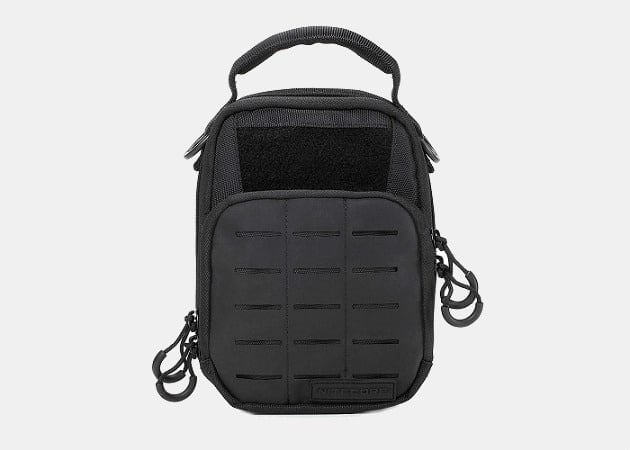 Nitecore NDP10 Tactical Pouch
You'll always be equipped and ready to go with this expertly designed tactical pouch from Nitecore. Designed to withstand rugged, everyday use, the NDP10 Tactical Pouch has a specially coated surface ensuring water and fouling resistance, a fully padded interior ensuring the continual protection of your gear, and weighs in at a super light weight of 10.98 ounces. The double compartment interior is capable of holding all types of gear including flashlights, batteries, chargers, and more. Not to mention, the sleek black look makes you look like a well-organized tactical rockstar. – Buy Now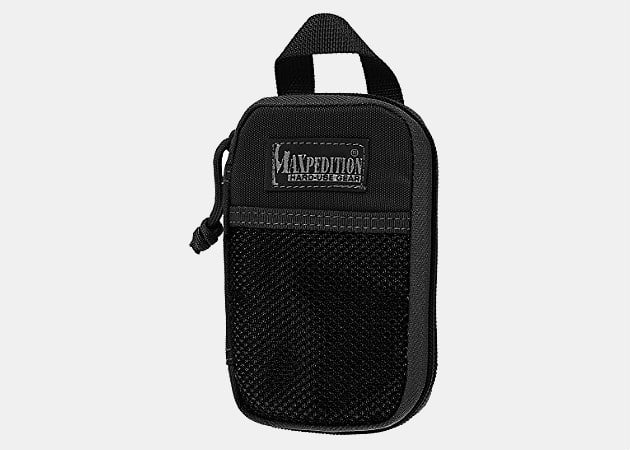 Maxpedition Micro Pocket Organizer
One of our favorites from Maxpedition, the Micro Pocket Organizer's main compartment size is 3.5 inches long, 1 inch wide, and a bit over 5 inches tall, making it a nice fit for most pockets. The exterior front is equipped with a mesh slip pocket and the back exterior with a ¾" webbing grab handle that is both box and x stitched. Internally, the Maxpedition Micro Pocket organizer has two main pockets with three divisions on the left and two on the right, with enough room to accommodate an iPhone 6. The 800-Denier water and abrasion resistant light-weight ballistic nylon fabric and Teflon fabric protector will protect your pocket organizer no matter how harsh of conditions you take it through. – Buy Now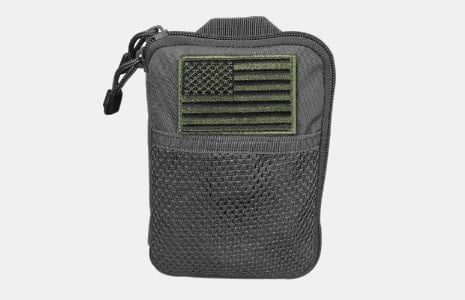 Condor Pocket Pouch
Nothing screams patriotic efficiency like the MA16 Pocket Pouch from Condor. Coming in multiple colors including Olive Drab, Black, Tan and Coyote Brown, the front of all the pouches regardless of color are adorned with a big American flag emblem to help you show off your patriotic spirit. At a size of 7.25 inches high and 5 inches wide, there is plenty of storage space with three separate internal pockets and a fold out vinyl sleeve. The padded back design offers additional protection of your equipment to augment your obvious style statement. – Buy Now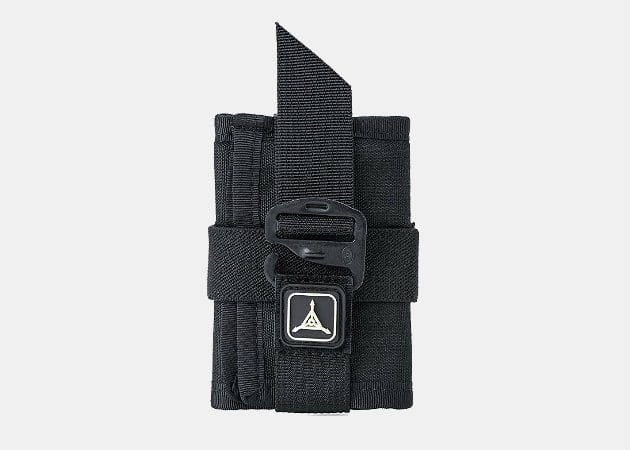 TAD SERE Pouch 1
Brought to you by industry favorite Triple Aught Design, the Sere Pouch 1 is a micro tool roll that is specifically designed to provide you with "secure and rapid access to survival, evasion, resistance, and escape tools." The pouch employs vertical and horizontal compression technologies to ensure safe and secure storage of small tools into the five flexible compartments or the removable micro sheath. Designers of the pouch set out to effectively create a pouch that provides a secure mobile workspace that is still quickly removable. A great pouch if you're looking for a serious tactical advantage. – Buy Now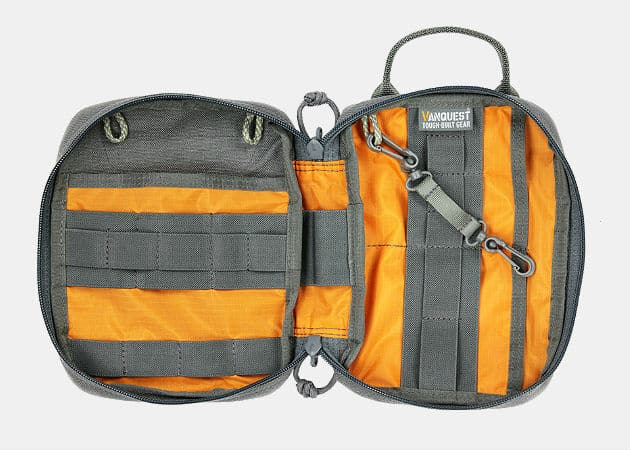 Vanquest EDCM-HUSKY 2.0 EDC Organizer
Described as "the middle brother" by Vanquest, this case referred to as the "Every day Carry Maximizer" is a convenient blend of capacity and efficiency. Built with 21 off-set stitched elastic channels, the four flat design pockets are perfect for keeping your tools and equipment organized. Durable is an understatement as the Vanquest EDCM-Husky 2.0 Organizer has a pull handle, lockable #8 YKK zippers and circular paracord pulls for added security and ease of access. Utilizing Vanquest's proprietary Maximizer webbing and staggered/offset elastic loop channels, the pouch is 15.5% more efficient in space saving compared to traditional models. – Buy Now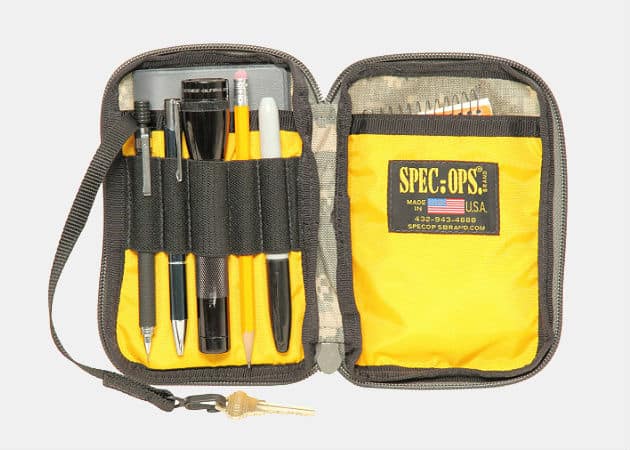 Spec-Ops Mini Pocket Organizer
This easy-access organizer pouch from Spec-Ops is over 7 inches high, over 4 inches wide x 1 inch thick and has a total capacity of 34 cubic inches. Available in four different color options including two camo options, the Spec-Ops Mini Pocket Organizer easily fits in most cargo pants, jacket pockets, or for back pocket carry. Features inside include two internal pockets, gear leash, five elastic loops, and a zip-open clamshell design. The organizer also comes standard with a quick-access outer tactical mesh storage pocket fitted with a hook and loop closure. The integrated pull handle/belt loop combo gives the user quick access to their gear and allows the organizer to be work right on your belt. – Buy Now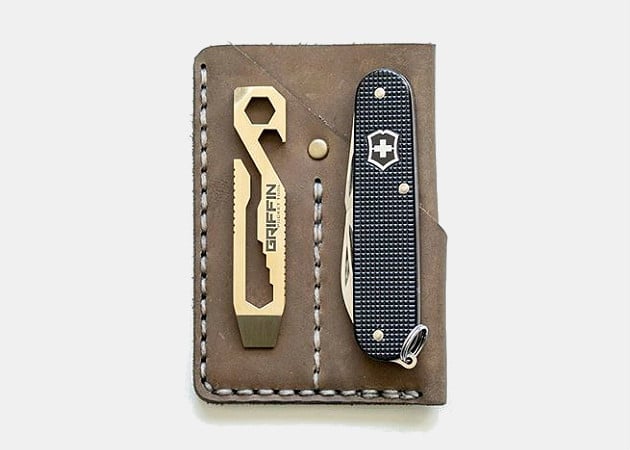 Urban EDC Supply Organizer Mini
The clear style king on this list, the Urban EDC Urban Organizer Mini is a pocket-sized follow-up to the tremendously popular Urban Organizer, also from Urban EDC Supply. Available in full-grain ¾ oz. chrome oil tanned leather and saddle stitched by hand using thick waxed poly cord, the Urban EDC Urban Organizer Mini is an efficient style statement that comes in tan, brown, or black. The overall dimensions are 4.1 inches in length by 2.75 inches in width making it significantly smaller than a lot of the pouches on our list. Though small, the organizer is still efficient in storage with two slots and a larger main pocket area. This is definitely the choice for style and sleek efficiency. – Buy Now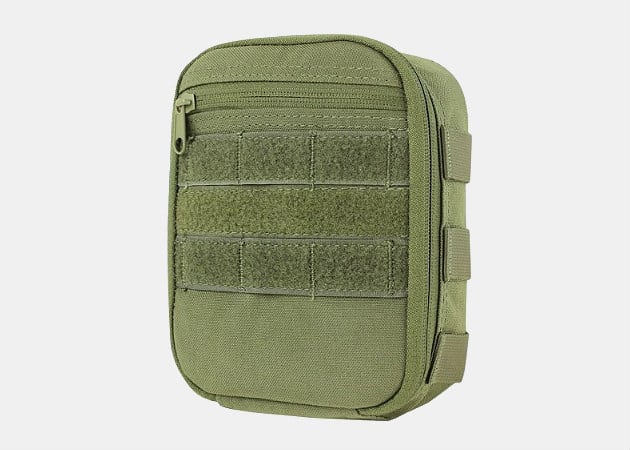 Condor Side Kick Pouch
If you're looking for a low profile utility pouch that doubles as a workstation, the Condor Sidekick Pouch will answer your demands. 7 inches high, over 5 inches wide, 1.5 inches in diameter and available in Olive Drab, Black, Tan, or Coyote Brown, the Condor Side Kick Pouch also comes equipped with a 3×5 ID/ Patch panel to show off whatever you'd like. Designed with one external pocket and one main internal pocket with several elastic holders, you're free to store your tools and equipment however you best see fit. The outside of the pouch is covered in webbing allowing you the freedom to build on any attachments you'd like. – Buy Now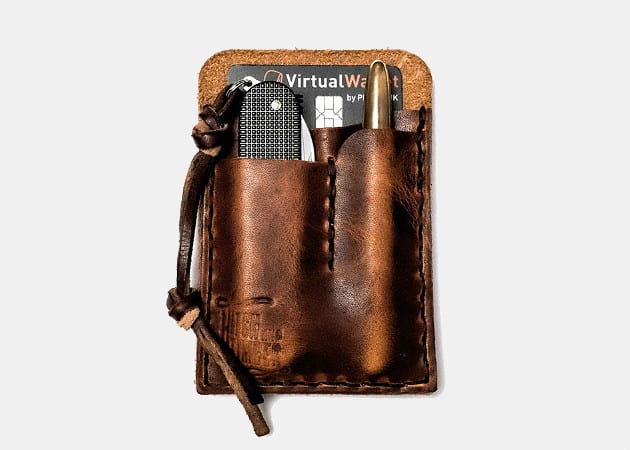 Hitch and Timber EDC Card Caddy
Brought to you by the craftsmen of Hitch and Timber, the EDC card caddy is a minimalist but effective way to carry your most essential tools. Hand-crafted with 4ox American tanned Horween leather, the EDC Card Caddy is stunningly stylish and carries on a long history and tradition of superior comfort and durability. At 2.75 inches wide and 4.25 inches tall, the EDC Card Caddy can fit up to six cards, a small pocket knife and a Fisher Bullet Space Pen or similar sized writing utensil. Crafted proudly in the US, all Hitch and Timber EDC Card Caddies are made to order. – Buy Now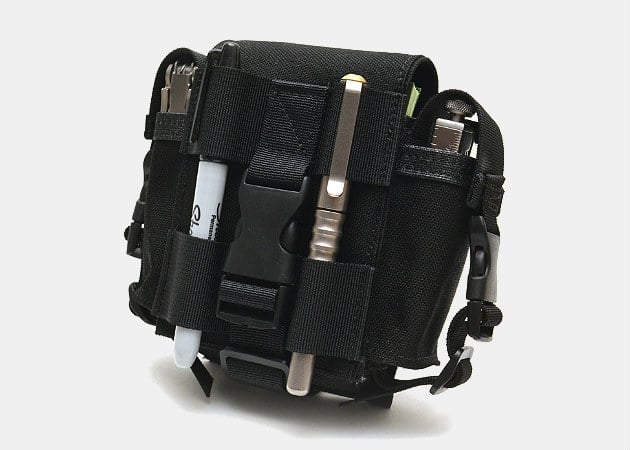 Skinth Catch All
An amazingly efficient carry solution designed with the hobbyist and professional in mind. Constructed from 1000D Cordura Fabric and #69 nylon thread, The Skinth Catch All can help organize all of your tools, gadgets, and equipment securely and efficiently. Slightly higher priced than most of the pouches on our list, The Skinth Catch All does live up to the price with all of the features and available space for your tools and gadgets. Each custom Skinth is made from the ground up and fully customizable to fit your unique and specific needs. – Buy Now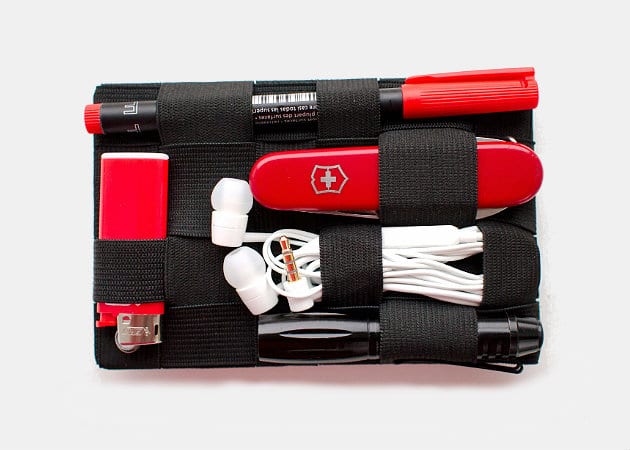 Fox EDC Pocket Organizer
Designed specifically for pocket carry or bag carry, the Fox EDC Pocket Organizer is a great solution to keep all of your gear readily available and organized. At a sizable 3.54 inches x 5.51 inches, there is ample room for all of your EDC gear. Significantly lower priced than the other options on this list, the Fox EDC Pocket Organizer is an economical solution that still gets the job done. With a grid type pattern of elastic bands along the top, you're able to store a multitude of different tools and gadgets in a truly unique fashion. – Buy Now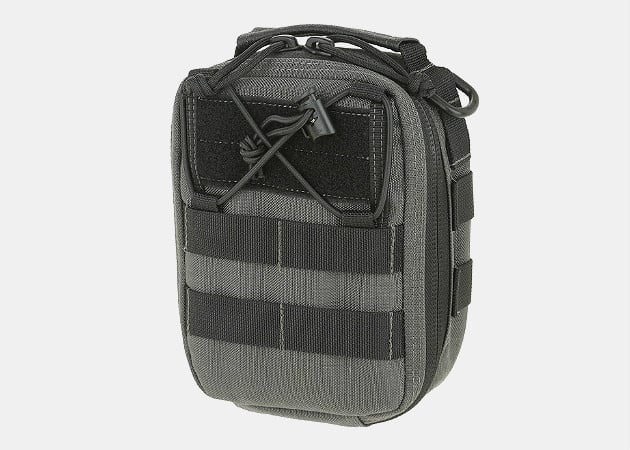 Maxpedition FR-1 Pouch
The FR-1 pouch from Maxpedition is specifically designed for medical and first aid kit purposes. The main compartment is sized at 6 inches long, 3 inches wide, and 7 inches high, with several internal zippered pockets, a mesh pocket, and double stacked elastic loops that can be used to hold tourniquets, bandages, or other essential supplies. Though specifically designed for medical equipment, the FR-1 Pouch will also work great as a general organizational pouch for all of your everyday carry gear due to the versatile nature of the setup and design. Available in six different colors, the 1000-Denier water and abrasion resistant light-weight ballistic nylon fabric are built to stand up to the elements. – Buy Now
Disclosure: Clicking on these links and making a purchase may earn us a small referral fee, at no extra cost to you. Learn more here.
freestar.config.enabled_slots.push({ placementName: "gearmoose_leaderboard_btf", slotId: "gearmoose_leaderboard_btf" });