The 10 Best Cable Organizers For Your Desk
Advanced computing and mobile technologies have made our lives better in so many ways, but the abundance of accursed cables required to juice our many devices is not one of them.
If the rat's nest of cables spanning your desk and trailing toward outlets and power strips is literally tripping you up and creating an ungodly eyesore in your otherwise tidy home office, it's time to explore the best solutions for getting your cables organized and out of sight. Here are the 10 best desk cable organizers to get your home office in efficient working order.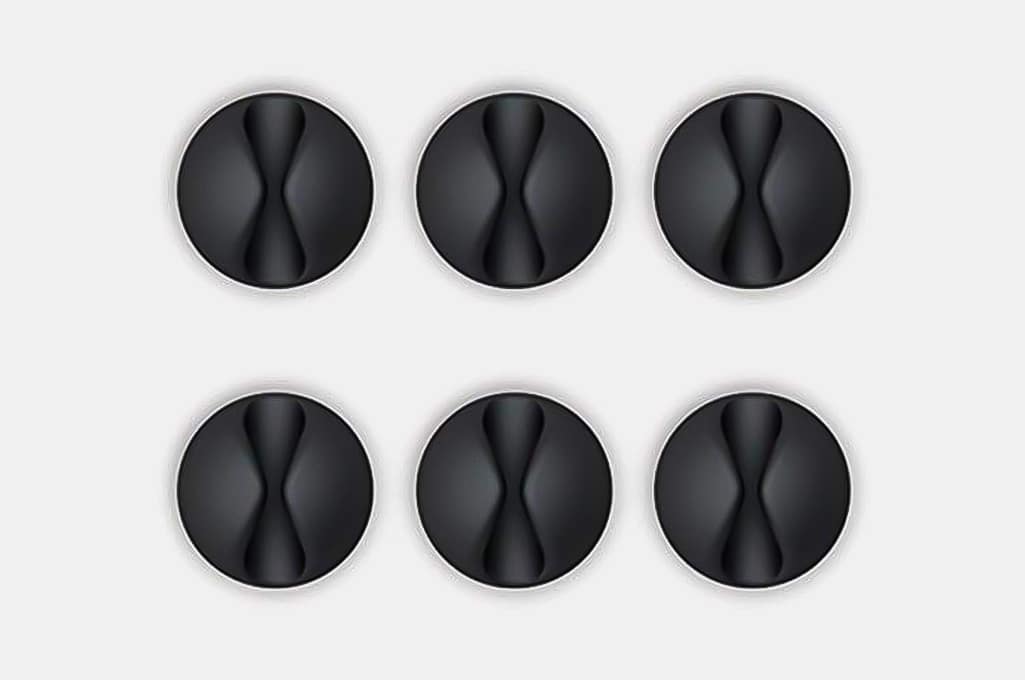 BlueLounge CableDrop
Tiny, flexible, and shaped like a lobster claw, these self-adhesive cable corrals can be placed anywhere – on or under the desk, on table legs, on the wall, etc. – to guide your many cables exactly where you want them to go.
Keep your cables in place so you don't have to go searching behind the desk when you need to plug in a device. Available in two sizes (the 1.125"x0.625" CableDrop and the 0.75"x0.5" CableDrop Mini) and a myriad of colors, this cable organizing kit is the perfect way to organize your desk setup.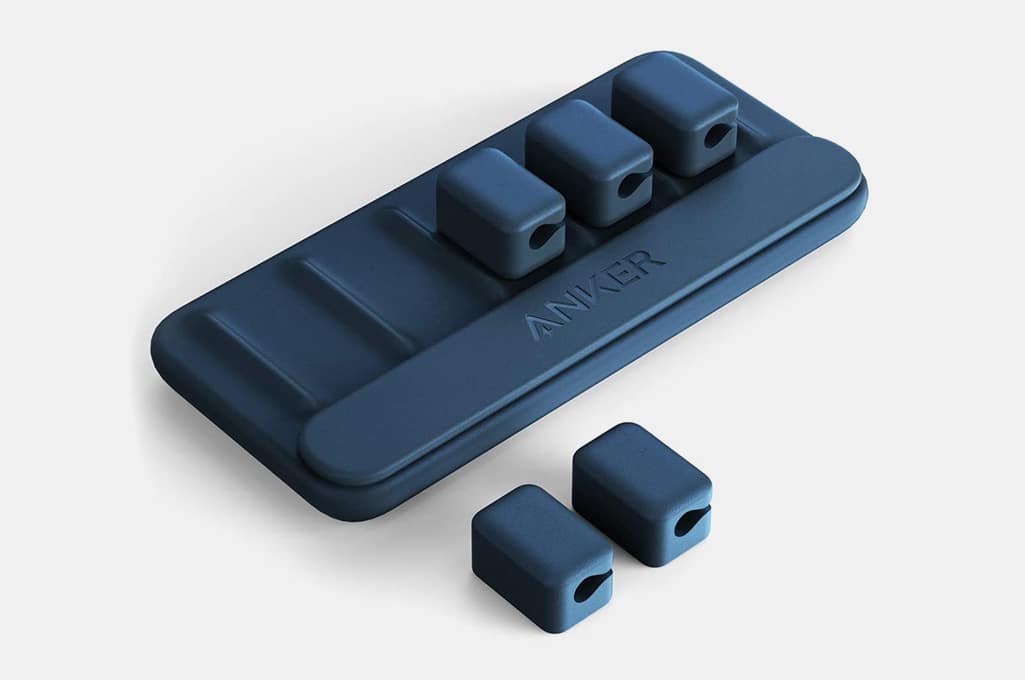 Anker Magnetic Cable Organizer
Any system that can organize your cables is a godsend, but one that offers a measure of versatility to easily reorganize your configuration is icing on the cake. This handy cable organizer adheres to a surface with peel-and-stick ease, while individual cable clips can be magnetically placed on the pad and swapped around as you see fit. This tool comes with five clips and the option to remove, wash, and re-stick the cable organizer itself if you decide you want it in another location.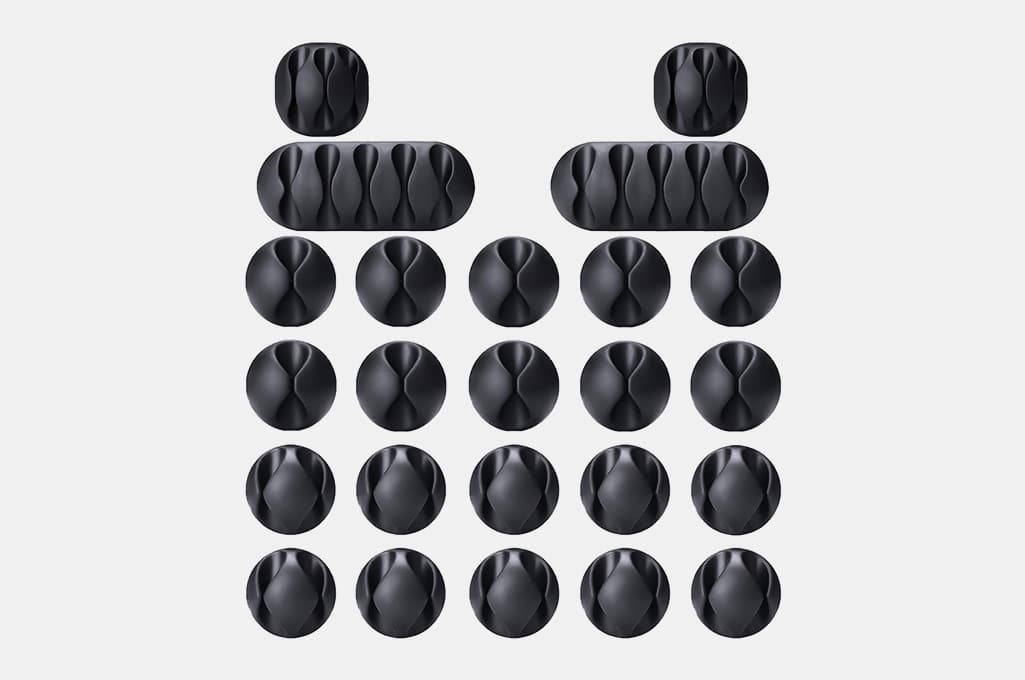 OHill Self-Adhesive Cable Organizers
These self-adhesive (peel and stick) cable clips are similar in appearance to the BlueLounge CableDrop organizers (claw clip), but they only come in black. With that said, you will enjoy a greater variety in size and configuration, with 24 single clips (1.1" x 0.65") and four multi-cord clips (two that hold three cables each, and two that hold five cables on a single strip). If you decide to remove the clip, it comes away from your surface cleanly, leaving no sticky residue behind.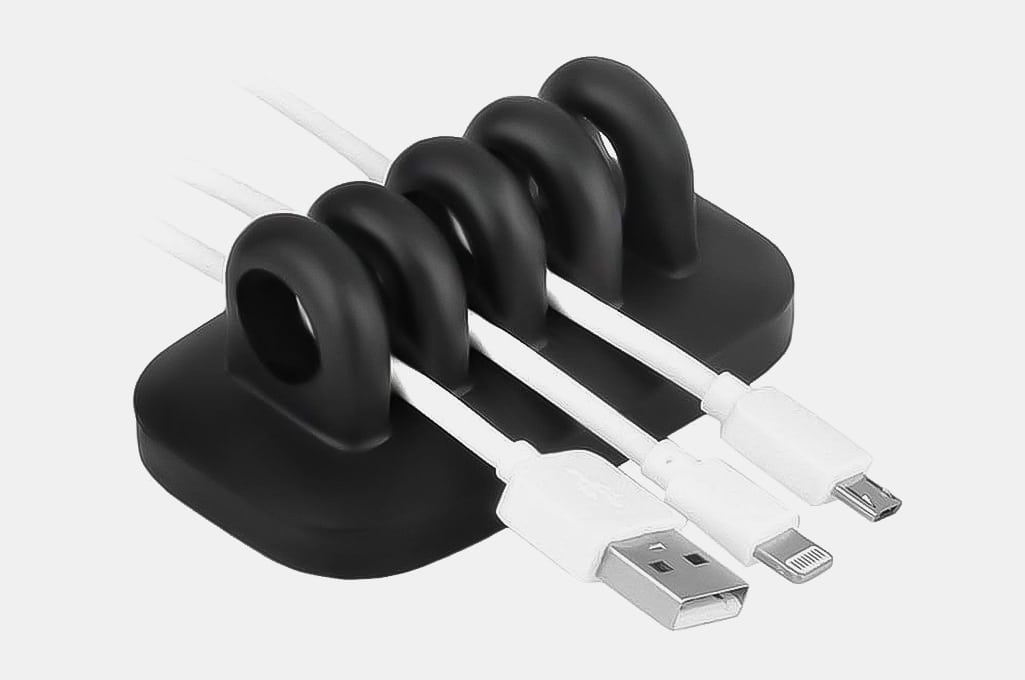 Idealstanley Cable Clip Holder
If you're concerned about sticking a self-adhesive cable organizer to expensive office furniture, Idealstanley has the perfect solution: This weighted cable organizer that stays put on top of your desk (sans stickum). Four slots bounded by rubbery rings hold several cables each, so you can confine your keyboard and mouse cords, charging cables, and even your headphone wires. Stack them on top of each other until you can't fit any more.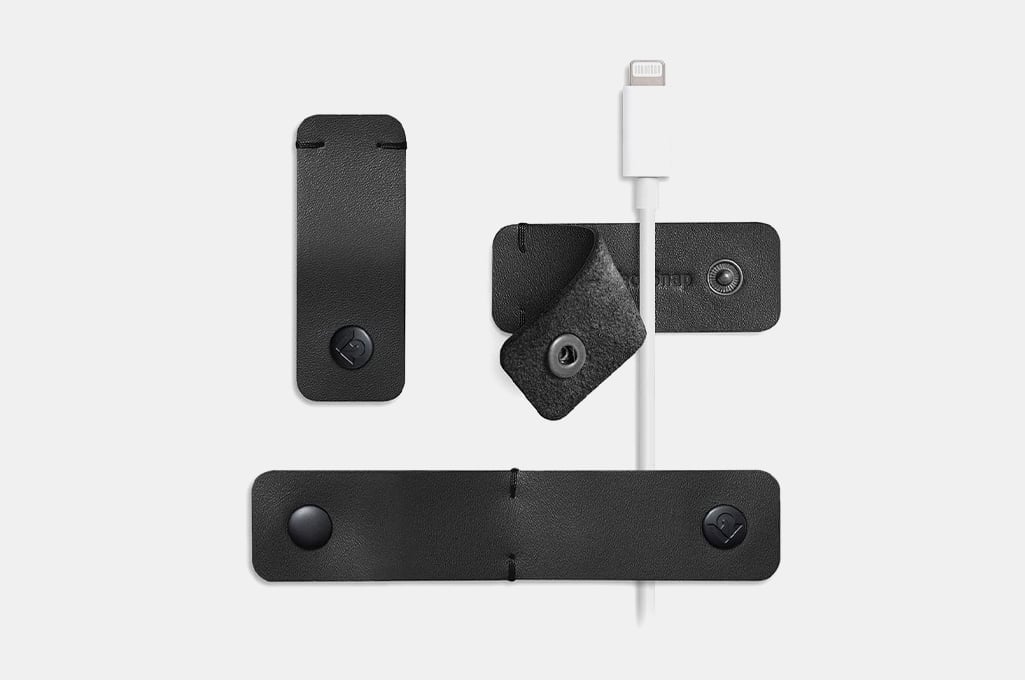 Twelve South SurfaceSnap
If we're being completely honest, most cable organizers aren't particularly attractive, but at least they're easily hidden away. Twelve South has bucked the trend by creating a cable clip you'll want to show off.
The thin leather strips come with one slot or two, secured by a metal snap, and you can choose from black or white. Not only can you easily secure the adhesive backing to walls, desk surfaces, or whatever you please (with the ability to reposition without leaving sticky residue behind), but the flexible leather also contours to curves, like rounded table legs.
Cable organizers come in a variety of sizes, shapes, and price points. Whatever your cable management needs may be for your cubicle or home office, be sure and pair your cable clips with a versatile desk and the proper home office accessories to boost your productivity. On a budget? Build a complete home office on the cheap.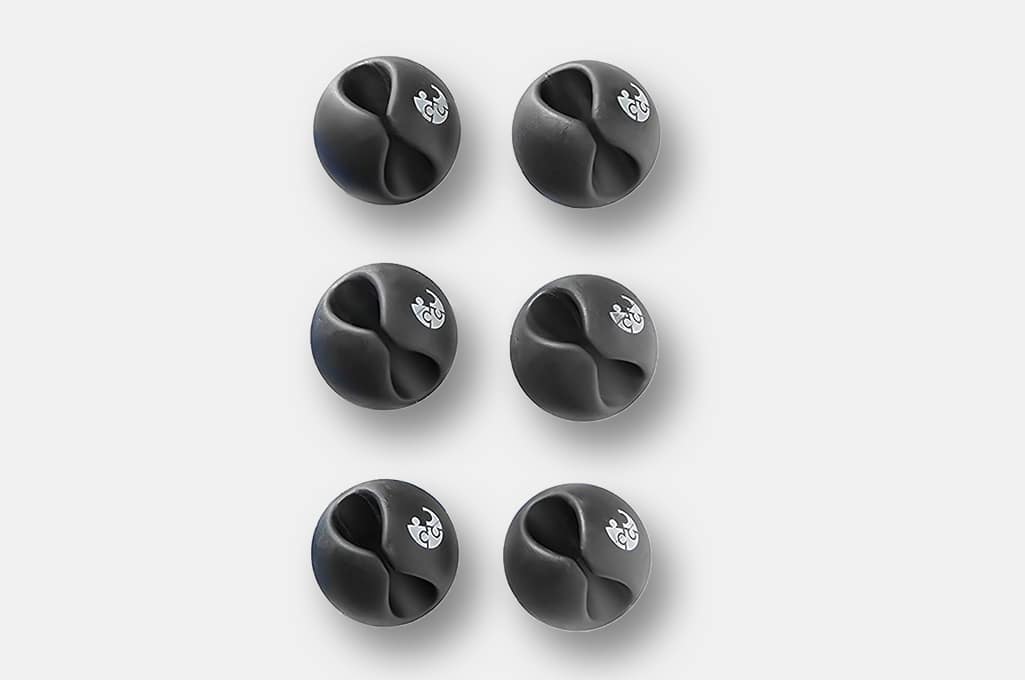 Blue Key Cable Clips
Another claw-type organizer, this self-adhesive cable clip is billed as eco-friendly, thanks to the use of certified and long-lasting plastic materials. Peel and stick to walls, wood, plastic, glass, metal, or rubber surfaces, and more. There's only one size clip (1.14" x 0.59") and one color (black), but you will get six in a pack, and you can actually cram about 1-3 cables, depending on size, into each clip to effectively clean up your cable mess.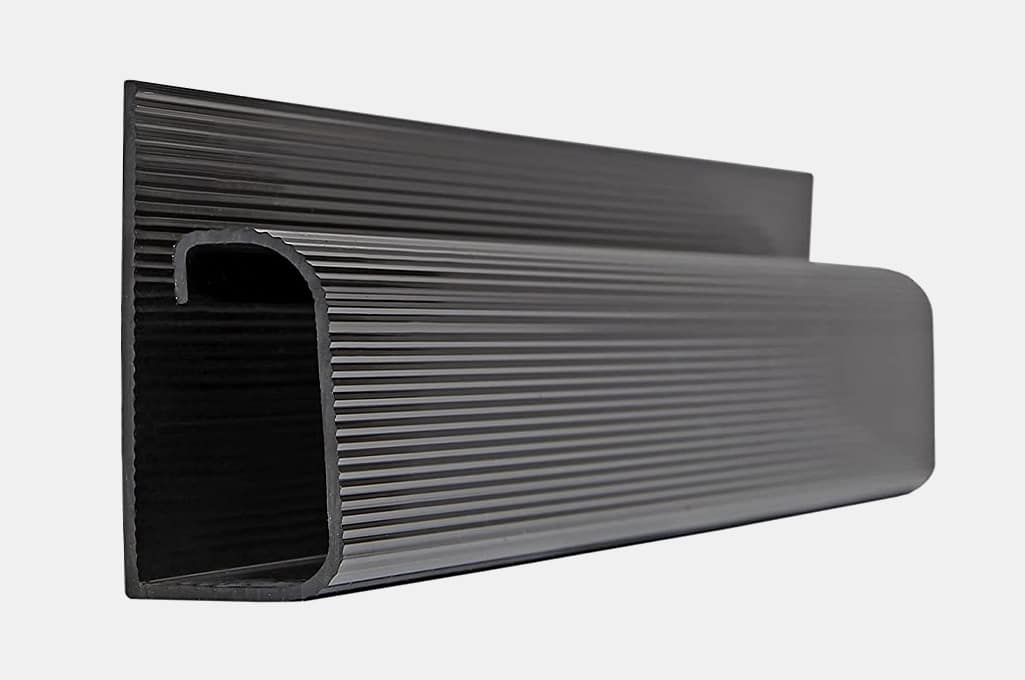 SimpleCord Channel Desk Cable Organizer
Shaped like a curling wave, this cable organizer allows your cables to surf right through the pipeline and come out the other side, creating a neat channel where you can contain and direct cable flow.
Attach it to the back or side of your desk or a table leg with extra-strength adhesive tape (included) to get unruly cables in order. Each package contains five 16-inch channels in your color of choice – black, white, gray, or wood grain – so you can route cables all around your workstation.
Joto Cable Management Sleeve
Cable organizers are certainly versatile when it comes to placement, but they can leave a lot of unsightly cable length hanging around. If you want a solution that not only corrals your cables, but hides them away, a flexible wrap sleeve is one way to go.
Each sleeve in a four-pack holds up to 8-10 cables, depending on size. All you have to do is place them inside and zip up the sleeve. Want more capacity? Zip two or more sleeves together to double, triple, or quadruple the number of cords gathered in one place. Sleeves are approximately 20" in length.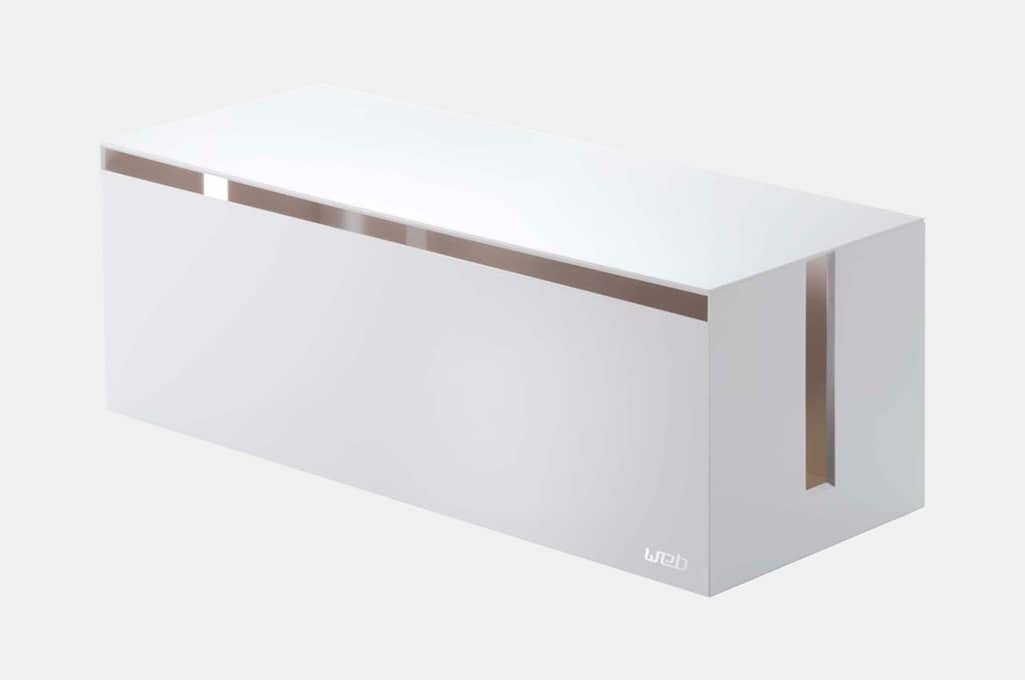 Yamazaki Cable Management Box
This sleek, resin box in white, black, or gray will appeal to minimalists that want outstanding function paired with simple design, along with dimensions of 6.1" x 15.7" x 5.7" (LWH) can fit an awful lot of cords.
A horizontal slot in the front and a vertical slot on either side let you run cables in a T pattern, and there's room to hide a horizontal power strip inside (not included). The top of the box opens to provide easy access when adding, removing, or changing the position or orientation of cables, too.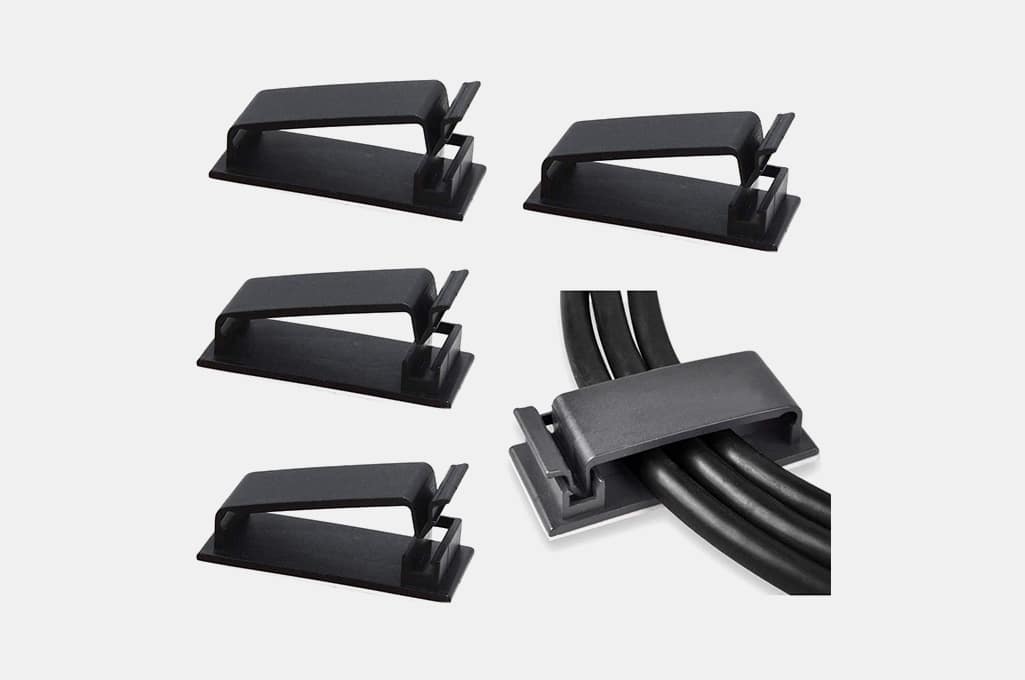 SOULWIT Cable Management Clips
For some reason, these expansive cable clips remind us of a telegraph sounder key (the thing that operators tap on to relay messages in Morse code). The arm, which features a living hinge design, attaches to a self-adhesive base that can go on tabletops, walls, and pretty much any flat surface. Just pop it open, add cables (up to 6 ethernet-size cables) and push down on the arm to snap it securely closed.
Disclosure: Clicking on these links and making a purchase may earn us a small referral fee, at no extra cost to you. Learn more here.
freestar.config.enabled_slots.push({ placementName: "gearmoose_leaderboard_btf", slotId: "gearmoose_leaderboard_btf" });