The 15 Best Desk Pads For Your Home Office
No way — you're still working on your bare desktop, like some kind of animal? That just won't do. The best desk pads around will add comfort and sophistication to your home office setup, and protect your desk and devices from scratches and damage.
We've collected a fifteen of the best desk pads for every budget, so read on if you want to up your home office game.
What is a desk mat for?
Desk protection from scratches, ink, etc.
Provides a defined work space/visually appealing
Dampens the sound of your keyboard
Replaces the need for a separate mouse pad
Our Picks: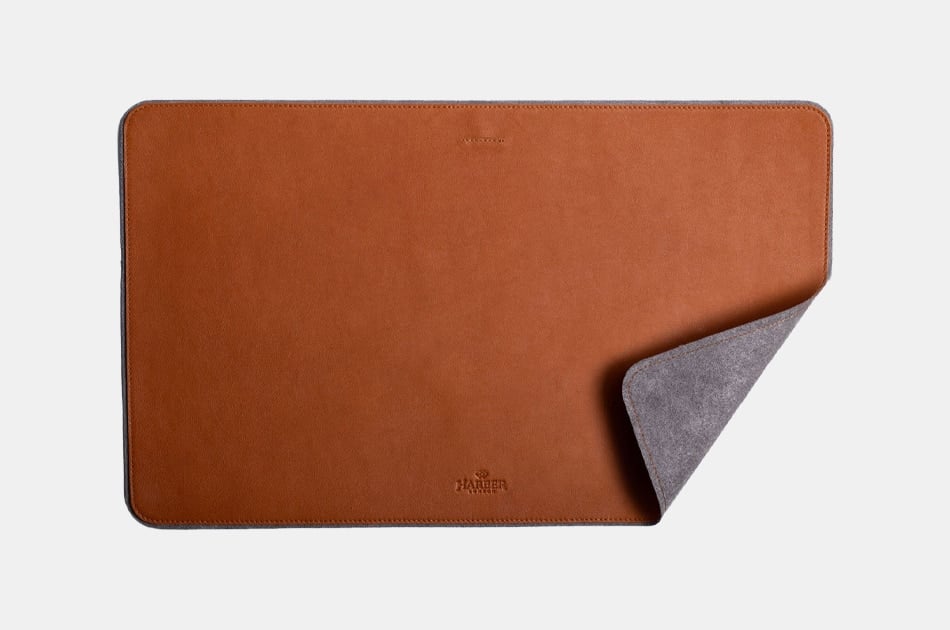 Harbor London Leather Desk Mat
Plush, handcrafted Spanish leather is the key note in Harbor London's desk mat. The ultra-soft cowhide gives it a luxurious feel, providing smooth movement for your mouse at the same time it holds your keyboard in place. Since it's made from top-grain leather it will age beautifully as well, developing a rich patina over time. Take your pick between thick 100% wool felt backing or a non-slip microfiber that's better for slippery surfaces.
Materials: Full Grain Leather, 100% Wool Felt, Microfiber lining
Dimensions: Size M: 19.6" x 11.8″, Size L: 31.49" x 12.59", Size XL: 31.49" x 17.71″
Key Feature: Cut-Through Hole for Cables/Cords
Price: £129.00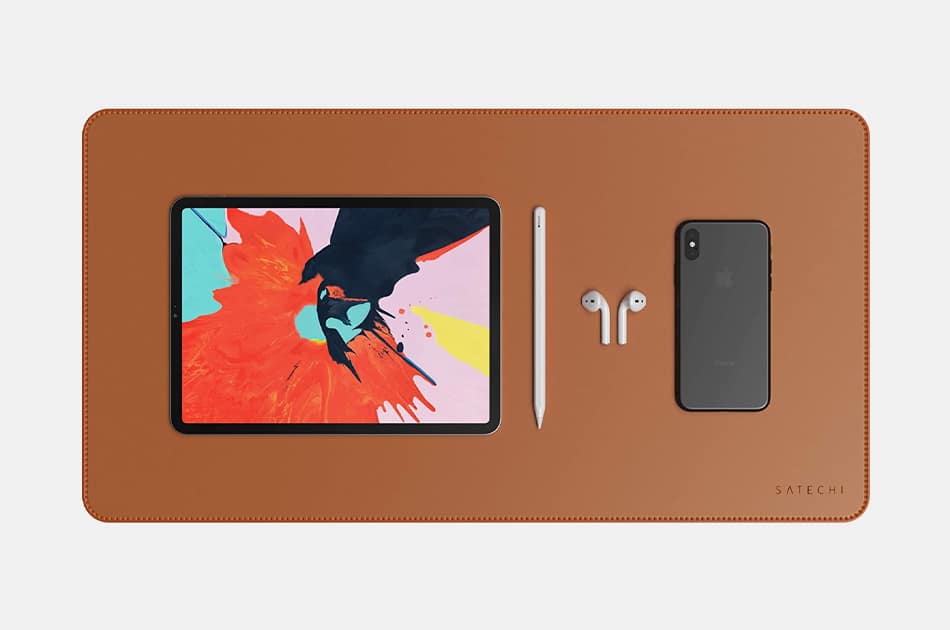 Satechi Eco-Leather Deskmate
Do you want the feeling of a leather desk pad without the guilt of it coming from an animal? Try out Satechi's Eco-Leather Deskmate. It's made from a convincing polyurethane leather substitute that gives the same rich feeling as genuine leather. And since it's made from a leather substitute, all three of the Deskmate's colors won't fade with extended use. Pair all of that with a non-slip backing, and you have an excellent (and affordable) desk pad.
Materials: Polyurethane "faux" leather
Dimensions: 23" x 12.2"
Key Feature: Water-Resistant
Price: $39.99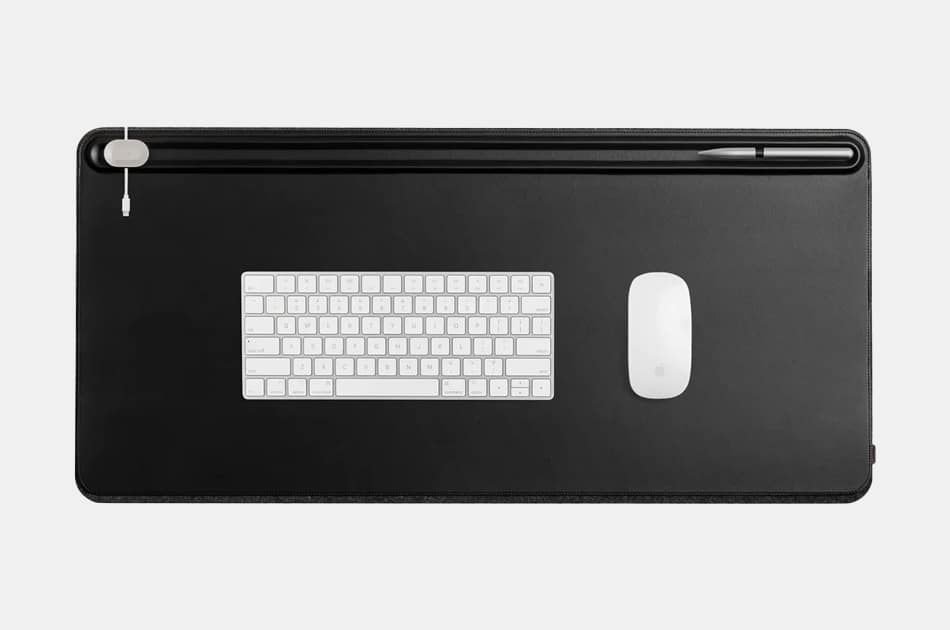 OrbitKey Desk Mat
Flat desk mats are great for a minimalist look, but they often leave something to be desired in the storage area. OrbitKey's desk mat goes in the opposite direction, with a pencil and pen storage bar and a sneaky hidden note pocket. We're particularly impressed by the magnetic cable holder on the top edge, though, because it makes it so easy to keep your charger within reach. If all that wasn't enough, this desk mat is made of vegan leather, too — perfect for the eco-conscious office.
Materials: Recycled PET Felt, premium vegan leather
Dimensions: Size M: 686 x 373 x 4.9mm, Size L 896 x 423 x 4.9mm
Key Feature: Magnetic Cable Organizer
Price: $79.90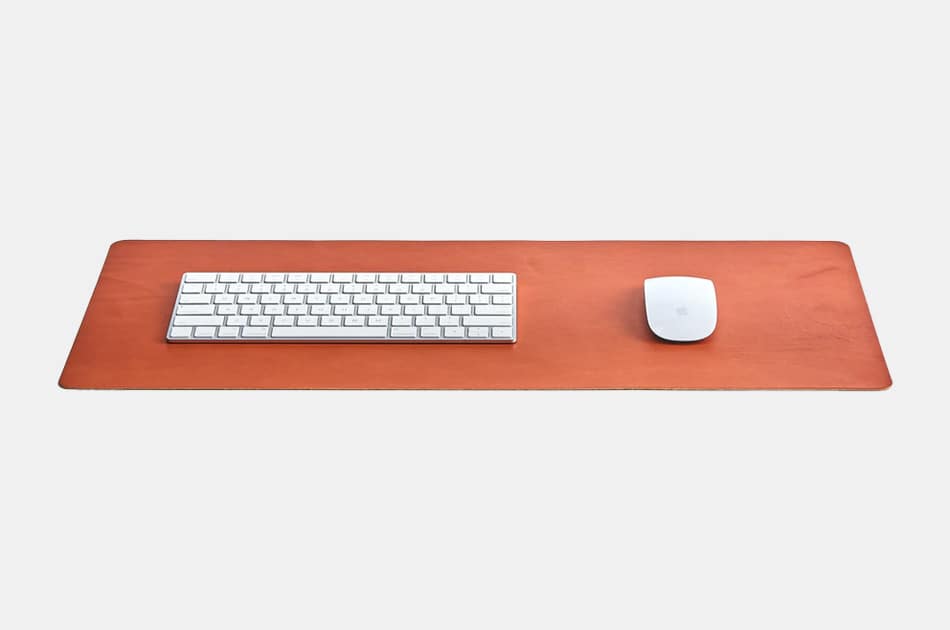 Grovemade Leather Desk Pad
Most desk pads come in one or two sizes — and if your desk isn't in that range, you're out of luck. For anyone with an oddly shaped or sized desk, Grovemade's Leather desk pad is a godsend. They come in four curated sizes, ranging from the modest 11" x 24.75" pad to a massive 26.5" x 49" behemoth. Plus, they're hand-made in Portland, Oregon from vegetable-tanned American leather that won't stain your gear.
Materials: Premium Vegetable-Tanned American Leather, cork backing
Dimensions: Size M: 11.5" x 38", Size M+: 15.75″ x 38″
Key Feature: Develops beautiful patina with age
Price: $100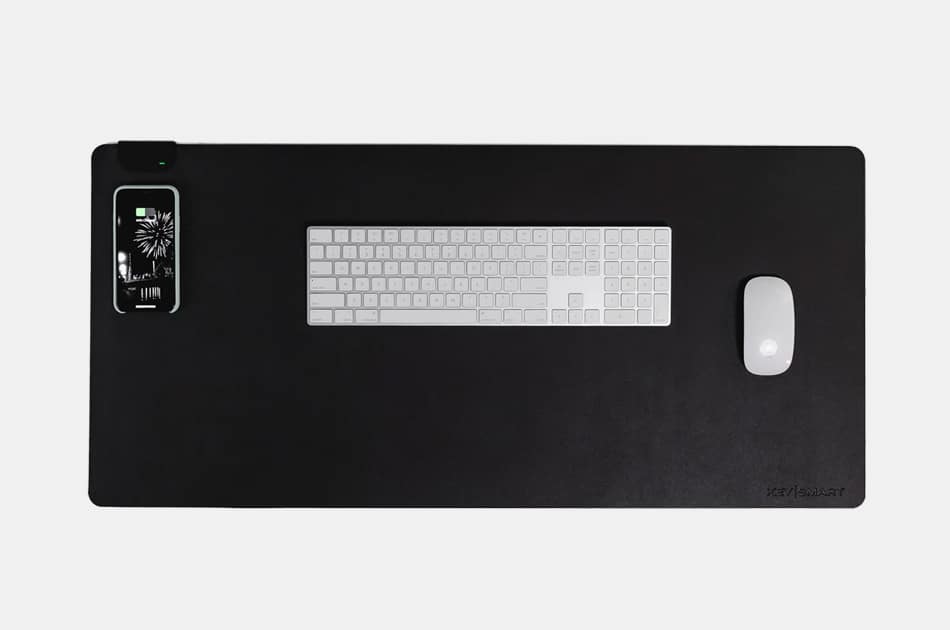 KeySmart TaskPad
The KeySmart TaskPad is without a doubt the best desk pad for workplace multitaskers. Why? Because of its integrated wireless charger, that's why. Just lay your phone down on its polyurethane leather surface, and the TaskPad will start powering it up. Amazingly, that's true even with the case on. It's also equipped with a comfortable cushion to rest your hands and wrists on, letting you work harder for longer.
Materials: Polyurethane leather
Dimensions: 35.43" x 16.54"
Key Feature: Integrated wireless charger
Price: $100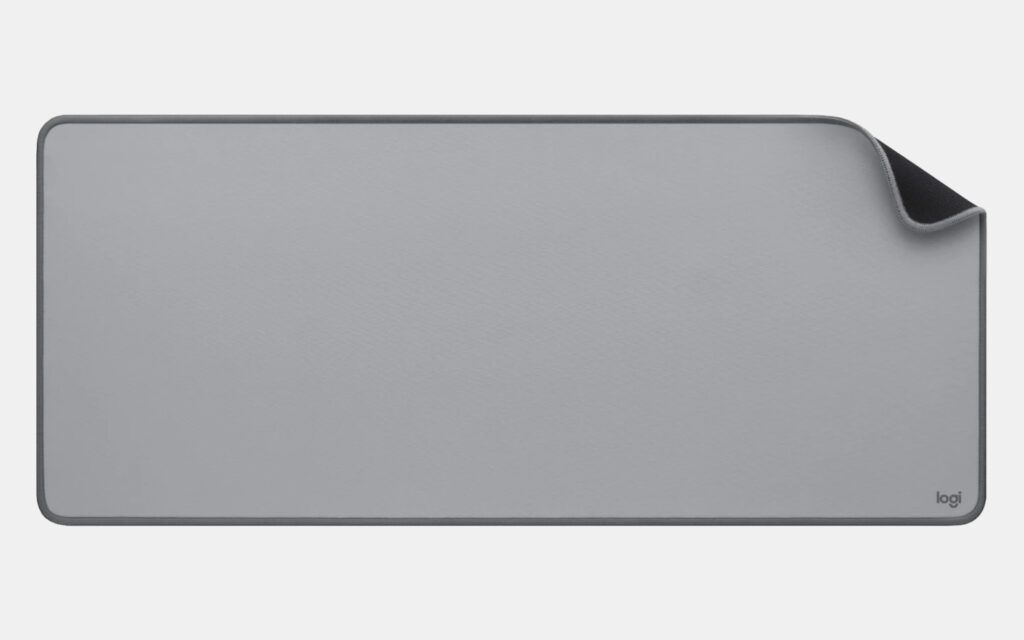 Logitech Studio Series Desk Mat
Logitech already makes all your other favorite computer accessories—from headphones to mice to gaming keyboards to speaker systems—so of course they'll also make one of the all-time best desk mats. Weighing just over ten ounces, this mat is nearly twelve inches tall and twenty-eight inches long, the perfect size to fit even small desks and over-sized keyboards and mice. The surface is made from pure recycled polyester with a rubber anti-slip base that is incredibly durable and spill-resistant. Best of all, it's not only delightfully affordable, but it's backed by a two-year warranty that guarantees you'll get your money's worth.
Materials: 100% recycled polyester surface, 72% natural rubber base
Dimensions: 11.81 x 27.55 x 0.08 inches
Key Feature: Anti-fraying stitches guarantee longer lifespan.
Price: $20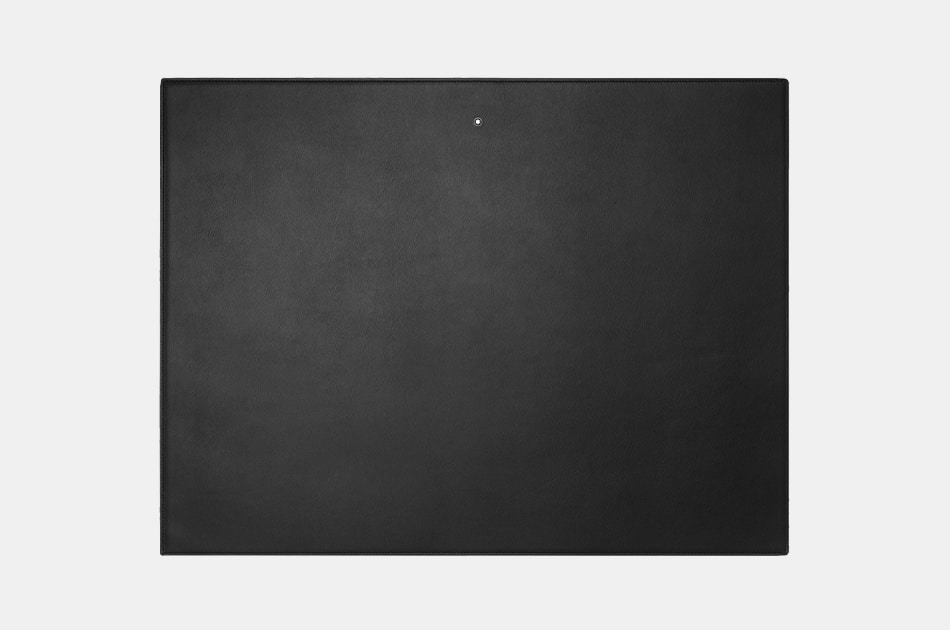 Montblanc Soft Leather Desk Pad
Montblanc is as classy as it comes for every product they make. The same is true for their soft leather desk pad, made of a luxurious soft calfskin leather with an attractive grey suede lining. If you're a minimalist at heart and really care about the quality of every item in your home, then Montblanc's desk pad is right for you.
Materials: Calfskin leather, suede lining
Dimensions: 555 x 420 x 3 mm
Key Feature: Can be rolled and folded
Price: $675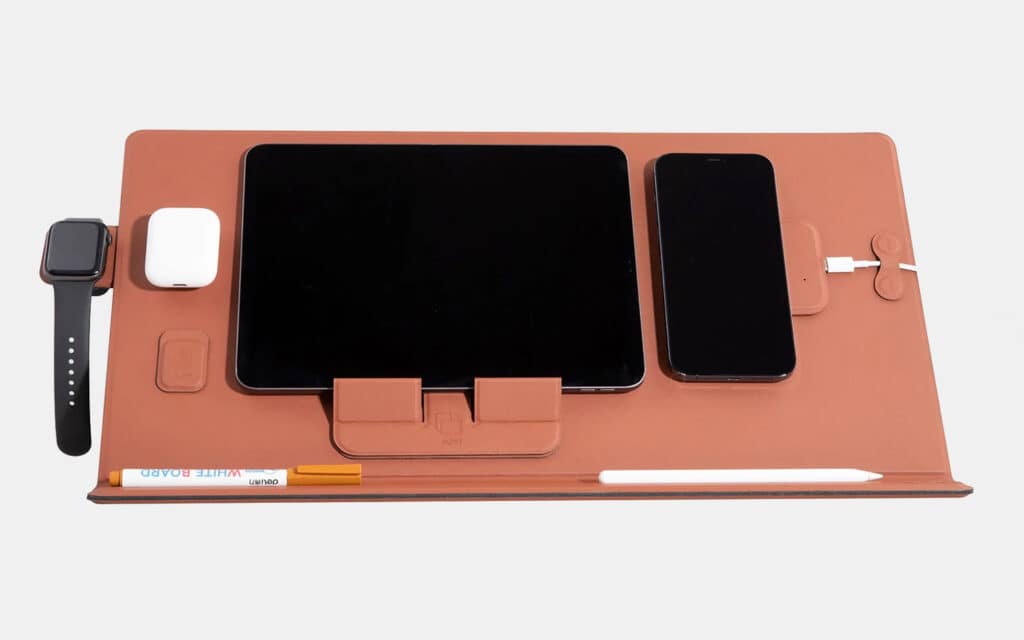 Moft Smart Desk Mat
This desk mat will take your setup to a whole new, "smarter" level. It's one of the most beautiful, practical desk mats around, made with layers of vegan leather, fiberglass, and metal to ensure that it's sturdy and stays securely in place. But wait until you see how versatile it is—not only can it be raised/lowered to multiple angles, but the provided stick-on magnets will hold your smartphone and Apple watch in place no matter its position. You can also add a tablet holder (sold separately) so the tablet doubles as a second screen when the mat is raised, and the two embedded NFC tags allow you to customize the quick-open apps or data you want to access at the press of a button. It may be pricey, but worth every penny.
Materials: Vegan leather, Fiberglass, Metal sheets
Dimensions: 19.8 x 7.7 x 0.3 inches
Key Feature: Integrated wireless charger, stick-on magnets make organizing everything a cinch.
Price: $142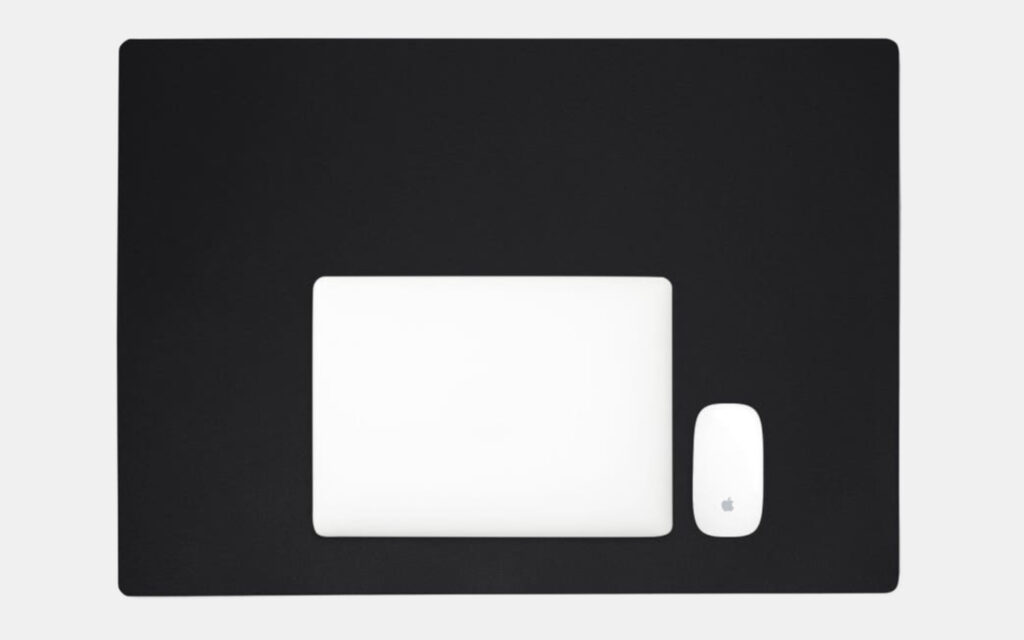 Leatherology Modern Desk Pad
Nothing can quite match the elegance and luxury of genuine leather, which is why we're thrilled to add this Leatherology Modern Desk Pad onto our list. Made from premium Italian leather, the mat features a microsuede underside that keeps it securely in place on your desk but doesn't add excess bulk when you want to roll it up for easy packing. The leather will grow more beautiful as it develops a patina, becoming its own unique work of art on your desk. It's also water-resistant and easy to clean—just wipe with a dry cloth, and you're ready to get back to work. You can even personalize it and add an inscription to make it truly yours.
Materials: Italian leather, micro-suede
Dimensions: 25.9 x 18.3 inches
Key Feature: Easily rolled up to carry in your backpack or briefcase, can be personalized.
Price: $125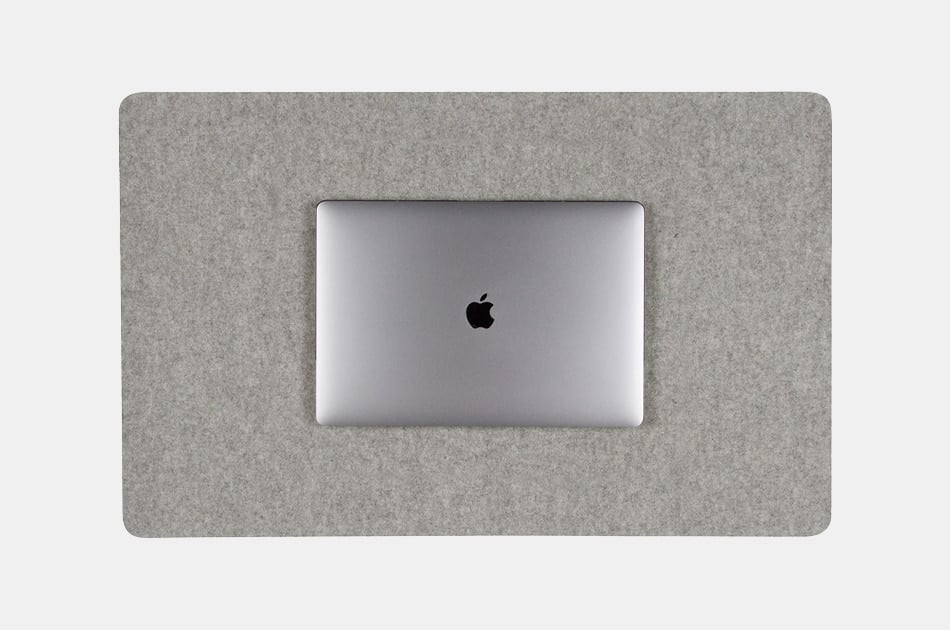 Graf Lantz Mosen Felt Desk Pad
You know the merino wool that makes camping and hiking comfortable and awesome? That's the same sort of wool that's used for Graf Lantz's Mosen desk pad. It's the base for a robust selection of desktop products from Graf Lantz, including mouse pads, wrist rests, leather trays, and coasters. Highly recommended for anyone who wants their home office customized to their exact needs.
Materials: Merino Wool Felt
Dimensions: 31" x 19.5"
Key Feature: Odor, stain, heat, and dirt resistant
Price: $86.00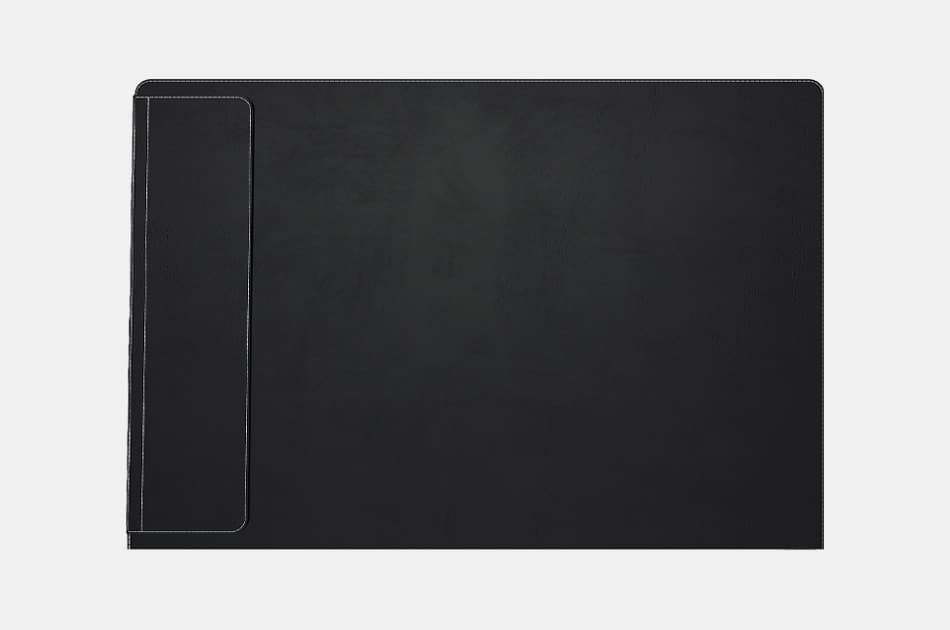 Ikea Rissla Desk Pad
Can Swedish design giant Ikea really improve on the elegant simplicity of a plain desk pad? It turns out the answer to that is a resounding "Yes". First, it's made of a heavy polyvinyl material that's coated with a stain-, scratch-, and water-resistant finish. Then, thanks to a bent front edge, it stays in place better than even the best non-slip bottoms. If you like your office gear perfectly matched, this desk pad pairs well with the whole BEKANT series from Ikea, too.
Materials: Steel, Polyurethane, polypropylene
Dimensions: 33 7/8" x 22 7/8″
Key Feature: Desk edge protector
Price: $29.99
Slash Objects Rubber Gris Desk Mat
100% recycled rubber makes Slash Objects' desk mat stand out from the more typical leather desk pads. It creates a simultaneously comfortable and non-slip surface, holding all of your office supplies in place better than any other mat on this list. The real brass corner pieces are a nice touch, too, ensuring that the rubber mat will stay in great shape and leaving it looking classy. And since it's totally waterproof and stain-resistant, the Rubber Gris desk pad can pull double-duty as an attractive serving mat for lunchtime or cocktail hour.
Materials: Recycled rubber, brass
Dimensions: 18″ x 24″
Key Feature: Fully waterproof and stain-resistant
Price: $76.00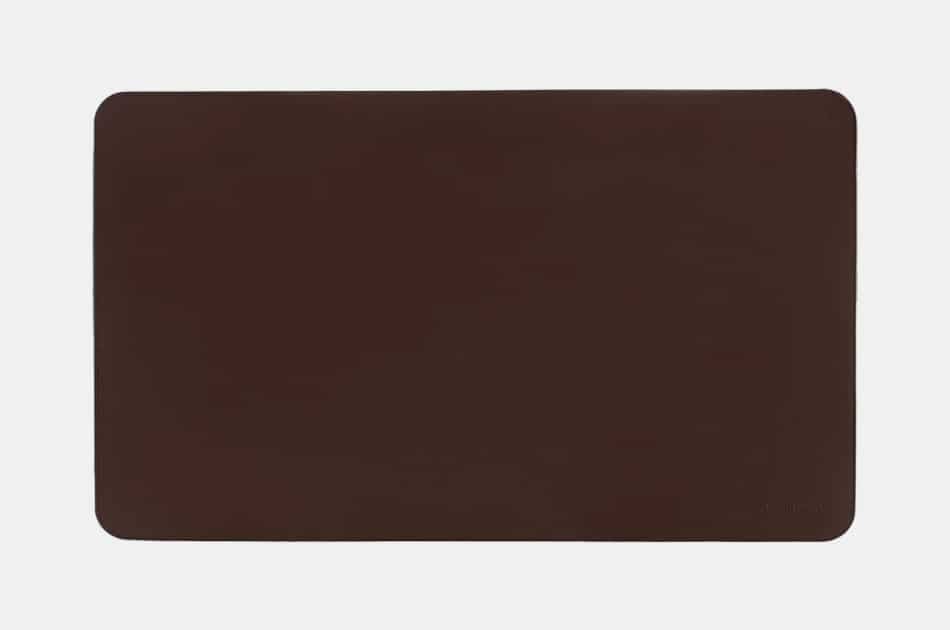 Beckett Simonon Leather Desk Pad
Beckett Simonon's full-grain leather desk pad is a prime example of luxury materials at a surprisingly reasonable price. That high quality leather will age beautifully, giving it a natural patina that's specific to how you use it. It's naturally non-slip and water-resistant, making it a handsome addition to any work surface in your house. Better yet, the leather used in Beckett Simonon's desk pad is sustainably raised and harvested — giving the best of both worlds for real leather and eco-friendly production.
Materials: Chrome-free full-grain leather
Dimensions: 27.5" x 16.5"
Key Feature: Slip-Free base for electronics
Price: $159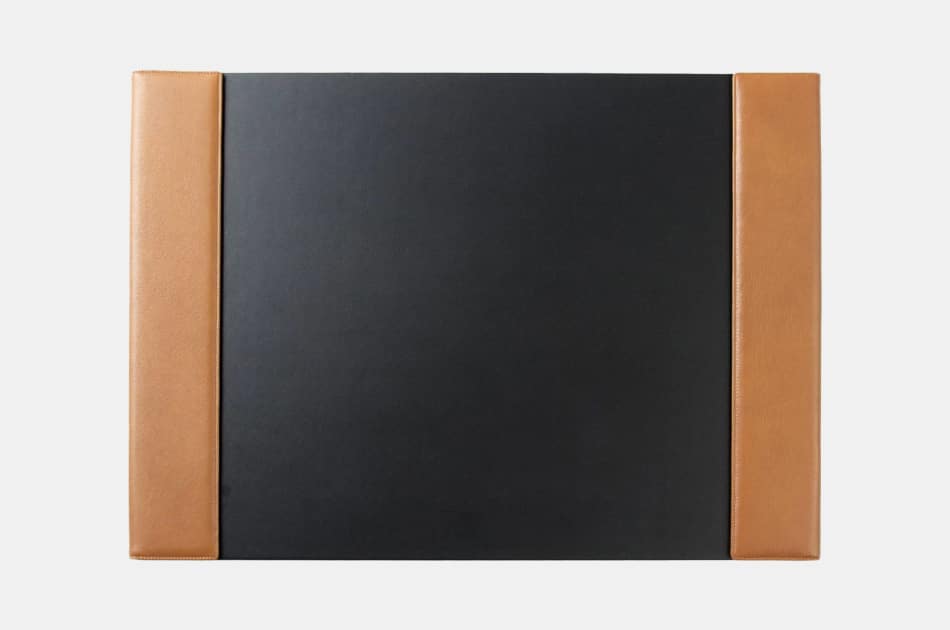 Leatherology Classic Leather Desk Pad
Most desk pads keep it simple with a single color scheme, but Leatherology kicks it up a notch. Available in five two-tone color combinations, their Classic Leather desk pad gives you plenty of opportunities to customize your workplace style. The microsuede lined bottom will keep it from slipping, and the fine-grain leather gives it a rich and luxurious feel while you're working on it. Overall, it's a handsome and affordable addition to any home office.
Materials: Full grain leather
Dimensions: 18″ x 26.5″ x 0.5″
Key Feature: Liftable leather rails
Price: $120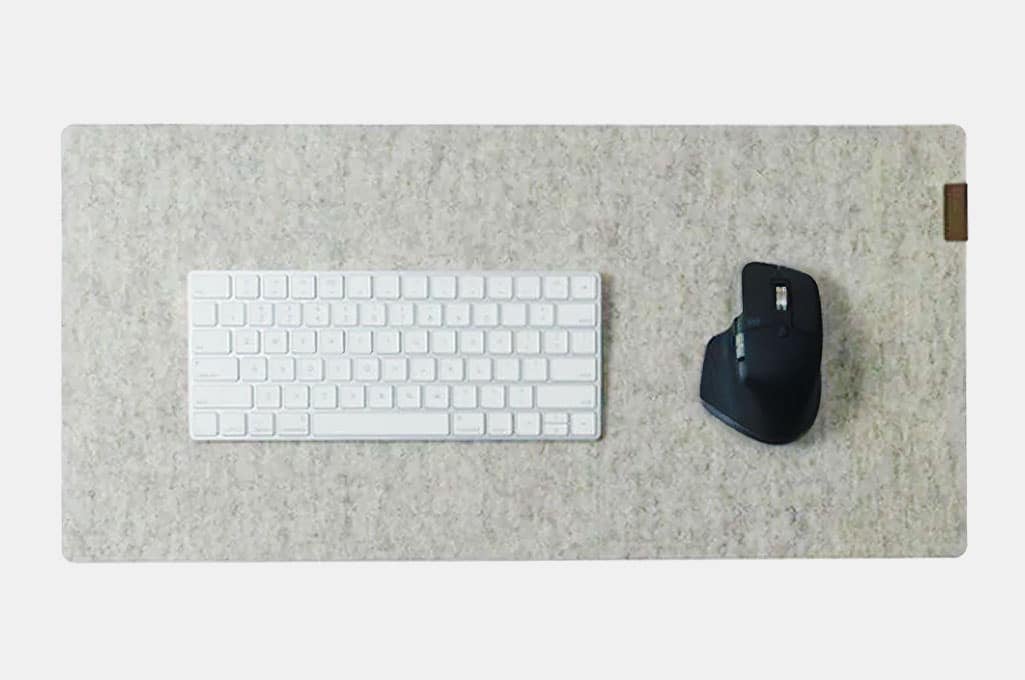 Oakywood Felt & Cork Desk Mat – Grey
This ultra-soft Merino wool felt desk pad will be a game-changer for your home office. It's not just extremely comfortable to use, but it's also very sturdy, thanks to its stiff biodegradable cork backing and tough wool fabric. The cork backing will also keep it from shifting or sliding around, making it easier to keep your desk neat and organized. It's also easy to clean: you can use water and light detergent to remove stains, and with an occasional vacuum, it will be dust- and crumb-free (perfect for anyone who eats and/or drinks at their desk).
Materials: Merino Wool felt, biodegradable cork, Vegan leather
Dimensions: Size M: 11.8" x 24.4", Size L: 11.8″ x 35.4″]
Key Feature: Easy to clean off spills/stains
Price: $59
Disclosure: Clicking on these links and making a purchase may earn us a small referral fee, at no extra cost to you. Learn more here.
freestar.config.enabled_slots.push({ placementName: "gearmoose_leaderboard_btf", slotId: "gearmoose_leaderboard_btf" });