The 25 Best Multi-Tools of 2019
Folding knives used to be the de facto EDC addition to the contents of a man's pockets, but these days it pays to have a more functional and comprehensive tool on hand.  Whether you're always the one tasked with popping open computer cases or tightening loose cubicle screws for hapless coworkers, or you need a robust pocket pal for hiking, camping, and fishing excursions, you'll find that there's no shortage of multi-tools to choose from.
Picking the best one for your needs can be difficult, considering how many options are on the market these days, but you definitely want one that not only has the right features, but delivers the strength and durability you expect.  The last thing you want is to break a subpar multi-tool while wrenching on a sticky screw or slicing open your morning catch to prep for a fish fry.  As it turns out, some thoughtful brands deliver both the features and the functionality you crave in this utilitarian tool.
Still, you'll have to decide between bulkier, full-sized multi-tools, mini counterparts that offer less function but easier carry, and truly tiny keychain products that meet only the most basic needs.  Which size offers the balance of convenience and function you prefer? Read on the see the best of all three categories.
The Best Full Size Multi-Tools
Sometimes you need a tiny tool that won't add to your pack weight.  Then there are times when you need something a bit more robust, and this is where full-size multi-tools deliver.  Whether you're looking for ten tools or twenty, these large multi-tools pack a punch that more diminutive offerings simply can't deliver, especially with innovative features that allow tools to spring open more easily or produce greater torque and leverage.
Even so, full-size multi-tools are often under a pound and only a few inches in length when closed, making for convenient EDC.  Here are a few you might want to carry.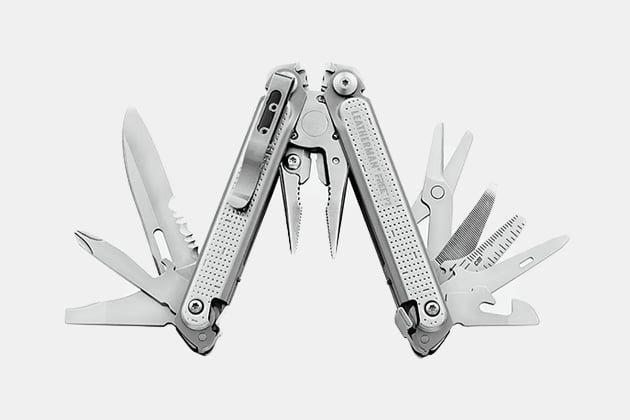 Leatherman FREE P2 Multipurpose Pliers
Leatherman is to multi-tools what Kleenex is to tissues – a brand name synonymous with the product it sells.  All you have to do is look at the features on this ultimate multipurpose plier to understand why Leatherman is the undisputed market leader.  With 18 handy tools (pliers, knife, screwdrivers, bottle opener, and more) in a package tiny enough to fit in your front pocket, you can't go wrong with this high-quality multi-tool, designed using customer feedback collected over 35 years. – Shop Now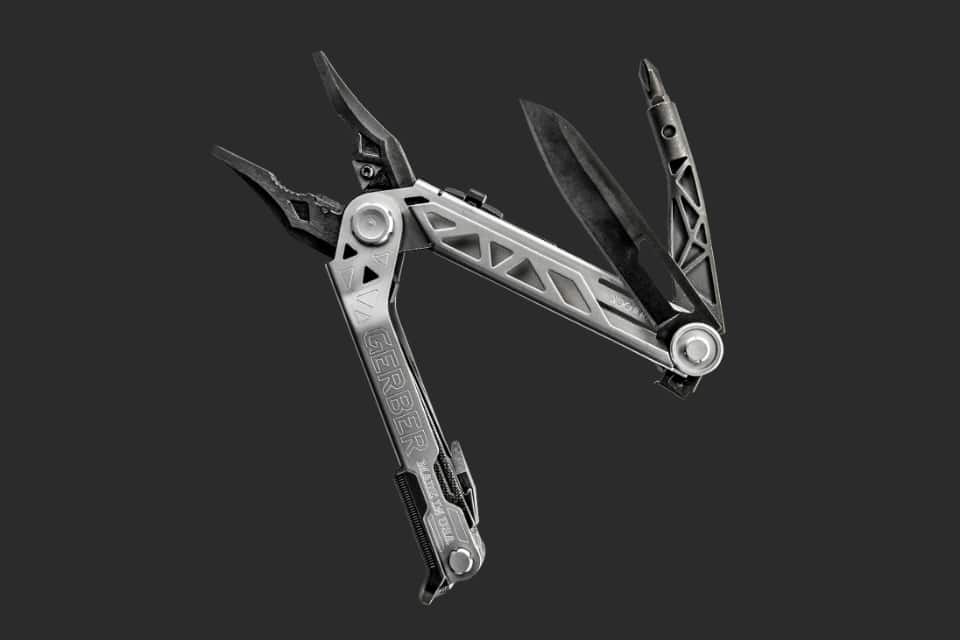 Gerber Center-Drive Multi-Tool
Leatherman may be the more recognizable name in multi-tools, but Gerber is a close second, and this wicked-looking addition to the multi-tool market is nothing to sniff at.  Case in point: the revolutionary center-axis driver that aligns like a real screwdriver to give you the same potential for torque you'd have with a traditional screwdriver.  With 16 tools total and convenient, one-thumb opening, this is 4.7 inches (6.6 inches when open) and 9.5 ounces of multi-tool you can't do without. – Shop Now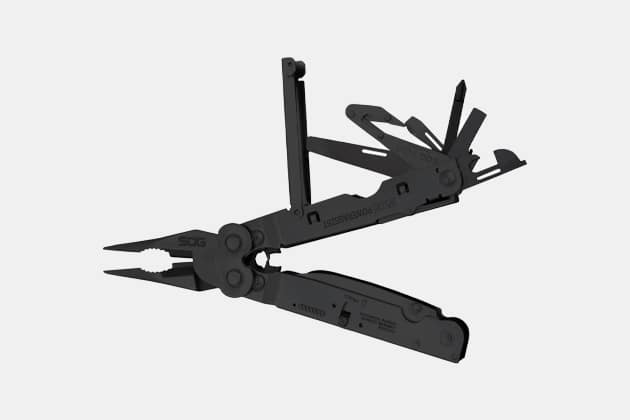 SOG PowerAssist
This is the slick, blacked-out multi-tool you didn't know you wanted until you saw how frakkin' badass it looks.  Aside from the fact that it's definitely the death-dealing, screw-tightening multi-tool John Wick should carry, it's packed with 16 essential tools (from screwdrivers and cutting blades, to can and bottle openers) and it features proprietary compound leverage technology that doubles the leverage power of standard multi-tools, along with spring-open blades with SOG assisted technology. – Shop Now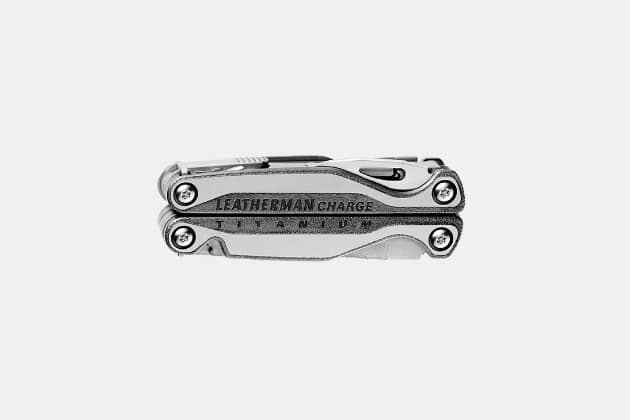 Leatherman Charge+ TTI
What makes this Leatherman special, aside from 19 tools, including needle nose and regular pliers, wire and hard-wire cutters, crimpers, strippers, two knives, a saw, scissors, a cutting hook, a ruler, can and bottle openers, two files, large and small bit drivers, and a medium screwdriver?  How about the upgrade to premium materials like strong and lightweight titanium handles or corrosion-resistant steel blades?  Not enough?  No problem.  Leatherman throws in replaceable wire cutters and a 25-year warranty to seal the deal. – Shop Now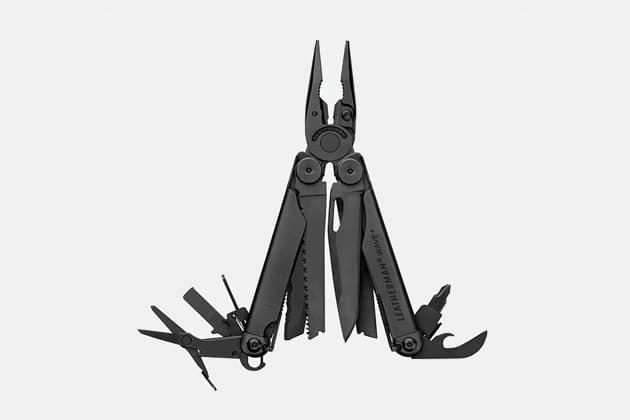 Leatherman Wave Plus Multi-Tool
Not to be outdone by competitors, Leatherman has a blacked-out multi-tool to rival SOG's.  It offers 17 tools to SOG's 15, it's made with resilient stainless steel, and tools lock in place when opened.  One-handed operation offers convenience, as does access to tools even when the multi-tool is closed.  Rounded, ergonomic profiling ensures comfortable carry, even if you forget your sheath, but you definitely don't want to go without the included sheath in premium ballistic nylon, which includes three accessory pockets. – Shop Now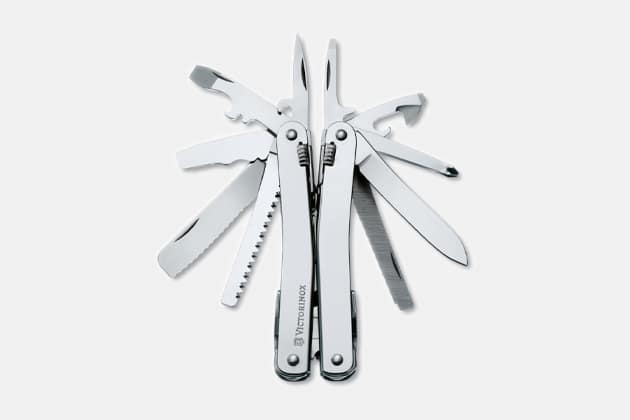 Victorinox Swiss Tool Spirit X Multi-Tool
Fan out the tools to create a veritable sunburst of utility and you'll find you have access to 26 functions with this Swiss-made beauty of a multi-tool.  Screwdrivers, saws, and cutters – oh, my!  You get pretty much the entire tool box in this unbelievable multi-tool.  All that's missing is a hammer, but you'd be hard pressed to find a place for it in a four-inch package weighing just 7.4 ounces.  Blades are lockable and it comes with a sweet leather pouch. – Shop Now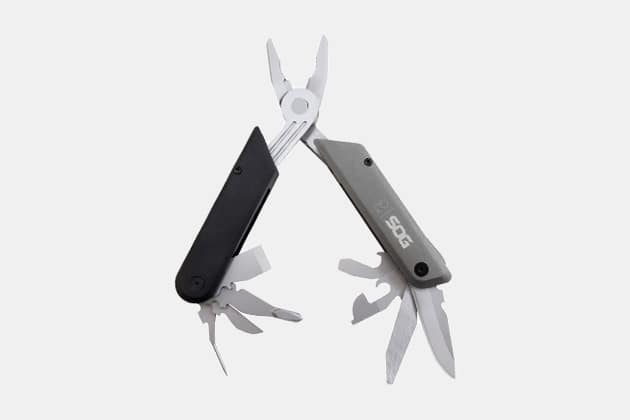 SOG Baton Q3
Most multi-tools have handles that fold around pliers and come together in parallel formation when closed.  Not so with SOG's baton design (hence the name), where the handles stack, one atop the other, to create a long, lean multi-purpose machine.  If you'd rather have length than bulk for storage purposes, this is the multi-tool for you, with a length of 5.8 inches when closed and a weight of just six ounces.  A tool count of 13 suffices to meet most needs. – Shop Now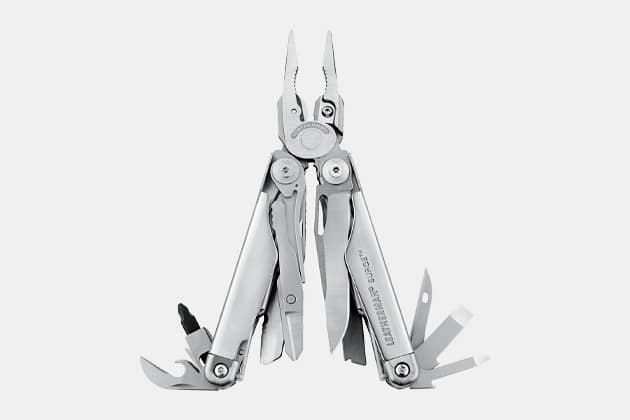 Leatherman Surge Multi-Tool
This bulky multi-tool is basically the be-all and end-all of the Leatherman universe.  It's the Mjolnir of multi-tools – it can do it all and you might need to be worthy to pick it up.  Twenty-one tools are included, with desirable features like extra-large scissors and full-size knife blades, as well as replaceable wire cutters and more.  It comes in two appealing colors: stainless steel or stealthy black.  Even with all that function packed in, it's still just 4.5 inches closed and 12.5 ounces. – Shop Now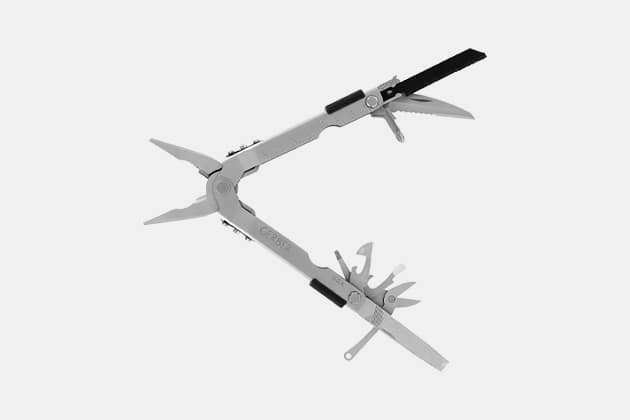 Gerber MP600 Pro Scout Multi-Pliers
There are a couple of things you're sure to love about this thoughtful addition to the wide world of multi-tools.  It features smooth, one-handed opening design, paired with stainless steel ruggedness.  It's five inches closed, 11 ounces, and it comes with 14 tools, including precision needle nose and regular pliers, wire cutters and crimper, locking and serrated knives, a ruler, a file, Fiskars scissors, a RemGrit saw, a crosspoint screwdriver, small and medium flat screwdrivers, and can and bottle openers. – Shop Now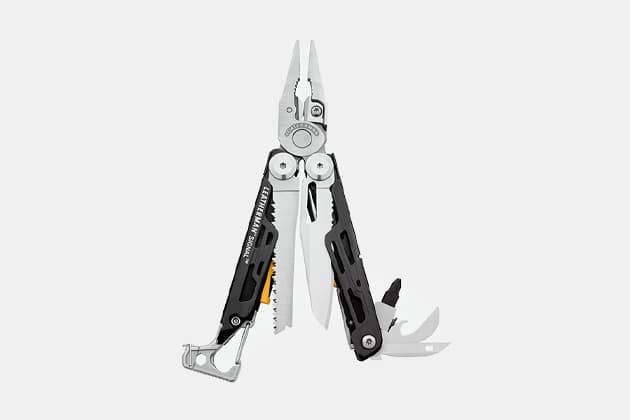 Leatherman Signal
Clearly, Leatherman is not to be trifled with, and it shows in the sheer number of outstanding and distinctive multi-tools the company offers.  This stainless-steel model delivers 21 tools, including rarely seen extras like a safety whistle and a Ferrocerium firestarter rod designed to assist the intrepid, outdoor adventurer.  Made specifically with survival situations in mind, this 4.5-inch, 7.5-ounce multi-tool is strong, durable, and features locking knives, one-hand operation, and a 25-year warranty to cover any mishaps in the great outdoors. – Shop Now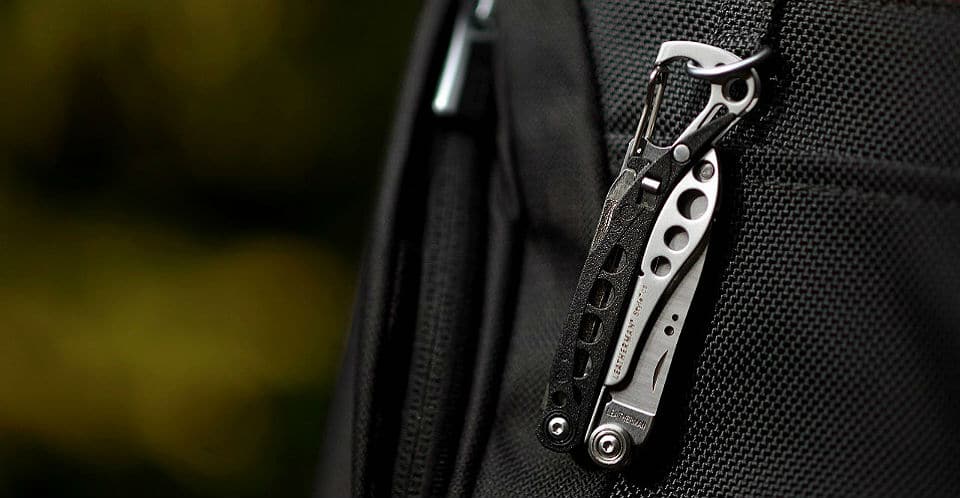 The Best Mini Multi-Tools
Multi-tools don't have to create a massive bulge in your pocket to be powerful.  Mini versions can also pack a punch with plenty of tools in smaller, lighter packages.  EDC is the baseline directive with any multi-tool, but some are better suited to this essential edict than others.
Whether you're trying to keep your carry weight and equipment bulk low for extensive hiking or camping excursions or you just want something that won't stick out like a sore thumb when paired with your everyday ensembles, mini multi-tools offer the utility you crave in pint-sized packaging, artfully fulfilling your every need.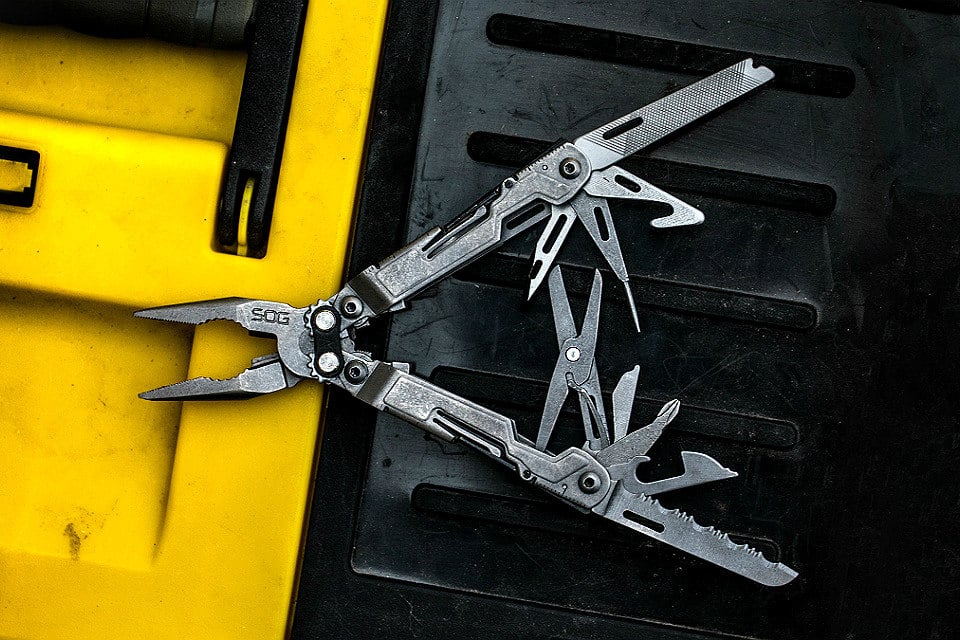 SOG PowerPint
What's that you say?  The power of a full-sized multi-tool in a package smaller than a hot dog?  Yup, this SOG offering is just five inches long and only 4.2 ounces, so you'll hardly notice you're carrying it in your pocket or pack.  You might not expect a ton of amenities at this size, but you'll be surprised to learn it comes with 18 tools and a magnetic hex bit holder, all in stainless steel construction for strength and durability. – Shop Now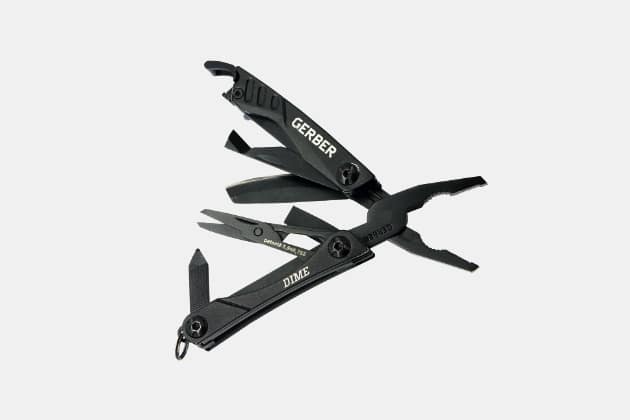 Gerber Dime Multi-Tool
This mini multi-tool is bigger than a dime at 2.75 inches closed, but it's still pretty small and weighs in at just 2.2 ounces, making EDC an understatement.  Compact and lightweight, it actually fits on your keyring, although it's just a bit bulky for this purpose.  Still, it delivers eleven tools, plus a lanyard ring.  It's not entirely suitable for heavy-duty jobs – that will require larger tools that offer more leverage and torque – but it's perfect for small jobs on the go. – Shop Now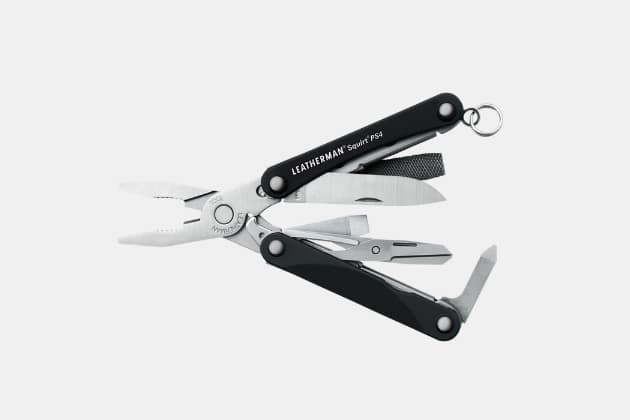 Leatherman Squirt PS4
This super-lightweight Leatherman is just two ounces, thanks to durable aluminum construction, and at 2.25 inches in length, you can take it with you everywhere.  You'll enjoy the utility of 10 handy tools, including a knife, flat and Phillips screwdrivers, plus a medium screwdriver, a wood/metal file, a bottle opener, and spring-action wire cutters, scissors, and needle nose and regular pliers.  Take it fishing, camping, or around town and you'll never have to worry about having the right tool on hand. – Shop Now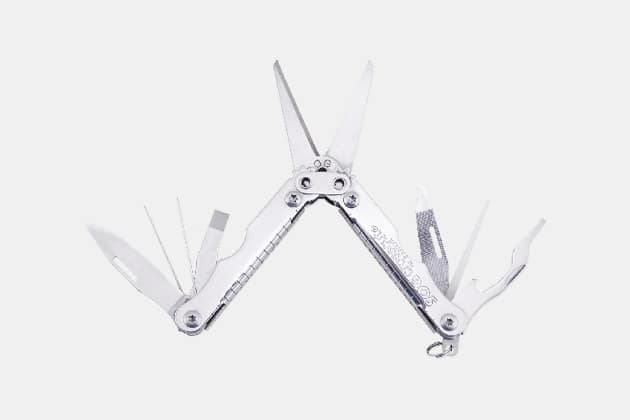 SOG CrossCut 2.0
SOG promises the power of a full-sized tool paired with the precision of a much smaller unit in the CrossCut 2.0, which is just 2.5 inches closed and under 2 ounces – 1.7 ounces, to be precise.  Nine tools, including a straight edge blade, small and medium flat screwdrivers, scissors, tweezers, and nail file, a toothpick, a ruler, and a bottle opener, are ready to assist with everyday needs, but where this multi-tool truly shines is with the power of compound leverage. – Shop Now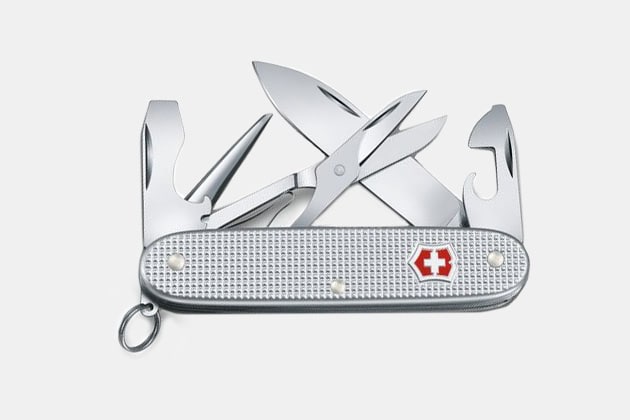 Victorinox Swiss Army Pioneer X Multi-Tool
Unlike the butterfly open design preferred in the multi-tool market, this is essentially a Swiss Army Knife packed with handy tools that you might find need for in your everyday life.  Beyond the blade and bottle and can openers common to pocket knives, you'll get a reamer/punch, 3mm and 7.5mm screwdrivers, and a wire stripper, as well as precision scissors (apparently a first in the Pioneer Swiss Army Knife line).  It also comes with attached key ring for easy carry. – Shop Now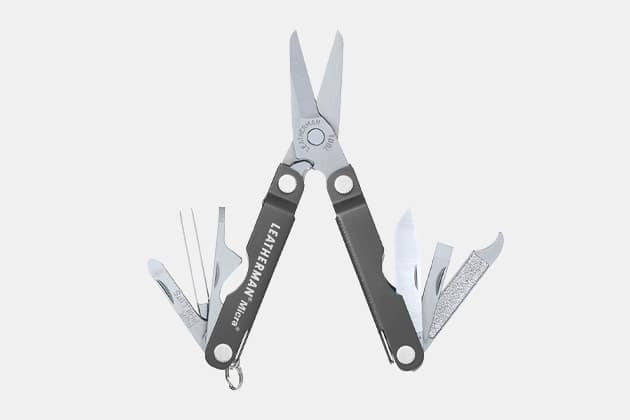 Leatherman Micra Multi-Tool
This 2.5-inch, 1.8-ounce multi-tool from Leatherman is discreet, but perfect for tiny tasks like cutting a snagged fishing line before it snaps, cleaning under your nails after gutting your daily catch, or opening a bottle of suds to enjoy with your grilled trout.  With ten tools in a teensy package, this Leatherman product is perfectly sized to fit in a pocket, purse, or tackle box.  It comes with a lanyard ring and the 25-year warranty assigned to similar Leatherman goods. – Shop Now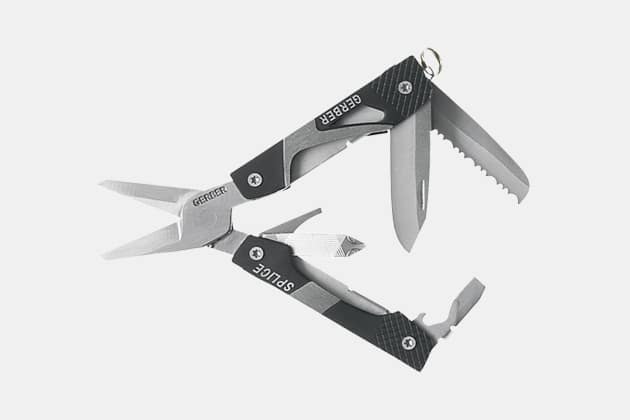 Gerber Splice Pocket Tool
This stainless-steel tool with black handles is lightweight, strong, and easy on the eyes.  Plus, dimensions of 2.4"x1" closed, a weight of 2.5 ounces, and an attached lanyard ring make for ideal pocket or keychain carry.  Advertised as a snip-and-clip style addition to your EDC must-haves, it butterflies open to reveal a straight-edge knife, a serrated blade, a bottle opener, and more.  It also features scissors where pliers would normally be, making for a better cutting tool than competitors. – Shop Now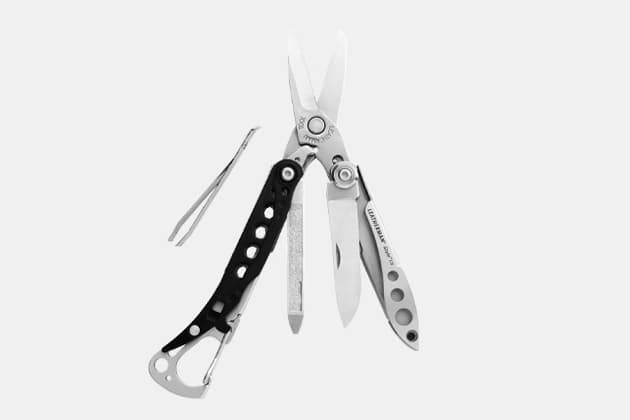 Leatherman Style CS Mini Tool
Most multi-tools, even minis, are fairly bulky when closed, thanks to butterfly style handles.  This little Leatherman bucks the trend with slimmer, more streamlined styling that comes in at 2.9 inches in length and 1.6 ounces.  Still, it yields six useful tools, including a knife, spring-action scissors, flat/Phillips screwdriver, tweezers, a nail file, and a carabiner that not only clips to your belt loop or backpack, but doubles as a bottle opener.  Pairing nail care with handyman utility never looked better. – Shop Now
The Best Pocket & Keychain Multi-Tools
The practically microscopic multi-tools designed to fit on your keychain don't offer anywhere near the same level of utility as their full-sized brethren, but you'll to have to forego some functionality in order to find a tool that travels incognito among your keys.
Pairing maximum function with minimal footprint is no easy feat, but you can still gain myriad features with these tiny tools in barely-there sizes that won't add bulk to your EDC lineup.  Prybars, screw points, and cutters comprise the bulk of features you'll enjoy with these diminutive multi-tools, along with the ubiquitous bottle opener demanded by desk jockeys and outdoor enthusiasts alike.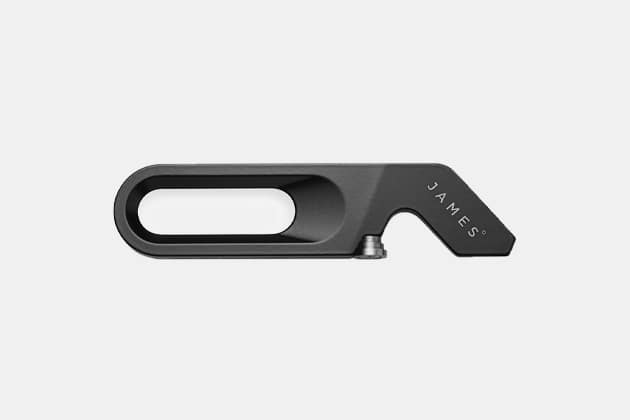 The James Brand Halifax Keychain Multi-Tool
This tiny tool in titanium is machined from a single block of material and features dimensions of just under 3"x1", with 1/8" thickness.  What can you do with it?  A lot, it turns out.  It delivers a scraper and prybar, a flat/Phillips combo screwdriver, and an integrated bottle opener with a custom-machined thumb stud to prevent slippage.  The closed loop body goes straight on a keychain, or you can use the included lanyard.  This tool works for left or right-hand use. – Shop Now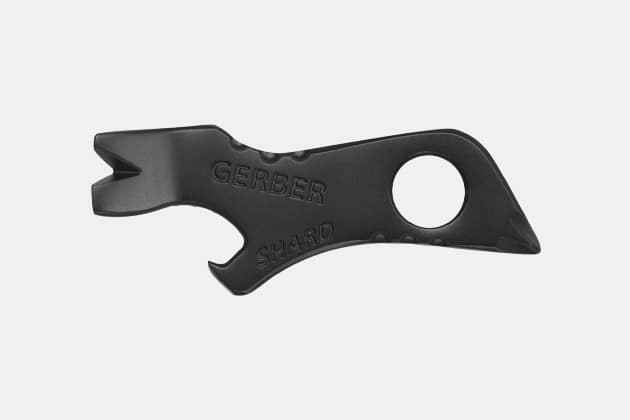 Gerber Shard Keychain Tool
The Gerber Shard is hands down the best keychain multi-tool bang for your buck, but there's no denying the shape of this multi-tool looks like a fish – you don't even have to squint to see it.  All the same, it offers seven critical tools, including a pry bar, small and large flathead drivers, a cross driver, a wire stripper/puller, a bottle opener, and a lanyard hole.  It's also features corrosion-resistant titanium dioxide coating, it's just 2.75 inches and 0.6 ounces of stainless steel, and incredibly, it's airline safe, putting it way ahead of larger multi-tools. – Shop Now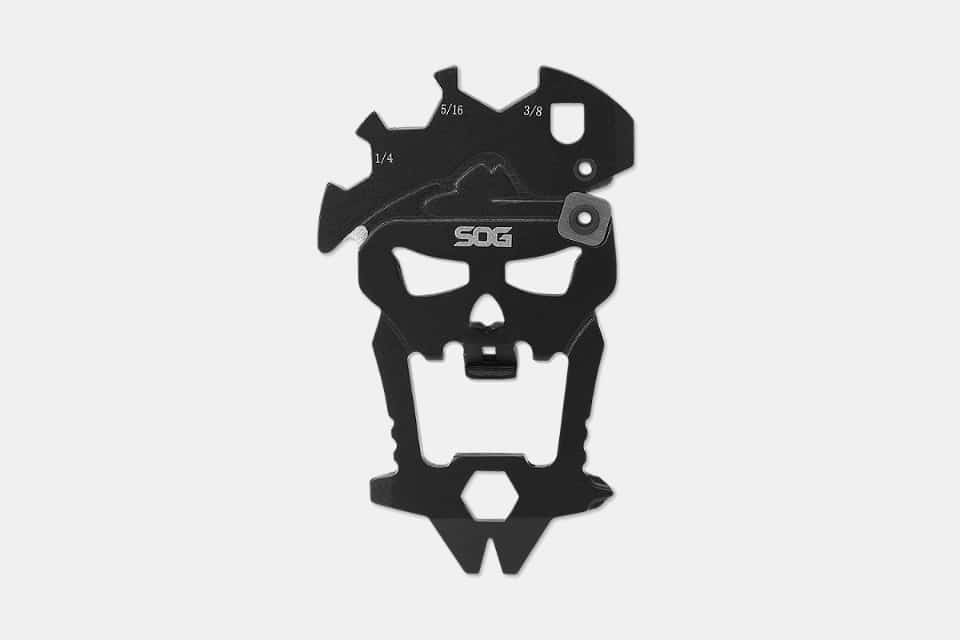 SOG MacV Tool
If you're looking for a skull-shaped multi-tool, well, that's kind of weird, but apparently you're not alone – it actually exists.  This hardcased black, stainless steel baddie is small enough to hide in the palm of your hand but tough enough to survive daily use and abuse.  Designed to resemble the sigil for the MACV-SOG group, for which the manufacturer was originally named, it comes with 12 tools for prying, cutting, wrenching, screw-driving, and more, along with an all-important bottle opener and lanyard hole. – Shop Now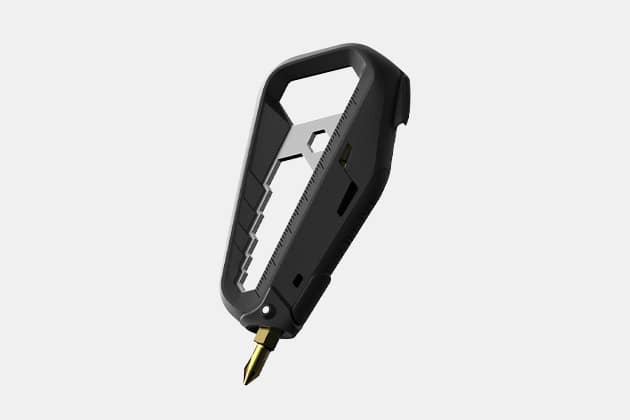 Tactica Multitool M100
At roughly 3.4×1.6×0.5 inches, this tool is sized to slip into pockets or clip onto belt loops with little added bulk, but it's the vast functionality you're sure to love.  Desirable features include a stainless-steel core and lightweight but durable engineered composite finish, as well as a magnetic retention socket for hexes (and secure storage chamber for loose hexes), metric and imperial rulers, a universal wrench with six sizes (in inches and mm), a heavy-duty ¼" socket, and a bottle opener. – Shop Now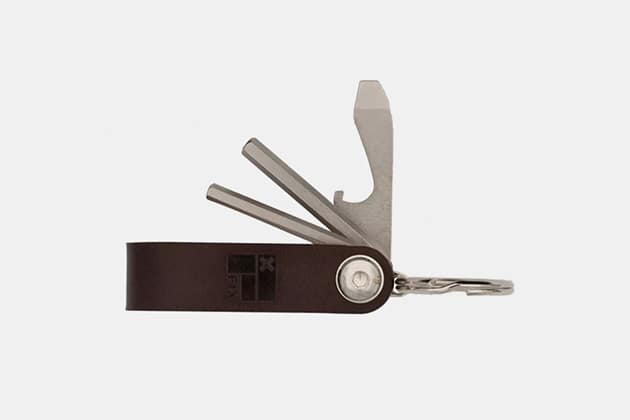 Fix MFG Beer Bike Keychain
It doesn't get much more minimal than a loop of leather that houses just three steel tools: a 4mm hex bit, a 5mm hex bit, and a flathead screwdriver that doubles as a bottle opener.  It's the perfect addition to any devoted cyclists EDC essentials, with all the tools you might need for on-the-go bike repairs.  Ergonomic styling ensures poke-free rides when stowed in your pants pocket and urban riders can use it to pop tops at their nearest after-work happy hour. – Shop Now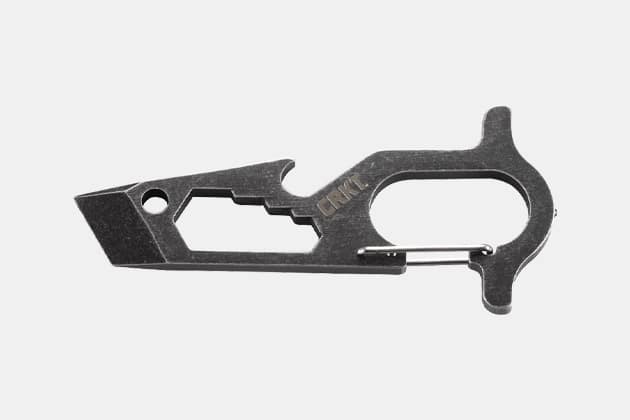 CRKT Pryma Multi-Tool
The weird shape of this tiny tool will make you look twice.  Like looking at clouds, everyone is sure to see something different.  My first thought was "racing squid", so maybe it's time to admit I've seen Sharktopus one too many times.  In any case, you'll enjoy a pry bar that also works as a box cutter and scraping tool, as well as a multi-wrench (with 4 sizes) and a bottle opener.  It's just under 3.25 inches and weighs 0.9 ounces. – Shop Now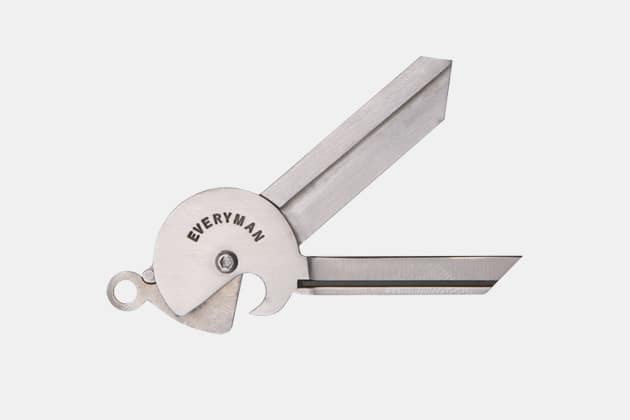 Porter Key Knife 2.0
The main draw of this Everyman tool is that it can hide in plain sight, thanks to styling that makes it look like just another key on your ring.  On closer inspection, however, it fans open to reveal a stainless-steel cutting edge, and when closed, the divot in the head of the "key" acts as a bottle opener.  At 2.5 inches long and just one ounce, it won't impact your EDC weight.  Includes stainless steel cable key ring for added convenience. – Shop Now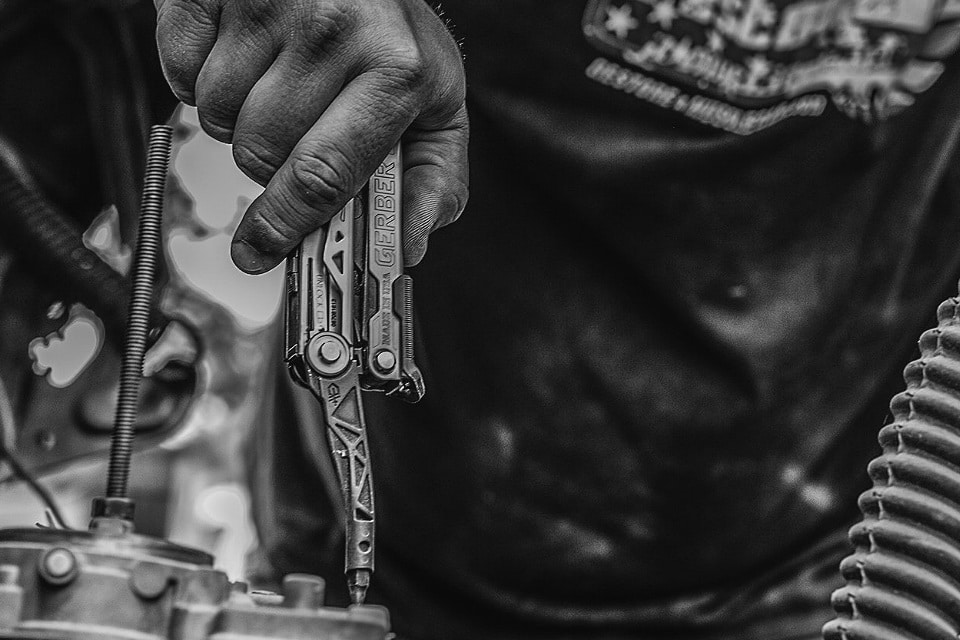 Disclosure: Clicking on these links and making a purchase may earn us a small referral fee, at no extra cost to you. Learn more here.