13 Best Carabiners For Your Keys
Isn't it always the case that on days when you're running late, you can't for the life of you remember where you left your keys? Okay, if we're being honest, this happens even on days when we have plenty of time to search high and low, only to discover them already in a jacket or pants pocket, or for some inexplicable reason, chilling in the fridge. How the heck did they get in there? You certainly didn't put your keys there.
The point is, it's time to become more aware of where you leave your keys when you walk in the door, or better yet, keep them attached to something you won't lose, like your bag or backpack, a belt loop on your jeans, or the zipper on a jacket pocket. This is where a carabiner keychain really comes in handy.
With the right lightweight and resilient carabiner, you can keep your keys attached to your person at all times, or at least always know where they are. You'll want a carabiner that's not too bulky, and if it happens to have some extra bells and whistles (a bottle opener, perhaps?), so much the better. Where can you find this magical key management system? We're going to tell you. Here are the 13 best EDC carabiners built specifically for your keys.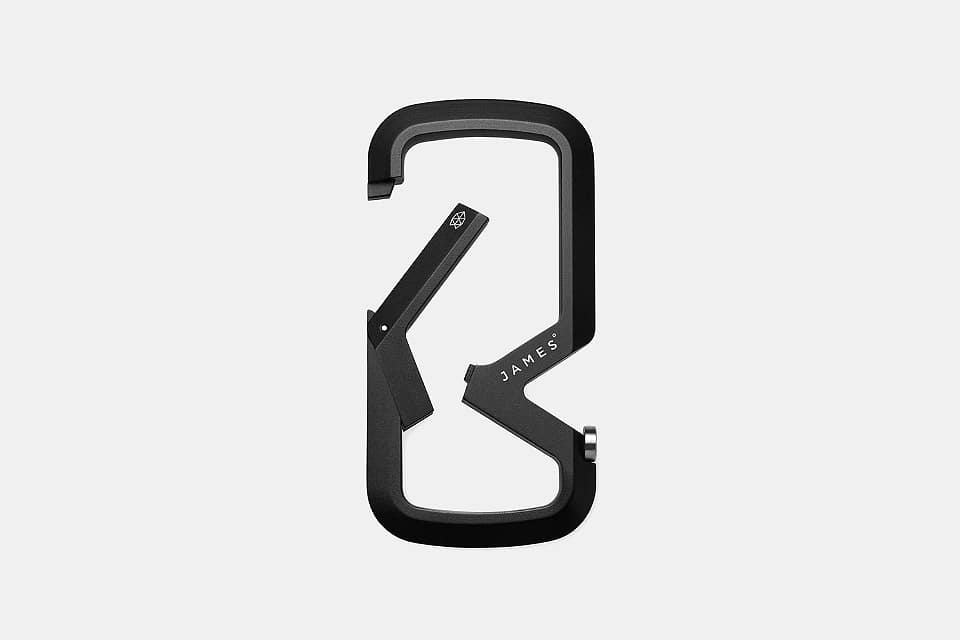 The James Brand Mehlville Carabiner
This carabiner eschews the typical, ovoid appearance of a traditional, climbing carabiner in favor of a more masculine, squared-off look (albeit it with rounded edges for comfort). Made in high-strength aluminum, this product features dual compartments so you can keep your keys on a separate loop from whatever you decide to attach the carabiner to, alleviating issues like keys slipping off when you pluck your carabiner from your backpack or belt loop to unlock the door. A divot on the side also serves as a handy bottle opener for cracking open a bottle of Newcastle after a long day at the office. – Shop Now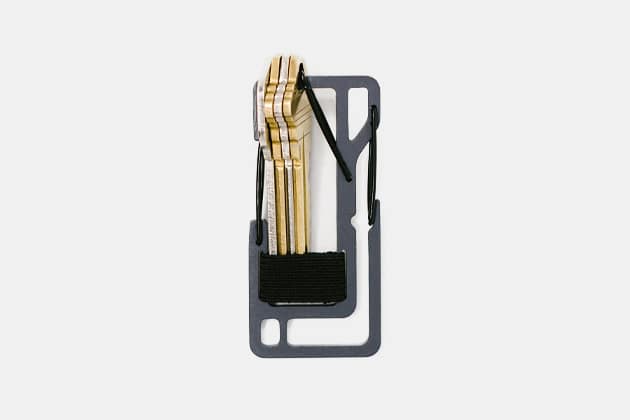 Key Titan Carabiner
This is one weird looking carabiner, but it's also surprisingly functional. Part carabiner, part key organizer, the Key Titan looks like one of those minimalist wallets that's little more than a basic, rectangular frame with a rubber band to hold cards and cash in place, except that it's impossibly small. Then you realize your keys click into the largest of three compartments so you can flip them inside and secure the ends into the attached suppression band to keep them from dangling and jangling with every movement. So simple, but somehow pure EDC genius. – Shop Now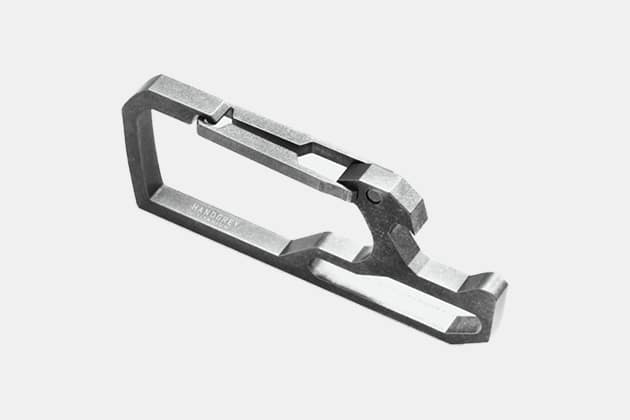 Handgrey HG Titanium Carabiner
The stone tumbled titanium that makes up the substance of this industrial carabiner certainly looks rugged, so you won't mind if it gets roughed up. However, it's also extremely strong and durable, with Ti6A14V/Grade 5 Titanium. EDM wire cutting ensures a precision product that's built for function and longevity, and the two-piece configuration with hybrid custom gate equates to enhanced ergonomics and functional appeal. The simple, natural design is based on minimalist Bauhaus sensibilities. Oh, and it also doubles as a bottle opener. – Shop Now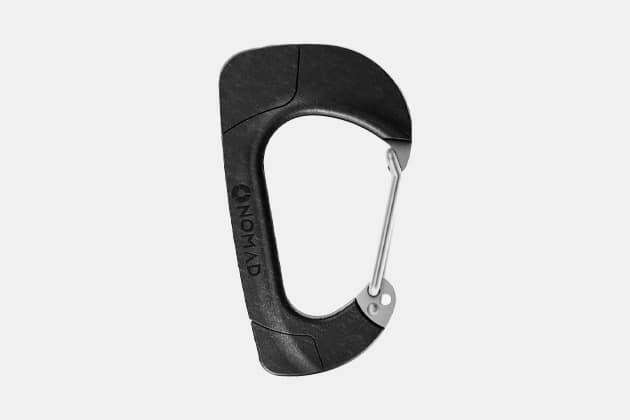 Nomad Carbon Carabiner
This may look like your run-of-the-mill carabiner, but on closer inspection you'll find an upgrade that truly earns your oohs and ahs. The carbon fiber body and reinforced steel frame is certainly designed to hold all the keychains you can fit, but the gasp-worthy addition comes when your pop out the top and bottom corners on the non-clip side to reveal a USB charging cable designed to deliver lighting charge capability for your smartphone (iPhone 5 through XS Max and 4th generation+ iPads). – Shop Now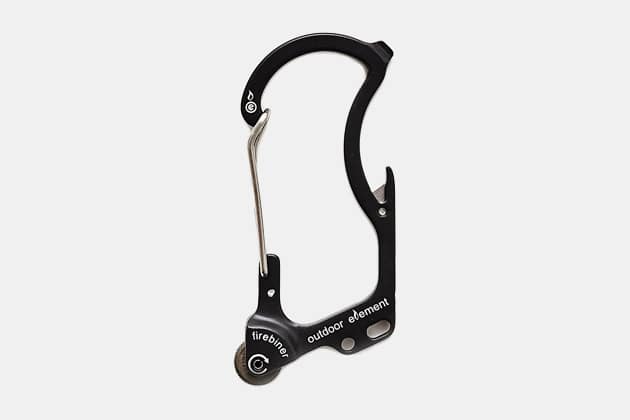 Outdoor Element Firebiner
The strange curvature of this carabiner will likely leave you scratching your head, but every part has a purpose. At 3×5.75 inches, it's not small, but that's all to your benefit, whether you're attaching scads of keys or utilizing the built-in screwdriver, utility blade (inset for safety), bottle opener, or Spark Wheel (patent pending) that gives this unique carabiner its name. No simple key-carrier, this cool carabiner will go from city to outdoor adventure, popping bottle caps on the fly and helping you light your grill or campfire whenever you forget the matches. – Shop Now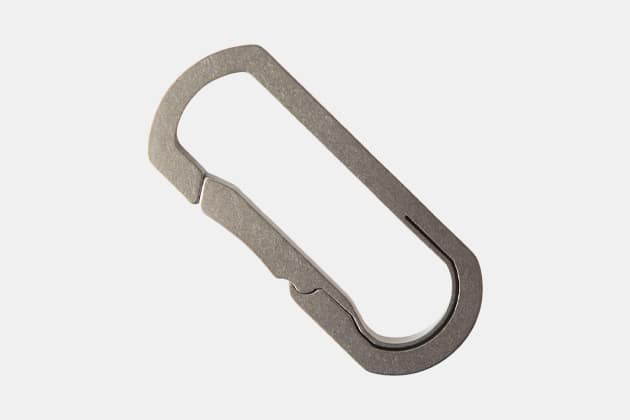 Handgrey Bauhaus K11 Carabiner & Bottle Opener
Another Bauhaus-inspired beauty from Handgrey, this Grade 5 Titanium carabiner couldn't get any simpler. It's a single, rectangular loop with rounded edges, measuring just 1×2 inches. Strong and durable, this carabiner actually claims to provide twice the strength and utility of your average carabiner. Considering the main function of a carabiner is to hold a person's weight while climbing a cliff face, that's a pretty bold claim. Plus, you'll find a built-in bottle opener when you push in the clip. – Shop Now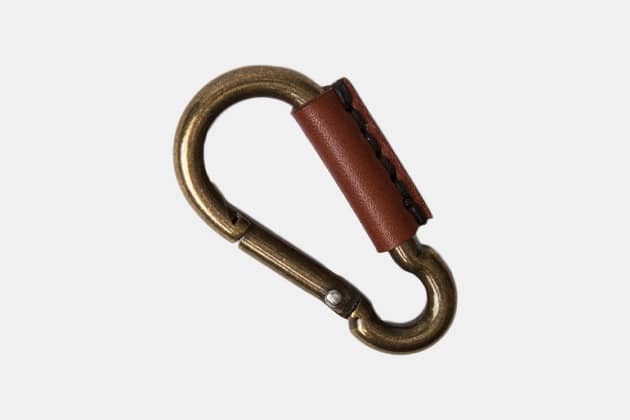 Todder Carabiner Keychain
Do you need a carabiner that looks like it came straight from an H.G. Wells or Lovecraftian steampunk masterpiece? This carabiner doesn't exactly embody the tentacled, cephalopod spirit of Cthulhu, but the solid brass design with a hand-stitched, edge-dyed, burgundy leather accent sleeve on the non-clip side certainly lends itself to steampunk sensibilities, as does the exaggerated, rounded, exclamation-point shape. If you're looking for a carabiner that truly stands out, this one is sure to catch the eyes of passersby when you clip it to your belt with a cadre of keys. – Shop Now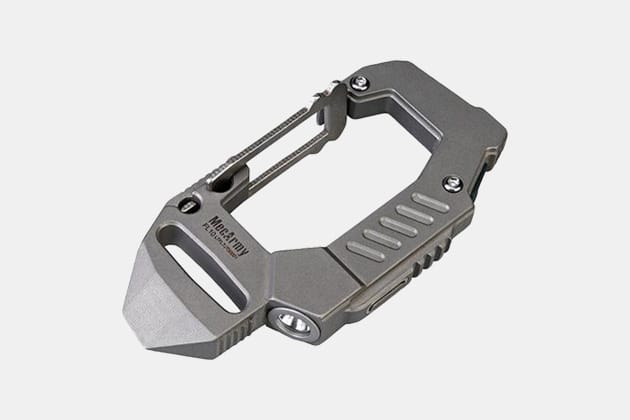 MecArmy FL10 Titanium EDC Carabiner
It's a carabiner. It's a flashlight. It's a prybar. There's no denying the multi-functional appeal that serves you just as well in an urban setting as a rural one. It definitely holds keys (but not people, so don't try repelling with it). It also has a CREE LED flashlight that delivers 360 lumens when you need to get in your front door in the dark or find the porta potties at your campsite, There is also a Micro USB charging port to keep your light bright, along with a pry bar, box opener, bottle opener, self-defense tool, and paracord attachment. – Shop Now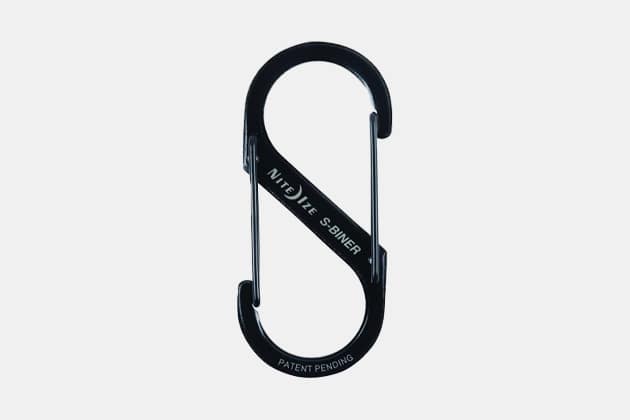 Nite Ize S-Biner Carabiner
As the name implies, this durable carabiner in stainless steel features an "S" design with two spring clips on opposing sides. Individual weight ratings vary by size (with five sizes available), ranging from 5-100 pounds, so if you're only using this carabiner for keys, the smallest size should work fine. If you want to tote a bit more weight or use it for tough jobs like lashing camping gear to your roof rack or hanging a gallon of paint to your ladder, a larger size is apropos. – Shop Now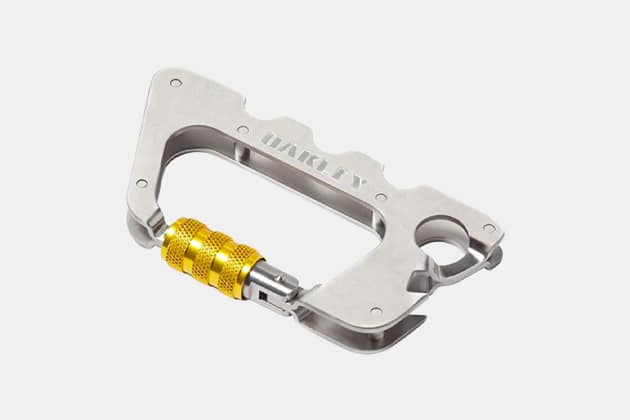 Oakley Metal Works Carabiner
This riveted, stainless steel carabiner (not intended for climbing) is on par for Oakley, pairing high function with eye-popping form. The body is big at roughly 5.7×3.6 inches and the forged gate with screw lock stands out against the silvery steel body with a bright gold hue. Then there's the price – a cool hundo. What will you get for the dough? Aside from the Oakley prestige, you'll enjoy a keychain eyelet, a bottle opener, and strength and function that means you can not only carry keys, but use this locking carabiner to secure a load of camping goodies atop your car. – Shop Now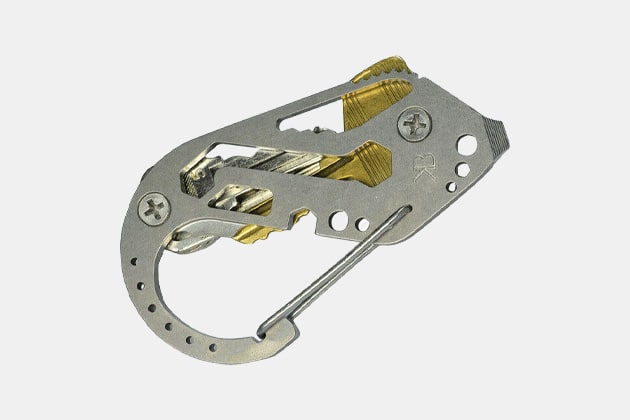 KeyBiner Carabiner
A multi-tool carabiner keychain might not be on everyone's EDC must list, but this handy accessory will surely make you wonder how you ever got by without it. There are multiple key ring holes to help you organize myriad keychains, but there's also a slot on the backside where you can slip in 1-2 essential keys, held in place by a screw that threads through the head of keys, for low-profile storage and simple, fan-out function when you need them. You'll also enjoy a slew of wrench sizes, a screwdriver/prybar/file, and of course, a bottle opener. – Shop Now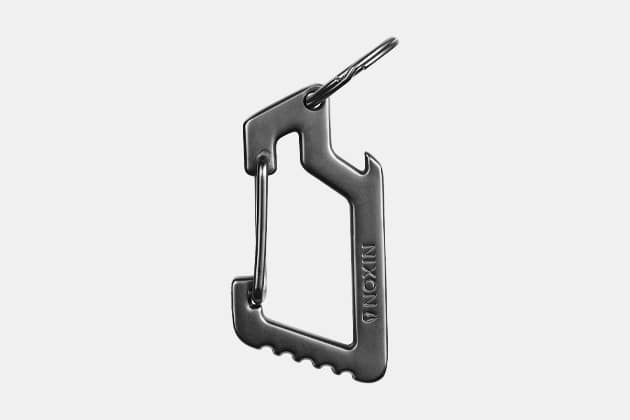 Nixon Anchor Carabiner Keychain
It doesn't get much simpler than this standard looking carabiner with a single spring clip, a single compartment, and an added keychain on the corner. The oxidized steel surface is an attractive gunmetal gray hue (although it's called "steel gray"), there's a bottle opening hook near the keychain, and the dimensions (approximately 1.5×2.5 inches) allow plenty of room for your house keys, car keys, work keys, bike keys, safe keys, and pretty much any other keys needed to unlock your life. – Shop Now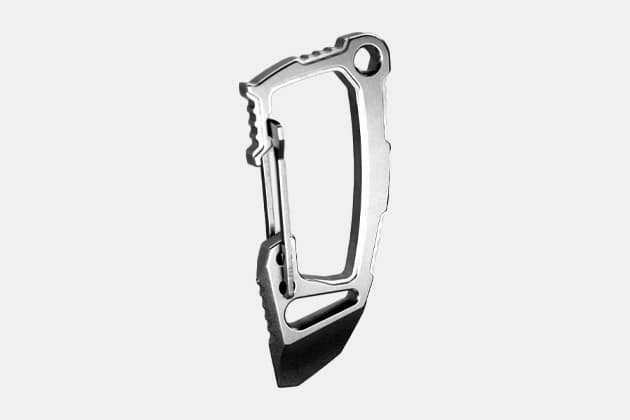 Halo Titanium Carabiner
This Grade 5 titanium carabiner offers incredible strength and durability with an ultimate tensile strength (UTS) rating of 138,000 psi, which is apparently double the strength of steel at half the product weight. Strategically placed jimping (ridges along the outer edges) is ergonomically designed to improve grip and this carabiner offers up tons of extras, including a bottle opener, a ¼-inch hex drive (that works with hex tools or doubles as a lanyard), and a box opener/tape cutter/chisel/prybar/scraper tool on the bottom edge. It also holds keys. – Shop Now