15 Keychain-Friendly Bottle Openers
There are many things around your bachelor pad or man cave that could more than likely open your next bottle of Newcastle — table, shelf, fork, ping pong table, etc. — but because damaging your own property is best left in the 80's, and because traditional bottle openers are much too large and cumbersome to carry around in a pocket all day, many EDC goers have turned to their keychains for carrying their bottle opener — along with much of the rest of their everyday carry gear.
A bottle opener has but one purpose — to open endless bottles of craft beer goodness. If it serves you any other purpose, then you're doing it wrong. However, that's not to include the highly-advanced keychain bottle opener multi-tool that offers a slew of other functions such as a screwdriver, knife, and, well, you get the idea. We've included more than several of those on our list too. After all, the more functionality a piece of everyday carry gear provides, the less you'll have to eventually carry in your pockets. For all of your beer bottle-opening needs this weekend and the next, here is our list of the 15 best keychain bottle openers to add to your existing keychain right now.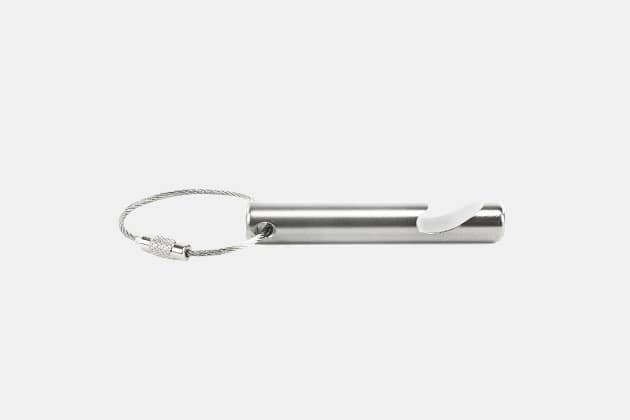 Ballard Bottle Opener
We remember our younger days cracking open endless bottles of cheap beer with just about anything within arm's reach that wasn't an actual bottle opener. And then we became men and realized that for every job both small and large, there exists a tool to complete said job.
For those looking for a TSA-friendly bottle opener to add to their current keychain (we're not really sure which bottle openers on this list are TSA-approved), the Ballard Bottle Opener is a good place to start. It's made from rugged stainless steel, weighs only 6 ounces, and more than likely won't get you banned from your next flight to nowhere important. It'll also come in handy as you kill a six pack of cheap imported beer before you board that flight. – Buy It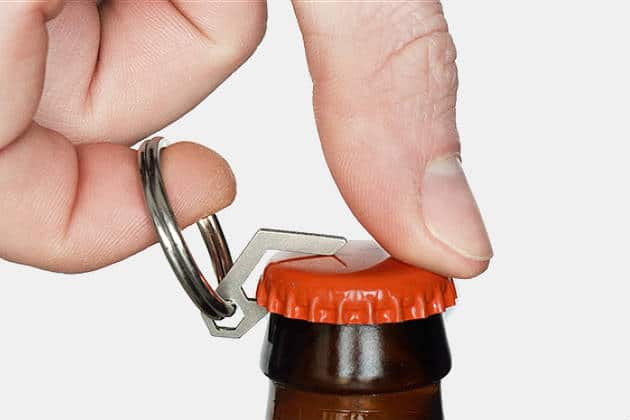 Pico Keychain Bottle Opener
Its not the size of the bottle opener that counts, its how well it provides you access to the latest 12-pack of craft beer residing in your basement fridge. Easily on of the smallest bottle openers out there is the Pico Micro Keychain Bottle Opener. Measuring in at smaller than a quarter, the Pico is made from lightweight yet rugged .100 inch stonewashed titanium and comes with a keyring for harnessing plenty of bottle-opening leverage during intense drinking sessions. – Buy It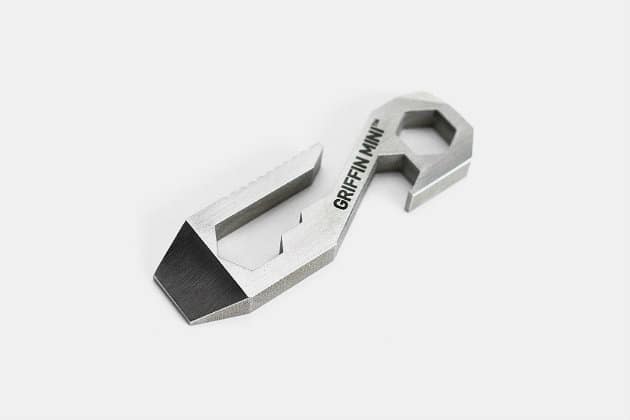 Griffin Pocket Tool Mini
The Griffin Pocket Tool Mini opens bottles, that you are well aware of. But thanks to a variety of built-in EDC tools, its also a very valuable edition to your existing keychain. Along with bottle-opening duties, the Griffin Pocket Tool Mini adds to your keychain a scoring tool, a pocket clip, a 1/4-inch bit driver, a prying tool that doubles as a flathead screwdriver, and an assortment of standard size wrenches. – Buy It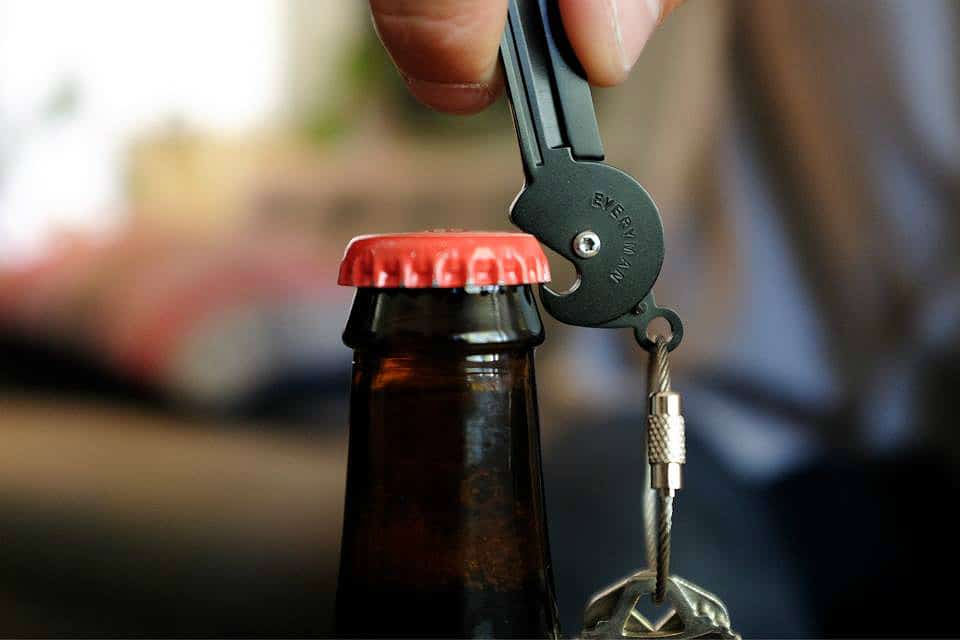 Porter Key Knife
A fan favorite among many in the everyday carry community, The Porter Key Knife is a keychain-friendly utility folding knife with a built-in bottle opener. It is a worthy addition to any everyday carry collection, essentially replacing both your bulky EDC knife and bottle opener in one fell swoop while integrating easily into your current keychain setup. – Buy It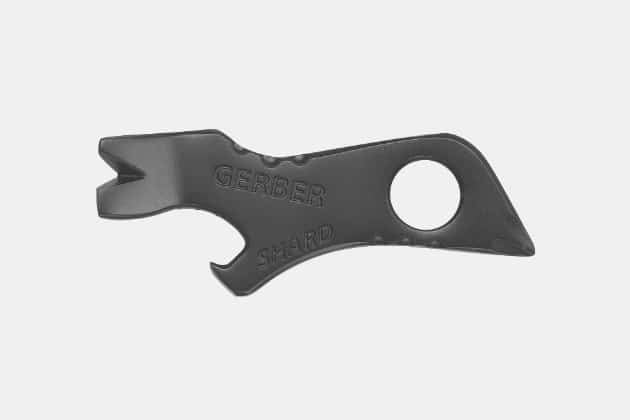 Gerber Shard Keychain Tool
The Gerber Shard Keychain Tool is neither big nor flashy, yet provides you with everything you may need in a pinch: two flathead screwdrivers, a cross driver, pry bar, wire strippers, and, most importantly, a bottle opener. It sports a unique, keychain-friendly design, is crafted from titanium-coated stainless steel and will easily open any bottle you present to it without fail. – Buy It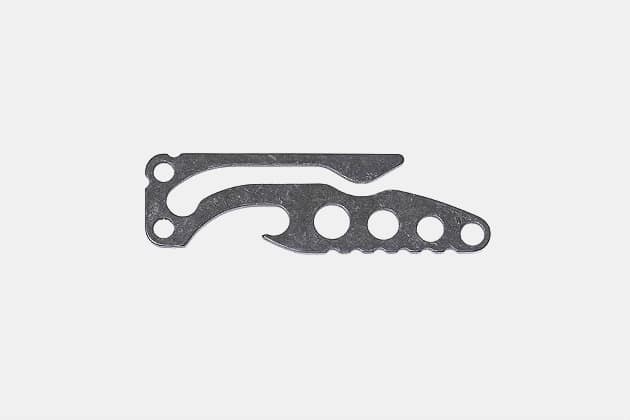 Pickpocket Alpha Multi-Tool
For some, opening a cold bottle of beer on the fly has become somewhat of a daily routine, which is what makes the Pickpocket such a necessary keychain tool. It features a strong, titanium construction and boasts a small enough stature to fit easily on your already-crowded keychain setup. On the opposite side of the Pickpocket's bottle opener is a built-in pocket clip for attaching it to your belt or pocket, allowing for even quicker access to your bottle-opener. The result is more bottles of craft beer opened in less time, and an enjoyable experience for everyone involved. – Buy It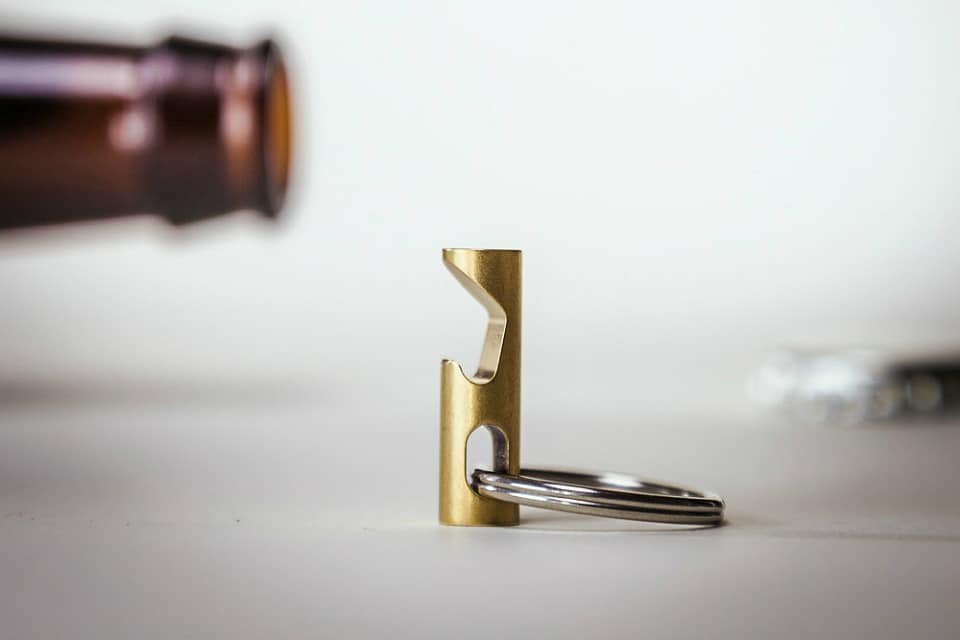 Future Relic EDC Keychain Bottle Opener
Most EDC enthusiasts would agree that a bottle opener is not a necessary addition to one's everyday carry. We tend to disagree, as a bottle opener becomes more important for those whose daily alcohol consumption requires it. A convenient one to carry — thanks to it's compact size and keychain-friendly design — is this EDC Keychain Bottle Opener by Future Relic. Each one is CNC machined from solid naval brass, measures in at only 1.25 inches long, and includes an integrated stainless steel keychain ring that doubles as a handle when popping tops on your favorite brew. – Buy It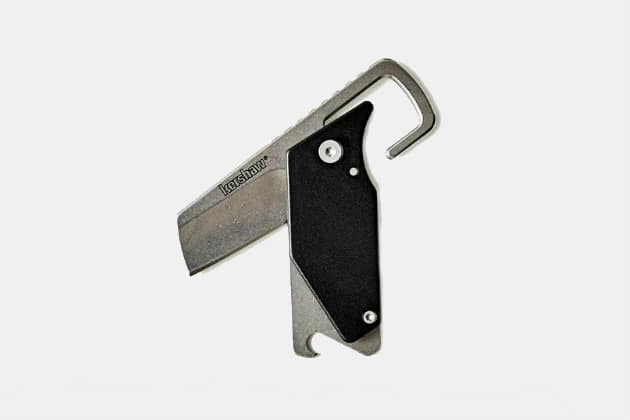 Kershaw Pub Knife
A knife needn't be a full size one to adequately tackle your everyday cutting chores, especially when those chores involve opening packages, tightening a few screws, and popping the tops on a fresh six-pack of your favorite craft beer. For those tasks and more, the Kershaw Pub Knife has you covered.
This well-built keychain folding knife measures just over 3 inches when closed and, thanks to a minute yet capable stonewashed steel blade, leaves no cut unfinished. What really sets this keychain-sized knife apart from any other pocket knife — or bottle opener for that matter — is its versatility. A built-in key loop allows for seamless keychain integration, while a slotted screwdriver tip, a pry bar, and a bottle opener all reside on the bottom end — ready to start the party at a moment's notice. – Buy It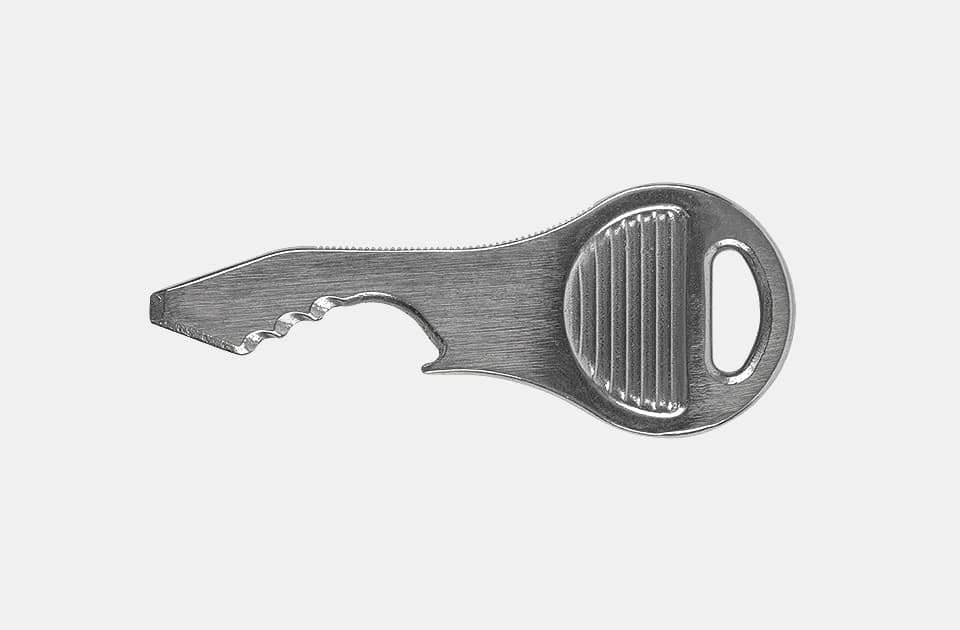 QuicKey Keychain Tool
No bigger than a house key, the Quickey is as simple as it is a clever way to carry bottle-opening capabilities on your keychain. Its a stainless steel multi-tool that will blend in seamlessly with your existing key ring while vastly improving the functionality of your everyday carry thanks to a built-in file, an integrated bottle opener, a serrated edge, a scoring point, and a #2 flat head screwdriver. – Buy It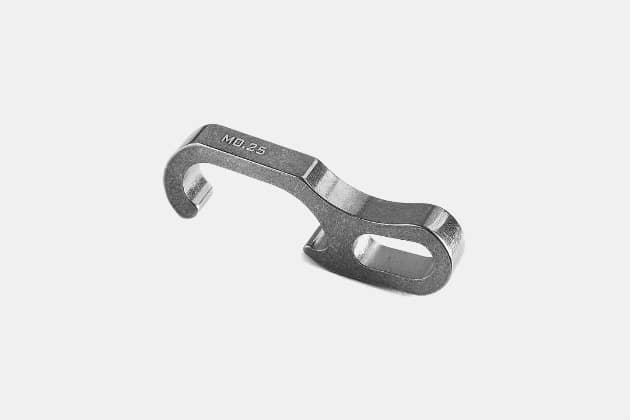 Handgrey Bauhaus Mo.25 Titanium Bottle Opener
Handgrey makes fantastic use of titanium when crafting their line of Bauhaus carabiners high functioning carabiners, custom cut from titanium alloys. But perhaps most relevant to this list is their Bauhaus Mo.25 Bottle Opener. Just like their highly-functional carabiners, the Mo.25 is crafted from lightweight, grade 5 titanium and, thanks to a length of only 1.35 inches, it won't take up too much of your keychain real estate. – Buy It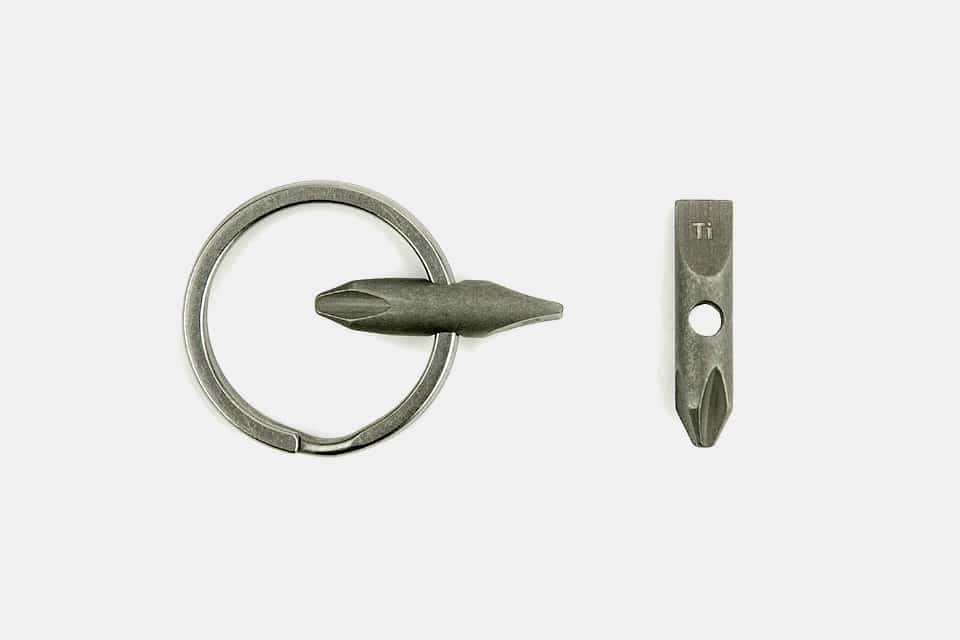 Titanium Pocket Bit
Never underestimate the pure functionality of a piece of EDC equipment simply because of its compact size. Especially the Titanium Pocket Bit by Big Idea Design. Roughly the width of a standard house key and weighing in at a mere 4.2 ounces, the Titanium Pocket Bit is small, lightweight, keychain friendly, and a worthy addition to your current bottle opener collection.
Available in a hex or round body, each Titanium Pocket Bit is built from grade 5 titanium alloy and features a 6mm flat head on one side and a #2 Phillips head on the other that work in conjunction with the included titanium key ring to loosen and tighten screws or pry open boxes. And yeah, it also pops open bottles of Newcastle at a moment's notice. We couldn't ask much more from it. – Buy It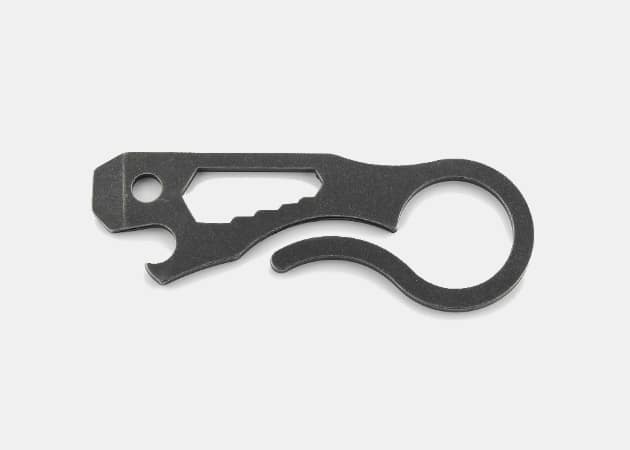 CRKT Viva Pocket Multi-Tool
The day you start attaching a bottle opener and other tools to your keychain, make sure their small, lightweight, and practical. Otherwise, you end up with a heaping wad of metal and empty pockets. A great place to start minimizing your EDC is with the CRKT Viva Pocket Multi-Tool.
Built from stonewashed 3cr13 stainless steel, the Viva Multi-Tool measures in at only 4 inches and features an assortment of built-in tools including a flathead screwdriver that doubles as a pry bar, 5 different sized hex wrenches, and a handy bottle opener. Carry it in your pocket, on your belt, or attach it to your keychain via an integrated key ring and start popping bottles like no ones business at your next shindig. – Buy It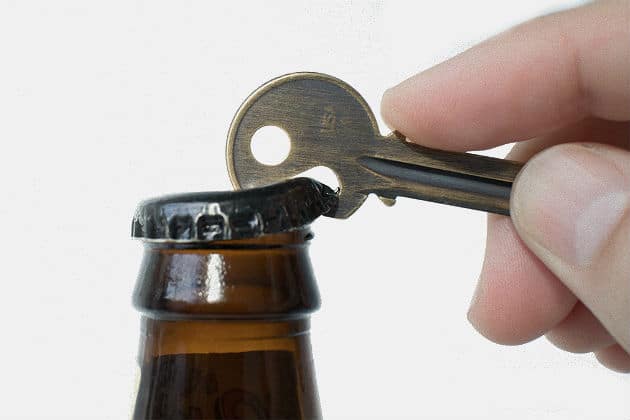 Makr Bottle Key
There's no better way to keep your load light that carrying a key that looks like a key, that's not really a key, and that has one single purpose — opening bottles. Made from antique brass, Makr Bottle Key blends in seamlessly with your other keys, rendering you the go-to-guy when the clock hits 5. – Buy It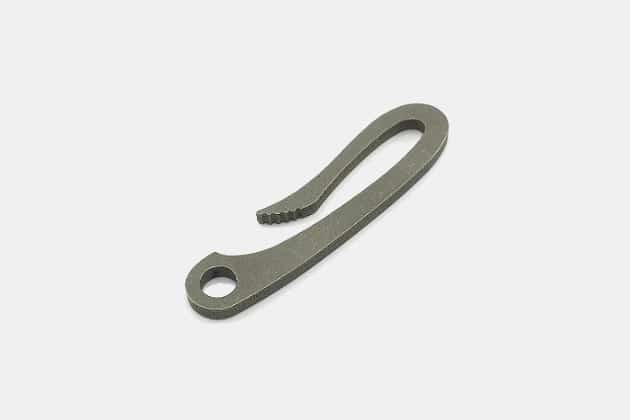 Scout Hook Keychain Bottle Opener
Inspired by the Japanese brass fishhook, the Scout Hook was designed first and foremost as a keychain bottle opener. The rest of it's design allows it to be attached to said keychain, or onto your belt loop for quicker access. – Buy It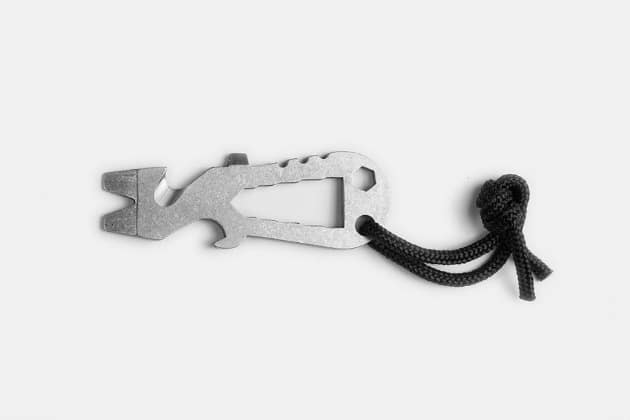 Schrade Titanium EDC Pry Tool
The basic concept followed when designing the Schrade Titanium EDC Pry Tool is "carry less, do more." And with a slew of integrated tools on board — a seatbelt cutter, bottle opener, flat head screwdriver, pry tip, scraper end and wrench driver — you'll be doing plenty of work with the bare minimum amount of metal to carry around. Its 6AL-4V titanium construction renders it light enough to carry along next to your keys most of the day, and strong enough to open the amount of beer bottles it would take to keep you inebriated well into Sunday. – Buy It
Disclosure: Clicking on these links and making a purchase may earn us a small referral fee, at no extra cost to you. Learn more here.
freestar.config.enabled_slots.push({ placementName: "gearmoose_leaderboard_btf", slotId: "gearmoose_leaderboard_btf" });