Ask any person to empty their pockets and you'll likely find a slim wallet, an EDC Knife, and, most recently, some type of smartphone. Despite the rise of technology — most notably smartphones — an EDC pen still remains one of the most versatile staples in an EDC kit.
Not only is taking notes by hand still faster than opening your phone, finding the proper app, and typing away on a virtual keyboard that is much too small for your fingers, an EDC pen is also much more reliable and will allow you to write down phone numbers, ideas, lists, and notes long after your smartphone's battery has bitten the dust. An everyday carry pen — if taken well care of — will also outlast any smartphone on the market today, will never become outdated, and will never stop working if not eventually connected to a power source.
The best EDC pen, by design, can also serve as your last line of defense should your attacker find you unarmed and unprepared. For those looking to include this field-tested staple in their current everyday carry ensemble, we've curated this list of the best EDC pens, in no particular order.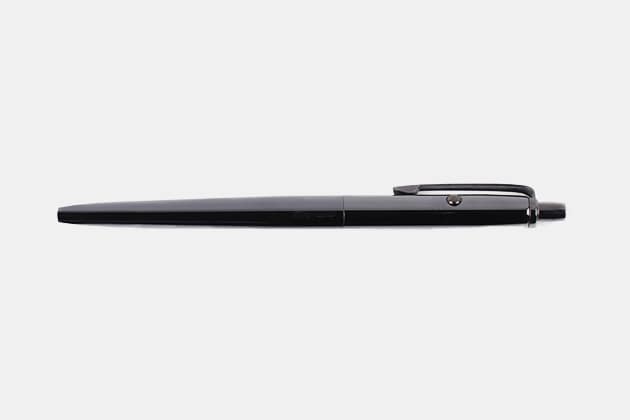 Fisher AG7 Astronaut Space Pen
If NASA considers a pen worthy enough for space travel, then we feel obliged to include it on this list. Originally used on the 1968 Apollo 7 space mission and on board every space mission since then, the Fisher AG7 Astronaut Space Pen will no doubt stand up to the harshest of everyday carry elements and surely write when you need it to write. The deets? Its made from brass in the USA and finished in black titanium nitride, includes a Fisher PR4 pressurized ink cartridge that will write in zero gravity, under water, or upside down, and comes with an unconditional lifetime guarantee. Making this your next EDC pen is a no-brainer. – Shop Now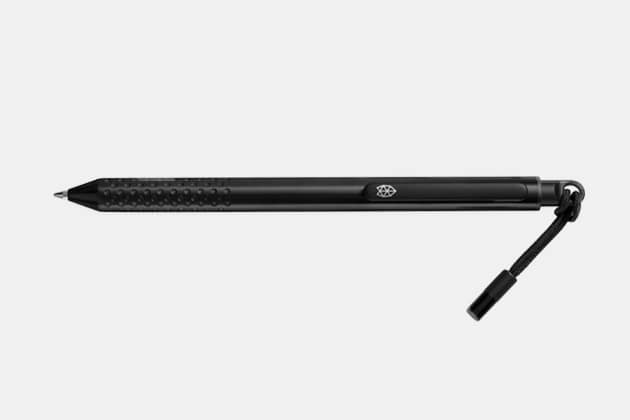 The James Brand Benton Pen
From the same brand that brought us other minimal yet functional everyday carry essentials such as the ultra sleek Chapter Knife, the Halifax keychain tool, and the Mehlville Carabiner comes the Benton Pen — an EDC-ready pen built from 304 stainless steel. Details matter, and this pen has plenty of them, such as a Schmidt 900 refillable ink cartridge, a laser-etched grip pattern, and a handy lanyard loop integrated into the design for keeping it close at hand when not in use. – Shop Now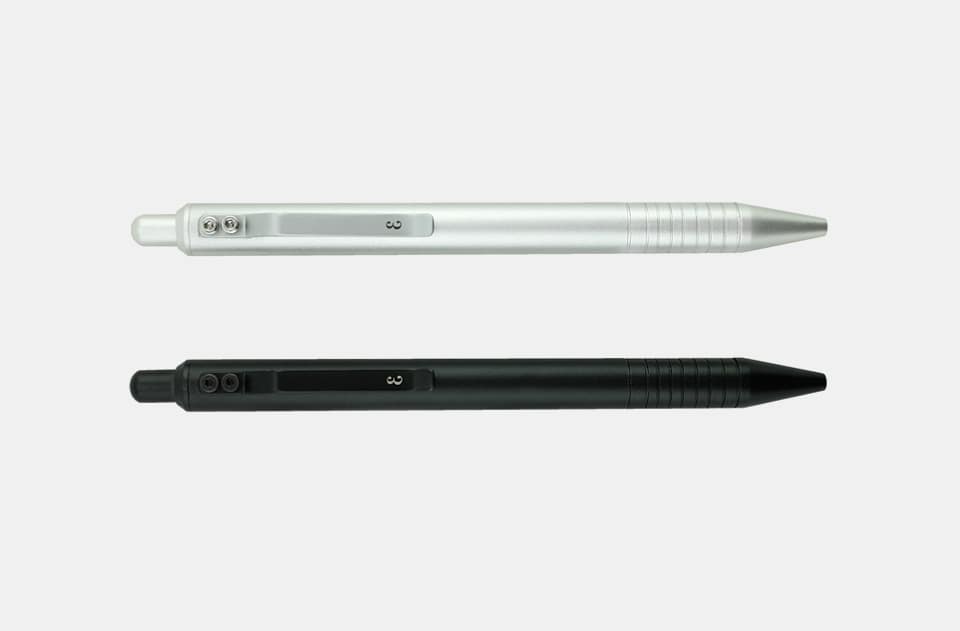 Grafton EDC Pen
The main goal of Everyman when designing the Grafton EDC Pen was to improve upon the flaws that already exist with current selection of EDC pens. To accomplish this task, the pen was first crafted from 100% anodized aluminum instead of plastic, and then outfitted with a heavy duty bolt-on brass clip, a better-functioning clicking mechanism, and an improved grip. It's built to last a lifetime, and, thanks to some included hardware, is compatible with both Pilot G2 and Fisher Space Pen refills so you'll never be short on ink. – Shop Now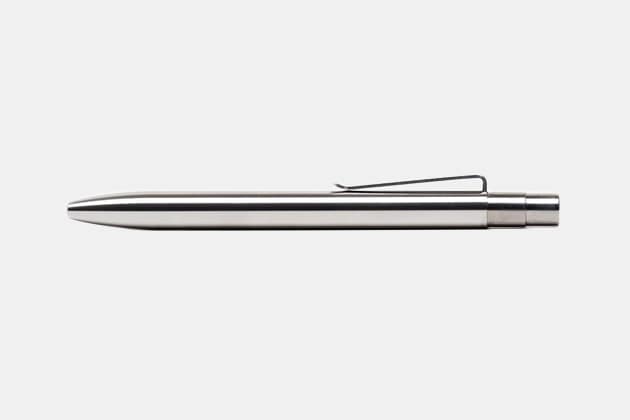 Tactile Turn Mover Pen
This classic, click action pen is simple, functional, and very handsome – three things you'll definitely want from a high end writing implement. It's also lightweight and won't weigh down your shirt pocket while stowed away in between the day's business meetings. The pen itself is machined completely from titanium for lightweight durability over the long haul, and includes a machined groove grip for a superior grip while writing and compatibility with the Pilot G2 ink cartridge should that be your ink of choice. Finally, as previously stated, the metal click mechanism is smooth and satisfying enough to make it your go-to EDC pen this season. – Shop Now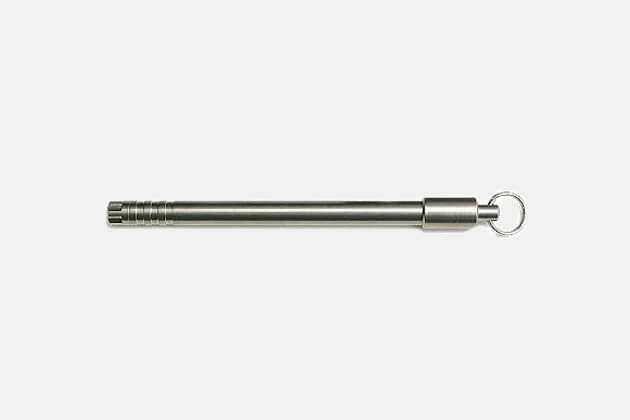 PicoPen
Made from durable stainless steel, the PicoPen attaches seamlessly to your keychain or backpack via the integrated key ring, while the pen's cap securely snaps in place by a magnet. To take the guesswork out of refilling it's ink supply, each PicoPen is compatible with Zebra F Pen ink refills and weighs a mere half of an ounce — which is just light enough to forget you're carrying it until you need it. – Shop Now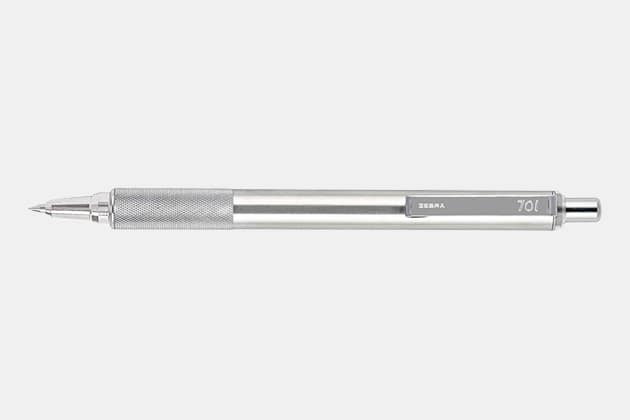 Zebra F-701
You typically get what you pay for when it comes to your everyday carry, but sometimes coveted items can be had for just a few bucks (the Gerber Shard, for example) such as the Zebra F-701. This stainless steel pen has been a staple in EDC kits for many years and features a minimalist all-metal design, an easy-to-hold knurled grip, an integrated pocket clip, an easy-glide ink cartridge for smooth writing, and a retractable tip. Buy it once and it will last for decades. – Shop Now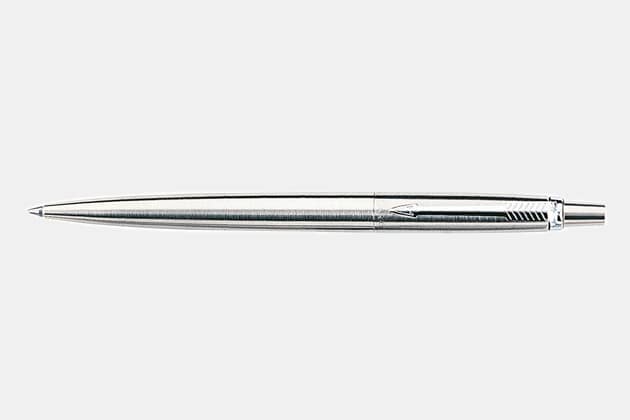 Parker Jotter Pen
Some EDC pens are visually-pleasing but not very functional. This is not one of those types of pens. It pairs exceptional functionality with a simple, minimalist design that's comfortable, durable, and easy to write with. An stainless steel barrel keeps the overall maintenance low, while a two-ball design reduces friction during writing, thus allowing for smoother everyday writing experience. And at a relatively low price point, losing it and then replacing it wouldn't break your bank account. – Shop Now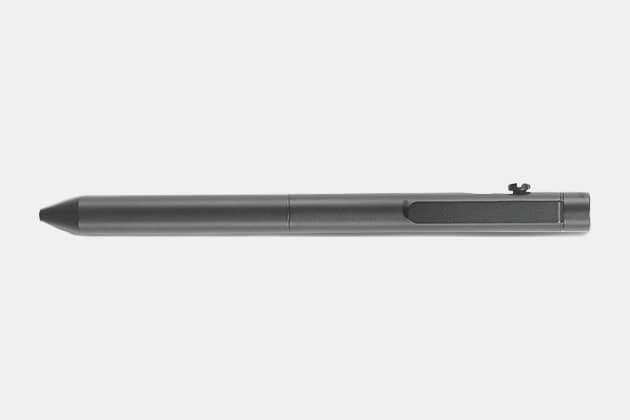 Inventery Bolt Action Pen
Inventery is a Los Angeles-based creative house that specializes in producing fine writing implements machined from raw metal stock. And there is no doubt that their lightweight Bolt Action model is no doubt one of the best EDC pens you can spend your money on. A solid brass construction with a black oxide finish, a smooth, high-speed bolt-action mechanism, and a G2 refillable ink cartridge all ensure a good writing experience, while a removable pocket clip keeps it neatly attache to yourself or your notebook until needed. – Shop Now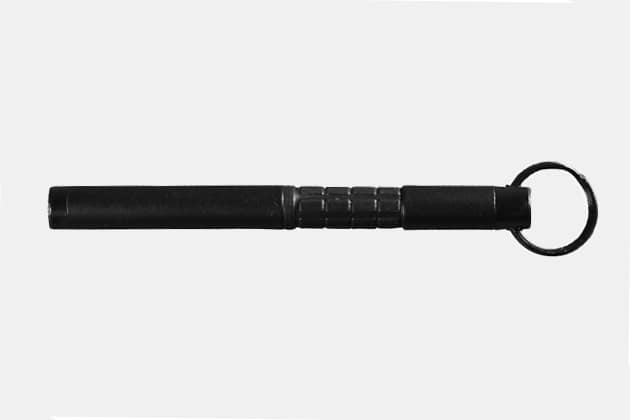 Rite In The Rain Trekker Pen
No force of nature can stop Rite In the Rain's All Weather Trekker Pen from jotting down your field notes, ideas, or stories. This tough EDC pen writes upside down, in the rain, in scorching temperatures up to 250 degrees fahrenheit, and in freezing temperatures as cold as -30 degrees Fahrenheit all without breaking a sweat — or the bank. – Shop Now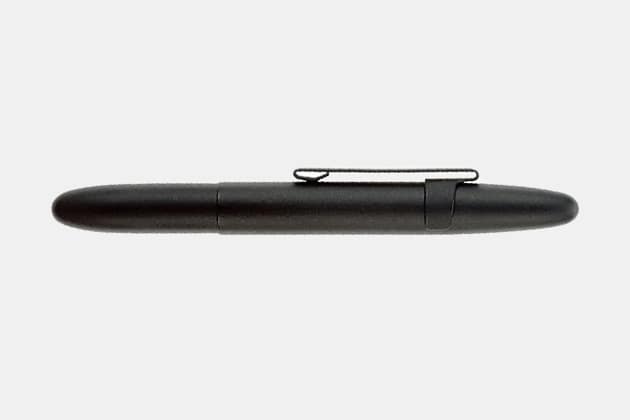 Fisher Space Bullet Pen
Originally designed by Paul Fisher for NASA for it's ability to write in all conditions, the Fisher Bullet Space Pen writes upside down, under water, in zero gravity, and in temperatures ranging from -30 to 250 degrees fahrenheit. It's all brass construction is finished in matte black, perfectly balanced, and fits easily in your pocket for seamless everyday carry. – Shop Now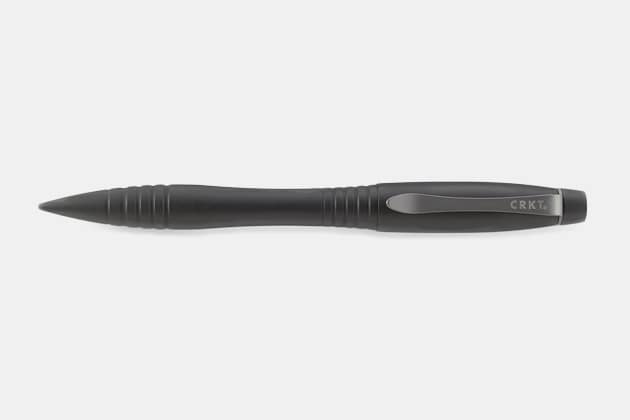 CRKT Williams Tactical Pen
Some EDC pens are just for jotting down notes and ideas, while others, like the Williams Pen from CRKT, were designed as also an unlikely self defense tool. The Williams Tactical Pen was designed by former Army officer and martial arts instructor James Williams and boasts a clean and minimal design. Its a trauma-inducing chunk of anodized aluminum that can help in fending off an attacker and making an escape. The best part about this pen is that it's design is far from aggressive, and appears to be nothing more than a normal everyday carry pen. The key to good self-defense is being prepared without announcing to the world that you are, and the Williams Tactical Pen does just that. – Shop Now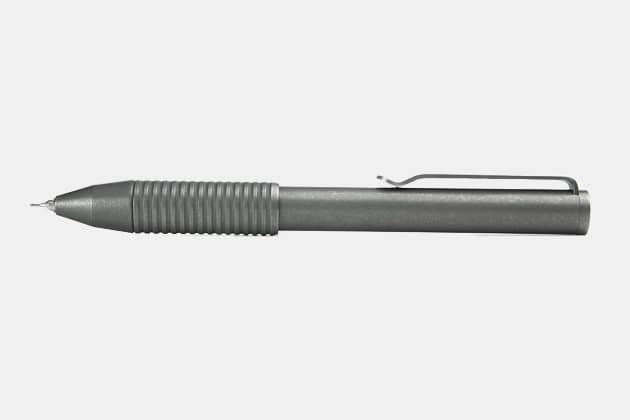 Big Idea Design Titanium Pocket Pro Pen
Instead of a click mechanism or a cap, you twist to open this pen. With a smooth twist action mechanism that employs industrial-grade silicone rings and grade 5 titanium throughout this pen will be with you until the end of your long and lustrous career, and then some. Even more impressive is the auto adjusting feature that makes this pen compatible with 80 different refills — long, short, Parker ballpoints, standard rollerballs. Choose the Ti Pocket Pro as your next everyday carry writing tool and it will eventually pay for itself. – Shop Now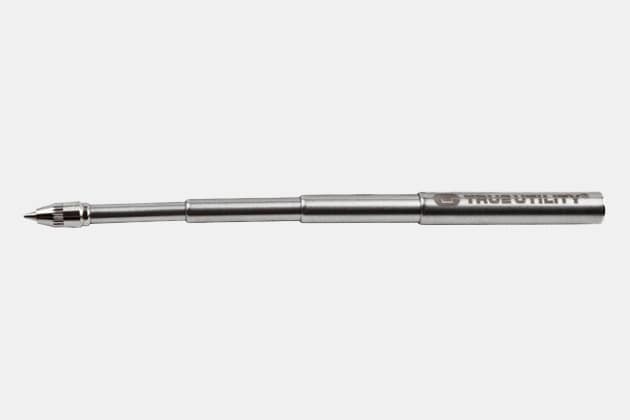 True Utility Telepen Telescopic Pen
Measuring in at less than two inches, this keychain-friendly EDC pen expands to nearly the length of a standard-sized pen when the time comes to jot information down. A bit gimmicky? Perhaps. But despite the pen's durable stainless steel construction, it weighs less than an ounce which means you'll forget you're even carrying it until you need it. We say try it for yourself. Its under ten bucks, so it won't set you back much to give it a shot in your EDC lineup.- Shop Now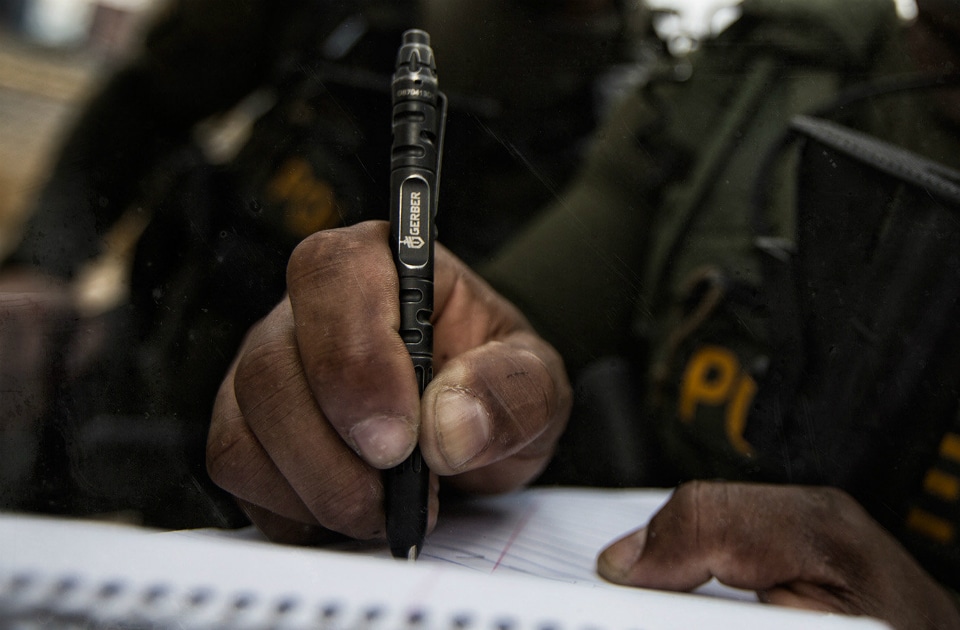 Gerber Impromptu Tactical Pen
Nothing says you're serious about your everyday carry like carrying a chunk of metal. The Impromptu Tactical Pen is the result of Gerber's collaboration with law enforcement officers to develop a multi use, all-conditions ballpoint pen that incorporates the advice, "The most important tool you can carry is the item that happens to be in your hand."
Its crafted from machined steel and features a tempered steel tip that not only shatters windows with ease, but can also be used as a self defense weapon when the need arises. A simple, reliable push button mechanism reveals an ink cartridge that can effectively write in all positions and in wet or dry weather. And at 5.59 inches, it fits comfortably in your pocket and stays put with a stainless steel pocket clip, letting you retrieve it with ease when you need it the most. – Shop Now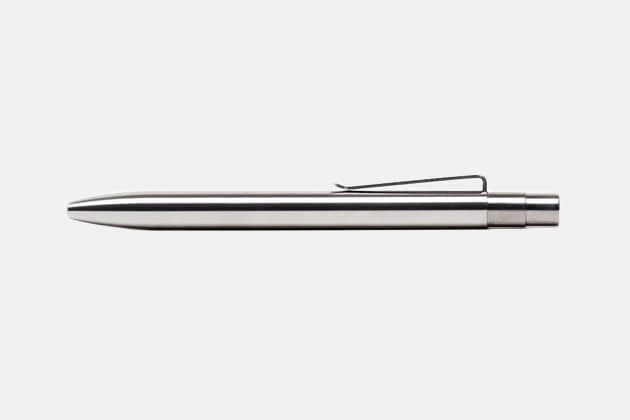 Tactile Turn Shaker Pen
There's more to the Shaker Pen than meets the eye, things that can only be appreciated by actually holding this pen in your hand and putting it to use. It's perfectly-balanced, symmetrical body machined from durable stainless steel and it's smooth click mechanism will leave you wanting for nothing else. The attached stainless steel pocket clip is merely a bonus. – Shop Now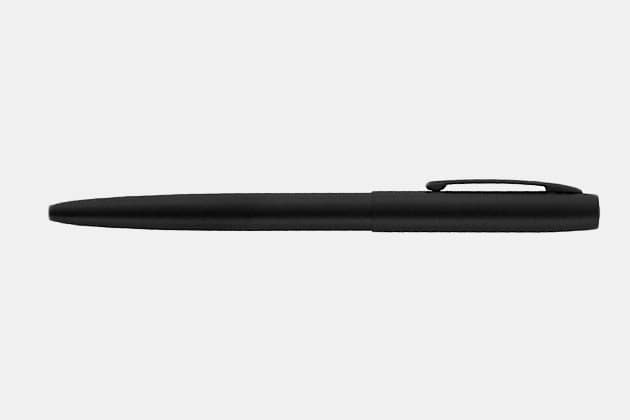 Fisher Space M4B Pen
For a little over $15, you could buy a pen that writes upside down, through grease stains, and much longer than any other EDC pen. With the Fisher M4B Space Pen, that's exactly the sort of versatile everyday carry pen you're getting — and it's quite a lot for its slim profile and clean design. The M4B writes four times longer than the average pen which means you'll no doubt get a lot of use out of it. And its clean design and sleek black colorway are underrated design touches that ensure it should have a home at your desk — at home, at the office, or both. For under 20 bucks there's probably not a better pen available for purchase. – Shop Now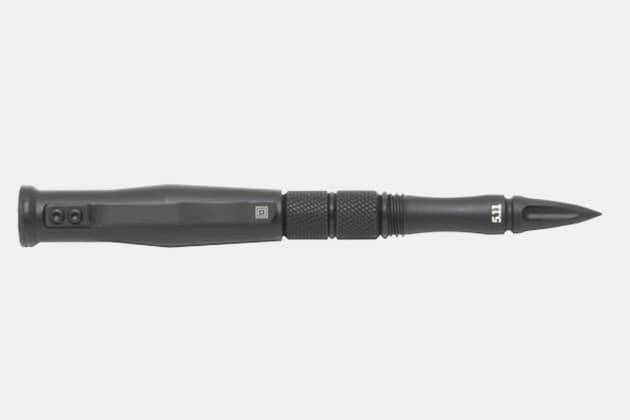 5.11 Double Duty Pen 1.5
While the 5.11 Double Duty Tactical 1.5 Pen doesn't open handcuffs or feature a variety of tools, it makes for a pretty capable tactical pen — and EDC pen for that matter. The Double Duty 1.5 tactical pen features a machined aerospace grade aluminum construction with a matte black finish, a knurled grip for better handling while taking notes, and a sharp, pointed end for impaling your would-be attacker should you find yourself without any other weapon. When used correctly, the pen truly is mightier than the sword. – Shop Now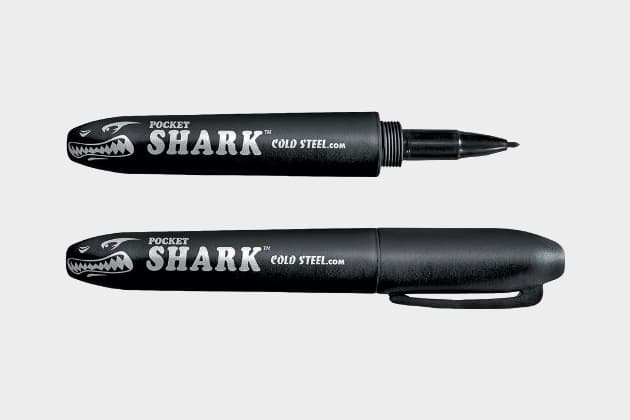 Cold Steel Pocket Shark
Although not quite a pen by normal standards, the Cold Steel Pocket Shark sure writes like one and is an EDC-worthy instrument nonetheless. Its a fine tip permanent marker with a black grivory construction and walls that are four times thicker than typical markers, giving it a greater impact in self defense situations as well as the tactical charm we're consistently looking for in an EDC pen. – Shop Now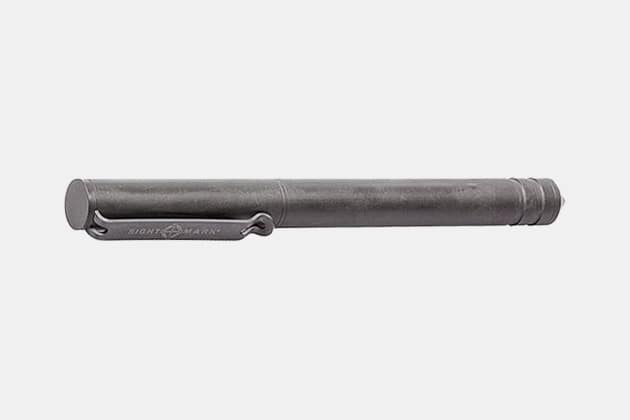 Sightmark SM93000 Tactical Titanium Pen
Optics and accessories maker Sightmark provides a good balance of sleek design and everyday functionality with their SM93000 Titanium Pen. An adjustable tube is compatible with multiple sizes of ink refills while an integrated glass breaking tip ensures no pane of glass will stand in your way of freedom. Rescue yourself or others from a sinking vehicle, and then document the incident afterwards with it. The all-titanium body and clip are both lightweight and durable, meaning you won't have to pick another one up for a good long while. – Shop Now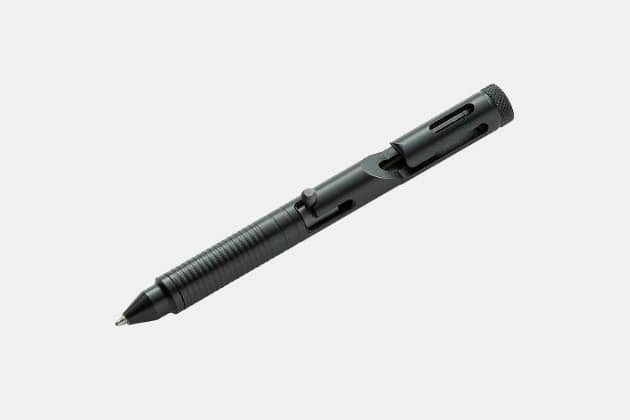 Boker Plus Bolt Action Tactical Pen
If you're stuck in the office 12 hours a day, The Bolt Action Pen by Boker Plus may provide some mild entertainment for you while you sift through paperwork or sit through meetings. It features a unique bolt action mechanism for opening and closing the tip, and a clip for securing to your shirt or pocket. The body is constructed of anodized milled aluminum, giving it a smooth finish and durable exterior. – Shop Now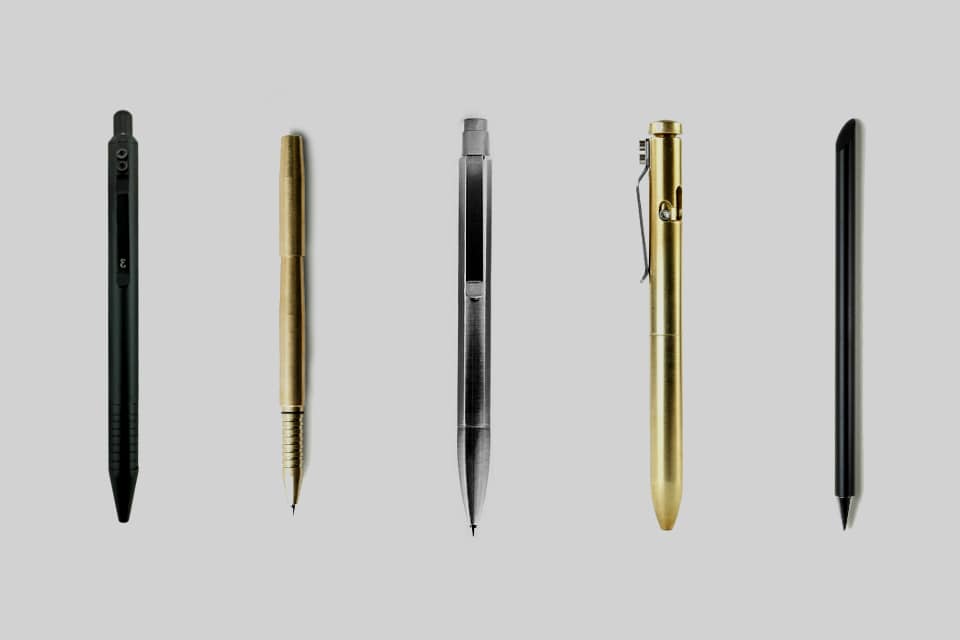 Disclosure: Clicking on these links and making a purchase may earn us a small referral fee, at no extra cost to you. Learn more here.
freestar.config.enabled_slots.push({ placementName: "gearmoose_leaderboard_btf", slotId: "gearmoose_leaderboard_btf" });