10 Best EDC Pens Under $20
I know what you're thinking.  Who would spend twenty bucks on a pen when you can get a box of Bics for ten?  Before you scoff at a decent EDC pen, think of all the times you've cursed a cheap one as you scribbled spotty circles, trying to dislodge the dregs of crusty ink to sign a credit card receipt or a last-minute birthday card.
Most of the time, you won't give EDC pens a second thought, but when you have one that consistently works when you need it, you'll be glad you spent a few extra bucks for quality craftsmanship.  In truth, you needn't blow the budget to get a decent pen.  You can find solid and even incredibly attractive and utilitarian products for twenty bucks or less.
You probably drop a Jackson (or more) at Starbucks on a weekly basis.  Forego the burned beans for a day or two and really get your money's worth with one of these versatile EDC pens for under $20.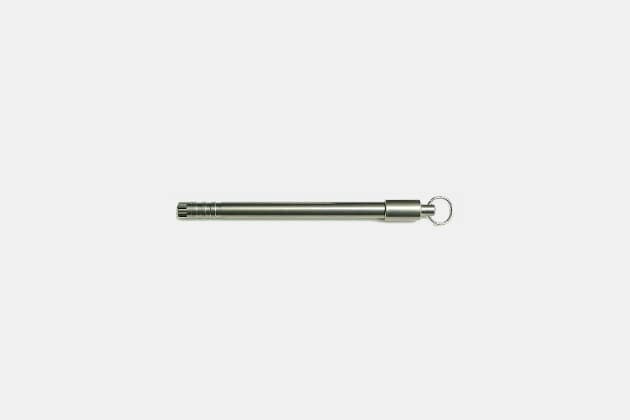 PicoPen
EDC demands convenience and portability, and the diminutive PicoPen delivers on both scores.  At just 3.25 inches and half an ounce in weight, you'll easily forget you're toting this tiny pen.  It's a good thing, then, that it attaches to your keychain so you won't accidentally leave it your pocket and run it through the wash.  A common refill cartridge makes it easy to reload, and durable, stainless steel construction ensures longevity.  A magnetic cap allows for convenient unclipping whenever you need to scribble your John Hancock. And at just under $20, you can't beat it as a front line EDC pen. – Shop Now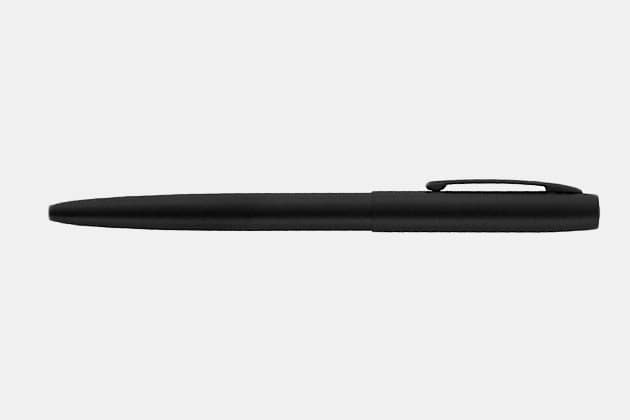 Fisher M4B Space Pen
This unassuming black EDC pen doesn't look special, so you might not realize that it writes at any angle, even in zero gravity, and that it works in temperatures ranging from -30°F to 250°F.  This is due to hermetically sealed ink cartridges pressurized with nitrogen gas.  It also features a tungsten carbide ballpoint tip (the same stuff used in armor-piercing ammo).  What does all this fancy tech mean?  Your pen takes a licking and keeps on Bic-ing.  Not that you'll need it, but there's also an unconditional lifetime guarantee. – Shop Now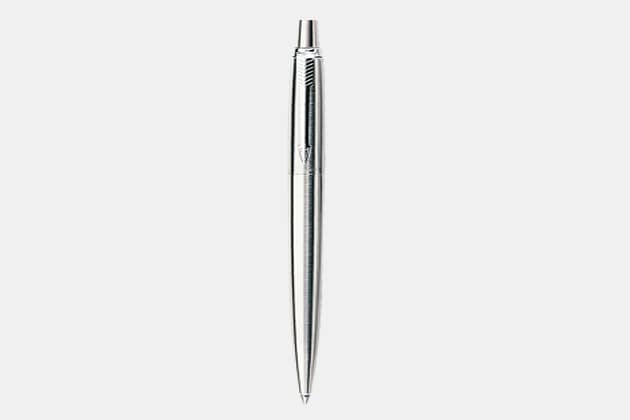 Parker Jotter Pen
Some EDC pens are visually-pleasing but not very functional.  This is not one of those pens.  It pairs exceptional functionality with a simple, streamlined form that's comfortable, durable, and beautiful to behold.  The iconic presentation is apropos for board rooms, but it also offers stylish, retro appeal for the average man on the street thanks to myriad options for color and pattern combinations in a stainless steel body.  A two-year warranty guards against defects in materials or workmanship. – Shop Now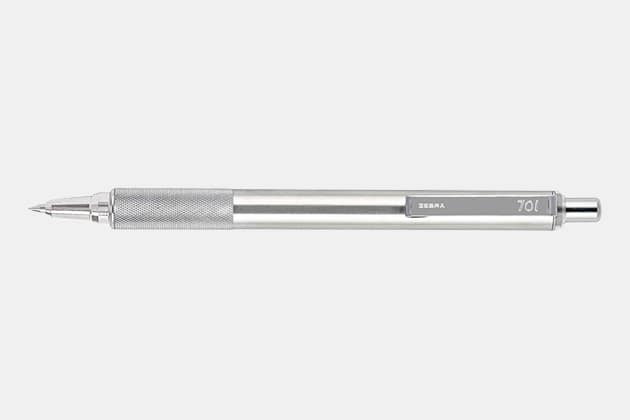 Zebra F-701
Zebra touts this retractable ballpoint pen as a "premium writing experience" in stainless steel from "tip to clip".  It may sound too good to be true, but the proof is in the pudding.  The knurled grip eliminates slippage while writing, the retraction plunger offers silent and unobtrusive function, and easy glide ink performance delivers a smooth stroke.  It may seem strange that the only option for ink is black, but really, what else do you need? – Shop Now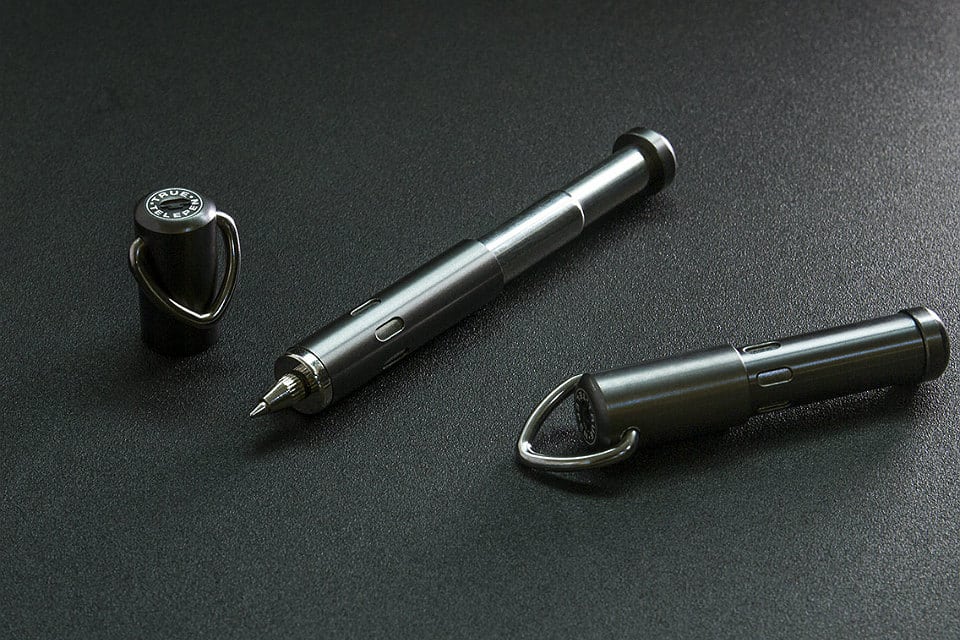 True Utility Telescopic Pen
When stowed and attached to your keychain, this compact, portable pen is just under two inches long (about the length of a key).  When you pop the quick pull release mechanism, the telescoping feature smoothly extends it to more than doubles the length – about 4.5 inches – for easy writing capability.  Styled in stainless steel, it's both durable and easy on the eyes.  With three refill cartridges and a price tag under ten bucks, you just found the perfect stocking stuffer. – Shop Now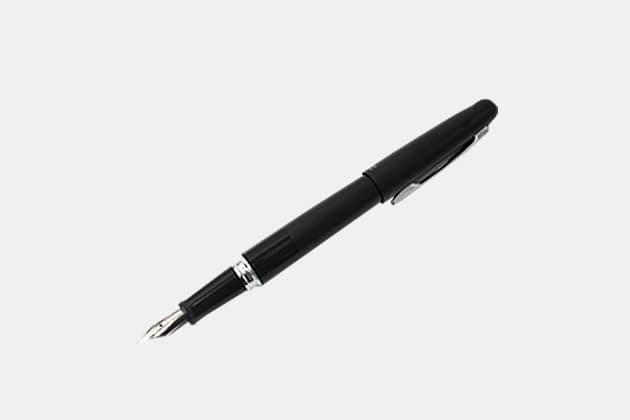 Pilot Metropolitan Fountain Pen
Fountain pens are glorious writing instruments of yesteryear, and believe it or not, you're probably going to have to spend some time learning how to use one properly.  This offering from Pilot is a good place to start thanks to sleek styling, a durable metal body, and an "exceptionally smooth steel nib" that allows for even ink flow.  Refill with pre-made cartridges or use the converter to refill with bottled ink if you dare. – Shop Now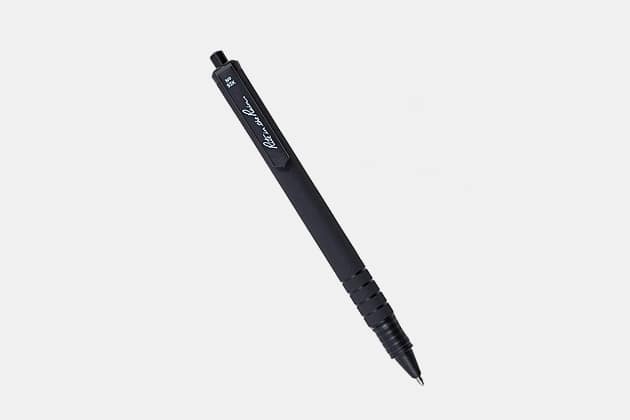 Rite in the Rain Standard Clicker Pen
It seems like they used the wrong version of "rite".  Wouldn't "write" or "right" be more apropos?  Perhaps not, if you consider that using this pen could be considered akin to an otherworldly ritual.  When you use it to write upside down or on wet paper, or you jot down your deepest thoughts in extreme temperatures (negative 30 up to 250°F), you might feel like you're experiencing a spiritual awakening.  And at under 20 bucks, its a wallet-friendly addition to your EDC. – Shop Now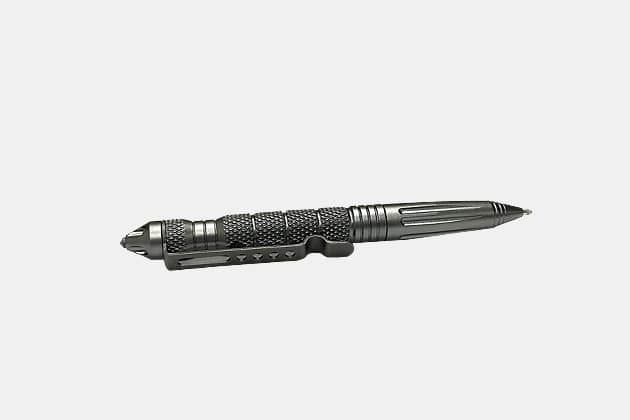 UZI Tactical Pen
Do you really want an EDC pen named after one of the most infamous submachine guns in the world?  Yeah, me too.  The UZI Tactical Pen isn't a killing machine, but it could save your life, thanks to a tactical, carbide tip glass breaker on one end for emergencies or self-defense.  The other end is a ballpoint pen.  With durable, aircraft grade aluminum construction and the convenience of compatibility with standard and Fisher Space Pen refills, it's hard to imagine ever wanting another pen. – Shop Now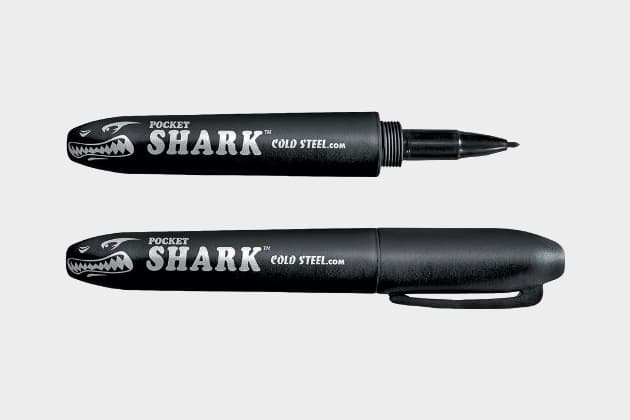 Cold Steel Pocket Shark
It may sound like a personal protective device, and if you happen to be a trained assassin, it probably could be.  However, it's mostly just a rad pen.  Blunt styling lends unique panache, as does the snarling shark graphic on the end.  What you don't see is high impact polymer construction and a pen wall four times thicker than your average writing utensil.  It can take the abuse of being tossed around a purse or car console and still work like a charm. – Shop Now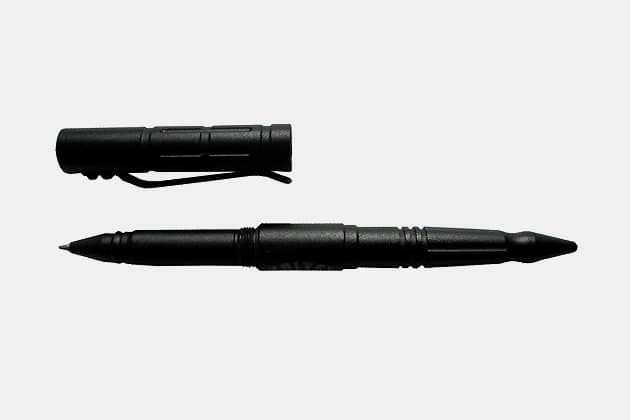 Valtev Tactical Pen
The screw cap lid on this pocket pal is a nice touch that ensures you won't end up with ink stains, but there's a lot more to love in this tough, tactical pen, starting with the durable, aircraft grade aluminum construction.  You can use the pointy (yet nonlethal) end for personal security, then unscrew the cap to fill out an incident report in the aftermath.  It also breaks glass and it's easy to refill with Parker Quinkflow P900M or Space Pen cartridges. – Shop Now
Disclosure: Clicking on these links and making a purchase may earn us a small referral fee, at no extra cost to you. Learn more here.
freestar.config.enabled_slots.push({ placementName: "gearmoose_leaderboard_btf", slotId: "gearmoose_leaderboard_btf" });