You've seen that guy. Maybe you've been that guy. You went in as a wingman and ended up hitting it off. The conversation is effortless, the laughs are natural, and you lost track of your buddy hours ago. As the subject shifts course into familiar territory, you freeze: you just heard the solution you've been seeking for weeks at work to no avail. You pull out your phone and hold up one finger before you start typing a note, so you don't forget. As you slip your phone back into your pocket and look up, you see crossed arms and an undeniable glare.
You know what you did. So does everyone else. Now try it again, this time with a notebook and a keychain pen: You look back up to find a smile. "Sorry about that," you explain. "I've been up against the wall and getting nowhere for weeks trying to puzzle this out. You just cleared it up for me in thirty seconds."
Now you're getting somewhere. You need a pen. Always. We did the legwork for you and found these seven stylish, versatile, and best keychain pens that are vying for a spot in your EDC. Pick one up today so you never have to worry about being that guy again.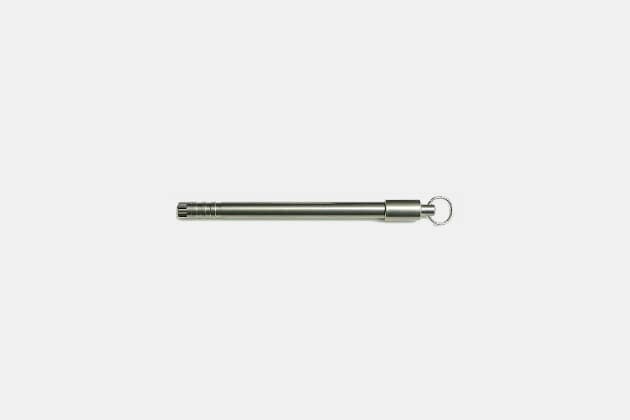 PicoPen
This sleek and stylish instrument is elegant yet durable, so it'll stand up to a rugged weekend and won't look out of place no matter where your day (or night) takes you. Designed by Tec Accessories, this capsule-like EDC keychain pen is solidly built with enduring stainless steel and allows easy one-handed deployment thanks to a magnetic cap closure. Secure and portable, it attaches via an integrated keyring and weighs a mere half an ounce, making it likely you'll forget you're even carrying it until you need it. Refillable with D1 or Fisher pressurized refills. – Buy Now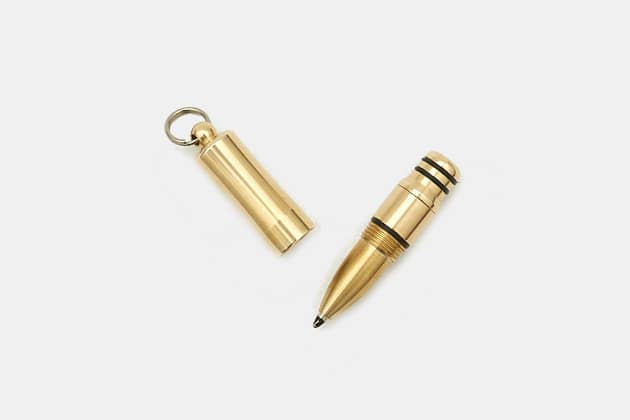 Mini Brass Keychain Pen
This brightly finished mini keychain pen packs plenty of function and character into its sleek and subtle profile. From Sunshine Products USA, the tiny yet capable solid brass EDC pen measures in at 2 inches when capped and is featherlight, weighing in at an inconsequential 1 oz. For added comfort while in use, the body can be posted to the screw on cap, increasing the length to 2 ⅝ inches. Precision machined for durability and compatible with Cross Matrix mini ballpoint refills, this discreet mini has buy-it-for-life potential built right into its timeless style. – Buy Now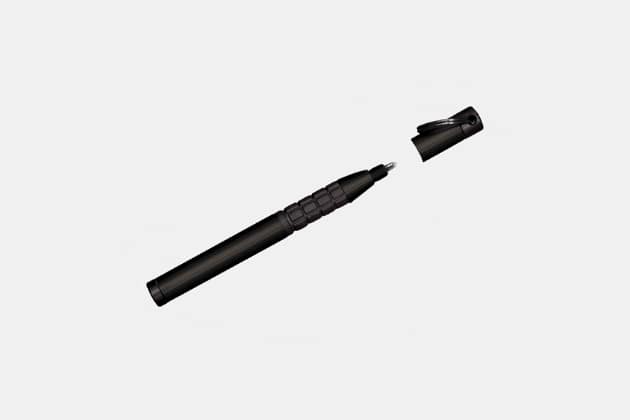 Fisher Trekker Space Pen
While Fisher has earned the reputation necessary to gain new customers on name recognition alone, that hasn't slowed their pace of innovation. The Fisher Trekker Space Pen boasts everything you expect from a Fisher pen: write-anywhere capability (you never know when you'll need to write underwater, upside-down, or in zero gravity, after all) and adds some perks for the outdoorsman, as well. This keychain-friendly Trekker is tricked out with with a secure snap-off cap, a rubber comfort grip, and includes a carabiner and break-away lanyard attachment. At 3.875", it's around the length of a credit card and comes with Fisher's unconditional lifetime guarantee. – Buy Now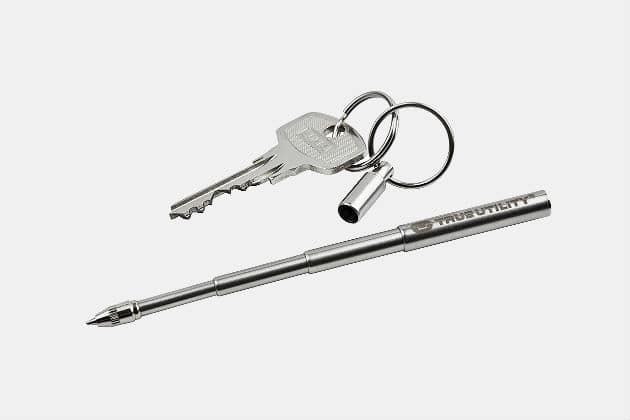 True Utility TelePen
If you're looking for small look no further than the True Utility Telepen, the smallest telescopic keyring pen in the world. Extending telescopically to 4.5 inches when in use and hiding away at 2 inches when compact, this ergonomic ballpoint pen is no longer than a standard house key. Made from high-quality 420-grade stainless steel and attaching quickly with a quick release Clever Clip, the ever-ready design is also refillable and comes with three additional ink refills. An affordable and unassuming addition to any EDC, the TelePen adds a slight 14g to your pocket and zero bulk. – Buy Now
Beta Inkless Keychain Pen
The Beta Inkless Keychain Pen is, as the name suggests, inkless, so it never requires refills. Instead, its metal tip etches gray markings thanks to its patented AXL-METAL composition (which contains lead, it should be noted, and therefore kept away from kids, pets, and your buddy who can't refuse a dare.) Useful and unusual, the stainless steel barrel attaches with an o-ring equipped screw cap. Described as producing a line lighter than that of a pencil, this is not going to take the place of a fine writing instrument. For an on-the-go option that will always leave a mark, though, you'd be hard-pressed to find an alternative as well-equipped. – Buy Now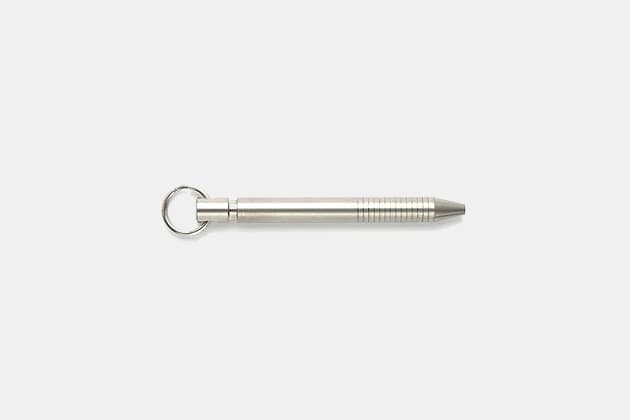 Valiant Concepts Titanium Keychain Pen
With an integrated o-ring built into the design, the Valiant Concepts Titanium Keychain Pen offers a level of security that all but guarantees it won't go missing; unless, of course, you lose your keys. Measuring in at 2.50 inches, Valiant offers an EDC option that's portable and inconspicuous. With a twist to write design, the slim titanium design is accented with grooves to improve grip. There's no quick way to remove it from your keyring, so writing lengthy drafts might be an awkward affair, but with the write-anywhere capability afforded by the pressurized Fisher Ink Cartridge refills, it's an emergency keychain pen that will come through in any situation. – Buy Now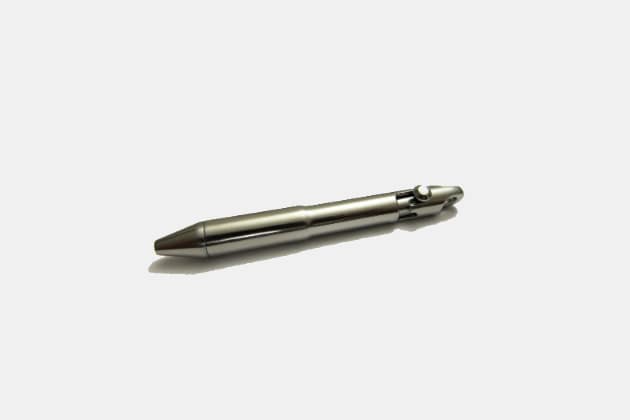 The Move Pen
Precisely what you'd expect of an EDC pen designed by an artist and engineer, The Move Pen is the marriage of beautiful design and thoughtful function. It's available in titanium or one of two hard-anodized aluminum finishes (metallic silver or dark charcoal gray) and weighs in from .36 to .54 oz depending on your metal choice. Ultralight and compact, the bolt-action design promises fast deployment while protecting your pockets from ink spills. The integrated keychain loop secures it where you want it, and at half the size of a Bic stick pen, it's built to be your go-everywhere everyday option. LAMY M22 refill included. – Buy Now
Disclosure: Clicking on these links and making a purchase may earn us a small referral fee, at no extra cost to you. Learn more here.
freestar.config.enabled_slots.push({ placementName: "gearmoose_leaderboard_btf", slotId: "gearmoose_leaderboard_btf" });