The 10 Best Headlamps For Every Outdoor Activity
Whether you're spelunking at Carlsbad Caverns National Park in New Mexico, searching for fire wood in the early morning hours while camping at Holland Lake in Montana, or simply walking your dog around your local park after sundown, you'll find that a headlamp comes in handy.  Of course, not all headlamps are created equal.
If you're looking for an outstanding outdoor tool to last a lifetime, you need a headlamp that offers more than just a single, dim bulb.  You want a variety of lighting options, a comfortable, adjustable fit, and extras like Bluetooth functionality that allows you to control your lamp from your phone instead of fiddling with it in the dark.  For outdoor adventure seekers who are willing to shell out a few ducats for the right tools, here are the best headlamps to buy right now.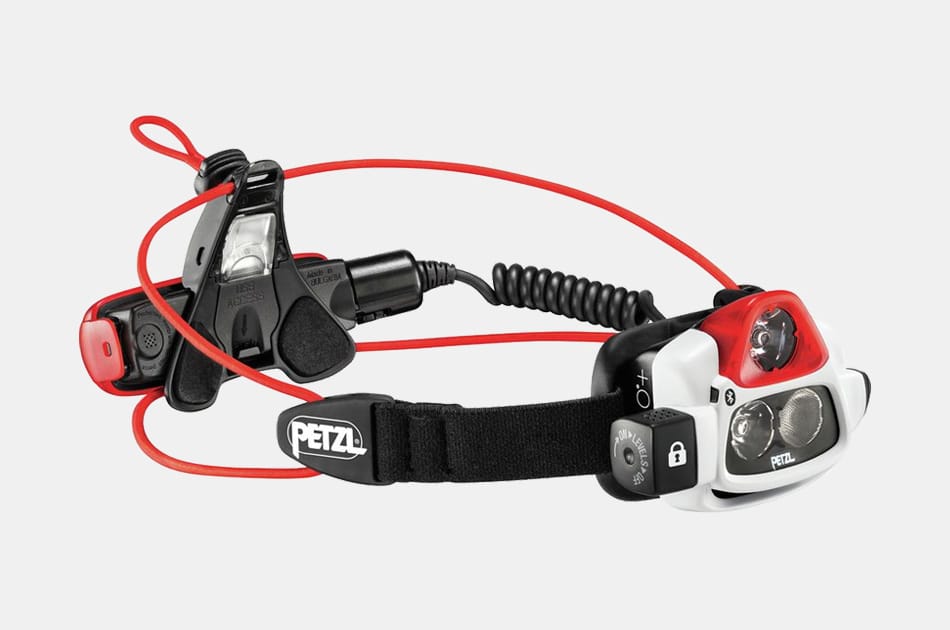 Petzl Nao + Headlamp
Like most headlamps, this one looks a bit like a nerdy science experiment in the works.  Okay, so headlamps aren't the most attractive accessory.  However, this one features reactive lighting that automatically adjusts so you aren't blinded when your bright, distance lighting hits upon nearby rocks.  You'll also like glove-friendly buttons and a lock function to prevent accidental turn-ons.  Bluetooth functionality lets you connect with the free MyPetzl Light app to control lighting level, check the battery, and create convenient preset profiles.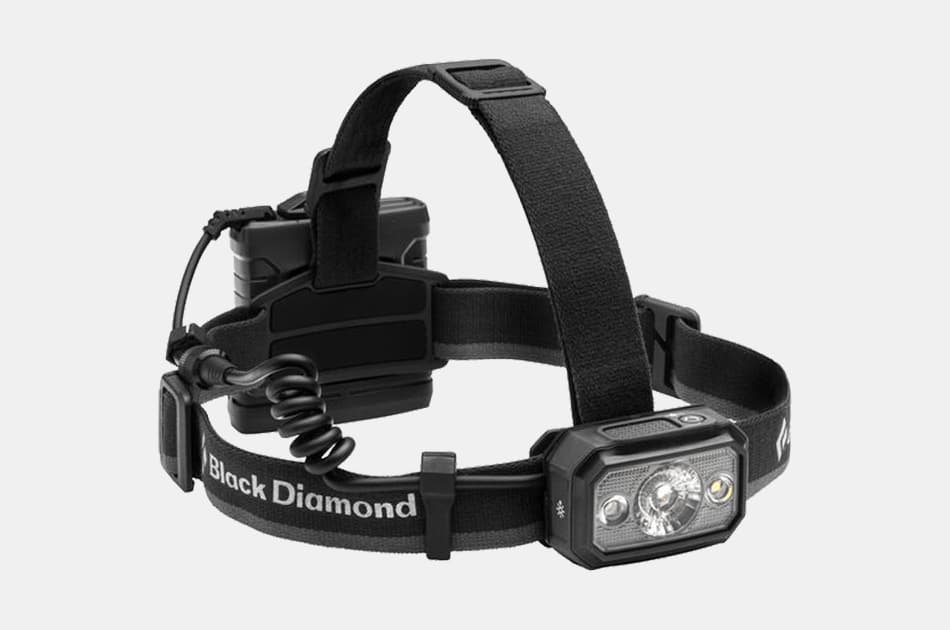 Black Diamond Icon 700 Headlamp
A fully waterproof headlamp, this Black Diamond baddie looks high-tech enough to take on your next undercover assignment.  While most of us won't be crawling through air ducts and dropping into hidden vaults anytime soon, even backpackers, runners, and climbers will appreciate the comfortable, elastic headband, a 700-lumen lamp, R-G-B night vision modes, and a multi-faceted optical lens that saves battery life.  Select lens mode in a snap with a simple switch and stow your battery in a handy pocket (via long cable) when you don't want it clipped to the back of your headband.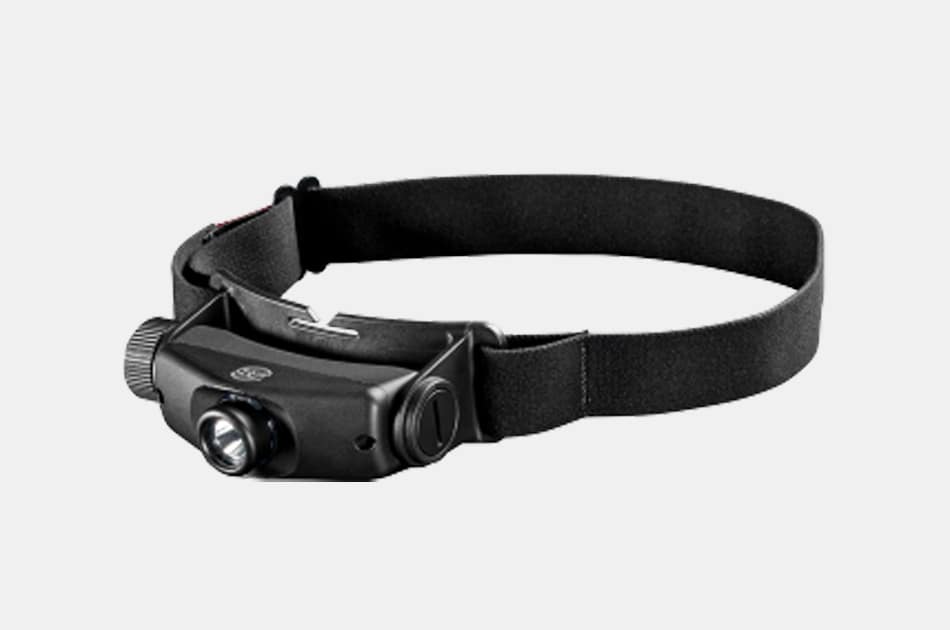 SureFire Maximus Rechargeable Variable-Output LED Headlamp
At first glance, this simple headlamp may not look like much, what with a plain, elastic headband and a rather small lens.  However, you can expect an output of 1,000 lumens from this LED headlamp, with a dial that lets you adjust illumination all the way down to a single lumen.  Whether you're trying to read while your tent mate snoozes or you need to light up the entire campsite, this lamp has the adjustments you need for any job.  With vertical lamp rotation of 90 degrees, you can also point the light right where you want it – on the path below, the handholds above, or dead ahead.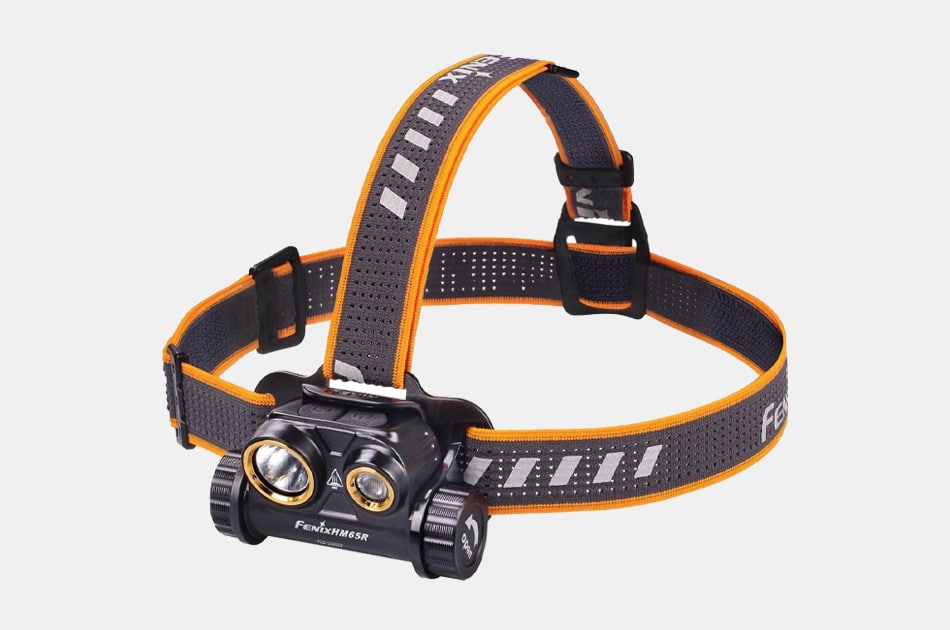 Fenix HM65R Headlamp
As headlamps go, this one offers high value in the way of comfort.  Anyone who has used a cheap headlamp understands the literal headache of wiry bands digging into your scalp and the painful imprint of the lamp on your forehead.  Not comfortable, not cute.  The perforated headband on this model is lightweight, breathable, and reflective, with the option to add a top band for more secure fit.  Plus, you'll get independent spotlight and floodlight for combined max illumination of 1400 lumens.  The magnesium alloy lamp is impact resistant to 2 meters.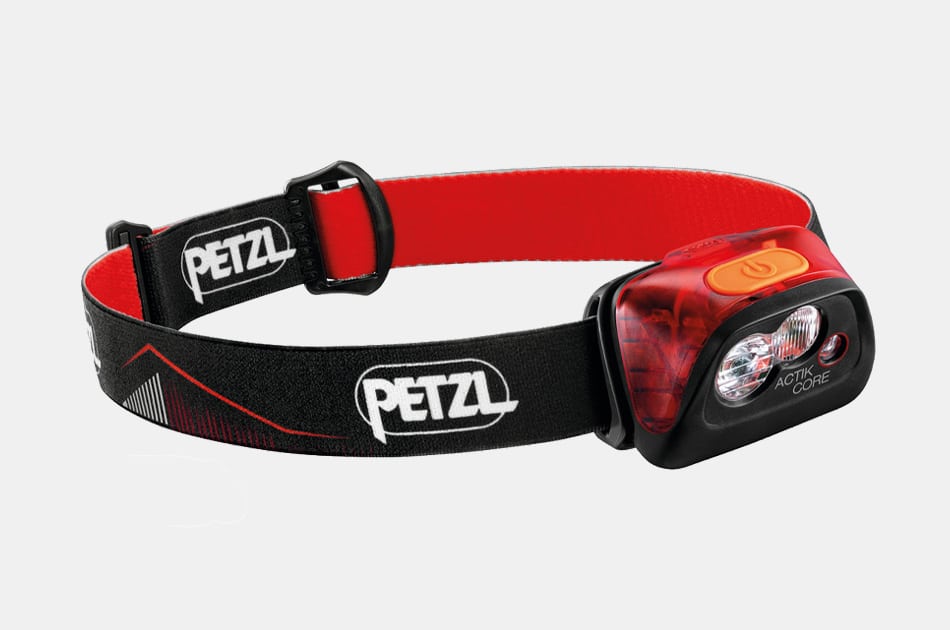 Petzl ACTIK CORE Headlamp
If fashion is a major consideration when it comes to your outdoor accessories, you'll love the look of this stylish headlamp, featuring a branded, reflective headband and a lamp casing in eye-catching red (also available in black).  The hybrid power design lets you swap between the CORE rechargeable battery or AAA/LR03 batteries, and with the right mounting accessories, you can easily attach the lamp to your helmet or bicycle.  Flood or mixed beam patterns offer up to 450 lumens, or use red light for night vision.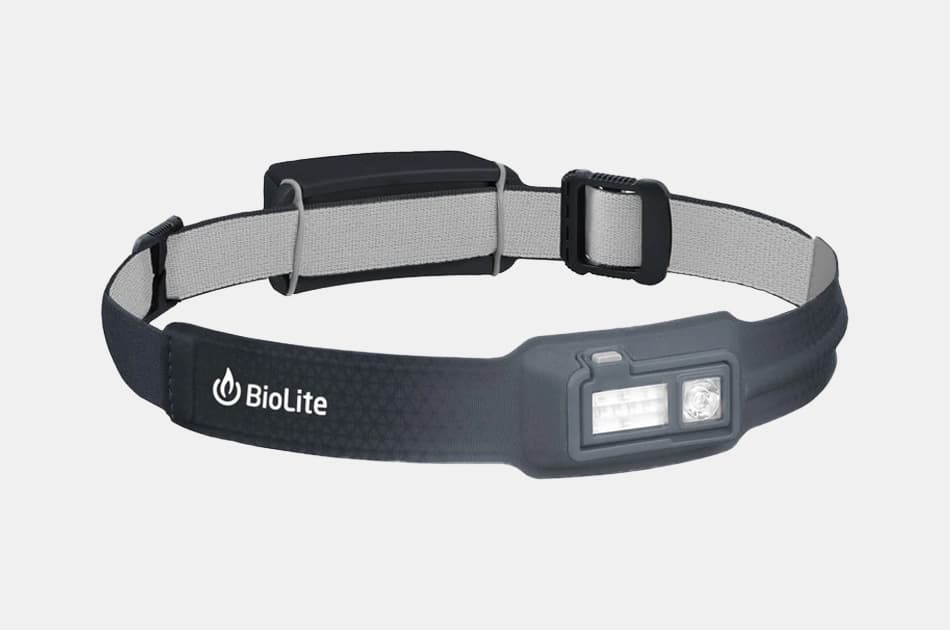 BioLite HeadLamp 330
Let's set aside the sleek, modern look of this headlamp, which comes in shades of red, mustard, and turquoise (in addition to standard black), and focus on smart features like the reflective, moisture-wicking band with no abrasion points and weight distribution designed for a weightless feel, thanks to proprietary 3D SlimFit construction.  Then there's the lamp, which sits flush on your head or tilts down, offers spot or flood lenses, plus red light for night vision, and pumps out up to 330 lumens max.  The HolyFit guarantee offers a full refund within 30 days if you don't love it.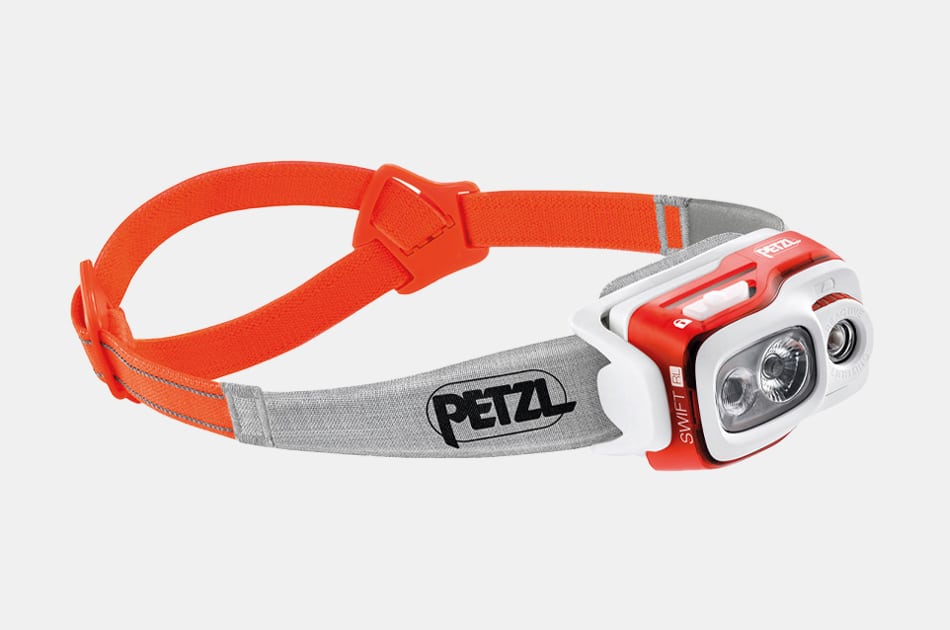 Petzl Swift RL Headlamp
Another from Petzl, this headlamp features a 2-tone reflective headband in blue, orange, or black (with gray), with the color break from front to back delineating it's 2-part construction, designed to offer added stability for intense activities that might shake other headbands loose.  A single button controls all lamp functions (power, brightness, lock) for ease of use, and reactive lighting auto adjusts to illuminate objects near and far.  The lamp offers up to 900 lumens and tilts for directional lighting and charges via micro USB.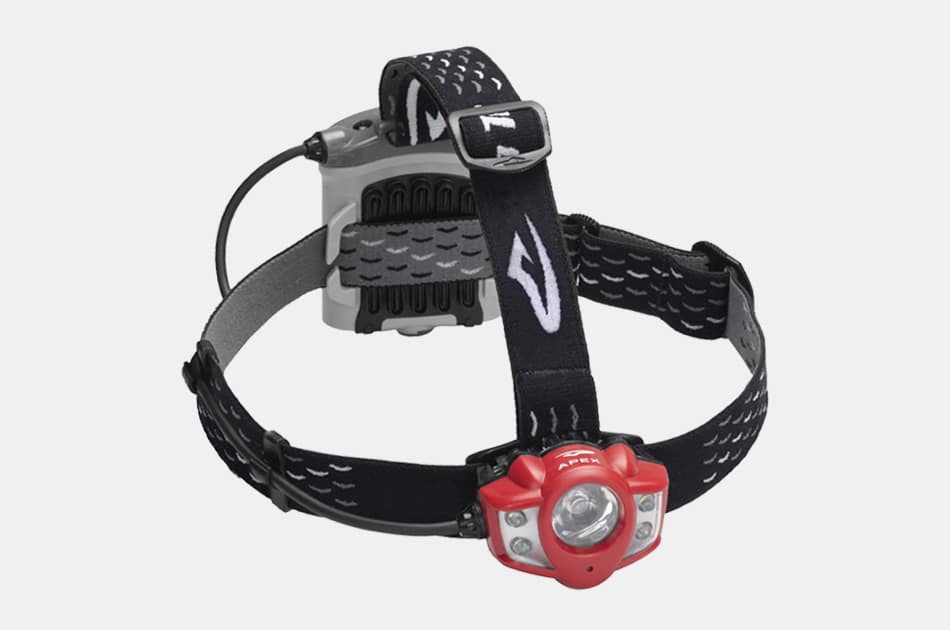 Princeton Tec Apex LED Headlamp
This IPX7 waterproof, LED headlamp delivers up to 550 lumens with 1 Maxbright LED and 4 white Ultrabright LEDs, all dimmable, utilizing heatsink tech to burn brighter and longer.  Users will enjoy five lighting modes, including low or high spotlight, low or high floodlight, and flood flash beam.  Lithium or AA batteries deliver 12 hours of light, and you can choose from red, black, or khaki colors.  You're also sure to appreciate Princeton Tec's lifetime warranty in the USA.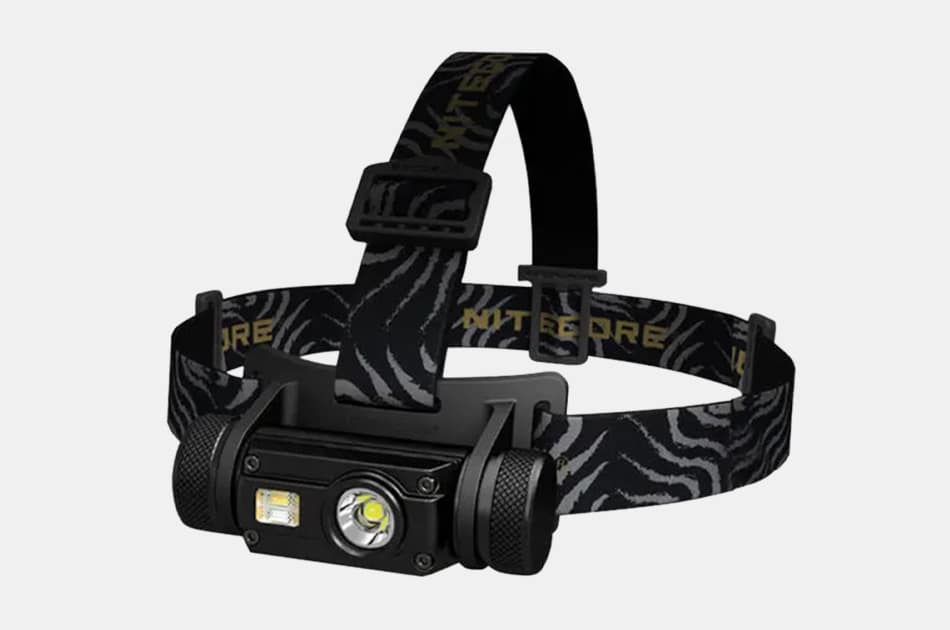 Nitecore HC65 Rechargeable Headlamp
If you've been crushing hard on Carole Baskin's animal print wardrobe after bingeing Tiger King, you're sure to love the tiger-y pattern on the headband (in black and gray).  You might also enjoy the headlamp, which features a primary CREE XM-L2 U2 LED, an auxiliary high CRI white LED, and an auxiliary red LED for night vision.  Adjust the headlamp's brightness from 1-1,000 lumens with a peak distance of up to 120 yards, and worry a bit less about the occasional mishap thanks to an IPX8 water resistance rating and impact resistance to 1.5 meters.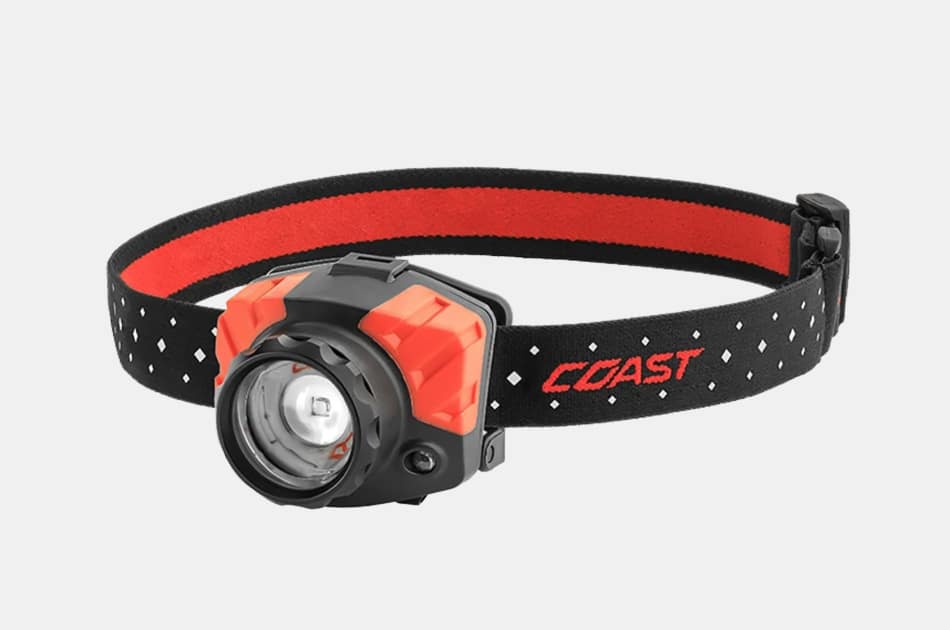 Coast FL85R
The reflective, elastic strap (hard hat compatible), dual-color white and red light beams, and option to switch from USB-rechargeable to alkaline battery power are pretty par for the course.  Plus, there's just one button to cycle between low, medium, and full light settings with ease, and the hinged head tilts for directional lighting.  What you won't find on most other headlamps is the twist focus system that lets you switch between spot and flood beams by dialing in the perfect light shape to suit your needs.
Disclosure: Clicking on these links and making a purchase may earn us a small referral fee, at no extra cost to you. Learn more here.