The 20 Best Workout Shirts For Men
The days of throwing on any old T-shirt to work out are long gone — that old college or high school logo tee simply won't pass muster, even if your gym is of the home variety versus a high-powered fitness club. No sir, we're of the opinion that every aspect of your gear requires time and thought, and that the right approach can lead to better performance — especially in your daily training sessions.
The best men's workout shirts deliver quality performance and functionality above all else, but modern brands like Rhone and Proof Performance are also working off the notion that your workout gear can look pretty stylish, too. Again, the days of the old cotton T-shirt simply aren't cutting it anymore, and a quality workout shirt can prove to you exactly why you need this critical wardrobe upgrade.
We put together what we consider to be the 20 best workout shirts for men to give you plenty of options. With technical function in mind, any of these workout shirts should last you for a long time — can your old cotton tee say the same? Amp up your gear and your workout with one of these workout shirts ASAP.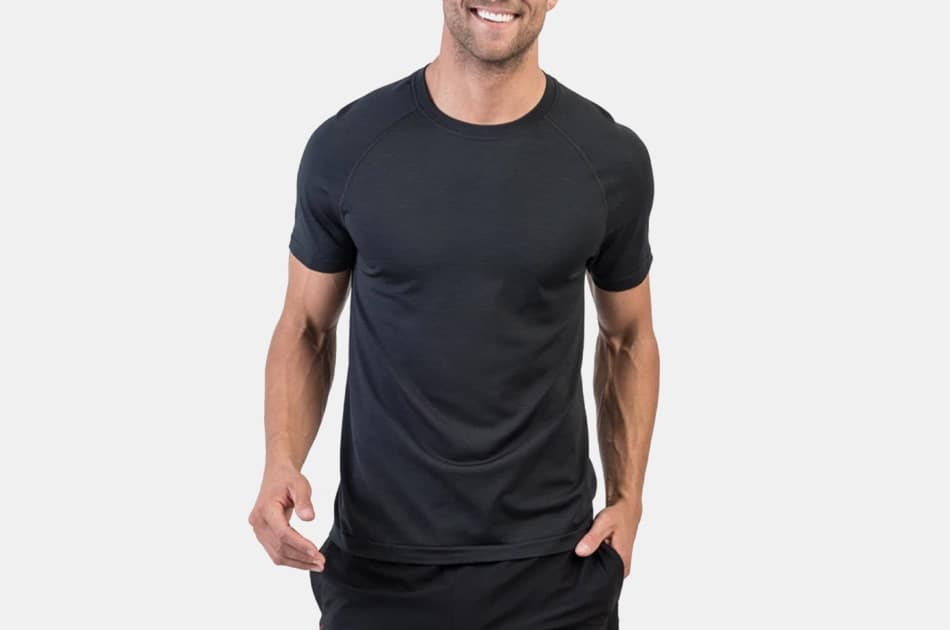 Rhone Reign Tech Short Sleeve Shirt
Rhone has turned into a brand that impresses at every turn, approaching the needs of the active-yet-stylish man with an eye toward both design and functionality. That results in simply designed but highly effective gear like the Reign Tech Short-Sleeve Shirt, which is just about everything you could ask for in a workout shirt. Consider it the answer in your search for new and improved workout gear.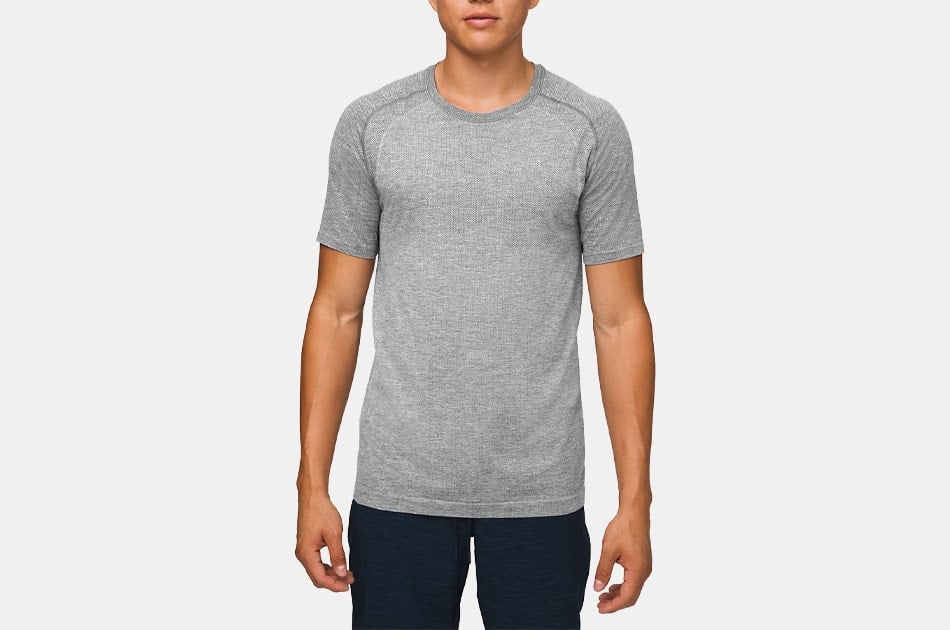 Lululemon Metal Vent Tech Short Sleeve 2.0
If you haven't yet hopped on the Lululemon train when it comes to the brand's ability to churn out some of the best workout gear for men, we'd recommend you do so immediately. The Metal Vent Tech Short-Sleeve 2.0 Shirt is the latest and greatest innovation from a brand that wants to cover all the proper bases when it comes to your healthy lifestyle, and thanks to Silverescent Anti-Stink technology, this should be the shirt that makes you a Lululemon believer.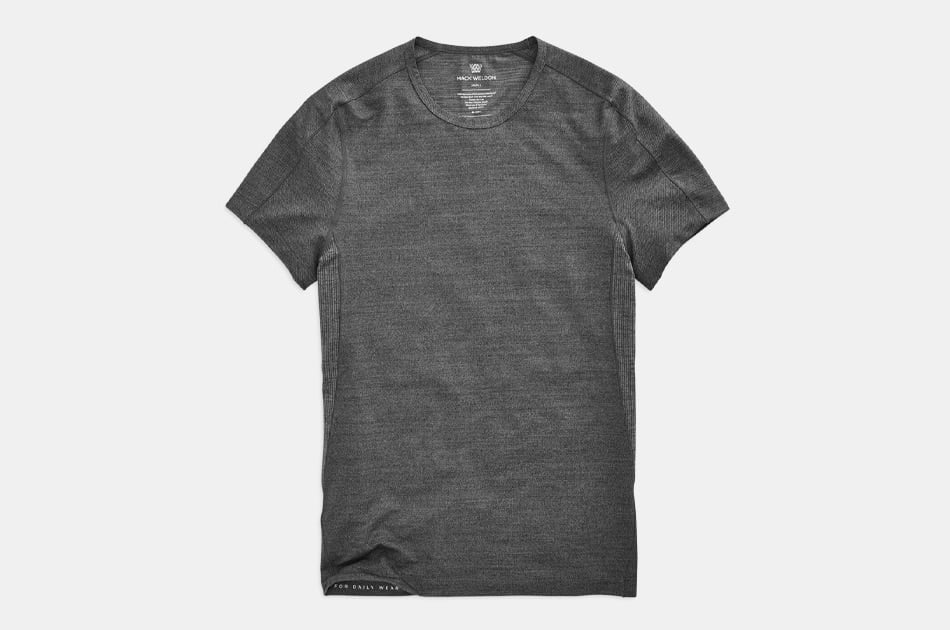 Mack Weldon AIRKNITx Crew Neck T-Shirt
The right fabric makes all the difference when it comes to brands crafting workout tees, and Mack Weldon assuredly knows this. That's where the AIRKNITx line comes into play. This fabric is so breathable as to be lightweight and extremely comfortable to wear on its own outside the gym, but the AIRKNITx Crew Neck performs so reliably in tough workouts, you'll wonder how you lived without it.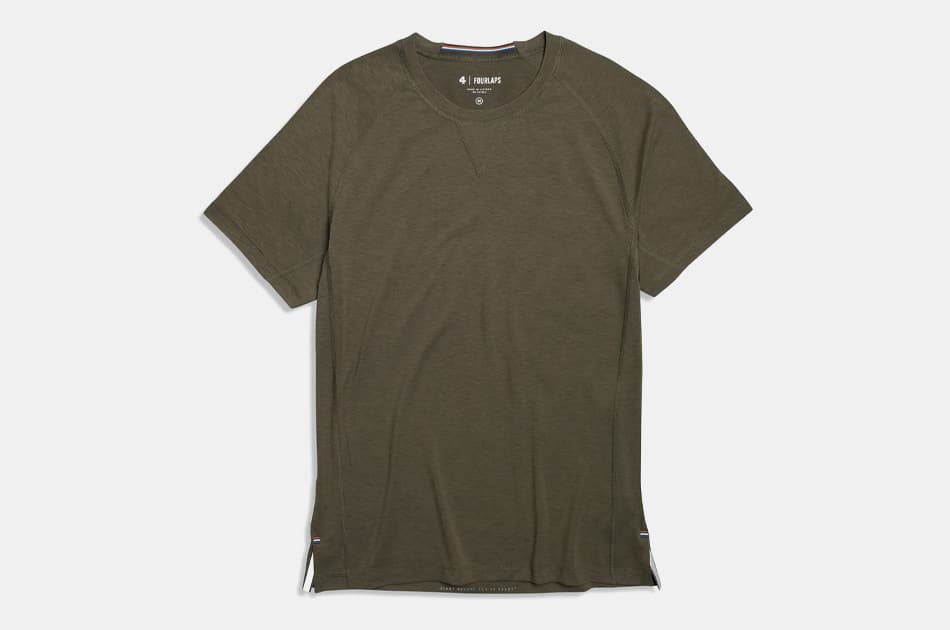 Fourlaps Short Sleeve Level Tee
We appreciate Fourlaps' A-to-Z approach to crafting the best men's workout gear, from stylish and comfortable sweatpants and zip hoodies to all the gear you count on when you start to hit a wall in your workout. On that note, the Fourlaps Short-Sleeve Level Tee delivers nicely, featuring 37.5 technology that releases heat when you get too hot. Plus, it's simply designed and stylish — just like your favorite pocket tee — too.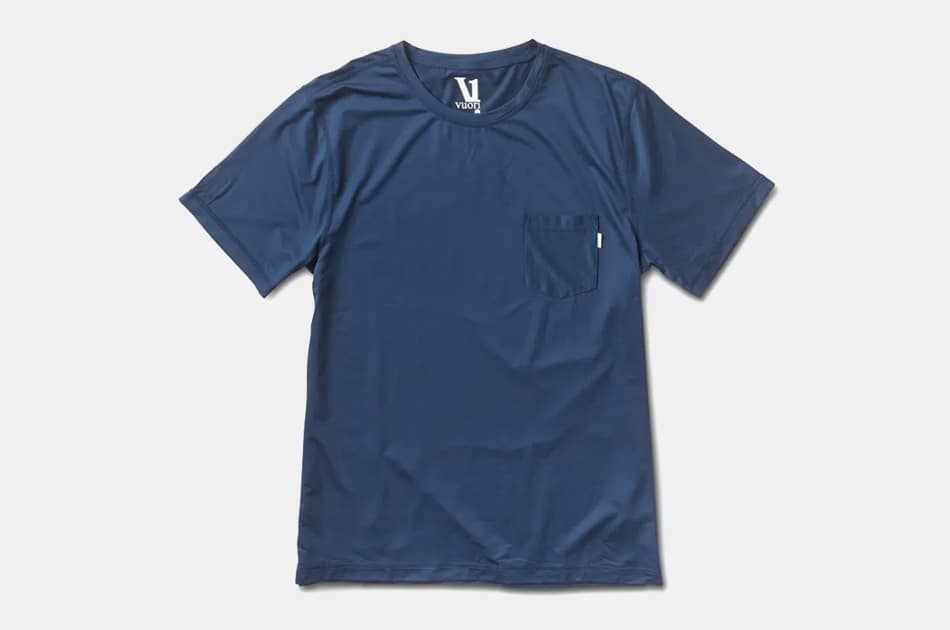 Vuori Tradewind Performance Tee
We love brands that can target both the workout and recovery portions of your wardrobe, and Vuori is assuredly one of those brands. Vuori's loungewear is soft and comfortable, while its Tradewind Performance Tee acts as a jumpstart when it comes time to kick your workout into overdrive. The performance knit fabric and UPF capabilities set it apart in your search for your next favorite workout shirt.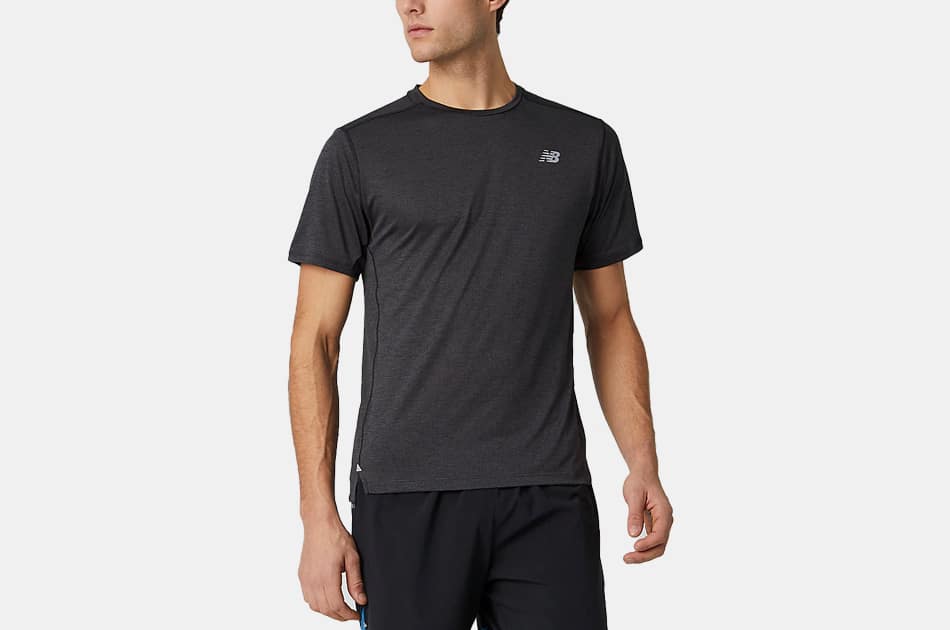 New Balance Impact Run Short Sleeve Shirt
When you find your workout shirt, you know it. And when you find a shirt from a lauded running brand that's geared to power your workout in the speediest, best way possible, well, you'd better act quickly to snap one up. That's where the New Balance Impact Run Short Sleeve Shirt delivers so readily — pair it up with New Balance sneakers, and watch your times drop and drop.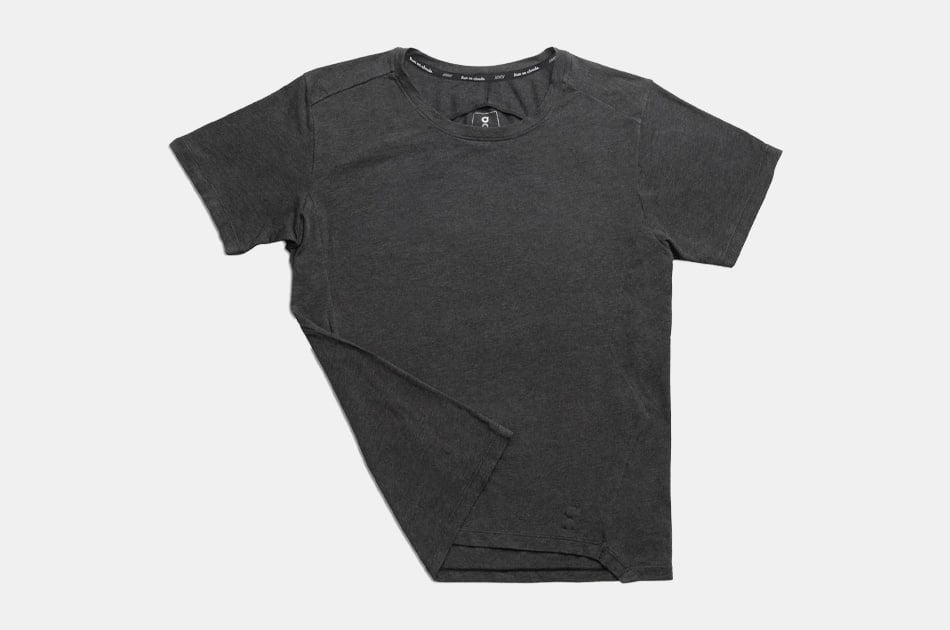 On Active-T
On Running's sneakers are the stuff of legend, springy and light as air to deliver quick runs and arduous training sessions in equal measure. The On Active T is similarly made for those pursuits. The blend of cotton, modal and elastane offers up comfort and performance, and the anti-microbial technology is a must-have these days, too.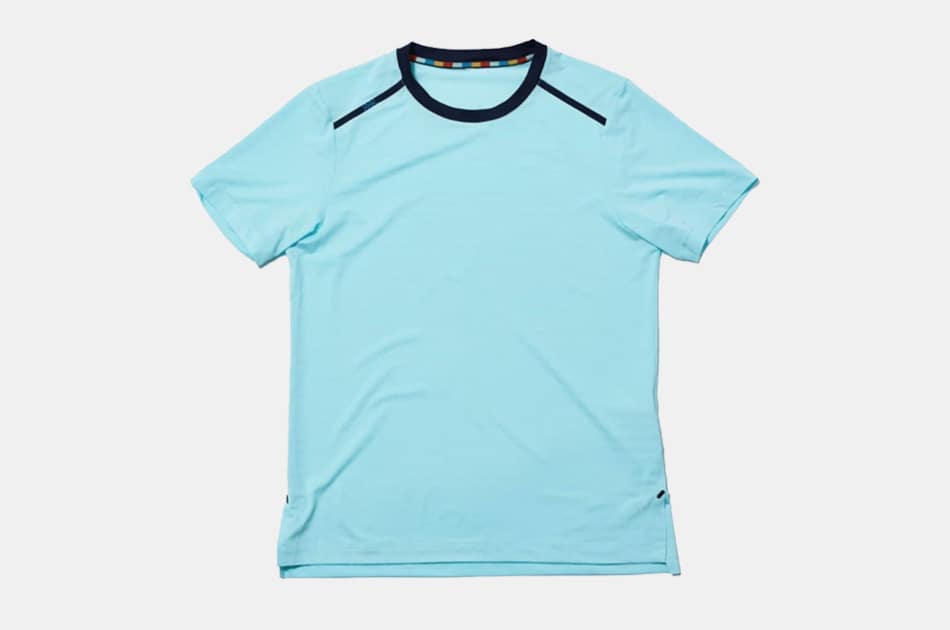 Rhone Swift Running Shirt
We're back again to Rhone and the brand's aptly named Swift Collection. If you haven't previously given thought to finding a shirt you can wear for running in particular, Rhone is the place to go when it comes to the best workout apparel. In bright colors to help you stand out from the pack in matters of style and performance, the Rhone Swift Running Shirt is a must-buy before you next log some miles on the road.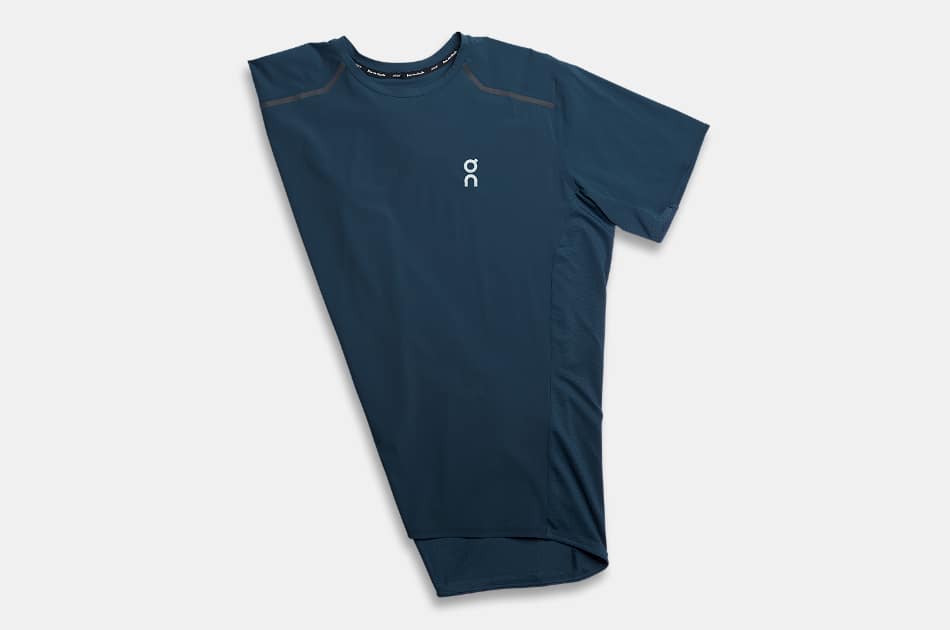 On Performance-T
If you've got a pair of On Running sneakers, then you know how best to pair up and gear up for your next run — with a new On Performance Tee, of course. Made specifically for racing but built to be functional just about anywhere and in any training situation, it's made from breathable polyester for perfect performance, no matter how hot it gets out there this season. And again, if you've got On Running sneakers, you know they deliver the goods — this T-shirt should perform much the same.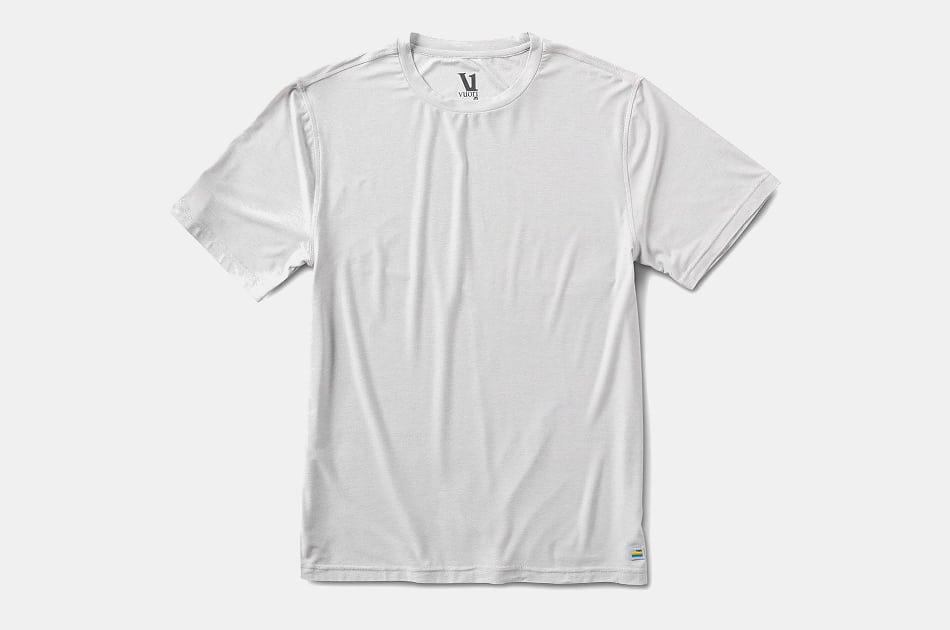 Vuori Strato Tech Tee
If you don't have a pair of Vuori workout shorts (or one of the brand's outstanding tech tees), then now just so happens to be the perfect chance to get yourself acquainted with this fast-growing brand. The Strato Tech Tee is an ideal layer for your next workout, made with a moisture-wicking, four-way stretch fabric for the ultimate in training performance (and off-the-clock style, no less). Get one in each of the brand's neutral, essential colors, and be prepared to reach for it every time you need a dependable T-shirt.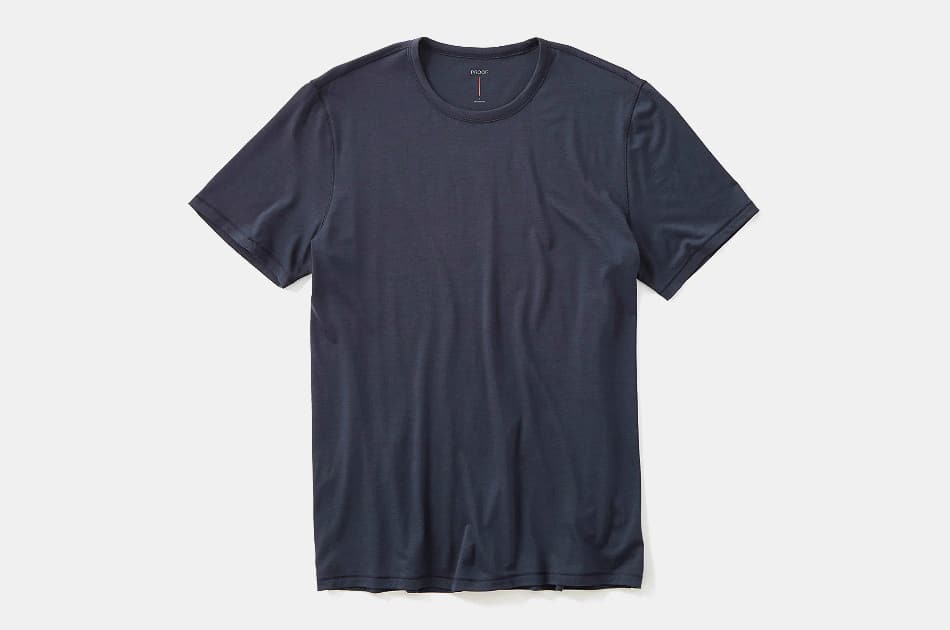 Proof 72-Hour Merino Tee
We advocate for wearing your Proof merino T-shirts as often as you can — the fact that they're made, stocked and sold by Huckberry is just the icing on the cake, but Proof's merino T-shirts really do live up to your expectations. That is to say, the Proof 72-Hour Merino Tee is the most versatile workout shirt you'll end up owning. It's the kind you can wear on the trail, in the gym, or heading to your destination. And as an easy-to-wear workout shirt, it'll provide moisture-wicking and anti-microbial properties for repeated training sessions without missing a beat.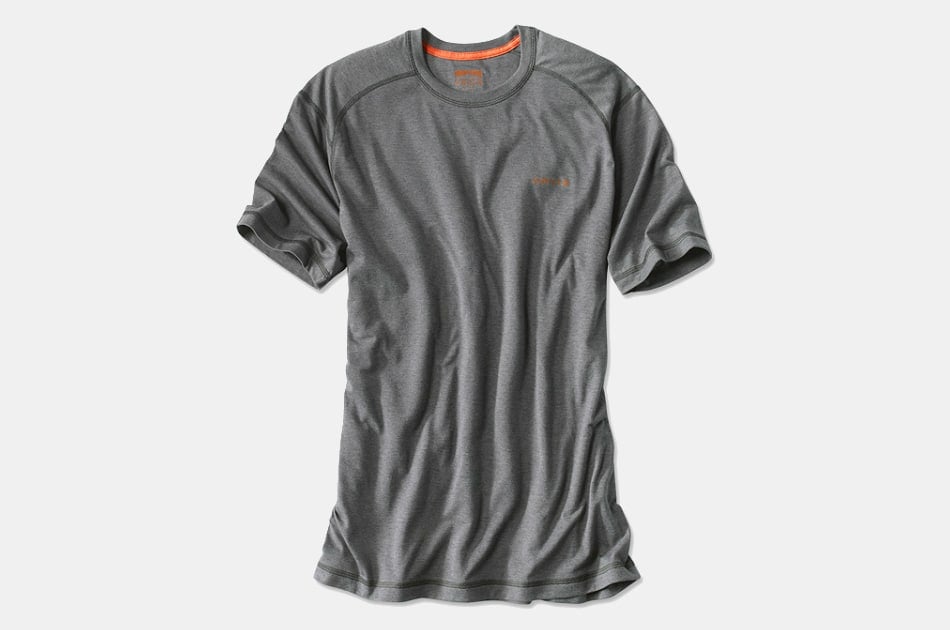 Orvis Drirelease T-Shirt
You surely know Orvis for the brand's tough waxed jackets, durable chore pants, and reliable henleys for cool mornings out in the field, on the trail, or tackling yard work — get ready to welcome this tough-as-nails heritage brand into your workout routine, though. The Orvis Drirelease T-Shirt takes the same tech-forward approach that Orvis takes to all of its gear, with the brand's best-selling fabric used to deliver a quick-drying base layer (and a swift workout experience). At that sub-$50 price, go ahead and get more than one.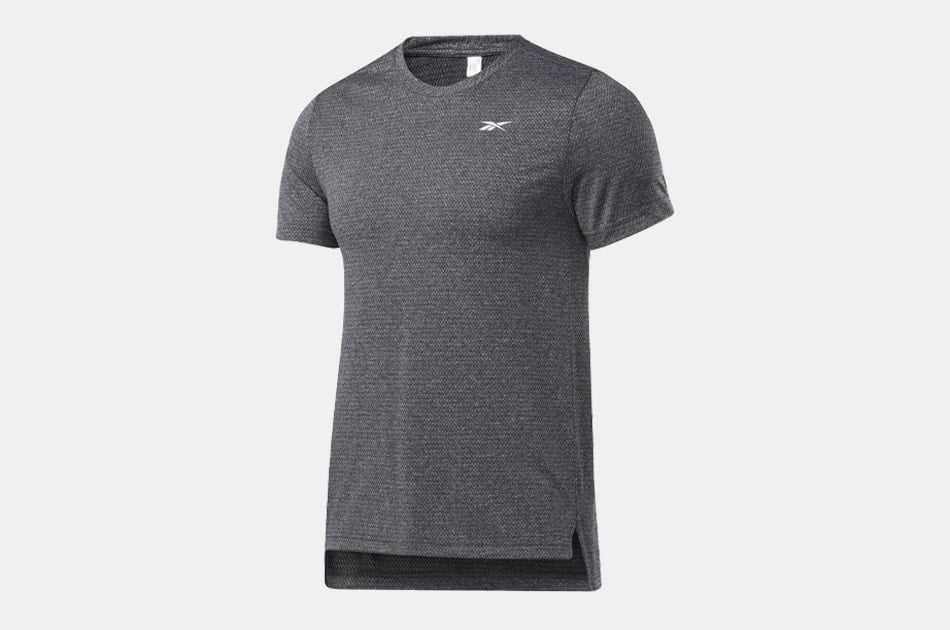 Reebok Workout Ready Melange T-Shirt
There might not be a more apt name for a workout tee than this one from Reebok, which should pair up nicely with your durable Reebok sneakers. And let's not forget the price tag on the Reebok Workout Ready Melange T-Shirt, which is so affordable you can pick up a couple of these to power through all your training sessions.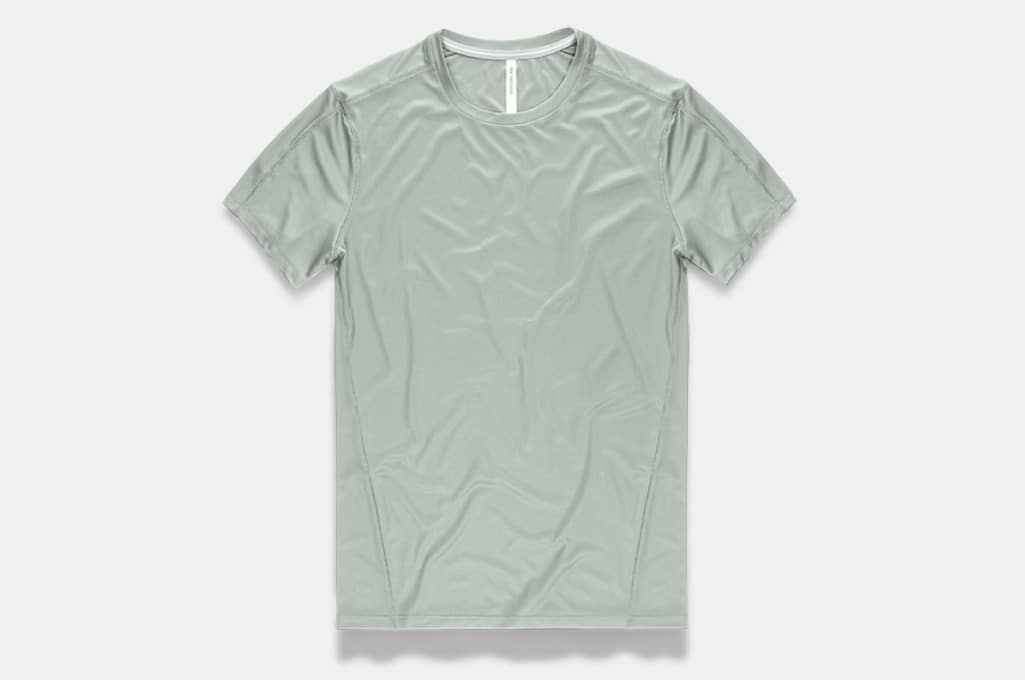 Ten Thousand Lightweight Shirt
Get ready to sweat in the Ten Thousand Lightweight Shirt, because this shirt will keep you cool and dry, no matter how hot the weather. Made from an ultra-lightweight polyester fabric, this workout shirt is beautifully minimalist with flat no-chafe seams – a design that makes it perfect for marathons and triathlons. The micro-ventilation is incredibly breathable, and the fabric wicks sweat away from your body to reduce sweat and salt build-up over your run. With the incorporated silver ion anti-odor treatment, you'll never have to worry about smelling even after a long run or workout.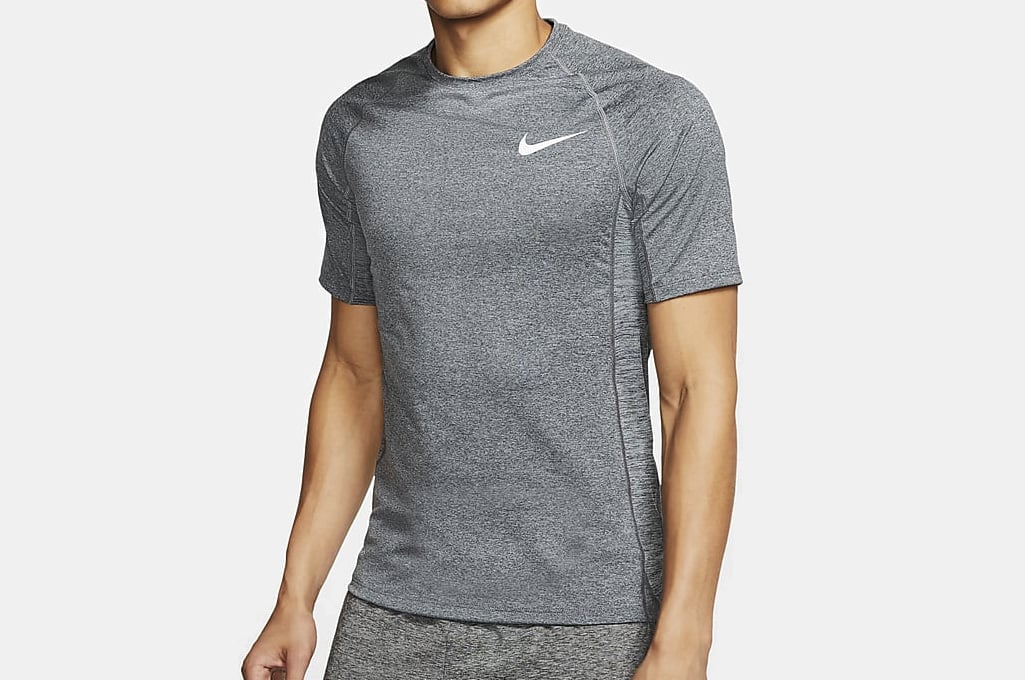 Nike Pro Men's Short-Sleeve Top
Nike brings its A-game with the Pro Men's Short Sleeve Top, a hyper-versatile shirt that flexes and stretches for any sport, workout, or activity you get up to. The fabric is fifty percent recycled polyester (can you say eco-friendly and sustainable?), making it beautifully moisture-wicking and quick-drying. With its breezy, light fabric, you'll be able to run, jump, and play all day without ever feeling constricted or weighed down by your shirt.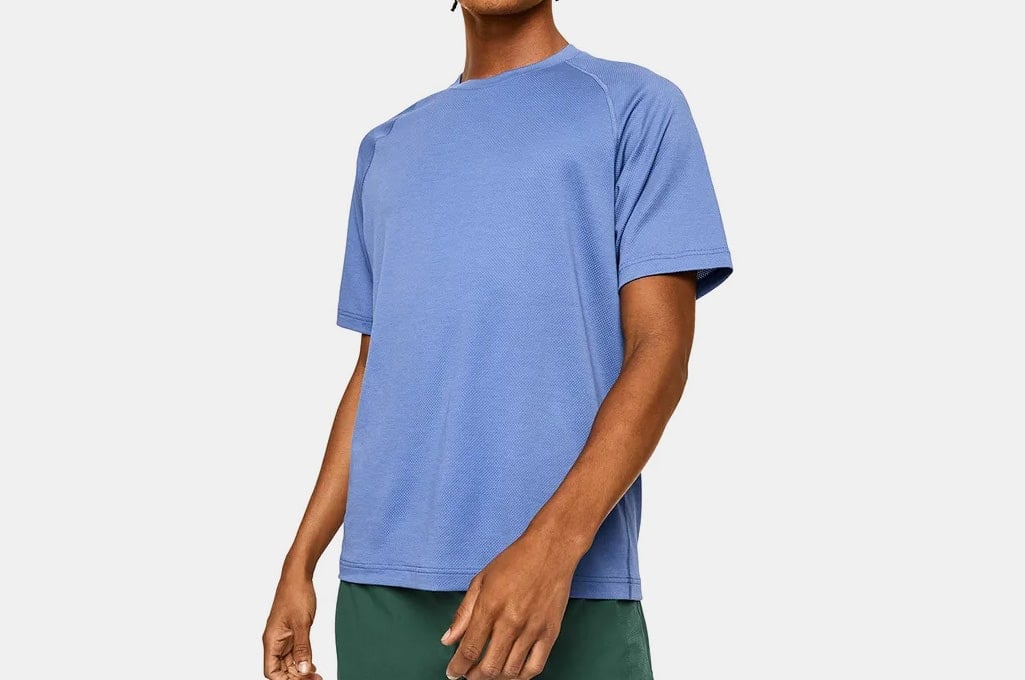 Outdoor Voices Fast Track Shortsleeve
Runners, take your mark – and get ready to love this Fast Track Shortsleeve. Outdoor Voices has made a performance tee ideal not only for runners and track athletes, but also resistance trainees, CrossFitters, and anyone else who needs a breathable, moisture-wicking workout shirt. The Sweatee Mesh fabric will keep you cool all workout long, and you'll love how lightweight this shirt feels.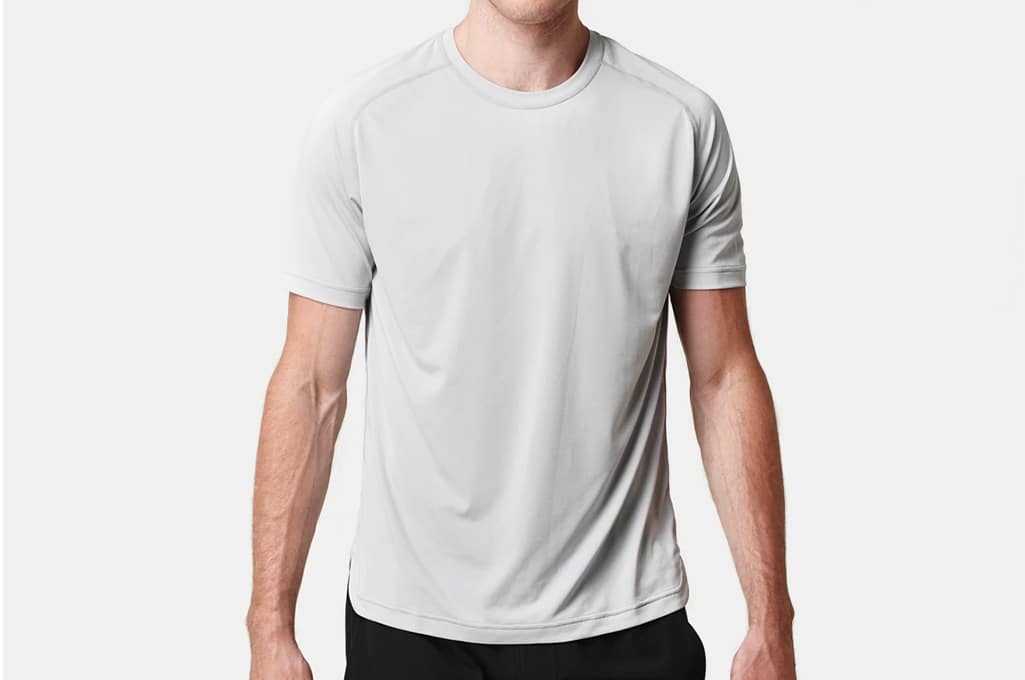 Western Rise Session Tee
Want a super versatile shirt capable of keeping up with any workout type? That's exactly what the Western Rise Session Tee is all about. Whether you run, lift, row, or cycle, this shirt can keep up with your high-paced lifestyle. The micro-mesh fabric pulls heat and moisture away from the body, yet still allows the occasional summer breeze to cool you down. Once you put on the tee, you'll almost forget you're wearing it, that's how lightweight it is. With the antimicrobial, odor-resistant fabric, it's a shirt built to keep you fresh and looking stylish all year long.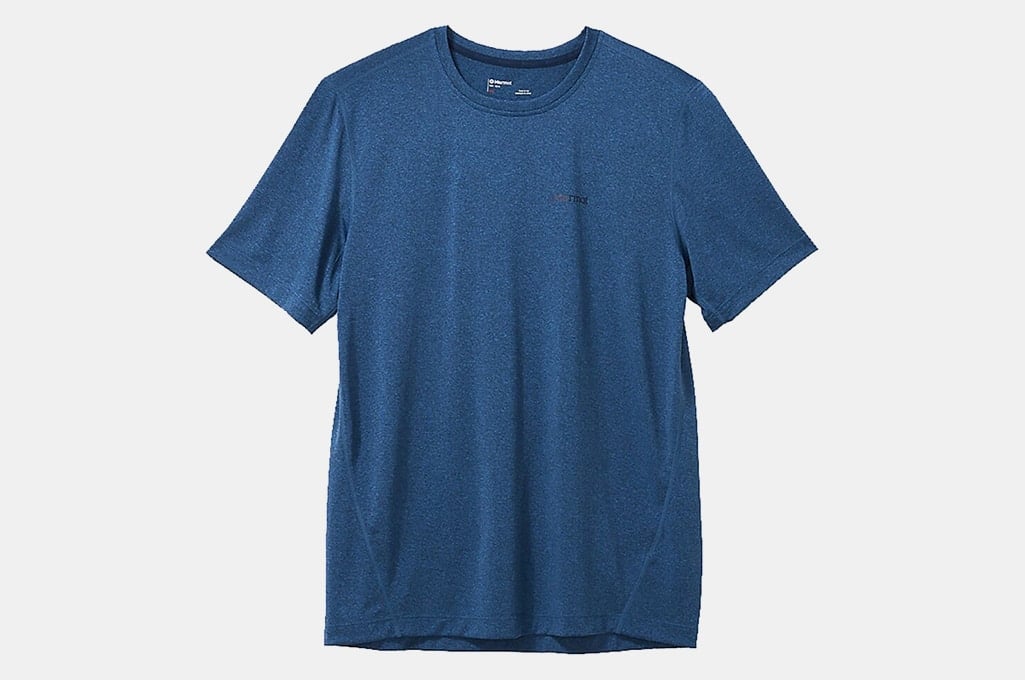 Marmot Conveyor T-Shirt – Men's
Take your workouts to the next level with the Marmot Conveyor T-Shirt. Made with polyester, this shirt weighs next to nothing, is ultra-breathable, and will keep you dry and cool all workout long. The flatlock seams will never chafe, even if you're running a marathon or completing a triathlon. With the UPF30 protection, you'll shield your skin from radiation no matter how many hours you spend working out or training under the hot sun.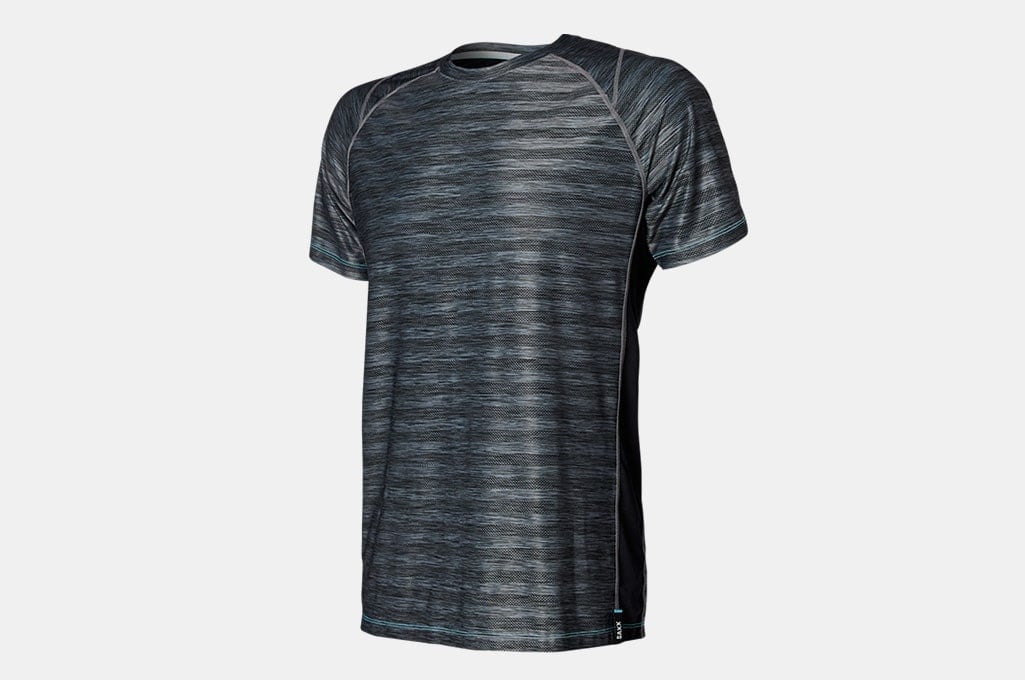 Saxx Hot Shot Short Sleeve Crew / Black Heather
Style, class, and performance – those are the three words that best describe the Saxx Hot Shot Short Sleeve Crew shirt. The darker colors of the Black Heather will slim you down and make your shoulders look broader, and you'll love the comfy, easy fit. The proprietary DropTemp technology will help your body keep you cool more effectively than ever, even on the hottest summer days. It's just a workout shirt that "gets it" and delivers exactly what you need for any training session.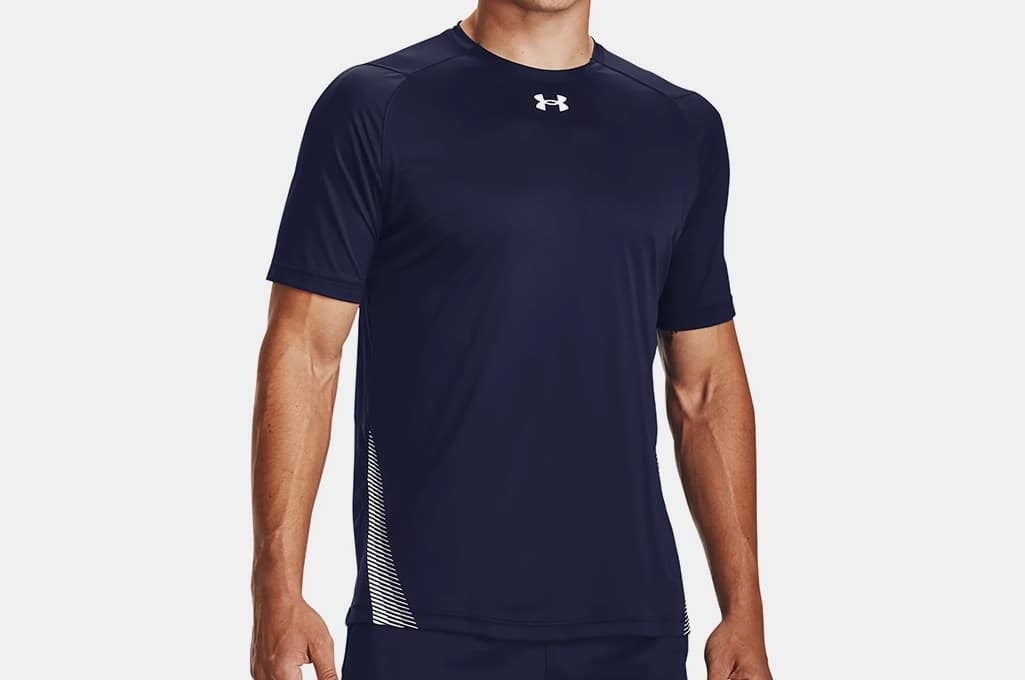 Under Armour Men's UA Iso-Chill Training T-Shirt
Under Armour is the go-to for professional athletes and trainees around the world, which is one of the reasons that the Iso-Chill Training T-Shirt comes so highly recommended. The Iso-Chill polyester fabric pulls heat away from your body to cool you down when you're working hard, and the built-in ventilation in the sleeves and lower back ensure maximum breathability. The fast-drying, moisture-wicking, odor-resistant, super-stretch fabric is exactly what you need to wear for even the most hardcore workout or run.
Disclosure: Clicking on these links and making a purchase may earn us a small referral fee, at no extra cost to you. Learn more here.
freestar.config.enabled_slots.push({ placementName: "gearmoose_leaderboard_btf", slotId: "gearmoose_leaderboard_btf" });