The 20 Best Men's Workout Shorts
From Bo Jackson's choice Air Trainers to Bryson DeChambeau's specially designed golf clubs, having the right athletic gear can make all the difference. This applies to your workout clothes too. If your shorts aren't wicking away sweat or giving you a proper range of motion, you're not going to get that last lap or extra rep in—at least not comfortably.
Whether you're looking for extra water-resistance or barely-there mobility, we rounded up the 20 best men's workout shorts. You'd be surprised at what you're capable of when your training clothes provide you the specific needs of the day's workout.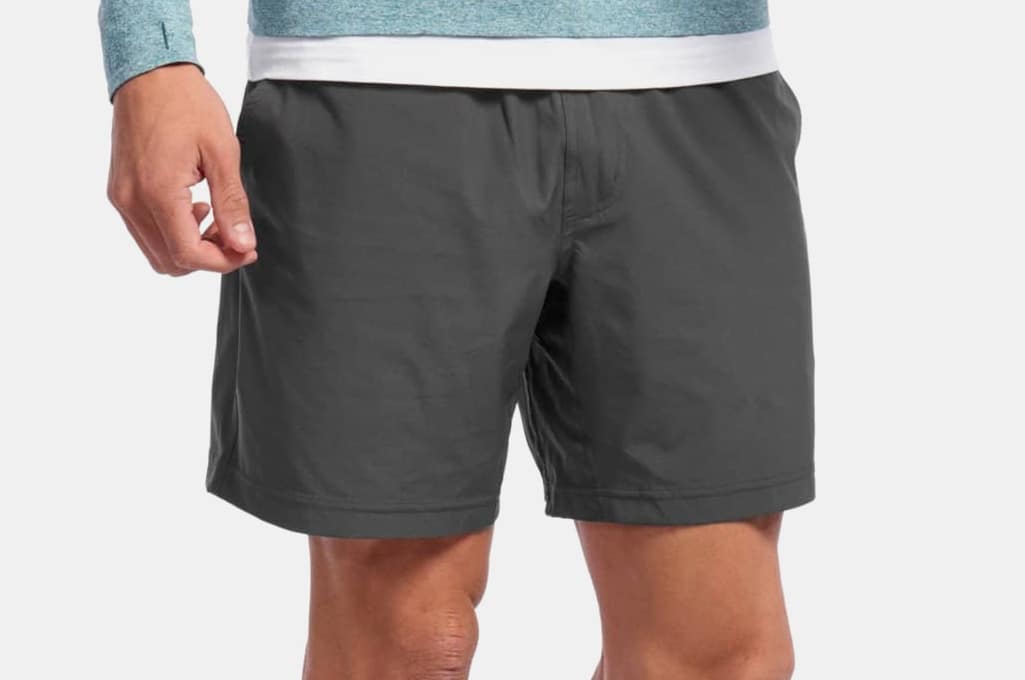 Rhone Mako Workout Shorts
Because they're unlined, Rhone's Mako Workout Shorts serve as a versatile and customizable outer layer. You can line it with compression underwear for workouts, poly mesh trainers for swims, or just regular boxers for casual weekends. With fun but understated colors like mallard green and navy, you actually can take these shorts from the gym to the pub. The four-way stretch fabric is a mix of polyester for durability and fade-resistance, and spandex for comfort. The Makos also get extra points for the quick-dry finish and velvety lycra-lined waistband.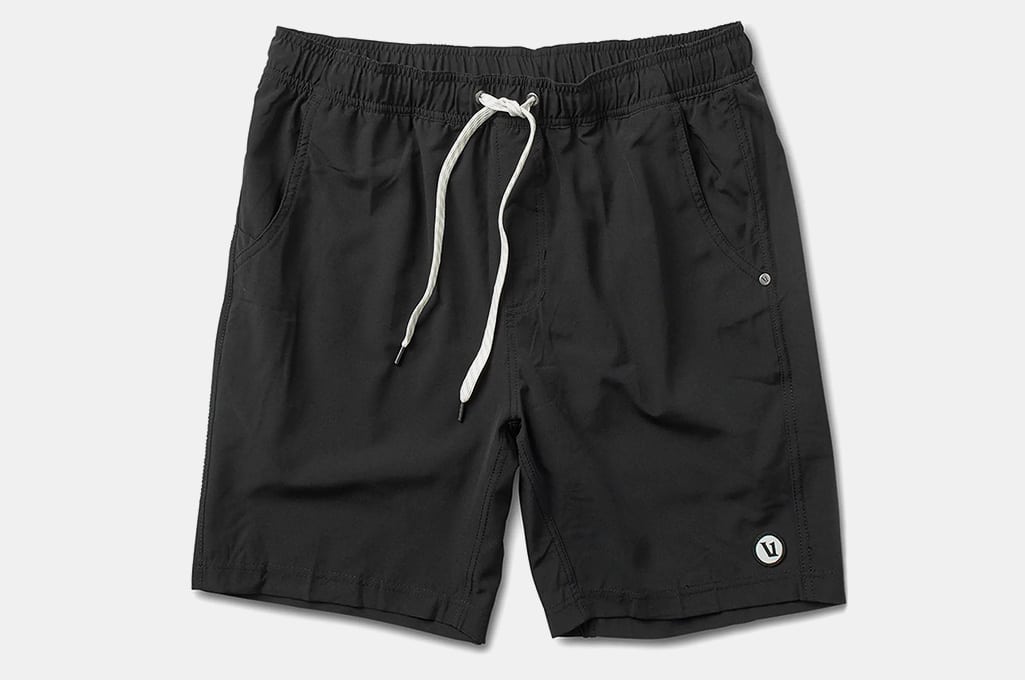 Vuori Kore Shorts
Inspired by the sporty California coast, Vuori is known for tried-and-true athletic wear designs. The Kore shorts are built with 46% fully recycled tear-resistant polyester, with a hint of elastane for mobility and comfort. They feature a classic athletic cut that stops narrowly above the knee, and a breathable inner lining. If you want one pair of shorts for multiple sports, or for a circuit workout, these guys are for you.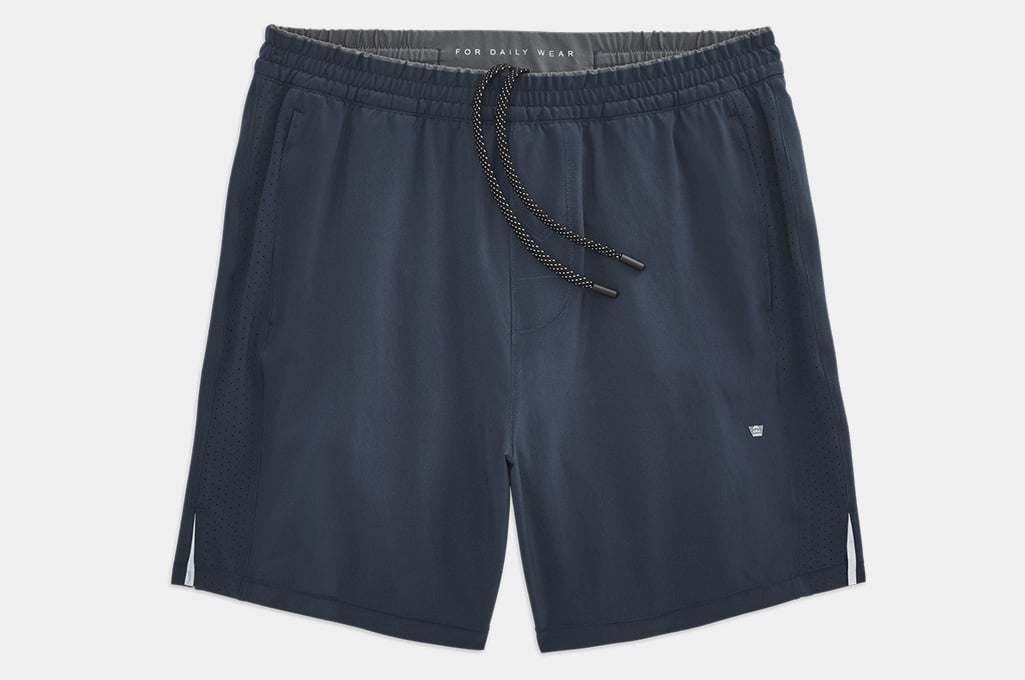 Mack Weldon Stratus Active Shorts
The patented 37.5 Technology featured in the Stratus Actives is an impressive science, perfect for you sweaty gents out there. They're made of active particles that help keep your body at core temperature, between 97 and 99 degrees. They also help keep the microclimate of your skin at the ideal humidity, which is around 37.5%, by removing sweat in its vapor stage. Basically, these shorts are hyper-responsive and work overtime to keep you dry and cool.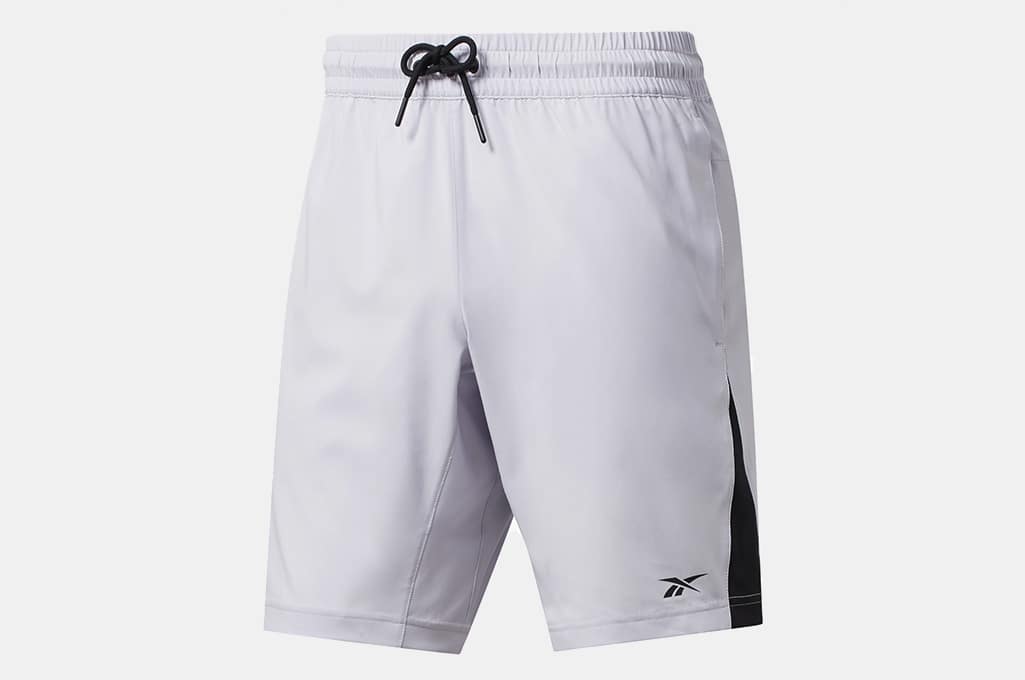 Reebok Workout Ready Shorts
Reebok is still serving up reliable athletic wear with these moisture-wicking, regular-fit shorts designed for all body types. The sizes even range from S to 3XL. The construction is a commendable 100% recycled polyester, lightly weaved for ventilation, mobility, and stretch. These non-nonsense bang-for-buck workout shorts even come in nine different colors, ranging from standard black and white, to saucier options like neon pink, bright orange, and teal.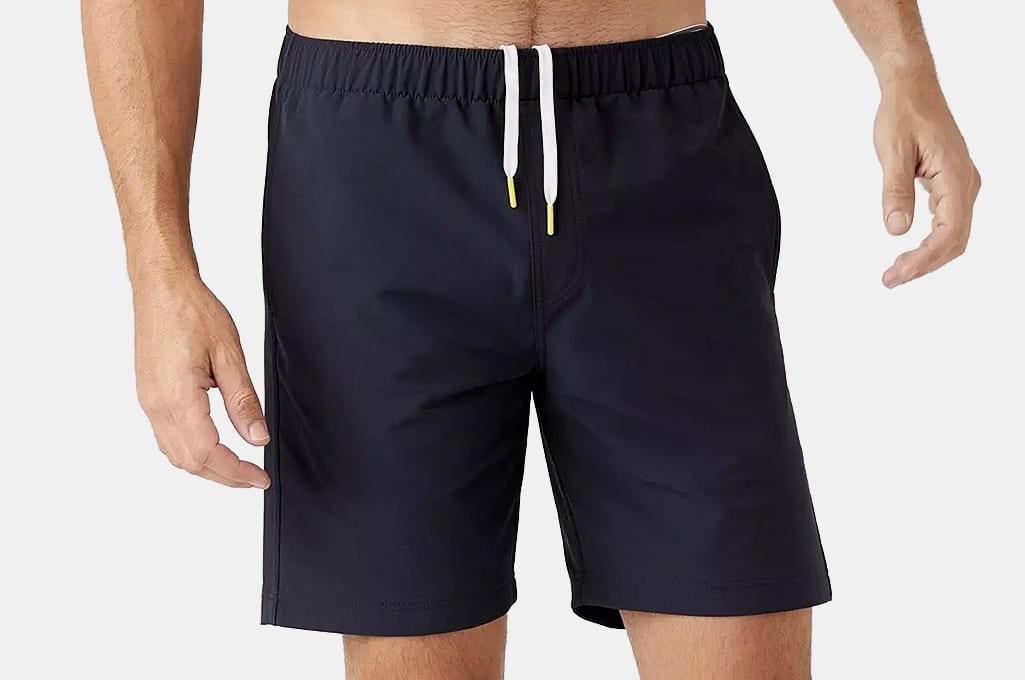 Olivers All Over Shorts
Made with 88% nylon, these shorts are built with special attention to performance. The construction gives it strength, abrasion-resistance, water-resistance, and even considerable protection from sunlight. They're perfect for outdoor runs between winter and spring when it can rain and shine within the same hour. With a 12% spandex additive, the material is also a comfortable and adaptable four-way stretch. If you're an outside exerciser, the All Overs are for you.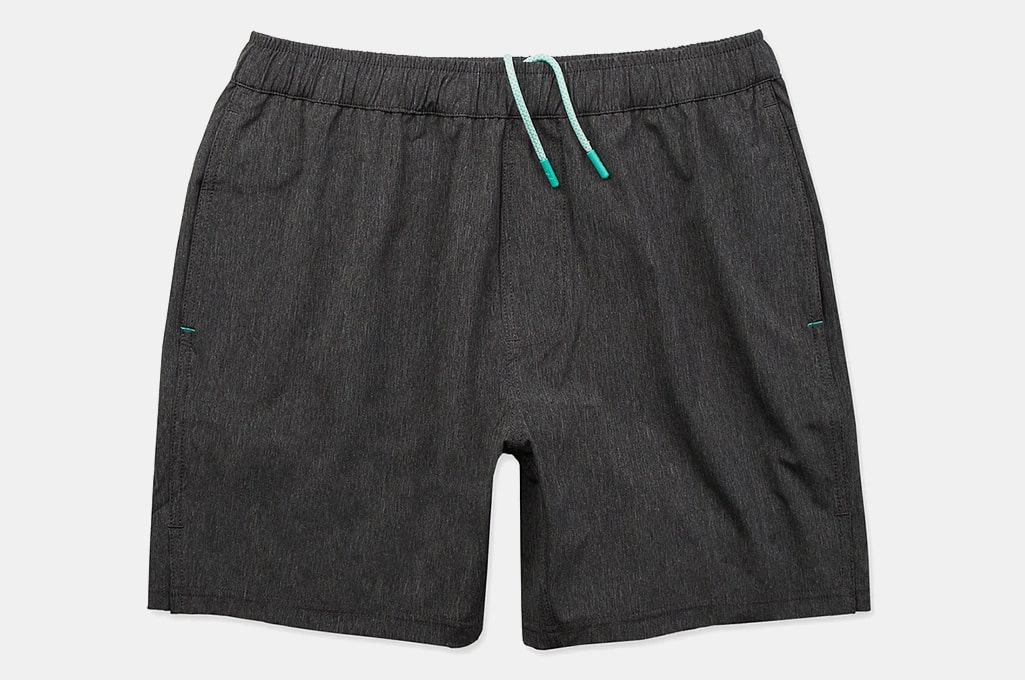 Myles Momentum Shorts
San Francisco-based Myles focuses on bridging the gap between two common practices in athletic clothes: Demoting old clothes to "workout wear" which is cheap and easy, and upscale performance wear, which is often high-concept but high-priced. The Momentum shorts perfectly encapsulate this, as it features a water-repellant, quick-dry, and four-way stretch construction. Yet its matte finish is understated and stylish, and its deep front pockets and hidden zippered back pockets are useful and practical.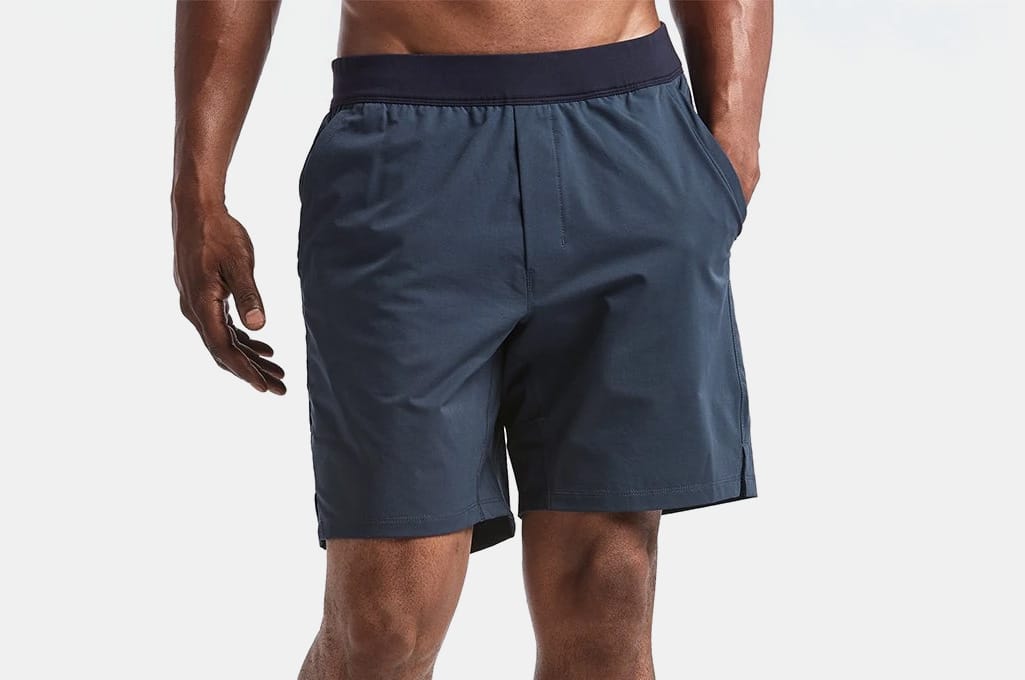 Public Rec Flex Shorts
The Public Rec Flex Shorts are as clean and simple as it gets, making them effective at the gym, on the trail, and even lounging about indoors. The elastic waistband comes with an internal drawstring and the pockets are discreet. This makes for a minimalist style and a smooth, comfortable wear. They're also long-lasting, thanks to their 100% polyester construction, and easily maintained, requiring no more than a cold machine wash.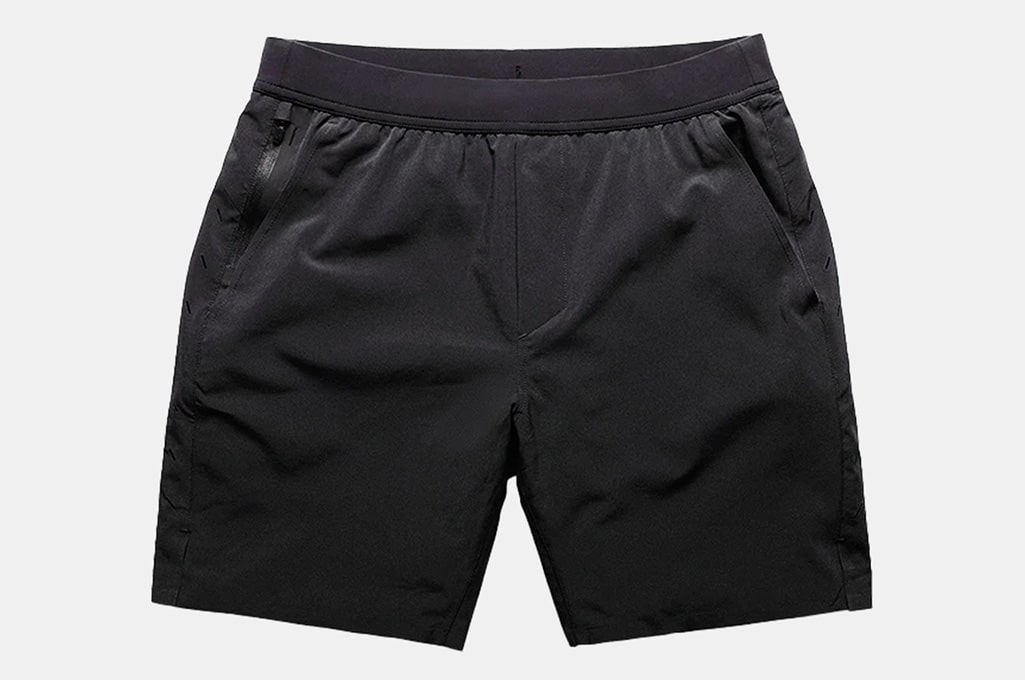 Ten Thousand Interval Shorts
If you're looking for some insurance in your athletic wear, Ten Thousand has you covered. Like everything in their line, the Interval Shorts are subjected to hours of field testing which is likely why the brand feels confident enough to slap a lifetime guarantee on it. The shell is moisture-wicking and cling-free, and the optional liner is an anti-odor medium-compression material. Conveniently, the shorts come in either 7" or 9" inseams.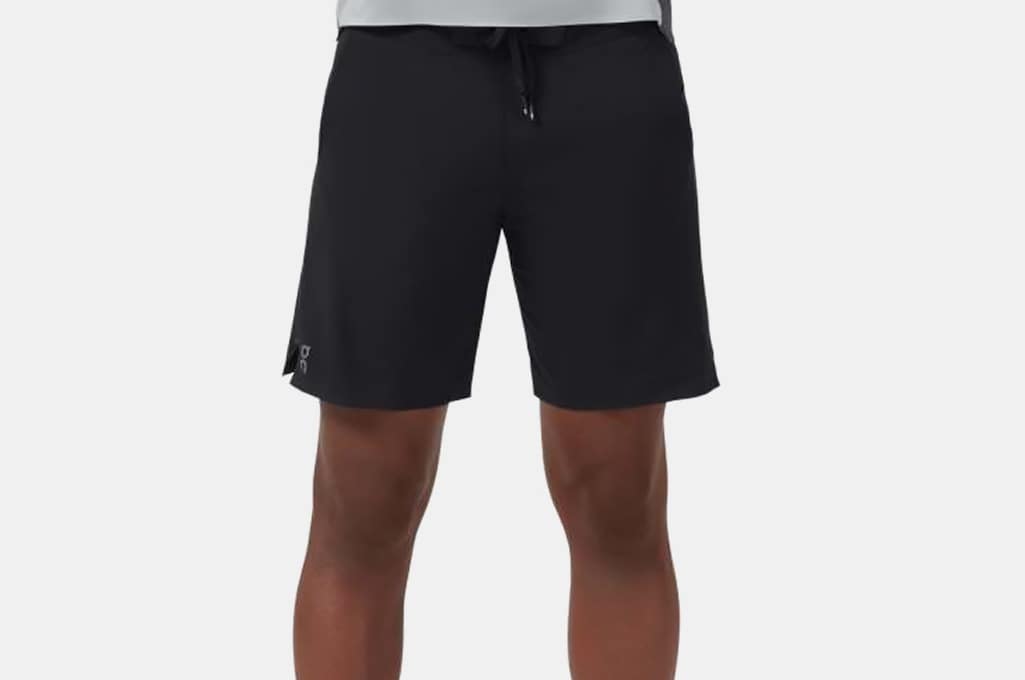 On Hybrid Shorts
These Swiss-engineered athletic shorts truly give you options. The durable polyester inner shorts are supportive and comfortable, while the lightweight outer shorts feature a high-performance athletic cut that you can shed if you need to cool off— or jump into the lake by the trail. Ever practical, both layers come with secure pockets. Finally, the gladiator style top adjustment system grants versatility in the waistband department.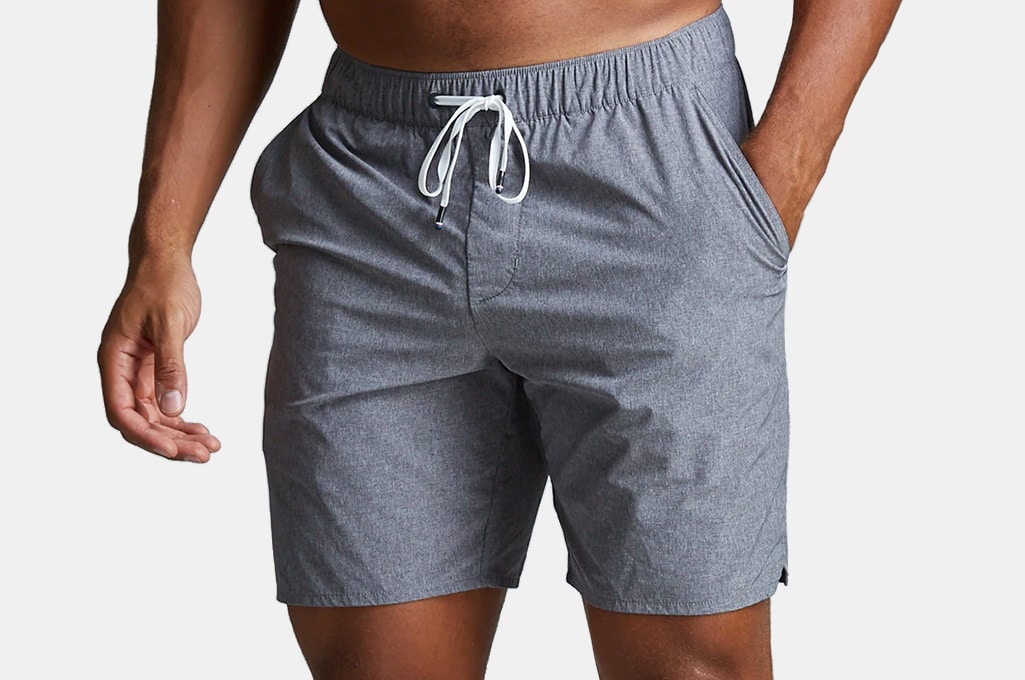 FourLaps Trek Shorts
Designed with an emphasis on water-resistance, these shorts are for you triathletes and rainy season runners out there. The nylon/polyester/spandex blend is effectively a swim-short construction that's equally competent on dryland because of its breathability and lightness in weight. These shorts also feature a practical athletic cut, and are unlined. This way, you can choose your underwear situation based on whether you'll be exercising by land or sea.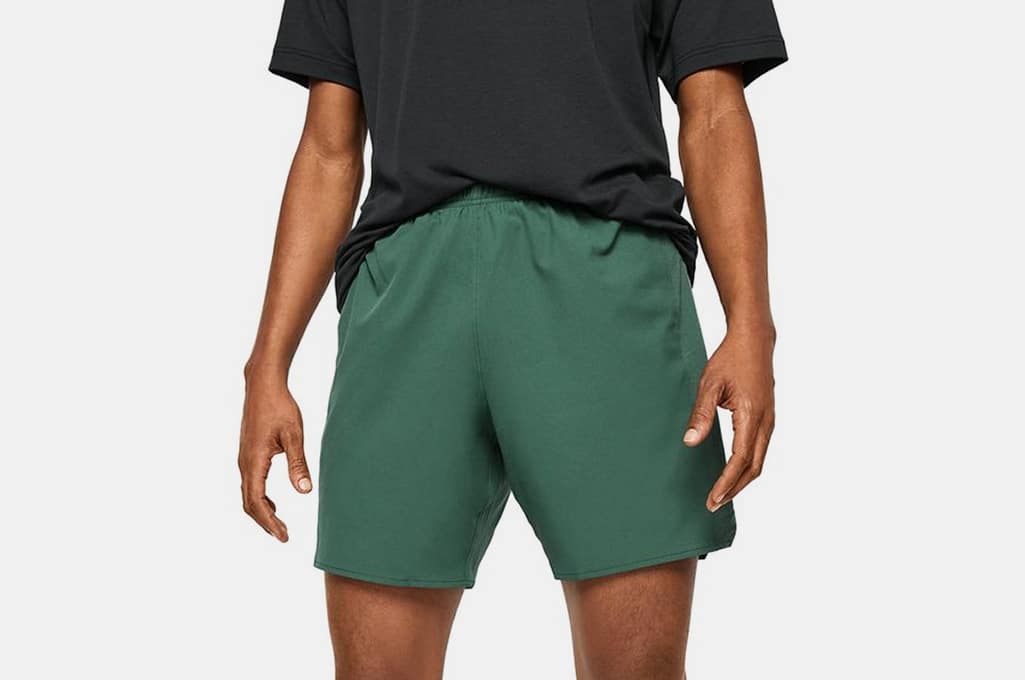 Outdoor Voices High Stride 7″ Shorts
These simple-looking shorts have a lot more going on than their versatile outer shell will have you believe. The inseam is slightly longer than the rest of the short for breathability and mobility. Its woven polyester construction is durable and suitable for any sport. For added functionality, they come with a built-in liner and secret pockets. Style-wise, the blank-slate, color-block front paired with the textured sides has an athletic streetwear aesthetic about it that pairs well with a simple t-shirt.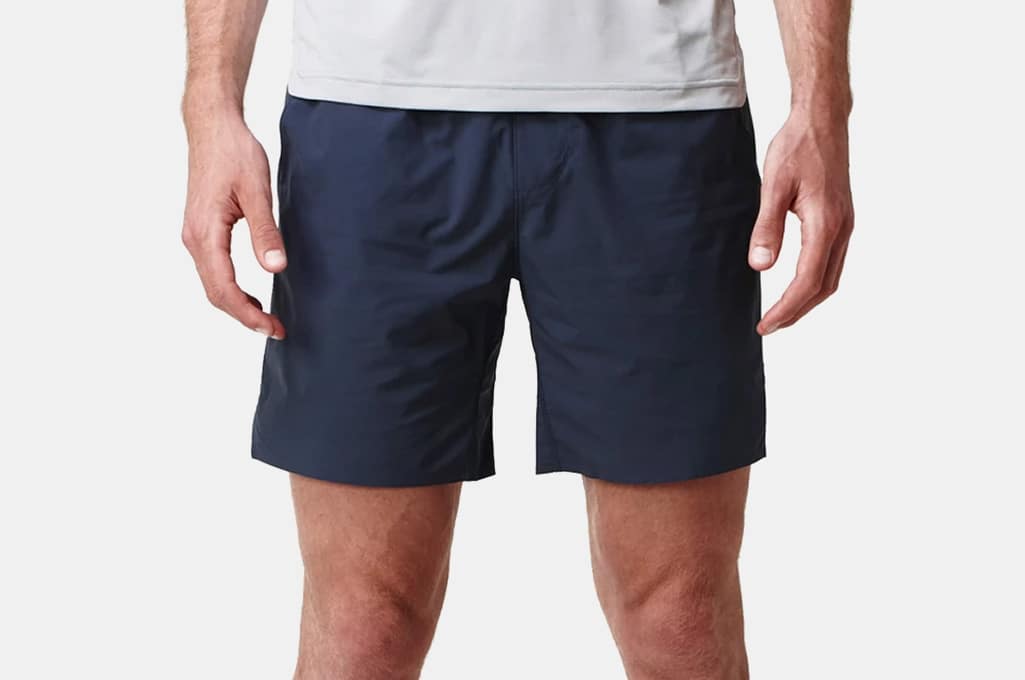 Western Rise Movement Shorts
Western Rise gives special attention to fabric sourcing. The Movement Shorts are made from a stretch polyester made by Toray, a Japanese company centered on technologies in organic synthetic and polymer chemistry. This specially developed polyester is exceedingly lightweight, matte, and snag-resistant thanks to the flat weaving. These efficient shorts also come with a hidden side seam pocket and zippered back pockets, so you can keep your phone on your person during workouts.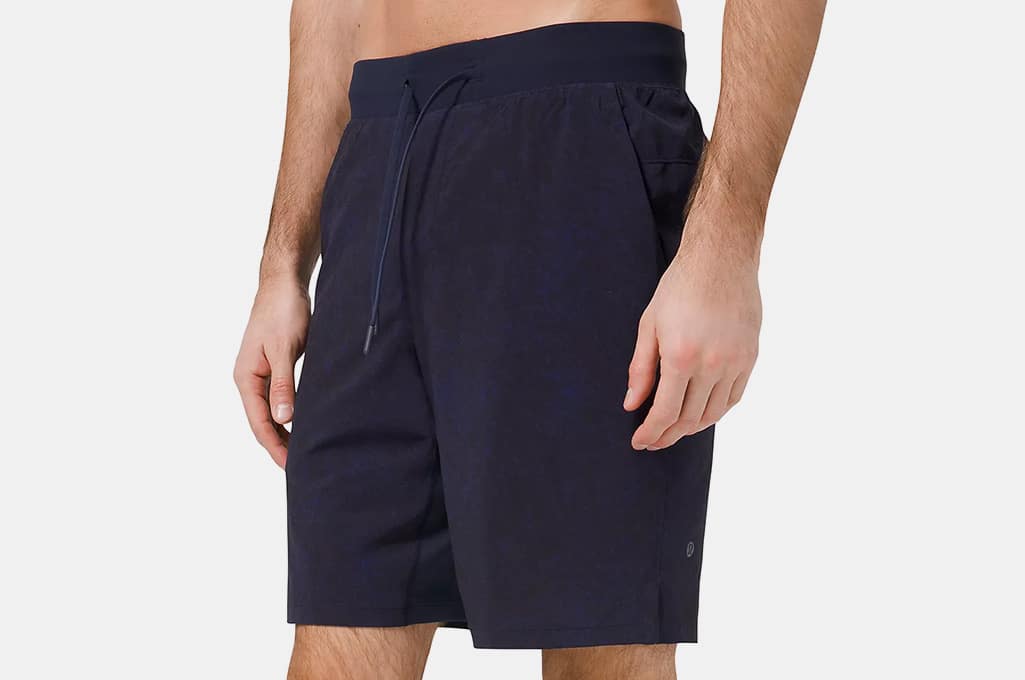 Lululemon T.H.E. Short
Lululemon has made a name for itself for its topnotch technical apparel. Their patented Swift fabric is a woven polyester that's somehow equally as strong as it is lightweight. Another Lululemon exclusive, the Out of Mind mesh liner is quick-drying, moisture-wicking, and famously breathable in the sweatiest situations. Other cool features include flat-locked seams for extra comfort and a clever split hem to keep you mobile and limber.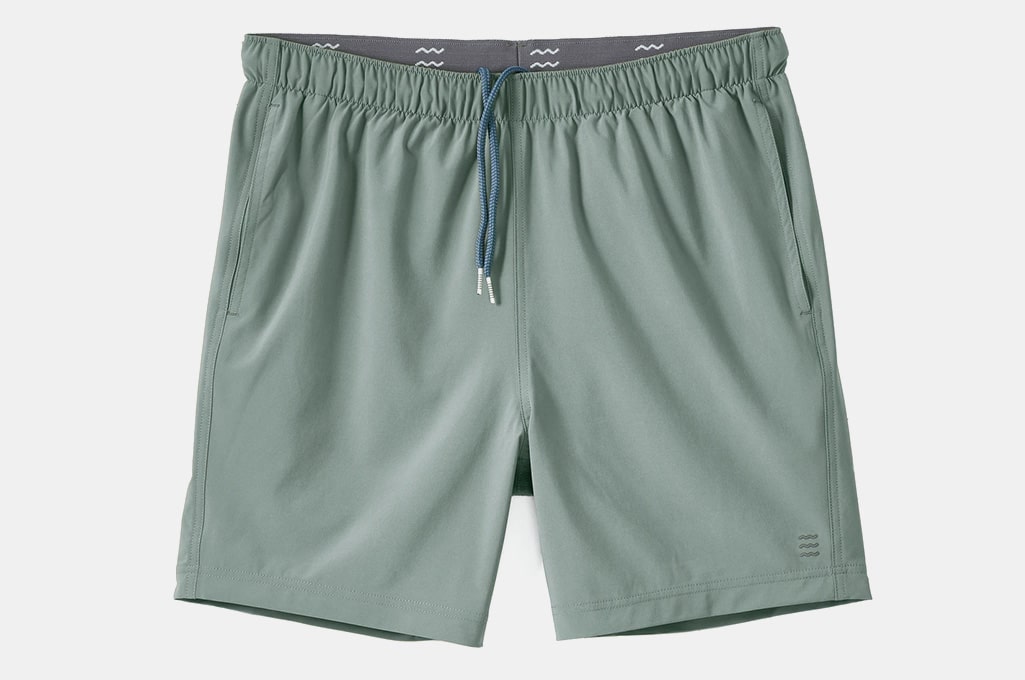 Free Fly Breeze Shorts
These training shorts are for you gents who love summer runs. Inspired by the weather conditions true-blue anglers often face on the river, the Free Fly Breeze Shorts are designed to keep you comfortable in any temperature. The high-tech polyester/spandex fabric is designed to provide max breathability and a 50+ ultraviolet protection factor. This means they block over 98% of type B ultraviolet rays, which cause sunburn, and type A rays, which cause premature skin aging.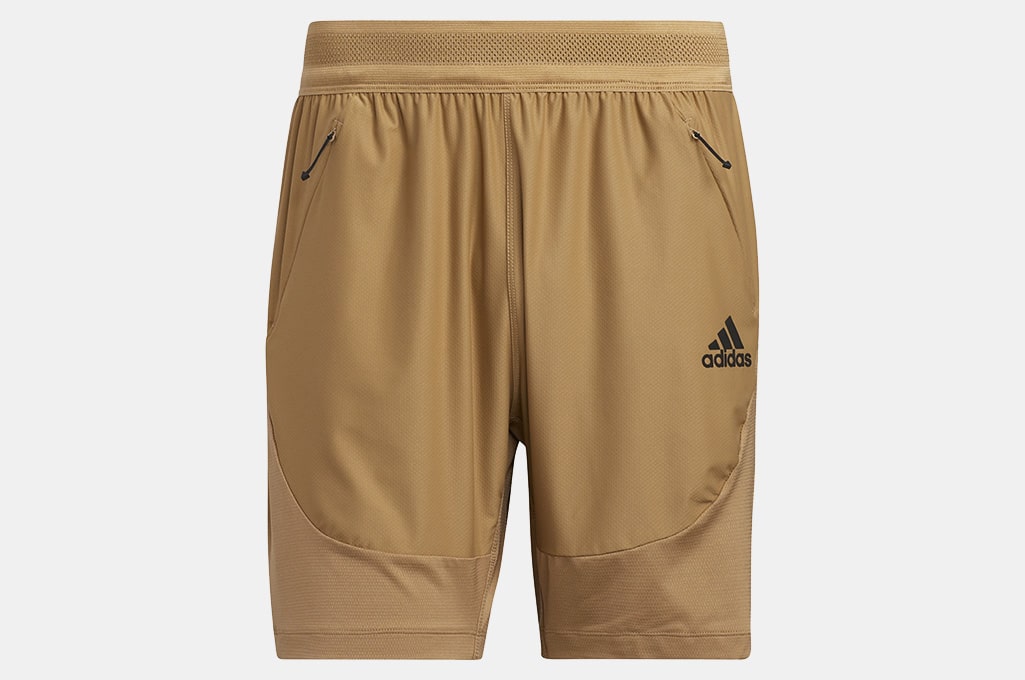 Adidas H.rdy Shorts
These ultra comfy shorts have roomy but stretchy leg bands, providing a great fit even for you never-skip-leg-day champs. They're perfect shorts for gym workouts and outdoor soccer games. Since its adidas, they're also stylishly casual, designed with a tactile sectioned-off look featuring different textures throughout. The waistband is particularly cool, with its lush mesh middle-line and closed loop lace system.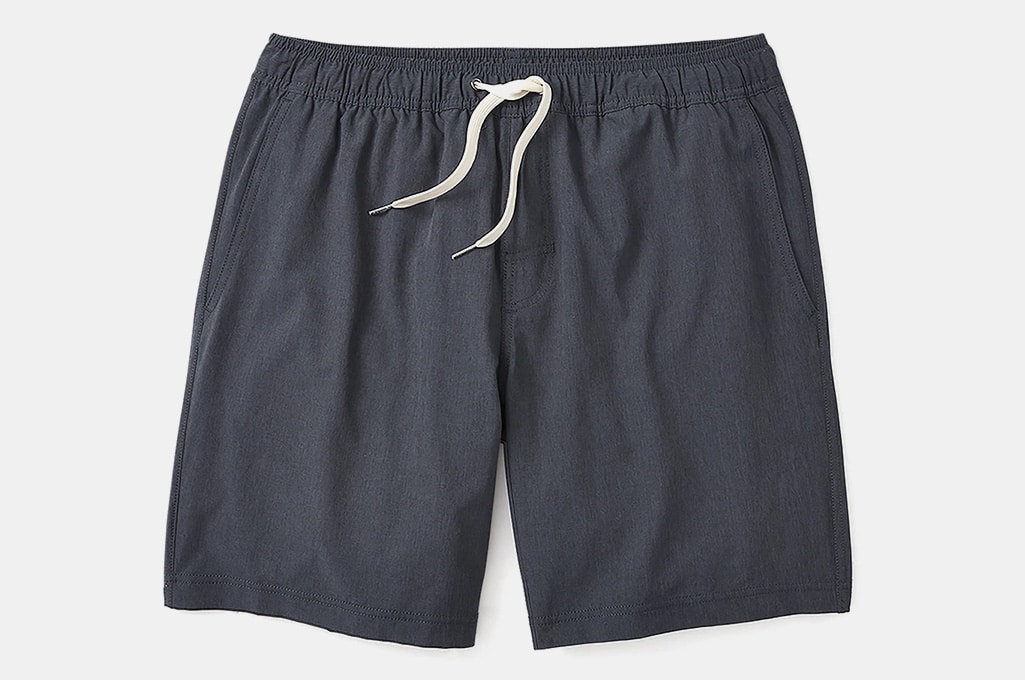 Fair Harbor The One Short
These four-way stretch shorts are pajama-soft, yet durable and effectively water-repellant. You can literally sleep in these, then jump straight into the pool first thing in the morning if you so choose. Another impressive quality is that Fair Harbor builds these workout shorts out of 90% plastic bottles, each pair utilizing about six recycled bottles. They have a subtle cotton-short texture and come in vacation-friendly colors like khaki and light blue.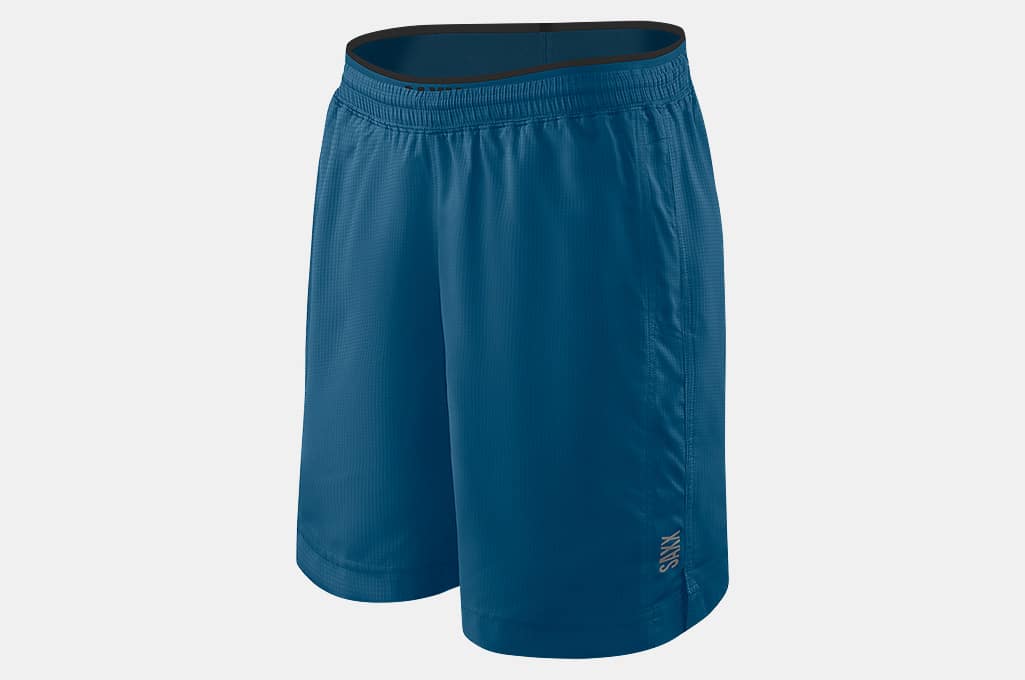 Saxx Kinetic Train Shorts
The shorts of maximum functionality, Kinetic Train Shorts are filled to the brim with athletic technology. The light and free-flowing outer shell is lined with a semi-compressive layer which promotes blood flow and increased oxygen. The BallPark Pouch gives friction-free support, and the patented Three-D Fit is an intelligent construction providing ergonomic support around the thighs, quads, glutes, and hamstrings. Finally, the Flat Out Seams use a smooth front seam placed inside of the garment to fully prevent chafing.
Nike Dri-FIT Flex Pocket Yoga Shorts
These training shorts are made for a far-reaching range of motions. Nike's Flex fabric is an in-house technology with hem vents designed for deep bends like lunges and squats. Meanwhile, Nike's Dri-FIT technology is built with a high-performance microfiber that diffuses sweat across the fabric surface so that it evaporates quickly. Overall, these shorts perfectly move with you while reinforcing your body's natural cooling process.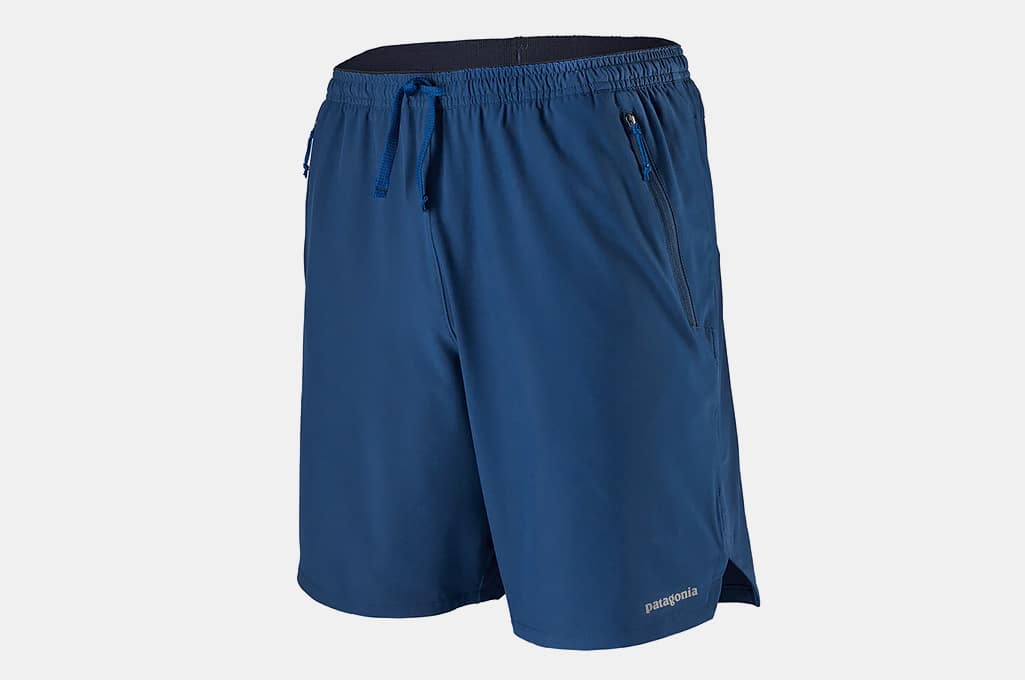 Patagonia Nine Trails Shorts
The Nine Trails Shorts are traditional and versatile running shorts featuring a loose and comfortable regular fit for maneuverability and ventilation. They're lightweight and constructed with a sweat-wicking blend of 91% recycled polyester and just a bit of spandex. Naturally, they're also made with odor-control additives. Like 82% of Patagonia's line, these shorts are Fair Trade Certified. On the fashion front, they don't just come in different colors but fun patterns too.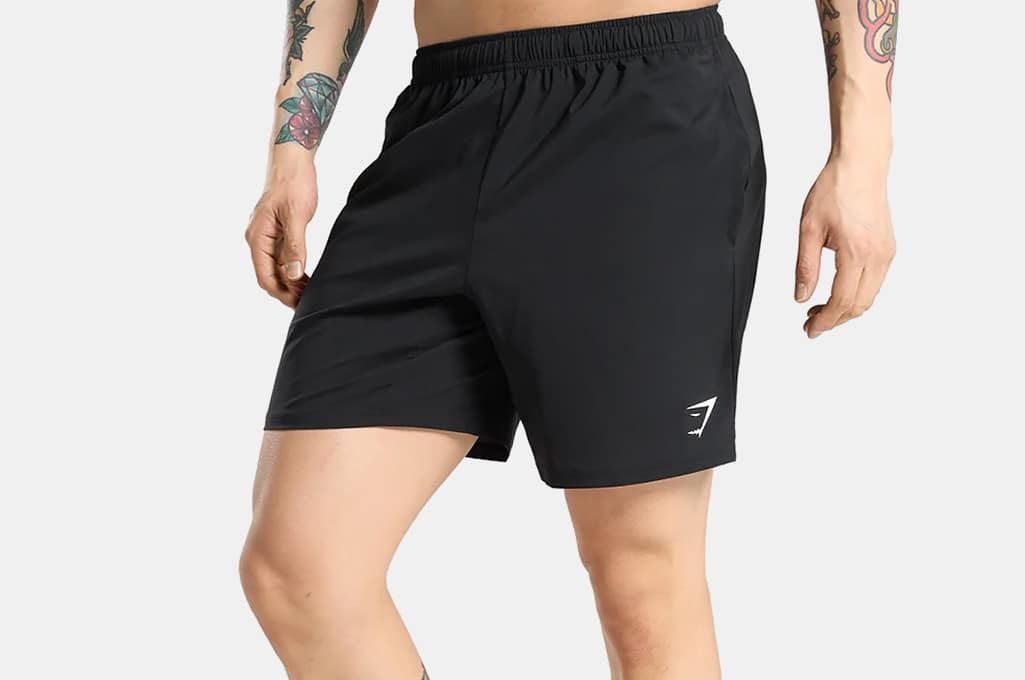 Gymshark Arrival Shorts
If you're looking for extra light and easy workout shorts, go for these simple but effective Gymshark Arrivals. Whether you wear a small or an XXL, these shorts boast a versatile slim fit, short cut, and 7" inseam allowing you to move from cardio to weight-lifting uninterruptedly. Regardless of the lightness, the 100% polyester construction makes them super strong so you can definitely go hard in these.
Disclosure: Clicking on these links and making a purchase may earn us a small referral fee, at no extra cost to you. Learn more here.
freestar.config.enabled_slots.push({ placementName: "gearmoose_leaderboard_btf", slotId: "gearmoose_leaderboard_btf" });