The 20 Best Gym Shorts For Any Workout
The new year is an absolutely essential time to kickstart your fitness and kickstart your style — and that goes for the gym gear you're wearing, too. The start of the year always shapes up to be a crowded one in terms of the gym, and that means you should aim to look your best, all the way from the ground up.
In the way of the best men's gym shorts, we've rounded up some of our favorites in terms of looks and performance — two crucial pillars that are all the more important when powering through multiple training sessions a week. Believe it or not, there are brands out there that are taking the same care when it comes to crafting gym shorts as your other favorite brands take when it comes time to crafting chinos and suiting.
So, given that, we think it's the best time to grab a pair or two of these gym shorts. Shop away, stock up and hit the weights.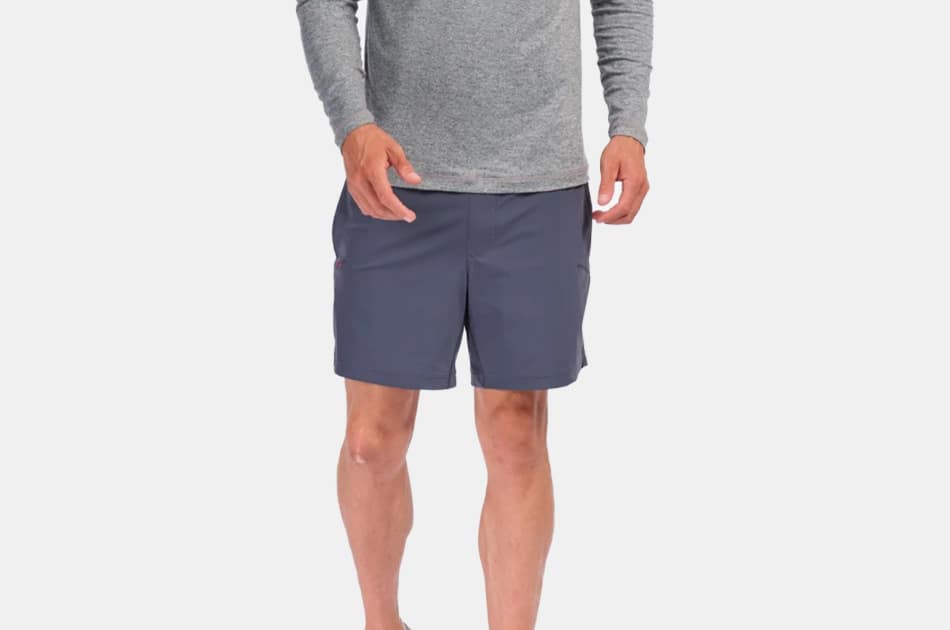 Best Overall: Rhone Versatility Workout Shorts
There's really no time like the present to amp up your workout — from home — and to amp up the gear you wear in an according fashion. For the right blend of utility and functionality (now and when you can finally get back into your gym), Rhone's Versatility Workout Shorts hit the nail on the head, featuring a not-frequently-seen Italian lightweight warp knit fabric that's breathable and as durable as you need it to be (and you demand a lot from your workout shorts, as you should).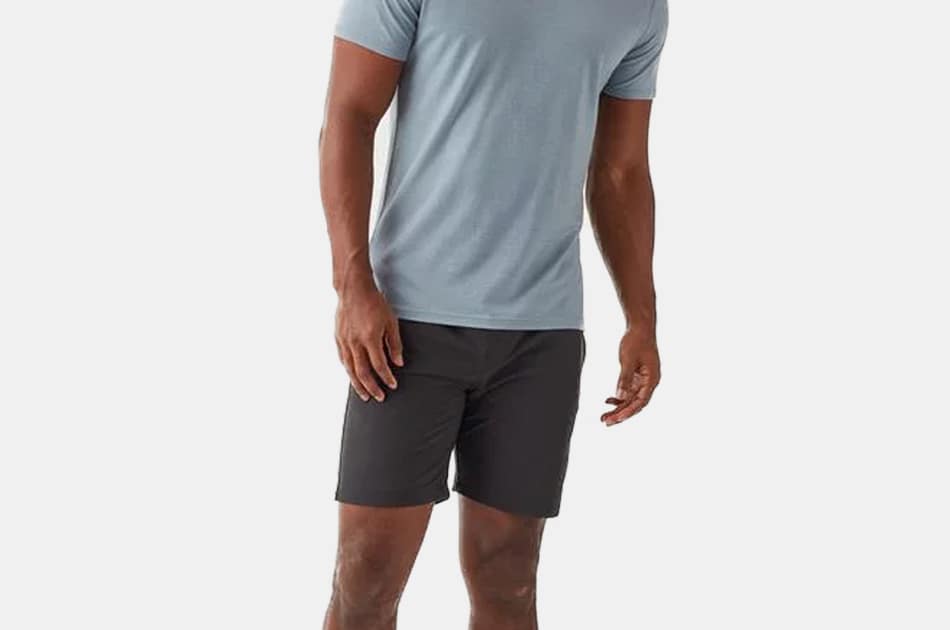 Best For Water Resistance: Olivers Apparel All Over Shorts
OLIVERS has taken its lauded All Over Shorts — made to be worn, well, all over — and added a liner for extra functionality. The brand uses an All Over Stretch Weave, built with water-repellent fabric and a helpful 7.5-inch inseam that should fit most body types. When it comes to great gym shorts, OLIVERS can definitely get the job done, quite simply and effectively at that. It falls in line with the brand's focus on simple, effective everyday gear. In short, that's the type of gym short that you need for your next workout, without a doubt.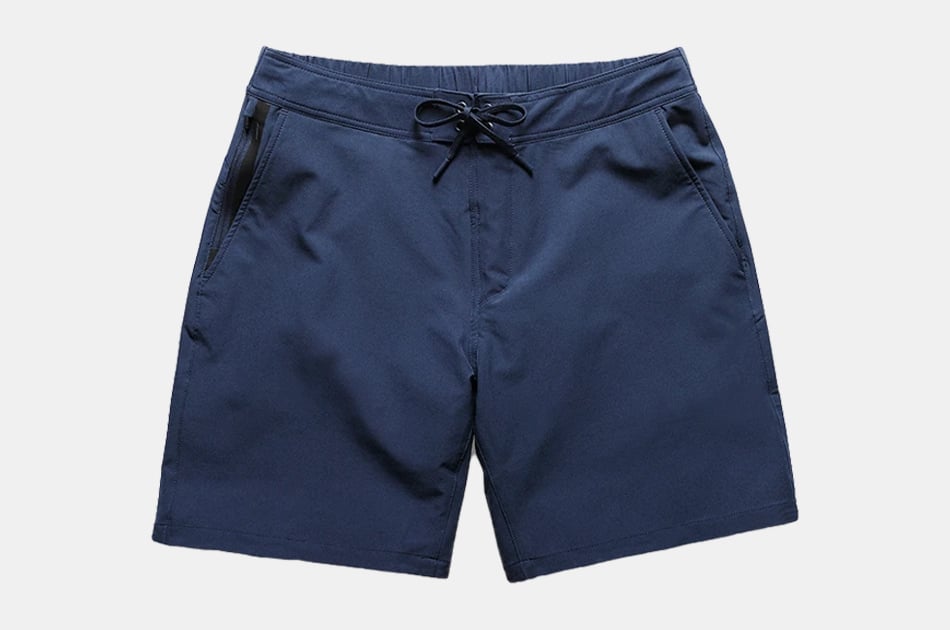 Editor's Pick: Ten Thousand Foundation Shorts
When we find a pair of the best men's workout shorts well, we sit up and pay attention. Or more accurately, we find a way to get our legs into a pair of them, and then head to the gym. The Ten Thousand Foundation Shorts have a lot going for them, from the stretch fabric to a handy headphone cable port (featuring a laser-cut opening). These shorts really have all your bases covered when it comes to a stylish, essential pair of men's gym shorts.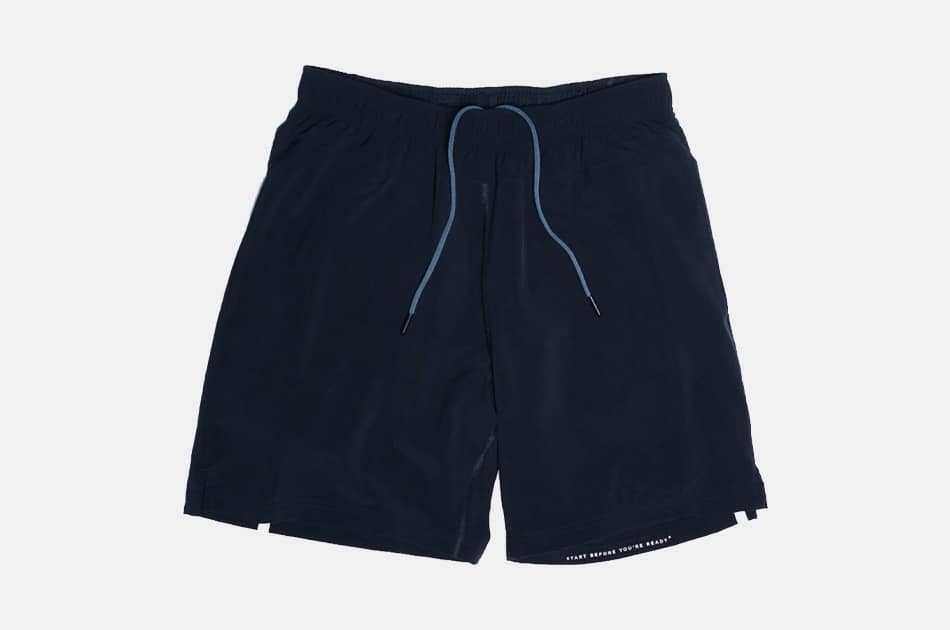 Best For Running: Fourlaps Bolt Shorts
Fourlaps makes gear that's as effective and cool for hanging at home as it is for going through grueling training sessions, and they do it all with speedy, cool style. The Fourlaps Bolt Shorts exemplify this approach perfectly, with a no-frills design, a wicking liner and an elastic waist for crucial ease of movement at the gym.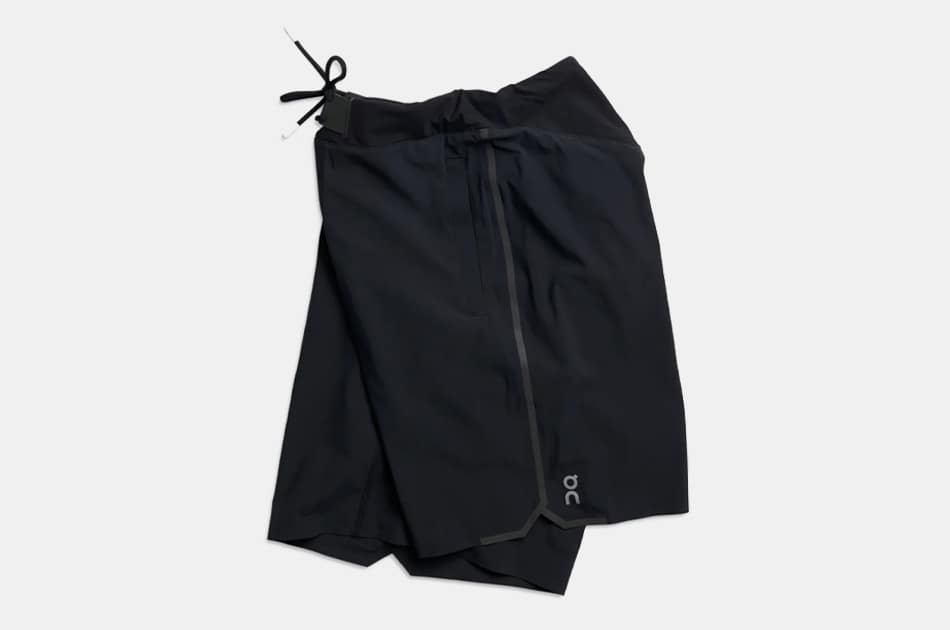 Best Technical Shorts: On Hybrid Shorts
Just as with some of our other favorite brands on this list, On Running does more than one thing well, and that's especially good news if you're searching for a pair of workout shorts. The On Running Hybrid Shorts team nicely with a technologically savvy pair of sneakers, and that's positive, seeing as these shorts also happen to be, well, technologically savvy. They're $100 before shipping, but they're made with every last detail considered, on down to the stretchy fabric geared to keep you going workout after workout.
Best For Everyday: Myles Everyday Shorts
This pair of shorts, the Everyday Shorts, are a pair that built the Myles Apparel brand. They emphasize the brand's emphasis on quality and crisp construction, while you can hardly find a better pair for under $60. Go clean and classic with a sharp Navy or Olive pair, all the better when it comes time to focus instead on your workout (and not what you're wearing). Simply throw on the Myles Apparel Everyday Shorts and forget about 'em — workout after workout.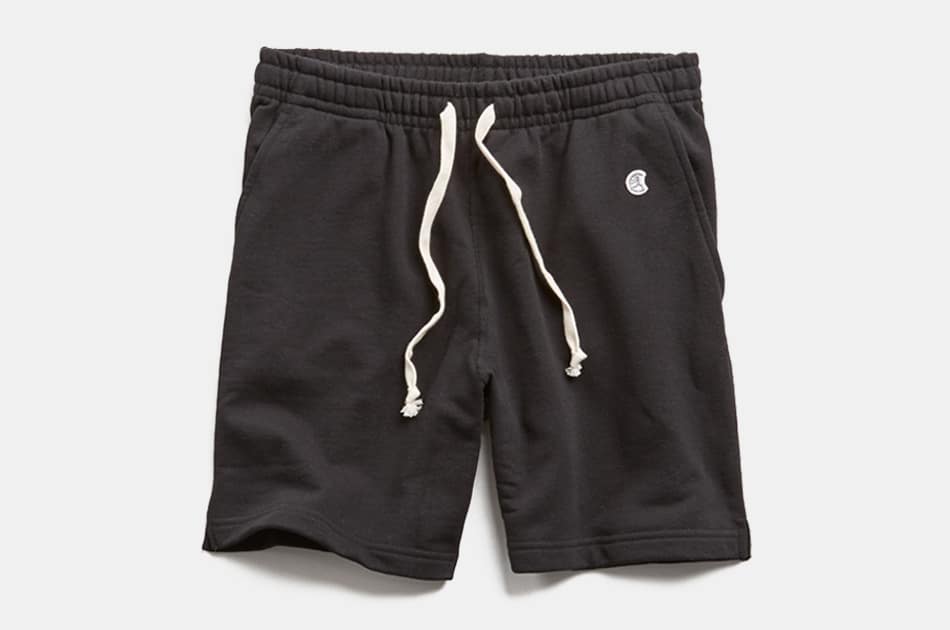 Classic Pick: Todd Snyder x Champion Midweight Warm Up Shorts
As much as we love Todd Snyder's utterly classic chambray shirting, LA-made denim and exquisite suits, there's something to be said for a brand that can really do it all — including making a pair of the best men's workout shorts. The Todd Snyder x Champion Warm Up Shorts do this quite handsomely, channeling old-school retro cool and modern-day comfort — the perfect shorts to wear on a chilly, early morning run.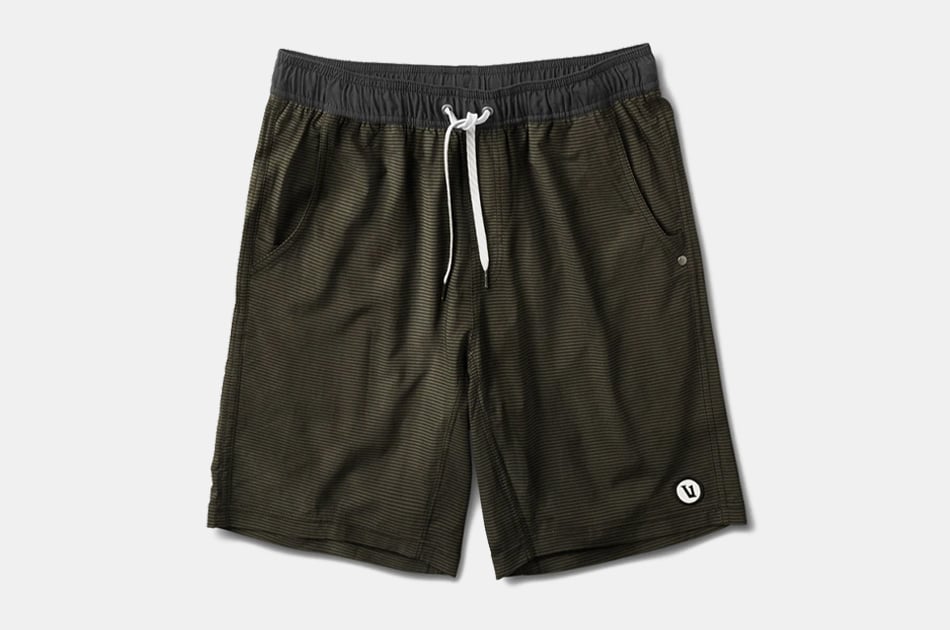 Best For Lounging: Vuori Kore Shorts
Vuori's Kore Shorts blend a stylish stripe pattern with what the brand calls a "classic athletic fit" for the ultimate in versatility and cool looks that you can feel good about. Wear these to train (solo) at your local track, wear them for a home workout or at the gym, and wear them when hanging around the house — Vuori has you covered.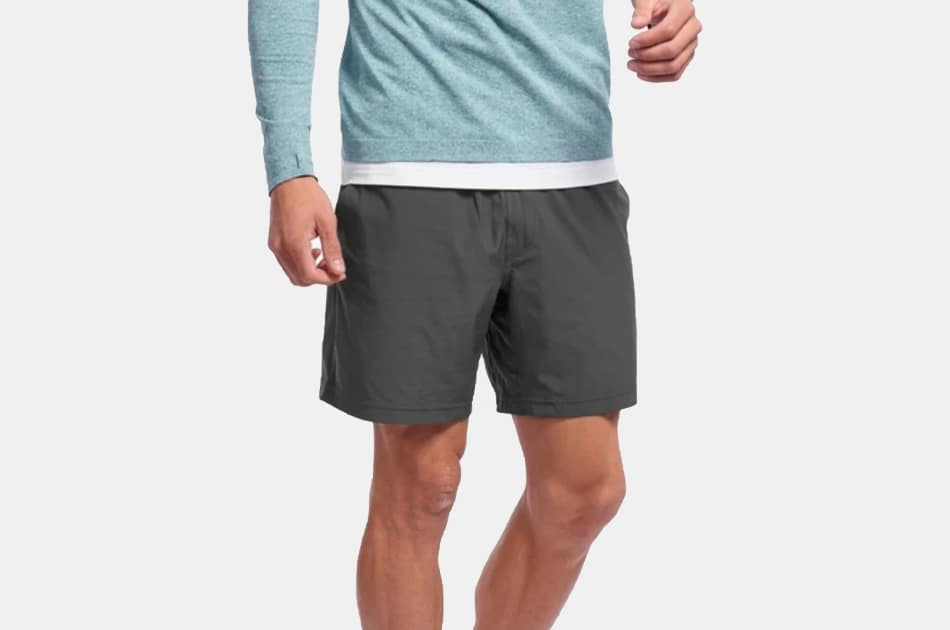 Best 9-Inch Shorts: Rhone Mako Workout Shorts
When you hit the gym or head out on a training run, you expect you gear to perform at a high level — the same expectations you assuredly have for yourself. So when a brand makes a pair of workout shorts that it bills as the best workout shorts on the planet, well, that's a lot to live up to … right? For demanding gym rats and new workout enthusiasts alike, the Mako Workout Shorts might fit the bill nicely, featuring handy details like a mobile 9-inch inseam and a helpful media pocket. Again, you expect a lot out of your workouts — hold your gym shorts to the same standards.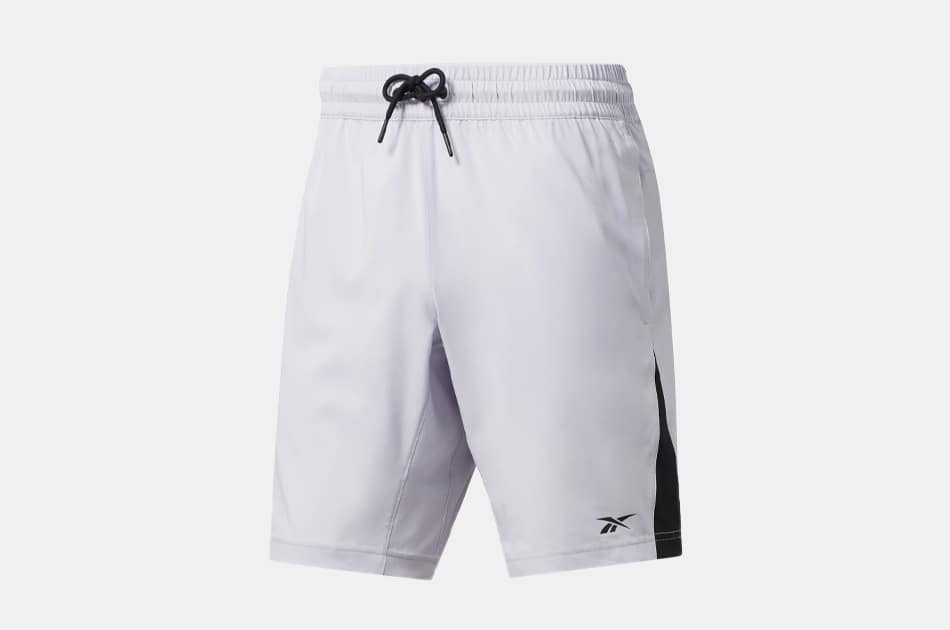 Best Moisture Wicking: Reebok Workout Ready Shorts
What best to pair with your comfortable, durable Reebok sneakers? Reebok's fittingly named Workout Ready Shorts, available for a truly outstanding price (under $40) and made with crucial moisture-wicking fabric that'll keep you cool and comfortable — no matter how long your workout lasts. Recycled polyester is used to construct these, so you can be sure they're sustainable, too.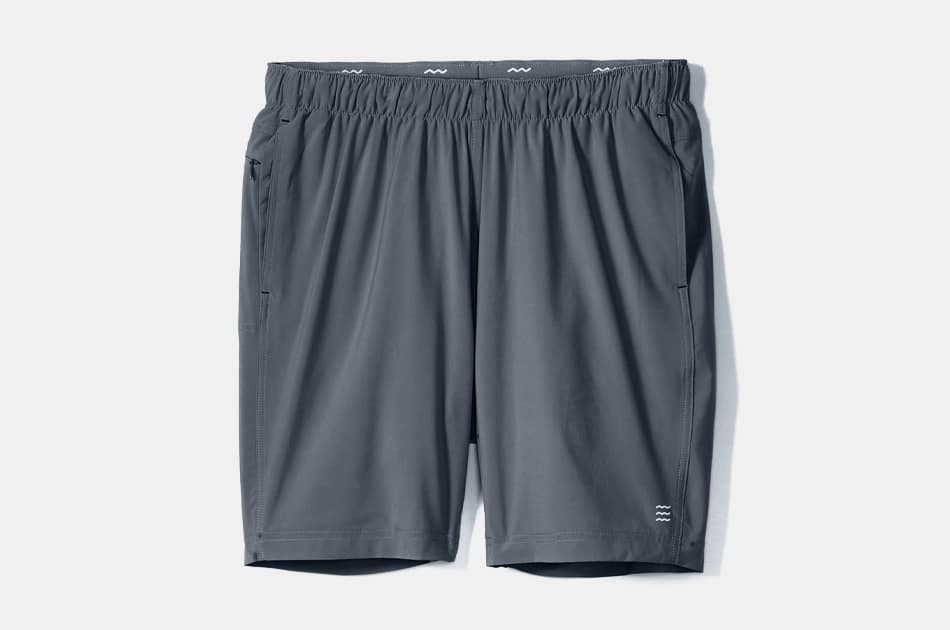 Lightest Shorts: Free Fly Breeze Shorts
Free Fly specializes in making the kind of mobile, functional gear that can take a beating and keep on going — the Breeze Shorts are fit for outdoor exploration of all sorts, and yet, they're the perfect shorts to wear to work out at home. Remember: No matter where you are, the right gear still matters, and it can still help you get the most out of your training session. Buy your pair now to outfit you for the most taxing training sessions and exploration — no matter where you're going.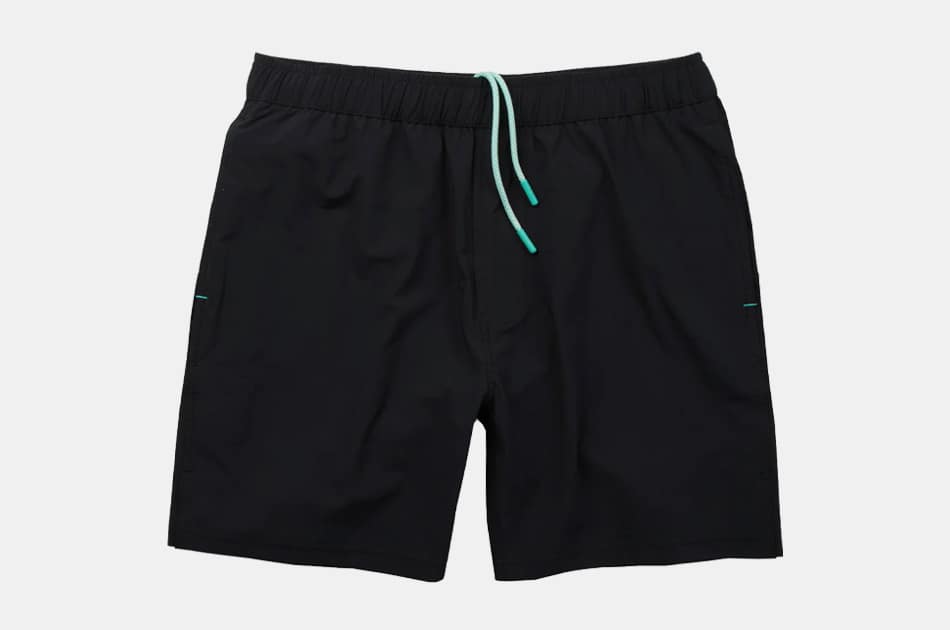 Best For Outdoors: Myles Momentum Shorts
The lauded Myles Apparel brand continues its expansion into gear for every facet of your lifestyle. It certainly shouldn't come as a surprise — in fact, we'd be surprised if you didn't want to snag the Myles Momentum Shorts right now. The lightweight nylon-spandex blend features four-way stretch, a crisp "River" color and handy touches like a headphone port opening and a series of hidden zippers for clean, effective style.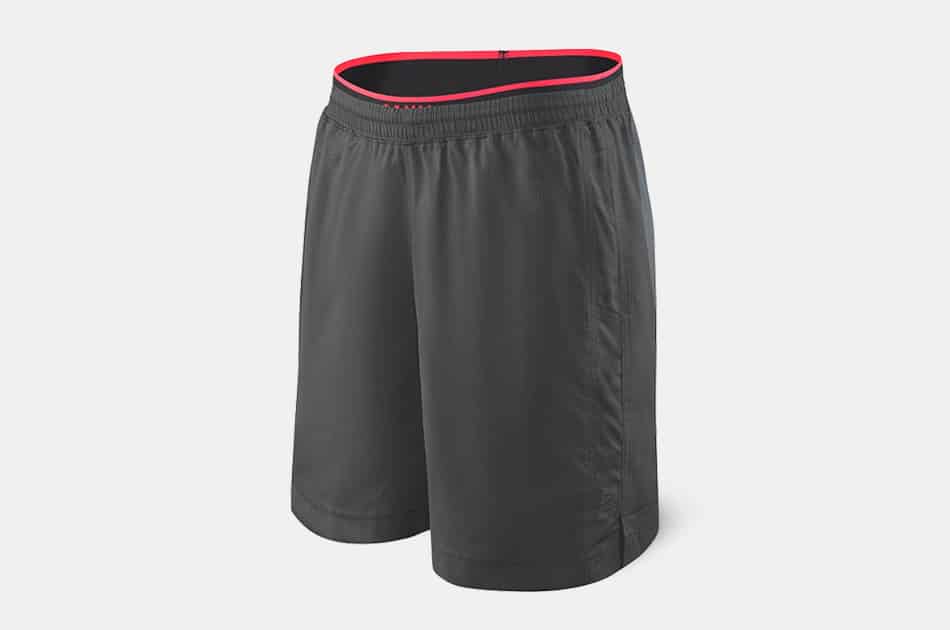 Best Odor Protection: Saxx Kinetic 2N1 Train Shorts
Go searching for a deal on men's gym shorts, and you just might find yourself looking up these guys from Saxx — we appreciate the great price on the Saxx Kinetic 2N1 Train Shorts, and we also appreciate that they feature anti-odor construction and a kinetic liner for support and performance at the same time. Can't turn down that, can you?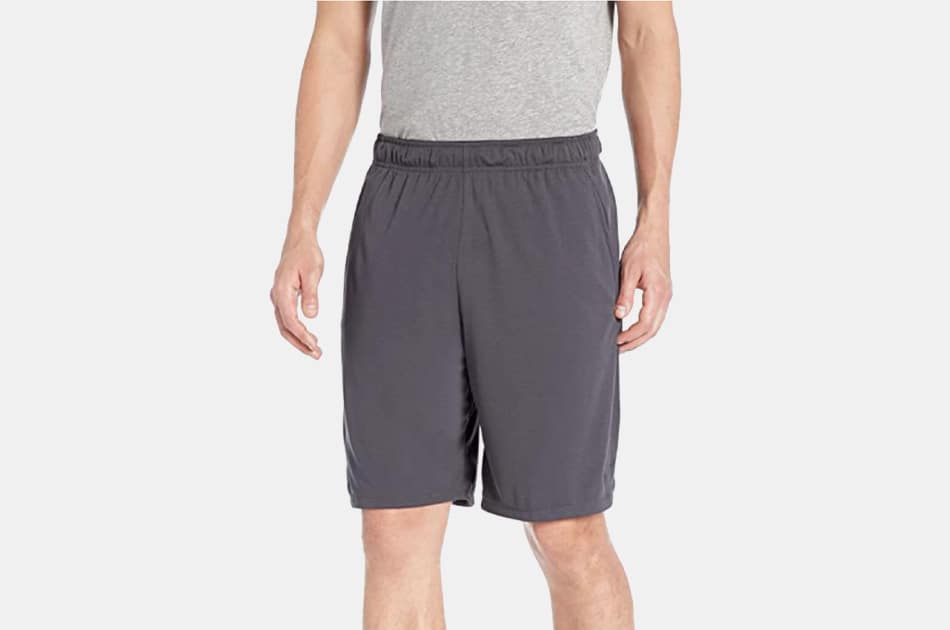 Best Longer Shorts: Nike Dri-Fit Training Shorts
Nike is yet another brand that you can turn to time and again for the best workout gear on the market — tough gym shorts included. The brand's Dri-Fit fabric has long been a reliable go-to in terms of keeping you feeling (and performing) your best, and it's what makes these simple-yet-effective training shorts so essential as far as your next gym look goes. The black color goes with everything in your gym kit — even those flashier training shoes.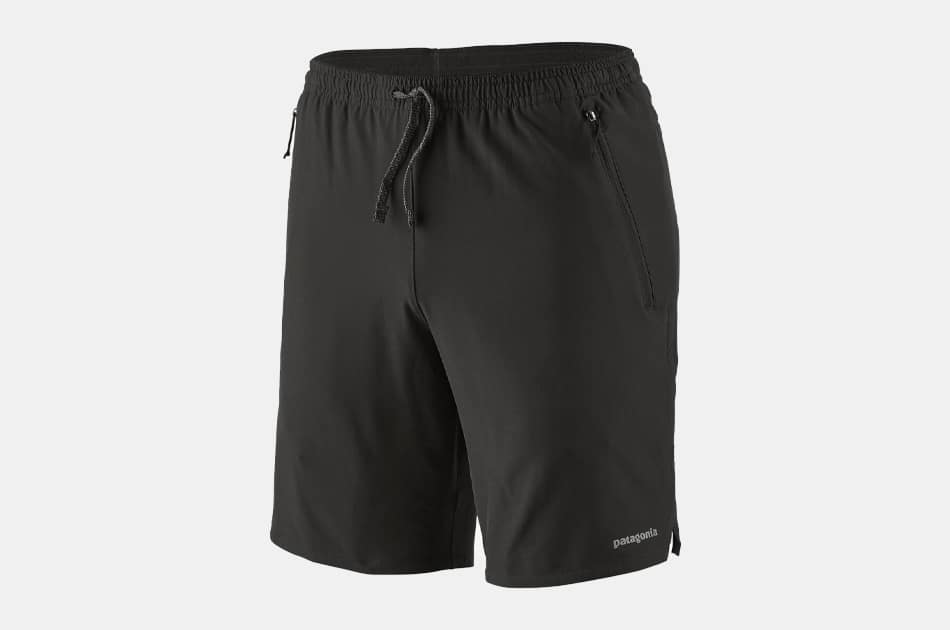 Most Versatile: Patagonia Nine Trails Shorts
For all the care that Patagonia has put into its classic outdoor gear, from layering pieces to puffer jackets, that same approach carries over to the Nine Trails Shorts seen here. They're made from polyester and spandex, yet done so in a way that's different from other brands — Patagonia uses recycled materials for this particular pair. A waist drawcord offers you a secure fit, while the moisture-wicking liner is yet another handy design touch done the right away by these guys.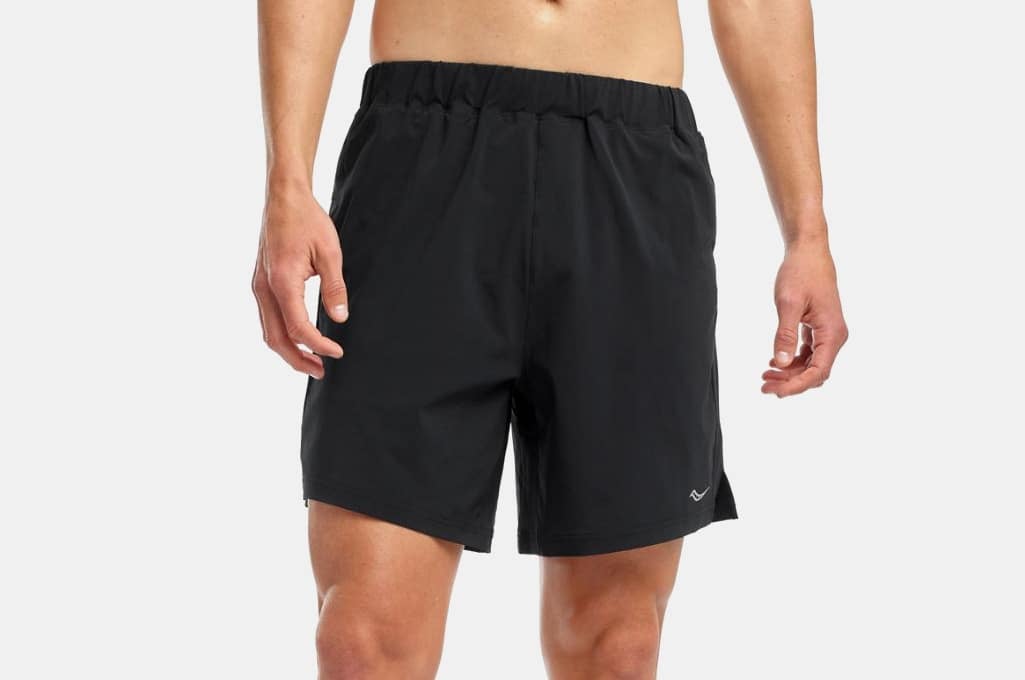 Best 7-Inch Shorts: Saucony Men's Outpace 7" Short
These shorts are built for comfort, and they truly deliver. The seven-inch inseam hits at just the right length for good coverage without too much added bulk or bunchy fabric to get in your way in the gym. And the lightweight material, including the roomy built-in mesh brief liner, is totally cling-free, no matter how sweaty your workout gets. And on top of performing well, these shorts are also made from sustainable materials.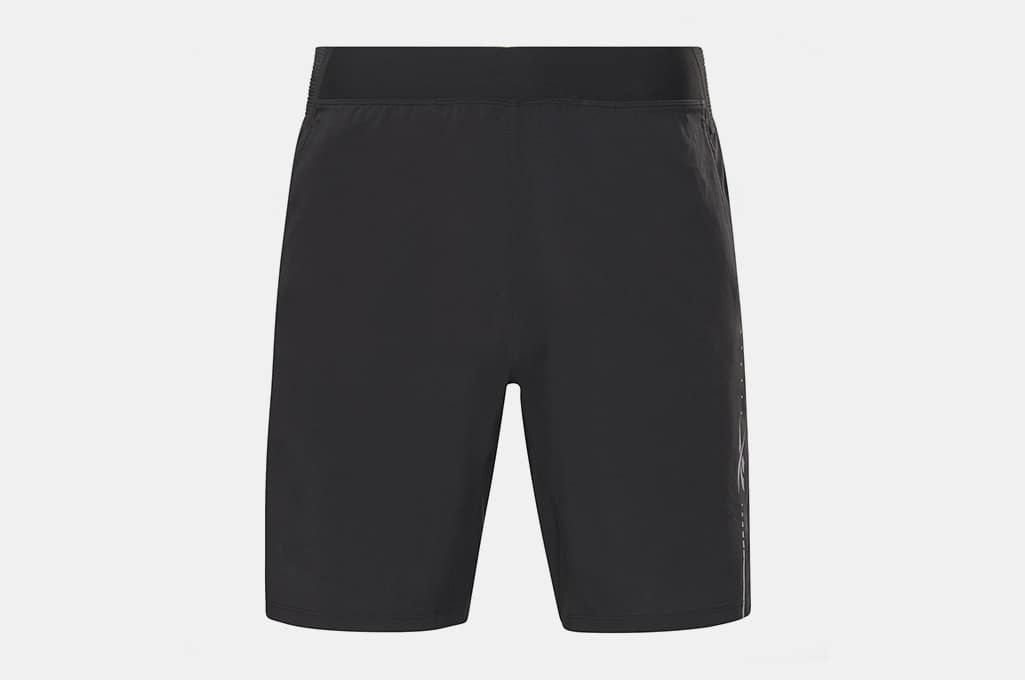 Best For Lifting Weights: Reebok Epic Lightweight Shorts
Even if you're stashing your phone in the zippered side pocket, these shorts are light, comfortable and designed for movement. Reebok's PerformBand waistband keeps things smooth and jostle-free, whether you're on the track, treadmill or squat rack at your local gym. The shorts also have subtle side slits to allow for more movement.
Additional Gym Shorts: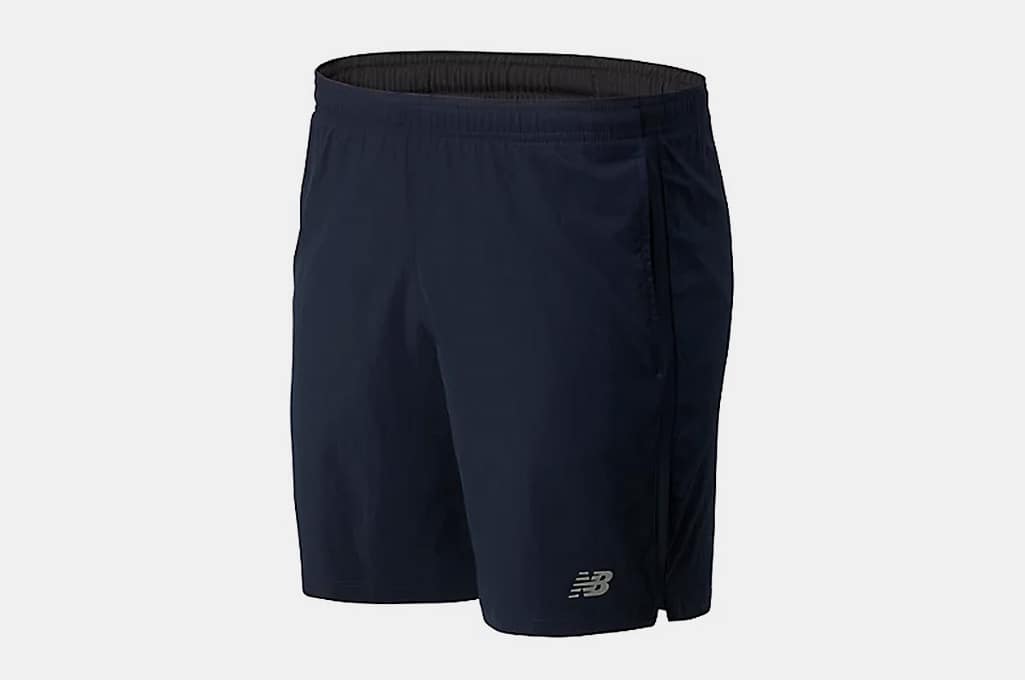 New Balance Accelerate 7″ Short
We can get behind any sportswear from New Balance that complies with its "green leaf standard", including the Accelerate shorts. At least half of the materials in these shorts are made with environmentally-responsible materials. In addition, they're perfect for runners. The double whammy of hand pockets and drop-in pockets along the waistband offer a comfortable place to stash your keys on the go and stretchy material moves with you at any speed.
Under Armour Men's UA Training Stretch Short
Under Armor means what it says about these shorts being made for total mobility. The material is super stretchy and buttery smooth without weighing you down in the least. There are also subtle mesh panels on the sides for added air flow, a nice feature for summertime workouts in particular. And no matter how much you put these gym shorts through, they resist stink, thanks to anti-odor technology that stops the growth of microbes.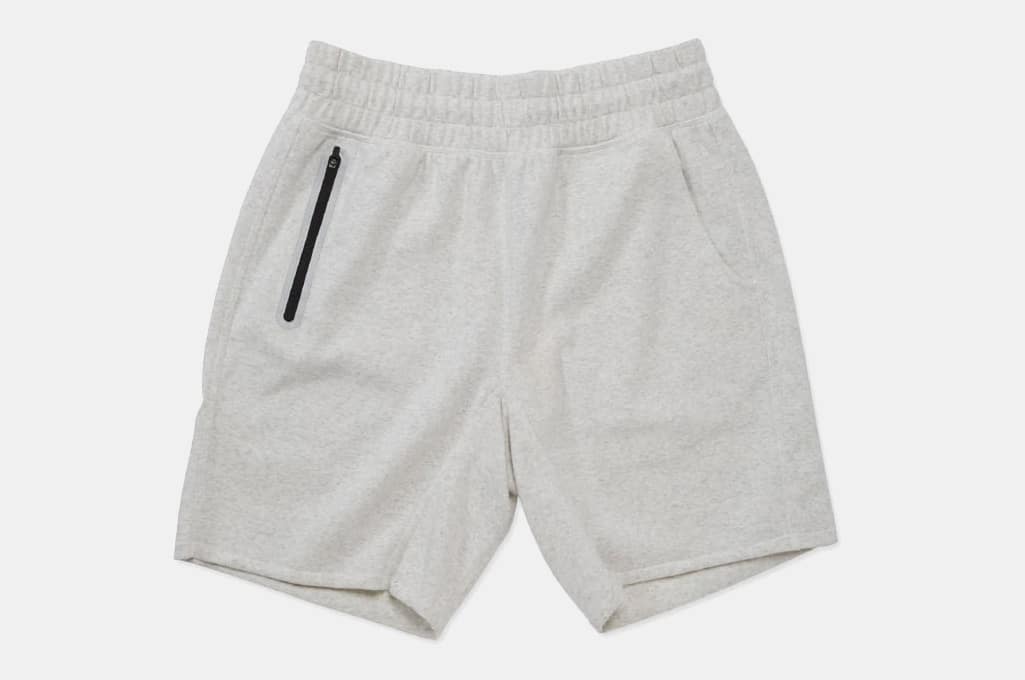 The Normal Brand Puremeso Gym Shorts
These stylish gym shorts from the Normal Brand are where function meets good looks. They're made from a thick cotton-spandex blend that's soft, cozy and sporty. And the wide elastic waistband gives them a retro gym vibe that's just as acceptable on the basketball court as it is lounging on the couch or running errands.
Disclosure: Clicking on these links and making a purchase may earn us a small referral fee, at no extra cost to you. Learn more here.
freestar.config.enabled_slots.push({ placementName: "gearmoose_leaderboard_btf", slotId: "gearmoose_leaderboard_btf" });