The 15 Best Workout Pants For Men
When the weather turns cool—or the AC is really blasting at the gym—your standard workout gear will fall short of its goal of keeping you at a comfortable temperature. And while you could "toughen up" and go with a "no pain, no gain" motto, let me tell you: It's so much nicer to just get a pair of workout pants.
The best workout pants toe the line between comfort, performance, moisture wicking properties, and good looks. And it's less about the exact style of pants than the way a brand chooses to make them. So consider this your guide to finding the perfect pants to keep you moving, no matter the activity or the weather.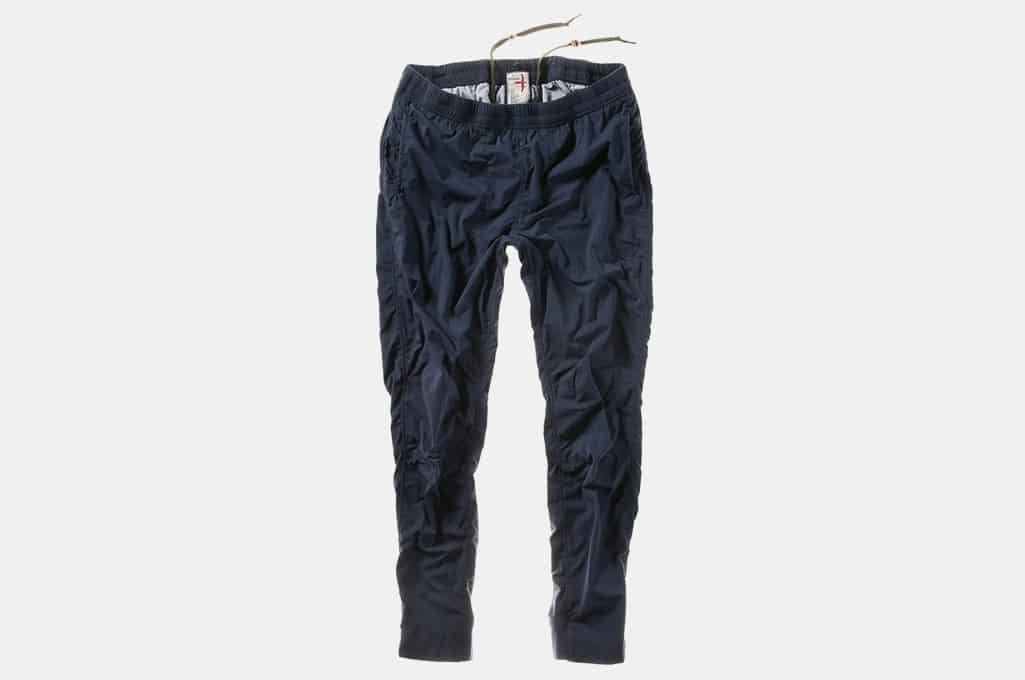 Relwen Air-Stretch Windpant
Windy conditions make for some of the toughest outdoor workout weather. The more you work up a sweat, the faster a blustery wind will cool you down, never quite letting you get to a comfortable working temperature. Relwen's Air-Stretch Windpants can fix that problem in a jiffy thanks to their specially-designed nylon and spandex fabric. Breathable and water resistant, it has a just-right 98 gsm weight and two-way stretch for mobility. That's paired with an ultralight polyester mesh interior, doubling down on the comfort while wicking moisture away from your skin. They're garment-washed, too, so these wind pants look just as good as they feel.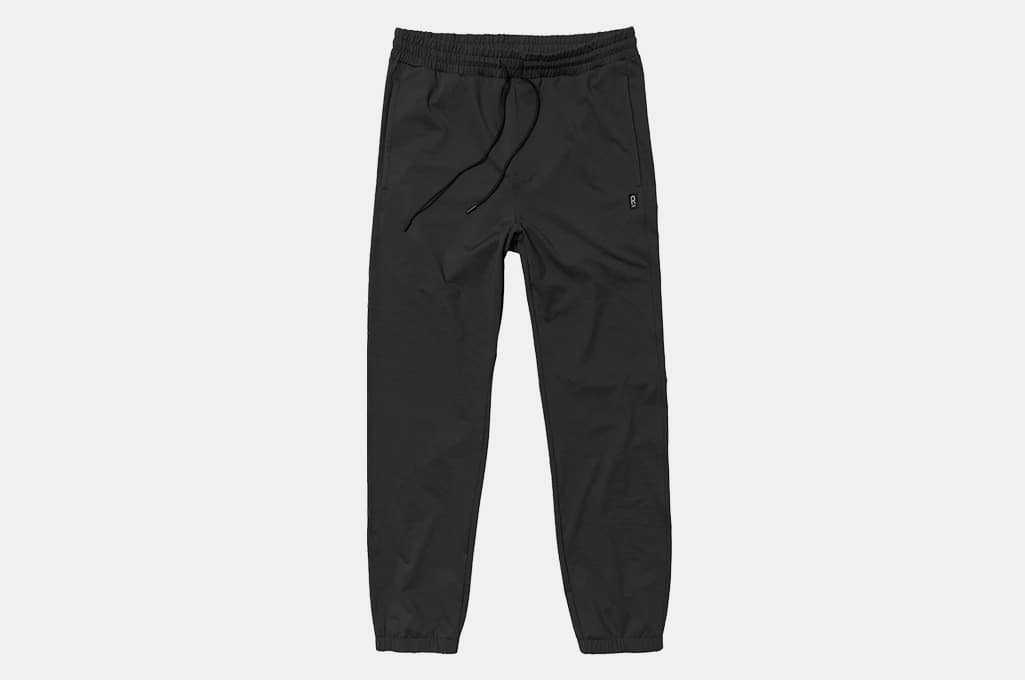 Rhone Essentials Training Sweatpants
The newly-launched line of training essentials from Rhone builds on the successful cut and style of their loungewear, then enhances it with performance fabrics and a more athletic fit. Made of 100 percent recycled polyester, their Essentials Training Sweatpants are just the right weight for all-weather activity—great for warmups before heavy lifting or sprinting, or wearing on a brisk fall hike. A standard fit makes them well suited to a wide variety of body types, and pairs nicely with an adjustable drawstring cord for a custom fit at the waist. And for the quality, they're darned affordable too. Overall, Rhone's Training Sweatpants are one of my new go-tos for cold weather workouts.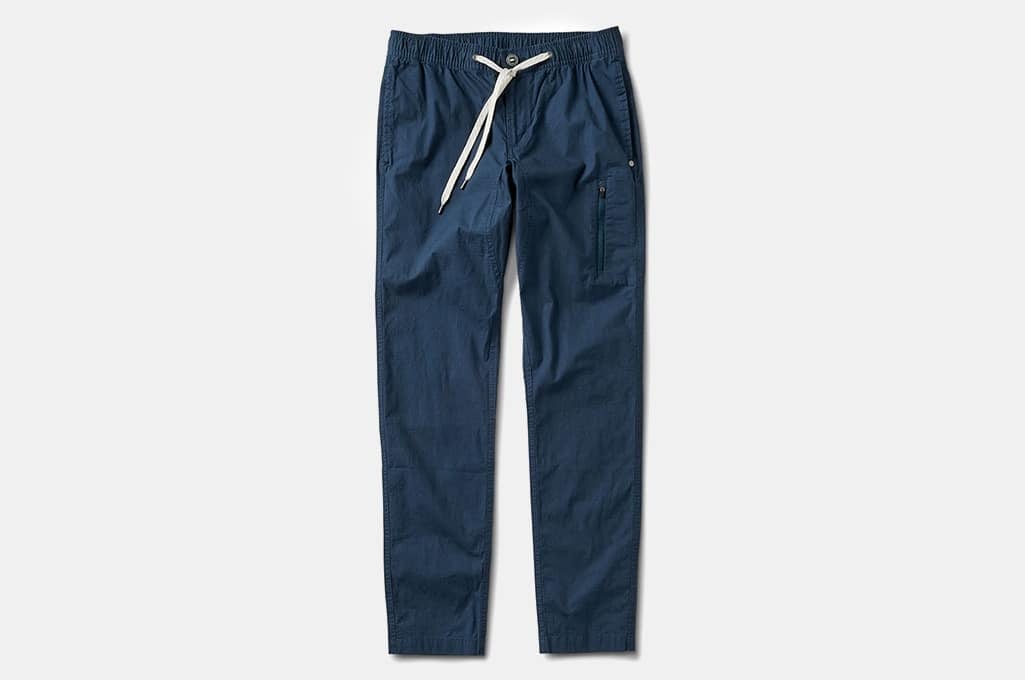 Vuori Ripstop Climber Pants
Want a pair of pants that you can wear from the couch, to the gym, to the great outdoors and back again? Get Vuori's Ripstop Climber Pants. Made from ultra-durable DuraTerra ripstop fabric and equipped with a generous crotch gusset, they're tailor made for everyday adventures. But if you think these will feel like wearing a duffel bag, think again. The ripstop material is 98 percent cotton and two percent elastane, offering a plush and comfortable feel with just enough stretch. A word of warning though: These pants run with a slim fit, so if you're particularly muscular (or working on it), order a size up from your usual.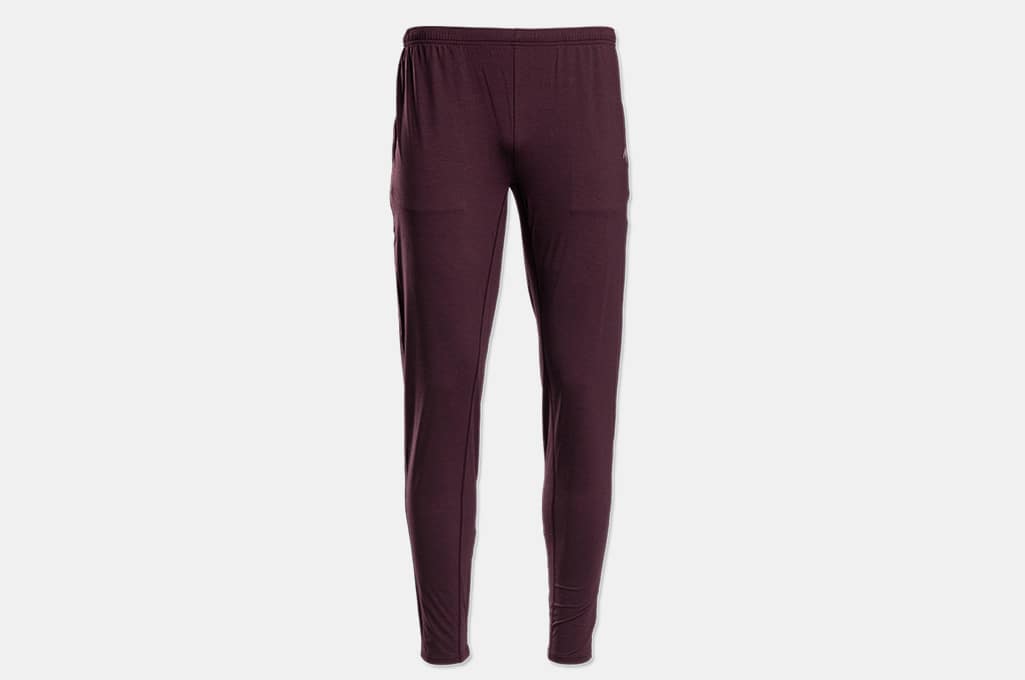 Tracksmith Session Pants
The running experts over at Tracksmith really know a thing or two about making versatile athletic clothing. When you're tasked with creating clothes that can last from warm up to marathon training, there's just not much room for error. So if you're looking for one pair of workout pants that covers the widest range of weather and temperature conditions, look no further than Tracksmith's Session Pants. Made of a unique Italian stretch-knit fabric, they breathe well and dry quickly while also offering the right amount of give for even the most vigorous athletics. Extra-long ankle zippers are the icing on the cake, making these pants easy to put on and take off.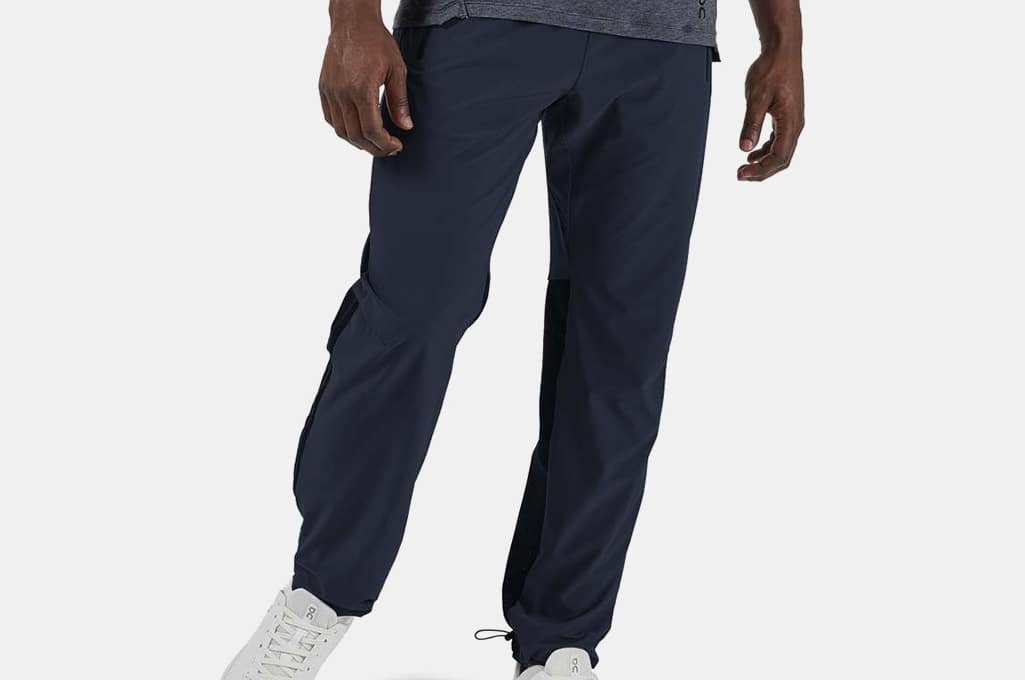 ON Running Track Pants
As with any cold weather activity, fall and winter workouts are best approached with a layered wardrobe. And when you're making your way from a quick warm up to a sweat-inducing workout and back again, you don't want your pants to get in the way of smooth transitions. ON Running's Track Pants are ideal for this kind of layer-and-go approach, with a medium-weight stretch fabric, long ankle zippers, and a mesh insert for modulating your temperature. Drawstrings at the ankles and waist let you fine-tune your fit, making these track pants easy to wear no matter what you're doing.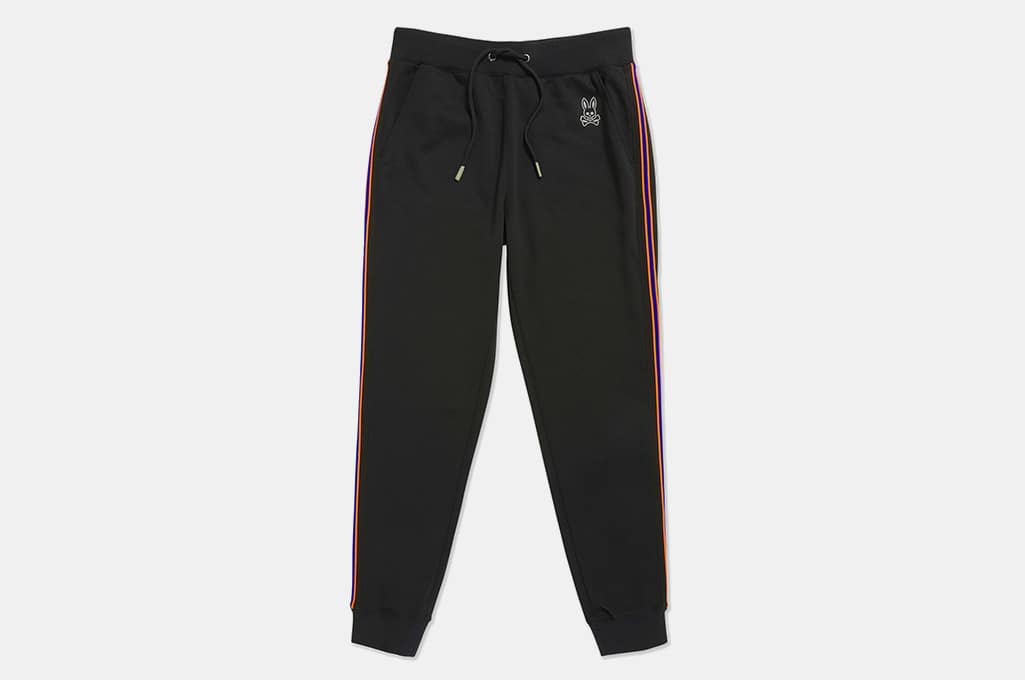 Psycho Bunny Crosby Track Pants
Even when I'm looking for functional and rugged workout pants, I'm still a sucker for colorful style. Psycho Bunny has become my new favorite brand for this kind of effortlessly cool look, and their Crosby Track Pants (and matching tracksuit top) are a great example. A cotton-polyester fabric blend lays the foundation for comfort and durability, available in three bold colors. Then the look is given a touch of class with contrasting striped taping down the side of the legs, reflective rubber-tipped drawstrings at the waist, and a heavy duty reflective Psycho Bunny logo at the thigh. They're awesome to work out in, and even better to look like you're a person who works out and wants everyone to know it.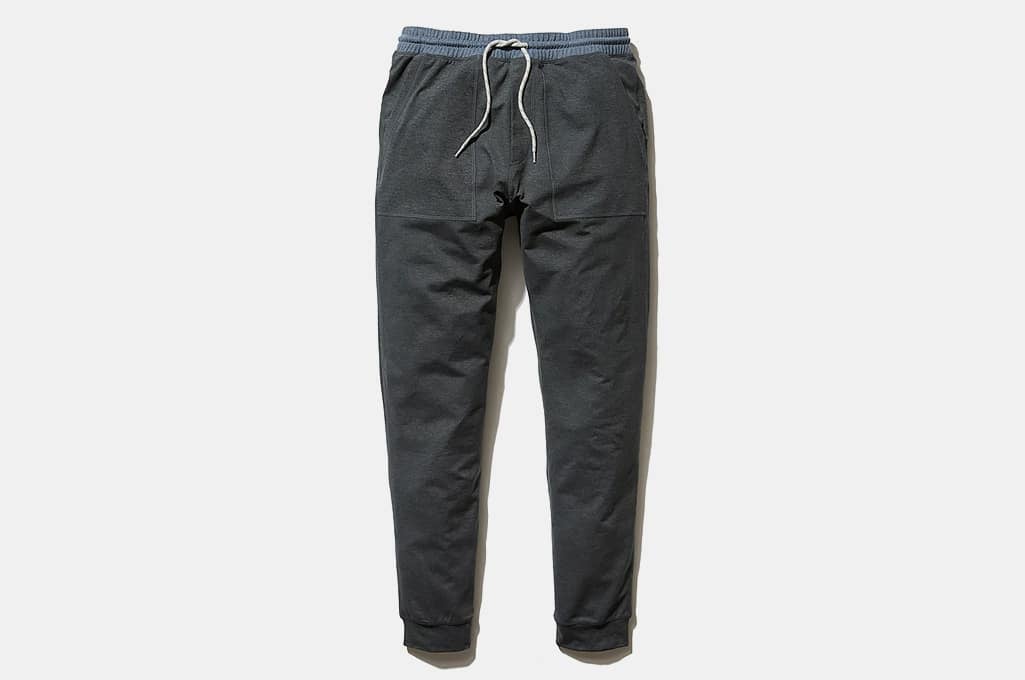 Marine Layer Yoga Jogger
Yoggers? Joga pants? Maybe it's best to go with Marine Layer's preferred "Yoga Jogger" name after all. No matter what you decide to call them, these pants are pretty darned awesome for both workouts and lounging. That's a rarer combination than you might imagine, as it's hard to draw the line between just enough stretch and an appropriately insulating material for both activities. But Marine Layer's polyester and spandex fabric blend delivers, offering four-way stretch and excellent moisture wicking with an ultra-soft feel and medium weight.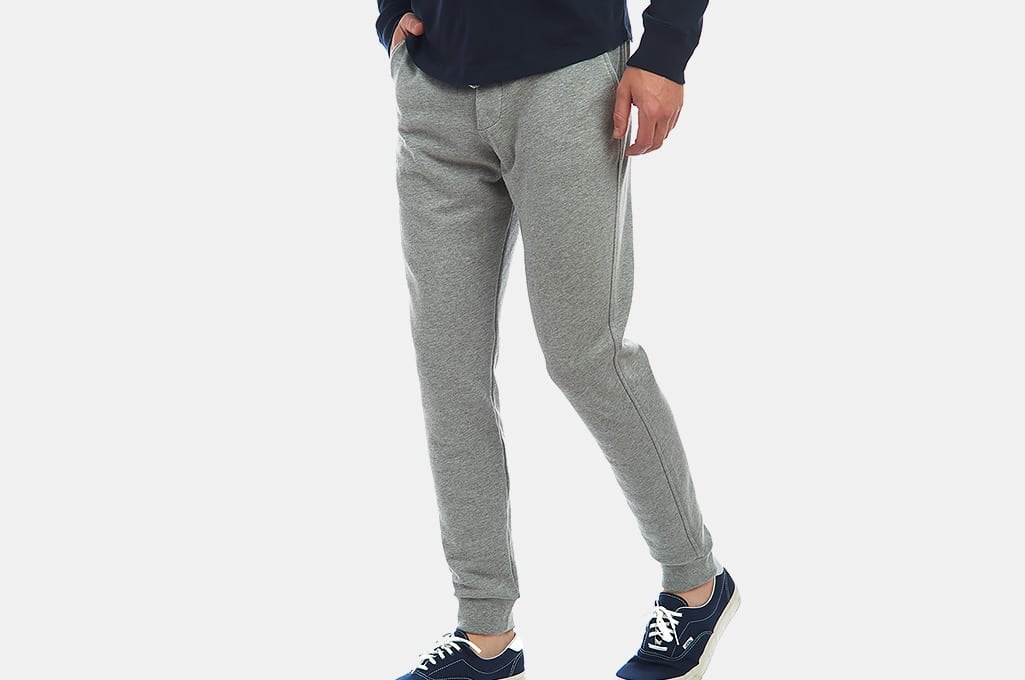 Mott and Bow Hooper French Terry Sweatpant
If you're working out in seriously cold weather, even layering lightweight shorts and pants can leave you too chilly. Mott and Bow's Hooper Sweatpants are the right answer for deep winter workouts. Made with 100 percent Peruvian cotton, their French Terry finish makes them simultaneously heavyweight and soft as heck. Think of these as grown up sweatpants. They're like luxury workout wear, with a fit that's slim enough to look good even when you're not in the gym and a fabric that's soft enough to want to wear every day.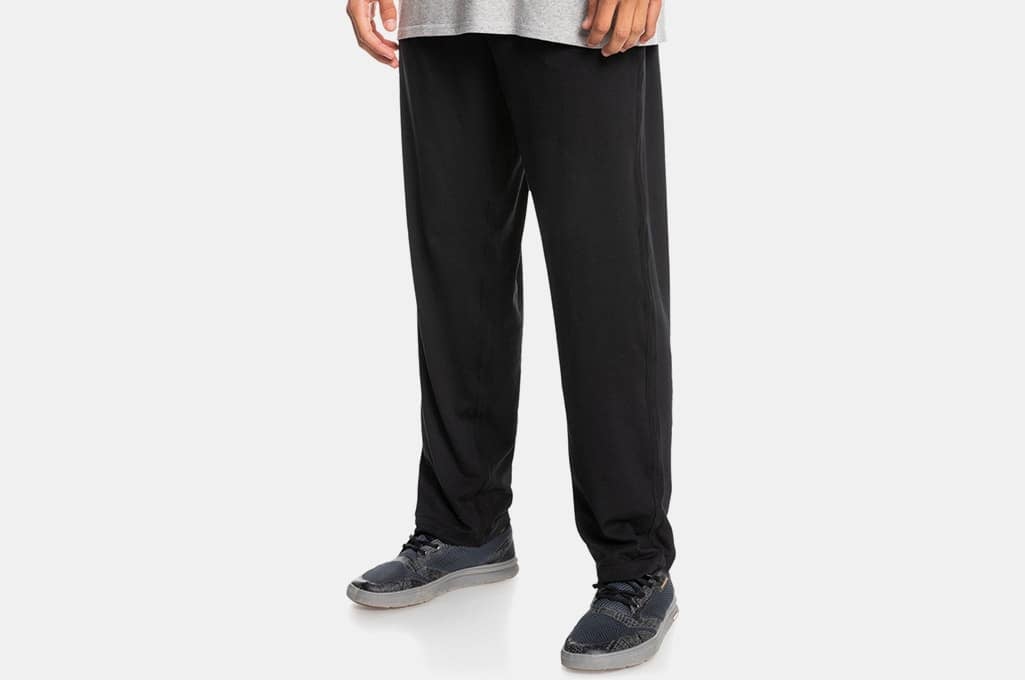 Quiksilver Stryker Sweatpants
Eco-conscious Quiksilver has done it again with their Stryker Sweatpants, using recycled polyester fabric to create a handsome and versatile pair of workout pants. They're made in that signature Quiksilver surfer style: Laid back and cool, but ready to rock at a moment's notice. A classic fit and elastic waist make them a good fit for all body types, and the zip-closure slanted side pockets will keep your gear in place while you're moving around. Up for an early morning run? The Stryker sweatpants have you covered there too, with reflective branding to keep you visible in low light conditions.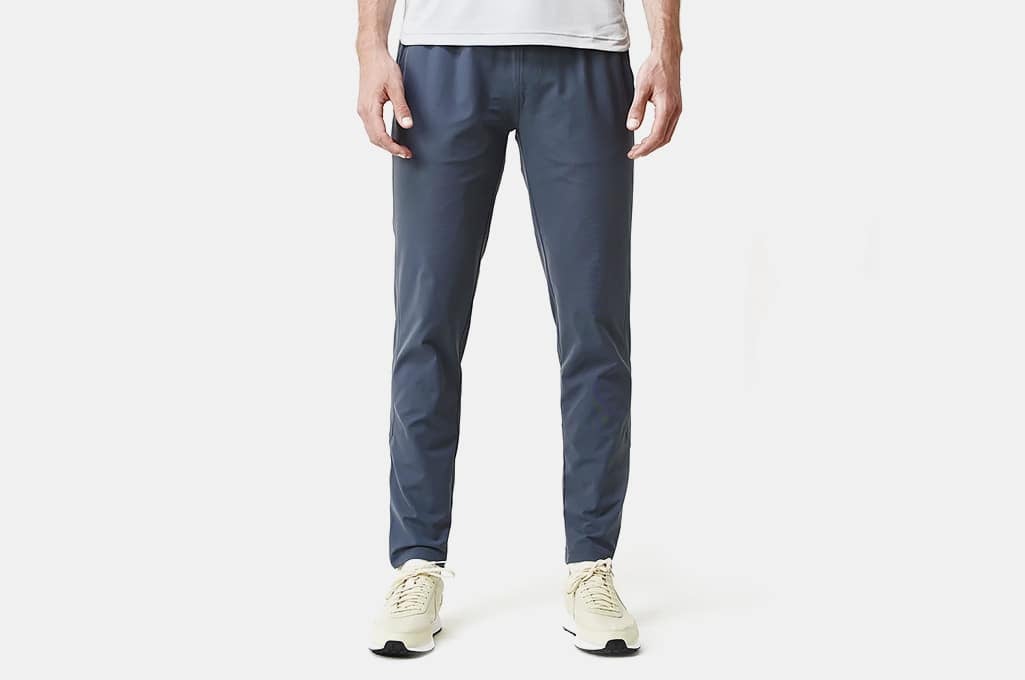 Western Rise Spectrum Joggers
With a 100 percent polyester material that's halfway between woven and knitted, Western Rise's Spectrum Joggers truly feel unlike any other pants you've ever worn. They have the soft and stretchy feel of your favorite knit sweater, but the durability and breathability of a performance weave. A durable water repellent coating makes them water and stain resistant, and a 220 gsm weight makes them great for layering or wearing solo. If you want a pair of workout pants that can double as solidly good-looking travel pants, Western Rise is the way to go.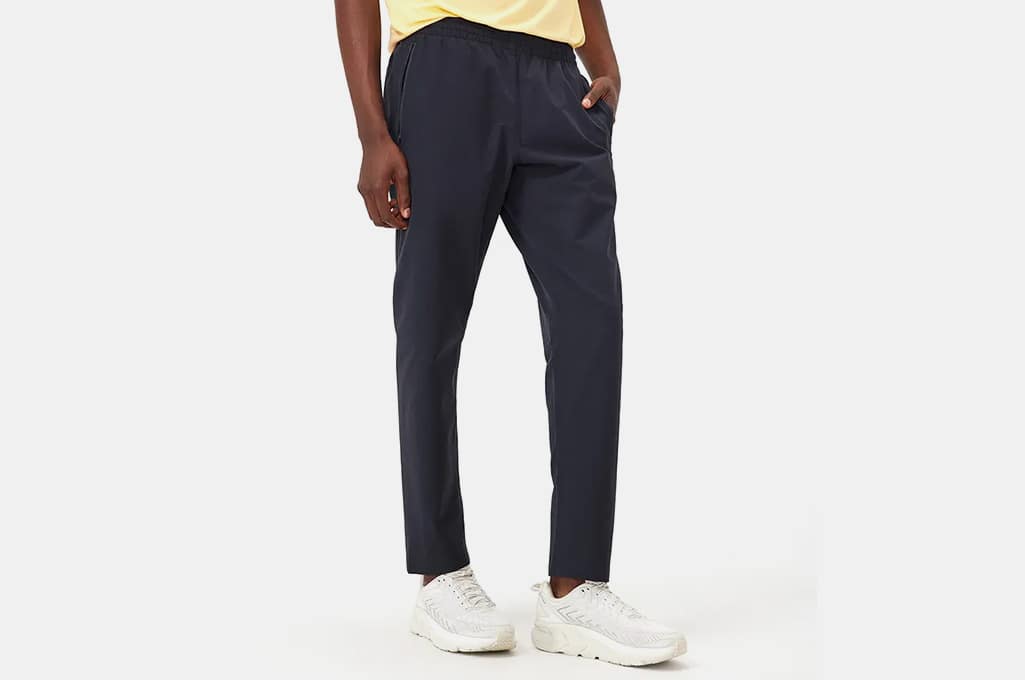 Outdoor Voices Rectrek Pant
A lot of athleticwear pants have gotten a bad rap because of their baggy, relaxed fits. And in most cases, that's a fair assessment—you wouldn't want to wear just any pair of sweats out to a dinner with friends. But the relaxed fit on Outdoor Voices' Rectrek Pants is a totally different breed: Good looking, highly mobile, and crazy durable. A lot of that has to do with the proprietary TerraStretch fabric it's made from, a blend of nylon and elastane that makes these pants soft, breathable, and flexible. Add in their slightly cropped ankle cut, and you get a pair of pants that looks great and works well no matter where your day ends up.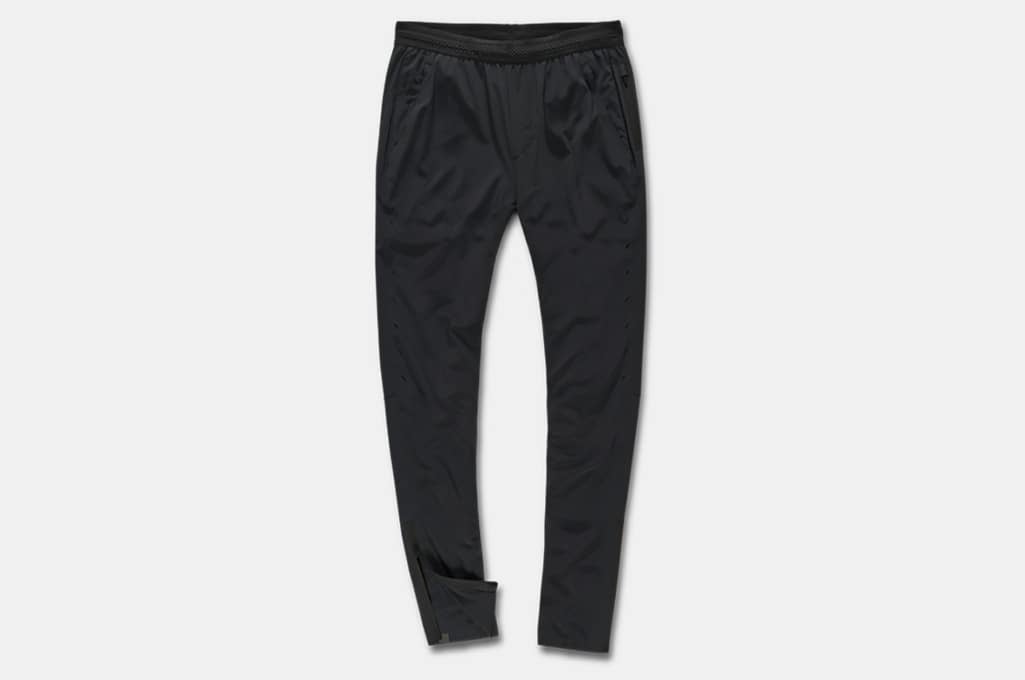 Ten Thousand Session Pant
Ten Thousand is on a mission to create the world's best athletic gear. To do that, they collaborate with a team of performance-obsessed athletes for every piece of clothing they develop. By testing back and forth with pro-level runners, Crossfit athletes, and martial artists, they iron out every last detail with admirable precision. This is especially evident in their Session Pant, a perfectly trimmed down and breathable pair of workout pants. They give warmth without bulky added weight, and the slightly tapered fit is just right for all-day wear.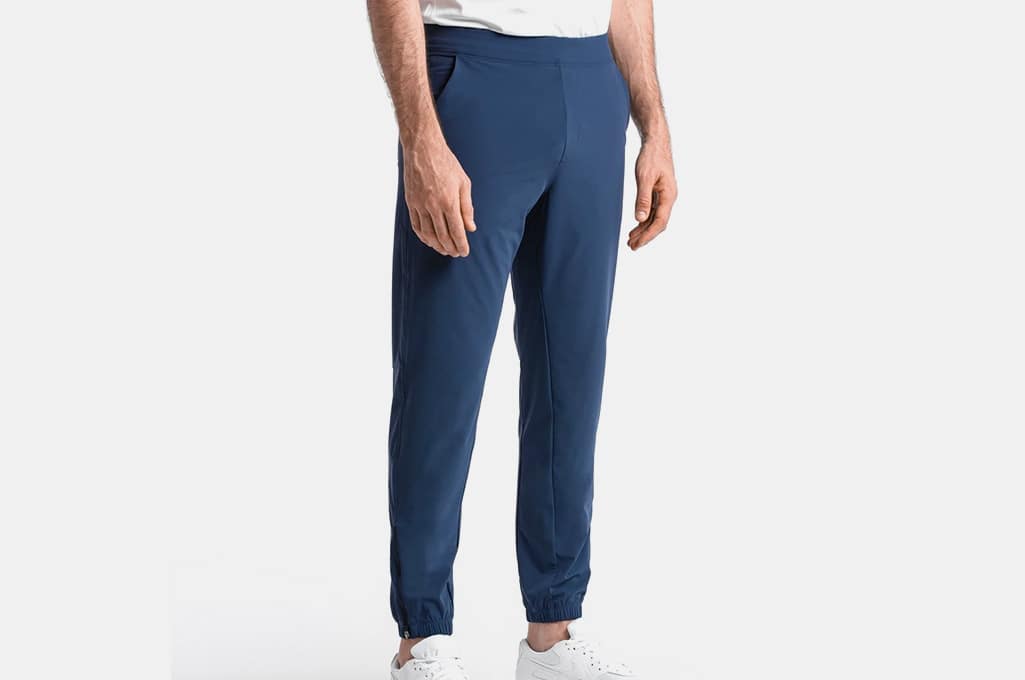 Public Rec Stadium Jogger
To really get the most out of your toughest workout, you'll need a thoughtful post-workout recovery plan. And once you have your nutrition in place, the next step is to keep yourself comfortably warm and relaxed. Public Rec's Stadium Joggers are excellent for this, with a lightweight design that's great for travel, home, and the gym. They're made with a classic cut that fits close without being too slim, making them a great choice for days where you want to look clean-cut without having to break out your ironing board.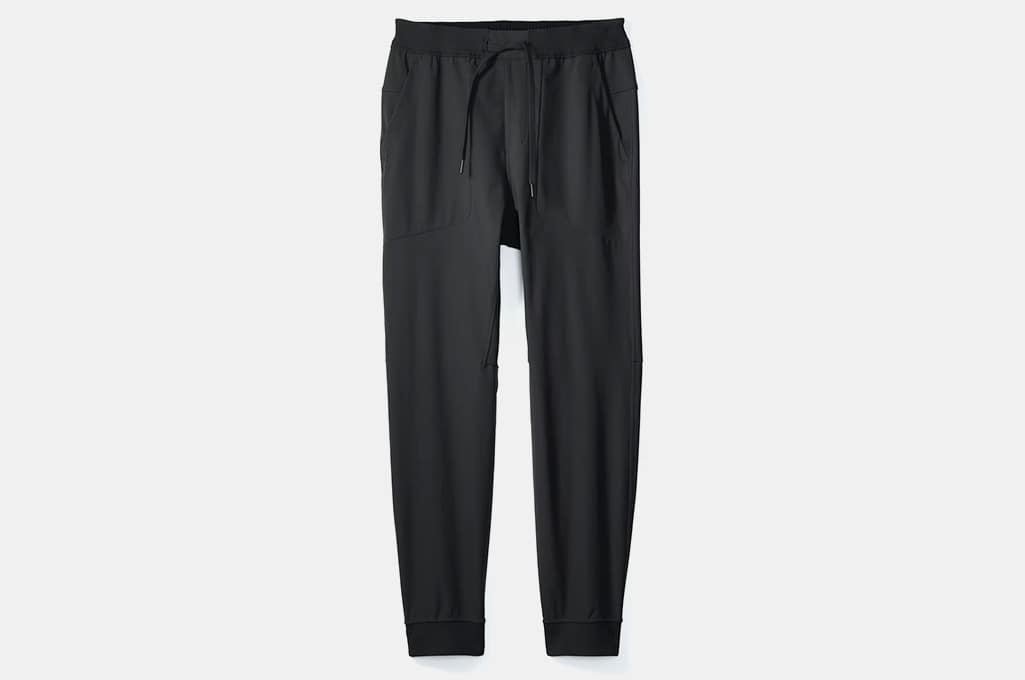 Lululemon ABC Jogger
Lululemon's reputation for stellar yoga pants is really on the tip of their performance athletic wear iceberg. And though they're better known for their line of ladies' clothing, lululemon really knocked it out of the park for guys with their ABC Joggers. Those letters stand for "anti ball crushing," arguably the most important feature in any pair of pants for a dude. A redesigned fit is roomier around the family jewels while being perfectly tapered everywhere else, making these truly some of the most comfortable workout pants that you'll ever wear.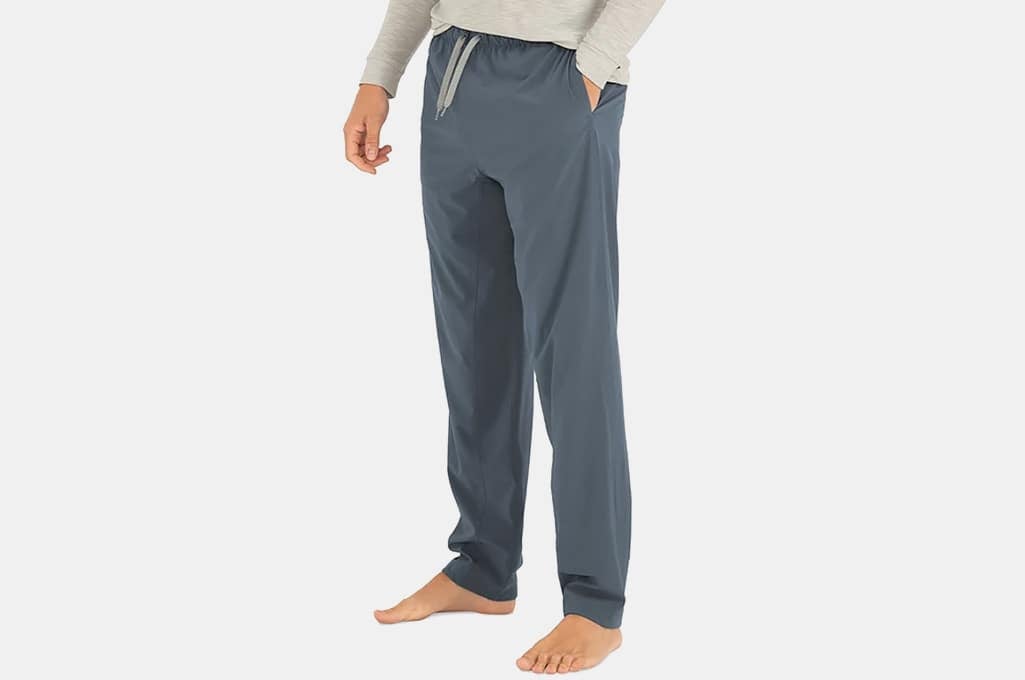 Free Fly Breeze Pant
Free Fly's ever-popular Breeze fabric is one of my favorite combinations of textiles. An 86 percent polyester, 14 percent spandex shell makes them breathable, quick drying, and stretchy enough for any activity. But the real magic is in the viscose bamboo, polyester, and spandex lining. Soft as butter and smooth as silk, it makes their Breeze Pants feel like you're wearing nothing at all. Perfect for a day on the trails, they can easily pull double duty as some of the most comfortable lounge pants you'll ever wear.
Disclosure: Clicking on these links and making a purchase may earn us a small referral fee, at no extra cost to you. Learn more here.
freestar.config.enabled_slots.push({ placementName: "gearmoose_leaderboard_btf", slotId: "gearmoose_leaderboard_btf" });