The 15 Best Sweatpants For Men
When the cold weather comes calling, be it now or in the depths of winter yet to come, you've really got two options. Gear up to face the day, throw on multiple layers and rugged boots, a cozy sweater and shirt … and get out there. If you don't have a choice, that's the way to go. But if you do indeed have a choice as to your next move, there's one course of action: Throwing on cozy, stylish sweatpants for days at home or on the road — and even casual outings aplenty.
Yes indeed, the best sweatpants for men are actually closer to your favorite denim or chinos than baggy sweatpants of yore. Make no mistake, a pair of quality sweatpants combine standout style with the cozy, warm fabric you expect and need in a great pair of sweats. Yet, there's just a little something extra about this crop of men's sweatpants — they've got the added style factor that makes them a go-to option for casual-yet-polished travel (again, they're not sloppy!) or laidback days in front of the fire.
Modern sweatpants can do a little bit of everything, and we think our picks are quite fitting for fall and winter in that regard. They're made to be worn with casual picks aplenty, including a rugged crewneck sweater or a warm chamois overshirt atop a crisp white tee. If you feel so inclined, throw on high-top sneakers and a merino tee for the ultimate in travel-ready comfort and style, too. Rethink what you thought you knew about sweatpants, and then make sure you pick up one of these pairs quickly — winter's nearly here.
Wellen Quilted Sweatpants
For those days when you want to look as cool as you feel, the Wellen Quilted Sweatpants are just what you need. Ultra-cozy and some of the most comfortable sweatpants you'll ever wear, these bad boys are made from a super-soft organic cotton and filled with lightweight polyester for just a hint of added warmth in cold weather. The fit is just right, the fabric and elastic waist never sag, and you'll find they just get comfier with every wash.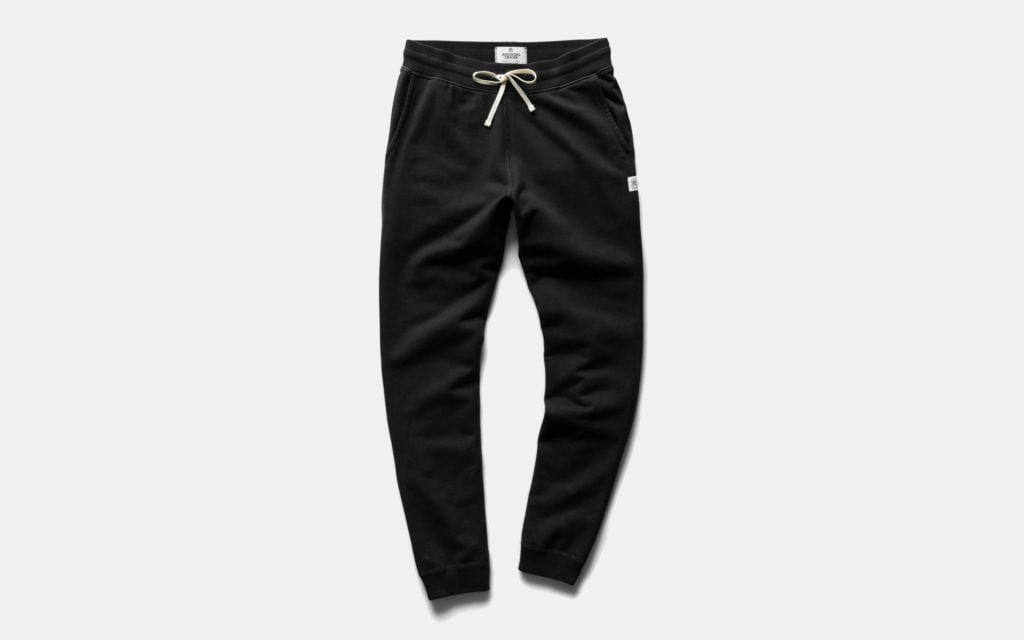 Reigning Champ Slim-Fit Sweatpants
When we want athletic gear that combines modern flair with old-school construction and modern innovation, we turn toward Reigning Champ, making its gear in Canada using time-honored methods that result in nothing but the best men's sweatpants (and sweatshirts, and crewneck) on the market. Crafted from soft loopback cotton, these sweatpants are no different when it comes to blending the old and the new in an absolutely perfect way.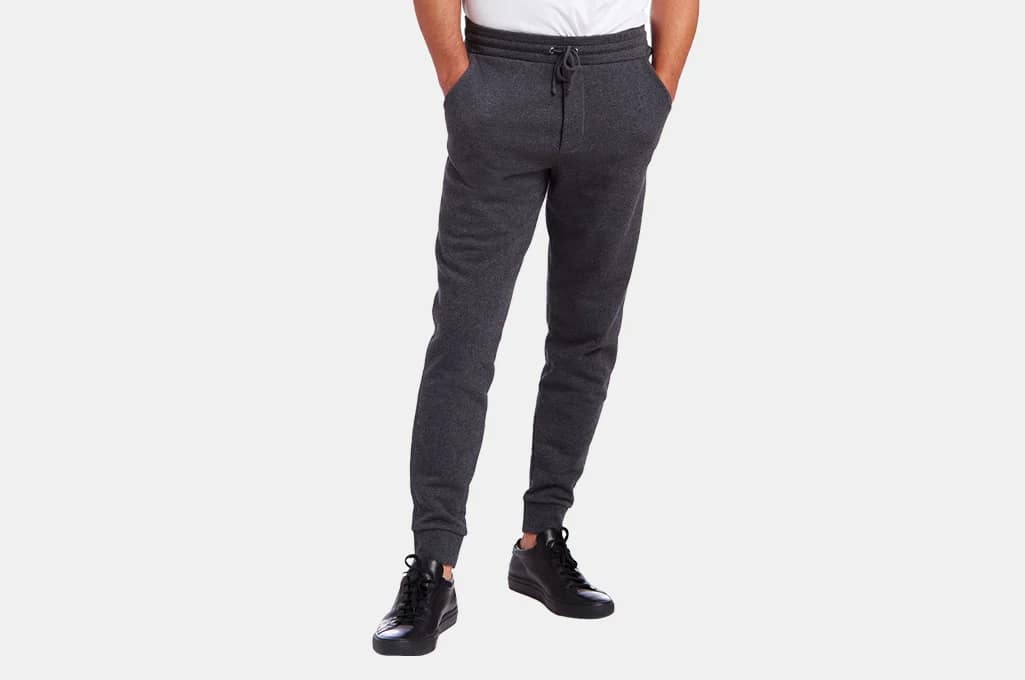 Mott & Bow French Terry Sweatpant Hooper
The Mott & Bow French Terry Sweatpant Hooper combines athletic wear with leisurely comfort for a truly next-level pair of sweatpants. You'll love wearing these all day long, whether you're lounging on the couch or playing a pick-up game of basketball with your buddies. The pure Peruvian cotton is both silky soft and surprisingly durable. Weighing in at just under a pound, these are some of the most versatile sweatpants you'll ever own.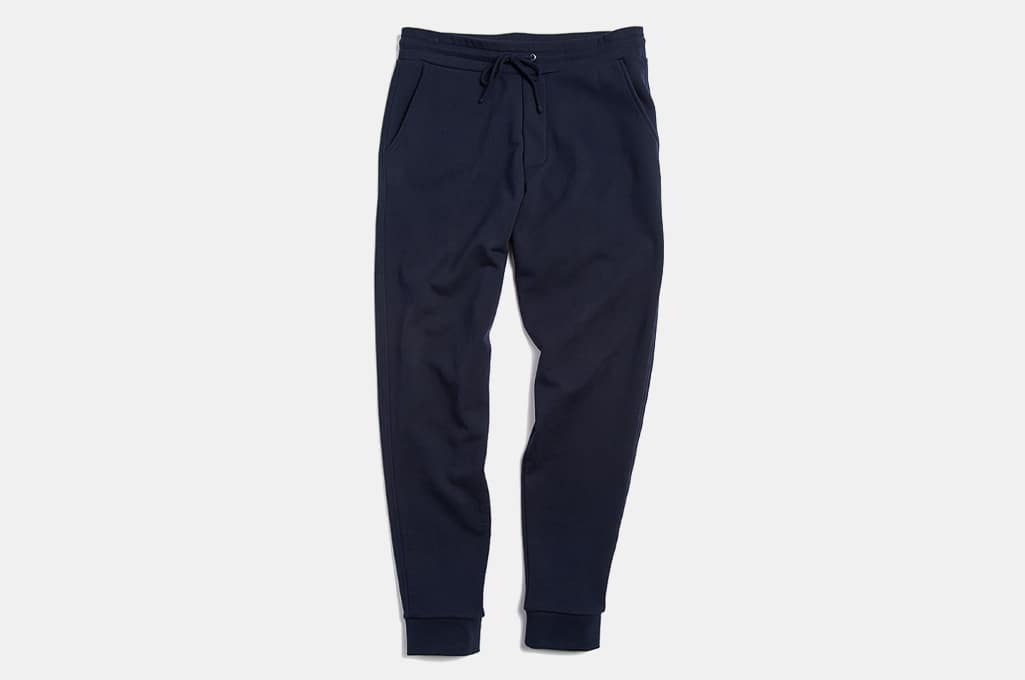 Flint and Tinder French Terry Sweatpants
For maximum comfort, slide into these French Terry sweatpants from Flint and Tinder, and you'll never want to leave the house. These sweatpants are modeled after those worn in the Rocky movies but given an upgrade in style, using only the finest modern French terry fabric. They're incredibly soft, breathable, and hit that sweet spot between cozy and lightweight. You get not only two side pockets, but also an additional back pocket for extra storage space when on the go. And, best of all, these pants were fully made—knit, dyed, and sewn—all in Southern California, so you know they deliver top-notch home-grown quality.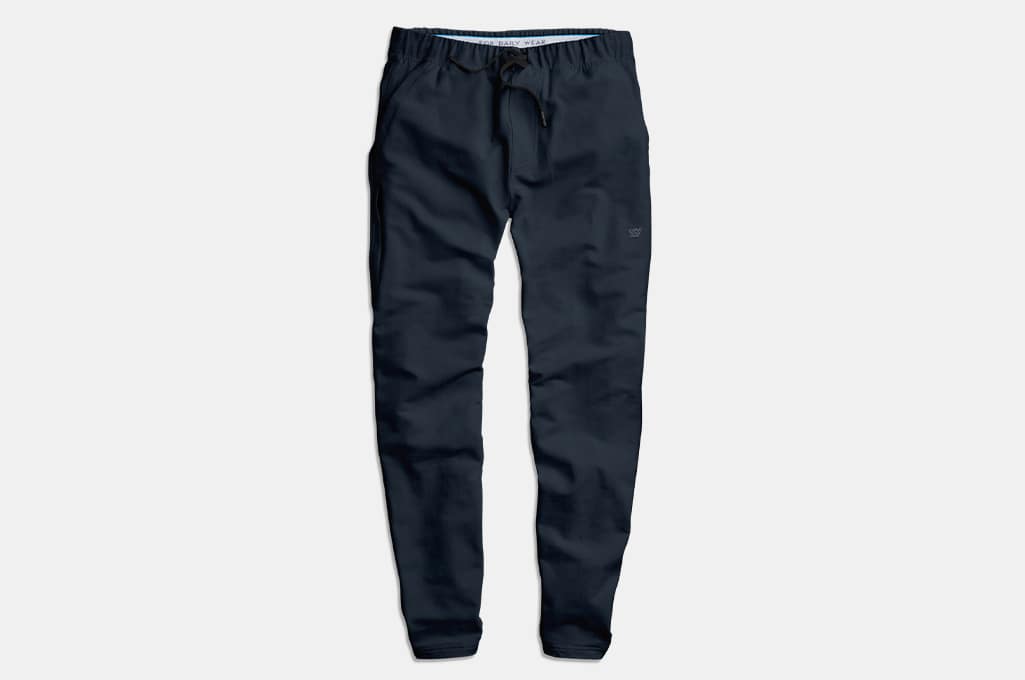 Mack Weldon Ace Sweatpants
If you're looking for a game-changing pair of sweatpants, look no farther than the Mack Weldon Ace Sweatpants. These combine cotton with just a hint of stretch fabric to make them supremely versatile, no matter how active or relaxed your daily activities. The micro-sanded French terry fabric is incredibly smooth to the touch and will make your legs feel like they're floating on clouds. They've got the classic look you love, but feel far better than you'd expect. You'll never find these in a three-pack, that's for sure. Only top-quality and maximum comfort here.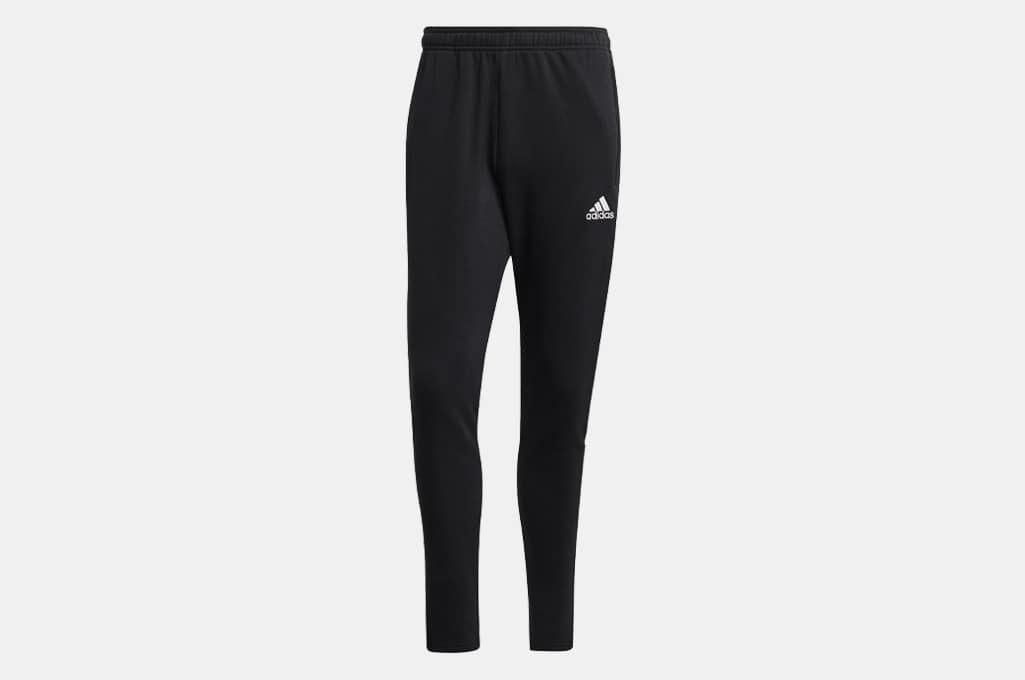 Adidas Tiro 21 Sweatpants
Adidas has your back on the courts and the couch, and the Tiro 21 Sweatpants are just what you need for all-day comfort and anywhere practicality. These sweatpants are great for soccer, basketball, or football, but they'll be just as useful for chilling at home or hitting the streets. The mix of cotton and synthetic fleece make them not only warmer than you'd expect, but give them just the right amount of stretch for you to run, jump, and kick in comfort. Thanks to the built-in zippered pockets, you can play at full intensity knowing your keys, ID, wallet, and smartphone will always stay securely in place.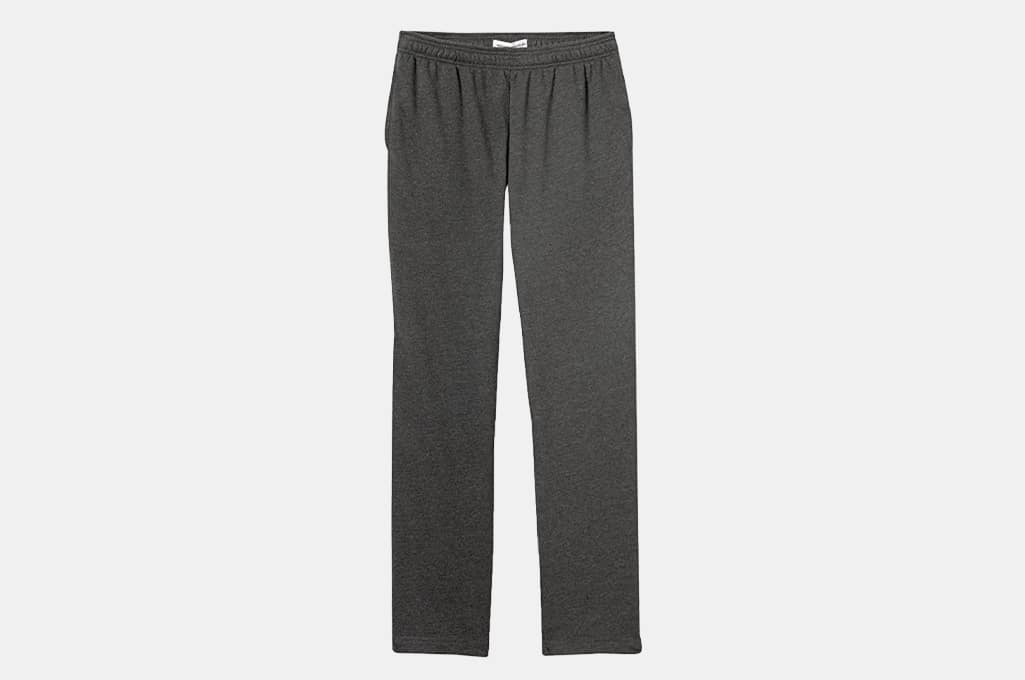 Amazon Essentials Men's Fleece Sweatpants
Sometimes you just want a pair of cheap, simple sweatpants that are custom-built for lounging in bed. On those days, you need Amazon Essentials Men's Fleece Sweatpants. These sweatpants have no frills, but they're simply maximum comfort and excellent durability. Made from a blend of cotton and polyester, you'll love how easily they stretch and flex with you, but they'll keep you feeling relaxed all day long. Whether you're at home or out and about, they're a solid, budget-friendly option you know will deliver on style anytime.
Fourlaps Rush Jogger Pants
A recent addition to the lineup at Nordstrom, Fourlaps encourages consumers to "start before you're ready," and gear like the Rush Jogger Pants help to deliver on that message. The tailored fit and zip phone pocket make these as stylish as they are functional, while the cotton-poly-spandex blend is also comfortable and yet gym-ready. Add one of the brand's moisture-wicking tees to round out your next gym ensemble.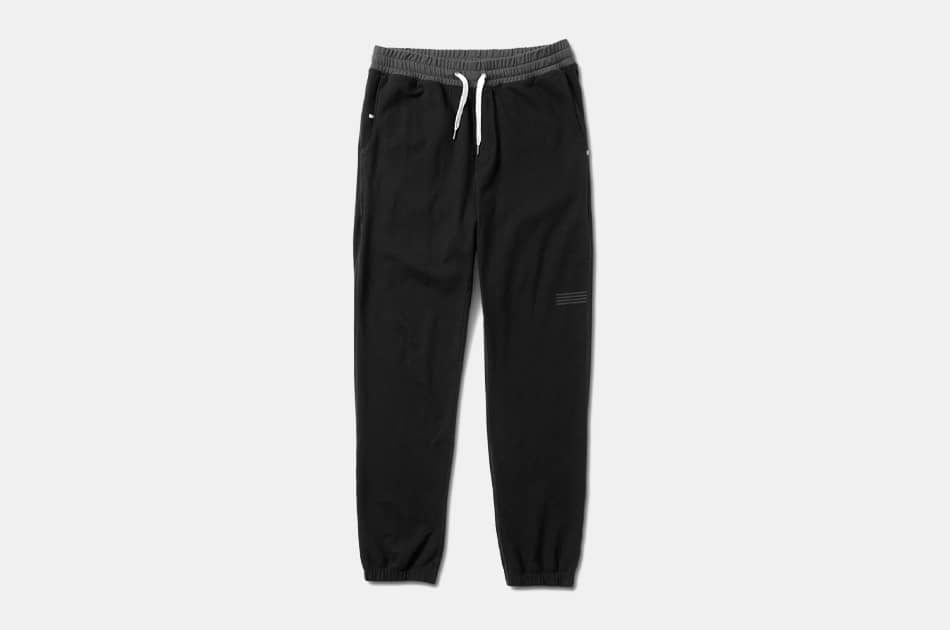 Vuori Balboa Pants
With just the right blend of easygoing style, not to mention the kind of minimal look that seems to be all the rage these days, the Vuori Balboa Pants simply check all the right boxes. The use of ultra soft peached cotton, paired up with a relaxed fit, might make these the perfect sweatpants to wear all weekend long — even if your only errands involve picking up a latte and putting on a record.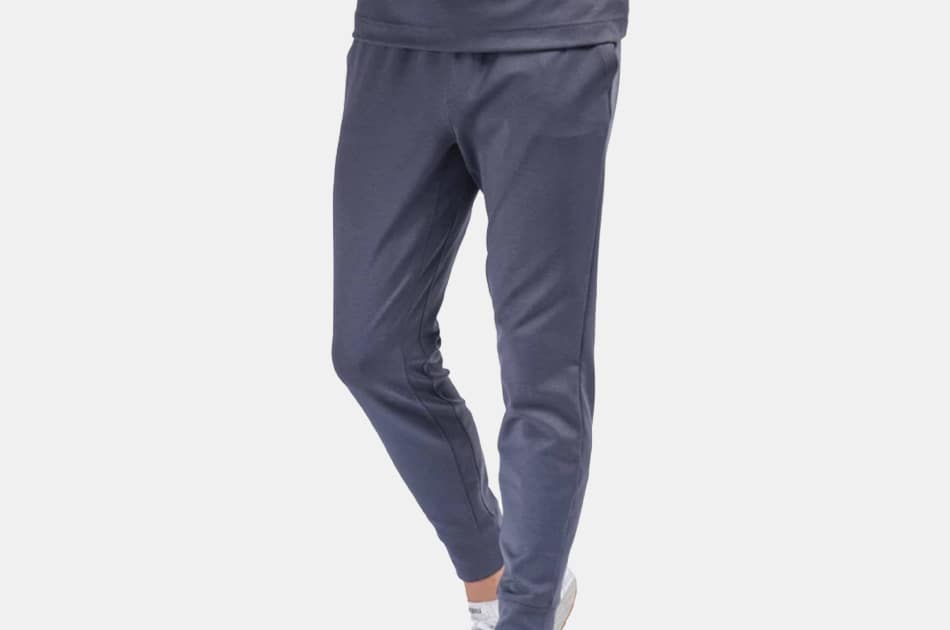 Rhone Spar Jogger
It should come as no surprise that the brand at the forefront of making modern, streamlined gear for the modern man also makes one heck of a pair of thoughtfully considered, well-constructed sweatpants — the kind of sweatpants for men that work on a long-haul flight, at the gym or on your couch (especially on your couch, seeing as they're geared toward recovery and comfort). You can feel the difference in the Rhone Spar Jogger, made from moisture-wicking fabric that includes nylon tactel for added durability.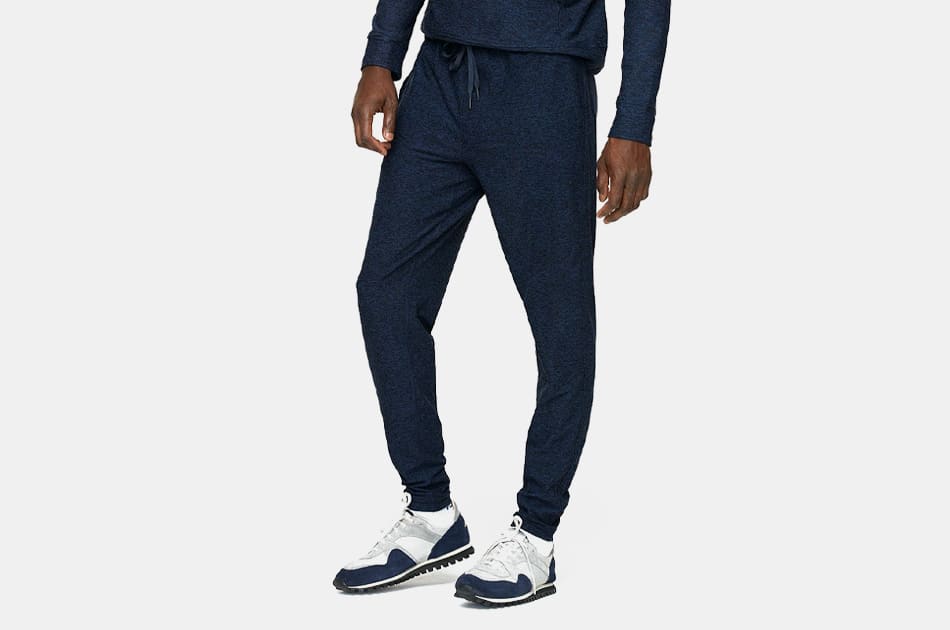 Outdoor Voices All Day Sweatpants
Outdoor Voices cut its teeth in the women's athleisure gear market, but they've now come through with some highly stylish and highly functional men's offerings for the taking (think of it like a 2-for-1 deal). The All Day Sweatpants do exactly as they intend to do, offering 24/7 comfort and performance on the go or lounging at home (and we're all doing a lot of that these days). Get a pair in a neutral color, or better yet, get more than one set.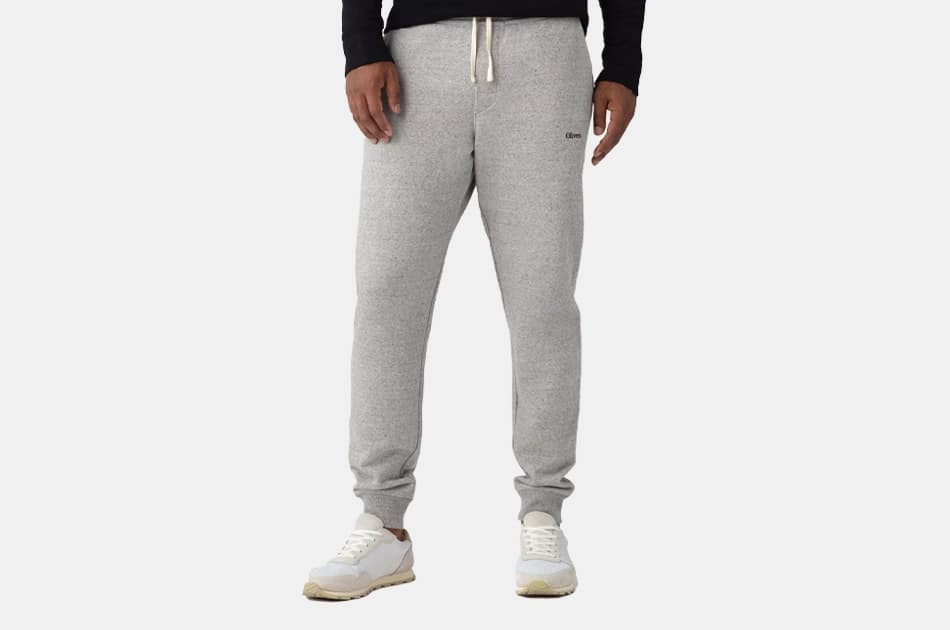 Olivers Classic Sweatpants
Olivers Apparel makes functional gear for the man on the move, the kind you can wear for workouts or for errands without missing a beat. The Classic Sweatpants are exactly that, incorporating the kind of durable fabric (in this case, Japanese Supima fabric) for which Olivers is known, to go along with the sort of vintage styling inspiration you need. Consider these like an updated take on old-school gym sweatpants, the kind you can wear training or for Netflix marathons in equal measure.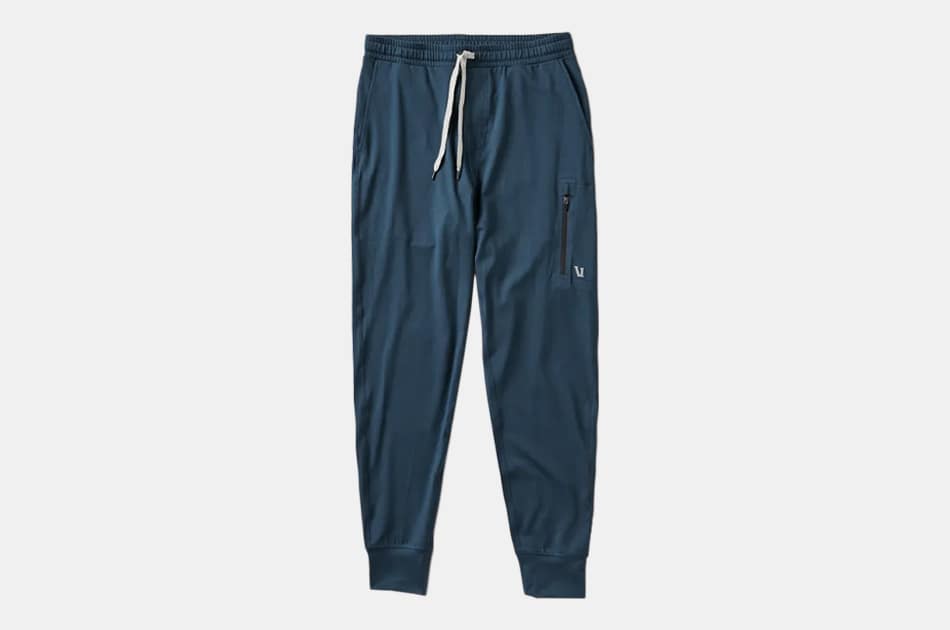 Vuori Sunday Performance Jogger
Vuori's Sunday Performance Joggers are some of the best in the business for a reason, with the sort of utility that works for pounding out miles on the pavement or powering through another podcast or Netflix show on a cold winter day. Heck, get multiple pairs of these performance-ready sweatpants so you always have one at hand. We love stylish colorways like indigo, not to mention the moisture-wicking fabric and tapered leg, so you won't get tripped up during aggressive training sessions.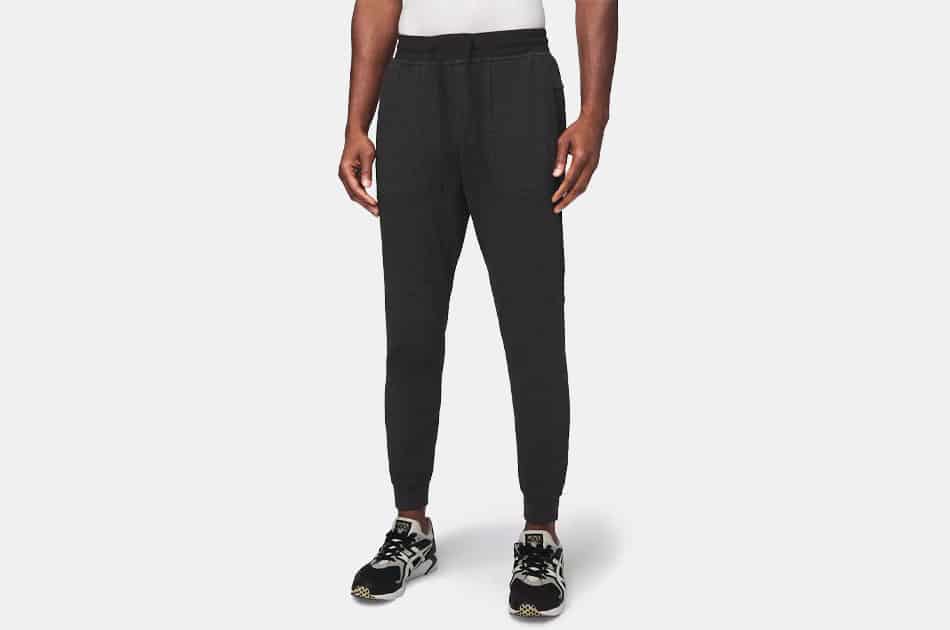 Lululemon At Ease Jogger
Lululemon continues to wow us when it comes to its ever-expanding line of men's athleisure and athletic gear staples, including the At Ease Joggers. Four-way stretch fabric and a tapered fit make these the perfect sweatpants for multiple pursuits, be it showing off some fresh kicks or putting in a grueling winter workout. Take your pick from versatile color options if you prefer to wear 'em in more style-minded situations, too. You can't go wrong with Lululemon men's gear these days.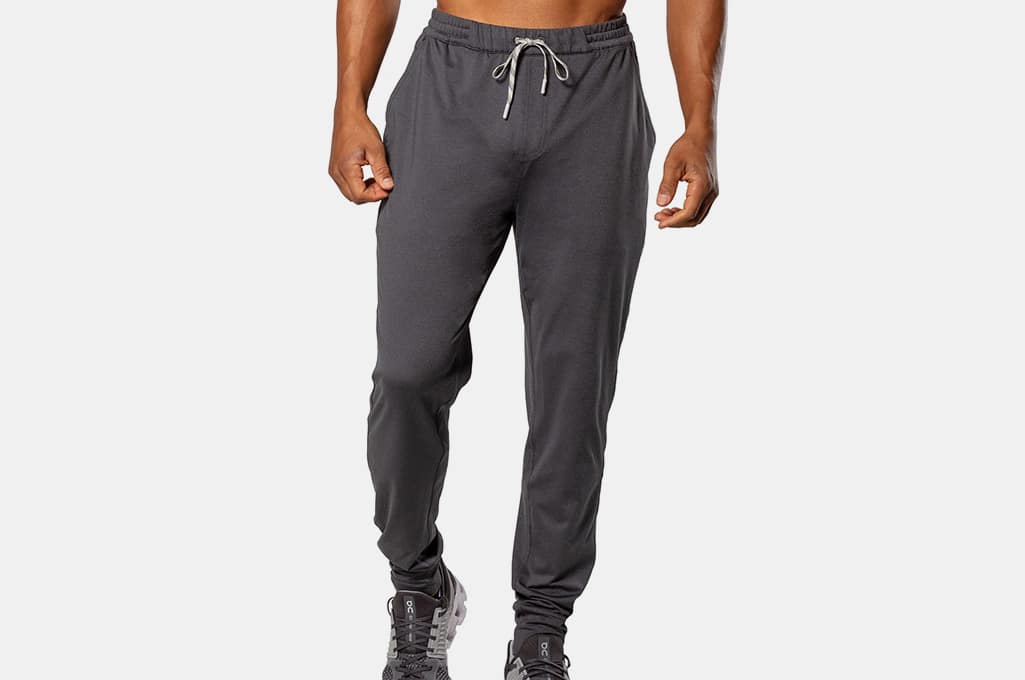 Nathan 365 Jogger
Andy here: I've been wearing these for the last month and absolutely loving them. The blend of lightweight, moisture-wicking polyester and ultra-stretchy elastane makes them perfect for hiking, running, and lounging, and they're warm enough to wear during the milder winter months here in Western Canada. They're tapered and snug to keep my legs warm, but have ample room in the waist and hips to be comfortable for relaxing. Though the front pockets are a bit on the small size, the zippered coin pocket is perfect for carrying my cash, cards, and keys when running.
Disclosure: Clicking on these links and making a purchase may earn us a small referral fee, at no extra cost to you. Learn more here.