The 15 Best Sweatpants For Men
When the cold weather comes calling, be it now or in the depths of winter yet to come, you've really got two options. Gear up to face the day, throw on multiple layers and rugged boots, a cozy sweater and shirt … and get out there. If you don't have a choice, that's the way to go. But if you do indeed have a choice as to your next move, there's one course of action: Throwing on cozy, stylish sweatpants for days at home or on the road — and even casual outings aplenty.
Yes indeed, the best sweatpants for men are actually closer to your favorite denim or chinos than baggy sweatpants of yore. Make no mistake, a pair of quality sweatpants combine standout style with the cozy, warm fabric you expect and need in a great pair of sweats. Yet, there's just a little something extra about this crop of men's sweatpants — they've got the added style factor that makes them a go-to option for casual-yet-polished travel (again, they're not sloppy!) or laidback days in front of the fire.
Modern sweatpants can do a little bit of everything, and we think our picks are quite fitting for the start of winter in that regard. They're made to be worn with casual picks aplenty, including a rugged crewneck sweater or a warm chamois overshirt atop a crisp white tee. If you feel so inclined, throw on high-top sneakers and a merino tee for the ultimate in travel-ready comfort and style, too. Rethink what you thought you knew about sweatpants, and then make sure you pick up one of these pairs quickly — winter's here.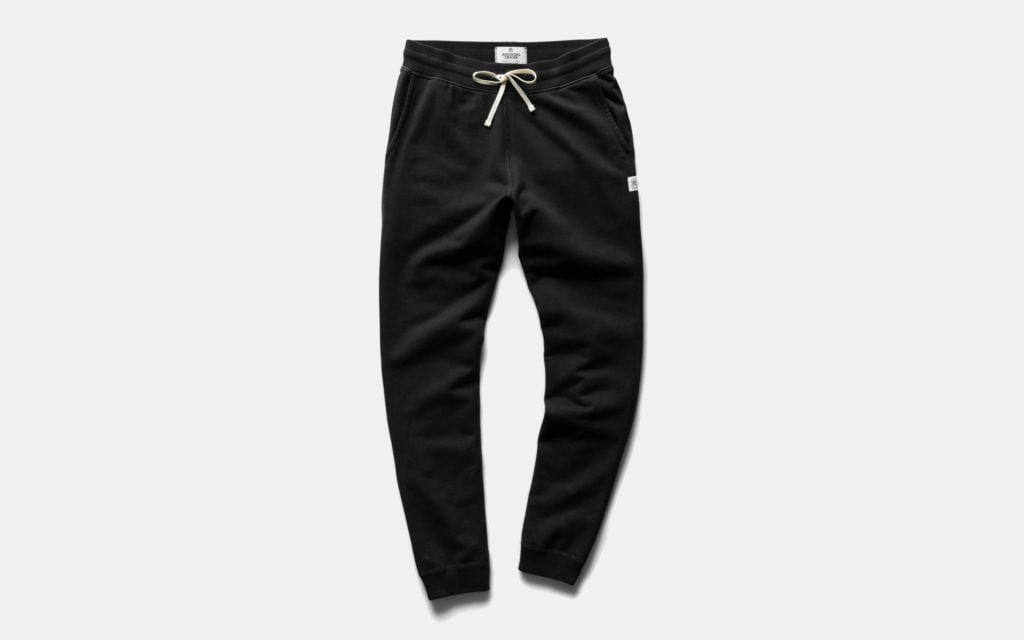 Reigning Champ Slim-Fit Sweatpants
When we want athletic gear that combines modern flair with old-school construction and modern innovation, we turn toward Reigning Champ, making its gear in Canada using time-honored methods that result in nothing but the best men's sweatpants (and sweatshirts, and crewneck) on the market. Crafted from soft loopback cotton, these sweatpants are no different when it comes to blending the old and the new in an absolutely perfect way.
Fourlaps Rush Jogger Pants
A recent addition to the lineup at Nordstrom, Fourlaps encourages consumers to "start before you're ready," and gear like the Rush Jogger Pants help to deliver on that message. The tailored fit and zip phone pocket make these as stylish as they are functional, while the cotton-poly-spandex blend is also comfortable and yet gym-ready. Add one of the brand's moisture-wicking tees to round out your next gym ensemble.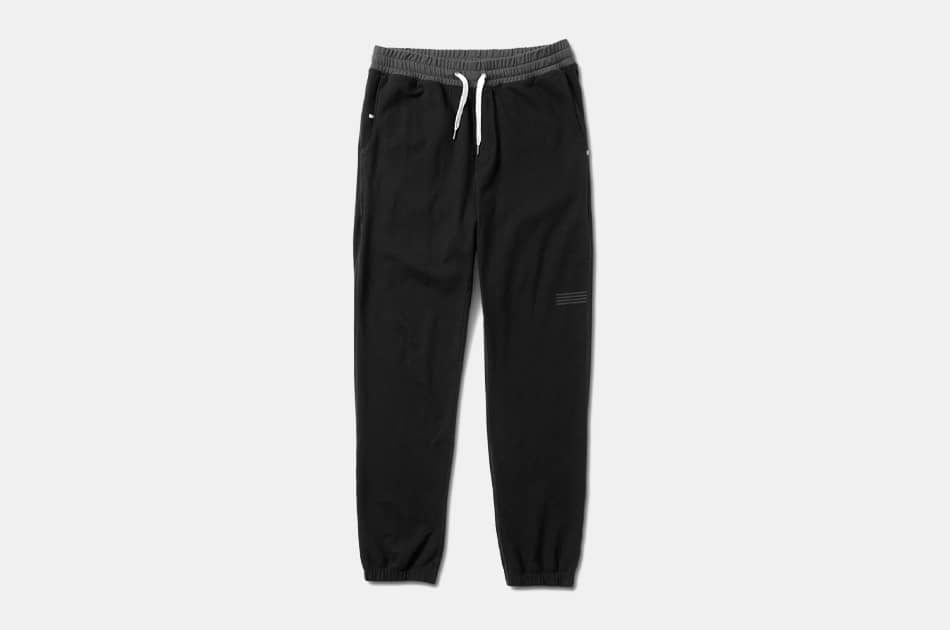 Vuori Balboa Pants
With just the right blend of easygoing style, not to mention the kind of minimal look that seems to be all the rage these days, the Vuori Balboa Pants simply check all the right boxes. The use of ultra soft peached cotton, paired up with a relaxed fit, might make these the perfect sweatpants to wear all weekend long — even if your only errands involve picking up a latte and putting on a record.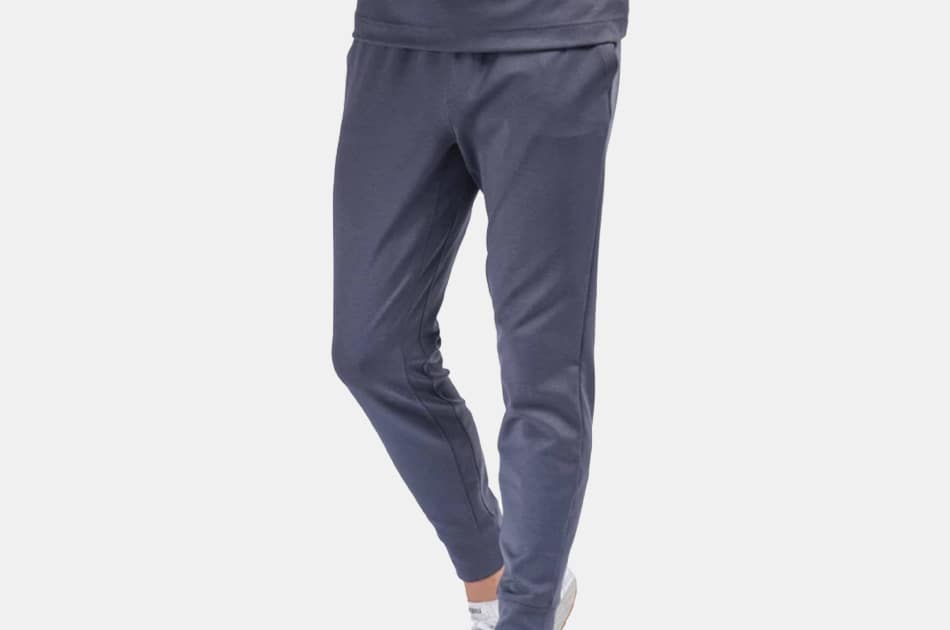 Rhone Spar Jogger
It should come as no surprise that the brand at the forefront of making modern, streamlined gear for the modern man also makes one heck of a pair of thoughtfully considered, well-constructed sweatpants — the kind of sweatpants for men that work on a long-haul flight, at the gym or on your couch (especially on your couch, seeing as they're geared toward recovery and comfort). You can feel the difference in the Rhone Spar Jogger, made from moisture-wicking fabric that includes nylon tactel for added durability.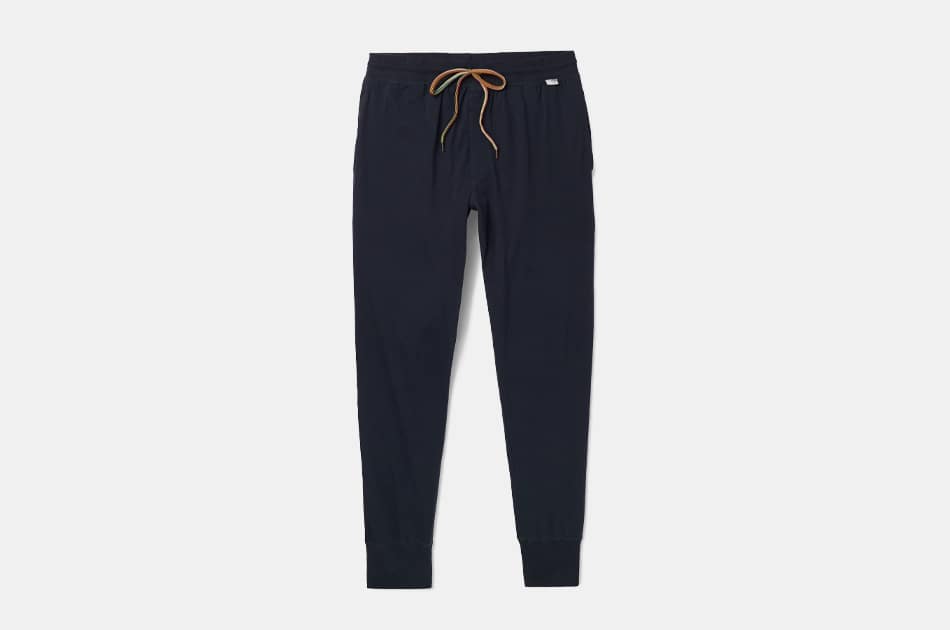 Paul Smith Slim-Fit Tapered Cotton-Jersey Sweatpants
Can sweatpants be luxurious? Can they be refined? Yes, they certainly can — that is, if they're crafted like Paul Smith's Slim-Fit Tapered Cotton-Jersey Sweatpants. They're sold by Mr. Porter, a retailer that knows a thing or three about more refined matters of style, and they're nearly as well-made as your favorite chinos or suit pants. Yes, it's true — take the cozy cotton-jersey fabric and deep navy color, then pair these with brown leather sneakers and a white henley. Saturday style, sorted.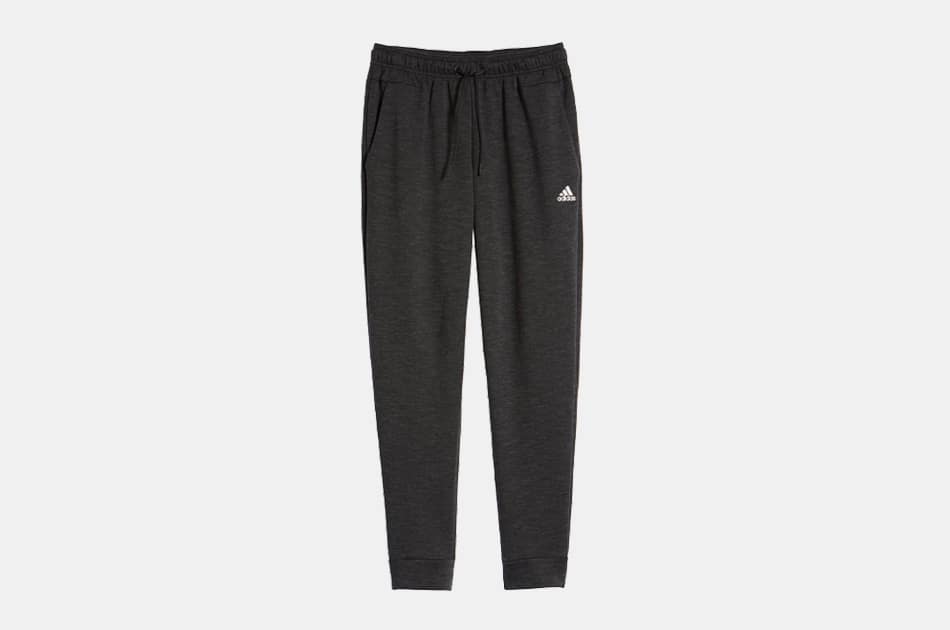 Adidas Stadium ID Sweatpants
Oftentimes, the best place to get some of the best men's sweatpants is right in front of you — in this case, an iconic brand you've probably worn for years. Give Adidas another try with a decidedly performance-friendly pair of slim sweatpants that deliver on and off the track. The cotton-blend fleece is soft and comfortable, while the phone-zipper pocket is about as handy as can be.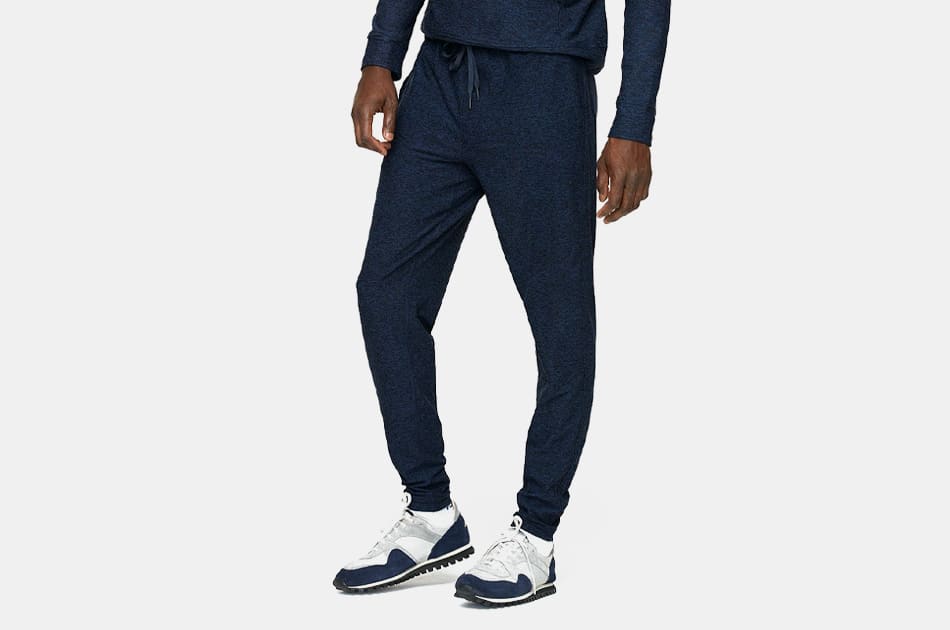 Outdoor Voices All Day Sweatpants
Outdoor Voices cut its teeth in the women's athleisure gear market, but they've now come through with some highly stylish and highly functional men's offerings for the taking (think of it like a 2-for-1 deal). The All Day Sweatpants do exactly as they intend to do, offering 24/7 comfort and performance on the go or lounging at home (and we're all doing a lot of that these days). Get a pair in a neutral color, or better yet, get more than one set.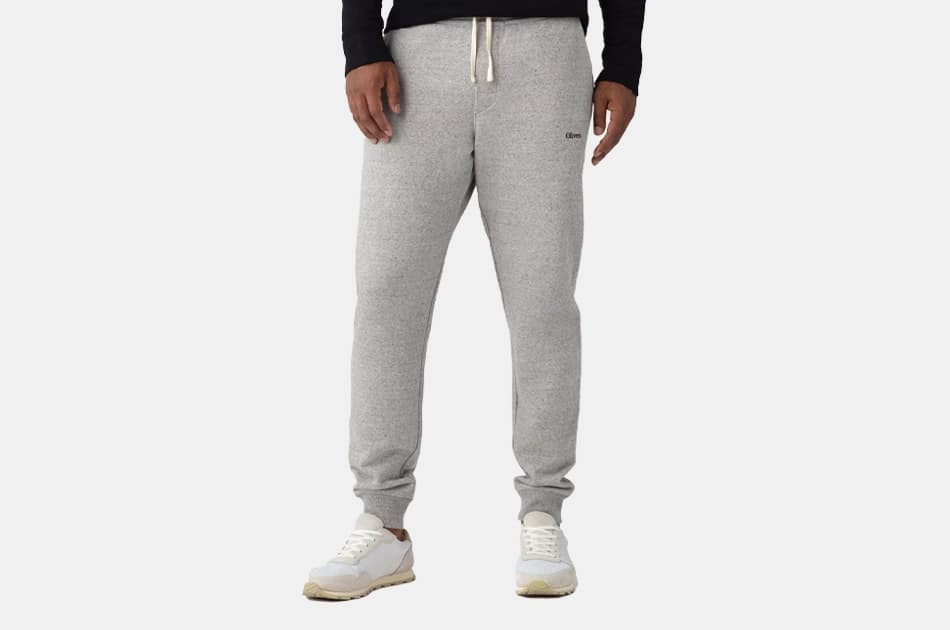 Olivers Classic Sweatpants
Olivers Apparel makes functional gear for the man on the move, the kind you can wear for workouts or for errands without missing a beat. The Classic Sweatpants are exactly that, incorporating the kind of durable fabric (in this case, Japanese Supima fabric) for which Olivers is known, to go along with the sort of vintage styling inspiration you need. Consider these like an updated take on old-school gym sweatpants, the kind you can wear training or for Netflix marathons in equal measure.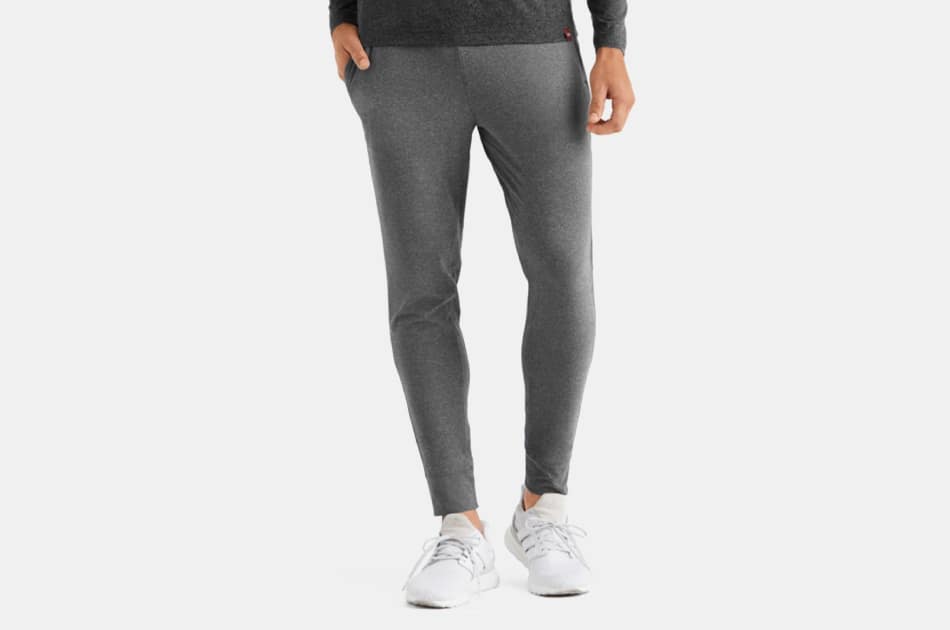 Rhone Reign All Around Jogger
From anti-odor technology to a range of stylish and versatile colors, Rhone's Reign All Around Joggers are as versatile as it gets, with the sort of specs most other sweatpants can only dream about. As comfortable as can be to wear to work from home, they're also well-suited for early morning runs and at-home training sessions, all thanks to the fact that they blend nylon, polyester and spandex with ease.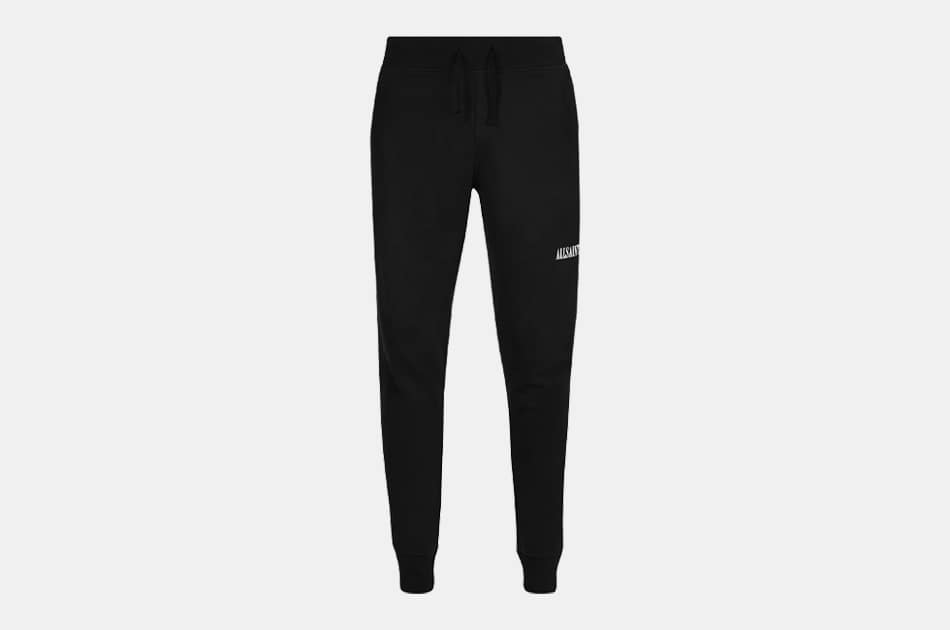 AllSaints Ryder Sweatpants
If it seems strange that a brand such as AllSaints, one normally known for its sleek-as-can-be black denim and sharp leather moto jackets, is crafting sweatpants, well, think again. The AllSaints Ryder Sweatpants pull from that same brand DNA to give you a pair of sweatpants you won't think twice of wearing outside the house, and that's all the better given the price tag (nearly $100). The Ryder Sweatpants feature cotton construction for cozy comfort, plus a silhouette just like your favorite joggers. Wear them with black sneakers and a grey cashmere hoodie for all-day comfort.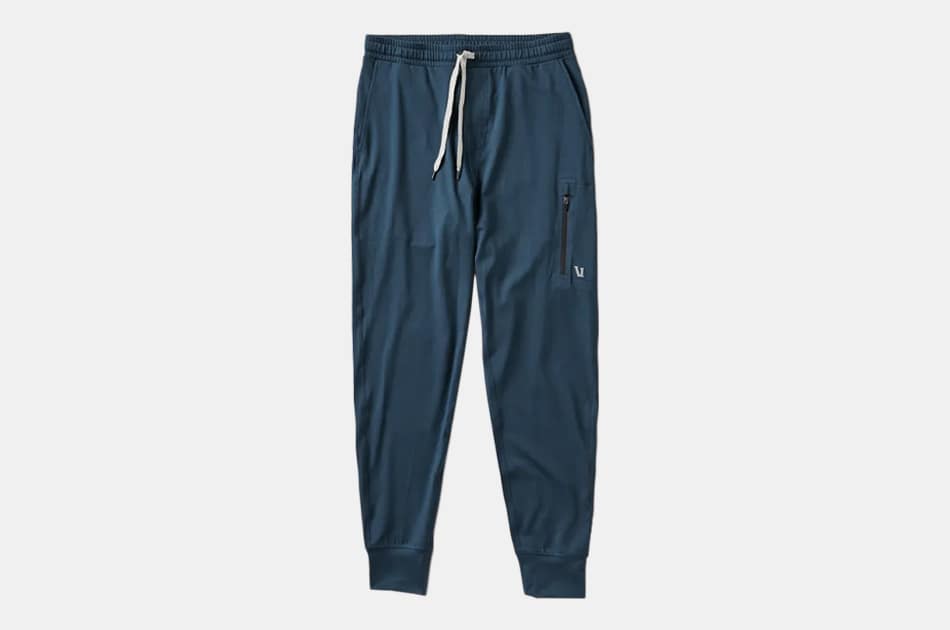 Vuori Sunday Performance Jogger
Vuori's Sunday Performance Joggers are some of the best in the business for a reason, with the sort of utility that works for pounding out miles on the pavement or powering through another podcast or Netflix show on a cold winter day. Heck, get multiple pairs of these performance-ready sweatpants so you always have one at hand. We love stylish colorways like indigo, not to mention the moisture-wicking fabric and tapered leg, so you won't get tripped up during aggressive training sessions.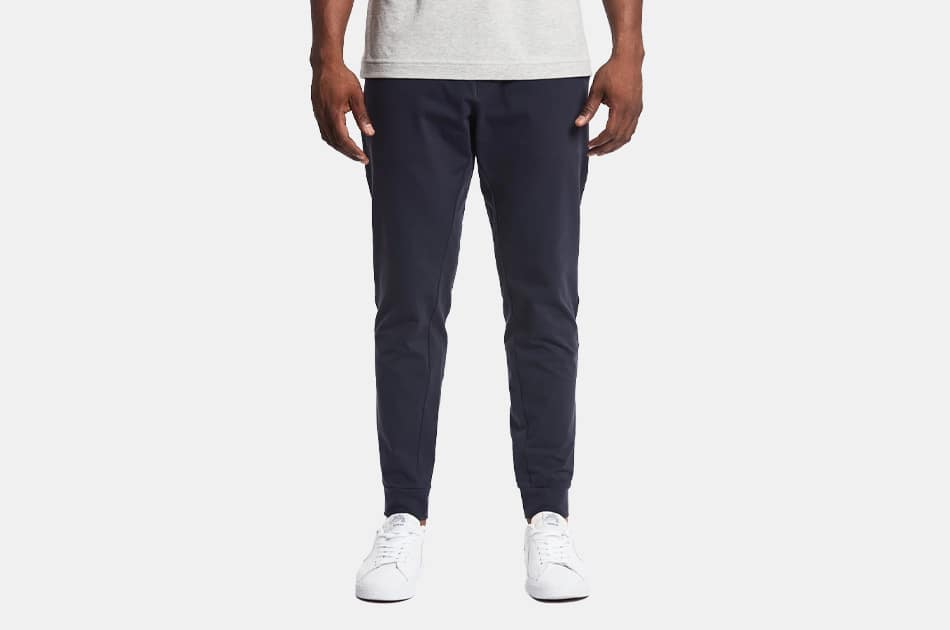 Public Rec All Day Every Day Jogger
If you've tried out Public Rec's shorts, tees or tech-minded outerwear, then you know you're getting plenty of quality and comfort delivered in one stylish package. The All Day Every Day Jogger is fit for work or play, and it's especially well-suited for laidback travel where you still want a bit of polish without putting undue strain on your legs during long hours in the car. We'd wear these sharp joggers just about anywhere.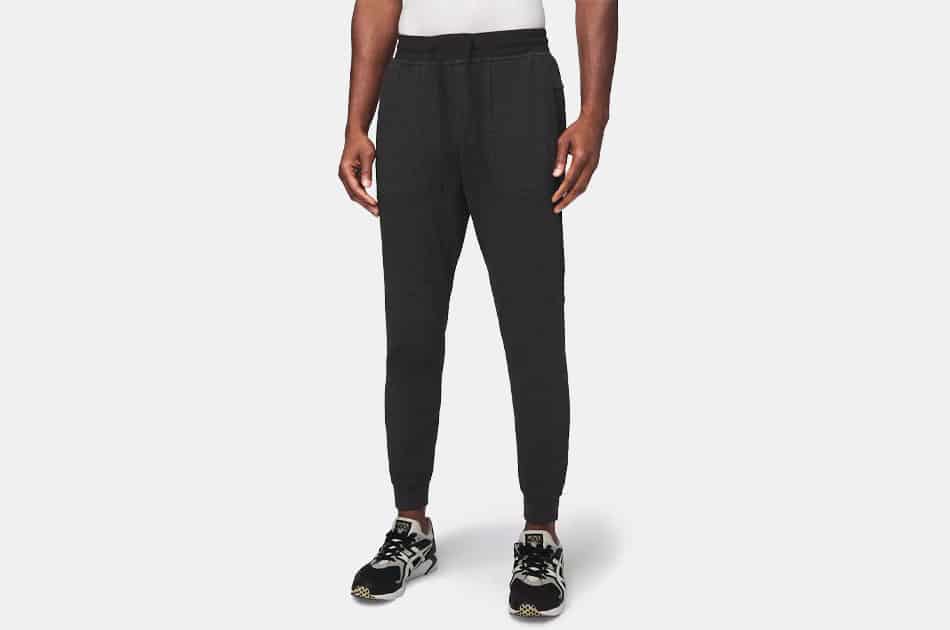 Lululemon At Ease Jogger
Lululemon continues to wow us when it comes to its ever-expanding line of men's athleisure and athletic gear staples, including the At Ease Joggers. Four-way stretch fabric and a tapered fit make these the perfect sweatpants for multiple pursuits, be it showing off some fresh kicks or putting in a grueling winter workout. Take your pick from versatile color options if you prefer to wear 'em in more style-minded situations, too. You can't go wrong with Lululemon men's gear these days.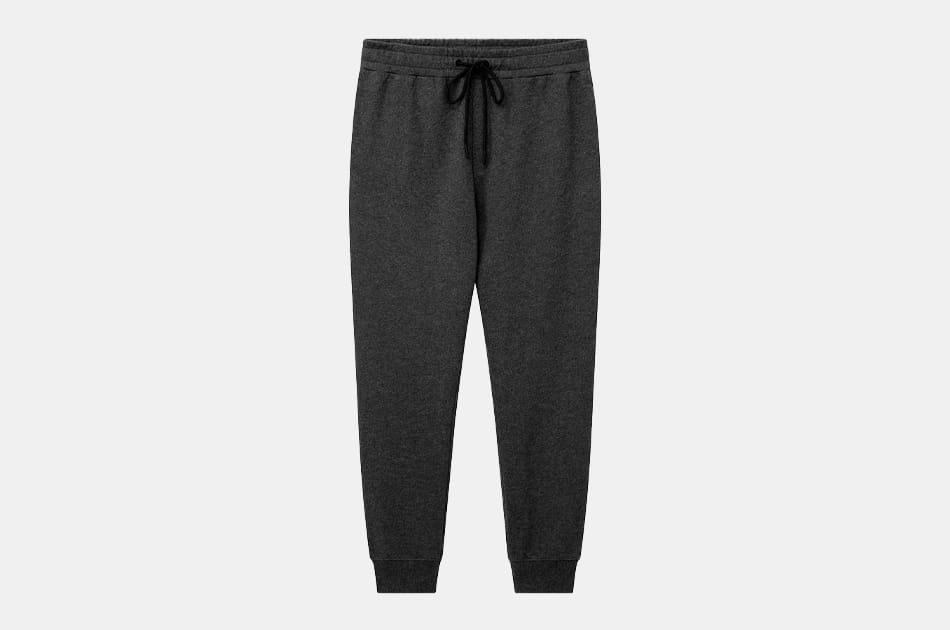 NAADAM Fleece Sweatpant
When you can quite literally feel the difference when it comes to quality fabric and quality construction, that's when you know you've found the right pair of sweatpants. Enter NAADAM's Fleece Sweatpants for ethical luxury, a great fit and versatile looks. These are nearly as polished as your favorite denim, and all the more comfortable given the way NAADAM builds each and every piece in its line of cozy style staples.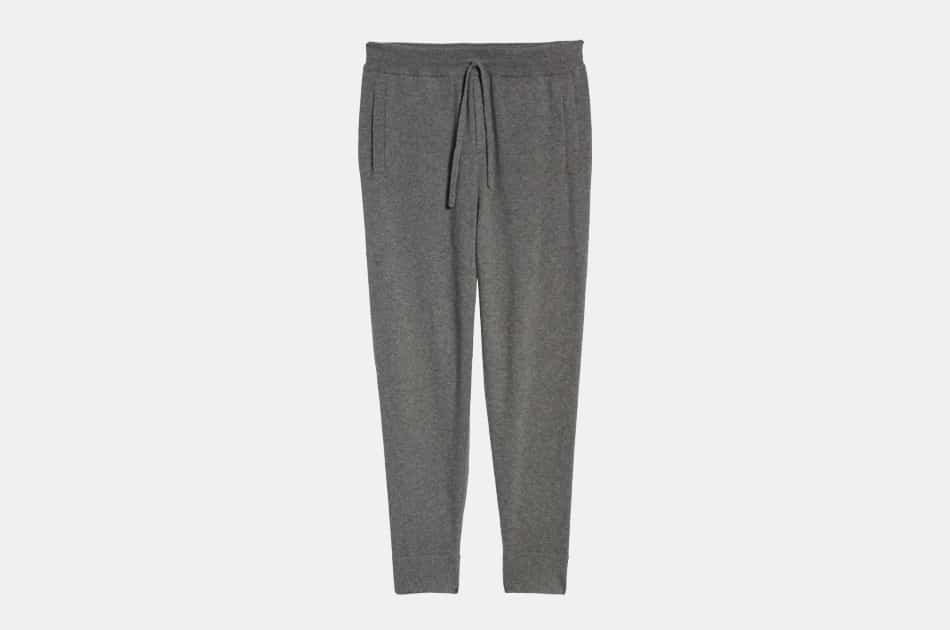 Vince Cashmere & Wool Sweatpants
Want to really take things up a notch when it comes to your search for the best men's sweatpants? Minimal style masters Vince have come through in the clutch with a luxurious pair of cashmere and wool sweatpants you can wear as often as you please, but especially with a crewneck sweater and crisp white sneakers for style that's laidback and yet seriously cool. Invest in these sweatpants and reap the rewards.
Disclosure: Clicking on these links and making a purchase may earn us a small referral fee, at no extra cost to you. Learn more here.
freestar.config.enabled_slots.push({ placementName: "gearmoose_leaderboard_btf", slotId: "gearmoose_leaderboard_btf" });