The 20 Best Sweaters For Men
It's pretty simple, to us. If it's chilly out, as in the start of fall or the depths of winter, you need a stylish sweater. Heck, you need more than one. That's our aim when it comes to rounding up the best men's sweaters — we pull no punches in matters of style, durability, warmth or quality. Simply put, there's a sweater for everyone out there.
From a rugged, outdoors-minded crewneck sweater to luxurious merino options to stylish cardigans aplenty, you can rest assured that the best men's sweaters will work with all of your favorite cold-weather style essentials. Dark denim, lace-up boots and a grey crewneck? You'll find the right one on our list.
A slim Oxford teamed with a premium merino sweater? We've got just the right top layer for you. And the even better news? You'll find the best men's sweaters at plenty of excellent price points for you. Read on and discover the best men's sweaters for yourself.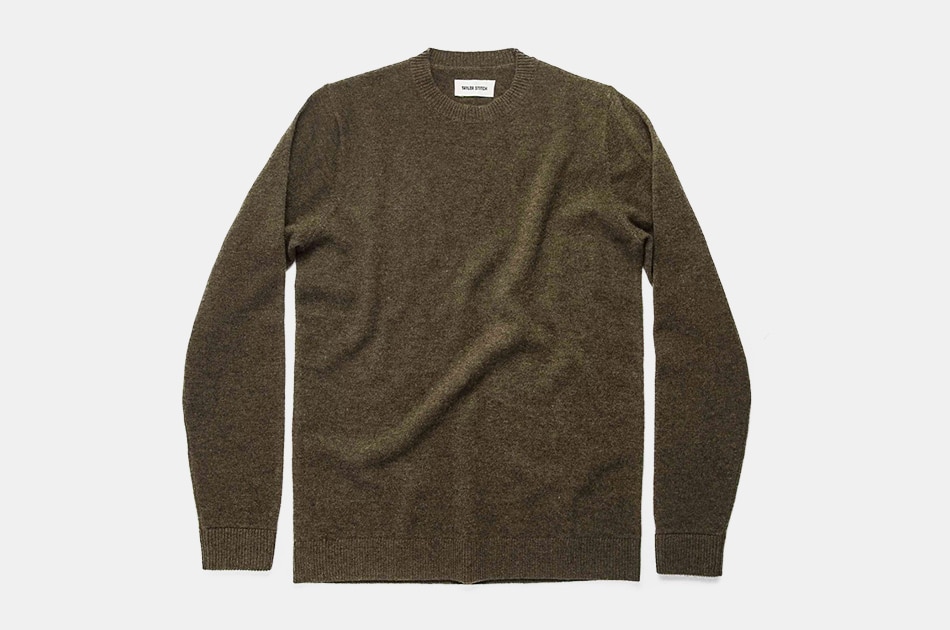 Taylor Stitch Lodge Sweater
Taylor Stitch will absolutely have you outfitted for the colder months in no time, that much is true. That's why we're absolutely recommending the Lodge Sweater, a rich and rugged outer layer that'll team handsomely with a white Oxford or a blue chambray shirt in equal measure. Made from both merino wool and Yak wool, this sweater should be remarkably tough — despite its soft, easy-to-wear construction. If you prefer upstate getaways or weekend cabin retreats, this is the one sweater you're certainly going to want to keep handy.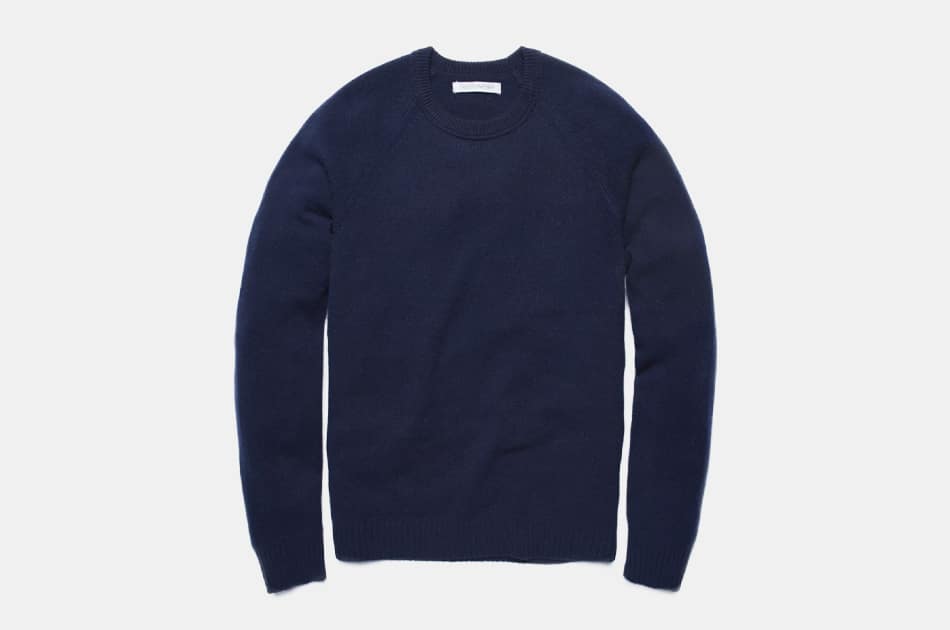 Outerknown Reimagine Cashmere Sweater
When Outerknown sets its mind to doing something, you can be sure this modern, surf-inspired brand does it the right way — and in the case of the Reimagine Cashmere Sweater, that means the brand takes it upon itself to craft perhaps the most sustainable sweater on the market. It just so happens to be one of the best men's sweaters as well, what with a tailored fit and a range of neutral, easy-to-layer color options available.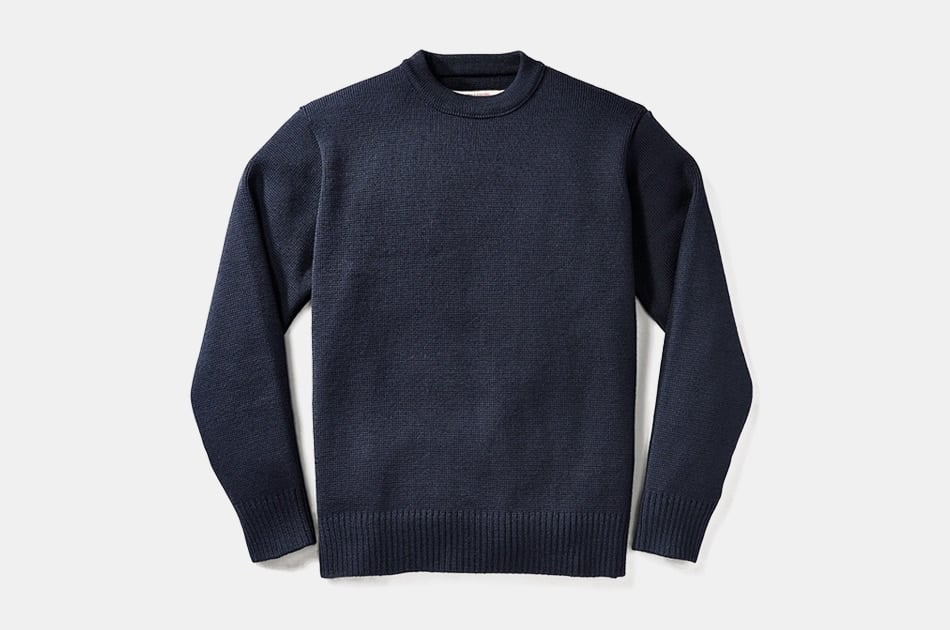 Filson Crew Neck Guide Sweater
Filson knows what it's doing when it comes to crafting the best men's sweaters on the market — and not just any old sweater, either. Its layering options, including the rugged and essential Filson Crew Neck Guide Sweater, are about as field-ready as it gets, and they're the perfect pairing with a tough Filson flannel shirt. The Crew Neck Guide Sweater in particular was absolutely made for cold winter mornings in the field — or in town grabbing a hot coffee.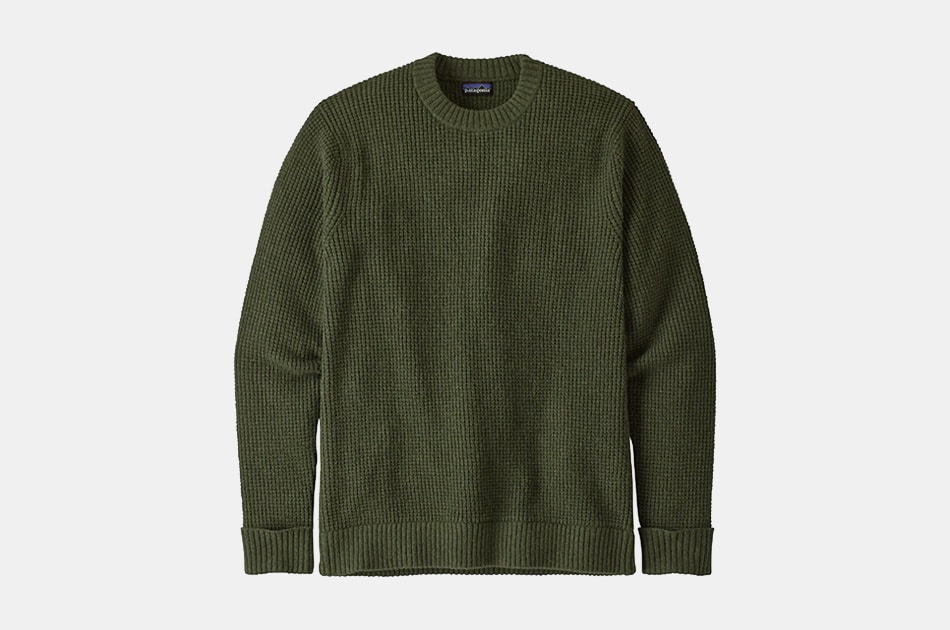 Patagonia Recycled Wool Sweater
Among pioneering outdoor brands, Patagonia has assuredly continued to stick to what it does best without compromising any quality whatsoever — and over the years, that approach has included a heavy focus on sustainability, too. The Recycled Wool Sweater is outdoor-friendly and made to be layered underneath a Patagonia parka for your next winter outdoor excursion, and that's as great of a pairing as we could possibly dream up. How about you?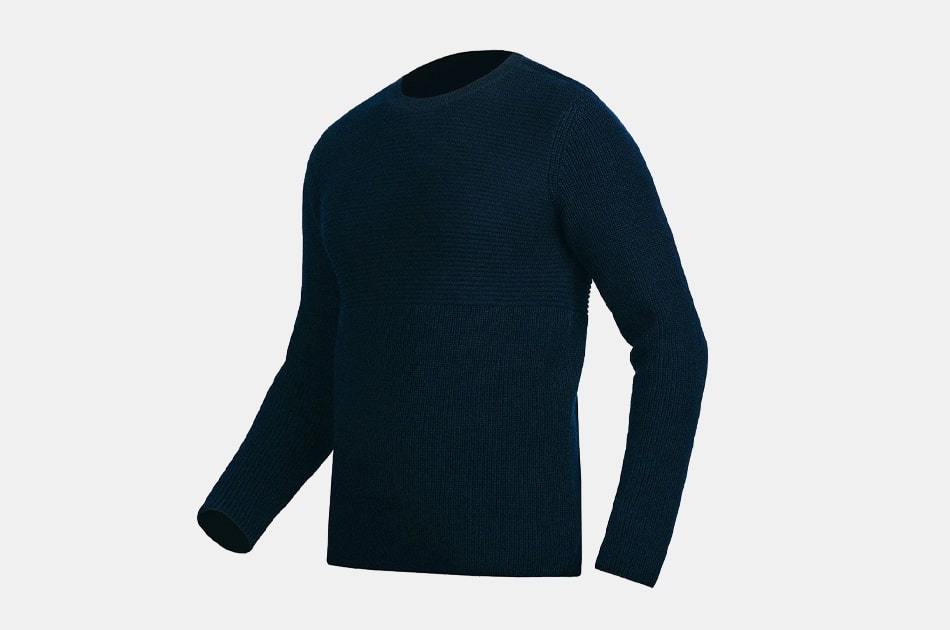 Mission Workshop Coburn Sweater
The best sweaters start with some of the best fabric around (merino wool) — and in the case of Mission Workshop, you're looking at a brand that knows a thing or two about delivering a quality (make that VERY high-quality) men's sweater. The Coburn Sweater is definitely investment-worthy, delivering the sort of durability and dependability that only the best men's sweaters can provide. This sweater will regulate both odor and body temperature, making it perfect for all-day wear.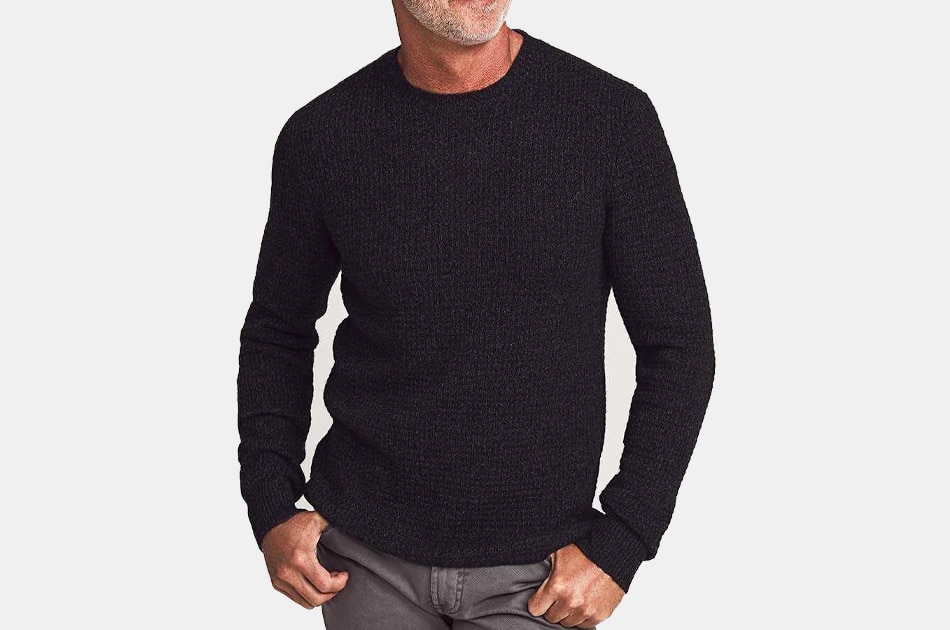 Faherty Cashmere Blend Crewneck Sweater
The good folks at Faherty Brand seem to make their essential winter gear with a bit of everything in mind, be it a refined evening of Old Fashioneds at your favorite speakeasy or an essential way to bundle up on an early winter morning excursion. The Cashmere Blend Crewneck Sweater delivers on both those fronts, and quite handsomely at that — the responsibly sourced wool and cashmere provides the perfect winter layer.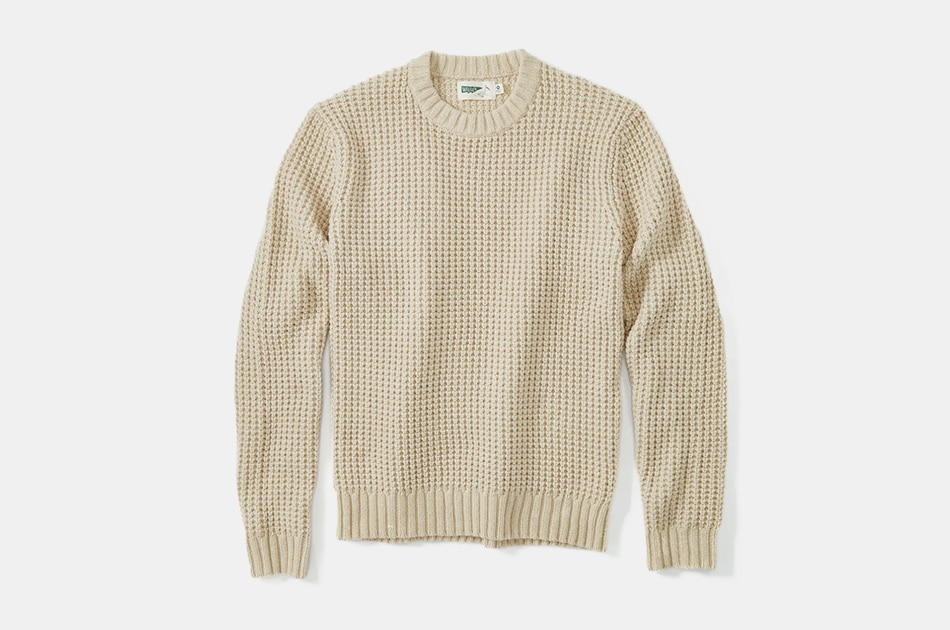 Wellen Headlands Sweater
When you want a chunky sweater that delivers old-school quality and yet a tailored, modern fit, the Wellen Headlands Sweater is absolutely the way to go. Part of the recently revamped Wellen line — the in-house line at Huckberry — this sweater means business when it comes to layering up on chilly fall and winter days aplenty. The key is the waffle-knit wool-blend fabric (and this sweater is made sustainably, of course).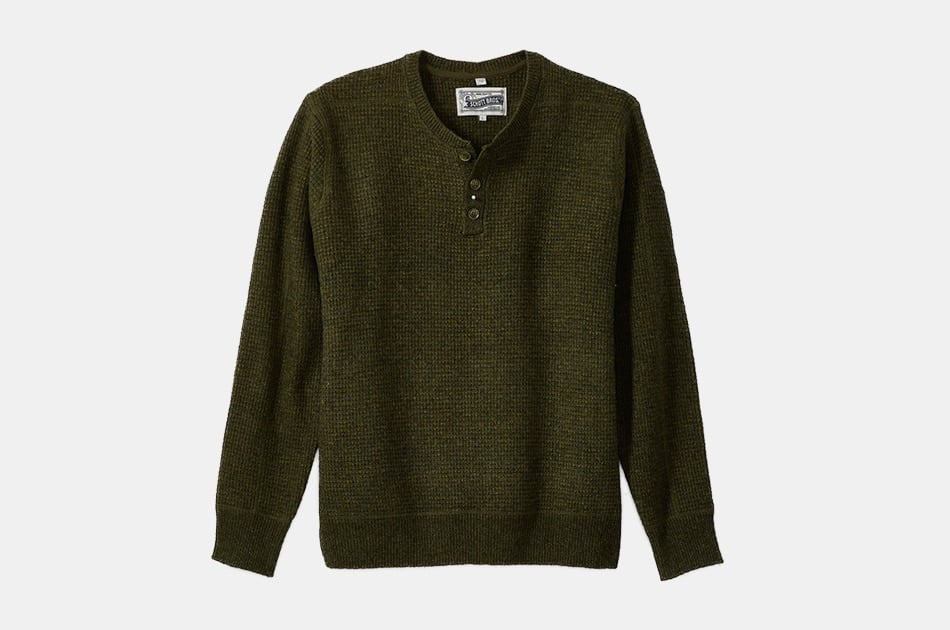 Schott Button Henley Sweater
Perhaps you've already got a rugged, classic Schott NYC leather jacket in your winter menswear rotation — well, it's time to amp things up in a big way in terms of your sweater game, too. Yes indeed, this legendary brand can deliver one heck of an iconic sweater, one with enough style chops to layer underneath your leather moto jacket, too. We love the rich Moss color and the use of warm wool and nylon to keep you toasty this season.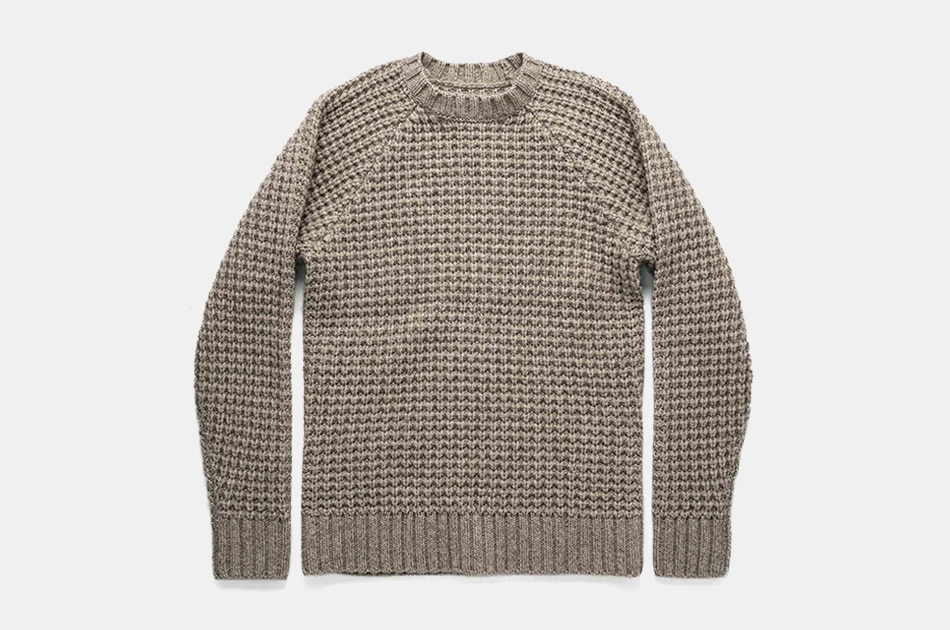 Taylor Stitch Fisherman Sweater
Taylor Stitch really has made nearly the sweater of our dreams here, a pleasingly rugged merino wool number with Moss stitch construction that calls to mind chilly fall mornings and cold winter evenings in equal measure. All at once, it's both a classic and new men's style staple, the sort of sweater Hemingway would have been proud to wear. As the brand says, it's a "seaworthy silhouette" that uses melange yarns to add depth and texture.
We love the potential wearability with everything from slim dark jeans and rugged brown leather boots to tan chinos and slim Chelsea boots — rest assured, it can do all of that, and then some.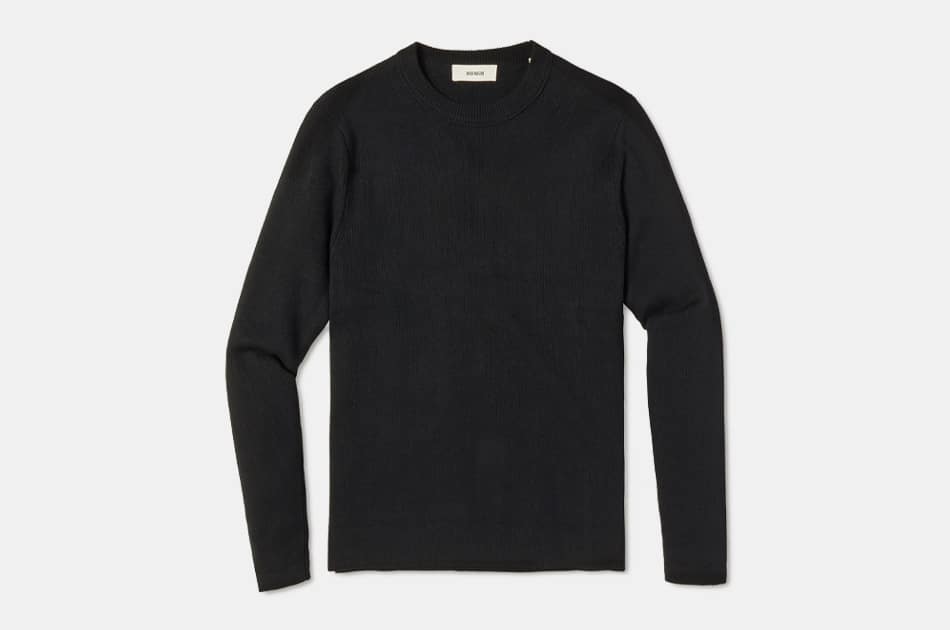 Buck Mason Cotton Linen Traveler Sweater
Buck Mason churns out butter-soft tees, slim jeans and rugged jackets with relative ease, so it should come as no surprise that they've made one heck of an easy-to-layer sweater to pair with the rest of their inimitable style staples. Made with a lightweight cotton-linen blend — in a seriously cool Vintage Navy color, no less — this sweater should pair up nicely with a tan herringbone blazer, dark denim and your favorite wingtip boots for a go-to fall Friday ensemble. How's that sound? Pretty good, right? Pick up a pair of their perfectly cut jeans if you can, too.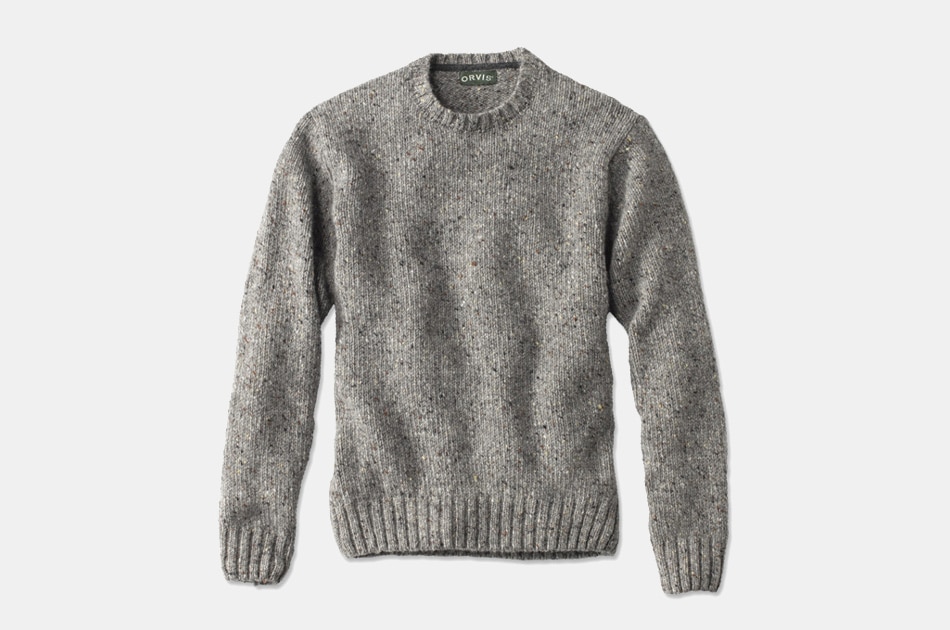 Orvis Newbridge Donegal Crewneck Sweater
If there were a brand that immediately rises to the forefront when you consider the type of rugged gear you need to wear for your next cabin weekend or outdoor hunting excursion, it would assuredly be Orvis — right? Right. The Newbridge Donegal Crewneck Sweater is the perfect pairing with a tough Orvis field coat or camp pants, all owing to the richly crafted fabric and classic color — when you need style and functionality in turn, Orvis should be your go-to.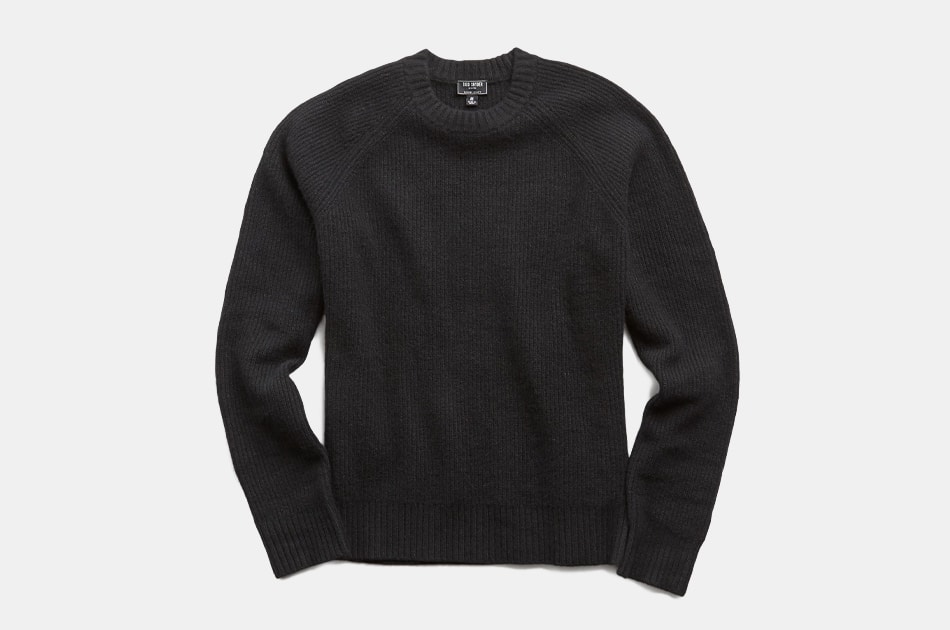 Todd Snyder Italian Ribbed Raglan Crewneck Sweater
No roundup of the best men's sweaters would be complete without Todd Snyder, and what's more, without one of his handsome and refined takes on the everyday sweater. The Ribbed Raglan Crewneck Sweater comes in colors both bold (teal) and more basic (black), but one thing's for certain: It's as ready to wear with a crisp Todd Snyder Oxford shirt as any layering piece in your rotation, and we think that's more than worthy to close out our list of sweaters. But we're not done yet …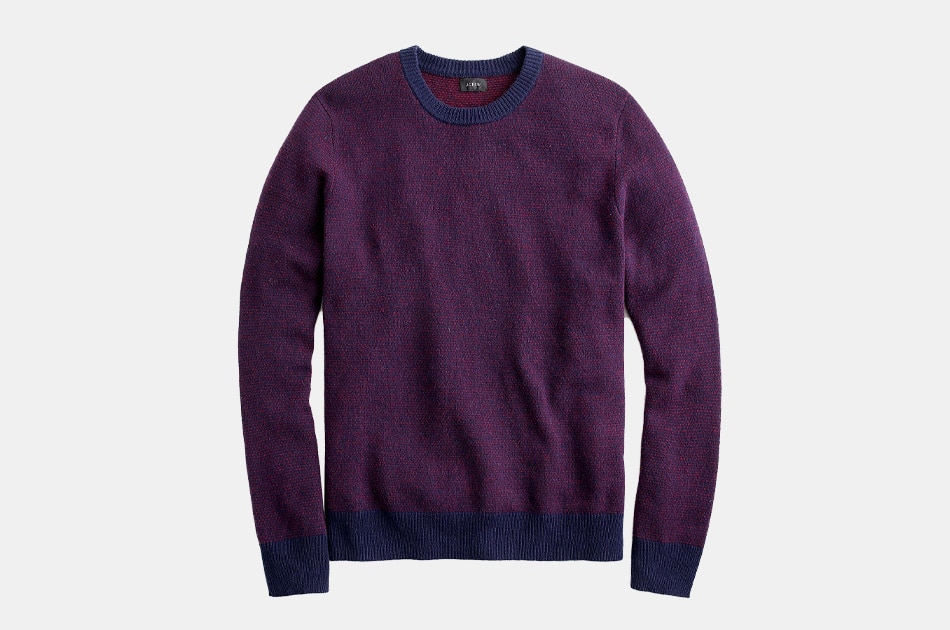 J.Crew Rugged Merino Birdseye Crewneck Sweater
For the right combination of affordability and rugged style, you can't go wrong with J. Crew — that's been the case for a number of years when it comes to the best men's sweaters, and this latest iteration is no different. Crafted in a unique birdseye pattern, this merino sweater is fit for holiday dinner or lazy weekend coffeehouse hangs in equal measure — we guarantee it'll provide some major bang for your buck.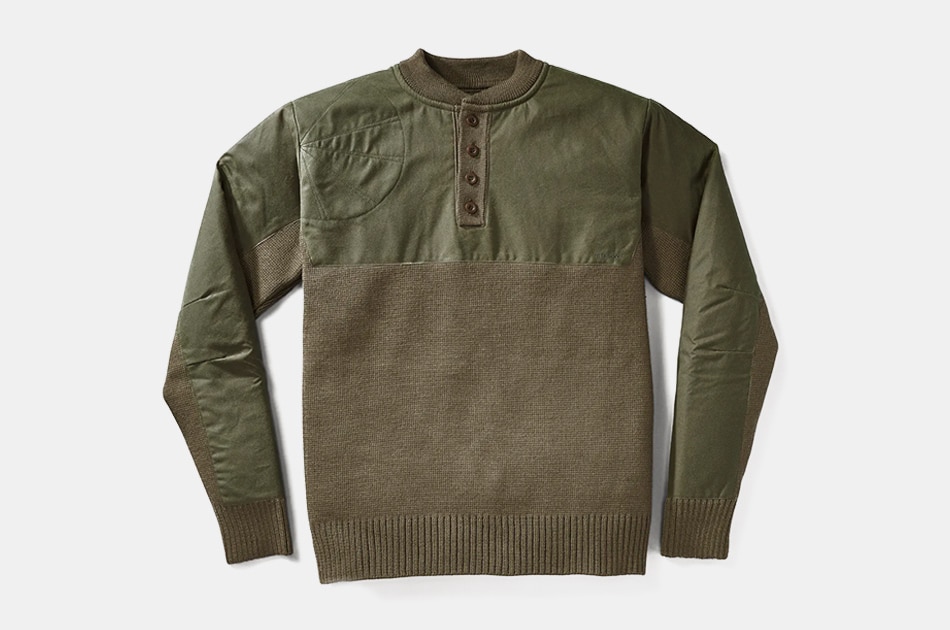 Filson Henley Guide Sweater
Is this durable Filson sweater a, well, sweater? Or is it a henley? A bit of both? Wherever you land on the answer to that question, the Filson Henley Guide Sweater is absolutely one of the best of either one of those options on the market, made with all the tough bells and whistles you'd expect from the lauded Pacific Northwester heritage brand. In this case, that includes water-repellent and abrasion-resistant fabric overlays throughout the sweater at key stress points, along with a rich Peat Green color for versatility and style points.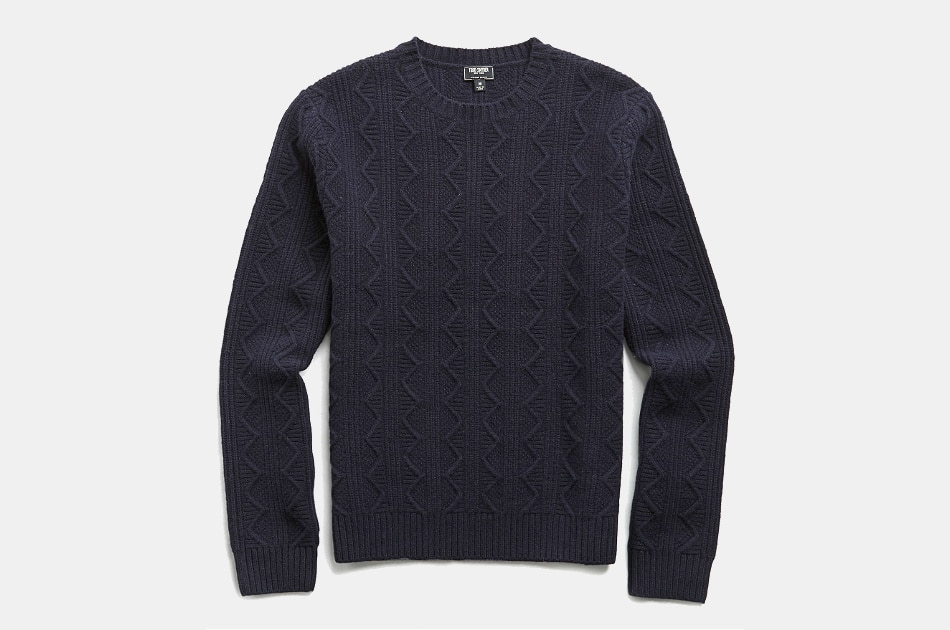 Todd Snyder Merino Cable Crewneck Sweater
This is the definition of an investment-level sweater if ever there was one, featuring darn near the highest quality you're going to find on the market. We think that makes it the type of sweater to wear with everything from rich tan leather wingtip boots and beat-up denim to a charcoal herringbone suit. It's certainly the rare sweater you can dress up or down, no matter how you look at it.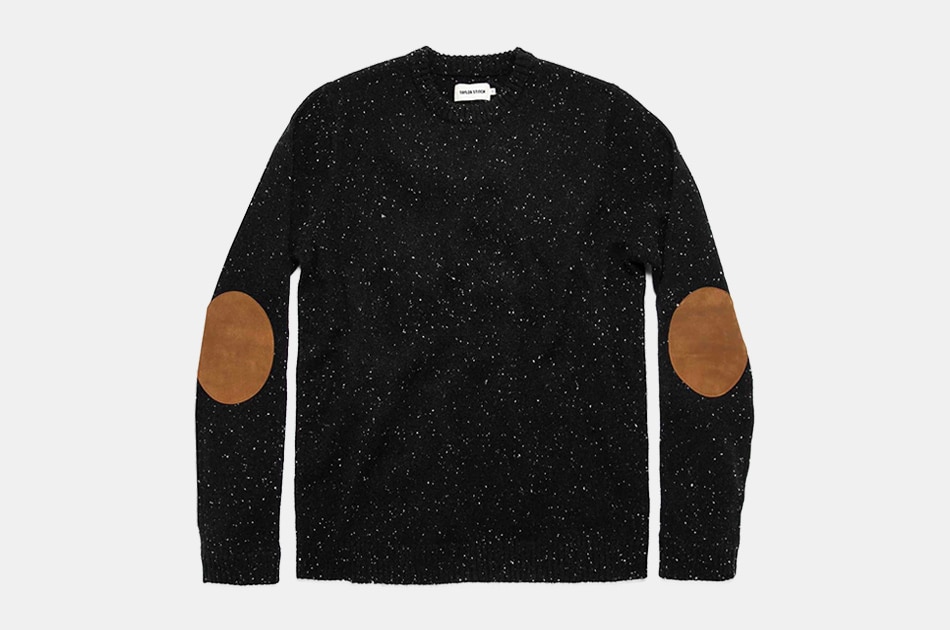 Taylor Stitch Hardtack Sweater
As we've said, the best men's sweaters start with the very best fabric possible — the Taylor Stitch Hardtack Sweater is a prime example of this, made with ridiculously soft baby yak and wool for the ultimate in layering comfort. Add in the fact that this sweater has all the classic Taylor Stitch hallmarks you'd expect (including old-school sheepskin leather elbow patches), and this sweater is as ready as any for holiday parties and winter weather in equal measure.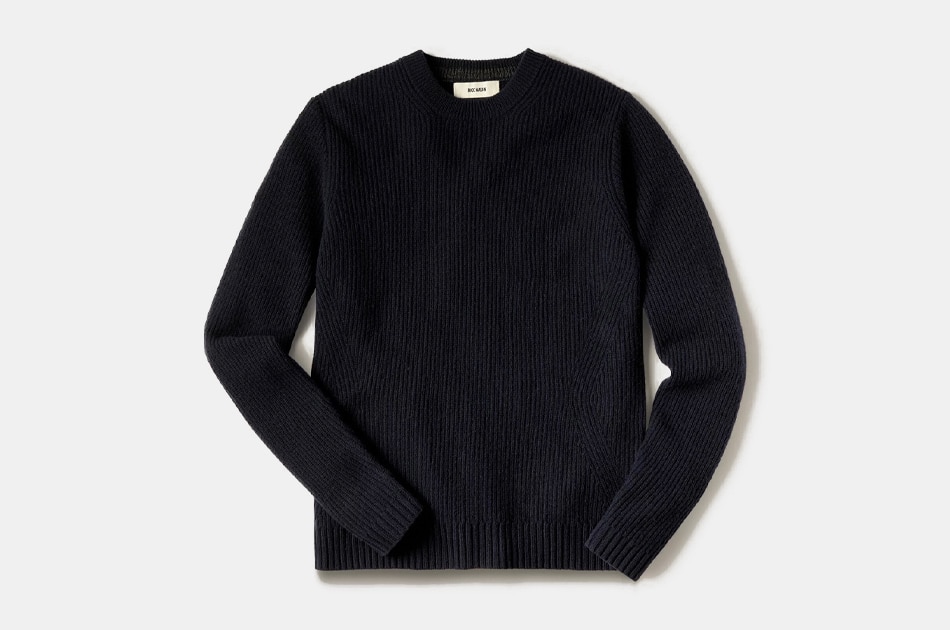 Buck Mason Five Gauge Fisherman Rib Sweater
If ever you're looking to put together a full outfit packed with rugged men's style essentials that provide long-lasting durability and extra warmth in the winter cold, you're going to want to turn toward Buck Mason — as if you didn't know that to begin with. The Buck Mason Five-Gauge Fisherman Rib Sweater delivers the goods and then some, from the versatile color options (Timber is our favorite) to the use of soft merino wool and the thick fisherman-style knit. Blustery winter mornings don't stand a chance.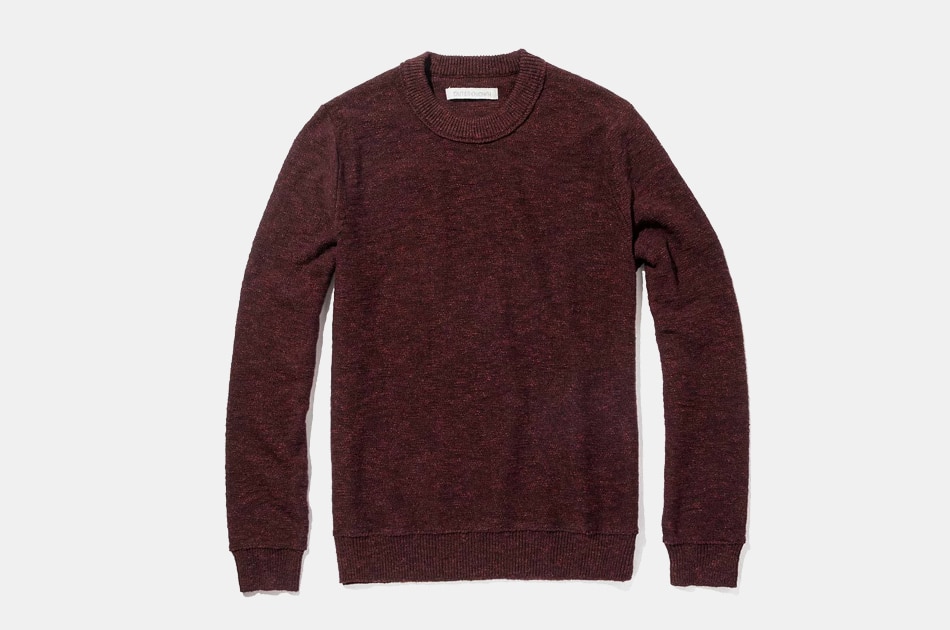 Outerknown Shelter Crewneck Sweater
The team at Outerknown keeps churning out fall and winter style essentials that expand the brand's surf inspiration far beyond the water. Started by legendary surfer Kelly Slater, the brand recently launched slim, sustainable denim — and now, they're complementing that offering with the Shelter Crew, an exceptional sweater made with the brand's pillars of sustainability and style in mind (to say the very least). Available in four colors and made from a blend of cotton and wool that should do well for chilly fall mornings or blustery evenings, it's a winner — no doubt about it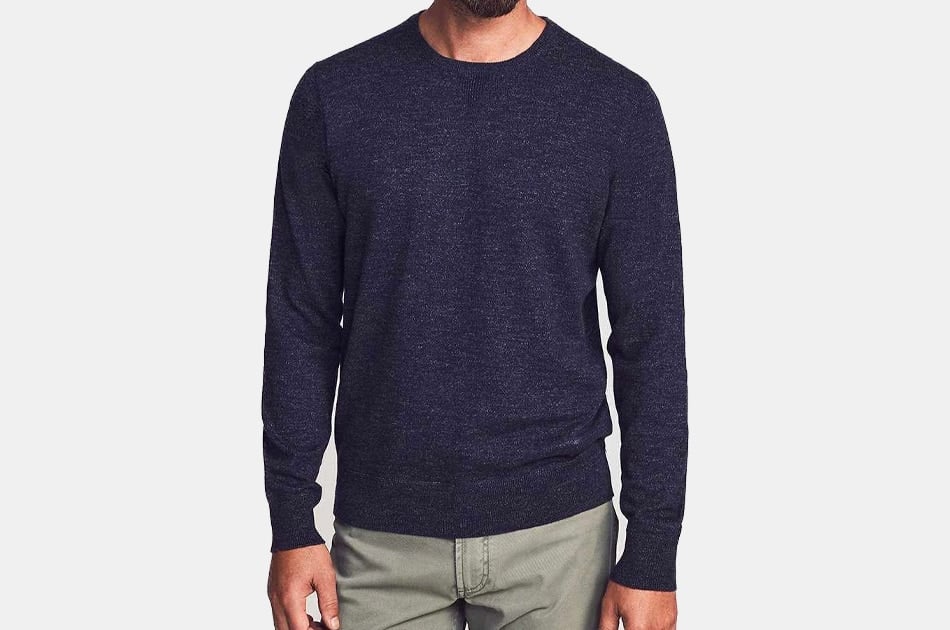 Faherty Sconset Crew Sweater
If you typically think of Faherty Brand for coastal-inspired, easygoing and warm-weather friendly style staples, you're certainly not wrong. If we have anything to say about it (and we do), the brand should also fall under your consideration for the chillier months. Take the Sconset Crew, a a soft-washed, easy-to-wear cross between a classic sweatshirt and your favorite sweater. That makes it the perfect companion to wear with a chambray shirt and broken-in blue denim, or your favorite pair of slim black jeans and a trusty leather moto jacket.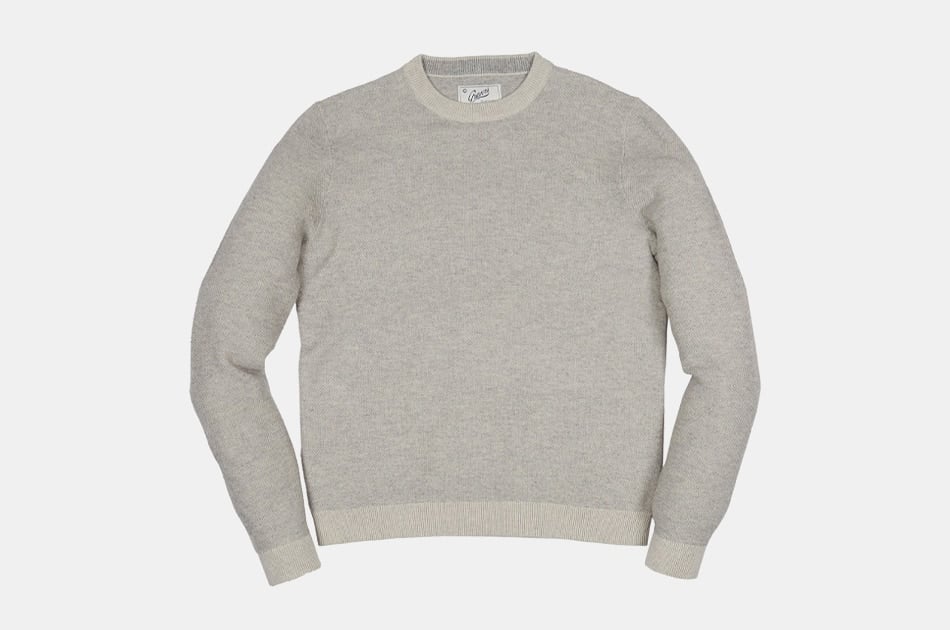 Grayers Arandel Birdseye Crew Sweater
The thing that sets Grayers apart has gotta be the brand's soft, exceptional fabrics. It's how they start off every garment they make, from their high-quality shirting (also perfect for fall and winter) to pieces like the must-have Arandel Birdseye Crew Sweater. Made from cotton, nylon and merino wool, that means this sweater is wearable on your next weekend hike or your next weekend brunch date, with ease. In short, this is the kind of sweater you can practically throw on and … forget about. Wear it with slim dark jeans, wear it with olive chinos, wear it with burgundy corduroys … it works with all of those staple pieces.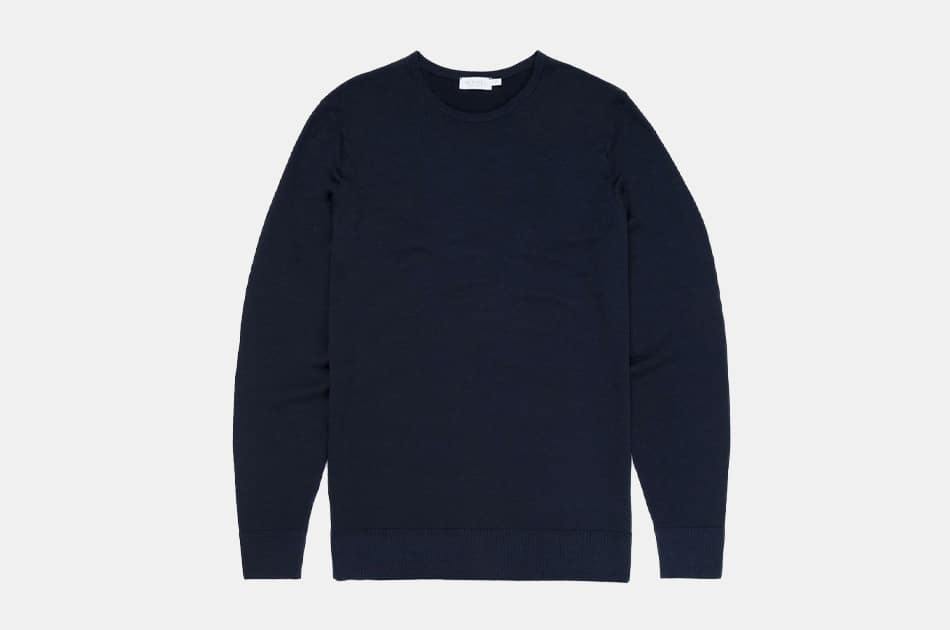 Sunspel Merino Fine Wool Sweater
Known lately for outfitting none other than James Bond himself, Sunspel embodies the idea of accessible, high-quality luxury. If that sounds like something you can get on board with for fall and winter, then we'd absolutely recommend starting with the Merino Fine Wool Sweater, a soft, lightweight fabric that regulates temperature and wears easily with everything from a grey wool vest and tan chinos to slim dark denim and fresh-out-of-the box tan wingtip boots. Be prepared to spend — and then be prepared to reap the benefits.
Disclosure: Clicking on these links and making a purchase may earn us a small referral fee, at no extra cost to you. Learn more here.