The 20 Best Sweaters For Men
It's pretty simple, to us. If it's chilly out, as in the start of fall or the depths of winter, you need a stylish sweater. Heck, you need more than one. That's our aim when it comes to rounding up the best men's sweaters — we pull no punches in matters of style, durability, warmth or quality. Simply put, there's a sweater for everyone out there.
From a rugged, outdoors-minded crewneck sweater to luxurious merino options to stylish cardigans aplenty, you can rest assured that the best men's sweaters will work with all of your favorite cold-weather style essentials. Dark denim, lace-up boots and a grey crewneck? You'll find the right one on our list.
A slim Oxford teamed with a premium merino sweater? We've got just the right top layer for you. And the even better news? You'll find the best men's sweaters at plenty of excellent price points for you. Read on and discover the best men's sweaters for yourself.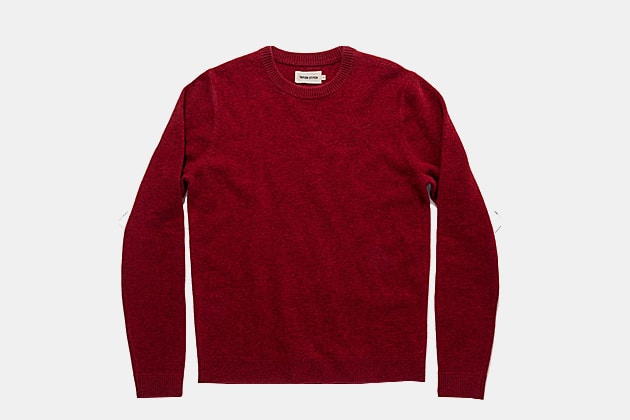 Taylor Stitch Lodge Sweater
Taylor Stitch will absolutely have you outfitted for the colder months in no time, that much is true. That's why we're absolutely recommending the Lodge Sweater, a rich and rugged outer layer that'll team handsomely with a white Oxford or a blue chambray shirt in equal measure. Made from both merino wool and Yak wool, this sweater should be remarkably tough — despite its soft, easy-to-wear construction. If you prefer upstate getaways or weekend cabin retreats, this is the one sweater you're certainly going to want to keep handy. – Shop Now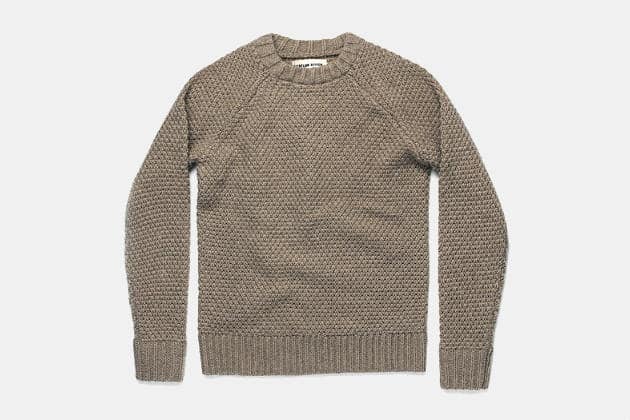 Taylor Stitch Fisherman Sweater
Taylor Stitch really has made nearly the sweater of our dreams here, a pleasingly rugged merino wool number with Moss stitch construction that calls to mind chilly fall mornings and cold winter evenings in equal measure. All at once, it's both a classic and new men's style staple, the sort of sweater Hemingway would have been proud to wear. As the brand says, it's a "seaworthy silhouette" that uses melange yarns to add depth and texture.
We love the potential wearability with everything from slim dark jeans and rugged brown leather boots to tan chinos and slim Chelsea boots — rest assured, it can do all of that, and then some. – Shop Now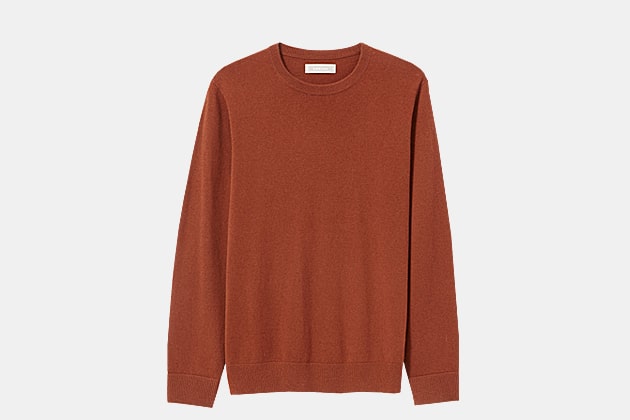 Everlane Cashmere Crew In Red Rock
Retailing for an astronomically low $100, this handsome cashmere crewneck sweater is the latest offering from the radically transparent retailers from San Francisco-based Everlane. It's well-cut, refined and minimal, yet the Red Rock color hints nicely toward fall. We'd pair it with slim charcoal five-pocket trousers and a dark blue denim jacket for a seasonally friendly pop of color. At every step of the way, you're being taken into Everlane's process, something we appreciate as well. Heck, pick up more than one at a price like this. – Shop Now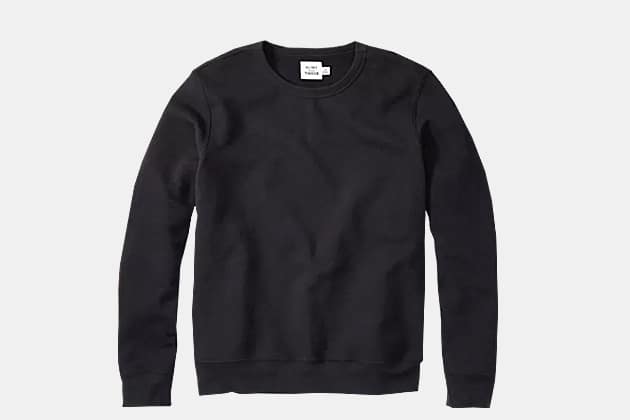 Flint and Tinder 10-Year Crew
Is this Flint and Tinder crewneck sweatshirt the same option as we featured earlier? Absolutely not. Like other gear from the lauded in-house brand at one of the best clothing shops for men, the 10-Year Crew is distinctive, well-crafted and ready to take on the day — no questions asked.
Featuring the brand's notable 10-Year Guarantee — covering any repairs or defects to the sweater — the 10-Year Crew is comfortable, cozy and made from durable fleece, all the better to layer up over a classic white T-shirt for a lazy fall or winter weekend. If you feel like it taking it out for a spin underneath a waxed trucker jacket as you take on your latest outdoor project? It's guaranteed to last through that, too. – Shop Now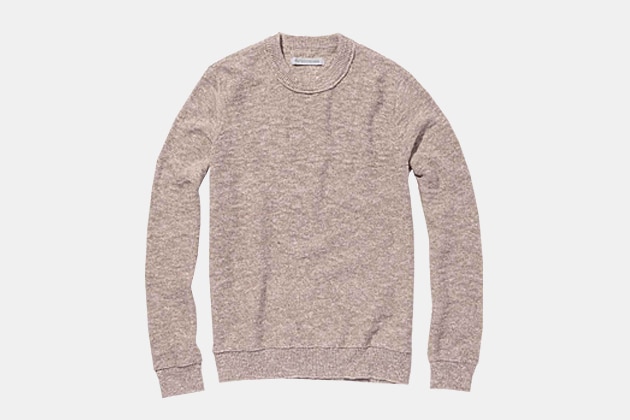 Outerknown Shelter Crew Sweater
The team at Outerknown keeps churning out fall and winter style essentials that expand the brand's surf inspiration far beyond the water. Started by legendary surfer Kelly Slater, the brand recently launched slim, sustainable denim — and now, they're complementing that offering with the Shelter Crew, an exceptional sweater made with the brand's pillars of sustainability and style in mind (to say the very least). Available in four colors and made from a blend of cotton and wool that should do well for chilly fall mornings or blustery evenings, it's a winner — no doubt about it. – Shop Now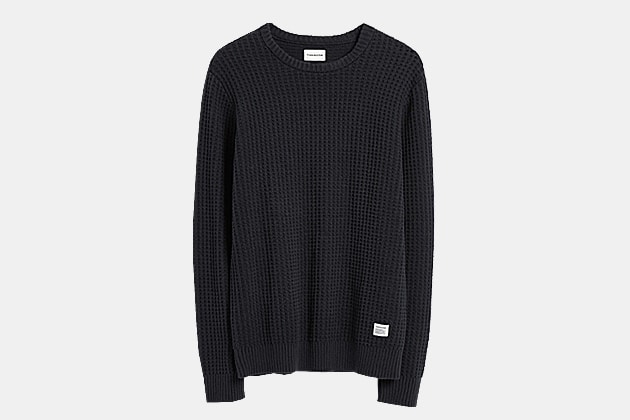 Frank And Oak Waffle Stitch Crewneck Sweater
We love the warmth and style of a traditional thermal shirt or sweater — so it makes sense, in that case, that we'd love the tough durability and thick knit of the Frank And Oak Waffle Stitch Crewneck. Coming from the Canadian style purveyors at Frank And Oak, it fits with the brand's ethos of clean, classic and minimal style staples, crafted with just a bit of edge. That's where this fashion-forward Waffle Stitch Crewneck comes into play — it's taking a classic silhouette and amping things up a bit through unique stitching and construction. – Shop Now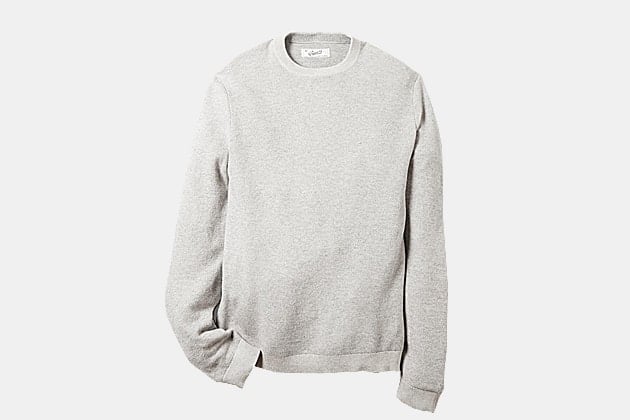 Grayers Arandel Birdseye Crew Sweater
The thing that sets Grayers apart has gotta be the brand's soft, exceptional fabrics. It's how they start off every garment they make, from their high-quality shirting (also perfect for fall and winter) to pieces like the must-have Arandel Birdseye Crew Sweater. Made from cotton, nylon and merino wool, that means this sweater is wearable on your next weekend hike or your next weekend brunch date, with ease. In short, this is the kind of sweater you can practically throw on and … forget about. Wear it with slim dark jeans, wear it with olive chinos, wear it with burgundy corduroys … it works with all of those staple pieces. – Shop Now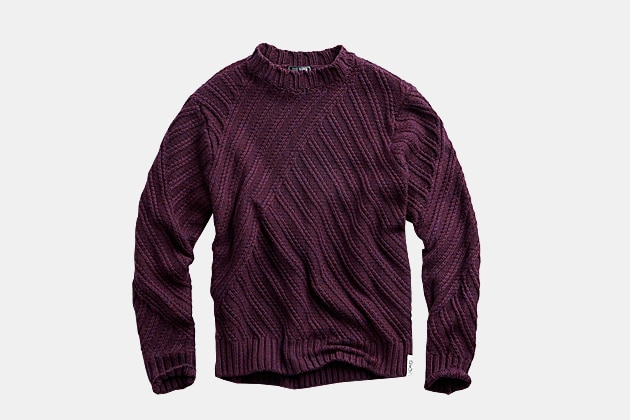 Todd Snyder Hand Knit Merino Cable Crewneck
Would you expect anything less from Todd Snyder than a positively beautiful hand-knit cable crew in a rich color? This is the definition of an investment-level sweater if ever there was one, featuring darn near the highest quality you're going to find on the market. We think that makes it the type of sweater to wear with everything from rich tan leather wingtip boots and beat-up denim to a charcoal herringbone suit. It's certainly the rare sweater you can dress up or down, no matter how you look at it. – Shop Now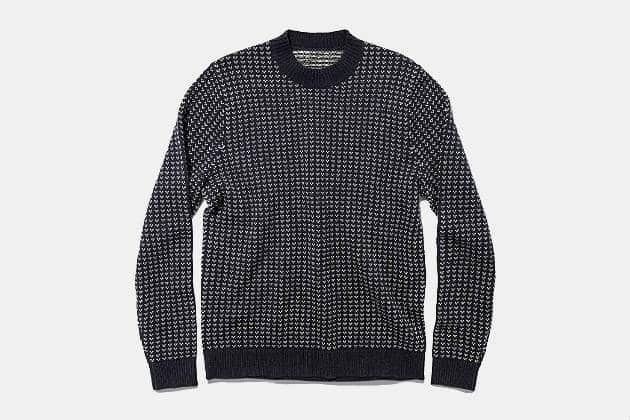 Taylor Stitch Rangeley Sweater
It might be tough to believe, but Taylor Stitch continues to make stylish gear for each and every season, fall and winter included. Particularly fall and winter, come to think of it. The brand's San Francisco background lends itself well to pieces like the Rangeley Sweater, which is easy to layer and even easier to wear underneath another fall must-have (that'd be a waxed tan field coat from Taylor Stitch). The handsome Rangeley Sweater is made from a premium merino and cashmere blend, resulting in a sweater that's performance-ready, odor-resistant and made to regulate your body temperature. In short: Sign us up. – Shop Now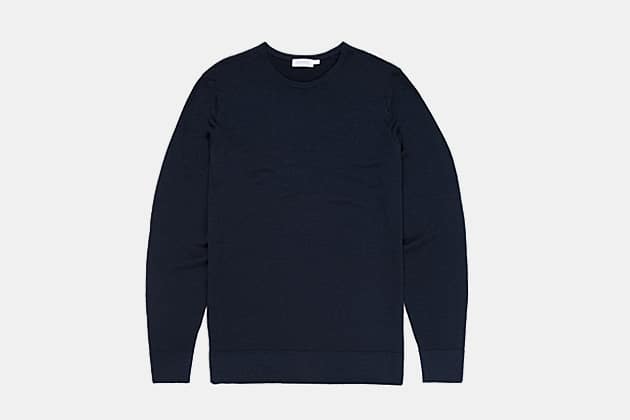 Sunspel Merino Fine Wool Sweater
Known lately for outfitting none other than James Bond himself, Sunspel embodies the idea of accessible, high-quality luxury. If that sounds like something you can get on board with for fall and winter, then we'd absolutely recommend starting with the Merino Fine Wool Sweater, a soft, lightweight fabric that regulates temperature and wears easily with everything from a grey wool vest and tan chinos to slim dark denim and fresh-out-of-the box tan wingtip boots. Be prepared to spend — and then be prepared to reap the benefits. – Shop Now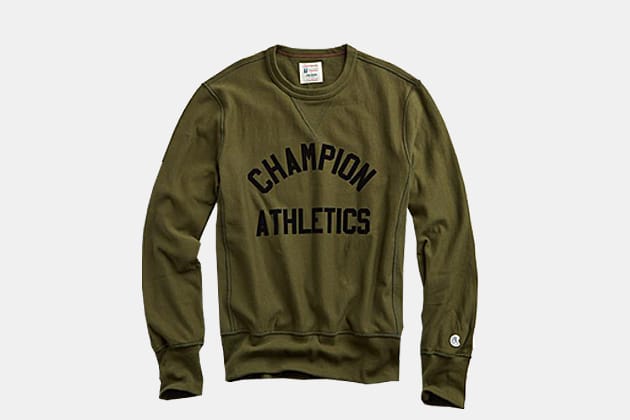 Todd Snyder + Champion Flock Sweatshirt
Fall and winter style is made exceptionally easy with the tough, rugged and well-crafted Flock Sweatshirt from Todd Snyder's ongoing partnership with Champion. This effort continues to deliver some seriously stylish and essential, athletic-inspired pieces season after season, and this bold take on the typical logo crewneck is no exception. Made-in-Canada construction sets this sweatshirt apart from the pack, as does the unique Olive color — it'll wear nicely with staples like grey denim and brown leather moc toe boots. And if you want to rock it under a navy blazer with tan chinos? Go for it. – Shop Now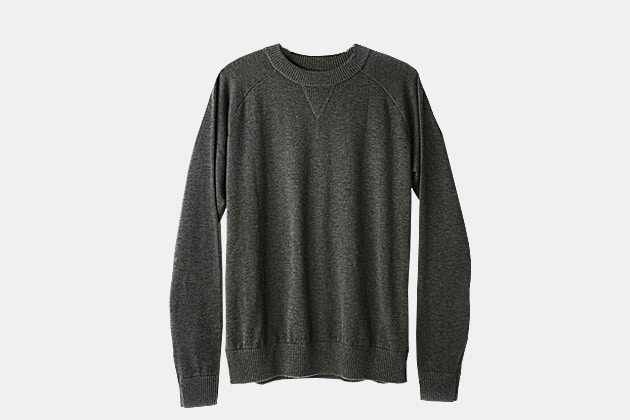 Civic Oscar Sweater
The folks at Taylor Stitch have made an even greater push to take over, well, even more of your wardrobe with the CIVIC brand, featuring plenty of easy-to-layer, ridiculously comfortable pieces made from merino wool. Take the Oscar Sweater in a shade of grey that's got a surprising amount of depth. Made from both wool and a unique, innovative COOLMAX fabric, it's designed to both insulate and breath, the perfect match for layering with other fall style essentials (like one of the brand's chambray shirts or a casual merino T-shirt. In summary, we sure do love it as another fall or winter layering option. – Shop Now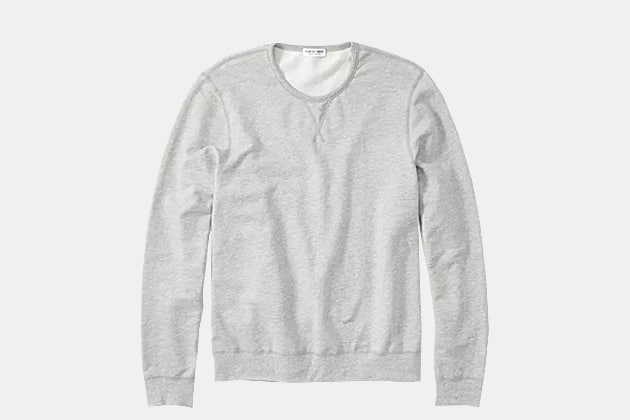 Flint and Tinder Reversible French Terry Sweatshirt
There are certain men's style essentials that don't really need to be messed with all that much — like the classic crewneck sweatshirt. It's fitting, then, that Flint and Tinder has made one that fits nicely with that old adage: "If it ain't broke, don't fix it." That's perhaps too simple a term to describe the tough construction and rugged appeal of the French Terry Sweatshirt, featuring loopback French terry on one side and the classic outer of your traditional sweatshirt on the other. The end result is a sweatshirt that works with tough pieces like tan chore pants and suede chukka boots as readily as it can be layered under a navy wool suit — seriously. – Shop Now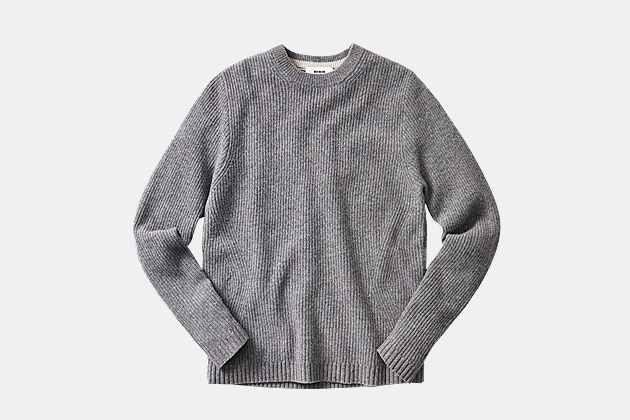 Buck Mason Cotton Traveler Sweater
Buck Mason churns out butter-soft tees, slim jeans and rugged jackets with relative ease, so it should come as no surprise that they've made one heck of an easy-to-layer sweater to pair with the rest of their inimitable style staples. Made with lightweight cotton from a loose knit — in a seriously cool Vintage Navy color, no less — this sweater should pair up nicely with a tan herringbone blazer, dark denim and your favorite wingtip boots for a go-to fall Friday ensemble. How's that sound? Pretty good, right? Pick up a pair of their perfectly cut jeans if you can, too. – Shop Now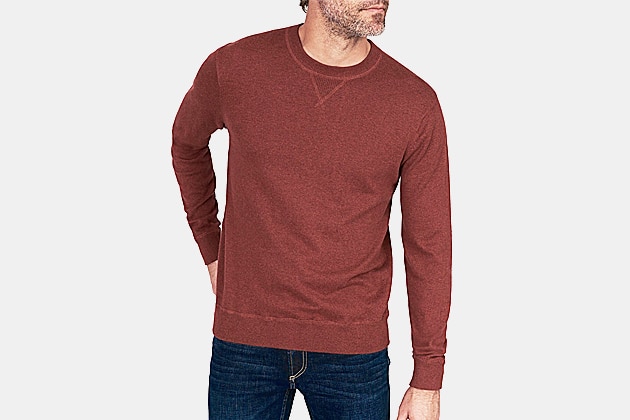 Faherty Brand Sconset Crew Sweater
If you typically think of Faherty Brand for coastal-inspired, easygoing and warm-weather friendly style staples, you're certainly not wrong. If we have anything to say about it (and we do), the brand should also fall under your consideration for the chillier months. Take the Sconset Crew, a a soft-washed, easy-to-wear cross between a classic sweatshirt and your favorite sweater. That makes it the perfect companion to wear with a chambray shirt and broken-in blue denim, or your favorite pair of slim black jeans and a trusty leather moto jacket. – Shop Now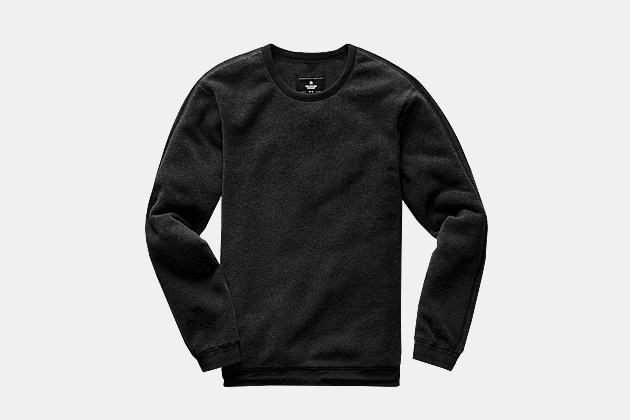 Reigning Champ Charcoal Polartec Fleece Sweater
Want a sweater that blends functionality with sleek style for an all-around result that you'll turn toward season after season? You want the Polartec Fleece from Reigning Champ, made from incredibly warm and durable fabric in an especially sleek Charcoal color. Polartec fleece is a truly remarkable fabric, made to prevent heat loss and retain and regulate core warmth. In short, this is a stylish men's sweater that absolutely doesn't mess around. The next time you want a sweater that works for your morning commute or your weekend hike with ease, you want this one from Reigning Champ. – Shop Now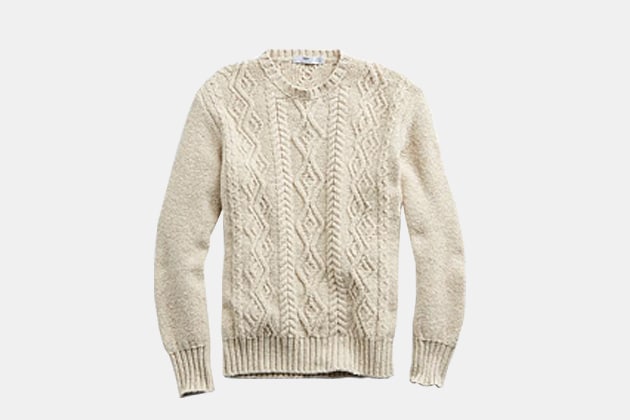 Inis Meaian Classic Cable Crewneck
Looking to up the ante even further when it comes time to add to your collection of the best men's sweaters? There's no doubt in our minds that you should look no further than Inis Meaian, legendary purveyors of some of the warmest, toughest and classically made sweaters on the planet. That's quite a lot of hype, but we stand by it, and we know the Inis Meaian does, too. After all, when a sweater is made with cashmere and none other than Extra Fine Merino Wool, it's easy to get all the details right. This sweater is bold, exceptionally rugged, tough and made for the chilliest fall and winter nights (and mornings). – Shop Now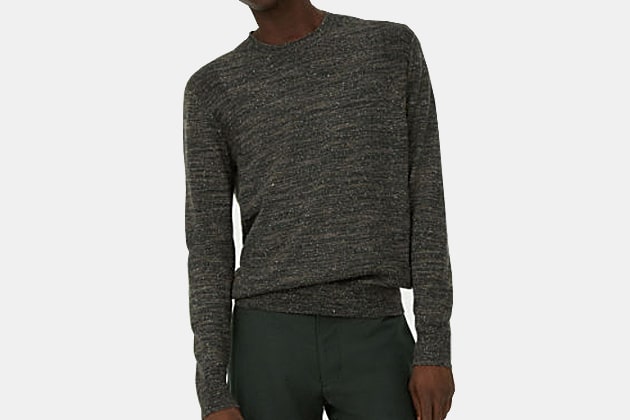 Club Monaco Rollneck Sweater
Looking for an option that embodies luxury when it comes to your collection of the best men's sweaters? Look no further than the work being done by Club Monaco, a venerable brand that's recently gone through a full-fledged reboot. This sweater is the type of piece that's going to add some refined edge to products like a tough denim jacket and slim black jeans, and it's also going to look mighty stylish and sharp underneath a navy wool suit. Think of it as an alternative to your traditional grey sweater, then wear it with pieces like a blue Oxford and tan chinos. It requires a bit more investment up front than some of the other picks on this list, but it's essential nonetheless. – Shop Now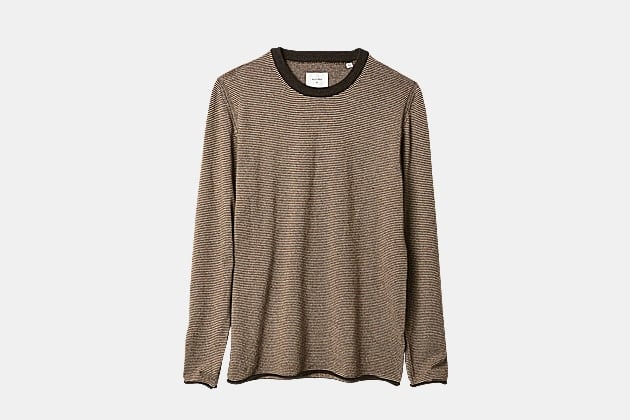 Billy Reid Cashmere Stripe Crew
Billy Reid takes classic men's style essentials, then amps them up just a bit using his vision for casual refinement and go-anywhere versatility. If that seems like quite the tall order, then the Cashmere Stripe Crew ought to pull it all together for you. It's the perfect sweater to wear with a suit, and we've got no doubt you'll find plenty of ways to wear it casually, too (start with dark denim and brown leather brogues, then team it with slim sweatpants and leather high-top sneakers). It could quickly become your new favorite fall and winter sweater. – Shop Now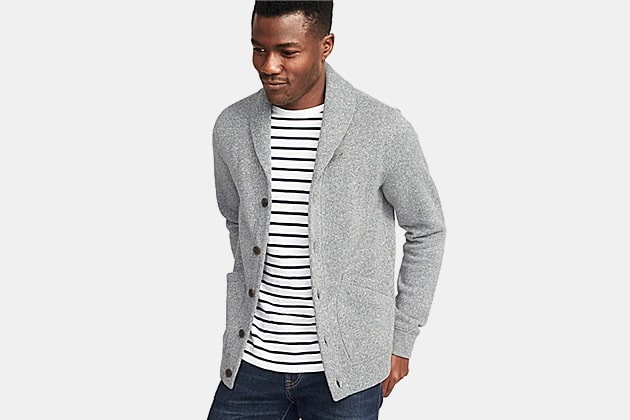 Old Navy Shawl Collar Cardigan
You know Old Navy can make affordable, casual T-shirts and slim jeans, but did you know they've ramped up their knitwear program in recent years — resulting in this handsome, casual and comfortable shawl collar cardigan? For under $50, no less? It's an exceptional sweater for an exceptional price, tailor-made to wear with slim denim and a marled crewneck long-sleeve tee as easily as it can be paired up with a blue Oxford and your favorite chinos. How's that for affordable, quality fall style? All you need now is a pair of Old Navy jeans, right? – Shop Now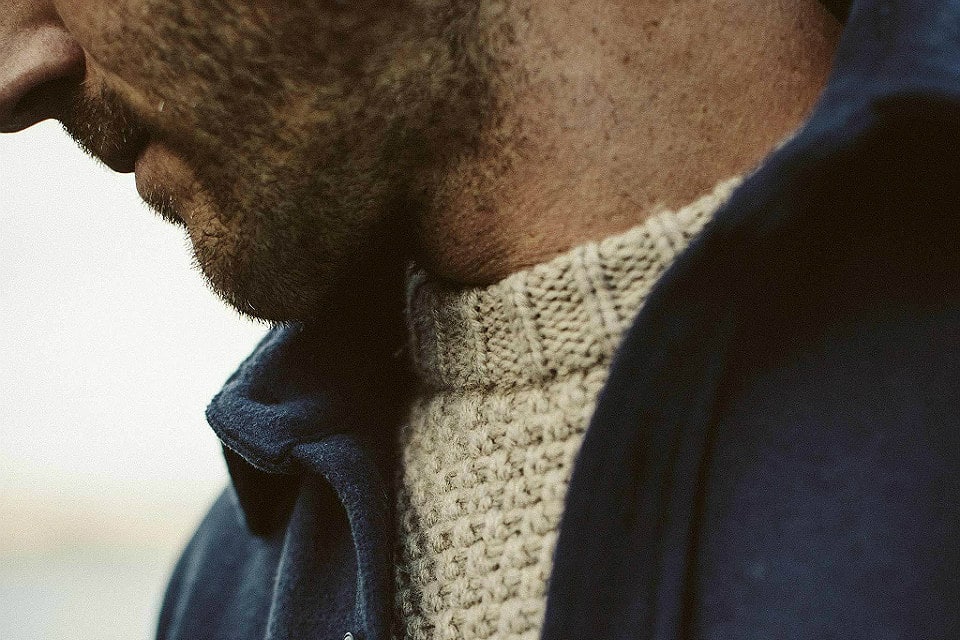 Disclosure: Clicking on these links and making a purchase may earn us a small referral fee, at no extra cost to you. Learn more here.