The 15 Best Men's Lounge Pants
If working from home has taught us anything, it's this: Wearing comfortable clothes doesn't mean you have to look like you just woke up. In fact, this whole at-home-all-the-time situation has made it that much easier to appreciate truly well-made loungewear.
We've consulted with clothing brands, longtime work-from-homers, and the whole GearMoose staff to bring you our absolute favorite lounge pants. There's something here for everyone, from the dedicated streamer to the professional who wants something presentable but comfortable.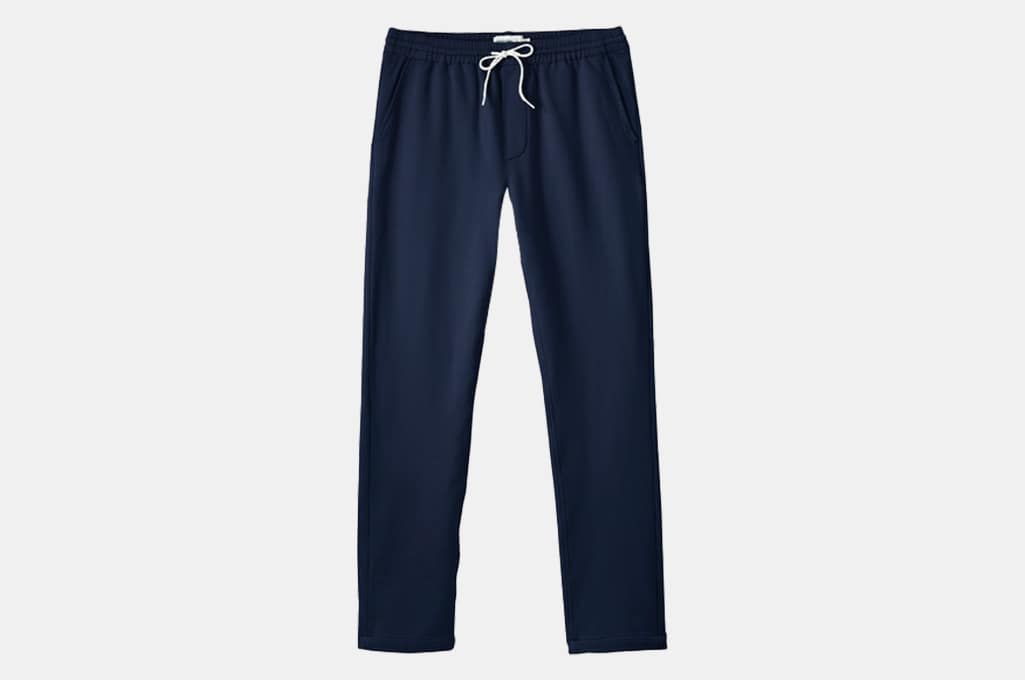 Wellen Easy Lounge Pants
Comfy essentials don't have to cost an arm and a leg—and Wellen proves that in spades. Their Easy Lounge Pants are a perfect example. Made from a 95 percent cotton and 5 percent spandex blend, they have just the right amount of stretch without feeling like a Jazzercise outfit. An elastic waistband gives plenty of room to accommodate those WFH weight fluctuations, and an adjustable drawcord means you can tighten them up when you've been hitting the gym again.
Slant pockets at the hips are cozy but stable, so you won't feel weird carrying your wallet, phone, and keys out of the house. And since they have a straight leg and hem, it's easy to pass them off as loose chinos if you need to get on a conference call.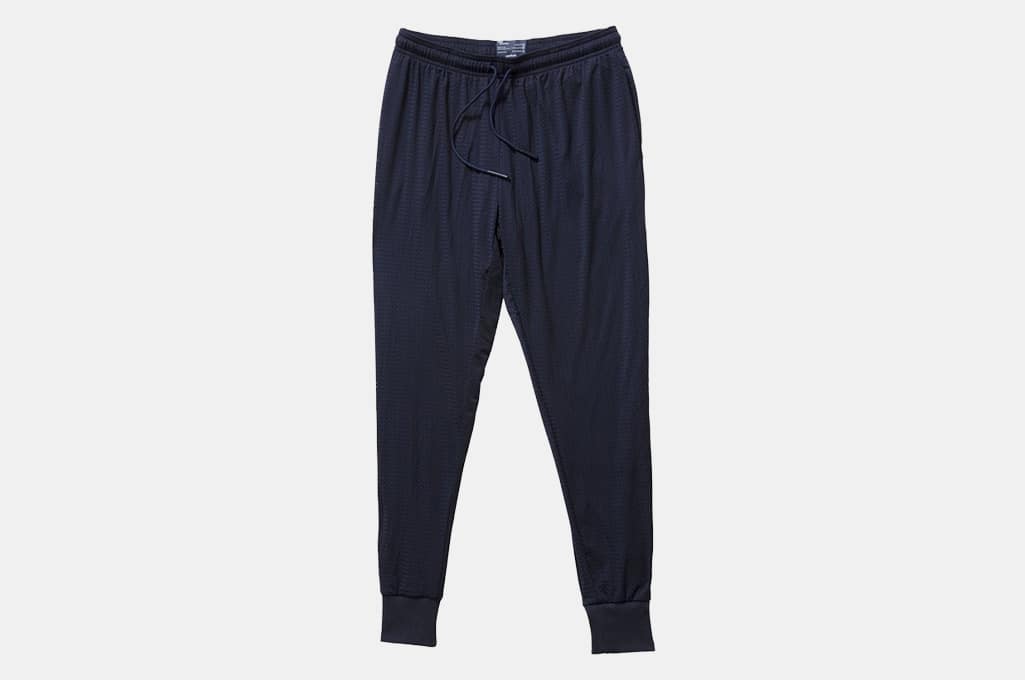 Nice Laundry Lounge Pants
Do you want a pair of lounge pants that you can wear, you know, maybe a little too often? Nice Laundry's got you covered. Their pants are made from a stretchy nylon blend, and then equipped with a fancy micromodal liner for odor blocking.
Though these fit loose in the seat, they taper nicely to a tighter fit around the calves—making them just attractive enough to not feel bad wearing when you go out for errands. Pro tip: Because they're moisture-wicking, Nice Laundry's lounge pants are also excellent for working out (if that's something you want to do).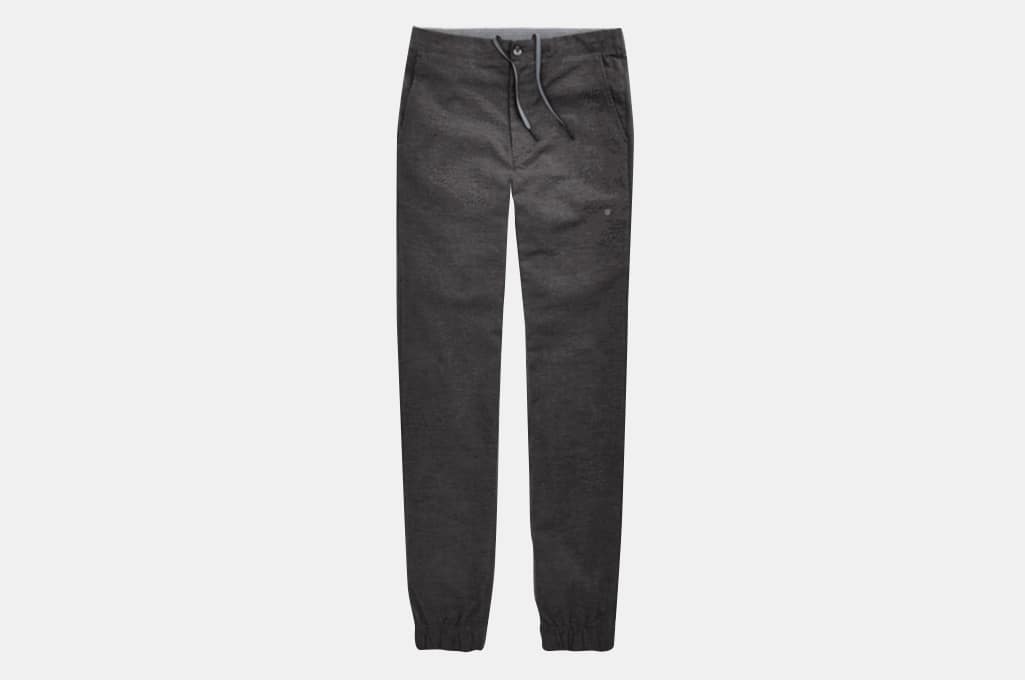 Mack Weldon Sunday Lounge Pants
What happened to flannel, anyway? Once the favorite of everyone in cold climates, it fell into disregard after being too closely associated with hipster culture. But you know what? Flannel is still awesome—and Mack Weldon's Sunday Lounge Pants are a fine example of why you should pay closer attention to the material.
They're incredibly soft, and they look good enough to fool anyone into thinking that you're not just rolling out of bed. And since they're meticulously finished to an extreme softness, they're actually lightweight enough to wear around the house through all four seasons.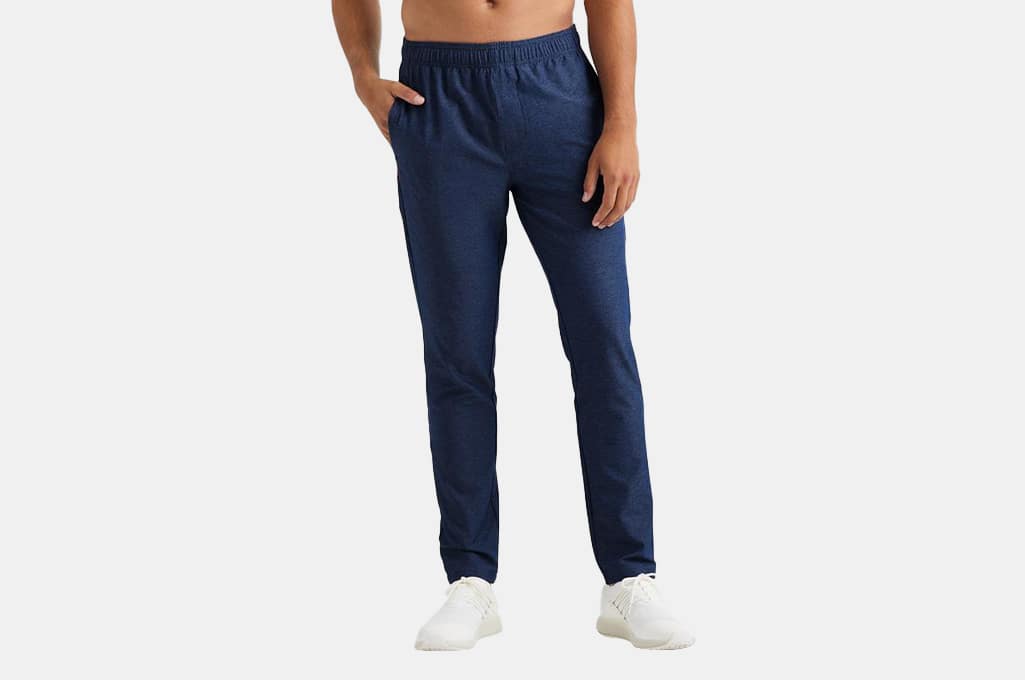 Rhone Guru Pants
Indian gurus are masters of the sublime—and when you wear Rhone's Guru Pants, you may just feel like you've mastered your own leisure time. Four-way stretch and an adjustable waistband pair with hand and media pockets to make them the ultimate in loungewear: Simultaneously comfortable and functional. Add to that the fact that they're feather-light, moisture wicking, and breathable, and you have a pair of pants that you'll want to wear every damned day. Their super comfortable and stylish fit guarantees that you'll want to wear them for every occasion, too.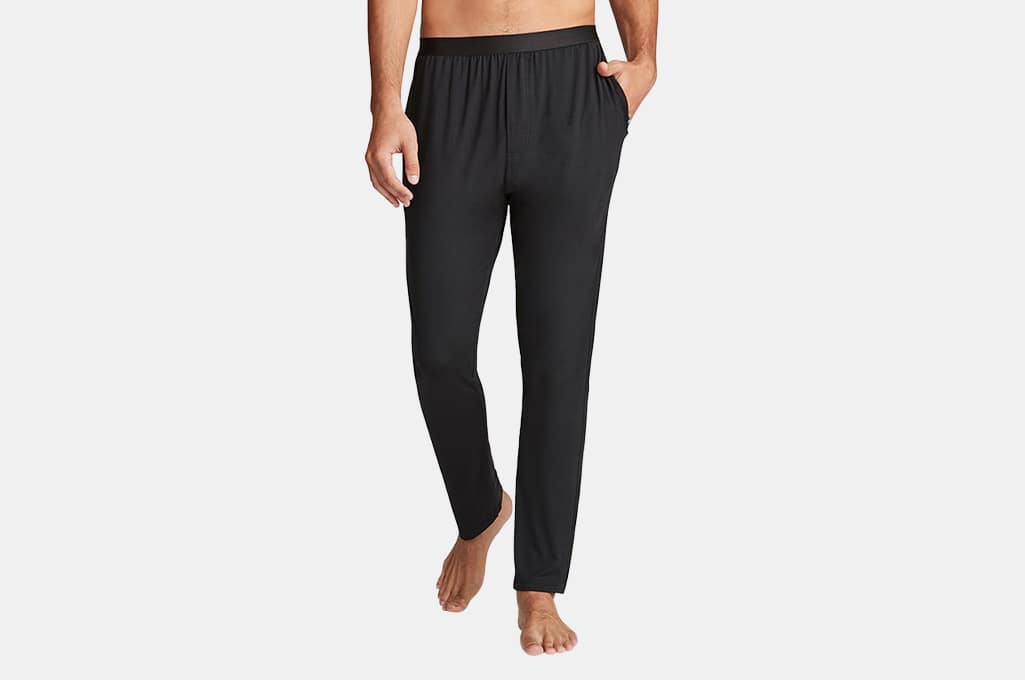 MeUndies Men's Lounge Pants
Billing themselves as "undies in pants form," MeUndies' Lounge Pants are truly some of the softest and most luxurious pants I've ever worn. That's because they're made from a blend of 92 percent micromodal and 8 percent elastane, creating the maximum in breathability, softness, and odor fighting power. They're sustainably sourced, too, meaning that your purchase is as good for your comfort as it is for the environment. An excellent choice for all-day lounging.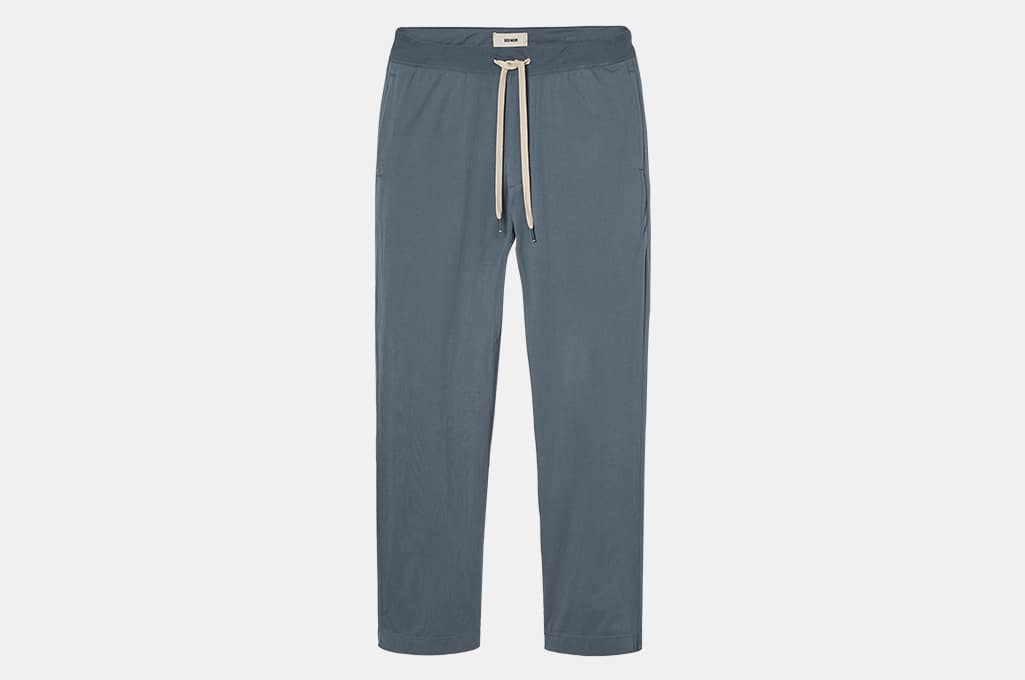 Buck Mason Pima Lounge Pants
Alright, it's time to get nerdy about cotton. Do you know what really makes the difference between a cheap cotton t-shirt that's scratchy and itchy, and a luxe cotton shirt that's comfortable and durable? The length of the individual cotton fibers. Basically, the longer the fiber, the higher the quality.
That's why Buck Mason's Pima Lounge Pants are so awesome—they use the highest quality cotton available to make an ultra-comfortable pair of roomy lounge pants. They're the loosest fitting pants featured in this article, and perfect for taking it real easy on the weekends.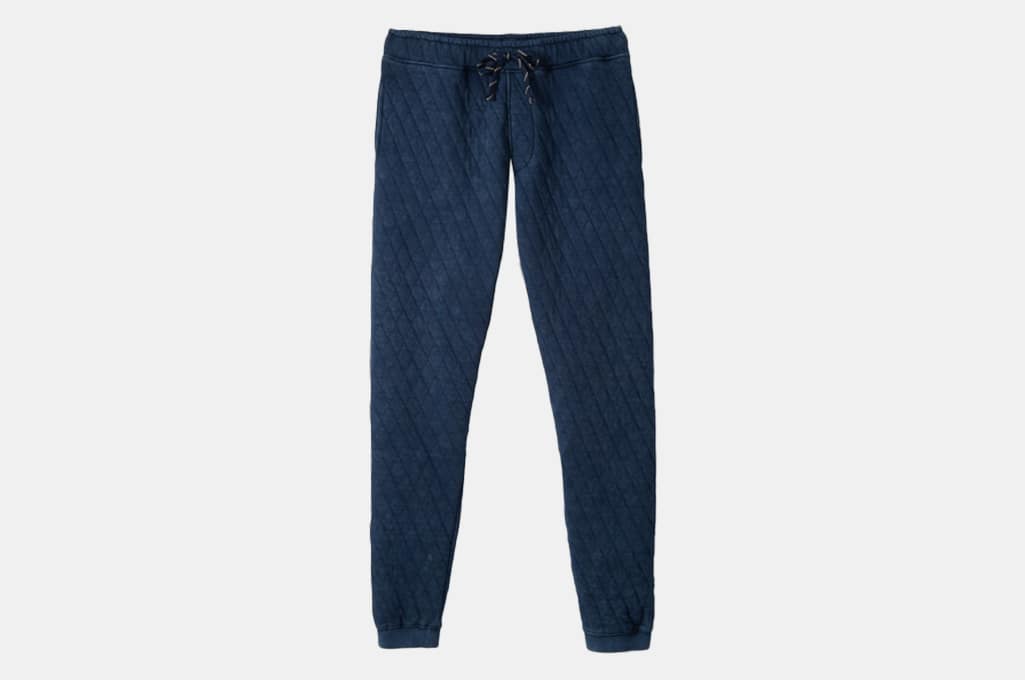 Wellen Quilted Sweatpants
When winter's knocking on your door, you're going to want a pair of Wellen's Quilted Sweatpants. The extra stitching keeps them in great shape through hundreds of washes, and thick organic cotton ensures that they're ready for the chilliest days mother nature decides to throw at you.
Pair that with a garment wash that makes them feel broken in from day one and a little added polyester fill, and you get a pair of sweatpants that's guaranteed to keep you comfortable through the cold months of the year.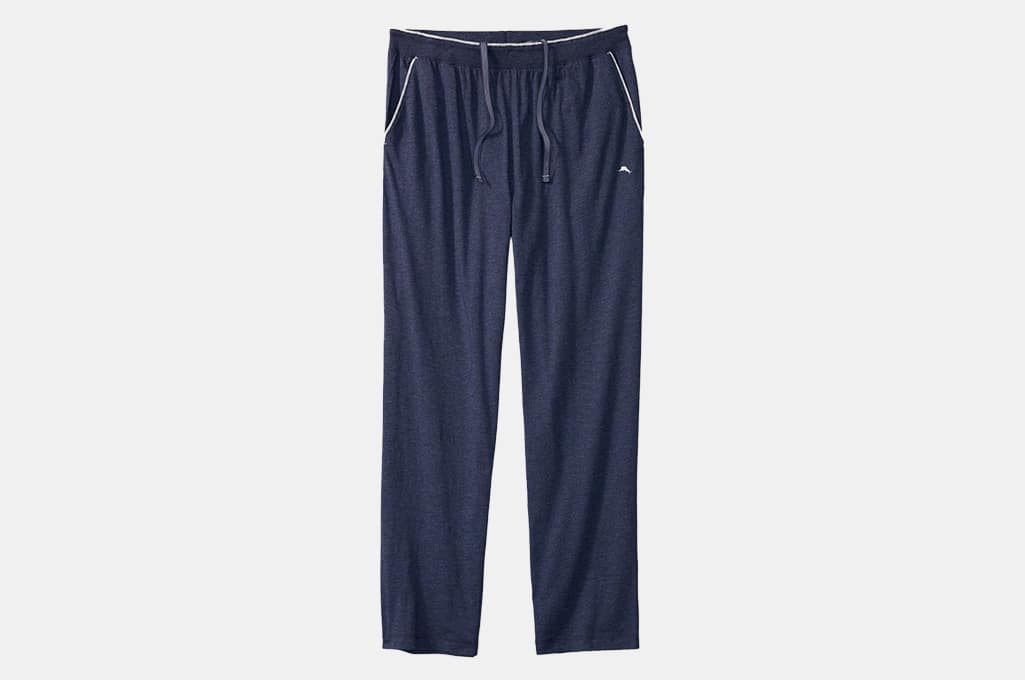 Tommy Bahama Lounge Pants
Though better known for tropical cocktails and outrageous colognes, Tommy Bahama actually makes a damned fine pair of lounge pants. As one of the most affordable pairs of pants in this review, you'd expect them to cut a few corners—but you'd actually be wrong on that count. Made of an almost-equal blend of cotton and modal, they split the difference between durability and comfort in impeccable fashion. They're exceptionally lightweight, and perfect for lounging in warmer climates.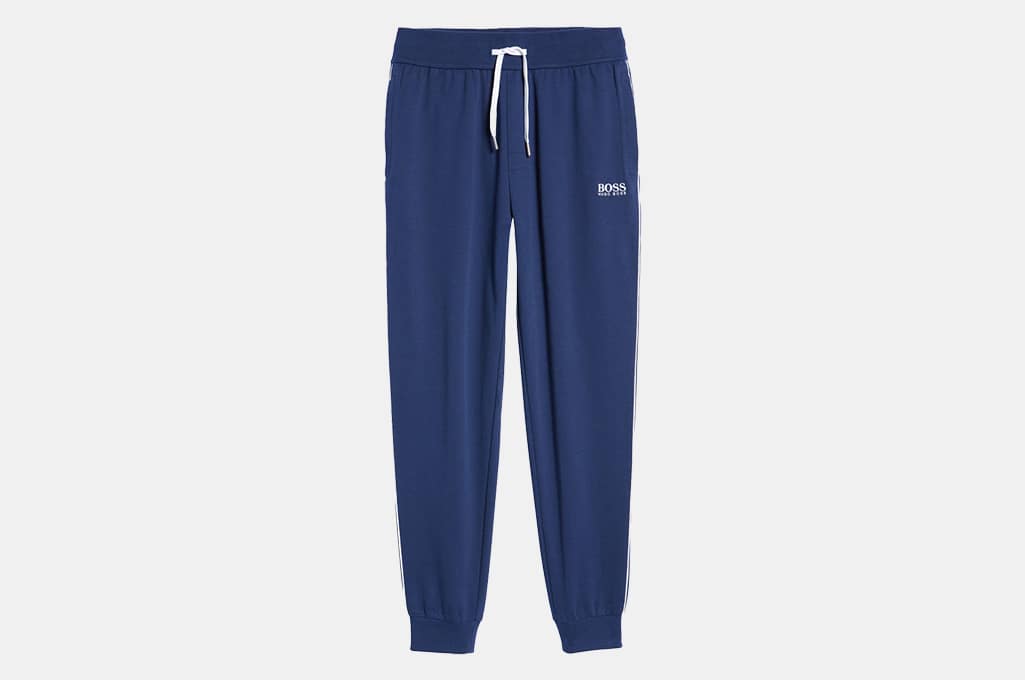 Hugo Boss Tracksuit Piqué Lounge Pants
If I could only choose one pair of joggers to fit both my active and slovenly lifestyle moments, Hugo Boss's Piqué Lounge Pants would easily make the top three. The poly/cotton blend is lightweight and breathable, the drawstring waist is widely adjustable, and the tapered ankle cuffs keep everything in place while you're up and moving around. I particularly like the understated white side seam accent, too—it gives a touch of class to an otherwise completely relaxed wardrobe piece.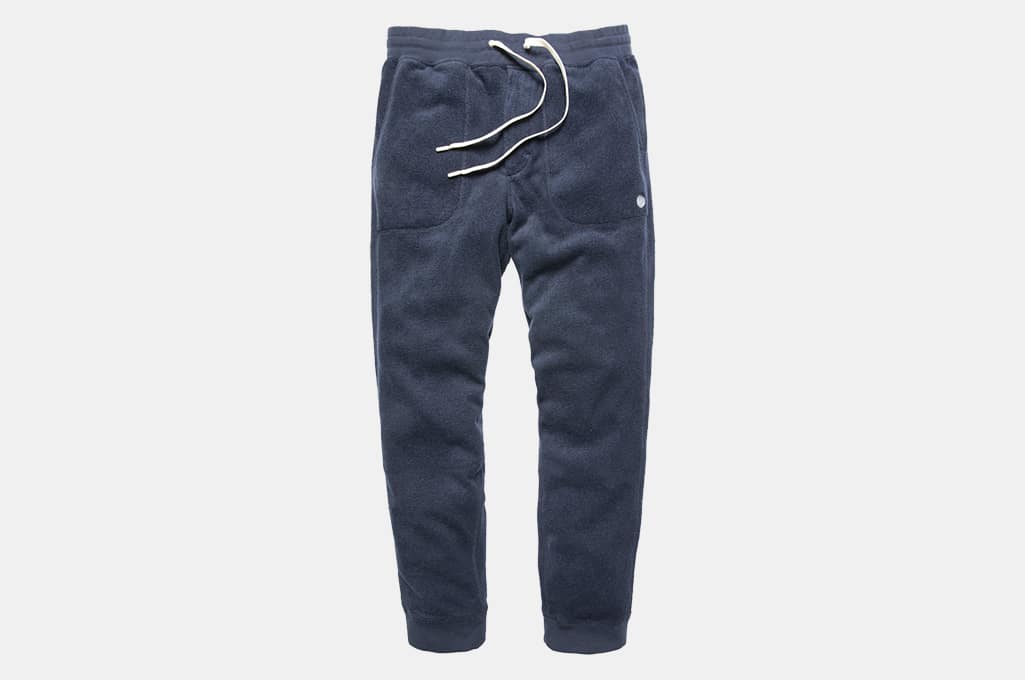 Outerknown Hightide Sweatpants
Leave it to a pro surfer to really know how to be both comfortable and ready for action at any time. That's the golden thread of design that runs through all of Kelly Slater's Outerknown clothing—as well as a firm commitment to sustainable manufacturing practices that benefit both people and planet, all the way through the production process.
Their Hightide Sweatpants offer a perfect blend of laid-back style and maximum comfort, with a brushed interior and terry toweling fabric that make them feel like you're wearing nothing at all (but somehow still warm and cozy). The zippered back pocket pays homage to the surf lifestyle too, and gives you a way to make sure your wallet's safe while you're out running errands.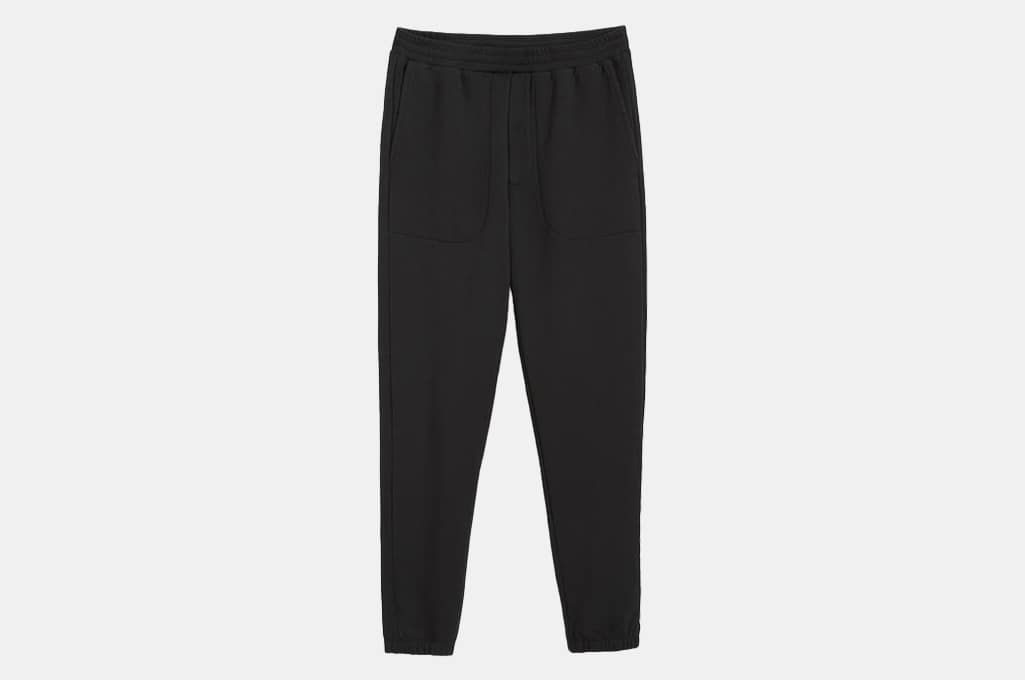 Brooklinen Bushwick Pants
Cotton, modal, and spandex all come together in Brooklinen's Bushwick pants to create the most comfortable fleece pants you'll ever wear. If you've ever wanted to forgo pants altogether—but irritatingly had to wear them for meetings and whatnot—these should be your go-to choice of bottoms. They're cut long, too, so tall guys like me don't have to worry about the ankle cuffs riding up every time we stand up.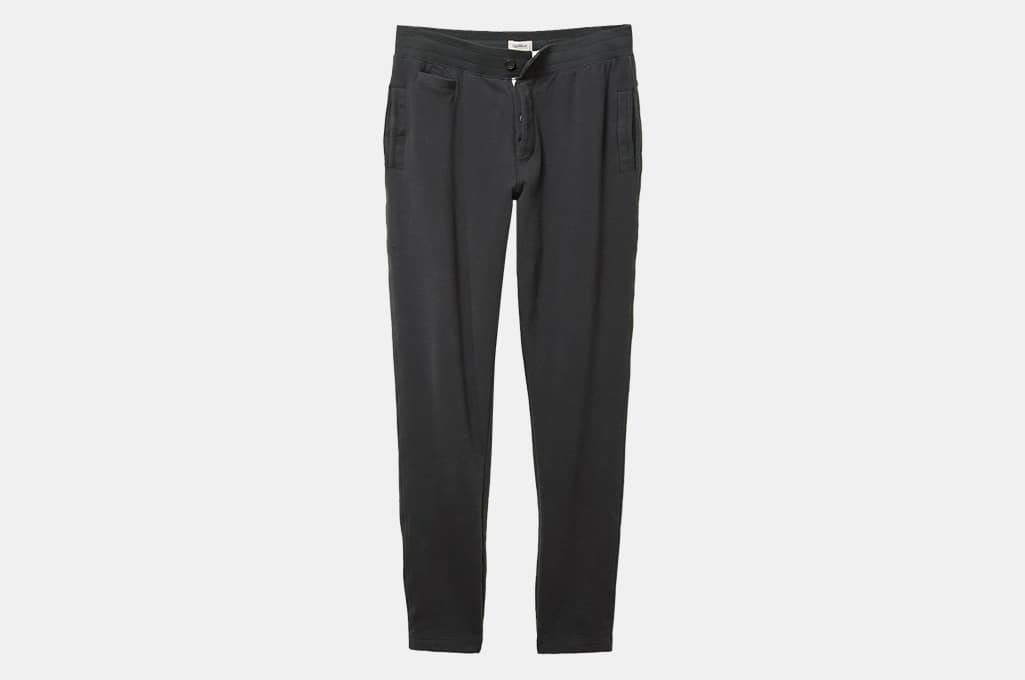 UpWest Everyday Lounge Pants
UpWest says it best when they're talking about their Everyday Lounge Pants: "Softness and Structure." Plenty of lounge pants sacrifice one for the other, either ending up baggy and unpresentable or unreasonably restricting. But UpWest really does split the difference, making a pair of pants that looks as good as it feels. Adding a little bit of spandex into the brushed cotton base gives them just enough stretch to move with you, without looking too loose.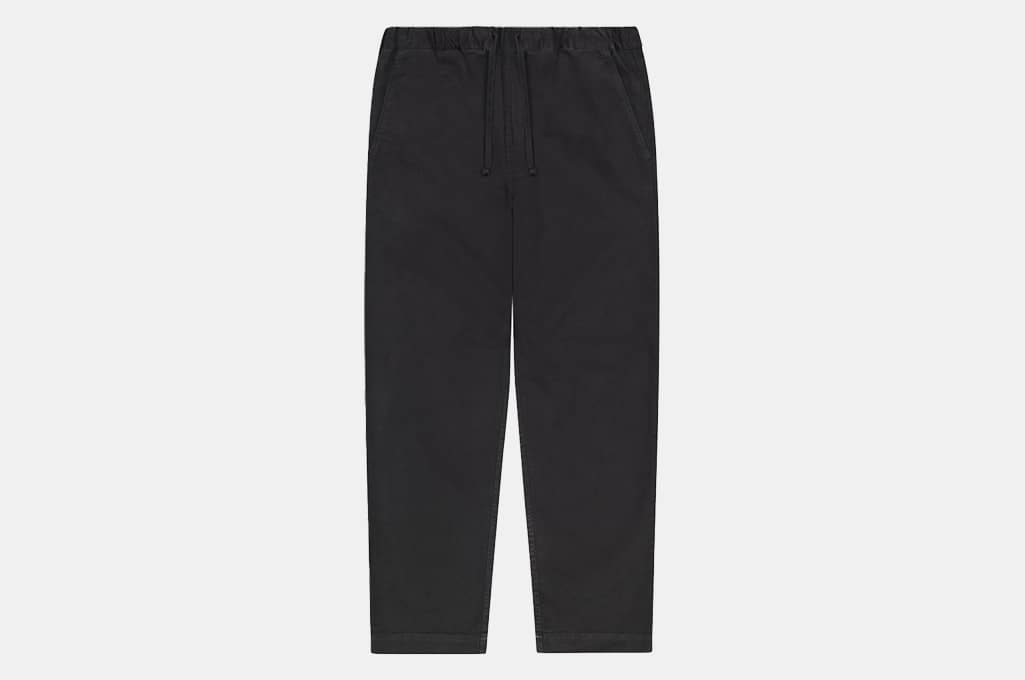 Goodlife Essential Twill Pant
With Goodlife's Essential Twill Pants, you can choose whether to go for a low and slouchy look or a well-fitted chino. The on-point crotch gusset means that if you order to your usual size, you'll have a surprisingly comfortable pair of work pants—while if you order a size up, you'll be in complete loungewear territory. And I can't stress this enough: The quality of workmanship and materials in all of Goodlife's clothing is top notch, and feels like it'll last for years and years.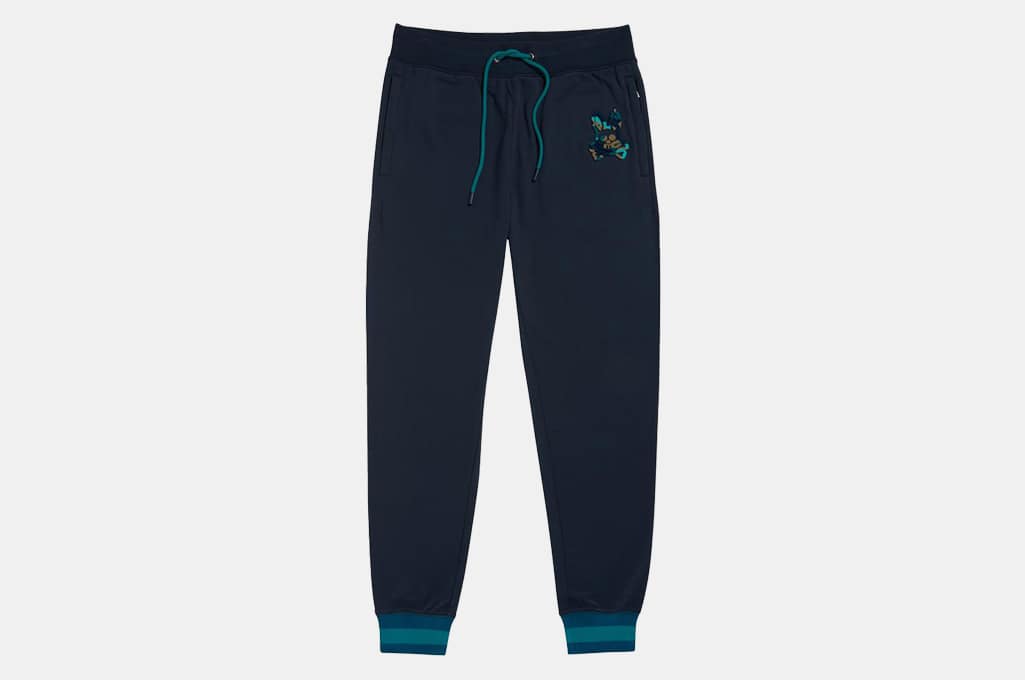 Psycho Bunny Howgate Camo Pants
Comfortable doesn't have to mean understated—and there's no better example of this ethos than Psycho Bunny. They've become my new favorite brand for bright, colorful, comfortable clothing, and their Howgate Camo Pants are an excellent statement of the brand's inimitable style.
Nevermind that they're comfortable as heck; these pants also have a more unique style and color sense than any other lounge pants on the market. Then, they're loaded up with three zippered pockets for a precision fit even while you're carrying everything you need to get through the day, making them my favorite choice for blending comfort, function, and style.
Mott & Bow French Terry Sweatpant Hooper
Mott & Bow started with the intention to make the best denim around, for both men and women. But once they'd climbed their denim wear mountain, the stylists turned their attention towards something even more plush and comfortable: Amazing loungewear essentials. The 100 percent Peruvain cotton in their French Terry Sweatpants is soft, durable, and form-fitting, turning these pants into the finest example of leisurewear. They're like a grown-up pair of sweatpants for when you're confident in your desire for all-day comfort.
Disclosure: Clicking on these links and making a purchase may earn us a small referral fee, at no extra cost to you. Learn more here.
freestar.config.enabled_slots.push({ placementName: "gearmoose_leaderboard_btf", slotId: "gearmoose_leaderboard_btf" });