The 12 Best Climbing Pants For Men
With the right gear, climbing doesn't have to be the anxiety-inducing Free Solo situation that Nat Geo terrified us with. Most agree that a helmet and harness are necessities. Some guys, however, still opt to climb in jeans. Climbing pants give the mobility, protection, and necessary comfort to achieve higher ground. So today, we're rounding up the 12 best climbing pants for men.
Non-climbers, take note too. These climbing pants are comfortable, range in price, and represent different effortless styles for less vertical activities like poker nights or pub crawls.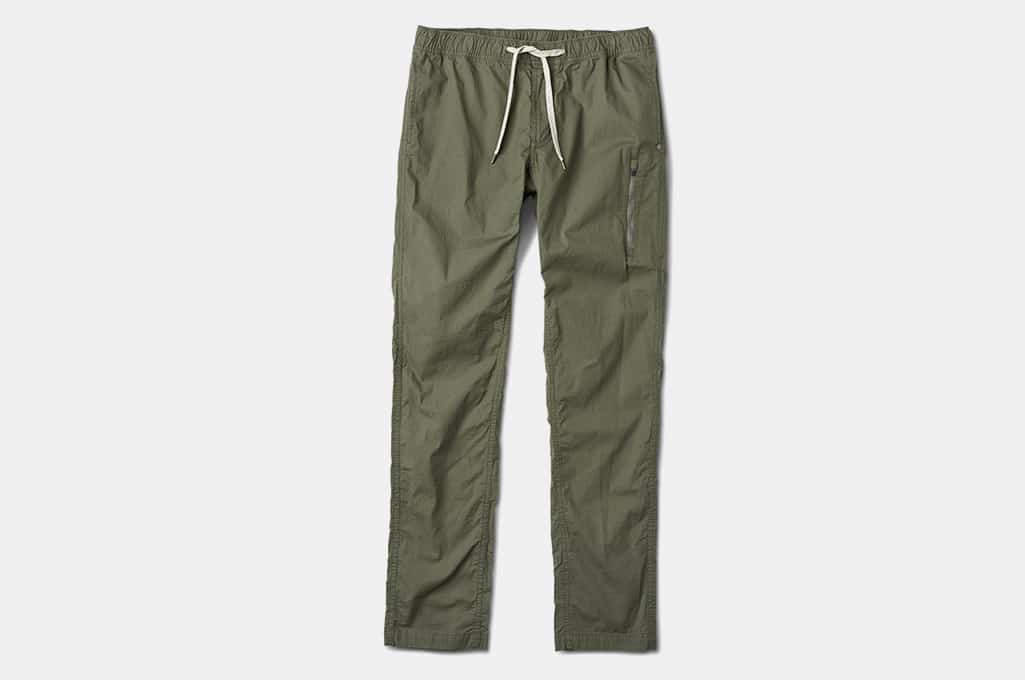 Vuori Ripstop Climber Pants
Vuori performance wear is inspired by the surfing, sporting California coast. Their climber pants are both tactical and relaxed, with a versatile style. Its silhouette is modern, with slim lines. Instead of a skinny fit though, there's plenty of air between the fabric and your legs for breathability. The two-way stretch fabric also gives a lot of flex. Fashion-wise, this distinct fit allows you to go for a cuffed-pant look, or a when unfolded, a utilitarian casual that's just slightly neater than typical.
Price: $89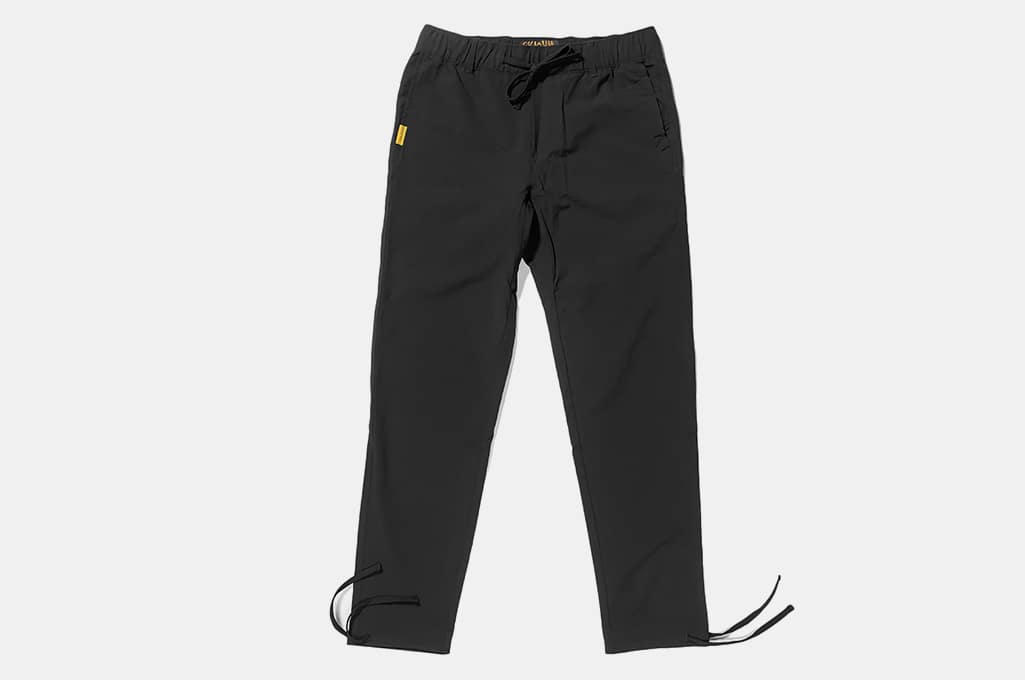 Coalatree Trailhead Pants
As kickstarter's highest funded outdoor pant, the Trailhead boasts a fun, unpretentious, and crowd-pleasing style. The fabric is water and stain resistant, four-way stretch for movement, antimicrobial, and tear-resistant. The drawstring ankle-ties cinch the bottoms into a capri-fit for hot days. You can also pack the whole pant down into its right front pocket. Coalatree is famously eco-focused, and the sand and sage versions of these pants are made of recycled coffee grounds.
Price: $75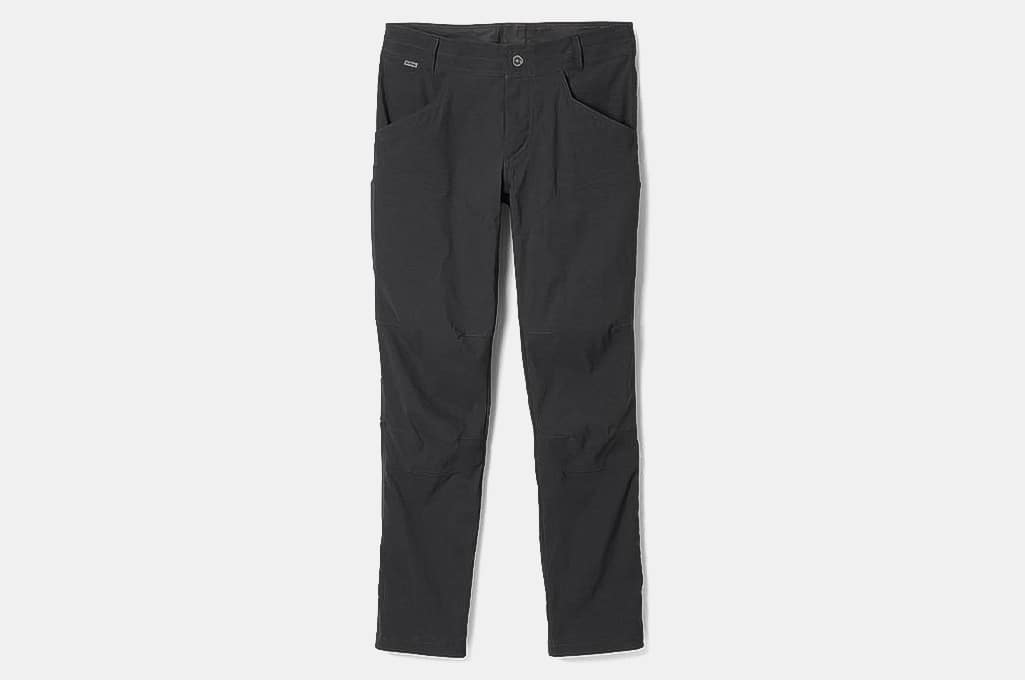 KUHL Renegade Pants
The Kuhl Renegades are equal parts practical and fashionable, making them excellent for outdoor adventures and for cycling around the city. It's constructed with DURALUX, a soft-shell fabric which feels like breathable cotton but is abrasion-resistant, dries easily, and shields from UV rays. Of course, it also features classic climber's articulated knees for bend. This Renegade's sophisticatedly tapered fit and tidy design is what makes it distinct from other climbing pants. Opt for these KUHLs if you want to go from the climbing gym to date night without having to change pants.
Price: $89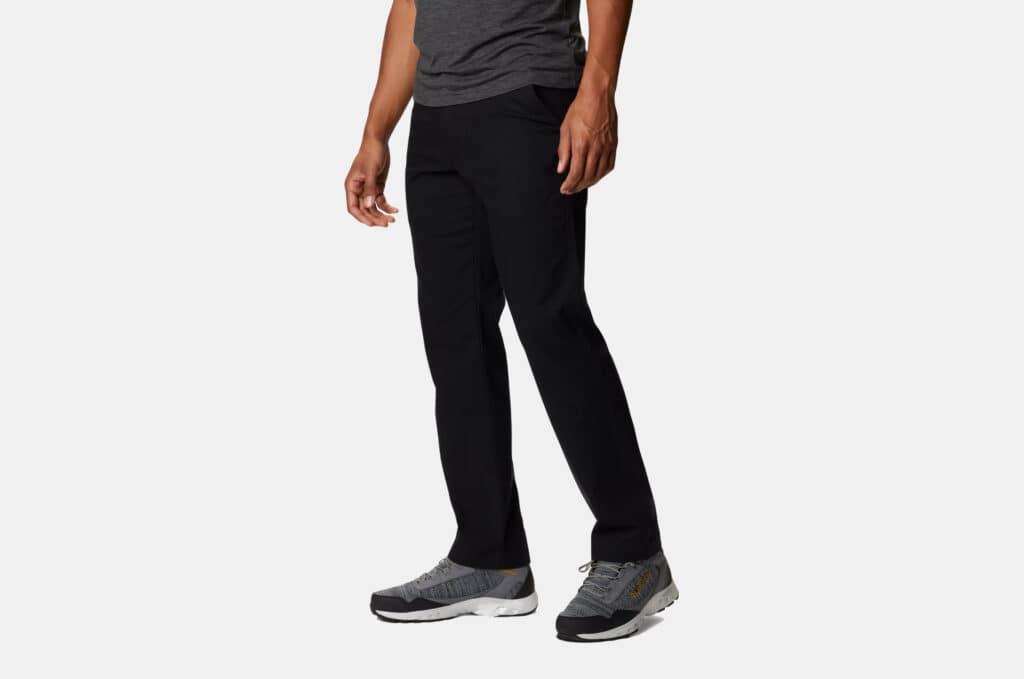 Columbia Men's Flex ROC Pants
Columbia is both a trend-setter and game-changer in the world of sportswear, so is it any surprise that these pants made our list? Performance-built using a blend of cotton and elastane, these technical pants can handle scrambling over boulders, clinging to cliff faces, and rappelling down sheer drops with equal grace and durability. They're just stretchy enough that you can move easily, but offer good stiffness to withstand scuffs and scrapes when on the rock. Thanks to the built-in pockets—including two hand pockets, a zip security pocket, and knife pocket—you'll be able to carry all your most important essentials up onto the mountain and have them close at hand when you're fifty feet off the ground.
Price: $75 $50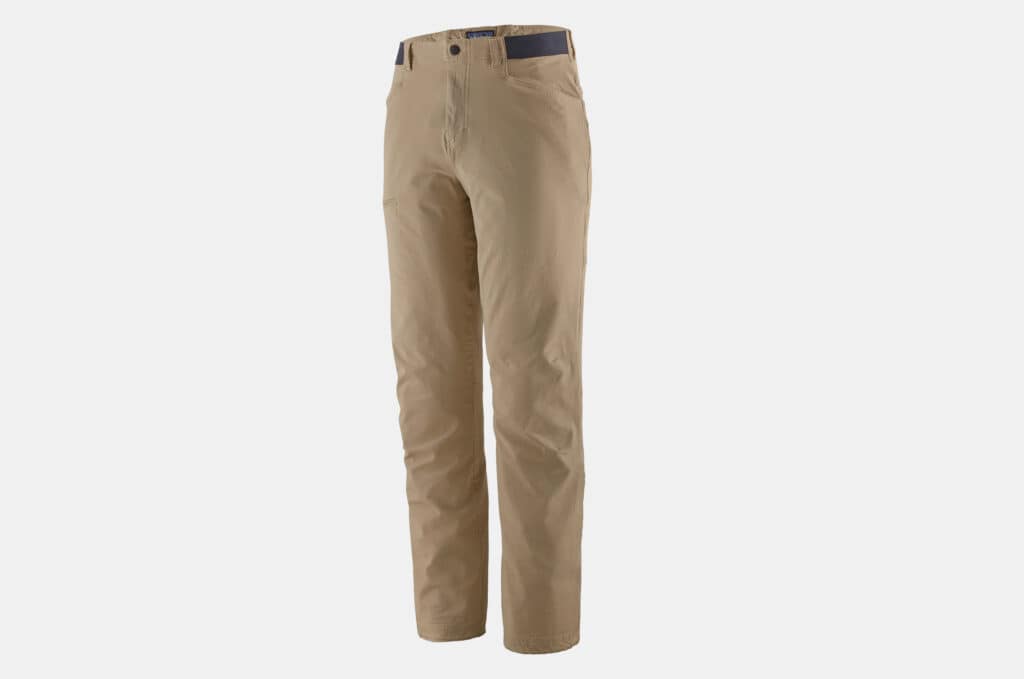 Patagonia Venga Rock Pants
What makes the Patagonia Men's Venga Rock Pants a pair of climbing pants worth owning? It's definitely the fact that they're made using a mix of organic cotton and stretchy spandex for superior mobility without ripping while climbing. It's also their excellent breathability and the way they flex beneath your harness so you never have to worry about them bunching up in the wrong place. The articulated pattern and gusseted crotch are designed specifically for climbers, the front pockets are designed to lie flat beneath your harness, and the back pockets are easily accessible for all your most important climbing items. Whether you wear them long or roll them up to see where you're putting your foot, they're tough as nails and guaranteed to keep up with even the most arduous trek and ascent.
Price: $99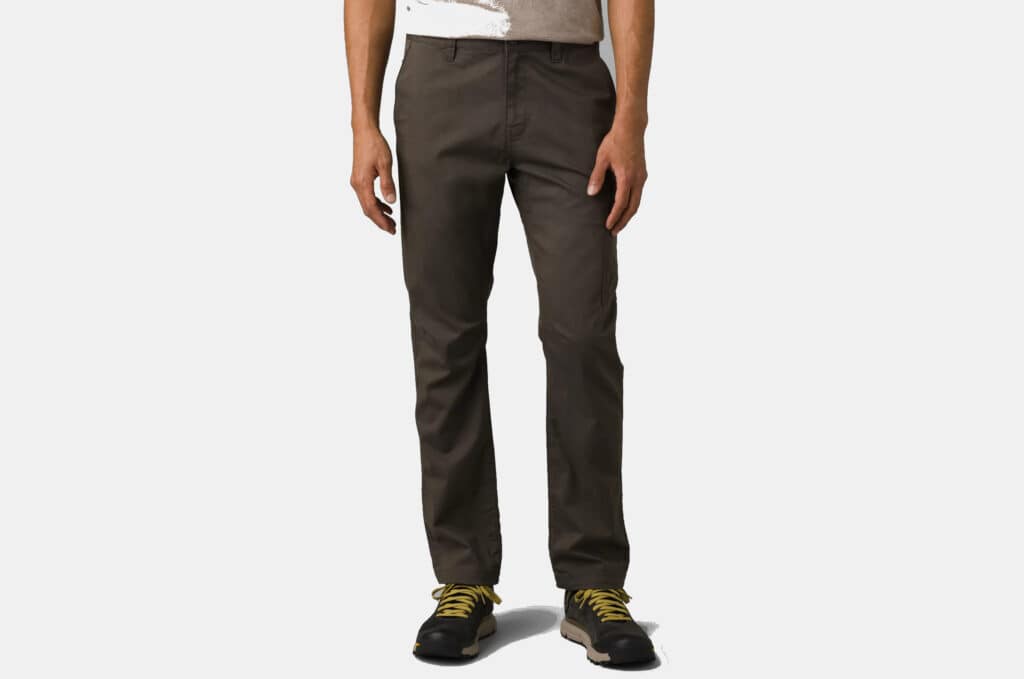 PrAna Four Corners Pants
Whether you're a hardcore climber or just want a great pair of pants, give these PrAna Four Corners Pant a second and third look. Built for comfort and durability, their clean profile and slim fit is perfect for all outdoor activities as well as relaxing on the weekends. There's more than enough pocket space for all your EDC items whether you're camping, hiking, climbing, or wandering around town, and they're structured just right to move and flex with you in a harness, scrambling over rocks, or sliding down a scree slope. The mix of organic cotton, nylon, and elastane is beautifully comfortable and breathable, and the pants are made using exclusively Bluesign-approved materials. For the price, you won't find many climbing pants that can match their quality and longevity.
Price: $99 $75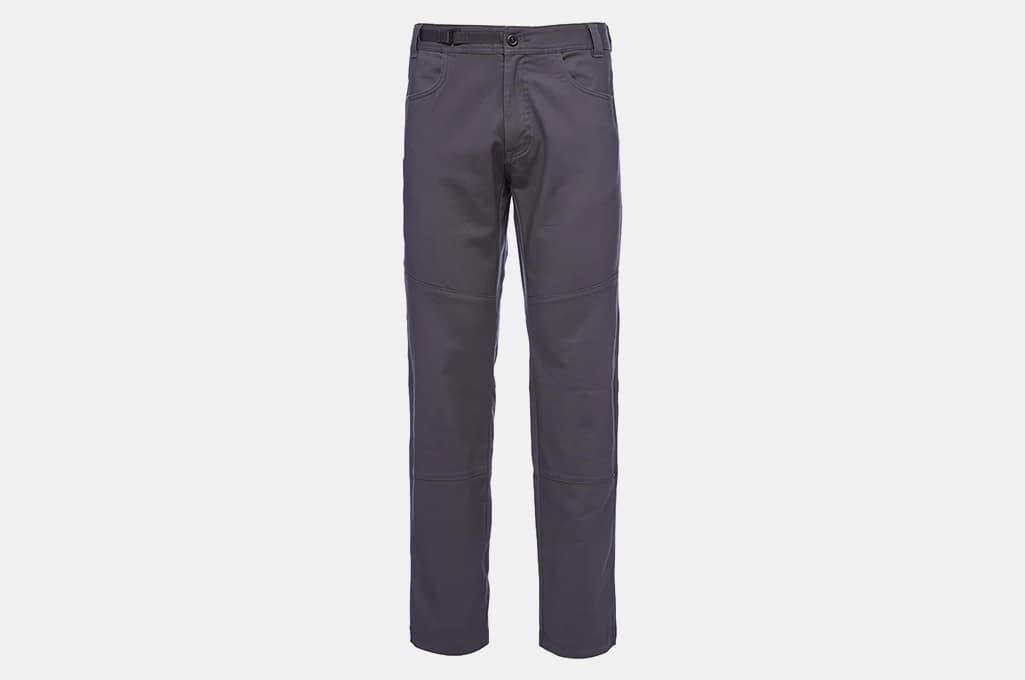 Black Diamond Equipment Spire Pants
With a brand-emphasis on skiing, Black Diamond built these pants not only for climbing, but cold weather activities. The organic cotton double-weave is robustly insulating, but the gusset, articulated knees, and ladder-lock adjustment fit ensures your mobility isn't restricted. It's professionally appropriate, with a clean but non-trendy fit and expressive but dark, understated color options.
Price: $129 $97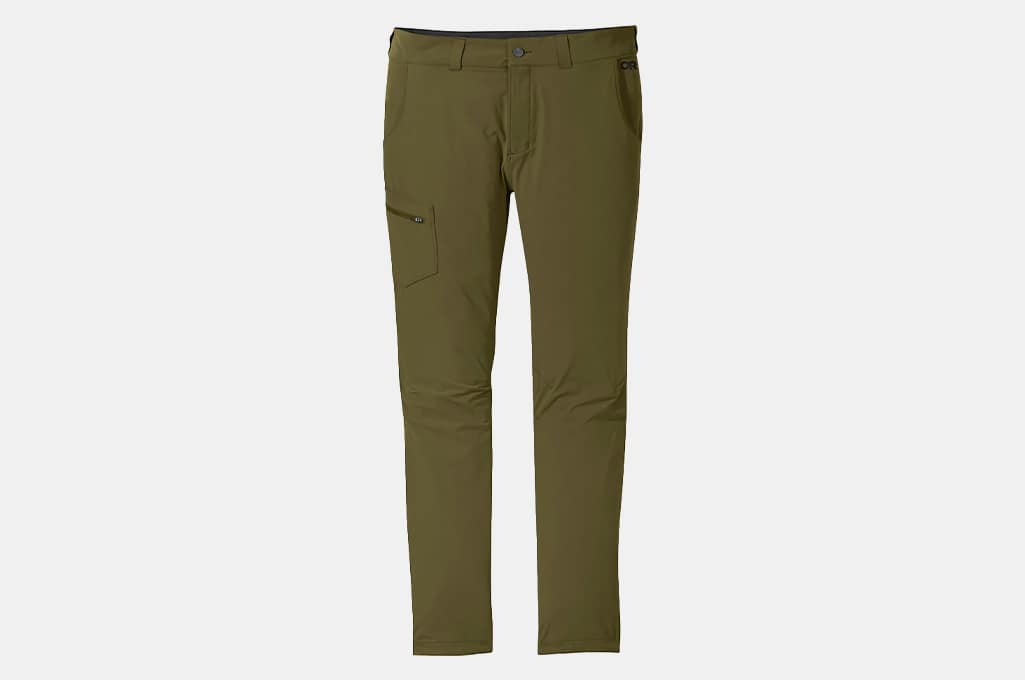 Outdoor Research Ferrosi Pants
Founded by scientist and explorer Ron Gregg, Outdoor Research builds gear for adventures in every terrain, atmosphere, and climate. The movement-mirroring softshell pant is made of ripstop fabric that won't scuff up against rocks. They're also designed to hold up against changing weather. They're wind-resistant and feature drawcord cuffs to keep drafts out. The thigh zipper pocket is convenient when you're harnessed up. These pants are great for bouldering, canyoneering, or hiking —especially if you want to keep warm in the cold, keep cool in the heat, and keep dry when it rains.
Price: $80 $40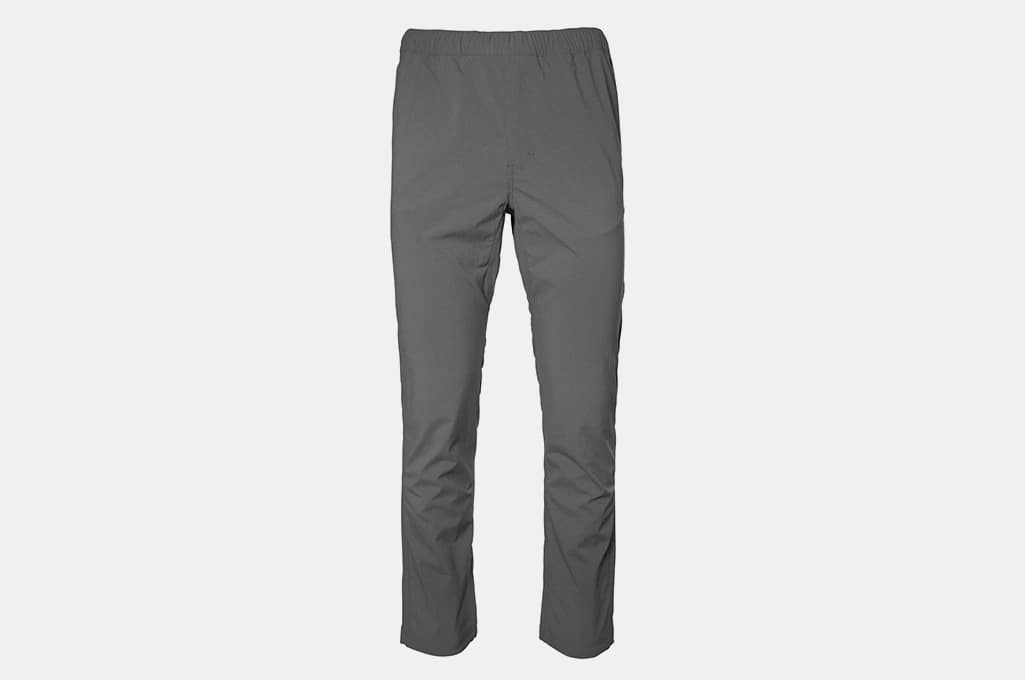 Topo Designs Boulder Pants
The simple and effective boulder pants are a quintessential Topo masterpiece, as the brand specializes in uncomplicated yet refined utilitarian designs. If your main priority is comfort, these are the climbing pants you want. They're lightweight and stretchy at 96% nylon/4% spandex, giving you the best of both cozy sweatpants and functional climbing pants. They feature an adjustable hem, water-resistant finish, and a zippered back pocket. These Topos will hold up on a rainy hike and a Sunday afternoon lounge-about at home.
Price: $89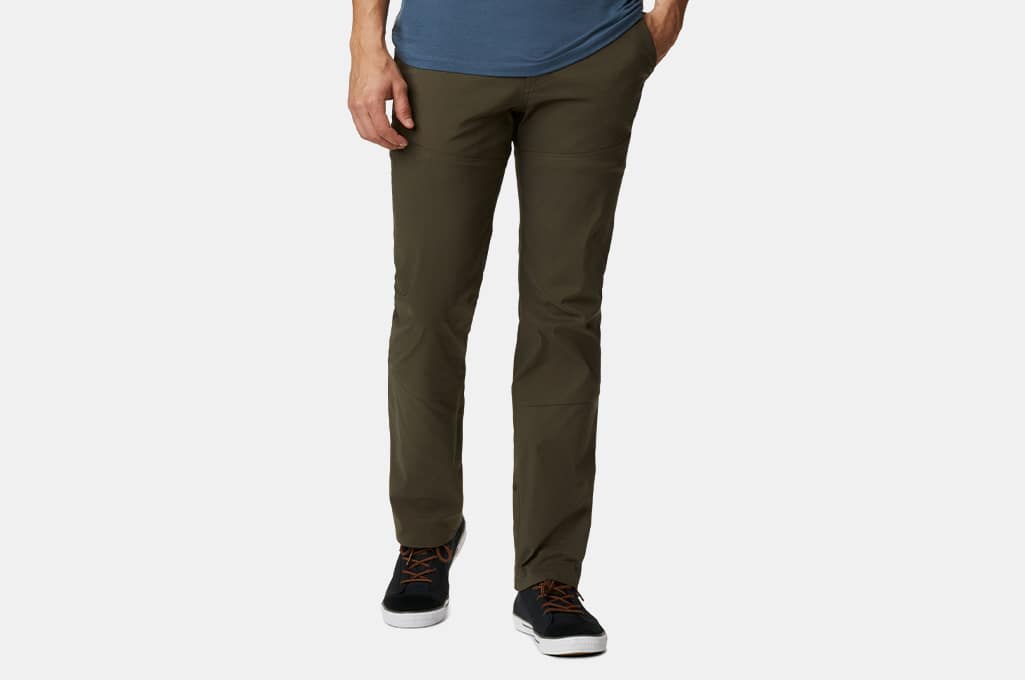 Mountain Hardwear AP Pants
These APs have more styling options than your average climber. The standard fit and canvas construction allow you to cuff the legs and to pair it with most shoes, shirts, and layers. And while most climbers sport elastic and drawstring waistbands, you can style the AP with a belt because of its waist loops. Functional features include articulated knees for movement, ultra violet protection, and several convenient pockets.
Price: $90 $68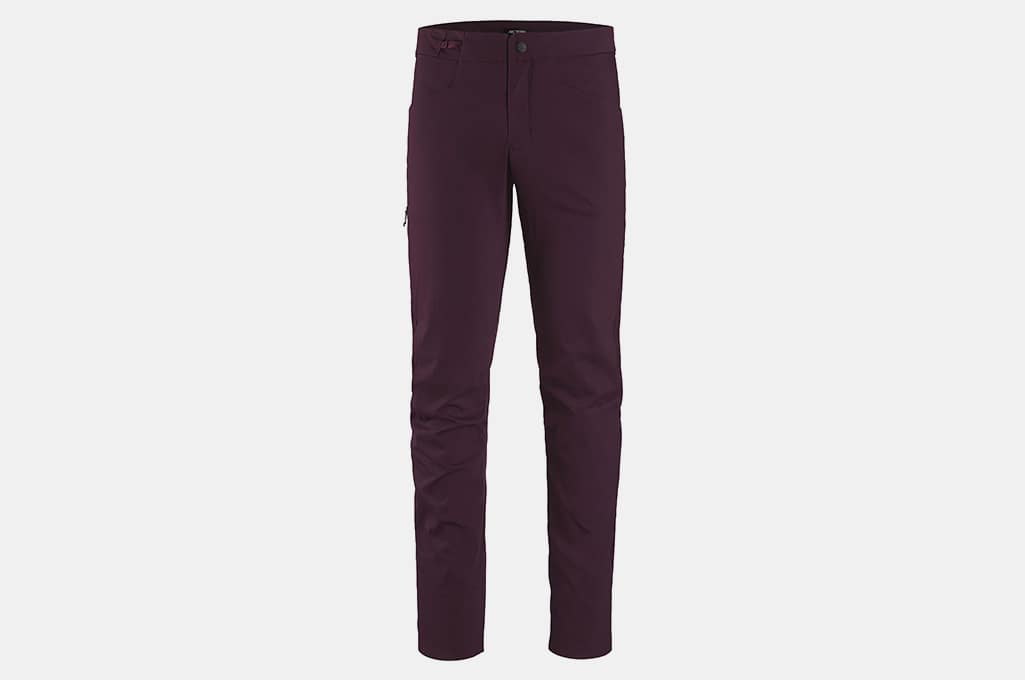 Arc'teryx Konseal Pants
Konseals feature a peculiarly effective fit, with the thighs ever so slightly looser than the calves. It's reminiscent of jodhpur or harem pants because they're exceedingly breathable yet secure. The fabric is a classic cotton, nylon, and elastane mix for performance and comfort. They come in fun colors like a burgundy shade called rhapsody, and an earthy green called tatsu, further cinching the pants' crossover style appeal.
Price: €130.00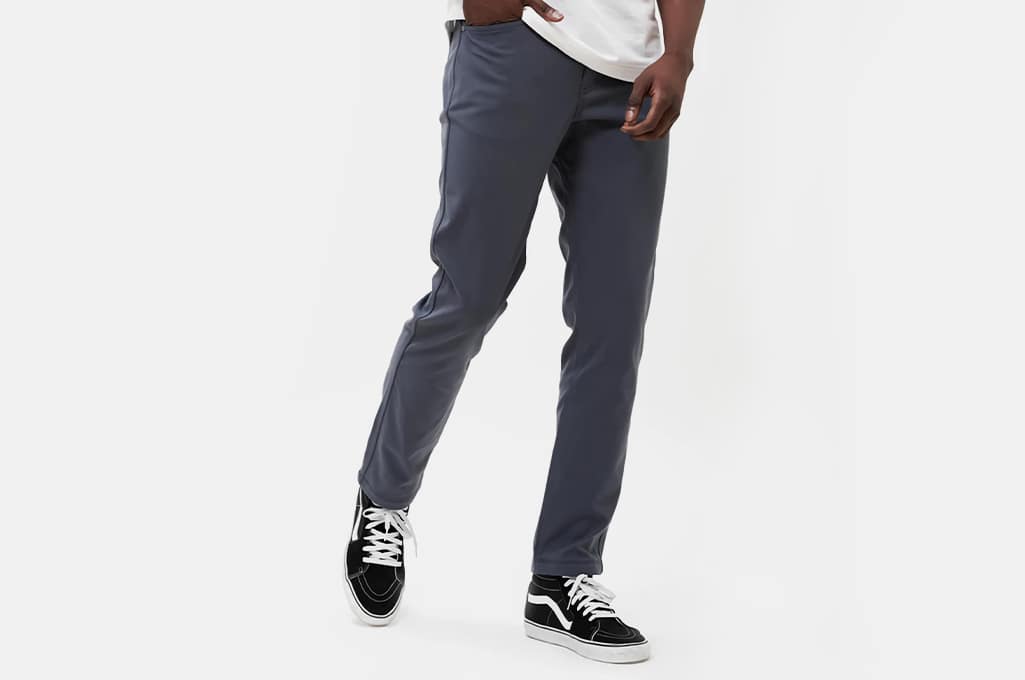 Western Rise AT Slim Pants
These climbers take everyday jeans and reconstruct them with AT cloth. AT, or air-texturizing, is a process that results in a woven canvas, two-way stretch fabric that's five times stronger than denim and half the weight. It's also water- and stain-resistant. If you're looking for high-performing pants that can replace jeans and work trousers, these are for you.
Price: $128
Disclosure: Clicking on these links and making a purchase may earn us a small referral fee, at no extra cost to you. Learn more here.
freestar.config.enabled_slots.push({ placementName: "gearmoose_leaderboard_btf", slotId: "gearmoose_leaderboard_btf" });