The 20 Best Men's Shorts For Summer
Even if you find yourself squarely in the "no shorts, ever" camp, it's time to think about trading in your denim or chinos for a pair of the best men's shorts on the market. Seriously. Stylish, well-fitting and well-made shorts are a secret style weapon in that you can wear them just as you'd wear your favorite pair of light wash jeans or khaki chinos. That is to say, once you've found the perfect pair — or pairs — you're all set for style combinations (and summer adventures) aplenty.
Before you think twice about trading in your beloved selvedge, know that some of your favorite brands — from Flint and Tinder to Bonobos — are making mighty fine shorts for spring and summer. There's never been a better time to get into some sharp-looking, hard-wearing shorts. Trust us.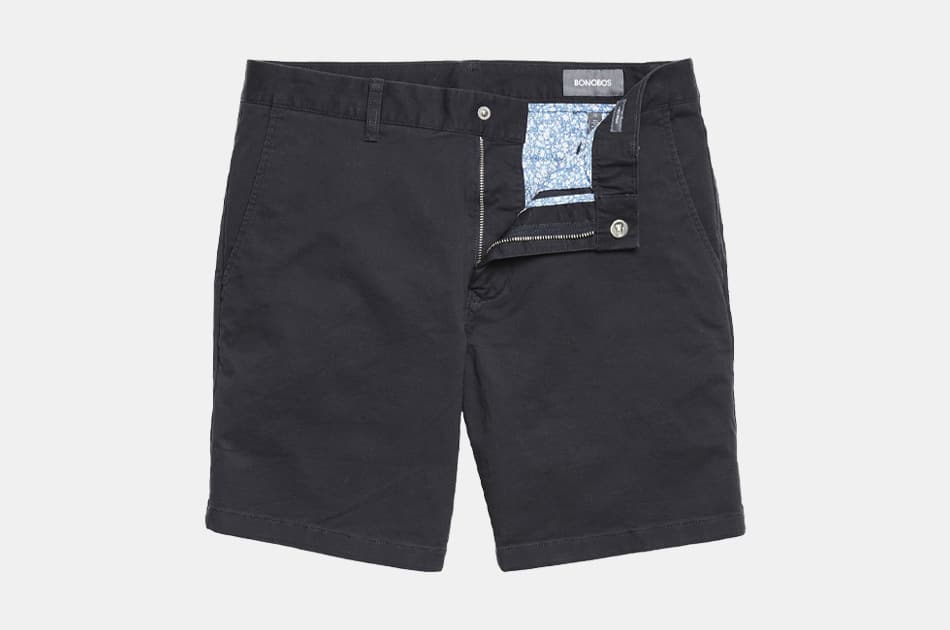 Bonobos Stretch Washed Chino Shorts
The time is finally upon us to shed your chinos and denim and step out instead in something equally stylish — yet all the more well-suited to the rising thermostat out there. Enter a pair of the best men's shorts in our opinion, and be sure to pick them up from the makers of your favorite chinos. That would be Bonobos for the uninitiated, and if you thought of them simply as a brand for the colder months, think again. These navy chinos shorts are a new essential.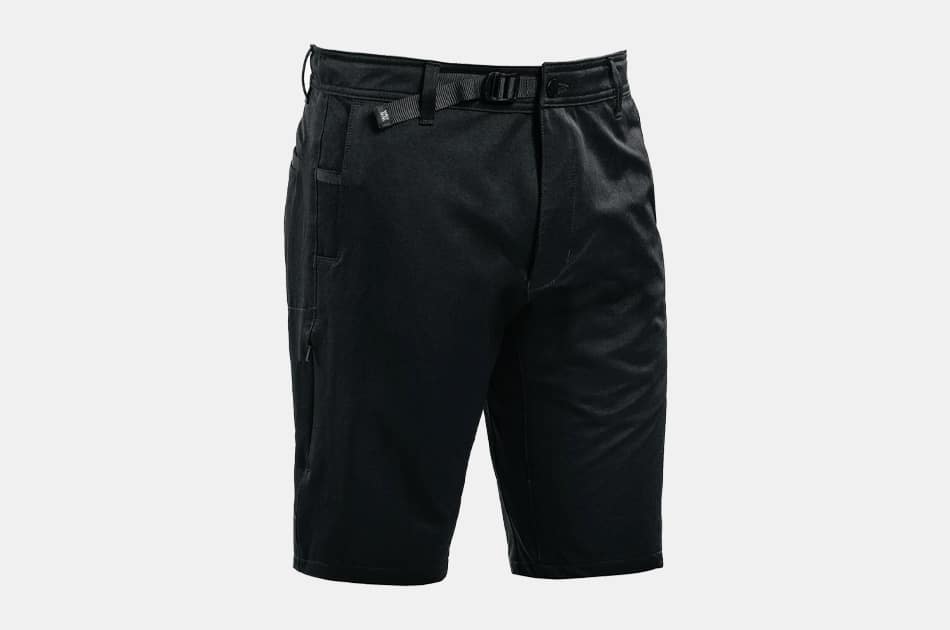 Mission Workshop Apoch Shorts
Men's shorts have got to be able to do absolutely anything — we mean anything and everything, from back patio beers to exhausting day hikes and a bit in between, too. The Mission Workshop Apoch Shorts are a pair of rugged shorts that quite simply rise to the occasion, featuring DWR fabric and two-way stretch for tons of mobility on and off the trail. The webbing built, which just so happens to be built right into the shorts, might be our favorite touch. These rugged outdoor shorts mean business.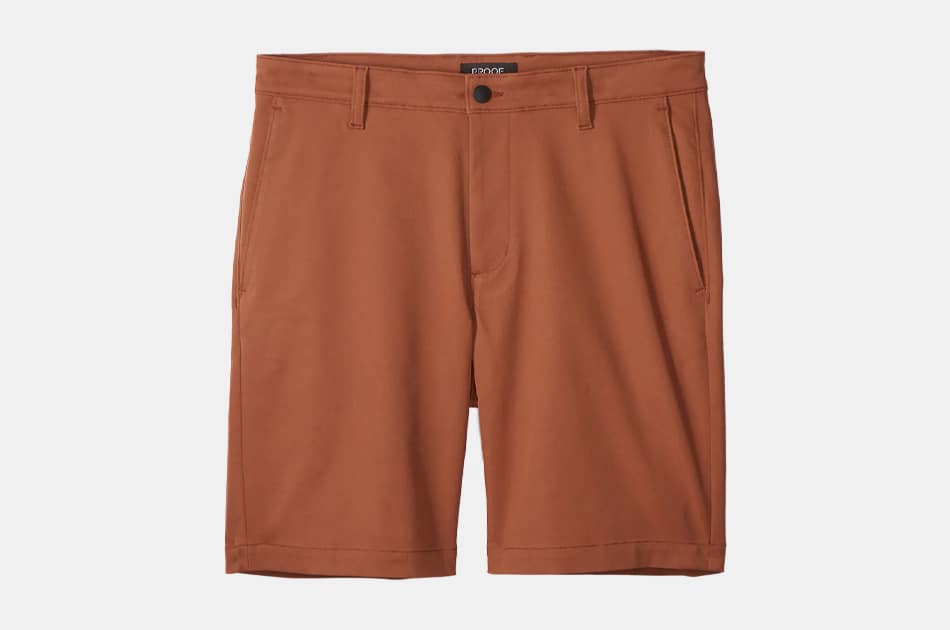 Proof Nomad Shorts
If you haven't had the chance to try gear from Proof, we can't recommend the brand enough. With a focus on movement-ready fabrics like merino, it's a brand built for all-day wear (and designed by our good friends at Huckberry, no less). The Nomad Shorts are quite literally cut from a different cloth than other shorts on the market — in this case, it's an easy-to-wear Japanese Toray twill that holds up to plenty of days on the road.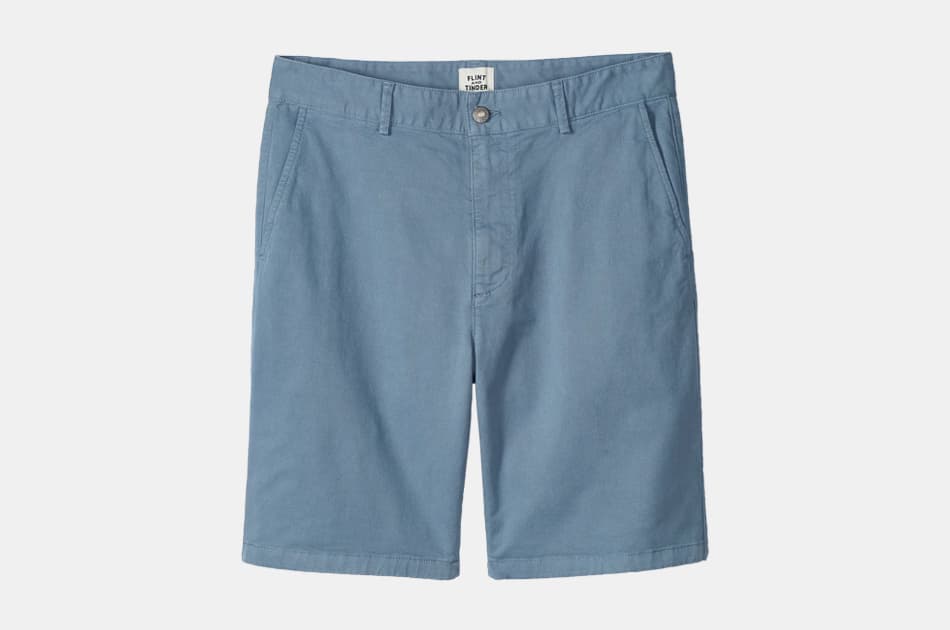 Flint and Tinder 365 Shorts
Taller guys among us could use a pair of shorts with a bit more coverage, right? That's probably why we like the Flint and Tinder 365 Shorts in all their glory. These cotton shorts are as durable as it gets while still retaining casual style, and the 9-inch inseam is a reliable option for guys with a bit more height. Wear these for a round of golf, then back home for beers — no need to slow yourself down with an outfit change.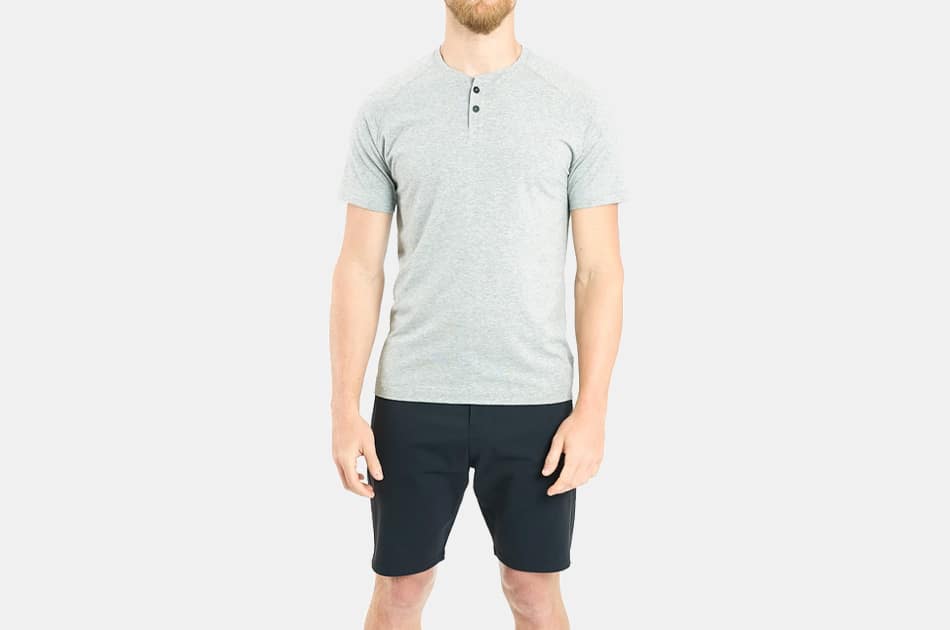 Public Rec All Day Every Day Shorts
How often are you going to be wearing shorts this summer? Something like "all day, every day," right? Then you've found the perfect pair from Public Rec. Available in a wide array of colors, including a striking navy option to team with a white polo, these shorts move with you thanks to moisture-wicking stretch fabric.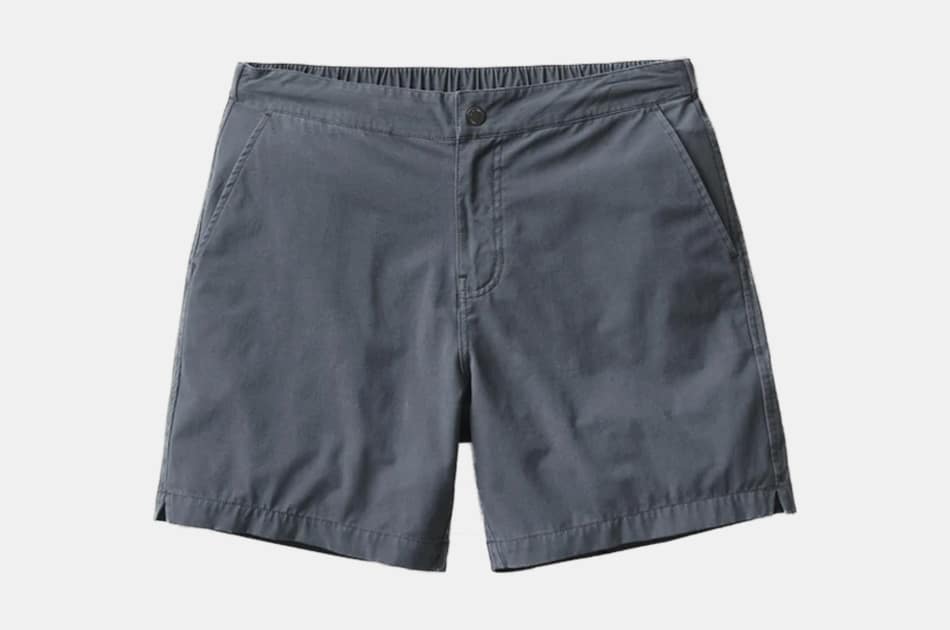 Buck Mason Deck Shorts
No doubt about it, the best men's shorts for summer should assuredly be able to do more than one thing. The Buck Mason Deck Shorts meet that challenge wholeheartedly — think of these like stylish swim shorts blended with tailored chino shorts, made all the better thanks to a sharp cut and quick-drying fabric. Best worn with a Buck Mason slub tee and accessorized with an ice-cold beer, if you ask us.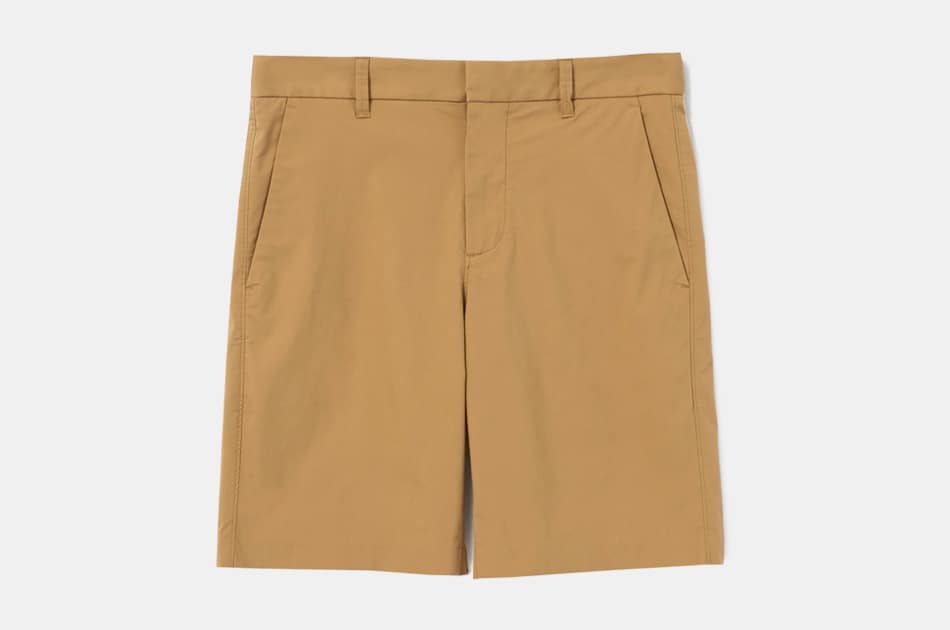 Everlane Air Chino 9″ Shorts
We like brands that make it easy for guys to shop for quality menswear on the fly — Everlane is one such brand, with an eye toward outfitting stylish men from head-to-toe in laidback Oxfords, breezy pocket tees and shorts like the pair you see here. The Air Chino Shorts feature a lightweight cotton poplin build and a stylish tab front closure, making them ever-so-slightly dressier than average. Pair 'em up with a navy merino polo this season.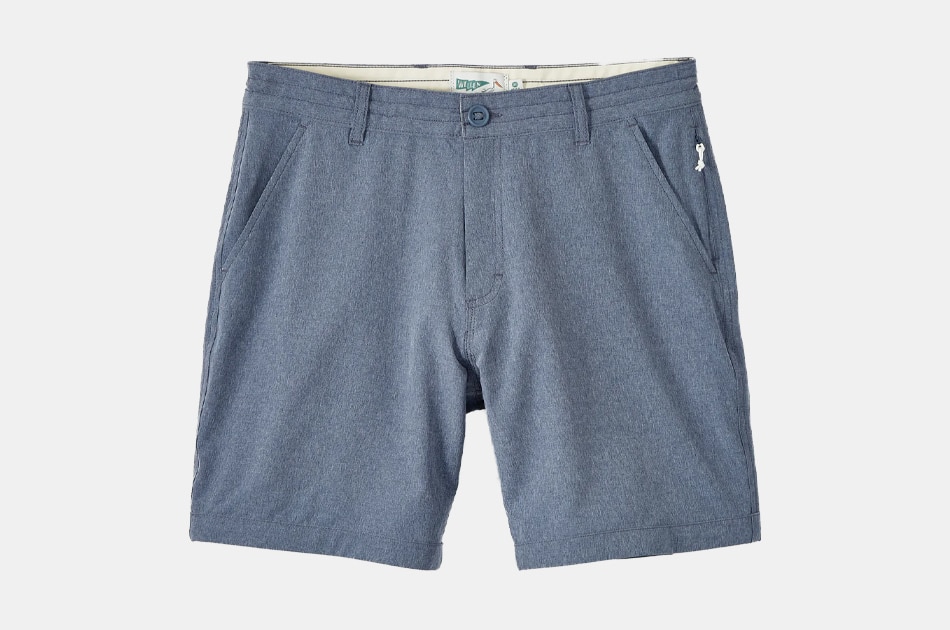 Wellen Cruiser Hybrid Shorts
What's the point of shopping for a pair of men's shorts if the pair you land on isn't versatile enough? With the Wellen Hybrid Shorts, you won't have to worry about that any more — not in the slightest, in fact. The Cruiser Hybrid Shorts toe the line between casually stylish and dependably functional, featuring quick-drying stretch fabric and an array of neutral colors to rock with a white slub tee.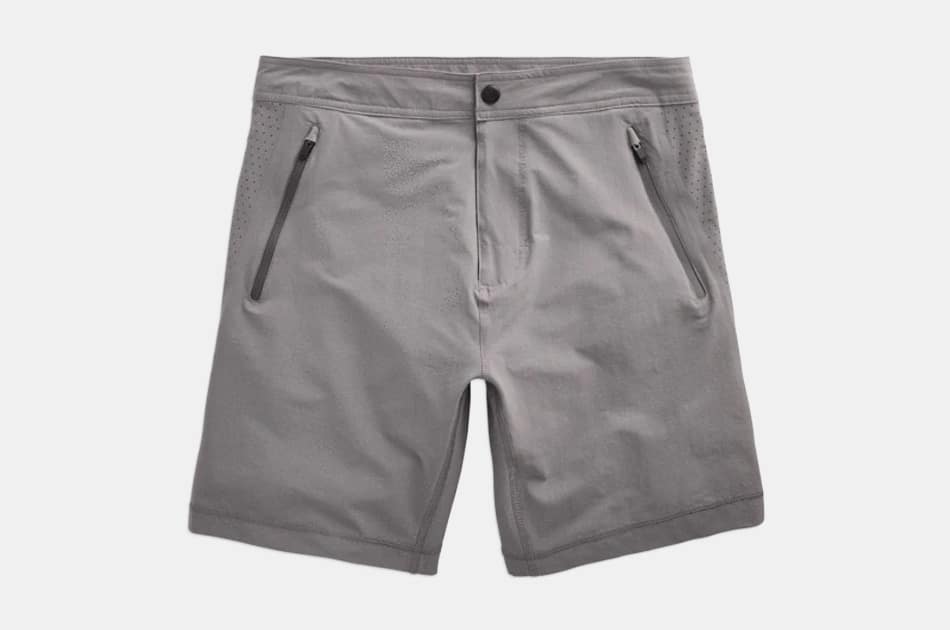 Mack Weldon 4-Way Active Shorts
When staying active all summer long, you'll need a pair of shorts that deliver a heck of a lot of bang for your buck, and that's probably why we love the Mack Weldon 4-Way Active Shorts so much. These are the kind of shorts built for beach walks or marathon golf outings, what with water-repellent 4-way stretch fabric and front zipper pockets, plus effective ventilation panels. Stay cool, look great, keep it in the fairway.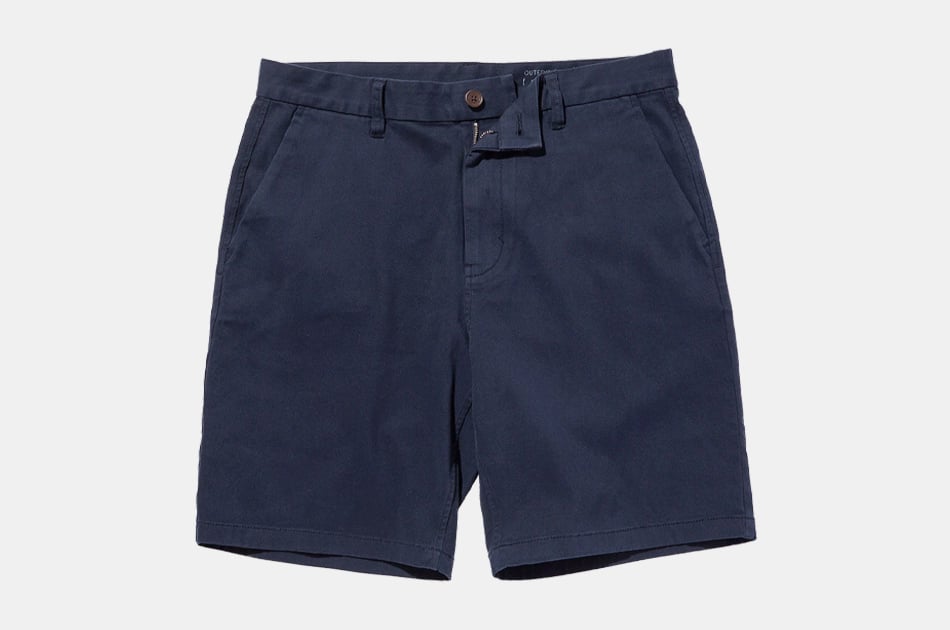 Outerknown S.E.A. Shorts
The Outerknown S.E.A. line of gear continues to impress us with its depth, its construction and its style. The S.E.A line emphasizes sustainable fabrics and construction, from T-shirts to jeans — and the same approach carries over to the S.E.A. Shorts.Garment-dyed organic cotton twill delivers both comfort and summer-ready toughness, so throw another log on the fire and grab a beer from the cooler — these are part of your new summer uniform.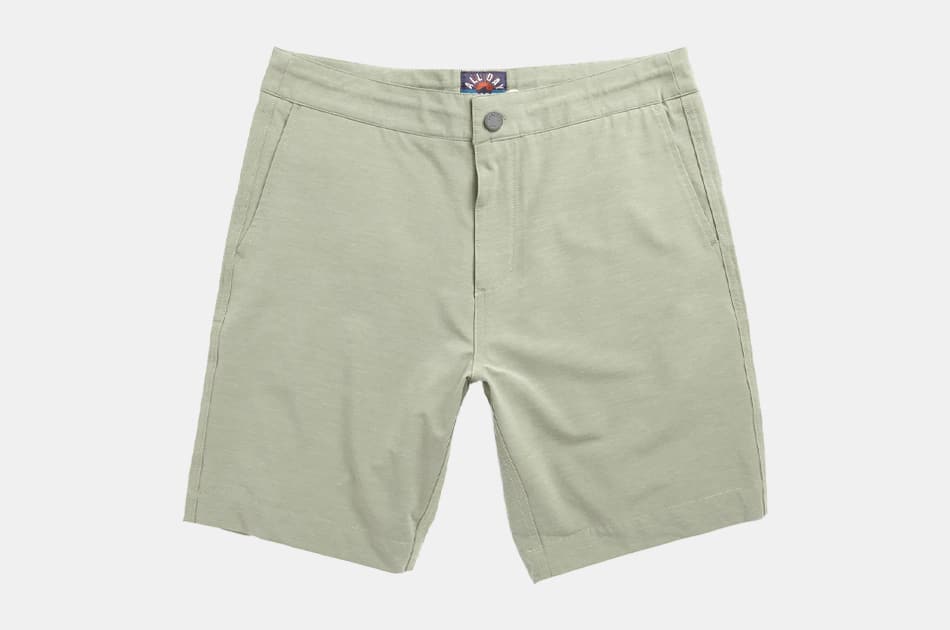 Faherty Brand All Day Shorts
When we think of Faherty Brand, we think of beach bonfires, great food, family and of course, stylish menswear — all wrapped into one. They've perfected the right balance between style that works with your early morning coffee or the evening's final beer, and the Faherty Brand All Day Shorts exemplify that approach quite nicely. The quick-drying fabric just so happens to be water-repellent, while colors like Ice Grey wear well with Faherty's line of slub tees and garment-dyed polos.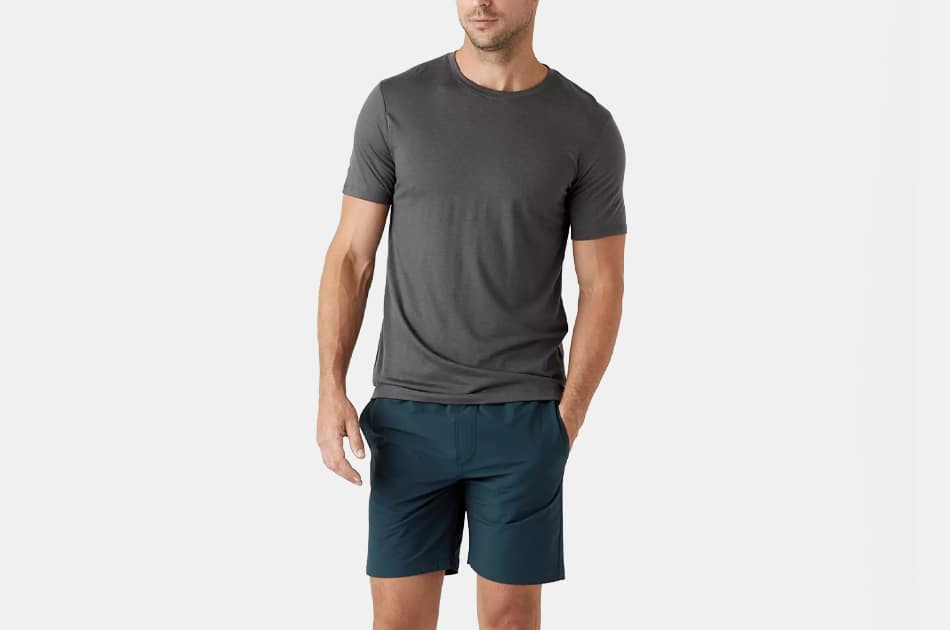 Olivers Apparel All Over Shorts
Shorts from Olivers Apparel are ready to take on the day without missing a beat — if you find the right pair of shorts, one pair could even last you the entire weekend (provided you're not getting too rough-and-tumble in them). When it comes to durable shorts that outperform their counterparts, Olivers Apparel has got to be a frontrunner — the All Over Shorts are as ready for an afternoon BBQ as they are for a morning hike or run.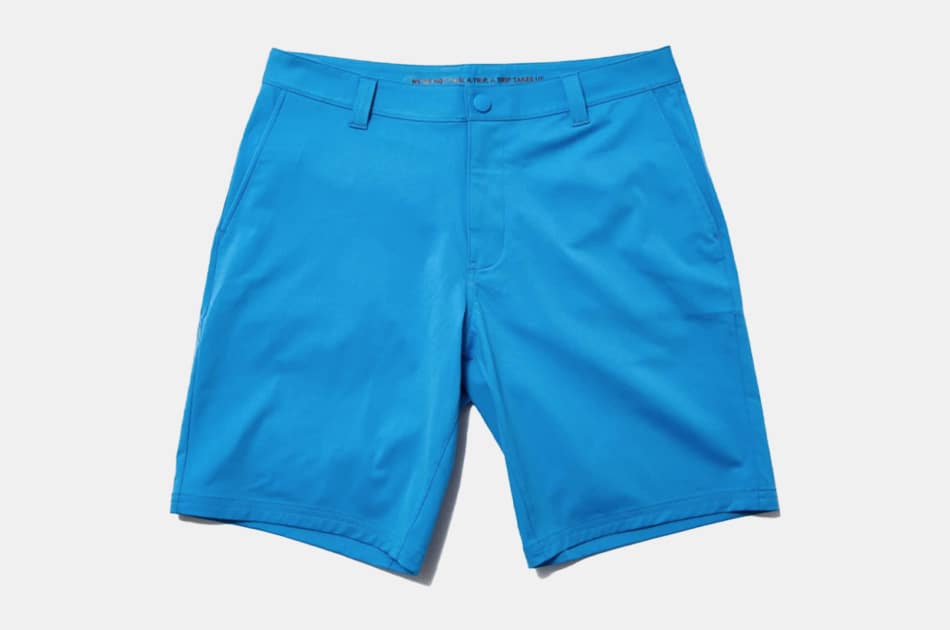 Rhone Commuter Shorts
The Commuter Shorts were, quite simply, made for the guy who never slows down — and who expects the same nonstop performance from his gear. Rhone designed these shorts with guys like yourself in mind, using a proprietary Flex-Knit fabric and details like a security zipper pocket to ensure you get where you're going efficiently and safely. Pick a pair or two up — then be prepared to snag even more. They're just that effective.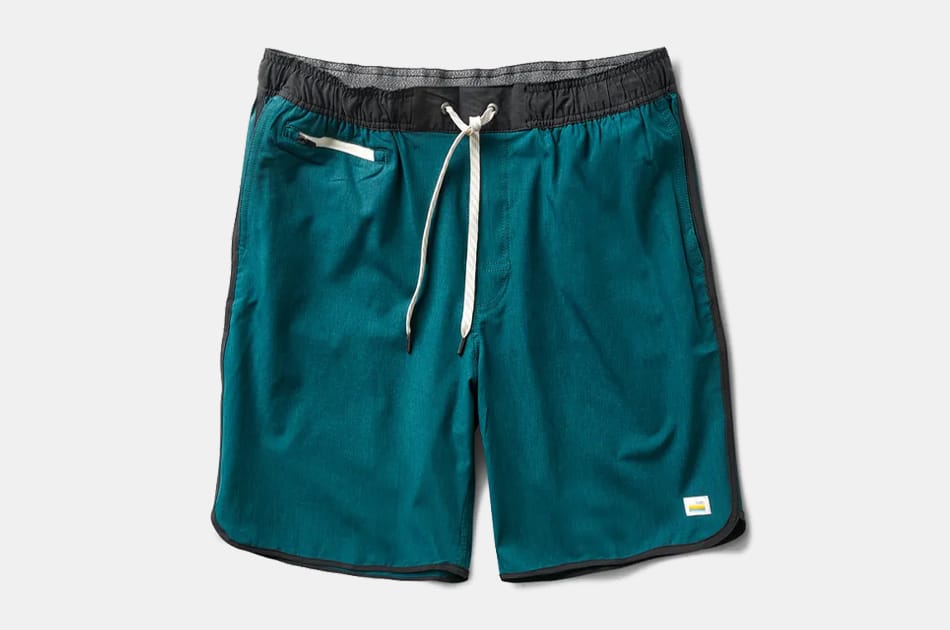 Vuori Banks Shorts
You know that pair of well-loved shorts you can throw on and forget about (in a good way)? Well, those shorts just got a serious upgrade. The Vuori Banks Shorts check all the right boxes when it comes to a pair of shorts made for work (biking, yoga, hiking) or play (kicked back on your patio in the morning, coffee in hand). The scalloped leg offers freedom of movement, and the recycled polyester-elastane-poly fabric blend provides lightweight performance in the heat of summer. A dizzying array of color options also means Vuori has something for everyone.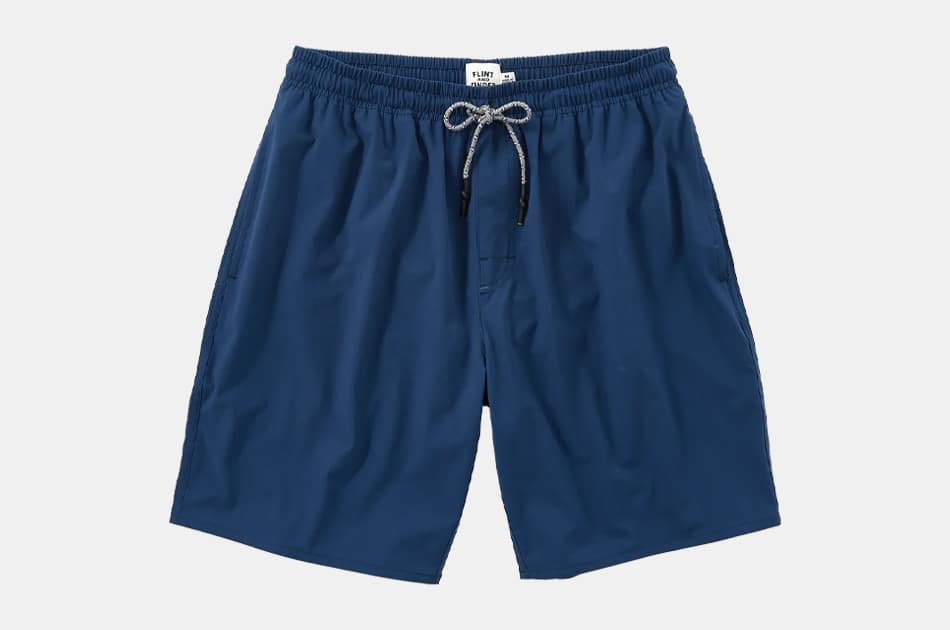 Flint and Tinder Breaker Trunks
No doubt about it, Flint and Tinder has turned into a go-to brand across the years, no matter the season. Although F+T makes one heck of a waxed trucker jacket for colder temperatures, we're willing to bet that the Flint and Tinder Breaker Trunks are some of the best shorts you've tried, as well. When's the last time you came across polyester-spandex swim shorts that also doubled as durable, stylish everyday shorts? Throw these on for an afternoon at the watering hole, then keep them as part of your grilling ensemble later in the day — they can take it.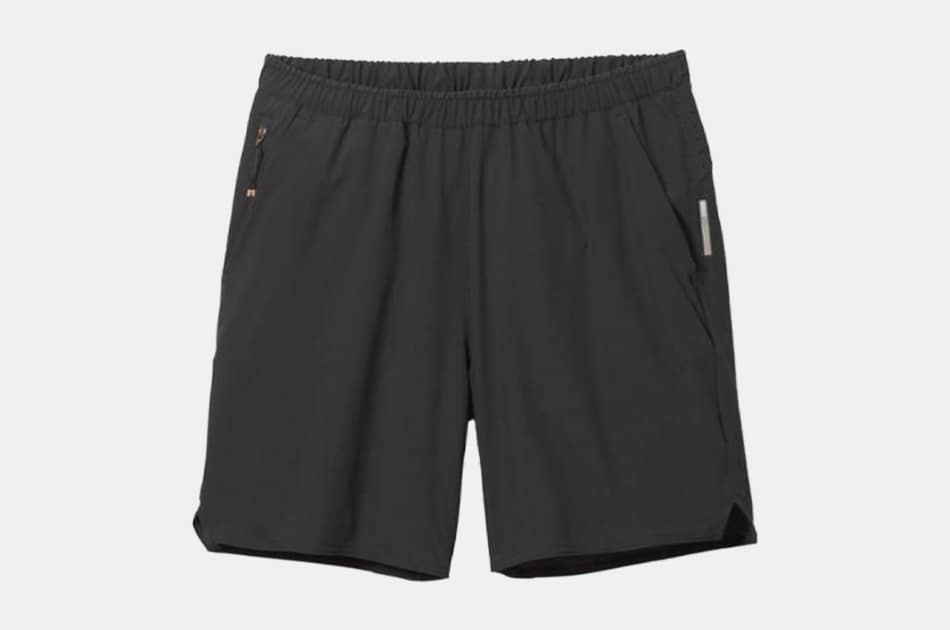 REI Active Pursuits Shorts
Don't overlook affordability when it comes to finding the best shorts for wearing this summer. For under $50, REI delivers a pair of shorts made for the outdoorsman, featuring lightweight, moisture-wicking, quick-drying fabric meant to be worn from sunrise to sunset. A zipper pocket and ventilation panels should come in mighty handy, too.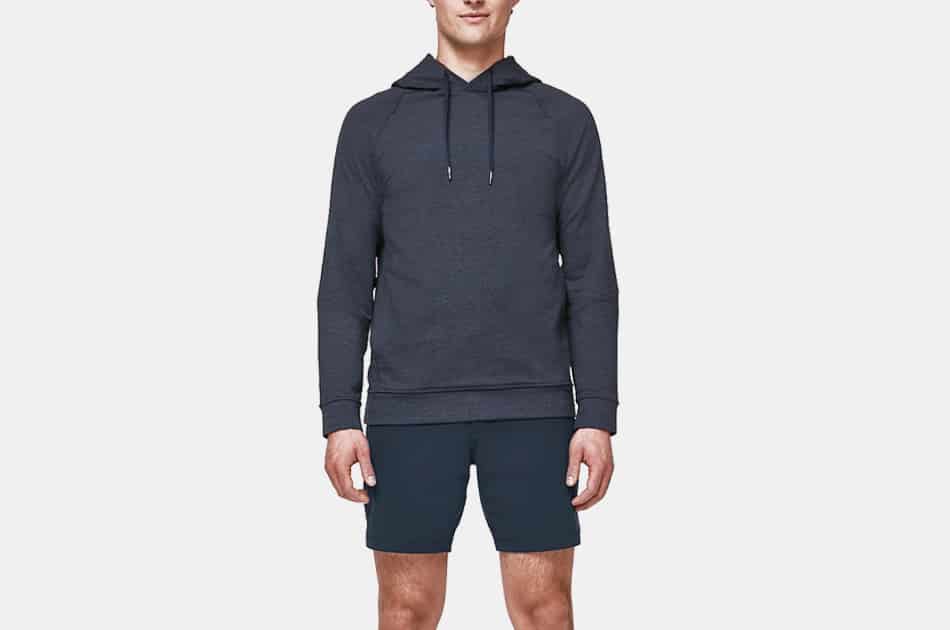 Lululemon Commission Shorts
This summer, you're going to be doing a lot besides just working out — hiking, biking, golfing lounging, you name it. And if it's an activity you can do in shorts, one could make the case that you should be doing so while wearing the Lululemon Commission Shorts, Inspired by chino shorts and yet built with the brand's Warpstreme fabric for a refined finish, these shorts are worth the investment.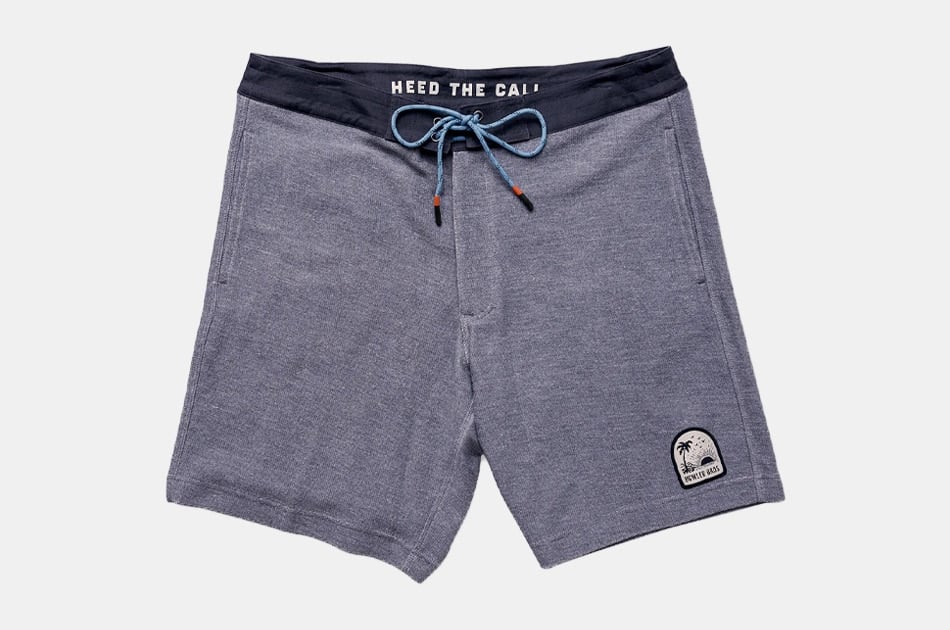 Howler Brothers Tranquilo Chillshorts
Is there a cooler name for a pair of shorts than the "Chillshorts"? To us, not quite — Howler Brothers has come up with the perfect pair of shorts to pair with one of its famed short-sleeve shirts, in fact. Blending the silhouette of boardshorts with fabric commonly found in weekend-ready sweatshorts, these are a seriously cool, laidback pair of shorts you'll find easy to wear all day long (you'll have to source your own beer, though).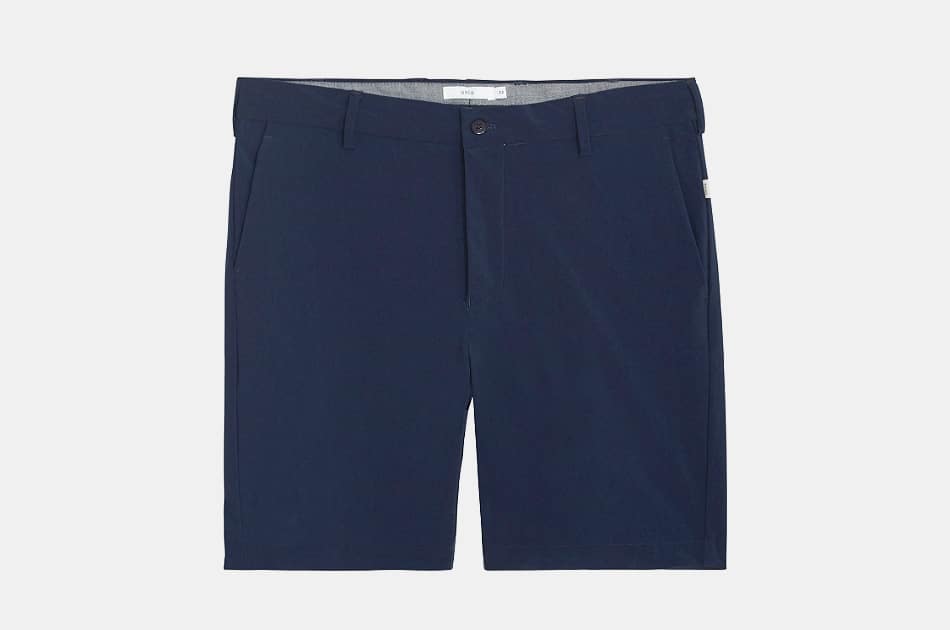 Onia Versatility Shorts
Versatility is quite literally the name of the game with these investment-levely shorts from Onia, representing the type of summer-ready refinement you need this season. Wear these tailored nylon-spandex shorts with picks both dressy (a white polo and brown leather loafers( or laidback (your favorite henley and beat-up canvas sneakers). Add sleek shades, then call it a day — or don't, in fact. These shorts can go just about anywhere.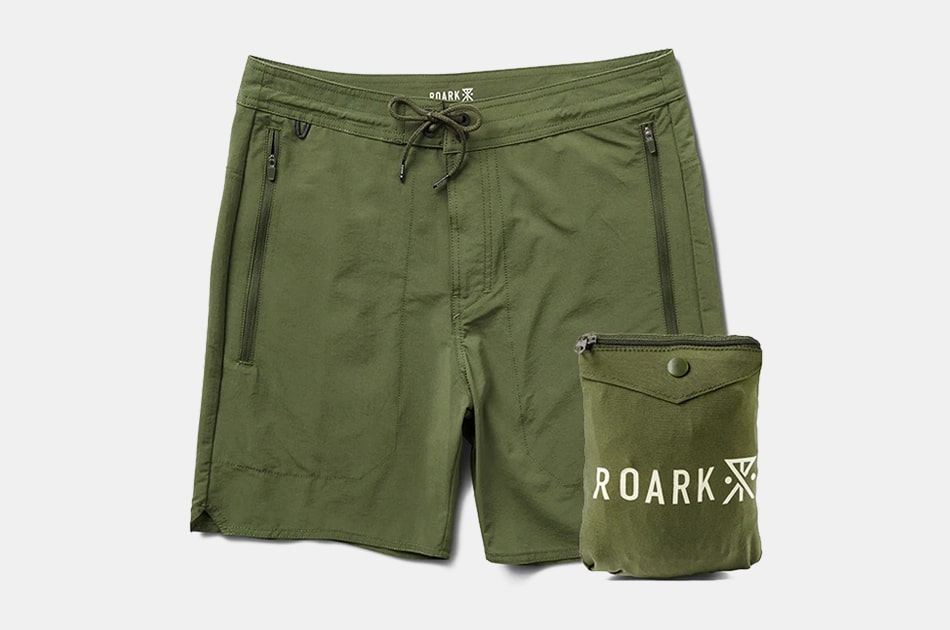 Roark Layover Travel Shorts
Wearing shorts while traveling can be a surprisingly effective move in terms of comfort and style — yet, they've got to be the right pair of shorts. Enter the aptly named Roark Layover Travel Shorts, which check all the right boxes. Rugged 4-way stretch fabric and a drawstring travel waistband are highly useful touches, as are the zip pockets with mesh drainage built right in. Oh, and did we mention you can stash your phone in its own pocket, too? These are easily some of the most useful shorts on the market.
Disclosure: Clicking on these links and making a purchase may earn us a small referral fee, at no extra cost to you. Learn more here.