The 25 Best T-Shirts For Men
Lest you underestimate the humble men's T-shirt, just know that there's more to life than wearing athletic logo tees or the type of old, ratty tees you likely had in college or high school (sentimental value aside, naturally). No sir, the best men's T-shirts to buy right now are all in a class of their own, made with rugged quality, classic styling potential and the sort of chops you'd be hard-pressed to find in your old-school athletic T-shirts.
A plain T-shirt is in fact perhaps the simplest item in a guy's closet, but when worn the right way and made the right way, the standard tee can really become so much more. A T-shirt can be worn naturally on it's own (pairings include dark denim and high-top sneakers, or else light wash jeans and suede chukka boots), or else in ways more casual and cool (think a navy cotton blazer and tan chinos).

The key, as with plenty of gear picks we recommend, comes down to fabric, fit and design details — and luckily for all parties involved, our list of the best men's T-shirts shown here ace each of those categories with flying colors, to say the very least. Don't sleep — you need at least one of these tees in your wardrobe, if not more. Simple as can be.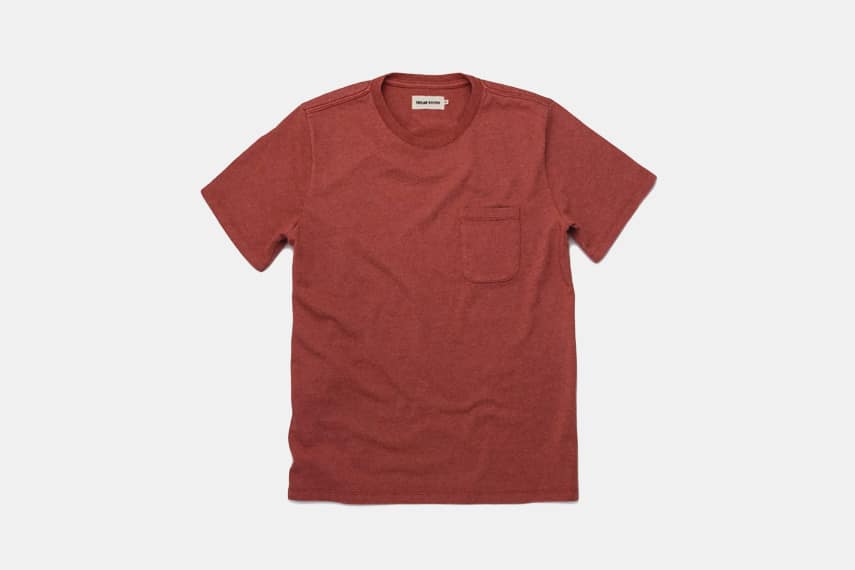 Taylor Stitch Heavy Bag Tee
There's perhaps no better T-shirt to lead off our than the Taylor Stitch Heavy Bag Tee, a dependably made T-shirt that checks all the right boxes, from the use of upcycled cotton in its construction to the range of seasonally friendly colors (our personal favorite has to be the Washed Rust iteration). Snap one or multiple up for $45 at Huckberry — the fit and fabric is mighty pleasing, making the Heavy Bag Tee a shirt that you should feel inclined to wear all on its own (tan chinos not included).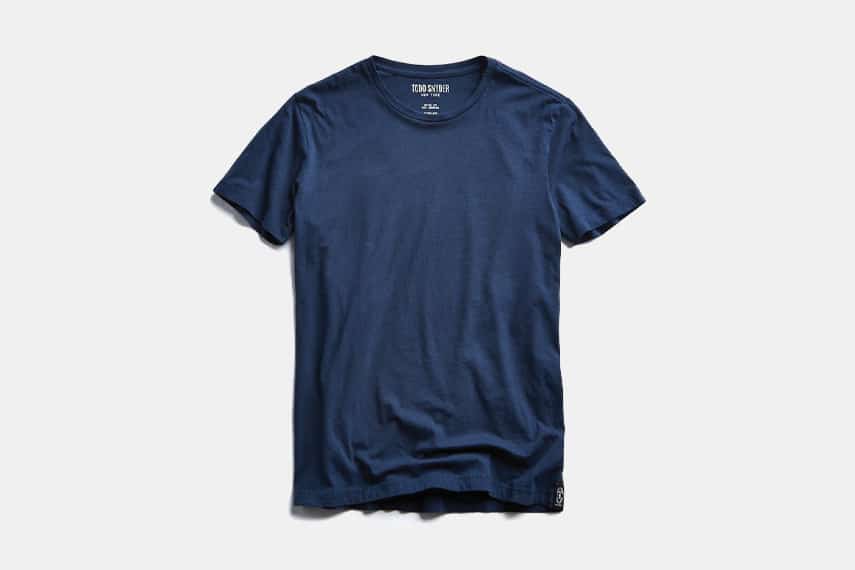 Todd Snyder Made In L.A. Broken In T-Shirt
Los Angeles is a hotbed of activity when it comes to producing men's T-shirts, not to mention items like denim — and the Todd Snyder Made in L.A. Broken-In T-Shirt is a fine example of just what can be done when you work with the best in the business. Made with remarkable garment-dyed jersey cotton for a feel that just works right out of the box, this is a plain T-shirt that's a cut above.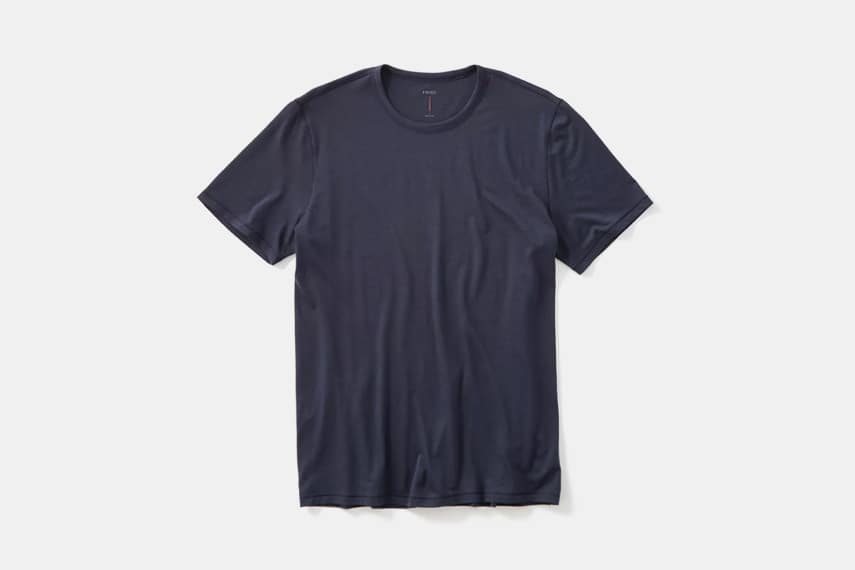 Proof 72-Hour Merino Tee
We think each tee on this list of the best men's T-shirts has something special, but that might particularly be the case with the Proof 72-Hour Merino Tee. It's a performance-minded tee in a wide range of colors that can really be worn for 72 hours — merino might be the most functional fabric on the planet when translated into a travel-ready, moisture-wicking, odor-resisting tee like this one. For long haul flights and long days of exploration, it's what you need.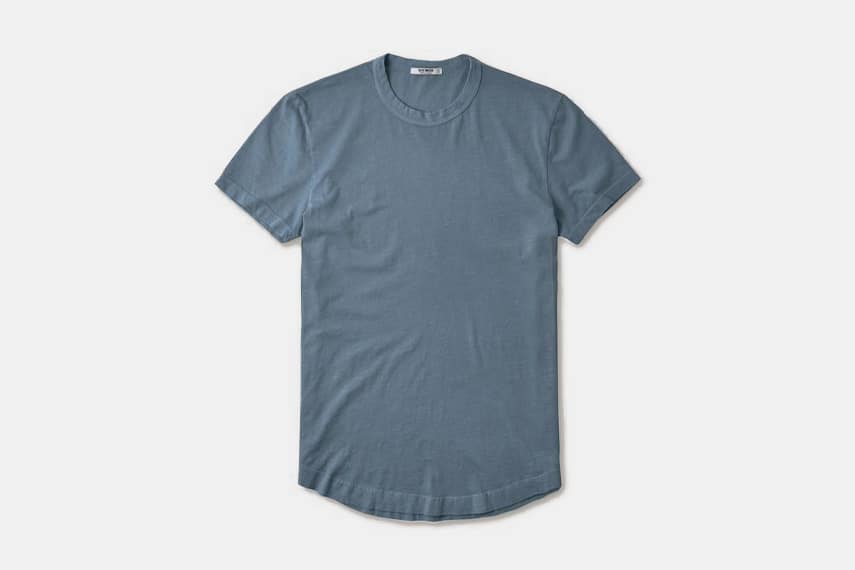 Buck Mason Slub Curved Hem Tee
When you put on a T-shirt that's better than the rest (to wit: One of the best men's tees on the market), we'd argue that you know right away. Such is the case with the drape and construction of the Buck Mason Slub Curved Hem Tee, the type of T-shirt that stands out thanks to its beautiful fabric and its unique curved hem. This is a T-shirt that'll retain its shape and fit, and it'll even break in more over time. Plus, when you pick up the online-exclusive shade of Graphite, you're getting a tee that's even more rare — and thus worth investing in. Pair it with Buck Mason denim, and you're good to go.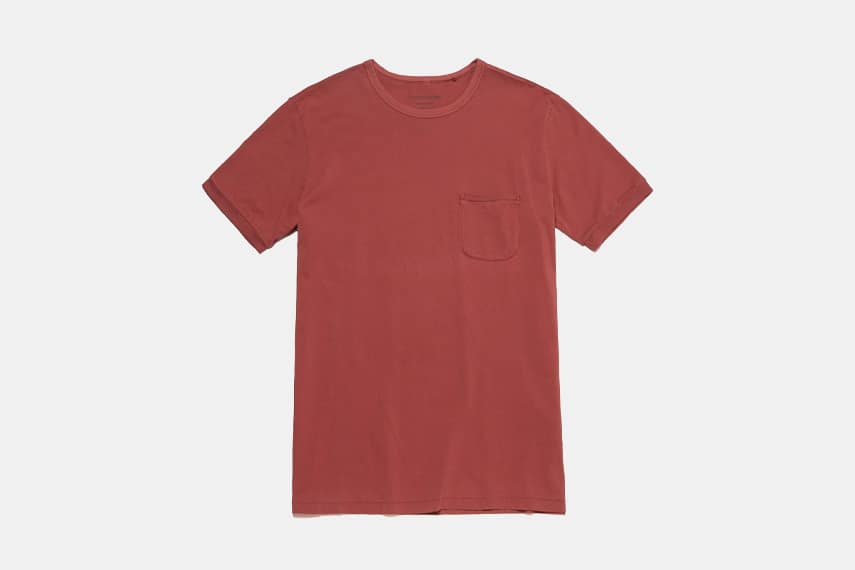 Outerknown Sojourn Pocket Tee
When we first laid eyes on the Sojourn Pocket Tee from Outerknown, we knew we had to have it — it's made sustainably from organic Peruvian cotton, some of the best in the world, and it's fairly priced for the extra quality and comfort that a tee like this brings to the table (and your wardrobe). The ribbed trim at the chest pocket, the neck and sleeves also sets this tee apart subtly and stylishly.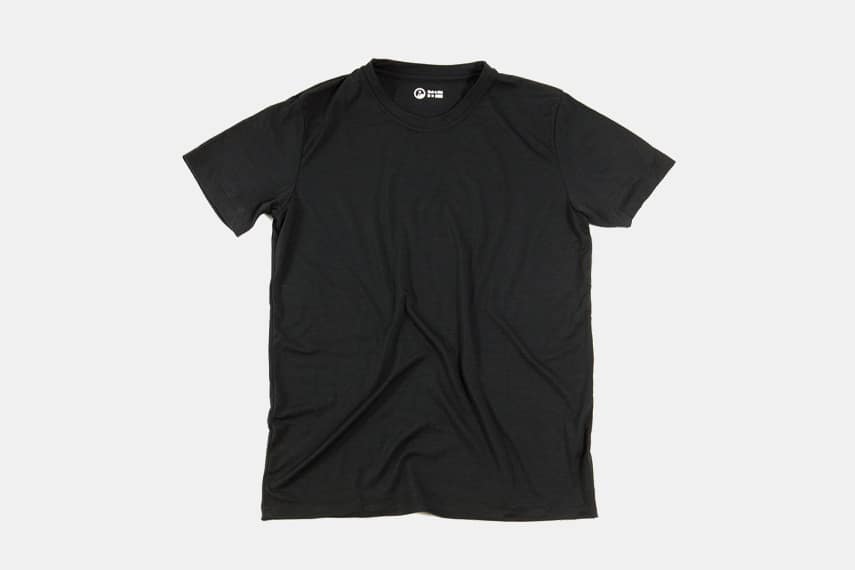 Outlier Runweight Merino T-Shirt
The fabric of the future might just be merino, what with its ability to wick away sweat, moisture and odor while retaining its shape and style points. On that front, the Outlier Runweight Merino T-Shirt could actually be the T-shirt of the present, done up in sleek black and perfect for a bike commute, a morning jog or a hot day of travel. Made with proprietary Merino Runweight fabric, it could be your introduction to a whole new type of tee.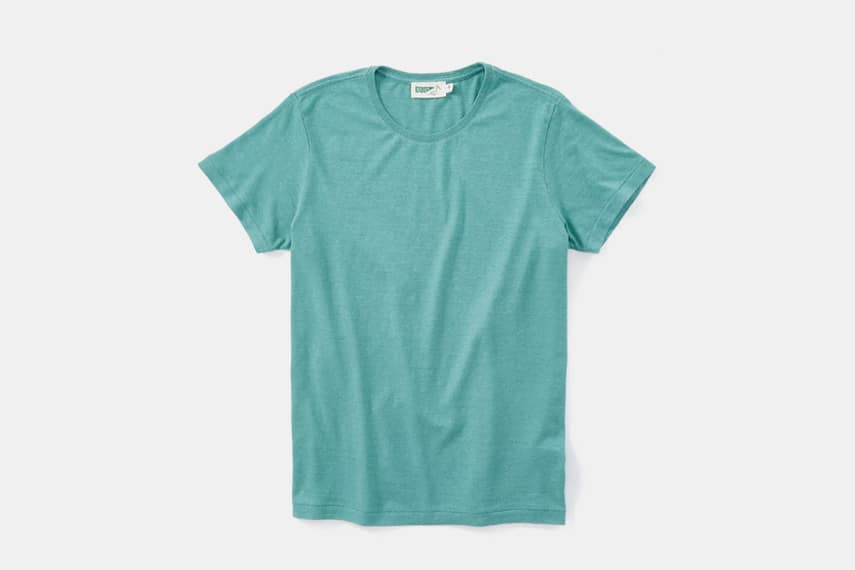 Wellen Hemp Tee
We keep turning back toward the Wellen brand (a new in-house line at Huckberry) owing to the unique use of sustainable fabrics like hemp, plus the engaging summer colors like Seafoam Green (which would stand out handsomely against tan chinos or field shorts, plus white canvas sneakers). Wellen takes great care to make products that help, not detract from, the environment, including organic cotton.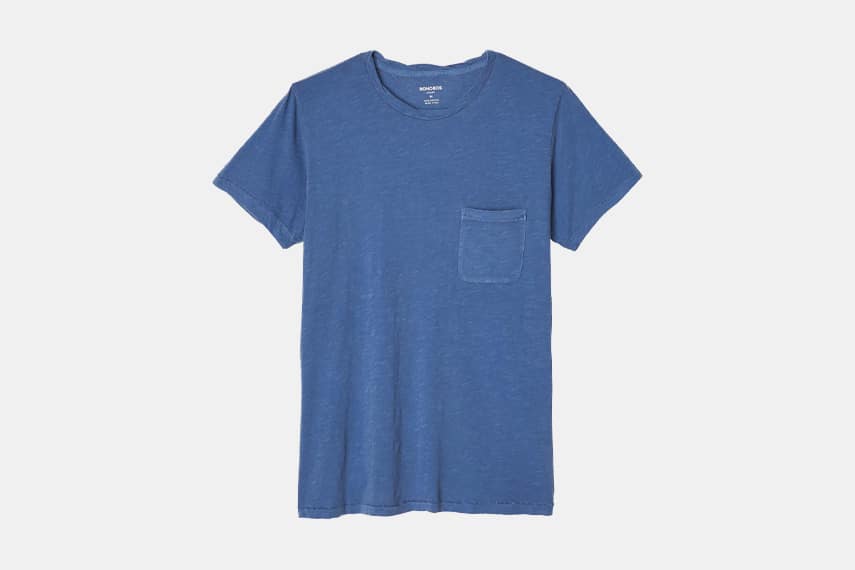 Bonobos Lightweight Beach Tee
If you tend to think of tank-tops when you think of beach style, you'd best think again — the Bonobos Beach Tee is here to change all that. The Lightweight Beach Tee lives up to its moniker admirably, made of slub cotton and a loose weave that ensures laidback style and a breezy fit. Wear it with tailored swim trunks, then change into slim Bonobos chinos and white sneakers for post-beach drinks.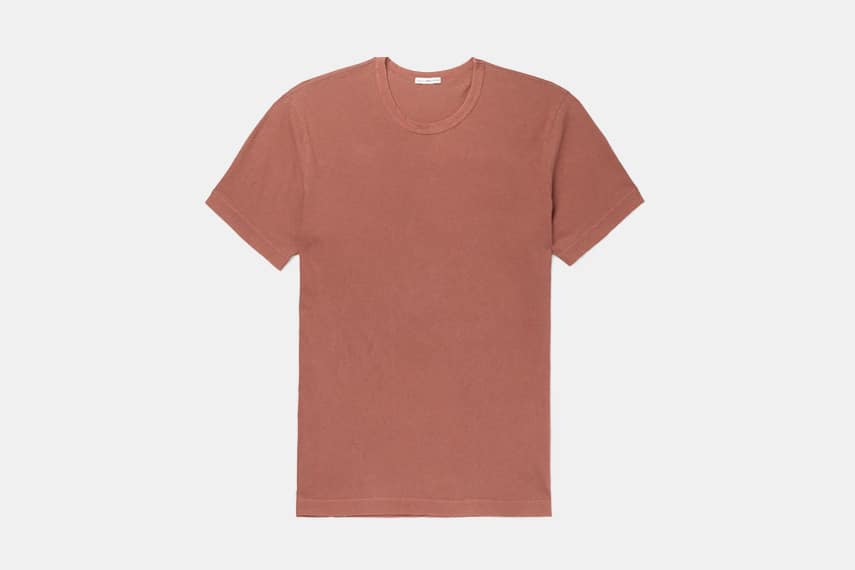 James Perse Slim-Fit Combed Cotton-Jersey T-Shirt
When is it worth it to invest in a T-shirt? Like, really invest? When that tee is as well-made and versatile as the James Perse Slim-Fit Combed Cotton Jersey T-Shirt, that's when. Available via the upscale menswear purveyors at Mr. Porter, this is the kind of T-shirt you should look to wear under a khaki cotton suit, particularly given that it's made from breathable combed cotton jersey fabric in a seasonally friendly color.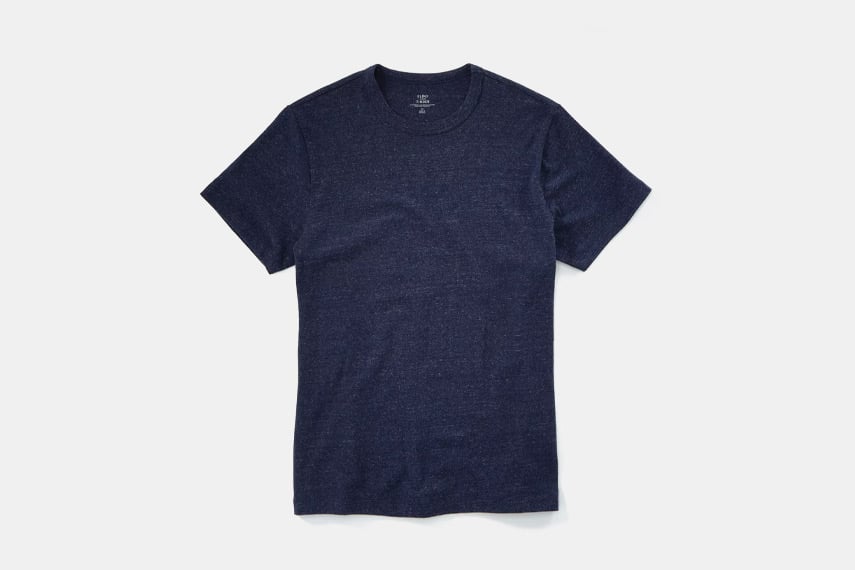 Flint and Tinder Heavyweight Triblend Tee
For every lightweight and breezy T-shirt (which have their place in a wardrobe, too), there are times when you want a T-shirt that's just a bit more substantial and sturdy, the kind you can layer with ease underneath a denim shirt or a rugged overshirt. For all those times, turn toward the Flint and Tinder Heavyweight Triblend Tee, the kind of perfect everyday tee you can wear all on its own (especially with dark indigo denim and leather boots).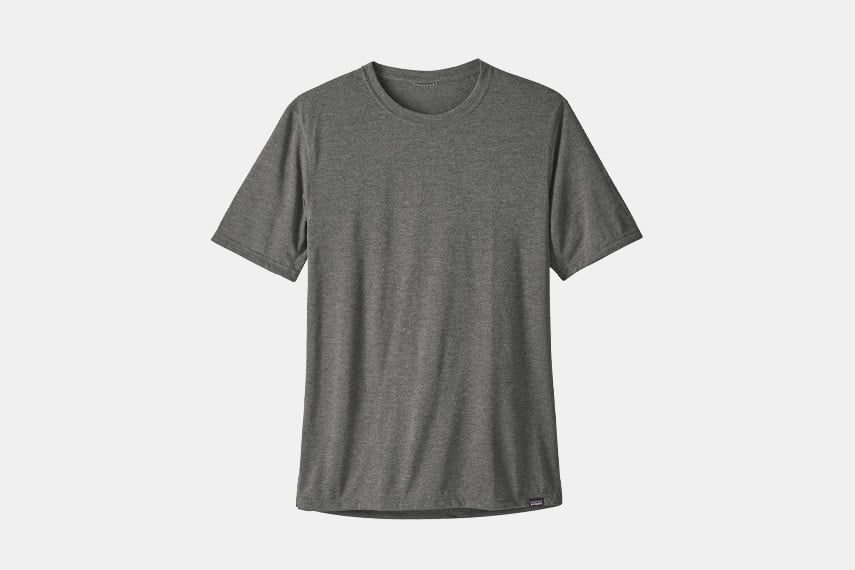 Patagonia Men's Capilene Cool Trail Shirt
Performance T-shirts can either lean too technical in terms of fabric, or too loud in terms of colors and logos — yet the Patagonia Capilene Cool Trail Shirt is neither of those things, thankfully. Made to perform extraordinarily well on a day hike or during a visit to your favorite brewery, it just so happens to be made with Fair Trade Certified construction and the brand's proprietary Polygiene odor control.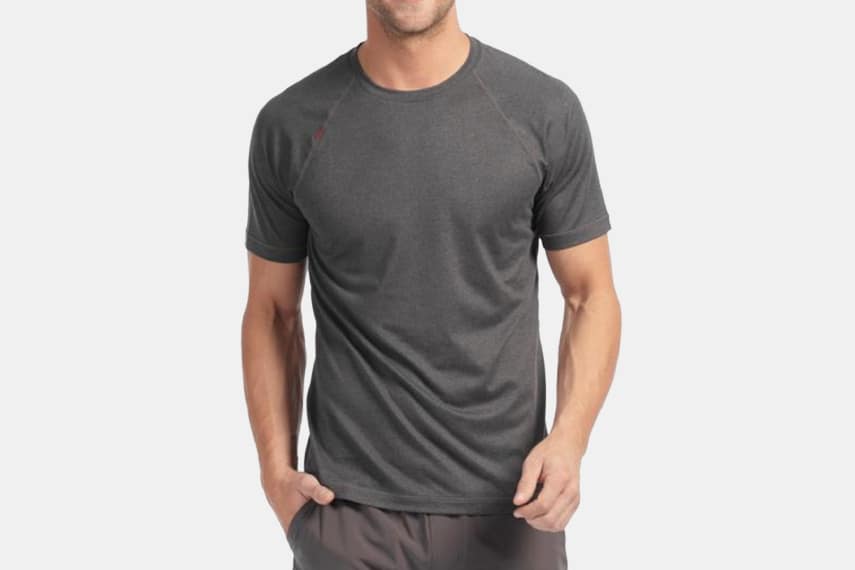 Rhone Athletic Short Sleeve T-Shirt
Rhone's gear is made to move, seamlessly blending performance elements with straightforward-yet-minimal style for the guy on the go (that'd be you). Raglan sleeve construction, plus moisture-wicking technology and anti-odor functionality, makes this tee essential for both trips to the gym and long cross-country flights — it's more polished and yet gym-ready than any other tee in your wardrobe.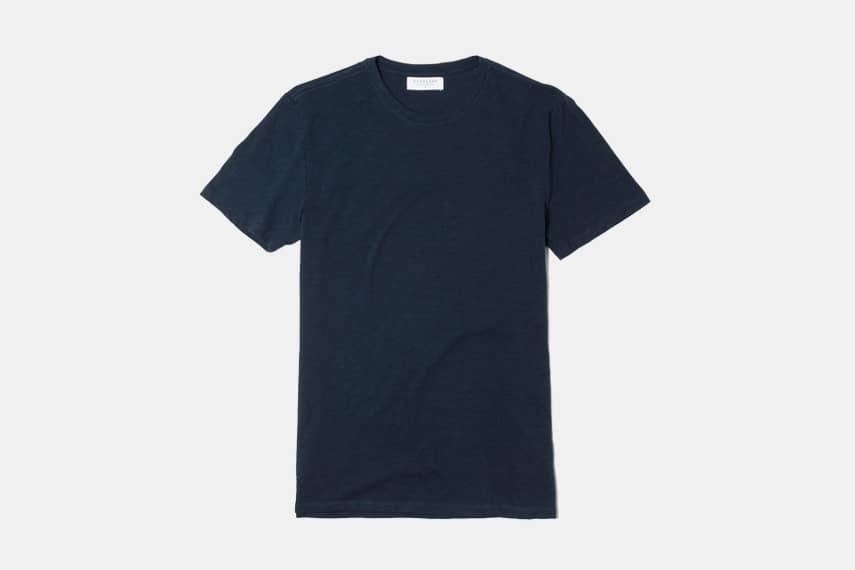 Everlane Air Crew Tee
We've long appreciated Everlane's approach to what the brand calls "radical transparency," offering up details on fabric and construction with an eye toward sustainability — that's what makes the Everlane Air Crew Tee so critical (and worthy of inclusion on this list). It's made with an incredibly lightweight slub cotton and available in a range of classic Everlane colors, perfect for pairing with the brand's slim denim or chinos.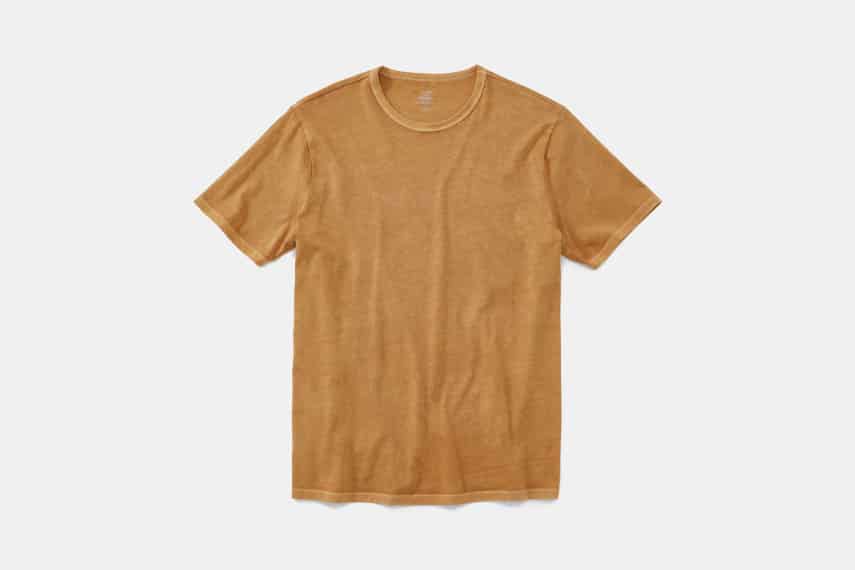 Flint and Tinder Supima Air Knit Tee
If you thought that Flint and Tinder already made a plethora of stylish T-shirts and couldn't possibly make any more, well, think again — the Flint and Tinder Supima AirKnit Tee is the latest iteration from the in-house brand at Huckberry that we absolutely love. Pick up three for $75 in multiple colors, and then wear each tee any way you please (but especially with dark denim on a casual weekend day).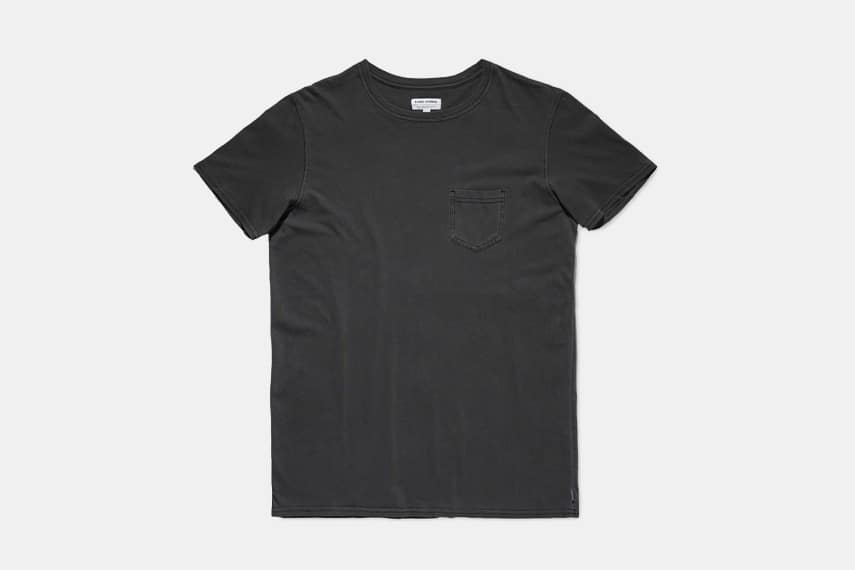 Banks Journal Primary Faded Tee
The best part about finding a new favorite T-shirt? The chance to make that tee all your own, like the pleasingly broken-in Banks Journal Primary Faded Tee. This T-shirt is proof that T-shirts don't need to be boring — in fact, even in a straightforward color like black, they can be interesting enough to be worn all on their own (or else, under an indigo denim jacket).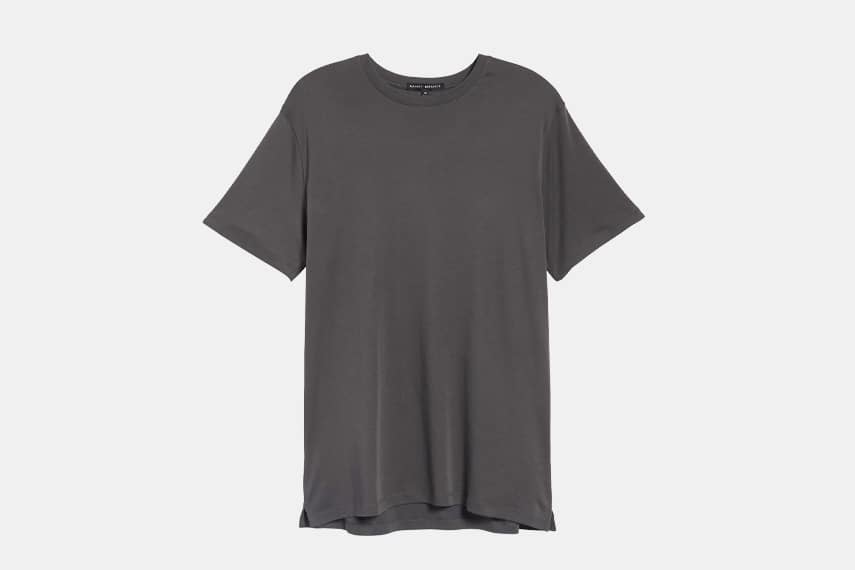 Robert Barakett Georgia Crewneck T-Shirt
Every guy needs — and every guy can find a way to wear — a classic plain-colored T-shirt, especially this trim and tailored T-shirt from Robert Barakett. It's the kind of crisp and clean tee you should wear with a khaki cotton blazer and light wash denim, plus leather loafers. There's no wrong way to wear it, but just know that it's highly versatile and suited for whatever combo you dream up.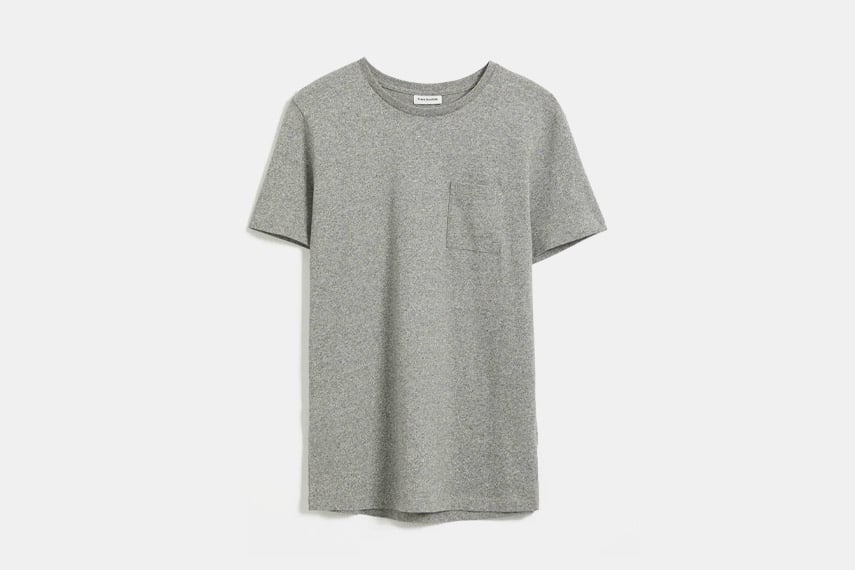 Frank And Oak Good Cotton Soft Pocket Tee
Frank And Oak has long been masters of straightforward, minimal and yet visually interesting men's style staples — take the Good Cotton Soft Pocket Tee, a tee that looks simple on the surface and yet brings so much more to your closet. The organic cotton and the chest pocket elevate this above the average, turning this into a T-shirt you can pair with slim F&O chinos or the brand's comfortable, slim denim.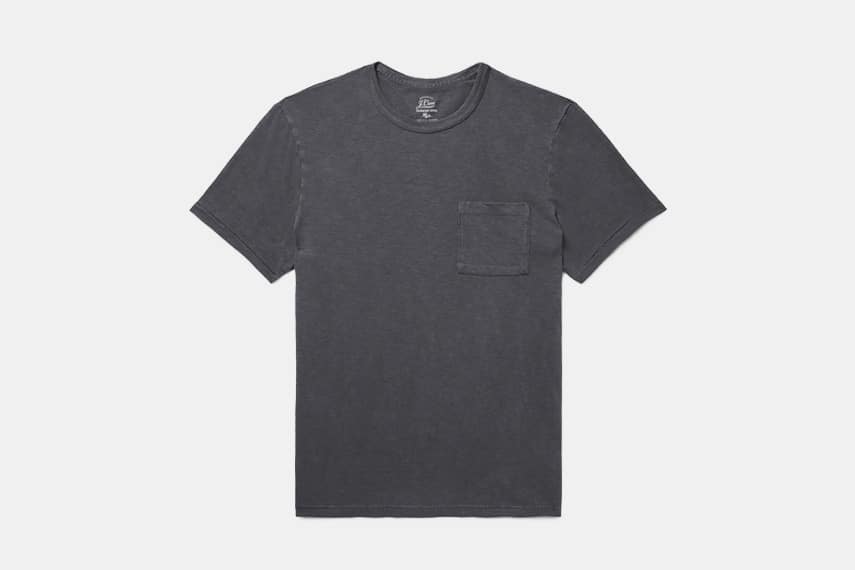 J.Crew Slim-Fit Garment-Dyed Slub Cotton T-Shirt
If ever there was a brand that could turn the simple T-shirt into something more than just a tee, it's J. Crew. The same expertise that allowed the brand to transform the way men wear and shop for suits has been translated into the Slim-Fit Garment-Dyed Slub Cotton T-Shirt, made from a textured and lived-in fabric in a surprisingly rich Charcoal color. Wear this tee with black jeans to your next rock concert.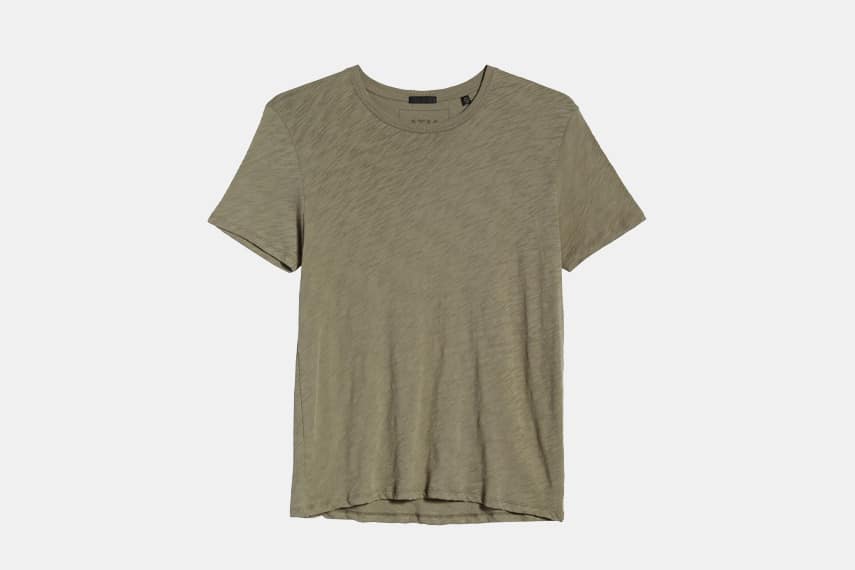 ATM Crewneck T-Shirt
For every crisp, clean white tee, you sometimes want a tee with a bit more character and laidback style appeal, especially during the dog days of summer. This ATM Crewneck T-Shirt, with a wider collar and a slubby texture, is the one to buy in that case, available in pleasingly washed out colors that should pair nicely with natural selvedge denim or off-white chinos (throw in suede chukka boots or loafers, naturally).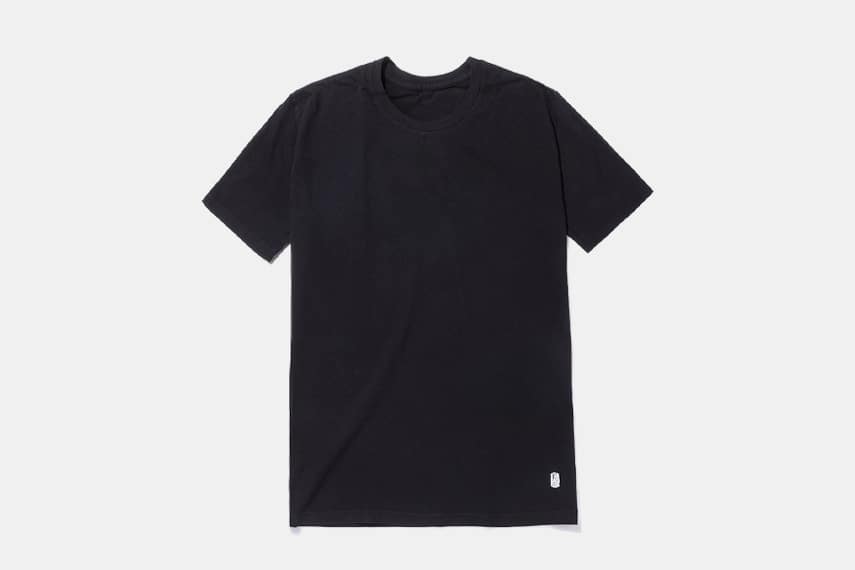 Standard Issue Tee
Among our list of the best men's T-shirts, there are certain tees that go above and beyond when it comes to checking all the right boxes — like the Standard Issue Tee, for instance. This is an aptly named tee made right in California from ringspun cotton in a classic shade of black. It's the kind of tee you can throw on and not think twice about — or else, you can pack it within its reusable zip bag for travel or storage.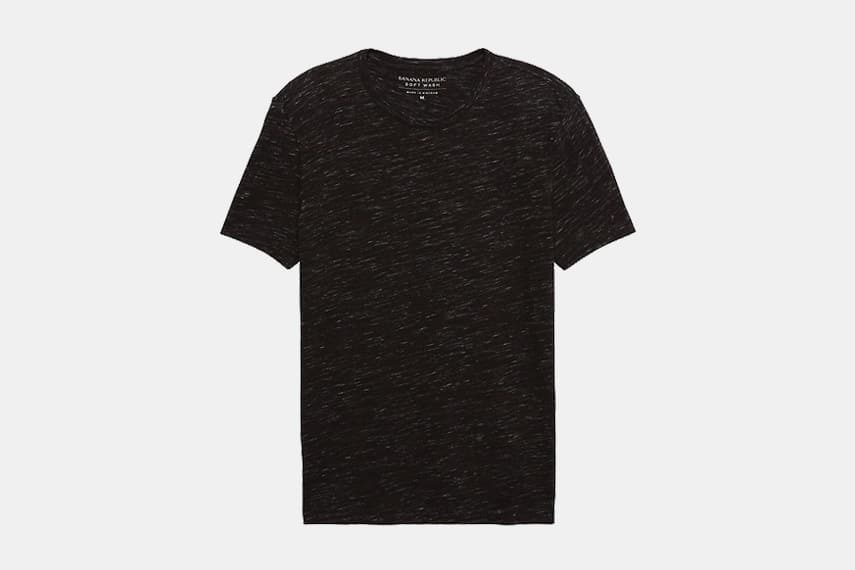 Banana Republic Soft Wash Crew-Neck T-Shirt
If there's one thing we've learned to expect from Banana Republic, it's that the brand doesn't compromise on luxurious fabric quality, even in items as seemingly simple as T-shirts. Take the Soft Wash Crewneck T-Shirt, a perfectly built tee in a slubby gray texture that just so happens to be surprisingly refined. It's the ideal complement to the brand's Rapid Movement Chinos, for instance.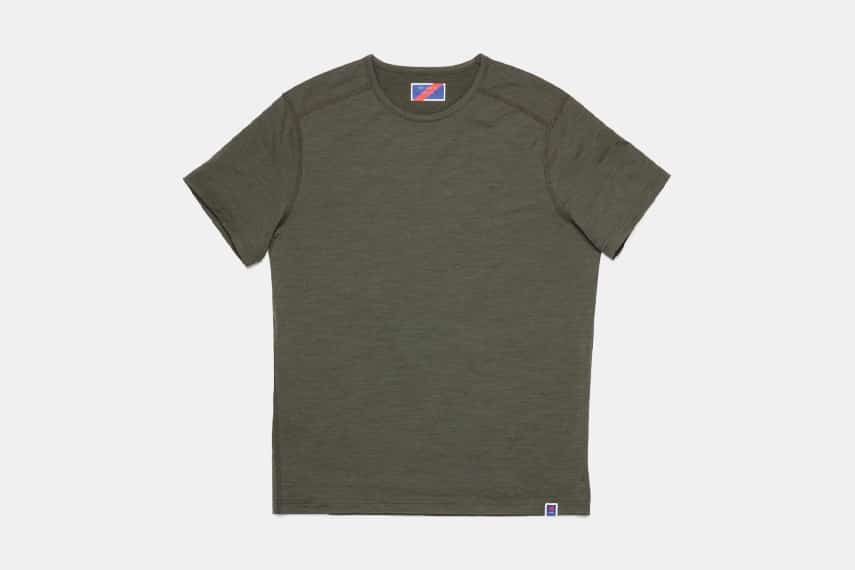 Best Made Co. 165 GSM Merino Tee
Best Made Co. says that "under every good adventure lies merino," and that seems to be the case when one considers the 165 GSM Merino Tee. It's the type of rare T-shirt that stands apart from the crowd for its combination of both classic style and modern innovation. We're big fans of the textured 100 percent Merino fabric and the rich color options, each of which would wear handsomely with classic Best Made Co. chinos.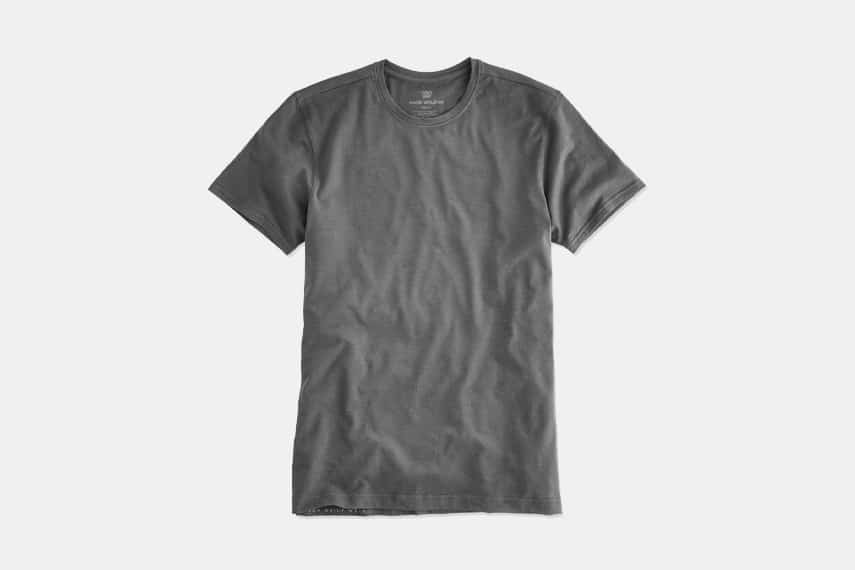 Mack Weldon Silver Crew Neck T-Shirt
We love Mack Weldon's boxer briefs and socks, and it should come as no surprise in this case that the brand puts that same level of care and attention to detail in other basics — a la its Silver Crew Neck T-Shirt. The real kicker here is the use of silver in the fabric blend, which gives it unique anti-microbial and moisture-wicking properties. That's more than worthy of being on this list.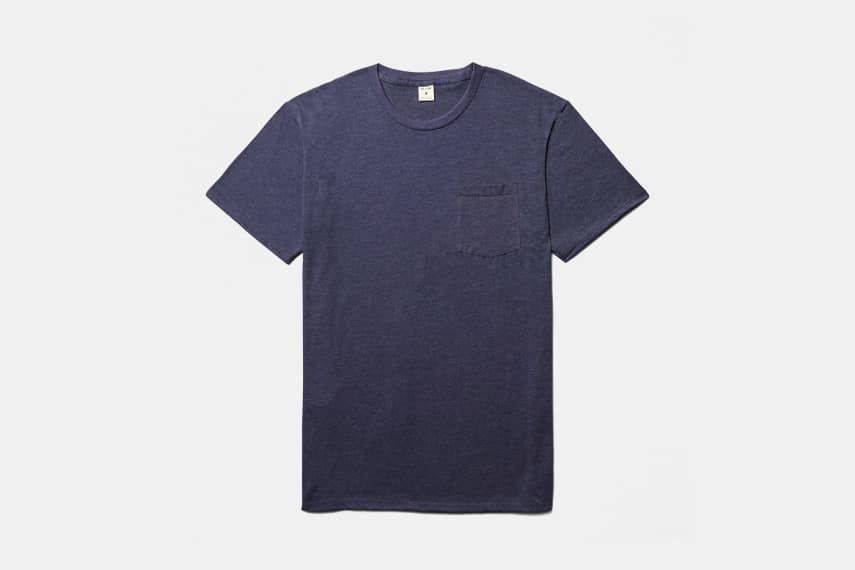 Line Of Trade Pocket Tee
You likely know Line of Trade for the brand's essential, well-crafted leather goods and accessories, so you'd certainly do well to check out this wildly affordable pocket tee available via Bespoke Post. Made from a cotton blend in a classic navy color, this tee is both durable and lightweight, with a full taped shoulder seam and made-in-San-Francisco construction, to boot.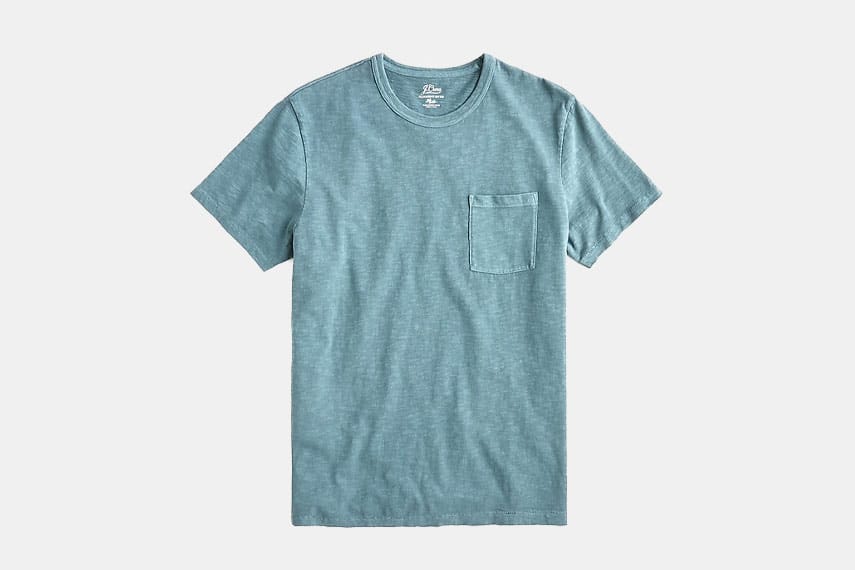 J.Crew Garment-Dyed Slub Cotton Crewneck T-Shirt
For just under $30, you can get one of the best men's T-shirts on the market, and it comes from a name you likely recognize — that'd be J. Crew, of course. The Dark Eucalyptus shade seen here on this Garment-Dyed Slub Cotton Crewneck makes it the perfect T-shirt to wear underneath an indigo denim jacket with light tan or stone chinos — they're might not be a better T-shirt-and-jeans combo on the market.
Disclosure: Clicking on these links and making a purchase may earn us a small referral fee, at no extra cost to you. Learn more here.