The 25 Best T-Shirts For Men
Lest you underestimate the humble men's T-shirt, just know that there's more to life than wearing athletic logo tees or the type of old, ratty tees you likely had in college or high school (sentimental value aside, naturally). No sir, the best men's T-shirts to buy right now are all in a class of their own, made with rugged quality, classic styling potential and the sort of chops you'd be hard-pressed to find in your old-school athletic T-shirts.
A plain T-shirt is in fact perhaps the simplest item in a guy's closet, but when worn the right way and made the right way, the standard tee can really become so much more. A T-shirt can be worn naturally on it's own (pairings include dark denim and high-top sneakers, or else light wash jeans and suede chukka boots), or else in ways more casual and cool (think a navy cotton blazer and tan chinos).

The key, as with plenty of gear picks we recommend, comes down to fabric, fit and design details — and luckily for all parties involved, our list of the best men's T-shirts shown here ace each of those categories with flying colors, to say the very least. Don't sleep — you need at least one of these tees in your wardrobe, if not more. Simple as can be.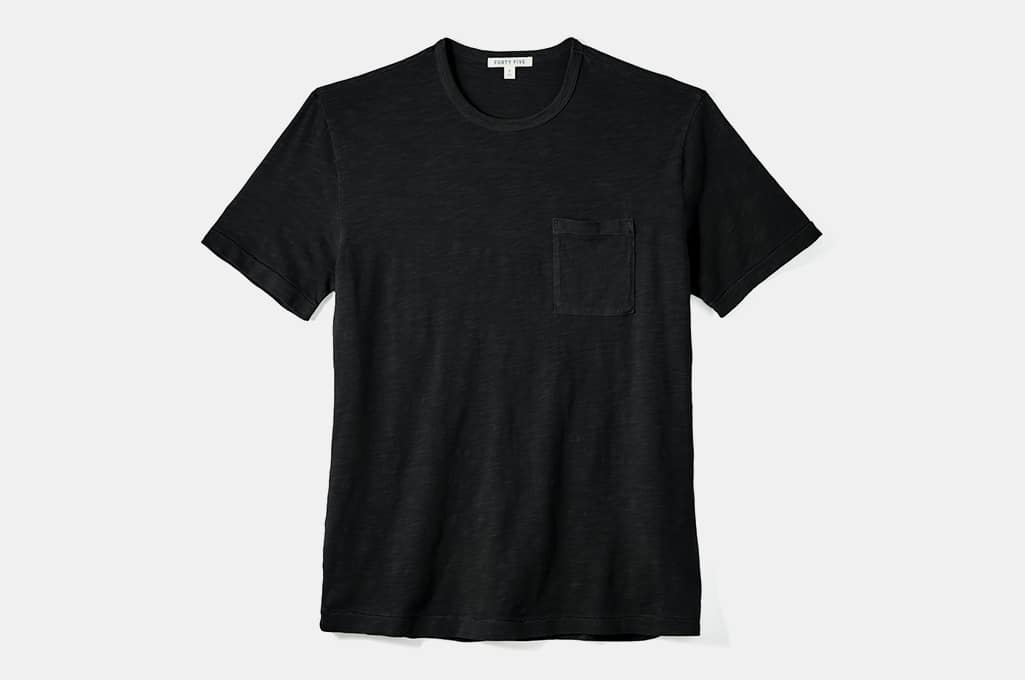 Forty Five Slub Pocket Tee
The Forty Five brand is all about changing the game, and that's exactly what they do with this hyper-comfy Slub Pocket Tee. The clean, simple, and timeless design may not look like anything special (simplicity is a major part of its attraction), but once you slip on the t-shirt, you'll feel what makes this so different: its high-quality fabric, durable construction, and perfectly tailored fit. The slub jersey fabric will give you just the right amount of "slouch" to keep you looking and feeling cool on even the hottest day.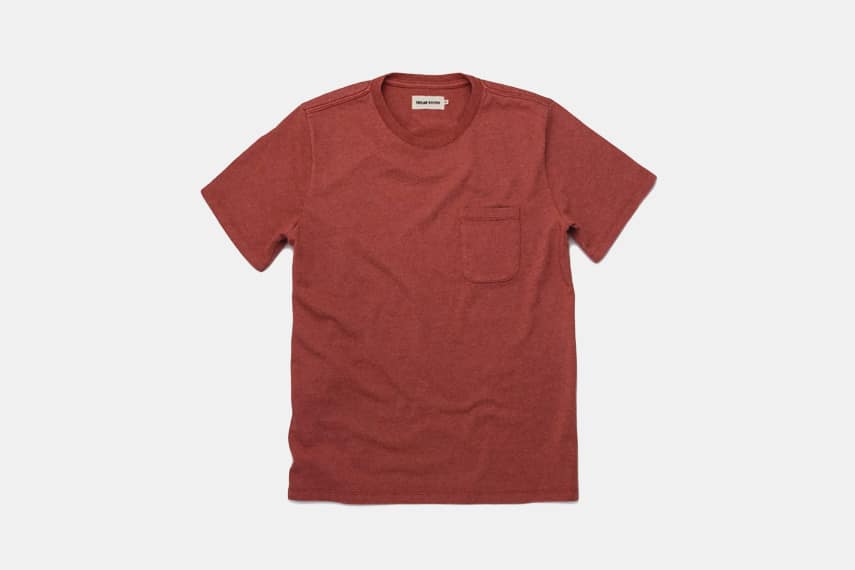 Taylor Stitch Heavy Bag Tee
There's perhaps no better T-shirt to lead off our than the Taylor Stitch Heavy Bag Tee, a dependably made T-shirt that checks all the right boxes, from the use of upcycled cotton in its construction to the range of seasonally friendly colors (our personal favorite has to be the Washed Rust iteration). Snap one or multiple up for $45 at Huckberry — the fit and fabric is mighty pleasing, making the Heavy Bag Tee a shirt that you should feel inclined to wear all on its own (tan chinos not included).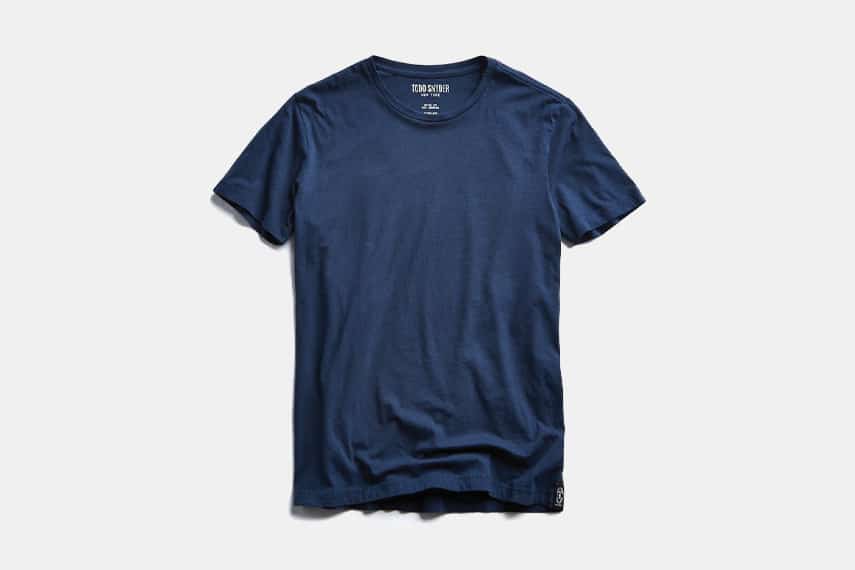 Todd Snyder Made In L.A. Jersey T-Shirt
Los Angeles is a hotbed of activity when it comes to producing men's T-shirts, not to mention items like denim — and the Todd Snyder Made in L.A. Jersey T-Shirt is a fine example of just what can be done when you work with the best in the business. Made with remarkable garment-dyed jersey cotton for a feel that just works right out of the box, this is a plain T-shirt that's a cut above.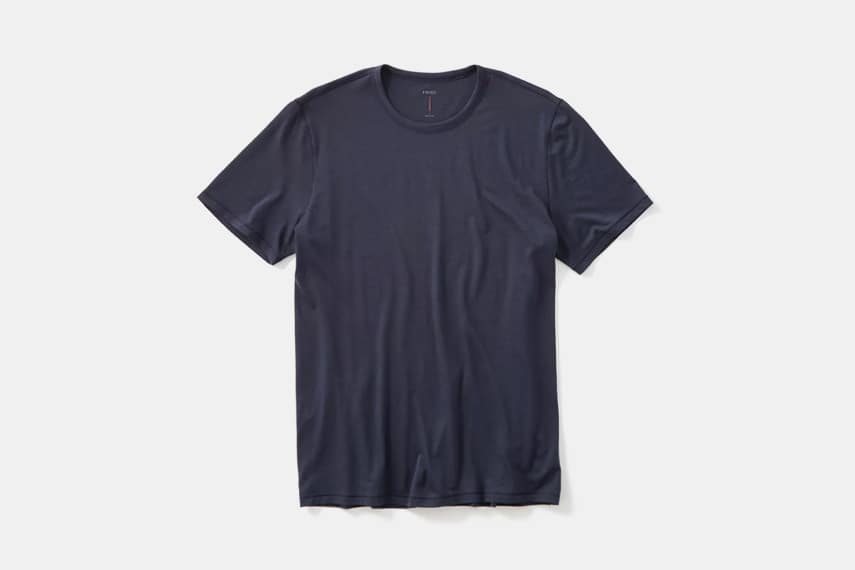 Proof 72-Hour Merino Tee
We think each tee on this list of the best men's T-shirts has something special, but that might particularly be the case with the Proof 72-Hour Merino Tee. It's a performance-minded tee in a wide range of colors that can really be worn for 72 hours — merino might be the most functional fabric on the planet when translated into a travel-ready, moisture-wicking, odor-resisting tee like this one. For long haul flights and long days of exploration, it's what you need.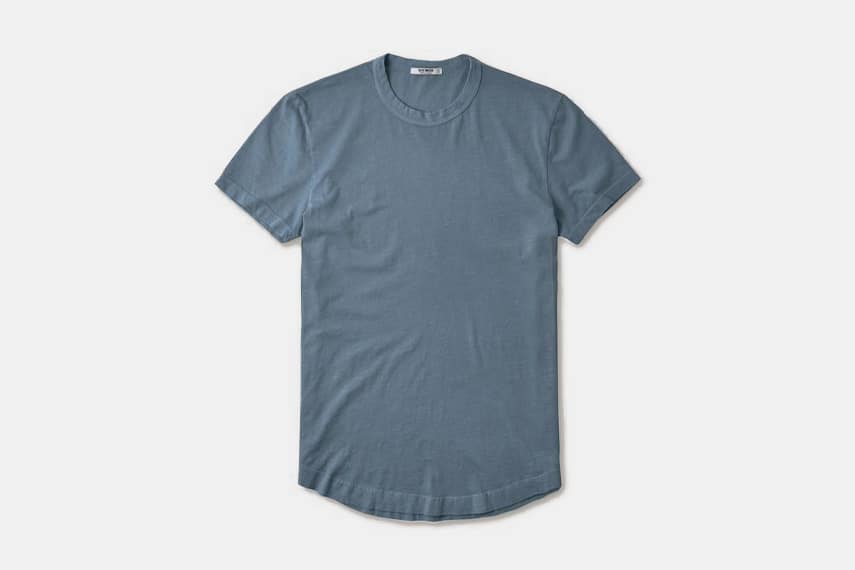 Buck Mason Slub Curved Hem Tee
When you put on a T-shirt that's better than the rest (to wit: One of the best men's tees on the market), we'd argue that you know right away. Such is the case with the drape and construction of the Buck Mason Slub Curved Hem Tee, the type of T-shirt that stands out thanks to its beautiful fabric and its unique curved hem. This is a T-shirt that'll retain its shape and fit, and it'll even break in more over time. Plus, when you pick up the online-exclusive shade of Graphite, you're getting a tee that's even more rare — and thus worth investing in. Pair it with Buck Mason denim, and you're good to go.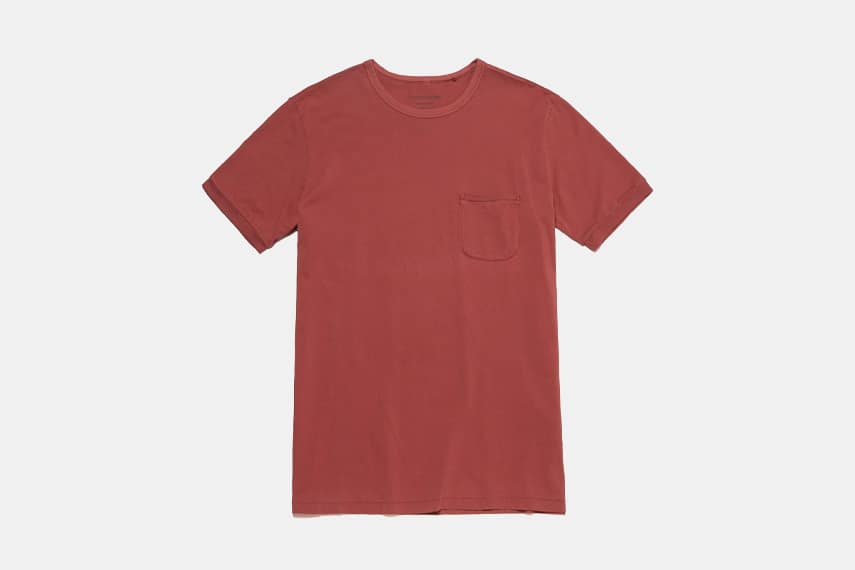 Outerknown Sojourn Pocket Tee
When we first laid eyes on the Sojourn Pocket Tee from Outerknown, we knew we had to have it — it's made sustainably from organic Peruvian cotton, some of the best in the world, and it's fairly priced for the extra quality and comfort that a tee like this brings to the table (and your wardrobe). The ribbed trim at the chest pocket, the neck and sleeves also sets this tee apart subtly and stylishly.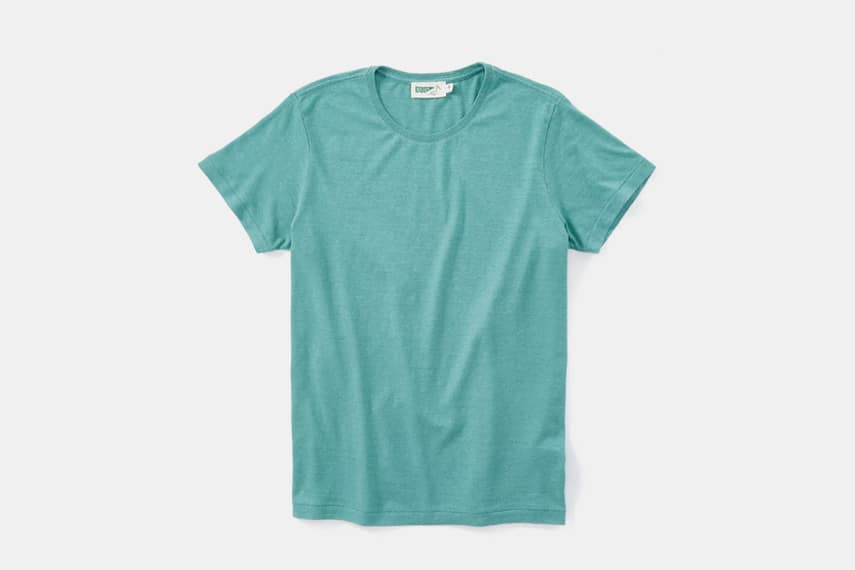 Wellen Hemp Tee
We keep turning back toward the Wellen brand (a new in-house line at Huckberry) owing to the unique use of sustainable fabrics like hemp, plus the engaging summer colors like Seafoam Green (which would stand out handsomely against tan chinos or field shorts, plus white canvas sneakers). Wellen takes great care to make products that help, not detract from, the environment, including organic cotton.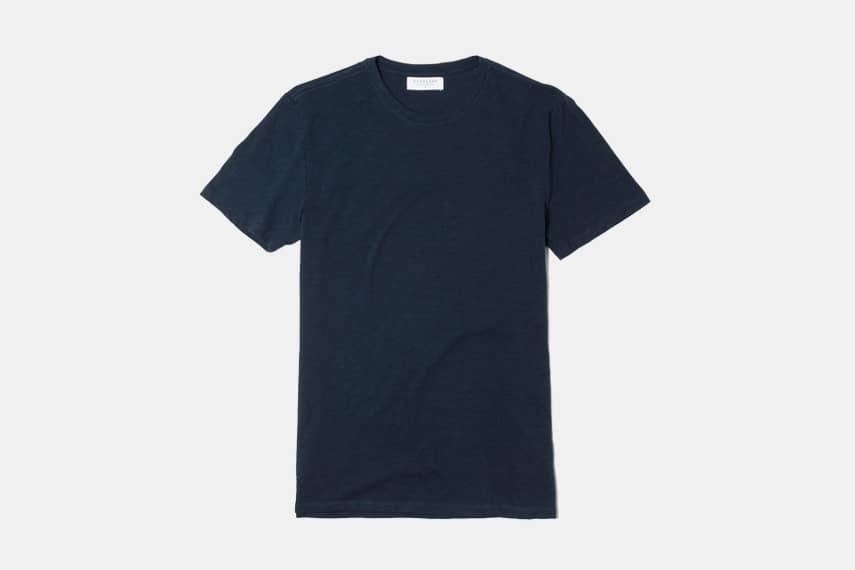 Everlane Air Crew Tee
We've long appreciated Everlane's approach to what the brand calls "radical transparency," offering up details on fabric and construction with an eye toward sustainability — that's what makes the Everlane Air Crew Tee so critical (and worthy of inclusion on this list). It's made with an incredibly lightweight slub cotton and available in a range of classic Everlane colors, perfect for pairing with the brand's slim denim or chinos.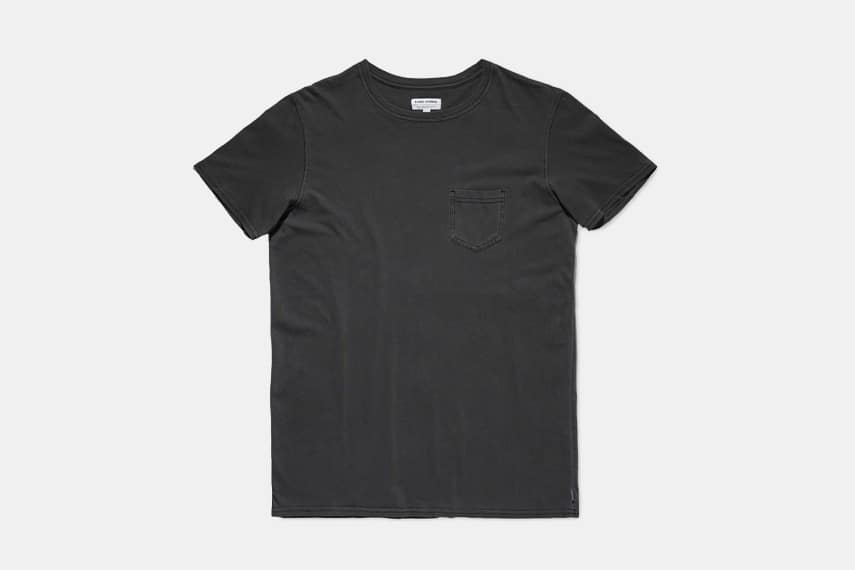 Banks Journal Primary Classic Tee
The best part about finding a new favorite T-shirt? The chance to make that tee all your own, like the pleasingly broken-in Banks Journal Primary Classic Tee. This T-shirt is proof that T-shirts don't need to be boring — in fact, even in a straightforward color like black, they can be interesting enough to be worn all on their own (or else, under an indigo denim jacket).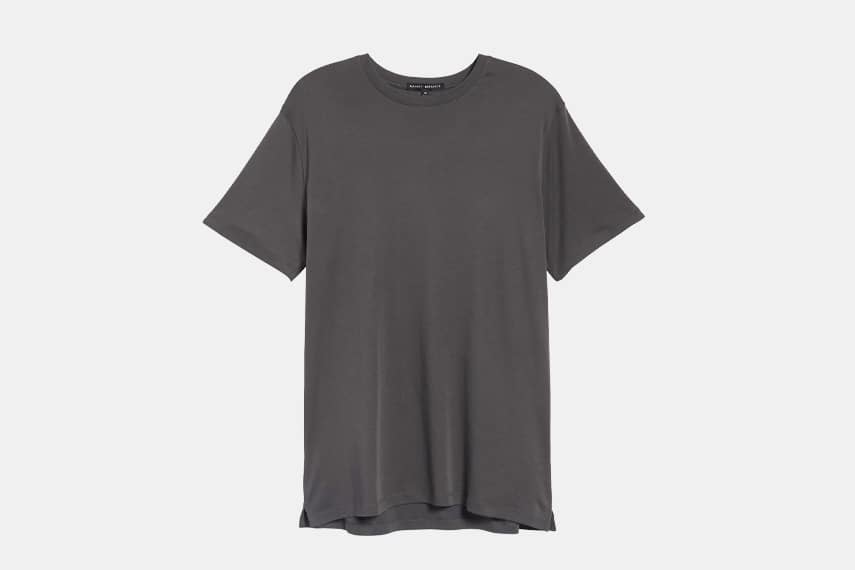 Robert Barakett Georgia Crewneck T-Shirt
Every guy needs — and every guy can find a way to wear — a classic plain-colored T-shirt, especially this trim and tailored T-shirt from Robert Barakett. It's the kind of crisp and clean tee you should wear with a khaki cotton blazer and light wash denim, plus leather loafers. There's no wrong way to wear it, but just know that it's highly versatile and suited for whatever combo you dream up.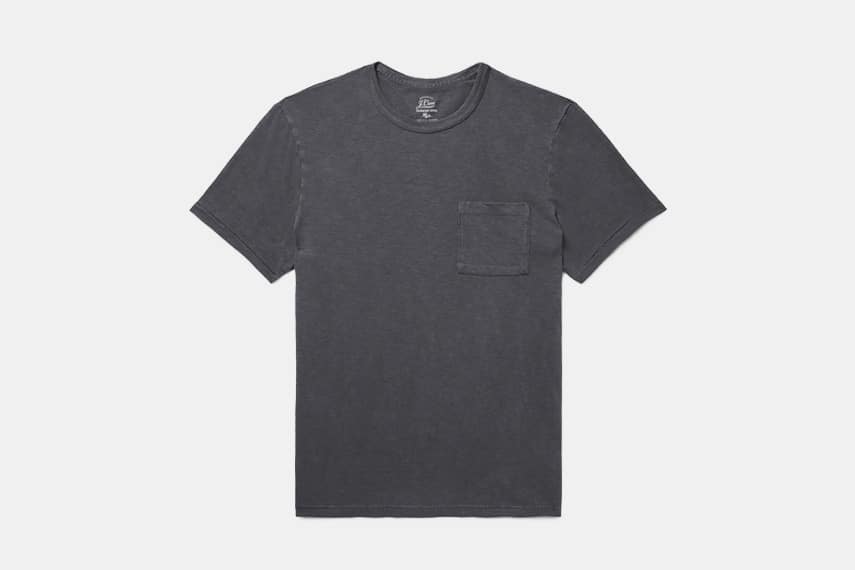 J.Crew Slim-Fit Garment-Dyed Slub Cotton T-Shirt
If ever there was a brand that could turn the simple T-shirt into something more than just a tee, it's J. Crew. The same expertise that allowed the brand to transform the way men wear and shop for suits has been translated into the Slim-Fit Garment-Dyed Slub Cotton T-Shirt, made from a textured and lived-in fabric in a surprisingly rich Charcoal color. Wear this tee with black jeans to your next rock concert.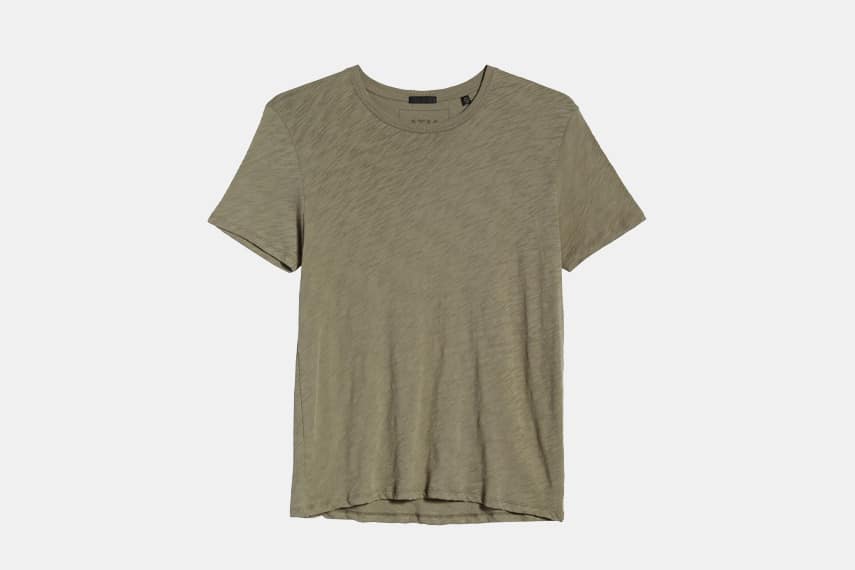 ATM Crewneck T-Shirt
For every crisp, clean white tee, you sometimes want a tee with a bit more character and laidback style appeal, especially during the dog days of summer. This ATM Crewneck T-Shirt, with a wider collar and a slubby texture, is the one to buy in that case, available in pleasingly washed out colors that should pair nicely with natural selvedge denim or off-white chinos (throw in suede chukka boots or loafers, naturally).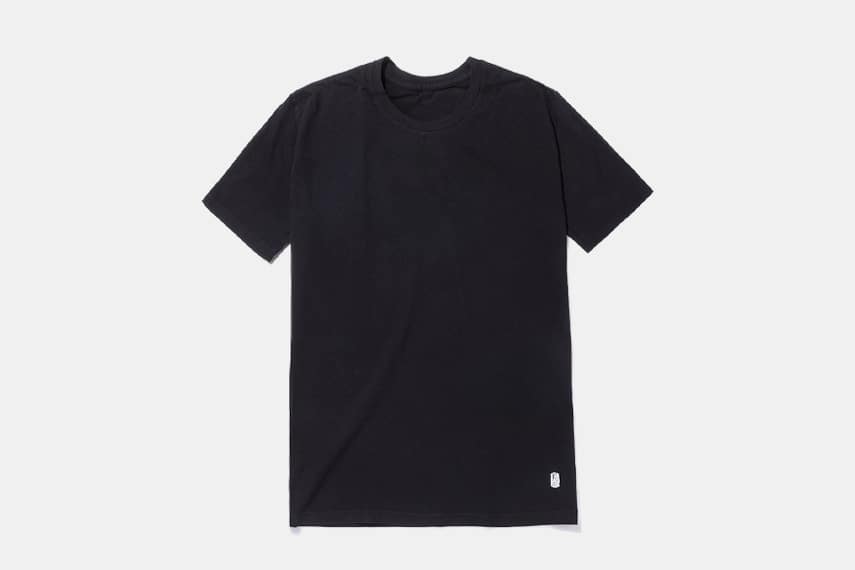 Standard Issue Tee
Among our list of the best men's T-shirts, there are certain tees that go above and beyond when it comes to checking all the right boxes — like the Standard Issue Tee, for instance. This is an aptly named tee made right in California from ringspun cotton in a classic shade of black. It's the kind of tee you can throw on and not think twice about — or else, you can pack it within its reusable zip bag for travel or storage.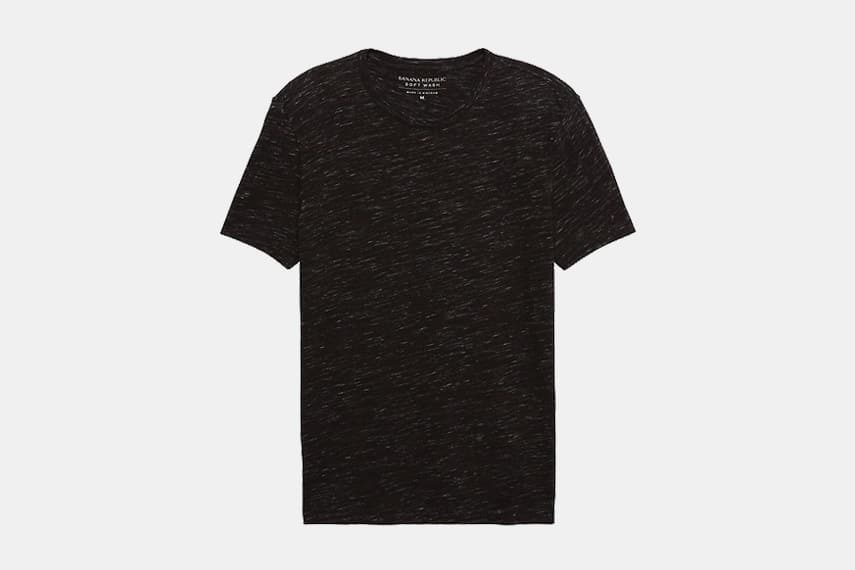 Banana Republic Soft Wash Crew-Neck T-Shirt
If there's one thing we've learned to expect from Banana Republic, it's that the brand doesn't compromise on luxurious fabric quality, even in items as seemingly simple as T-shirts. Take the Soft Wash Crewneck T-Shirt, a perfectly built tee in a slubby gray texture that just so happens to be surprisingly refined. It's the ideal complement to the brand's Rapid Movement Chinos, for instance.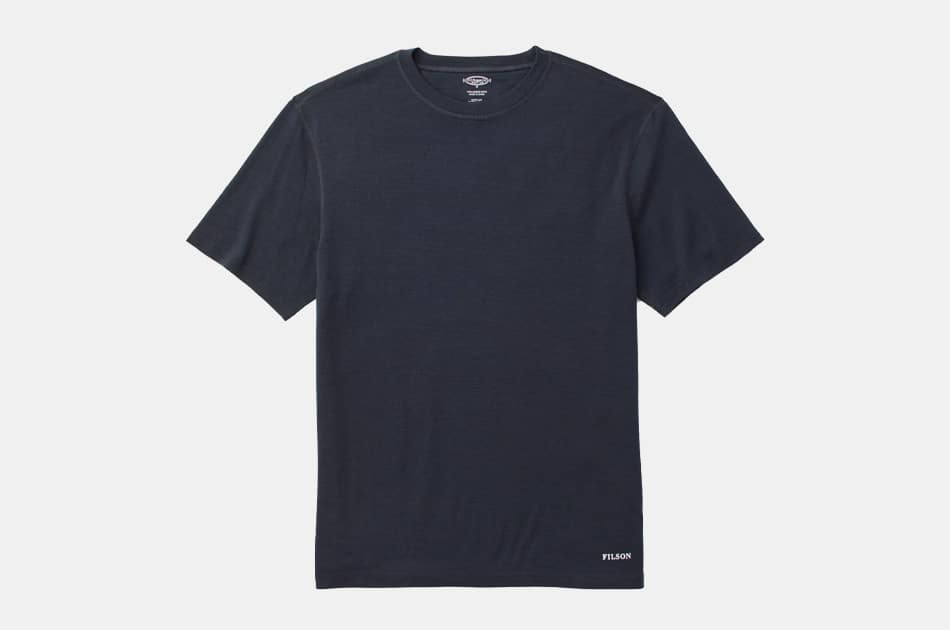 Filson 210G Merino Wool Short Sleeve Crew Shirt
We appreciate a brand that consistently gets what its consumers want, and then sets out to constantly improve upon that aim. That's what Filson has been doing for decades, and although the brand made a name for itself with tough, Pacific Northwest-ready outerwear, they've not been one to shy away from innovation. Take this stylish, rugged and functional merino T-shirt — that Filson quality makes it one of the best men's T-shirts to buy now.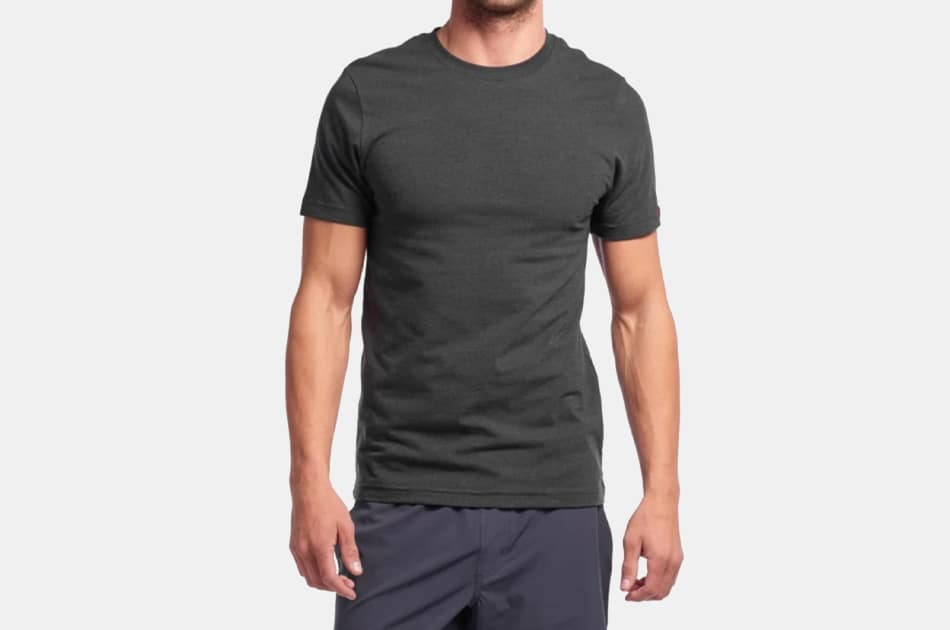 Rhone Element Tee
The best men's T-shirts offer up a degree of durability, performance and style that other brands simply can't deliver. Take the Rhone Element Tee, as dependable & performance-minded an offering as it gets. Made to deliver on-the-go functionality and comfort, it's the rare performance tee that doesn't let that get in the way of style points. It's the T-shirt you need right now (to say the least).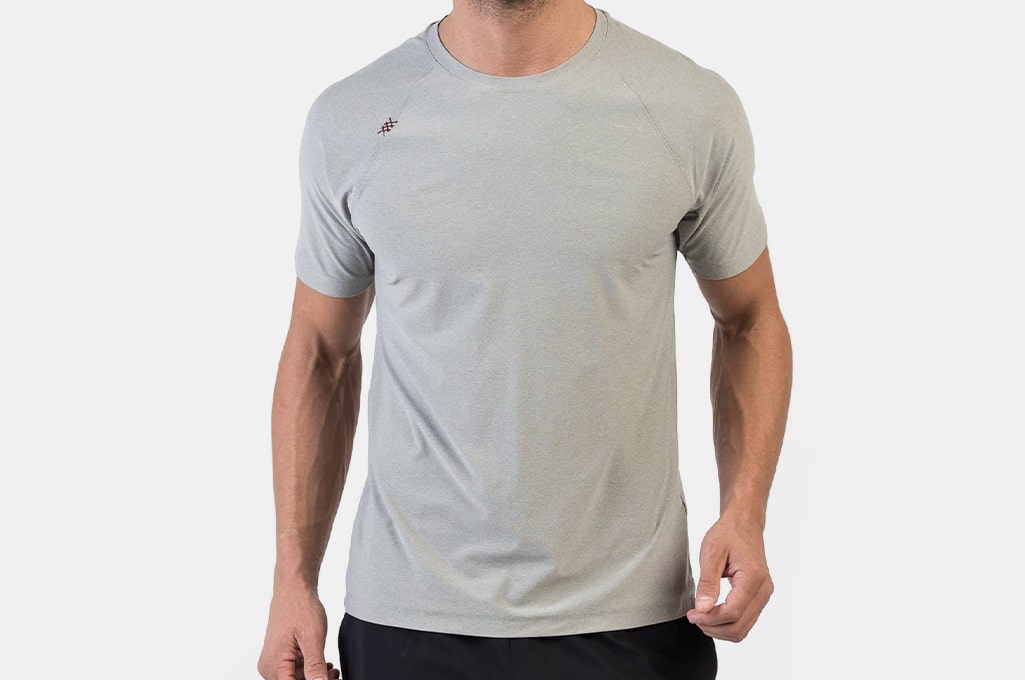 Rhone Reign Short Sleeve Tee
The Rhone Reign Short Sleeve tee definitely deserves its place on any list of best t-shirts for men, thanks to its amazing comfort and excellent versatility. The nylon polyester jersey blend is cloud-soft and feels insanely silky on your skin, but it's designed to be an active tee with quick-dry, moisture-wicking, and anti-UV properties. Thanks to the GoldFusion technology incorporated into this t-shirt, you'll never have to worry about smelling anything less than fresh and clean. Best of all, the sleeves are cut just the right length to draw plenty of attention to those big guns you've been working hard to bulk up.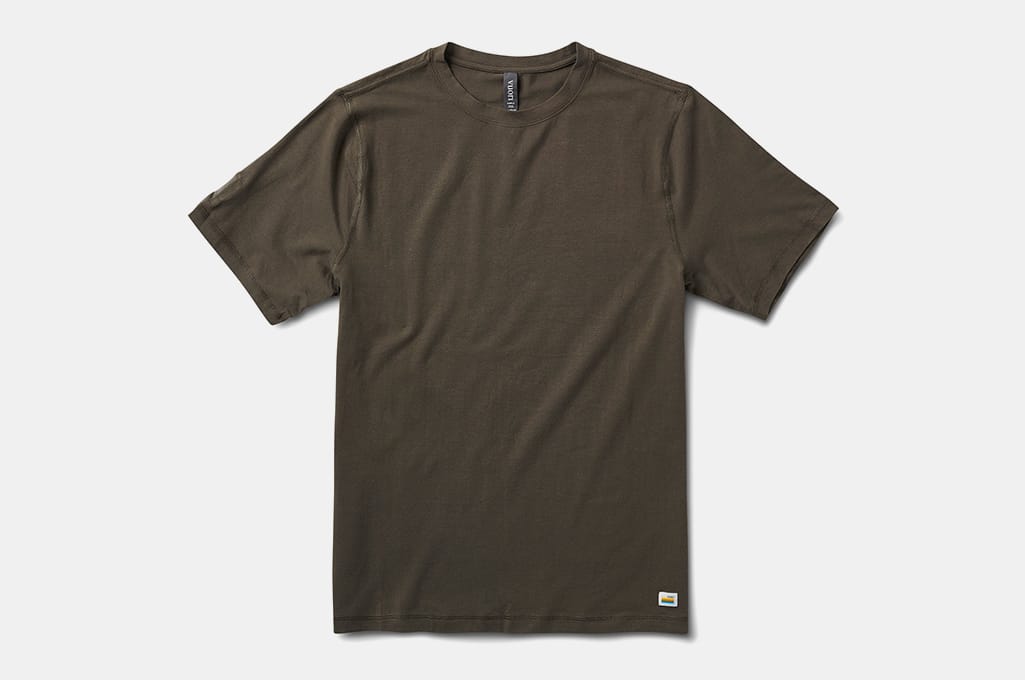 Vuori Tuvalu Tee
Vuori strikes the perfect balance between practicality and sustainability with the Tuvalu Tee. The pima cotton fabric is ultra-soft, but it's made more durable by integrating Vuori's Natural SeaCell fiber, derived from sustainable wood pulp and seaweed. The fit is athletic, with plenty of room for you to run, jump, play, or do yoga. Whether you're an active athlete or just want to feel comfortable all day long, this is the shirt for you.
Best Made Men's Short Sleeve Standard T-Shirt
If you want an ideal "everyday" shirt, you'll love Best Made's Short Sleeve Standard Tee. Made with Peruvian tangüis cotton, it's a tightly knit tee that can handle daily use without showing wear, tear, or fading. The ribbed neck trim makes the collar durable enough to keep up with any amount of sweating, and you'll never have to worry about this pre-shrunk shirt shrinking in the dryer. One look at the price tag, and it's an instant "Add to Cart" for such a budget-friendly tee.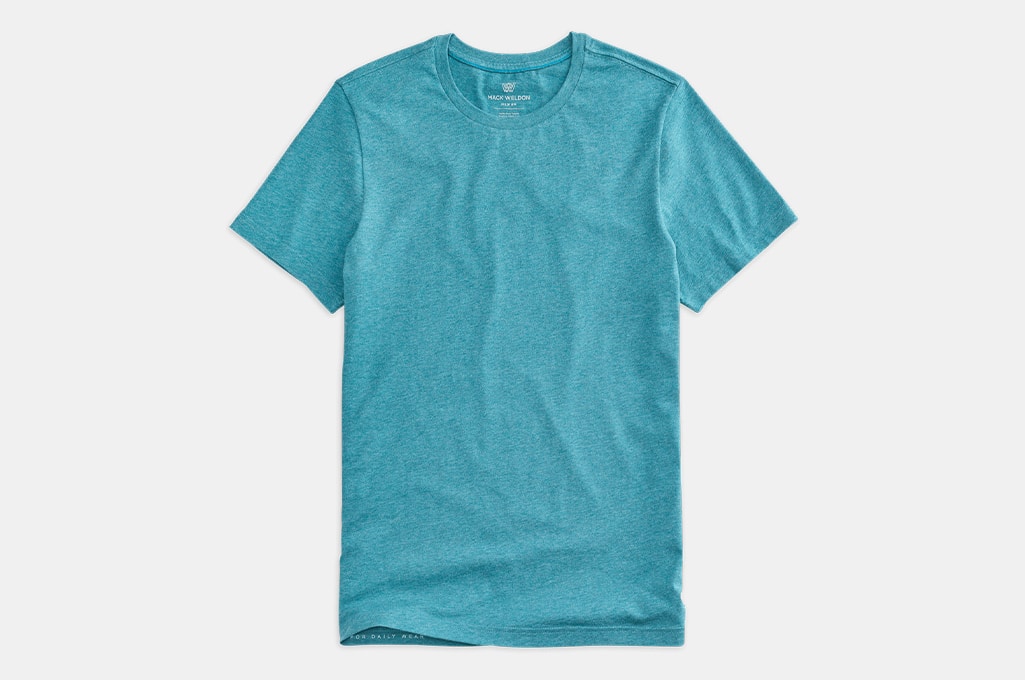 Mack Weldon Pima Crew Neck T-Shirt
The Mack Weldon Pima Crew Neck T-Shirt takes soft, smooth comfort to the next level. The shirt is treated with an enzyme wash that makes the high-quality pima cotton feel velvet-soft, making it the perfect undershirt or daily tee. The slim fit is ideal for men who want to show off their well-developed pecs and six-pack abs. Thanks to the durable recovery collar and the ladder stitch used to finish the hem, this is a shirt you just know will be tough as nails despite its incredible softness.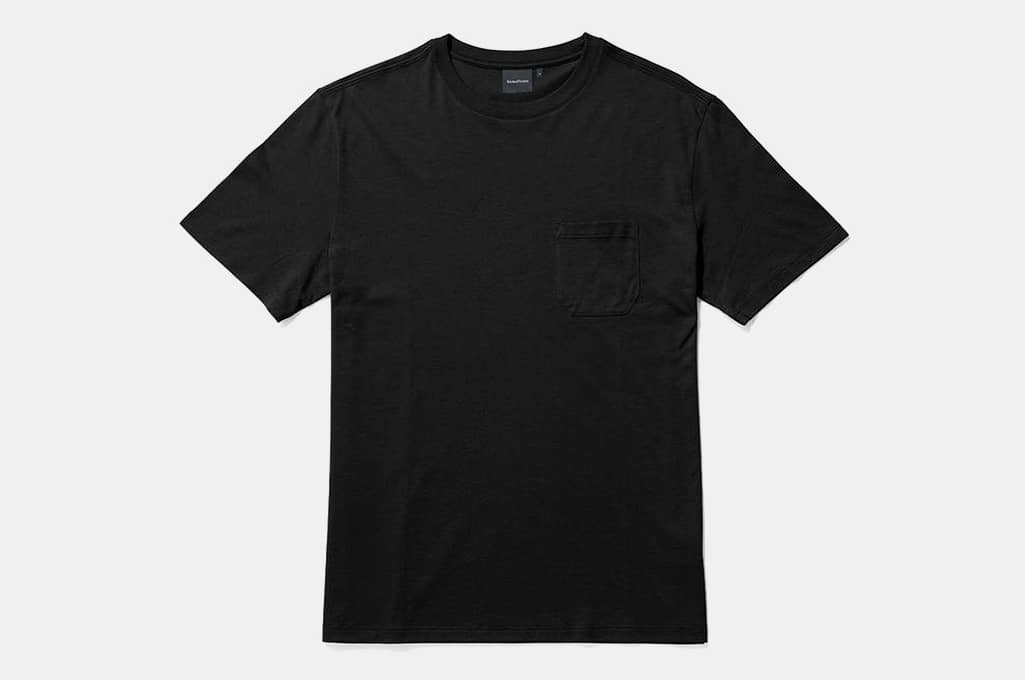 Richer Poorer Pima Pocket Tee
RicherPoorer knows how to make a t-shirt look amazing, and they prove it without a doubt with the Pima Pocket Tee. This shirt comes in a wide range of vivid colors (soft clay orange and vibrant redwood, for example) and a softer fit that will make your whole outfit look relaxed. The pima cotton fabric is hyper-tough and resistant to pilling, stretching, or fading, and it's even hypoallergenic—perfect for those with sensitive skin.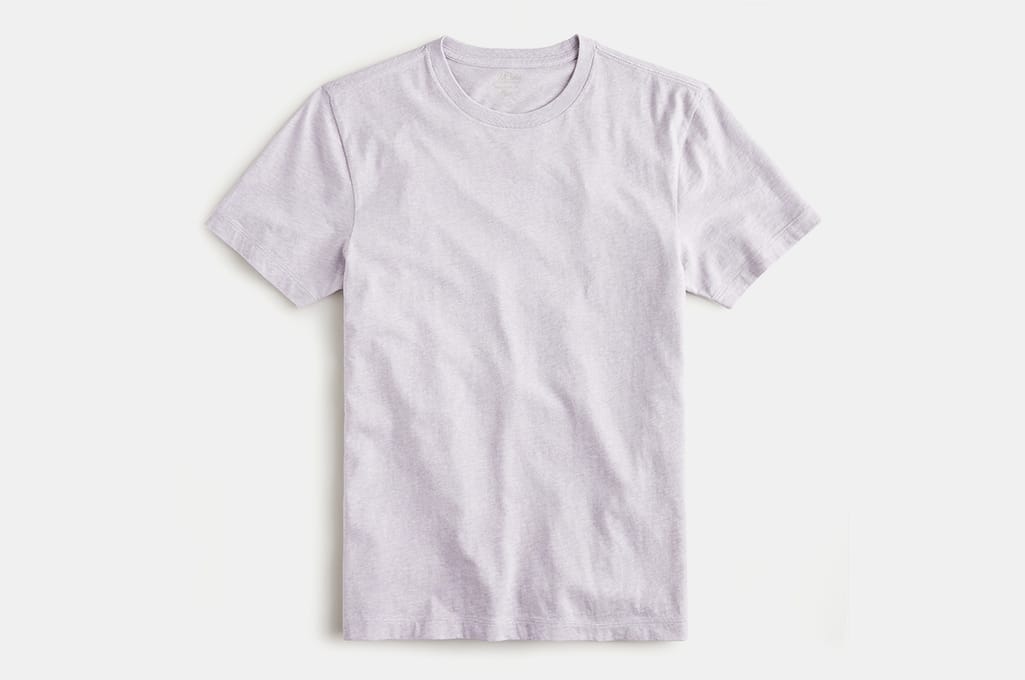 J.Crew Broken-in Short-Sleeve T-shirt
This J.Crew Broken-In Short-Sleeve T-Shirt is the perfect choice for a guy who wants that "broken-in" feeling of a shirt they've loved and worn for years. The double garment dying guarantees that the color will never run, and you'll love the surprisingly broad range of bright, eye-catching colors. The cotton is tough, super soft, and resistant to sagging and stretching even if you tend to sweat a lot. During the summer heat, you'll find it's one of the coolest shirts you can own—in all the best ways.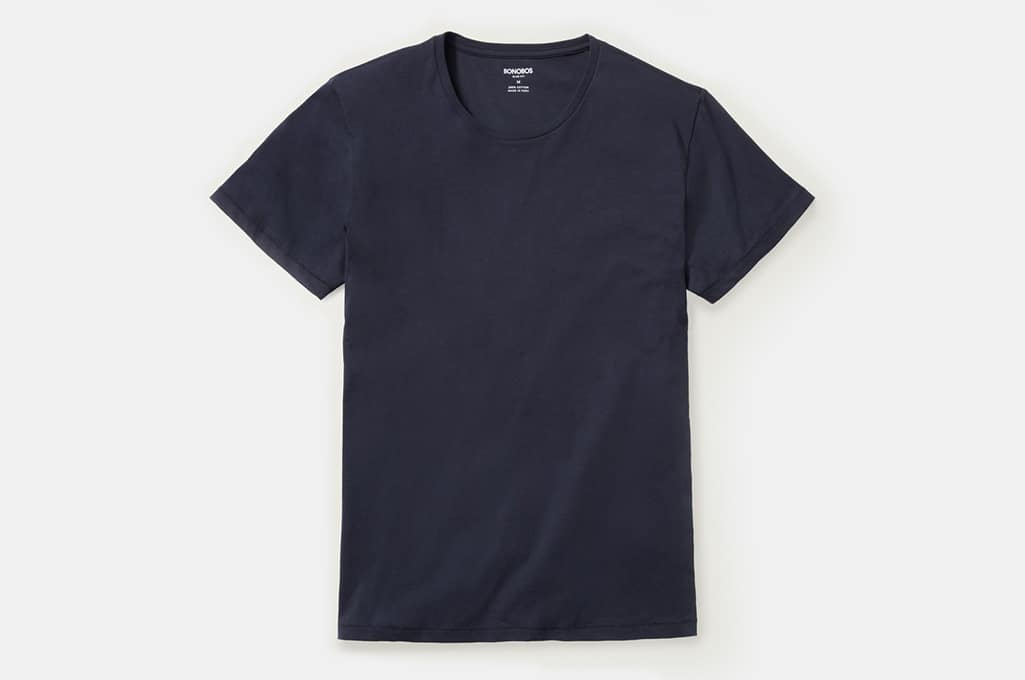 Bonobos Soft Everyday Tee
If you want soft, look no farther than the Bonobos Soft Everyday Tee. The 100 percent cotton fabric feels like you're touching a cloud, and it's a shirt you'll love to wear even on the hottest, sunniest days. The classic design is versatile and compatible with almost any body type. Guys who just HATE tags irritating the back of their neck will definitely want this tagless tee as the perfect summer shirt.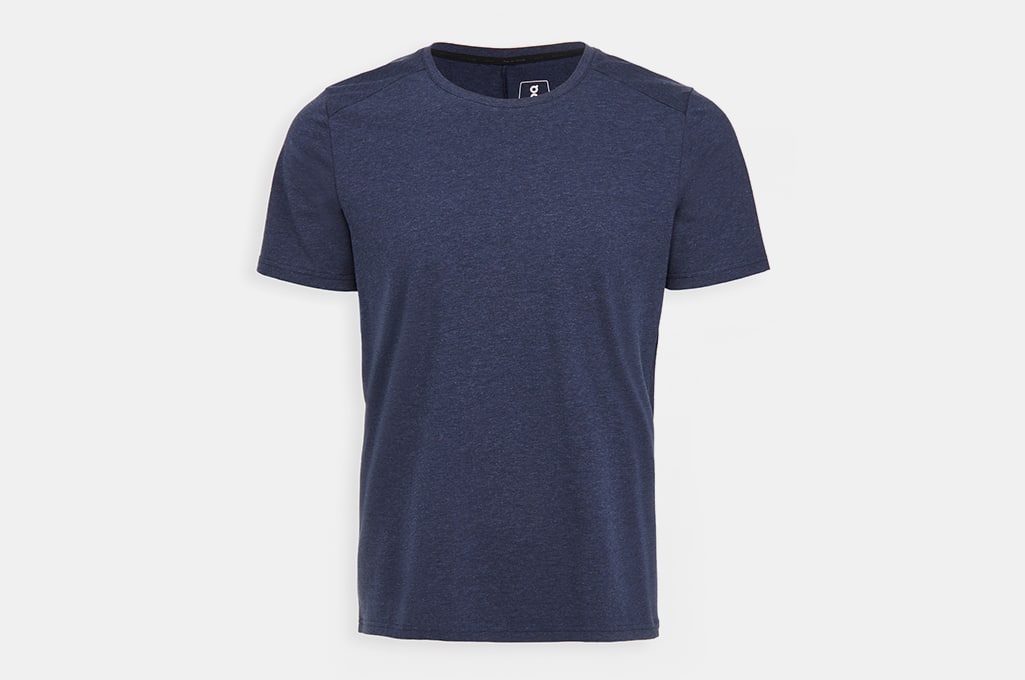 On T-Shirt
This On T-Shirt knows a thing or two about durability and performance. It's mostly cotton, but with just enough elastane to make it stretch and flex with your movements, making it the perfect active-wear shirt for those who prefer the softness of cotton to polyester or nylon. The crew neckline, short sleeves, and sleek cut will accentuate your glamor muscles, showing off all your best upper body features just the way you want it to.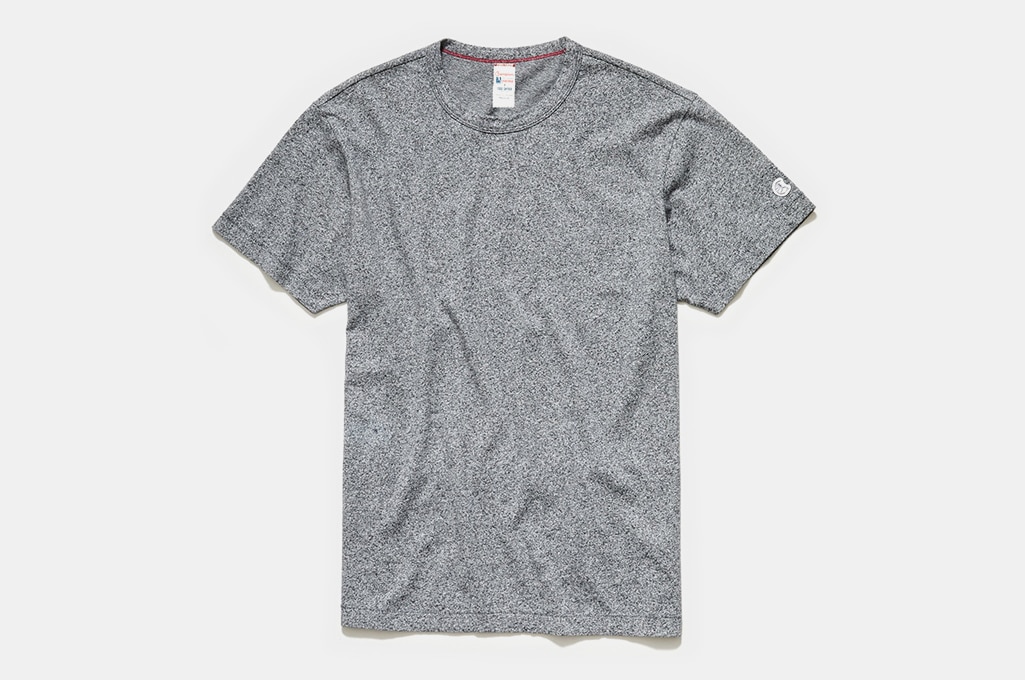 Todd Snyder Champion Basic Jersey Tee
The Champion Basic Jersey Tee by Todd Snyder absolutely lives up to its name, delivering a classically designed, super-tough T-shirt that strikes an excellent balance between athletic performance and comfort. The trim-fit cut makes it an excellent undershirt beneath a formal business suit, but it's rugged enough to wear on its own as your workout shirt. With its self-fabric bound neck, there's no risk the collar will ever stretch or sag.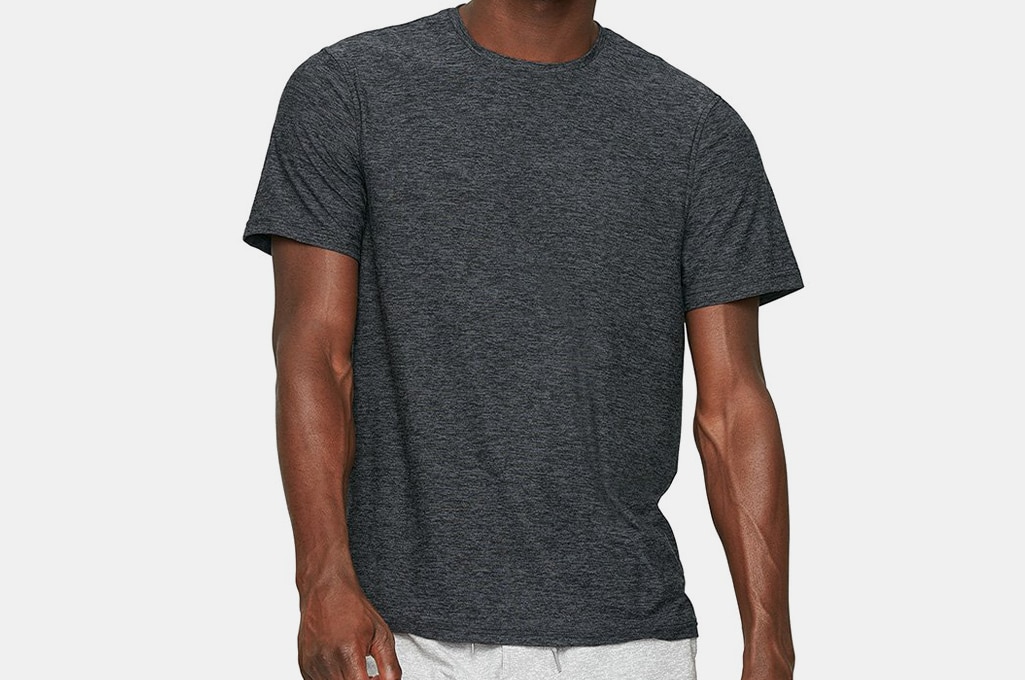 Outdoor Voices All Day Shortsleeve Tee
There's just something wonderful about this silky-soft All Day Shortsleeve by Outdoor Voices. It's a shirt you'll never want to take off, really, because of how amazingly comfortable the polyester-spandex-blend fabric feels against your skin. But it's not just a shirt designed for comfort—the synthetic fibers also make it the ideal tee for working out, running, or doing yoga. It wicks sweat like your standard athletic performance shirt, but has the relaxed, stylish look of your favorite "day off" t-shirt.
Disclosure: Clicking on these links and making a purchase may earn us a small referral fee, at no extra cost to you. Learn more here.
freestar.config.enabled_slots.push({ placementName: "gearmoose_leaderboard_btf", slotId: "gearmoose_leaderboard_btf" });